Matcha Brownies
This post may contain affiliate links. As an Amazon Associate, I earn from qualifying purchases. Please read my disclosure.
With moist and chewy middles, chocolatey matcha brownies are for matcha lovers everywhere! These fudgy green tea brownies disappear quickly and are a total crowd pleaser. Includes a vegan & gluten-free option too!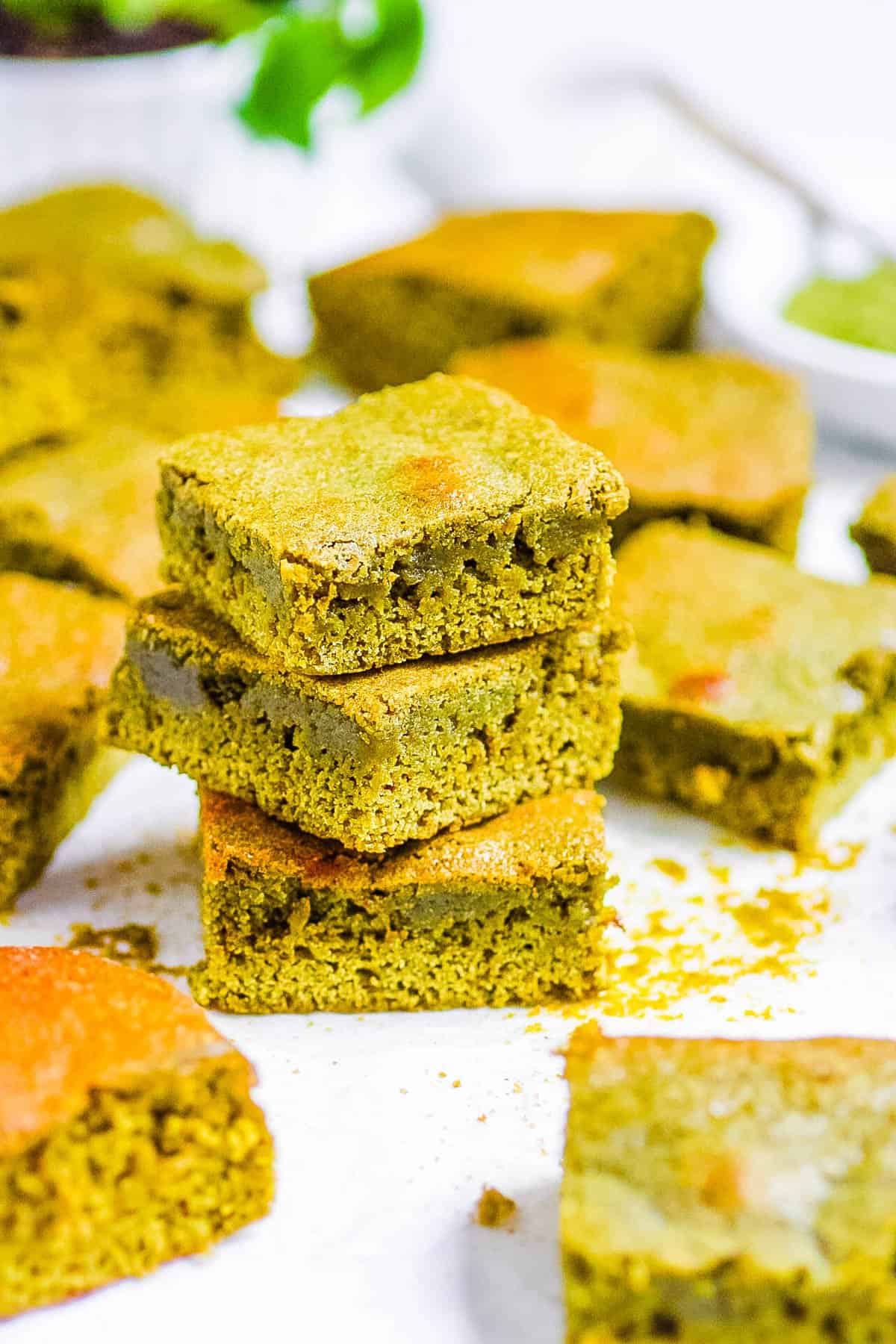 Matcha isn't just for tea! Its bittersweet and earthy flavor tastes delicious in brownies and baked goods too. Baking with matcha is one of my favorite ways to use it. It imparts a vibrant green hue and plenty of feel-good, healthy antioxidants!
Since my love for brownies runs deep, it only felt right to combine the two and create this matcha brownies recipe. But not just any brownie would do, I wanted a dense, rich and fudgy brownie – the kind that's comforting, so addicting, and leaves you speechless. I'm proud to say these matcha white chocolate brownies are just that!
Latest Recipe Video!
If you haven't baked with matcha before, you might wonder how the slight bitter matcha flavor doesn't overpower the brownie – well that's where the white chocolate comes in! The sweetness of the chocolate balances the matcha — so you only get a slight hint of green tea flavor in these treats.
These fudgy matcha brownies are dangerously good and disappear quickly, so be sure to set one aside before you announce they're ready!
👩‍🍳 Why This Recipe Works
Perfect crackly top
Vibrant green color
Moist and chewy texture
Easy to make
Earthy flavors
Vegan & gluten-free option
Dense and fudgy brownies
A fun twist on a classic brownie recipe
Perfect brownies with a green tea flavor
Best matcha brownies recipe ever!
🥘 Ingredients
These green tea brownies call for simple ingredients found at your local grocery store.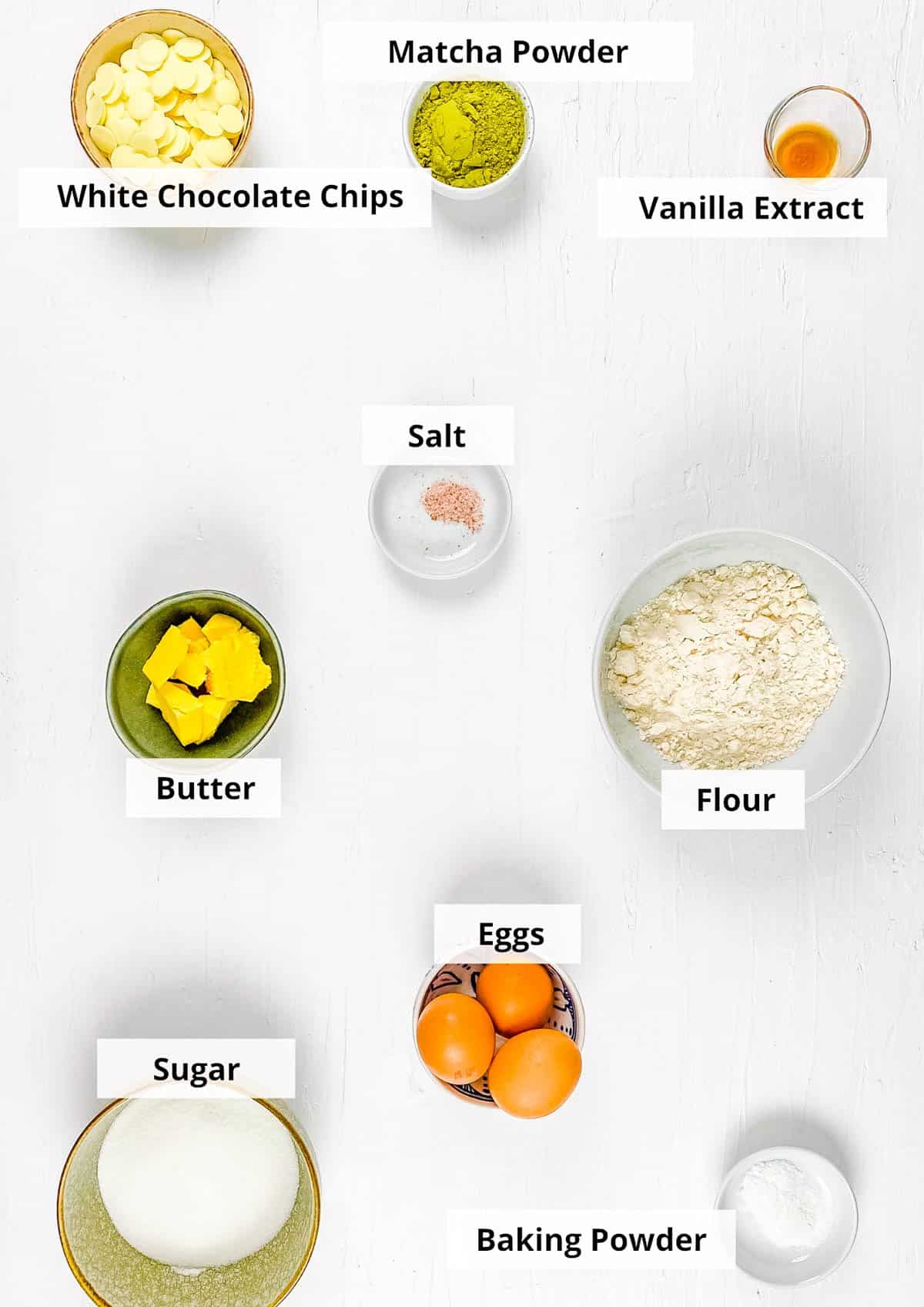 Butter: Fat, in this case melted butter, is what makes a brownie dense and fudge-like. If you don't have butter, coconut oil is a good swap. Use unsalted butter or omit the salt from this recipe.
White Chocolate Chips: Melted white chocolate make these easy matcha brownies rich without overpowering the flavor of the matcha. It allows the bright green color to come through. White chocolate is made from cocoa butter and sugar without cocoa solids.
Eggs: Eggs provide structure and bind the brownies together.
Vanilla Extract: Pure vanilla extract enhances all the other ingredients.
All Purpose Flour: The ratio of fat to flour is what makes a brownie dense and fudgy. Less flour means a rich brownie which is why this recipe calls for only three fourths of a cup.
Granulated Sugar: White sugar sweetens these white chocolate matcha brownies!
Matcha Powder: Matcha is a Japanese green tea powder made from ground green tea leaves. You don't have to buy ceremonial grade matcha, but be sure to choose a high quality culinary grade matcha. The better quality the matcha, the brighter the color and better the taste will be. Lower quality matcha has a dull green color and a bitter flavor.
Baking Powder: For the perfect amount of rise.
Salt: A small amount of salt accentuates sweetness in desserts.
📖 Variations
If you like to change things up a bit, try one of these delicious variations.
Vegan Matcha Brownies: To make these brownies vegan friendly, use vegan butter, vegan white chocolate, and substitute the eggs with ¾ cup apple sauce.
Gluten Free Matcha Brownies: Swap the flour with a gluten-free all-purpose flour blend. I like Bob's Red Mill 1:1 All-Purpose Flour for its gluten-like taste and texture.
Matcha Chocolate Brownies: Swap the white chocolate with dark chocolate chips and swap two tablespoons of flour with two tablespoons of cocoa powder.
Matcha Cheesecake Brownies: Beat 8 ounces of softened cream cheese with 1/3 cup of sugar, one egg, and a teaspoon of vanilla. Scoop half of the matcha brownie batter into the tray, then evenly swirl the cheesecake mixture into it. Top with remaining batter and bake as directed.
Healthy Matcha Brownies: Swap the butter with coconut oil, the flour with whole wheat pastry flour, and the sugar with coconut sugar. Use less sugar by reducing the amount of sugar by 1/3 to 1/2 for an even lower sugar and lower calorie option!
🔪 Instructions
Preheat Oven: Preheat your oven to 320 degrees Fahrenheit. Line an 8 by 8 inch baking pan with parchment paper.
Melt Butter & Chocolate: In a microwave-safe large bowl, make your brownie base by melting the butter and white chocolate chips in 30-second increments until melted. Stir the melted chocolate mixture until smooth.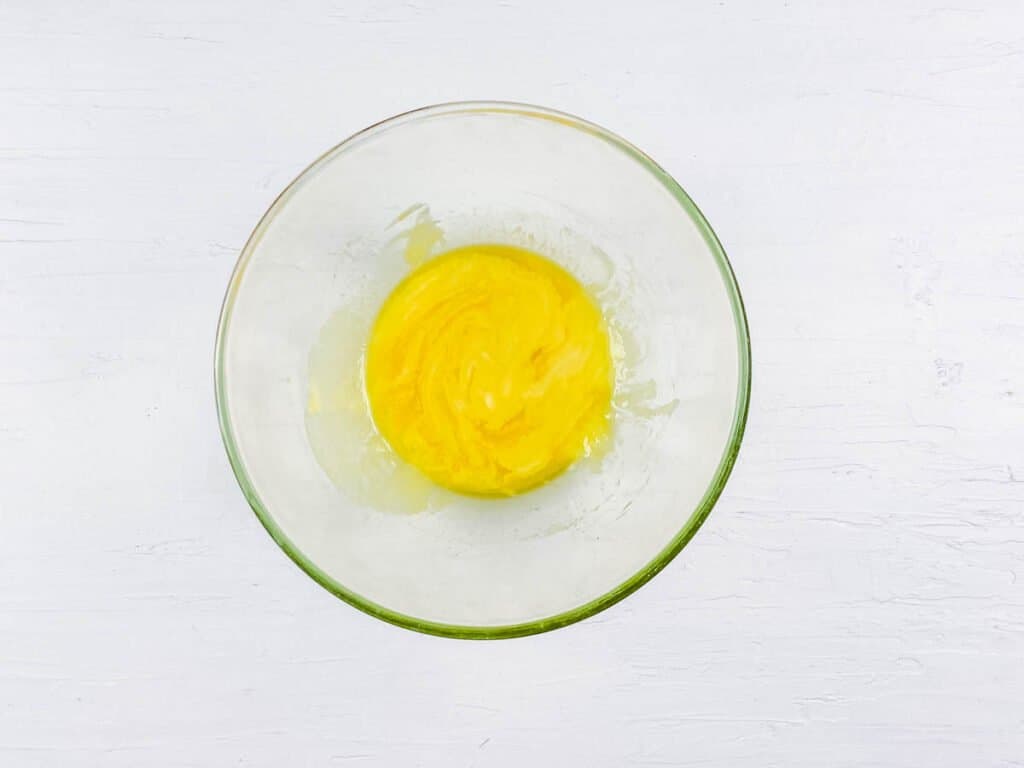 Add Eggs: Whisk in the eggs and vanilla extract. There's no need to use an electric mixer, but you can if you want to.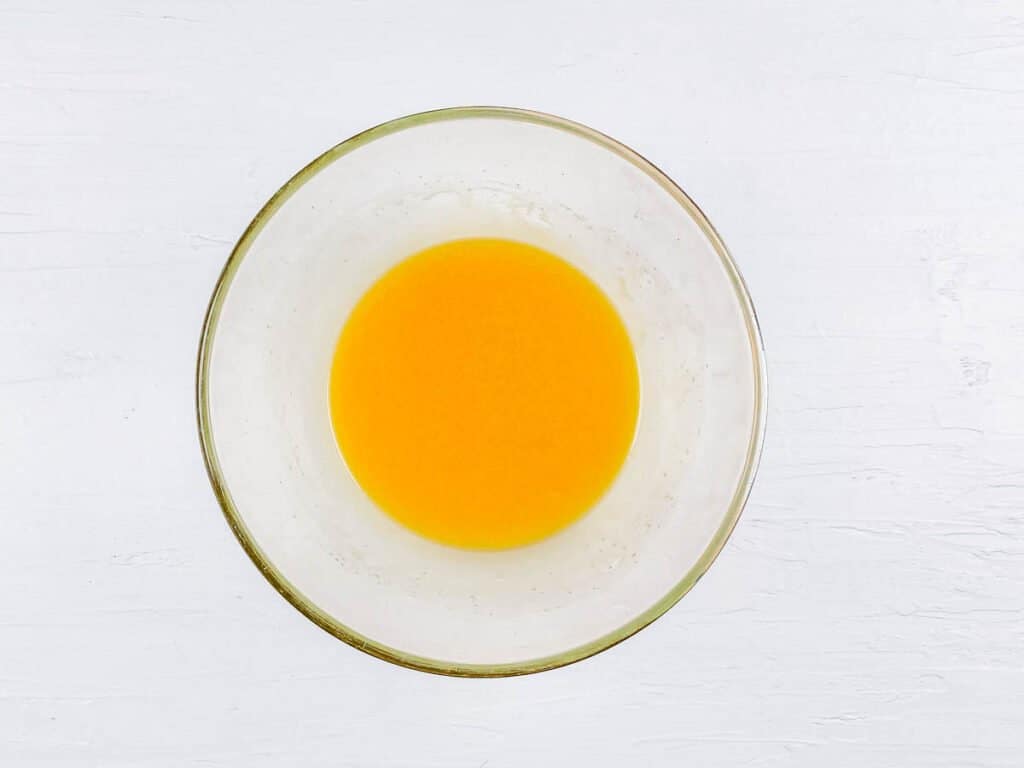 Combine Dry Ingredients: In a separate bowl, combine the flour, sugar, matcha, baking powder, and salt.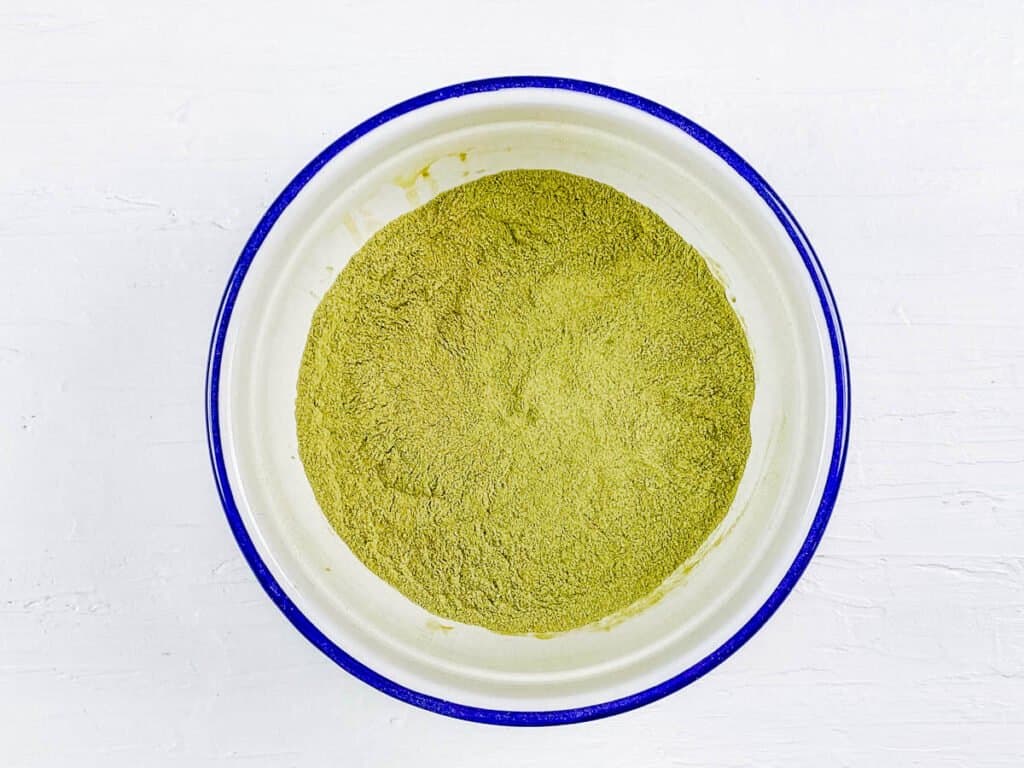 Combine Dry & Wet Ingredients: Using a spatula, fold the flour mixture into the butter mixture until a wet batter forms.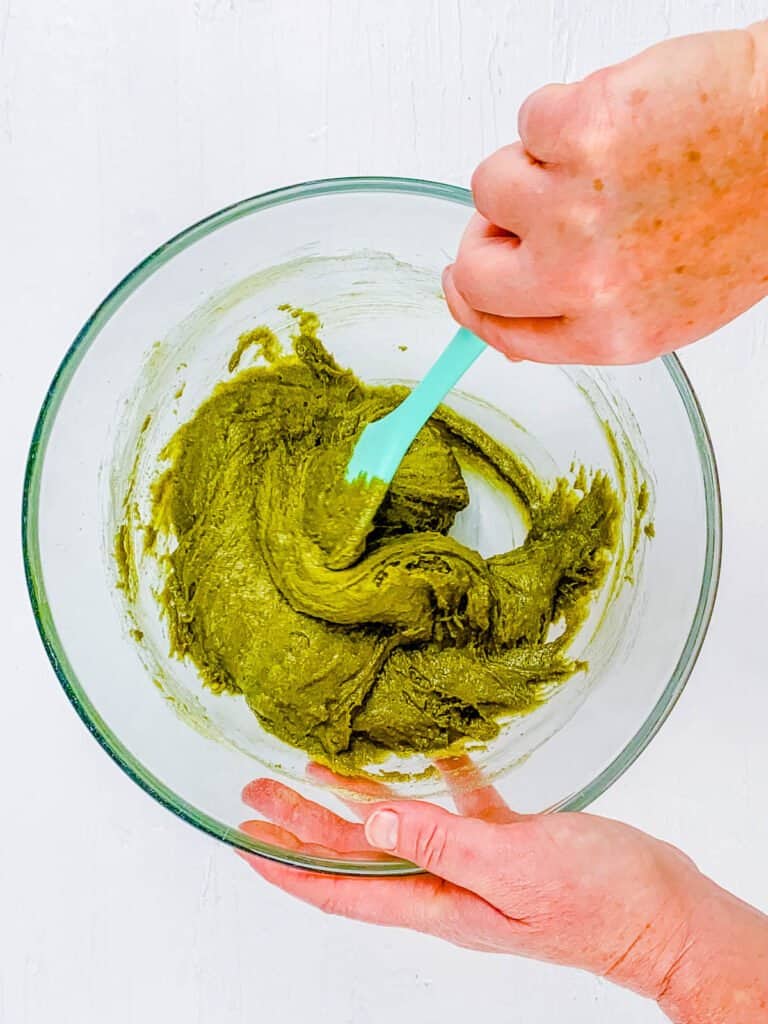 Bake Brownies: Scoop the matcha batter into the prepared pan and smooth with a spatula.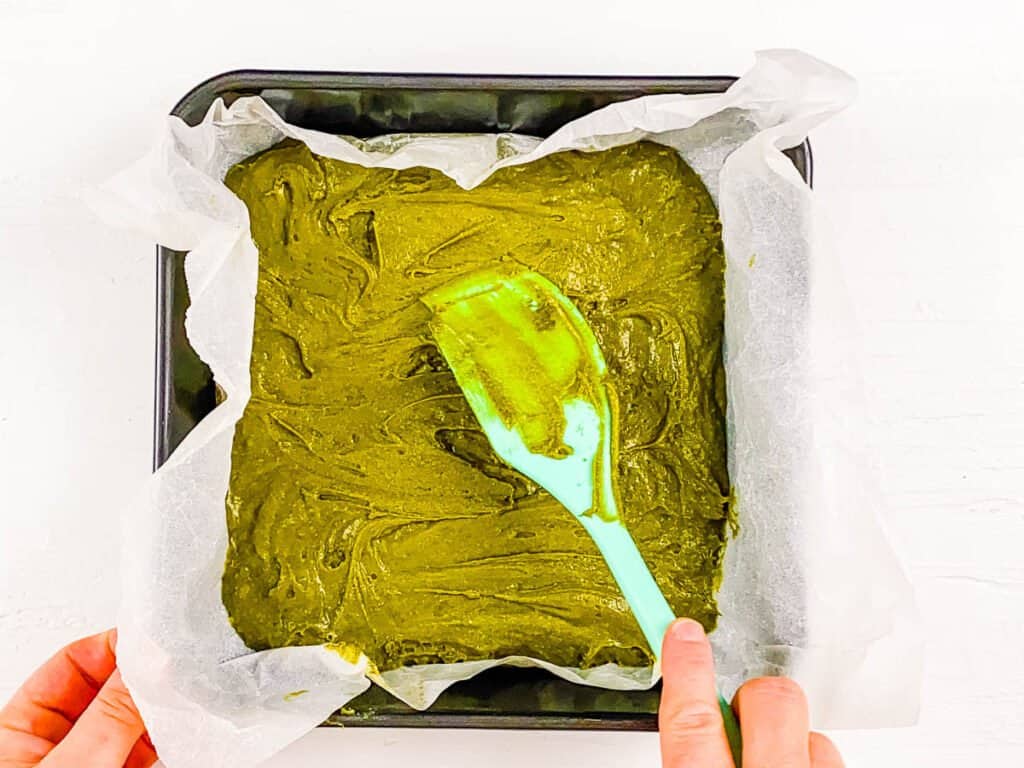 Cook for 25 to 30 minutes or until a toothpick inserted in the center comes out clean.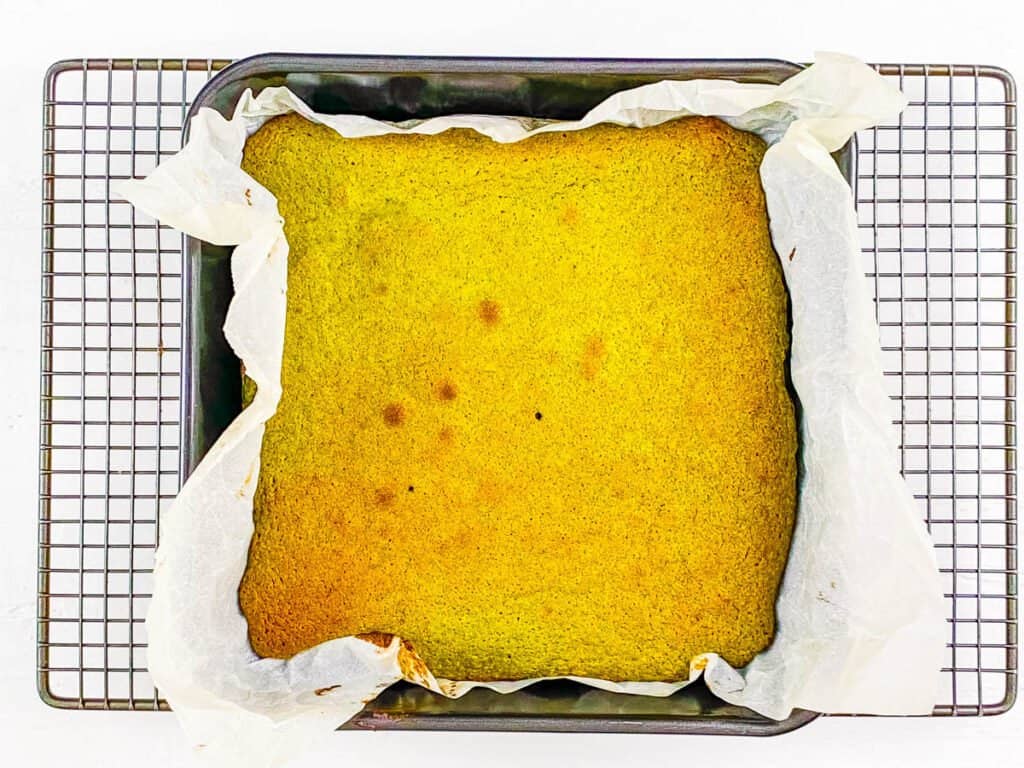 Slice & Eat: Carefully remove the baking dish from the oven and let them cool before cutting into twelve brownies. I like to serve this sweet treat with green tea ice cream!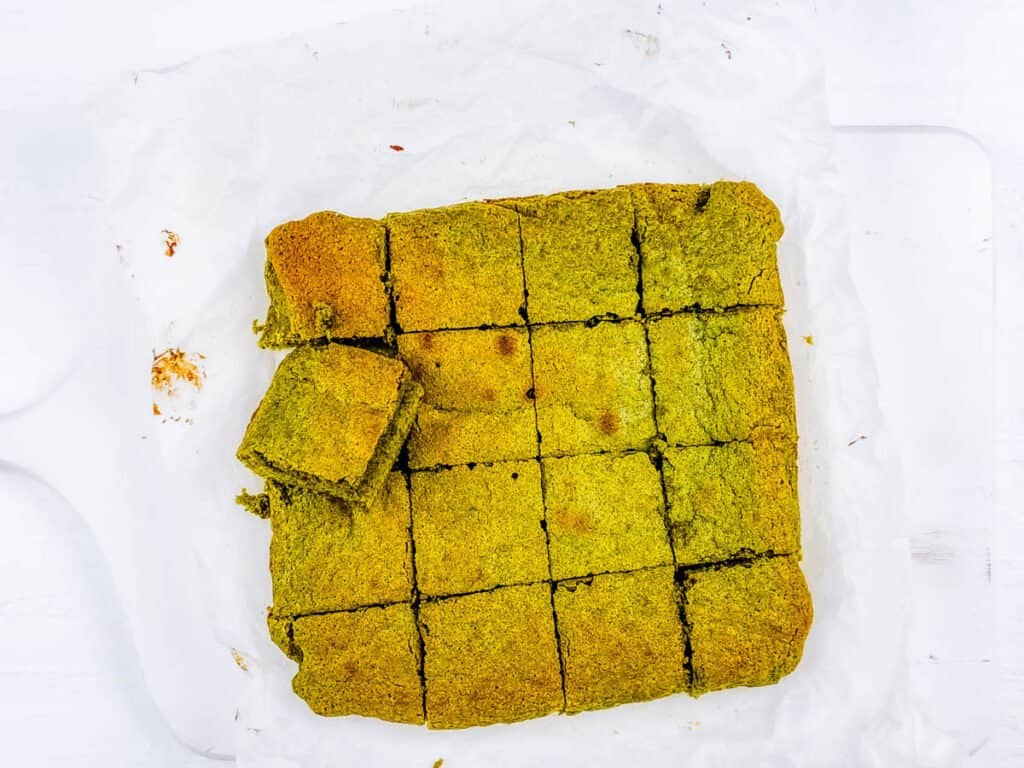 ❓ Recipe FAQs
What are matcha fudge brownies?
Matcha brownies are like regular brownies, except the flavor is centered around matcha instead of chocolate. Oftentimes white chocolate is used instead of dark chocolate, so the matcha flavor isn't overpowered and the green color is brighter.
How do I store matcha brownies?
Store them cut in an airtight container in the refrigerator for up to one week, or on the counter for up to 3 days.
Can I freeze fudgy matcha brownies?
Yes! Freezing brownies is a great way to extend their shelf life. Let the brownies cool to room temperature first. Place the cut brownies in a freezer-safe container or plastic baggie and freeze for up to 3 months. Reheat in the microwave in 10-second increments or let thaw in the fridge overnight and then reheat in the oven at 250-300 degrees F for 5-10 minutes until warmed through..
What kind of matcha should I use?
I prefer to bake with ceremonial grade matcha for its beautiful green color and superior taste, however any kind of high quality matcha powder will taste great! For best results, use a good quality matcha powder. I find the extra cost of ceremonial grade matcha worth the price.
Does matcha have caffeine?
Yes! Matcha has more caffeine than regular green tea, but still less caffeine than coffee.
💭 Expert Tips
Let the brownies cool in the pan before you cut them! No need for a cooling rack this time. It's difficult to slice warm brownies neatly. If you chill the brownies in the fridge overnight and use a sharp knife and they will be very easy to cut!
Make sure to use the best matcha powder you can find – ceremonial grade tends to have a better taste in sweet treats than culinary grade.
For best results, sift the flour and matcha powder together in the mixing bowl to avoid clumps.
This may seem obvious but don't overbake the brownies! Check the brownies a couple minutes before they're done and pull them out as soon as a toothpick inserted in the center comes out clean. If you overbake a brownie, it will be dry and cakey, and these treats will continue to cook slightly in the pan after they've come out of the oven.
Make sure the white chocolate mixture is room temperature and not hot. You don't want the eggs to cook when you add them.
For a beautiful presentation, sprinkle the tops of the brownies with powdered sugar or matcha powder.
If you like chunks of white chocolate, add 1/2 cup of white chocolate chunks to the batter before baking.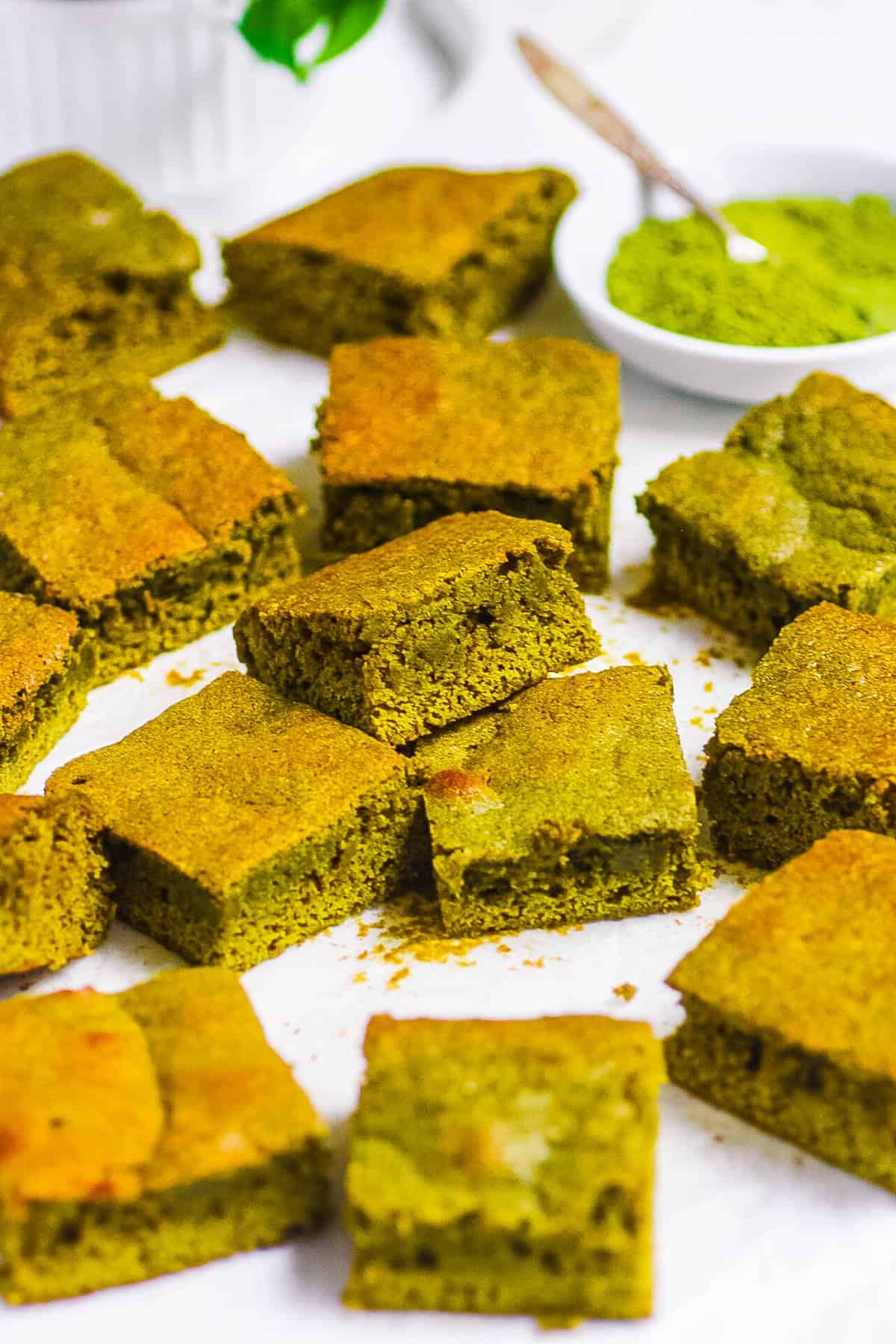 🍮 More Brownie & Matcha Recipes!
LOVE THIS RECIPE? Please leave a 5-star rating 🌟 in the recipe card below and/or a review in the comments section further down the page!
You can also FOLLOW ME on FACEBOOK, TWITTER, INSTAGRAM, and PINTEREST to see more delicious, healthy, family-friendly food, and if you have any questions, I'm here to help!
📋 Recipe Card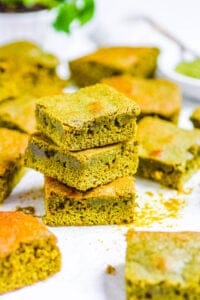 Print Recipe
Matcha Brownies
With moist and chewy middles, these matcha brownies are for matcha lovers everywhere! These fudgy green tea brownies disappear quickly. Vegan & gluten-free option.
Instructions
Preheat oven to 320 degrees F / 160 C. Line a square 8"x8" baking tin with parchment paper.

In a microwave-safe bowl melt the butter and chocolate chips in 30-second bursts until melted and smooth.

Whisk in the eggs and vanilla extract.

In a separate bowl whisk all remaining ingredients.

Fold the dry ingredients into the wet until well combined.

Spoon the batter into the prepared tin and cook for 25-30 minutes or until an inserted skewer comes out with a few crumbs stuck to it.

Remove from the oven and allow to cool completely before cutting into 12 pieces.
Notes
To make these brownies vegan-friendly use vegan butter, vegan white chocolate and substitute the eggs with ¾ cup apple sauce.
Substitute the flour for gluten-free flour and ensure the baking powder is also gluten-free to make these brownies gluten-free.
Optional: Lightly sprinkle the top of the brownies with matcha powder or powdered sugar
½ cup white chocolate chunks can be added to the batter before cooking if desired.
Cool completely before cutting.
For a low sugar option, cut the amount of sugar by half (then each brownie will have only 9 grams of sugar and under 200 calories). 
Store in an airtight container in the fridge for up to 1 week.
Nutrition
Serving:
1
brownie
|
Calories:
224
kcal
|
Carbohydrates:
24
g
|
Protein:
5
g
|
Fat:
12
g
|
Saturated Fat:
7
g
|
Polyunsaturated Fat:
1
g
|
Monounsaturated Fat:
3
g
|
Trans Fat:
0.3
g
|
Cholesterol:
63
mg
|
Sodium:
182
mg
|
Potassium:
87
mg
|
Fiber:
0.2
g
|
Sugar:
18
g
8 responses to "Matcha Brownies"