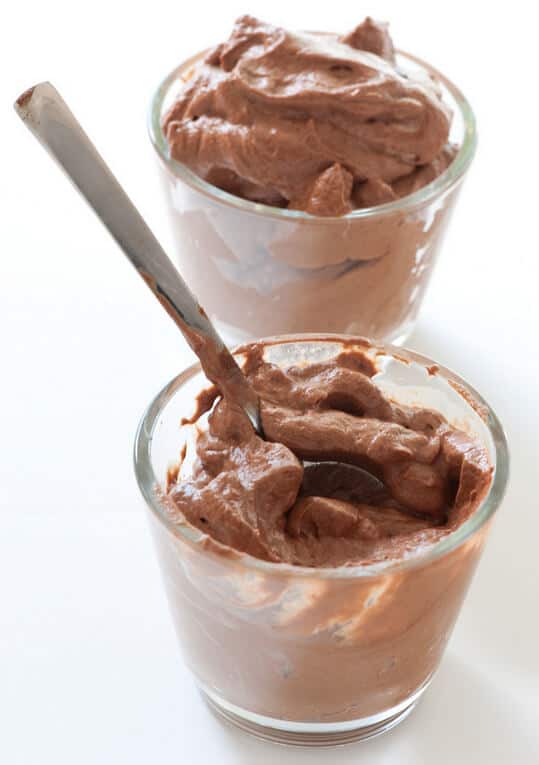 I really love experimenting with recipes. Particularly ones that consists of just a few ingredients, which you'll more likely to have at home.
There is nothing like a mouthwatering chocolate mousse to boost your mood, am I right? Most of the recipes you'll find online are loaded with refined sugar or are too complicated to make. That's why I created a recipe which will blow your mind. It's super easy AND super healthy. This mousse is going to be velvety, nutty and rich in chocolatey flavor.
One of the secret ingredients in this recipe is Tahini. Tahini is created from sesame seeds that have been soaked and crushed. It has a high concentration of healthy oils, filled with heart-healthy omega-3s. It gives the mousse a rich, nutty consistency that goes really well with the cocoa powder!
For my vegan raw chocolate mouse you don't even need added sugar, because all we use is the natural sweetness of a banana – it's the real deal. I throw in a bit of honey or maple syrup (for a vegan option) but that adds just a tiny amount of sugar per serving! This mouse is 100% raw, natural, free of refined sugar, gluten free and vegan. Hope you enjoy it!
Sugar Free, Raw, Vegan Chocolate Mousse
Makes 6 servings. Nutritional Info Per Serving: 115 Calories, 4.6g Fat (0.5g Saturated), 4.1mg Sodium, 16g Carbs, 1.8g Fiber, 9.4g Sugar (only 3g added sugar from the honey), 4g Protein
Ingredients
1

block silken

soft tofu

2

large bananas

or 3 small

2

tbsp

tahini or almond butter (almond butter will be slightly sweeter

1.5

tsp

unsweetened cocoa powder

1

tbsp

honey or maple syrup

for a vegan option
Instructions
Blend all ingredients in a blender until smooth. Taste and adjust sweetness as needed.

Refrigerate for around 3 hours, ideally overnight.
TAGS: dessert, gluten-free, kid friendly recipes, quick meals, snacks, vegan, vegetarian
4 responses to "Sugar Free, Raw, Vegan Chocolate Mousse"