Gluten Free Pie Crust Recipe
This post may contain affiliate links. As an Amazon Associate, I earn from qualifying purchases. Please read my disclosure.
A pie just isn't the same without a buttery, flaky crust. This gluten free pie crust recipe bakes up golden every time and it's easy to make too. Follow this step-by-step recipe for a no-fail crust you can use for all your favorite pie recipes!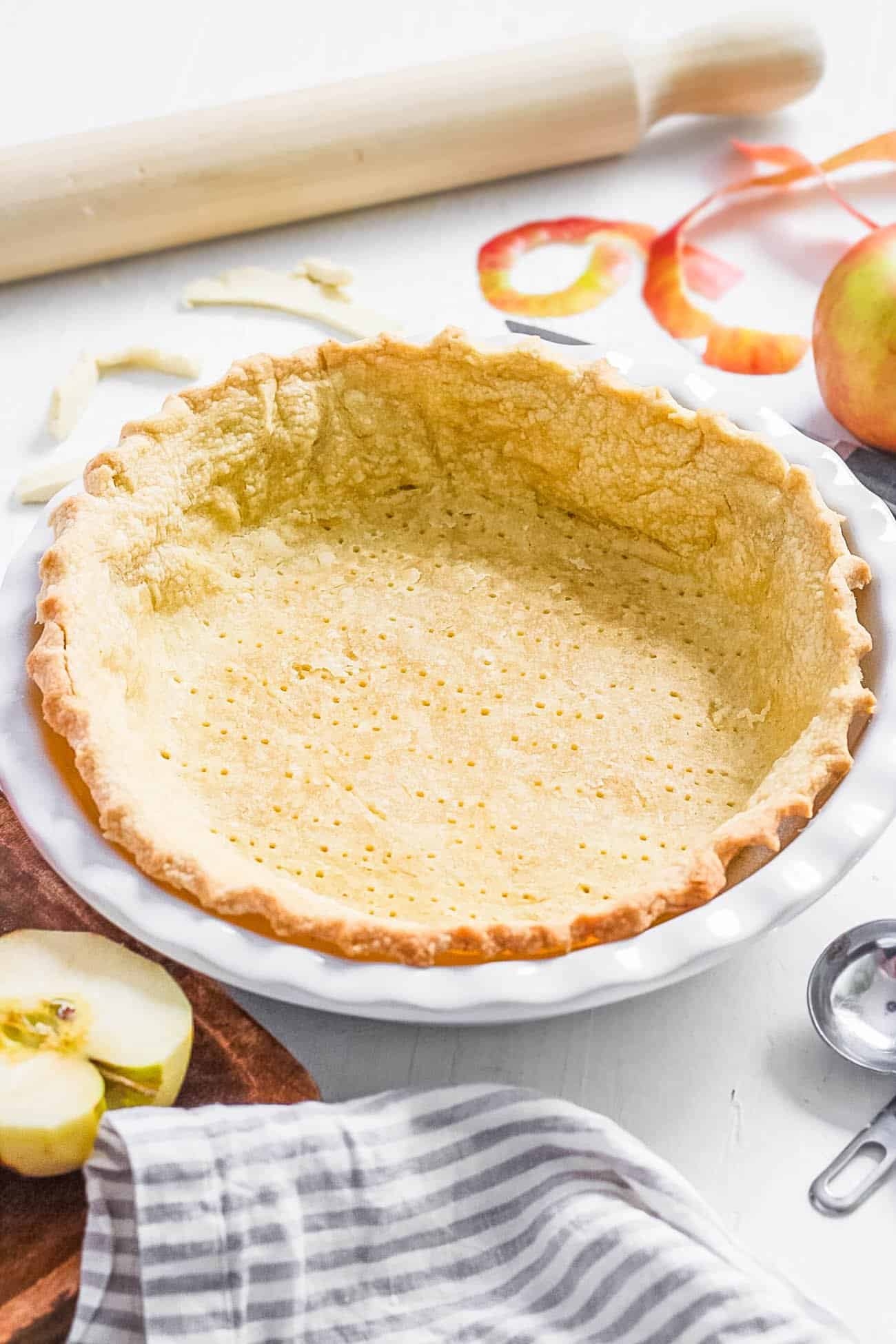 A homemade pie crust can feel intimidating without the added weight of making it gluten-free. But don't worry, this gluten free pastry recipe tastes just like the real deal. There's nothing quite like a slice of pie with a golden crust and a sweet, juicy filling! Thankfully, the only ingredients you need for a killer pie crust are pantry staples – butter, cold water, flour, and salt.
The most important ingredient in any gluten free pastry dough is the flour. Why is this? Because all gluten-free flour blends are different. They are a blend of alternative flours, starches, and xanthan gum intended to mimic regular flour. This means the flavor of your pie crust can vary greatly depending on the brand you use.
Latest Recipe Video!
I recommend using a trusted brand you already know you love or Bob's Red Mill 1:1 All-Purpose Gluten-Free Flour. It has a gluten-like taste and texture perfect for gluten free pie dough! Let's not forget our other three ingredients though. Cold butter creates pockets of steam that form light and flaky layers. Ice water keeps the butter cold and salt enhances its flavor. Use this easy gluten free pie crust for all your sweet and savory pies!
👩‍🍳 Why This Recipe Works
Make this flaky pie crust and freeze for later!
Fool-proof recipe for the best gluten free pie crust
Perfect pie crust for everything from apple pie, to quiche, and chicken pot pie!
Simple techniques anyone can follow
Gluten-free with a dairy-free option!
Tastes just like a regular pie crust
🥘 Ingredients
This homemade gluten-free pie crust only requires four simple ingredients.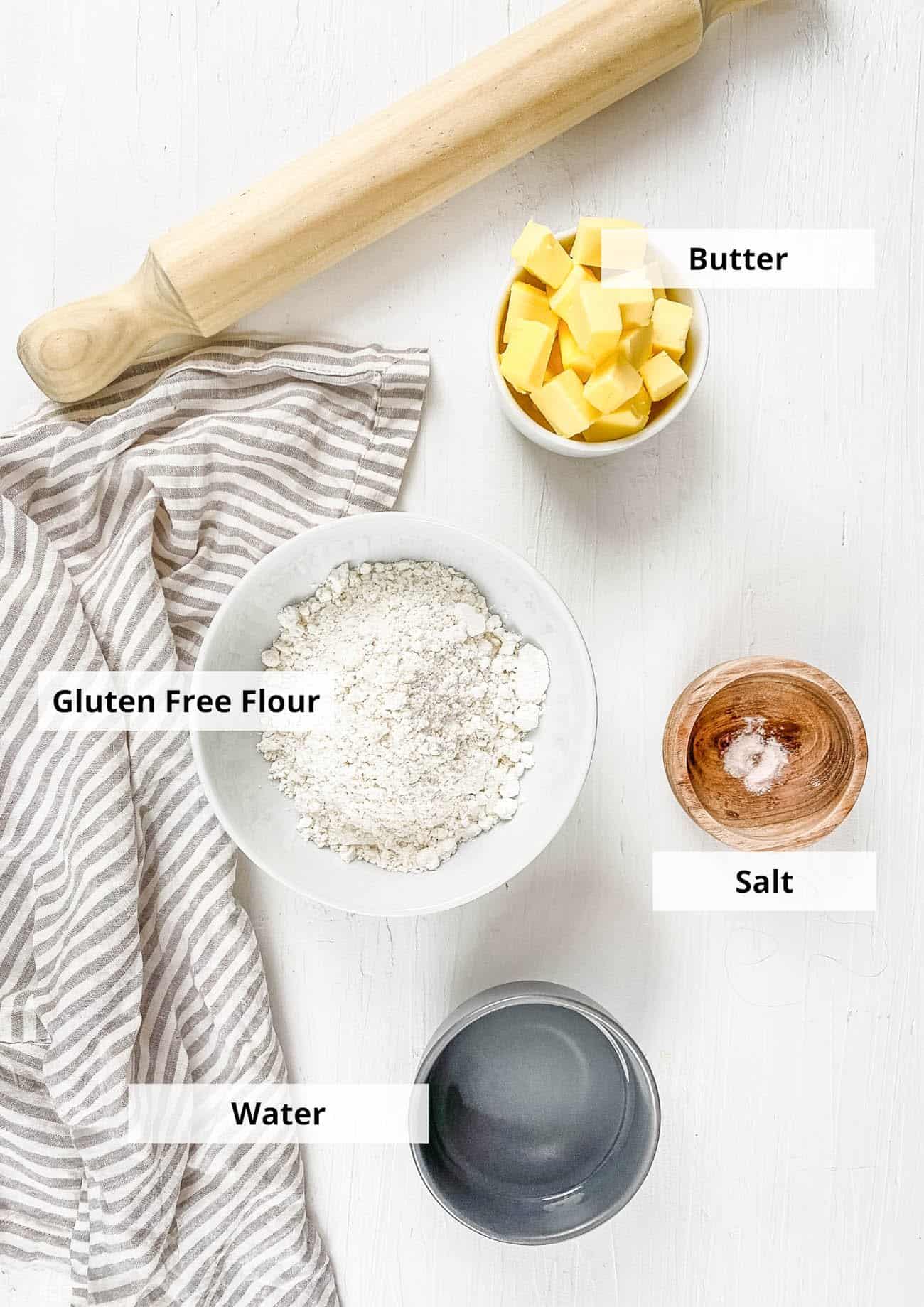 Gluten Free Flour: Use an all-purpose gluten-free flour blend that includes xanthan gum for best results. Don't substitute a one-ingredient flour like coconut or almond flour in this recipe. They respond differently to moisture and the ratios won't be correct.
Salt: Don't forget the salt. It's a vital ingredient for a homemade pie crust. A gf pie crust recipe without salt will taste flat.
Cold Unsalted Butter: Cold fat is essential for a flaky gluten free pie crust. Pieces of butter throughout the dough create pockets of steam as the pie bakes. This is what makes it light and flaky, instead of dense like a cookie.
Ice Water: Ice water adds moisture so you can form a smooth dough ball. It also keeps the butter nice and cold!
📖 Variations
Gluten Free Dairy Free Pie Crust: For a dairy free pie crust, use vegan butter in place of regular butter. This will also make it a gluten free vegan pie crust.
Double Crust Pie: This single pie crust recipe makes one bottom crust. Double this recipe and use one pie disc for the top crust.
Gluten Free Graham Cracker Crust: Prefer a graham cracker crust? I hear ya! Combine 1 3/4 cups of gluten free graham cracker crumbs, 4 tablespoons of sugar, and 6 tablespoons of melted butter. Press into a pie plate and bake for 8 minutes.
Healthy Pie Crust: If you want a healthier version, you can substitute coconut oil in place of butter. Just be sure to use solid coconut oil and not liquified.
Gluten Free Tart Crust: Technically tart crusts are a bit sweeter. They also sometimes contain eggs. You can use this pie crust for a tart in a pinch.
🔪 Instructions
Perfect gluten free baking isn't as difficult as it seems! Follow these simple steps
Process Butter & Flour: Combine the dry ingredients and butter in a food processor then pulse until crumbly. The butter should be the size of small peas. Alternatively, you can do this in a large bowl with a pastry cutter, or a stand mixer.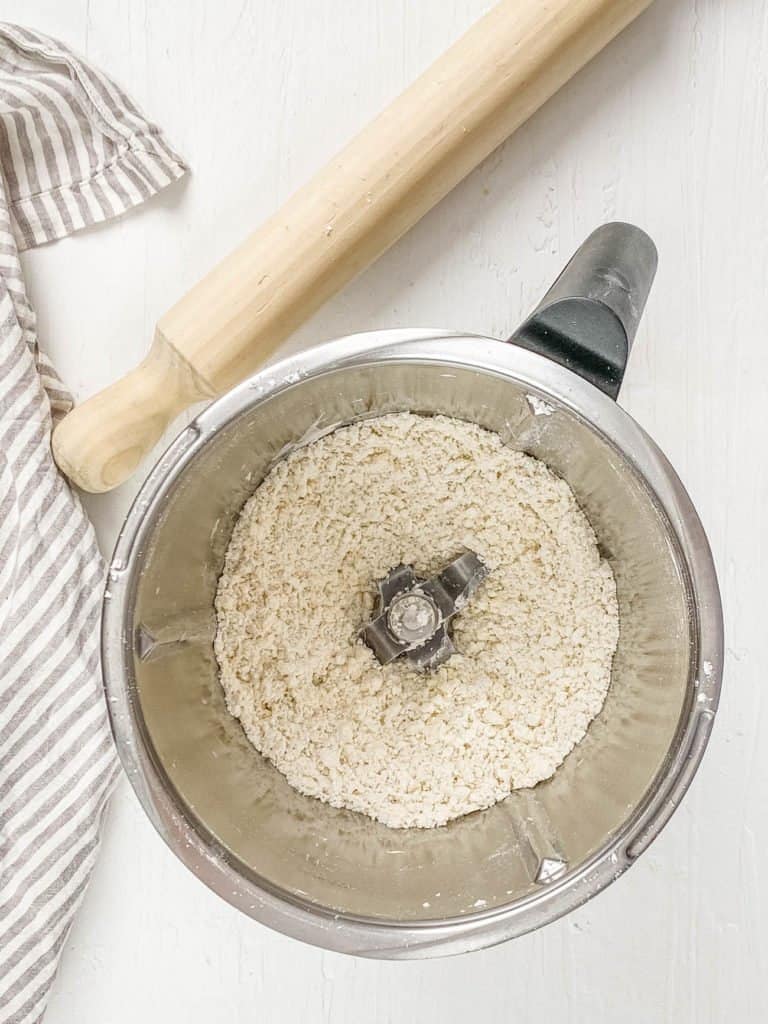 Add Water: Add the chilled water to the flour mixture until a dough starts to form. If the dough is too dry, add a bit more water. Remove from the food processor and form into a smooth disc.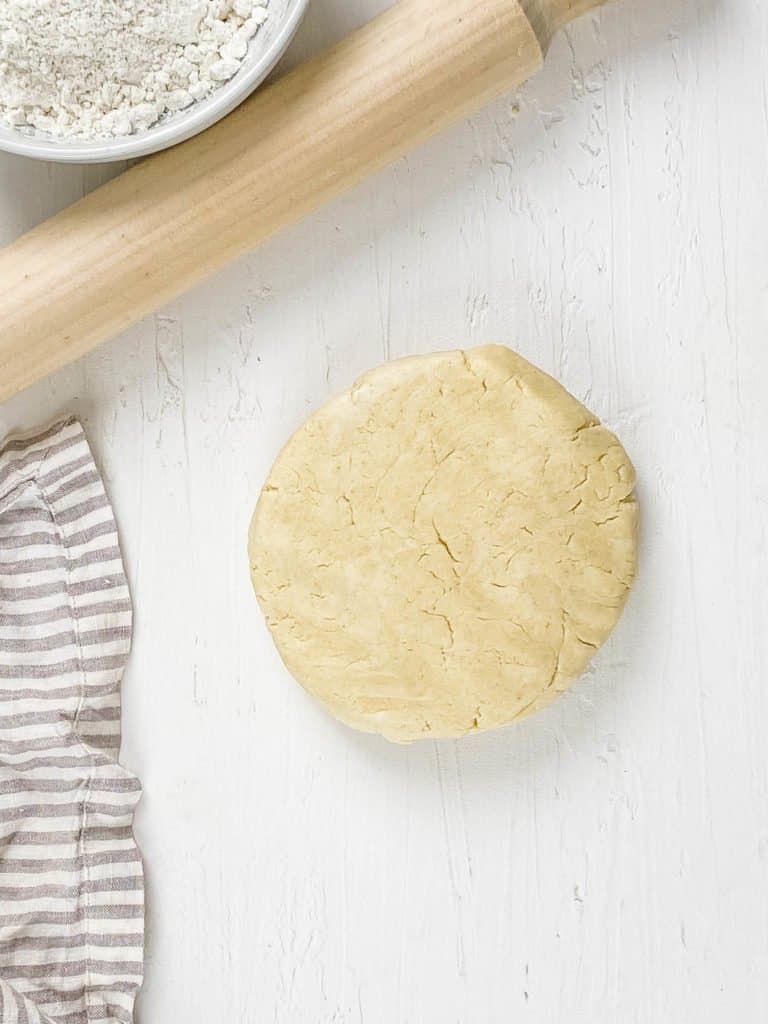 Refrigerate: Cover the disc in plastic wrap and refrigerate for one hour. This way the dough is plenty cold and the butter won't melt as you work with it.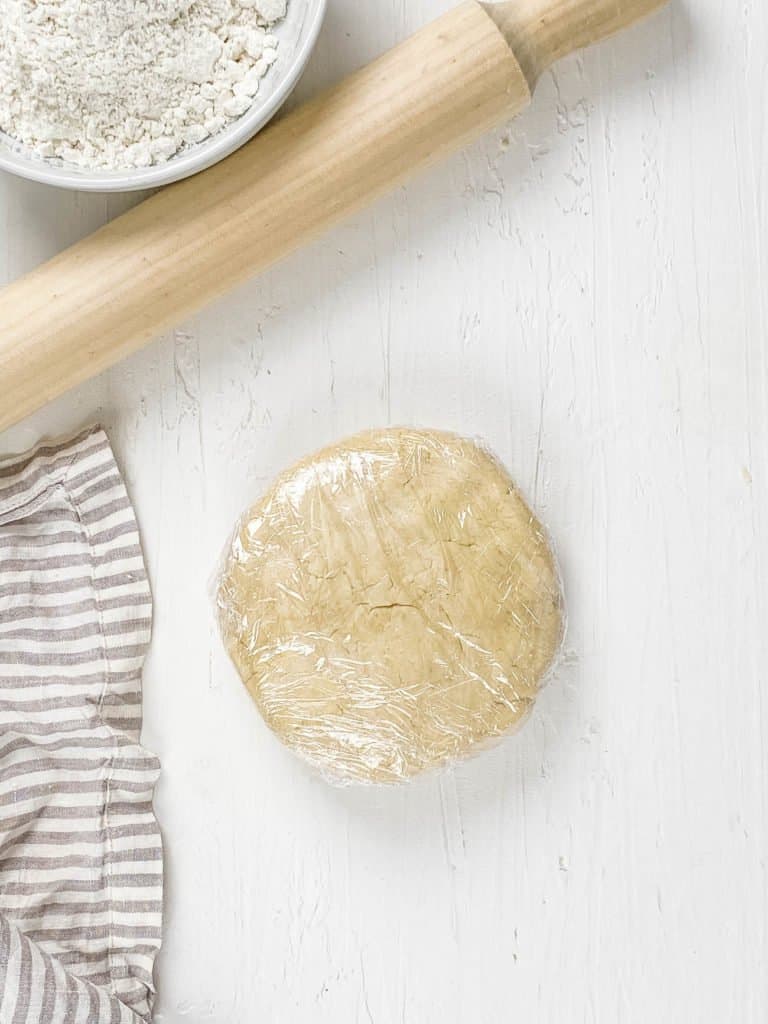 Let Dough Sit: Remove dough from the refrigerator and let it sit for 15 minutes. This will make it easier to roll out.
Roll Dough: Use a rolling pin to roll the dough between two sheets of parchment paper until 1/4 inch thick. Peel back the paper to make sure it's not sticking. If it is, remove the parchment paper and sprinkle with gluten free flour.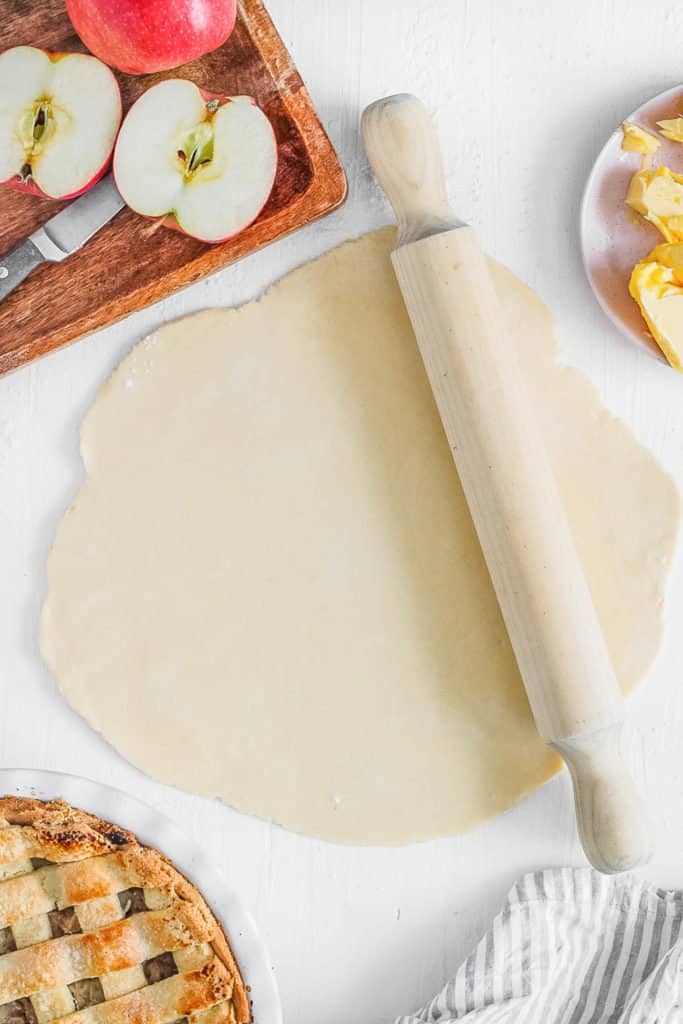 Line Pie Dish: Remove the top piece of parchment paper and carefully use the bottom parchment paper to flip the dough into the pie plate. Trim the edges and crimp if desired.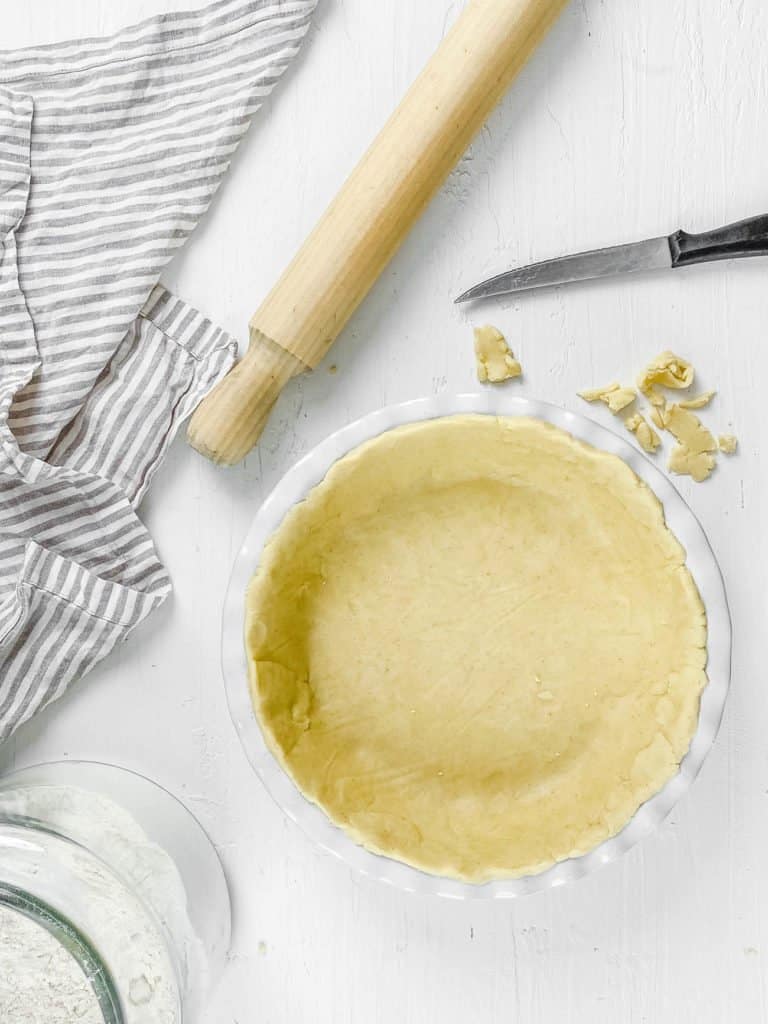 Bake: Use a fork to prick the bottom of the pie crust, add pie filling, and bake as required. If the filling doesn't need to bake, you will need to blind bake the crust.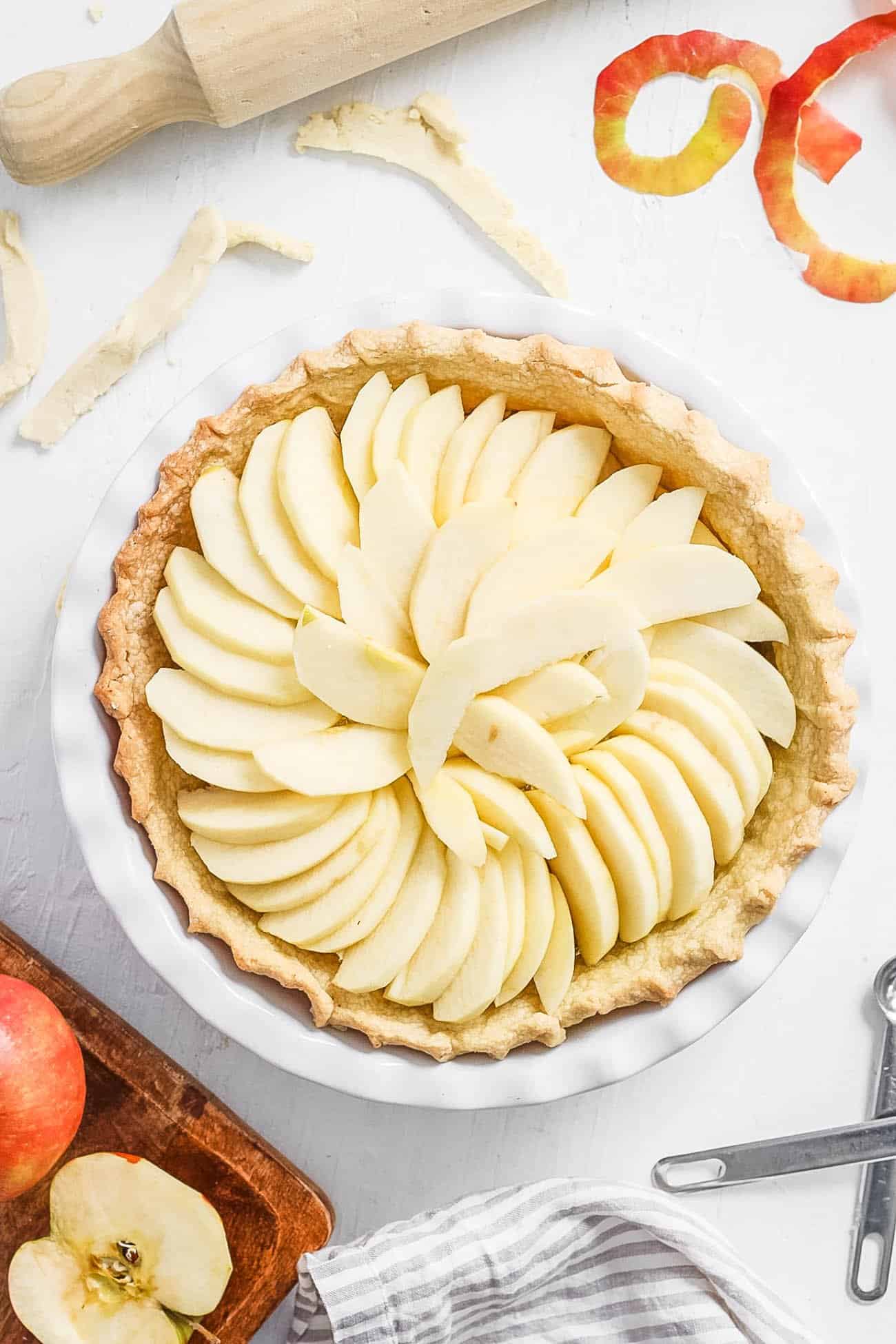 How To Use Gluten Free Pie Crust
You can use this pie crust recipe for any pastry or pie you want to make gluten free! Try it as the base for this cherry pie with frozen cherries, this ricotta pie, this healthy pumpkin pie recipe, or even these pop tarts!
❓ Recipe FAQs
Is pie crust gluten free?
No, regular pie crust is not gluten free because it's made with all purpose flour or wheat flour. In order to get a flaky gluten-free pie crust, you need to use make your pie crust from scratch, using gluten free certified flour and adjust the rest of the ingredients accordingly!
Can I make the gluten-free pie dough ahead of time?
Yes! In fact I recommend you do. Making the pie dough ahead of time simplifies the pie-making process. You can refrigerate the wrapped pie dough for up to three days! Once ready to use, let it sit at room temperature for 15 minutes before rolling out.
Should I par-bake this pie crust?
It depends on the recipe. Pies with a juicy filling often need to be par-baked so the crust doesn't get soggy. The recipe you use should tell you if it's necessary to par-bake the crust. To par-bake, bake at 375 degrees Fahrenheit for 15 minutes. Pie weights aren't necessary but can be used if you like.
Can I freeze gluten free pie dough?
Yes! You can freeze the dough in discs or already rolled out and in the pie plate. Wrap the discs in saran wrap and freeze in a freezer-safe zip-top bag. To wrap a dough-lined pie plate, double wrap the entire thing in plastic wrap and use it within 3 months for best results. Let the pie crust thaw for 20 minutes before baking.
What is the best gluten free flour for pie crust?
Be sure to use an all-purpose gluten free flour with xanthan gum. I like Bob's Red Mill Gluten Free 1:1 Baking Flour. But overall, I find the best tasting ones to include a blend of sweet rice flour, brown rice flour, and tapioca starch.
💭 Expert Tips
Make sure the water and butter are very cold! Cold butter creates flaky layers!
Don't overwork the dough. You don't want to melt the butter.
For a golden crust, brush the dough with egg wash before baking.
This recipe makes enough for single crust pies. For a sweet double-crust pie, double the recipe, egg wash the top and sprinkle with coarse sugar.
Any pie plate will do, but a glass one allows you to see the bottom of the crust.
If the dough is too crumbly, add a tablespoon of cold water at a time until you get a smooth ball.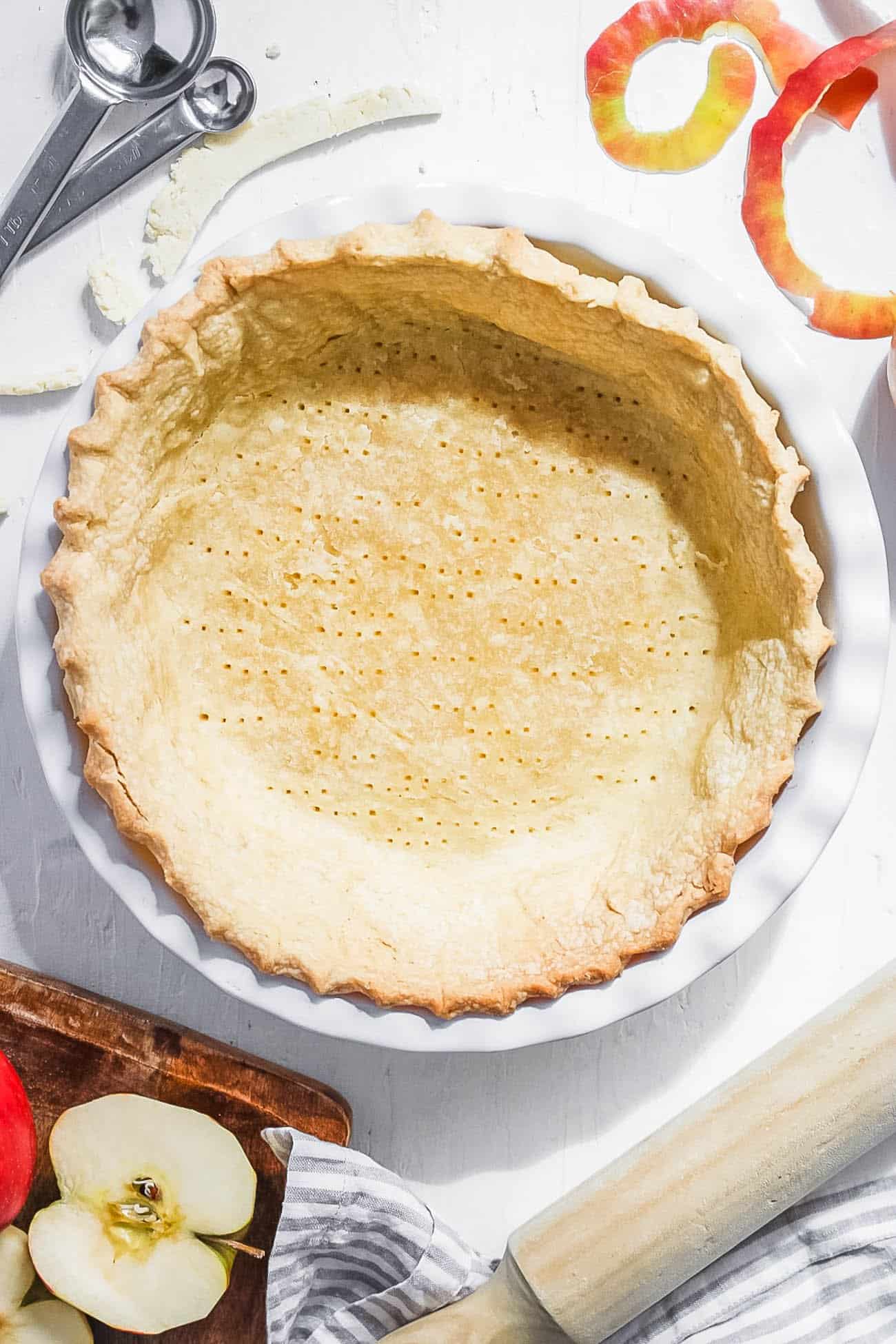 🍲 More Gluten Free Recipes!
LOVE THIS RECIPE? Please leave a 5-star rating 🌟 in the recipe card below and/or a review in the comments section further down the page!
You can also FOLLOW ME on FACEBOOK, TWITTER, INSTAGRAM, and PINTEREST to see more delicious, healthy, family-friendly food, and if you have any questions, I'm here to help!
📋 Recipe Card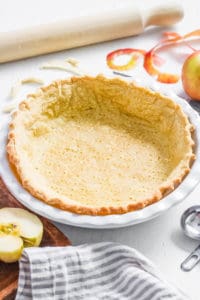 Print Recipe
Gluten Free Pie Crust Recipe
A pie just isn't the same without a buttery, flaky crust. This gluten free pie crust recipe bakes up golden every time and it's easy to make too. Follow this step-by-step recipe for a no-fail crust you can use for all your favorite pie recipes!
Servings:
12
slices of pie crust
Ingredients
1¼

cups

gluten free flour

½

teaspoon

salt

½

cup

cold butter, cubed

can use vegan butter if desired

4-6

tbsp

ice cold water
Instructions
Add the flour, salt and butter to a food processor and pulse until crumbly.

Slowly add the chilled water until a dough starts to form.

Remove from the food processor and form a disc shape.

Cover in plastic wrap and allow to rest in the fridge for 1 hr.

Remove from the fridge and sit the dough at room temperature for 10-15 minutes.

Roll the dough between 2 sheets of baking paper until approximately ¼ inch thick.

Transfer the dough to an 8-inch pie plate and trim the dough edges to about a ½ inch overhang, and fold it under slightly to form a ring (which you can crimp if desired). Cover the dough with plastic wrap or parchment paper and chill for 30 minutes and up to 3 days in the fridge before baking.

To parbake the crust: Preheat the oven to 375 degrees F. Using a fork, prick the base of the pie crust all over. Cover the entire crust with parchment paper, and then pour in dried beans or lentils or pie weights to cover the bottom. Bake 10-15 minutes, remove the parchment and beans, and bake an additional 2-5 minutes until the crust is golden brown.
Notes
To make this pie crust for a sweet dish add 1 tbsp sugar to the food processor when adding the flour. Continue to prepare as directed.
Resting the pastry in the fridge allows the dough to rest and helps to reduce shrinkage when cooked.
This recipe is enough to line an 8 inch round pie dish.
Double the recipe if you require a top layer of pastry for your pie.
Nutrition
Serving:
1
slice of pie crust
|
Calories:
109
kcal
|
Carbohydrates:
9
g
|
Protein:
1
g
|
Fat:
8
g
|
Saturated Fat:
5
g
|
Polyunsaturated Fat:
1
g
|
Monounsaturated Fat:
2
g
|
Trans Fat:
1
g
|
Cholesterol:
20
mg
|
Sodium:
164
mg
|
Potassium:
2
mg
|
Fiber:
1
g
|
Sugar:
1
g
8 responses to "Gluten Free Pie Crust Recipe"