25 Vegetarian Indian Recipes With a Healthy Makeover
This post may contain affiliate links. As an Amazon Associate, I earn from qualifying purchases. Please read my disclosure.
These 25 vegetarian Indian recipes have gotten a healthy makeover, but retain all the flavor! Enjoy your favorite curries, tikka masala, paneer and more!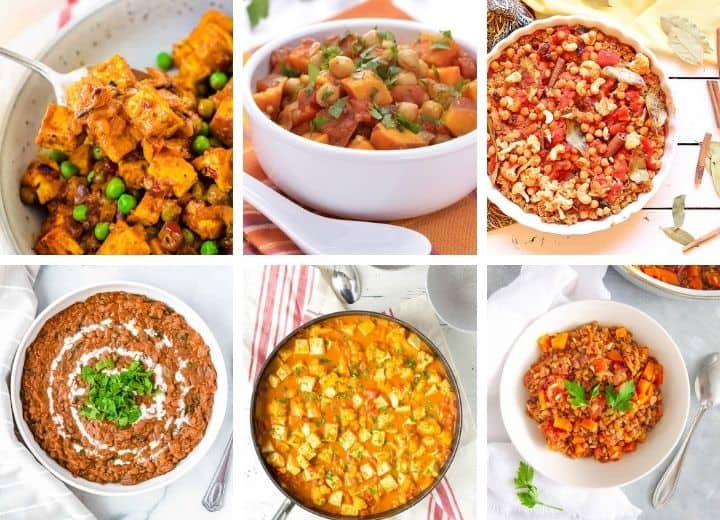 Indian food is near and dear to my heart, as it was one of the most common cuisines I ate for dinner when I was a kid!
I remember watching both my mom and dad make a variety of vegetarian Indian recipes – from tempering the spices, to pressure cooking the lentils and rice – I was always fascinated by the flavors and aromas that filled our kitchen.
If you're not familiar with Indian cuisine, you might be surprised to find that Indian cuisine varies greatly. India itself is a large region with varying climates, available produce, and spices. As a result, the dishes and flavors of Indian recipes are quite different depending on their origin.
Most traditional vegetarian Indian recipes have healthy ingredients, but a liberal use of ghee and refined grains for rice & breads tends to make them high in fat and carbs. These 25 recipes retain all of that traditional flavor, with just a few healthy swaps to make them both nutritious and delicious!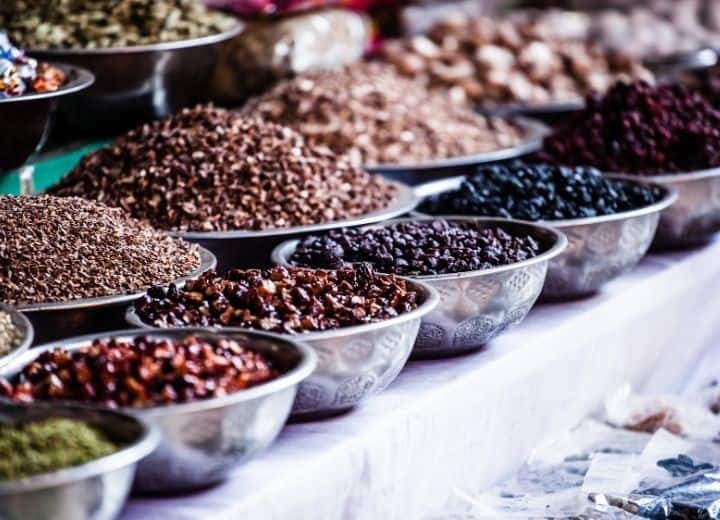 What Are The Staple Ingredients in Indian Recipes?
If you're ready to stock your pantry with ingredients that will help you create delicious vegetarian Indian recipes with ease, these are the ingredients to keep on hand!
Rice: White basmati rice is the traditional type of rice that is served with Indian recipes. I prefer to keep brown basmati rice on hand for its higher nutritional content. Rice is served alongside curries, and sabji.
Quinoa: If you'd prefer something other than rice to serve with your dishes, quinoa is an excellent choice. It is high in protein, fiber, and is considered a whole grain.
Lentils: There are a wide variety of lentils that are used in Indian recipes. Lentils are commonly referred to as dal. Some of my favorites include red lentils, yellow lentils, mung beans, toor dal, moong dal and brown lentils.
Chickpeas: A type of bean that is rich in protein and fiber. It is commonly used in vegetarian Indian recipes to add weight and substance.
Kidney Beans: A red bean that is used to add protein and fiber to Indian recipes.
Ghee: Ghee is clarified butter. It is simmered and then strained to remove all water. When butter is melted it separates into milk solids, and liquid fat. When making ghee, the milk solids are removed. As a result, ghee has less dairy than regular butter.
Coconut Milk: Having canned coconut milk is great to have to thicken curries, and give them a creaminess without the need to add cream. I prefer to use a light coconut milk to reduce the overall fat and calories.
Coconut Oil: Coconut oil is often used to sauté vegetables. It is a healthier, less processed oil than other types such as canola oil, or vegetable oil.
What Are The Most Popular Spices Used in Indian Cuisine?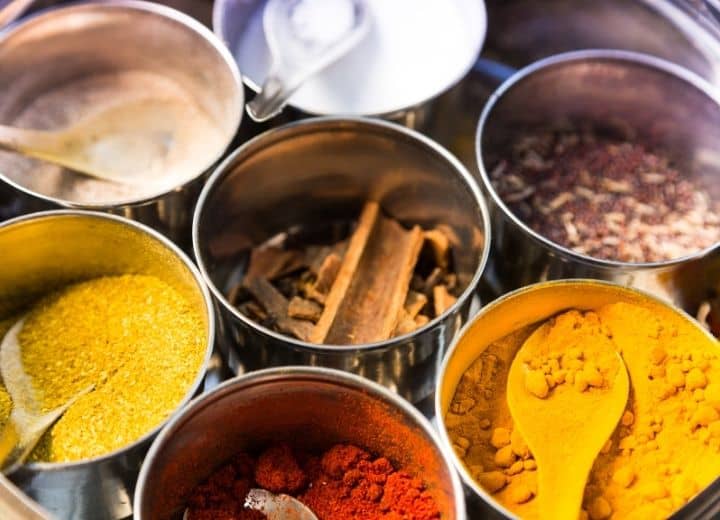 Chili peppers: Adds spice and heat.
Black mustard seed: With a spicy flavor, this type of mustard seed is commonly used in Indian recipes.
Cardamom: Made from the seeds of various plants in the ginger family. It is deliciously sweet and lightly spicy, used in both sweet and savory recipes.
Turmeric: Bright yellow in color, it is what gives curries their yellow hue. It has a warm and bitter flavor.
Ginger: The ginger spice comes from the root of a ginger plant. It has a warm, sweet, and spicy flavor.
Coriander: Coriander can be used both ground or in its seed form. It is the seed for cilantro.
Garlic: Used most frequently as minced garlic in Indian cuisine.
Garam Masala (a spice mixture): Widely used in vegetarian Indian recipes, it is a blend of cinnamon, mace, peppercorn, coriander seeds, cumin seeds, and cardamom pods. They are roasted to release their flavor and aroma and then ground together to create this spice blend.
Cinnamon: A warm spice used in both savory and sweet recipes.
Star Anise: With a sweet licorice flavor, star anise is most commonly used in savory recipes.
Fenugreek: The seeds of the plant are used to flavor recipes. It has a sweet flavor and smells like maple syrup.
Curry Powder: There are many different types of curry blends. The one most common used in Indian cuisine uses turmeric for the yellow color.
Saffron: A spice that comes from a flower called crocus sativus. It looks like bright red threads. It has a sweet and earthy flavor. When used in recipes it turns the color of the food into a bright yellow.
Nutmeg: With a warm and nutty flavor, nutmeg is used in both sweet and savory dishes.
Cumin: Used in both its ground and seed form, cumin comes from the parsley family. It is often added to curry blends. Seeds are often toasted to bring out the sweetness of flavor.
What Are The Most Common Types of Indian Recipes?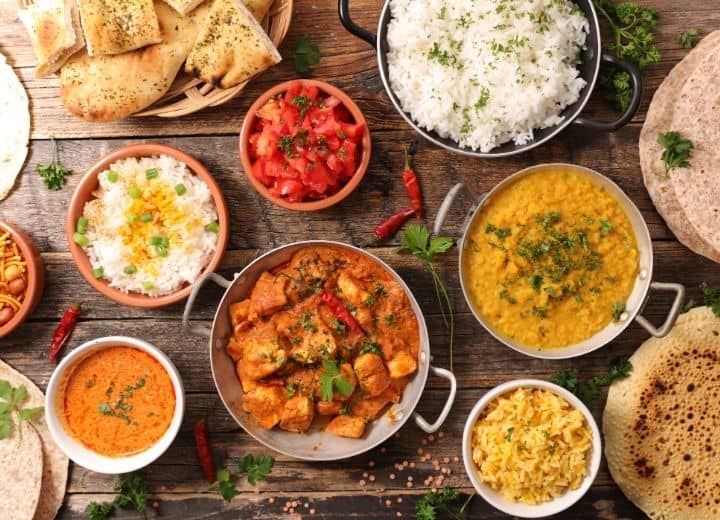 Curries
Curry refers to a wide range of Indian recipes. The main types of curries include, dhansak, tikka masala, saag, korma, jalfrezi, and vindaloo.
Dhansak is a type of curry that has a sweet and sour flavor profile.
Tikka Masala is likely the most common. The meats or protein/veggies are cooked in a tandoor on a skewer. The masala is the creamy sauce that covers the dish.
Saag is a spicy dish that often includes spinach, mustard greens, and other leafy vegetables.
Korma includes flavors such as cardamom and cinnamon and is mixed with a rich and creamy sauce made from butter and cream.
Jalfrezi carries some heat, but it is not too strong. These dishes include green chilis, tomtoes, onion, and coriander.
Vindaloo is the most spicy curry dish.
Dals
These are dishes that include lentils or split legumes. You can enjoy dal soup, or a heavier dal recipe that also includes additional vegetables. Dal includes spices with curry flavors, like turmeric, cumin, coriander and curry powder.
Sabjis
These dishes are basically Indian stir fried vegetables. They are meat free and often include a variety of vegetables cooked in a rich blend of Indian spices.
Breads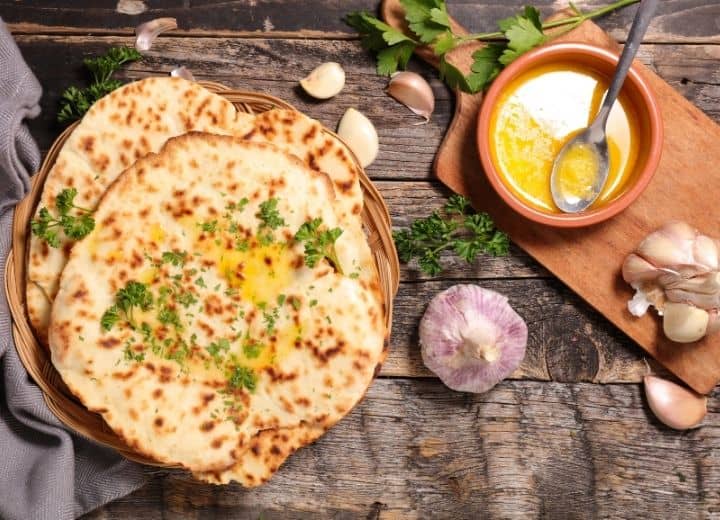 Many Indian recipes are either served with basmati rice of a type of flatbread.
Roti is a type of unleavened bread made of wheat flour. It is served alongside veggies, and curries. It only requires two ingredients, wheat flour and water. It is rolled out into a flat circle and cooked on a tawa (which is a round, flat or concave griddle pan, usually made of cast iron or aluminum).
Chapati is similar to roti. It is also an unleavened flat bread made of whole wheat flour that is cooked on a tawa or griddle. Chapti is actually a form of roti.
Naan is different from roti in that it is a leavened flatbread. It is soft and chewy. It is made from white flour, and often leavened with yeast and yogurt. The yogurt also gives it a chewy texture and flavor.
Snacks
The most common types of Indian snacks include samosas, mixed snacks like bhel puri, and street food like katori chat.
Desserts
Indian desserts are typically made with sugar and milk / milk products. There is a wide variety of desserts. One of the most popular is gulab jamun, a sticky ball of dough dipped in a sweet syrup.
Tools and Equipment You'll Need
When creating your own homemade vegetarian Indian recipes, you may want to invest in some tools and equipment that will make your cooking easier. While these specific tools are not necessary, they are helpful if you are making homemade naan, rotis, chapitis, and other traditional Indian cuisine.
Instant Pot: Having an instant pot can really help you speed up the cooking process when making some of your favorite recipes. If you're making a weeknight meal, using your instant pot will dramatically cut down on your cooking time! It can also quickly cook rice and lentils for your meal in less than 15 minutes!
Belan: If you decide to make your own naan or roti at home, having a belan will help! It is a long and thin rolling pin that allows you to more evenly roll out the dough to make this types of breads.
Patli or Chakla: Often sold with a belan it is a circular raised wooden board. It is used a surface for rolling out naan and roti.
Tawa: A small and flat griddle like pan that evenly distributes heat creates soft rotis, and chapatis.
Chimta: Are a type of tongs that are long and thin with a pointed tip. It is used to flip breads on the griddle.
Kadai: It is like the Indian wok! It has a flat bottom, and taller sides, which makes it great for making fried foods like samosas.
Sifter: Also known as a charni is a sieve with a very fine mesh. If you are making your own breads at home, sifting the flour through this fine mesh will ensure you have light and fluffy breads!
Tadka Pan: If you fry your spices quickly, like many Indian recipes require, using a tadka pan that is small, yet deep, with a long handle will keep the oil from splattering all over your stove!
Masala Dabba: A spice container that is commonly made from stainless steel. It is a made of small bowls paired with spoons that are in one larger stainless steel container. It makes adding spices to your dishes much easier than rummaging through your spice drawer!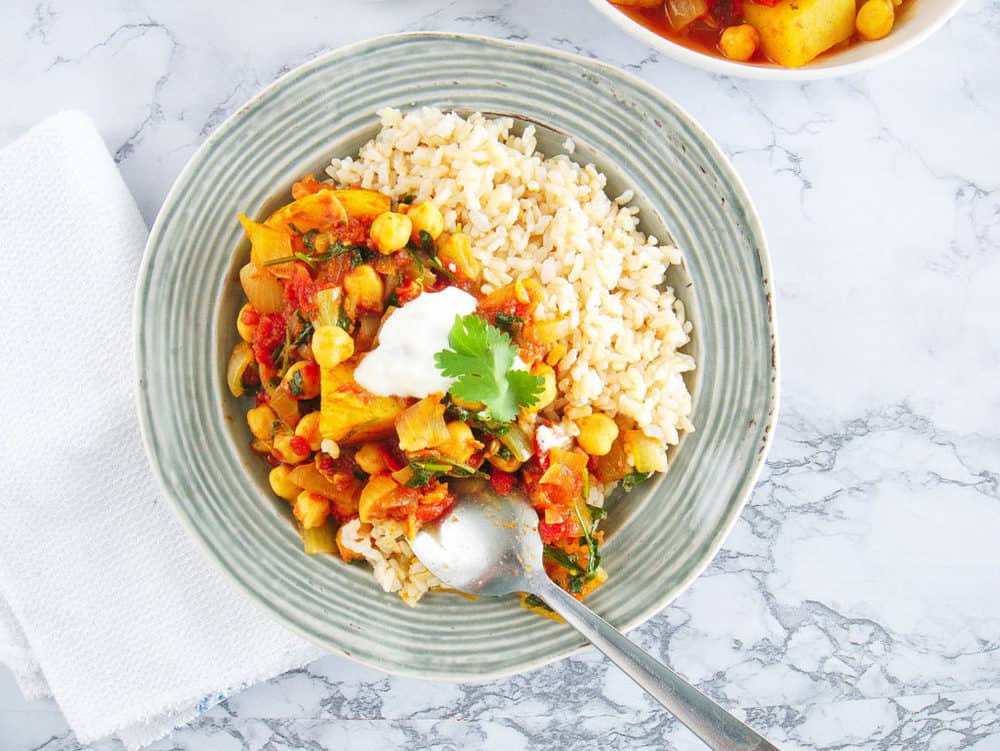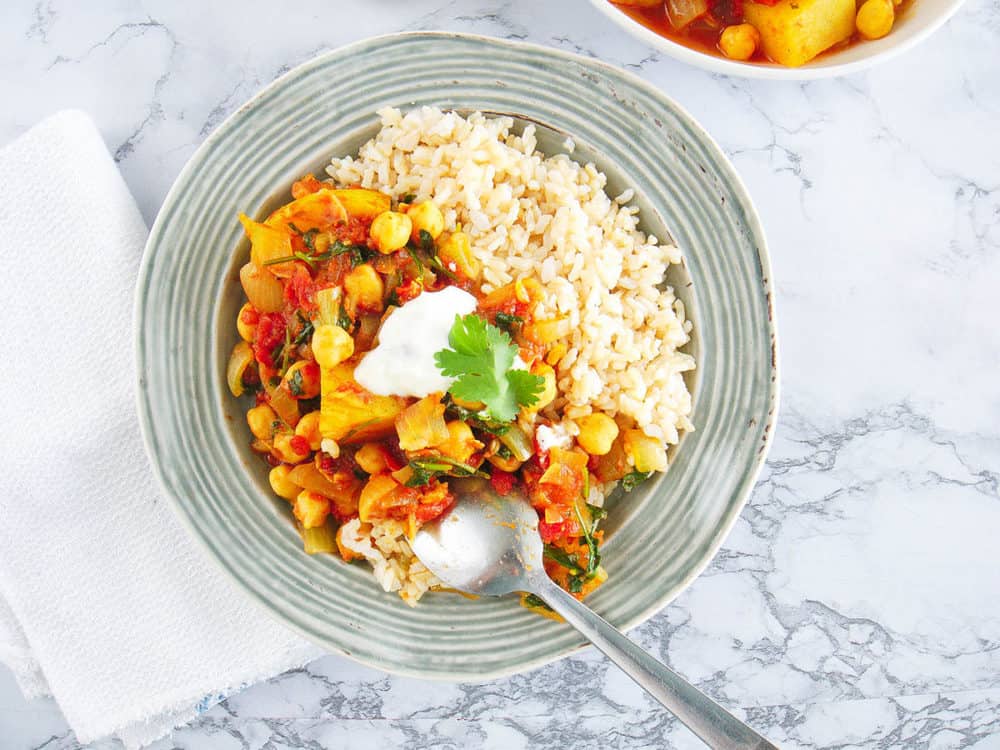 Top Tips for Cooking Vegetarian Indian Recipes at Home
Toast your spices, nuts, and dal before cooking. It helps to increase the flavors.
Measure out all of your spices before cooking as part of your prep. Since often Indian spices have to be tempered quickly in hot oil before they are added to recipes, having the spices pre-measured makes adding them to the hot oil much easier and faster!
Add a bit of oil to your rice, just a 1/4 tsp or so, it will keep your rice from sticking.
It's okay to use shortcuts in your recipes. For example, using canned tomatoes, tomato paste, pre-minced garlic and ginger, frozen veggies for sabji, or pre-cooked lentils and rice!
Don't forget to season your food with salt and pepper to taste!
Why Are Many Indian Recipes Vegetarian?
There are many vegetarian Indian dishes because Hinduism is the primary religion in India. While not all Hindus are vegetarian, many people who follow the religion choose a vegetarian diet because it does not inflict harm. Being vegetarian is considered satvic. Satvic comes from the sanskrit word Sattva. It means to be pure, clean, strong.
However, most people in India do not follow a vegetarian diet. They do not typically include beef in their recipes, but all other types of meat are commonly used in Indian curries.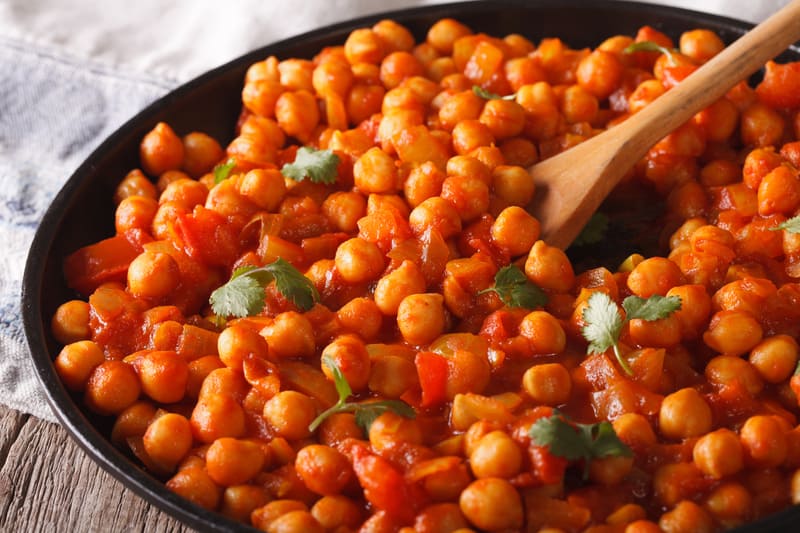 Are Vegetarian Indian Recipes Halthy?
Many Indian recipes are cooked in quite a bit of oil, such as vegetable, peanut, or coconut oil. All of this added oil can make Indian recipes feel a bit heavy, and add extra calories and fat that is not necessary.
Reducing that amount of oil or ghee easily reduces the calories and fat. Otherwise, many Indian recipes are quite healthy. They are loaded with a variety of vegetables, plant protein, and spices.
25 Vegetarian Indian Recipes with a Healthy Makeover
Check Out These Other Healthy Vegetarian Recipe Round-Ups!
If you have tried these Vegetarian Indian Recipes or any other recipe on my blog, then please rate it and let me know how it turned out in the comments below! You can also FOLLOW ME on FACEBOOK, TWITTER, INSTAGRAM, and PINTEREST to see more delicious, healthy, family friendly food!
10 responses to "25 Vegetarian Indian Recipes With a Healthy Makeover"