BBQ Jackfruit Burrito Bowl
This post may contain affiliate links. Please read my disclosure.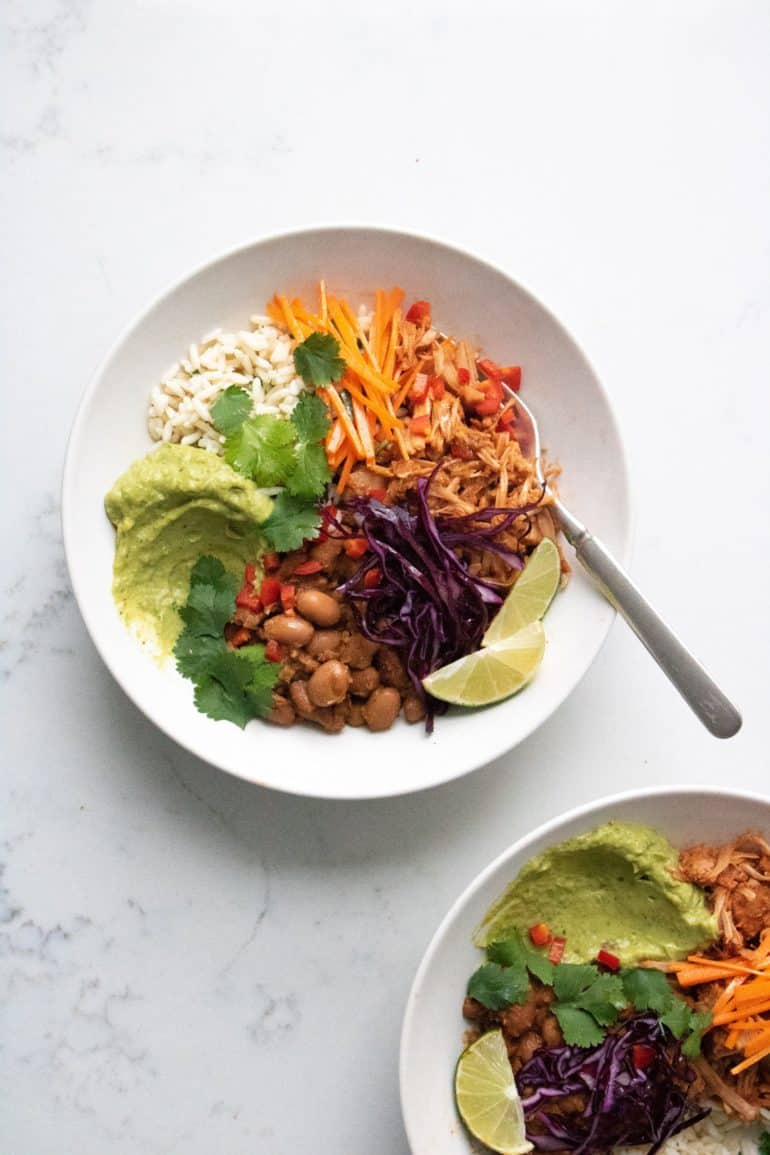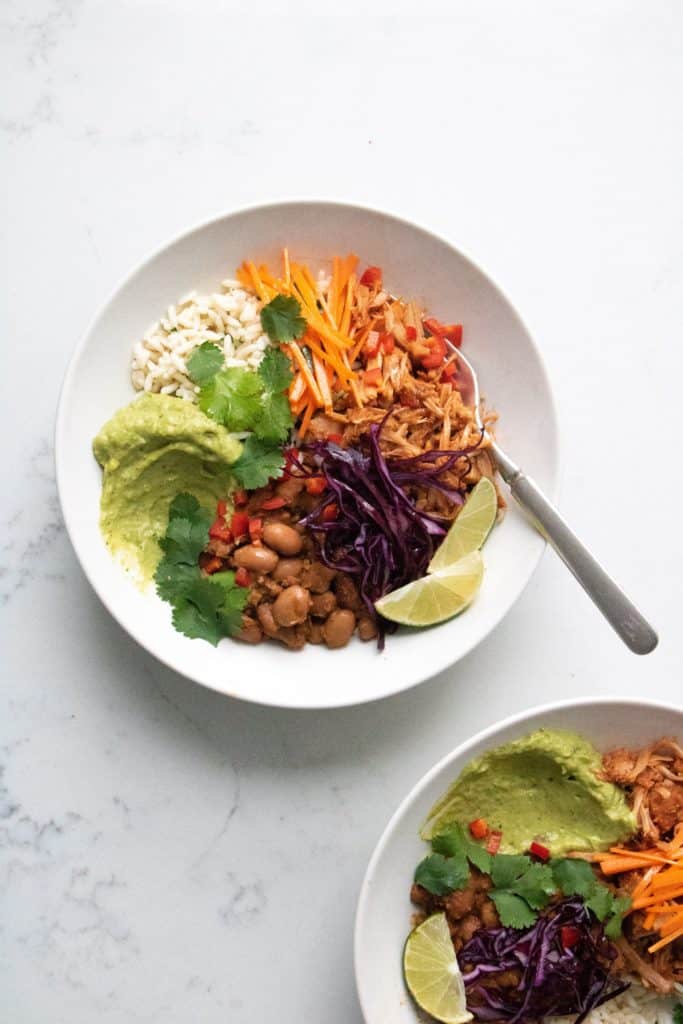 Jackfruit is one of those awesome ingredients that's vegan and vegetarian friendly; but has the texture of meat without being super processed. It's not really high in protein though (but for a fruit, 3g per cup is still impressive!), so it doesn't compare to meat on a nutritional level, but it's great for a meaty texture in dishes. Which is why, when paired with beans, rice and veggies – it makes for an awesome dinner that's hearty, satisfying and super nutritious! These BBQ Jackfruit Burrito Bowls are a great way to mix up your weekly meals! They were inspired by a recipe I found on this vegan meal delivery website – which I modified slightly to make them even easier to make at home!
So what does Jackfruit look like before it's cooked? Like this: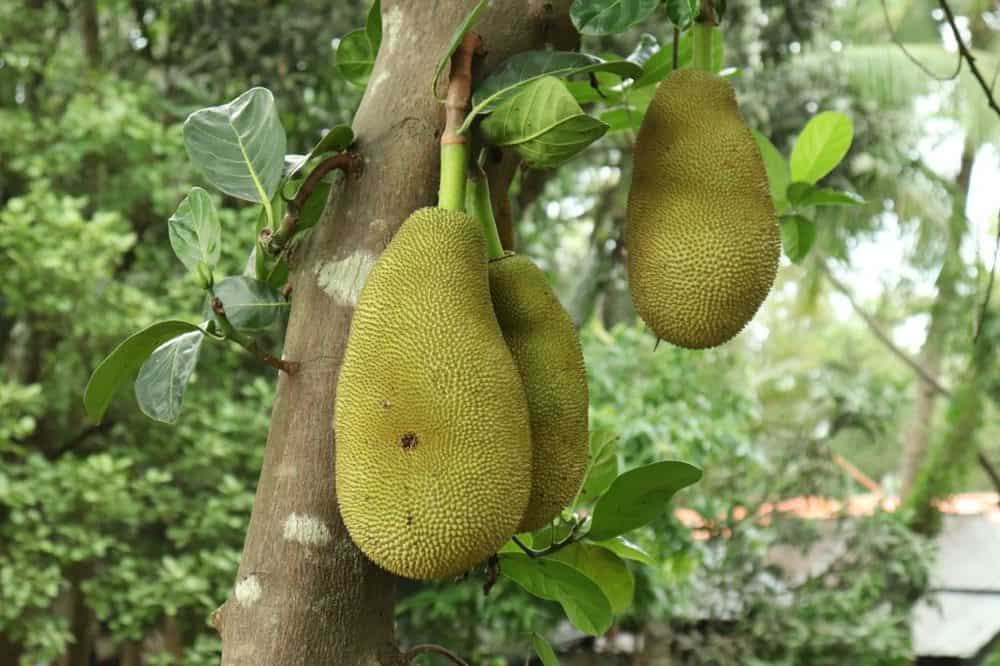 It's a really funny looking plant, and it's actually a sibling of the fig tree, which I thought was kind of cool. I'd be intimidated to cut and prepare one myself, but luckily jackfruit comes already prepared most of the time! You can get it canned which obviously saves time on prep work.
This bowl get its big flavor from AllPlants' custom BBQ recipe – but you can save a ton of time by using a prepared BBQ sauce – I like the organic brand from Whole Foods.
Kitchen Tools I Used for This Recipe:
My kids loved this recipe; my daughter was especially intrigued by jackfruit and the fact that we put "fruit" in our burrito bowls! I hope you love this recipe as much as we did – it's going to be a regular rotation in our house during these colder months!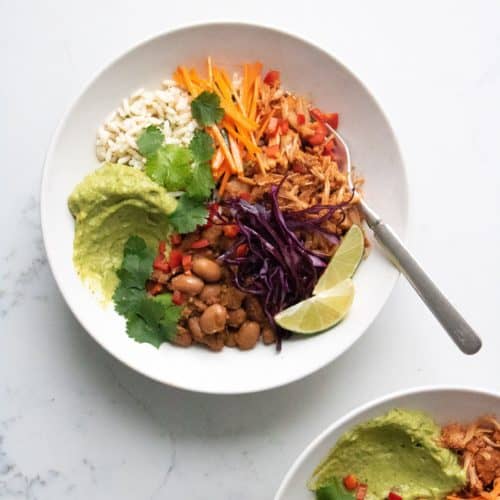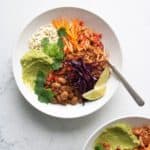 Print Recipe
BBQ Jackfruit Burrito Bowls
Caramelized BBQ Jackfruit on a bed of Mexican-style rice, with refried beans, smashed avocado, and topped with a crunchy carrot and red cabbage slaw makes for a healthy and hearty dinner!
Ingredients
1

tbsp

olive oil

1

cup

red onion

chopped

1

tbsp

molasses

1/4

tsp

minced garlic

3

tsp

balsamic vinegar

1.5

tbsp

red wine vinegar

1/2

tsp

dijon mustard

1

pinch

chili powder

1/2

tsp

paprika

1/2

tsp

smoked paprika

1.5

tbsp

tamari

2

tbsp

liquid smoke

1/3

cup

tomato paste

(plus 1 tbsp tomato paste)

1/4

cup

water

2

15oz cans

jackfruit

1

15oz can

refried pinto beans

3/4

cup

cooked brown basmati rice

1

avocado

smashed

1/2

cup

carrots

julienned or chopped

1/2

cup

red cabbage

julienned

1/2

tsp

lime juice

1/2

tbsp

olive oil

salt and pepper to taste
Instructions
Add 1 tbsp oil, red onion, molasses, garlic, balsamic vinegar, and red wine vinegar to a sauce-pan and cook over low-medium heat. Stirring often, cook for 20-30 minutes, until sticky and caramelized.

Add Dijon mustard through water to the onion mixture and simmer for about 5 minutes.

Add the sauce to a blender and blend until smooth.

Preheat oven to 400 F. Add 2 drained cans of jackfruit to a roasting tray, and break it up with a potato masher. Pour the bbq sauce on the jackfruit and mix to incorporate.

Cover the roasting tray with foil and bake it covered for 25 minutes. Remove the foil and bake it for another 5 minutes.

Once cooked, with a potato masher, mash well until finely pulled.

In a bowl, combine ½ cup julienned carrots, ½ cup julienned red cabbage, ½ tsp lime juice and ½ tbsp oil. Mix to combine.

Assemble your bowls! Add 1/4 of the jackfruit mixture, 1/4 of the refried beans, 1/4 cup rice, 1/4 of the cabbage mixture and season with salt / pepper to taste. Add the smashed avocado on top and enjoy!
Nutrition
Calories:
416
kcal
|
Carbohydrates:
73
g
|
Protein:
8.9
g
|
Fat:
12.7
g
|
Saturated Fat:
1.8
g
|
Sodium:
611
mg
|
Potassium:
793.7
mg
|
Fiber:
12.7
g
|
Sugar:
9.7
g