Healthy and Easy Meals: Great for College Students or Busy Professionals
This post may contain affiliate links. Please read my disclosure.
Earlier this week, I got a comment from Monica – she's a college student and doesn't have much time, but wanted some healthy and easy meal ideas that she could use during the week. I thought it was a great question – and would apply to anyone who is super busy and just doesn't have more than 15 minutes to spend in the kitchen. So here are 5 simple, healthy recipes: one for each night of the week — and you only need to buy 5 vegetables in order to make them! You can just use the same veggies in different ways throughout the week, the rest of the ingredients should be pantry staples that you have on hand. The other great thing is that each of these meals is super balanced with veggies, whole grains and protein, and none of them should run you over ~400 calories. Enjoy!
The Secret: Cut all the veggies when you buy them or have extra time (like on a Sunday). That way, when it comes to actually making the weeknight meals, all you have to do is throw the ingredients together and you'll be done in under 15 minutes!
So here are the 5 veggies you need:
Bell peppers – any color will do – just get your favorite (red/yellow/green/orange – they're all good!)
Tomatoes – I like roma tomatoes the best, but again just get your favorite
Baby spinach, pre washed & bagged
Garlic
Red Onion
Monday – Egg White Scramble and Toast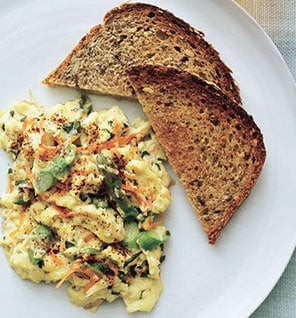 Ingredients you will need:
Bell peppers, red onion, spinach, tomatoes (chopped)
3 egg whites (note: you can add a pinch of the yellow of one of the eggs if you like the flavor)
1-3 tsp 1% milk
Cooking spray
Salt & Pepper
Whole Wheat bread
Ketchup or other condiments that you like with your eggs
Directions:
Heat a large non-s

tick

frying pan

to a setting just above medium.
In large mixing bowl, whisk the eggs with the milk and salt. Beat vigorously for 2 minutes. Add veggies to the mixture.
Spray the pan with cooking spray. Add the eggs mixture to the pan. Do not stir immediately. Wait until the first hint of setting begins. Start the Martha Stewart scrambling technique ("Using a spatula or a flat wooden spoon, push eggs toward center while tilting skillet to distribute runny parts.")
Continue this motion as the eggs continue to set. Break apart large pieces as they form with your spoon or spatula. You will come to a point where the push-to-center technique is no longer cooking runny parts of the egg. Flip over all the eggs. Allow the eggs to cook 15 to 25 seconds longer. Transfer eggs to serving plates. Add salt and pepper to taste.
Serve with ketchup and two slices whole wheat toast.
Tuesday – Veggie Quesadillas with Refried (or whole) Black Beans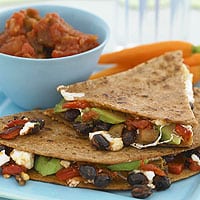 Ingredients:
Bell peppers, red onion, spinach, tomatoes (chopped)
Low fat shredded Mexican cheese blend
Refried black beans or whole black beans
Taco seasoning
Cooking spray
High fiber tortillas (either whole wheat or Mission low carb tortillas will do – each one should have ~120 calories and over 3g fiber)
Salsa
Directions
Preheat oven to 350 degrees
In a small pan, heat beans over medium heat. Add taco seasoning to beans, stir until mixed through and heat for about 5 min until beans are cooked through.
Spray a baking sheet with cooking spray. Lay tortillas out on the baking sheet. On each tortilla, spread 1/4 cup refried beans (or whole beans), 2-3 Tbsp cheese, and veggies.
Fold tortillas over, and broil on low for 10 minutes or until tortillas are browned and crispy on top. Serve with salsa & enjoy!
Wednesday – Quick Pita Pizzas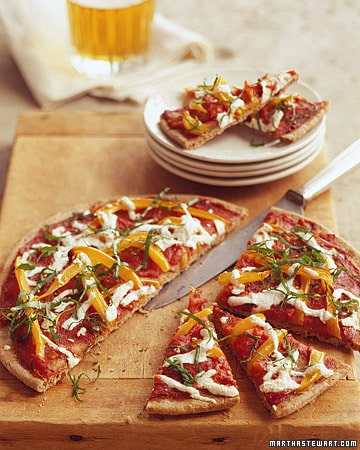 Ingredients:
Bell peppers, red onion, spinach, tomatoes, garlic (chopped)
Pizza Sauce
Whole wheat pita pockets
Shredded cheese (fontina, parmesan, mozarella – just get your favorite – any one will do!)
Directions:
Preheat oven to 350 degrees.
On each pita pocket, spread pizza sauce, garlic, veggies, and 1/4 cup cheese (max) on top.
Broil in the oven for 5-10 min or until pita pockets are toasted through and cheese is melted & bubbling.
Thursday – Healthy Grilled Cheese Sandwiches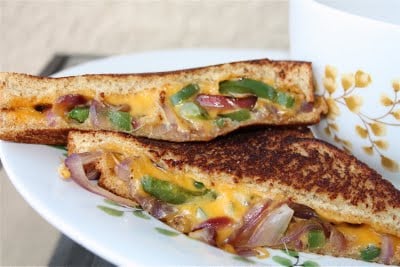 Ingredients
Whole wheat bread (I like Oroweat Double Fiber bread)
Tomatoes, Onions, Spinach, Garlic – chopped
Your favorite cheese – I like Fontina or a Mild Cheddar
Ketchup
Salt & Pepper
Cooking spray
Directions
Heat a pan over medium high heat (or if you have a grill pan/panini press – warm that up)
Layer one slice of bread with a couple thin slices of cheese (shouldn't be more than 1oz)
Top with healthy serving of all veggies, salt & pepper and the second slice of bread (make the sandwich!)
Spray pan / grill pan / panini press with cooking spray
Grill on both sides until crispy and cheese is melted. Serve with ketchup!
Friday – Asian Stir Fry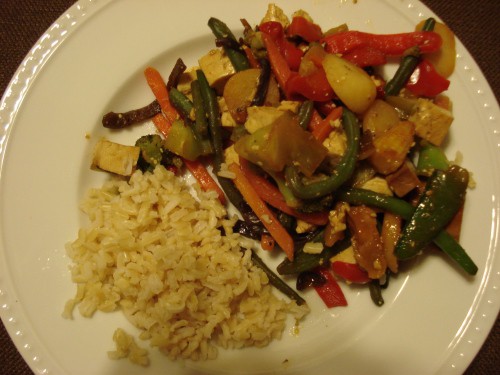 Ingredients
Bell peppers, red onion, spinach, tomatoes, garlic (chopped)
Soy sauce or bottled Thai Red Curry Sauce
Tofu
Cooking Spray
Minute brown rice
Directions
Cook brown rice according to package directions, set aside
Heat a pan over medium-high heat, spray with cooking spray
Saute tofu in the pan with soy sauce until lightly crispy on the outside. Set aside.
Saute veggies and garlic until tender, add soy sauce half way through cooking. Add tofu back to the pan, add 1/4 cup of thai red curry sauce (or other low calorie asian sauce) if you like – towards the end of cooking
Serve with brown rice.
Thanks Monica for a great comment that inspired this post! And a quick note for you: For an easy Indian Meal – check out this recipe – super easy Channa Masala that will taste great!
31 responses to "Healthy and Easy Meals: Great for College Students or Busy Professionals"