Fire Roasted Poblano Chilies filled with Corn, Quinoa, & Goat Cheese
This post may contain affiliate links. As an Amazon Associate, I earn from qualifying purchases. Please read my disclosure.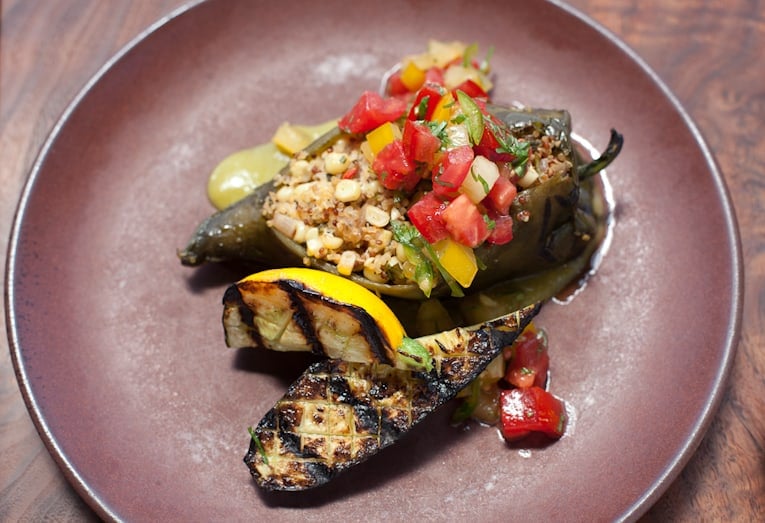 A couple of weeks ago, the husband and I had dinner at one of our favorite restaurants in SF: Greens Restaurant.
We love Greens because of their focus on local, organic produce, and the fact that they're 100% vegetarian (which you wouldn't guess by the heartiness of their dishes!) We also love it because of their location – overlooking the SF marina with views of the Golden Gate bridge. This was the view from our table: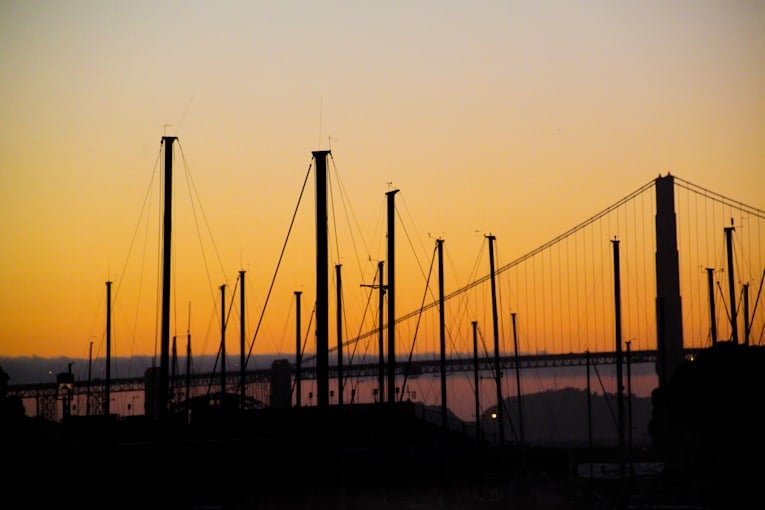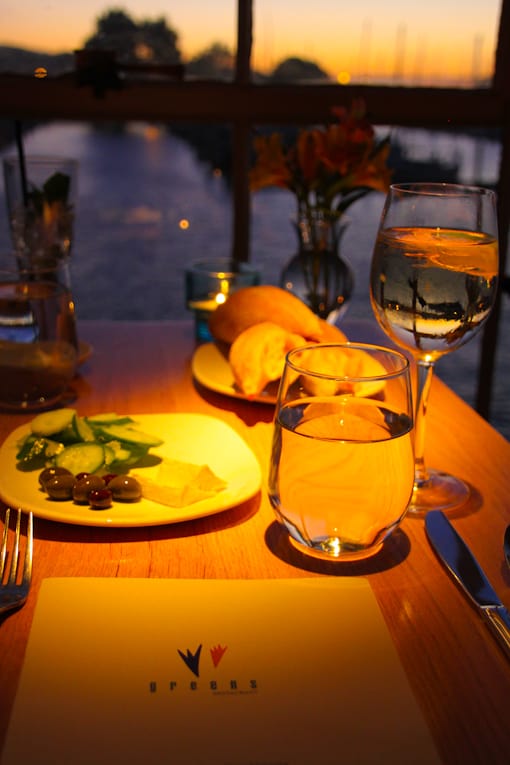 Not bad, right? 🙂
I was able to meet Chef Annie Somerville before our dinner and chat with her about the history of the restaurant, her cooking philosophy, and I was able to snag a recipe from her (which is the recipe I'm sharing today!)
The thing that struck me most about Chef Annie was how humble, warm, and friendly she was. While she's the Executive Chef of one of the most famous restaurants in SF, she doesn't have any airs about her (in a great way). Her philosophy is truly just to elevate vegetables and show them off in Greens' menu items. She has an extremely collaborative kitchen where anyone can suggest a new recipe (no traditional hierarchies here!) She's been with Greens for a little over 30 years, and still shops every morning at the local farmer's markets to buy the ingredients for that day's dishes.
The husband and I truly appreciated the time she took to spend with us, and we noticed that her comforting, warm personality really came through in the food. And before I share this amazing recipe for the Fire Roasted Stuffed Poblano Chiles, I have to highlight some of the other dishes we ate!
A corn and coconut Thai spiced soup to start..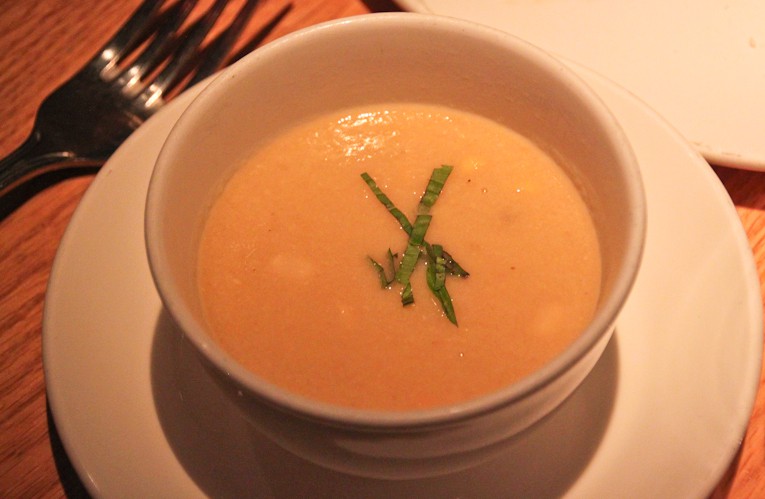 Followed by a Wilted spinach salad with DeVoto Mutsu apples, golden and chioggia beets, walnuts, Big Rock Blue, mint, sherry vinegar and hot olive oil.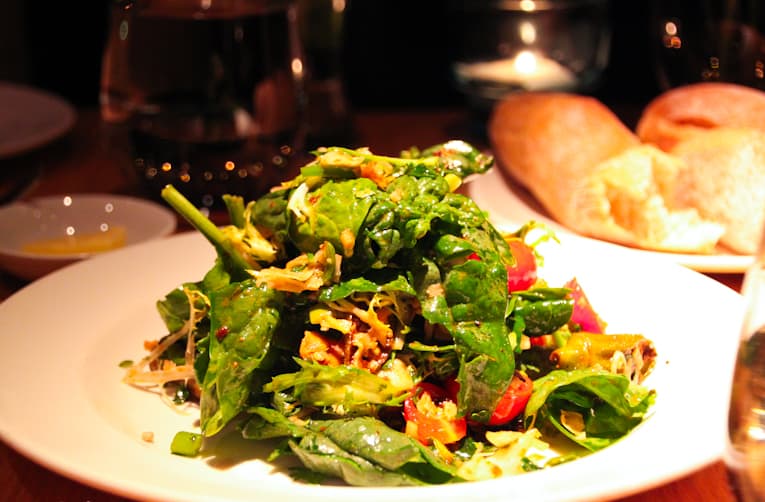 Then we enjoyed these gorgeous masa crepes stuffed with fresh veggies, and served with a hearty bean stew.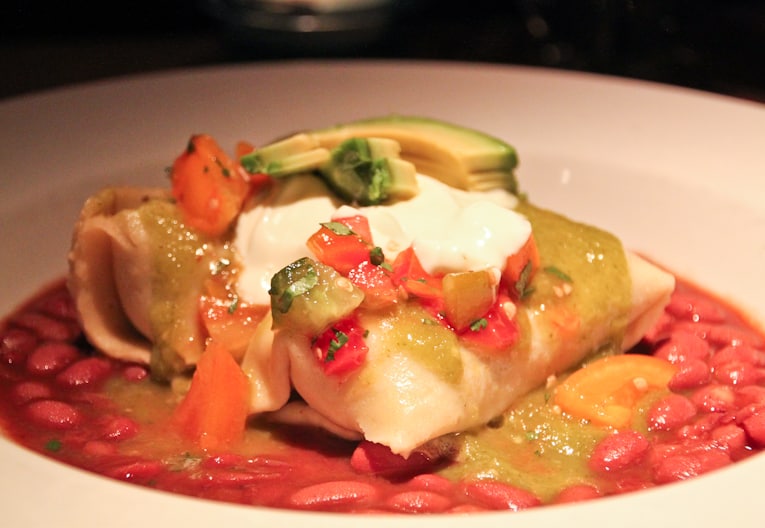 And finally, this Eggplant and summer squash gratin with peppers, leeks, tomatoes, Wagon Wheel, pesto and fromage blanc custard. Served with San Marzano tomato sauce, grilled polenta, summer beans with pine nuts, shallots and pepper flakes.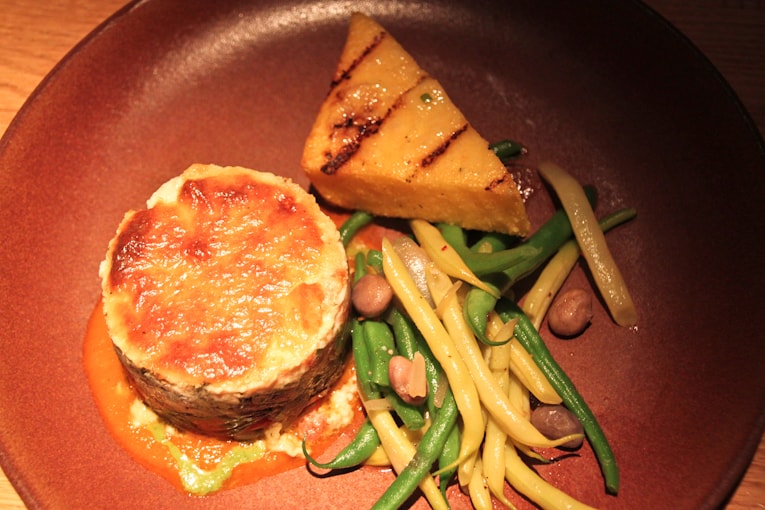 The husband and I both have huge sweet tooths, so we couldn't pass up this Flourless chocolate torte with salted caramel ice cream and cocoa nibs…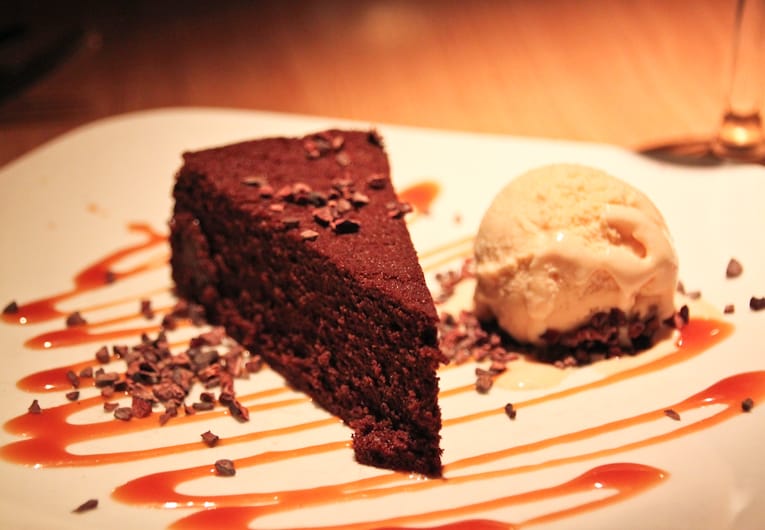 … Or this Strawberry almond cake with candied almonds and strawberry sorbet!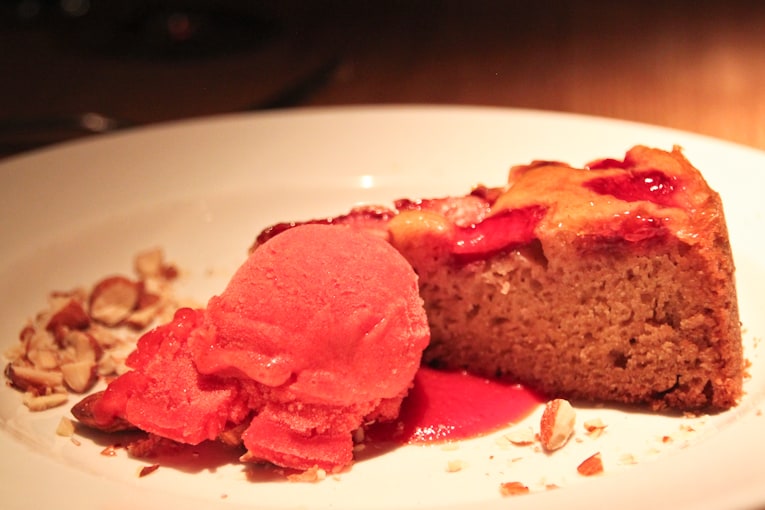 All of the food was unique and delicious, and I wouldn't have expected anything less! These fire roasted chilies are no different.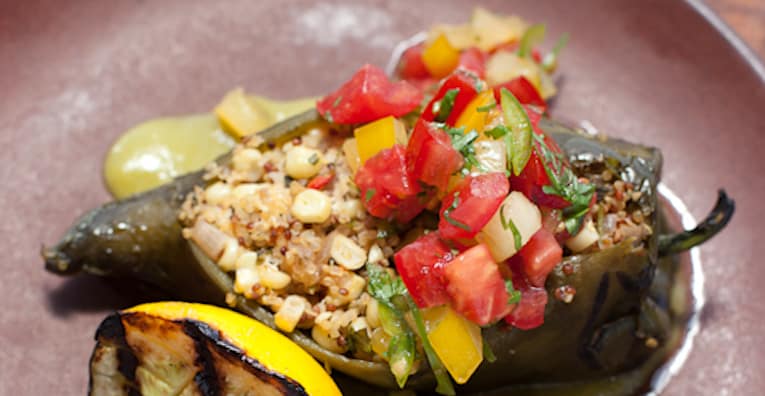 The smoky heat of poblano chilies make them ideal for stuffing. The best way to grill them is directly over an open flame until their skins blister and char, and then let them steam in their own heat, so they're easy to peel.
The corn filling is seasoned with a Chipotle Puree, and the rustic, Fire-Roasted Salsa has a taste that's smoky and rich. For the salsa, the plum tomatoes roasted to perfection – their firm, dense flesh keeps the salsa from being watery—and cilantro and lime juice keep the flavors bright.
This dish is definitely more time intensive than most of my recipes, but it is so, so worth it! It's perfect for a special occasion or a dinner party – or even on a night you have a bit more time to spend in the kitchen. The husband and I both love this recipe because of its heartiness. I promise it will please vegetarians and meat-eaters alike! It's a healthy vegetarian Mexican recipe.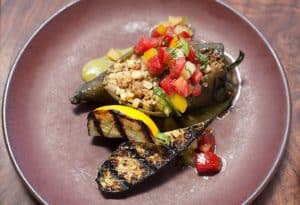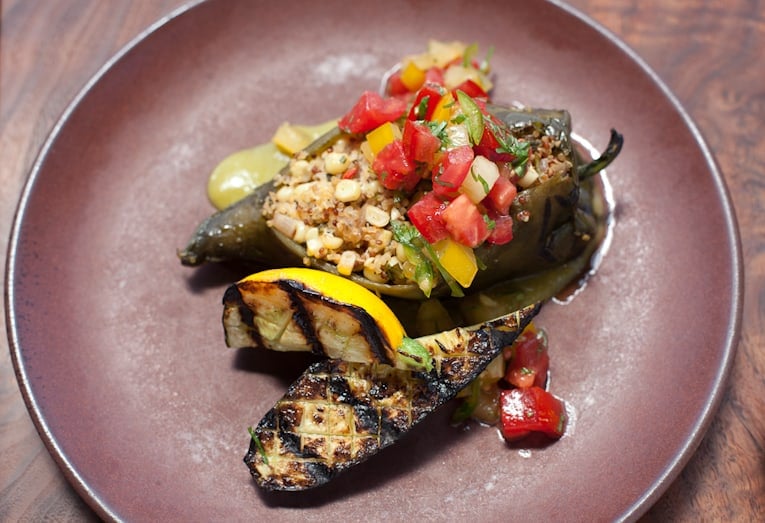 Print Recipe
Fire Roasted Poblano Chilies filled with Corn, Quinoa, & Goat Cheese
This dish takes a bit of prep, but is worth it. Stuffing peppers with your favorite flavors is a great way to make a fancy dish easy.
Ingredients
Fire Roasted Poblanos and Filling:
1

teaspoon

Chipotle Puree

½

cup

quinoa

½

cup

water

6

poblano chilies

about 1 1/2 pounds

½

tbsp

olive or organic canola oil

¼

large yellow onion

diced, about ½ cup

2

ears of corn

shaved, about 2 cups kernels

1-2

jalapeño chilies

seeded and diced

¼

cup

coarsely chopped cilantro

1

tsp

chopped fresh oregano or marjoram

1

tsp

chopped fresh sage

1/4

cup

toasted pumpkin seeds

2

oz

mild goat cheese

crumbled, about 1/3 cup

Olive oil spray for the baking dish
Chipotle Puree:
1

can of chipotle chilies packed in adobo
Fire Roasted Salsa (Makes about 2 cups):
1

pound

plum tomatoes

cored

½

medium onion

1-2

jalapeño or serrano chilies

1 ½ - 2

tablespoons

fresh lime juice

2

tablespoons

coarsely chopped cilantro
Instructions
Fire Roasted Poblanos:
Make the Chipotle Puree and get started on the Fire Roasted Salsa First (see directions below)

Rinse quinoa three times in cold water to remove the outer coating and drain.

Bring the water to a boil in a small pot; add a pinch of salt and the quinoa. Cover, lower the heat, and cook over low heat about 15 minutes, until tender. Set aside to cool.

Grill the chilies directly over an open flame (you can do this if you have a gas stove), using metal tongs to turn them until the skins are blistered and charred. Note: if you don't have a gas stove, you can roast the chiles in the oven (preheat your oven's broiler, and roast on both sides for about 10 minutes each until they are charred and black)

Transfer to a bowl, and cover; the chilies will steam as they cool. Peel the chilies, carefully removing the skin around the stems as you go. Make a lengthwise slit in each chili and remove the seeds. Set aside.

Preheat the oven to 375º F.

Heat the olive oil in a sauté pan and add the onions and a pinch of salt. Sauté over medium heat until the onions begin to soften, about 3 minutes. Add the corn, jalapeños, and ¼ cup water to keep the corn mixture from sticking to the pan. Cook over low heat until the corn is tender, about 5 minutes. Transfer to a bowl and set aside to cool.

Lightly oil a baking dish. Toss the quinoa with the corn mixture and season with the chipotle puree, herbs, pumpkin seeds, cheese, and ¼ teaspoon salt.

Stuff each chili with about 3/4 cup filling, depending on their size, being careful to keep the stems in place. The stuffed chilies should be firm, but not overly full.

Place them seam side up in the dish, cover and bake until the filling is heated through and the chilies are puffed, 25 to 30 minutes. Serve immediately.
Chipotle Puree:
Puree the can of chiles in a small food processor or blender and refrigerate in an airtight container. Note: It keeps for weeks in the refrigerator. And you can freeze it too.
Fire Roasted Salsa:
Heat your oven to 450 degrees.

In a large pan, brush the tomato, onion, and chilies with olive oil and sprinkle with salt and pepper.

Roast for about 25-30 minutes, until the tomatoes and chilies are soft and their skins are blistered and the onion is grilled on all sides. Set aside to cool.

Coarsely chop the onion and tomatoes and toss in a bowl.

Slice the chili in half lengthwise and remove the stems and seeds.

Chop the chili and toss with the tomato mixture, along with 1 ½ tablespoons lime juice, ¼ teaspoon salt, and a pinch of pepper.

Season to taste with salt and lime juice, if needed. Toss in the cilantro just before serving.
Nutrition
Calories:
204
kcal
|
Carbohydrates:
28.8
g
|
Protein:
8
g
|
Fat:
7.4
g
|
Sodium:
434
mg
|
Fiber:
4.5
g
|
Sugar:
3.2
g
10 responses to "Fire Roasted Poblano Chilies filled with Corn, Quinoa, & Goat Cheese"