25 Healthy Air Fryer Vegetable Recipes
This post may contain affiliate links. As an Amazon Associate, I earn from qualifying purchases. Please read my disclosure.
This is your one stop shop for easy and healthy air fryer vegetable recipes that will have you using your air fryer to cook up healthy and delicious dishes in a snap! These are all great recipes for busy weeknights, easy snacks, and healthy lunches for the whole family!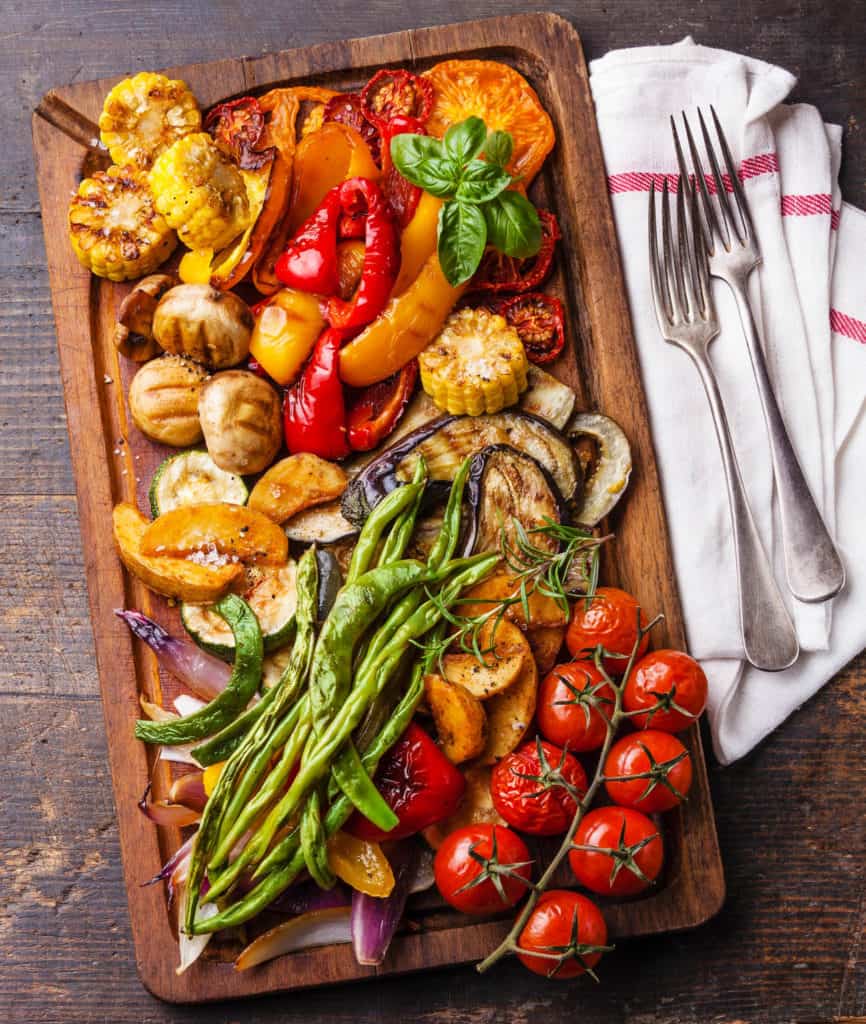 Have you tried an air fryer yet? If you haven't heard of them, air fryers are gaining steam as a handy kitchen gadget. Along with the instant pot and slow cooker, air fryers offer home cooks ease and versatility to get their cooking tasks done in a quick and easy way.
Air fryers are not just for frozen french fries. There are limitless air fryer recipes you can make to transform your vegetables! Air fryer veggies are a great way to cook veggies in less time, with less oil, and are easy to clean-up. If you love roasted vegetables, you'll love making vegetables in the air fryer.
All healthy vegetables cook up great in the air fryer – you can use virtually any type of vegetable you can imagine! Add a little seasoning such as garlic powder, Italian seasoning, salt, and pepper, for added flavor. Cooking time will vary depending on the vegetables you use. The result of air frying is similar to roasting. They turn out nice and crispy on the outside without the need for as much added oil which in turn has numerous health benefits. This is your ultimate guide to the best air fryer vegetables recipes to try at home!
What Is An Air Fryer And How Does It Work?
The intention of the very first air fryer was to mimic the technique of frying using air and a small amount of oil. It works like a convection oven circling hot air quickly around the food in the air fryer basket. As a result the food inside comes out crispy.
Because an air fryer is much smaller than a convection oven not only does it create crispy food, it also cooks the food more quickly. Note that depending on your air fryer, the cook time may vary for most of these vegetarian recipes. Find an air fryer recipe using your favorite vegetables below!
What Are The Best Air Fryers On The Market?
Air fryers range in price from $40-$300 depending on the size and type you buy. Here are my top picks for air fryers depending on your price level.
Best Budget Friendly Air Fryers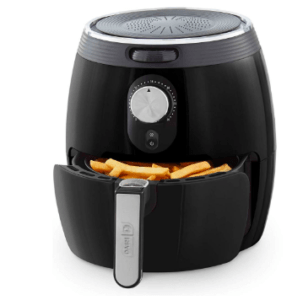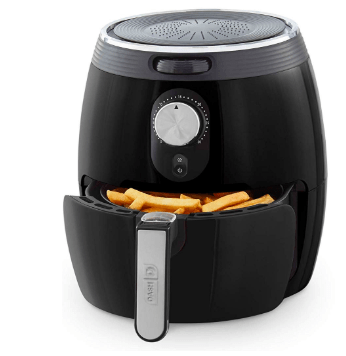 A compact air fryer that prepares 2-4 servings in a 3 qt basket. Features include temperature control, non-stick basket, auto-shut off. It's a basic compact air fryer that gets the job done. It costs an average of $90.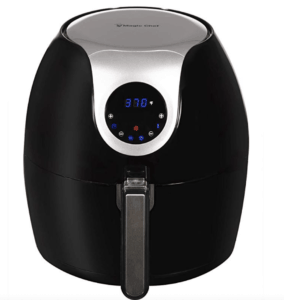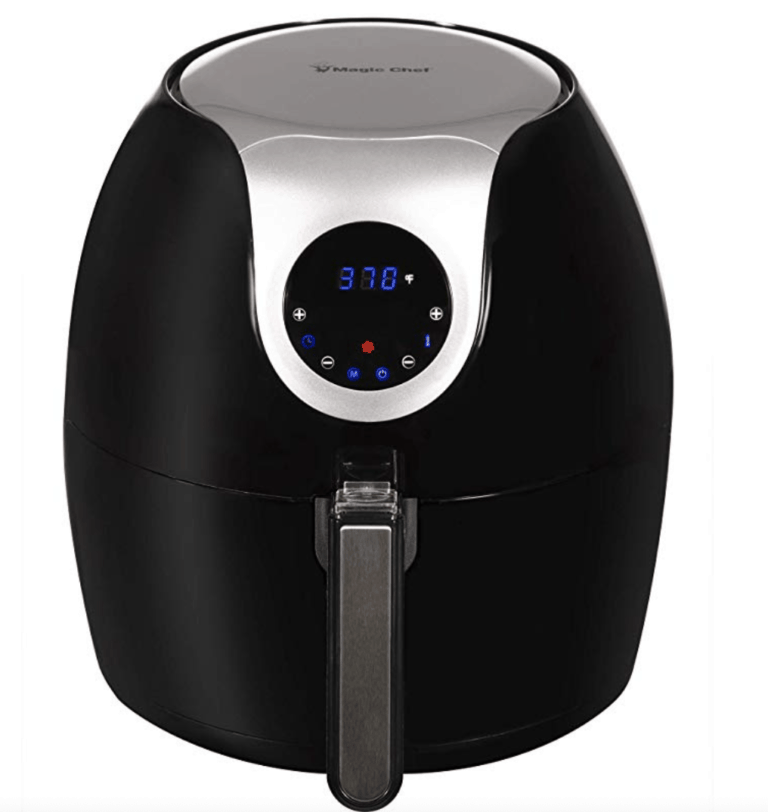 A digital air fryer that has a large 5.6qt basket and is always on sale for $70 on Amazon! Has a user-friendly touch screen, 8 different presets, a wide temperature range from 160-400F, nonstick dishwasher safe basket, and cool-touch handle. One thing to note: some reviews report a strong "new appliance" smell to this product, but a thorough cleaning should get rid of that.
Best Mid Range Air Fryer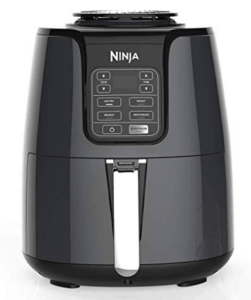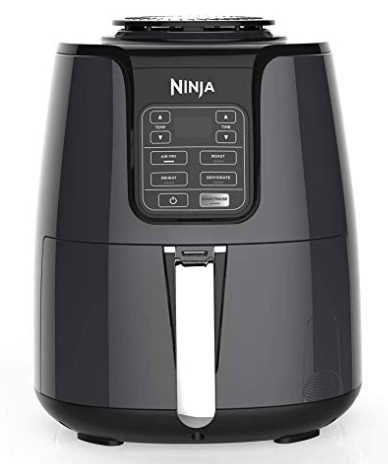 This ninja foodi air fryer has a 4 quart basket and a temperature range of 105-400 F, which allows you to dehydrate foods at a low temperature, or air fry foods at a high temperature. Slightly larger than the Dash model, this air fryer allows you to cook up to two pounds of french fries at a time. Requires 3 minutes of pre-heating. This model comes in at around $130.
Best High End Air Fryer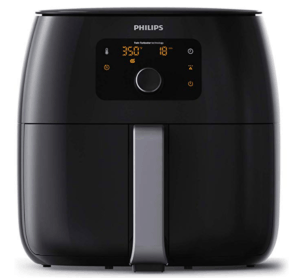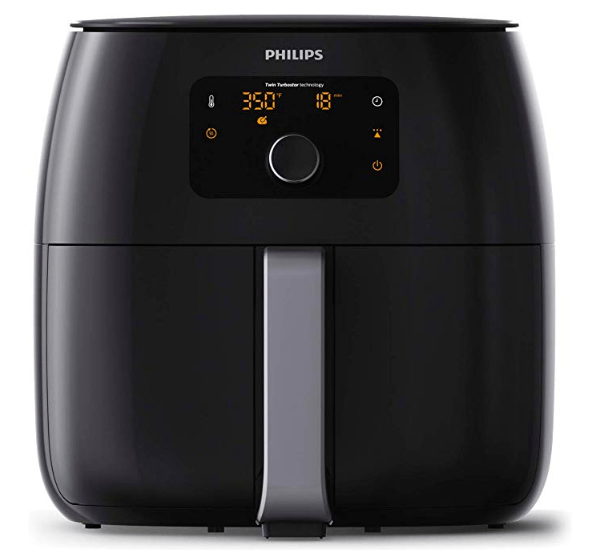 A large air fryer that allows you serve up to 6 people with its 3 lb capacity. Use a little to no added oil. Has fat reduction technology that captures access fat. No need for pre-heating. Has multiple settings that allows you to air fry, dehydrate, bake, grill, roast, reheat, and toast. Clean-up is easy with dishwasher safe parts. This model comes in around $350.
What Can You Cook In An Air Fryer?
Air fryers are great for quickly cooking frozen prepared foods that are meant to be fried like french fries, tater tots, and mozzarella sticks. But there are so many other ways to utilize your air fryer.
Air fryer vegetable recipes are absolutely amazing – since you can get the texture of roasting or frying veggies with much less time and prep work. And you can use fresh or frozen veggies to save on prep time! You can also prepare chicken and other meats, hard boiled eggs, as well as baked goods like cookies and cakes.
However, you cannot prepare things that have a liquid batter. So for example, if you try to make air fryer zucchini fries dipped in an egg batter and covered in breadcrumbs, that will not work, unless you freeze it prior to cooking.
Is Air Fried Food Healthy?
As with anything you cook, it depends on what you're putting in your air frying to determine whether or not it's healthy. Air fryers provide the ability to cook foods that would otherwise be fried in oil using air and less oil which reduces overall fat. This certainly helps reduce that fat and calories of a recipe, and allows you to create delicious veggies that are both healthy and have great texture and flavor.
What Are Some Of The Best Healthy Air Fryer Vegetable Recipes?
The following 25 recipes are all healthy air fryer vegetables recipes that will make air frying one of your new favorite ways to cook and prepare meals! All of the ingredients for these recipes can easily be found at your local grocery store. At a bare minimum, you need the vegetable you want to cook, with some oil or cooking spray, and your favorite spices – that's it – it's that easy!
Air Fryer Chickpeas by Cook It Real Good
Crispy Air Fryer Chickpeas are a great snack and can be used as a salad or soup topper. Use the suggested Mexican spice mix or play around with your favorite spices to come up with something new. Get roasted chickpeas at home without turning on the oven!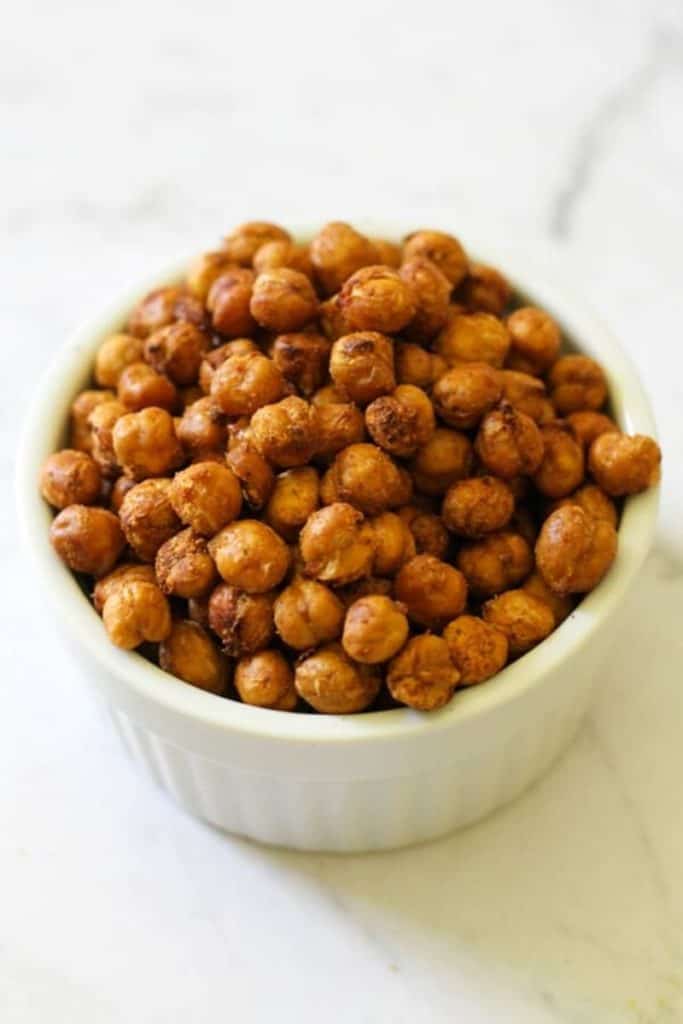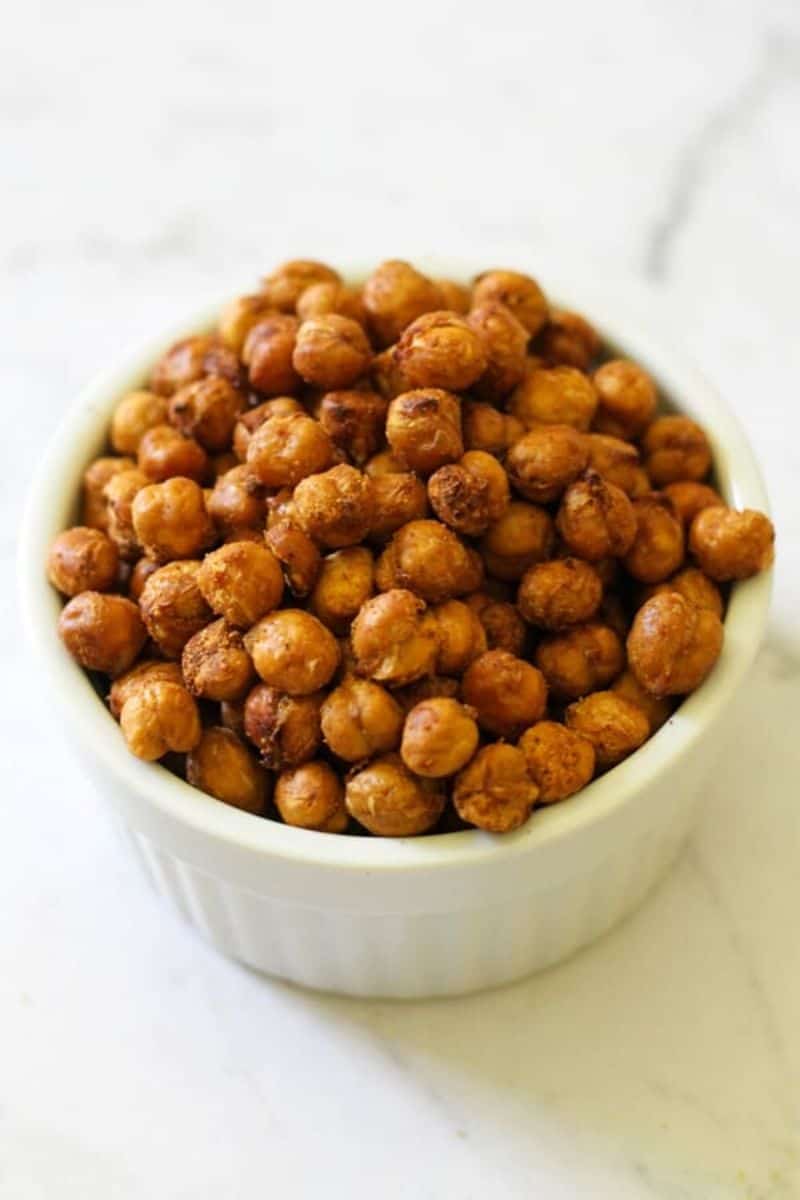 The Best Air Fryer Fries by Hungry Healthy Happy
Make delicious and perfectly crispy fries without having to heat up the oven or use a lot of oil. A great side dish for any dinner party, and perfect for picky eaters too!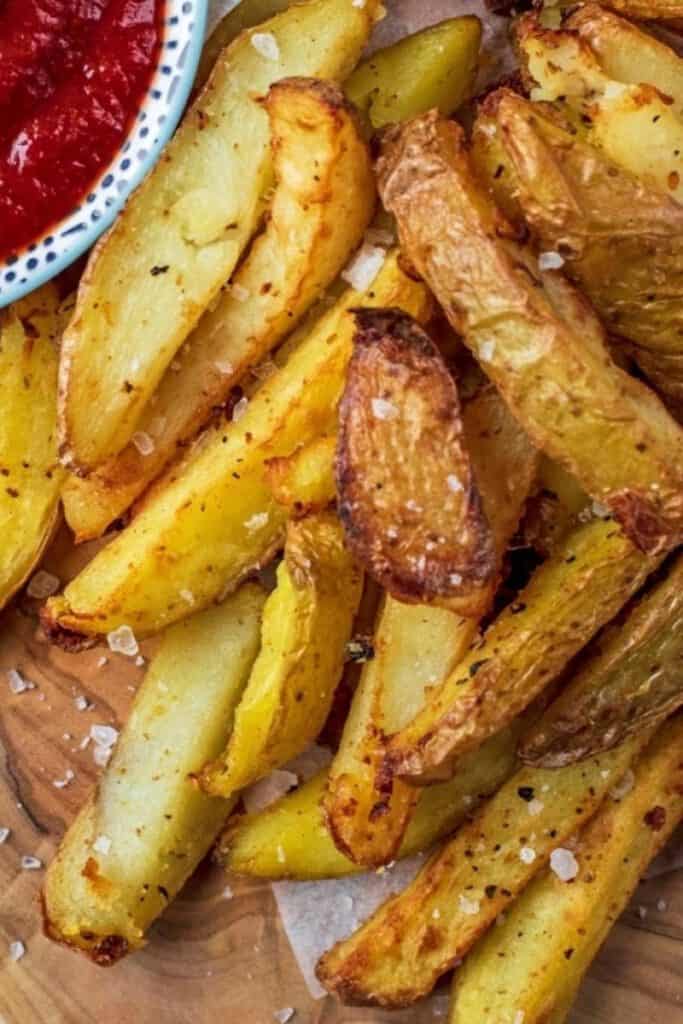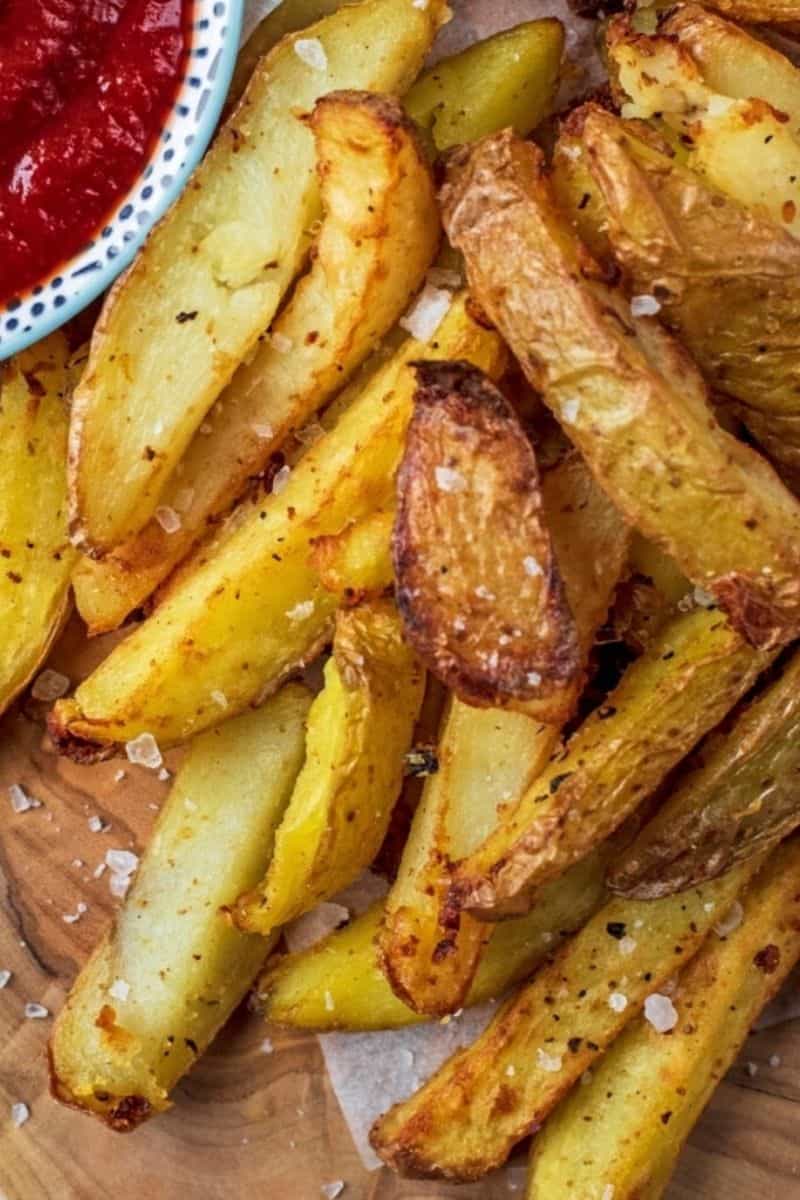 Air Fryer Buffalo Cauliflower by Spabettie
This is going to become your new favorite way to make cauliflower! Tangy & spicy, this quick and easy recipe is essential to any game day, happy hour party, or random Thursday! Hint: you should make a double batch because it disappears fast!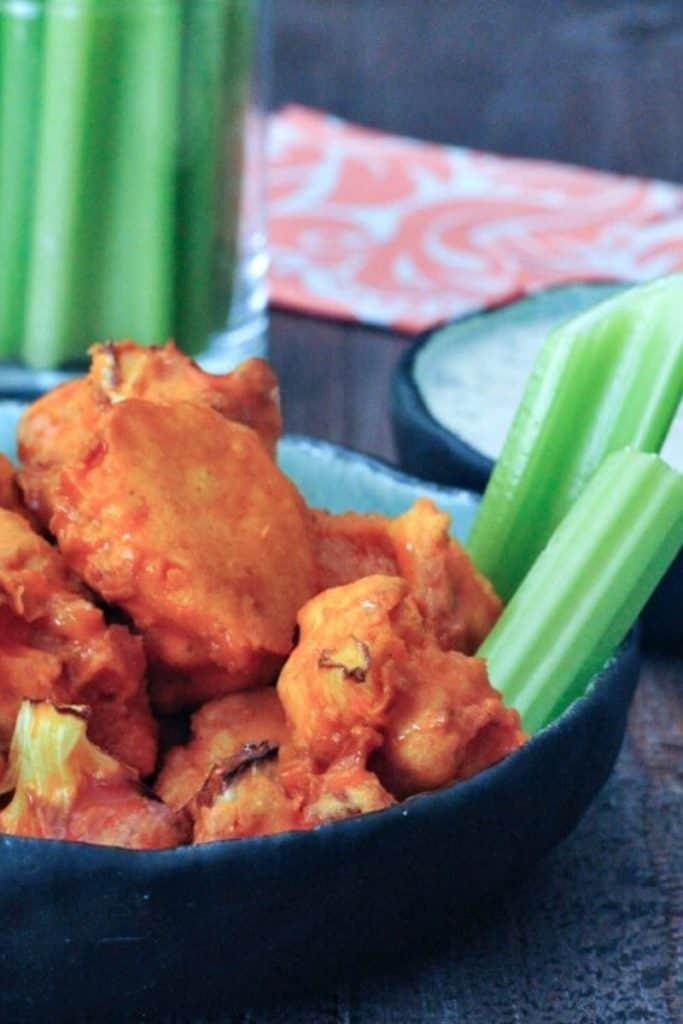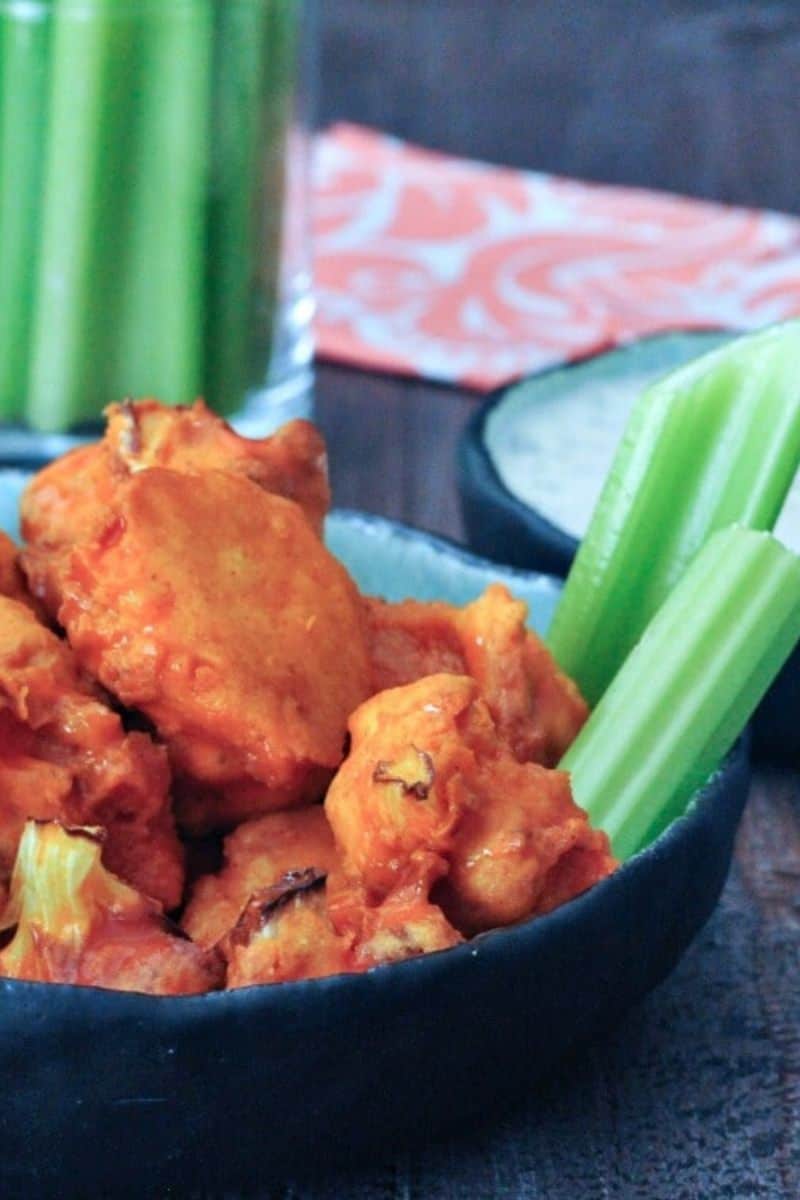 Air Fryer Cauliflower by A Cedar Spoon
This Air Fryer Cauliflower is easy to make, healthy and involves almost no clean-up. The air fryer helps create crisp cauliflower, taking your favorite cauliflower recipe to the next level. All you need is cauliflower, a small amount of extra virgin olive oil and your favorite spices! You can use this same recipe for different types of frozen or fresh vegetables too! Try it with various root vegetables, yellow squash, parsnip, red onion, red bell peppers, or even make air fryer broccoli!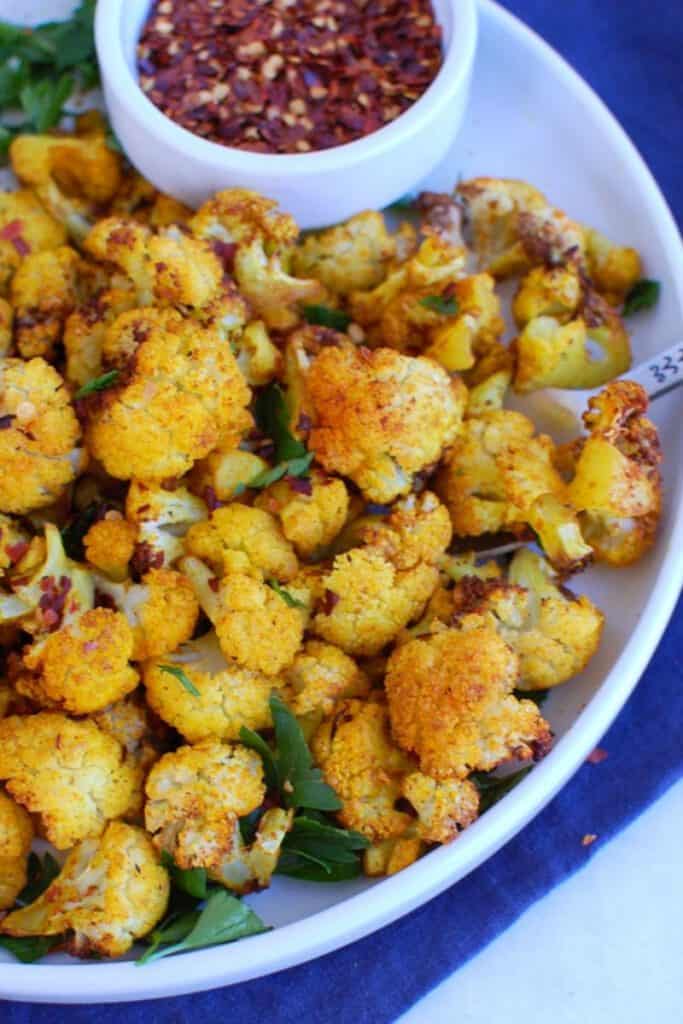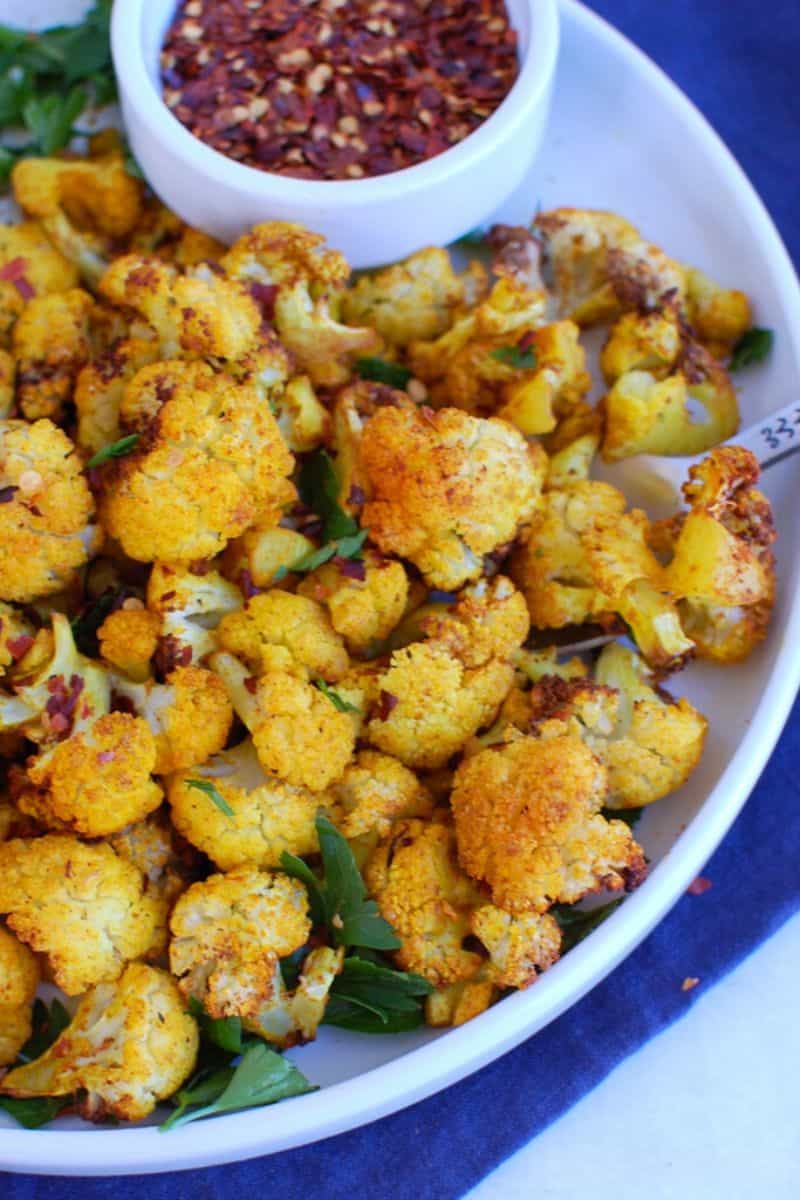 Air Fryer Sweet Potato Fries by The Picky Eater
Firm vegetables like sweet potatoes cook up perfectly in the air fryer – crispy on the outside and tender on the inside. And these healthy Air fryer Sweet Potato fries are indulgent and so delicious! This is the best way to make sweet potato fries because you get all of the taste with none of the guilt. It also happens to be vegan and gluten free. Enjoy this easy air fryer vegetables recipe any time of the day!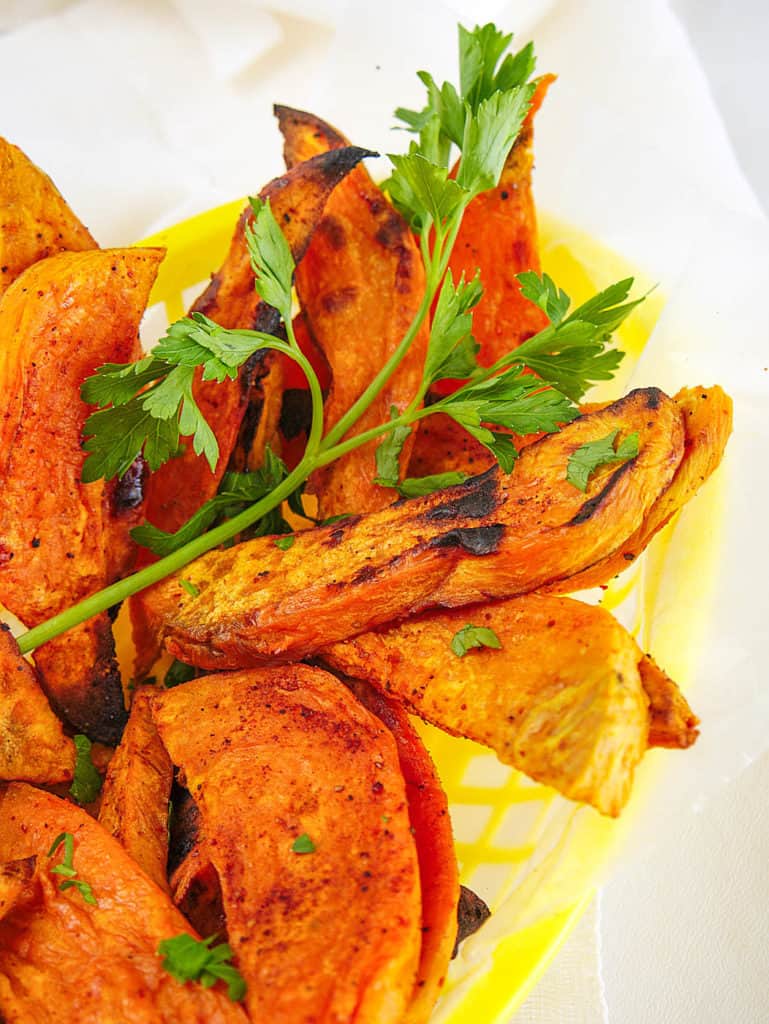 Spicy Bombay Potatoes by Spice Cravings
Baby potatoes are coated with a potpourri of Indian spices, and cooked till they are golden & crisp! These Spicy Bombay Potatoes make for a finger-licking good appetizer, and are a perfect sidekick to any curry or roasted entree.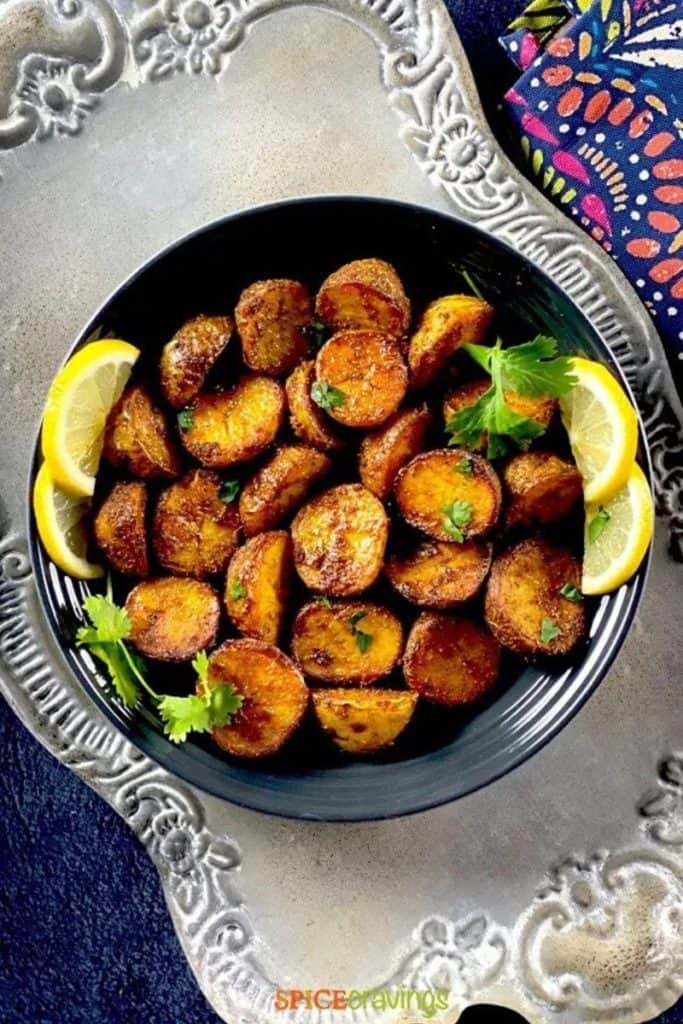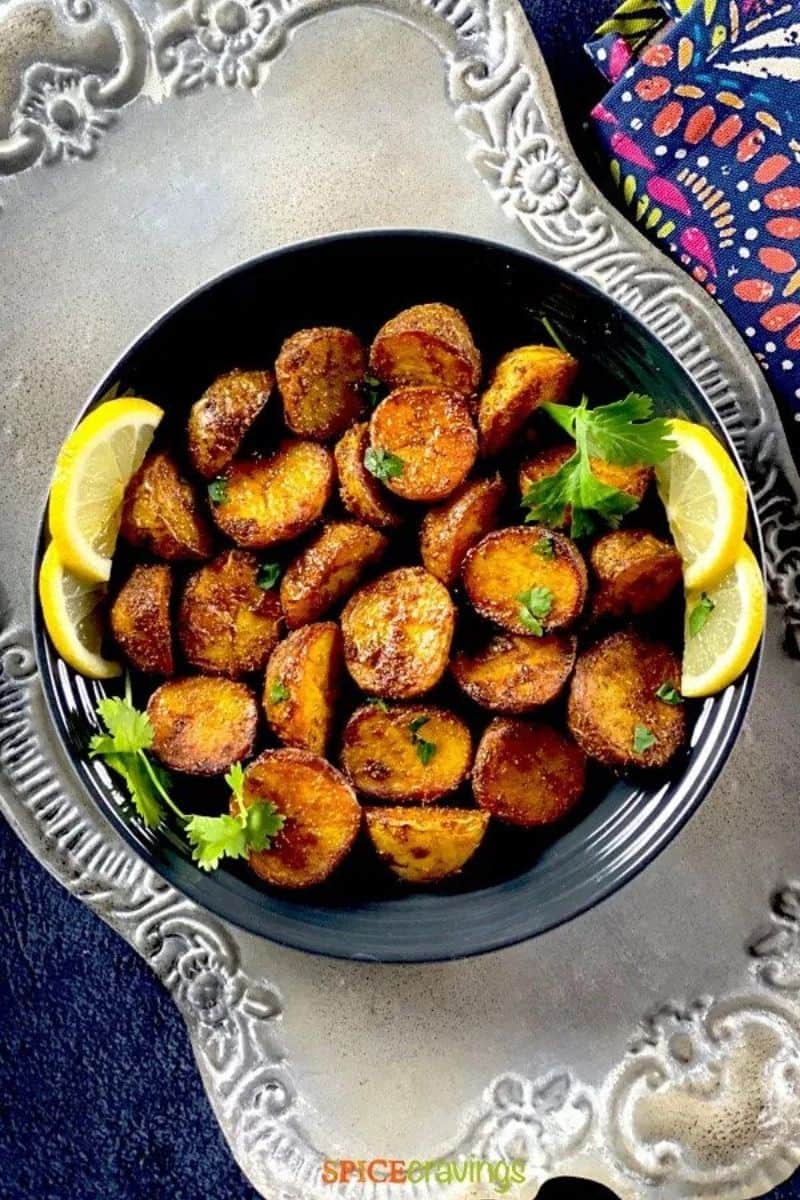 Air Fryer Crispy Garlic Rosemary Potatoes by Eat the Gains
Crispy Garlic Rosemary Potatoes made in the Air Fryer! Requires little effort with a big payoff! You only need 30 minutes, 5 ingredients, and 1 tablespoon of oil for a delicious and healthy side dish.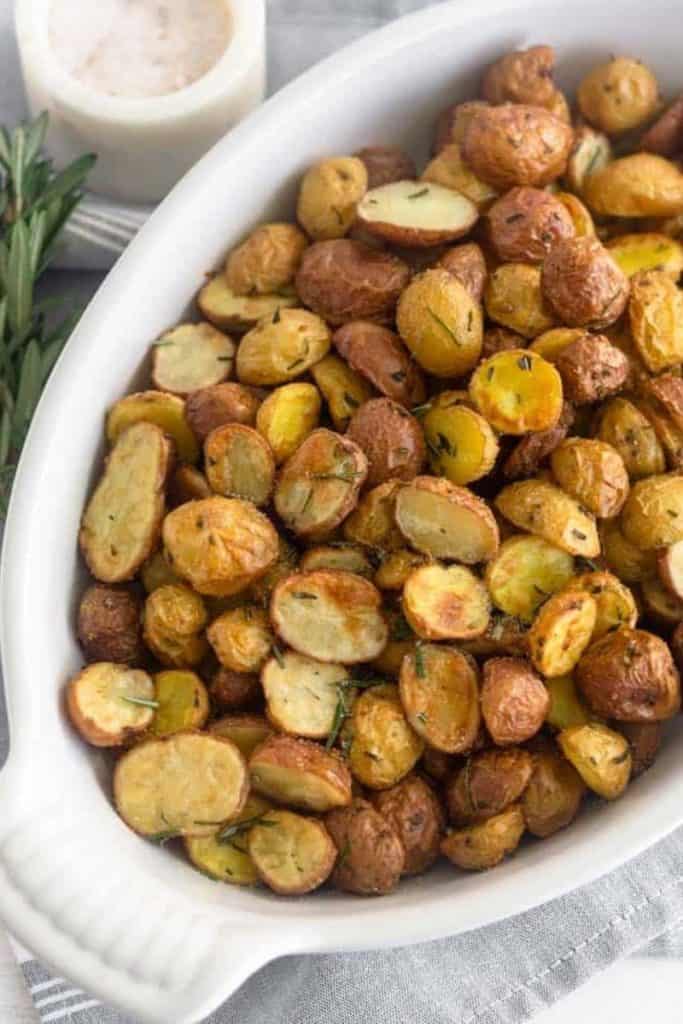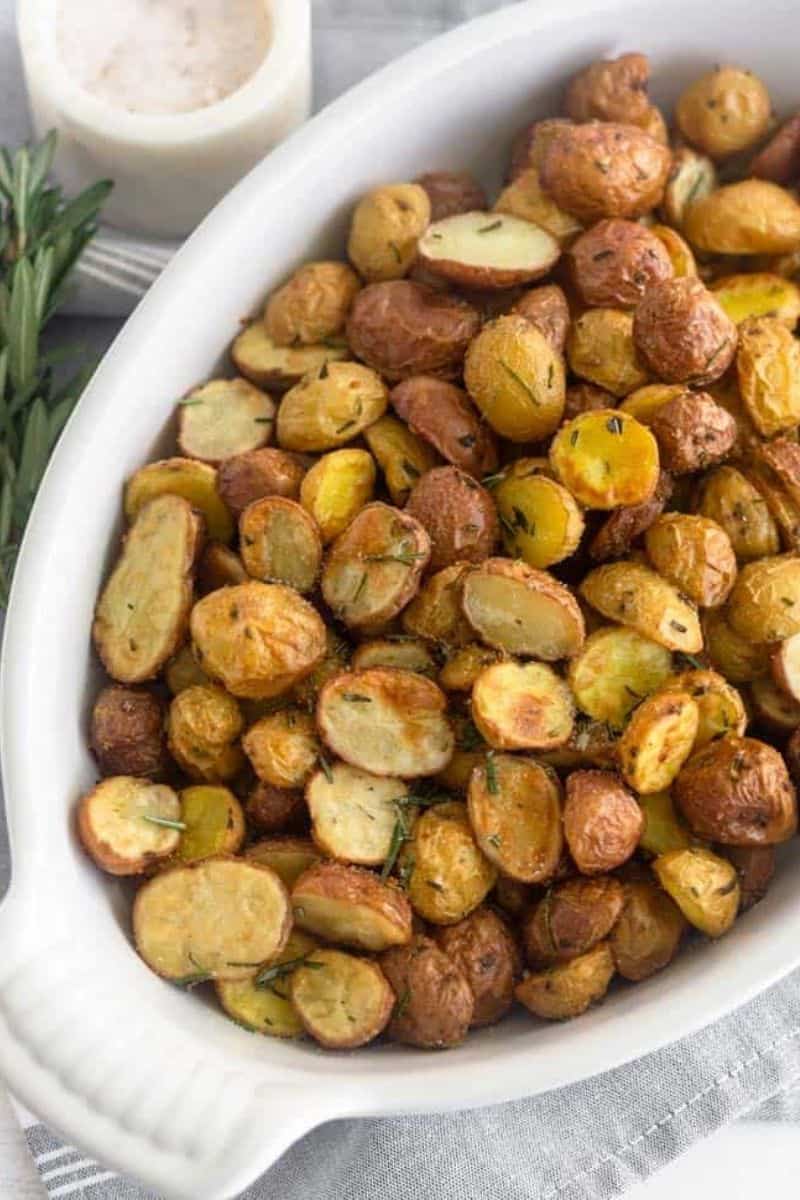 Crispy Spicy Air Fryer Okra by Savory Spin
Coated with a deliciously spiced egg wash and flaked panko breading, these Crispy Spicy Air Fryer Okra are delicious to snack on or enjoy as a side at your next family meal. A great way to make fresh veggies a little more exciting!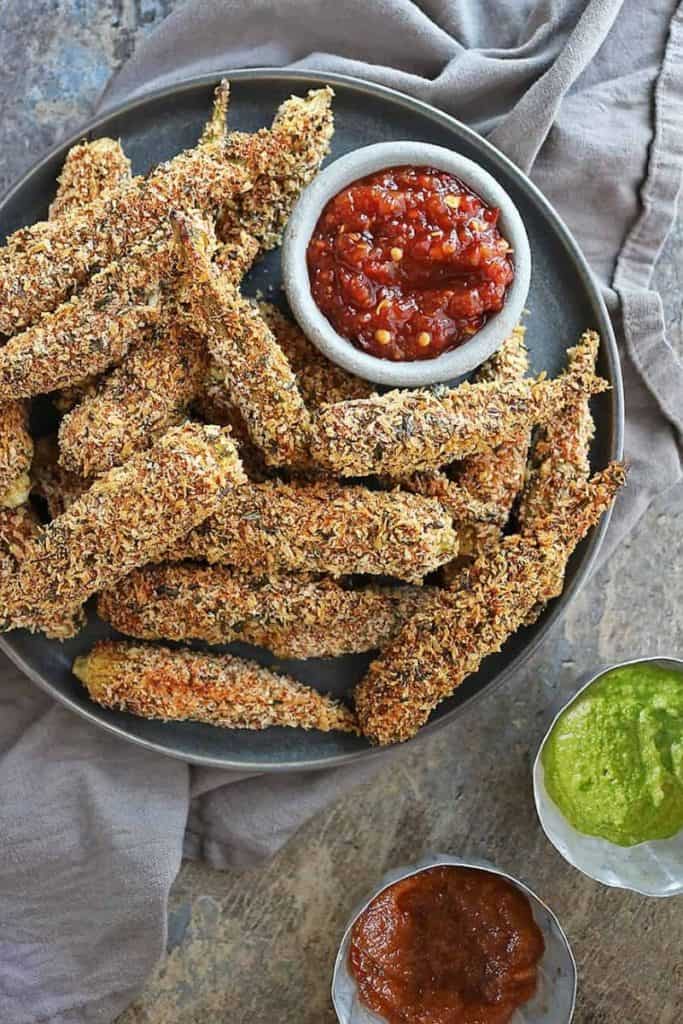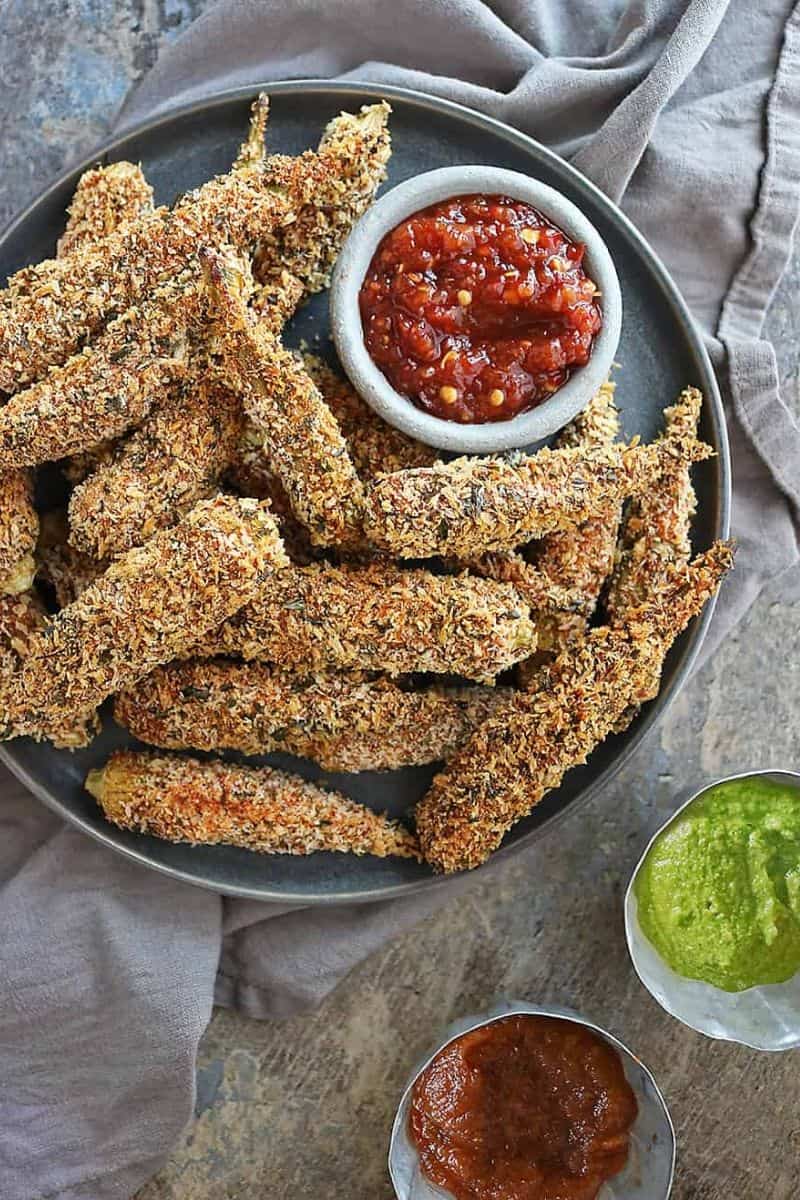 Stuffed Mushrooms by Spice Cravings
Crisp mushroom caps filled with a veggie, herb and cheese mix!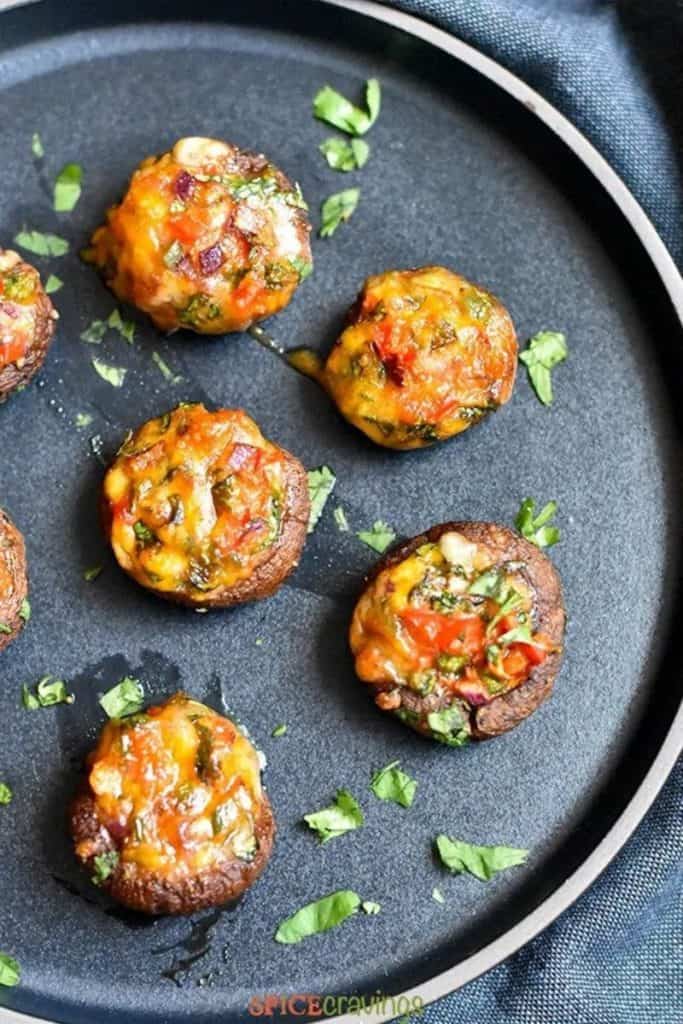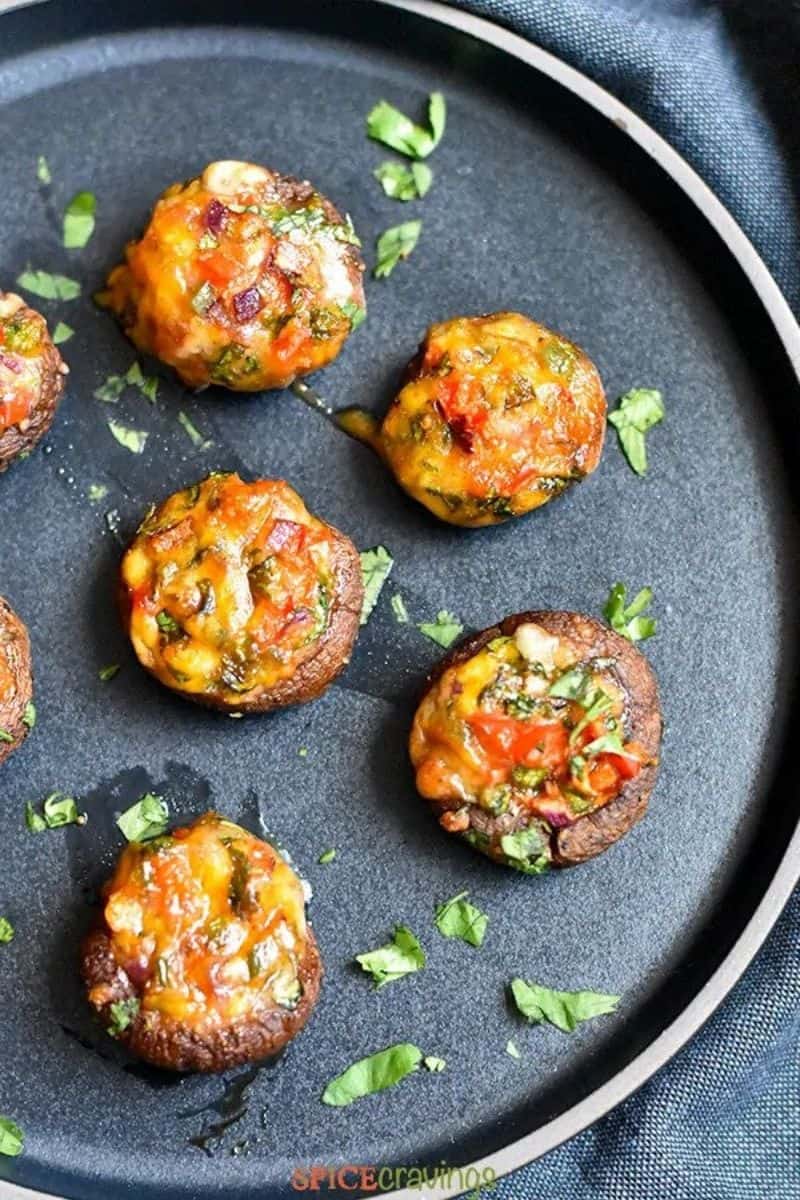 Crispy Air Fryer Brussel Sprouts by The Picky Eater
A delicious side dish of crispy brussels sprouts made in the air fryer. Crispy on the outside and tender on the inside, these are a perfect side dish or snack.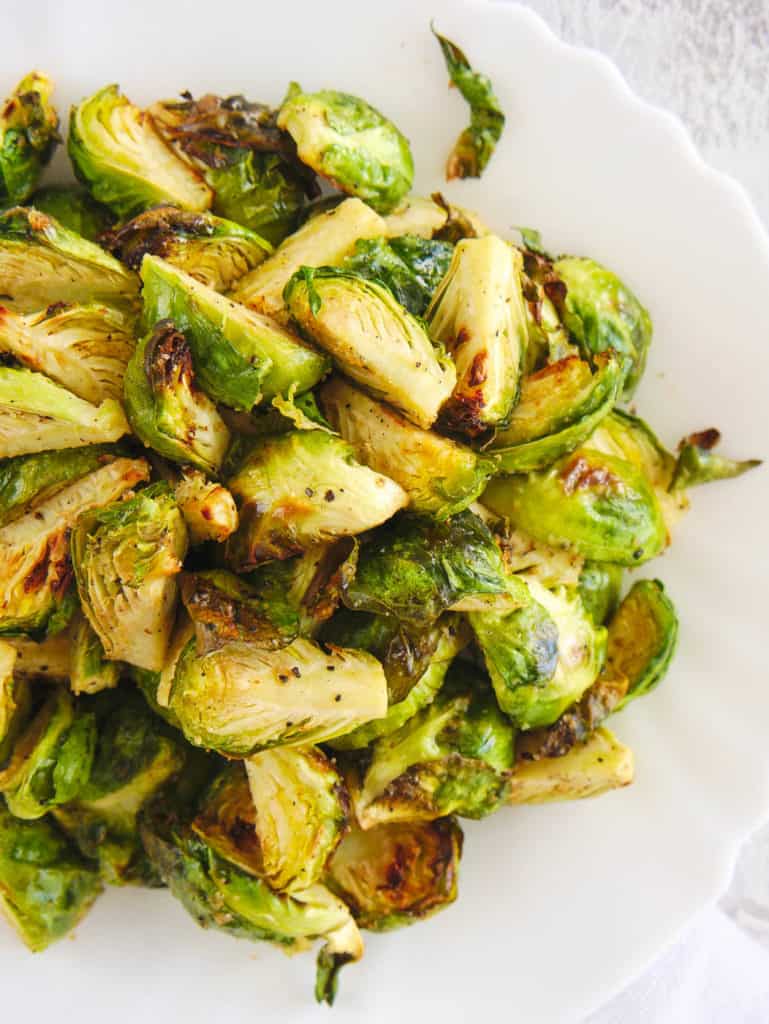 Chili Garlic and Lime Mogo Chips by Jagrutti's Cooking Odyssey
Crispy, delicious and vegan Chili, Garlic and Lime Mogo/Cassava Chips made in the air fryer, with just a small amount of oil. An easy cassava or yucca recipe that you are going to love!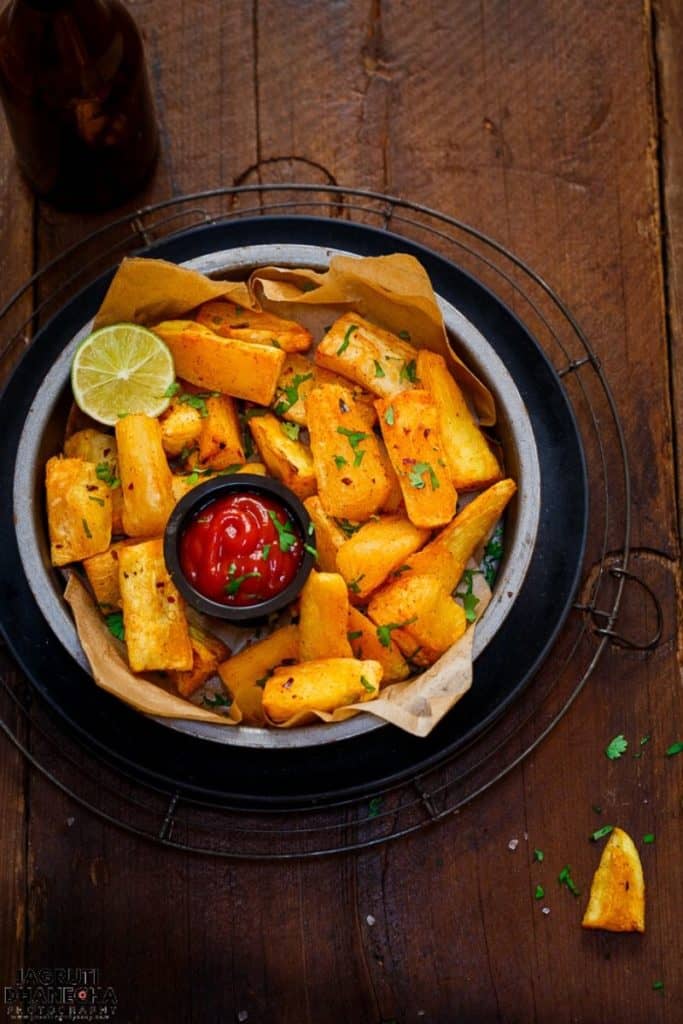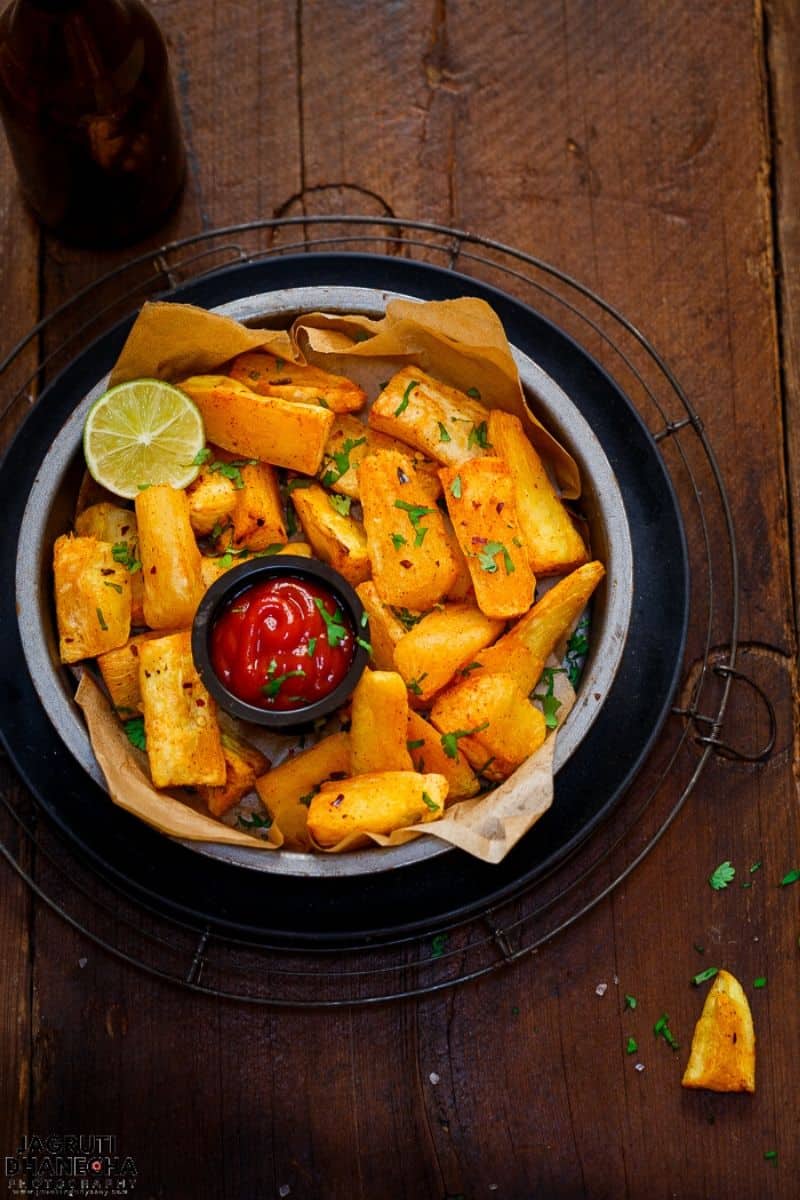 Healthy Air Fryer Eggplant Parmesan by Watch What U Eat
Crispy on the outside and super soft on the inside with toppings of marinara sauce and fresh mozzarella cheese. This Air Fryer eggplant parmesan will be a super hit in the family. Serve on the side of whole-grain pasta for a perfect wholesome healthy meal.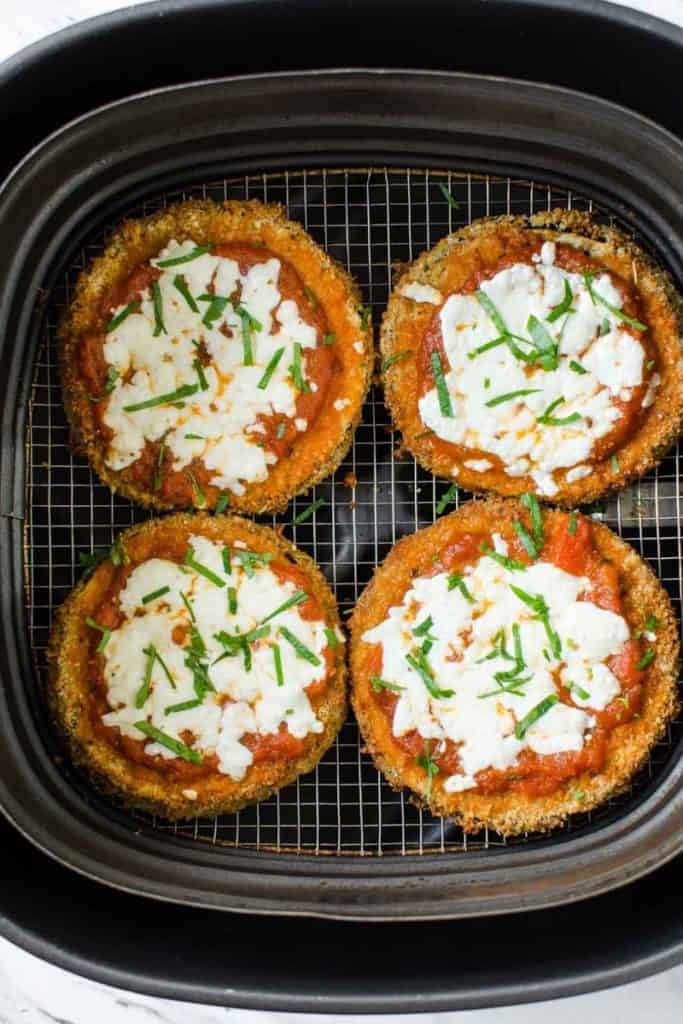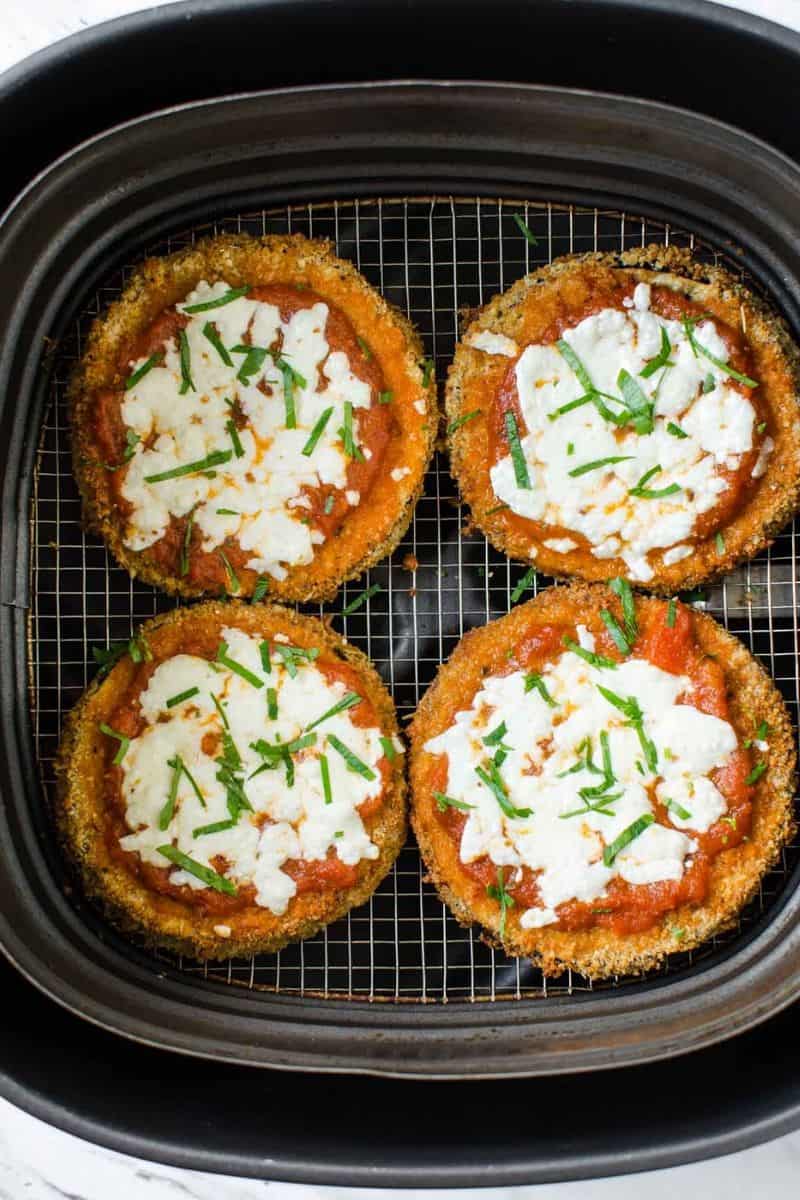 Air Fryer Corn on the Cob by Watch What U Eat
Make this quick and easy air fryer corn on the cob whenever you need roasted corn. Perfect for appetizers or snacks. Or, just use the roasted corn kernels in different recipes.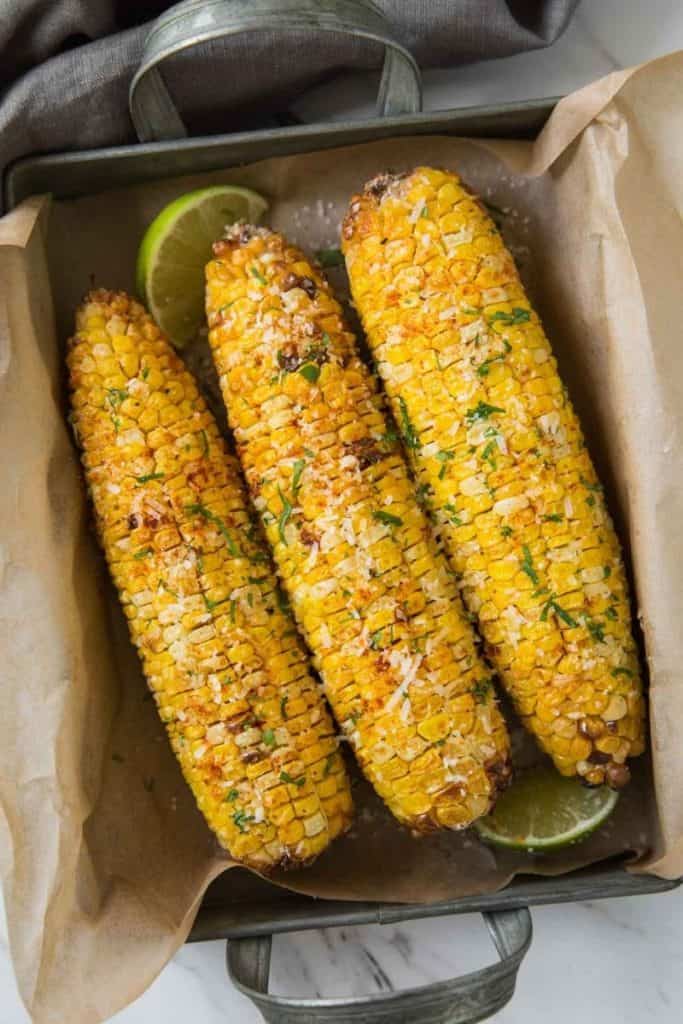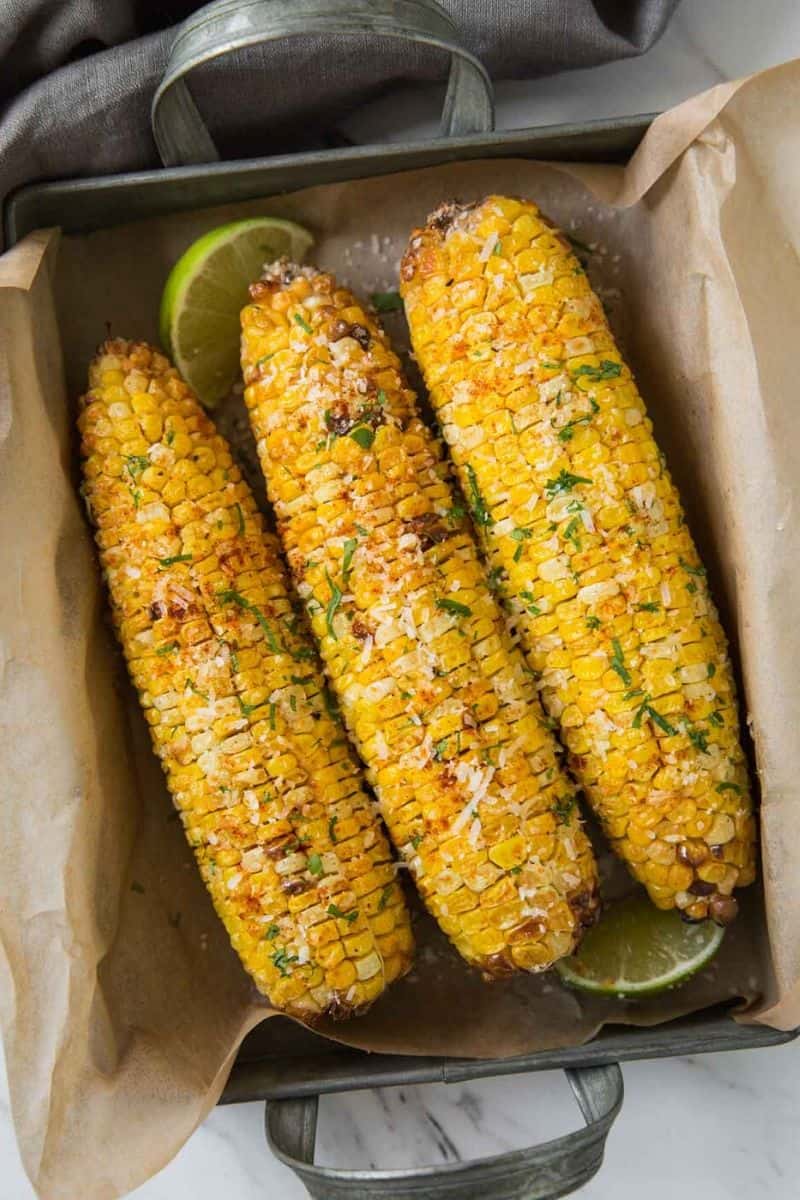 Air Fryer Butternut Squash by Crumb Top Baking
Air Fryer Butternut Squash is an easy side dish that requires just a few ingredients and comes together quickly in the air fryer. These home fries are seasoned with herbs, spices and maple syrup, so they strike the right balance of sweet and spicy.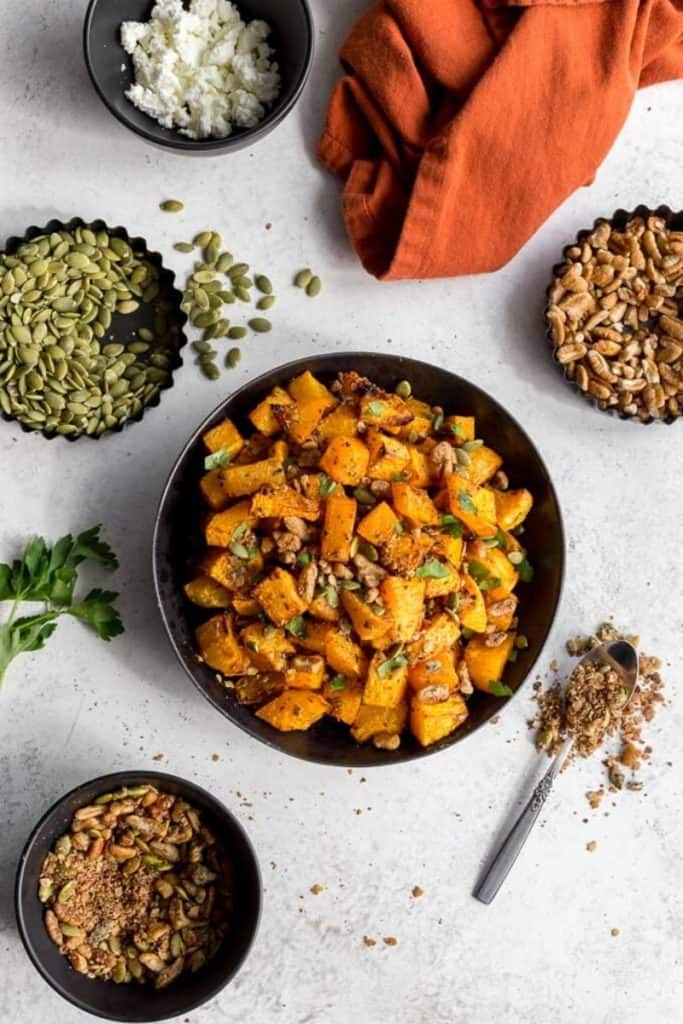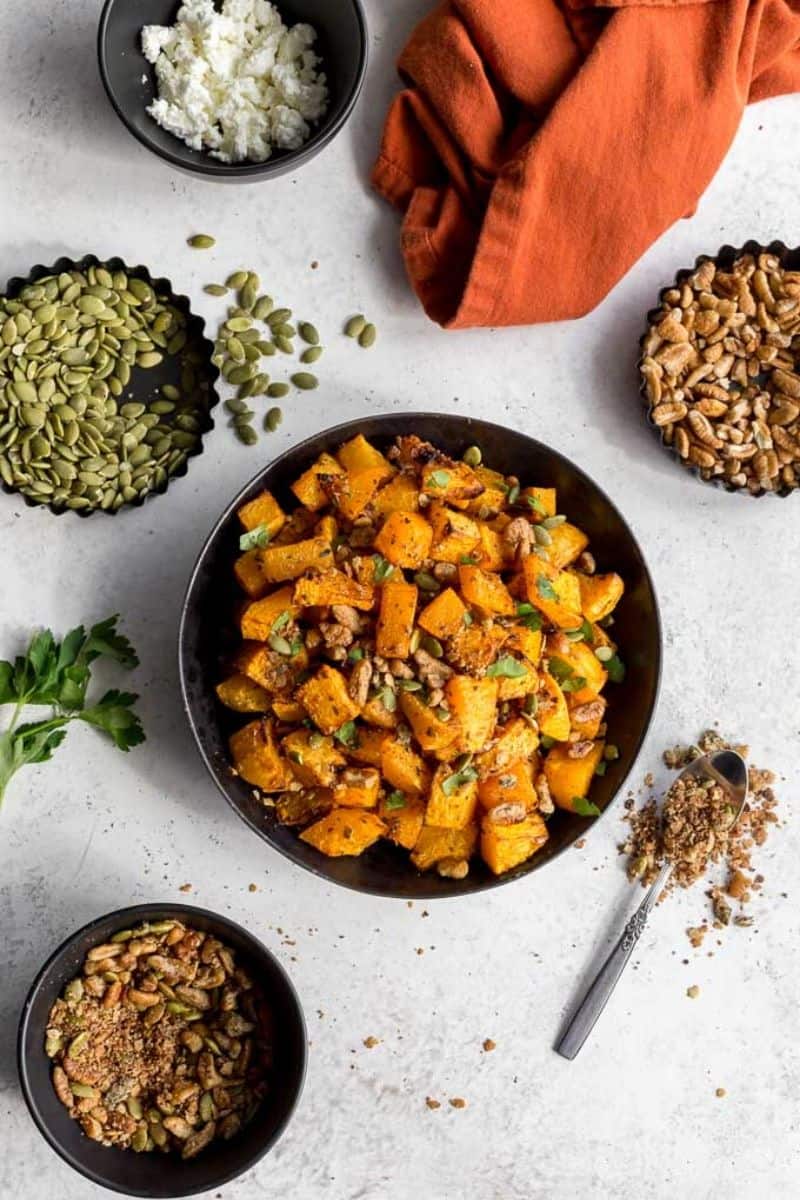 Crispy Spicy Air Fryer Tofu by Keeping the Peas
Spicy and crispy air fryer tofu with five simple ingredients is flavorful and versatile. Thought you didn't like tofu? You've got to try this recipe. Serve as an appetizer, add to your salad or buddha bowl, or mix it into your vegetable stir-fry. There are so many ways you can enjoy this recipe.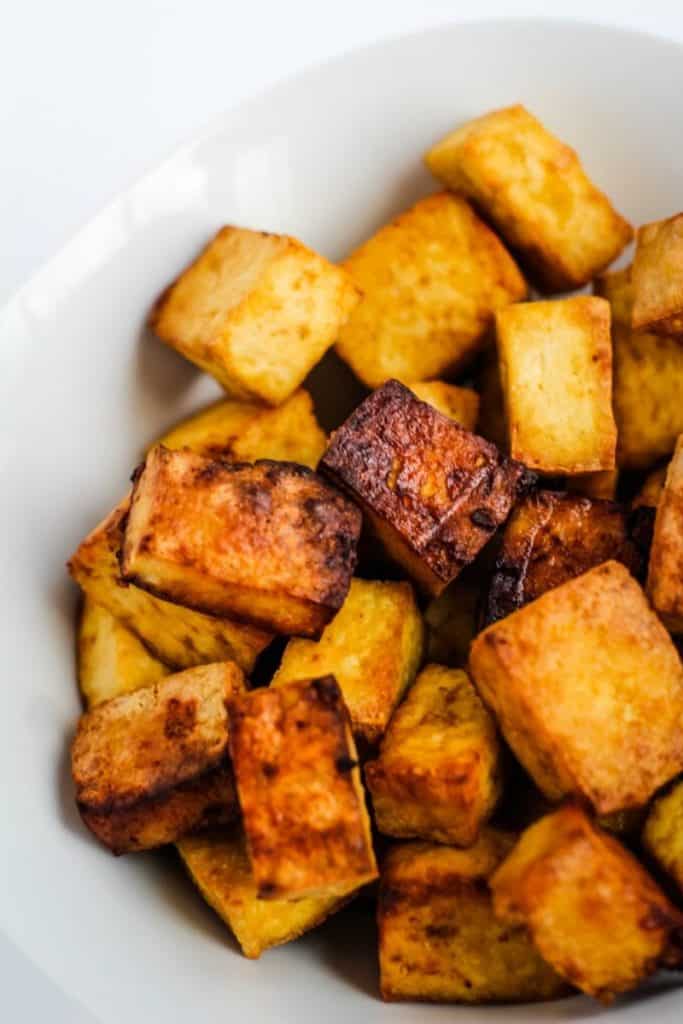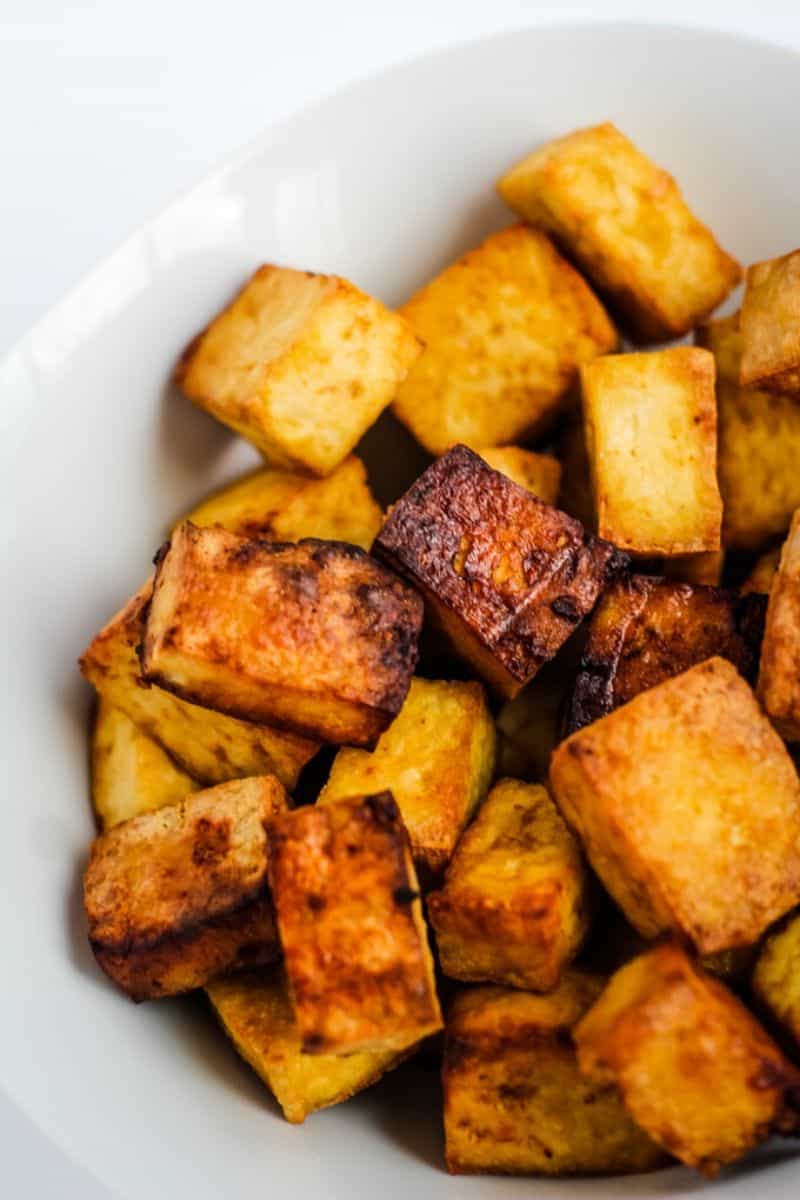 Air Fryer Crispy Buffalo Tofu Bites by The Belly Rules the Mind
Homemade Air fryer crispy Tofu buffalo bites are quick and easy to make. They are super crispy and they're totally kid-approved! Serve them at parties, game night, movie night, or snack time along with your favorite dipping sauce. They are irresistible!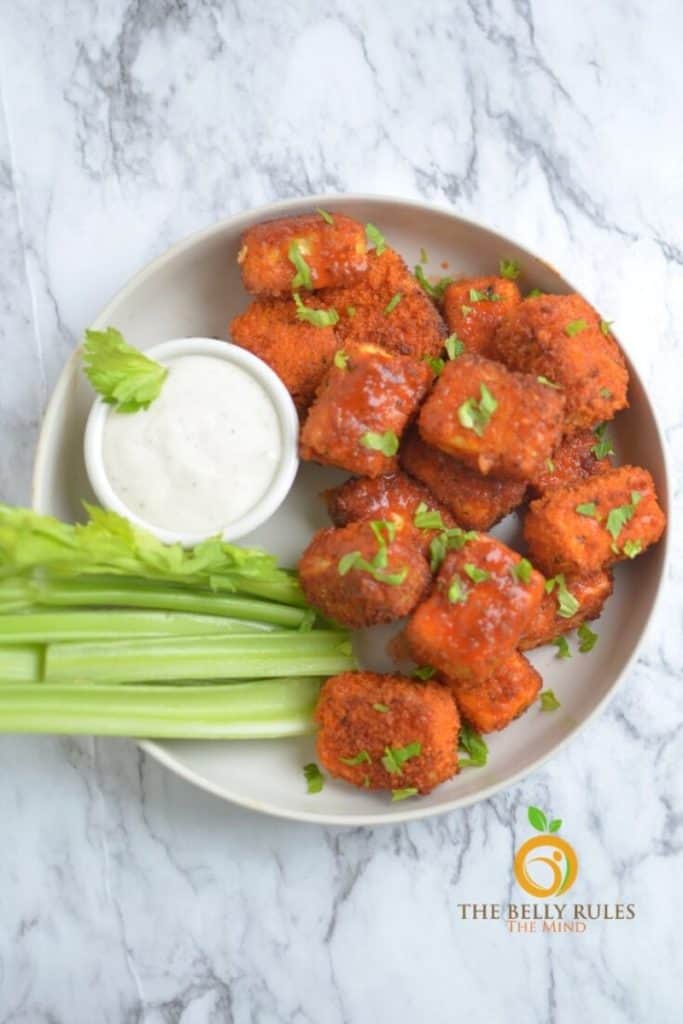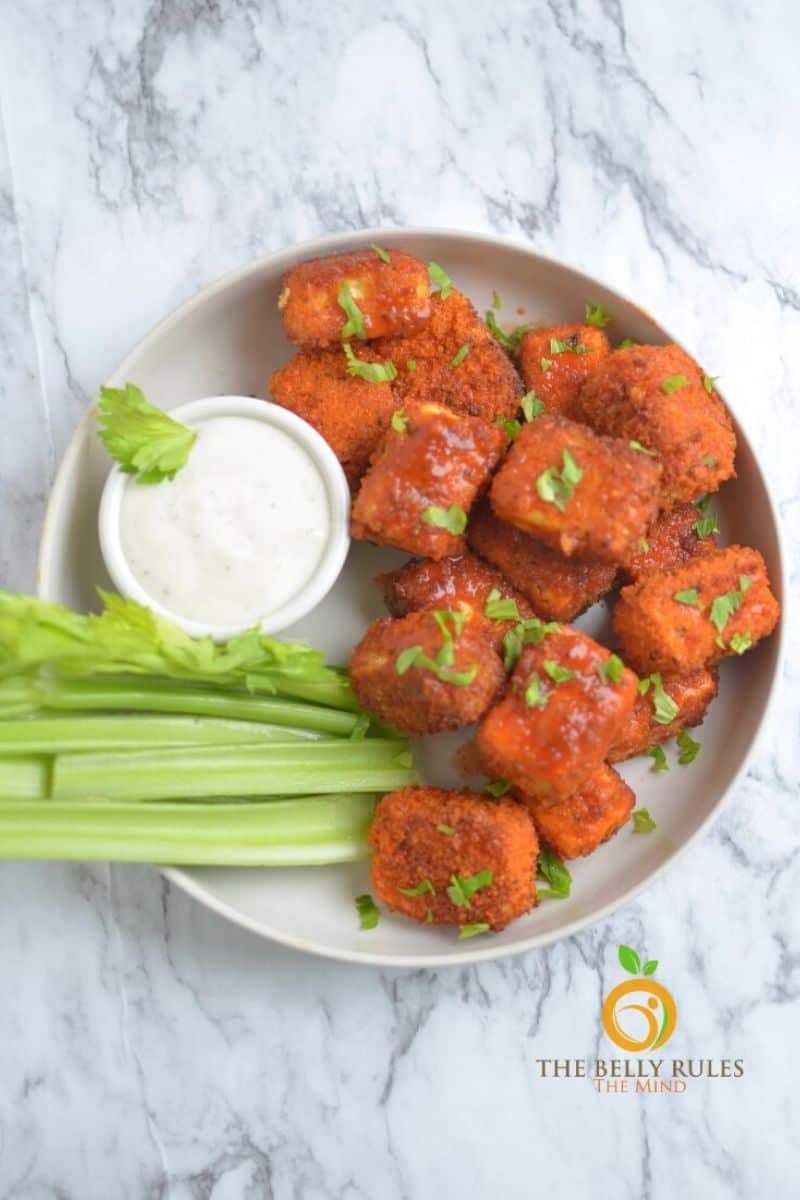 Crispy Air Fryer Green Beans by Simply Nourished Home
This crispy air fryer green bean recipe comes together in a snap to add a fresh and nutritious crunch to any dinner!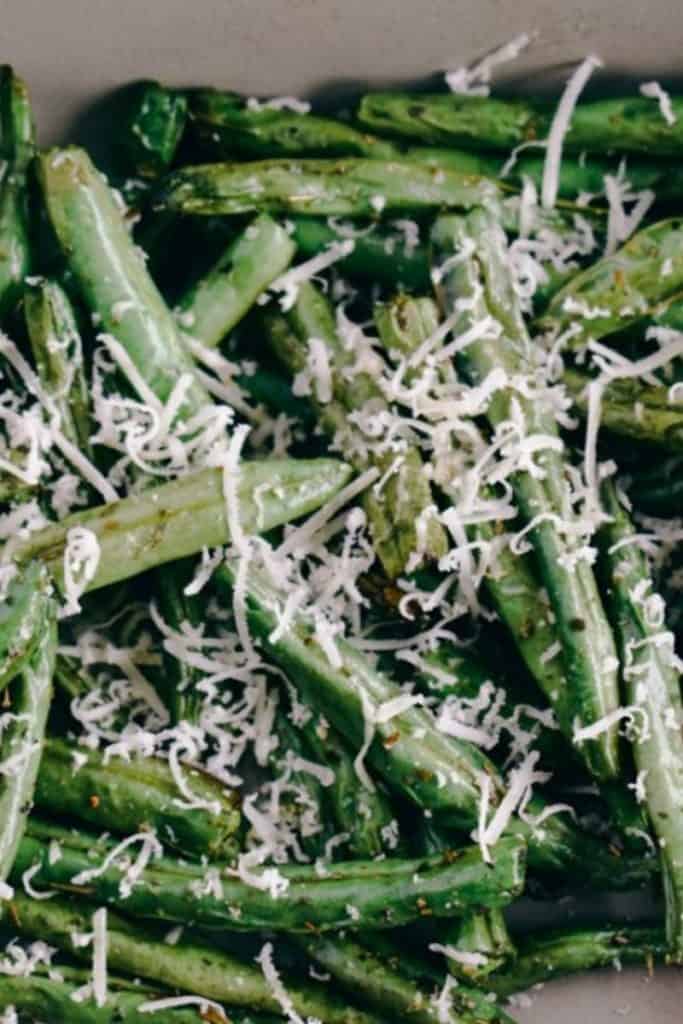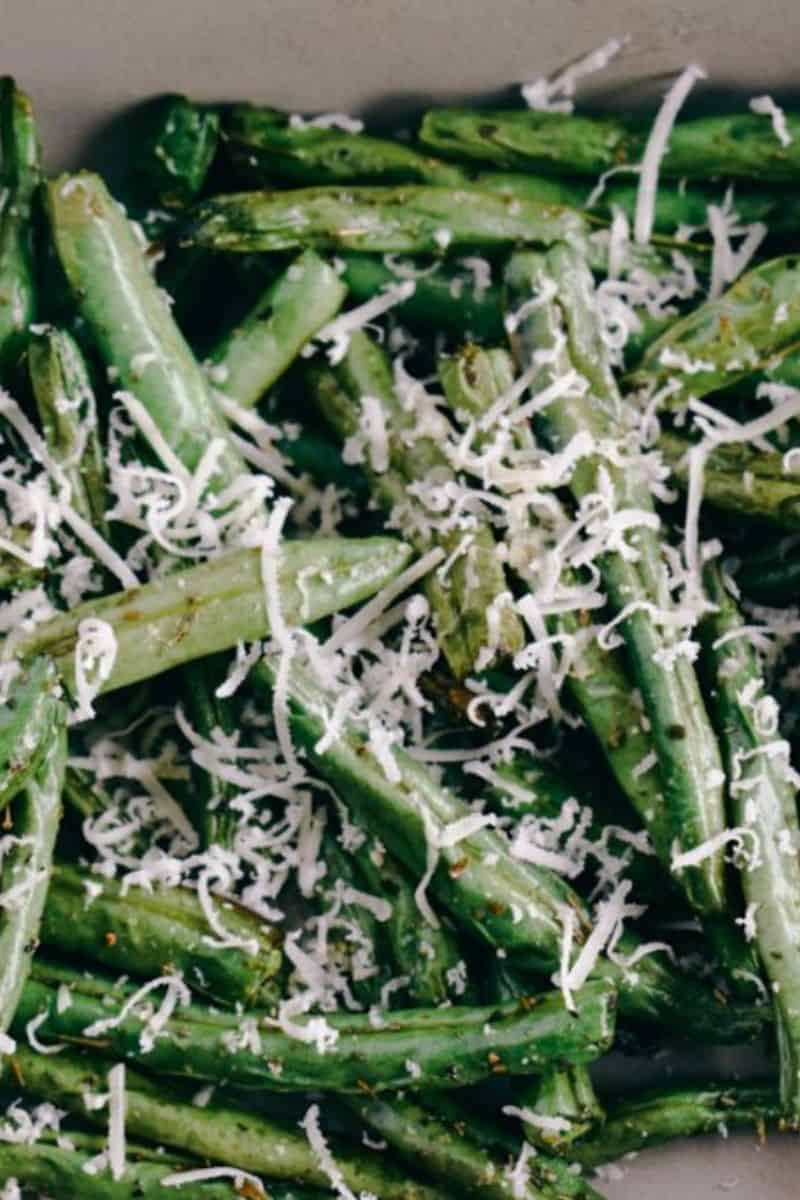 Healthy Plantain / Banana Chips by The Picky Eater
This air fryer version of crispy, homemade Plantain chips / Banana chips are taste amazing and are way better than store bought!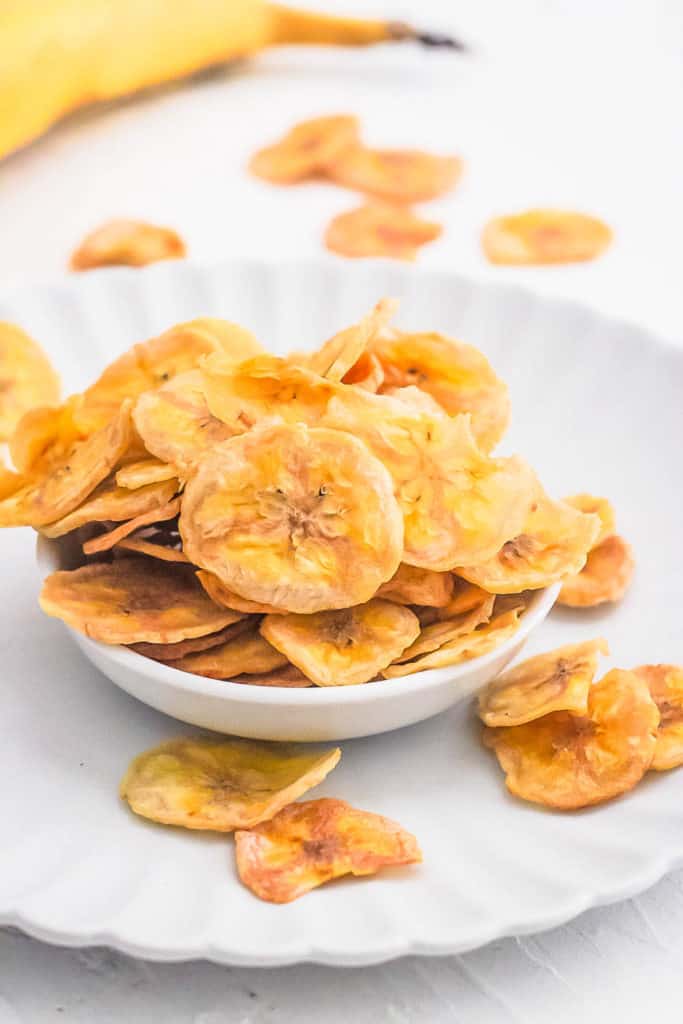 Air Fryer Zucchini Chips by Sustainable Cooks
Make amazing and simple Air Fryer Zucchini Chips for your family with this versatile recipe! A crunchy coating of panko breadcrumbs and parmesan cheese make these Healthier Fried Zucchini Chips poppable and irresistible.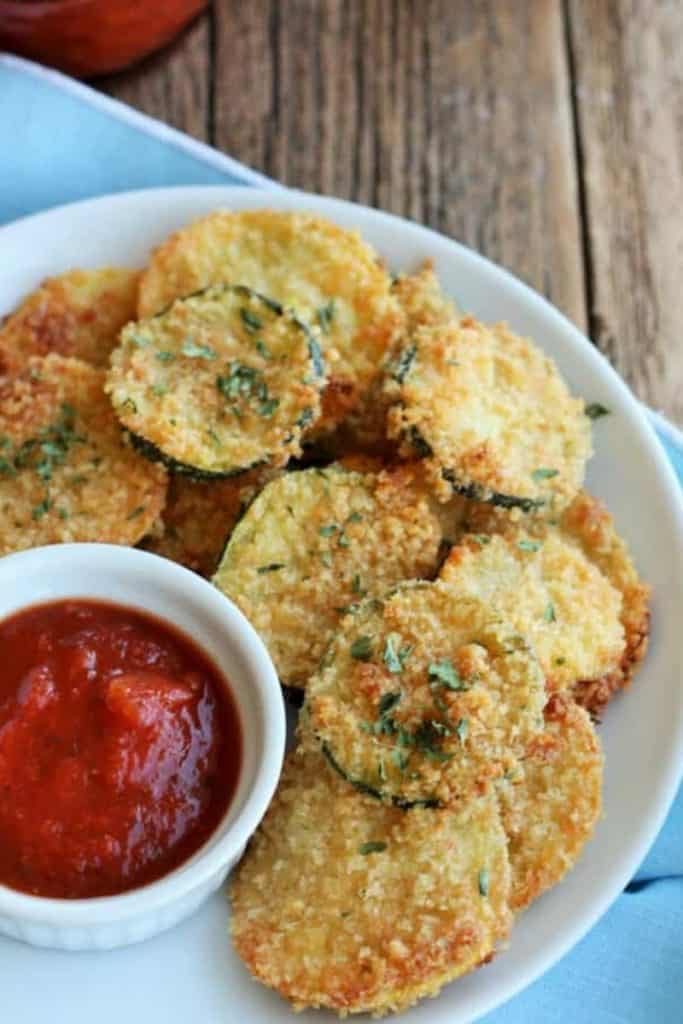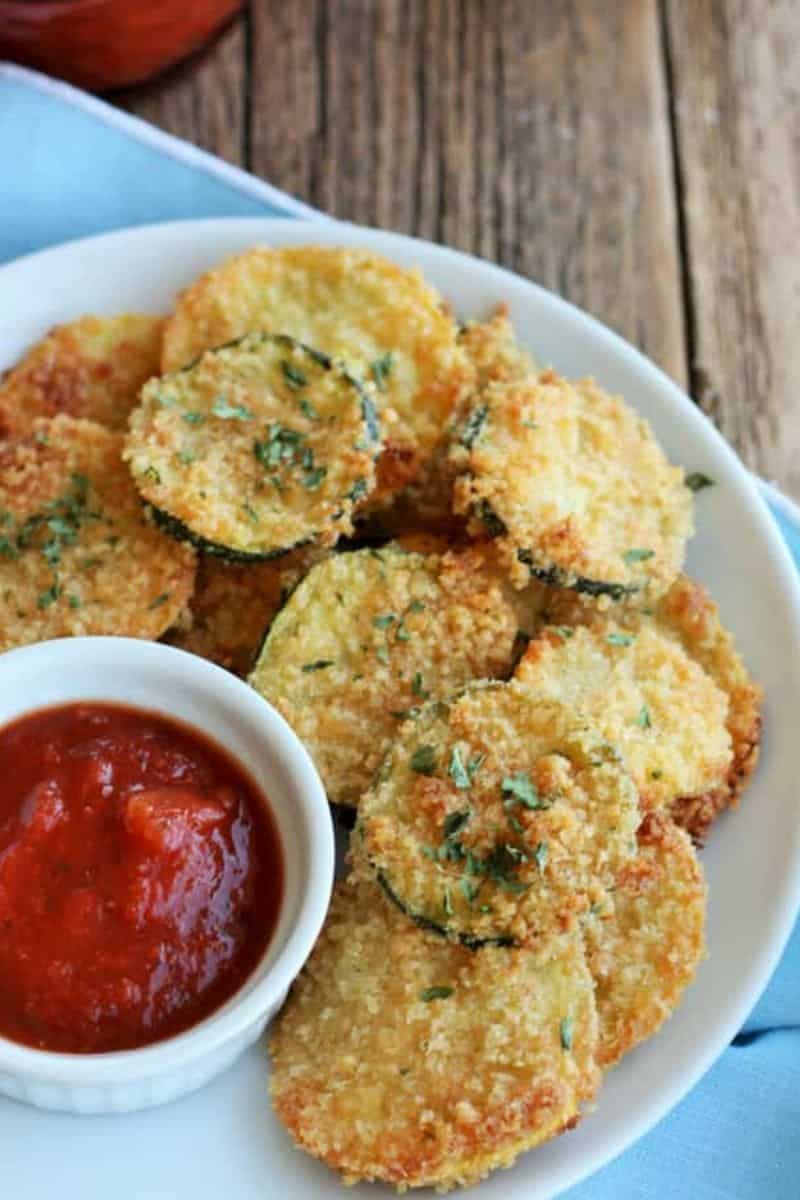 Baked Taquitos with Sweet Potatoes by Cadry's Kitchen
Baked taquitos stuffed with sweet potatoes & black beans. Cook them in the oven or air fryer. The crackling crunch of the corn tortilla exterior gives way to a smoky, spicy, sweet filling. Great as a main course!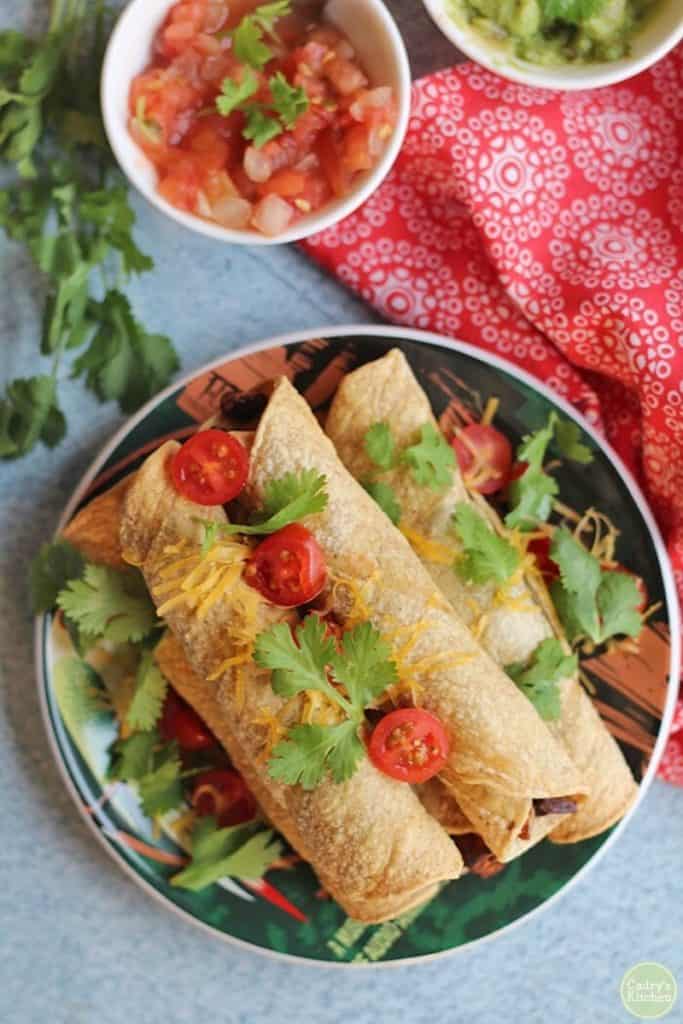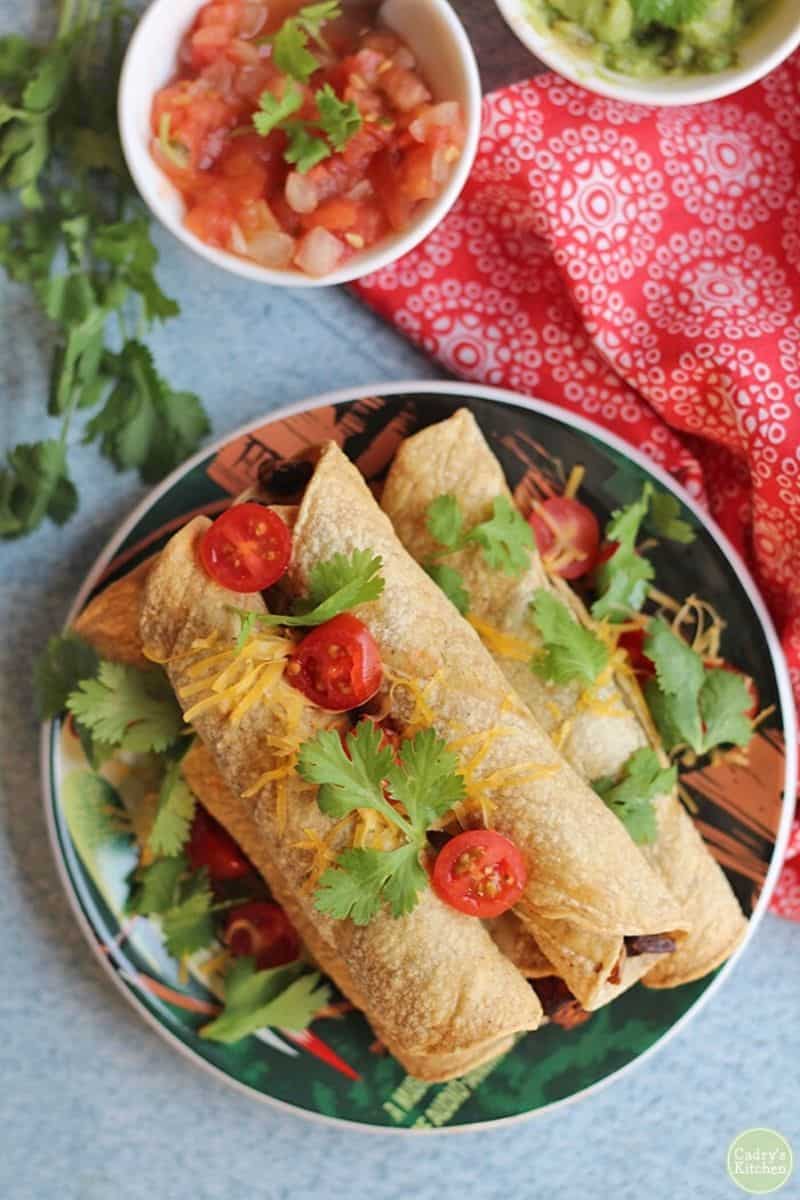 Air Fryer Roasted Carrots by The Picky Eater
These delicious, crispy, roasted air fryer carrots are unbelievably easy to make! Make them sweet, savory or spicy based on your preferences. Ready in minutes, this simple air fryer recipe is an easy way to incorporate a great side dish into the rotation for lunch or dinner! The whole family will love these delicious carrots made in the air fryer.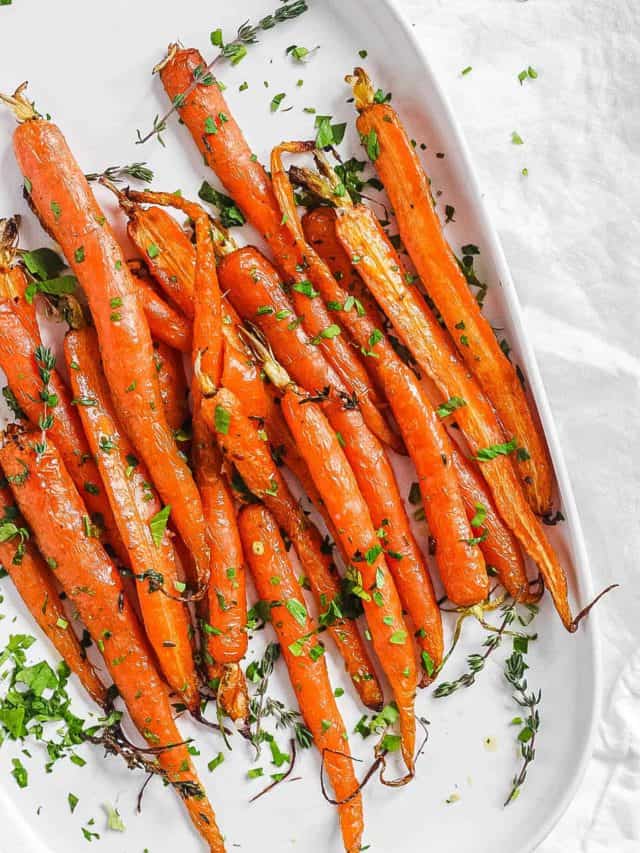 Easy Air Fryer Fried Pickles by Bitz and Giggles
Air Fryer Fried Pickles – Crunchy dill pickle slices covered in crispy, seasoned Panko bread crumbs! So good and good for you, too!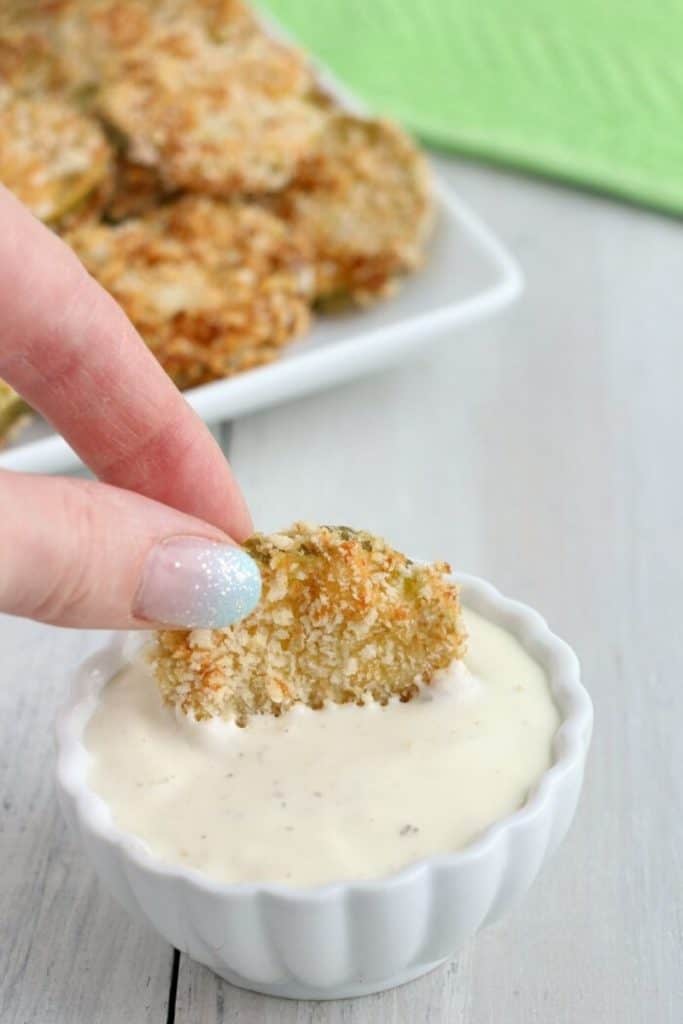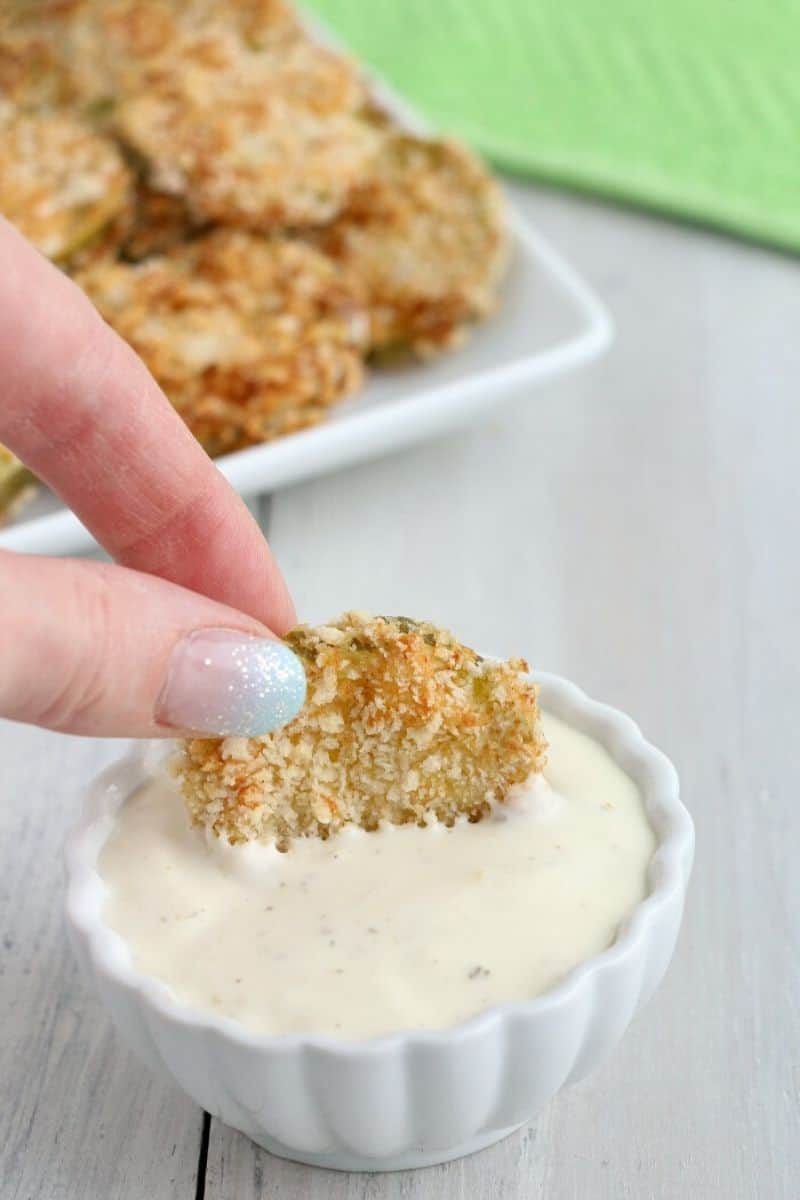 Easy One Pan Cauliflower Curry by Recipes from a Pantry
This One Pan Cauliflower Curry is a quick and simple homemade curry packed full of flavor. It will become your new favorite recipe for quick weeknight suppers.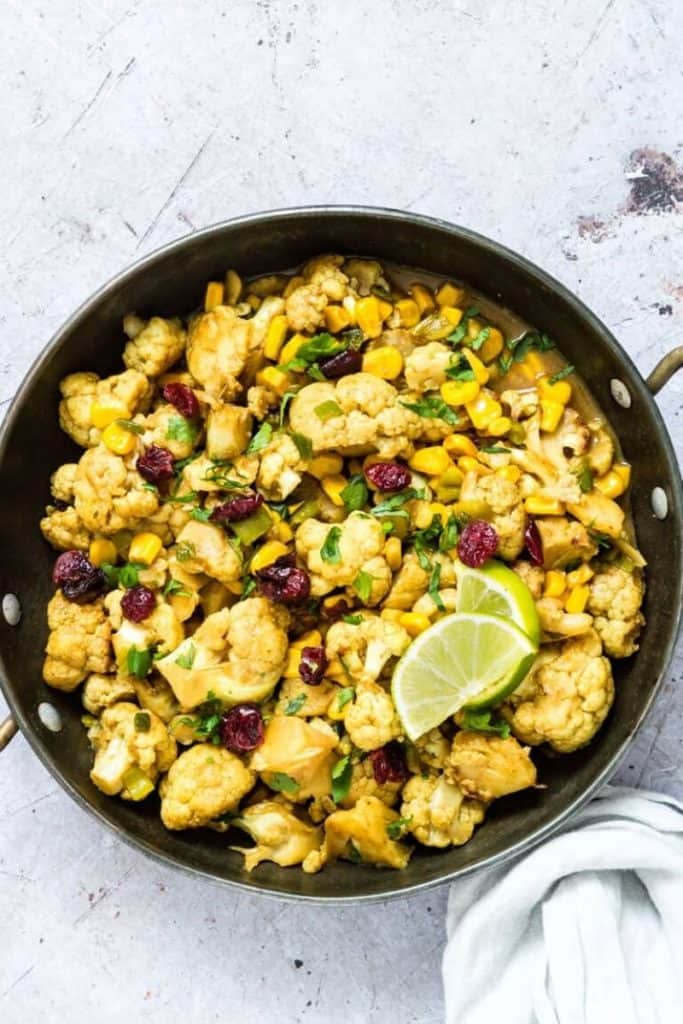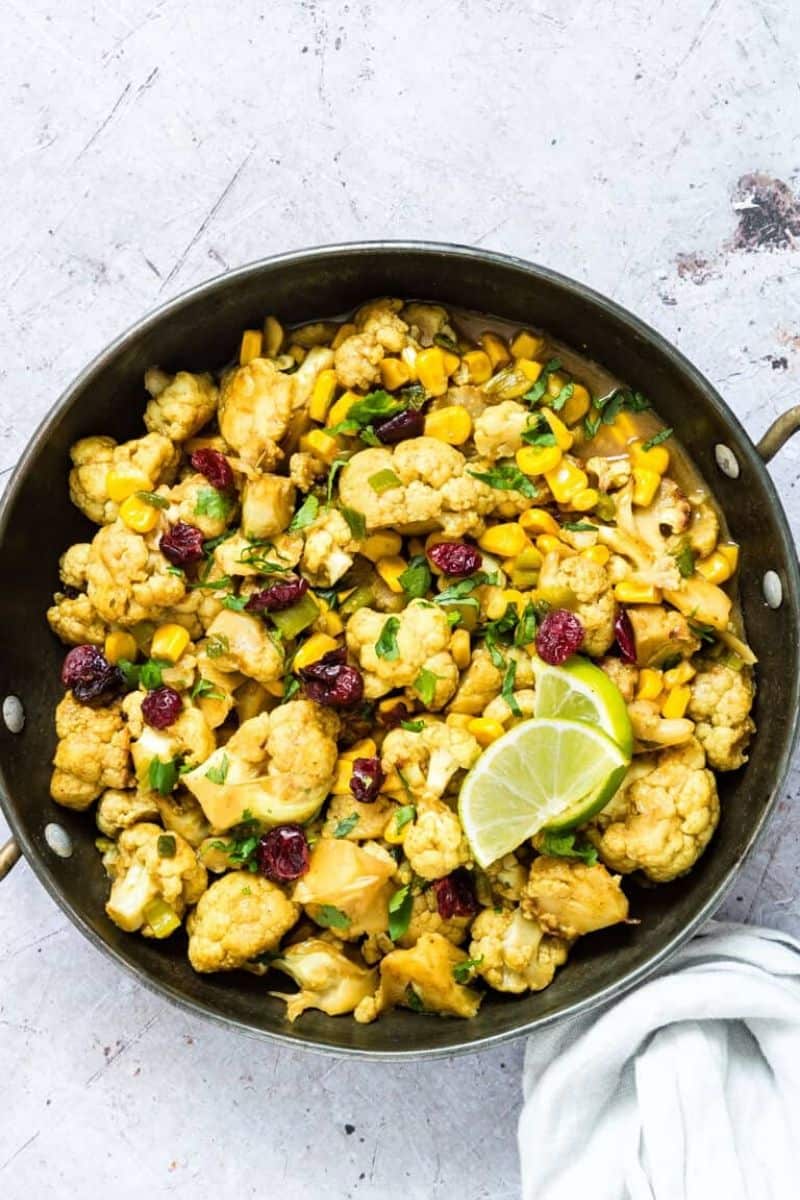 Lighter Easy Air Fryer Onion Bhaji by Krumpli
Cooking onion bhaji in the air fryer is nothing short of genius, with just a few easy steps, you can make these delicious Indian snacks a lightened up and delicious treat!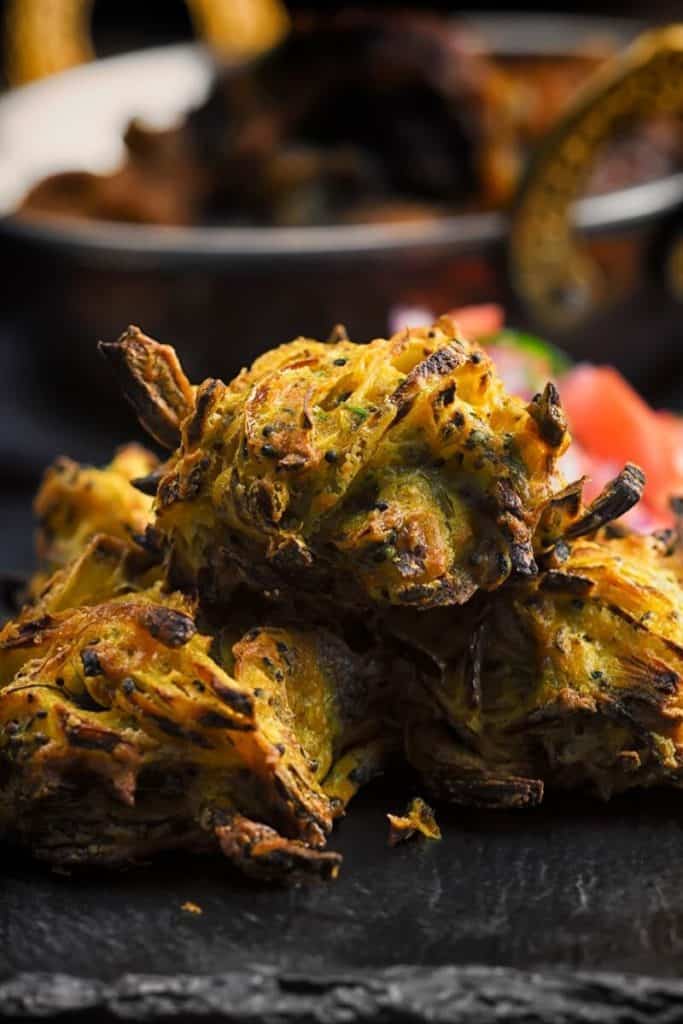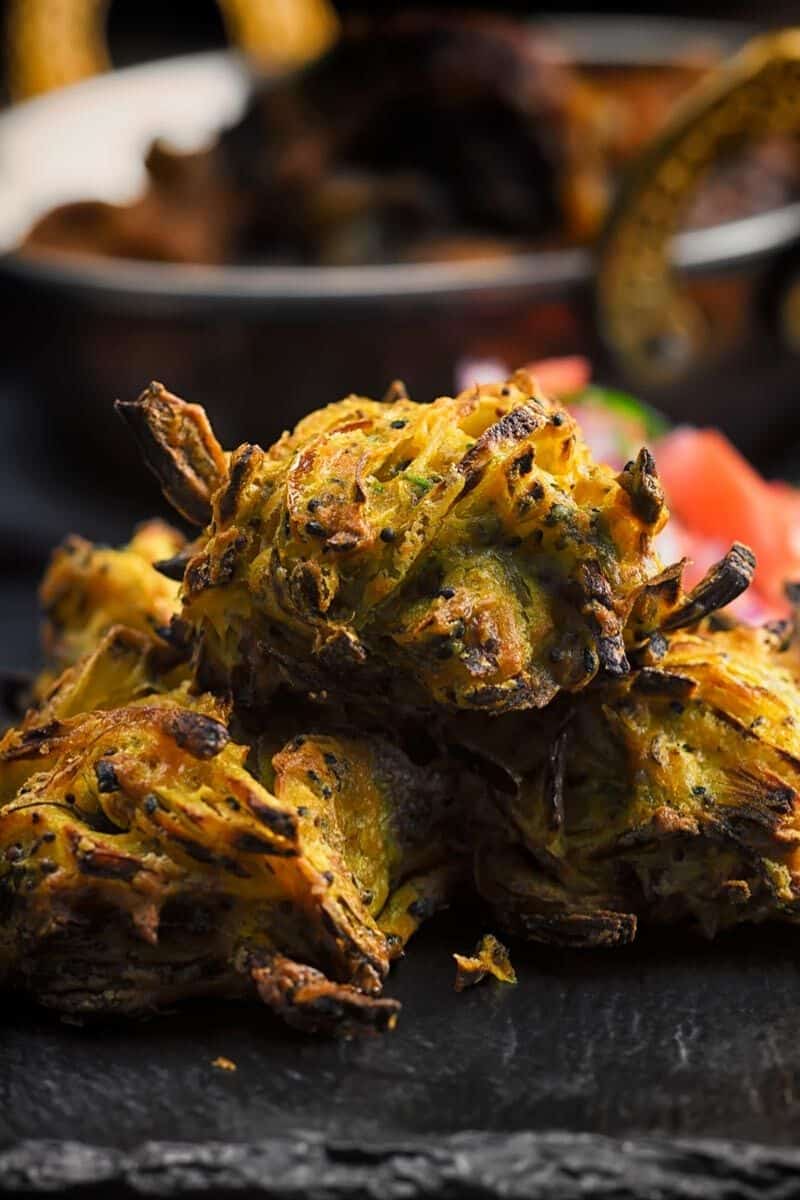 Air Fryer Asparagus by Bless Her Heart Y'All
Air Fryer Asparagus creates the best cooked asparagus in just minutes! This asparagus is perfectly tender on the inside and keeps a nice delicate crunch on the outside! It takes only minutes to prepare from start to finish and you can season it YOUR way!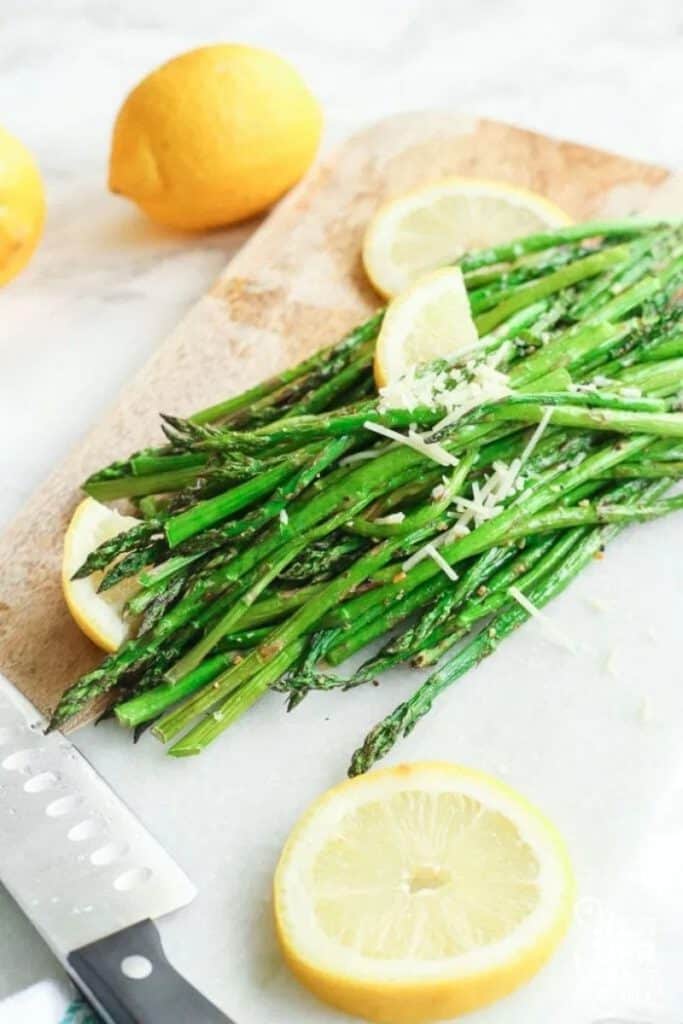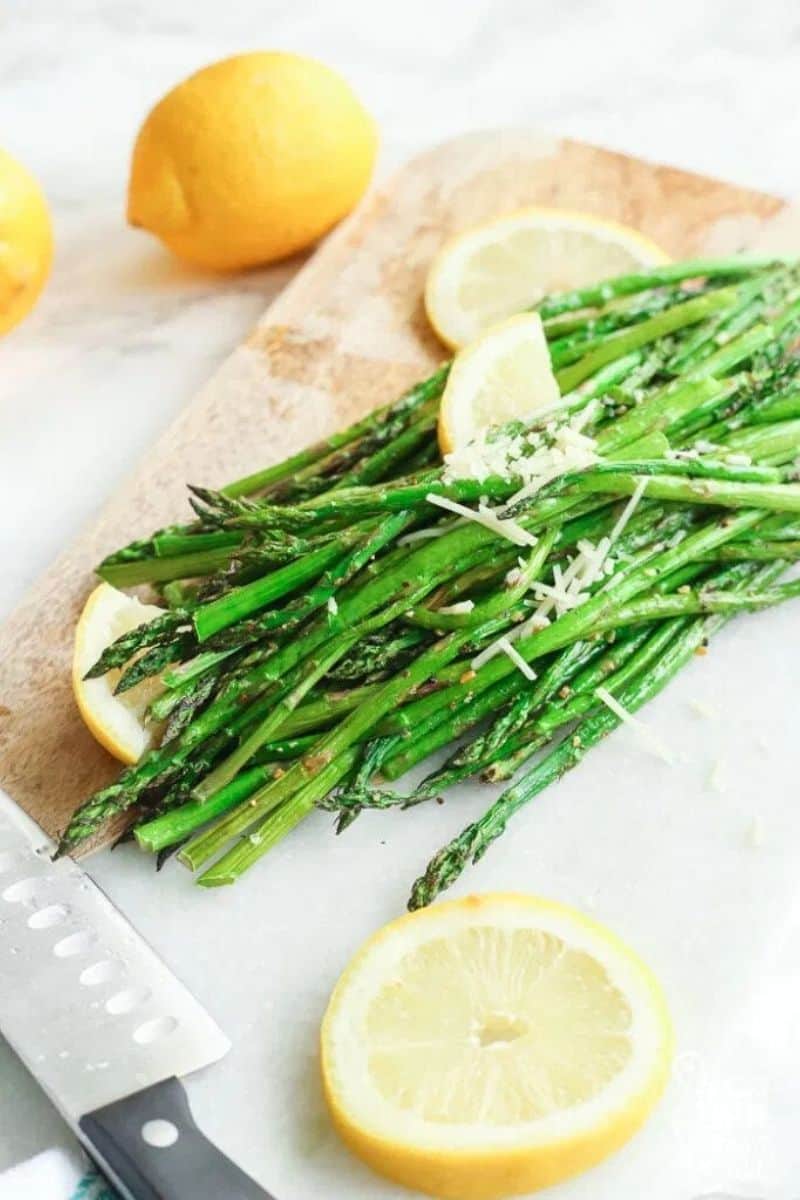 Air Fryer Avocado Wedges by Bitz and Giggles
Air Fryer Avocado Wedges With Garlic Aioli Dipping Sauce – Perfectly golden and ready to eat in under 10 minutes, these crunchy avocado wedges are delicious when paired with this creamy garlic aioli dipping sauce!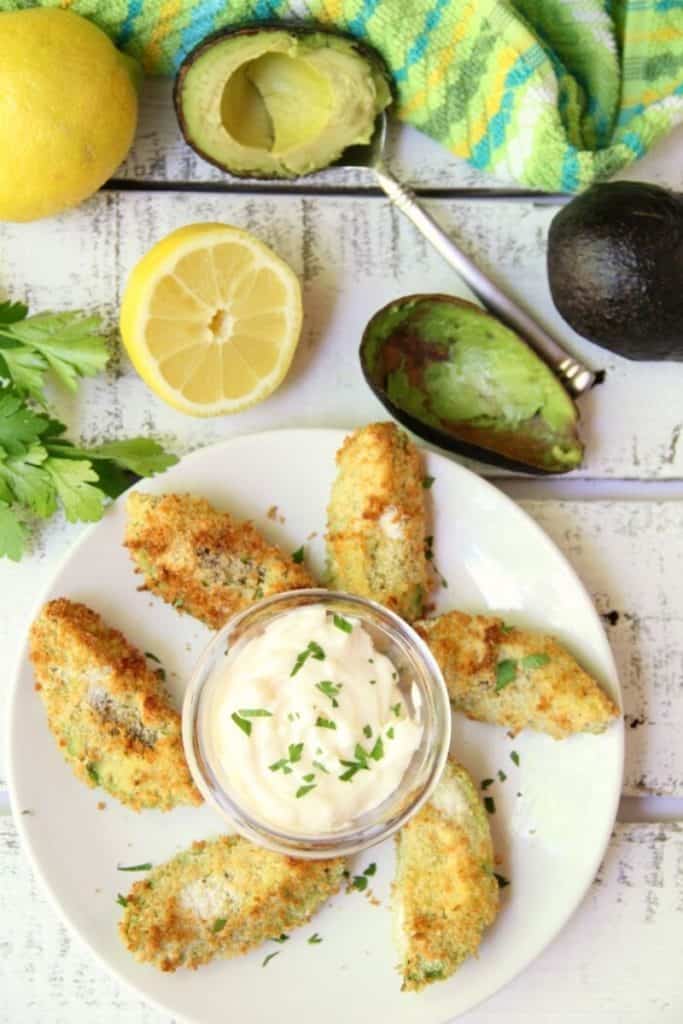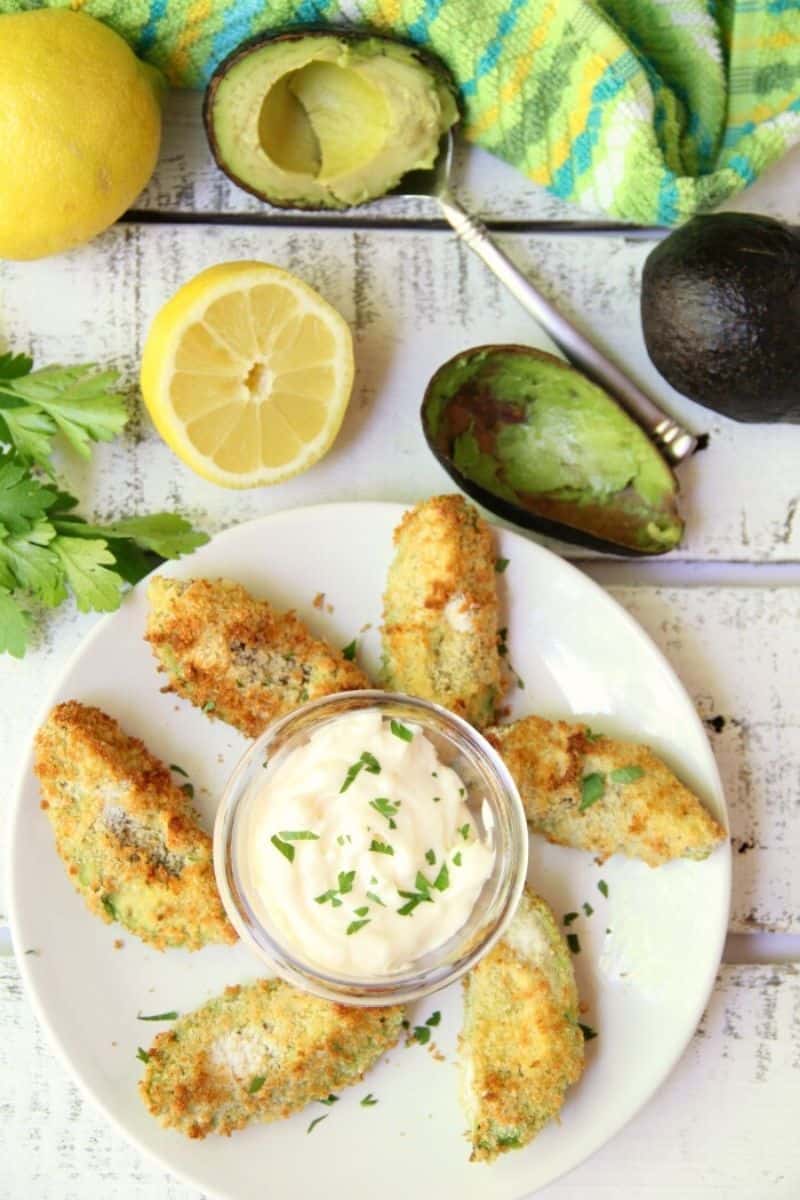 Serving Suggestions For Air Fryer Vegetables
All of these tender vegetables will taste great served alongside a protein for a complete meal. I like to serve some of these veggies as a side for burgers or sandwiches to balance out the carbohydrates in those dishes. You can also add these air fryer veggies on top of salads, into veggie scrambles, or as an appetizer all on its own!
More Healthy Vegetable Recipes!
If you have tried any of these air fryer vegetable recipes, or any other recipe on my blog, then please rate it and let me know how it turned out in the comments below! You can also FOLLOW ME on FACEBOOK, TWITTER, INSTAGRAM and PINTEREST to see more delicious, healthy, family friendly food!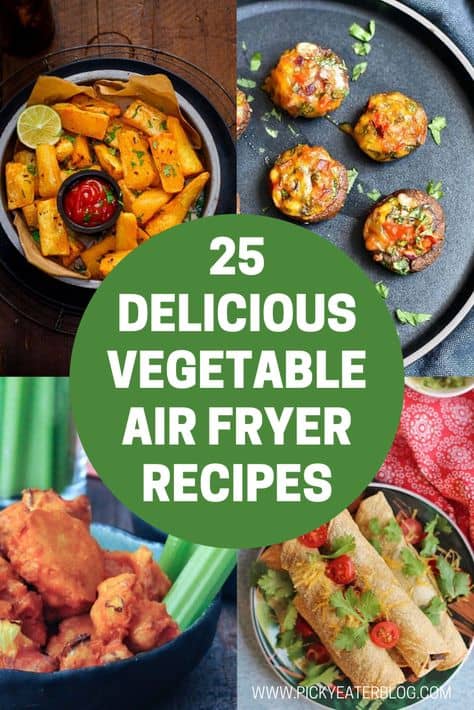 40 responses to "25 Healthy Air Fryer Vegetable Recipes"