Vegetarian Appetizers: 27 Healthy Recipes for Any Occasion
This post may contain affiliate links. As an Amazon Associate, I earn from qualifying purchases. Please read my disclosure.
When having a party, there's nothing that says special like a spread of delicious appetizers! Whether you're having a casual game day gathering, an elegant dinner party, or you're just looking for munchies to enjoy at home, this collection of 27 healthy vegetarian appetizers will suit your needs!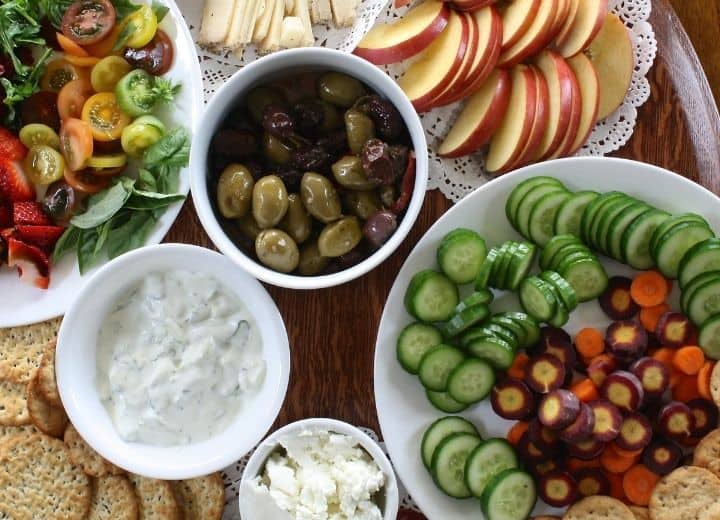 Who doesn't love a good appetizer? In fact, there are days when I could make a meal our of chips and dips, little bites, fruit and veggie trays, and cheese and crackers!
I think that's why tapas are so popular. It's so much fun to eat finger foods!
There are so many occasions when a beautiful spread of appetizers is welcoming. But to be honest, you really don't need an excuse to whip up a healthy appetizer.
These pre-dinner savory bites can be enjoyed anytime.
But when it comes to appetizers, many recipes are heavy, high in calorie, high in fat, and low in nutritional value. In addition, it can often be a challenge to find vegetarian appetizers that go beyond a fruit or veggie tray!
I'm here to tell you that you can enjoy delicious and satisfying vegetarian appetizers without consuming your daily calorie intake before the real meal has begun!
This collection of healthy vegetarian appetizers are perfect for any occasion:
Tailgates
Game Day Parties
Elegant Dinner Parties
Holiday Parties
New Year's Eve Celebrations
Birthdays
and so many more!
So, what are you waiting for? Let's dig in and find some healthy appetizers to whet your appetite!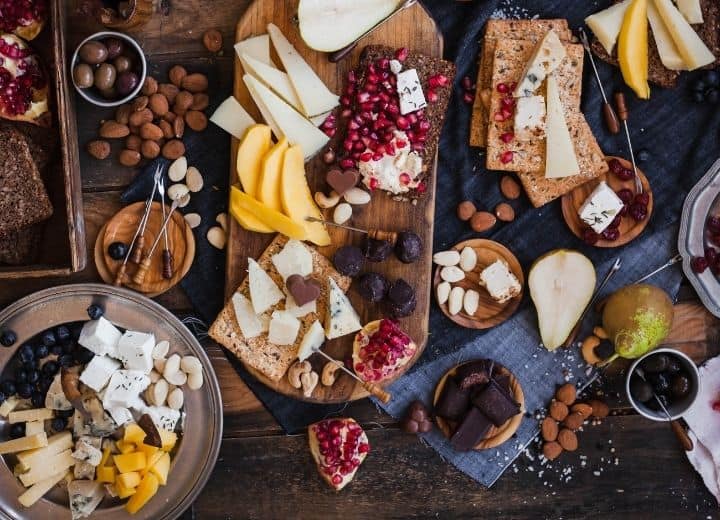 What Are The 6 Types of Appetizers?
Appetizers get their name because they are served before a meal to whet your appetite.
When it comes to planning the appetizers for your party, there are several categories.
Canape: A canape is a bite sized finger food that consists of a base, a spread, and a topping.
Chips and Dips: Likely the most popular and easy appetizer, chips or crackers paired with a savory dip makes for an easy shareable recipe.
Hors d'oeuvres: These small sized bites, are served hot or cold. They usually consist of well seasoned food, that is formerly served before a meal.
Relishes and Crudite: Relishes are pickled vegetables while crudites are raw vegetables.
Cocktails: Bite sized fish, or fruit served alongside a tangy sauce.
In addition to these types of appetizers, there are also a few other categories that sometimes fall into this category or course.
Salads: There are several different categories of salads, including green salads, and compound salads. Compound salads are bound together with mayonnaise or a another type of dressing of some kind. Think potato salad, egg salad, etc.
Soups and Consummé: It has become more and more popular to serve small servings of soup and conummé before the main meal.
What Are Some Easy to Make Vegetarian Appetizers?
Fruit Platter: No recipe needed for this one. Select your favorite fresh fruits, wash, dry, and arrange on a platter. Serve with a vanilla yogurt dipping sauce to make it extra special!
You can also serve your fruit in salad form like this Mexican Fruit Salad below.
Or for a simple and versatile fruit salad recipe with traditional fruits, try this one below.
Fruit Skewers: Place your favorite fruits on a skewer, and arrange in a colorful pattern. Strawberries, melon, pineapple, and grapes, are easily served on a skewer. Below is one of my favorite holiday fruit skewer recipes!
Veggie Tray: I'm always happy to see a great big tray of fresh veggies served with hummus or ranch. I prefer the hummus for it's nutritional value. Excellent options for your veggie include carrots, cucumber slices, radishes, broccoli and cauliflower florets, celery, cherry tomatoes, and sliced bell peppers.
You can also serve grilled or roasted veggies as an appetizer for a twist on the traditional veggie tray.
This steamed asparagus topped with pecorino cheese makes for an easy finger food!
Brussel sprouts can be served with a toothpick for a bite sized veggie on the go.
Cheese and Crackers: A simple cheese and cracker tray is always a highlight at any party. Choose a variety of cheeses such as brie, gouda, and goat cheese. It's also nice to have a selection of different crackers, and pair with a sweet jelly or relish.
Mini Quiches: A super easy and simple vegetarian appetizer are store bought mini quiches. All you need to do is heat them in the oven, and you've got a savory bite sized appetizer.
Pita Chips and Hummus: Store bought pita chips and hummus are a simple appetizer for casual gatherings or at home pre-dinner snacking!
Guacamole and Tortilla Chips: One of my favorites, chips and guacamole is easy and quick to make, and always a crowd pleaser! If you're having a large gathering, be sure to double the recipe! It will disappear!
Looking for something a little different from the traditional guacamole recipe, give this edamame guacamole a try! It's lower in fat and calories that the traditional recipe!
7 Layer Dip: Everyone's favorite, a 7 Layer dip can be healthy too! This one has layers for refried beans, smashed avocado, tangy yogurt sauce, layers of fresh veggies, and cheese! Bake your own tortilla chips, or use store bought!
Make Ahead Vegetarian Appetizers
A hot dip is an excellent make ahead appetizer. You can prepare all the ingredients, cover and place it the fridge until the party begins. Then pop it in the oven and serve hot and bubbly.
This smoky onion and kale dip is lightened up with low-fat cream cheese, and topped with asiago cheese.
Air Fryer Vegetarian Appetizers
The air fryer is an awesome tool to use to make healthy and crispy appetizers in minutes! It's an especially good option if your oven is being utilized for the main course!
These air fryer mozzarella sticks are healthier than traditional, since they're air fried instead of deep fried in oil. They come out nice and crispy on the outside, and ooey-gooey cheesy on the inside. Pair with marinara sauce.
Store bought ravioli is coated in crispy breadcrumbs, then air fried and paired with a homemade bell pepper and spinach marinara.
Bite Sized Vegetarian Appetizers
When I think of appetizers I immediately think of handheld bites. These are perfect to pass at a party, or display on a platter to share.
Bruschetta is a popular Italian appetizer. This version is healthy than the traditional recipe paired with white beans for added protein and topped with tomatoes and fresh herbs.
Have leftover mashed potatoes? These mashed potato fritters paired with kale and onions are a creative way to use up those leftovers, and create a bite sized, handheld potato pancake!
Need a super easy appetizer on the fly? How about these goat cheese crostini. Crispy crostini is topped with spreadable goat cheese and a drizzle of honey!
Shareable Flatbreads and Pizzas
When it comes to pre dinner sharing, a simple flatbread is a popular option. They're easy to make, and can be customized based on your taste preference. You can also make them vegan by leaving off the cheese, or using a vegan cheese substitute!
For the mushroom lover, this mushroom flatbread is paired with roasted vegetables. Slice into bite sized pieces for a shareable app!
Keep it simple with a classic Margherita flatbread. Layers of tomatoes, fresh mozzarella, and basil sits atop a whole wheat crust.
Looking for something a little more out of the ordinary? How about this goat cheese flatbread? Creamy goat cheese is spread on top of a whole wheat flatbread, then topped with fresh zucchini ribbons and plump raisins.
An easy all around flatbread, chunky tomato sauce is paired with fresh spinach and peppers, and just the right amount of cheese to make is melty and gooey!
Appetizer Soups
Soups are becoming more and more popular as an appetizer. If serving at a party, you can place your soup in shot glasses, or other small bowls or cups.
These soups are light enough that they make an excellent pre-dinner dish!
This carrot ginger soup is smooth and creamy full of warm spices. A perfect soup for the autumn holidays.
This asparagus and leek soup is light and creamy. The fresh flavors pair nicely with other summer flavors.
The combination of pumpkin and sweet potato paired with warm spices, and white beans for creaminess makes this soup vegan and gluten-free!
Butternut squash soup is a classic! This one is paired with thyme and parmesan for a hint of herbal flavors, and a nice finish.
Tomato soup is light and pairs well with so many other flavors. It is a true classic, and this version is vegan, but still tastes rich and creamy!
Kid Friendly Appetizers
These kid themed appetizers will bring the kids running to the table. They'll also enjoy making them with you too. Whether you're celebrating a holiday, or just looking to make something creative and eye-catching, these apps will do the trick!
These fun and easy Halloween quesadillas are just the thing to fill up on before heading out to trick-or-treat!.
Are your kids not a huge fan of the traditional Thanksgiving fare, make these fun and healthy turkey shaped quesadillas!
How much fun is snacking on this appetizer! Instant pot popcorn is a classic recipe that's always a crowd pleaser with kids. You can also make an adult version with this spicy jalapeno popcorn, or a dessert version that's super kid-friendly with this unicorn popcorn!
A tray of these reindeer sandwiches at you holiday party will entice the kids and adults to give them a try!
What Are The Most Popular Finger Foods?
Many of the most popular finger foods are not vegetarian or healthy. Foods such as meatballs, turkey meatballs, chicken wings, and sliders are not vegetarian friendly.
However, these popular finger foods have their own vegetarian versions.
I like the vegetarian meatballs from Trader Joe's as a substitute for the traditional beef or turkey meatballs.
Instead of chicken wings, give buffalo cauliflower a try! It's got great flavor and texture.
Sliders are an excellent finger food. Make them vegetarian and healthier by using whole wheat slider buns, and pairing them with mini mushroom burgers.
What Do Vegetarians Eat at Parties?
Whether you're a vegetarian, or have vegetarian guests coming to your party, you want to be sure they feel welcome and have plenty of options to enjoy.
All of the above recipes are excellent choices for any vegetarian.
Be sure to include plenty of vegetable options, whether that's a vegetable tray with dip, or roasted veggies paired with a dipping sauce.
Don't be afraid of tofu, and other plant-based proteins. Tofu bites, tempeh, and bean dips and spreads are simple vegetarian options.
I hope you were able to find some inspiration from these healthy vegetarian appetizers!
Check Out These Other Healthy Vegetarian Recipe Round-ups!
If you have tried these Healthy Vegetarian Appetizers or any other recipe on my blog, then please rate it and let me know how it turned out in the comments below! You can also FOLLOW ME on FACEBOOK, TWITTER, INSTAGRAM, and PINTEREST to see more delicious, healthy, family friendly food!
10 responses to "Vegetarian Appetizers: 27 Healthy Recipes for Any Occasion"