60 Best Healthy Vegan & Vegetarian Appetizers
This post may contain affiliate links. As an Amazon Associate, I earn from qualifying purchases. Please read my disclosure.
60 of the Best Healthy Vegan & Vegetarian Appetizers, curated for you in one place! Top reader-reviewed recipes and guaranteed crowd favorites! With vegan, vegetarian, and even gluten-free and dairy-free appetizers, you're sure to find your next favorite recipe.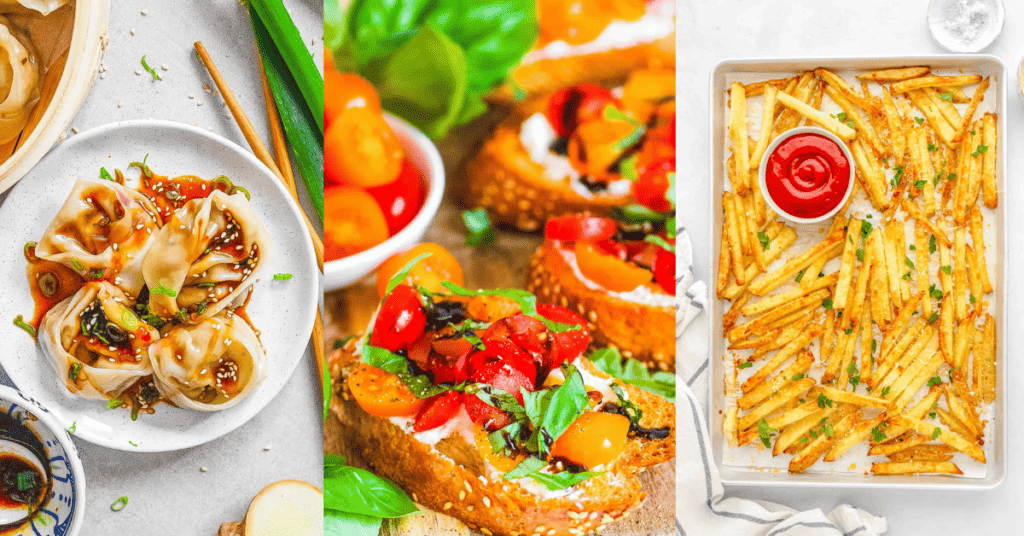 Crispy nachos loaded with veggies, hot and salty fries with a side of ketchup, creamy and zesty guacamole served alongside freshly air fried tortilla chips. These are just a few of the vegetarian party appetizers I share below. With 60 options, the selection is varied, crowd-friendly, and delicious. There is certainly something for everyone on this list!
In this list of vegetarian and vegan appetizers, delicious is not mutually exclusive with nutritious and good for you, and there are plenty of options with something for everyone!
These meatless recipes include healthy make-ahead appetizers, kid-friendly veggie appetizers, and more. Though I've divided the appetizers below into vegetarian, vegan, and gluten-free categories, many of them are a combination of the three.
Get your Pinterest save button ready, folks! And have your shopping list and pen nearby. With everything from Italian, Indian, and Mexican vegetarian appetizers, to traditional dips, hummus, bruschetta, flatbread, and other vegetarian finger food, there is something for every occasion from game day and cocktail parties to potlucks, summer barbecues, baby showers, and more!
---
Vegetarian Appetizers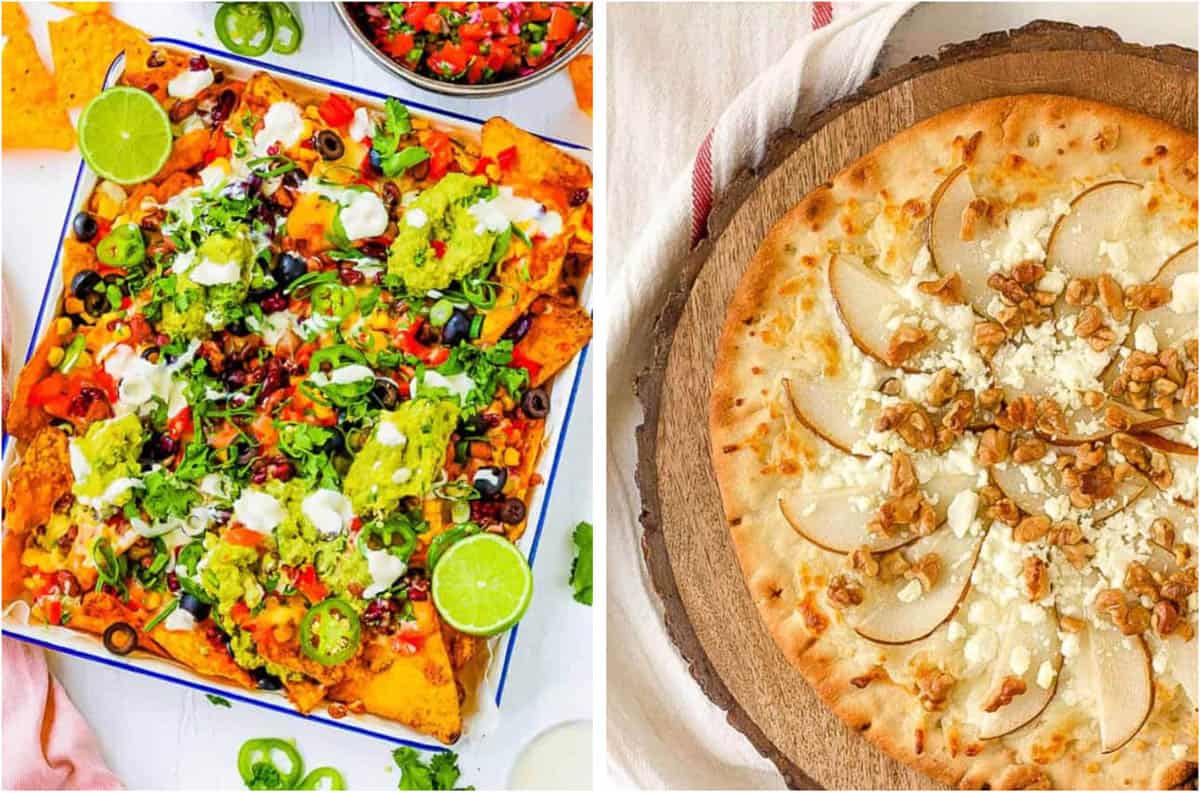 Enjoy traditional recipes remade with a vegetarian twist! Many of them boasting more vegetables and nutrition and a lower calorie count, these top vegetarian appetizer recipes are easy to make and just as delicious (if not more) than their classic counterparts!
Many of these vegetarian recipes can very easily be made vegan and some are even gluten-free friendly. Scroll the following ideas for your next vegetarian appetizer recipe!
Calories: 386 – Fiber: 7g – Protein: 12g
Layered with veggies, beans, black olives, jalapeños, guacamole, sour cream (or vegan sour cream), and more, these veggie nachos are always a favorite healthy Mexican appetizer recipe! These healthy nachos are perfect for game day, birthday parties, late night snacks, and anytime the craving hits.
Calories: 108 – Fiber: 1g – Protein: 5g
Though this Asian appetizer recipe may appear to be tricky to make, it's actually much easier to assemble these vegetarian wontons than you may think! With a seasoned vegetable and tofu filling and a sweet and salty dipping sauce, you simply can't go wrong with this recipe!
Calories: 68 – Fiber: 2.1g – Protein: 4.3g
Crispy, cheesy, and simply a delicious way to enjoy courgettes (also known as zucchini), these chips are a kid-friendly vegan appetizer recipe that can satisfy a corn chips or potato chips craving. Make this vegetarian starter in the oven or turn them into air fryer zucchini chips to make healthy small bites, great for feeding a crowd!
Calories: 256 – Fiber: 3g – Protein: 11g
Take your taste buds on a trip to Italy with this pear gorgonzola pizza with walnuts. Made with premade pizza dough, this easy Italian appetizer recipe is cheesy, nutty, crunchy, and naturally sweet. Serve it at a baby shower, cocktail party, or pizza night!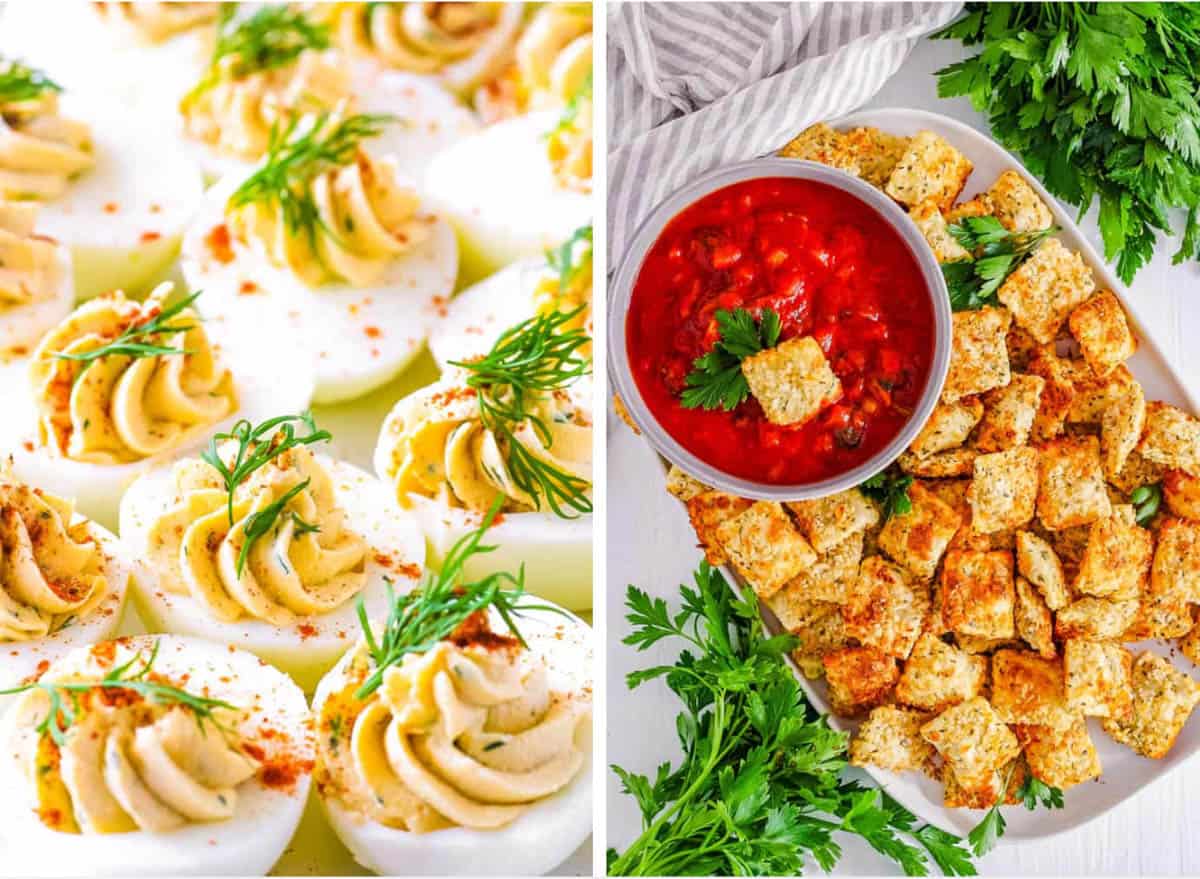 Calories: 36 – Fiber: 0.4g – Protein: 3g
If you love deviled eggs, but not the mayo that they are usually made with, this healthy deviled eggs recipe is for you! Whether you serve these hard-boiled eggs for a potluck, picnic, or summer barbecue, they are a classic healthy appetizer recipe that everyone will adore!
Calories: 300 – Fiber: 3.2g – Protein: 12.7g
Like chicken nuggets, but healthier, these air fryer tofu nuggets are crispy, savory, meaty, and satisfying! Served with a vegan ranch dipping sauce, this easy vegetarian appetizer recipe is popular with kids of all ages and is ready in just a few simple steps! Bonus: this is also a gluten-free dairy-free appetizer!
Calories: 396 – Fiber: 12g – Protein: 19g
There's never a bad time to serve black bean quesadillas! With a crunchy exterior and a cheesy black bean and jack or cheddar cheese filling, this new take on a classic Mexican recipe is always comforting yet nutritious.
Calories: 137 – Fiber: 1g – Protein: 5g
Spicy, creamy, savory, and cheesy, this veggie appetizer is a crave-worthy creamy dip for potato chips, pretzels, and even tortilla chips. This healthy dip recipe will be well received at any game day party, summer barbecue, or happy hour!
Calories: 288 – Fiber: 7.1g – Protein: 14.9g
Discover a healthier take on one of the classic Italian appetizers! Air fryer toasted ravioli is as crunchy, melty, and cheesy as the traditional toasted ravioli you know and love but without the deep frying. One bite and you will see why this is a favorite vegetarian appetizer recipe! Serve it with marinara sauce or even your favorite vegan Caesar dressing!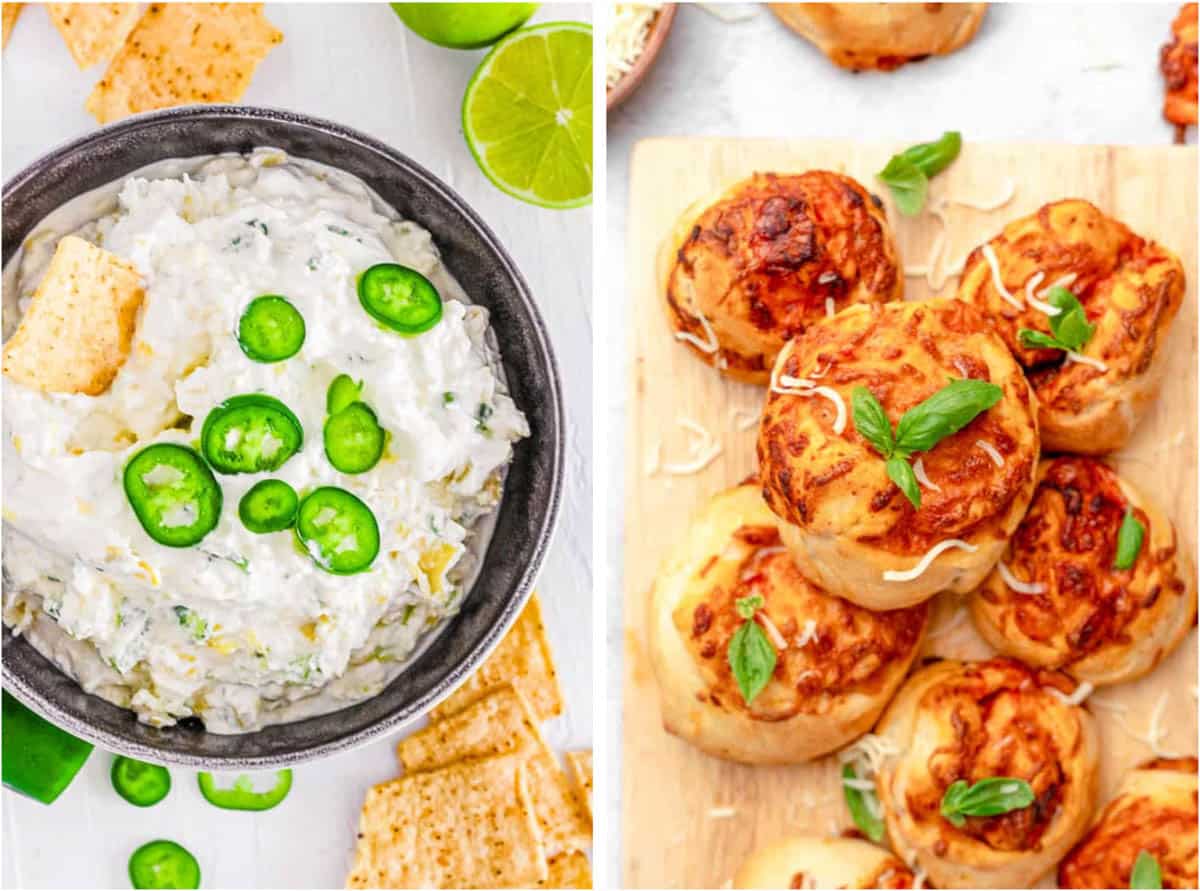 Calories: 347 – Fiber: 6.9g – Protein: 16.4g
Featuring pesto, fresh mushrooms, and melted mozzarella cheese, mushroom flatbreads are a great appetizer for pizza-loving friends. Customize the recipe with your favorite mushrooms and easily double the recipe when your crew is extra hungry!
Calories: 141 – Fiber: 1g – Protein: 4g
Crispy parmesan truffle french fries are savory, cheesy, and rich in umami flavors, thanks to truffle oil. In just a few simple steps you'll have fresh and hot homemade french fries for your next get-together, guaranteeing an instant hit!
Calories: 241 – Fiber: 3g – Protein: 4g
There is never a bad time for smashed air fryer potatoes! These savory morsels are crispy and crunchy on the outside but buttery and tender on the inside. Thanks to the air fryer, this healthy side dish is much lighter than what you get in the restaurant, too. Try these vegetarian air fryer appetizers today!
Calories: 147 – Fiber: 3g – Protein: 6g
Kick off your next movie night or be the hit of your next game-day party with this air fryer pizza roll recipe. Delightfully cheesy and crispy, these homemade pizza rolls are the perfect vegetarian appetizers for parties!
Calories: 171 – Fiber: 3g – Protein: 6g
With creamy and tangy goat cheese, caramelized onions, arugula, and more, this goat cheese pizza is a surprisingly easy vegetarian appetizer. Bring this pizza to happy hour, a picnic, or even your foodie friend's birthday party. It is always fit to impress!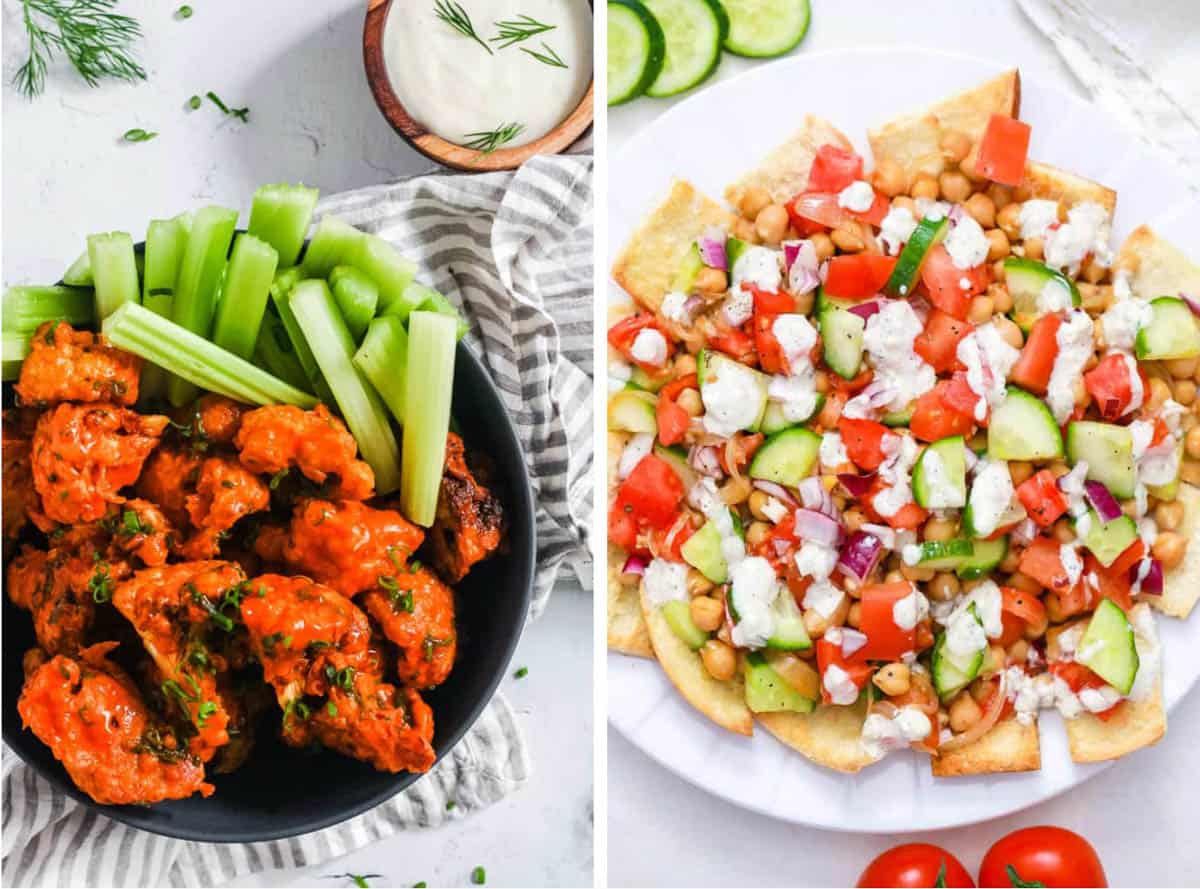 Calories: 221 – Fiber: 7g – Protein: 7g
Enjoy the experience and flavor of buffalo wings without the meat! Made with cauliflower florets and delicious spices, air fryer buffalo cauliflower wings are a plant-based appetizer recipe that even meat-eating friends love. It is one of the best air fryer appetizer recipes!
Calories: 380 – Fiber: 11g – Protein: 19g
With a cheese, bean, and vegetable filling, cheesy veggie quesadillas are a vegetarian Mexican appetizer you can serve at almost any party or event. Feel free to use another type of cheese and beans or add jalapeños to your quesadillas to spice up this classic recipe and adapt it to adult palates, or use vegan cheese to make it into a healthy vegan appetizer!
Calories: 353 – Fiber: 10.6g – Protein: 14.1g
Mediterranean flavors shine in these Greek nachos! With tender and crispy pita chips, tomatoes, cucumber, and lemony tahini yogurt sauce, you will turn heads when you serve this easy healthy appetizer recipe at your next event!
Calories: 413 – Fiber: 10g – Protein: 17g
This veggie flatbread is so satisfying, hearty, and fresh that your guests will never guess that it is a vegan appetizer! It makes for a perfect summer appetizer when the zucchini is fresh, but can also be made year-round, whenever the craving strikes!
Calories: 384 – Fiber: 1g – Protein: 11g
With creamy burrata, crispy and buttery bread, juicy tomatoes, and jammy balsamic vinegar, this simple bruschetta recipe is always a win! This vegetarian Italian appetizer is great for dinner parties, cocktail parties, or even late summer barbecues.
Calories: 253 – Fiber: 3g – Protein: 10g
Tender and juicy mushrooms shine in this miso mushroom recipe. Made for serving with toothpicks, it's an ideal cocktail party appetizer. Garlicky miso butter coats each sauteed mushroom, resulting in a flavorful, rich, perfect party appetizer that your guests won't be able to resist!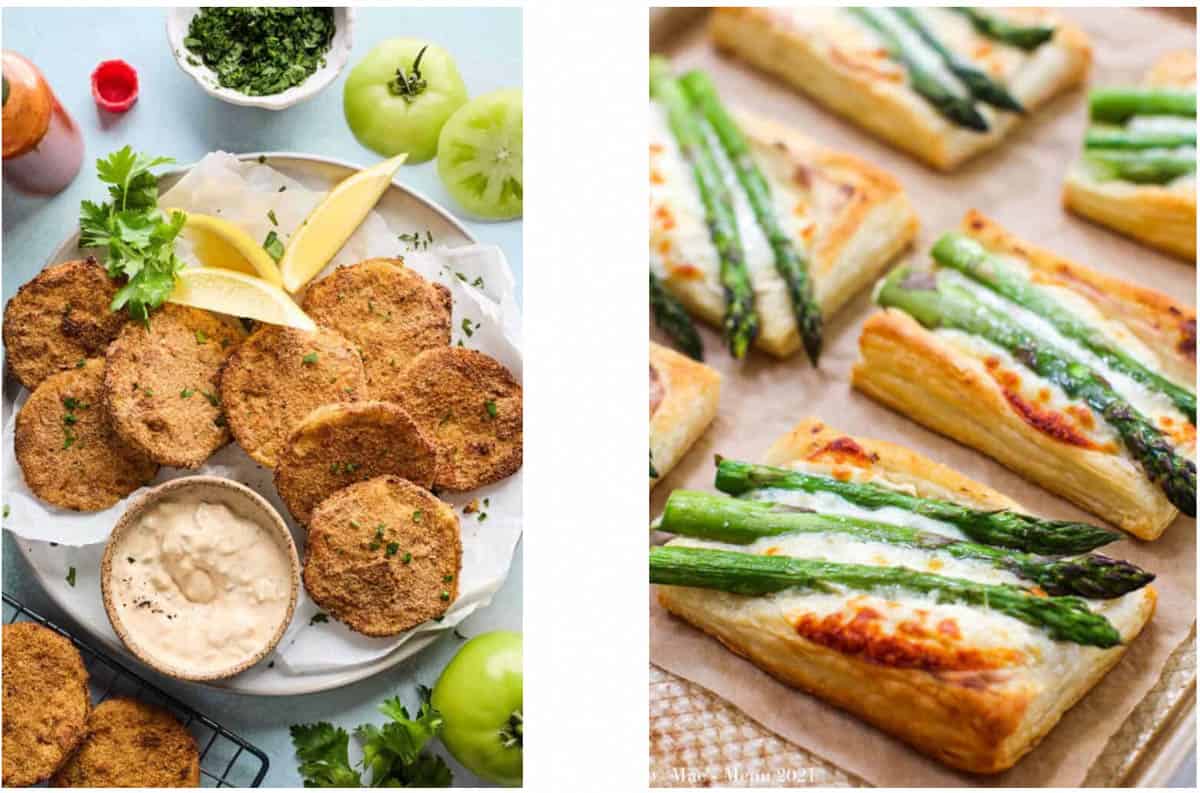 Calories: 385 – Fiber: 3g – Protein: 8g
Enjoy Southern-style Air Fryer Green Tomatoes but with a healthy twist! Slices of green tomatoes are coated in a seasoned cornmeal mixture before being air-fried until crisp and golden. Squeeze the tomatoes with lemon juice and make this vegetable appetizer even healthier by making the remoulade with reduced-fat mayonnaise!
Calories: 327 – Fiber: 2g – Protein: 9g
If you're looking for an easy-to-make last-minute healthy vegetarian appetizer recipe, these asparagus tarts are a great pick! They're made with puff pastry, asparagus, cream cheese, and other common kitchen ingredients and they are ready in less than 30 minutes.
Calories: 107 – Fiber: 2g – Protein: 3g
With mango salsa, vermicelli noodles, and avocado, this simple appetizer is a perfect vegetarian finger food. Add these fresh spring rolls to any healthy veggie appetizer spread for rave reviews!
Calories: 88 – Fiber: 1g – Protein: 1g
Featuring herb-seasoned cream cheese, this stuffed mini bell pepper recipe is a surefire way to add intrigue to any veggie platter. These little bites are an easy appetizer recipe that even kids will like making with you!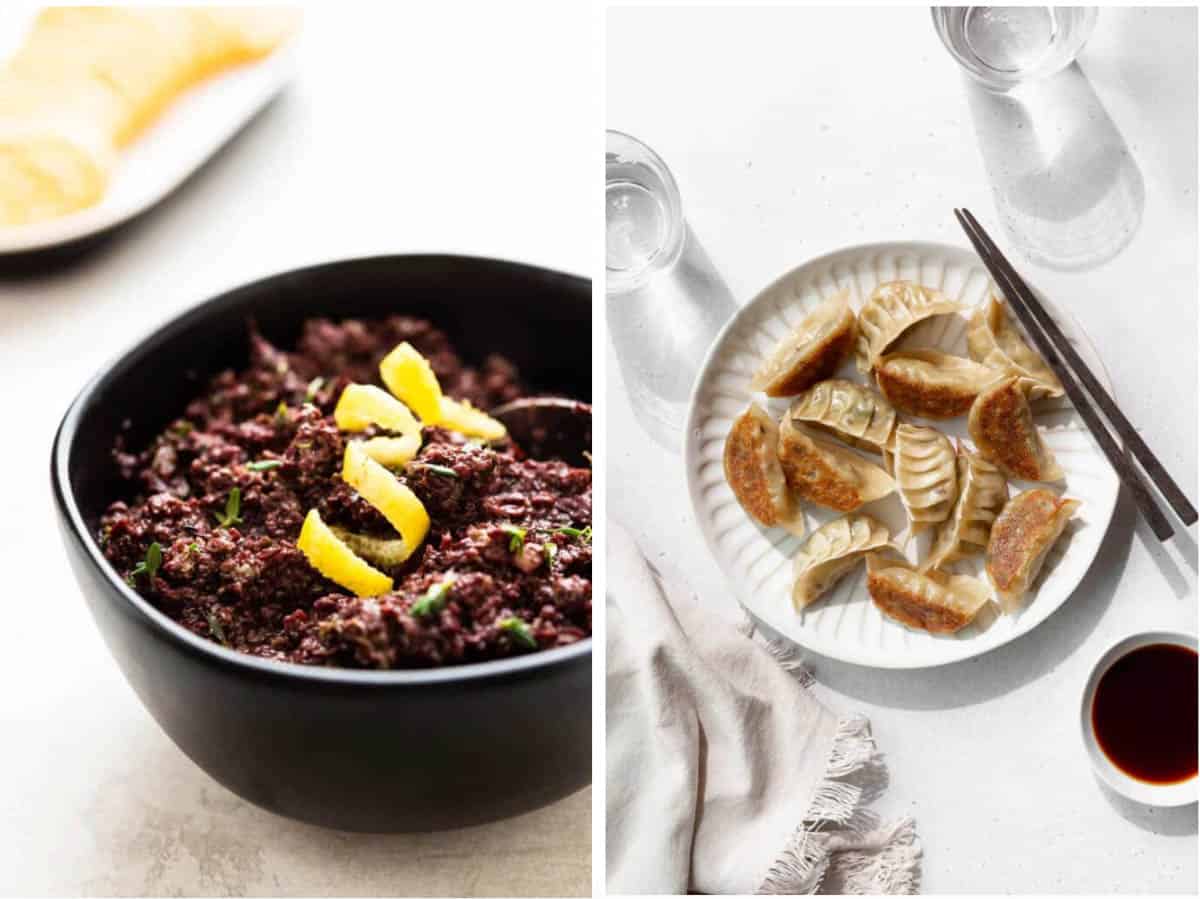 Calories: 65 – Fiber: 1g – Protein: 4g
Be ready for any game day or dinner party with these golden brown zucchini fritters! Served with a Greek yogurt dip, these crisp and healthy vegetarian appetizers are beloved vegetable finger foods that you just can't go wrong with.
Calories: 43 – Fiber: 1g – Protein: 1g
If you like dumplings, you will love vegetable gyoza! Served with soy sauce-based dipping sauce, the best part about this authentic Japanese recipe is how surprisingly easy they are to make! Make this meatless recipe for your next dinner party or cocktail party.
Calories: 63 – Fiber: 1g – Protein: 1g
Deliciously served with pita bread or pita chips, fresh vegetables, or crackers, this flavorful dip recipe is the perfect way to add big flavor to any cold vegetarian appetizers spread. Black olive tapenade is ready in less than 10 minutes and is also naturally a vegan gluten-free appetizer.
Calories: 21 – Fiber: 1g – Protein: 1 g
Good news: you don't have to go out to eat to enjoy blistered shishito veg appetizers! Made with just 3 ingredients, you can easily make this quick appetizer at home for any last-minute get-togethers.
---
Vegan Appetizers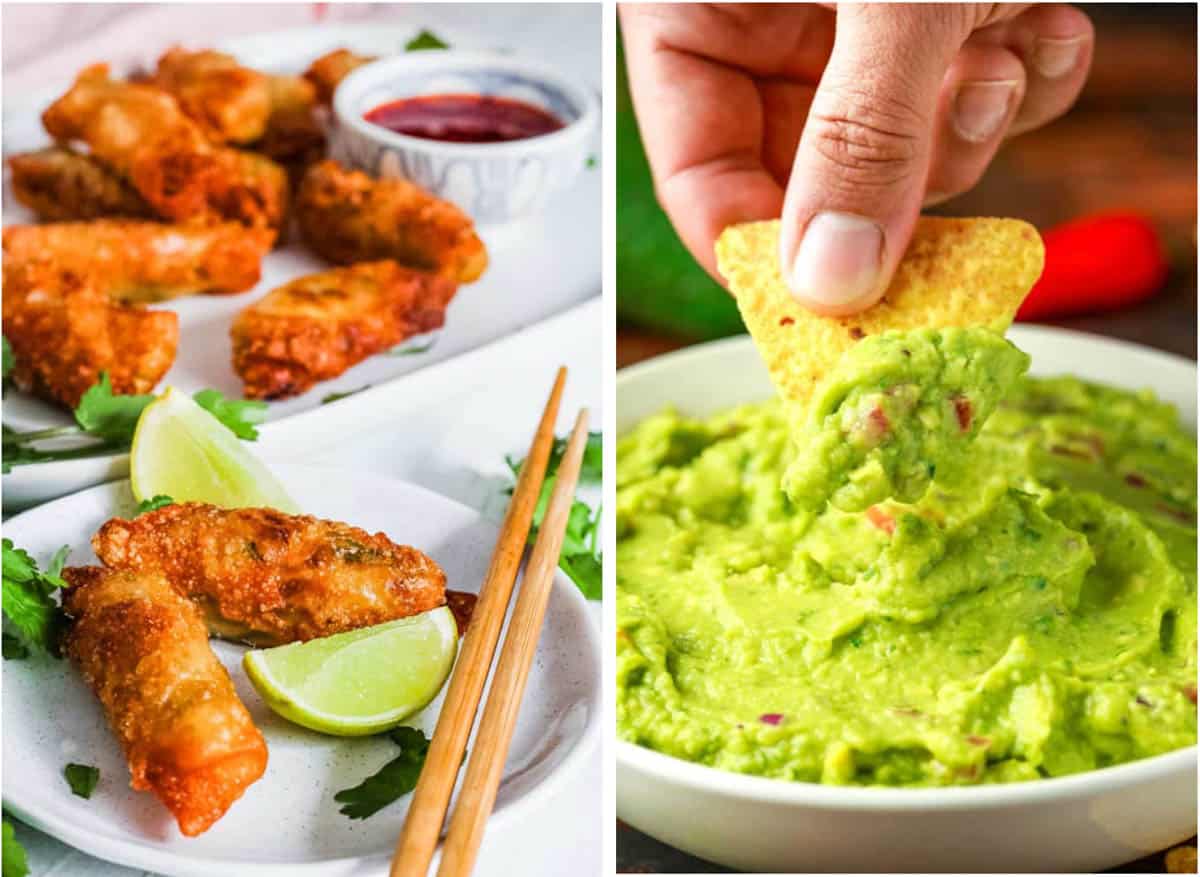 Enjoy tasty vegetarian appetizers that you can feel good about! This selection of vegan and plant-based appetizers is big on presentation and flavor and low on fuss. Whether you are looking to add more vegetables and plant-based foods to your diet or avoid animal ingredients altogether, these vegan appetizers offer something for everyone.
Try your hand at traditional Indian samosas, make vegan egg rolls, or delight your crew with a pot of vegan fondue! You'll definitely never miss the meat or dairy here.
Calories: 60 – Fiber: 3g – Protein: 1g
Guacamole is always a welcome addition to any list of vegetable appetizer ideas! Not only is it flavorful, buttery, and spicy, but it's a great source of healthy fats and fiber. Serve it with tortilla chips, quesadillas, taquitos, or any of your other favorite Mexican appetizers.
Calories: 74 – Fiber: 1g – Protein: 2g
Homemade vegan egg rolls are as fun to make as they are to eat! Filled with cabbage, carrots, onions, mushrooms, and seasonings, this easy Asian appetizer recipe is crispy, savory, and satisfying.
Calories: 82 – Fiber: 2g – Protein: 3g
Delight your guests with traditional Indian Samosas! With a spiced split pea filling and a crisp-tender dough, this vegetarian Indian appetizer recipe is made for your next get-together or party.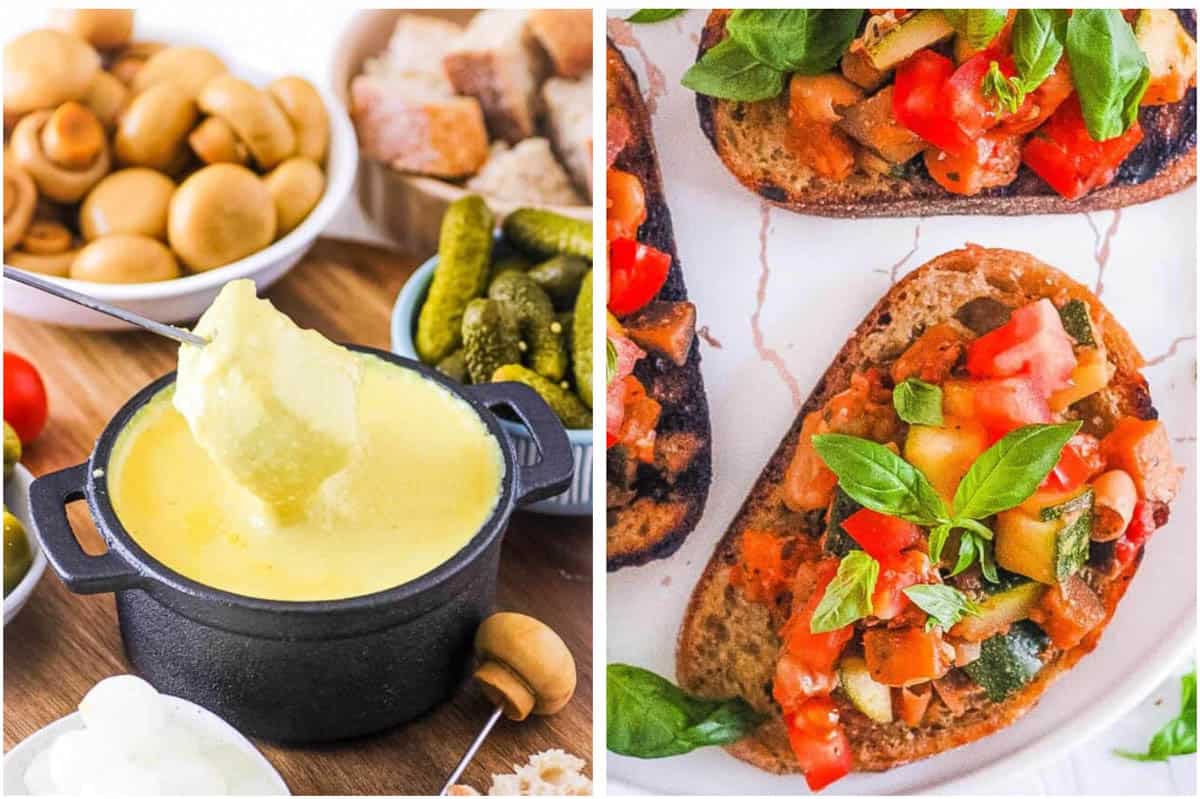 Calories: 239 – Fiber: 3g – Protein: 7g
Just because you are plant-based doesn't mean that you can't enjoy fondue! Vegan fondue is cheesy, creamy and everything you know and love about traditional fondue but without any of the animal ingredients. Try it today!
Calories: 135 – Fiber: 4g – Protein: 5g
Mover over garbanzo beans! Butter beans are here and shine in this creamy and garlicky hummus. Serve this vegan and gluten-free appetizer with crudité, pita chips, or crackers for rave reviews every time!
Calories: 254 Fiber: 14g – Protein: 13g
Enjoy Italian flavors without dairy or animal products with vegan bruschetta! Toppings like seasonal vegetables, tomatoes, and white beans shine in this recipe, providing so much flavor and texture that you'll never even miss the cheese in this healthy Italian appetizer!
Calories: 191 – Fiber: 2g – Protein: 6g
If you've never made garlic bread in the air fryer, you are missing out! The air fryer perfectly crisps up bread, making it hard to ever go back to the oven. This bread is buttery, crunchy, and one of my favorite easy vegan appetizer recipes!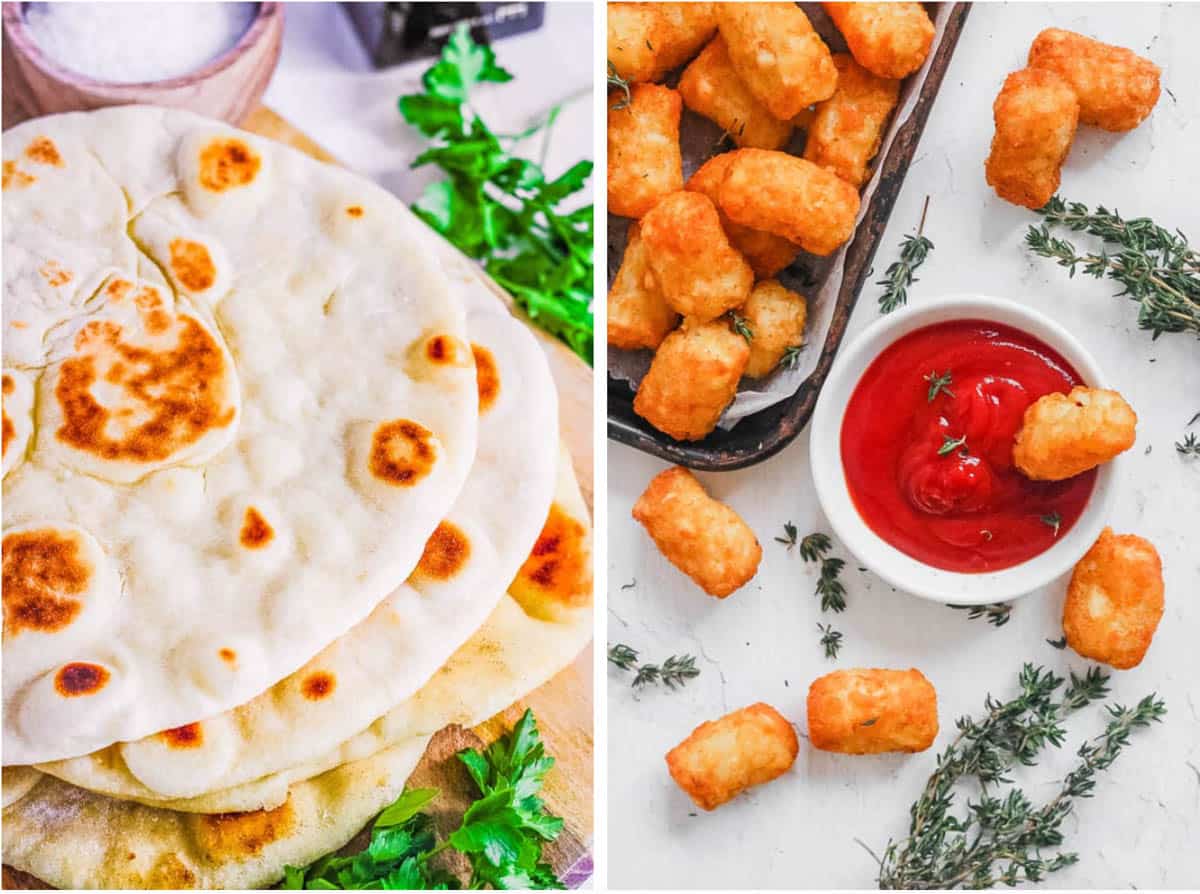 Calories: 98 – Fiber: 3g – Protein: 6g
Guacamole without avocado? Yes, it's possible, and it's absolutely divine! Edamame substitutes for avocado, providing so much rich and nutty flavor that you will never miss the traditional ingredient. This edamame guacamole is seasoned with lime juice, cloves, red onion, and cilantro, providing all of the classic guacamole flavors but with extra protein and fiber!
Calories: 226 – Fiber: 2g – Protein: 3g
If you like tater tots, and you're looking for kid friendly vegetarian appetizers, you will love air fryer tater tots! They're a perfect crispy, buttery, healthy snack, all while being lower in fat and calories than the classic fried variety. They make incredible vegan party appetizers too, whether you serve them at game night, movie night, or the big game!
Calories: -297 Fiber: 2g – Protein: 7g
You only need just 5 ingredients to make this tender and fluffy vegan flatbread! For a perfect snack, it pairs well with a variety of veggie dips like hummus, kale dip, spinach dip, or you can even use it as a flatbread crust.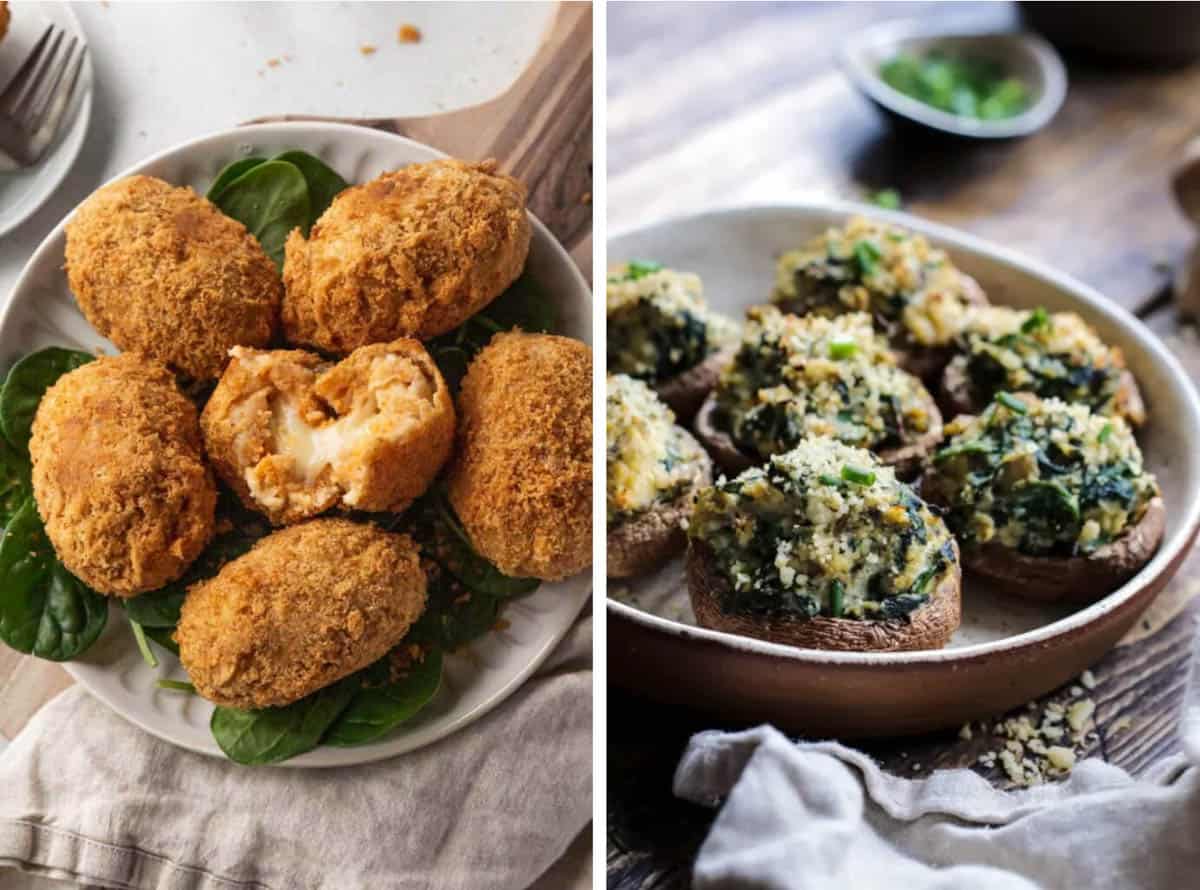 Calories: 190 – Fiber: 2g – Protein: 4g
This cheese ball is one of the best vegan appetizers! It's made with blended cashews, nutritional yeast, and savory spices, making it a delicious party appetizer even your meat-eating friends will enjoy!
Calories: 287 – Fiber: 5g – Protein: 8g
If you're looking for finger foods to serve at your next party or get-together, these vegan stuffed mushrooms are a great choice! Made with vegan parmesan cheese, spinach, and more, they are always a winning healthy vegetable appetizer idea!
Calories: 78 – Fiber: 2g – Protein: 1g
Made with vegan feta cheese, walnut, and parsley, vegan stuffed dates are a treat to the taste buds while being made with entirely plant-based ingredients! Serve this healthy appetizer anywhere you would serve bacon-wrapped dates.
Calories: 103 – Fiber: 1g – Protein: 4g
Featuring red onion, cherry tomatoes, mango, and avocado, vegan ceviche is one of my favorite flavorful dips. It's made with little effort but all of your vegan and vegetarian friends will love it!
Calories: 167 – Fiber: 2g – Protein: 5g
With a crisp and crunchy exterior and a savory and smooth interior, vegan potato croquettes are the perfect, delicious vegan appetizer for almost any gathering. Bonus: no one will ever guess that these cheesy and crispy potato cakes are vegan!
---
Gluten-Free Appetizers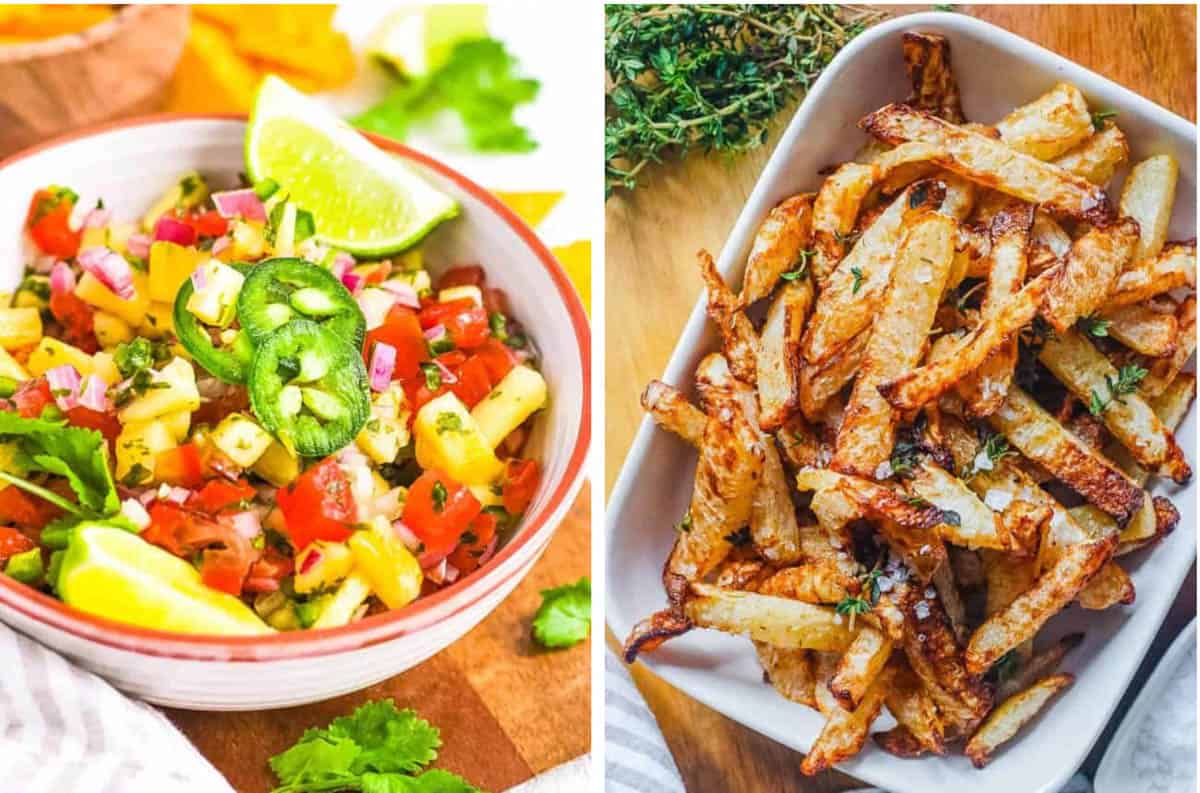 Avoiding gluten doesn't mean that you can't enjoy a delicious appetizer spread! With everything from salsas and dips to fries, fritters, and popcorn, there is certainly a gluten-free appetizer recipe for everyone on this list!
Bonus, all of these appetizers of vegetarian as well, and many are also dairy-free or vegan, making them fantastic allergy-friendly options.
Calories: 27 – Fiber: 1g – Protein: 1g
Naturally gluten-free and 100% delicious, pineapple pico de gallo is a great way to switch up your make-ahead vegetarian appetizers game. Serve it with chips, on tacos, or anywhere else you enjoy salsa!
Calories: 70 – Fiber: 0.2g – Protein: 0.2g
Once you make Instant Pot popcorn, there's no going back to the microwave popcorn packets! This easy gluten-free appetizer is made with just 4 ingredients, is ready in a snap, and is a welcome addition to any appetizer table!
Calories: 115 – Fiber: 11g – Protein: 2g
Jicama fries are one of my favorite air fryer appetizer recipes. They are crunchy, light, vegan, gluten-free, and a great way to increase your vegetable consumption! Serve these anywhere you'd normally serve french fries for a satisfying vegetarian party snack!
Calories: 247 – Fiber: 8.5g – Protein: 7g
Baked mashed potato fritters are a gluten-free and dairy-free appetizer recipe that everyone will love! With their crisp exterior, buttery interior, and dreamy blend of spices, there's never a bad time to serve these potato bites!
Calories: 133 – Fiber: 4.6g – Protein: 6.3g
Complete any easy vegetarian appetizer table with this 7 layer dip recipe! With a base of refried beans and only 20 minutes of prep time, this crowd favorite recipe is great for game day, potlucks, and happy hour.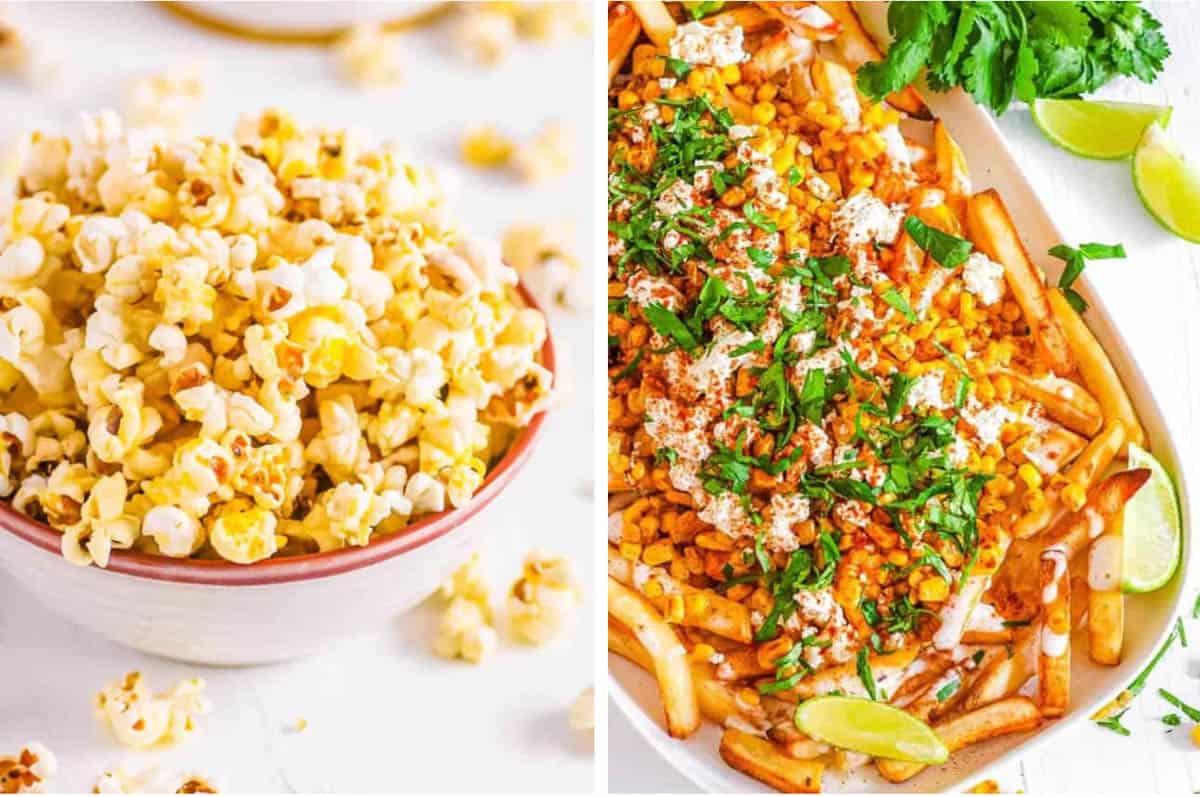 Calories: 95 – Fiber: 3g – Protein: 3g
Whether you fry fresh corn skewers or make a Mexican street-style corn topping for french fries, this recipe is sure to be a hit with any crowd! It's naturally gluten-free, festive, and surprisingly simple to make!
Calories: 40 – Fiber: 1g – Protein: 1g
Whip up a more nutritious but still delicious alternative to potato chips; make parmesan kale chips! These chips are savory, crunchy, cheesy, and oh-so-snackable. Serve this gluten-free and vegan appetizer and watch it disappear!
Calories: 113 – Fiber: 3g – Protein: 3g
Use up leftover tortilla chips and enjoy the satisfaction and flavor of homemade crunch with air fryer tortilla chips! Though you can technically make this recipe with flour tortillas, using corn tortillas makes this recipe naturally gluten-free.
Calories: 91 – Fiber: 2.5g – Protein: 1.8g
This cool and sweet cucumber gazpacho is a fantastic soup recipe to feature at a summer dinner or cocktail party. Melon, cucumber, mint, and other fresh vegetables come together for a fresh and delightful palate opener before any main course!
Calories: 84 – Fiber: 3g – Protein: 3g
If you like Chipotle's corn salsa, you are going to love this roasted chili corn salsa! Roasted poblano peppers and sweet corn are seasoned with spices, cilantro, and lime juice for a fresh salsa that is simply sublime. Great for summer parties, Cinco de Mayo get-togethers, and happy hour!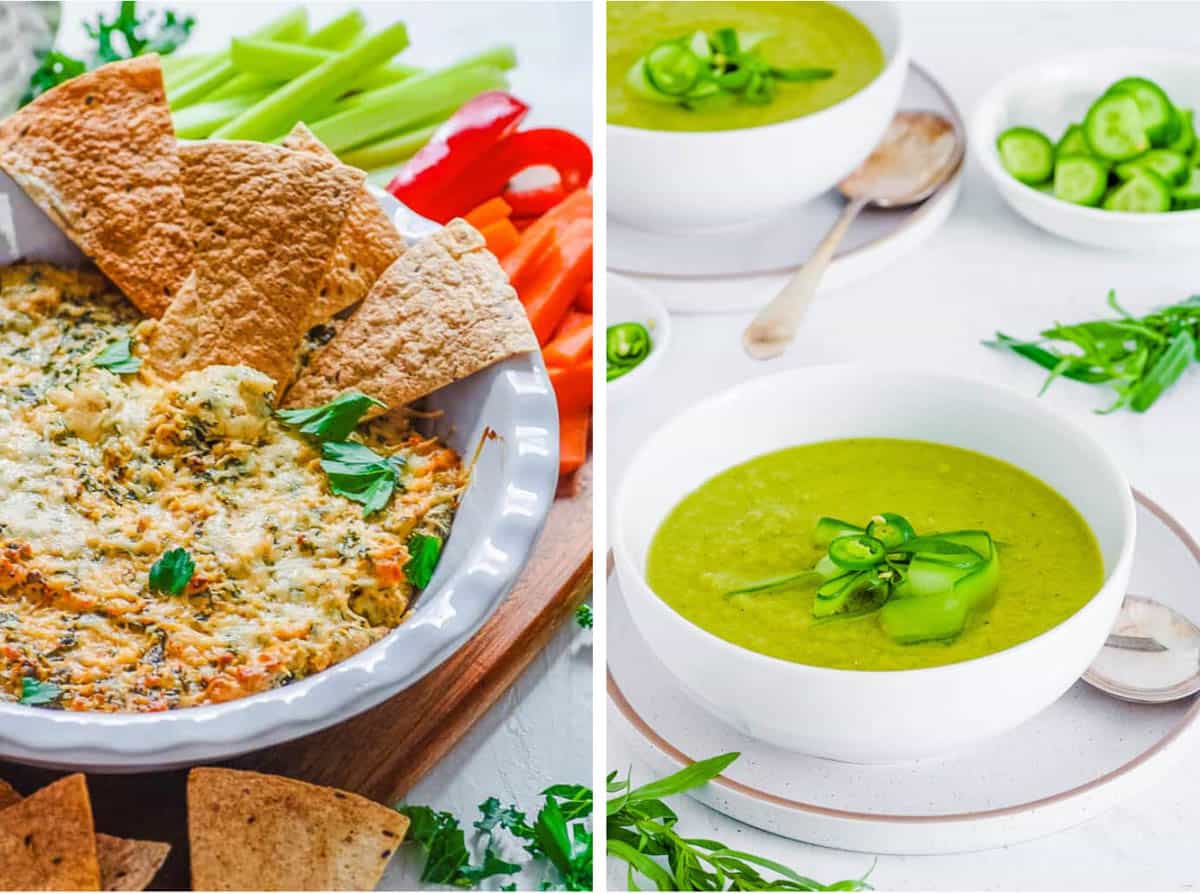 Calories: 37 – Fiber: 02.g – Protein: 1.4g
Bring a new creamy vegetable dip to your vegetarian appetizers spread! This kale dip is creamy, smoky, cheesy, and zesty, thanks to chipotle mayo. Anyone who likes spinach dip will love this gluten-free appetizer recipe!
Calories: 39 – Fiber: 02.g – Protein: 0.4g
This easy hummus recipe is so smooth, creamy, and flavorful that you'll never even miss the garlic! Make a double batch of this delicious vegetarian appetizer for your next party or barbecue so you have extra to enjoy on wraps, sandwiches, and more throughout the week!
Calories: 106 – Fiber: 3g – Protein: 1.6g
A basket of fries is always a great gluten-free and vegan appetizer idea, and these air fryer sweet potato fries are even healthier, thanks to the reduced oil needed to air fry! Made with simple ingredients, these fries are crispy, sweet, and so tasty served with ranch and or even sriracha aioli.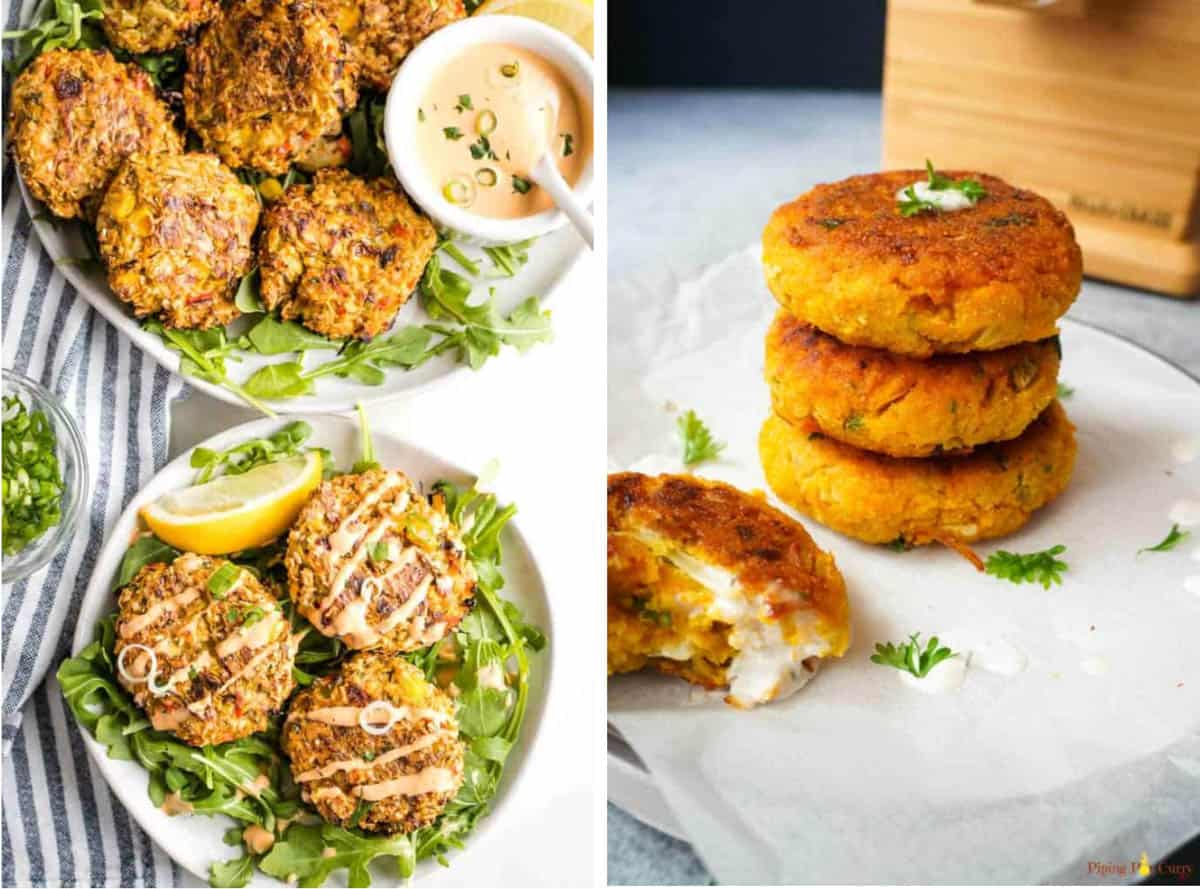 Calories: 133 – Fiber: 6g – Protein: 8g
Buffalo chickpea dip is a great way to enjoy classic buffalo flavors without the meat. It's smooth, creamy, zesty, and an all-around healthy recipe! Bonus: this dip is safe to serve at room temperature and is a great option for warm outdoor parties!
Calories: 315 – Fiber: 2g – Protein: 7g
Get ready for one of the best vegetarian appetizers: vegan shrimp! Made with oyster mushrooms, these crispy appetizers are perfect bite-sized appetizers to serve at your next event. Best of all, no one will know they aren't made with real shrimp!
Calories: 194 – Fiber: 6g – Protein: 9g
Chickpea squash fritters are similar to potato fritters but healthier. They're a naturally gluten-free and easy recipe that's full of spice, sweet butternut squash flavor, and garlic. They even make a great main course for a vegetarian dinner party!
Calories: 239 – Fiber: 4g – Protein: 5g
Vegan crab cakes are a great way to feature classic appetizer options without meat or fish! Whether you serve these crab cakes during the holiday season or at your next happy hour or dinner party, you never can go wrong with this tasty vegan and vegetarian appetizer.
I hope you found a few of your next favorite appetizer recipes in this list of the best vegan and vegetarian appetizers! As you likely noticed, many of these recipes are not only easy to make but are also low-calorie and can be adapted to other dietary needs, such as keto, low carb, dairy-free, and more.
Even though these healthy appetizers are more nutritious and better for you than the traditional recipes, they are all so flavorful and satisfying that no one at your party will know they are as healthy as they are!
More Healthy Recipes!
22 responses to "60 Best Healthy Vegan & Vegetarian Appetizers"