43 Breakfast Ideas For Picky Eaters & Kids
This post may contain affiliate links. As an Amazon Associate, I earn from qualifying purchases. Please read my disclosure.
Make breakfast fun again with this list of 43 breakfast ideas for picky eaters and kids! With everything from pancakes and eggs to smoothies and granola, there's something to satisfy every palate and give your kids energy to enjoy their day!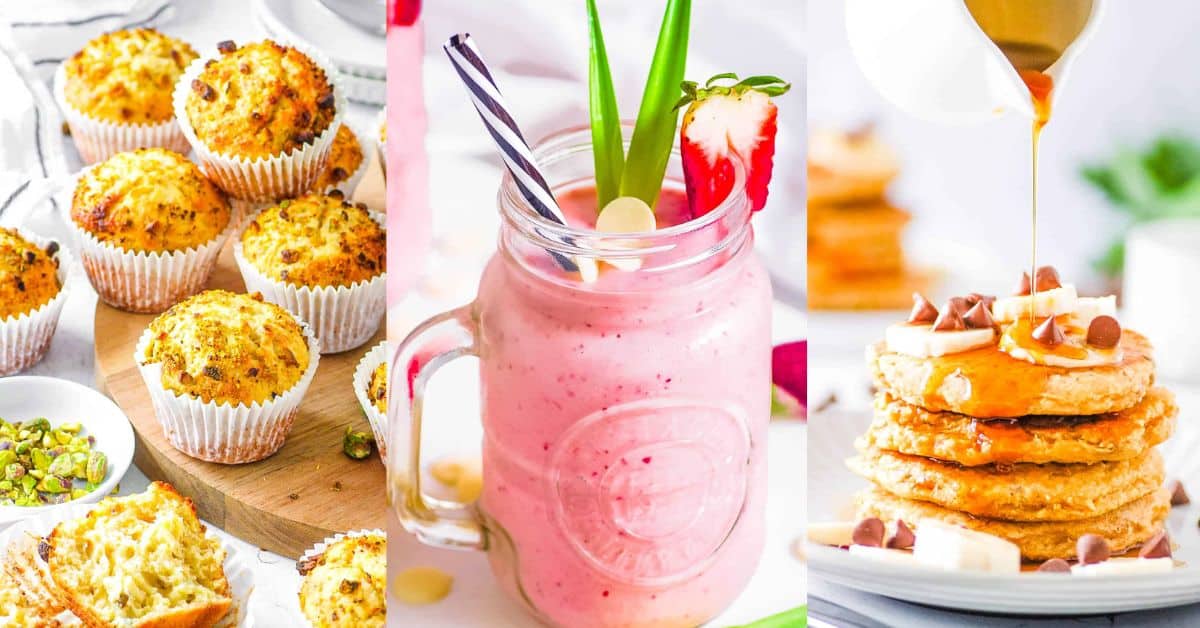 Getting a quick healthy breakfast on the table can be tough: mornings are hectic, time is short, appetites aren't always high, and inspiration can wane. Add in the challenge of also having picky eaters to plan and cook for and it can certainly feel overwhelming, if not impossible, at times.
That's why I am here with this list of breakfast ideas for picky eaters and kids. With this selection of easy-to-make, healthy, and delicious recipes, my goal is to set you up for breakfast success. With everything from muffins and eggs to French toast, pancakes, smoothies, and granola, there is sure to be something for everyone.
---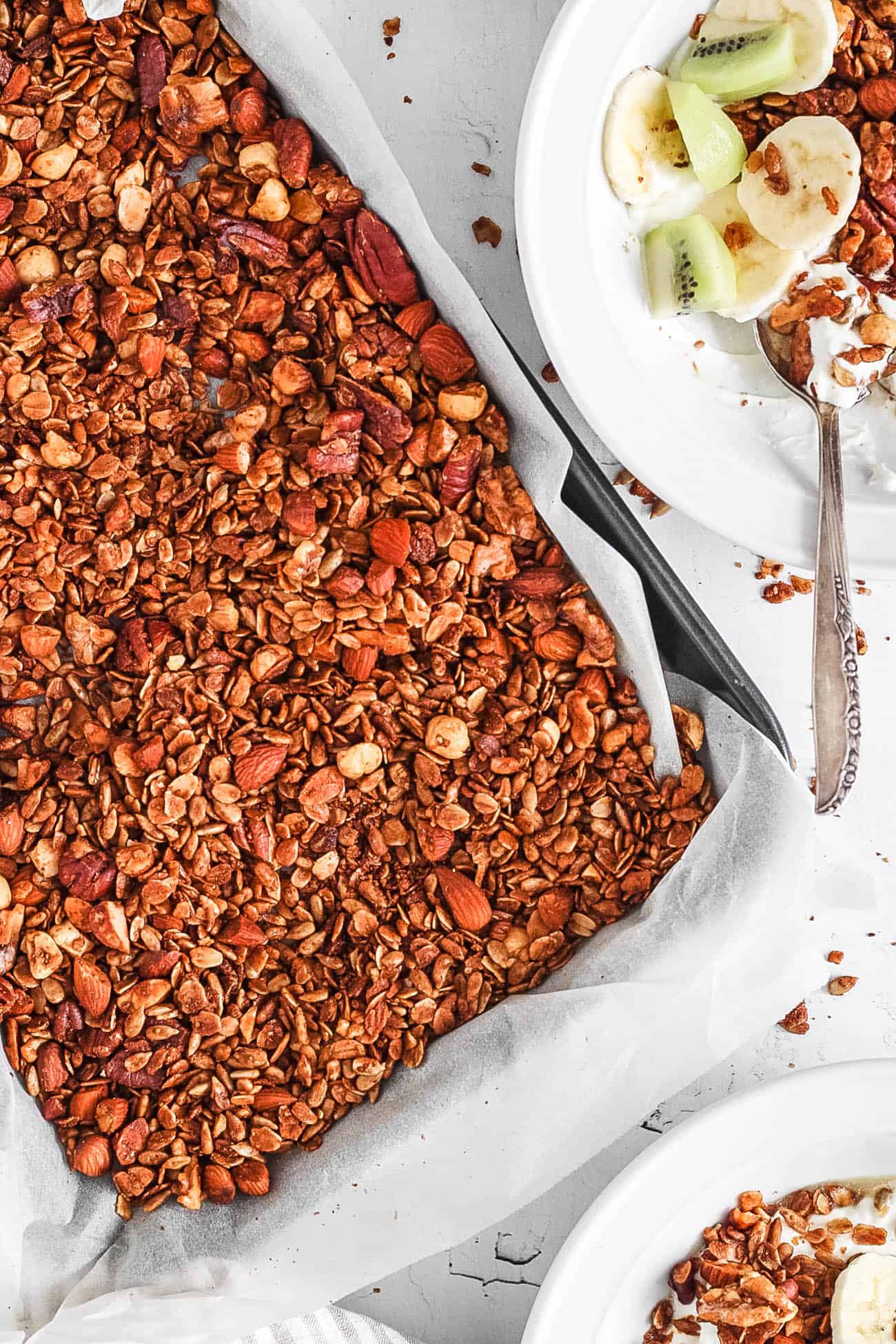 How To Get Picky Eaters To Try New Foods
It can be hard to introduce new foods to picky eaters, but it can be done! Start off slow, keep the expectations low, trust your kid to try new foods as they are ready, and keep the following tips in mind:
Role Modeling: Many kids have trouble doing what they haven't seen modeled for them, so do your best to role model eating a varied diet. It's ok to not like anything – even the children with the most varied palates still have foods they do not like or prefer – but when your kids see you eating and enjoying different foods and not disparaging foods that you don't enjoy, this will help set the stage for their food exploration journey.
Take the Pressure Off: The less expectations and stress you have around mealtimes, the more you and your child will enjoy coming to the table and may even be more open to trying new foods. The goal is to help your child get to know which foods they enjoy and the less pressure they have on them during this time the more they will come to know that.
Consistency: Stay consistent with introducing new foods. Studies show that some kids may need to be exposed to foods up to 20 times before being open to trying them. Keep preparing and placing different foods on the table, serving them in different ways that may appeal more to your child. Let your child ask for the food when they are ready to try it, remembering not to pressure them into eating them.
Pair The Food With Favorites: Having food they know and love to eat will help children feel more comfortable at mealtime, laying the foundation for them to feel secure enough to branch out and try new things. Observe or ask your child what their favorite foods are and serve them along with new dishes or ingredients. For some kids, these safe foods are crackers, fruit, peanut butter and jelly sandwiches, yogurt, and more.
Refrain from Commenting: It can be so hard to keep from commenting on your child's food selection, but the goal is to let your child develop a relationship with themselves and their own taste preferences. External comments (even praise) can cause them to look outside of themselves, disconnecting them from themselves, which may result in the picky behaviors lingering.
Start Young: Try to start introducing your kids to new foods at a young age. Whether you decide to feed your baby purees or choose to do baby-led weaning, opting for foods with a variety of ingredients and flavors can set the stage for a lifetime of a balanced and varied palate.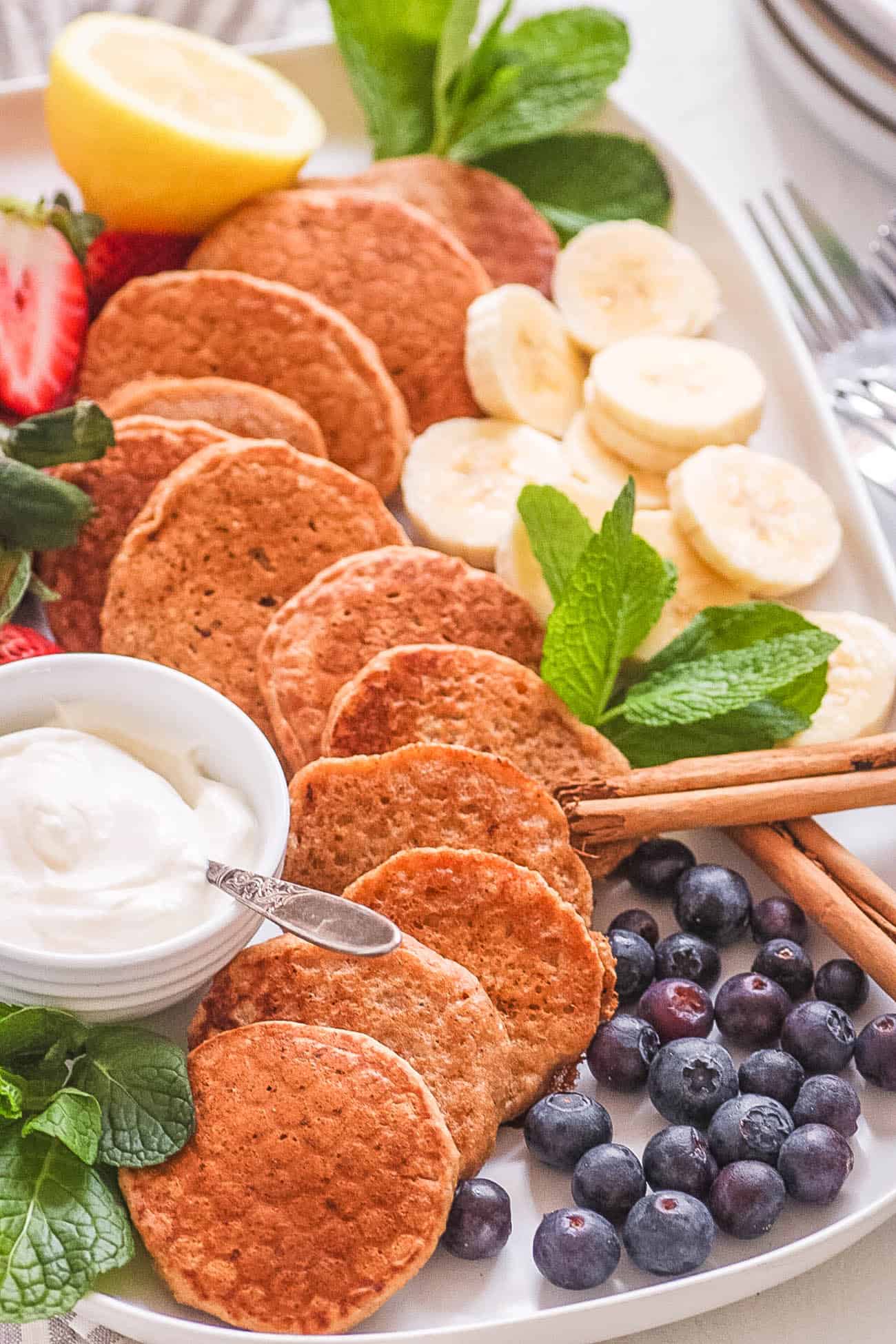 What Is A Healthy Breakfast For Children?
A healthy breakfast for children is one that has a variety of nutritious foods that they will enjoy eating. Providing them with a combination of familiar and new foods introduces kids to different options while helping them feel comfortable with foods that they know. Furthermore, if helps kids to enjoy the dining experience more, mealtimes will be more peaceful and happy for the whole family.
When selecting foods to serve for breakfast, here are a few categories to keep in mind:
Healthy Fats: Think coconut oil, nuts, nut butter, avocado, sunflower seeds, hemp seeds, cheese, eggs, whole milk, and whole yogurt. Healthy fats are good for children's brains, growth and development, and help keep kids satiated and full.
Protein: For extra staying power. Working protein into breakfasts for toddlers and kids is especially important if your family eats vegetarian or vegan. Some protein sources include almond and peanut butter, breakfast sausage (chicken, pork, or veggie), Greek yogurt, oats, chia seeds, protein powders, nuts, bacon (turkey, tempeh or pork), and more.
Fruits and Vegetables: Contributes flavor, fiber, vitamins, phytochemicals, and other micronutrients. Great options to start from are bananas, grapes, sauteed spinach or spinach blended into a smoothie, sweet peppers, berries, sliced tomatoes, canteloupe, pineapple, sweet potatoes and more.
Whole Grains: Not only do whole grains like wheat toast, oats, quinoa, and grits provide fiber and plant-based protein but they also help make breakfast time more filling, keeping your kids energy to get through their morning.
What Are Good Breakfast Foods For Picky Eaters?
Good breakfast foods for picky eaters are any foods that your eater enjoys that contain at least two of the above nutritional categories. Some of our favorite picks are breakfast burritos, chia seed pudding, fruit salad with yogurt and chopped nuts, whole grain toast with peanut butter, healthy egg muffins, breakfast english muffin sandwiches, low sugar + whole grain breakfast cereals, smoothies, whole grain waffles with fruit and honey, breakfast cookies, avocado or sweet potato toast, and more. Keep reading for my comprehensive list of 43 recipes below!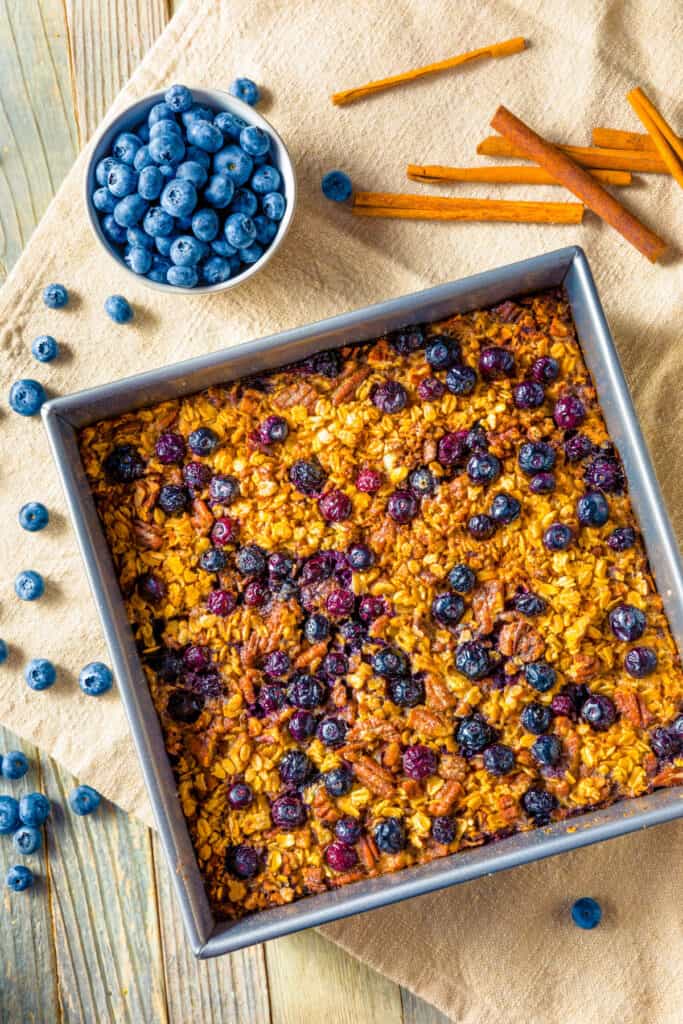 43 Of The Best Breakfast Ideas For Kids And Picky Eaters
Start your family's day with nutritious foods that everyone will love! With a selection of familiar and new foods, there are sure to be delicious and healthy breakfast options for any picky eater. If your family is vegetarian, vegan, or gluten-free, you will see that many of these breakfast options can be adapted to suit your needs too. Read on to find the best tasty, healthy breakfast recipes for picky eaters and kids!
Vegan baked oats are a great healthy breakfast idea for kids! Have your kids get involved in the fun of eating nutritiously by letting them pick which fruits to include in the baked oatmeal. Add in extra nutrition by adding flax, hemp, chia seeds, or your favorite chopped nuts! Make a large pan of the baked oatmeal on Sunday and just reheat individual servings on busy mornings.
Fruit smoothies are a delicious and easy breakfast idea for kids. Naturally sweet and creamy, this smoothie has no added sugar and is bursting with berry flavor! Not only that but it is an antioxidant powerhouse and is ready in a snap. Double or triple the recipe for the whole family on weekday mornings.
Made with dates, macadamia nuts, cocoa powder, and cashew butter, these homemade Larabars are a fantastic alternative to store-bought granola bars that are high in sugar and additives. These bars are a perfect healthy breakfast for picky eaters, because they're naturally sweet, easy to take on the go, and can be enjoyed with fresh fruit or yogurt for a bigger meal. They're also a great option for busy mornings when time is short!
Silver dollar pancakes are such a fun breakfast idea for kids. They're little bite-sized treats, easy to eat, fluffy, sweet, and soft. Serve these pancakes with your children's favorite toppings of fresh fruit, maple syrup, Greek yogurt, and more.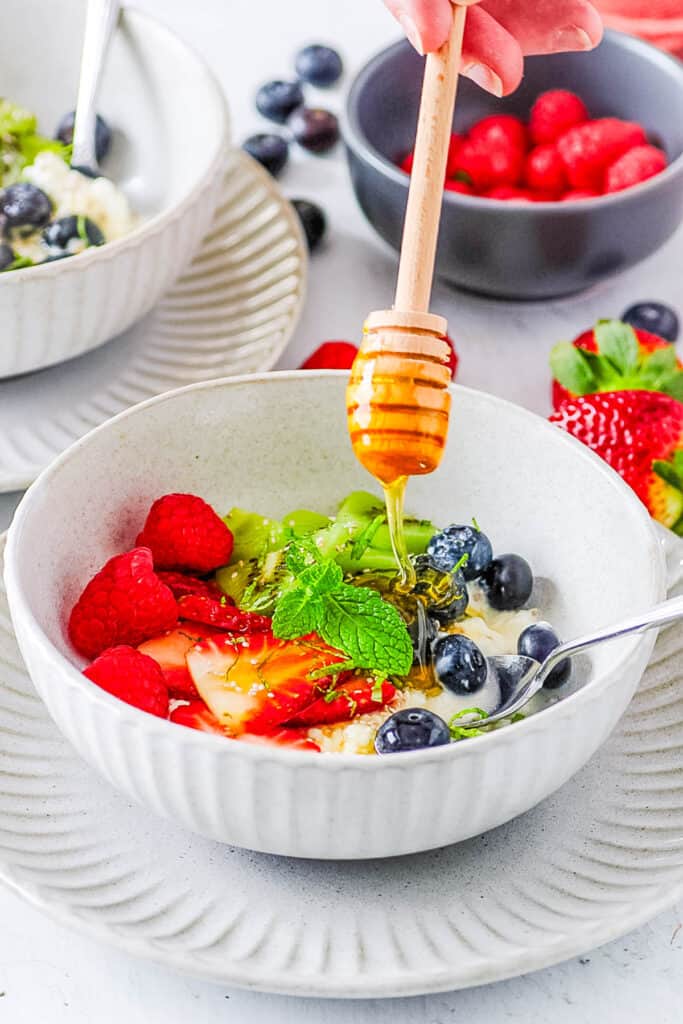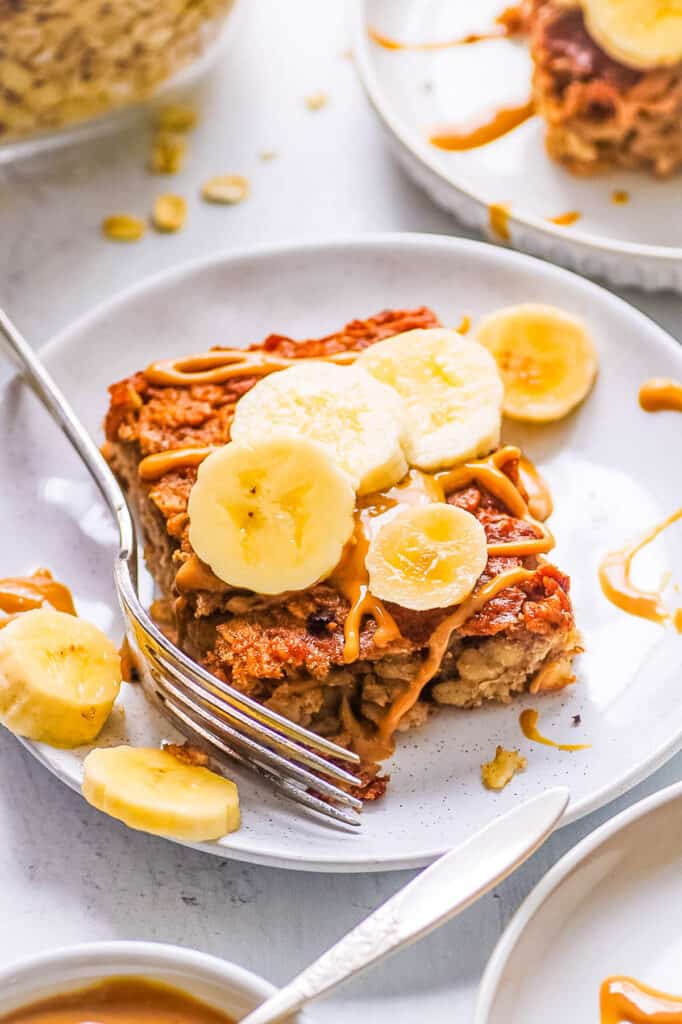 Cottage cheese is high in protein and a great source of calcium, making it one of my favorite nutritious and easy breakfast ideas for kids and picky eaters. Top the fruit with your favorite toppings, using everything from honey and maple syrup for sweetness or hemp seeds and sliced almonds for healthy fats!
Eggs in a basket are a fun but simple breakfast idea for kids. Young children love watching you make this creative breakfast and the whole family will enjoy eating them! An added bonus of this egg toast is that it is a great source of protein and whole grains!
Picky eaters will love this pineapple and banana smoothie because it's smooth, creamy, naturally sweet, and tropical! Pair this smoothie with whole wheat toast and hard-boiled eggs for a filling and nutritious breakfast!
Oatmeal bakes are a fantastic easy breakfast recipe. Just bake the oatmeal at the beginning of the week or the night before and just heat up servings of the oatmeal come breakfast time. Bonus: Older kids can easily heat up their own servings, leaving less work for parents! You'll definitely want this on your list of picky eater breakfast ideas!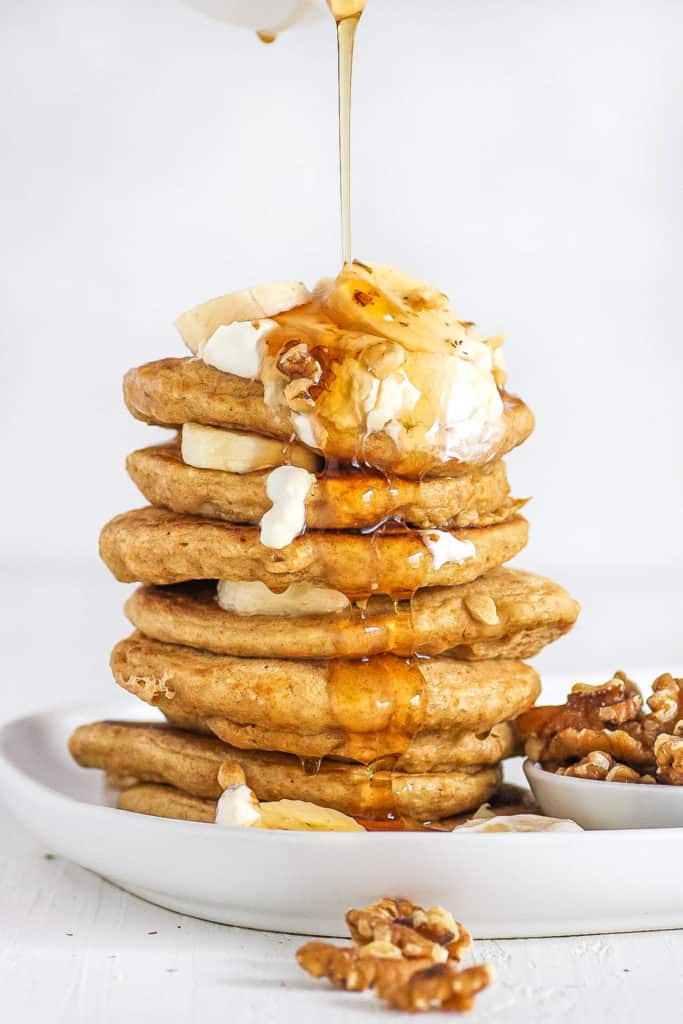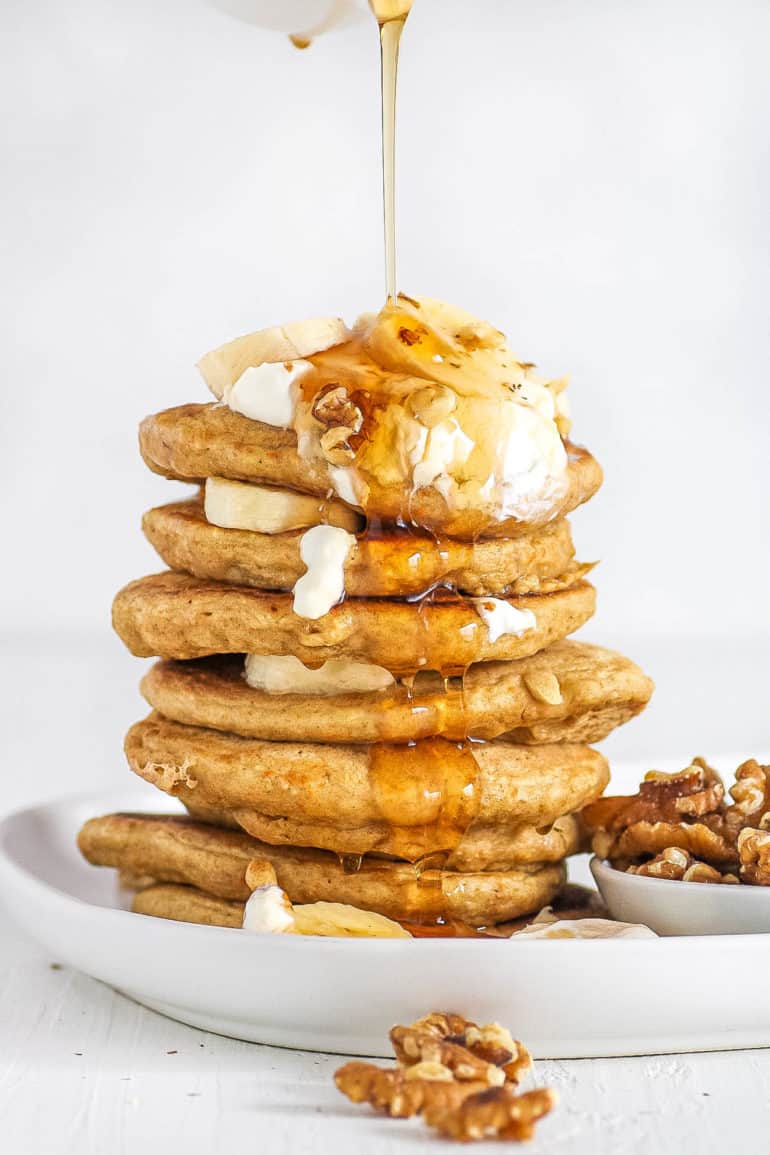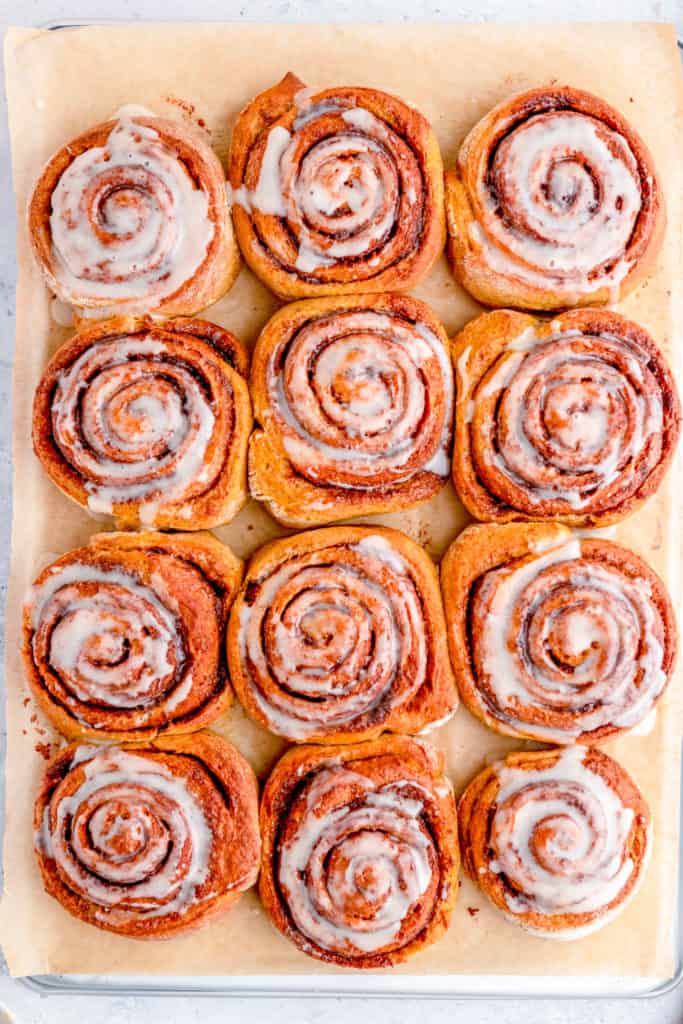 Banana oatmeal pancakes are rich in protein, nutritious, and are an easy breakfast for picky eaters! Everyone from picky toddlers to school-age kids will love this secretly nutritious meal.
With just a little added sugar, these healthy cinnamon rolls are a good breakfast idea for picky eaters who have a sweet tooth! Made with whole wheat flour, pumpkin puree, and cinnamon, these rolls are made with nutritious ingredients but are still delicious enough for the entire family to enjoy!
If your kiddos like baked treats, introduce them to these pistachio breakfast muffins! They're fluffy, sweet, nutty, and a great way for picky eaters to get healthy fats, like those from pistachios, into their diet.
Not only are breakfast cookies a fun breakfast idea for kids, but they're good for them, too! With chia seeds, flax, maple syrup, and old-fashioned oats they're rich in fiber, and plant-based while being 100% picky eater-approved!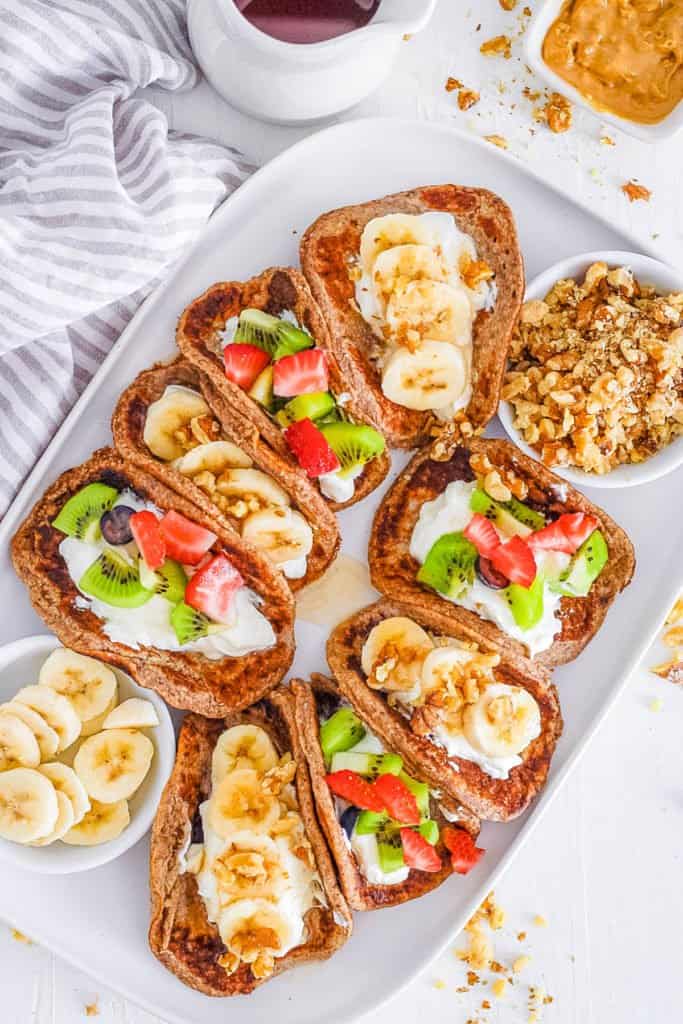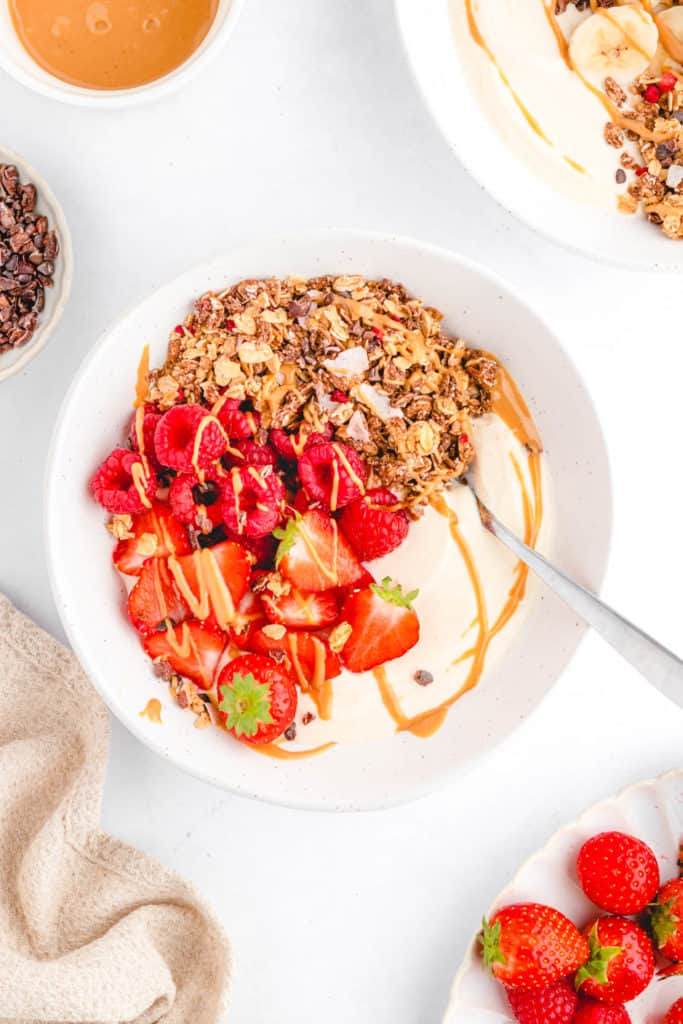 Breakfast fruit salad is a simple recipe that is ready in no time, and also happens to be a great healthy breakfast for picky kids! Add a variety of fruits, and make big batches of this at the beginning of the week for easy meal prep. That way, everyone can help themselves to bowls of this fruit salad, making for easy meals on school day mornings!
Pancake tacos are a bonafide kid-friendly breakfast recipe! Serve these breakfast tacos with sliced fruit, nut butter, yogurt, and nuts for a fun way for little ones to get important nutrients!
Give your kids the energy they need to get through their day with this high-protein granola! Each serving boasts 9 grams of protein, making it a great breakfast to keep blood sugar levels consistent and provide steady energy throughout the morning.
Peanut butter bowls are a favorite recipe for any toddlers or kids who like smoothies or smoothie bowls. Made with peanut butter and Greek yogurt and topped with berries and granola, they're kind of like a healthy yogurt parfait. These breakfast bowls are made with nutritious and simple ingredients, creating an end result your children will love.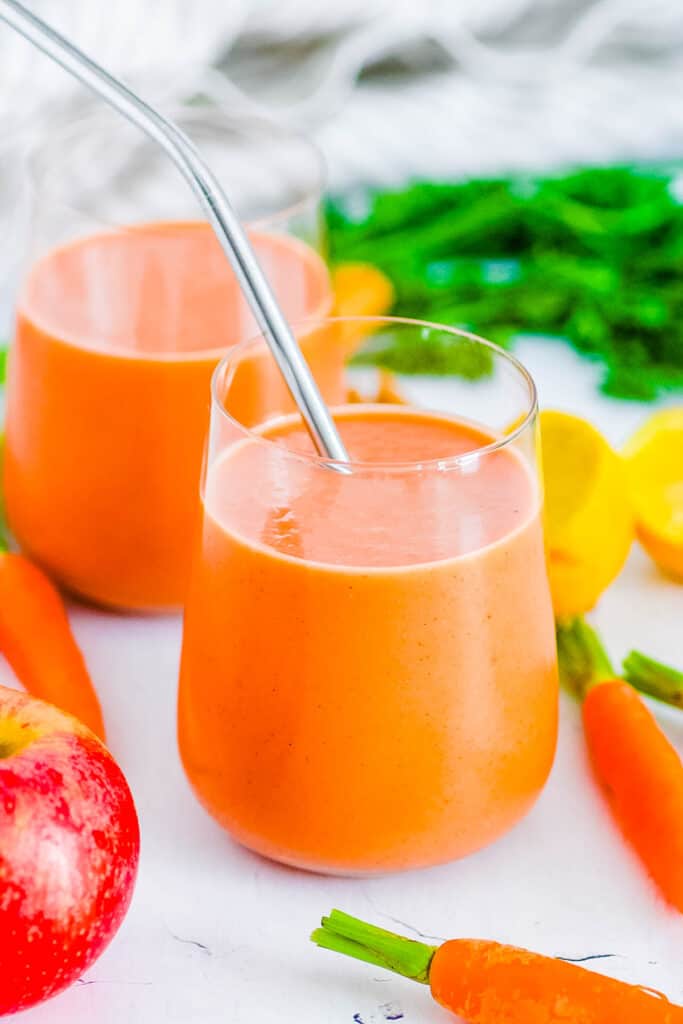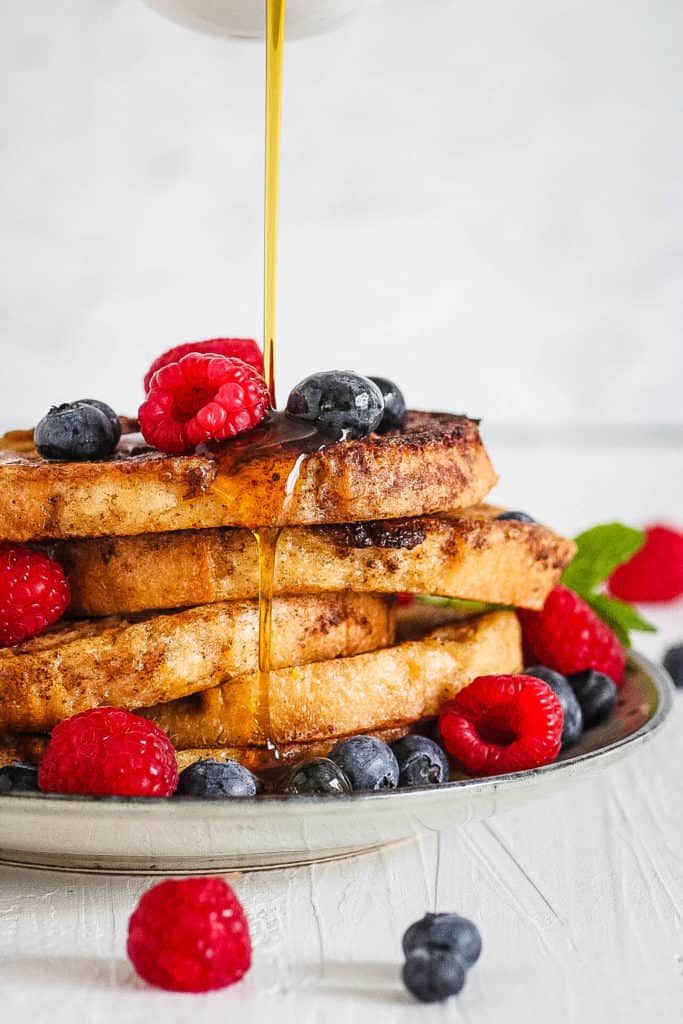 If you are looking for picky eater-approved nutritious breakfasts, smoothies are a great go-to! With apples, carrots, bananas, and almond milk, this breakfast for fussy kids is as great for toddlers as it is for teenagers.
Creamy, filling, and chock-full of nutritious ingredients, these easy overnight oats are the perfect make-ahead breakfast. Use dairy-free yogurt and milk to keep it vegan and switch things up with different nut butter and fruits. Talk about a delicious and easy breakfast idea for kids!
French toast is almost always a great breakfast for kids with selective tastes. You can feel good about serving this delicious breakfast to your kids, knowing that it is a healthier variation of the traditional recipe. Tip: Make French toast sticks with the recipe to make them easier for little hands to grab and eat!
Tofu scrambles are high in protein and full of savory egg flavor, making them a perfect plant-based breakfast idea for picky eaters! Not only does tofu offer extra nutrients, but it's also a perfect holiday brunch idea, or for special occasions, and more.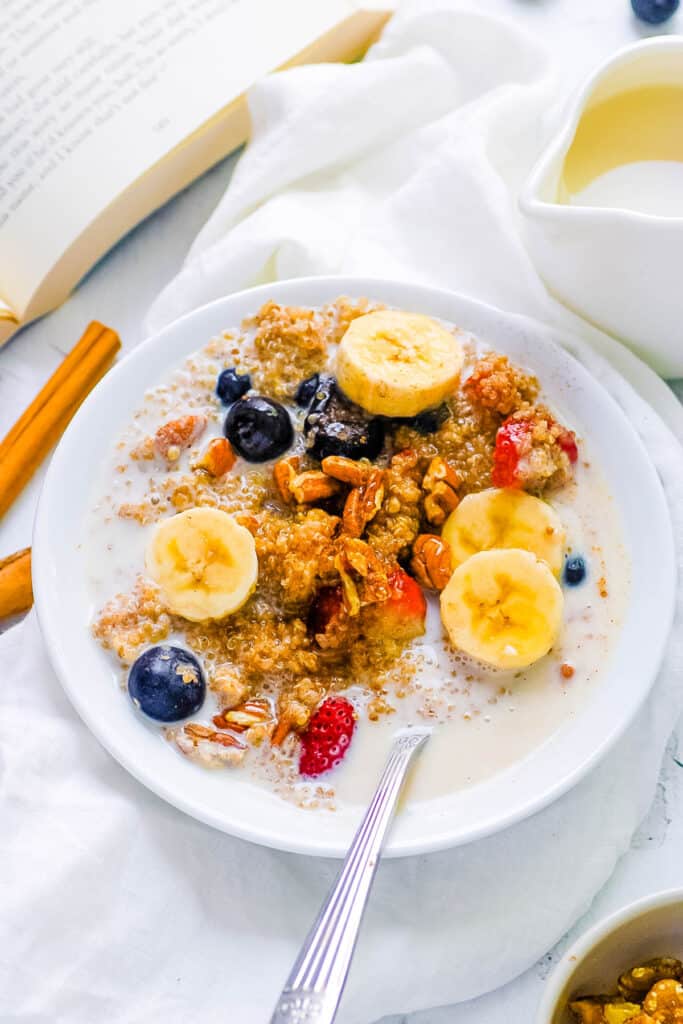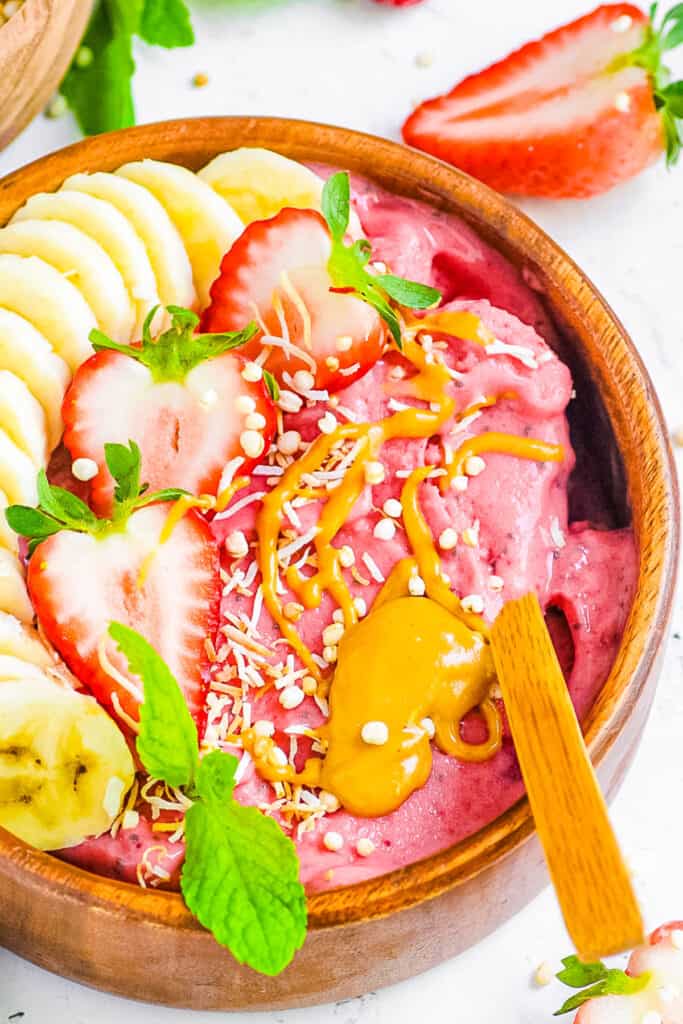 Add extra fiber to your kiddo's diet with this healthy bran muffin recipe. With molasses, brown sugar, cinnamon, and raisins, these muffins contain a variety of foods that are not only good for your picky eater, but super tasty, too! Variation: Make mini muffins with this recipe, making this breakfast food even easier to take on the go!
Strawberry smoothie bowls are a favorite recipe with picky eaters because they can customize the toppings to make them their own. The best part of this recipe is that these bowls are made with just 4 ingredients and are ready in under 5 minutes, making them a fantastic option for both school day mornings and snack time!
Finished with sliced bananas, blueberries, and a drizzle of honey, quinoa oatmeal is a balanced breakfast almost any picky eater will enjoy. Full of plant-based protein, quinoa oatmeal is a fantastic alternative to oatmeal and makes a filling and healthy meal.
Get whole grains into your picky eater's repertoire with little effort by making these oat flour pancakes! Made in the blender, these pancakes are a great healthy breakfast for fussy eaters – from toddlers to teenagers. Make a large batch of these pancakes at the beginning of the week and reheat individual servings for your kids on weekday mornings for a nutritious but easy breakfast option!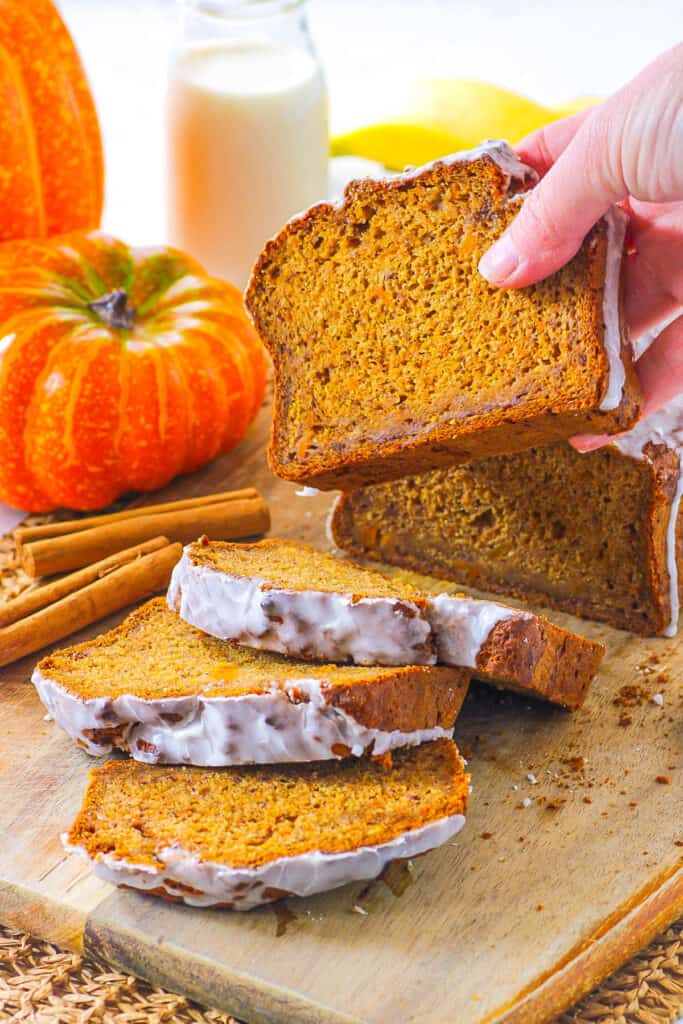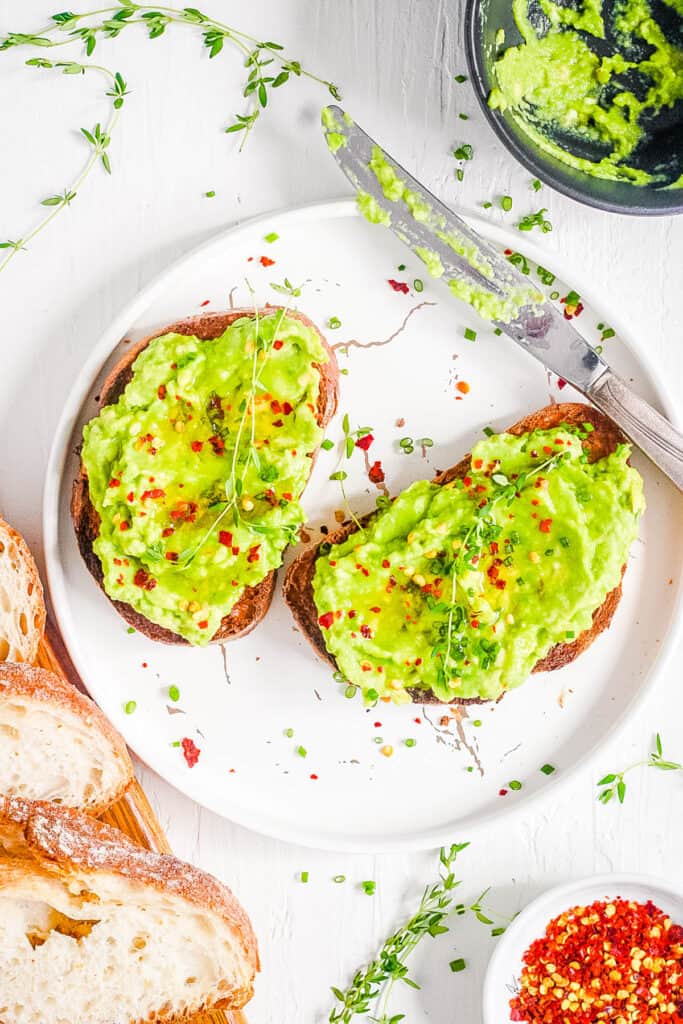 If you're struggling to get little kids to eat healthy fats, this flaxseed pudding is an easy way to do so! Made with ground flaxseeds, almond milk, and maple syrup, this pudding recipe is full of protein and fiber that will keep kids full while being sweet enough to satisfy young palates. Feel free to switch things up and replace the flaxseeds with chia seeds for a chia pudding instead!
If your picky eaters like banana bread, they will love this pumpkin banana bread! With the extra nutrition from pumpkin, this banana bread variation is still tender, sweet, and moist. Bonus: This bread also makes a great healthy snack!
If your kids won't eat avocado because of the flavor, try introducing them to this avocado toast with honey! If your kids don't like spice, simply omit the chili pepper flakes for a mild, yet tasty healthy breakfast!
These mini bundt cakes taste just like banana bread. They are a portable handheld healthy breakfast recipe or snack, and are full of good stuff like whole wheat flour, whole milk Greek yogurt, and coconut sugar! Pair it with some fresh fruit and yogurt for an easy meal!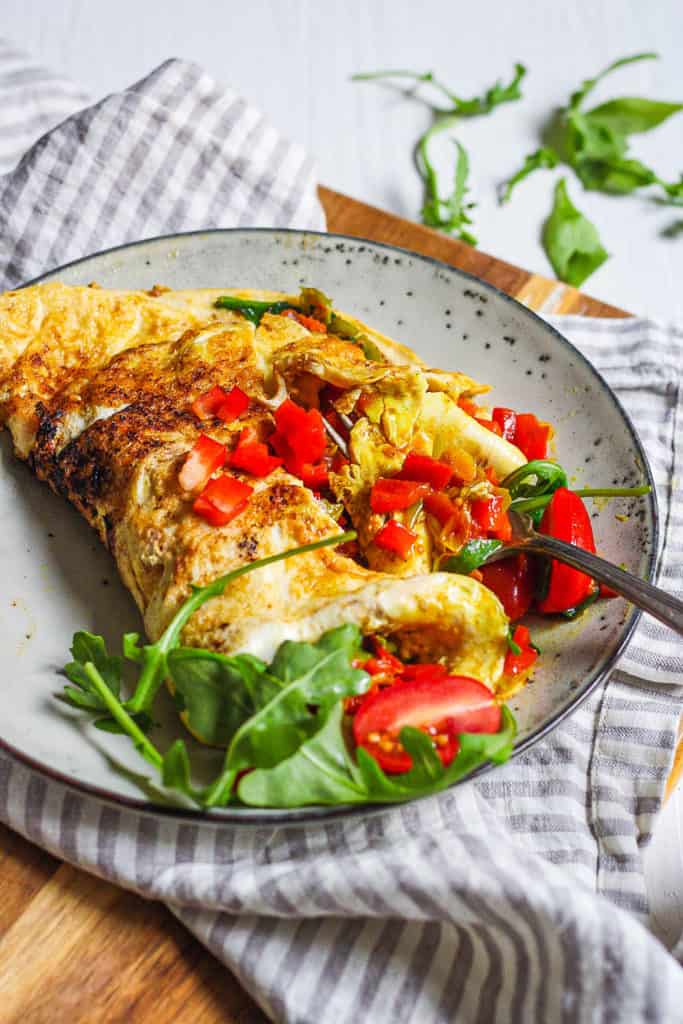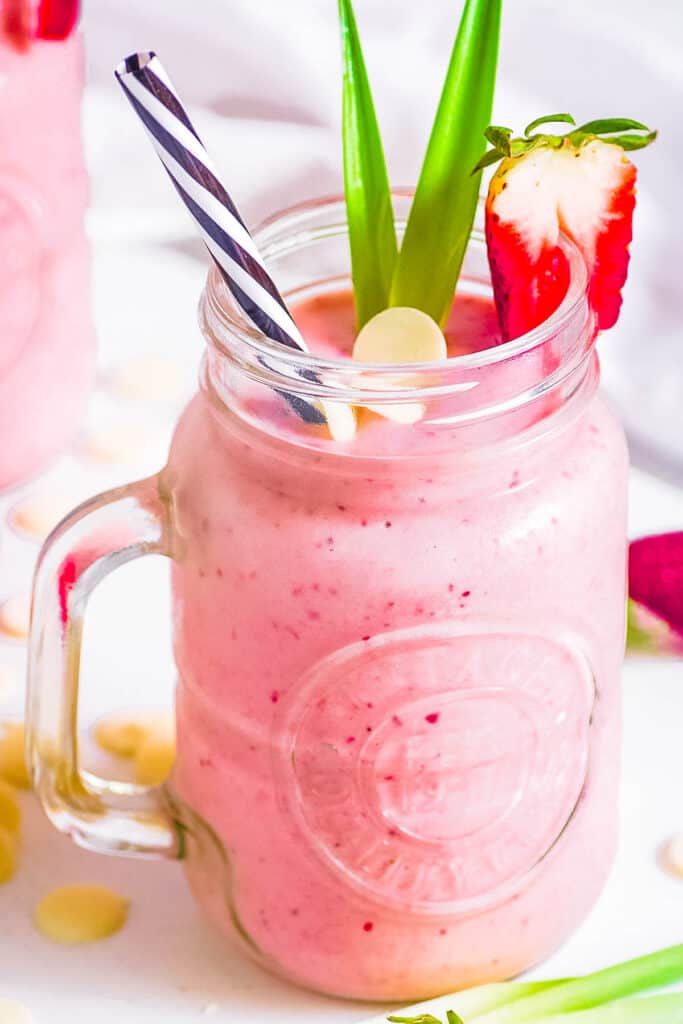 A must have on your breakfast table! Apple pancakes make a great toddler breakfast idea; they are made with simple ingredients that most little tots love. Not only are these pancakes vegan, but they're also gluten-free! But of course, the comforting and warmly-spiced flavor never belies how nutritious this recipe is.
Fluffy eggs shine in this healthy omelette recipe! Omelettes are one of our favorite healthy breakfast ideas for fussy eaters, because they're packed with protein and healthy fats. Serve these eggs with whole-grain toast, sliced fruit, and yogurt for a great start to your children's days!
Pumpkin scones are a favorite food for kids in the autumn months. They're sweet, crumbly, warmly spiced, and a true treat for early mornings. They're a fantastic healthy toddler breakfast idea, but older kids and teenagers love these scones, too!
Healthy smoothies can be an easy breakfast option for picky eaters, and this Bahama mama tropical smoothie is no exception! It's made with strawberries, pineapple, and just a little bit of white chocolate chips — adding a sweet touch that kids of any age will love!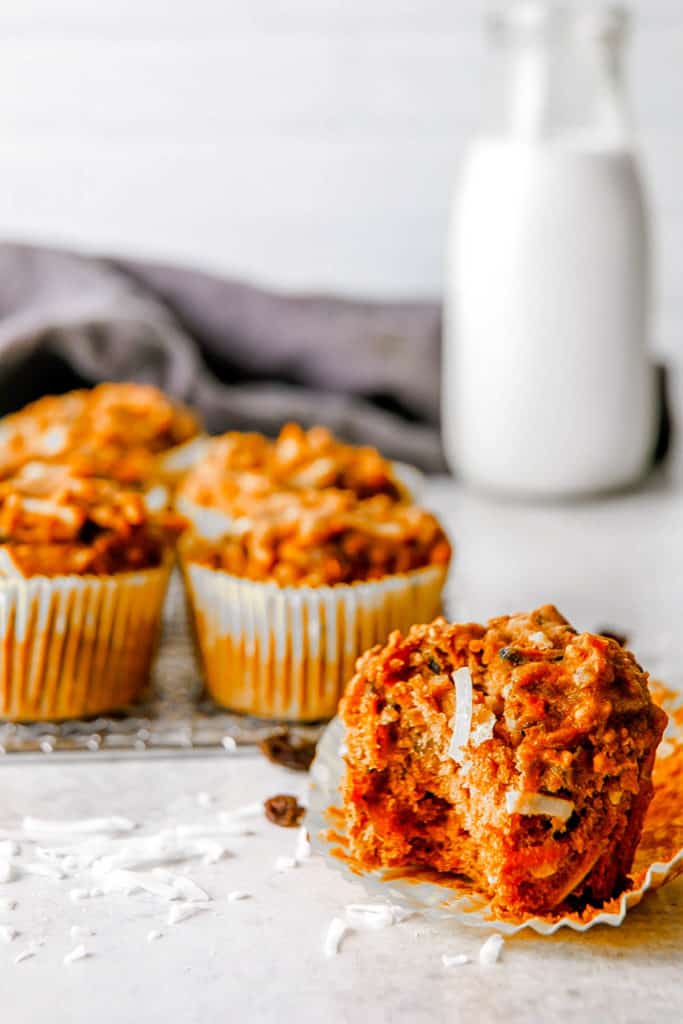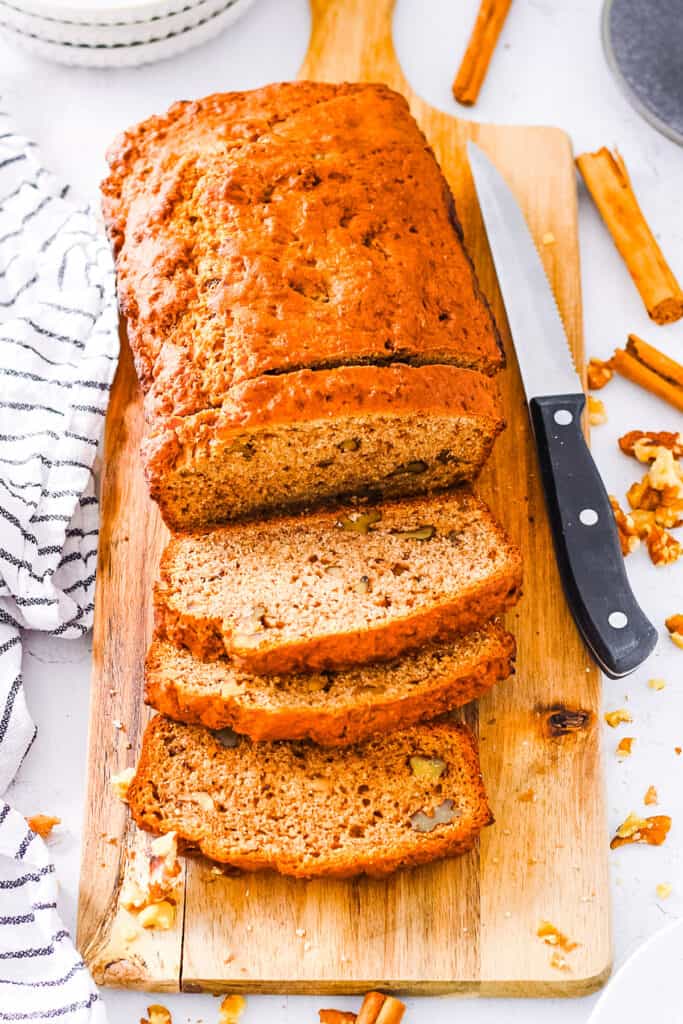 These easy, healthy oatmeal raisin cookies are perfectly chewy and soft! Made with coconut, dates, nut butter, and raisins, these cookies taste like sweet treats to little ones but you will know they're rich in nutrition and healthy energy! They're one our favorite breakfast ideas for toddlers, because you can break them up into bite-sized pieces, easy for little hands to pick up and enjoy.
Banana bread without butter is a great picky eater-friendly food because it features the classic flavor of banana bread but without dairy or butter. Serve slices spread with almond peanut butter for a complete and delicious breakfast.
Apple and carrot cinnamon muffins are a fantastic toddler breakfast idea because they feature both fruits and vegetables that young tastebuds won't notice. Pack these muffins muffins any morning of the school year for a satisfying and nutritious breakfast your kids will love.
Smoothies are great healthy breakfasts for picky eaters, because of how much nutrition you can pack into one drink. These mango protein smoothies contain 20 grams of protein per serving and have a smooth creamy and sweet flavor that kids will love. If your little ones don't like protein powder you can still make the smoothie with just Greek yogurt for a filling and healthy breakfast.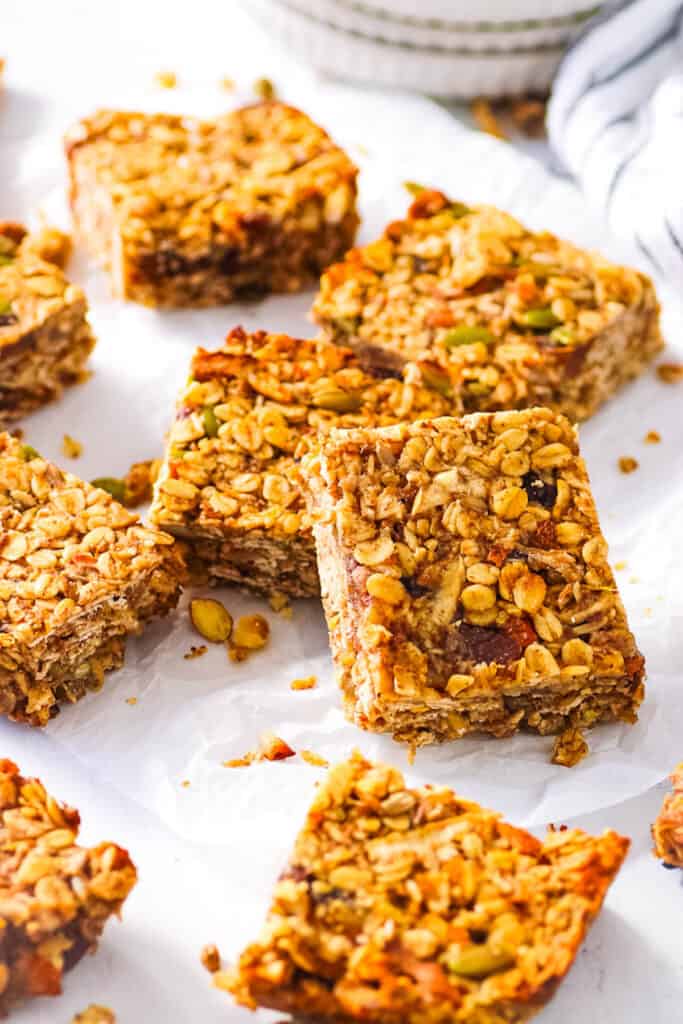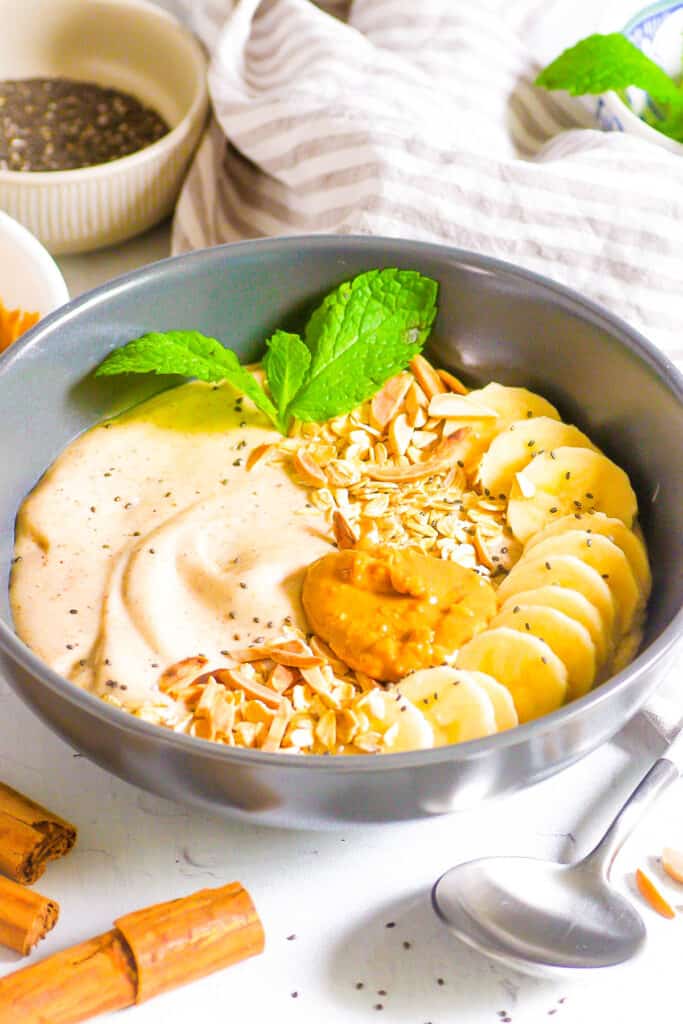 Nutty and sweet, these healthy flapjacks are a granola bar-like breakfast food that's great for kids. Make a large batch at the beginning of the week and pack the squares to go with your kids on busy mornings.
A smoothie bowl that tastes more like dessert is one of the best easy breakfast ideas for picky eaters – because they won't be able to tell how good it is for them! But of course, you will know that it's made with only five whole foods ingredients that are good for them and full of nutrients too.
What kid doesn't like chocolate? This is a great breakfast idea for kids because it tastes like chocolate milk but is incredibly healthy and filled with superfoods! Top the oatmeal with a few chocolate chips for a special finish on the oatmeal; sliced bananas and chopped walnuts are delicious, too!
If your picky eaters like bananas and chocolate, these chocolate chip banana muffins are a great breakfast option for kids. They are full of healthy fats from nuts like walnuts and almonds and are popular with kids, thanks to the chocolate chips.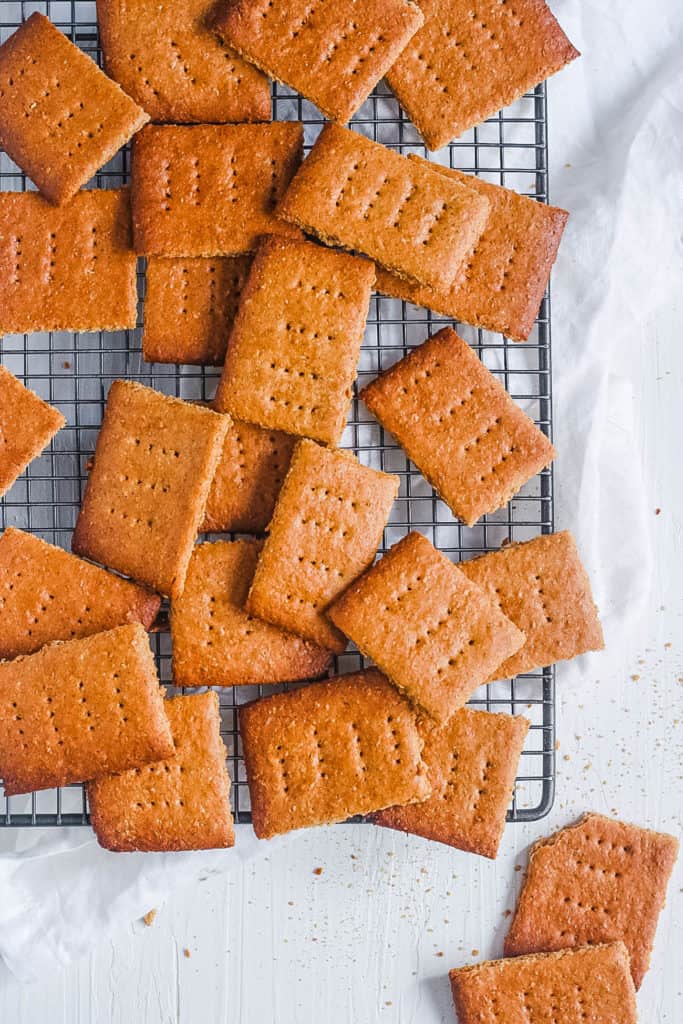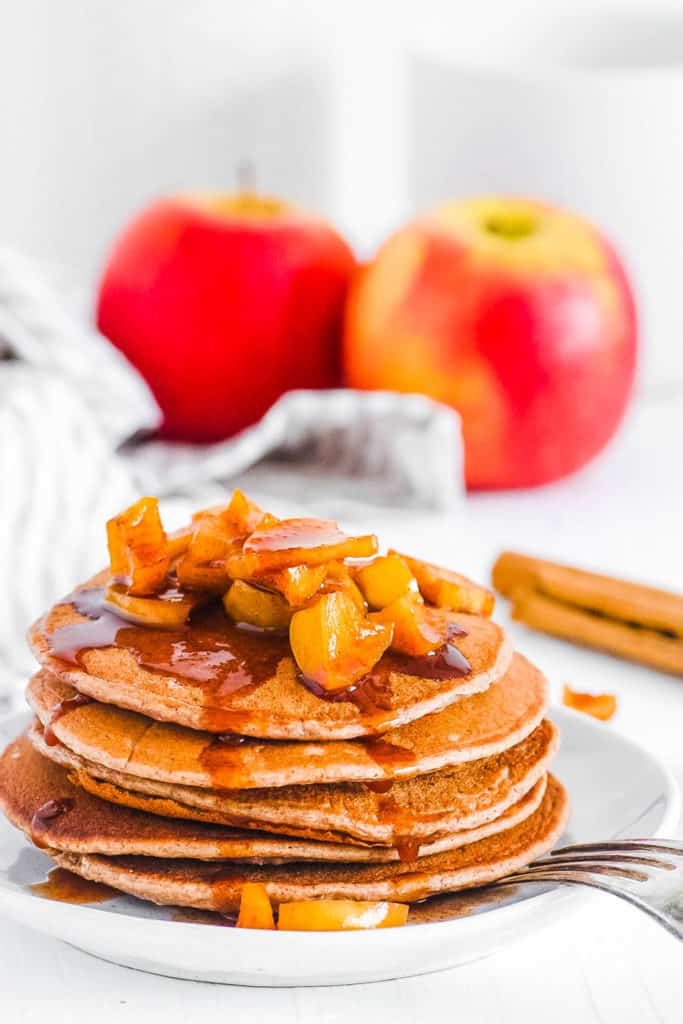 With a creamier and thicker texture than drinkable smoothies, this smoothie bowl recipe is one of our favorite healthy breakfast ideas for kids of all ages because they can adjust their toppings according to their taste preferences. Sliced bananas, granola, cacao nibs, sliced almonds, chopped strawberries, and more will give young eaters opportunities to try different foods while enjoying one that they already like!
If you are trying to feed picky eaters on busy days or rushed mornings, banana breakfast cookies are a fantastic pick! This fun breakfast idea for kids is rich in healthy fats and dried fruit, but of course, all your kids will taste is a delicious and yummy cookie! It also happens to be naturally vegan and gluten-free too!
Vegan graham crackers are a tasty and easy breakfast idea for kids. Make a batch at the beginning of the week and serve them with dried fruit, nuts, granola, and yogurt or even crumble them up for breakfast yogurt parfaits!
Treat your picky eaters to a unique breakfast: Croffles! Also known as croissant waffles, this is a great recipe for weekends or special occasions. Get your picky eater in on the fun of making this easy recipe by allowing them to choose their desired fillings or their own toppings!
I hope you enjoyed this selection of my best delicious, healthy, and quick breakfast ideas for kids. On this list, you've likely seen that not only are there many different ways to serve healthy food to your kids, but they can be nutritious and fun for kids of all ages, whether high school aged or toddlers, to help make or customize. Now, breakfast won't be just the most important meal of the day, but also will be the most enjoyable and tasty one, too!
More Recipes For Picky Eaters!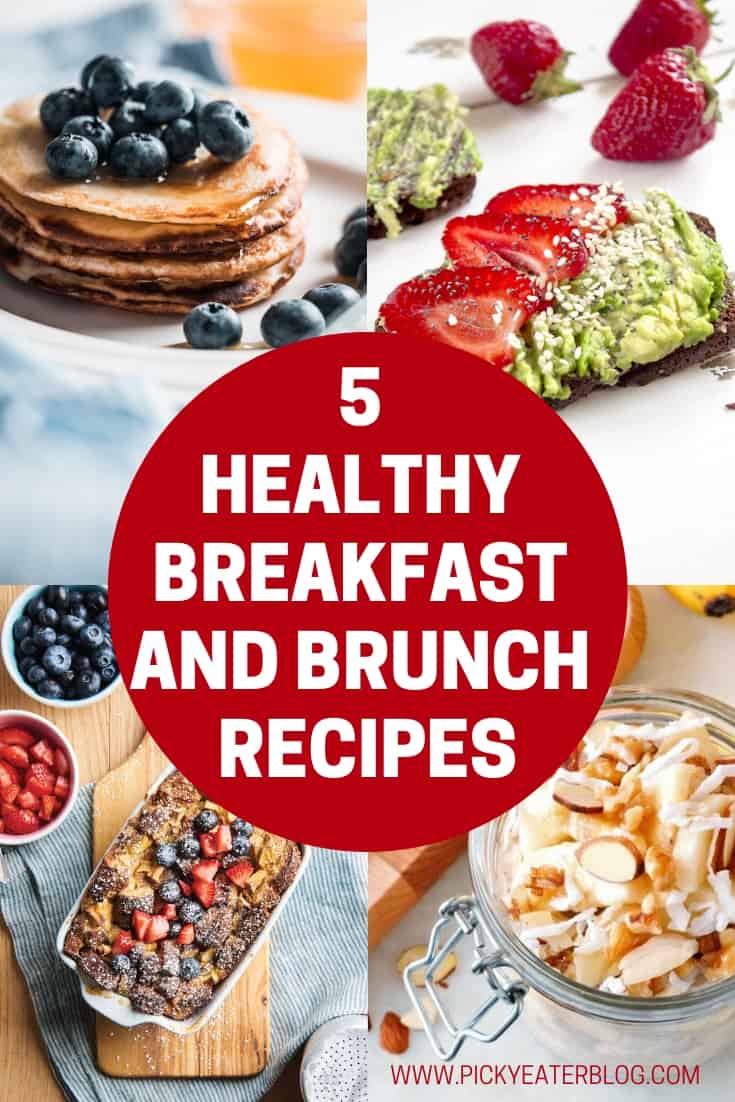 16 responses to "43 Breakfast Ideas For Picky Eaters & Kids"