Healthy Meals for Picky Eaters with Simple Food Swaps
This post may contain affiliate links. As an Amazon Associate, I earn from qualifying purchases. Please read my disclosure.
These healthy meals for picky eaters use some simple food swaps to create an extra nutritious and delicious meal even the pickiest kids will love!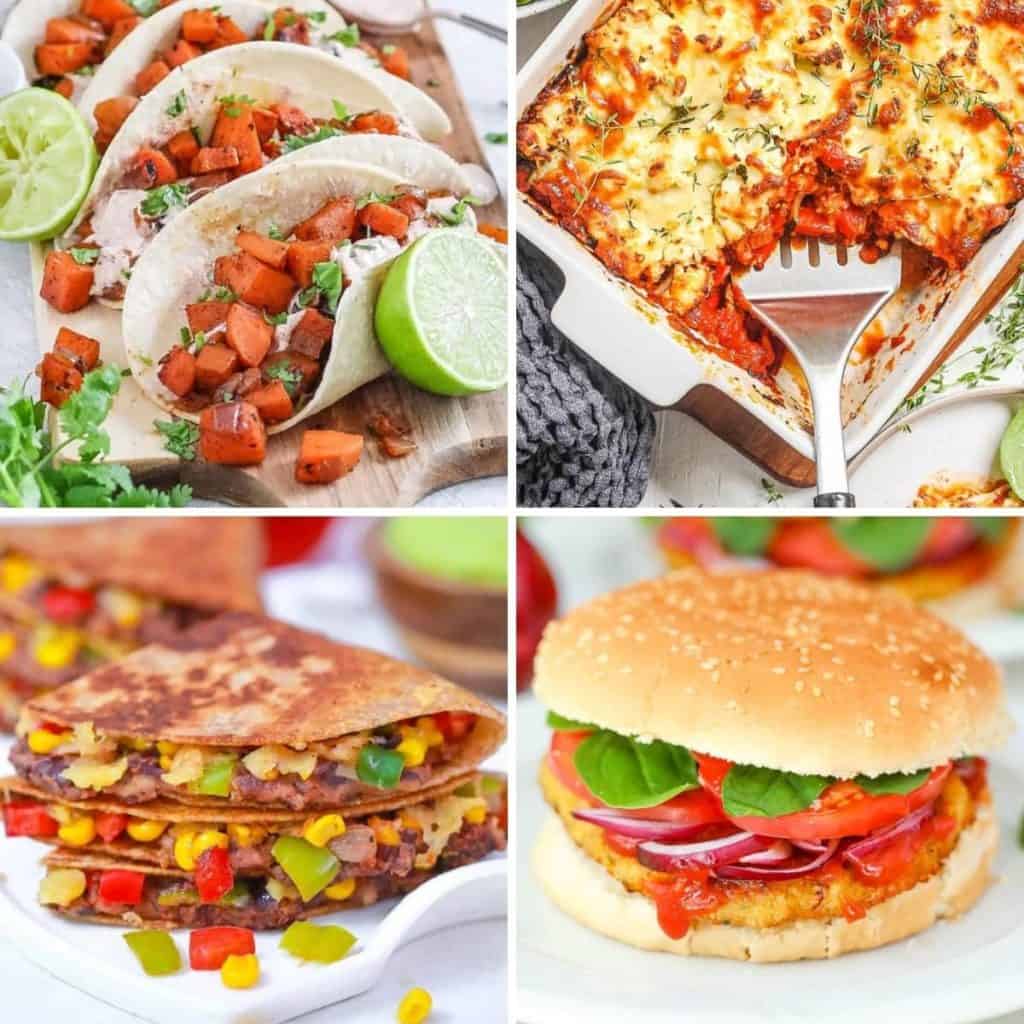 It's no secret that cooking for picky kids can be a challenge! Whether you have little kids or older kids, if you have a fussy eater in your house, you're probably familiar with the feeling of being a short-order cook, creating separate meals to satisfy the pickiest eater in your household.
If there is one thing parents of picky eaters are always on the lookout for — it's those kid-friendly recipes and healthy meal ideas that can satisfy the whole family!
That's where this post comes in! These healthy meals for picky eaters include easy swaps and simple ways to serve up a balanced meal that everyone can enjoy.
What do I mean by "easy swaps"? I mean small changes like using whole grains instead of refined grains, or baking instead of frying to make a healthier version of recipes your kids typically enjoy.
It also involves "sneaking" extra veggies into recipes in unexpected and creative ways! These tips and recipes should help you encourage healthy eating for your whole family.
The key to avoiding that power struggle is to make meals are super comforting and satisfying, yet full of healthy ingredients that can easily be found at your local grocery store!
Top 25 Food Swaps to Make Healthy Meals for Picky Eaters
SWAP #1: Bread: Always substitute whole wheat bread for regular white/sourdough/ciabatta/anything that's not whole wheat or whole grain. BONUS – If you really want to go the extra mile, get sprouted grain bread like the kind by Ezekiel.
SWAP #2: Milk: Always use low fat (2% or 1%) or fat free milk instead of full fat (regular whole) milk.
SWAP #3: Cheese: You can use low fat cheeses instead of full fat/regular cheese, or just use less of the full fat cheese (try for 3/4 or 1/2 the called amount)!
SWAP #4: Chips: Eat baked potato or tortilla chips instead of regular/fried. BONUS – make your own baked fries or sweet potato fries at home!
SWAP #5: Cold Cereal: Buy whole wheat or whole grain cereal with at least 3-4g fiber per serving instead of … Lucky Charms, Cocoa Puffs, Cookie Crisp which are well known as not healthy cereal options.
SWAP #6: Hot Cereal: Try steel cut oats or rolled oats instead of pre-sweetened/sugary instant oatmeal or cream of wheat (you can make your regular oatmeal flavorful on your own with a variety of toppings and mix ins like cocoa powder, fruit, nuts, stevia, cinnamon, and honey).
SWAP #7: Sides: Make healthy food choices when ordering out or making side dishes at home. Try carrot sticks, fresh fruit or a salad instead of french fries or potato chips.
SWAP #8: Cream Cheese: Use 1/2 the amount of regular cream cheese, or try low fat / whipped cream cheese (read the ingredients and watch out for too many stabilizers or preservatives in the list for the low-fat versions!)
SWAP #9: Burgers: Opt for veggie burgers or turkey burgers instead of regular full fat/beef burgers, and order them on a wheat bun or a lettuce wrap.
SWAP #10: Mexican Food: Opt for refried vegetarian/low fat black beans instead of regular refried beans (which are often cooked in lard)
SWAP #11: Sour Cream: Try 0% Greek Yogurt!
SWAP #12: Condiments: Try ketchup & mustard instead of mayo/dressings/oil on your sandwiches
SWAP #13: Condiments Part 2: Try hummus as a spread in sandwiches instead of cream cheese, mayo, mixed creamy spreads, etc.
SWAP #14: Sugar: Try honey, agave, raw cane sugar instead of refined white sugar. If you're trying to cut calories, try Stevia extract or Monk fruit instead of Equal, Sweet N Low, Splenda, or any other sweetener.
SWAP #15: Soda: Try this easy swap: combine 1/4 cup 100% fruit juice with 3/4 cup sparkling naturally flavored water or just plain sparkling water. Tastes just like a soda without all of the chemicals and sugar!
SWAP #16: Dressing: Try fat free salad dressings (read the ingredients to make sure there is no added sugar) or a tiny bit (1-2 tsp) of olive oil/vinegar/salt/pepper instead of regular creamy salad dressing.
SWAP #17: Soup: Opt for broth based soups (made with a tomato base or vegetable stock) instead of cream based soups. I usually ask if there's cream in a soup before ordering it at a restaurant.
SWAP #18: Veggies: Add them in!! The key to healthy recipes is lots of veggies. You can puree them and mix them into sauces, or cut them up very fine so your picky eaters can't detect them!
SWAP #19: Meat: Choose white meat (chicken, turkey, fish) instead of red meat (beef, lamb, pork).
SWAP #20: Grains: Instead of white rice or regular couscous, try brown rice, whole wheat couscous or quinoa.
SWAP #21: Smoothies: Use an unsweetened plant milk (0g sugar) or low fat/fat free plain yogurt in smoothies instead of frozen yogurt or ice cream.
SWAP #22: Yogurt: Try lowfat or nonfat plain Greek yogurt instead of sweetened Yoplait or other sweetened yogurts. 1 container of sweetened Yoplait can have up to 200 calories, 1 container of nonfat Greek yogurt sweetened with stevia or honey will have only 90-100 calories and TONS more protein.
SWAP #23: Potatoes: Instead of regular potatoes, try making baked sweet potatoes or yams for a higher fiber and antioxidant boost.
SWAP #24: Oil: Use olive oil or coconut oil instead of other cooking oils and try to stick to a small amount, no more than 1-2 Tbsp in most recipes.
SWAP #25: Chocolate: For me, it's always dark chocolate instead of milk chocolate. I try to find chocolate that's 70% cacao – the calories are the same as milk chocolate, but there's a bit less sugar and you get the antioxidant boost with dark chocolate. Dark chocolate covered almonds are an even better alternative, since you get some of the protein and fiber from the almonds.
The Best Healthy Meals for Picky Eaters
Veggie Quesadilla Recipe
This easy, healthy veggie quesadilla recipe is packed with gooey cheese, black beans, and crunchy veggies. Done in less than 30 minutes they make a great weeknight meal! If you have young kids, I recommend reducing the spices and cutting them into small pieces that are easy for tiny hands to pick up. For kids that have super picky eating tendencies, I recommend pureeing the veggies and beans together, and adding more cheese to hide those veggies in between the cheese and tortillas!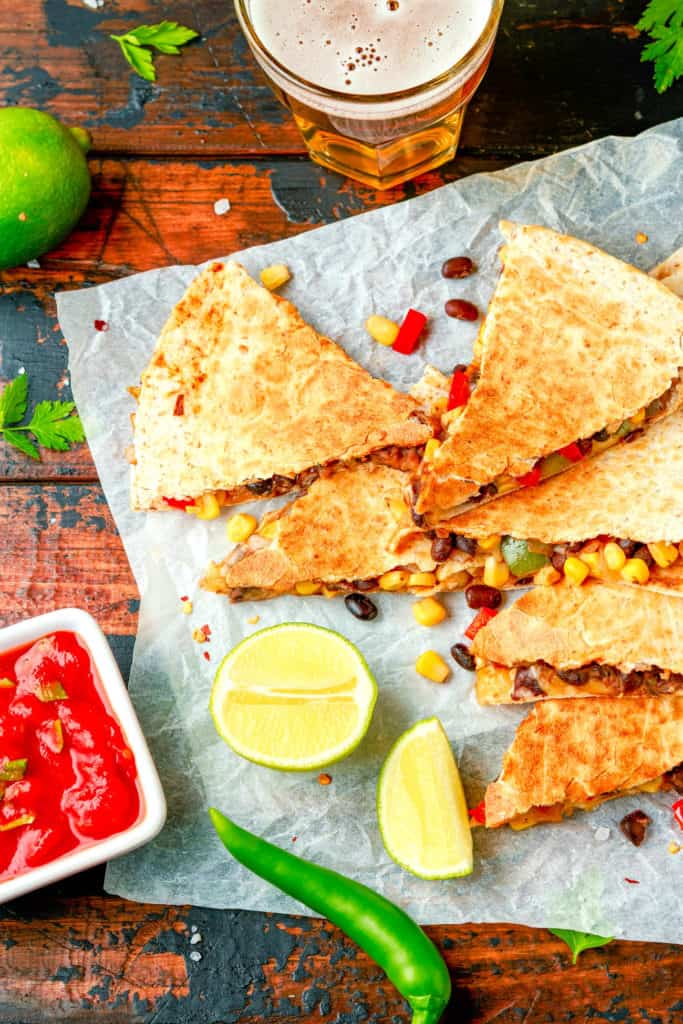 Oat Flour Pancakes
These tasty and easy Oat Flour Pancakes made with cottage cheese are perfect for breakfast, brunch or dinner. They're packed with whole grains and protein but thanks to all the decadent toppings, they are still a super kid-friendly meal. This lightened up pancake recipe is a great option for the entire family!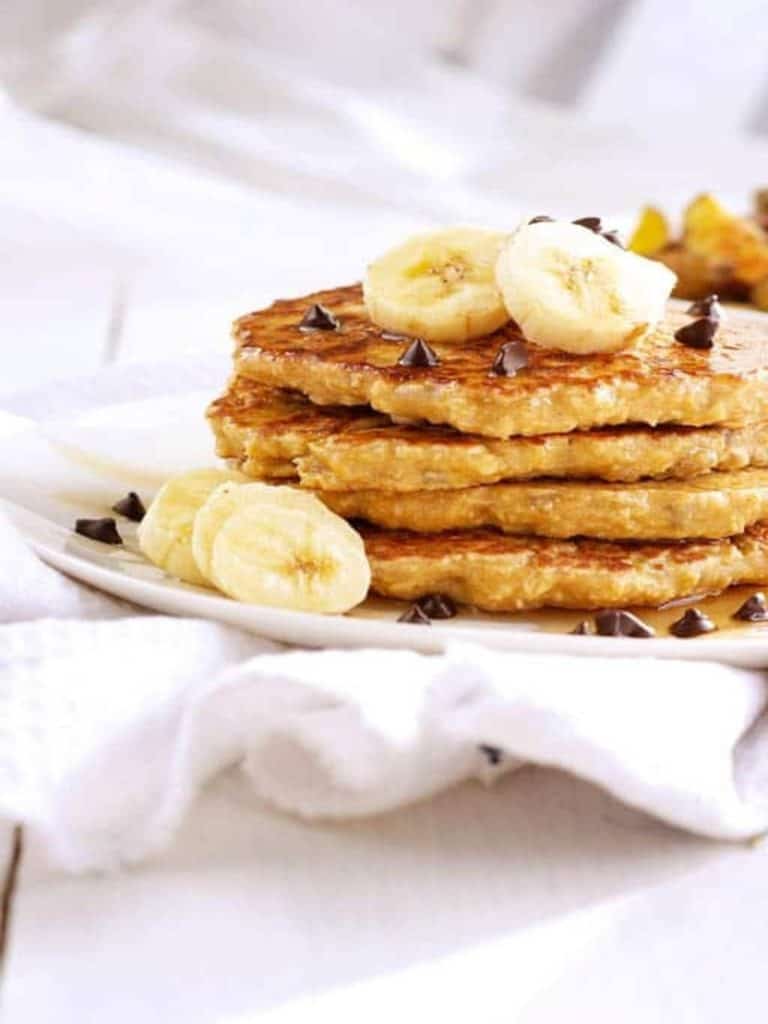 Vegetarian Zucchini Lasagna
This low carb, gluten-free, vegetarian zucchini lasagna is another great way to sneak in those extra veggies into your child's diet! Simple to prep, this no-noodle 'pasta' dish is full of all of the flavors you would expect from a traditional lasagna recipe. It's one of those healthy dinners that tastes great as leftovers too! If you have especially fussy eaters, you can alternate layering the zucchini in between regular lasagna noodles to make it more palatable to their tastes.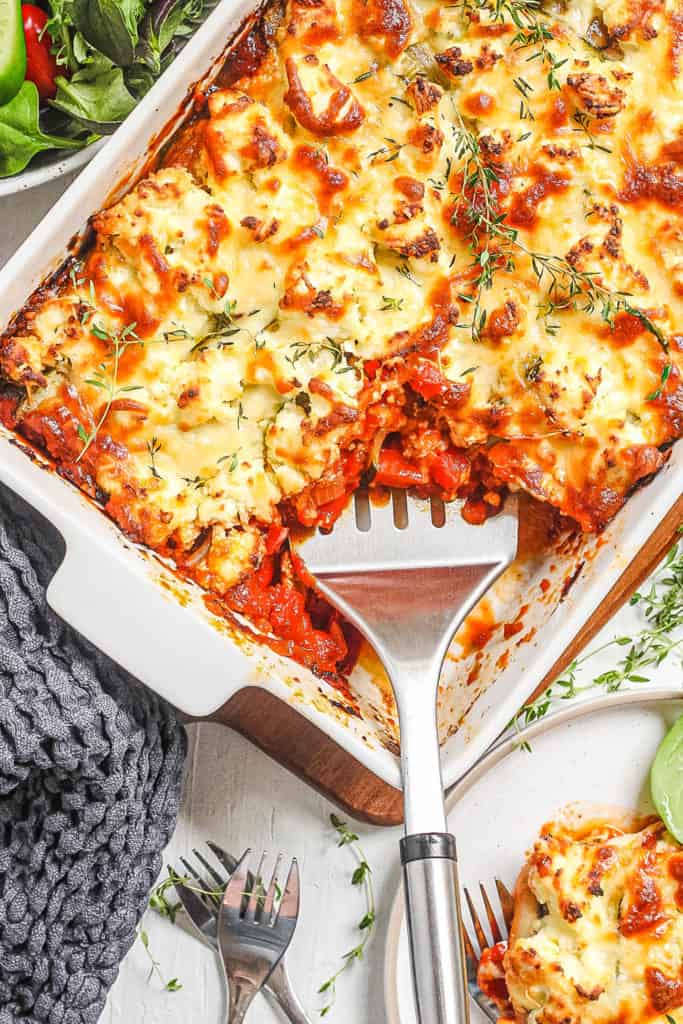 Veggie Pizza Recipe
This veggie pizza recipe is both enticing and healthy! Made with melted gooey parmesan cheese and tender fresh vegetables such as red onion and green bell pepper, this savory and yummy pizza is perfect when you're looking for something tasty, satisfying, and ready in 30 minutes! A great appetizer for a crowd or an easy main meal!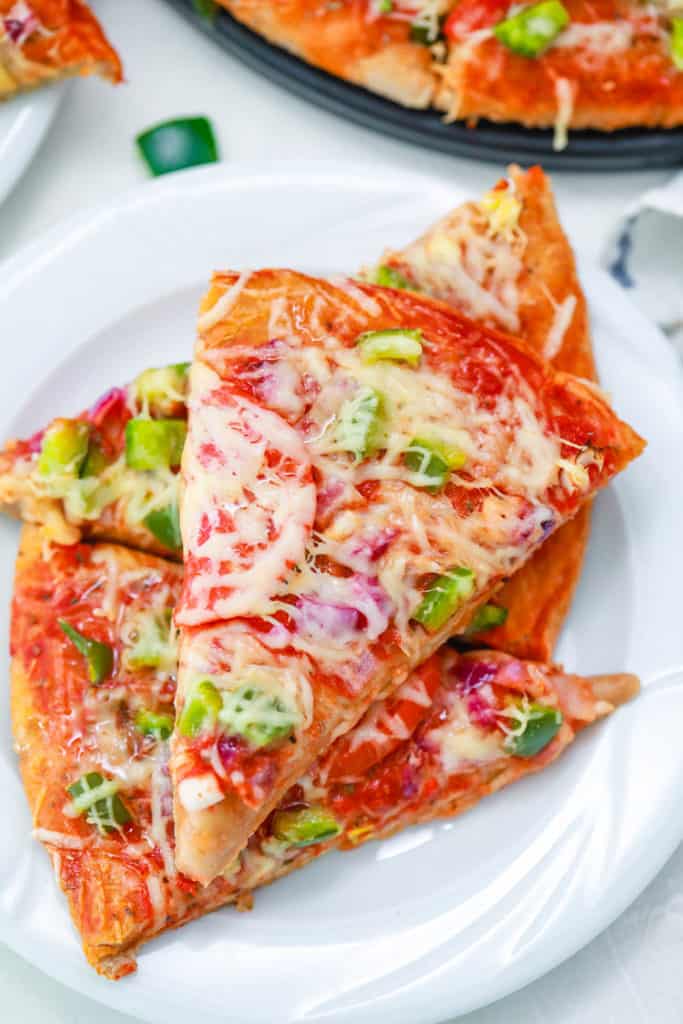 Italian Casserole with Cannellini Beans
This vegetarian Italian casserole with Cannellini beans is incredibly appetizing and full of aromatic, Italian flavors! Made with fresh carrots, herbs, onions, and white beans mixed with cheesy coarse breadcrumbs and fresh herbs for a gratin that tastes fully authentic! You're going to love this easy side dish or main meal that is ready in less than an hour!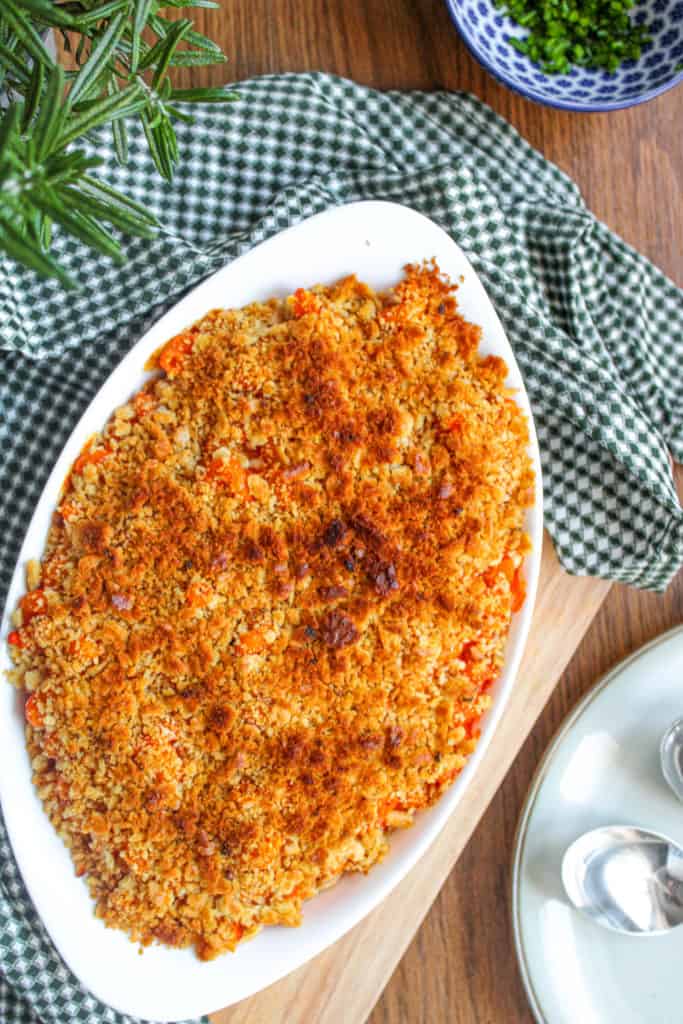 Loaded Nachos with Refried Beans
These cheesy, loaded, vegetarian nachos are super satisfying and ready in under 30 minutes! And the best part: they taste just like the traditional recipe but can be enjoyed completely guilt-free! Perfect for late nights, picnics, game day, get-togethers, or a great appetizer or quick dinner for the whole family! Nachos are also a great way to get your kids to try new foods – just hide the new foods in between the chips and cheese and they're much more likely to eat them!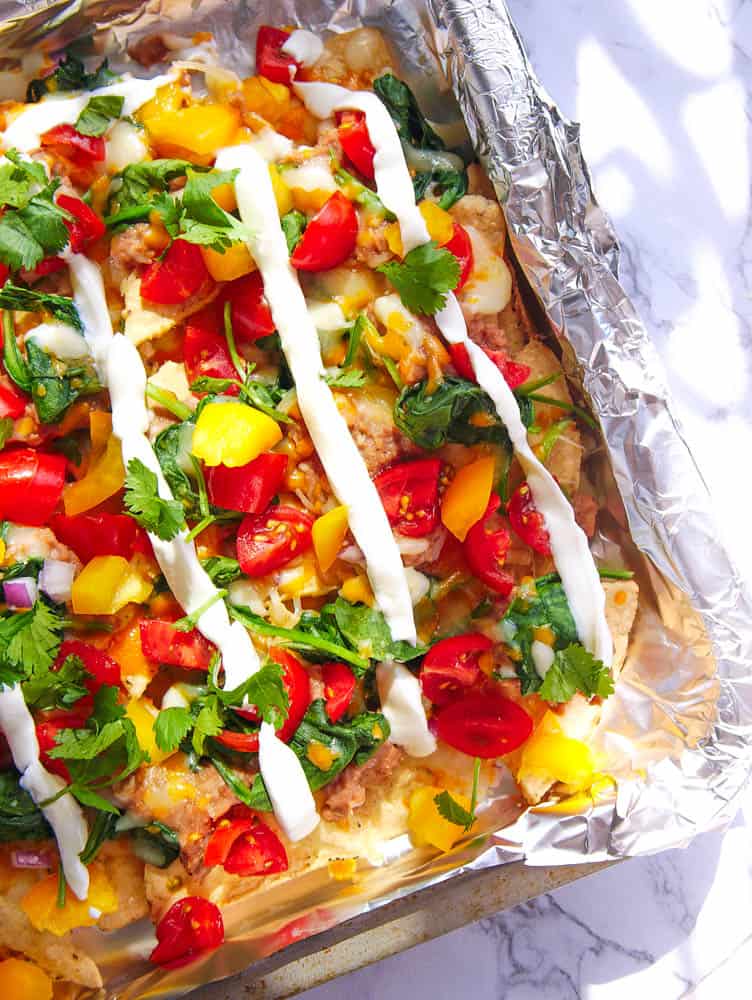 Black Bean Quesadillas
Super tasty, crispy, easy black bean quesadillas are filled with gooey cheese, hearty black beans, sweet corn and peppers, spicy jalapeño and pepper jack cheese. These bean and cheese quesadillas are filling, satisfying, and are perfect for the whole family!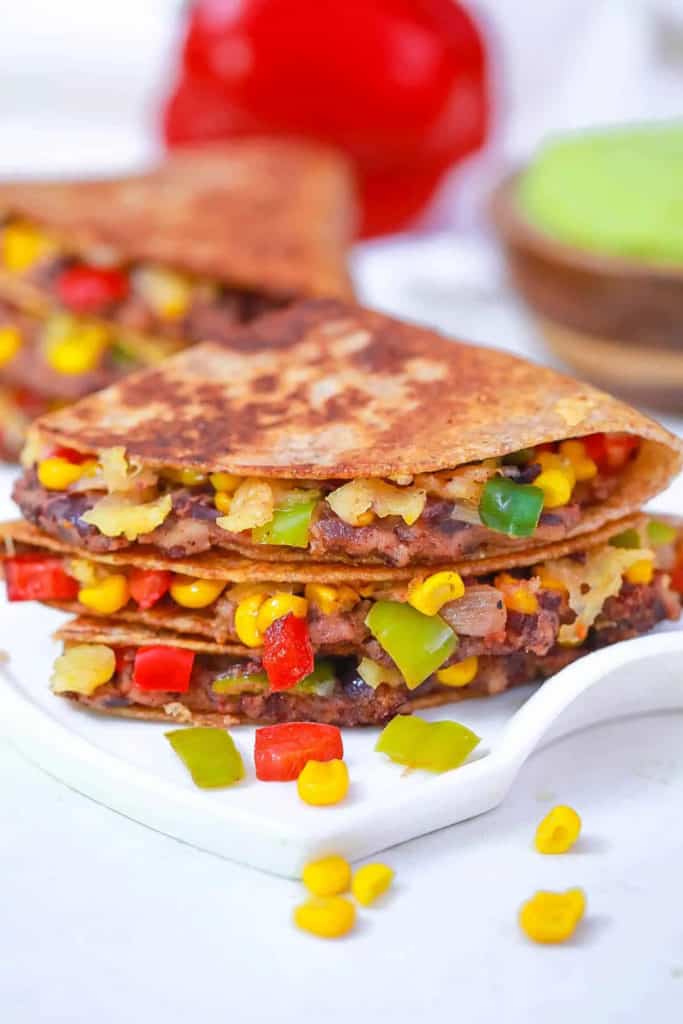 Southwestern Pinto Bean Burgers
Ever tried making a veggie burger with pinto beans? Now's your chance – and you don't want to miss it! These pinto bean burgers are fresh, flavor-packed, and filling. So much better than frozen veggie burgers and easily adapted to vegan.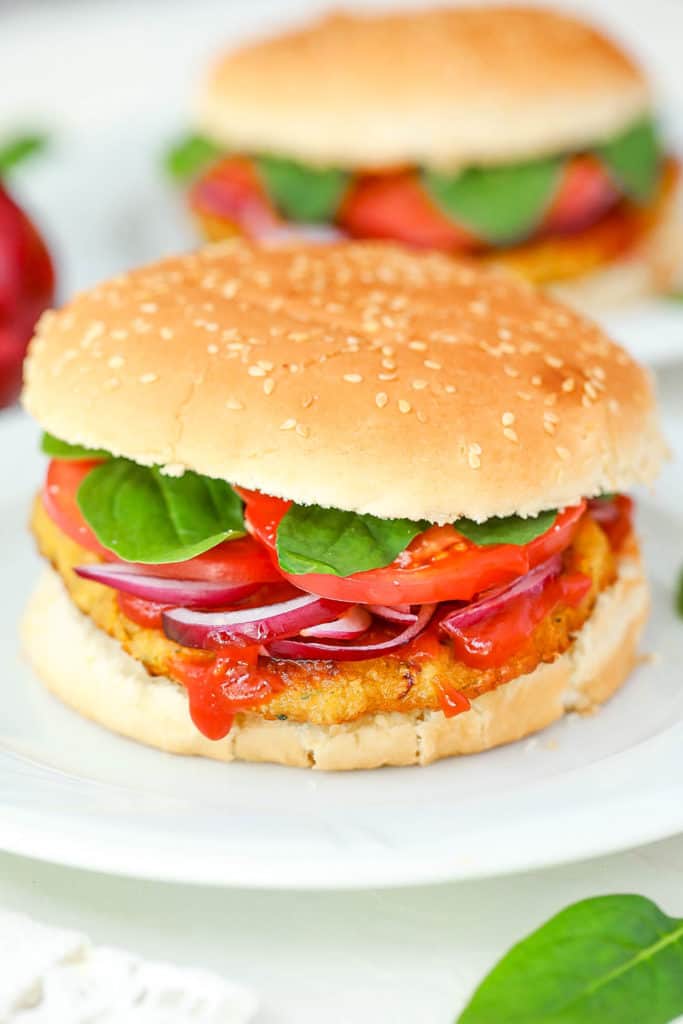 Pasta Rolls with Pomodoro Sauce
These vegetarian pasta rolls have all of the flavors of a classic lasagna, but they are ready in less time and are a healthier option. Covered in a pomodoro sauce, these healthy lasagna rolls are kid-friendly, are a family favorite, and are an easy make-ahead meal!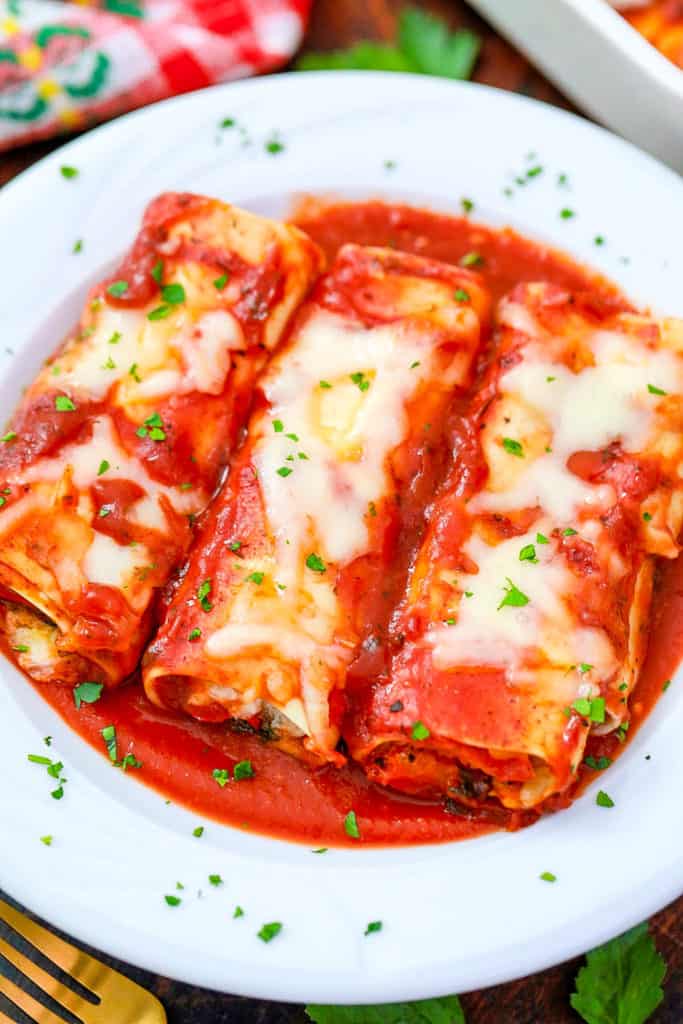 Garlic Bread Grilled Cheese Sandwiches
This Garlic Bread Grilled Cheese with French Onions is the ultimate gooey cheesy indulgent sandwich with a healthy twist. Pair it with some fresh tomato soup for a full meal. Packed with flavor and done in minutes, it's comfort food at its best!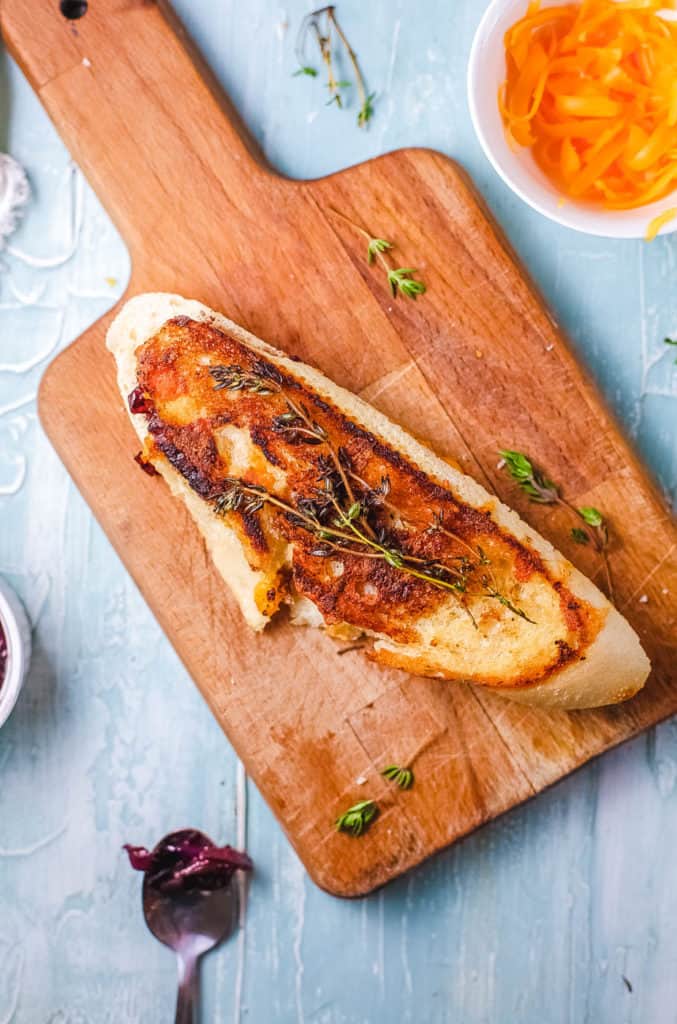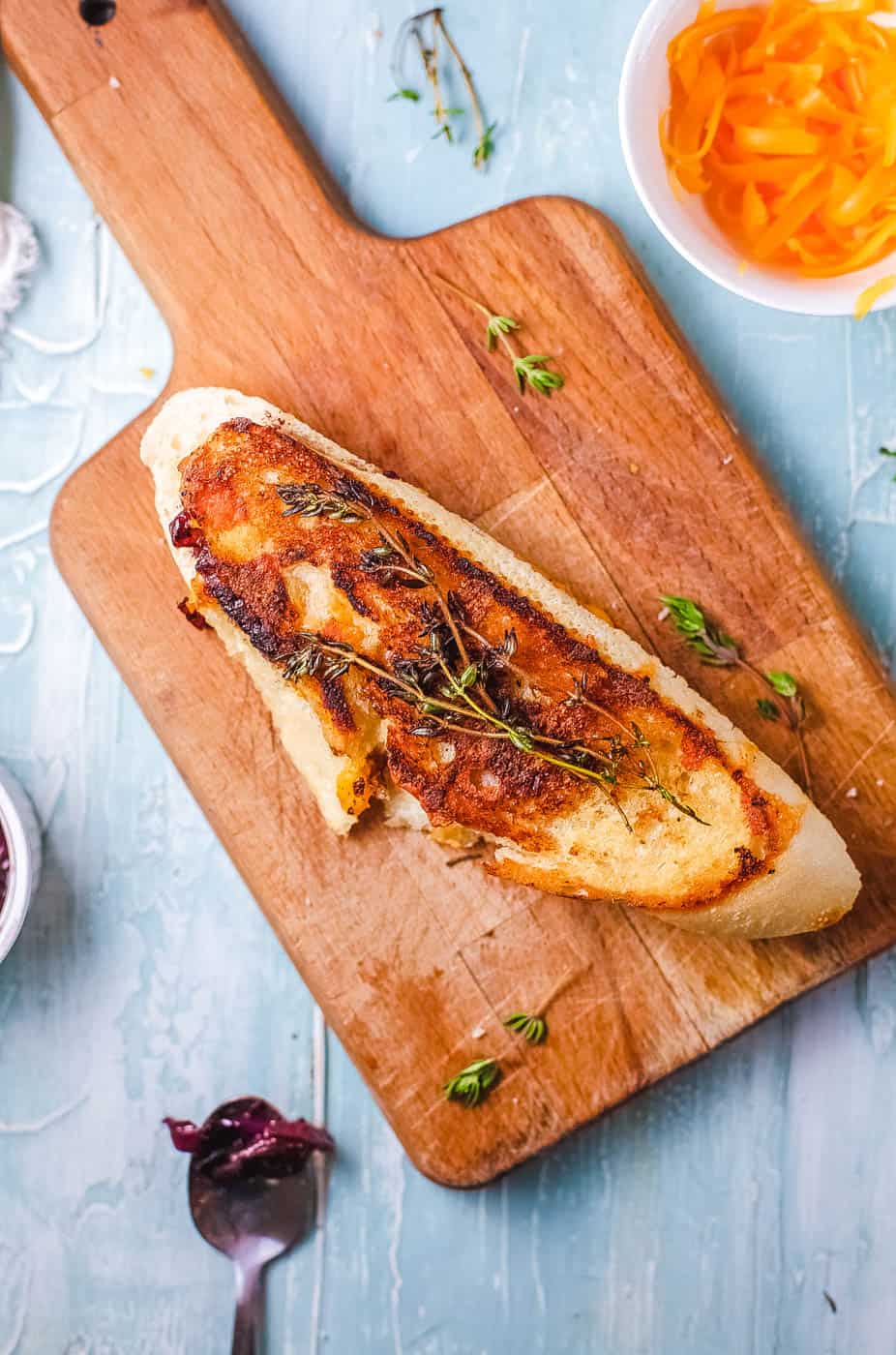 BBQ Jackfruit Burrito Bowl
This pulled BBQ jackfruit burrito recipe in a bowl is simply incredible and bold in flavor. Made with tender jackfruit, hearty beans, rice, fresh vegetables, and comforting spices, this recipe is an excellent source of protein and a perfect healthy option for meatless weeknight dinners!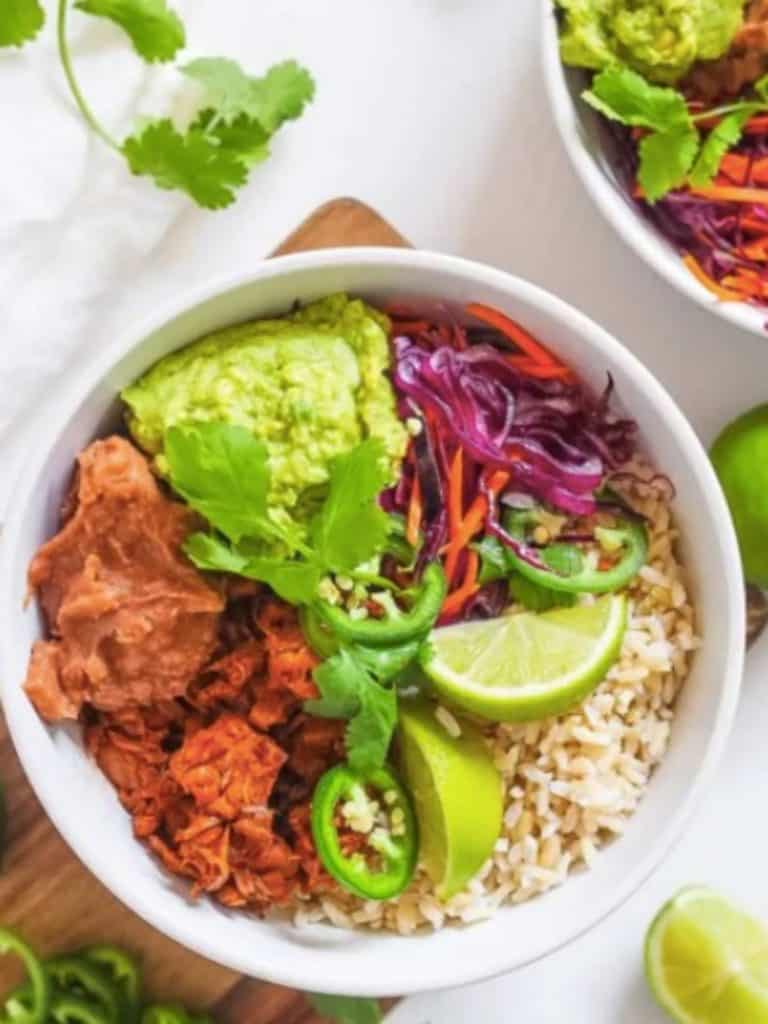 Easy Pita Pizzas 8 Different Ways!
This amazingly easy, pita bread pizza recipe is healthy comfort food that can be thrown together in just 15 minutes! Whole wheat pita bread is topped with tomato sauce, fresh veggies, and gooey cheese for a family-friendly meal, easy lunch or quick dinner. With 8 variations, it's one of those easy recipes that has something for everyone!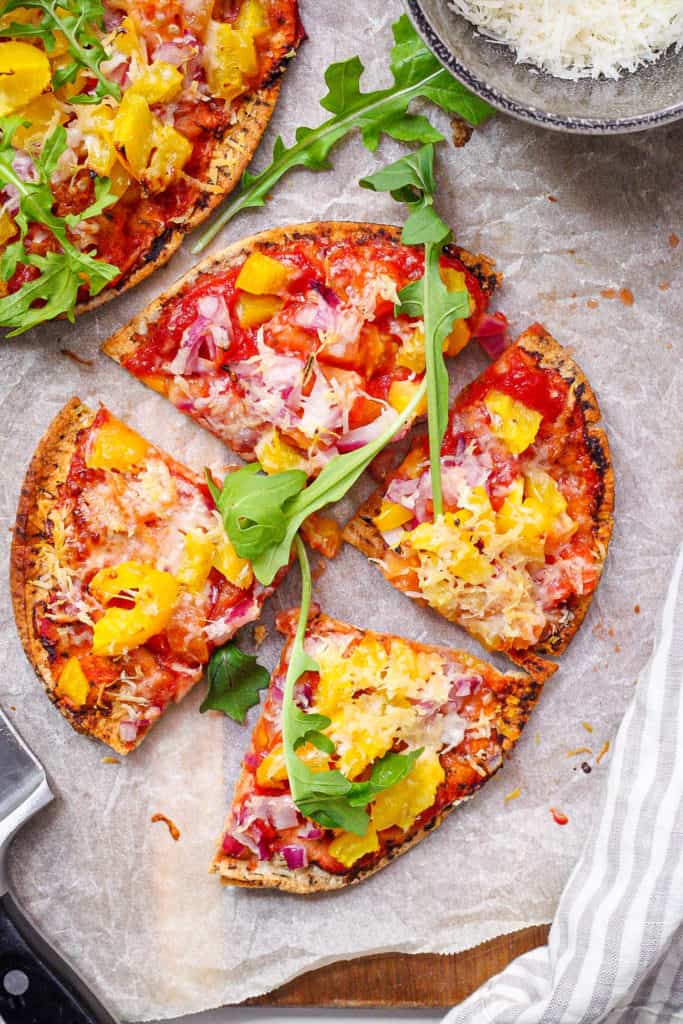 Strawberry Banana Smoothie
This Strawberry and Bananas Smoothie is naturally sweet, filled with fruit, and so simple to make. With just 5 ingredients, you can easily customize this energizing smoothie recipe and be sipping on it in under 5 minutes. Add in some baby spinach for extra greens and protein powder or Greek yogurt to make it a complete meal. Perfect for any smoothie lover!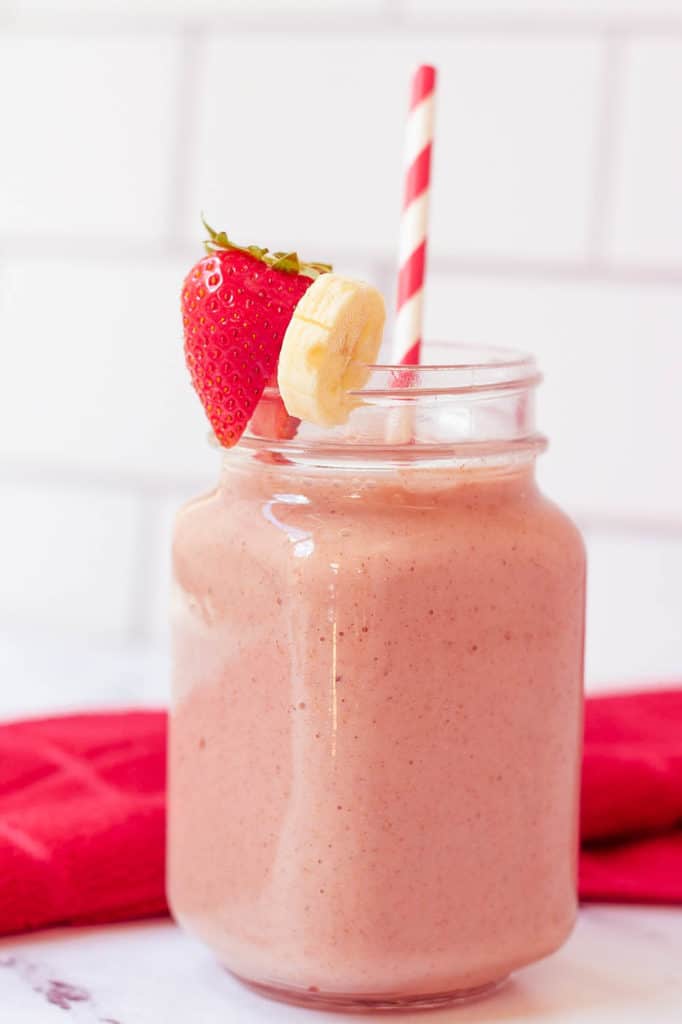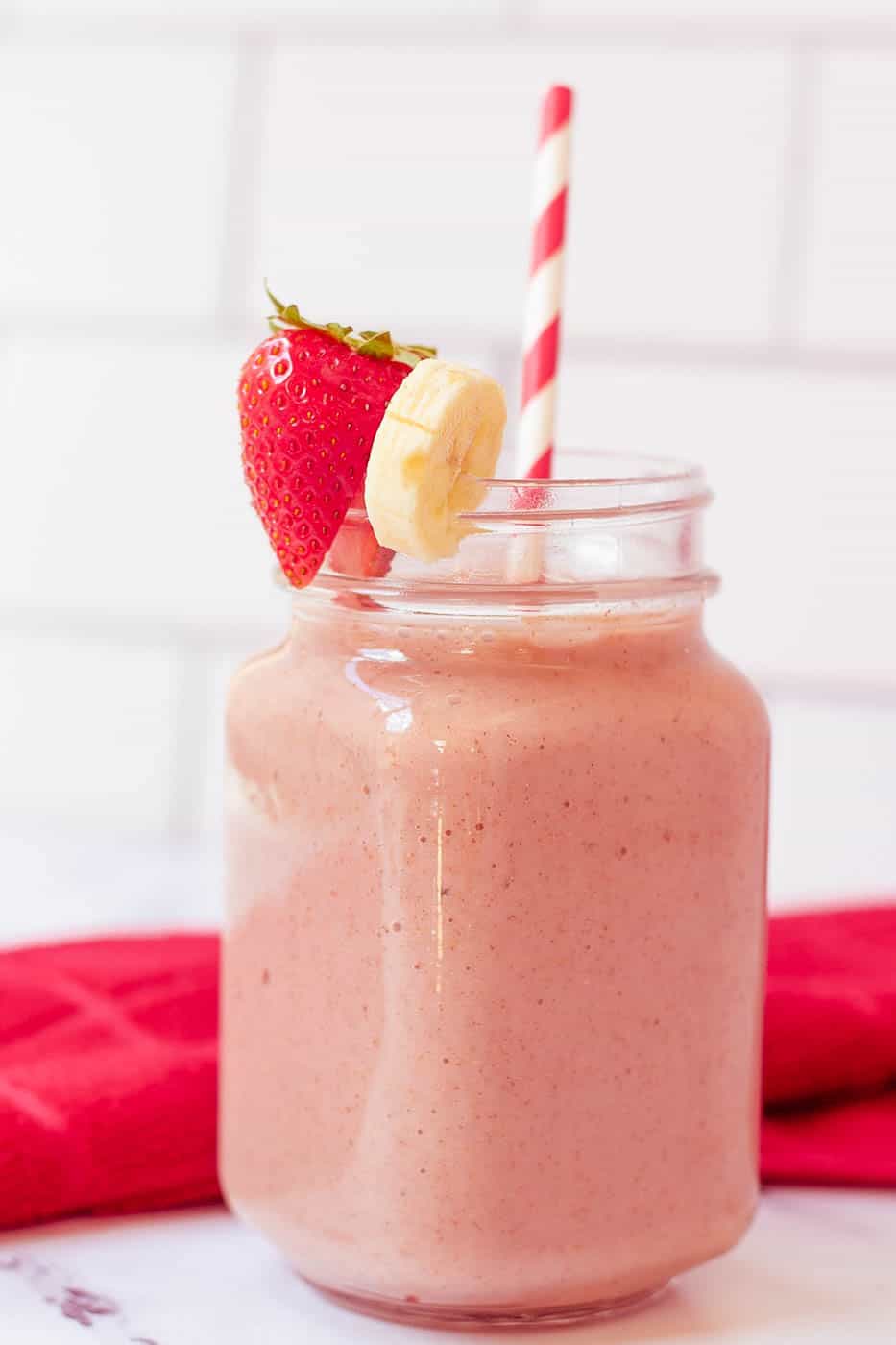 Healthy Copycat Taco Bell Mexican Pizza
This vegetarian copycat Taco Bell Mexican Pizza is a real treat, and you wouldn't guess that it's healthy! Low in calories, made with whole foods, and ready in less than 30 minutes: my version of this classic Taco Bell dish means you can enjoy it without the guilt!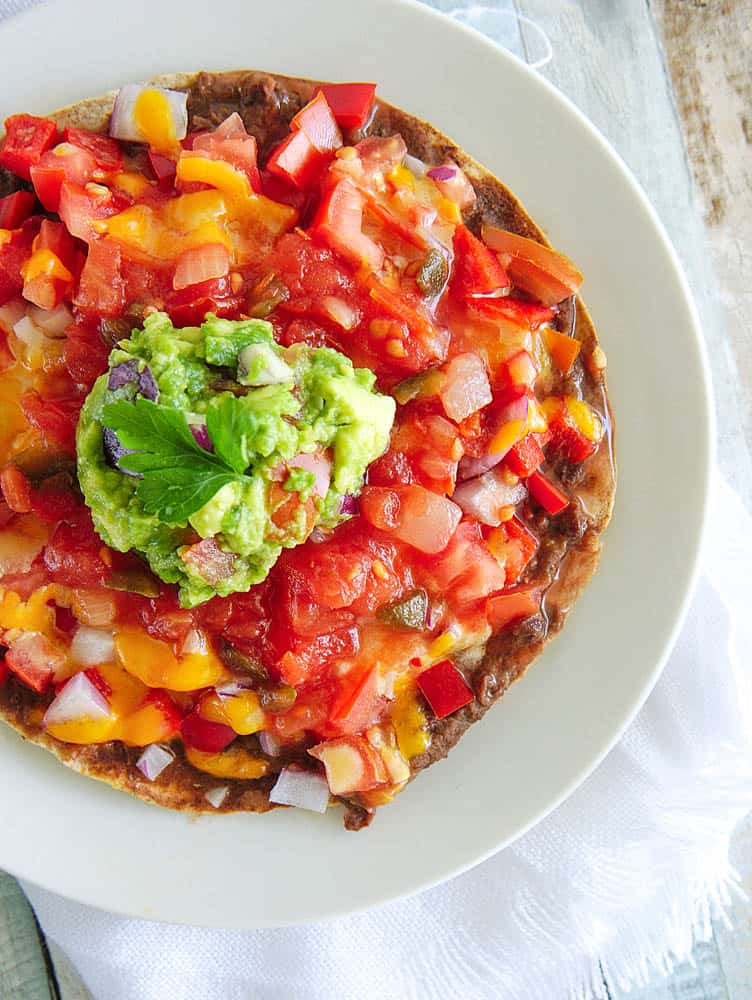 Sweet Potato Tacos
These hearty sweet potato tacos make a healthy meal for picky eaters! They are loaded with refried black beans, veggies, and topped with a spicy Greek Yogurt taco sauce. They're gluten-free, easily made vegan, healthy, delicious and super family-friendly!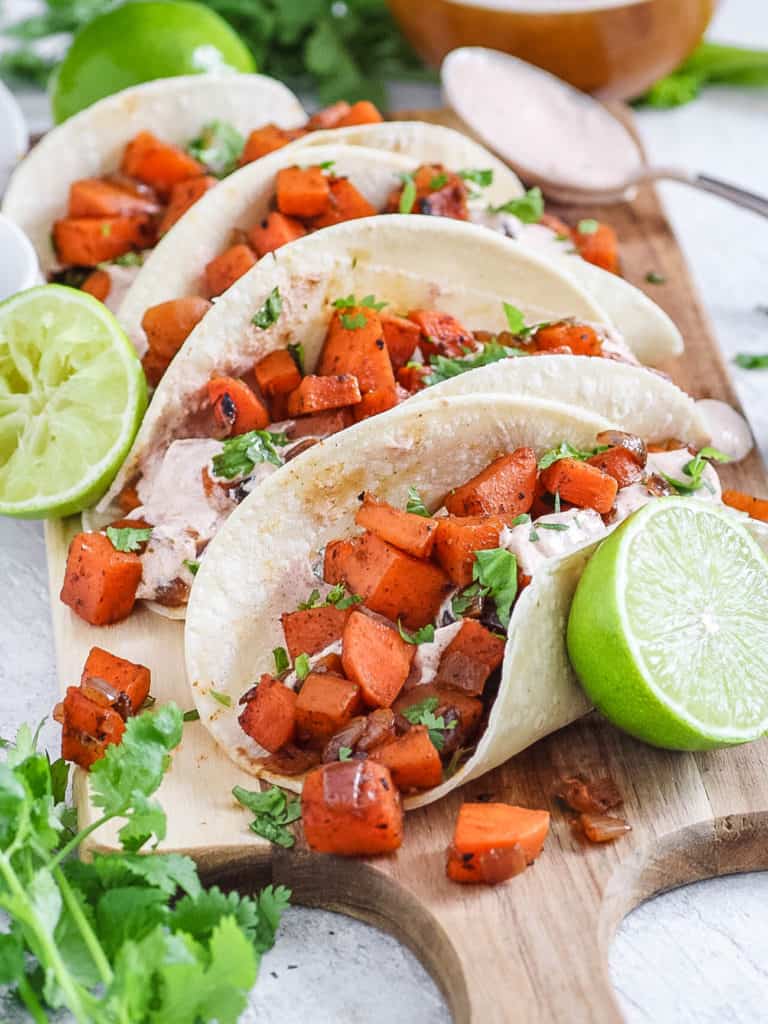 Gourmet Peanut Butter Sandwich
It's time that the humble peanut butter sandwich got a facelift – and a healthy one at that! These grilled banana peanut butter sandwiches are an elevated, gourmet version of a classic, with walnuts and spices for a tasty and nutritious bite. Super kid-friendly, ready in 15 minutes!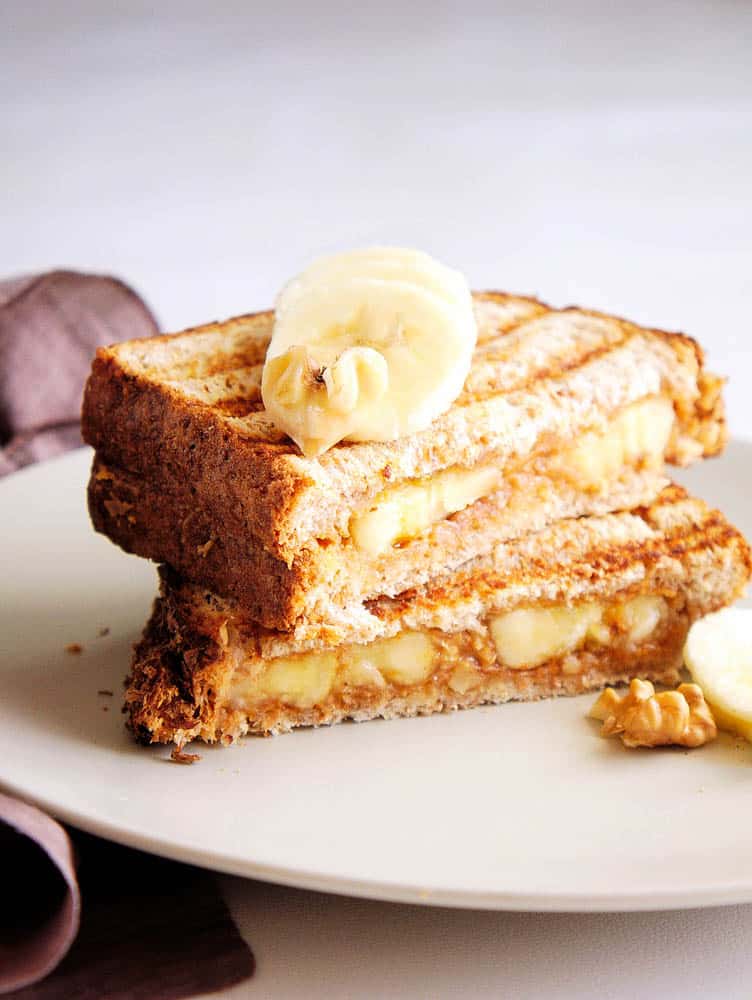 With just a little bit of creativity and mindfulness, you can come up with a lot of great, healthy substitutions that still give you all the flavor and deliciousness of foods you love. And the benefit is completely worth it: you'll get a meal that's higher in nutritional value and that's lower in calories and unhealthy ingredients!
And remember, getting picky eaters to try different foods takes time — so try not to get discouraged and be patient! With daily consistency, your kids will begin to try healthier foods and your dinner table will become a much more peaceful environment!
More Posts For Picky Eaters!
If you have tried any of these healthy meals for picky eaters, or any other recipe on my blog, then please rate it and let me know how it turned out in the comments below! And if you're looking for more healthy meals for picky eaters, check out my new cookbook here!
You can also FOLLOW ME on FACEBOOK, TWITTER, INSTAGRAM, and PINTEREST to see more delicious, healthy, family friendly food!
26 responses to "Healthy Meals for Picky Eaters with Simple Food Swaps"