30 Minute Vegetarian Meals for Busy Weeknights
This post may contain affiliate links. As an Amazon Associate, I earn from qualifying purchases. Please read my disclosure.
These quick and easy 30 minute vegetarian meals are your answer to healthy and nutritious weeknight dinner ideas! Plus, learn all my tips and tricks to making meals in a snap!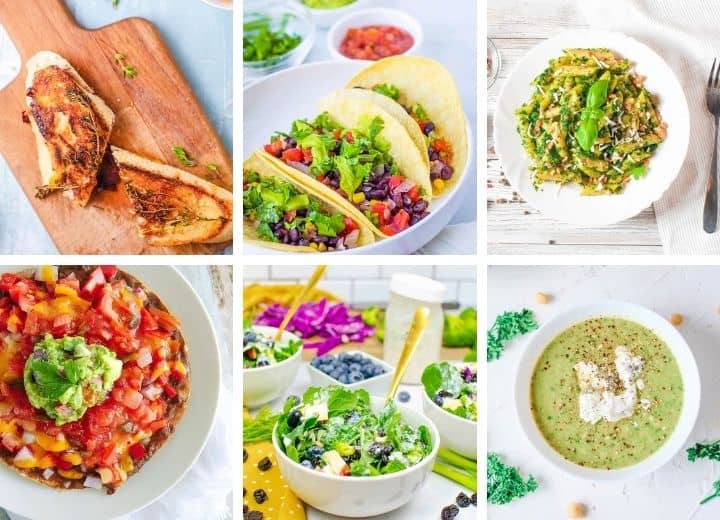 You know the feeling when you've come home from work, you've had a long day, but dinner needs to be made!
There are some nights when my energy is low, and my family is hungry! That's when simple 30 minute vegetarian meals are the answer to this common weeknight dilemma.
The infamous 30 minute meal is necessary! But sometimes it feels like even the so called 30 minute meal doesn't actually take that short amount of time.
By the time you gather the ingredients, chop the vegetables, and cook your meal, you've exceeded that 30 minute mark!
I loved watching Rachel Ray's 30 minute meals, and I'd watch in awe as she quickly and seamlessly gathered her ingredients, chopped her veggies like a pro, and prepared a meal in no time at all.
But she was a professional, and I was just a home cook, or so I thought. Then I figured out that creating a 30 minute meal just took a little ingenuity.
With these tips and tricks, plus my favorite 30 minute vegetarian meals, you'll have simple to make dinners that are family friendly, easy, and absolutely delicious!
Top Tips for Making 30 Minute Vegetarian Meals
Keep your cooking methods simple.
Stock your pantry with shelf stable go-to ingredients.
Wash and sort your groceries when you get home from the store.
Preheat your oven before you begin prepping the rest of your ingredients.
Use quick cooking vegetarian protein sources.
Gather all your ingredients before you begin cooking.
Use your 30 minutes efficiently. While one thing is cooking, prep another part of the recipe.
Use quick cooking shortcuts. For example, frozen vegetables, microwavable rice.
Use a garbage bowl.
Keep Your Cooking Method Simple
The 30 minute meal is not the time to try out a new cooking technique! It's also not the best time to decide to work with a new and unusual ingredient. Instead, stick to the basics, and follow easy and familiar recipes.
Opt for one pot meals, Instant Pot dinners, or sheet pan meals. These are easy and quick to pull off!
Stock Your Pantry with Vegetarian Essentials
When it comes to quick and easy 30 minute vegetarian meals on busy weeknights, it's essential that you have a stocked pantry with quick cooking ingredients.
What you choose to have in your healthy pantry will depend on the types of foods you enjoy eating. For example, if you enjoy Mexican recipes, keep salsa, taco shells, and refried beans. If you love Italian, make sure you have pasta, marinara sauce, canned tomatoes, and olive oil. However, for vegetarian meals there are some essentials.
30 Minute Vegetarian Meals: Essential Pantry Ingredients
Oils, vinegars, and condiments
A variety of spices
Canned goods (tomatoes, beans, broth, coconut milk, nut butters)
Grains and legumes (brown rice, whole wheat pasta, legume pasta, oats, lentils, breads, and tortillas)
Nuts, seeds, dried fruit
Prepare Your Vegetables in Advance
When you get home from the grocery store, the last thing you probably want to do is wash and prepare your vegetables. However, taking the time to do it as soon as you get home will save you tons of time during the week.
It should only take you about 30 minutes, and will make your weekday cooking a breeze. Wash your lettuce, clean your produce, and chop an onion. Not only does this speed up weekday prep, your vegetables will also last longer, and you're more likely to use them, if they're ready to go!
Preheat Your Oven
This might seem like a no brainer, but if you're using your oven, be sure to preheat it as your very first step! Don't begin prepping anything else until you've preheated your oven. Especially if you need a high temperature. You can waste a lot of time waiting for your oven to get hot enough to cook your meal!
Same goes for boiling water. If you're making something that requires boiling water, like pasta, make that your first step.
Use Quick Cooking Vegetarian Protein Sources
While I love cooking dried beans, it takes a lot of time. Instead, use canned beans, or cook your beans on the weekend, and store in the refrigerator so they're ready to go!
Other quick cooking vegetarian protein sources include lentils, tofu, tempeh, chickpeas, and eggs.
Take Out All Your Ingredients and Equipment
Before you begin cooking gather all of the ingredients as well as any tools and equipment and place them at your work space. Use a large baking pan to place all of your ingredients into so you're not trying to balance everything in your arms!
This saves you time going back and forth to the refrigerator or the pantry to grab an item.
Use Your Time Efficiently
While it's a great idea in theory to prep all your vegetables, and measure all of your ingredients, when you're making a 30 minute meal, this can actually take you more time!
Instead, while one part of the recipe is cooking, prep the next part. For example, while you're pasta is boiling, make the sauce. Or while your vegetables are roasting, prepare the vinaigrette.
It's Okay to Use Shortcuts
When you're making 30 minute vegetarian meals, it's totally okay to use shortcuts. Not everything you prepare has to be made from scratch. For example, you can use frozen stir fried vegetables that are already chopped. Or prepared pizza dough for a homemade pizza.
This also applies to prepared sauces, or quick flavor enhancers like soy sauce, dijon mustard, harissa, garlic paste, etc. These add tons of flavor without a lot of cooking time.
Use a Garbage Bowl
While you're gathering your equipment, grab a large bowl to fill with your garbage. Throw in your vegetable scraps, wrappers, seeds, or whatever else you accumulate while you're cooking. This will save you back and forth trips to the garbage can!
Now that you've got some tips and tricks to help you save time, and cook efficiently, here my favorite 30 minute vegetarian meals!
30 Minute Vegetarian Meals
Vegan Mushroom Stroganoff
This creamy vegan mushroom stroganoff is packed with fresh flavors. It's a warm, hearty, healthy and comforting recipe that comes together in less than 40 minutes. Perfect for a weeknight dinner, or a meal to impress your non-vegan friends and family!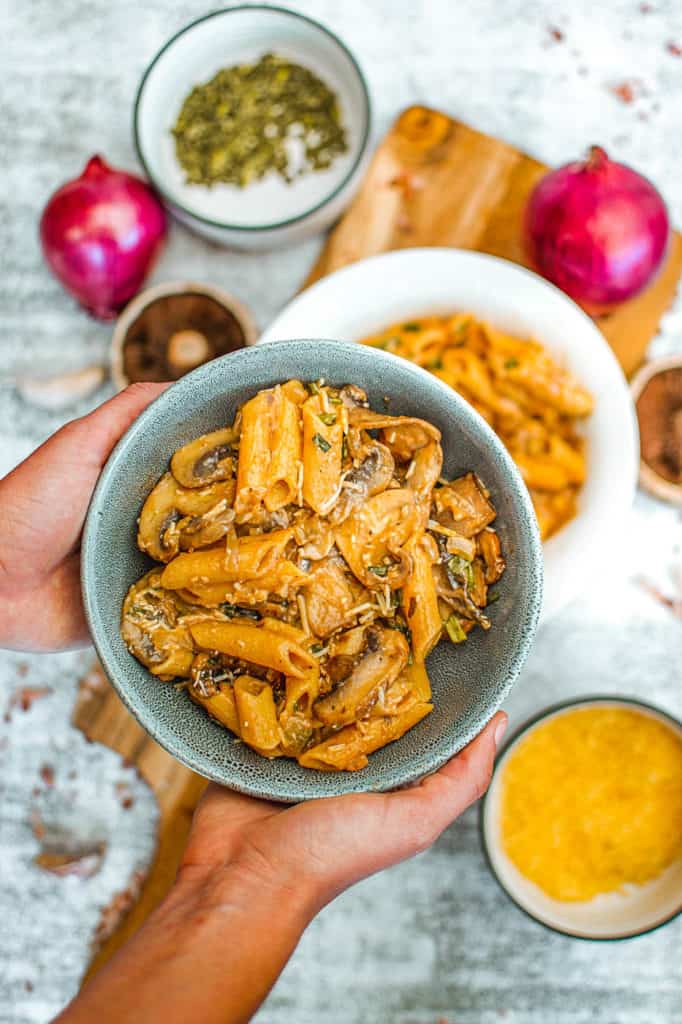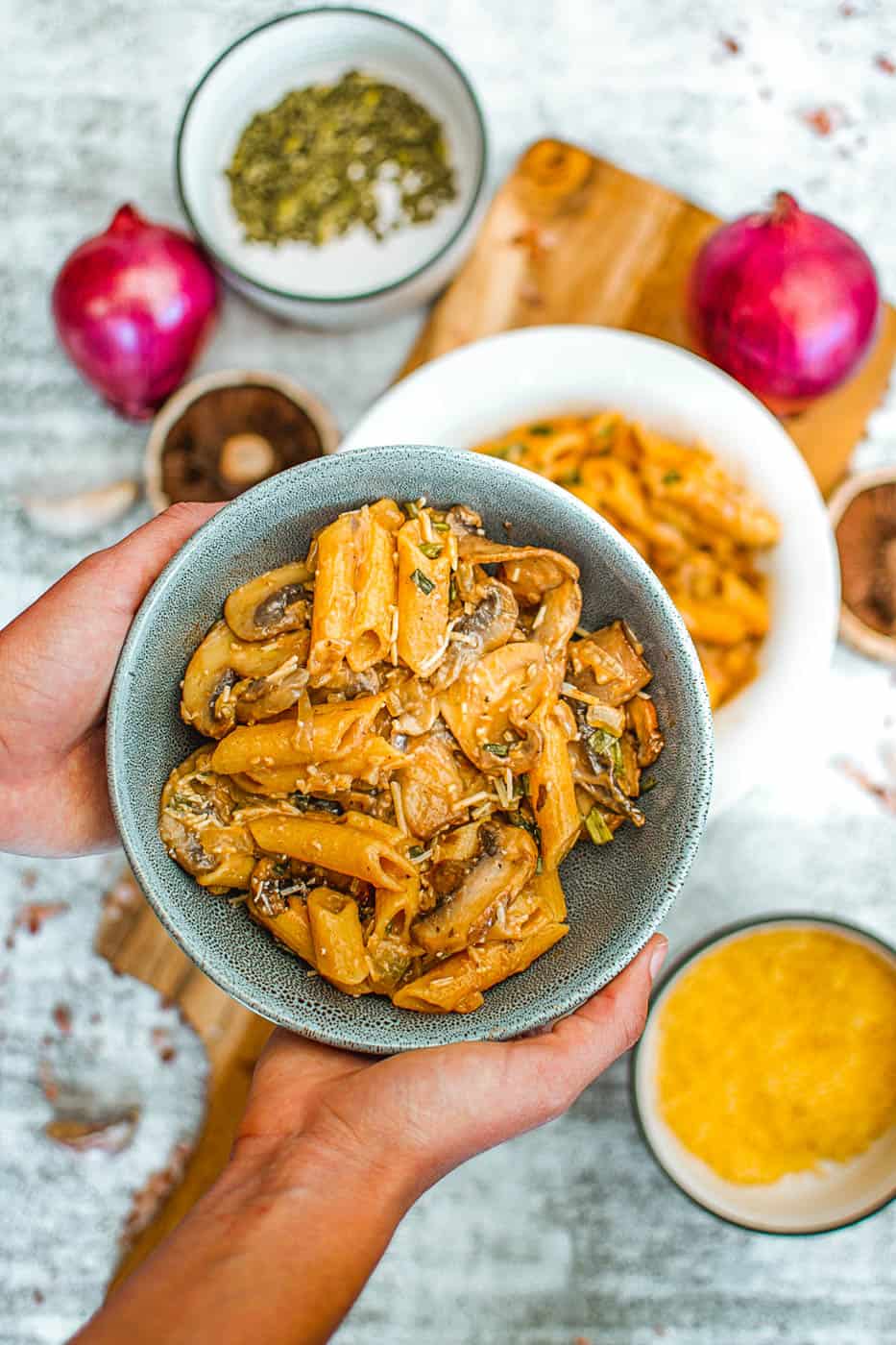 Cheese Polenta with Squash
This gluten free polenta recipe allows you to enjoy creamy and cheesy polenta without any of the guilt! Served with squash, corn and fresh herbs, this dish is easy, fresh, tasty and full of flavor.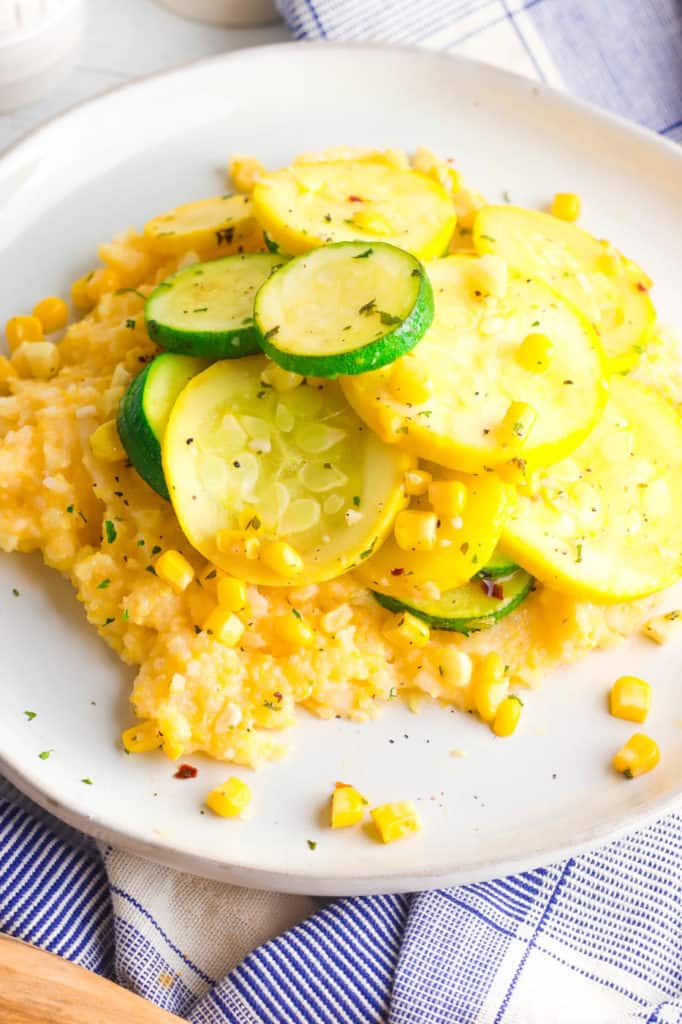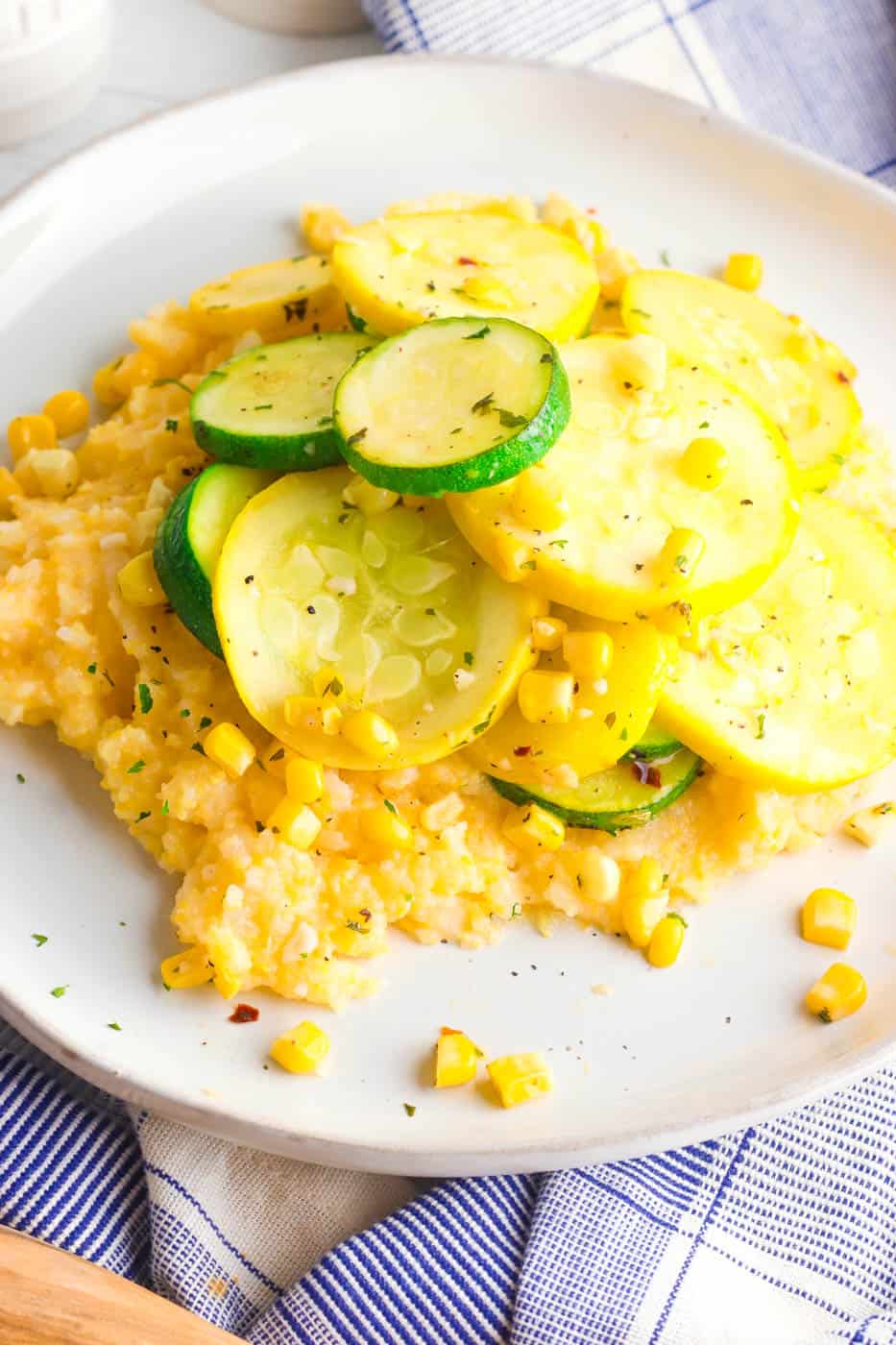 Southwestern Tofu Scramble
This incredible Tofu Scramble is loaded with lots of healthy veggies, beans, warm spices, and cheese. It's the perfect 30-minute breakfast, brunch or dinner idea that the whole family will love. If you're looking for a vegan friendly alternative to scrambled eggs, this easy tofu scramble is for you!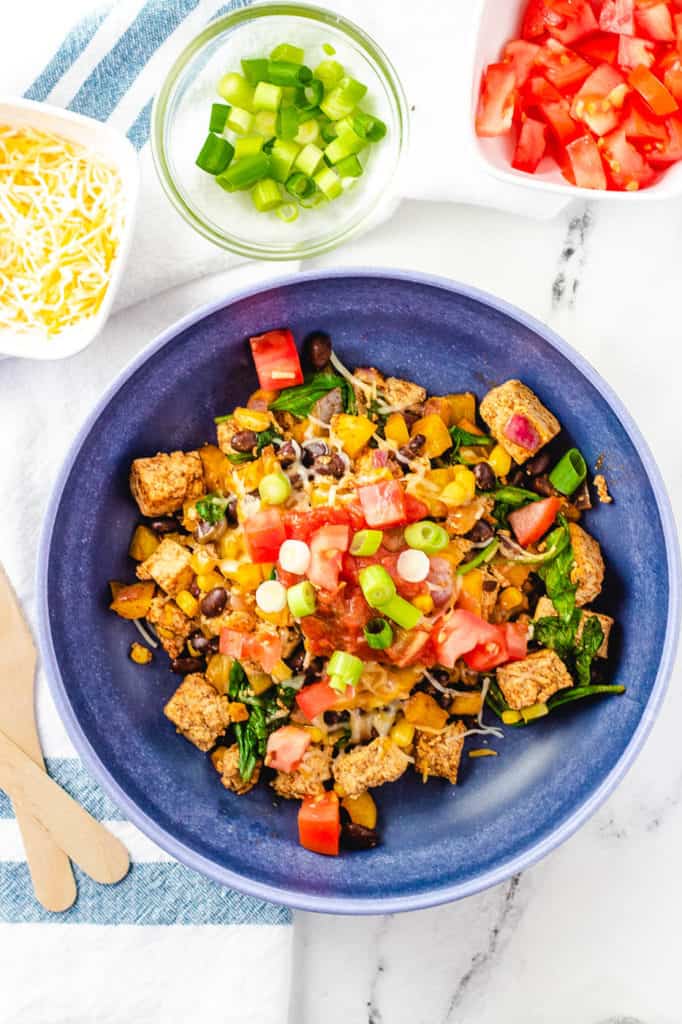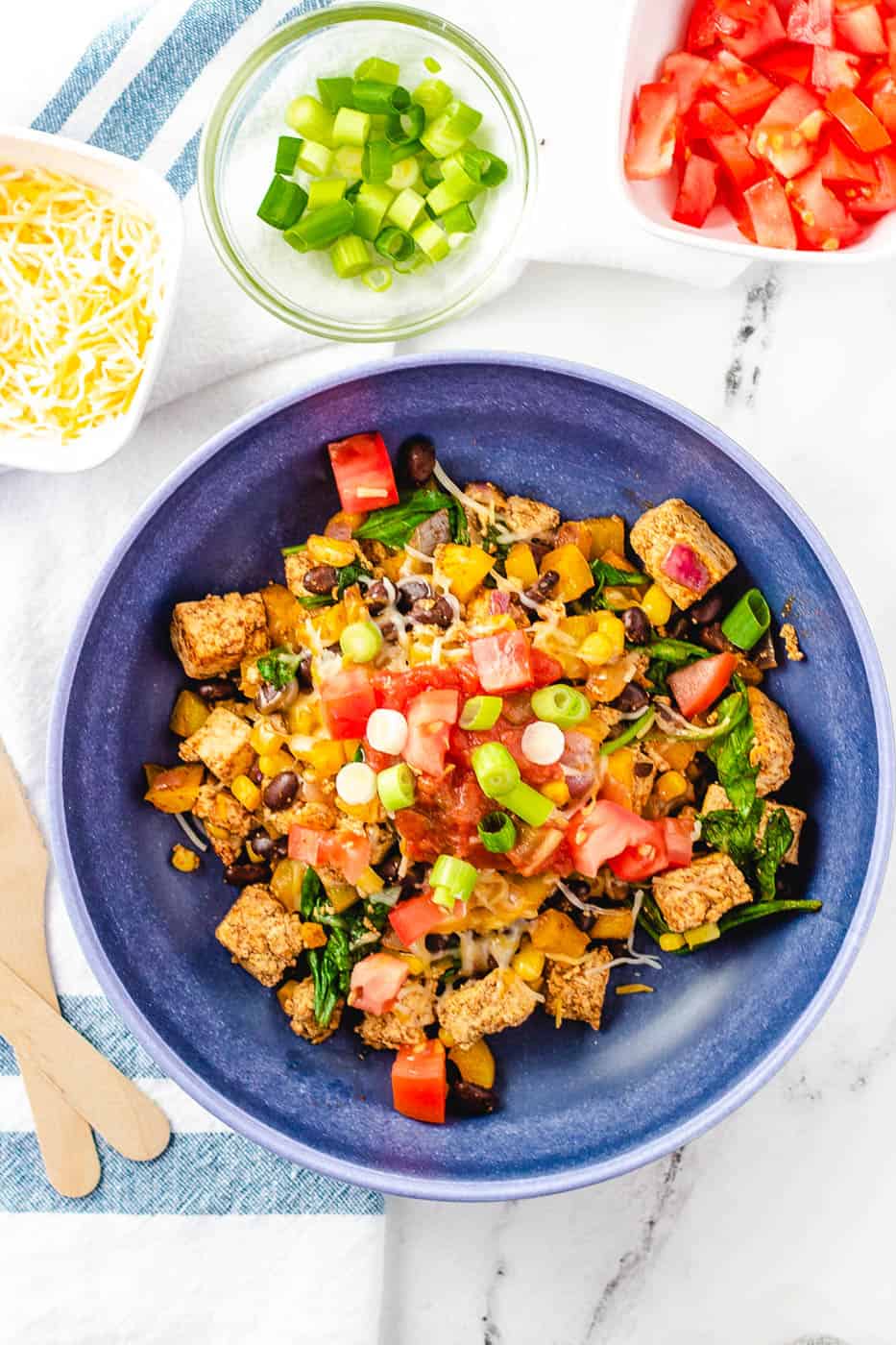 Vegan Matar Paneer
This healthy version of matar paneer (made with tofu paneer!) is so rich and comforting it pretty much melts in your mouth when you take a bite of it. Made with only five ingredients, you can enjoy gourmet, restaurant-quality Indian food at home in just 20 minutes!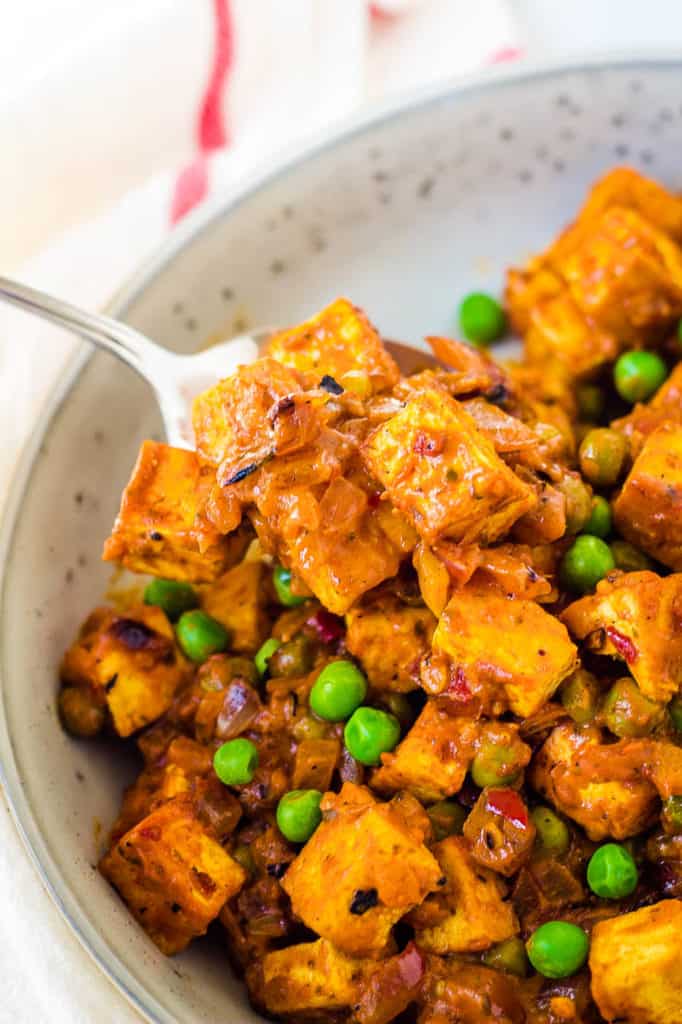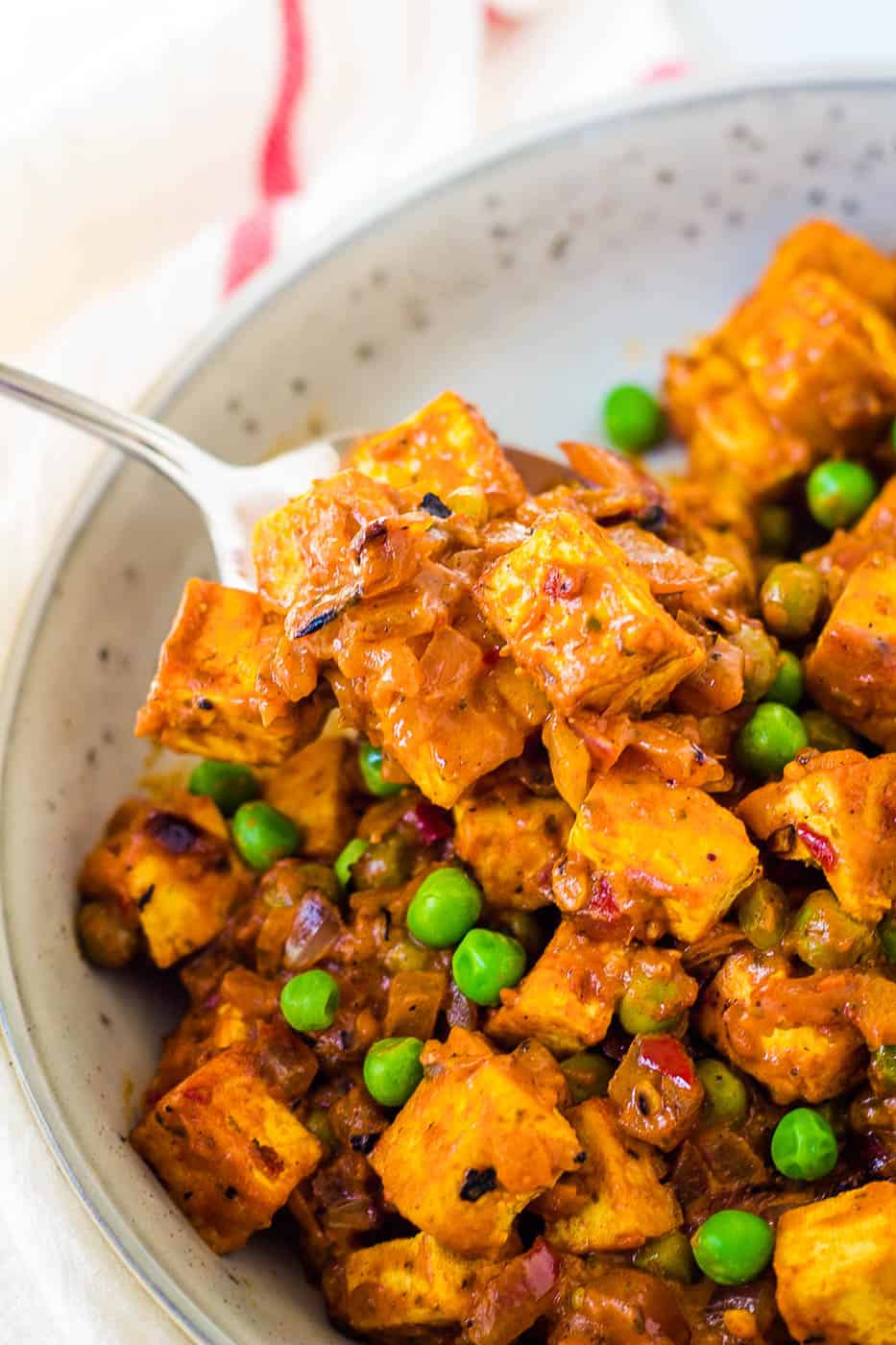 Superfood Salad
This Superfood Salad is going to be your new favorite dish! It's filled with broccoli, blueberries, sweet Fuji apples, cabbage, spinach, dried cherries, pine nuts, and a healthy, homemade ranch dressing. Ready in just 15 minutes, it's the perfect healthy lunch or light dinner!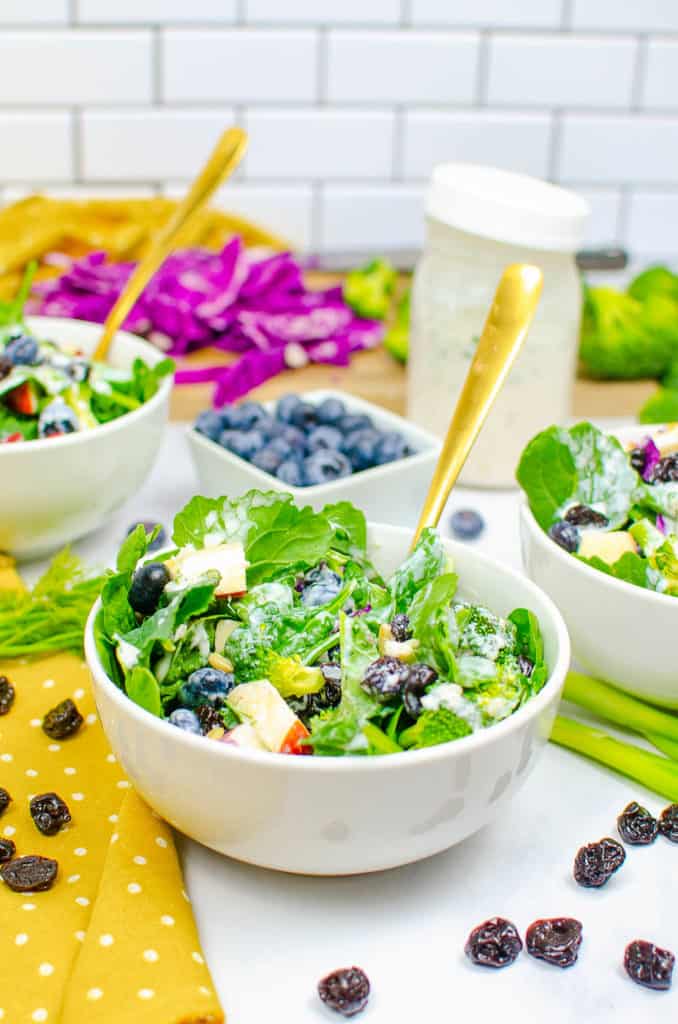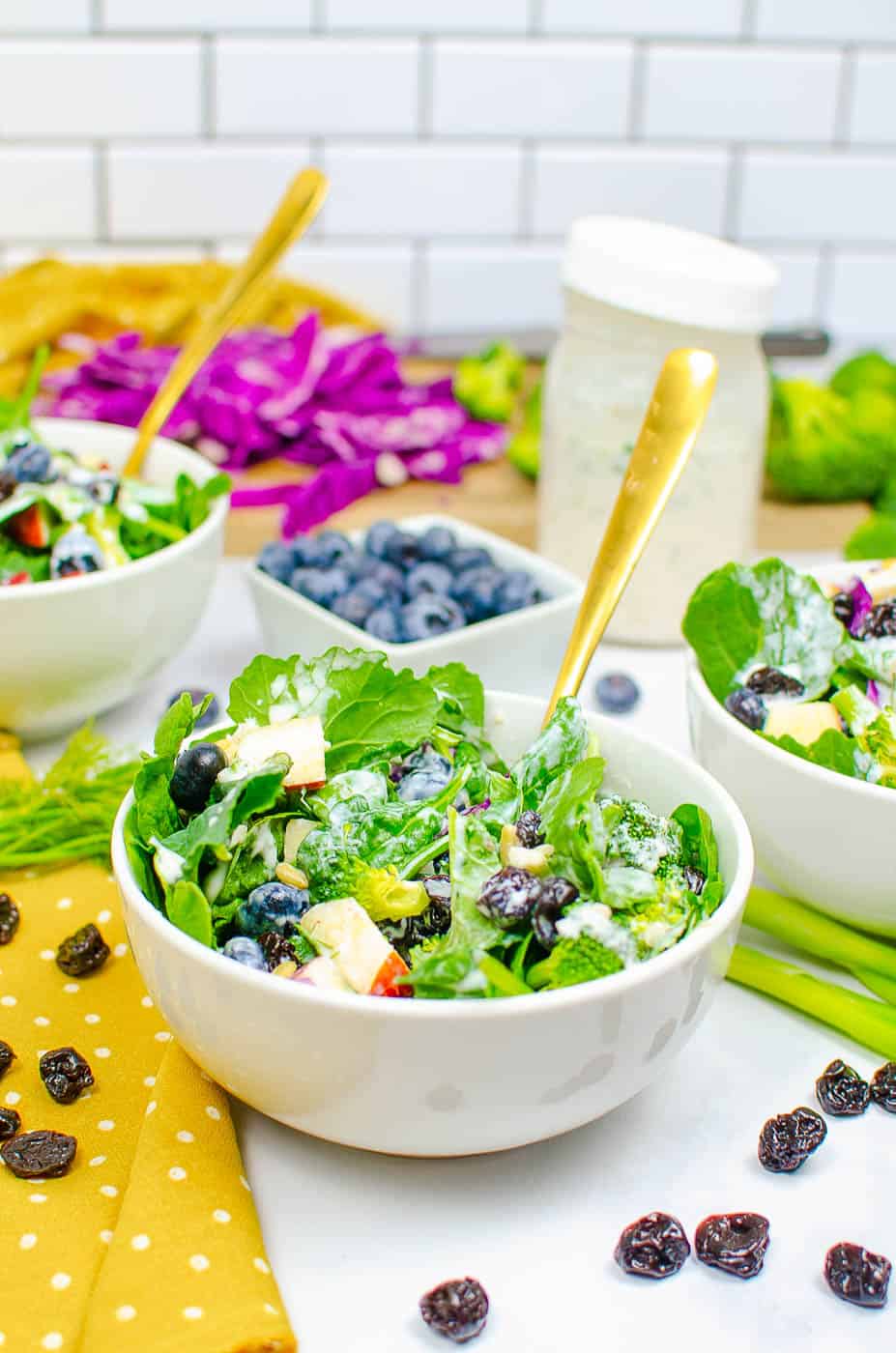 Vegetarian Fajitas
The aroma of these Smoky Vegetarian Fajitas will make you smack your lips and your stomach growl. Every bite is filled with lots of caramelized vegetables, spicy seasonings, protein-packed black beans, gooey Mexican cheese, and a crispy corn tortilla. Ready in 30 minutes and gluten-free too!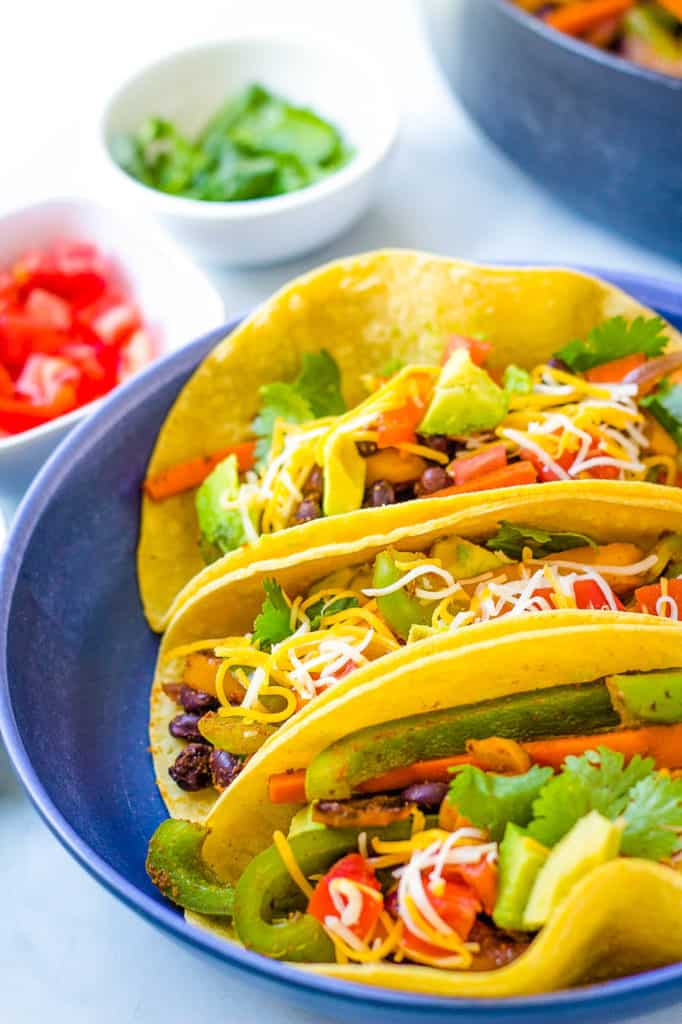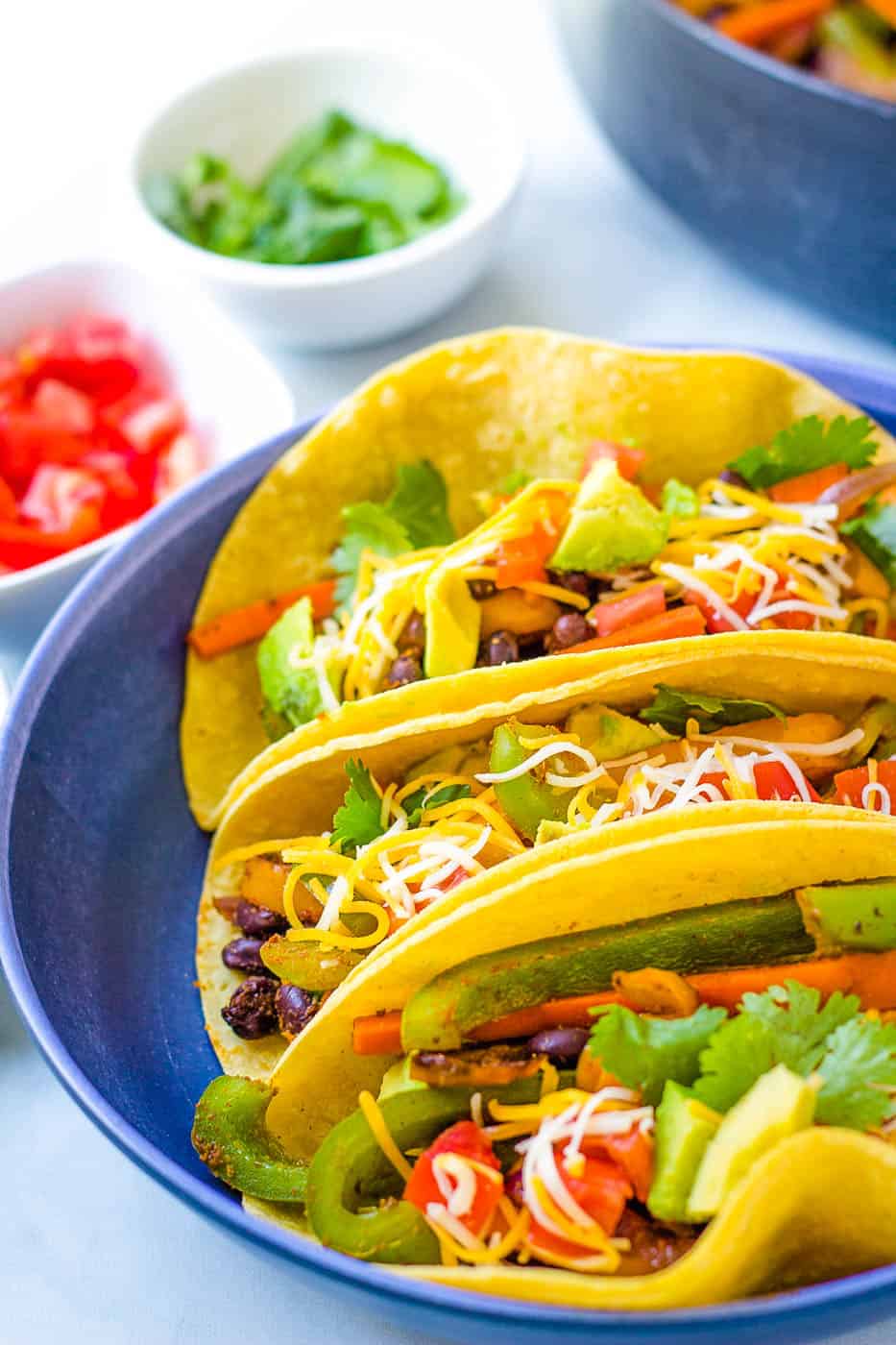 Pumpkin Sweet Potato Soup
This comforting Pumpkin and Sweet Potato Soup will warm you up, fill your belly, and tantalize your taste buds! The white beans give the soup a creamy taste and the pumpkin delivers a rich warmth that'll have you coming back for more. Healthy, vegan, gluten-free, delicious, and ready in 30 minutes!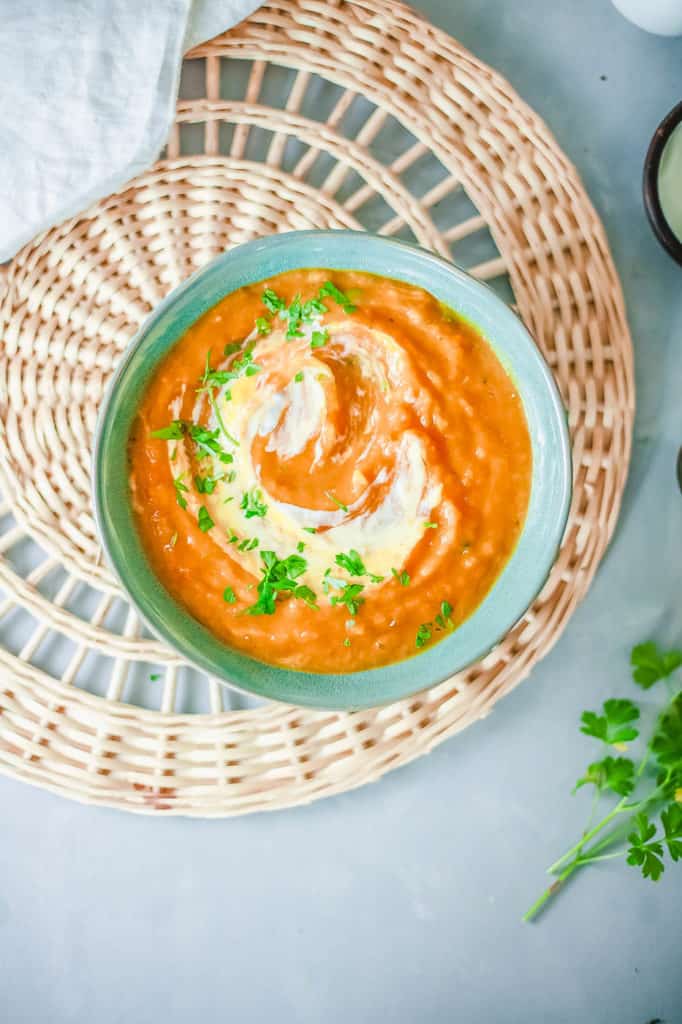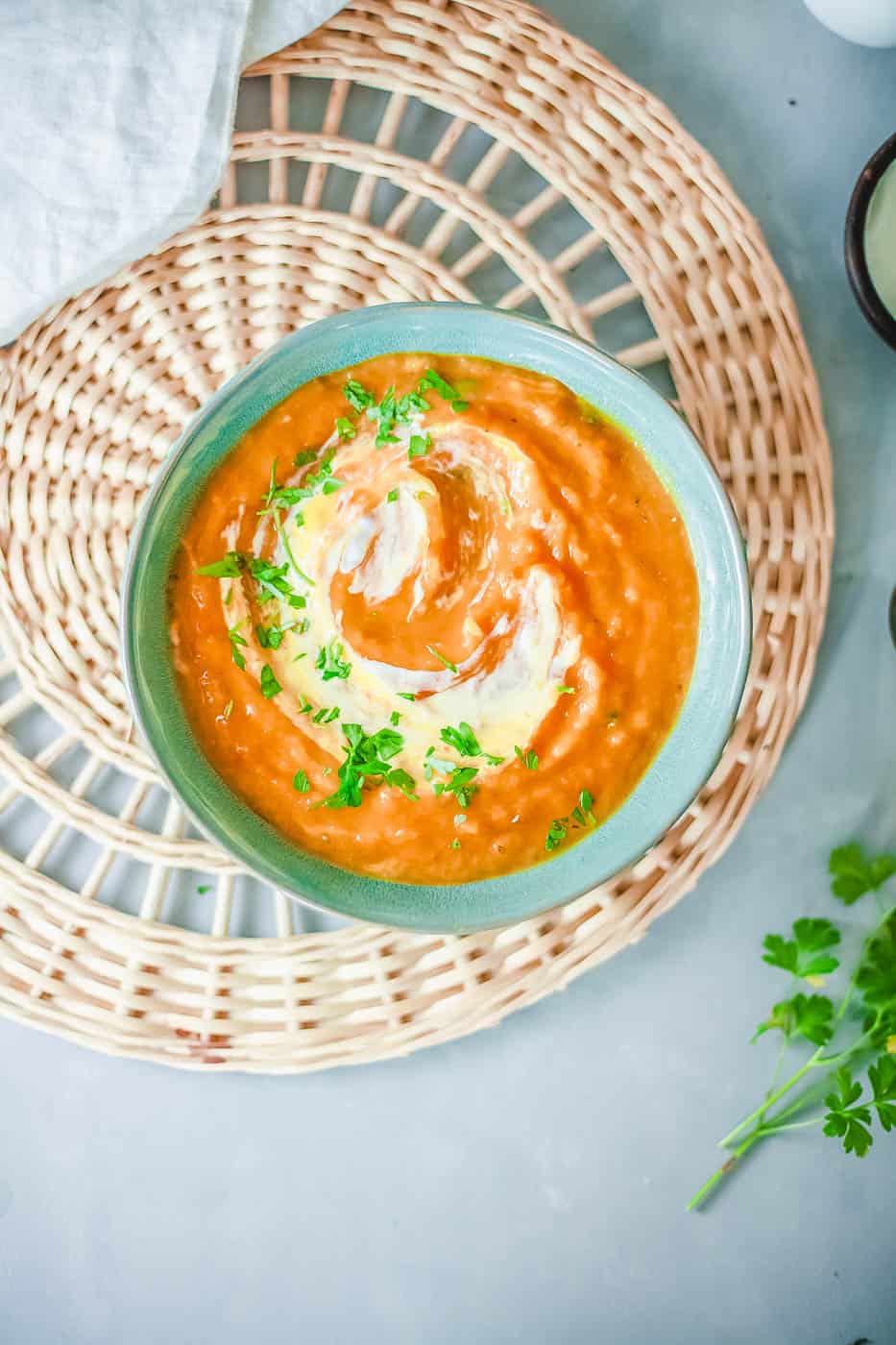 Egg Roll in a Bowl
We took out the insides of an egg roll, and put them in a bowl! It's easy to make, vegetarian, vegan, gluten-free, keto-friendly, and is ready in just 30 minutes. This vegetarian egg roll in a bowl recipe is a flavorful, healthy one-pan meal that the whole family will love!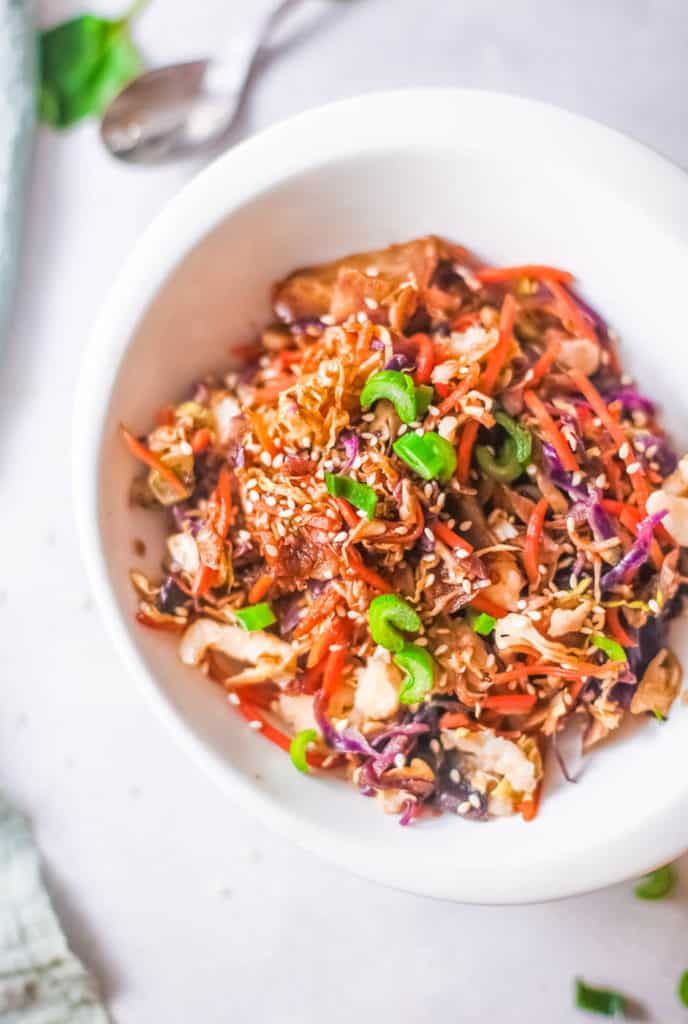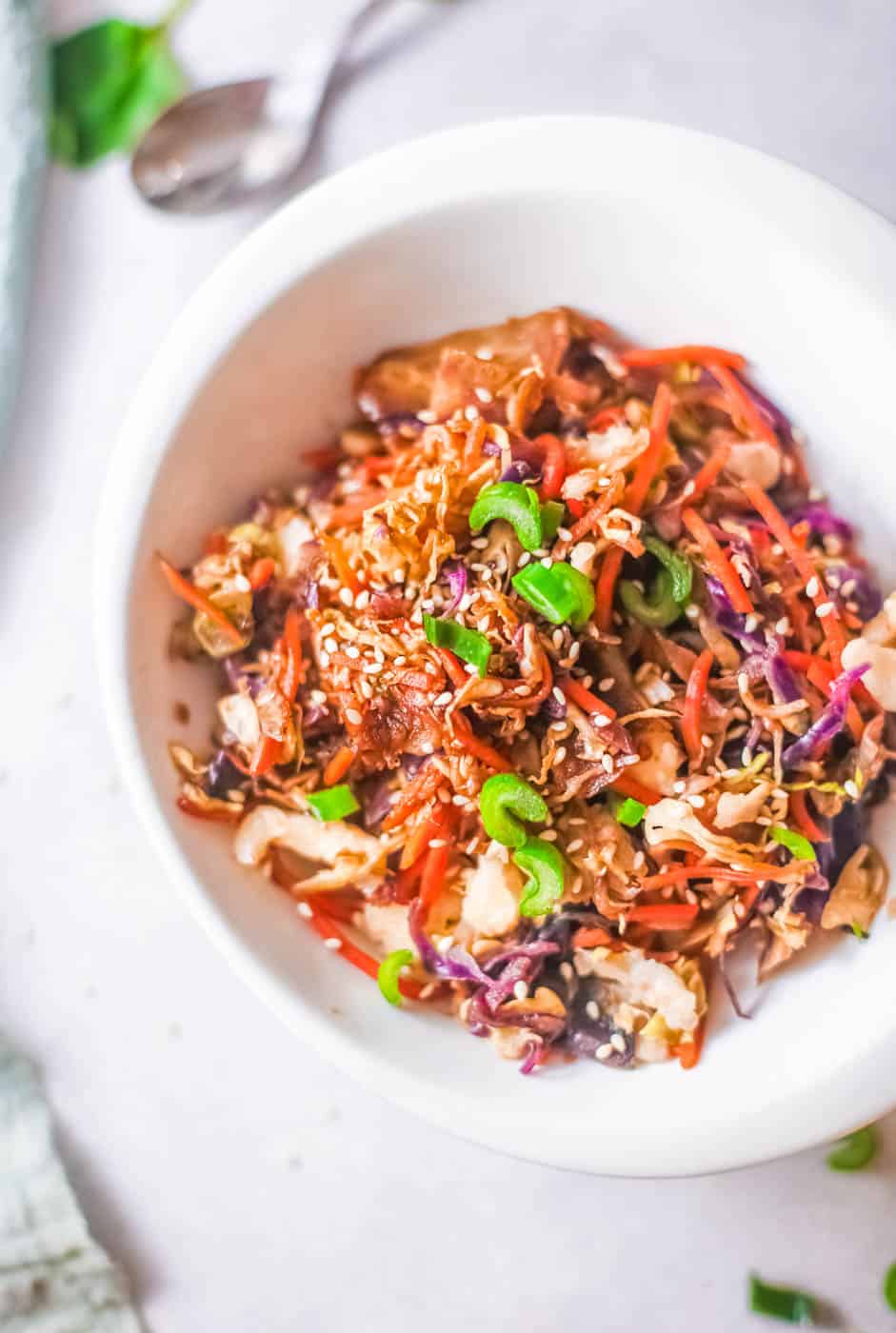 Vegan Tacos with Black Beans and Avocado
These healthy and delicious vegan tacos are great for an easy weeknight meal. Packed with black beans, veggies, and spices, they're full of flavor, ready in 30 minutes, and perfect for the whole family!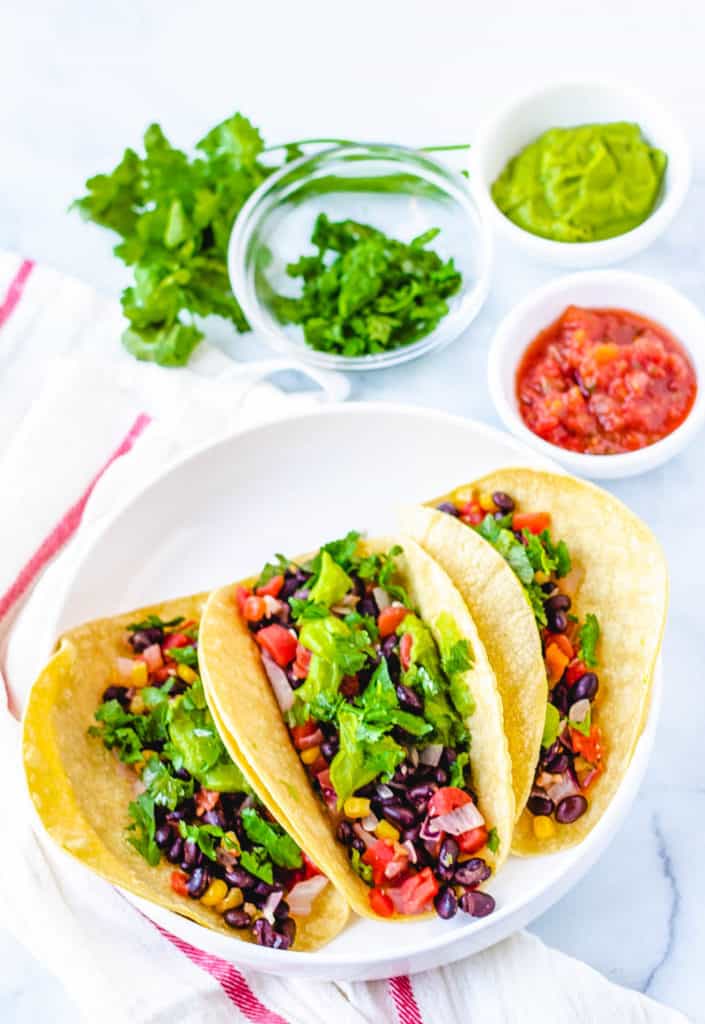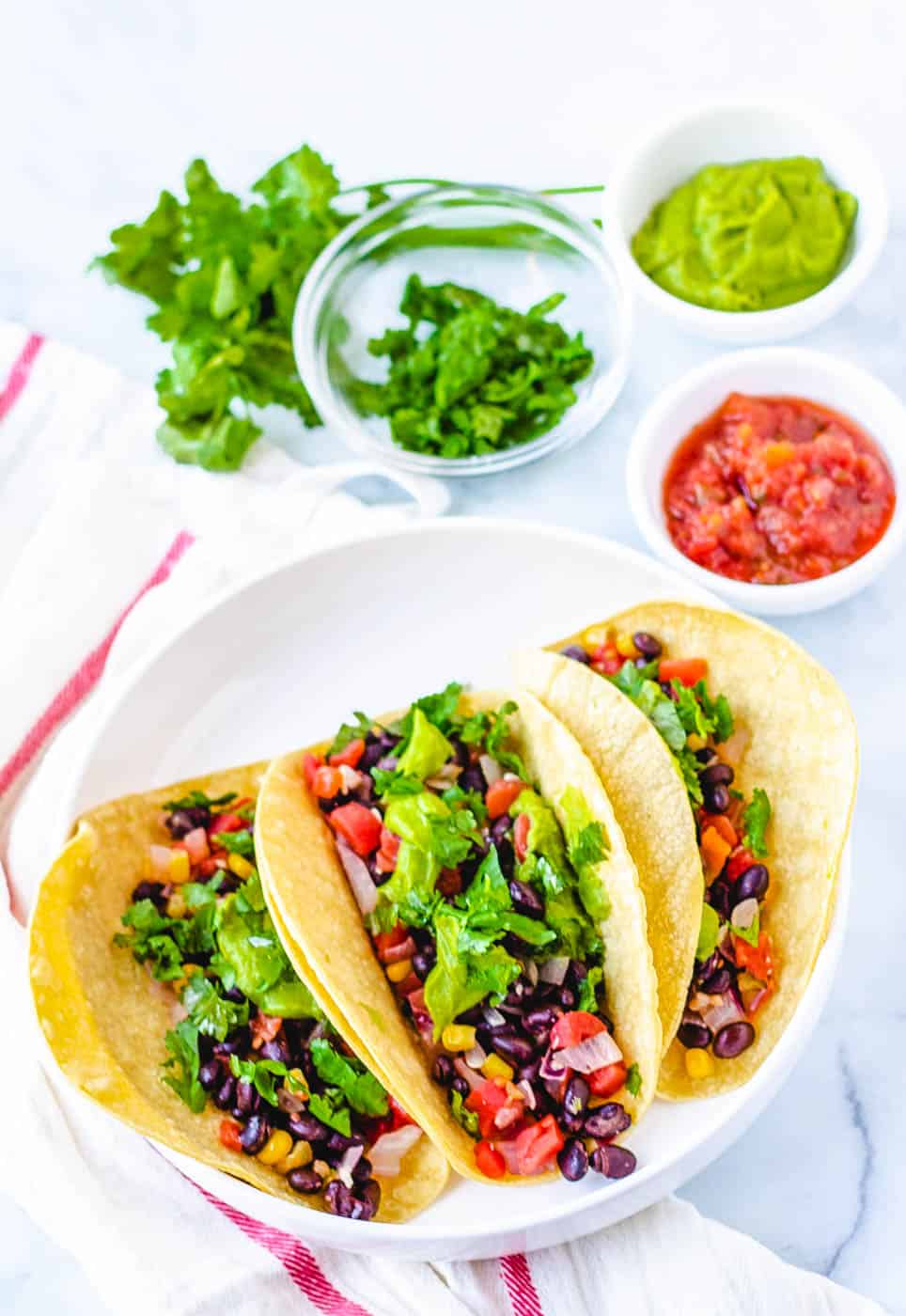 Healthy Homemade Pizza
This healthy homemade pizza is loaded with veggies, made with a whole grain crust, and topped with gooey mozzarella and fresh parmesan. Ready in 30 minutes and guaranteed to please even the pickiest eaters!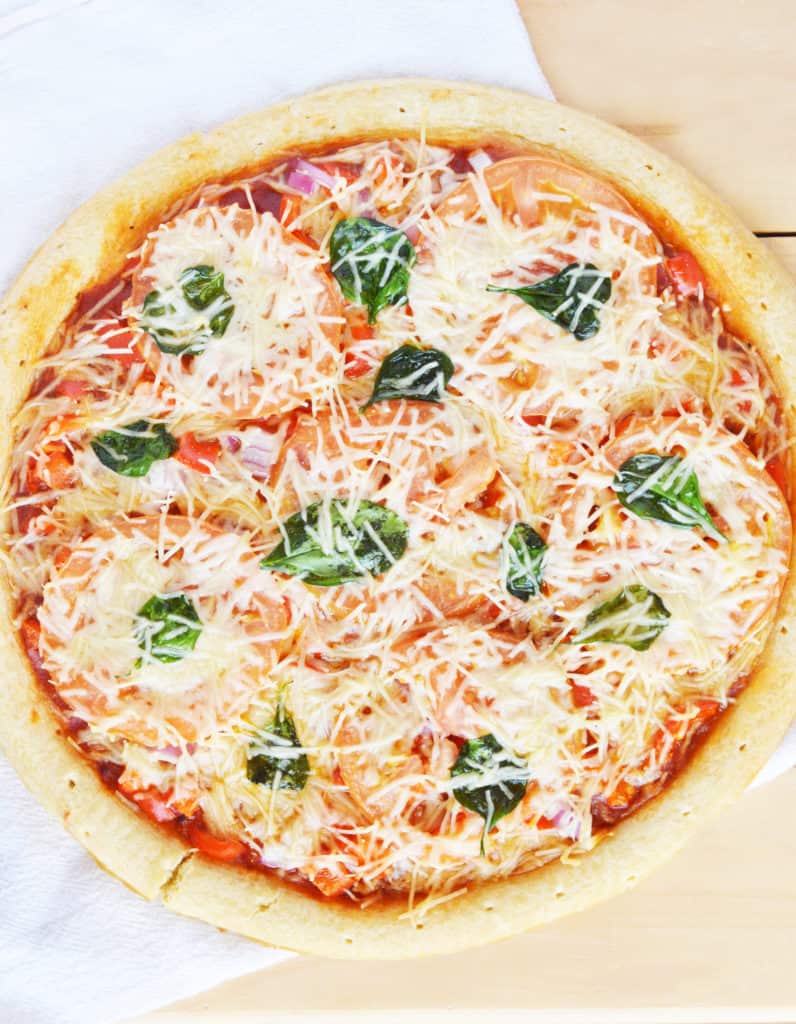 Asparagus Leek Soup
This asparagus and leek soup is made from scratch without cream or milk for a lightened up and healthy meal. It takes just 30 minutes to make and is perfect for the whole family to enjoy!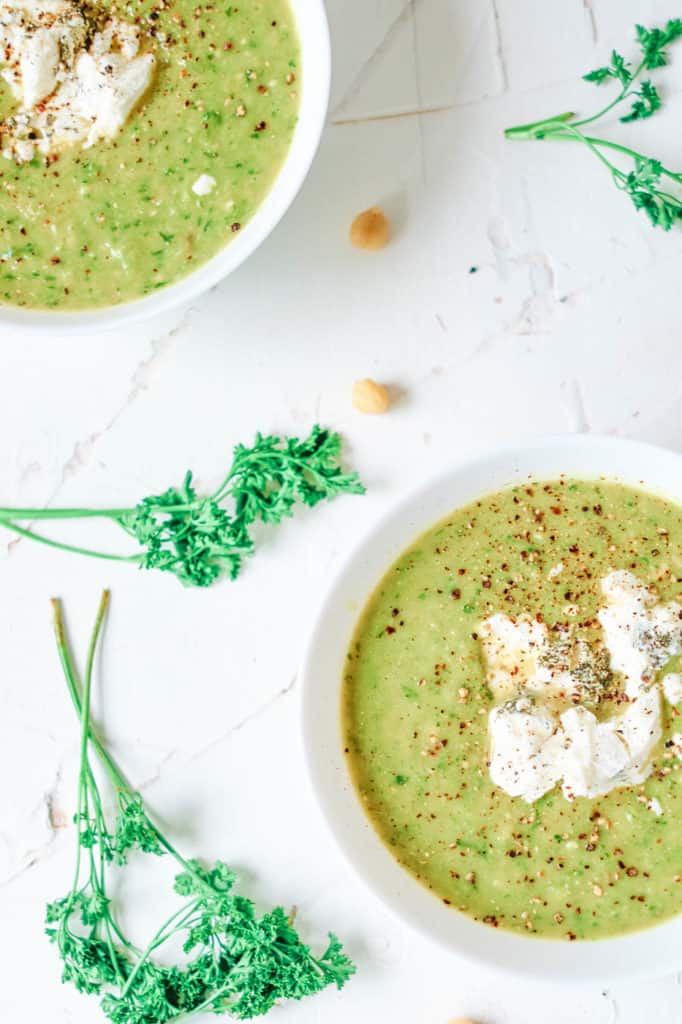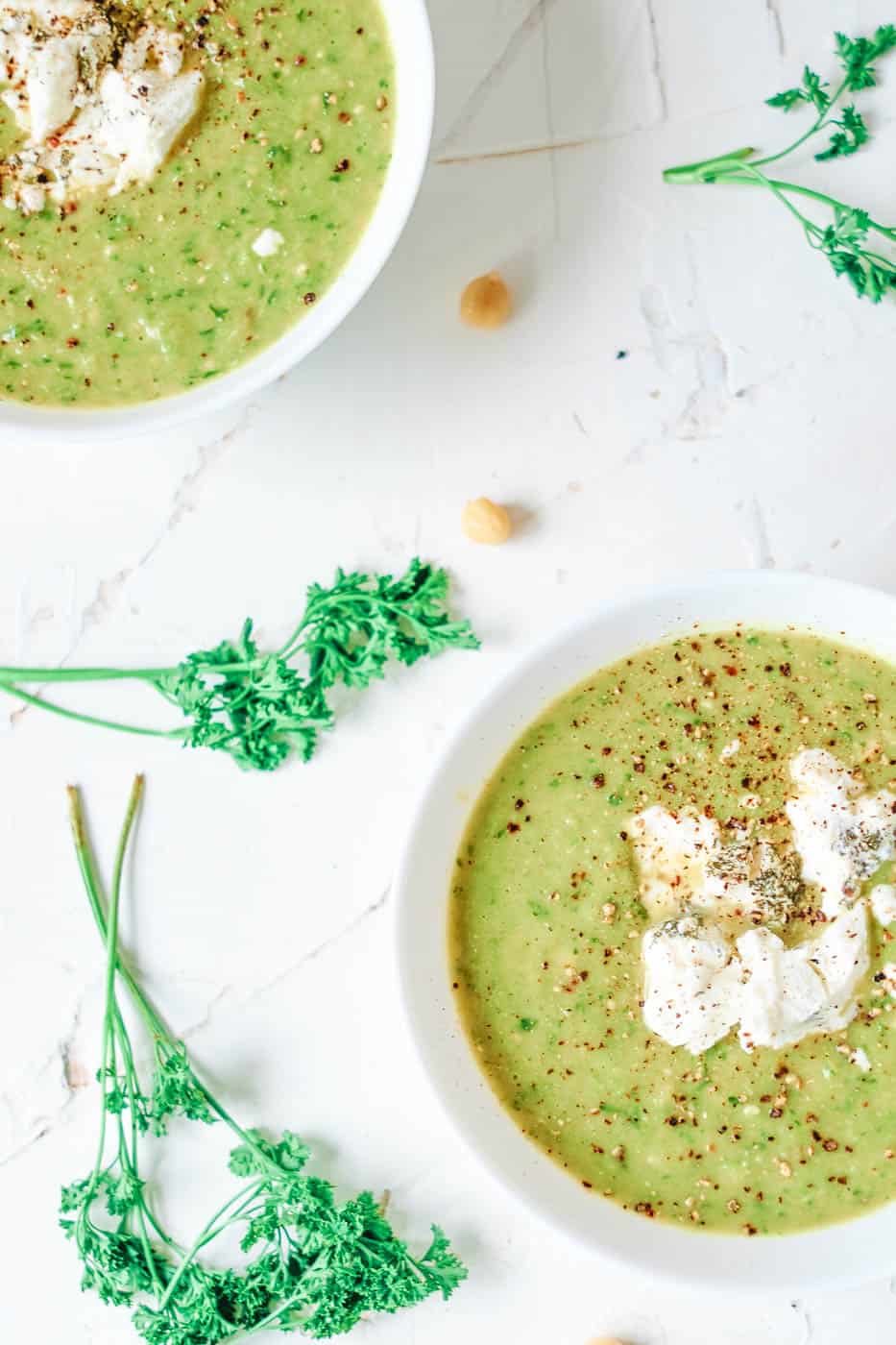 Vegetarian Pesto Pasta
Vegetarian Pesto Pasta made with spinach, herbs and whole wheat linguine is a quick and easy dinner recipe that comes together in 30 minutes. Every bite is bursting with flavor!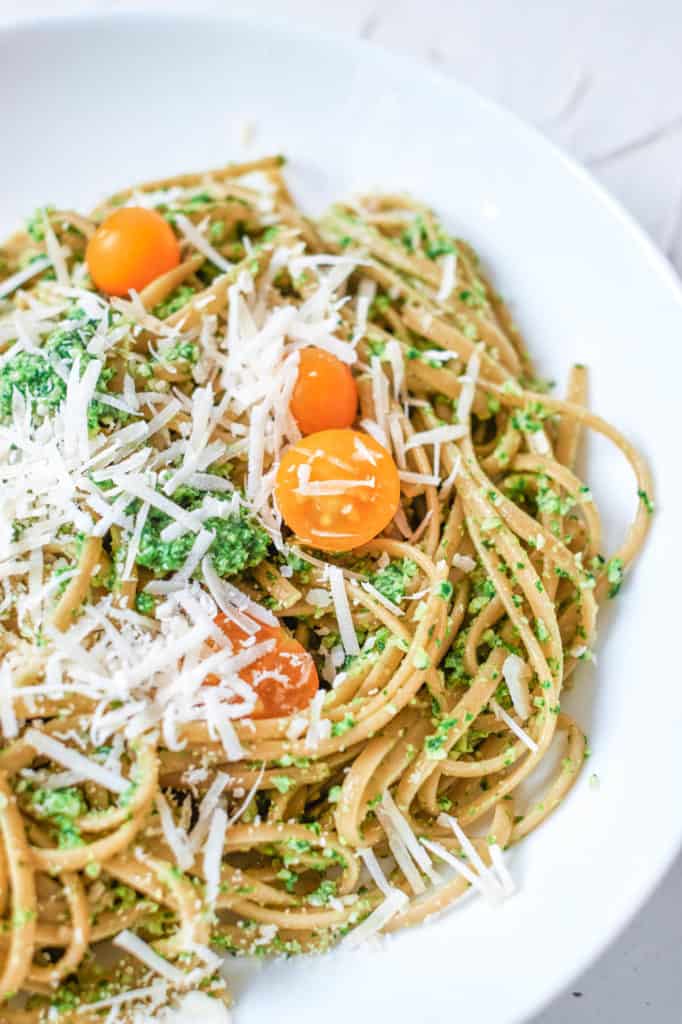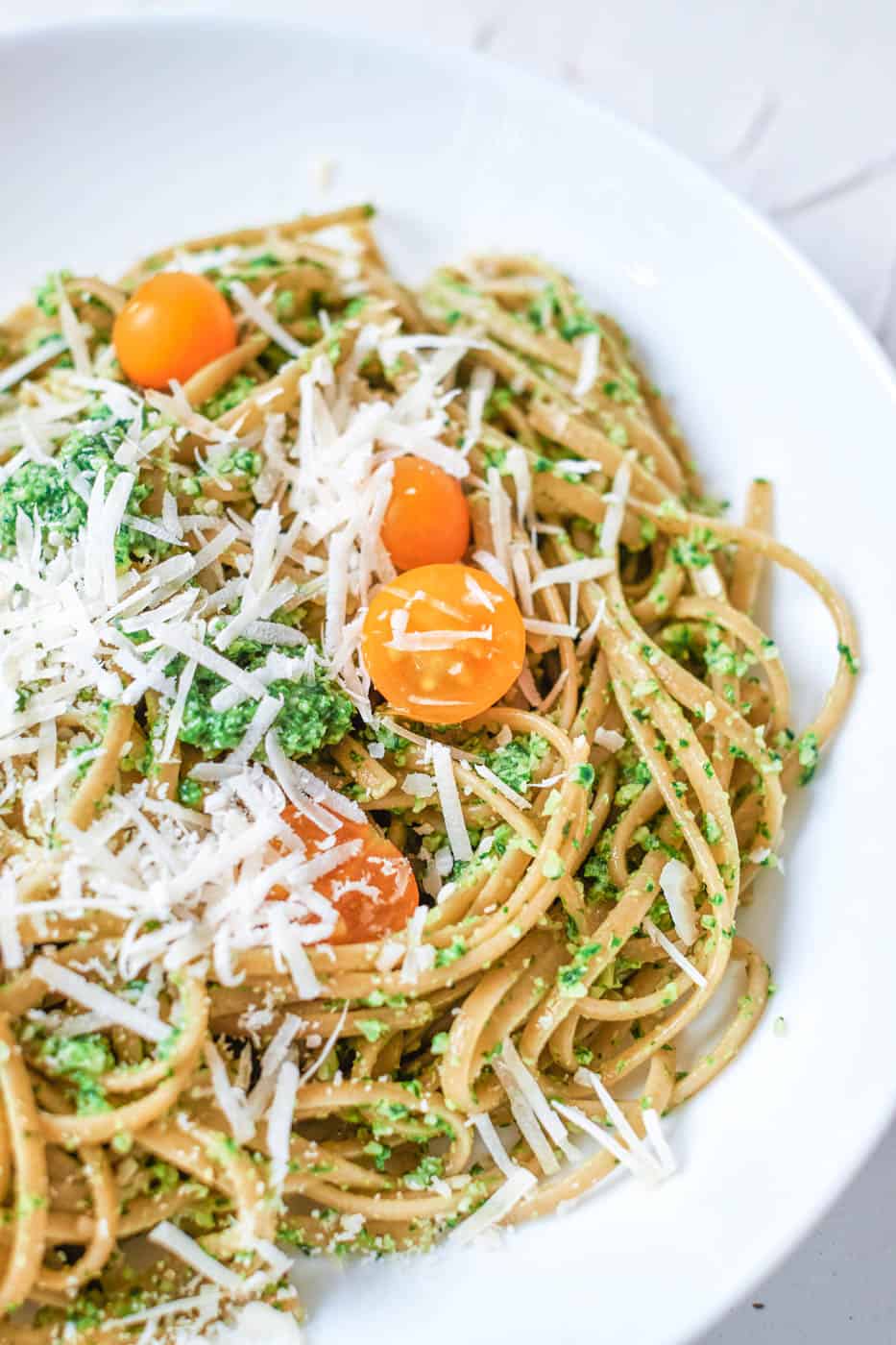 Vegan Bolognese
Our hearty and healthy vegan bolognese with lentils has great texture with the addition of walnuts and celery. It's an easy family friendly weeknight meal that's done in 30 minutes!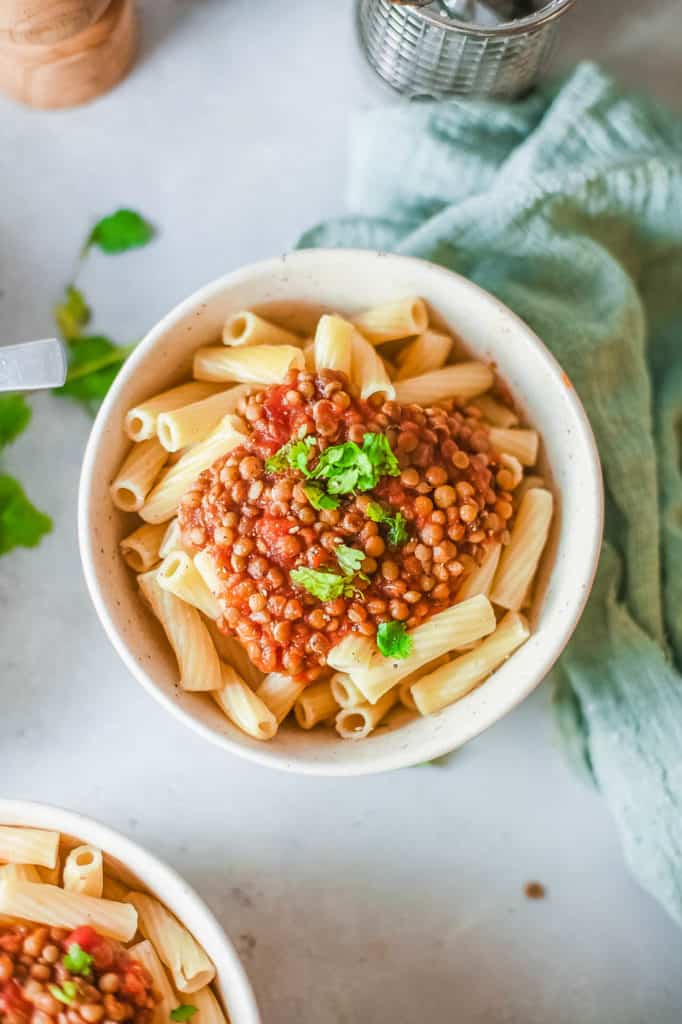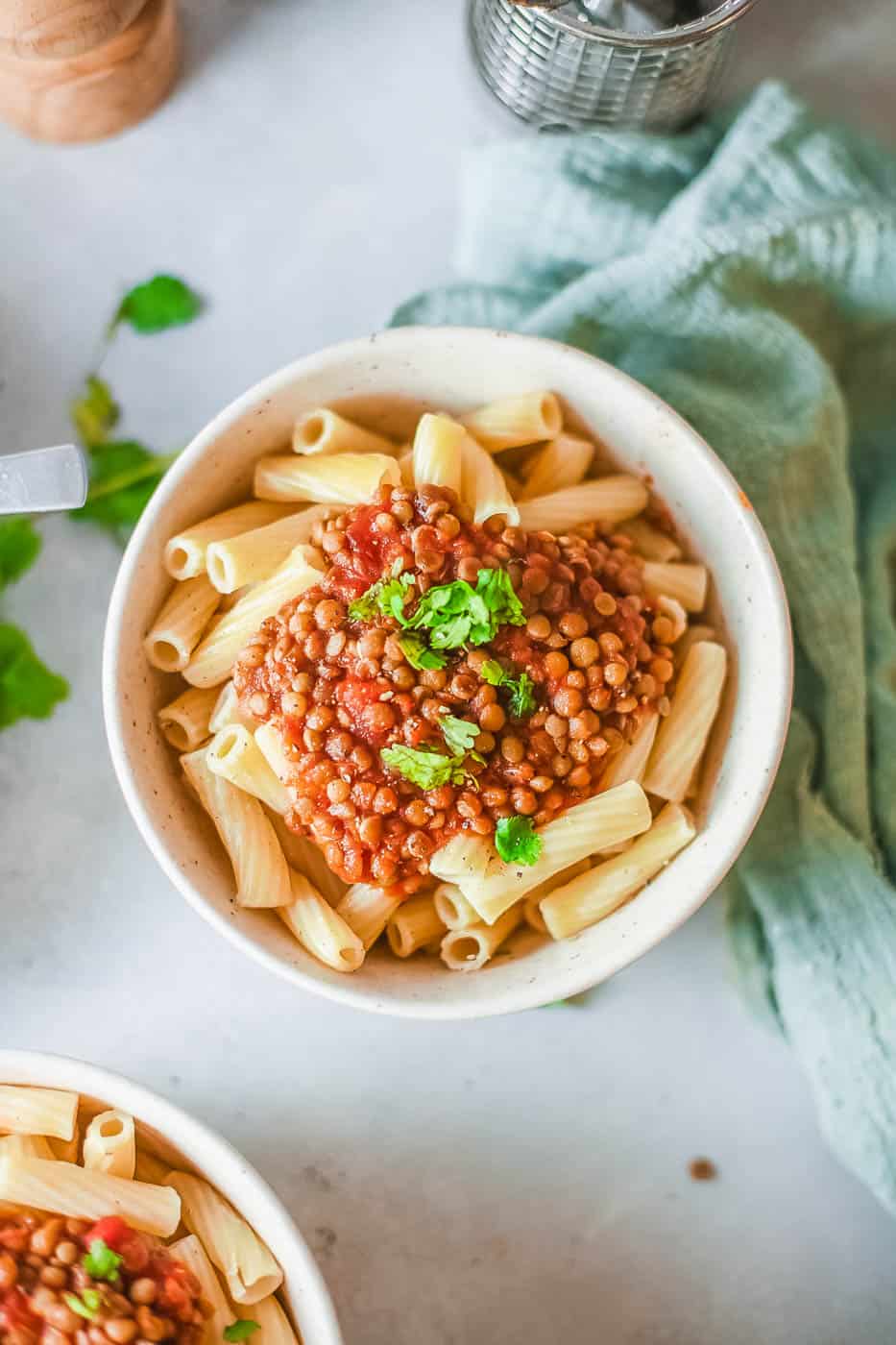 Healthy Copycat Taco Bell Pizza
This vegetarian copycat Taco Bell Mexican Pizza is a real treat, and you wouldn't guess that it's healthy! Low in calories, made with whole foods, and ready in less than 30 minutes: my version of this classic Taco Bell dish means you can enjoy it without the guilt!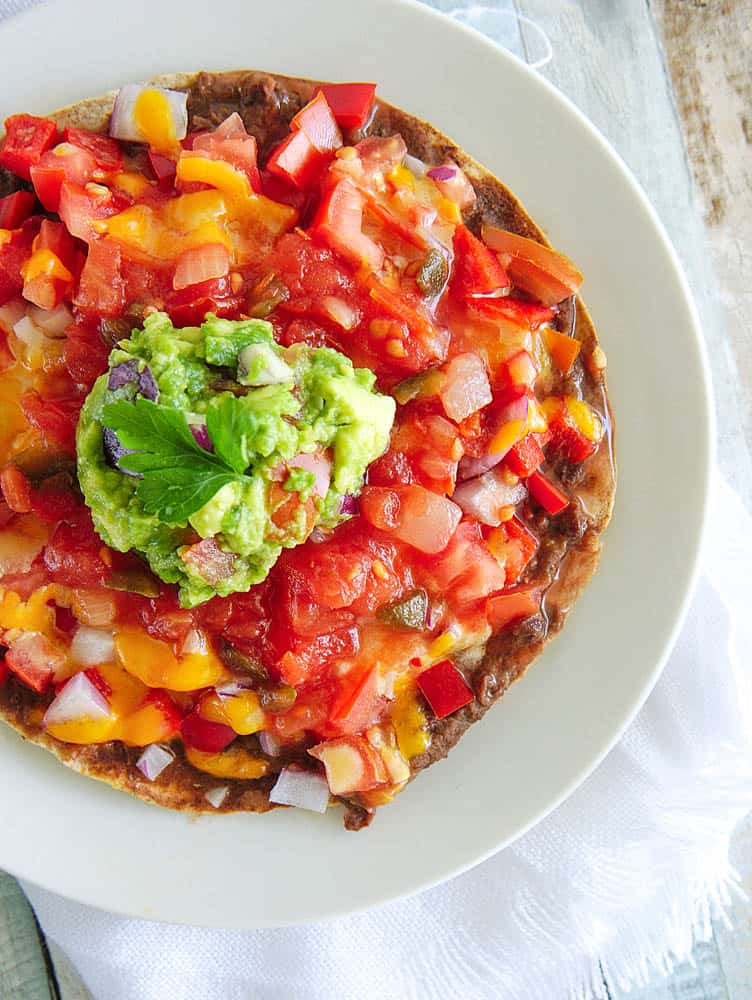 BBQ Black Bean Pizza
Healthy & flavorful, this black bean and red pepper pizza recipe is easy to make at home and is low in calories. Loaded with fresh veggies, this recipe is a fun twist on traditional pizza and keeps in the fridge for up to 4 days!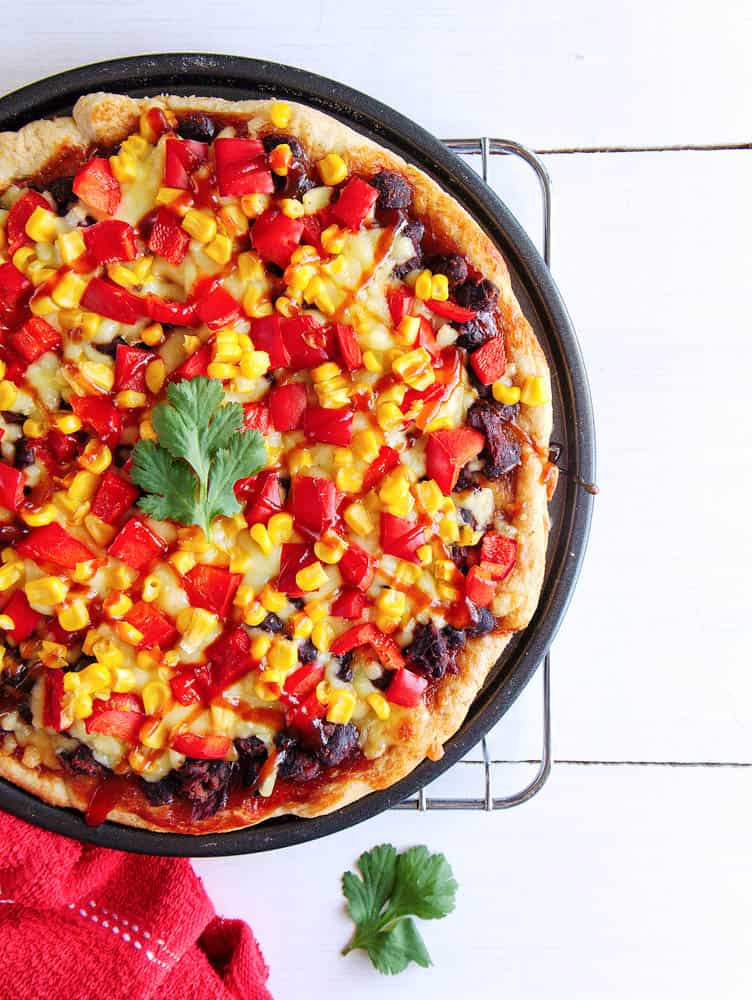 Pesto Pasta without Pine Nuts
This healthy pesto without pine nuts is the perfect pasta dish for a quick and easy weeknight meal. The walnut and sage pesto is packed full of earthy flavors and is lower in fat and calories than the store bought.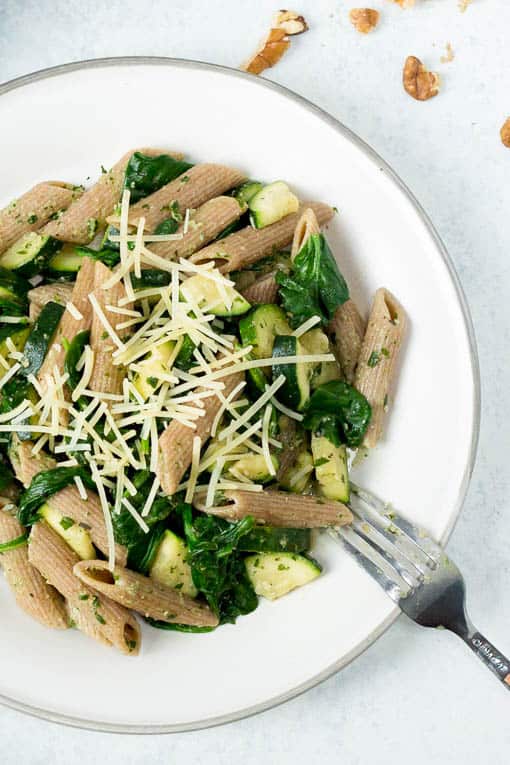 Garlic Bread Grilled Cheese
Garlic Bread Grilled Cheese with French Onions is the ultimate gooey cheesy indulgent sandwich with a healthy twist. Packed with flavor and done in minutes, it's comfort food at its best!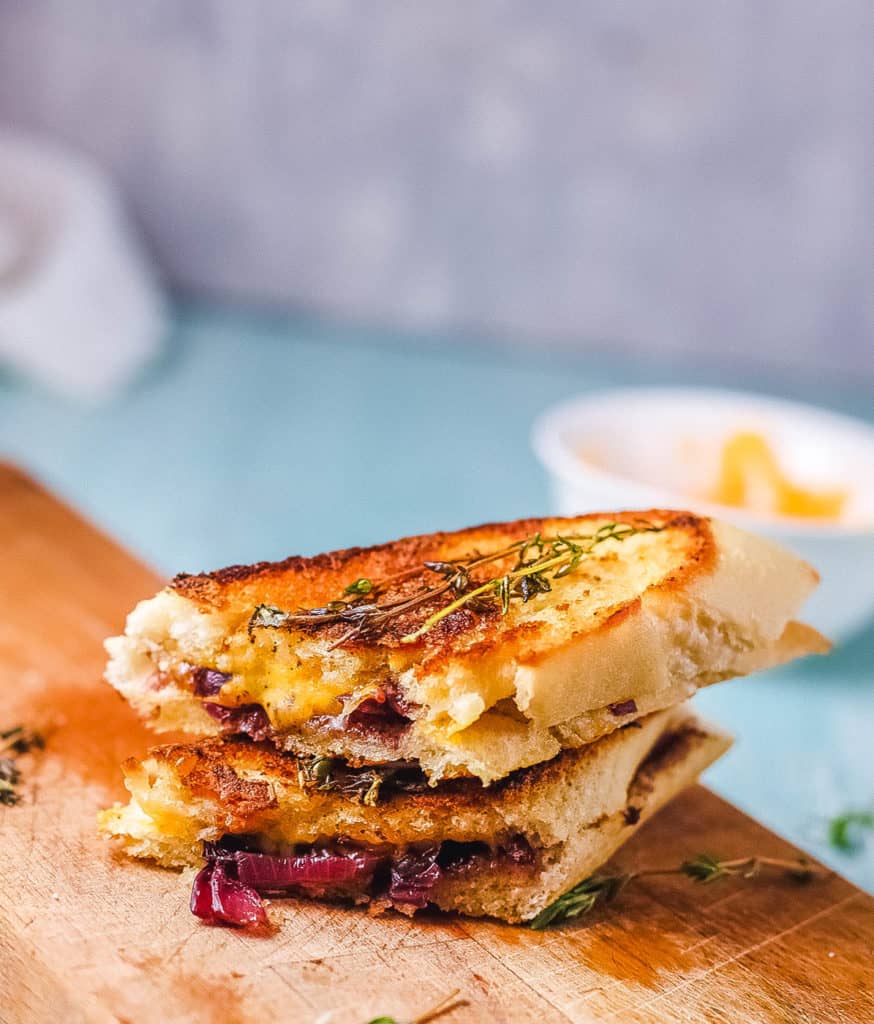 Healthy Quesadilla with Black Beans and Veggies
These easy healthy quesadillas are packed with gooey cheese, black beans, and crunchy veggies. Done in less than 30 minutes they make a great weeknight meal!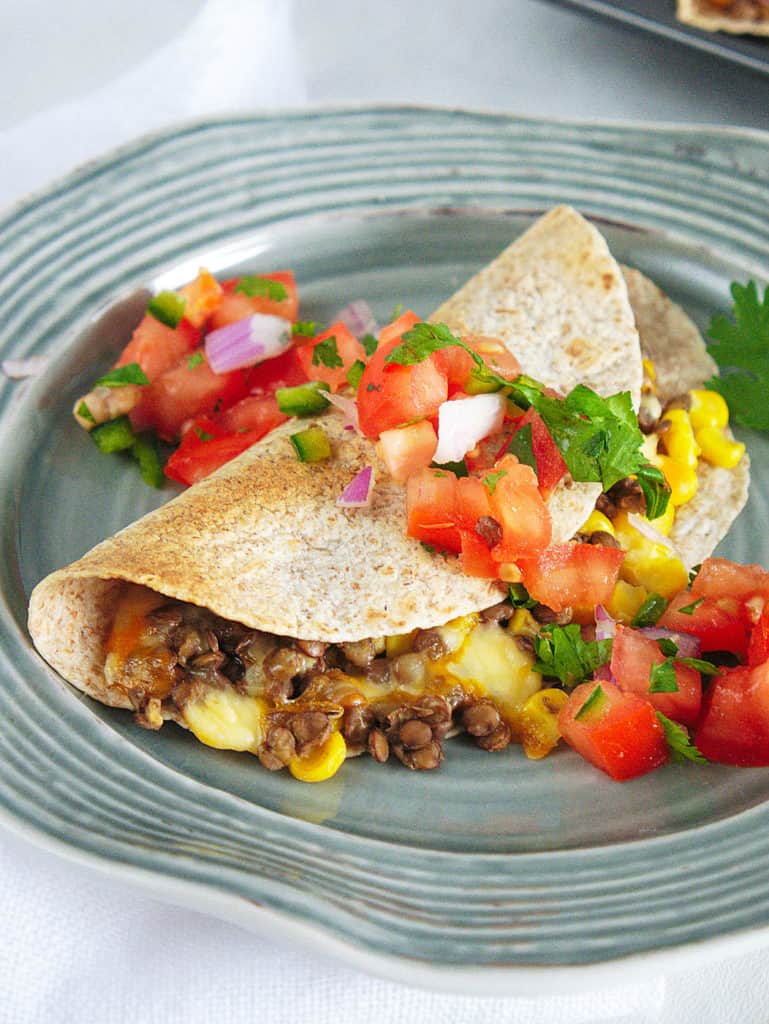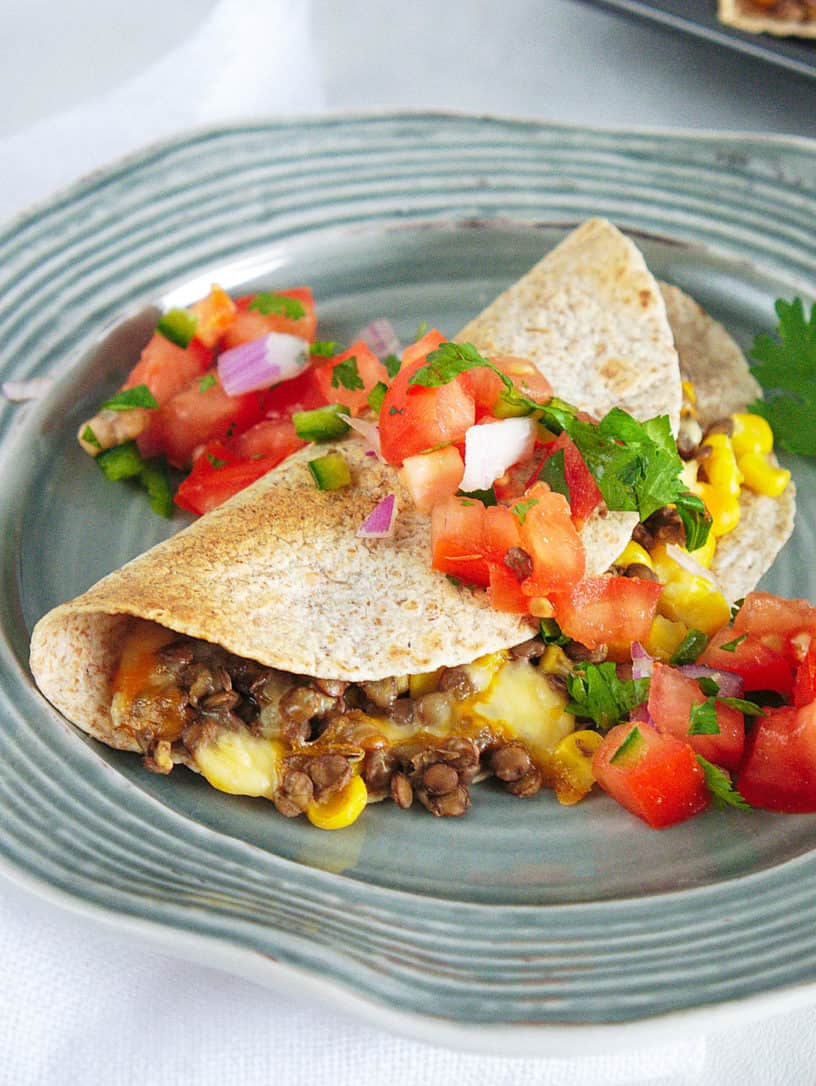 Veggie Shawarma with Marinated Tofu
Stuffed with crispy savory tofu, chopped greens, quick pickled onions, and a super creamy yogurt sauce, this veggie shawarma is super easy to make and so delicious! Everything is tightly tucked into a soft and pliable whole wheat naan bread warmed to perfection. The perfect recipe to make on hectic weeknights or when you are craving something different!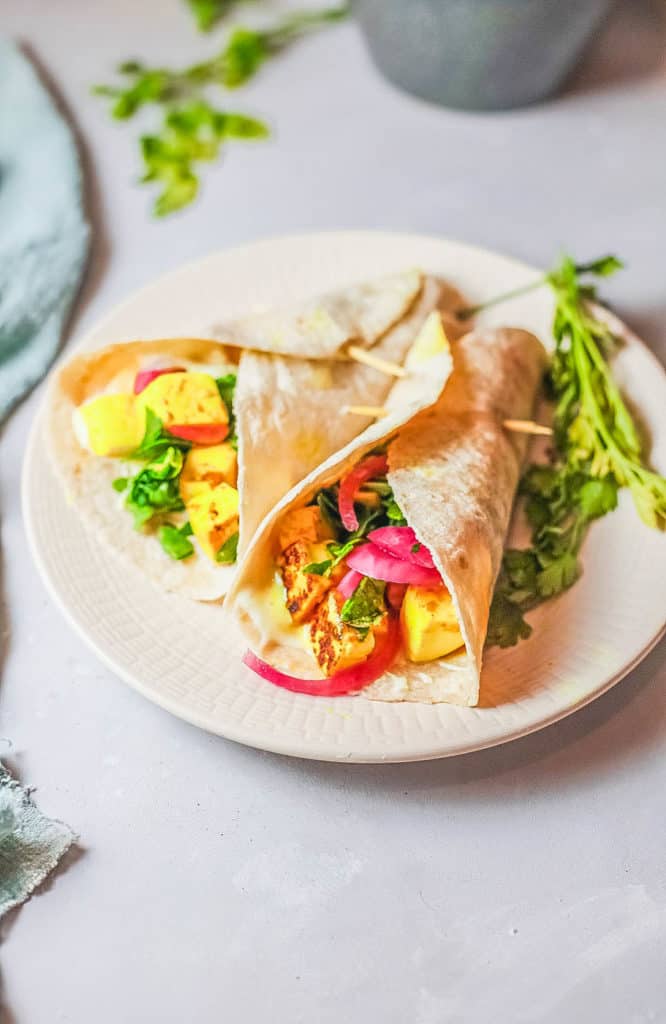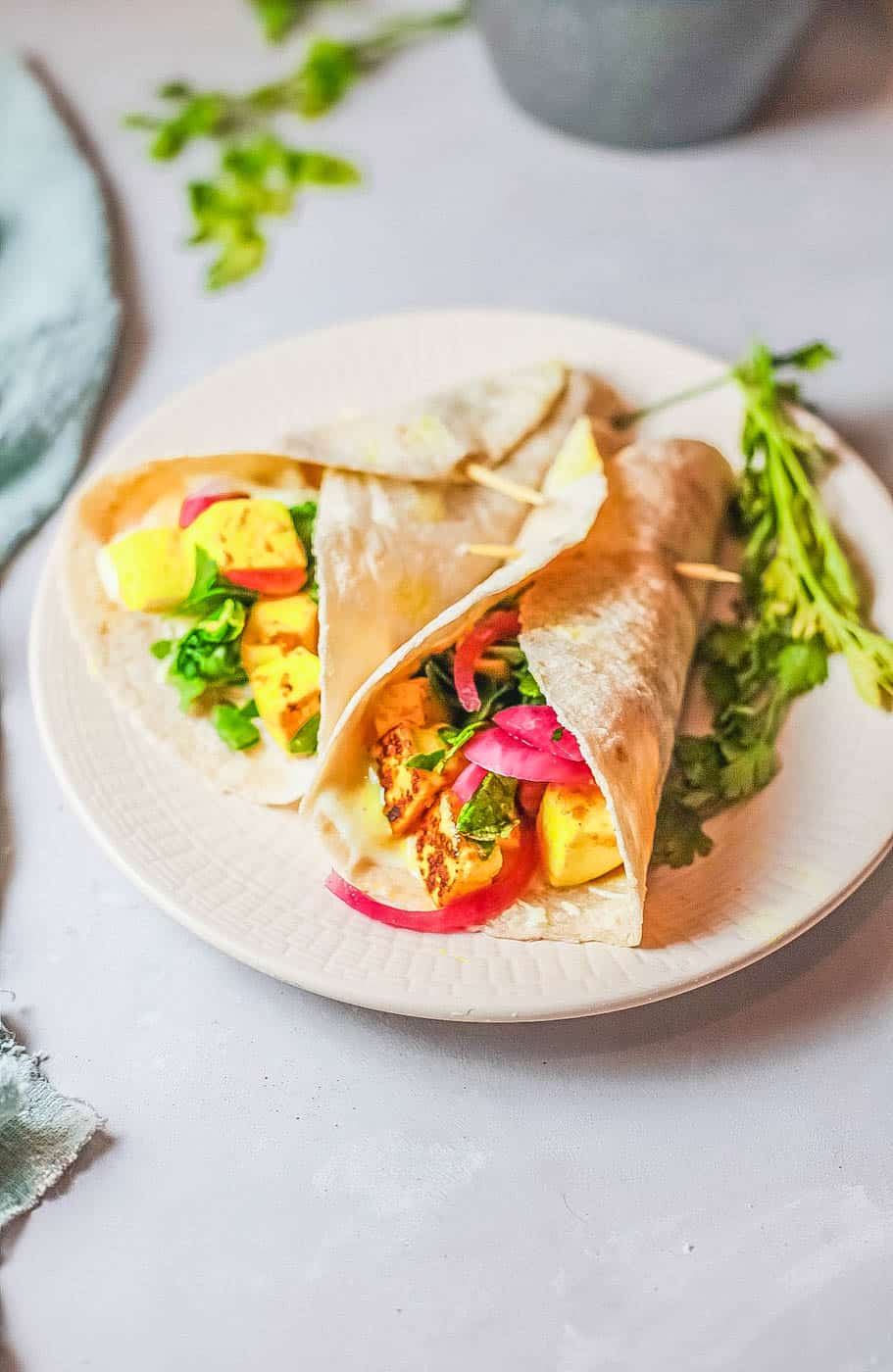 Vegetarian Spaghetti
Our easy and delicious Vegetarian Spaghetti Sauce with hidden fresh veggies, served over whole wheat pasta, makes for a quick and satisfying meal.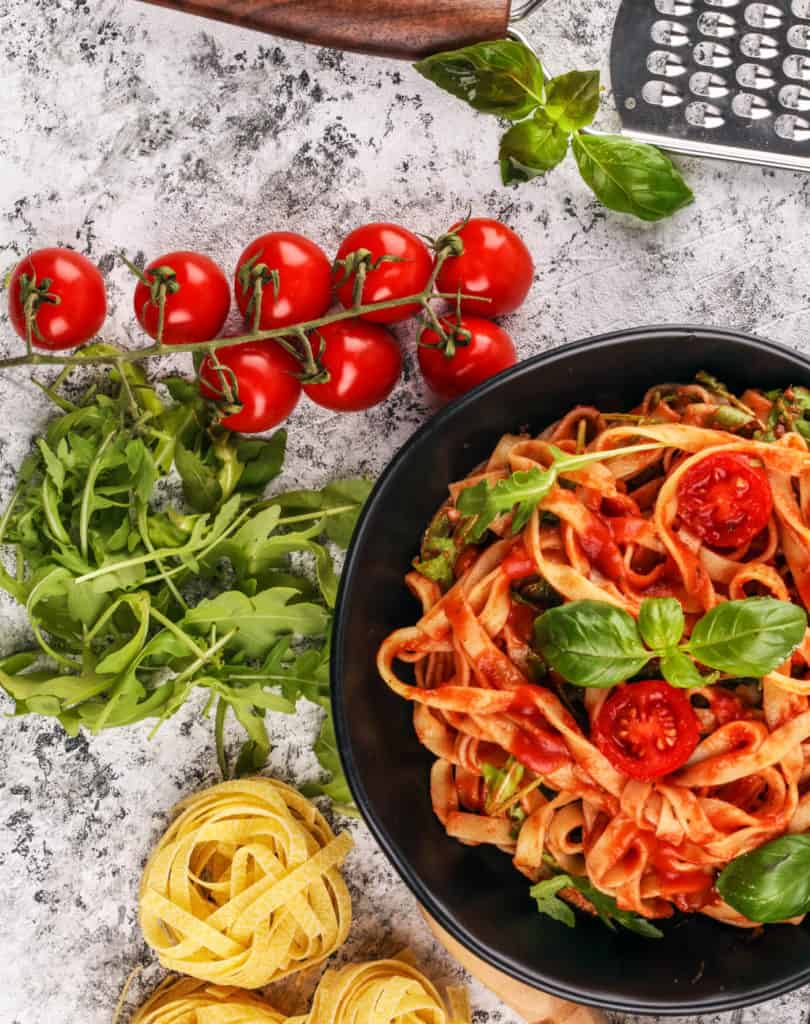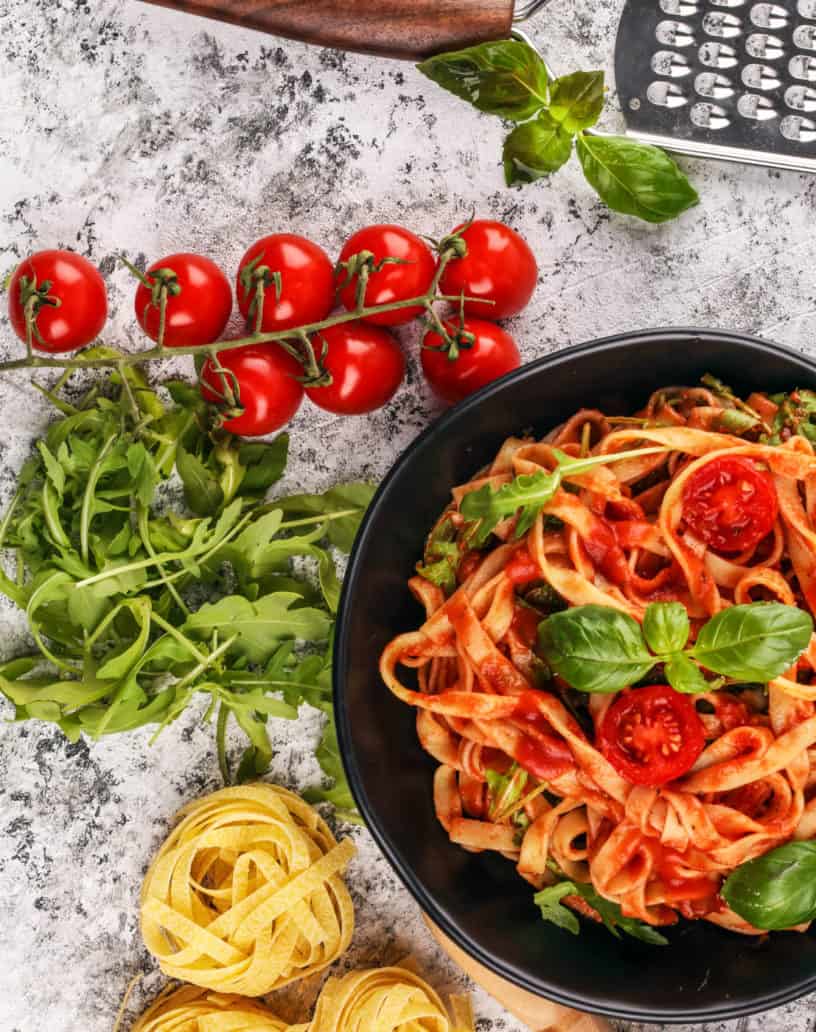 Caprese Bruschetta
This Caprese Bruschetta has a twist with a mixture of tomatoes, zucchini, and white beans that sit on top of a whole wheat baguette, topped with fresh herbs for a finishing touch.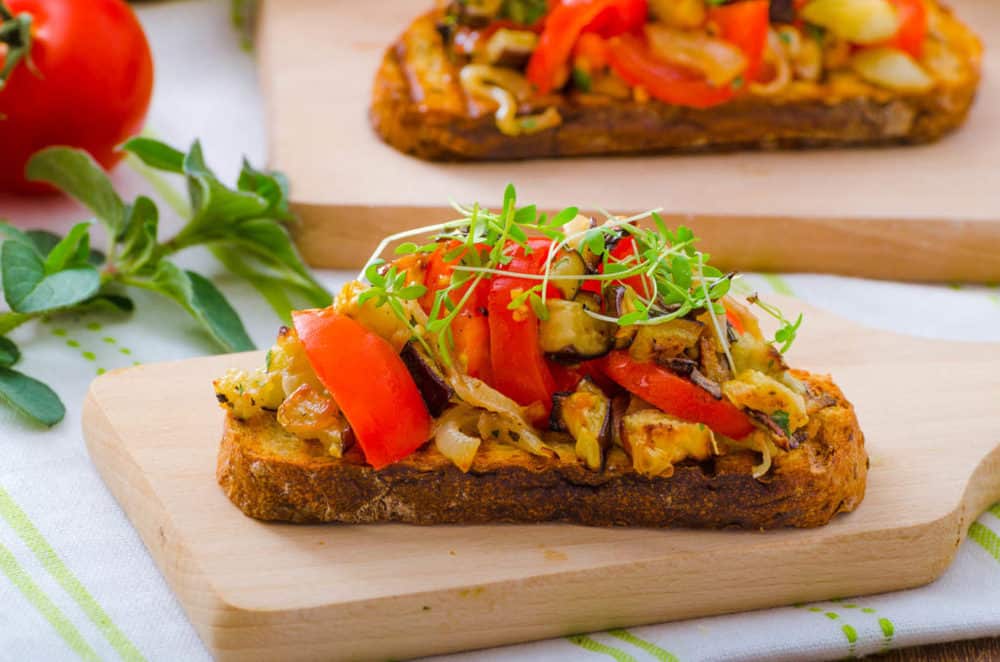 Healthy Margherita Pizza
An easy and healthy Margherita Flatbread is a delicious take on the classic pizza! Topped with fresh tomatoes and basil and drizzled with balsamic vinegar, it's a family friendly meal!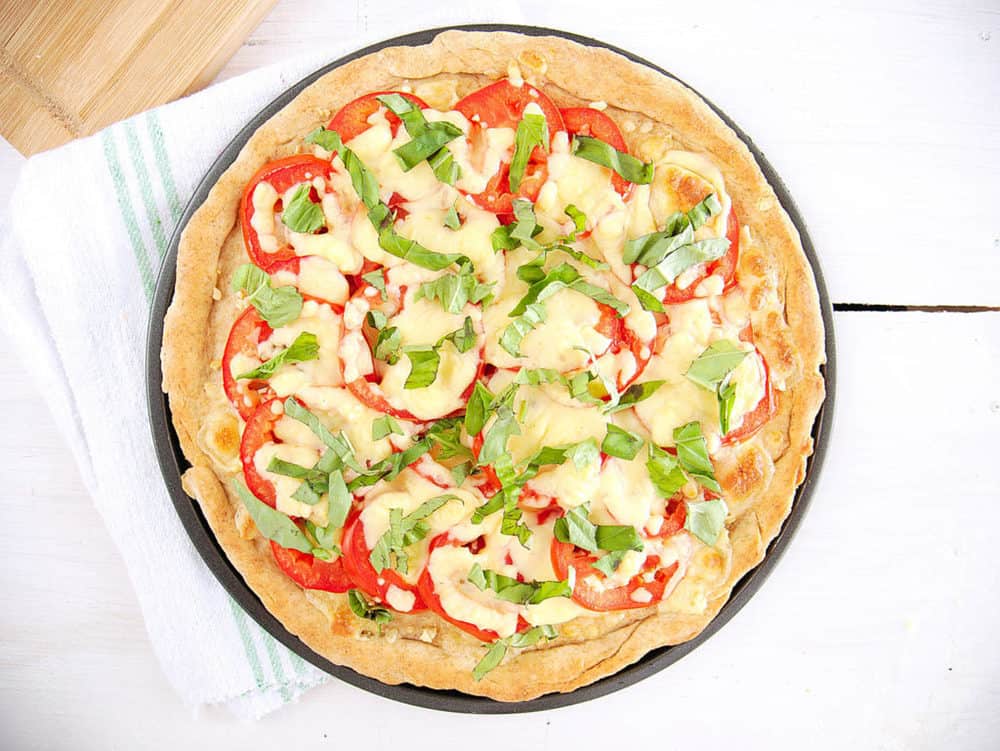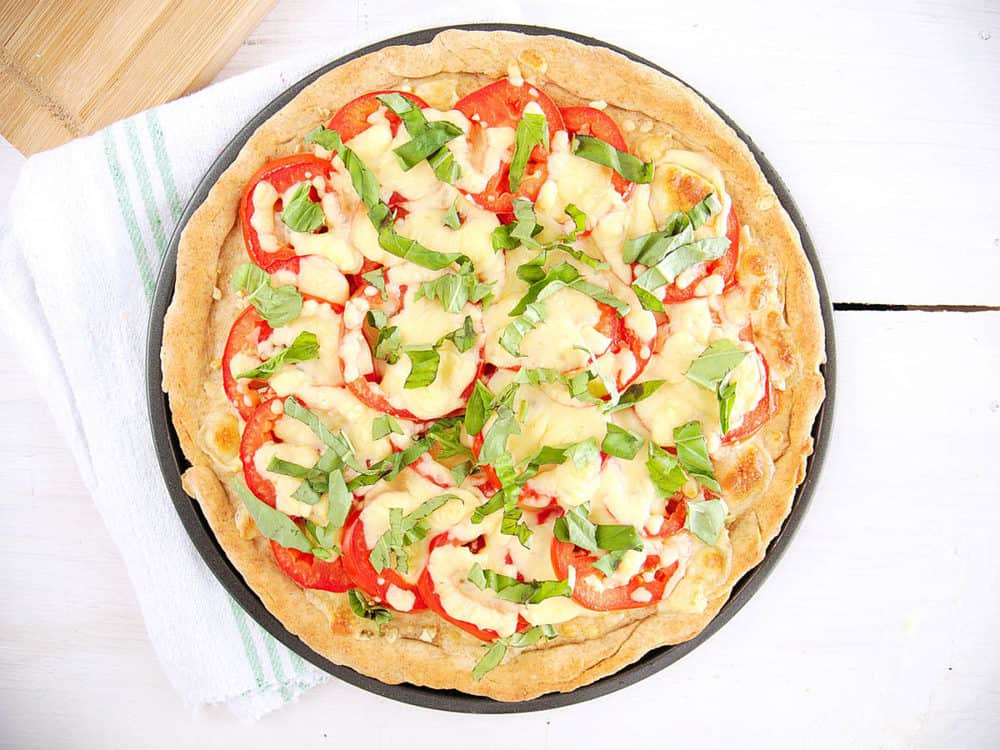 Healthy Pita Pizza
This Healthy Pita Pizza with Goat Cheese and Tomatoes is the perfect option when you have a craving for pizza but you want to keep it healthy! These personal pizzas are loaded with veggies for a well balanced meal.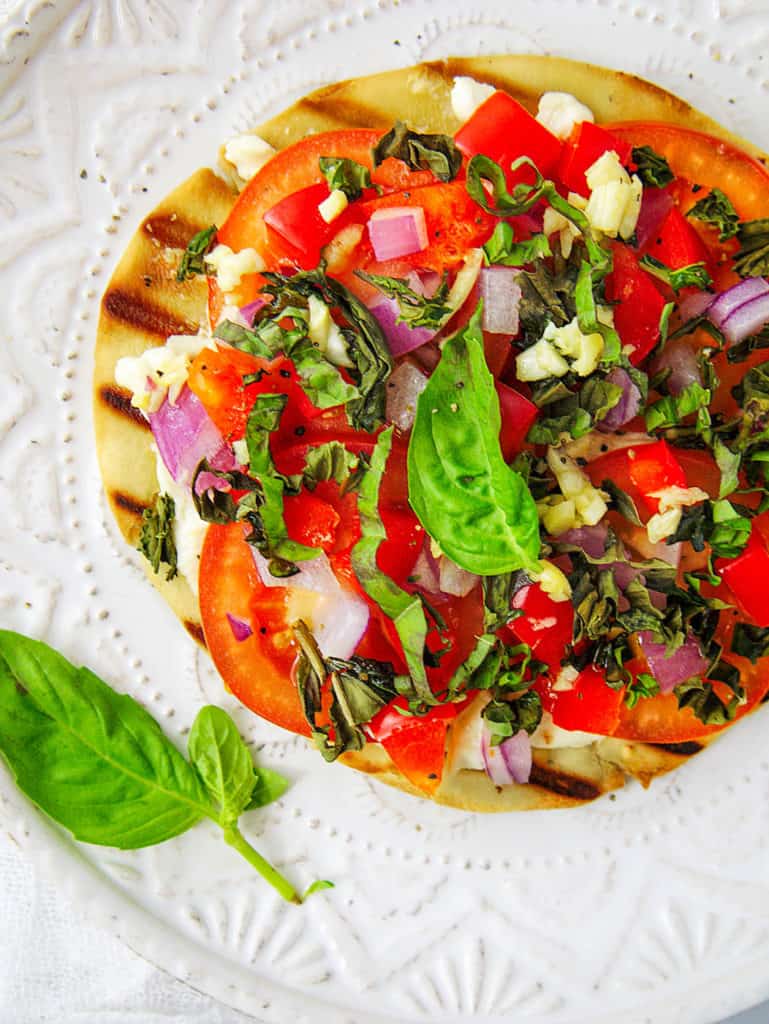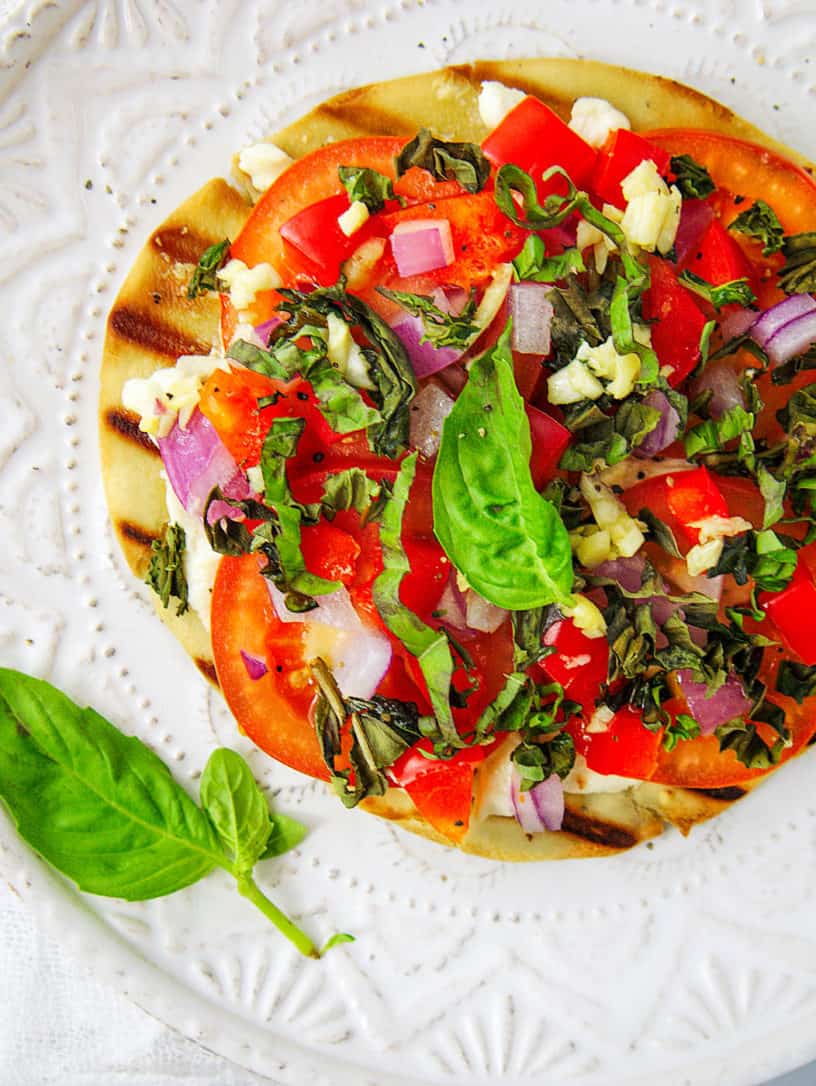 Lebanese Lentil Soup
A rich and flavorful Lebanese Lentil Soup made with spinach and served with a dollop of cool yogurt and cilantro is hearty, healthy, and easy dish to pull together for a weeknight meal.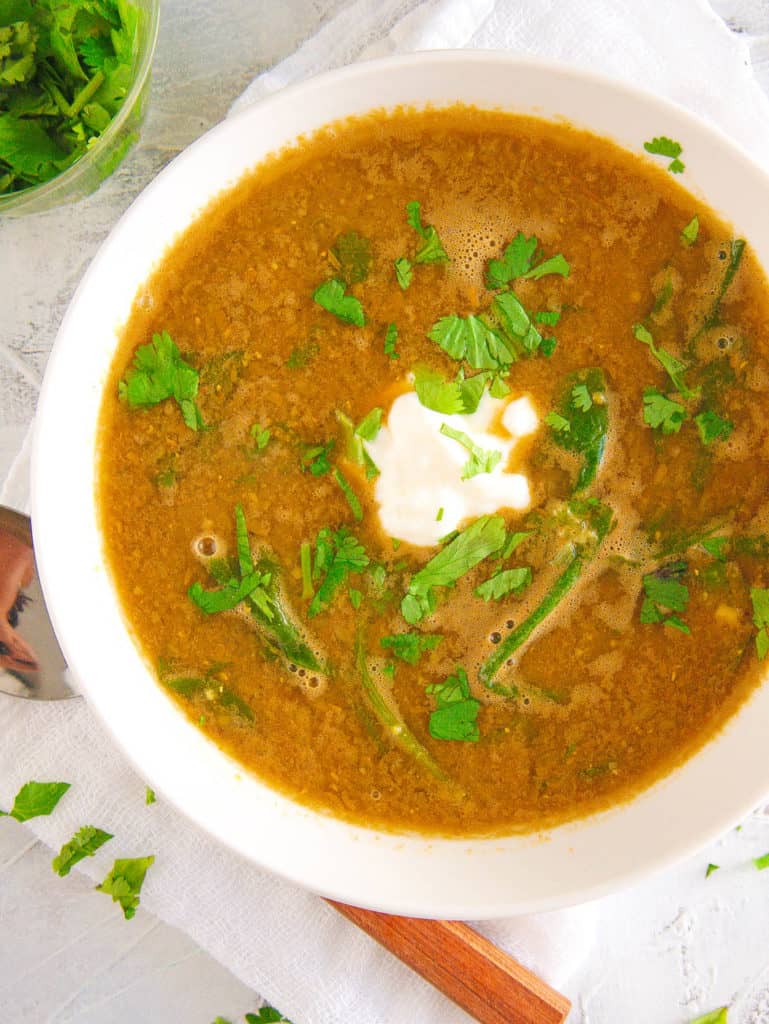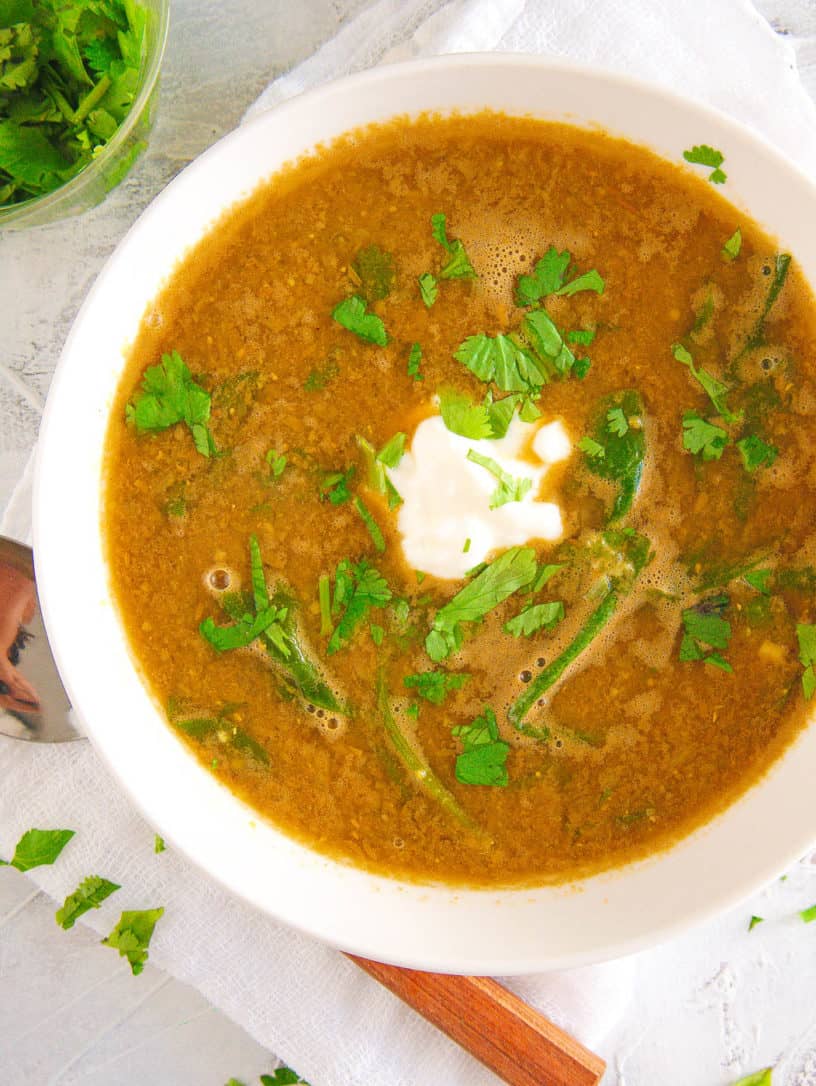 Vegetarian Pesto with Whole Wheat Pasta
Our healthy vegetarian pesto recipe is easy to make and perfect for a fuss-free weeknight meal. Ricotta gives this sauce a creamy texture and the added pine nuts gives it a nice crunch!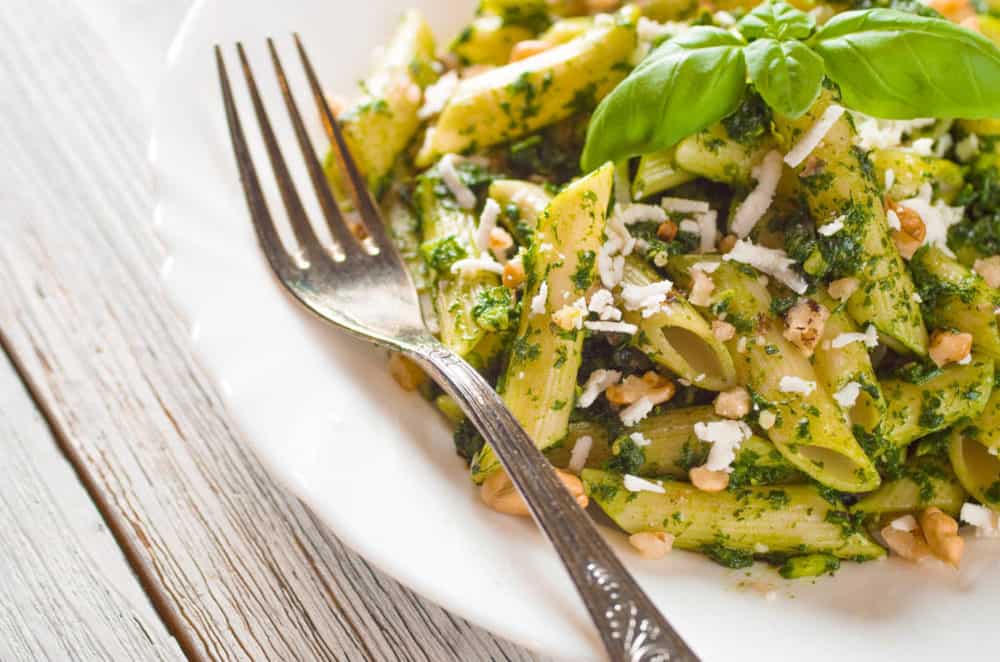 Goat Cheese Flatbread
This Goat Cheese Flatbread with zucchini ribbons and raisins are a match made in heaven! It's a light and fresh flatbread that was made for sharing with friends and family.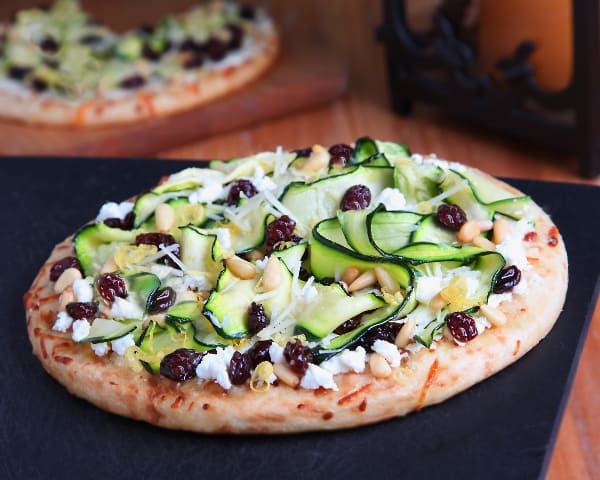 Whole Wheat Pasta Recipe with Spinach
This easy, tasty, healthy Whole Wheat Pasta Recipe is easy to make when you're in a hurry! Full of flavor and loaded with veggies, this family friendly supper will be a sure fire hit!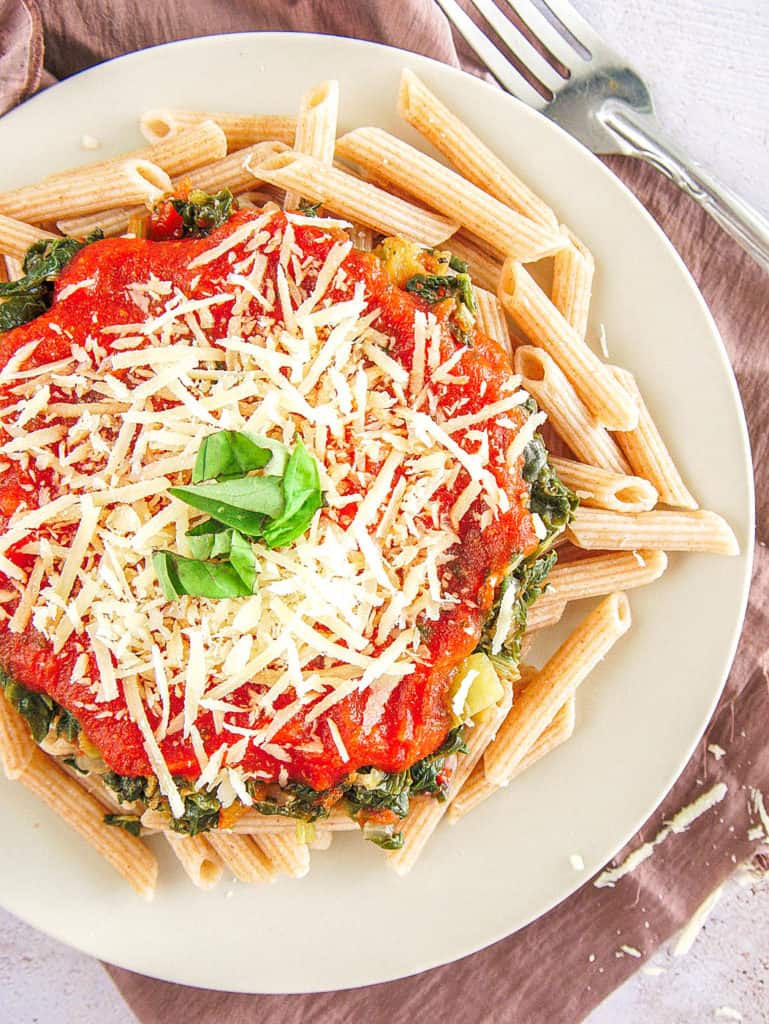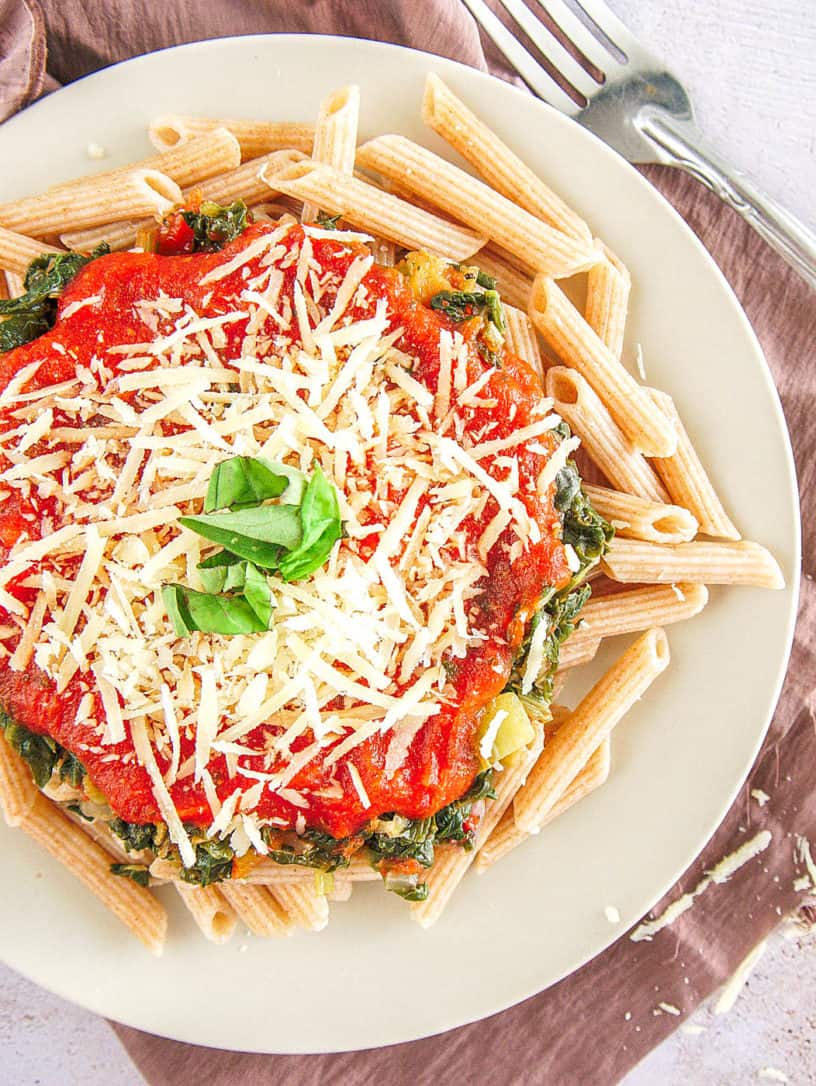 Spicy Cauliflower Soup
Spicy Cauliflower Soup with Curry is topped with crunchy cashews and served with warm naan bread to totally hit the spot! It's vegan, vegetarian, gluten-free — and will be ready in 30 minutes!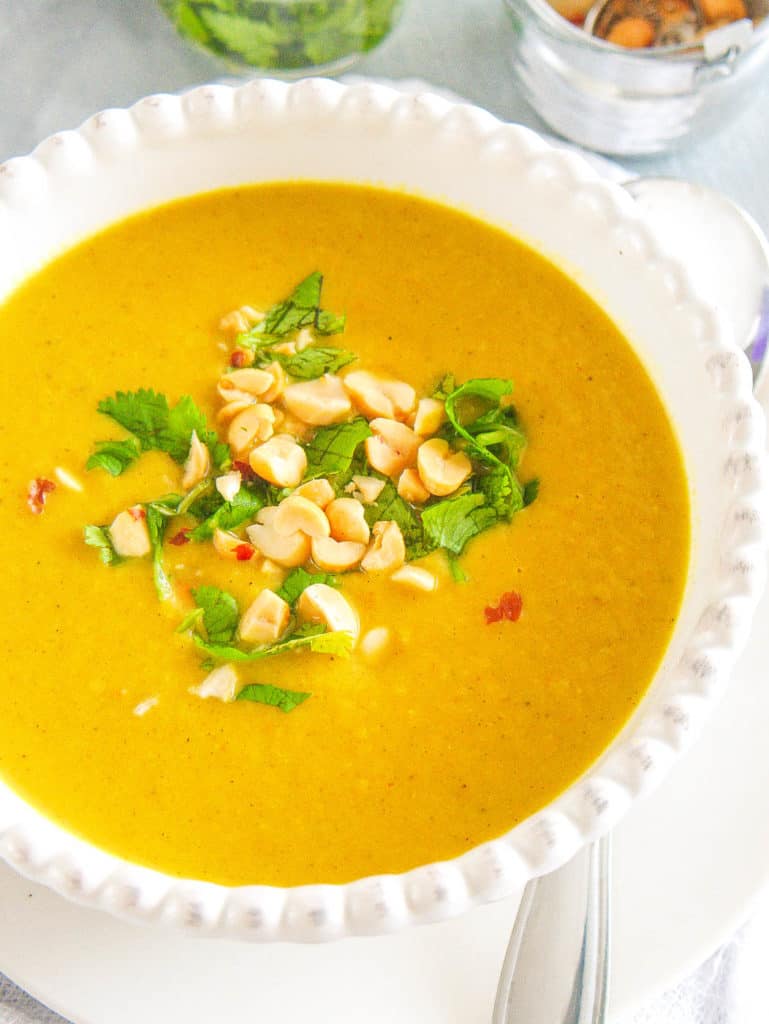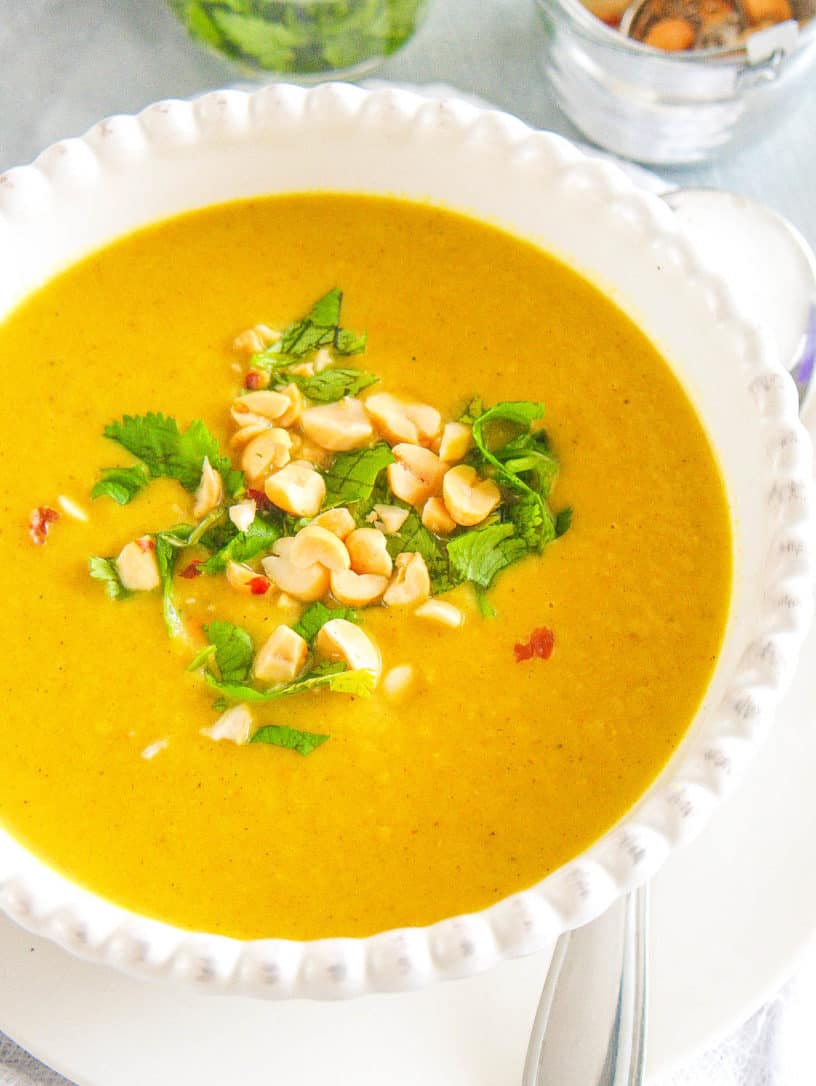 Healthy Cheddar Broccoli Soup
Our Healthy Cheddar Broccoli Soup takes under thirty minutes to make. It's a lightened up version of the classic, without losing any of the cheesy goodness of the original!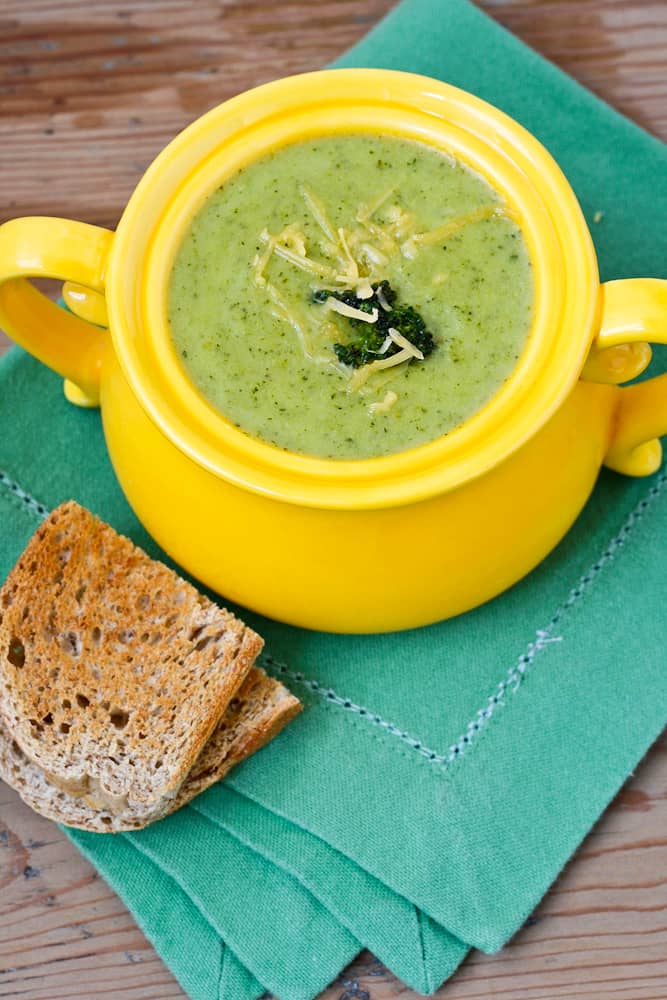 Spicy Sweet Potato Hash
Packed full of flavor, this sweet potato breakfast hash makes a great brunch, side dish or even main meal! Packed full of veggies and plant protein this is a one pan meal that's easy to make.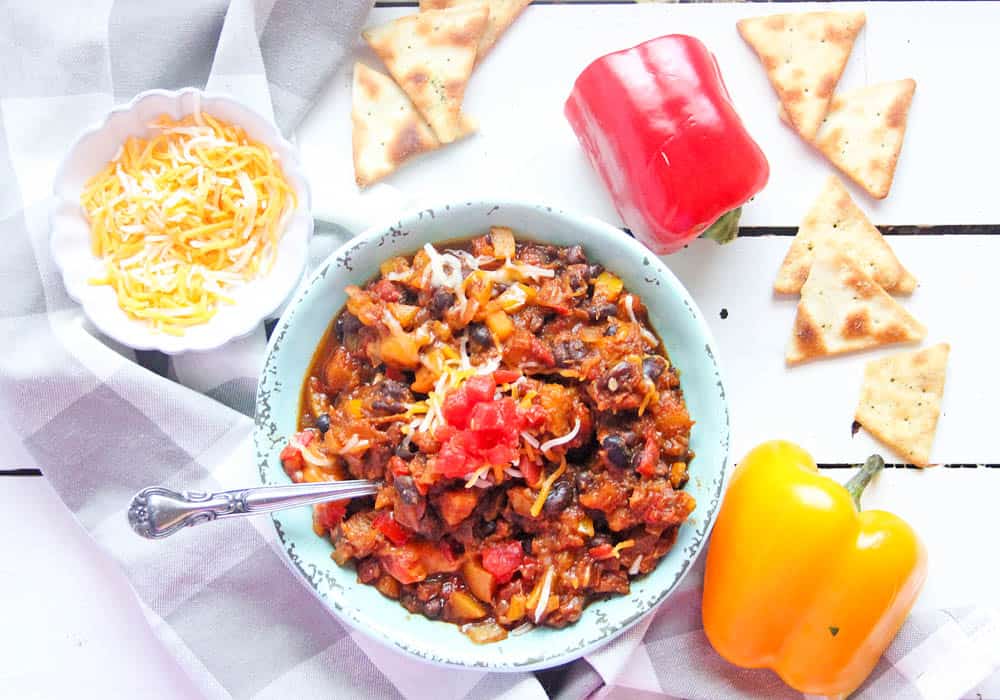 I hope you were able to find some easy meal time inspiration!
Check Out These Other Helpful Vegetarian Meal Prep Ideas!
If you have tried any of these 30 minute vegetarian recipes, or any other recipe on my blog, then please rate it and let me know how it turned out in the comments below! You can also FOLLOW ME on FACEBOOK, TWITTER, INSTAGRAM and PINTEREST to see more delicious, healthy, family friendly food!
8 responses to "30 Minute Vegetarian Meals for Busy Weeknights"