45 High Protein Vegan Lunch Ideas
This post may contain affiliate links. As an Amazon Associate, I earn from qualifying purchases. Please read my disclosure.
If you're looking to reduce your meat consumption, or are becoming a vegan and are looking for high protein vegan lunch ideas, my 45 easy vegan recipes are just what you need. These dishes are easy to make and make a perfect vegan lunch for work or for enjoying at home!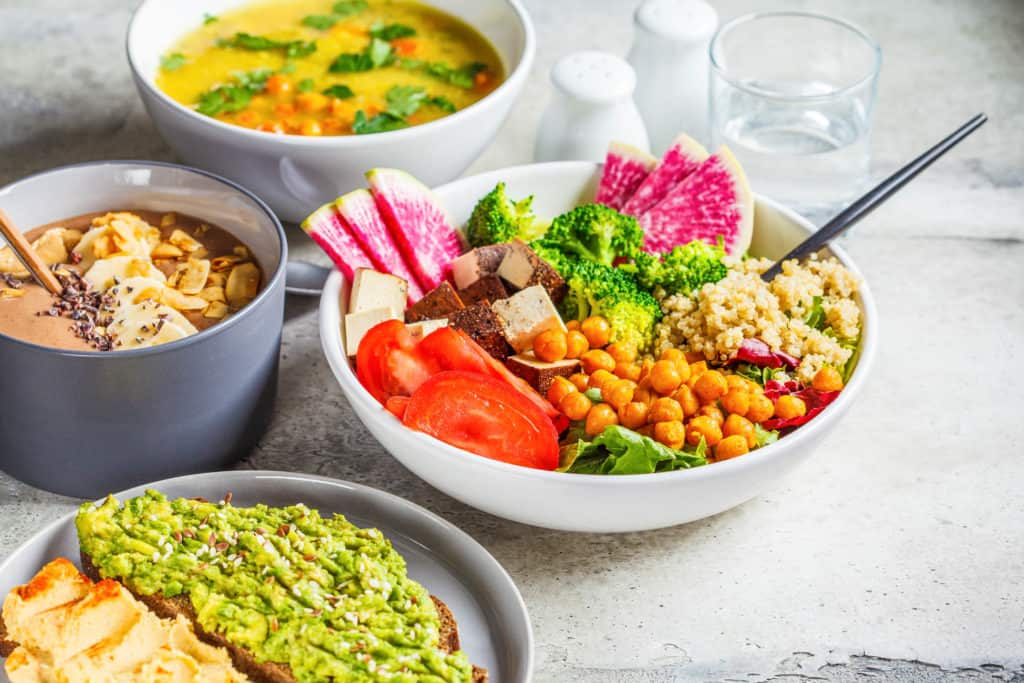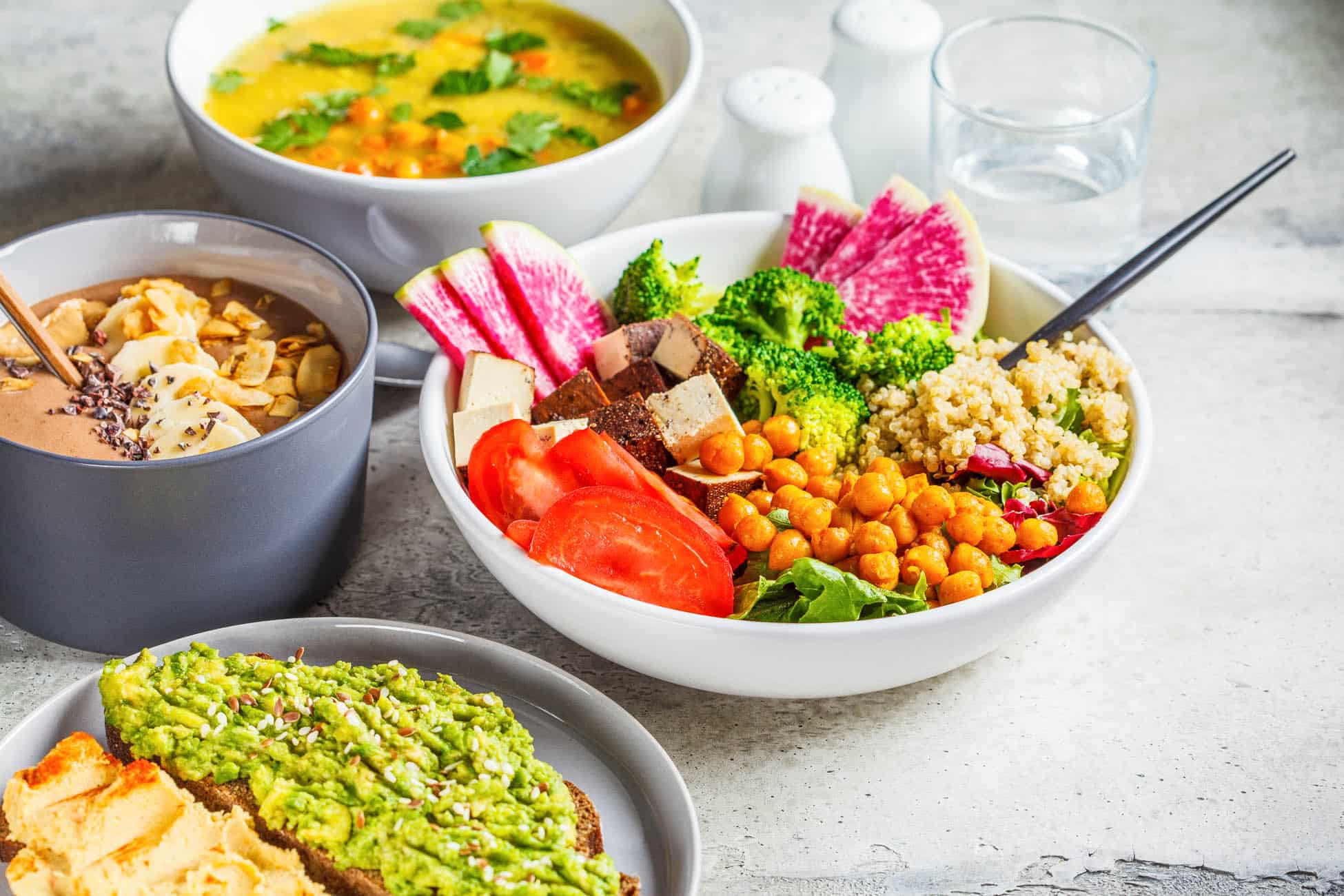 A misconception about vegan dishes is that they lack protein, flavor, substance, and variety, but this couldn't be further from the truth! The key is knowing all of the different sources of vegan-friendly protein and how to best use them in your cooking. My high-protein vegan lunch recipes are bursting with flavor and color, not to mention all the nutrients you need to stay full until dinnertime. So let's take a look at these 45 high protein vegan lunch ideas that everyone will love.
Why You'll Love these High-Protein Vegan Meals
Simple Ingredients
Easy Vegan Meal Prep Ideas
Perfect Option For Busy Weeknight Meals
Great Way To Incorporate Plant-Protein
What Is A Vegan Diet?
In case you don't know what a vegan diet is, it's a diet that avoids all animal products. This means no dairy or meat products, as well as foods that contain animal products as a part of their production process. This includes things like candy that contains gelatin and mayonnaise that is made with egg yolks.
Why Do People Become Vegan?
Veganism is a lifestyle choice that many people make for a variety of reasons; from religious beliefs to health reasons and wanting to lessen their personal impact on the environment.
A vegan diet is synonymous with being a healthy way to live because of the emphasis on eating more vegetables and grains, but like any other diet, it needs balance with each of the main food groups.
Is A Vegan Diet Healthier Than Eating Meat?
Like any type of diet, veganism has the potential to be both healthy and unhealthy depending on what you choose to eat. A vegan diet can be healthy, providing you eat a balanced and varied diet that avoids processed foods, and high sugar and high salt foods where possible.
In terms of the potential health benefits of a vegan diet, there are advantages to cutting things like red meat out of your diet. These include a reduced risk of heart disease, cancer, and substantial weight gain, which you are at a much higher chance of developing when eating large amounts of red meat.
Best Vegan Protein Sources
If you're wondering how to make a high protein vegan lunch, you've come to the right place! The key is to incorporate some of these vegan foods that are high in protein into every meal. This, fortunately, isn't as hard as you might think, as there is a whole range of other protein-rich foods available to vegans and non-vegans alike. Let's get familiar with some of them!
Soy-Based Protein
Using soy is one of my favorite ways to add protein to any meal. Soy-based proteins such as tofu, edamame, and tempeh all come from soybeans and are a fantastic source of protein for vegan dinners and lunches. Edamame beans are great added to salads and stir-fries, while tofu and tempeh act as ideal meat substitutes to use in veggie burgers, sandwiches, stews, scrambles, curries, stir-fries, and just about any other high protein vegetarian lunch. Tofu and tempeh can be air-fried to create an amazing crunchy texture.
Seitan
Seitan is a popular protein source for vegans as it is so naturally high in protein. It's one of the highest protein foods you can find. It resembles meat in terms of appearance and texture when you cook it, meaning it can be used to substitute meat in an array of dishes that traditionally use meat. It can also be sauteed, fried, and baked, so is a really versatile meat substitute too and works well in most lunch or dinner recipes. With so much protein, this source should not be missed!
Please note that seitan is made from gluten, and should be avoided by anyone with gluten intolerances or celiac disease.
Lentils
Lentils are one of my favorite high protein vegan sources. They can be used in soups, daals, stews, salads, and even sandwiches like sloppy joes. They are packed with other nutrients such as folate, fiber, and iron.
Beans
Whether it's kidney beans, black beans, butter beans, white beans, or chickpeas, beans and even refried beans are fantastic sources of protein. They are often my go to when creating a high protein vegan lunch. Similar to lentils, they make great additions to soup dishes, stews, chickpea wraps, and curries, and can easily be made into burgers too which are always a hit with kids! You can even prepare goods with chickpea flour, which has plenty of protein.
Nuts And Seeds
Nuts, nut butters, and seeds are some of my favorite vegan foods because they're high in protein, high in healthy fats, contain fiber and important vitamins and minerals that are critical for any vegan meal plan. An easy way to add protein to any meal is to just sprinkle some of your favorite crushed nuts on top, or stir in some ground chia seeds or flax seeds into your morning smoothie or overnight oats!
Nutritional Yeast
Many vegans use nutritional yeast for a boost of protein in a variety of dishes, from pasta to soups. It has a cheesy flavor, so it's a good vegan-friendly cheese substitute. If you're looking for a way to add a little more protein to your meal in a quick and simple way, then nutritional yeast is what you need.
Whole Grains
Certain grains are particularly high in protein, including spelt, sprouted wheat, fluffy quinoa, brown rice and teff. They make great substitutes for wheat or rice so can be used in baked recipes or dishes that typically use rice, and quinoa especially happens to be a complete protein.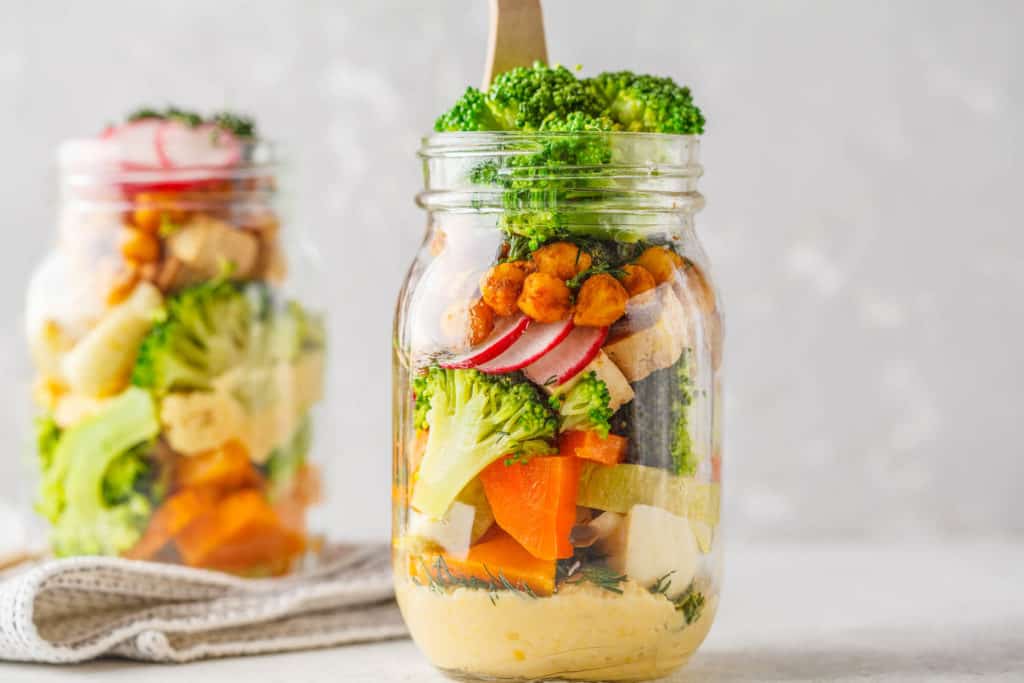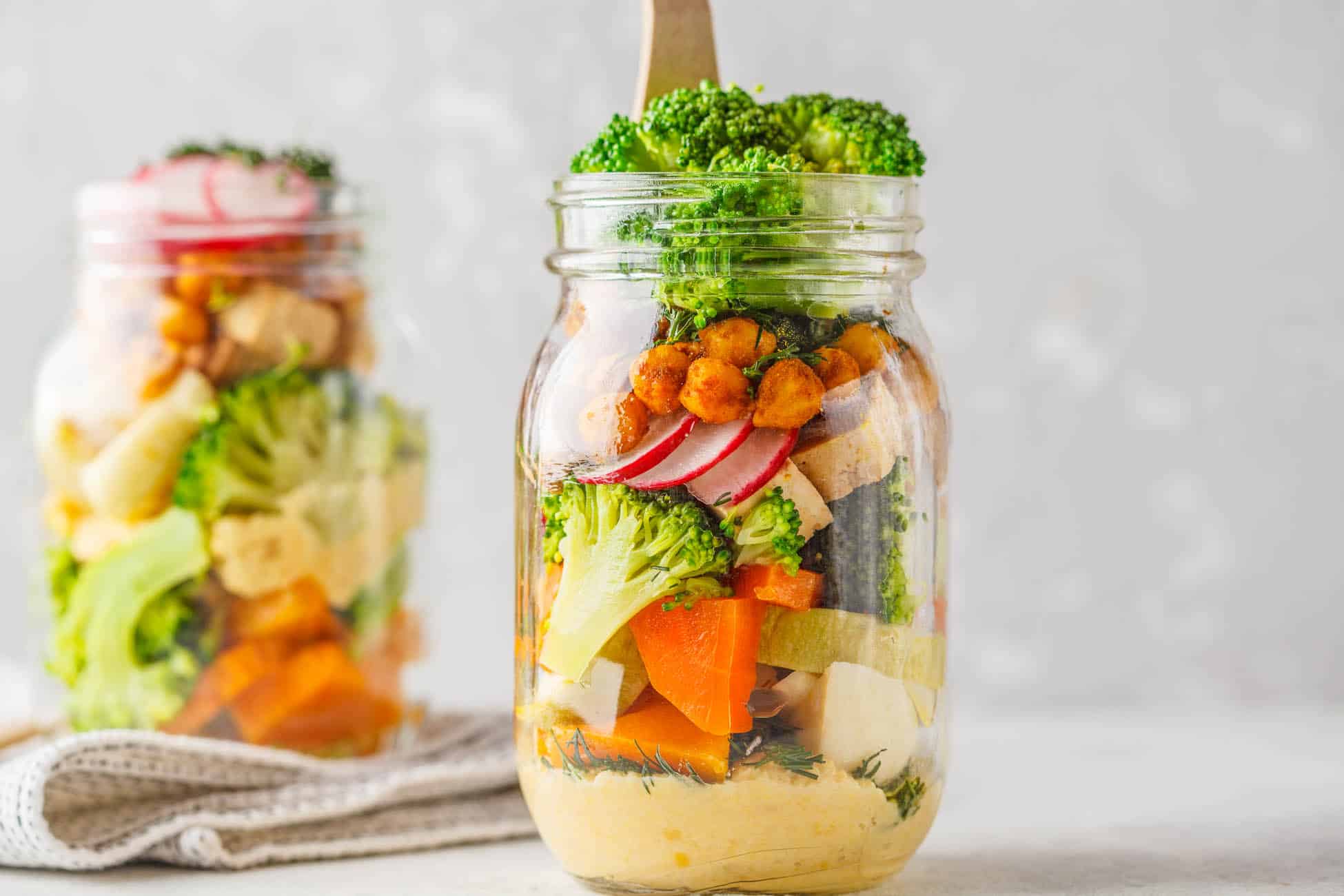 What Can I Eat In A Vegan Lunch Instead Of Meat?
Meat substitutes in dishes such as burgers, chilis, or sandwiches: Opt for meat substitutes such as vegan meat slices or vegan sausages to use in your sandwiches, swap burgers for bean burgers, and add lentils or beans in your stews.
Add protein to your salads in the form of lentils, beans, or tofu.
Make a hearty, warming soup that'll give you lunch for days or feed the whole family on a weekend. This is a great high-protein vegan lunch idea for colder weather too!
What Makes A Good Vegan Lunch?
When it comes to a delicious high protein vegan lunch, you want to make sure that it's balanced with the right food groups. Lunchtime is a tough one to master because you want to be full enough to keep you (or your kids) energized for the day ahead, but not so full that you feel sluggish and sleepy. The great thing about vegan lunch recipes is that they aren't too heavy and won't leave you feeling too weighed down like a lot of meat dishes can do sometimes.
Because a vegan diet doesn't include any animal products, means that you'll need to find other sources of protein to maintain a balanced diet.
My vegan lunch ideas utilize a range of different protein sources, as well as a variety of vegetables and flavors inspired by Mexican, Indian, and East Asian cuisines to create fun and tasty lunches for the whole family. So if you're in the mood for a certain cuisine, there's an easy vegan lunch you can enjoy in under 30 minutes.
Best High Protein Vegan Lunch Ideas By Cuisine
I often take inspiration from Mexican, Indian, and East Asian cuisines for my high protein vegan lunch recipes, because of the large variety of flavors and ideas these cuisines have to offer! Create a delicious meal with added spices!
Mexican-Inspired Vegan Lunch Ideas
Mexican food is a rich and versatile cuisine with a number of dishes that make great lunchtime food. From chilis and enchiladas to a lighter burrito bowl, you won't miss the meat in these vegan lunch recipes!
Indian-Inspired Vegan Lunch Ideas
Indian food is nutritious and warming, and full of flavor. It's also a cuisine that is particularly geared towards a vegan diet, with so many wonderful plant-based dishes to choose from. These vegan and vegetarian recipes can keep you fueled for the day.
East Asian-Inspired Vegan Lunch Ideas
From stir-fries to rice dishes, it's easier than you think to enjoy an East Asian-inspired vegan lunch that's healthy too. Tofu is an extremely popular source of protein that is usually a hit with kids too! Try out these high-protein vegan recipes for lunch with a kick.
Quick Vegan Lunch Ideas For Work
If you're looking for an easy vegan lunch that you can take on the go to work with you, these salad recipes are quick, great for meal prep, travel well, and are oh-so-tasty. Many of them are low carb too!
Vegan Lunch Ideas To Make At Home
If you're working from home or need a tasty meal to whip up on the weekend, these high protein vegan lunch recipes work great for feeding the whole family, or as meal prep for the week ahead.
High Protein Vegan Lunch Recipes (For Kids' School Lunch)
If you're trying to reduce your family's meat consumption or are raising your kids on a vegan diet, try these kid-friendly vegan lunch ideas that are easily packed up for school and are sure to please even the pickiest eaters!
High Protein Vegan Meals FAQs
Looking For More Vegan Recipes?
I've given you 45 high-protein vegan lunch ideas, but for breakfast and dinner options, as well as sweet treats, check out my full range of vegan recipes here! And if you're just starting out on a vegan diet, check out my 50 beginner vegan recipes here and 50 vegan gluten free dessert recipes here!
If you have tried any of these vegan recipes, or any other recipe on my blog, then please rate it and let me know how it turned out in the comments below! You can also FOLLOW ME on FACEBOOK, TWITTER, INSTAGRAM, and PINTEREST to see more delicious, healthy, family-friendly food!
16 responses to "45 High Protein Vegan Lunch Ideas"