Vegetable Au Gratin
This post may contain affiliate links. As an Amazon Associate, I earn from qualifying purchases. Please read my disclosure.
This vegetable au gratin features crisp, tender vegetables smothered in a cheesy sauce, then topped with crispy breadcrumbs and parmesan. You're going to love this easy side dish or main course that is ready in less than an hour! Kid-friendly & vegetarian.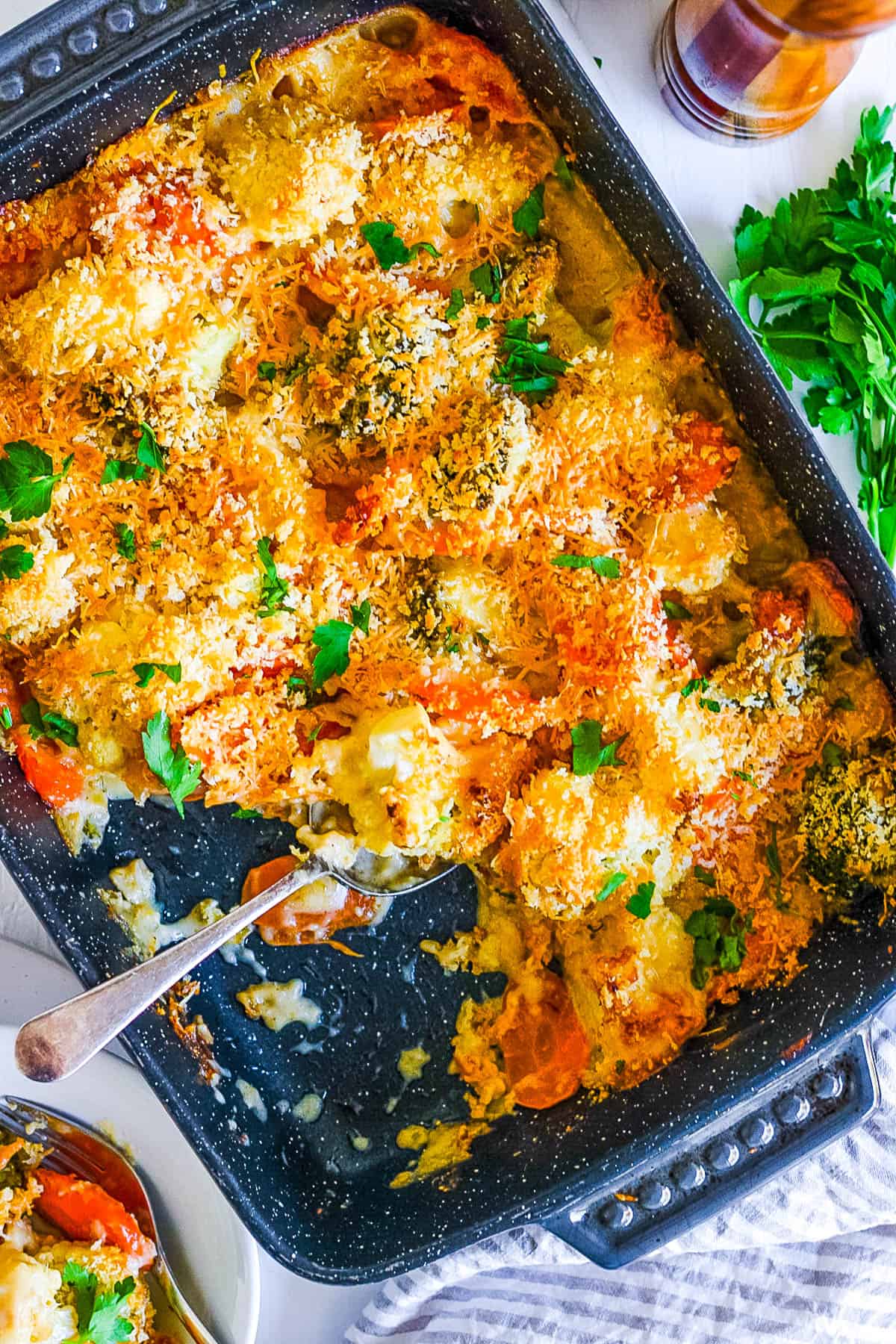 Cheese-aholics rejoice! This roasted vegetable au gratin is jam-packed with perfectly cooked veggies in a decadent cheese sauce. Au gratin just means a dish is baked with breadcrumbs and cheese on top, which creates a golden brown, crispy exterior that complements the creamy, cheesy sauce underneath. It's cozy, rich, and satisfying.
Latest Recipe Video!
Baked vegetable au gratin is my go-to dinner for busy weeknights. It may take 45 minutes to cook, but the prep work is a breeze! Make a cheese sauce, pour it over the veggies, top with breadcrumbs, and pop it in the oven. It's that simple. Even my kids devour this vegetable au gratin casserole. Always a win!
This veg au gratin recipe is easy to customize too. It's a nice "clean out your fridge" kind of recipe. Don't let any leftover veggies go to waste, including frozen veggies. Enjoy as a perfect side dish or as a main meal with a side of garlic bread. I like to serve it for Sunday supper or at a dinner party.
👩‍🍳 Why This Recipe Works
Full of nutrient-dense veggies like carrots, broccoli, and cauliflower!
Rich and creamy with no heavy cream
Crispy topping from the breadcrumbs
Easy to make, but looks fancy and decadent
Kid-friendly
Great side dish or main meal
Packed with delicious flavors
Super customizable
Best vegetables au gratin ever!
🥘 Ingredients
This vegetable au gratin recipe is made with simple ingredients found at your local grocery store. Here's what you need.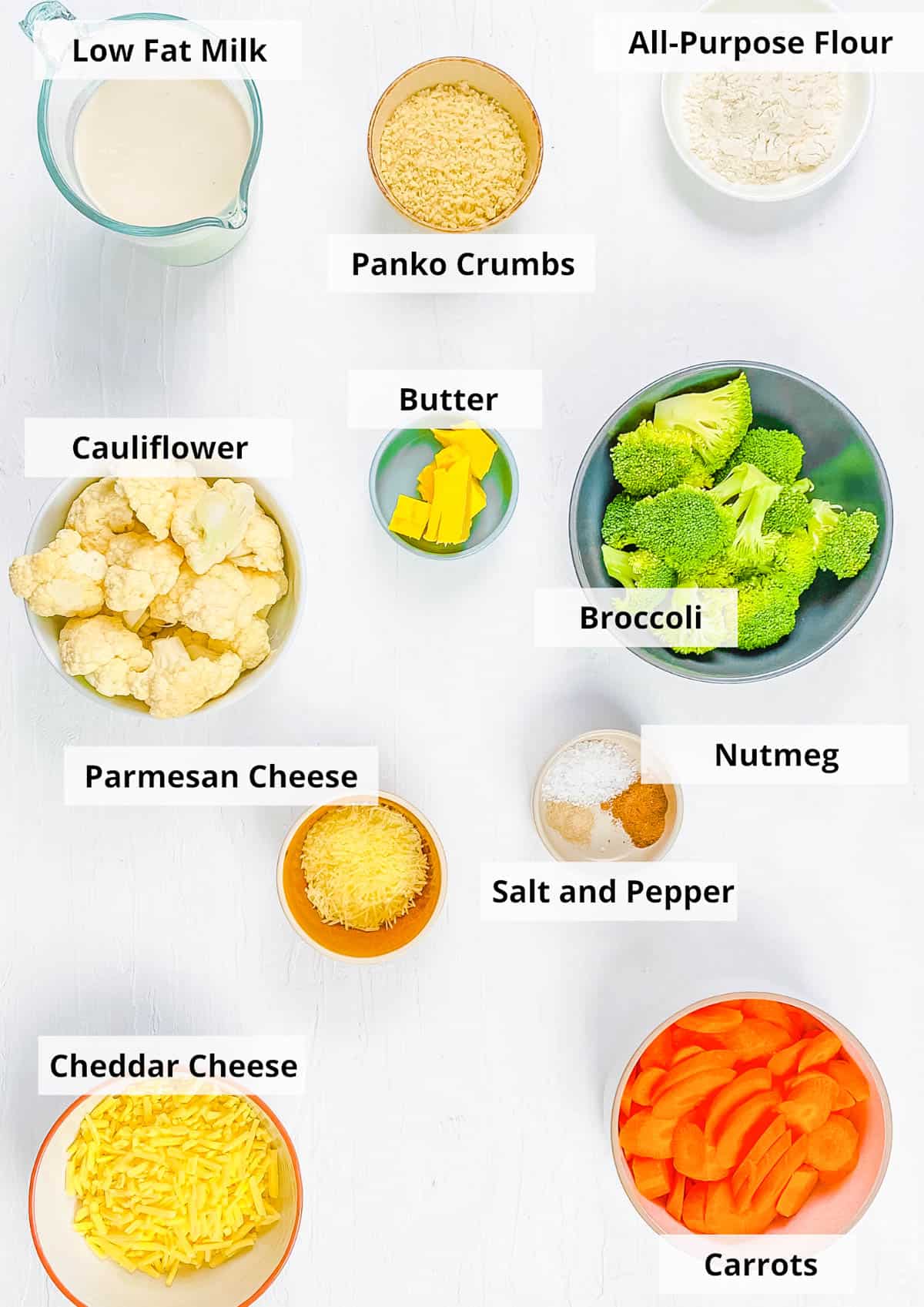 Butter: Fat is an essential part of any roux. A roux is a cooked mixture of flour and fat that works as a thickener, in this case for the cheese sauce. If you don't have butter, olive oil makes a good swap.
All-Purpose Flour: Flour thickens the milk mixture so it's not runny.
Low-Fat Milk: Milk is the base of the cheese sauce. If you don't have low-fat milk, whole, reduced-fat, or plant-based milk works great too.
Cheddar Cheese: I used cheddar for this veg au gratin, but any meltable grated cheese tastes delish. Try gouda, gruyere, Monterey jack, Italian blend, or a combination. If you don't want lots of cheese, you can cut the amount in half.
Seasoning: Salt enhances cheesy dishes and nutmeg adds a subtle sweetness.
Vegetables: Broccoli, cauliflower, and carrots are a delicious combo, but any mix of vegetables work. Just remember to slice root vegetables like carrots and potatoes, so they cook through. Try adding green beans, zucchini, onion, potatoes, peas, parsnips, or spinach. Frozen veggies are also an easy and delicious option.
Panko Breadcrumbs: For a golden brown crusty top. Whole-grain breadcrumbs are a great option for additional nutrients.
Parmesan Cheese: A layer of parmesan cheese hardens as it bakes for a perfectly crisp golden brown top, and a totally delicious dish!
📖 Variations
Roasted cauliflower au gratin is easy to customize! Try one of these delicious variations.
Make It Gluten-Free: Swap the all-purpose flour for a gluten-free all-purpose flour blend, and the bread crumbs for gluten-free breadcrumbs.
Make It Vegan: Use a vegan bechamel sauce, vegan cheddar and vegan parmesan to make this recipe vegan friendly.
Potato And Parsnip Gratin: Omit the veggies, and swap with sliced potatoes and parsnips.
Root Vegetables Gratin: Omit the veggies, and swap with sliced root vegetables. Try onions, potatoes, parsnips, carrots, sweet potatoes, fennel, or yucca.
Potato Courgette And Cheddar Gratin: Swap the veggies with sliced zucchini and potatoes. Salt the zucchini ahead of time to release any excess moisture, then pat dry.
🔪 Instructions
This broccoli cauliflower gratin is ready in less than an hour! Here's how to make it with step-by-step pictures.
Preheat Oven, Melt Butter, Cook Roux: First, preheat the oven to 340 degrees Fahrenheit. Melt the butter in a medium saucepan over medium-low heat. Sprinkle in the flour and cook, continuously stirring, for about 2 minutes.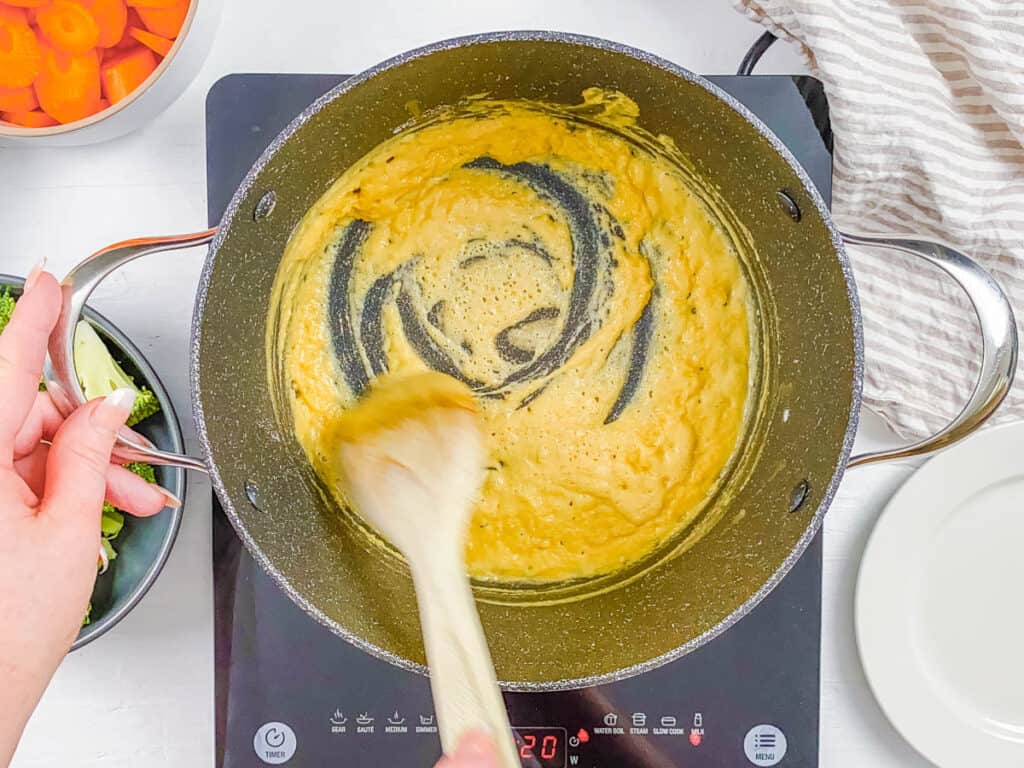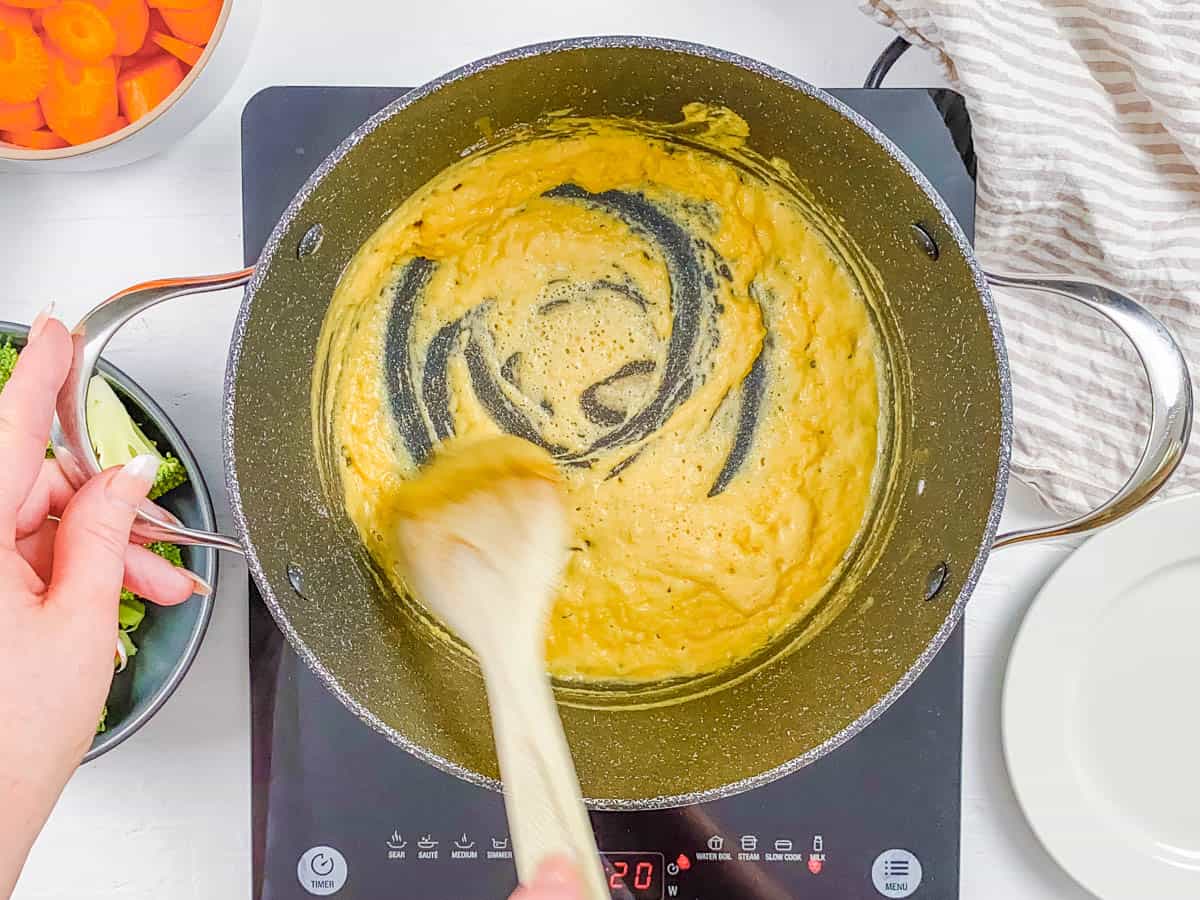 Add Milk & Cheese: Add the milk 1/4 cup at a time, stirring after each addition to ensure there's no lumps. Once all the milk is added, cook for 2 more minutes to thicken. At this point you have a tasty bechamel sauce. Add the cheddar cheese, nutmeg, salt, and pepper to the pot. Stir for a couple more minutes until the cheese is melted and well combined. Remove cheese sauce from the heat.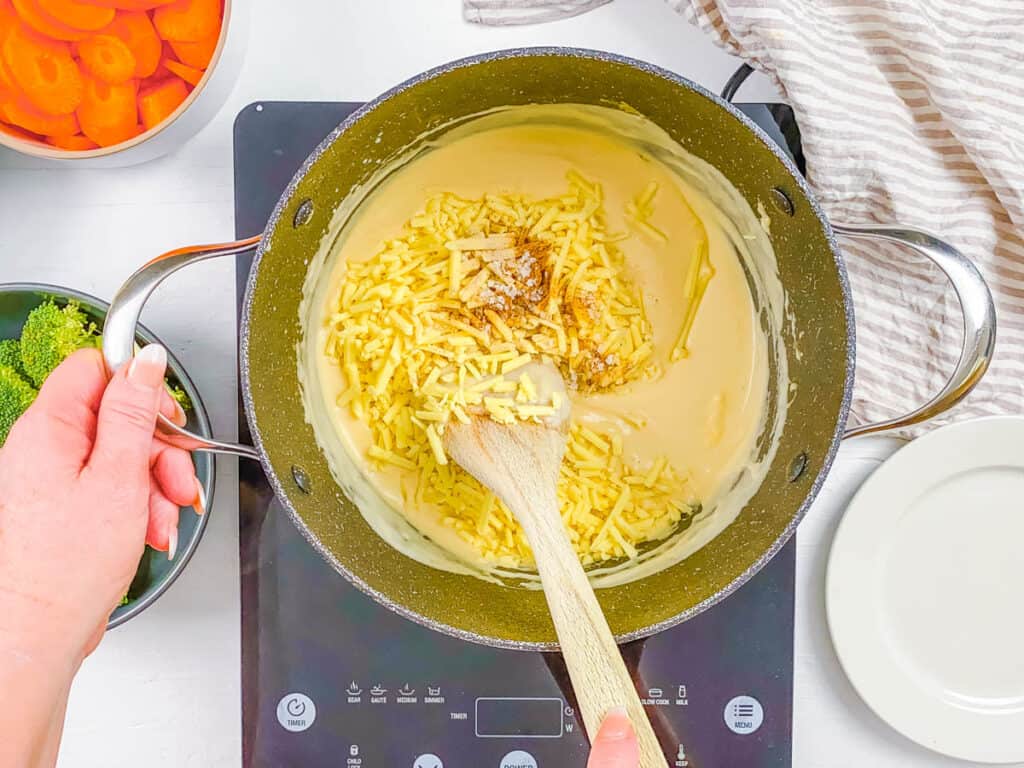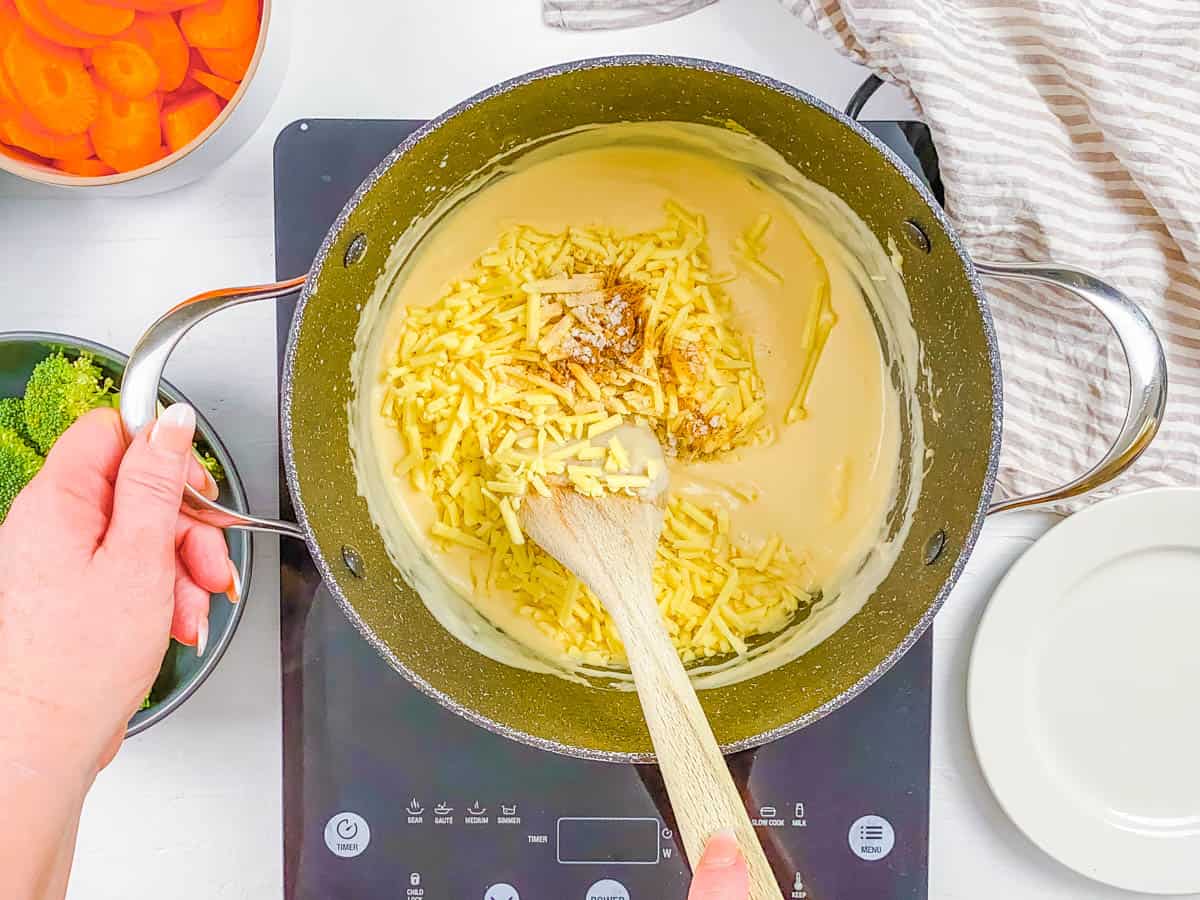 Cover Veggies: In a large casserole dish, add the vegetables in an even layer. Pour on the creamy sauce, then stir until the veggies are evenly coated.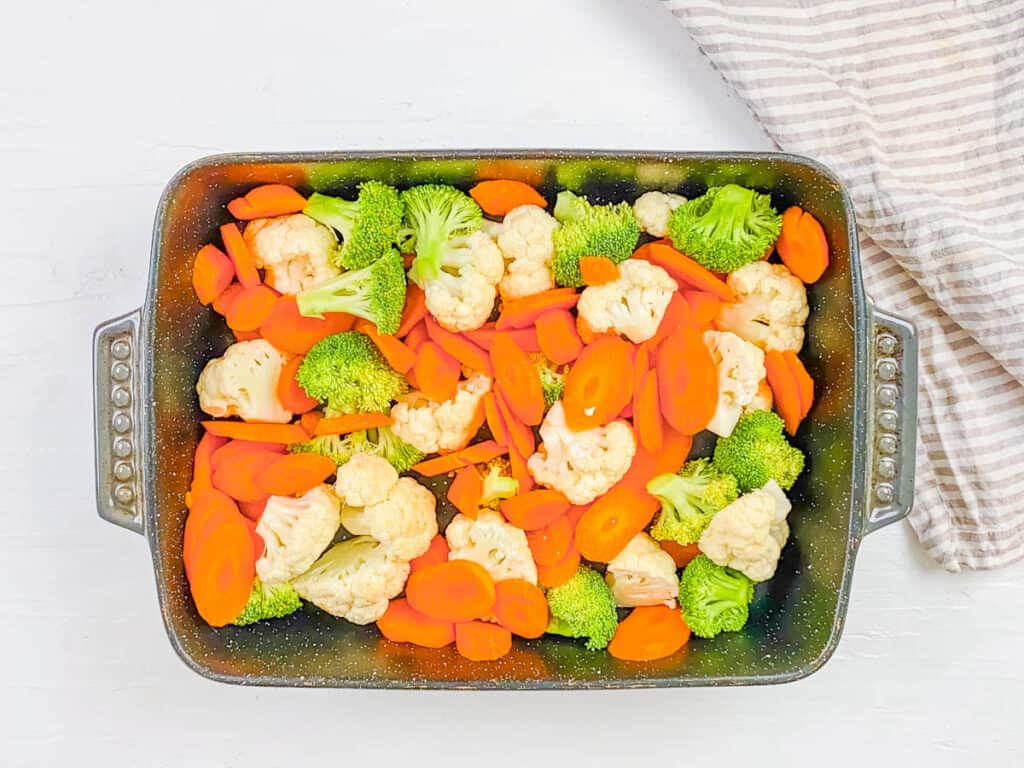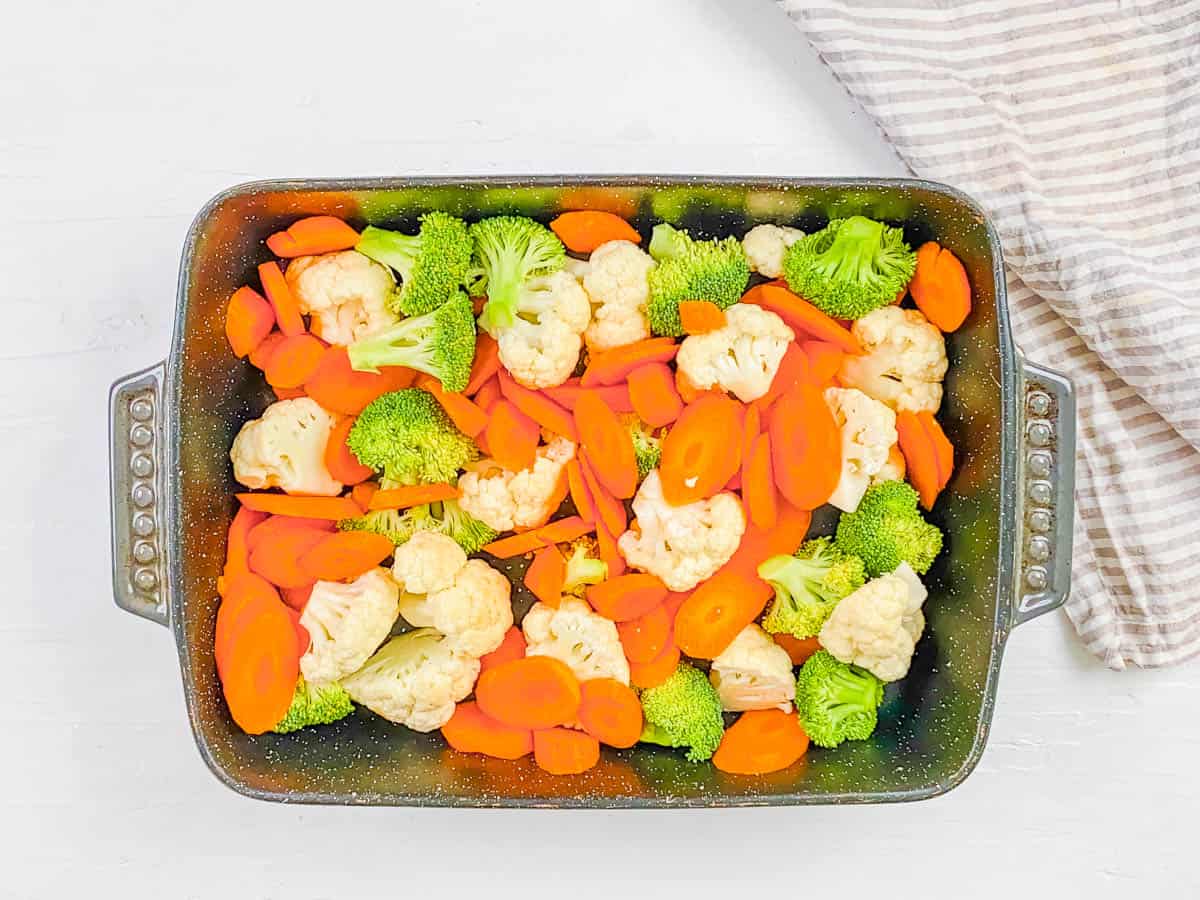 Top With Breadcrumbs: Sprinkle the breadcrumbs and parmesan cheese evenly over the veggies.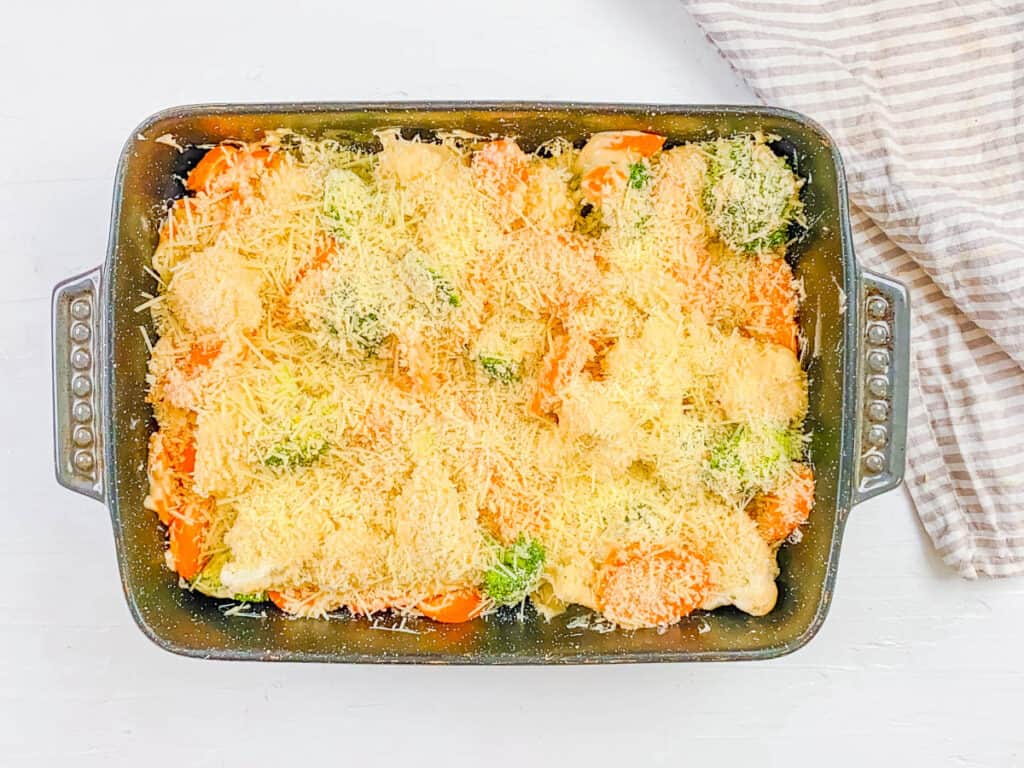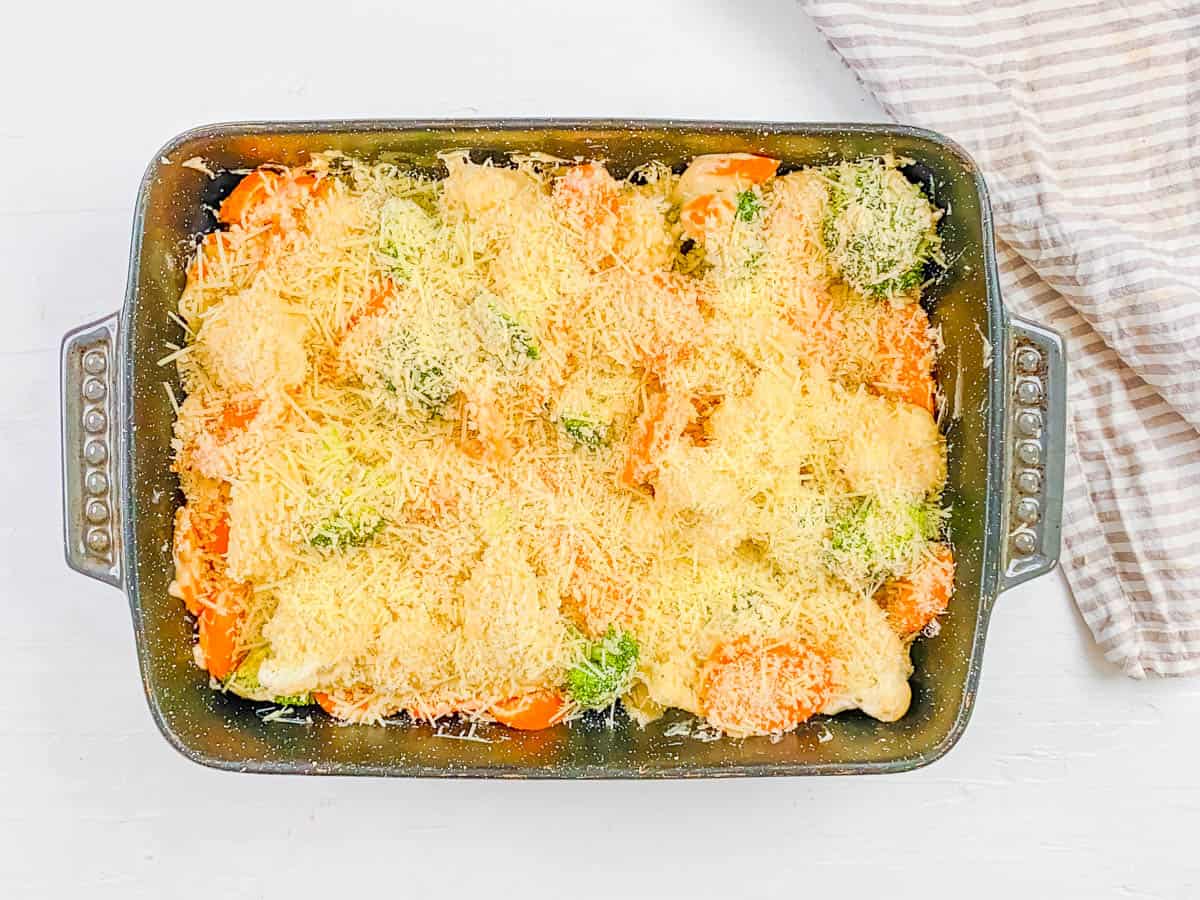 Bake Veg Au Gratin: Bake in the preheated oven for 30 to 35 minutes, until the cheese melts, the top has a golden crust, and the veggies are tender. If the veggies aren't done, cover the pan with aluminum foil and cook 5 more minutes. Enjoy immediately!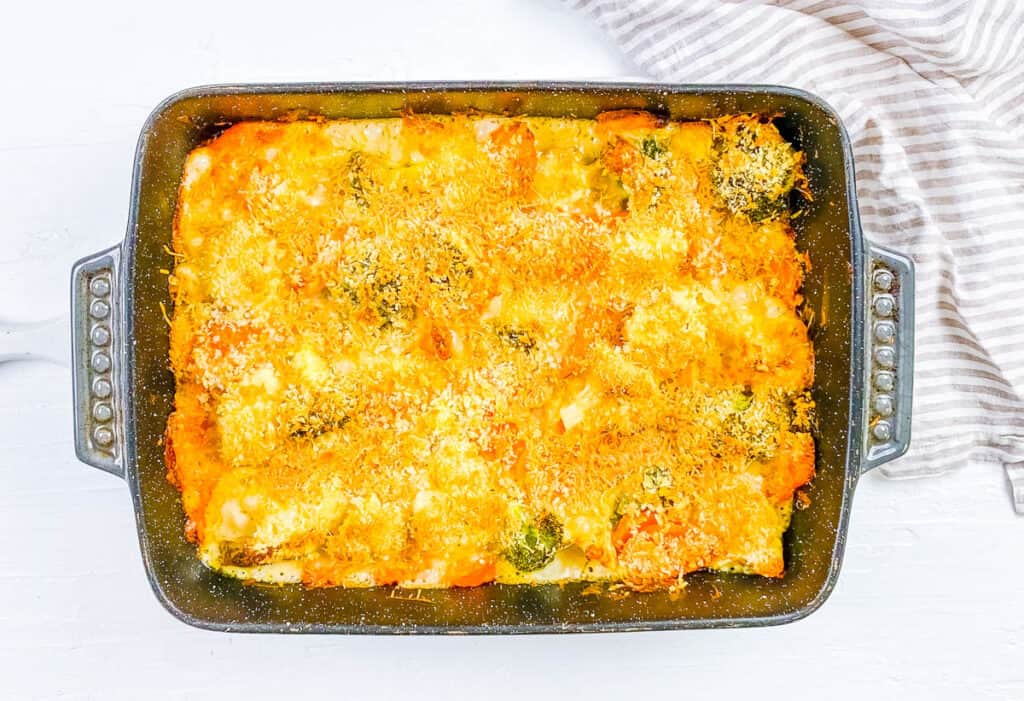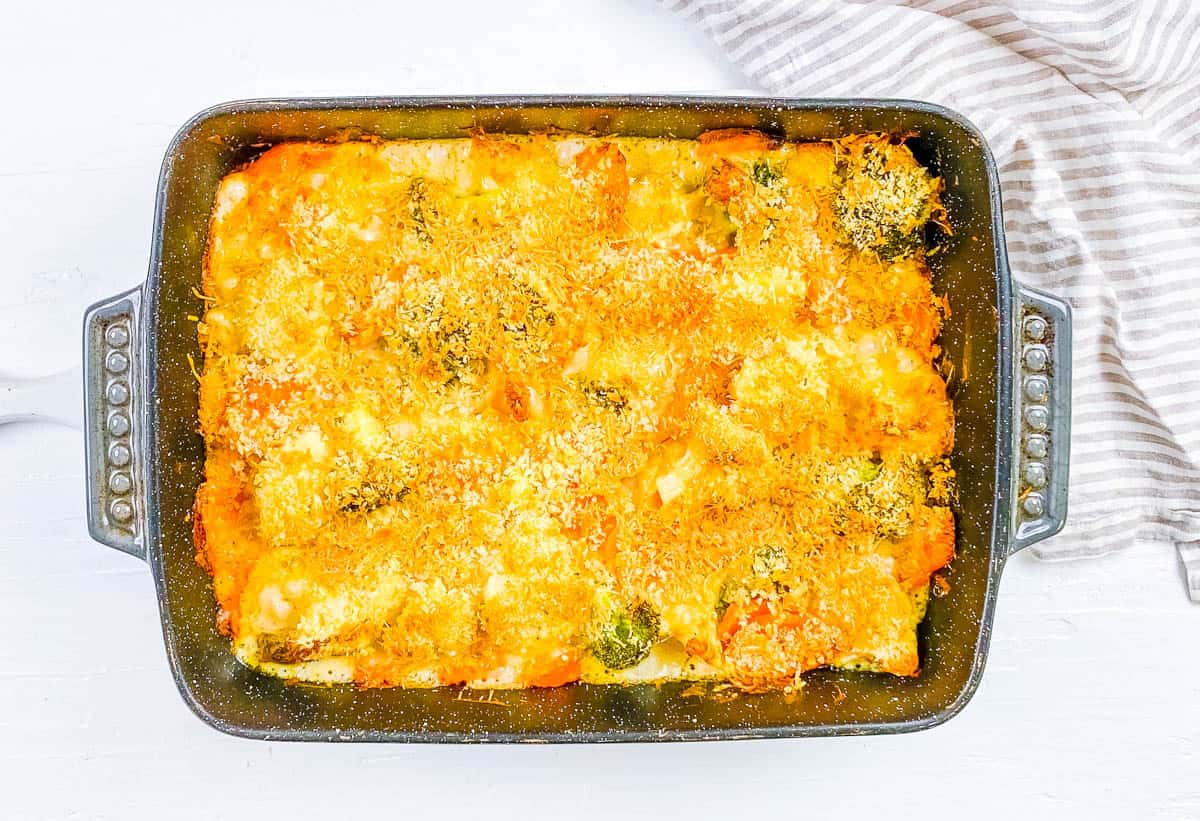 ❓ Recipe FAQs
What is au gratin?
Au gratin is a classic French dish that refers to any dish that has a lightly golden, baked crust with breadcrumbs and cheese or any other crumbly savory mixture! It's comfort food at its best!
What vegetables go with cheddar?
There are so many options! Carrots, sweet corn, broccoli, potatoes, parsnips, green beans, peas, onions, cauliflower, zucchini, eggplant, mushrooms, and spinach all taste great with cheddar cheese.
What is the preferred cheese for au gratin cooking?
This is more of a preference thing. For best results, use a meltable cheese like cheddar, gruyere, gouda, mozzarella, Italian, Swiss, Monterey jack, or fontina. Or for even more flavor, try a combination of cheeses.
How should I store leftover broccoli cauliflower au gratin?
Store leftover broccoli and cauliflower gratin in the refrigerator in an airtight container for up to four days. To freeze, simply freeze the leftovers in a freezer-safe container for up to four months. Reheat in the oven at 350 degrees until warmed through.
💭 Expert Tips
Avoid watery veggies: In general, you want to avoid vegetables that have a high water content. Root veggies and cruciferous veggies are great options. If you choose to use sliced zucchini, it's best to salt it beforehand. This releases excess moisture which you can then pat dry. Doing this ensures the au gratin won't get watery.
For a lighter version: For a lighter dish with less fat, reduce the amount of cheese by half or use reduced-fat cheese.
To ensure a perfect roux (bechamel sauce), the ratios of flour, butter and milk need to be exact, so make sure to measure carefully. If you have too much milk, your roux will be runny; but if you have too much flour, your roux will be thick and lumpy. You know the flour is cooked properly when it smells a little nutty after cooking in the butter for 1-2 minutes. Then, make sure to incorporate the milk slowly as you whisk to keep the sauce lump free!
Cutting your veggies: Try to cut the vegetables into similar sizes so they cook evenly.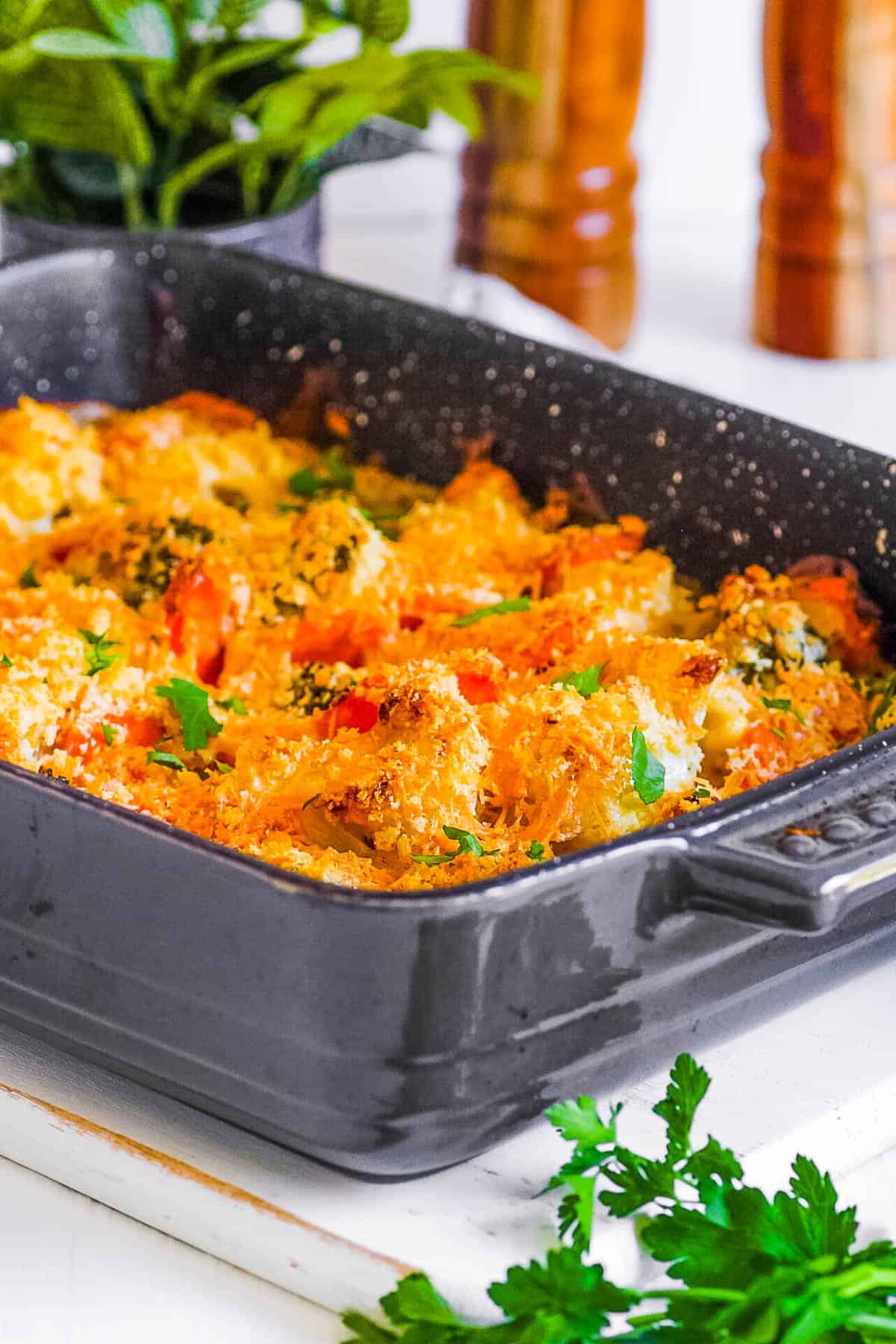 🍛 More Casserole Recipes to Try!
LOVE THIS RECIPE? Please leave a 5-star rating 🌟 in the recipe card below and/or a review in the comments section further down the page!
You can also FOLLOW ME on FACEBOOK, TWITTER, INSTAGRAM, and PINTEREST to see more delicious, healthy, family-friendly food, and if you have any questions, I'm here to help!
📋 Recipe Card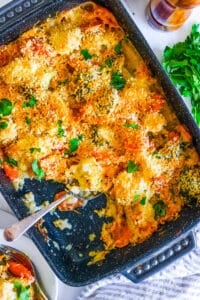 Print Recipe
Cheddar Vegetable Au Gratin
This vegetable au gratin features crisp, tender vegetables smothered in a cheesy sauce, then topped with crispy breadcrumbs and parmesan. You're going to love this easy side dish or main meal that is ready in less than an hour! Kid-friendly & vegetarian.
Instructions
Preheat the oven to 340 degrees F / 170 C.

Melt the butter in a medium pot over a medium-low heat.

When melted sprinkle in the flour and stir to combine, cook on low heat for 2 minutes.

Add ¼ cup of milk at a time, stirring in between each addition to ensure there's no lumps.

When all the milk has been added continue to cook for another 2 minutes, stirring continuously.

Add the cheddar cheese, nutmeg, salt and pepper. Stir for 3-4 minutes until well combined and cheese is fully melted, adjust seasoning to taste. Remove from the heat.

In a large oven dish add the vegetables in an even layer, cover with the cheese sauce, stirring gently to ensure the vegetables are coated in the sauce.

Sprinkle the panko crumbs and parmesan cheese over top of the vegetables.

Bake in the oven for 30-35 minutes. The topping should be a lovely golden color and the vegetables should be tender.

If the vegetables need to be cooked a little longer cover the baking dish with foil and continue to cook for a further 5-10 minutes until completely cooked through, do not over cook.

Serve immediately or store leftovers in the fridge for up to 4 days.
Notes
Any vegetables can be used in this dish however vegetables like zucchini may add extra liquid to the sauce causing the sauce to be a little watery.
If you'd like to reduce some fat in this dish simply ½ the amounts of cheese.
Gluten free flour and be used instead of all-purpose flour.
Any milk can be used, including plant based milk.
When cutting the broccoli and cauliflower into florets make sure they're all a similar size to ensure even cooking.
Frozen vegetables can also be used.
Nutrition
Calories:
251
kcal
|
Carbohydrates:
20
g
|
Protein:
12
g
|
Fat:
15
g
|
Saturated Fat:
8
g
|
Polyunsaturated Fat:
1
g
|
Monounsaturated Fat:
3
g
|
Trans Fat:
0.2
g
|
Cholesterol:
40
mg
|
Sodium:
497
mg
|
Potassium:
575
mg
|
Fiber:
4
g
|
Sugar:
7
g
36 responses to "Vegetable Au Gratin"