20 Healthiest Breakfast Cereals
This post may contain affiliate links. As an Amazon Associate, I earn from qualifying purchases. Please read my disclosure.
Have you looked at the cereal aisle lately? There are literally a million types of cereal, many of which claim to be healthy when they're not. So which are the healthiest cereals? On top of that, how do you know which healthy breakfast cereals actually taste good? This guide will help you to find the best healthy cereals for you and your family — cereals that taste great, will keep you full and satisfied, and are actually good for you too!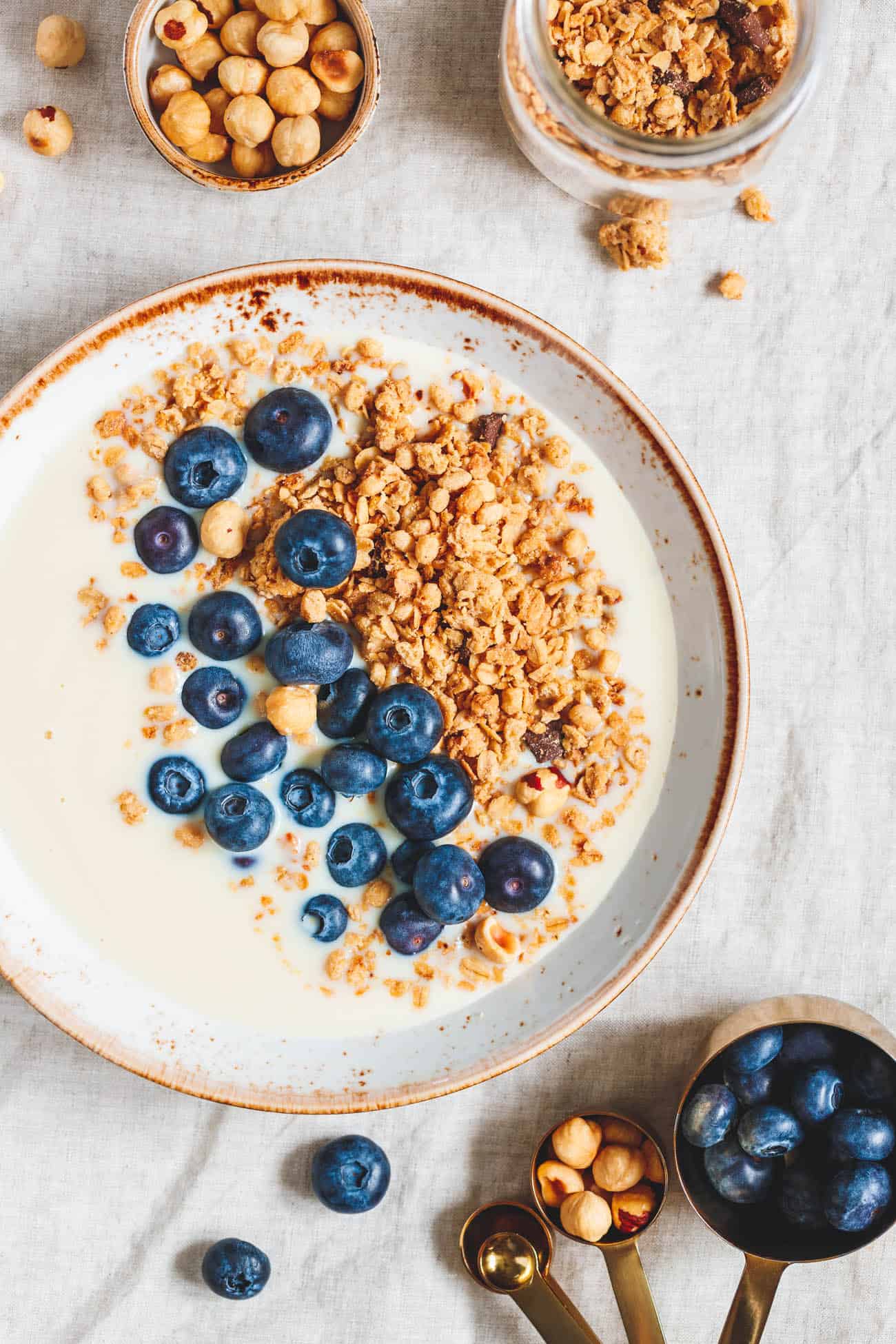 We've all been there.
The cereal aisle.
Rows and rows of colorful boxes with labels like "whole grain" and "all natural" and "organic" – but which one is actually the healthiest? The good news is, there are actually quite a few healthy cereals made with wholesome ingredients available at most grocery stores!
Read on to find my tips and tricks for finding the healthiest cereal, my top 20 best healthy cereal brands, and healthy cereal FAQs.
How To Find The Healthiest Cereals
When looking for the healthiest breakfast cereal, here's what you should look for. A good healthy cereal will have:
Low calories per serving: Healthy brands of cereal will have no more than 150 calories per 3/4-1 cup serving (note: for Granola or Raisin Bran type cereals which tend to be denser, you want no more than ~200 calories for 1/2 cup serving).
Low sugar: You want low sugar cereals with less than 6 grams of sugar per serving (any more than that and you're venturing into dessert territory). Watch out for all of the ingredients that don't sound like sugar on the nutritional label but actually are, including: cane sugar, fruit juice, high fructose corn syrup, barley malt, evaporated cane juice, maple syrup, honey, and sucrose. Also you want to choose a cereal with minimal or no dried fruit added, since that's a hidden source of extra sugar.
Lots of fiber: The healthiest cereal brands will have at least 4-5 grams of fiber per serving.
Some protein: At least 3 grams of protein per serving.
No soy: Avoid cereals that have soy protein isolate or soy protein added, as these are highly processed versions of soy that can have a negative impact on hormones and overall health.
Whole grains or grain free: Look for "whole grain" or "bran" or "whole wheat" as one of the first few ingredients, or grain free ingredients like beans or chickpeas.
No preservatives, no artificial ingredients: Avoid cereals with weird ingredients / preservatives that you can't pronounce. The healthiest cereal to eat will have no preservatives, and no artificial colors or flavors on the ingredient list.
Organic ingredients: Ideally, the best breakfast cereal brands will have either 100% or at least majority organic ingredients, especially due to glyphosate found in most non-organic cereals. As a runner up, non-GMO cereals can also be ok.
What Is The Healthiest Cereal To Eat?
The best healthy cereal is any cereal that is organic, high in fiber (at least 5 grams per serving), low in sugar (under 6 grams per serving), under 200 calories per serving, and has no preservatives or artificial colors / flavors added.
Is Cereal Good For Weight Loss?
If you're trying to lose weight, you might be wondering "Is cereal healthy?" The answer here is: it depends! Depends on the type of cereal you're eating and how frequently you're eating it. If you're just having cereal once a day for breakfast, and you're choosing a high fiber/lower calorie/low sugar option, then that can certainly be part of a diet for weight loss. On the other hand, if you're loading up on sugary cereals multiple times a day, that's actually a recipe for weight gain!
What Cereal Has No Sugar?
There are a few healthier cereal brands that have no sugar added! All of the best healthy cereals listed below are low in sugar, but cereals with no sugar include: plain oatmeal / rolled oats, One Degree Foods Organic Sprouted O's, Three Wishes Grain-Free Unsweetened Cereal, Nature's Path Organic Puffed Kamut, and Uncle Sam Toasted Whole Wheat Berry Flakes & Flaxseed.
What Is The Least Healthy Cereal?
Most Kellogg's fortified breakfast cereals aimed at kids (Lucky Charms, Golden Grahams, Froot Loops, etc.) are super unhealthy because they're high in sugar (which leads to those sugar highs and crashes), low in fiber, and contain artificial colors and flavors. Any cereal that has more than 8-9 grams of sugar per serving and contains artificial colors, flavors or preservatives is going to be pretty unhealthy for you!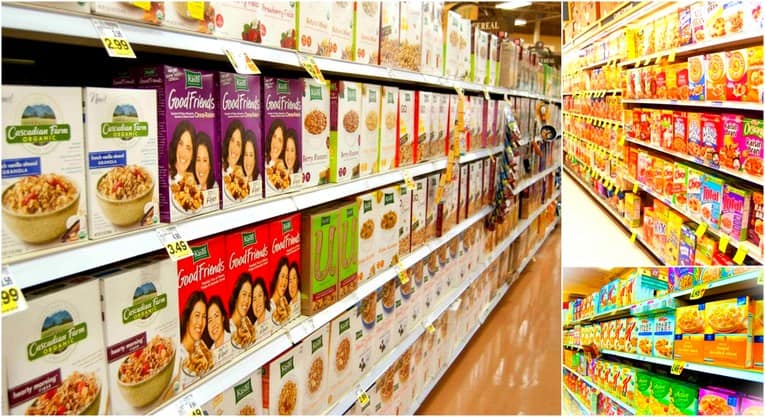 The Top 20 Healthiest Breakfast Cereals
From the healthiest o's, puffs, crunchy cereal, and flakes, to oats, granola, bran and raisin bran cereal, we have got you covered with this list of the healthiest cereals. You'll even find quite a few grain free and gluten free cereals to try that are healthy for you too!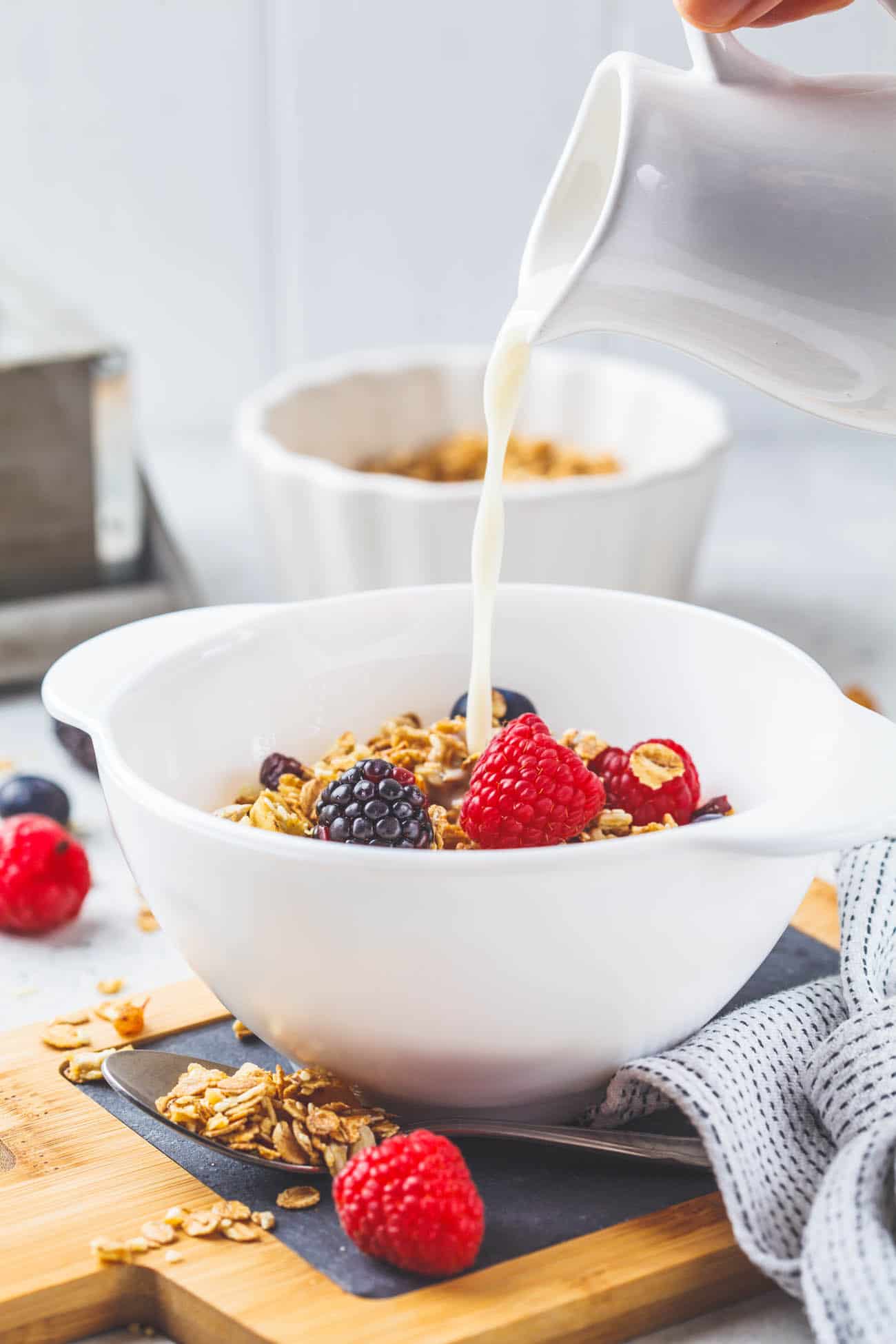 Healthy Cereal FAQs
What Makes A Cereal Nutritious?
Healthy whole grains, plant protein, and a small amount of added sugar makes for a nutritious cereal. When trying to find the healthiest cereal, if you prioritize cereals that are low in sugar (less than 6 grams per serving) and high in fiber (4 grams or more per serving), you'll likely find a good option that will keep you full all the way until lunch!

And when in doubt, choose organic, gluten free rolled oats and make oatmeal for breakfast – because that is guaranteed to be healthy every time!

Note: If you're feeding an especially picky eater, I recommend supplementing with an organic kids vitamin along with their breakfast to ensure they're getting all of the nutrients they need!
Is Raisin Bran Healthy?
Raisin Bran is certainly a popular cereal, but unfortunately the most common Raisin Bran cereal brands (made by Kellogg's and Post) are not healthy for you.

While the name "Raisin Bran" sounds healthy, it's actually loaded with calories and sugar – because of the amount of raisins included in the cereal. Raisins are dried fruit, and dried fruit overall is concentrated in sugar, since it doesn't have all of the water that its fresh fruit counterparts contain.

One serving of Post's Raisin Bran cereal (1.25 cups) contains 210 calories and 20 grams of sugar. Kellogg's is no better – one serving (1 cup) contains 190 calories and 17 grams of sugar.

That's almost the same amount of sugar in a can of Coke, or a regular sized Snickers Bar! For a healthy Raisin Bran type cereal, try Nature's Path Flax Plus Raisin Bran instead.
Is Granola Healthy?
Granola typically runs into the same problem as Raisin Bran – way too much sugar and calories packed into a small serving! Making granola at home will result in a healthier granola since you can control the amount of sugar and fat added to the recipe (like this low calorie granola recipe that is super low in sugar!)

If you are looking for a pre-made/store-bought granola, follow the same rules as you would when looking for an actually healthy cereal (low in sugar, high in fiber). I like KIND Granola, Bare Naked Fit Granola, and Purely Elizabeth Granola.

Remember, with granola, portion size matters – you can go overboard even with the healthy granola brands if you eat more than 1 serving per day!
Are Cheerios Healthy?
On the surface, Cheerios look healthy: one serving (1.5 cups) has 140 calories, 4 grams of fiber, 2 grams of sugar, and 5 grams of protein (and they are gluten-free).

However, because Cheerios are not organic, they have been found to contain high levels of the carcinogen glyphosate – so I wouldn't recommend them!

Instead, try One Degree Foods Sprouted O's or Cascadian Farms Purely O's.
Is Captain Crunch Healthy?
Unfortunately no, Captain Crunch is not healthy at all! It is low in nutritional value, highly processed, contains no fiber, is not organic, and likely contains high levels of the carcinogen glyphosate. It's also has an extremely high sugar content (17 grams per serving size!!) and includes artificial colors (yellow #5 and #6), and includes BHT (an ingredient banned in Japan, Europe, Canada, Australia, and New Zealand due to it being classified as a carcinogen).
Is Quaker Oats Granola Cereal Healthy?
Quaker Simply Granola Oats with Honey and Raisins might sound healthy, but it is not healthy at all. It's high in calories (270 for just 2/3 cup), high in sugar (16 grams per serving), and Quaker oats have been shown to have high levels of glyphosate because they are not organic. It's also not vegan friendly as it contains whey protein. While this cereal does have a good amount of fiber and protein, it's not enough to offset the negative attributes of this cereal.
Is Grape Nuts Healthy?
Grape Nuts is actually pretty healthy! It's the best choice of conventional breakfast cereals that I've found. It's Non-GMO, has only 4 ingredients (Whole grain wheat flour, malted barley flour, salt, dried yeast), and has 7 grams of fiber, 5 grams of sugar and 6 grams of protein per serving.

The only downside to Grape Nuts is that it's super calorie dense and is not a granola (which is the only type of cereal I'd expect more calorie density). Grape Nuts has 400 calories for a 1 cup serving (200 calories for 1/2 cup), which is why I didn't include it on my list of healthy cereals above!
Is Special K Cereal Good For You?
Special K original cereal looks healthy, but it's actually not that healthy for you. There are some positives: it's low in calories (150 calories for 1.25 cups), high in protein (7 grams per 1.25 cups), and low in sugar (5 grams per 1.25 cups). But it has no fiber, includes BHT, and Special K was also one of the cereals found to contain glyphosate, so I would recommend avoiding it and choosing one of the other healthier cereal choices on this list above.
Is rice chex healthy?
Rice Chex looks healthy, but (like Special K and Cheerios), is not healthy for you unfortunately. The positive aspects of Rice Chex include: it's gluten free, low in calories (160 calories for 1.33 cups) and low in sugar (3 grams per 1.33 cups). But Rice Chex has very little fiber, and it's not organic and it is GMO. It's also pretty processed and has a glycemic index of 69, which is more than a chocolate bar!
I hope this list of healthy cereals that taste good helps you to pick out a great and satisfying cereal – it's the perfect excuse to make a healthy start to your day! Also, check out some of these delicious healthy eating guides!
Love this healthy eating guide? Feel free to leave a review in the comments section further down the page!
You can also FOLLOW ME on FACEBOOK, TWITTER, INSTAGRAM, and PINTEREST to see more delicious, healthy, family-friendly food, and if you have any questions, I'm here to help!
72 responses to "20 Healthiest Breakfast Cereals"