Healthy Tips and Advice for New Moms
This post may contain affiliate links. As an Amazon Associate, I earn from qualifying purchases. Please read my disclosure.
Becoming a mom is one of the most amazing and equally challenging things I've ever experienced. It's both overwhelming and rewarding, exhausting and energizing. And while there is no shortage of advice available to new moms, how do you sift through everything to figure out what you should really listen to? That's where this guide comes in! Here are 10 pieces of advice for new moms – based on what helped me when I first became a mom myself!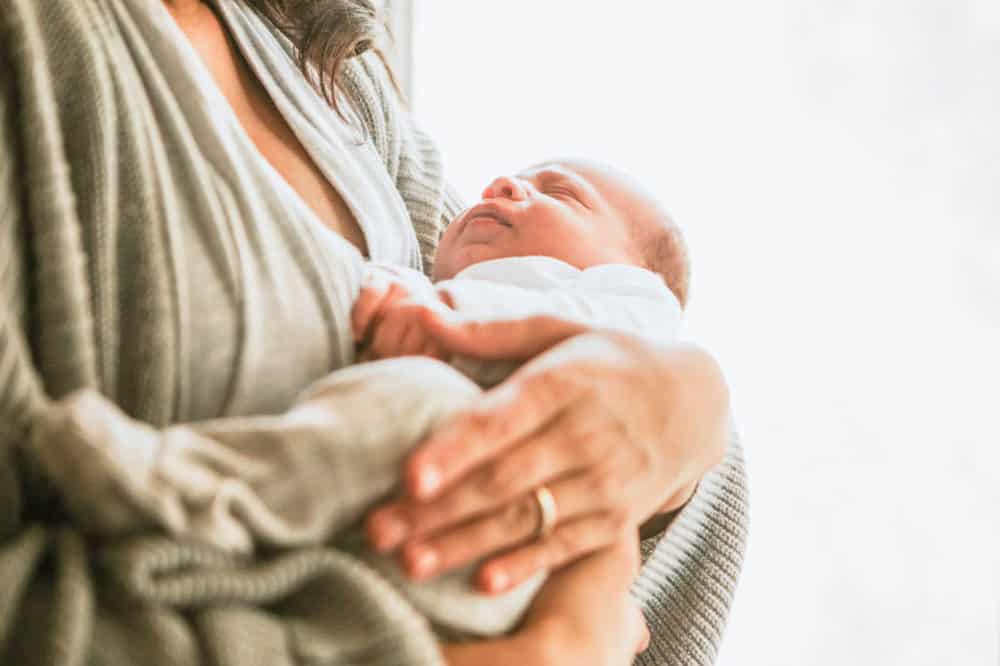 Mothering, historically, has been something that's been passed down through generations, and new mothers were supported by large communities of women: their own mother, aunts, grandmothers, or other older women in the community.
Today, most moms don't have that village to rely on. Most of my learning to be a mom were based on memories I had of my own childhood and with my own mom, and gut feeling.
When I was reflecting on my experience, I realized there were a few tips that were easy to remember, and that really did help me in those first few months of new parenthood. I thought it would be helpful to share some of these pieces of advice with you!
Keep in mind that every person & situation is different, especially yours, so make sure to talk to your doctor and see how these guidelines and tips can help you. These tips are not a substitute for professional medical advice, diagnosis, or treatment. Never disregard or delay in seeking professional medical advice because of something you read here!
What is Some of the Worst Advice for New Moms?
Sleep when the baby sleeps: The thing about this is, when your baby is sleeping is one of the few times you might get to yourself, or to get stuff done that you can't do while they're awake. This also assumes that sleeping is like a light switch for everyone and you can nap at any hour of the day (that was not true for me!) With my first child, I was able to sometimes nap when she napped, but not always. And with my second, forget about it – I had a toddler running around!
Keep trying, you'll be able to breastfeed: This is just not true. I have known moms that see 10 different lactation consultants, address tongue/lip ties, pump round the clock, nurse til they are bleeding, and they still can't breastfeed exclusively. When it comes to breastfeeding, do what works for you and ignore everyone else.
Enjoy every minute! This is just not possible. Every minute is not fun! The better advice is: try to be present for whatever comes, and it's ok to not enjoy every second of parenting.
Only buy a few onesies for your newborn, they grow out of them so fast: Yes, they grow fast, but they also poop 100 times a day and spit up even more. Those onesies will get changed more often than you know, and unless you want to do laundry every day, it's ok to stock up on the essentials to make life easier!
10 of The Best Pieces of Advice for New Moms
#1 | Be Kind To Yourself
You just grew and birthed a human being. You are amazing. Your body may not be the same post-baby, but you are literally a superwoman. Try to remember that as much as you can, especially in those moments when you feel self-critical after the birth.
#2 | Do Less
Don't try to do a ton of stuff every day. No one can do it all! Don't be too hard on yourself if you feel like you're not doing enough – it's a long, tough road at times so it's important to be gentle and kind with yourself! It's ok if your to-do list never gets done and the house is a mess, prioritize taking care of yourself and your baby first. The most important thing your baby needs is a healthy and happy mom.
#3 | Stay Hydrated
Drinking enough water / fluids is critical to keeping your energy up, and for any breastfeeding mom it's super important for your milk supply! I used to carry around a water bottle all day and fill it with coconut water, regular water, and a tiny bit of apple juice mixed with a ton of water. I had to mix things up a bit because just drinking regular water all the time got boring for me!
#4 | Try to take a bath or a shower every day
It sounds simple, but taking a shower every day (even if it was just for 10 minutes) gave me time to unwind and feel like a normal adult. It's amazing how much a shower or bath can do for your mood. Along the same lines, try to change out of your PJs after your shower – it's the first step to motivating you to get out of the house!
#5 | Get Moving
This doesn't necessarily mean going to the gym every day (which, if you're at home alone with your little one, is nearly impossible!) But try to find ways to stay active a few times a week if you can. When you start out, keep your fitness goals small and manageable – anything counts – even if it's just a 10 minute walk! Some of my favorite ways to get a little exercise when my daughter was born was to do yoga or strengthen my core in my house when she napped, or to take her on walks around our neighborhood.
#6 | Eat
This might sound like a no-brainer, but it is a huge challenge getting meals together while taking care of a little one by yourself (while your partner is at work and you're still on leave). Make sure you don't skip breakfast and take advantage of the naps during the day to prep your other meals so that it doesn't end up being 5pm and you still haven't eaten lunch (this did happen to me quite a few times when my daughter was first born!) Consider taking a multivitamin, and if you're looking to boost breast milk supply, try these healthy lactation brownies or gluten free lactation cookies!
#7 | Accept help, take time for yourself
If people are offering to do things for you: your laundry, making your meals, etc. Say yes! Take as much support as you can and ask for help when you need it. And even in small opportunities, take time for yourself so you can recharge and mentally rest.
#8 | Breastfeeding Can Be Painful, Remember That Formula is OK!
"Breast is Best" is one of those things that is said often to new moms, and is actually not helpful at all. All it does is put unnecessary pressure on mothers to breastfeed – when a lot of times, breastfeeding is painful, hard, emotionally exhausting and challenging. Any breastmilk you can give your baby is great, and if you have to supplement with (or switch to) formula that is 100% ok too! Luckily, there are some great formula options out there that are very comparable to breastmilk – so you can feel good about what you give your baby whether it's formula or breastmilk! Just remember: Breast is NOT best, FED is best.
#9 | Let Go of Expectations
I remember having a lot of expectations of what new parenthood would be like, and I remember a lot of people having expectations of me too! You'd be surprised as to how many expectations and advice for new moms people like to share once you have a baby. The best thing for me was to let go of ALL the expectations and just go with whatever was happening in front of me that day. Oftentimes the experience of new motherhood may not match your expectations, and that is normal!
#10 | Remember: This too, shall pass
They won't be waking up all night long forever. They will learn to walk and talk. They will learn to use a fork and knife and eat solids. When it comes to raising kids, nothing lasts forever! It's hard to remember in the moment but if you can remember it, those difficult moments will feel just a little bit easier.
22 responses to "Healthy Tips and Advice for New Moms"