10 Tips for a Healthy Pregnancy
This post may contain affiliate links. Please read my disclosure.

Hi Everyone!
As most of you know, I shared some exciting news on my blog about 8 weeks ago, and since then time has just been flying by! Soon after I shared the news of our little girl's arrival in January, I asked all of you for some feedback on whether you'd like to see healthy pregnancy tips and healthy baby content on this blog. The results were split right down the middle! 50% of you said you'd love to see pregnancy/baby related content on the blog; and 50% of you were either on the fence or were in the "no" camp.
Since 50% is still a large number, I thought I'd create one post today about Pregnancy Health & Wellness. Many of these tips are actually applicable whether you're pregnant or not – so hopefully this is helpful to most of you! 🙂
If you are a first time visitor or not interested in pregnancy content, I'd encourage you to visit my Recipes page for delicious and healthy meal ideas, or my Top 10 Most Popular Recipes page for some additional inspiration.
* * *
The Picky Eater's Top 10 Tips for a Healthy Pregnancy
(Note: These are tips that have worked for me personally and that I have discussed with my doctor. If you are pregnant, you should talk to your doctor and modify these guidelines based on what he/she advises – as every pregnancy is different!)
#1: You need ~300 calories more per day than you were eating before you got pregnant. That's actually not a lot more! The whole "eating for two" thing is kind of a myth — you don't need double the amount of food now that you're pregnant. Spend those 300 calories wisely! I like having 2% Greek Yogurt (8oz) with a dash of honey and 1 Tbsp granola; or 1 slice sprouted wheat bread with 1 Tbsp peanut or almond butter + 1/2 a banana sliced. For some additional healthy snacking ideas, click here.
#2: You need ~60g protein a day. It is totally possible to get this much protein even if you're vegetarian (like me). The best vegetarian sources of protein are: Greek Yogurt (15-20g per cup), Low fat string cheese (8g per stick), Peanut Butter (7-8g per 2 Tbsp), Organic Tofu/Tempeh, Sprouted grain bread (6g per 2 slices), Beans and Lentils (8g per serving), and Milk (11g per cup)! The way I get enough protein is by eating 1 Greek Yogurt, 2 glasses of milk and string cheese + beans / lentils daily.
#3: Eat organic if you can! If you need to prioritize your organic food purchases, buy the items on The Dirty Dozen list organic, and buy organic dairy and soy.
#4: Eat a variety of foods to get all the nutrients you need. An easy way to do this is to make sure each meal incorporates at least 1 fruit, 1 vegetable, and whole grains/protein. Choose foods high in fiber (whole wheat bread, high fiber cereal, whole wheat pasta, quinoa, brown rice, fruits & veggies). Also, eat 4 servings of calcium-rich foods a day to ensure you're getting 1000-1300mg calcium in your diet; along with iron-rich foods to ensure you're getting 27mg of iron daily.
#5: Exercise! Exercise during pregnancy is healthy and absolutely recommended. Prenatal yoga is great, as is walking, or any exercise that doesn't get your heart rate up TOO high and allows you to maintain a conversation while exercising (that's a good litmus test on whether it's too strenuous). If you were a runner before you got pregnant, it's usually ok to keep running as long as your doctor agrees and you aren't experiencing any issues. I've been exercising almost daily since I got pregnant — my routine of choice: I like to do 1 hour of prenatal yoga or walk on the treadmill at 4mph and an incline of 3 for 35 minutes.
#6: Stay hydrated. I was surprised at how quickly I got thirsty/dehydrated once I became pregnant. Water is obviously great for staying hydrated, but if you need to mix it up a bit, unsweetened coconut water is wonderful (and has electrolytes which help rehydrate you), or you can also mix 1/4 cup of juice with 3/4 cup of water for a refreshing spa like drink.
#7: Get enough sleep. You'll have plenty of sleepless nights once your baby comes! If you can, try to get 7-8 hours a night. Your body will thank you 🙂
#8: Keep stress levels low. The ironic thing is, some aspects of pregnancy can be quite stressful! But try your best to keep your stress levels low: do some breathing exercises, get a prenatal massage, rely on your partner for support, go for a walk, take a warm bath, meditate, etc. And do the best you can — don't get too down or be too hard on yourself if you do get stressed once in a while!
#9: Follow some of the no-brainers: don't smoke, don't drink alcohol (although some doctors say 1 glass of wine here and there is ok in your 3rd trimester), limit caffeine to no more than 300mg per day (8oz of coffee has 150mg, black tea has 80mg). And don't do crazy adventure sports or anything that would risk you falling / injuring yourself while pregnant.
#10: Enjoy the ride! Pregnancy is such a unique experience and is always an emotional roller coaster. Just remember to enjoy each moment as much as you can, be gentle with yourself, embrace any emotion you feel at the time, and be ok with having both good days and bad days (every day of pregnancy won't feel blissful and that's ok!) Time will fly and soon your new little arrival will be here before you know it!
For anyone who's pregnant or thinking of getting pregnant — I wish you a healthy happy pregnancy! I'll leave you now with this most recent picture of me at 28 weeks – our baby girl is growing by the minute!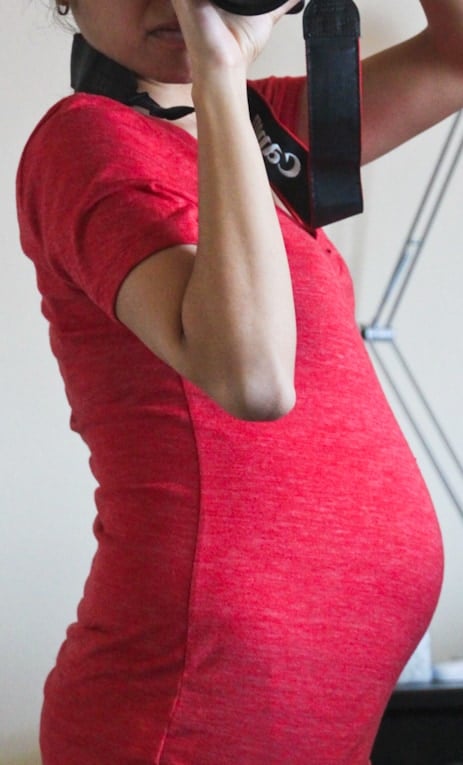 20 responses to "10 Tips for a Healthy Pregnancy"