The 18 Best Multivitamins For Women (2023 Guide)
This post may contain affiliate links. As an Amazon Associate, I earn from qualifying purchases. Please read my disclosure.
Are you looking for the healthiest and best multivitamins for women on the market today? This post will help you find the best multivitamin for you!
When looking for the best multivitamin specifically designed for women, it can be confusing. What are the most important vitamins to be included in a multivitamin for women? Which brands are the best? Do you even need to take a multivitamin?
Not all multivitamins are created equal. Sorting through all the various brands, and finding answers to these questions can be time consuming and still leave you feeling bewildered and confused.
That's where this guide comes in. I did a lot of research and found the healthiest and best multivitamins for women on the market today. Below is my quick list of the best multivitamins, prenatals, and probiotics for women and further down in the post you'll find details about each vitamin, pros and cons of each and what to consider when finding the right one for you!
Some of the items below were given to me to review by the manufacturer or as part of an affiliate program. I may receive commissions if you make a purchase through the links provided. I only recommend products I've actually evaluated, I believe are the highest quality, and can do the most to help you and your family. By purchasing any of these products from the links below, you help keep this blog running, so thanks for your support!
Keep in mind that every person & situation is different, especially yours, so make sure to talk to your doctor and see how these guidelines and tips can help you. These tips are not a substitute for professional medical advice, diagnosis, or treatment. Never disregard or delay in seeking professional medical advice because of something you read here!
My recommendations are based on the manufacturer's claims and ingredients list, and what I feel best giving to my own family. Your individual results may be different based on your overall diet, exercise, age, weight, family history, or pre-existing conditions.
At A Glance: Best Multivitamins For Women
Best Prenatal Multivitamins
What Are The Benefits Of Taking A Daily Multivitamin?
There are several benefits of taking a daily multivitamin on both your mental and physical health.
Reduced Risk of Chronic Disease
Improved Mood
More Energy
Immune Support
Reduce Stress and Anxiety
Improve Memory
Maintain Muscle Strength
Who Should Take A Daily Multivitamin? Do Women Need To Take Vitamins?
Taking a daily multivitamin is a good way to ensure you're getting all the nutrients your body needs. Even when we are doing our best to eat a healthy diet of fruits, vegetables, and whole grains it's challenging to get the necessary daily nutrients in the food you eat on a daily basis. That's when taking a multivitamin helps to fill in any gaps.
While anyone who Isn't getting their daily intake of nutrients from food alone would benefit from a daily vitamin, some groups of women may benefit from a women's multivitamin more than others. They include:
Vegan Women
A vegan diet can often be low in B vitamins and iron. Taking a daily multivitamin for women can help bridge that gap. The three best vegan women's multivitamin we've found are First Day for Women, Ritual 18+ and Garden of Life Women's Prenatal Multivitamin.
Pregnant Women and Women of Childbearing Age
Getting enough nutrients during pregnancy is essential for both mom and baby's health. Pregnant women may benefit from taking a daily prenatal vitamin, especially due to the increased need of B vitamins (including folate/folic acid) and Iron during pregnancy. If you are planning to get pregnant, a comprehensive women's multivitamin may help regulate your cycles and promote overall well being to get your body ready for pregnancy.
Postmenopausal Women
During menopause, women experience both hormonal shifts and different nutrient requirements (e.g. needing more calcium to help with bone density). A multivitamin for women 50+ can help supplement those needs and can help manage some menopause symptoms.
Other Diets
Women following a dairy-free, gluten-free or even vegetarian diet may need to supplement with a vitamin to ensure they're getting all of the daily nutrients they need. Since foods like wheat, grains, and dairy all contain vitamins essential to overall health.
What Should You Look For In A Multivitamin?
There are several key nutrients that are particularly important for women's health. When looking for a multivitamin these 10 key nutrients are essential.
Vitamin D
Improves bone health, helps to boost the immune system, fights inflammation, and helps with absorption of calcium. It also helps improve mood. Vitamin D is synthesized by our bodies when we're exposed to sunlight, and since most people don't live in an area that gets enough sunlight to create our daily Vitamin D requirement, supplementing with Vitamin D is important.
Magnesium
Helps reduce stress, improves sleep, balances blood sugar, and regulates muscle and nerve function. It can also aid in digestion and in building protein. There are over 10 different forms of magnesium, and everyone reacts to each form differently. I've found that magnesium malate is the most absorbable and has the least side effects of any form of magnesium.
Calcium
Most women are calcium deficient. Women lose bone density more quickly than men, making calcium an essential nutrient for women.
Iron
Not everyone needs the same amount of iron, however iron is an essential nutrient for women. It helps increase energy, supports better brain function, and healthy red blood cells. The type of iron included in a multivitamin matters – some forms of iron can be constipating and aren't ideal to take. All of the best multivitamins for women will include a form of iron that is easy to digest and absorb.
Folate
Not only is folic acid important to take while pregnant, but it also helps with inflammation. Pregnant women need at least 400 mcg of folic acid daily.
Vitamin B12
Helps to keep your body's nerve and blood cells healthy. It's also helpful for brain health and energy. As we age, we lose our ability to absorb B12 efficiently, so supplementing can help with that.
Biotin
This is a B vitamin that can help improve hair and nail health, which can be especially helpful for postpartum and postmenopausal women.
Vitamin E
This is an antioxidant that helps reduce inflammation and helps with muscle tissue function in the body.
Vitamin K
Helps protect against osteoporosis, helps with the building of bones, and may also help protect against heart disease and blood clots.
Omega-3 Fatty Acids
These are healthy fats that help boost your immune system, and support heart health. It's hard to get enough Omega 3 fats from diet alone, so having a multivitamin that includes omega 3s can be hugely helpful. If your multivitamin doesn't include Omega 3's, that's ok! There are many Omega 3 supplements that you can take separately as well. I like Nordic Naturals Omega 3s.
Additional Nice To Have Ingredients
Vitamin A: An antioxidant that is anti-inflammatory / helps reduce inflamation in the body.
Vitamin B6: Can help with reducing anxiety and improving energy.
Boron: helps promote bone health and tissue repair. It also helps to balance hormones and helps with magnesium absorption.
Vitamin C: For immune support!
Zinc: For healthy nails, and for immune system support.
Selenium: An antioxidant that helps prevent heart disease and aids in healthy hair, skin and nails.
Other Things To Look For
Has conducted third-party testing (this is essential, because nutrition supplements are not heavily regulated in the US, so you want a supplement that has been third party tested for heavy metals and any harmful substances).
Ideally organic or at least non GMO or NSF certified
No artificial flavors, colors or sweeteners added
No ingredients you can't pronounce on the nutrition label
Bioavailable forms of vitamins (easy to absorb and utilize in the body)
What Should You Avoid In A Multivitamin?
In most cases you don't want a multivitamin that delivers more than 100% of any nutrient.
Look for a multivitamin that comes from whole food sources or as close to whole food sources, rather than synthetic sources.
Stay away from vitamins that contain food dyes, artificial sweeteners, sugars, and oils.
List Of Ingredients To Avoid
Sorbitol
Mannitol
Carageenan
Artificial flavors
Food Dyes (FD&C Red #40 Lake, FD&C Blue #2 Lake, FD&C Yellow #6 Lake)
Aspartame
Mono- and Diglycerides
Details: 19 Best Multivitamins For Women In 2023
Check Out These Other Vitamin Guides!
Final Thoughts
Taking a multivitamin daily can have numerous benefits for your health. But it's important to consult with your doctor before starting any supplement program.
With all dietary supplements, there are different considerations when finding the best one for you. Some people may not want to swallow pills, in which case a gummy vitamin or liquid multivitamin for women is the way to go. Or you may need a more comprehensive or less comprehensive vitamin. All of the vitamins on this list are high quality and will provide the key essential nutrients that most women need – so I hope this list helps you find a multivitamin that is right for you!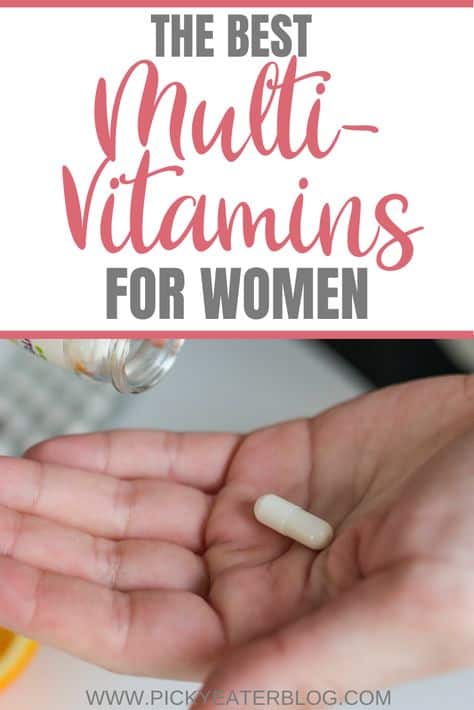 22 responses to "The 18 Best Multivitamins For Women (2023 Guide)"