First Day Vitamins Review
This post may contain affiliate links. As an Amazon Associate, I earn from qualifying purchases. Please read my disclosure.
In this First Day Vitamins Review, I take an honest look at this multivitamin made for kids, answering all of your questions, and providing you with the pros and cons, as well as the benefits of using this vitamin for yourself or your child.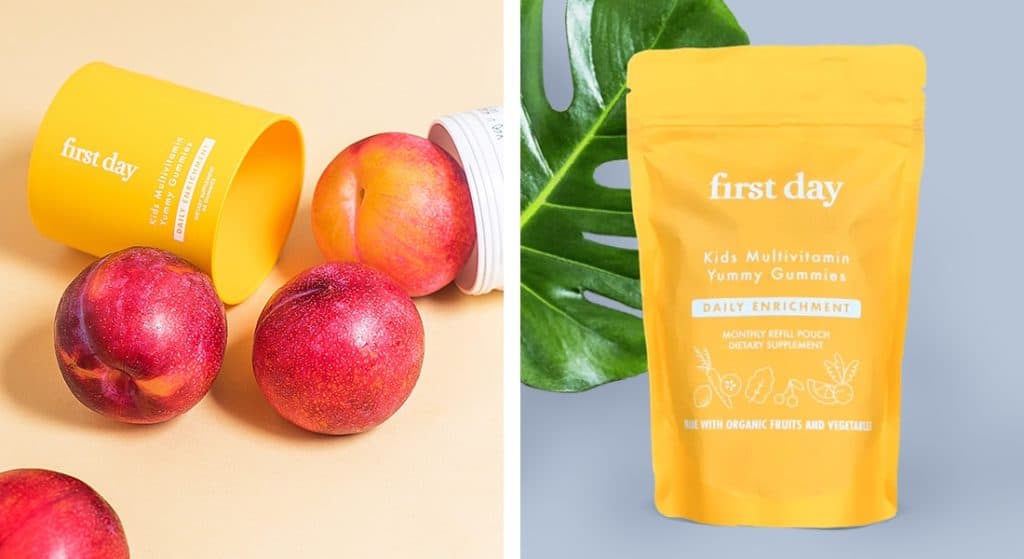 With all of the chewable vitamins on the market today, it can be difficult to sort through them all and find the one that is right for you or your child. Unfortunately, most vitamins on the market do not contain quality ingredients, and some children's multivitamins have extremely high doses of vitamins (which are not necessary!)
Finding a vitamin that supports your health is important! You want a quality supplement that isn't full of sugar and added ingredients your body doesn't need, while at the same time having natural ingredients your body can actually absorb so it will reap the benefits.
First Day's Kids Vitamins is one of the best dietary supplements because they are all about delivering a vitamin with the most absorbable form of nutrients using only the highest quality ingredients from natural sources.
What Are First Day Vitamins?
First Day Gummies are a supplement brand developed by two friends, Alice and Andy who studied at Yale and Stanford. They asked unanswered questions in the wellness industry, like "What are supplements really doing for us? Why are they made the way they are?" It was with those questions at the forefront they developed their First Day Multivitamin with the mission to help parents raise healthy kids and happy families.
Their team of experts investigated thousands of clinical studies to develop a supplement that uses the latest science to source the most absorbable, organic ingredients from around the world. Their goal is to provide important minerals and essential nutrients to complement a balanced diet — promoting overall health!
First Day life vitamins makes vitamins for the whole family! In addition to their kids vitamins and women multivitamins, they recently launched a men's vitamin and teen's multivitamins. All of their multivitamins are gummies that taste great!
What Makes Them Different From Other Multivitamins?
Bioavailable Ingredients: Sourced from around the world with each vitamin and nutrient being heavily researched before being added to their vitamins. Each nutrient is the most bioavailable, meaning your body can absorb it. Folate is a great example of this — many vitamin brands use folic acid which people with the MTHFR gene mutation can't absorb. First Day uses folate (which is absorbable). The greater the bioavailability the easier it is for your body to process the nutrients.
Science-Driven Approach: Using the latest scientific breakthroughs, their experts designed their multivitamins to complement our daily habits. Their high-quality multivitamin formulation is the result of investigating thousands of clinical studies to understand what we lack, and they only added those vitamins and nutrients into their multivitamins. That way you're not getting more of a vitamin you already have, or less of the ones you actually need.
High Quality, Organic Ingredients: First Day complete vitamins are made with a blend of 12 organic fruits and vegetables that are full of antioxidants and phytonutrients. They use organic produce to create their gummies, and all of their vitamins are free of heavy metals.
No Over-Supplmentation: Before making First Day Gummy Vitamins, the team researched the vitamins and nutrients that children are often lacking to fill the nutritional gaps. Many other brands have over 100% of the daily value for nutrients in children's vitamins. In addition, the daily values listed on the label can sometimes be based on an adult diet, so the dosage for younger kids is actually much higher. As a result, children can get an upset stomach or even worse, have long term health issues as a result of over-supplementation. Many people don't realize the seriousness of this, especially with certain vitamins. In the short-term, over-supplementation can cause vomiting, severe headache, bone and joint pain, and dry, peeling skin. In the long term, it's linked to increased rates of health issues like lung cancer and heart disease.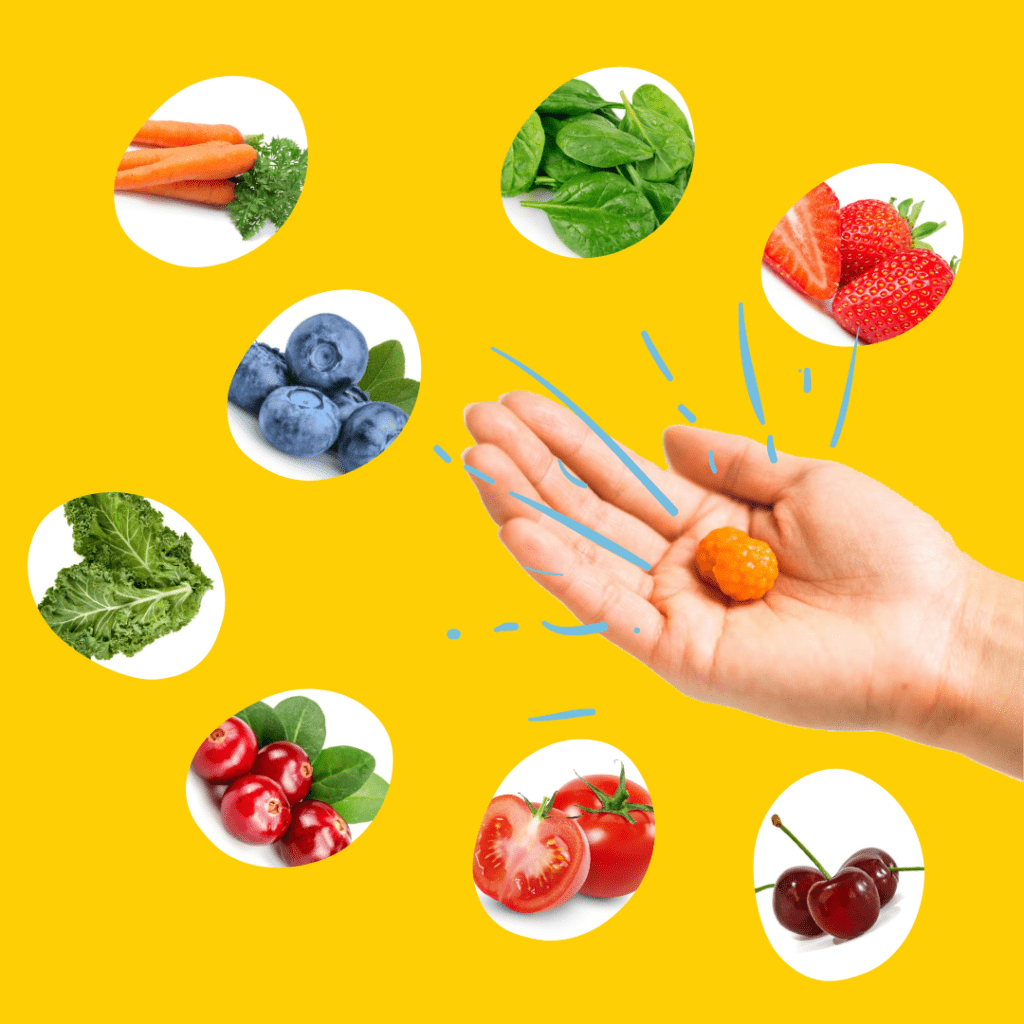 First Day Vitamins Ingredients
All of their multivitamin gummies contain 2 grams of sugar per serving. This is a relatively small amount of sugar, and they don't use any artificial sweeteners. The recommended dosage is two gummies per day.
Vitamins A: Sourced from organic carrots. Vitamin A has been shown to provide immunity support and healthy eyes and cells. Two types of vitamin A are found in their formula.
Vitamin C: Found in oranges, peppers, and strawberries. Some pediatricians suggest Vitamin C may help the duration of the common cold and similar viral infections.
Vitamin D3: Found in mushrooms. It supports the immune system and bone development.
Vitamin K: Found in natto, and soybeans. It helps with calcium regulation, and hemoglobin development.
Vitamin B1: Sourced from seaweed, whole grains, and legumes. These B vitamins provides energy for the metabolism, and helps with cellular maintenance.
Vitamin B2: Sourced from spinach, asparagus, and soybeans. Vitamin B2 in the form of riboflaven, it provides energy for the metabolism, helps with vision, and cellular development.
Vitamin B6: Sourced from chickpeas, potatoes, and bananas. It helps with enzymatic reactions, immune support, and hemoglobin development
Vitamin B12: Sourced from peas, lentils, nuts and seeds. It helps with red blood cell formation and brain function and development.
Folate: Found in leafy greens, broccoli, brussel sprouts. Supports energy and cellular growth. Unmetabolized folic acid, which is what is typically found in breakfast cereals and most traditional vitamins, is not in a form that is easily absorbed by the body. The natural form of folate is much better utilized and is the form that is found in whole foods.
In addition to the vitamins above, the First Day Women's, Men's and Teen's Multivitamins have 3 more nutrients included:
Biotin: Found in cauliflower, mushrooms, and avocado. Supports cellular growth and healthy skin.
Magnesium: Found in spinach, pumpkin seeds, almonds, and cashews. It helps support healthy bones.
Zinc: Found in beans. Supports the immune system and helps with infections, and cuts.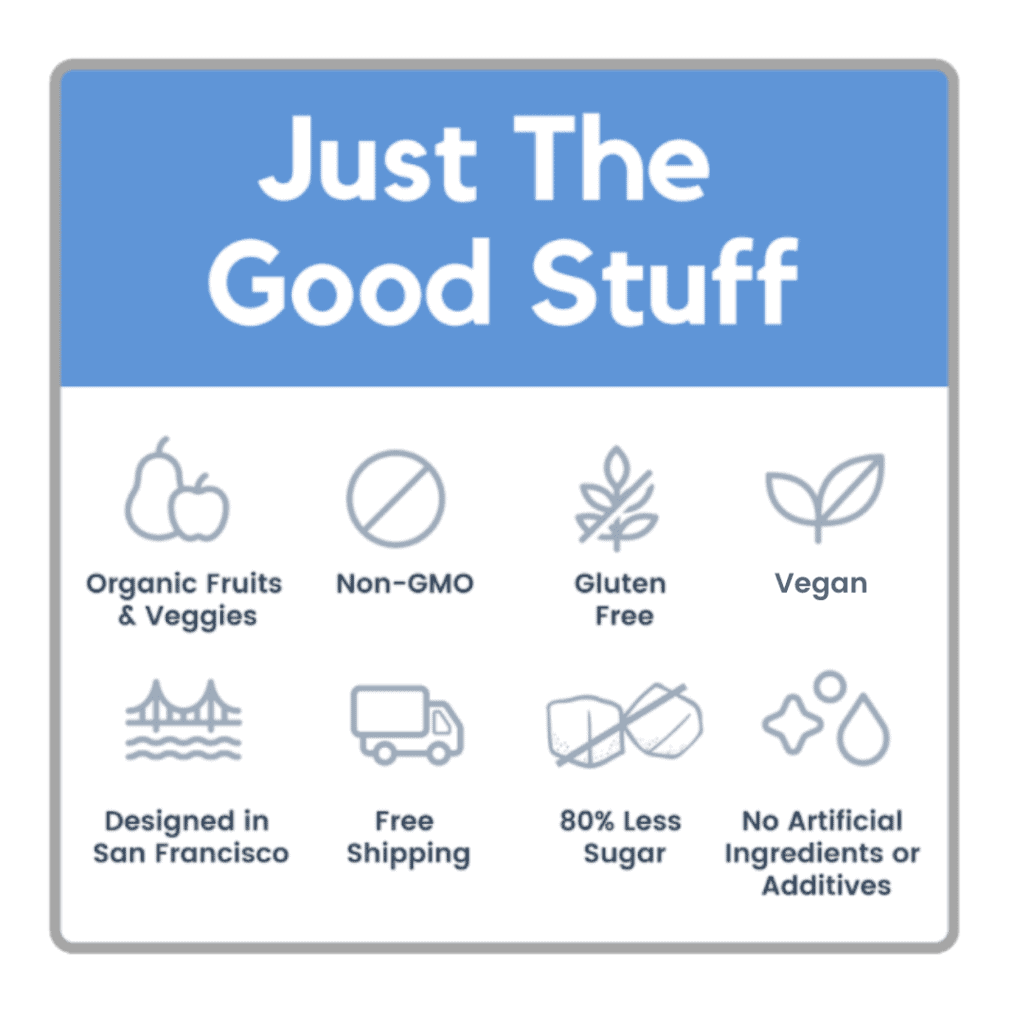 Pros: What I Like About First Day Vitamins
50-80% less sugar than leading gummy vitamins, minimal added sugar (only 2 grams natural sugar content per serving from cane sugar – no glucose syrup, stevia or monk fruit)
Gelatin Free
Vegan
Organic
Non-GMO
Gluten-Free
No artificial flavors
No artificial ingredients or additives
Free of the 8 most common allergens
No over-supplementation
Only includes the nutrients you need
Uses the most bioavailable form of each nutrient
Sustainable packaging
Taste great!
Great for picky eaters
45-Day Moneyback guarentee
Subscription service not necessary (but does provide a discount!)
Get 15% off your first order!
Free shipping!
Cons: Other Things To Consider
Must order online through their website
Not Kosher certified, but they don't use any ingredients that are not considered Kosher
More expensive than the typical brand of multivitamins you will find on store shelves, but much higher quality
First Day's Gummy Multivitamin doesn't contain essential fatty acids like fish oil or probiotics, but both of these are easy to add to your child's routine on a daily basis. I like Nordic Naturals for a DHA supplement for kids, and here are my recommendations for a probiotic supplement for kids.
Are First Day Vitamins Right For Me Or My Child?
First Day Kids Vitamins
When it comes to choosing a multivitamin for your child, there are many factors to consider, and it is really up to you to decide. First Day could be a good option if you're looking for an easy way to supplement your child's diet with just the critical vitamins they need. If your child is eating a well-balanced diet and a variety of food, and you're not concerned about dietary gaps, it may not be necessary to provide them with a daily vitamin.
Another thing to consider is the form your child takes best. These are not liquid vitamins, but gummy multivitamins. If your child prefers a liquid form, this may not be right for your child.
However, kids are rapidly growing, and their needs change just as quickly. Providing your child with First Day Children's Vitamins ensures that they are only getting the nutrients they need.
You don't have to worry about over-supplementation with their vitamins. You can also rest assured that these gummies are made with the best quality and bioavailable ingredients. It's a great option to help ensure your children get their nutritional needs met.
First Day Women's Vitamins
The women's multivitamins are meant for women ages 18 and older. They are designed to supplement an average woman's diet with the vitamins and nutrients they are likely lacking from their diet.
First Day is a good choice for you if you prefer a gummy vitamin, over one you have to swallow and are looking for something that uses high-quality ingredients.
These are especially great for people who are vegan and looking for a vegan friendly gummy as First Day uses pectin, not gelatin, in their formula.
First Day Vitamins FAQs
Are First Day Vitamins FDA approved?
The Food and Drug Administration does not approve any supplements. All supplements on the market do not need to go through the process of being FDA approved. However, First Day takes pride in the quality of their ingredients, and the science behind their formula. Their supplements are manufactured in facilities that are GMP-certified, which means that they comply with all of the FDA's highest standards for manufacturing.
How many gummy vitamins do my kids need to take a day?
The recommended dosage is two gummies per day. They can be taken with or without food.
Are the kids' gummies appropriate for girls and boys?
First Day Vitamins for kids are appropriate for both boys and girls ages 3-13. The vitamins and nutrients that young children ages 3-13 need are the same for both boys and girls according to the Food and Nutrition Board of America and the American Academy of Pediatrics. For older children (kids ages 13-18), you can switch them to an adult multivitamin if your pediatrician approves, or try out First Day's new teen multivitamin, formulated for ages 14-18.
What fruits and vegetables are included in the organic blend?
Broccoli, Broccoli Sprouts, Tomato, Carrot, Spinach, Kale, Strawberry, Raspberry, Blueberry, Tart Cherry, Pomegranate, Cranberry.
Do their gummies taste good?
Yes! Their gummies taste great! They come in several different fruit flavors. First Day tested multiple flavors, and even had their customers participate in tasting so that they could provide the best-tasting vitamins for both kids and adults.
Final Thoughts
First Day Vitamins are a healthy vitamin you can feel good about giving to your family. They include the essential vitamins your child needs, and none of the stuff they don't. Using top-quality ingredients, they are suitable for people with allergies or dietary restrictions. Providing your child with these vitamins will give you a bit of peace of mind knowing you're helping your child's growth and development!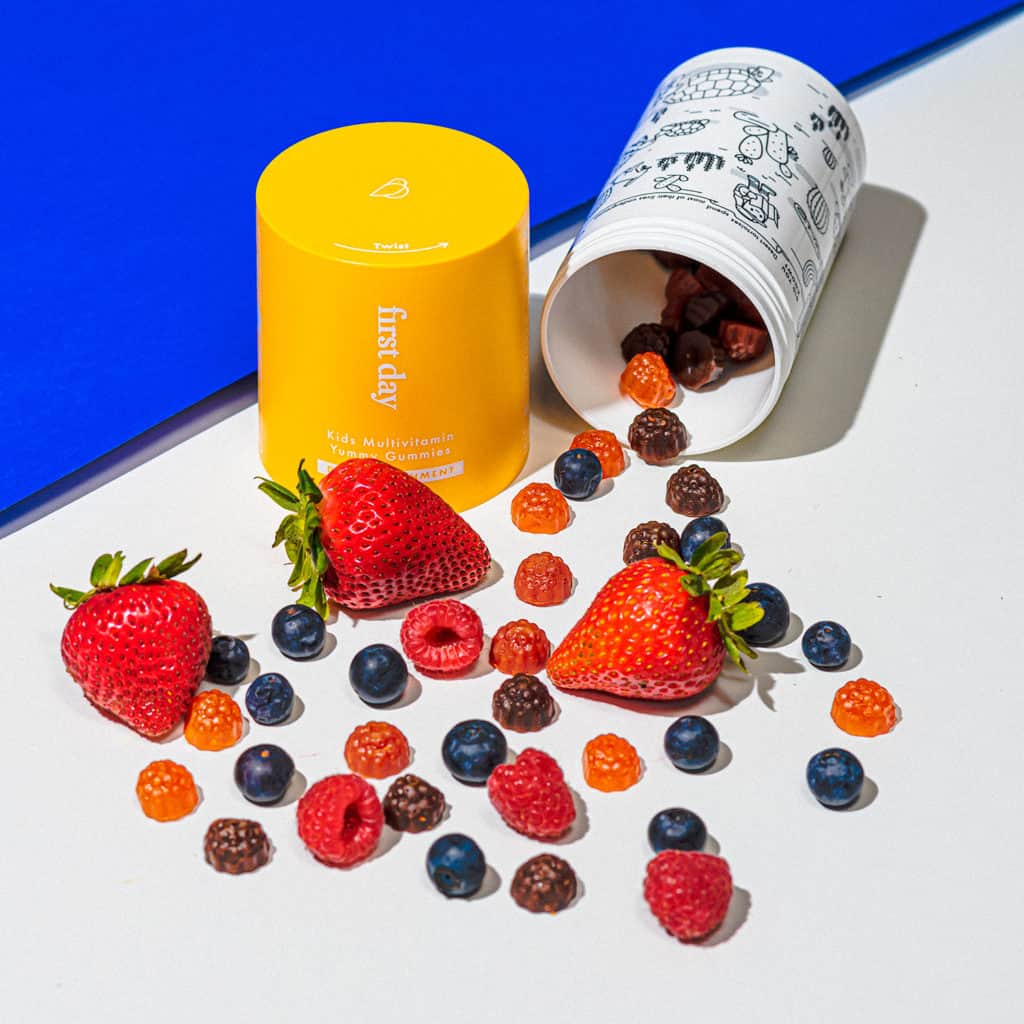 Check Out These Other Vitamin Guides!
I hope I have thoroughly answered all of your questions in this First Day Vitamin review! If you have any further questions, please leave a comment below – I personally respond to every question I get! You can also FOLLOW ME on FACEBOOK, TWITTER, INSTAGRAM and PINTEREST to see more delicious, healthy, family-friendly food!
28 responses to "First Day Vitamins Review"