Easy, Healthy, Mini Banana Bundt Cakes
This post may contain affiliate links. Please read my disclosure.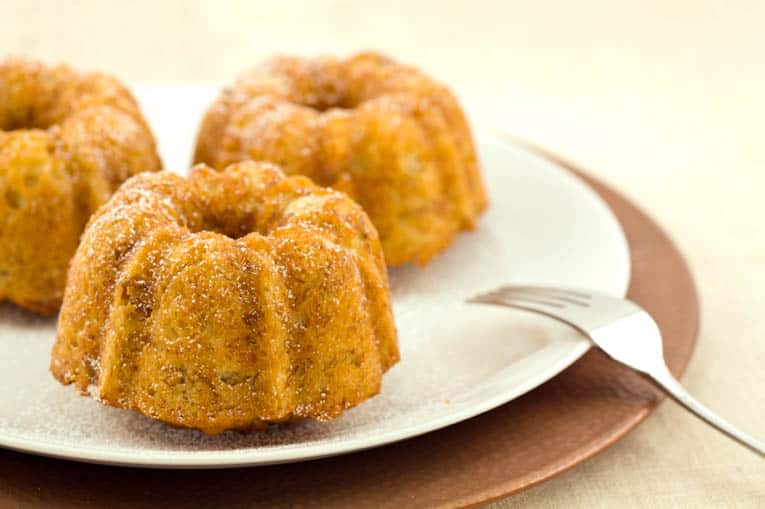 Banana bread is one of those irresistible comfort foods that I just can't get enough of.
Growing up, we'd always have banana bread around the holidays. My dad would bring home a mini loaf from the Whole Foods Bakery, and we'd each enjoy a small piece on a Sunday afternoon with a hot cup of Chai.
It was delicious, and a special treat.
Oh, and we would always have it warmed up. There's something about eating warm banana bread that just brings out all of the moisture from the bananas and the warm fall spices like cinnamon, brown sugar, and nutmeg.
We would also try to get the kind with walnuts, because I love banana bread with walnuts. I know, I know, the whole "nuts in banana bread" thing can be controversial – you either love it or you hate it.
I happen to love it 🙂
I've always wanted to recreate the traditional recipe for banana bread into a healthier version that still tastes like the original. When my wonderful coworker brought these to work…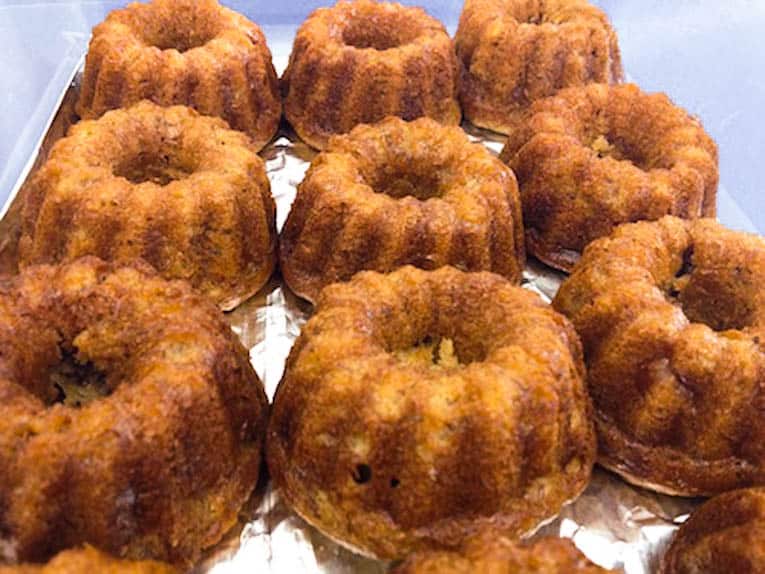 … I knew I had found the recipe I was looking for!
You won't believe it, but these beautiful little banana bundt cakes have no butter or oil in them, but are super super moist and satisfying.
If you have overripe bananas sitting around at home, the kind you're almost ready to throw out, then this recipe is for you. You can enjoy one of these mini bundt cakes pretty much guilt-free, with your afternoon tea or coffee.
This recipe makes about 16 mini cakes, and each cake has about 107 calories, 1.2g fat, 1.8g fiber, 4g protein, and 7g sugar.
It's just perfect for the holiday season.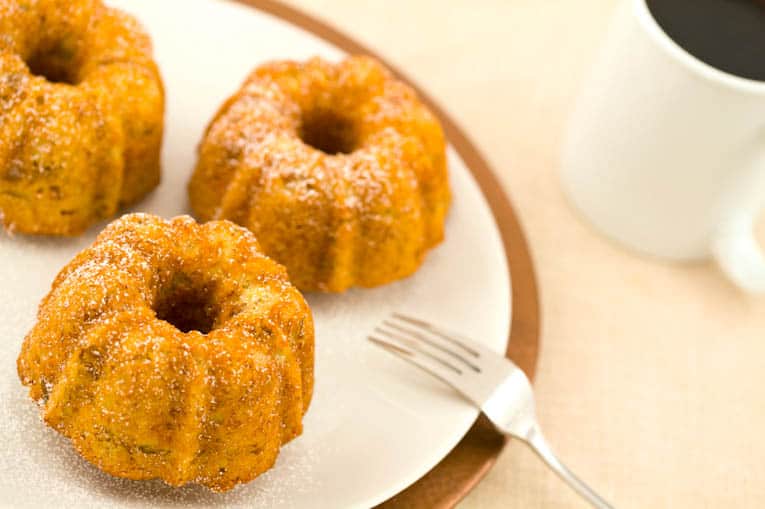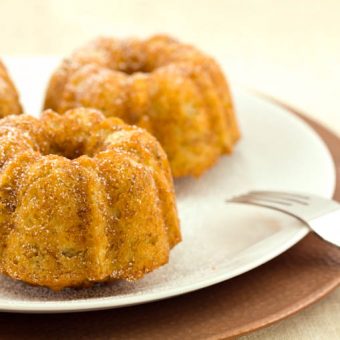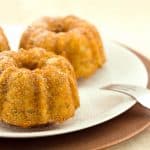 Print Recipe
Easy, Healthy, Mini Banana Bundt Cakes
Banana bread is one of those irresistible comfort foods that I just can't get enough of. I like making individual cakes so I can control portion and also use healthier ingredients.
Instructions
Preheat oven to 350 degrees.

Mix the wet ingredients (bananas, greek yogurt, butter vanilla, eggs, sugar) together. Cream them together completely to give your cakes lift and lightness.

Mix the dry ingredients together.

Mix the wet and dry ingredients together, and pour into a mini bundt pan (kind of like you're making muffins, but instead they're little bundt cakes). Make sure to not overmix, or your cakes will turn out rubbery.

Bake for 25 minutes at 350 degrees. Note – depending on your oven calibration, these might take less or more time to cook. Check them after 15-20 minutes and then frequently thereafter to make sure they don't overcook! Let cool, and then serve.
Nutrition
Serving:
1
cake
|
Calories:
107
kcal
|
Carbohydrates:
20.2
g
|
Protein:
4
g
|
Fat:
1.2
g
|
Saturated Fat:
0.2
g
|
Sodium:
48.7
mg
|
Fiber:
1.8
g
|
Sugar:
7
g