How to Make a Vegan Egg: 11 Egg Replacement Options
This post may contain affiliate links. Please read my disclosure.
When it comes to egg substitutes there are a variety of methods you can use. In this detailed guide, I'll give you step by step instructions on how to make a vegan egg using various methods including flax eggs, chia eggs, fruit purees, aquafaba, and silken tofu.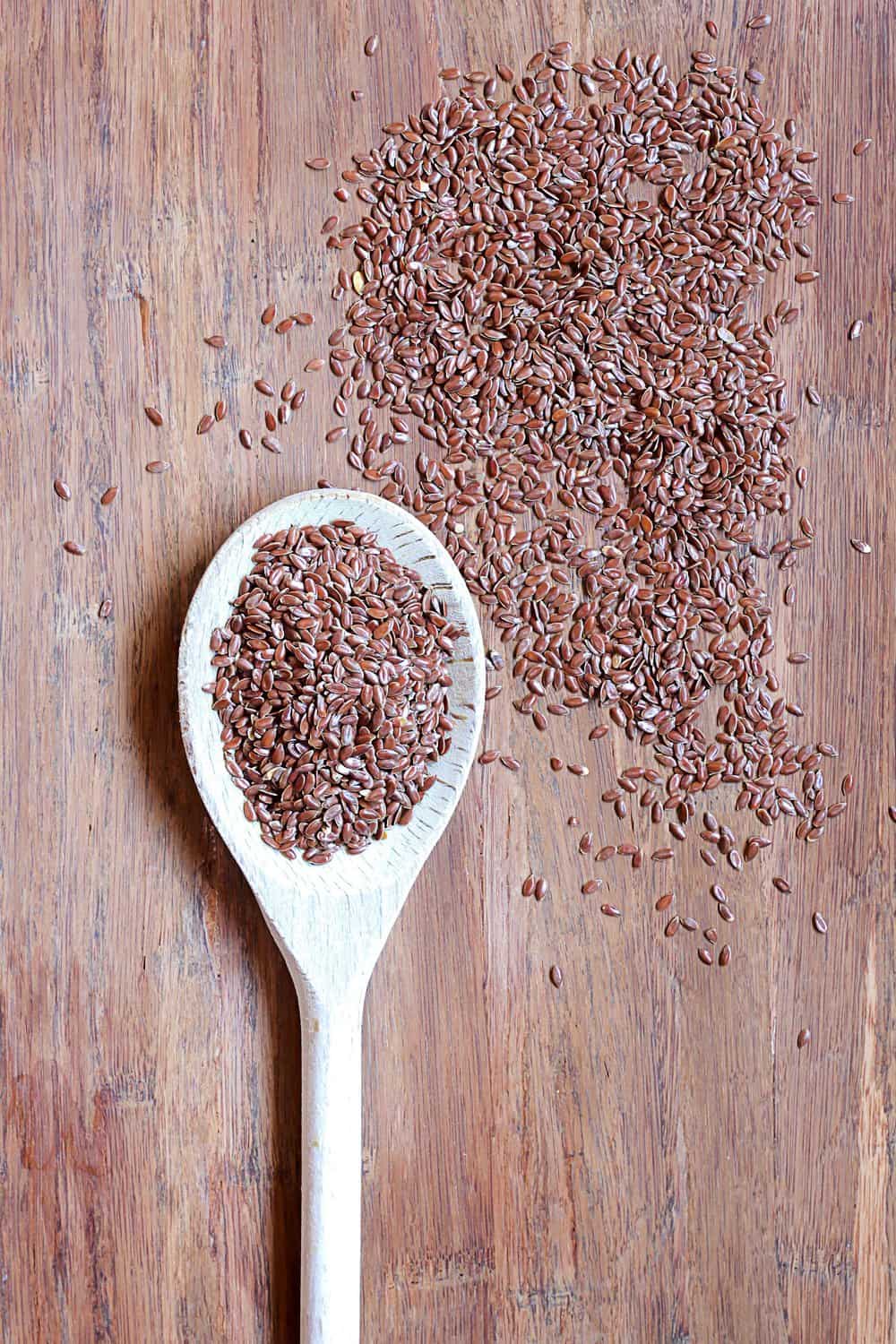 I remember when I first looked for a vegan egg substitute in a recipe for muffins and I decided to try using a flax egg. When I told my husband that I was going to use a flax egg, he looked at me with total skepticism and asked: "what is a flax egg?"
I didn't blame him – it sounded strange to me too. Would flax eggs really be a 1:1 substitute for regular eggs in baking? What would it taste like? Would the recipe still turn out well?
After doing a bit of reading, I realized it was an awesome substitute for real eggs. I use flax eggs in many of my dessert recipes!
However, flax is not the only substitute available! And it may not always be the best one depending on your recipe. If you've ever used flax in your baking recipes you will notice that if your crumb is light in color you can see the flecks of flax throughout your bake. It also has a distinct taste, so if you're baking something with a mild flavor, you may notice the flax flavor. This isn't necessarily a problem, just something to be aware of.
In this post, I'll give you several options and show you how to make a vegan egg using a variety of simple ingredients!
Why Would You Need To Use Vegan Eggs?
There are numerous reasons why you may be looking for a vegan egg substitute.
Egg Allergy: Eggs are among the most common allergens, especially among young children. Vegan egg recipes are a great option for egg-free baking.
Vegan Diet:

Vegans do not consume animal products including eggs. If you follow a vegan diet for health, environmental, or ethical reasons, you will need to find a substitute for your favorite baking recipes.
Why Are Eggs Used In Baking?
Binding: Eggs serve to combine ingredients and hold them together. It helps from your baked goods crumbling and falling apart.
Leavening: When heated eggs create small pockets of air which help to leaven your baked goods and give them a light and fluffy texture.
Moisture: They add needed moisture as they are absorbed by the dry ingredients such as the flour. The end result is a moist baked crumb.
Flavor: Eggs serve to enhance other flavors in your baked goods, and also help create that golden brown finish.
Vegan Egg Substitutes
1. Flax Egg
High in omega-3 fatty acids and fiber, this healthy option is a great substitute for eggs and is super easy to make! Flaxseeds have a slightly nutty taste but are pretty mild overall. They don't add a noticeable flavor change to recipes which is why they work well in baking recipes. I love using flax eggs in baked goods where you don't need a lot of lift: flax eggs are good as a binder, but don't provide a ton of lift, so they can cause some baked goods to become dense.
They are a good option for pancakes, cookie recipes, and denser brownie recipes. Note: If a baking recipe calls for more than 2 eggs the eggs are likely being used in the recipe for more than a leavening and structure to the recipe. For example, flax eggs will not work as an egg substitute in a quiche! You can find flaxseed meal in most grocery stores.
1 egg = 1 tablespoon ground flaxseed + 2.5-3 tablespoons of water.
See instructions in the recipe card below for the detailed recipe (and how to make a flax egg!)
2. Chia Egg
Similar to a flax egg, only using chia seeds, this healthy option is also a great option for baked goods, pancakes and even veggie burger recipes. Once you combine the ground chia seeds with water and let it sit, it ends up with a consistency similar to the texture of eggs. It will give your recipe a dense consistency, but will bind it together well. It will also add a faint nutty flavor.
1 egg = 1 tablespoon chia seeds (ground) + 2.5-3 tablespoons of water.
3. Fruit Purees
Unsweetened applesauce, pumpkin puree, and ripe bananas all make for an easy vegan substitute in baking recipes. These purees add natural sweetness, moisture, and help to bind ingredients together.
Use 1/4 cup of fruit puree for one egg.
Fruit purees work well for baked goods such as brownies, cakes, and quick breads. The only downside is that using fruit purees instead of actual eggs may make it harder for your baked goods to brown as nicely, but they will still taste just as good!
4. Avocado
Mashed avocado has the same effect as fruit purees with a neutral flavor. If you'd rather avoid a banana or pumpkin flavor, using pureed avocado will work well. You'll need 1/4 cup of pureed avocado for one egg.
5. Aquafaba
The liquid from a can of chickpeas is called aquafaba. It has a similar consistency to a raw egg white. It is the best substitute to use for desserts that call for vegan egg whites. Use aquafaba to make meringue, or in a recipe like chocolate mousse.
6. Chickpea Flour Egg
To make one chickpea flour egg, use two tablespoons of chickpea flour with 2 tablespoons of water and 1 teaspoon olive oil. Allow to sit for at least 5 minutes or more until it thickens. One chickpea flour egg is equivalent to 1 regular egg. One of the great things about chickpea flour eggs is that they can be used to make a vegan omelette!
7. Silken Tofu
You may have heard of a tofu scramble, but you can also use tofu in your baking recipes! Be sure to use silken tofu, not firm tofu. This type of tofu has a soft consistency due to its high water content. It doesn't have a distinctly strong flavor making it a good substitute for many types of baked goods.
Puree the tofu in a food processor so that is smooth and creamy in consistency. It's a great substitute for cheesecake recipes, puddings, pies, and for baked goods that require a lot of moisture. Tofu is dense, so keep that in mind when using it as a substitute for most baking! 1 large egg = 1/4 cup of pureed silken tofu.
8. Tapioca Starch
This egg replacement uses a combination of 2 tablespoons of tapioca starch and and 3 tablespoons of water for each egg.
9. Nut Butter
You can use peanut butter, almond butter, or cashew butter as a replacement to help bind ingredients together. However, be aware that it will add a nutty flavor to your recipe. Use 3 tablespoons of nut butter for one egg.
10. Pre-Made Vegan Egg Replacer
Vegan egg replacers usually are made with some sort of starch and baking powder/soda – so they provide both lift and binding. They can be a great alternative for the real thing in all kinds of different recipes! They also don't add any unwanted flavor or sweetness. They are a great egg substitute for cookies, cakes, cupcakes, muffins, brownies or even savory recipes that use eggs! My favorite vegan egg replacer is Bob's Red Mill Egg Replacer.
11. Plant Based Plain Yogurt
Using an unsweetened, unflavored plain vegan yogurt can be a great, easy vegan egg substitute when you are trying to make baked goods that require lots of moisture — like cakes, loaf cakes, breads, etc. 1 egg = 1/4 cup of plant based yogurt.
How To Use Vegan Eggs
It's so easy to use vegan eggs in all of your favorite recipes! Just add it to your recipe like you would a regular egg (usually in a 1:1 replacement)
How to Make a Vegan Egg with Flax Seeds or Chia Seeds
Step 1: Combine 1 tablespoon of ground flax seed or ground chia seeds with 2.5 tablespoons of water.
Step 2: Whisk together with a fork or small whisk.
Step 3: Allow to sit for a minimum of 5 minutes, but up to 30 minutes. The mixture will thicken as it sits and will take on the consistency of an egg.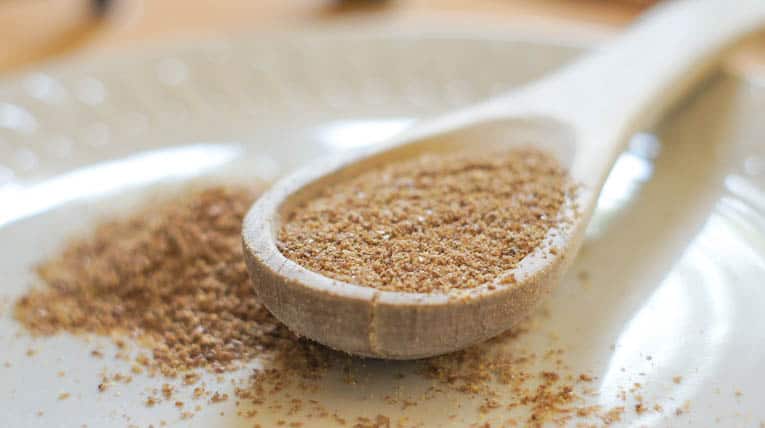 FAQs
What are flaxseeds?
Flaxseeds are a highly nutritious seed that can be consumed both whole or ground. Your body absorbs the nutrients of flax best when it's ground. They can be added to smoothies, and sprinkled on top of oatmeal, or salads. You can also use them in sweet desserts, as well as savory bakes.
Are vegan eggs healthy?
High in Omega-3s: Flax is high in omega-3 fatty acids. If you are a vegan or vegetarian consuming flax regularly is a great source of this important brain boosting, heart healthy fat. Each tablespoon of flax contains 1.8 grams of omega-3s. 
High in Fiber: Flax contains soluble and insoluble fiber. This contributes to improved digestion. Each tablespoon of flax contains 3 grams of fiber. 
High in Plant-Protein: With 2 grams of protein per tablespoon of flax seeds, they are high in the amino acids arginine and glutamine which is connected to heart health and a strong immune system.
What do you use to substitute real egg yolk?
Use soy lecithin as a vegan egg replacer. Use 1 tablespoon (for one vegan egg yolk).
What Type Of Baking Recipes Do Flax Eggs Work The Best?
Cookies
Cakes
Cupcakes
Pancakes
Muffins
Brownies
French Toast
Savory bakes like veggie burgers, and casseroles.
Why Should You Use Flax Eggs In Your Baking Recipes?
They make for a good vegan egg substitute
100% natural
Dairy-Free
Gluten-Free
Paleo
Whole30
Allergy-friendly
High in fiber and omega-3s
You can use them if you run out of eggs (ground flaxseed lasts forever in the fridge while eggs have a shorter shelf life!)
Low in carbohydrates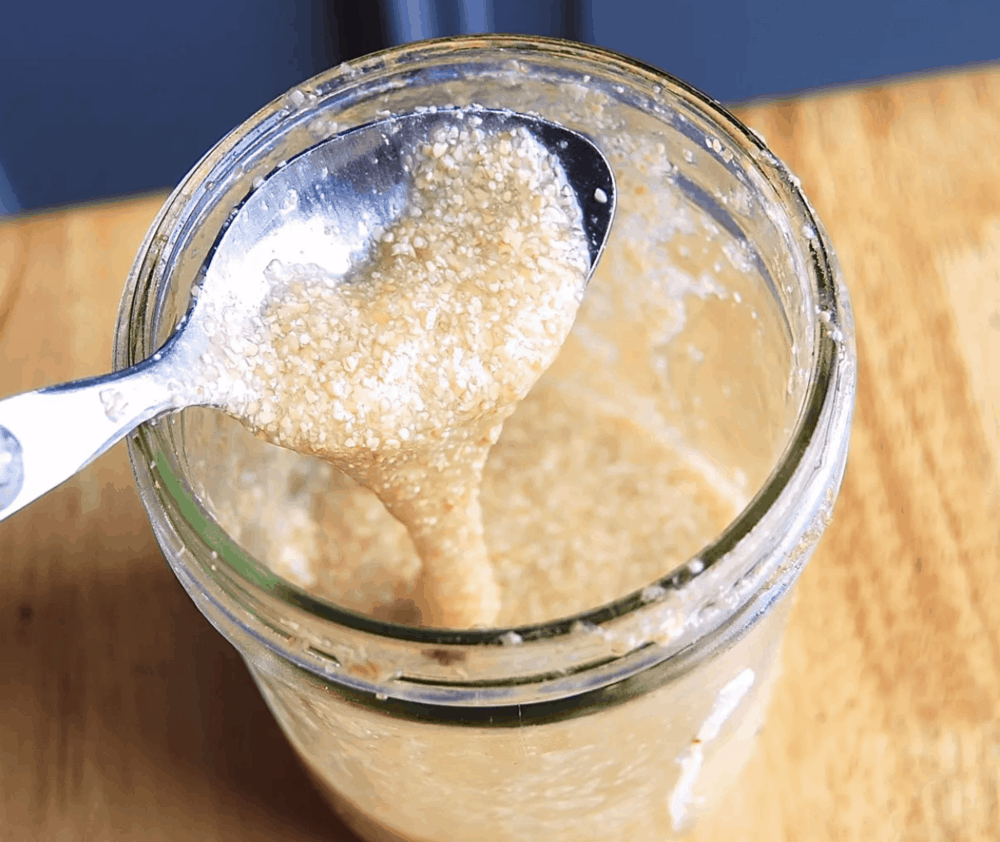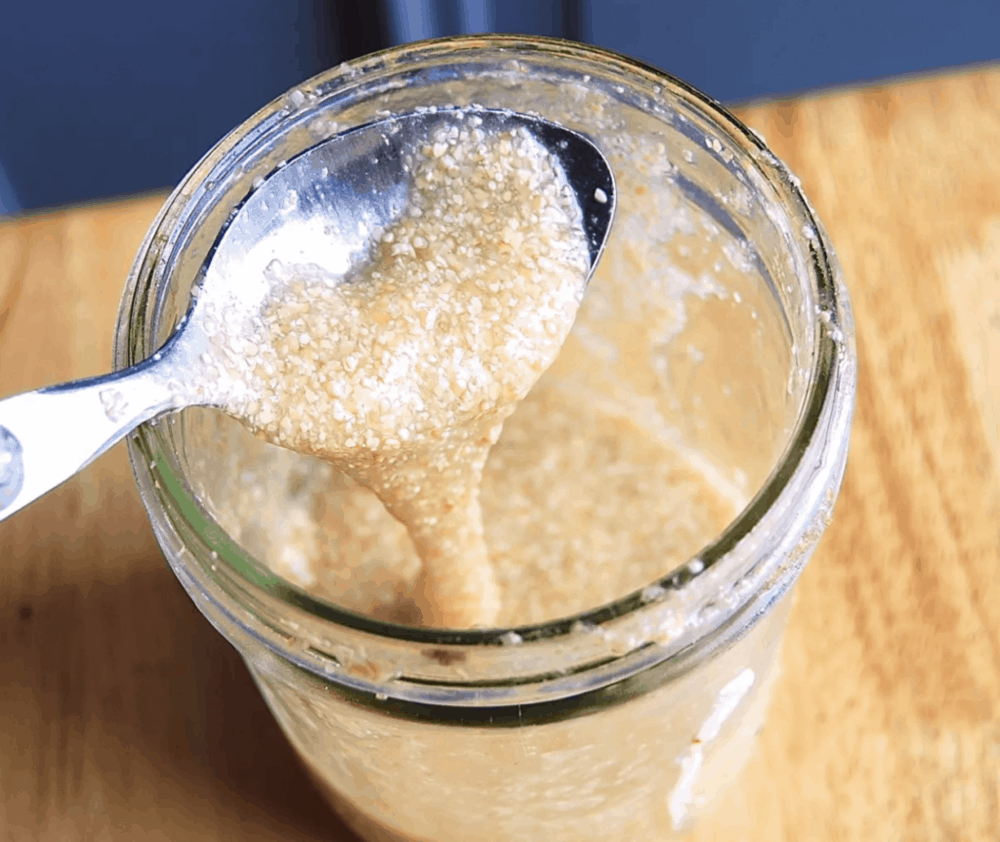 (Photo credit: King Arthur Flour)
Expert Tips For Making A Flax Egg
Use only ground flax. Whole flaxseeds or flax flour will not have the same affect.
If you have whole flaxseeds use a coffee grinder to create ground flax.
Be sure to allow enough time for the ground flax and water mixture to sit (at least 5 minutes). If you don't give it enough time to sit it will not develop the same egg like consistency.
Vegan Recipes Using Vegan Egg Substitutes
If you have tried any of these vegan egg substitutes, or any other recipe on my blog, then please rate it and let me know how it turned out in the comments below! You can also FOLLOW ME on FACEBOOK, TWITTER, INSTAGRAM and PINTEREST to see more delicious, healthy, family friendly food!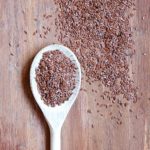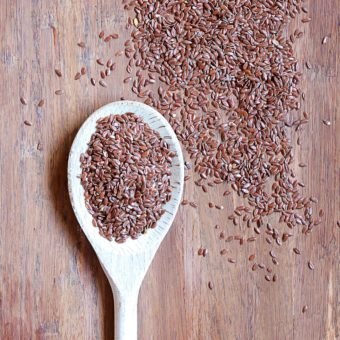 Print Recipe
How to Make a Flax Egg
In this step by step tutorial learn how to make a flax egg.
Ingredients
1

tbsp

ground flaxseed

2.5

tbsp

water
Instructions
Add ground flaxseeds to water in a small bowl. Mix together and let sit for at least 5 min (but you can let it sit for up to 30 minutes if you want). 

The mixture will get thicker and will have the consistency of an egg – and then you can add it to your recipe like you would a regular egg.
Notes
Top tips for making flax eggs
Use only ground flax. Whole flaxseeds or flax flour will not have the same affect.
If you have whole flaxseeds use a coffee grinder to create ground flax. 
Be sure to allow enough time for the ground flax and water mixture to sit (at least 5 minutes). If you don't give it enough time to sit it will not develop the same egg like consistency.
Nutrition
Calories:
55
kcal
|
Carbohydrates:
2
g
|
Protein:
3
g
|
Fat:
4
g
|
Sodium:
4
mg
|
Potassium:
83
mg
|
Fiber:
2
g
|
Calcium:
26
mg
|
Iron:
0.6
mg