Healthy Oatmeal Raisin Cookies (Soft + Chewy!)
This post may contain affiliate links. As an Amazon Associate, I earn from qualifying purchases. Please read my disclosure.
These deliciously healthy oatmeal raisin cookies are perfectly chewy and soft! Made with coconut, dates, nut butter, and raisins, these gluten free cookies are also sugar free, vegan friendly, and kid-friendly too.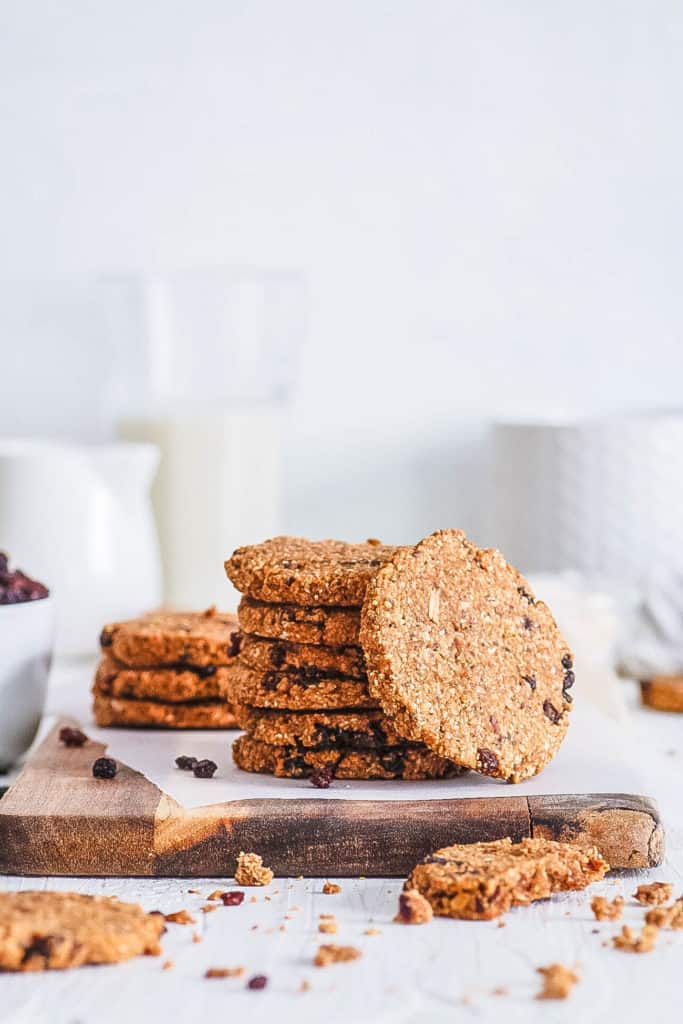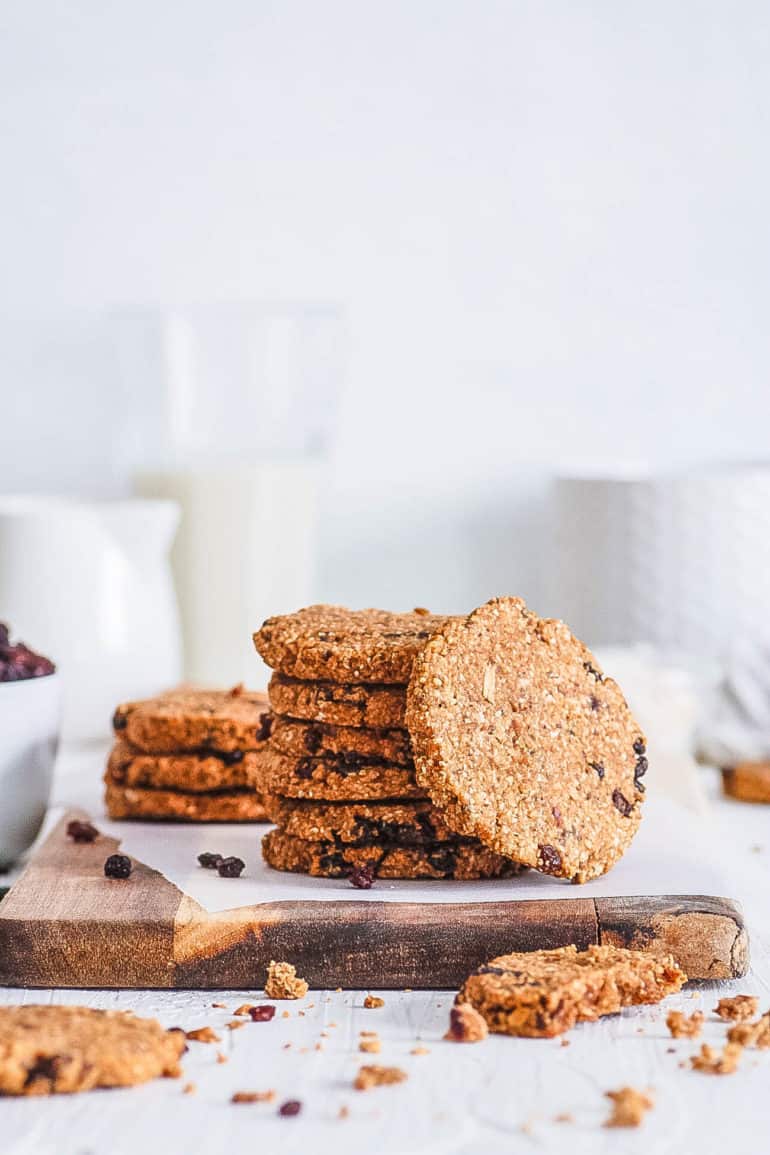 Are you ever in the mood for something that's chewy on the inside, but perfectly crispy on the outside? These healthy gluten free oatmeal cookies are perfect for anyone who wants to munch on something delicious, but are totally guilt-free!
Comforting vanilla, cinnamon, and raisins blend together to create delicious aromas that will just fill your kitchen when you're baking these cookies.
Latest Recipe Video!
These chewy oatmeal raisin cookies are perfect for guilt-free snacking that you can honestly even have for breakfast. Wanting to take yourself or the family on an outing? Then you'll really want to bring these cookies with you because they're a great grab-and-go snack, especially for kids!
Why You'll Love This Recipe
Full of whole grains
Easy to make with pantry staple ingredients
Meal prep friendly
Kid friendly
How to Make Healthy Oatmeal Raisin Cookies
Recipe Ingredients and Notes
One thing you'll notice is that these chewy cookies are 100% sugar free: no white sugar, brown sugar, maple syrup, or even coconut sugar is needed in this recipe! That means they won't be overly sweet, but thanks to the dried fruit and coconut, they still have a hint of sweetness that makes them super tasty for all the cookie lovers in your household.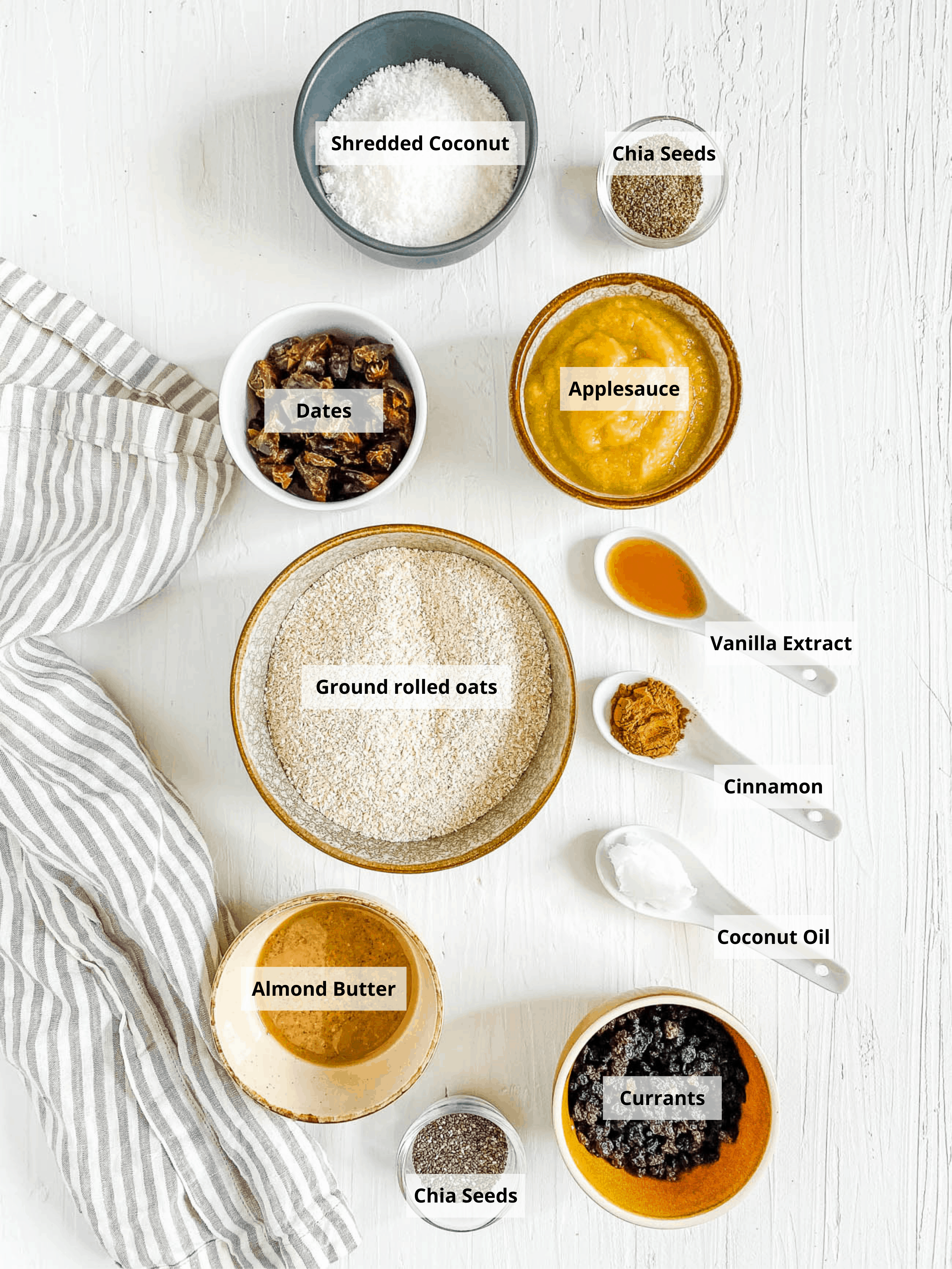 Dry Ingredients
Oats: Rolled whole grain oats are used for this recipe instead of all purpose flour, for more fiber and heart healthy grains. We grind the oats into an oat flour consistency, to help make these cookies soft and chewy. If you don't have oats and don't need to make these oatmeal cookies gluten free, you can use whole wheat pastry flour as a substitute. See the FAQ section to learn about instant oats in this recipe.
Coconut: To keep this recipe refined sugar free, make sure to use unsweetened coconut.
Dried fruit: Dates and currants (or sweet raisins) help provide sweetness without needing a lot of added sugar.
Chia seeds: Chia seeds help bind these healthy oatmeal raisin cookies together and add a touch of protein to this recipe.
Cinnamon: What's an oatmeal raisin cookie recipe without cinnamon? Make sure you have ground cinnamon! You can also try pumpkin pie spice or nutmeg.
Wet Ingredients
Almond butter: I used raw almond butter for this recipe, but any nut butter will do. I used 1/3 of a cup, but you can use as little as 1/4 cup to 1/2 cup.
Applesauce: Unsweetened applesauce to help bind things together and give these gluten free oatmeal raisin cookies a little extra moisture.
Vanilla: A little bit of real vanilla extract gives additional sweetness and depth of flavor without added sugar.
Coconut oil: A vegan friendly substitution for unsalted butter in these sugar free oatmeal cookies.
Tools and Equipment You'll Need
A blender and a spice grinder if your blender isn't very powerful
Step by Step Instructions
Step 1: First, in a medium bowl, soak the chopped dates. Next, grind the oats and coconut into a fine flour using blender or grinder. After that, grind the chia seeds. Finally, in a large bowl, combine the dry ingredients and set aside.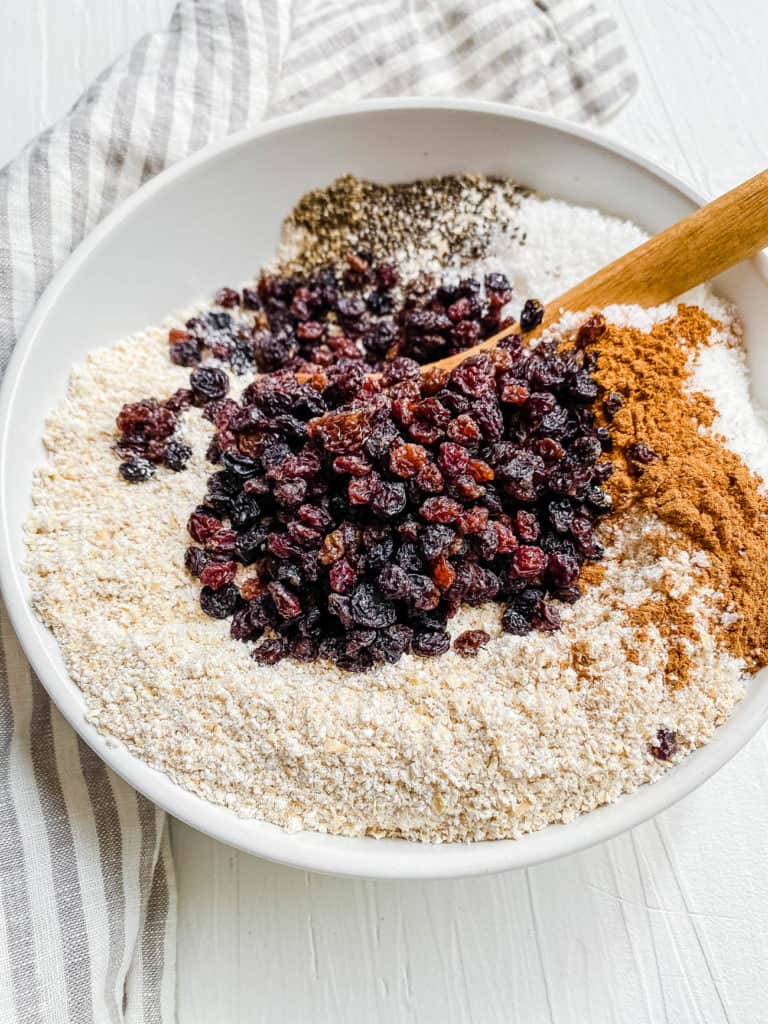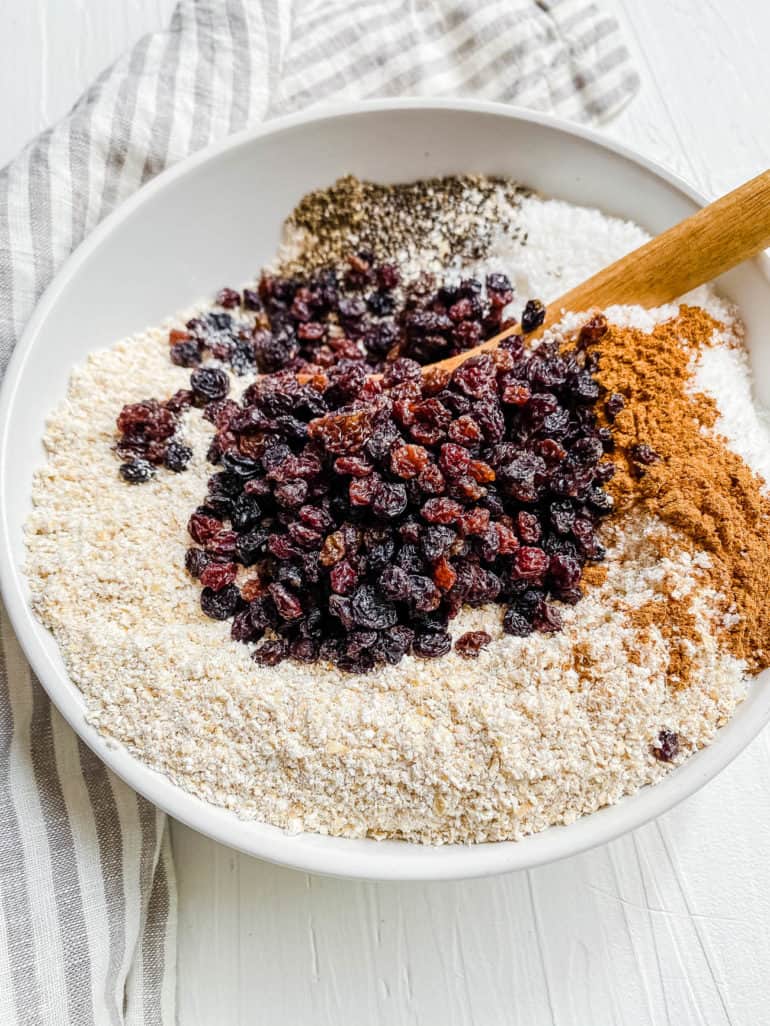 Step 2: Combine applesauce, the soaked dates (with water), almond butter, vanilla, and coconut oil in a food processor.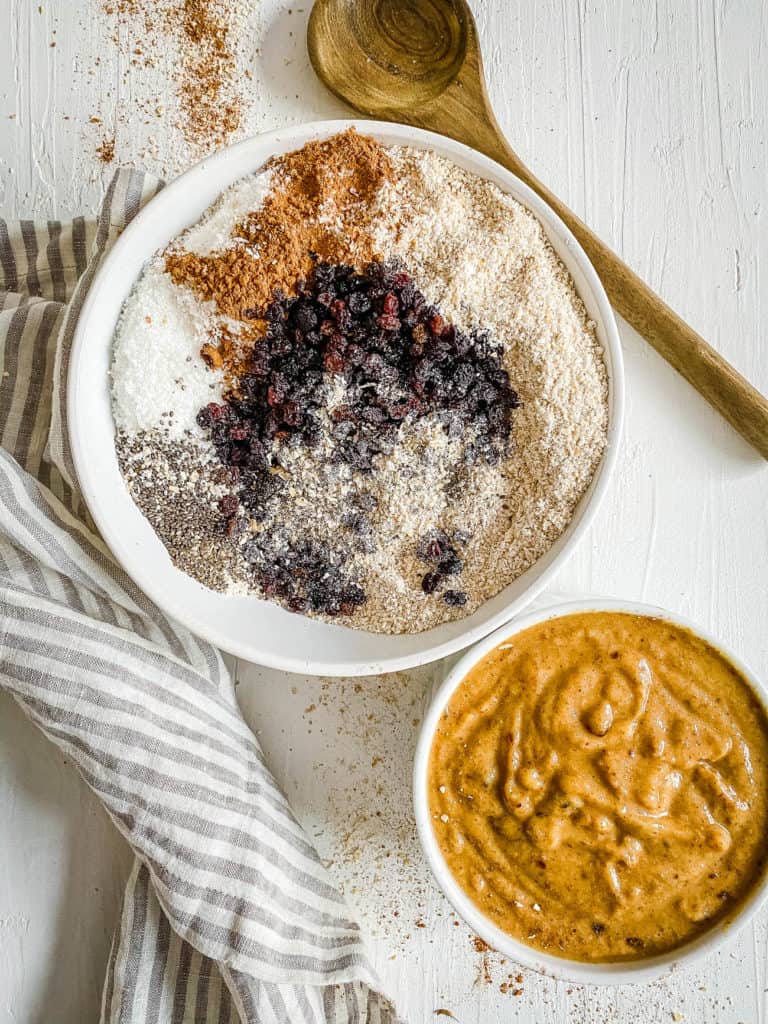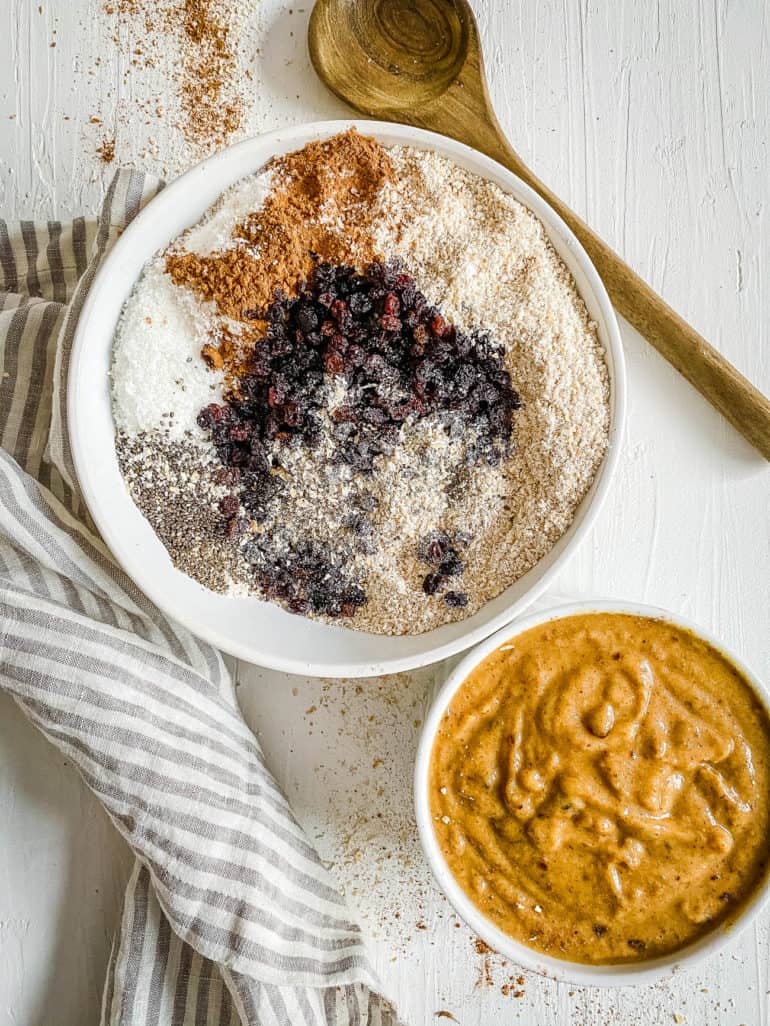 Step 3: Mix the wet ingredients into the dry ingredients / flour mixture. You don't need a stand mixer for this recipe – this cookie dough is easy to mix by hand.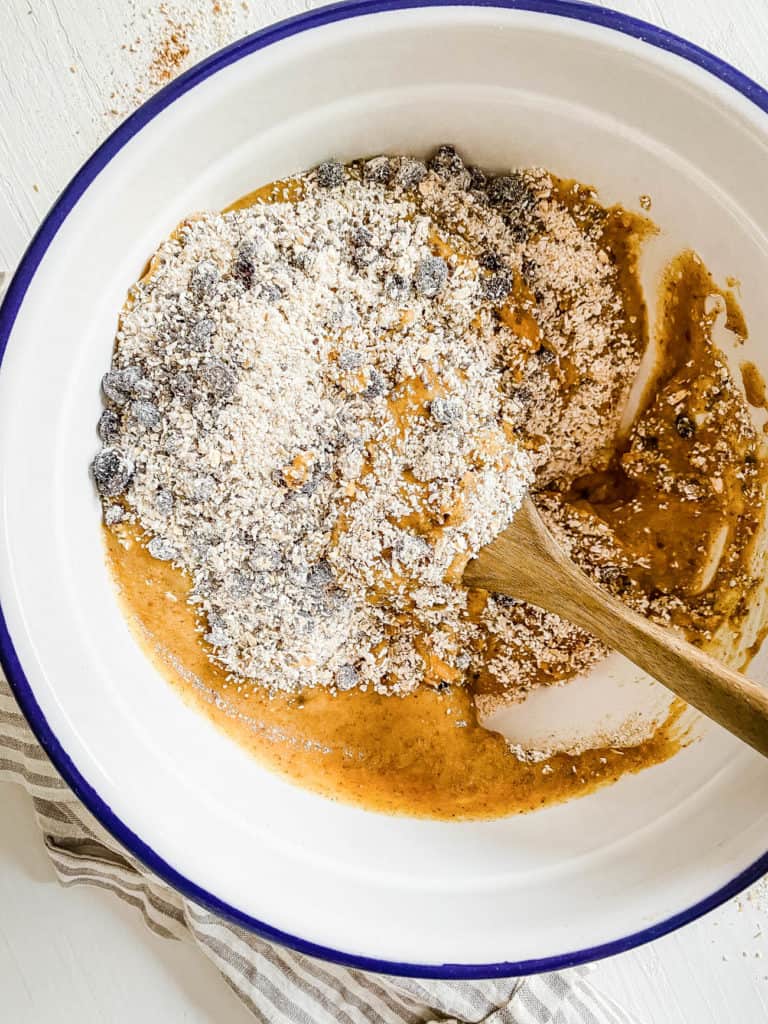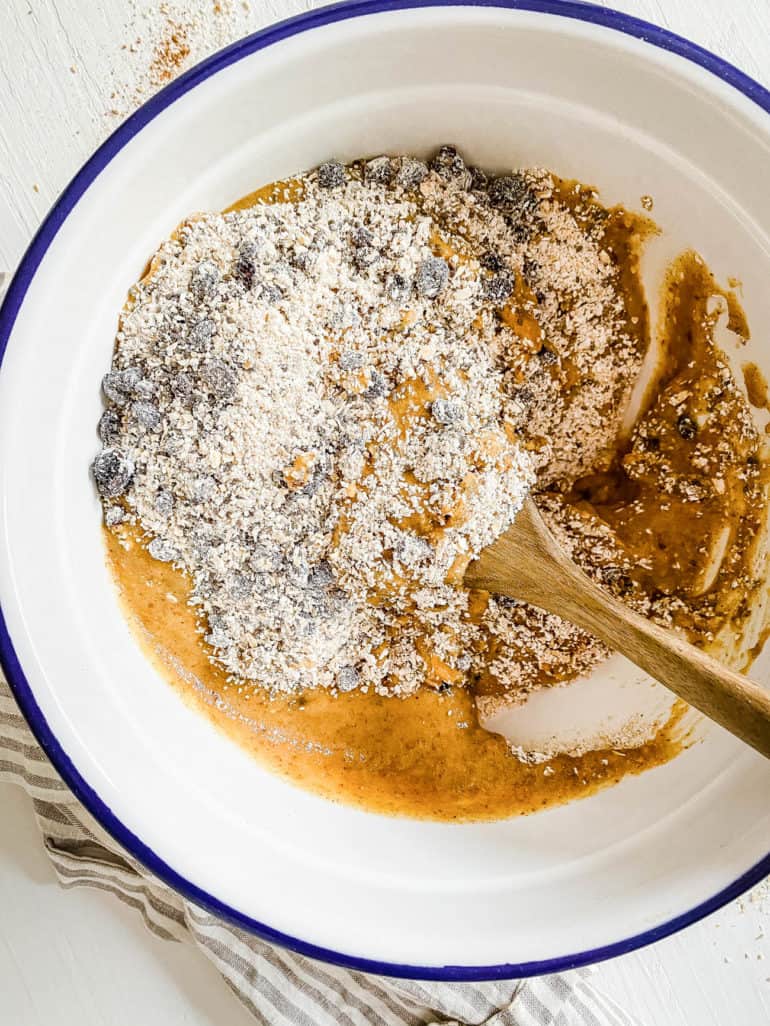 Step 4: Form cookies on prepared baking sheet. Using a tablespoon or a cookie scoop, place the batter of the cookie on the baking sheet and spread the cookie out. You'll have enough cookie dough for a second batch. See the recipe card for full details.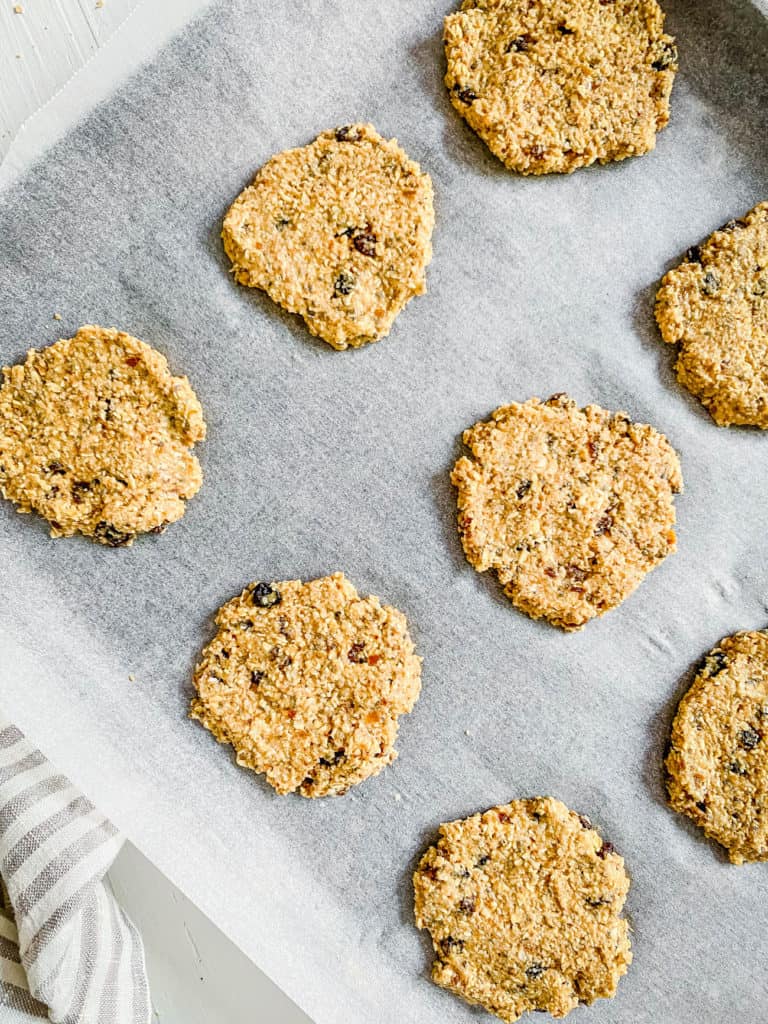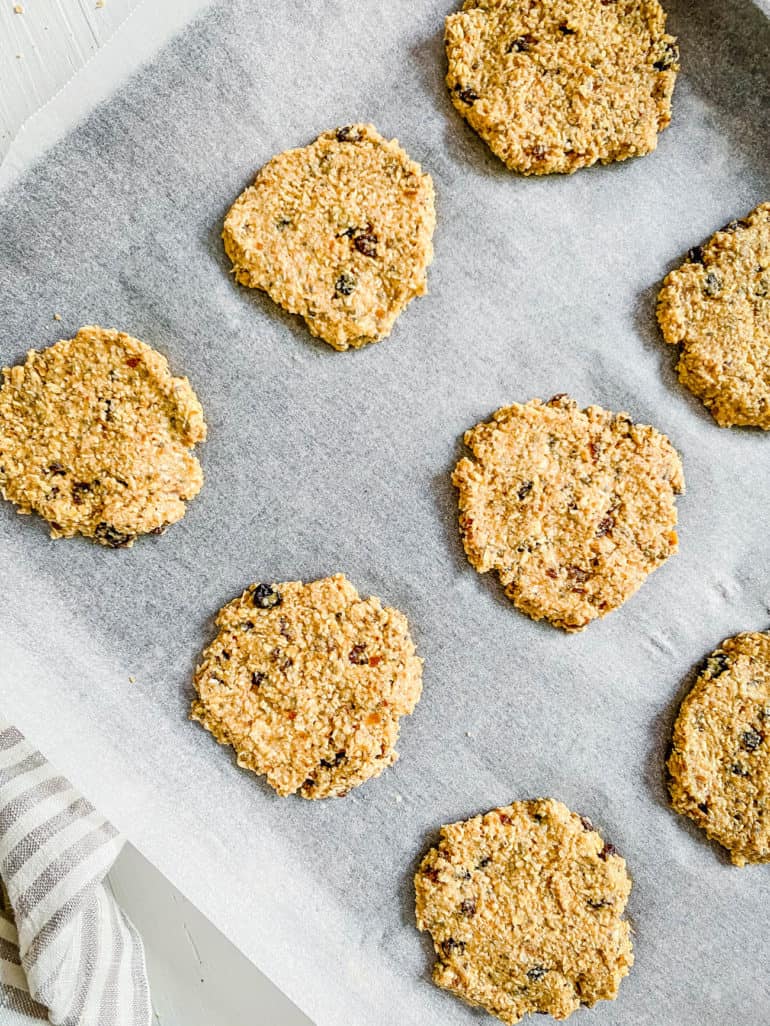 Step 5: Bake at 200° Fahrenheit for one and a half to two hours. When the cookies are done, they will be slightly browned and crispy on the outside. Let them cool on a wire rack before serving.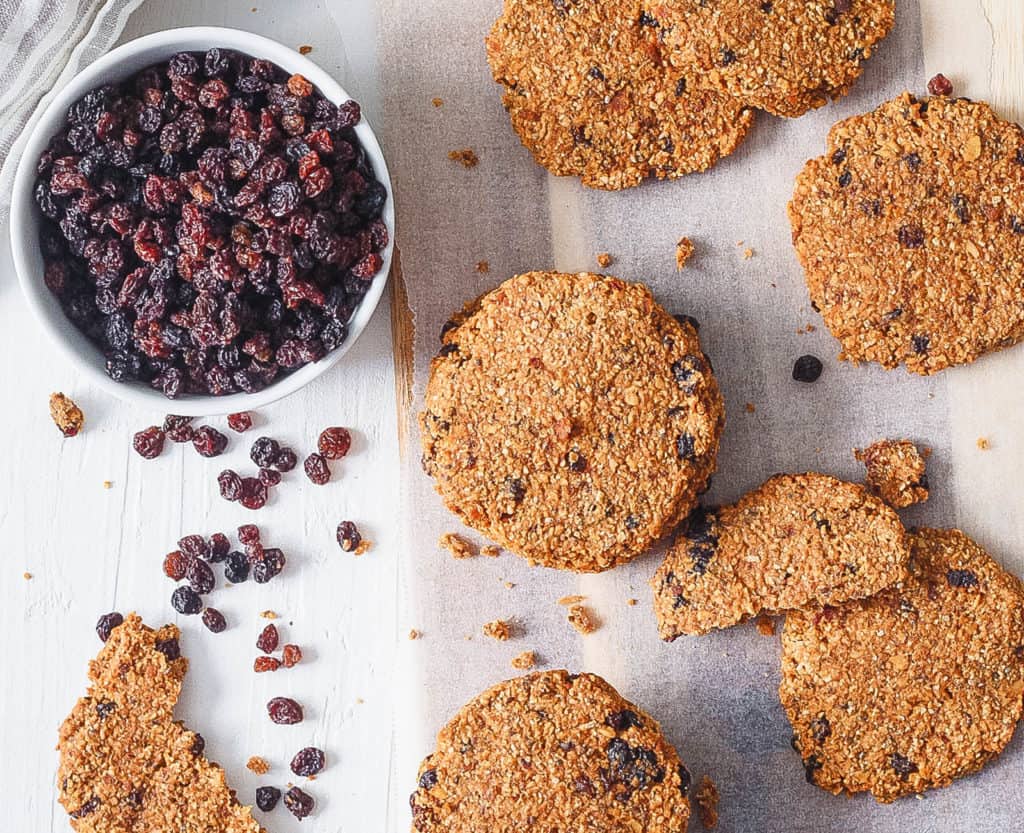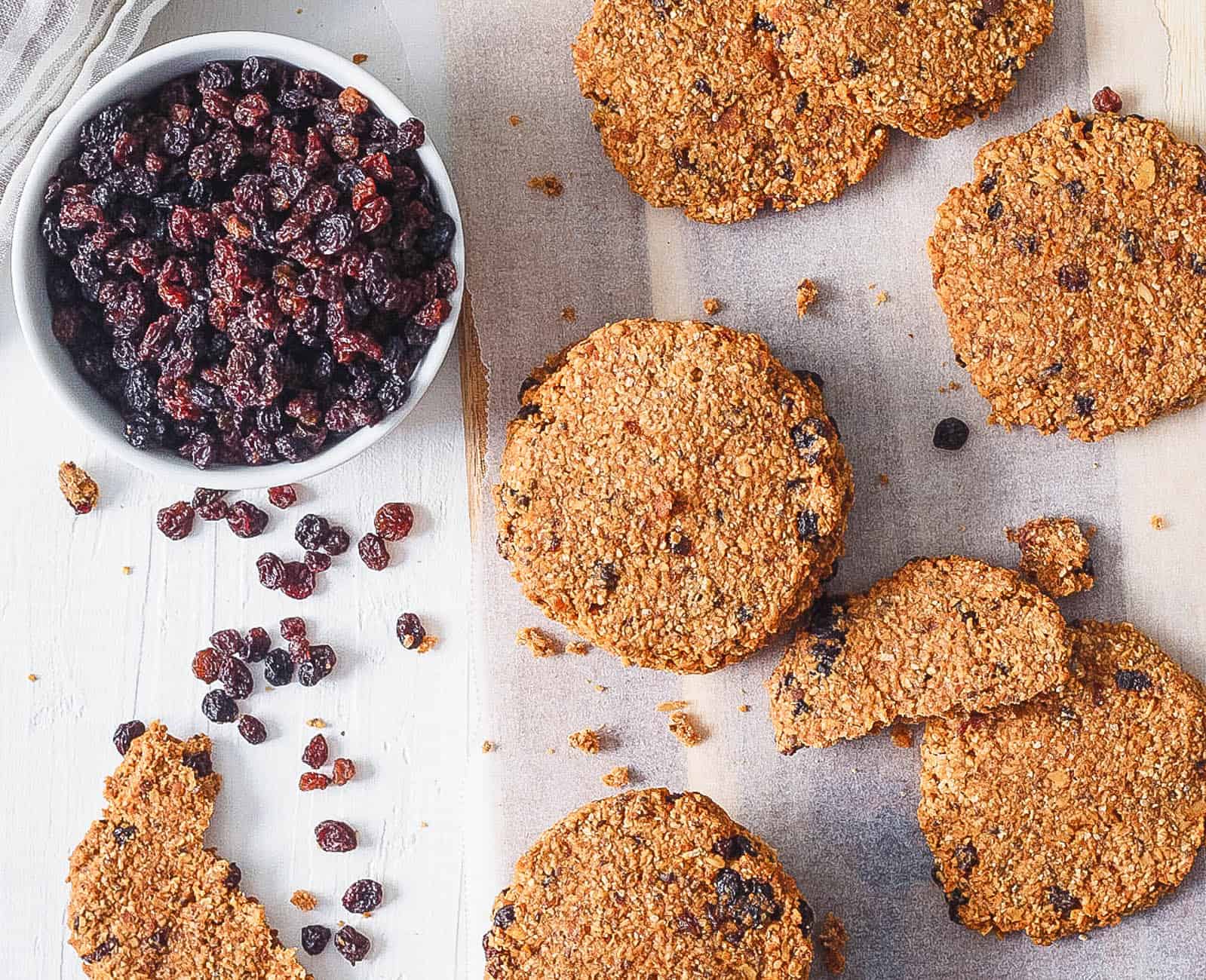 What Makes These Gluten-Free Oatmeal Raisin Cookies Healthy?
Low Calorie: Each cookie has just about 70 calories!! That means you can enjoy two, or even three, without breaking your diet!
Low Fat: Only 3 grams of fat are in each cookie!
No Sugar: With zero grams of added sugar, this is a healthy oatmeal cookie recipe you can feel great about making for you and your family.
What Do Sugar Free Oatmeal Cookies Taste Like?
These gluten free oatmeal cookies taste slightly sweet and tender, and they have natural sweetness from ingredients like cinnamon, vanilla, raisins, coconut, dates, and so much more. They won't be super sweet the way traditional oatmeal cookies are, but have more of a calming sweetness (like a lara bar version of a bakery cookie).
Recipe FAQS
Can you substitute quick oats for rolled oats in these healthy oatmeal raisin cookies?
Sure! Just keep in mind that the quick oats may have a quicker bake time and the texture may be slightly different. For the perfect chewy texture, I recommend rolled oats if you have them!
How do you store healthy oatmeal raisin cookies?
You can store these cookies at either room temperature or in the refrigerator. Just make sure they're stored in an airtight container or bag.
Can you freeze oatmeal cookies?
Of course. Simply transfer the oatmeal cookies to an airtight storage container and bag and freeze for up to six months. To defrost, let them thaw in the refrigerator overnight and then warm in the microwave.
Are oats gluten free?
While a lot of oats are processed in facilities with wheat, there are some gluten free oats out there! To ensure the oats you're getting are truly gluten-free, look for a gluten free certified label on the packaging.
How bad are oatmeal raisin cookies for you?
Honestly, everything is moderation is key! Traditional oatmeal cookies are packed with sugar, butter, calories and fat – so they're more of a once-in-a-while treat. But since these healthier oatmeal raisin cookies are naturally gluten and refined-sugar free, they're not bad for you at all and you can enjoy them any time you like!
Tips for Making This Healthy Oatmeal Raisin Cookie Recipe
Be sure to soak the dates for at least one hour. Soaking the dates allows them release their sweet and ripened flavors!
Don't discard the date water. You'll want to use it when processing the mix!
Since these cookies do not contain flour, they won't spread as they bake. Make sure to spread out into a cookie shape prior to baking — you can use a fork.
You can also shape these cookies into granola bars! The perfect mix between a cookie and granola bar.
To make this into a truly sweet treat, try adding 1/4 tsp monk fruit for extra sweetness without adding sugar or calories.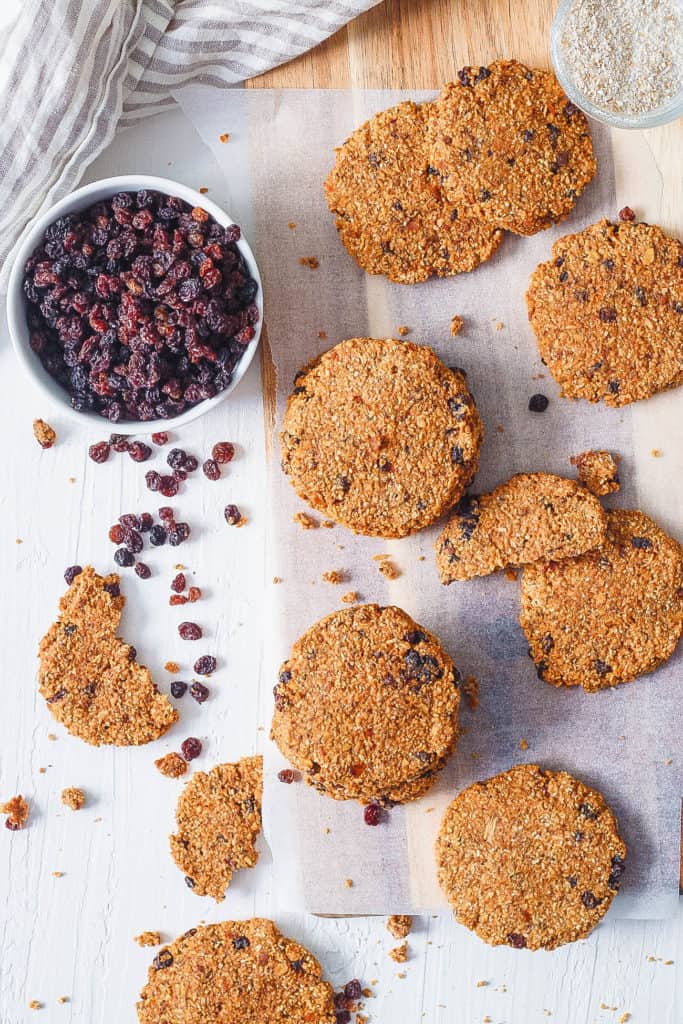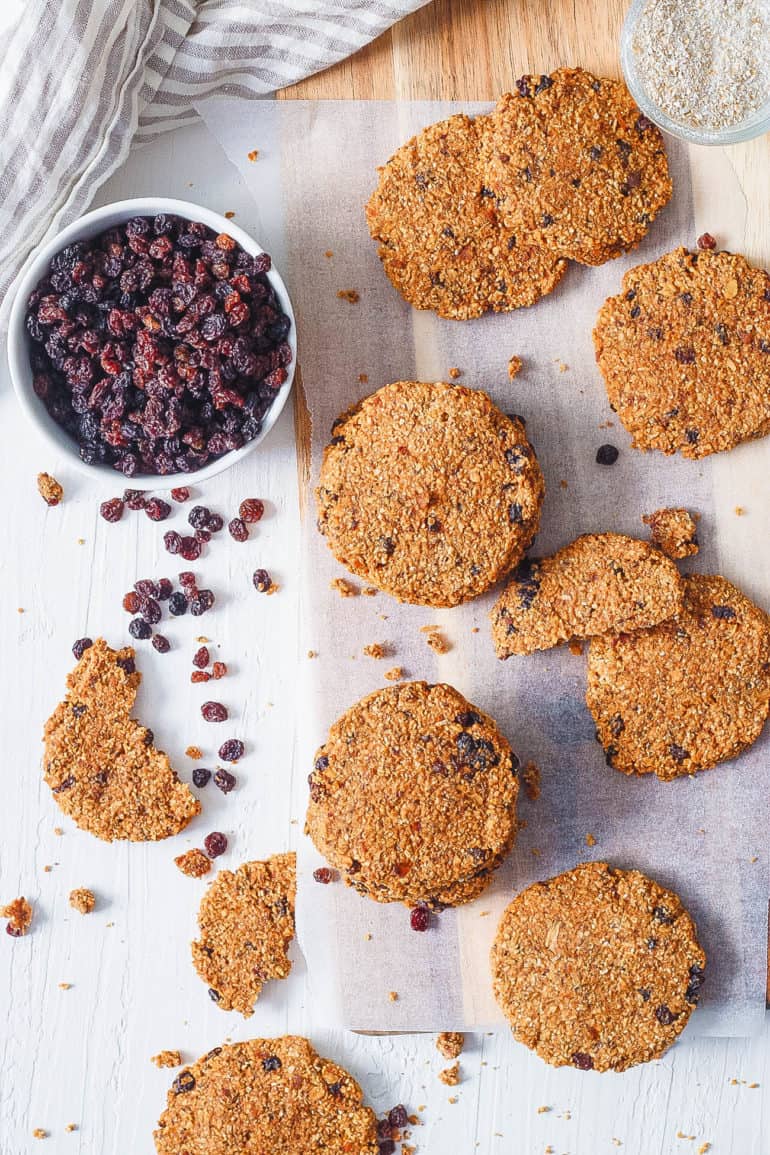 More Healthy and Easy Recipes
If you have tried these Healthy Oatmeal Cookies, or any other recipe on my blog, then please rate it and let me know how it turned out in the comments below! FOLLOW ME on FACEBOOK, TWITTER, INSTAGRAM and PINTEREST to see more delicious, healthy, family friendly food!
🎥 Watch How to Make It
Healthy Oatmeal Cookies
These deliciously healthy oatmeal raisin cookies are the perfect amount of chewy and totally delicious! Made with coconut, dates, nut butter, and raisins, these gluten free cookies are sugar free and perfect for those with a sweet tooth.
Instructions
Soak the dates in 1/2 cup water for an hour or more.

Grind the oats and unsweetened coconut into a flour using a high powered blender.

Grind the chia seeds into a powder using a spice grinder.

Combine the dry ingredients in a bowl and set aside.

Place the almond butter, soaked dates (with their soak water), applesauce, vanilla and coconut oil in a food processor or high powered blender (like a Vitamix). Blend until smooth, then add to the dry ingredients and mix well.

Form cookies on a baking sheet lightly sprayed with oil or covered with parchment paper (I used parchment paper because the cleanup is way easier!). Use about 1 Tbsp of batter for each cookie, and spread the cookie out on the parchment. The cookies won't spread as they bake so be sure to spread them out into a "cookie shape" using a fork or spoon.

Bake at very low heat: 200 degrees for 1.5 to 2 hours (mine took 1.5 hours in the oven, but it depends on how hot your oven is). When they're done, they'll be slightly browned and crispy on the outside.
Notes
Nutrition facts are for one cookie if you get 30. 
Nutrition
Calories:
70
kcal
|
Carbohydrates:
10
g
|
Protein:
2
g
|
Fat:
3
g
|
Saturated Fat:
1
g
|
Trans Fat:
1
g
|
Sodium:
5
mg
|
Potassium:
90
mg
|
Fiber:
2
g
|
Sugar:
3
g
36 responses to "Healthy Oatmeal Raisin Cookies (Soft + Chewy!)"