Vegan Baked Oatmeal
This post may contain affiliate links. As an Amazon Associate, I earn from qualifying purchases. Please read my disclosure.
This vegan baked oatmeal with fresh blueberries is naturally sweetened with maple syrup. It makes for a filling brunch or special occasion breakfast! No banana, eggs, or refined sugar!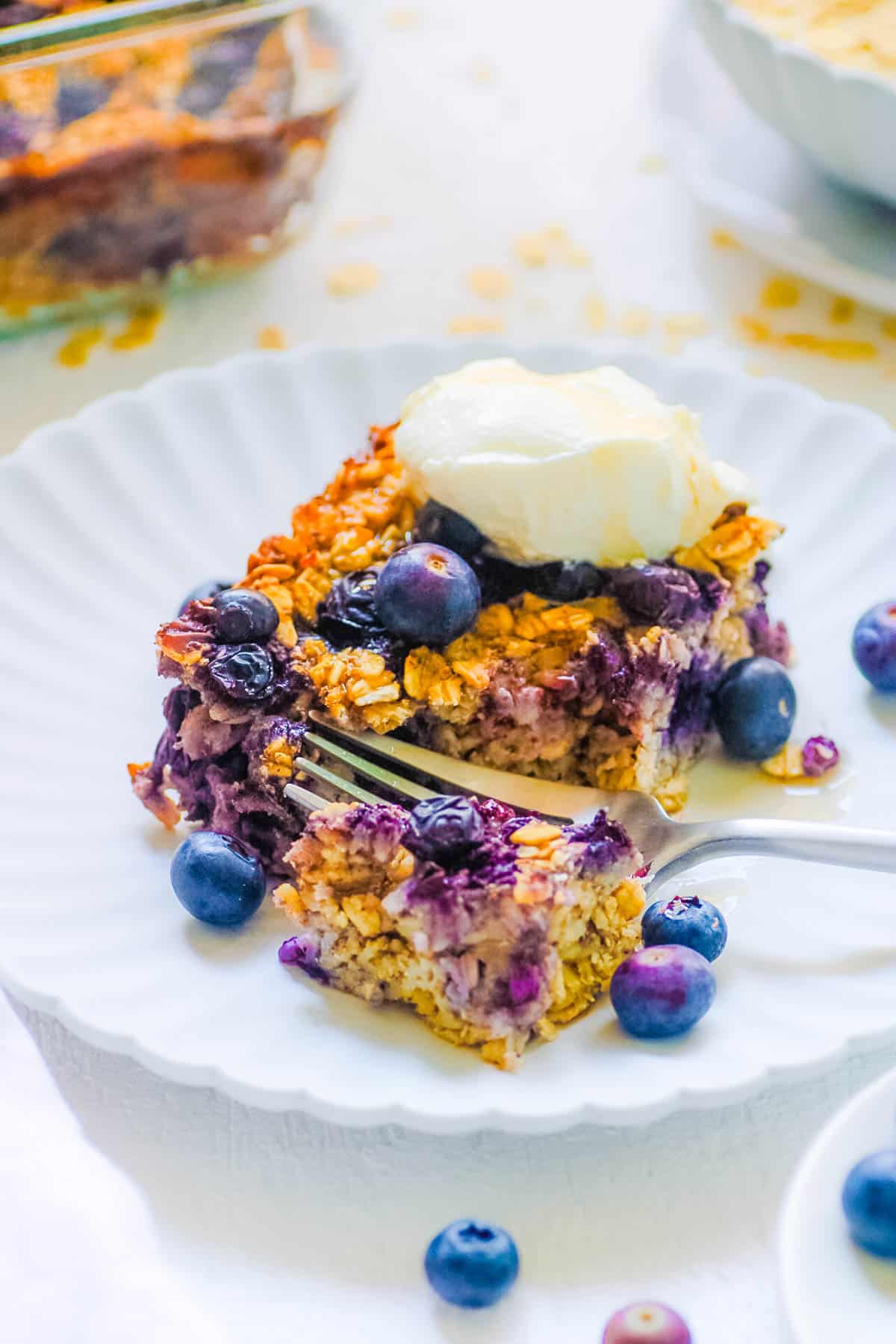 Oatmeal is an all-time favorite around our house. From overnight oats to vegan baked oats and oatmeal cookies, you can find plenty of oat-centered recipes here!
Most of my recipes serve one, but this vegan oatmeal bake serves a crowd! One batch provides six large servings which makes it the perfect breakfast to serve for brunch, around the holidays, and for busy mornings before school. I like to make it Sunday morning, then reheat the leftovers during the week.
Latest Recipe Video!
Healthy baked oatmeal with fruit makes a nutritious, low-sugar breakfast with only 8 healthy ingredients. It's naturally sweetened with maple syrup, spiced with cinnamon, and bursting with fresh blueberries!
This vegan baked oatmeal recipe is customizable. Add strawberries, blackberries, raspberries, or a combination. Sometimes I add sliced bananas for more sweetness, or walnuts for some crunch!
It's a perfect make-ahead breakfast recipe that's heart healthy, high in fiber, and full of antioxidants! The best thing about this fruity baked oatmeal is you can make a big batch and you'll have a filling breakfast ready to go all week long.
This baked oatmeal without bananas also makes for an excellent vegetarian breakfast to serve a crowd!
👩‍🍳 Why This Recipe Works
Low calorie oat bake
Naturally sweetened with whole grains & fresh berries
Baked oatmeal without eggs!
An easy meal prep vegan breakfast
The whole family will love it, great recipe for feeding a crowd!
Made with wholesome ingredients & healthy fats
A great dish for food allergies
Best vegan baked oatmeal recipe ever!
🥘 Ingredients
This oatmeal bake (no eggs) is made with simple ingredients found at your local grocery store.
Note: For the full recipe, ingredient amounts and nutritional information, see the recipe card at the bottom of this post.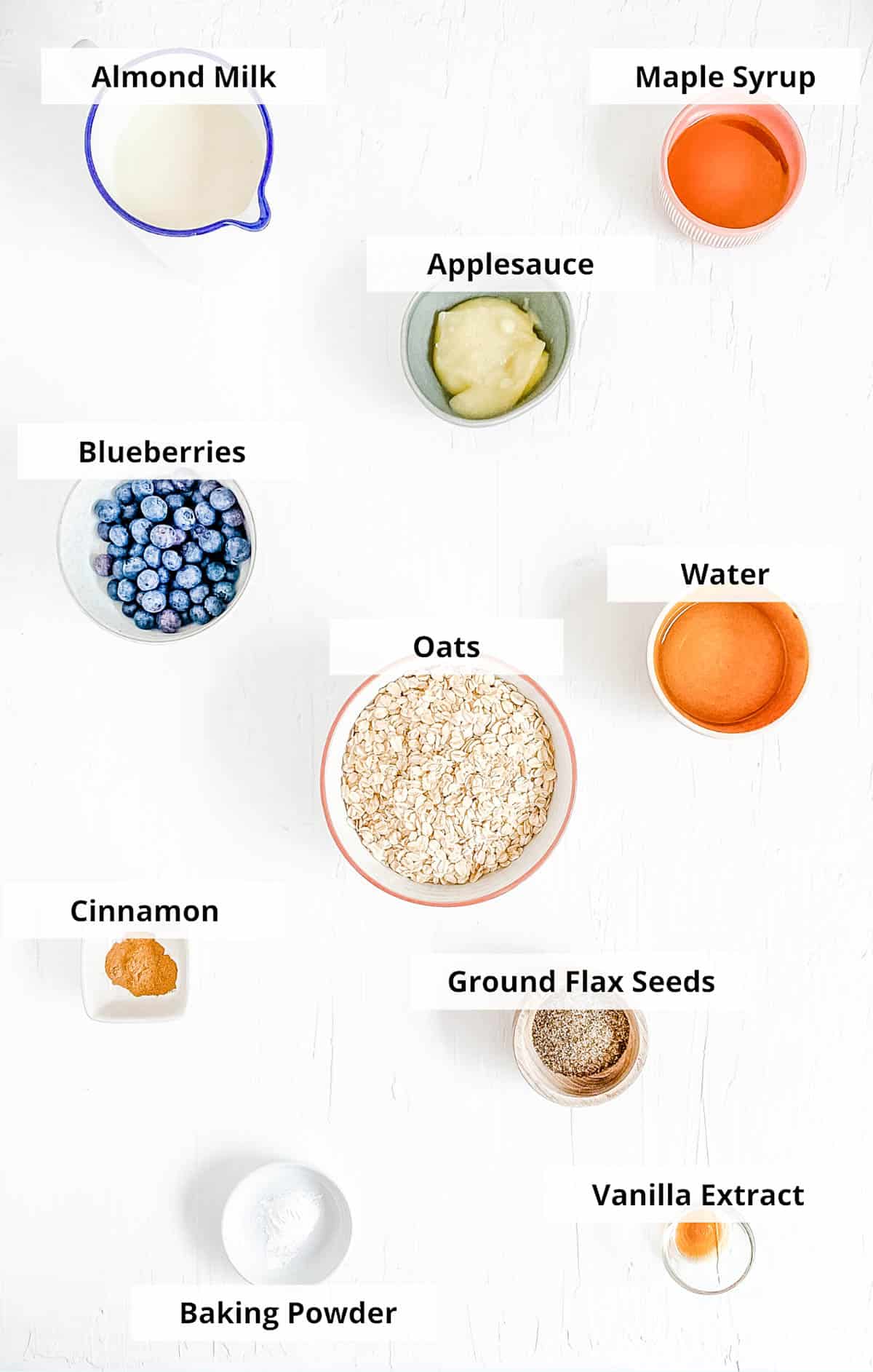 Ground Chia Seeds & Water: Ground chia seeds mixed with water create a chia egg. The combo thickens into a gelatinous mixture that behaves similar to an egg, binding the ingredients together. You can also swap the ground chia seeds with ground flaxseed to make a flax egg.
Almond Milk: Almond milk has a mild flavor and creamy texture, but any plant-based milk works great! Oat milk, soy milk, or coconut milk are great alternatives. If you don't want any refined sugar, be sure to buy unsweetened almond milk.
Maple Syrup & Vanilla Extract: I love the flavor of maple syrup and the added antioxidants and nutrients. Agave, coconut sugar, or brown sugar work great too though. Vanilla extract adds that hint of vanilla which brings out the sweetness of the syrup even more.
Applesauce: A great way to add moisture and sweetness.
Rolled Oats: I don't recommend using quick oats or steel-cut oats for this oatmeal recipe as the old fashioned oats give this healthy baked oatmeal just the right texture (steel cut would be too tough, instant oats too mushy). Note: For a gluten free baked oatmeal, all you have to do is make sure you're using gluten-free oats, and this vegan baked oats recipe will automatically be gluten free!
Baking Powder: Baking powder causes the oatmeal to rise some in the oven, so it's not too dense.
Cinnamon: Adds warm spice to the oatmeal.
Blueberries: I added fresh berries to this baked oatmeal, however you can add any of your favorite fruits such as ripe bananas, chopped apples, peaches, or nectarines.
📖 Variations
Vegan baked oats can be customized with so many different flavors! Here are some of our favorite variations:
Vegan Baked Oatmeal For One: For one large serving, divide each ingredient by six and pour the mixture into a large ramekin instead of a baking dish. Decrease the baking time to 15-20 minutes, then add time as necessary.
Vegan Banana Baked Oatmeal: Instead of the berries, use ripe banana slices and walnuts to create a banana bread flavor. You can also add some natural peanut butter in for a PB&B feel!
No Sugar Baked Oatmeal: Make this low sugar baked oatmeal completely free of added sugars by using monk fruit instead of maple syrup, or omit the maple syrup altogether and rely on the fruit to naturally sweeten this recipe!
Vegan Pumpkin Baked Oatmeal: Add 1/2 teaspoon of pumpkin pie spice and 2-3 tablespoons of pumpkin puree into this recipe!
Vegan Protein Baked Oats: Add one scoop of your favorite vanilla protein powder to amp up the protein content of this recipe. Natural peanut butter adds plant-based protein too!
Vegan Chocolate Baked Oats: Add 1 teaspoon of unsweetened cocoa powder instead of the cinnamon, and add walnuts instead of the berries! You'll end up with chocolate brownie baked oats!
Toddler Baked Oatmeal: Vegan baked oats is great for kids of all ages, and you can start giving this hearty dish to your child at age 1. For toddlers, just cut it up into small pieces so it's easy for them to pick up and "chew." You can also swap the blueberries with your baby's favorite fruit, and reduce the maple syrup as needed!
🔪 How To Make Vegan Baked Oatmeal
This baked oatmeal (no eggs) is quick and easy to make!
Preheat Oven, Make Chia Egg: Preheat the oven to 375 degrees Fahrenheit. Spray an 8 by 8 inch baking dish with nonstick cooking spray. In a large bowl, combine the ground chia seeds and water. Let it sit for 5 minutes to thicken.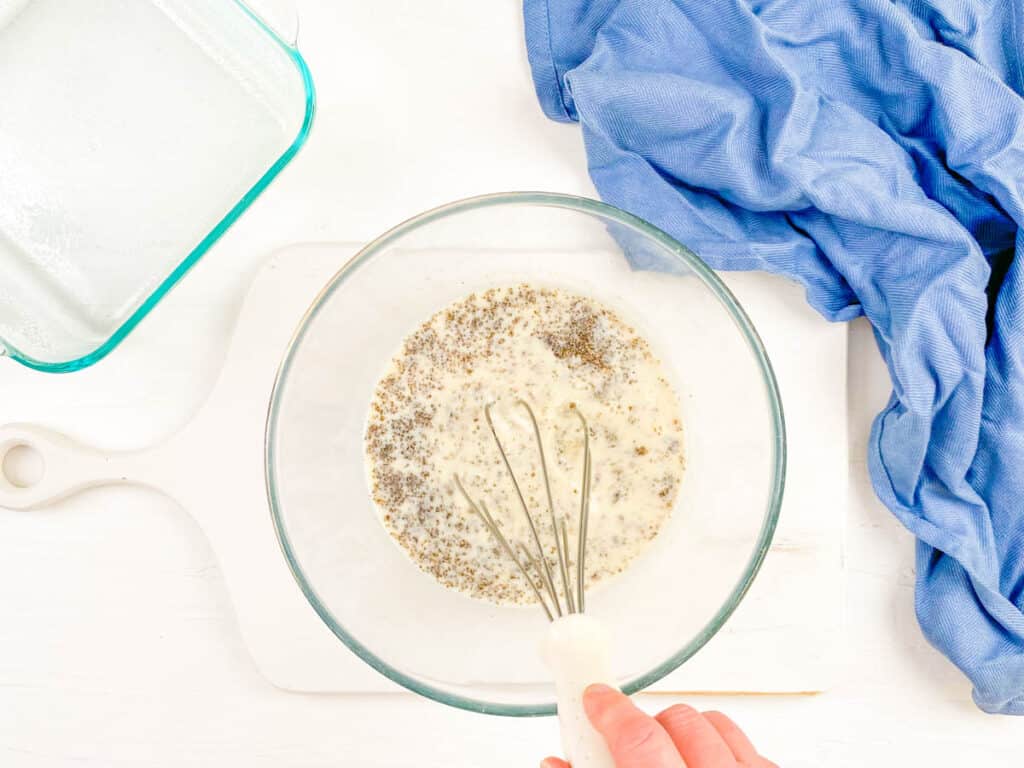 Add Wet Ingredients, Then Add Dry Ingredients: Whisk the almond milk, vanilla extract, maple syrup, and applesauce into the chia seed mixture. Add the rolled oats, baking powder, cinnamon, and one cup of blueberries. Gently fold to combine.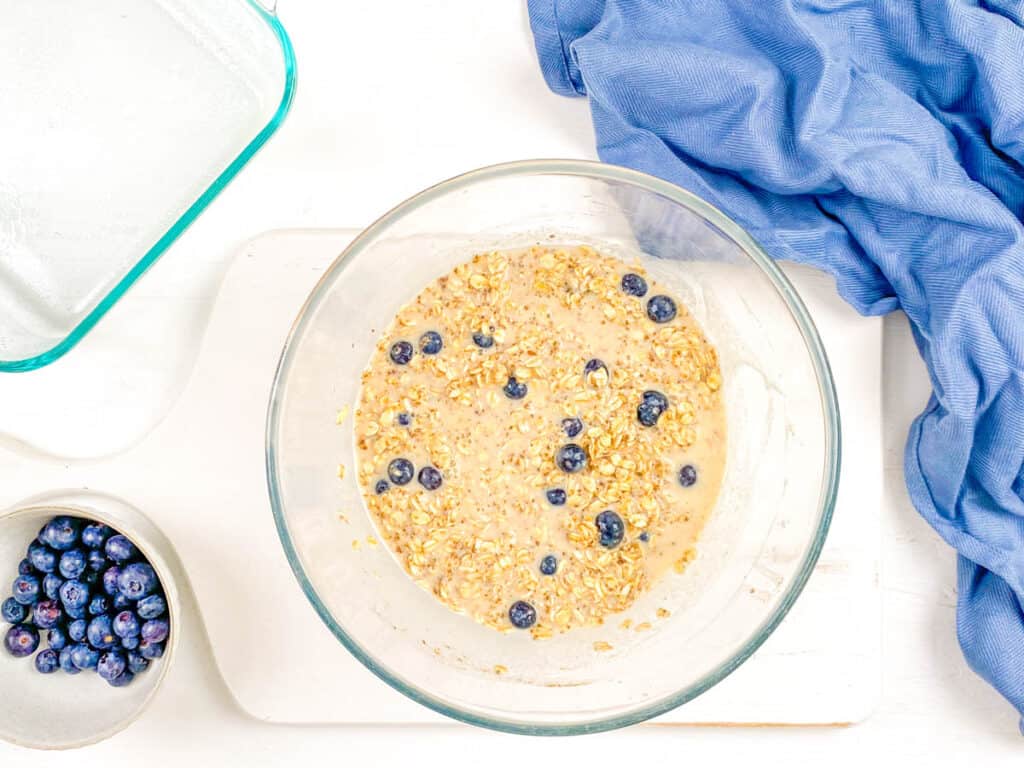 Pour Into Dish: Pour the oat mixture into the prepared baking dish and top with remaining blueberries.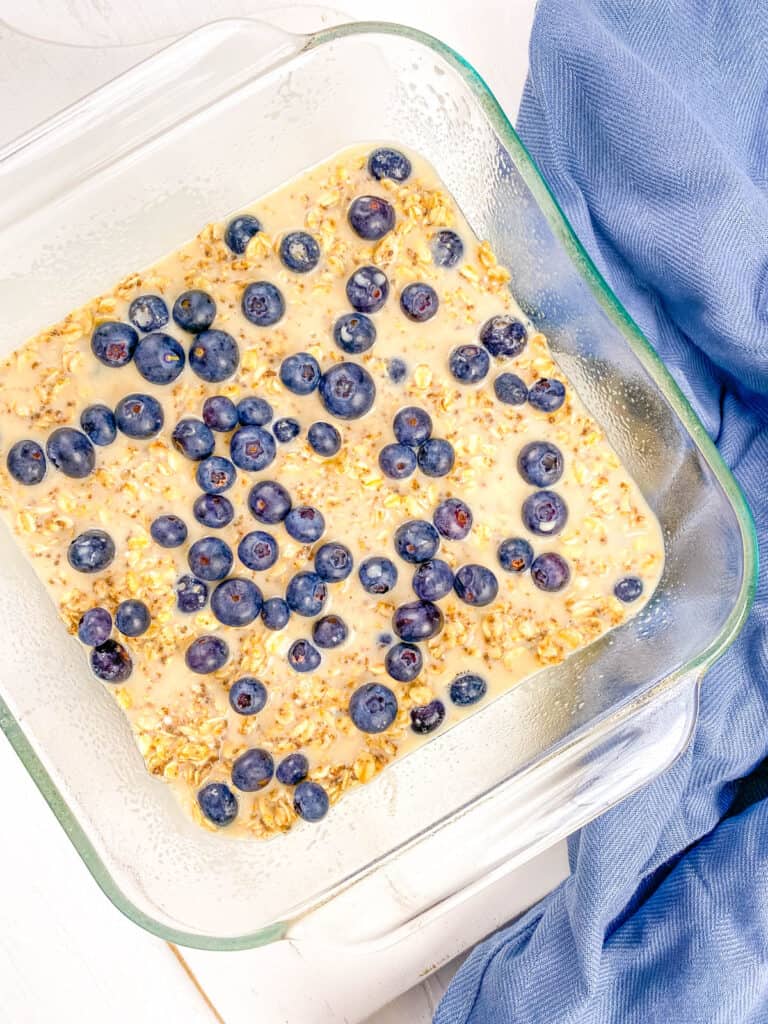 Bake, Then Let Cool: Bake in the preheated oven for 35 to 40 minutes, or until an inserted toothpick comes out clean. Carefully remove the dish from the oven and let this vegan baked oats dish cool for 20 minutes. This gives it time to set up before you slice it.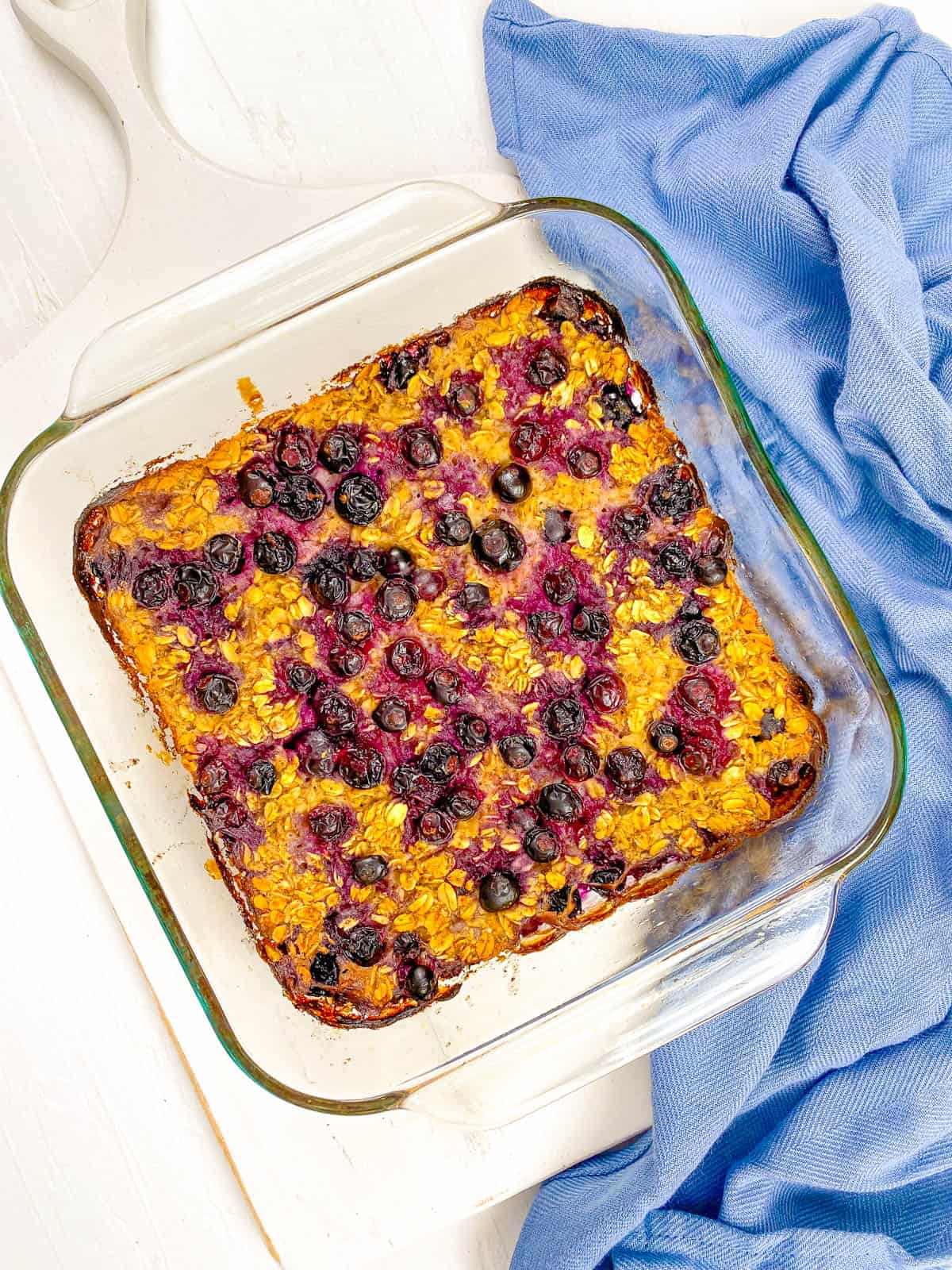 Enjoy: Slice and serve with your favorite toppings! Try flaked coconut, a pat of vegan butter, coconut whipped cream, maple syrup, or fresh fruit for an easy healthy breakfast!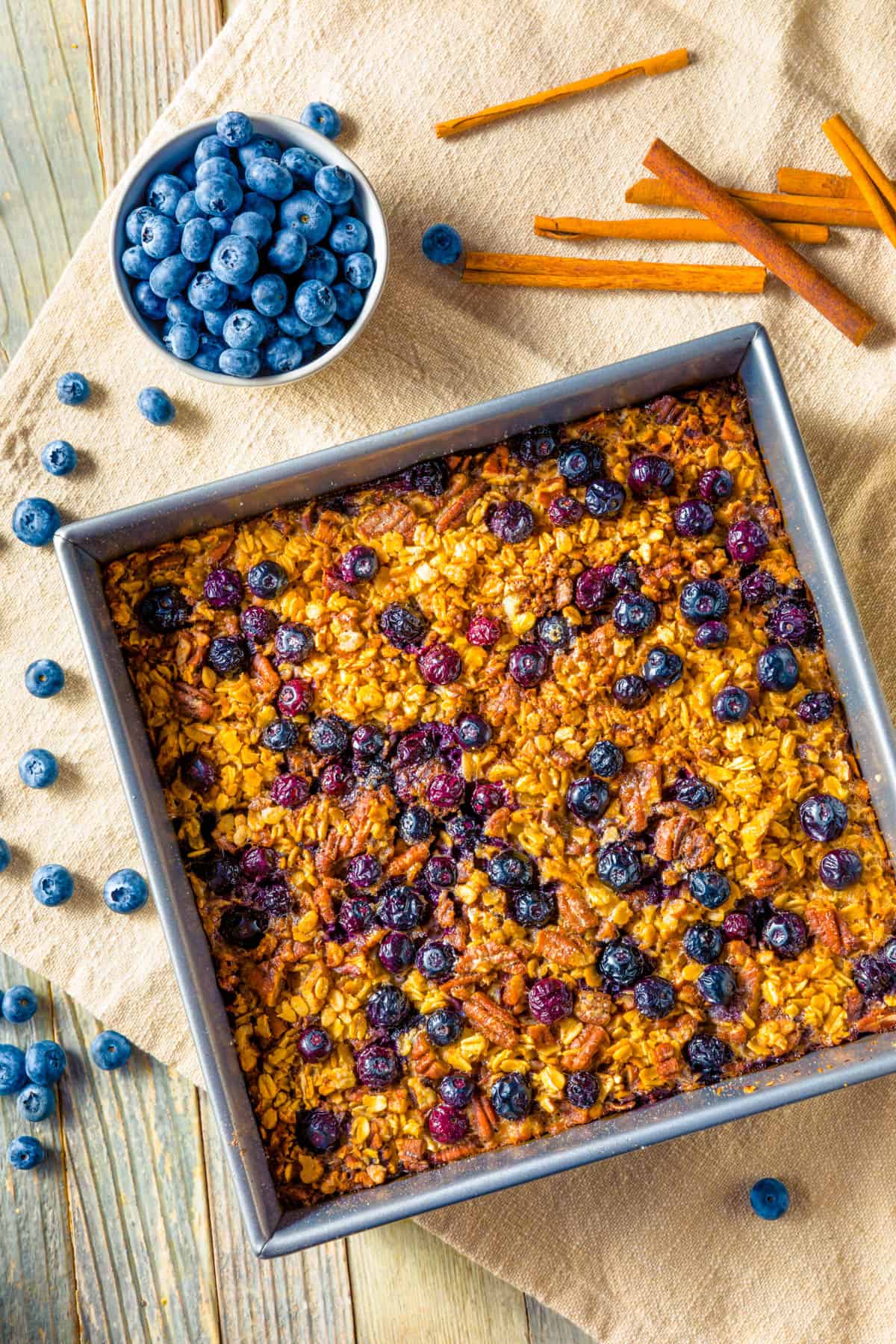 ❓Recipe FAQs
Are baked oats healthy?
Typically yes, but it depends on what you add into it! Baked oats on their own are high in fiber and whole grains, which keep you feeling full for a long time. If you add a ton of sugary ingredients (syrups, dried fruit, chocolate chips, etc) then your oats will end up being more like dessert than a healthy breakfast.

But this vegan baked oats recipe is full of wholesome ingredients like berries, plant-based milk, and protein-rich chia seeds. It's low in sugar, low in calories, high in protein and fiber. Additionally, berries are rich in antioxidants like anthocyanins and resveratrol (which help reduce inflammation), and Vitamin C and Potassium.
Do you have to put egg in baked oats?
Nope! Eggless baked oats are just as delicious! For this vegan version, I used a chia egg to bind the oatmeal and applesauce for moisture. A chia egg is just a mixture of ground chia seeds and water that creates a gelatinous mixture resembling an egg. You won't even know it's in there!
Is oatmeal good for vegans?
Yes! Oatmeal is a great choice for vegans. Oats are naturally vegan and they can be spruced up with toppings, flavors, and mix-ins! They're are a nutritious choice too, rich in vitamins, fiber, minerals, and antioxidants. One cup of cooked oats contains 4 grams of fiber and 6 grams of plant-based protein.
How should I serve baked oatmeal?
It's delicious as-is, but great with toppings too! Add a drizzle of maple syrup for sweetness, toasted nuts for crunch, or chocolate chips for decadence. Or add a dollop of almond butter for extra protein.
❄️ How To Store
To store in the fridge: Vegan baked oats is perfect for making ahead of time and eating all week long. To store in the fridge, wait for the oatmeal to cool completely, then transfer to an airtight container. It will keep in the fridge for about 4-5 days. To reheat, pop them in the microwave for about a minute and serve!
To freeze: Cut the oatmeal into individual portions. Freeze in airtight containers or zip top freezer bags for up to 3 months. To reheat, thaw in the fridge overnight and then warm in the microwave the next day for 1 minute until heated through. Add 1-2 tbsp almond milk if needed to add moisture.
💭 Expert Tips
This tasty breakfast is highly customizable: feel free to use any fruit you'd like – apples, pears and bananas all work great. You could also add in nuts (walnuts, pecans, almonds, cashews) for some extra texture and crunch!
Do not use steel cut oats or quick oats in this recipe. Because they cook differently than rolled oats they won't hold up as well.
To keep moisture if you choose a no-sugar option: If you eliminate the maple syrup altogether, add 1-2 tbsp more of almond milk (or any non-dairy milk) so that there is enough moisture for the oats to absorb.
If you need a softer consistency, feel free to add a few tbsp more almond milk or your favorite plant based milk.
To make oatmeal cups, grease a muffin tin and fill the muffin holes with the oatmeal batter. Decrease the baking time since they will be much smaller.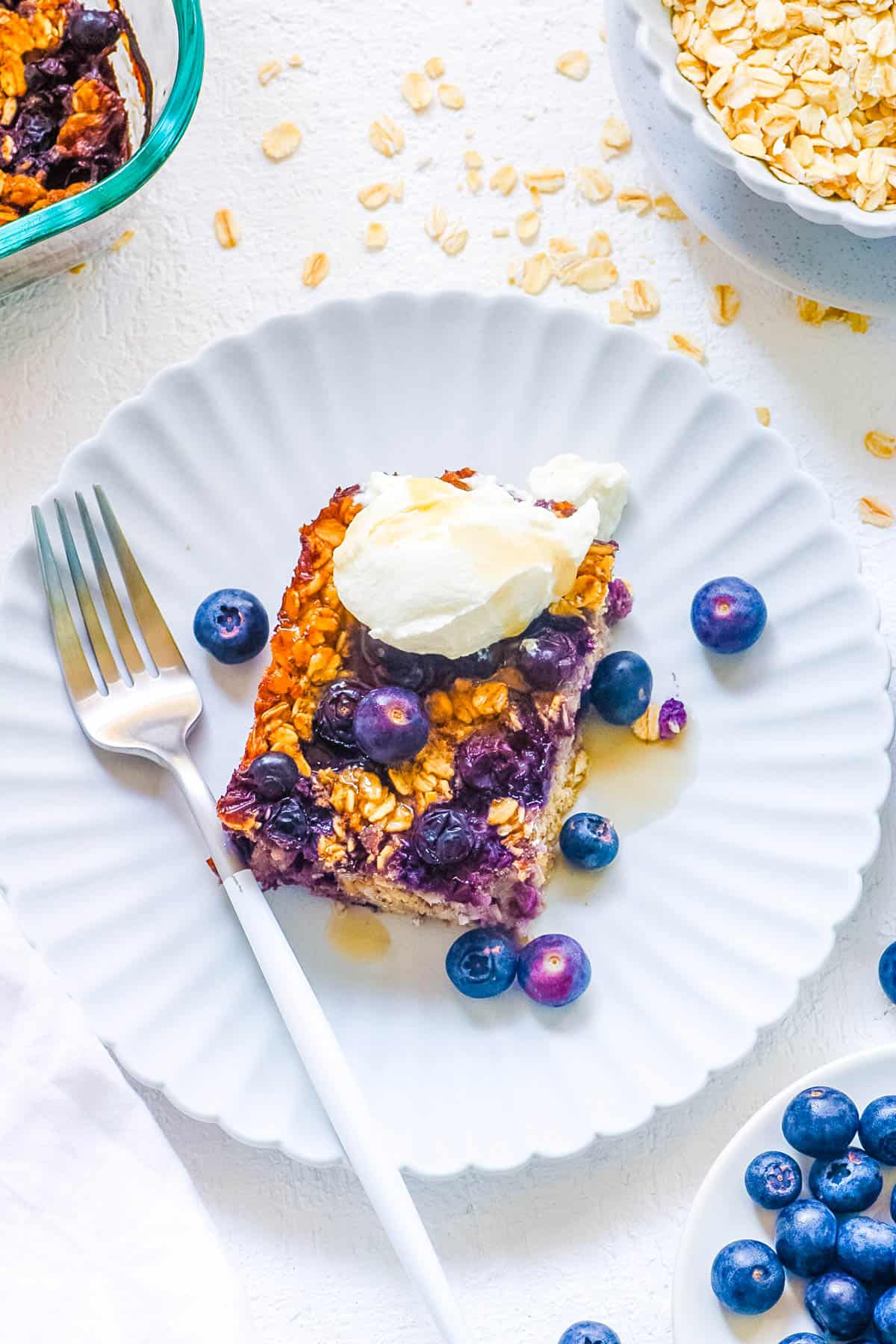 🥣 More Healthy Oatmeal Recipes!
LOVE THIS RECIPE? Please leave a 5-star rating 🌟 in the recipe card below and/or a review in the comments section further down the page!
You can also FOLLOW ME on FACEBOOK, TWITTER, INSTAGRAM, and PINTEREST to see more delicious, healthy, family-friendly food, and if you have any questions, I'm here to help!
📋 Recipe Card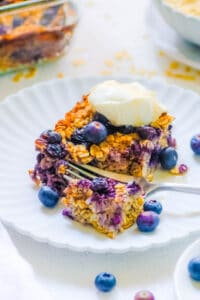 Print Recipe
Vegan Baked Oatmeal With Blueberries
This vegan baked oatmeal with fresh blueberries is naturally sweetened with maple syrup. It makes for a filling brunch or special occasion breakfast! No banana, eggs, or refined sugar!
Instructions
Preheat the oven to 375 degrees F / 180 C. Spray an 8×8 square baking dish with spray oil.

In a mixing bowl, mix together the ground chia seeds and water, allow it to sit for 5 minutes to form a paste.

Whisk the almond milk, vanilla extract, maple syrup and applesauce into the prepared chia seed mixture.

Add remaining ingredients, only adding 1 cup blueberries and reserving remaining blueberries for the top, gently fold to combine.

Bake in the oven for 35-40 minutes or until an inserted skewer comes out clean.

Remove and allow the baked oatmeal to cool and set for 20 minutes before slicing and serving.

Serve topped with whipped coconut cream, drizzle of maple syrup or toasted almonds.
Notes
Any plant based milk will work in this recipe.
Ground flax seeds can be used instead of chia seeds if preferred.
Allow the baked oats to completely cool and set before serving.
Store leftover baked oats covered in the fridge for up to 4 days.
Nutrition
Serving:
1
piece
|
Calories:
177
kcal
|
Carbohydrates:
32
g
|
Protein:
5
g
|
Fat:
4
g
|
Saturated Fat:
0.4
g
|
Polyunsaturated Fat:
2
g
|
Monounsaturated Fat:
1
g
|
Trans Fat:
0.01
g
|
Sodium:
86
mg
|
Potassium:
201
mg
|
Fiber:
5
g
|
Sugar:
9
g
40 responses to "Vegan Baked Oatmeal"