30 Romantic Desserts For Two (Best Dessert Recipes!)
This post may contain affiliate links. As an Amazon Associate, I earn from qualifying purchases. Please read my disclosure.
Valentine's Day is the holiday for romantic desserts for two! This collection of candy, chocolates, cakes, cupcakes, and more are the perfect way to end the evening with your Valentine. You can also enjoy these sweet treats any time of the year – they're great for date nights or any dessert for two!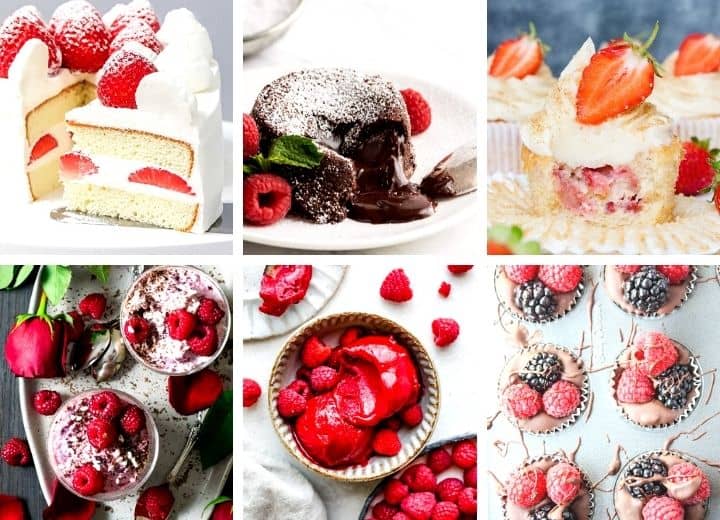 Valentine's Day has always been a special day for my husband and I.
We went on our second date ever on Valentine's Day in 2004 (our first date was the week before, on February 7th, 2004 – when I was still in college).
Now that we are parents we don't get as many date nights. Instead we try to create romantic date like moments at home, when we can.
Obviously, Valentine's Day has a special meaning for us, like it probably does for many people. And for us, celebrating often has a grand finale of amazing desserts since we both have a huge sweet tooth.
These 30 romantic desserts are perfect for two! Enjoy them during Valentine's Day or for any special occasion. Feel free to also make a few, try a bit of everything, and really indulge!
What Are Romantic Desserts?
When it comes to Valentine's Day often romantic desserts are associated with decadent sweet treats. Lots of warm melty chocolate, like fondue, or molten cakes.
Add a splash of red to your desserts to bring in that color of romance. Adding fresh berries like raspberries, or strawberries can turn an ordinary dessert into something truly special.
Any dessert can be romantic when you're sharing it with someone you love.
Some of my favorite romantic desserts include:
Chocolate Covered Strawberries
Red Velvet Cake or Red Velvet Cheesecake Bites
Chocolate Lava Cake
Heart shaped sugar cookies or buttery shortbread cookies
Creamy mousse
White chocolate mousse paired with fresh berries
How Do You Make Romantic Desserts For Two?
There could be many reasons why you want a dessert that is suitable to share with two. Maybe you don't want a lot of extra dessert in the house. Maybe you live with just one other person, or possibly it's Valentine's Day, and you want a romantic dessert for just the two of you.
Here are a few helpful tips.
Small batch cookies. They are just enough to enjoy with the one you love.
Small batch brownies
Mug cakes or mug brownies.
Crème Brûlée, is a great treat you can make in a small batch to enjoy with someone else.
Cupcakes, make a small batch of cupcakes, instead of a big cake
Fondue is a great way to enjoy a dessert with the one you love.
Why You'll Love These Recipes
Lots of variety, something for everyone!
Super easy recipe collection, perfect for home cooks
Decadent desserts that taste amazing
Great for Valentine's day, for a special occasion, or for your next date night
Most recipes are made with simple ingredients easily found at your local grocery store or in your pantry
Best romantic desserts ever!
30 Easy Romantic Desserts For Two
Cream Puffs
Cream Puffs may seem like a hard-to make recipe, but this one from Sense and Edibility is luxurious, freezer-friendly, and a hit for those who prefer lighter sweets. Impress your Valentine with a batch of these – it's the perfect end to a romantic meal.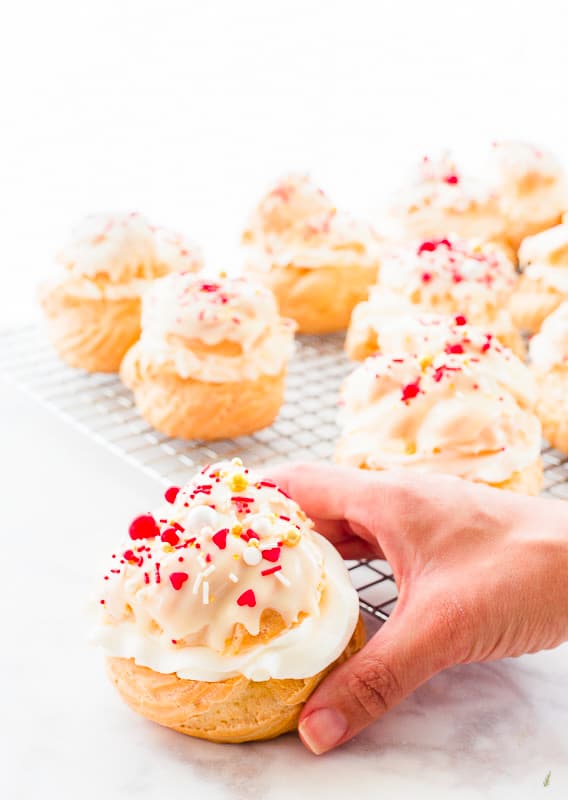 Chocolate Avocado Filled Strawberries
These No Bake Chocolate Avocado & Strawberry Mousse Mini Desserts by Food Meanderings are a fun, elegant, yet easy valentine's day dessert! They take about 15 minutes to put together, and are the perfect dessert for two.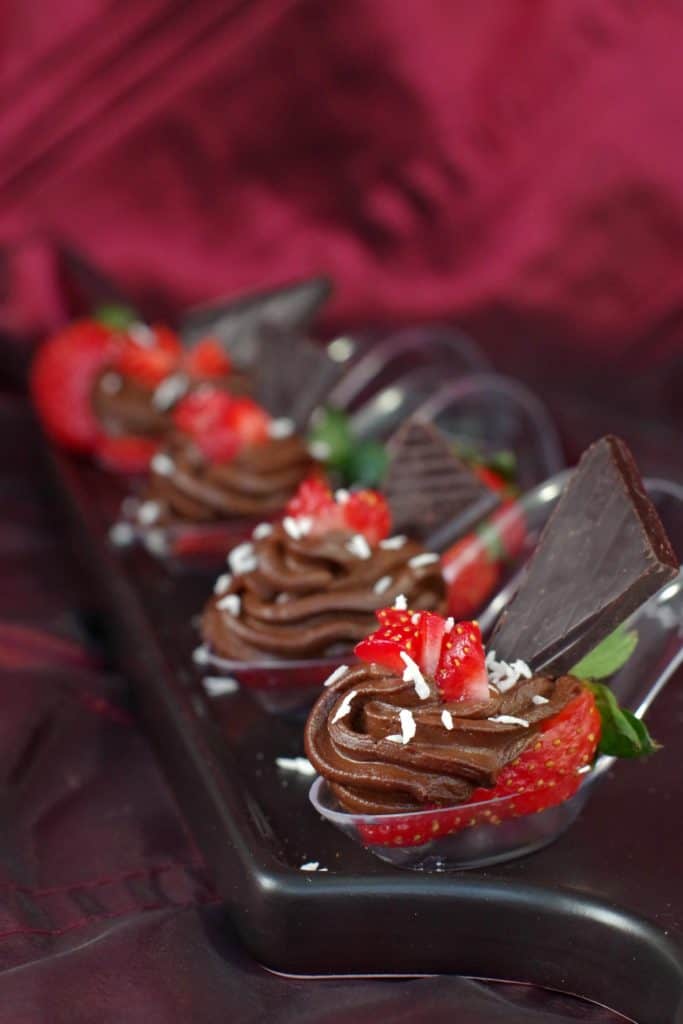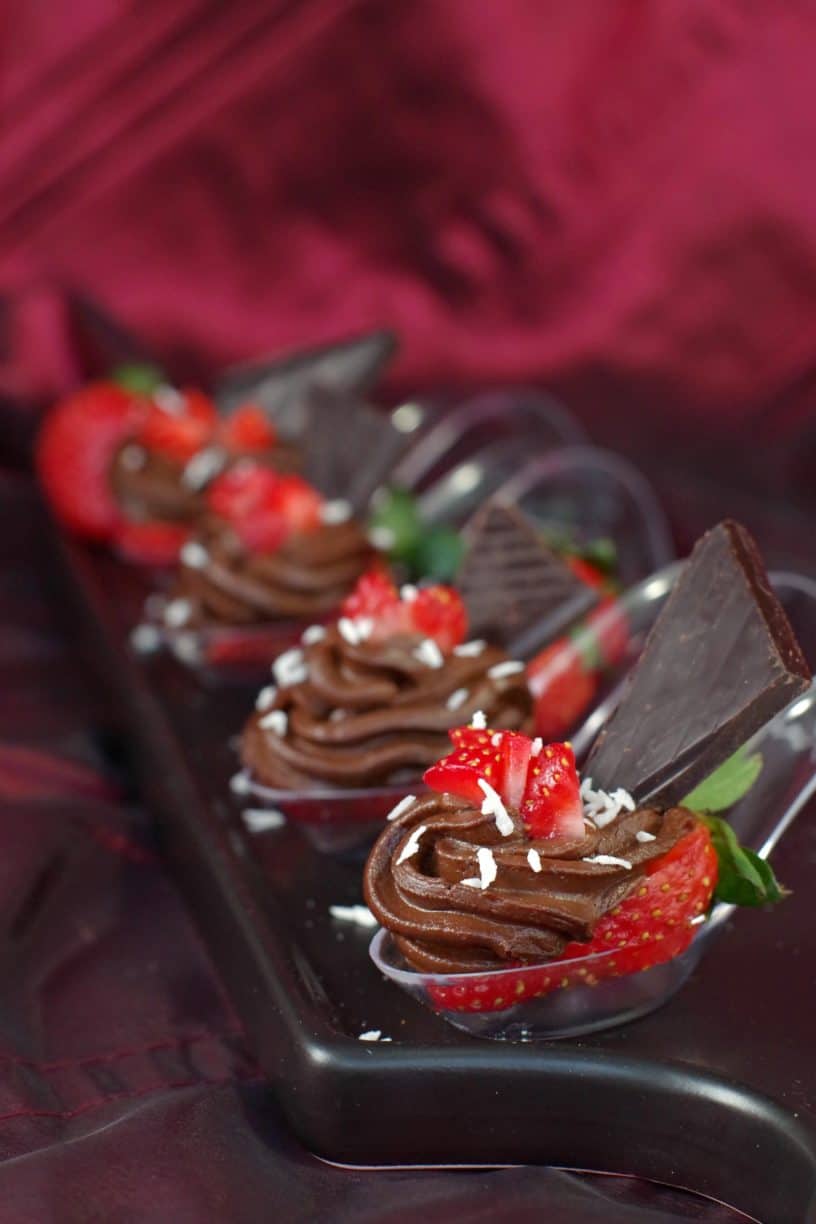 White Chocolate Souffle
A delicate, airy white chocolate souffle with a fresh floral hint from a splash of rosewater. The perfect light dessert when topped with fresh berries and mint! By Cali Girl Cooking.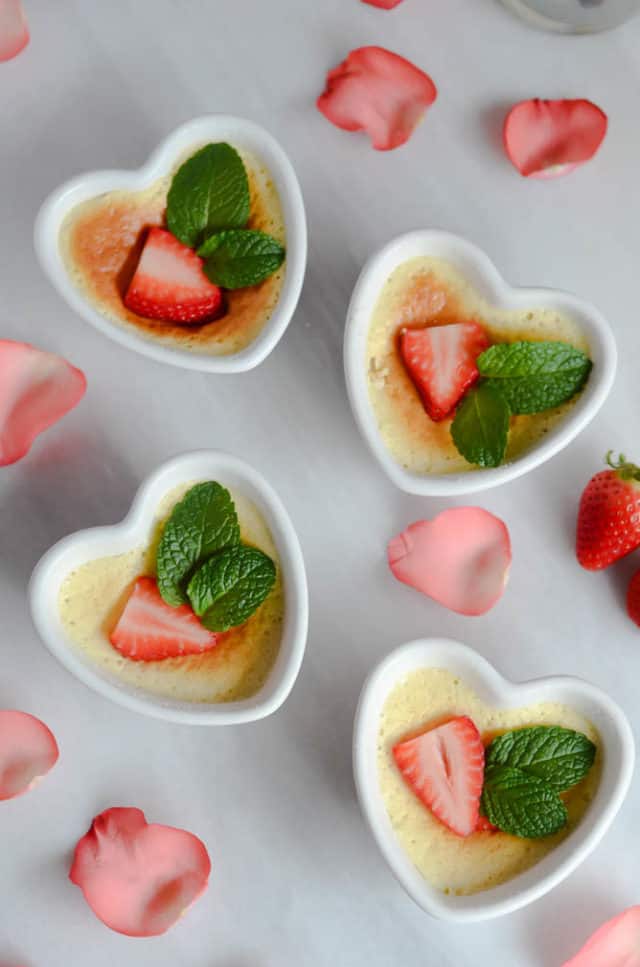 No Bake Sugar Cookie Bites
These No Bake Sugar Cookies Bites by Meals with Maggie have a soft doughy center and are coated in a sweet chocolatey shell. This delectable dessert is perfect for valentines day or for a fun healthier treat.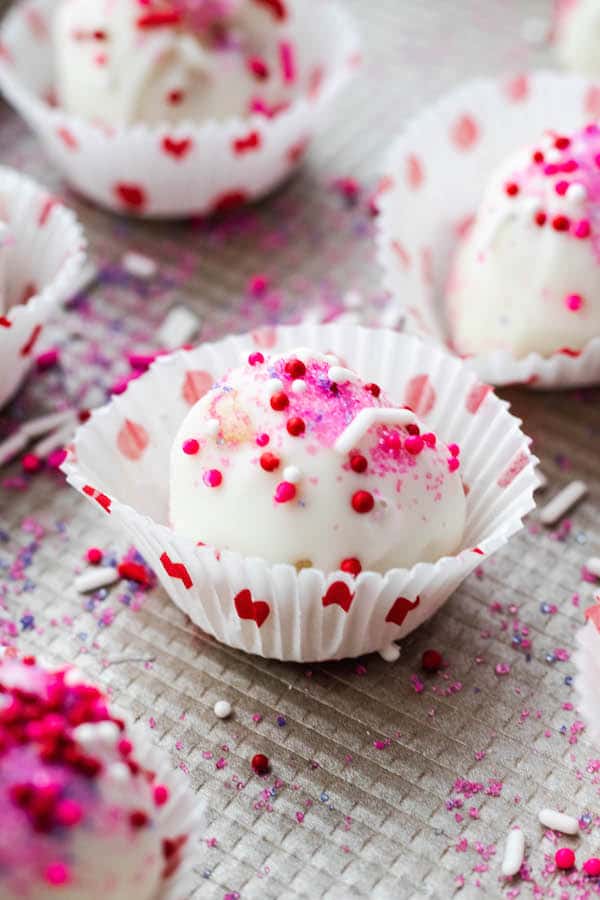 Chocolate Chia Mousse
A rich vegan chocolate mousse from The Picky Eater, made with silken tofu, bananas, tahini, cocoa powder, and maple syrup. This delicious recipe is rich and creamy!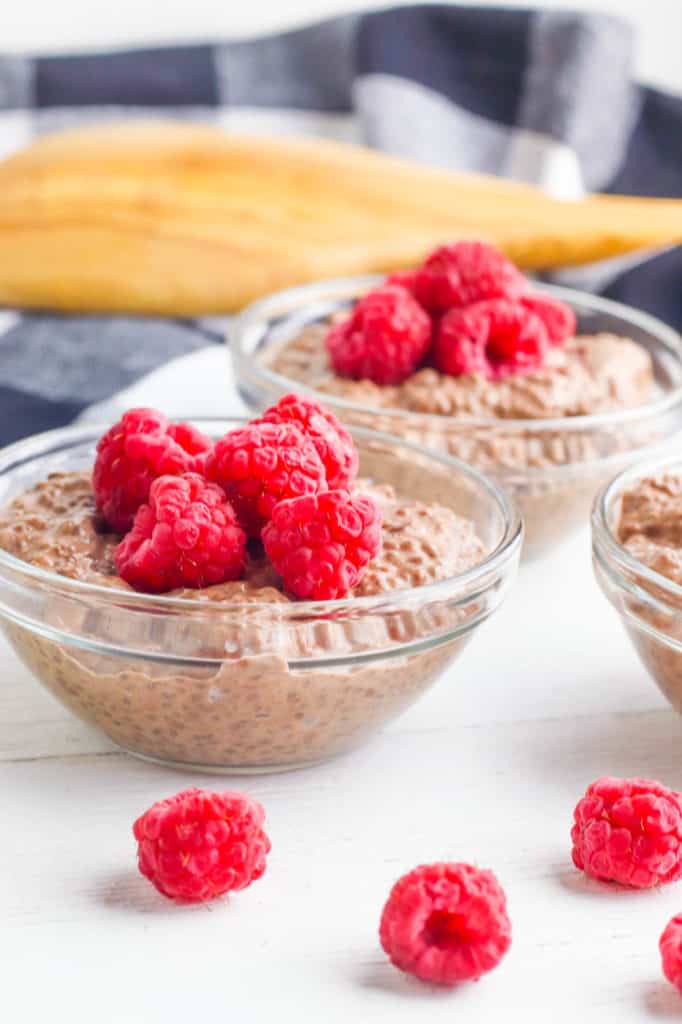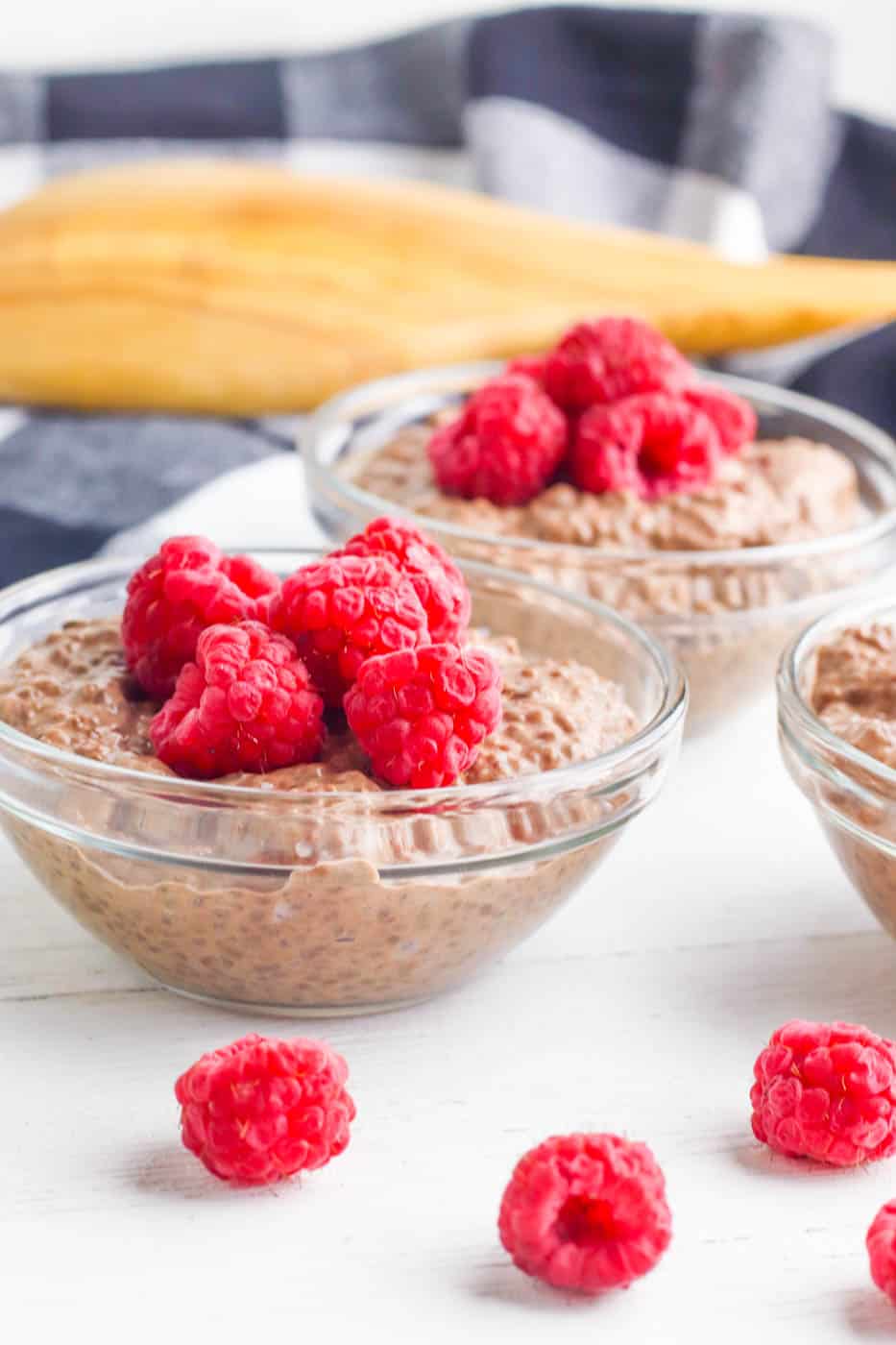 Valentine's Day Chocolate Fudge
This melt-in-your-mouth, creamy fudge from Two Healthy Kitchens is one of my favorite chocolate desserts for two! This recipe is incredibly simple with 4-ingredients and just 5 minutes of prep! It's the perfect ending to a romantic dinner.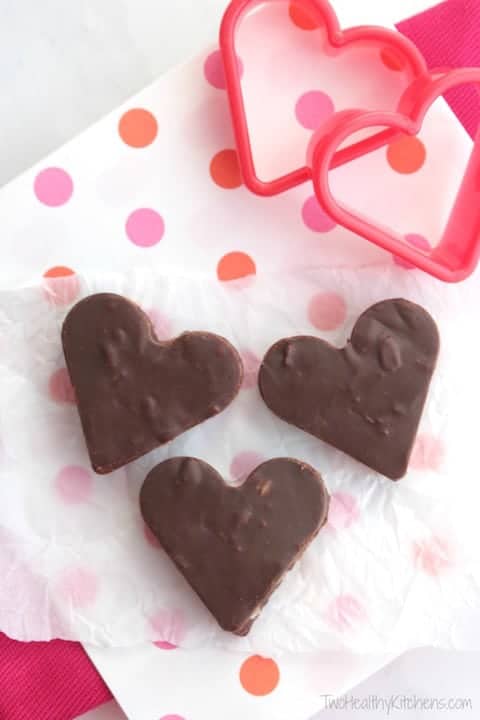 Red Velvet Cupcakes
This light and fluffy red velvet cupcake by The Picky Eater is topped with a sweet and tangy cream cheese frosting.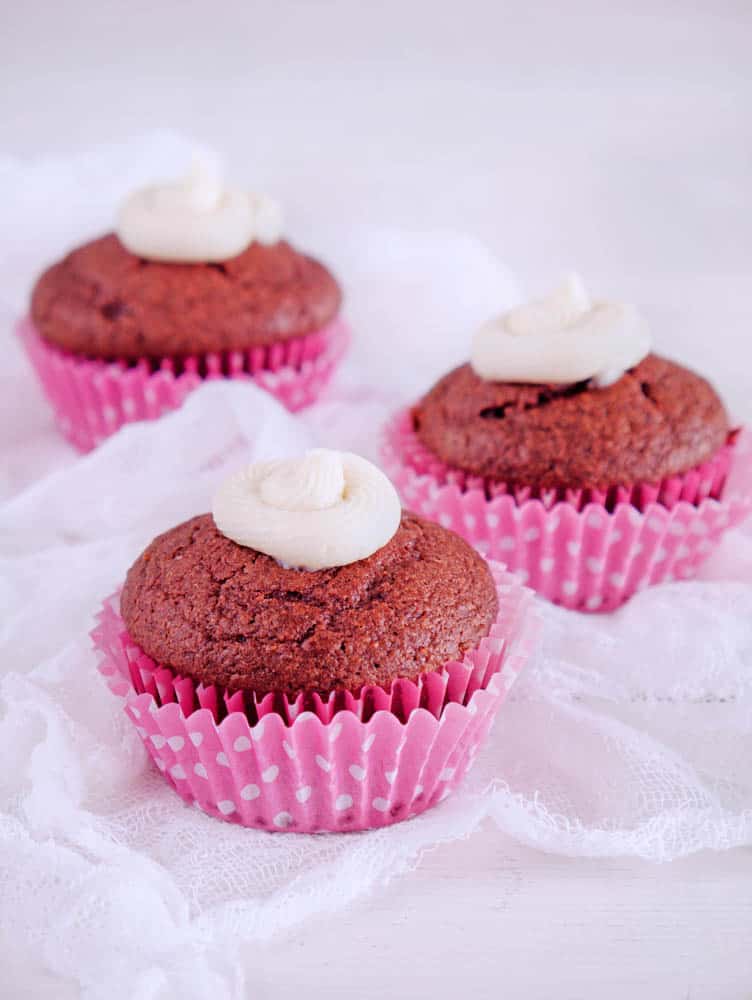 Chocolate Hazelnut Mousse
With only four ingredients and ten minutes, you can make the most decadent creamy chocolate mousse that rivals any fancy restaurant dessert. Great for any chocolate lover in your life! By Krazy Kitchen Mom.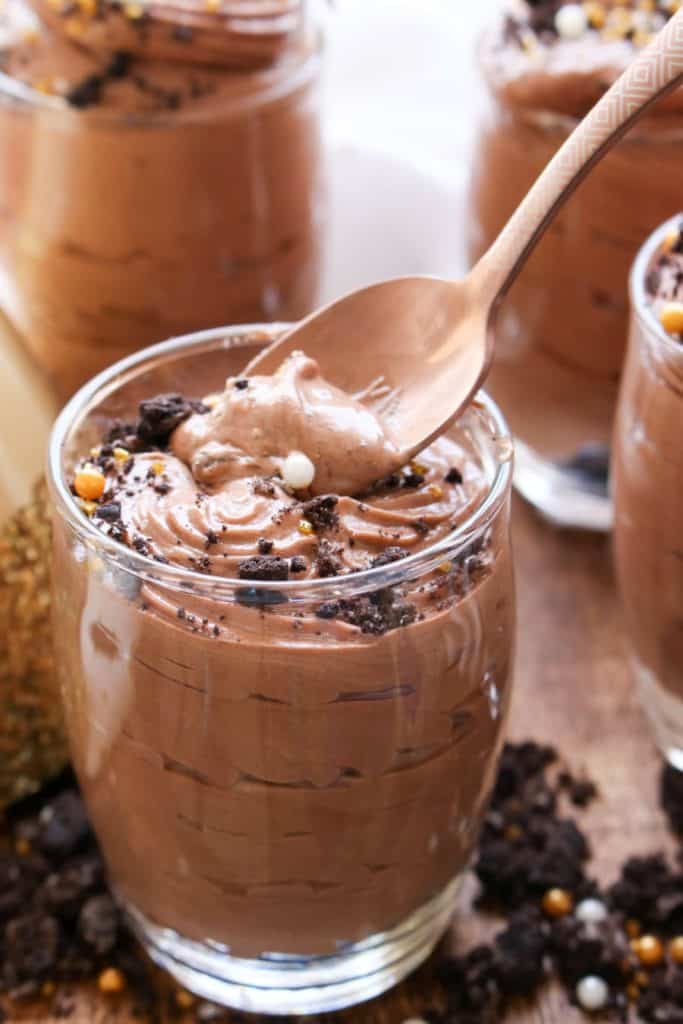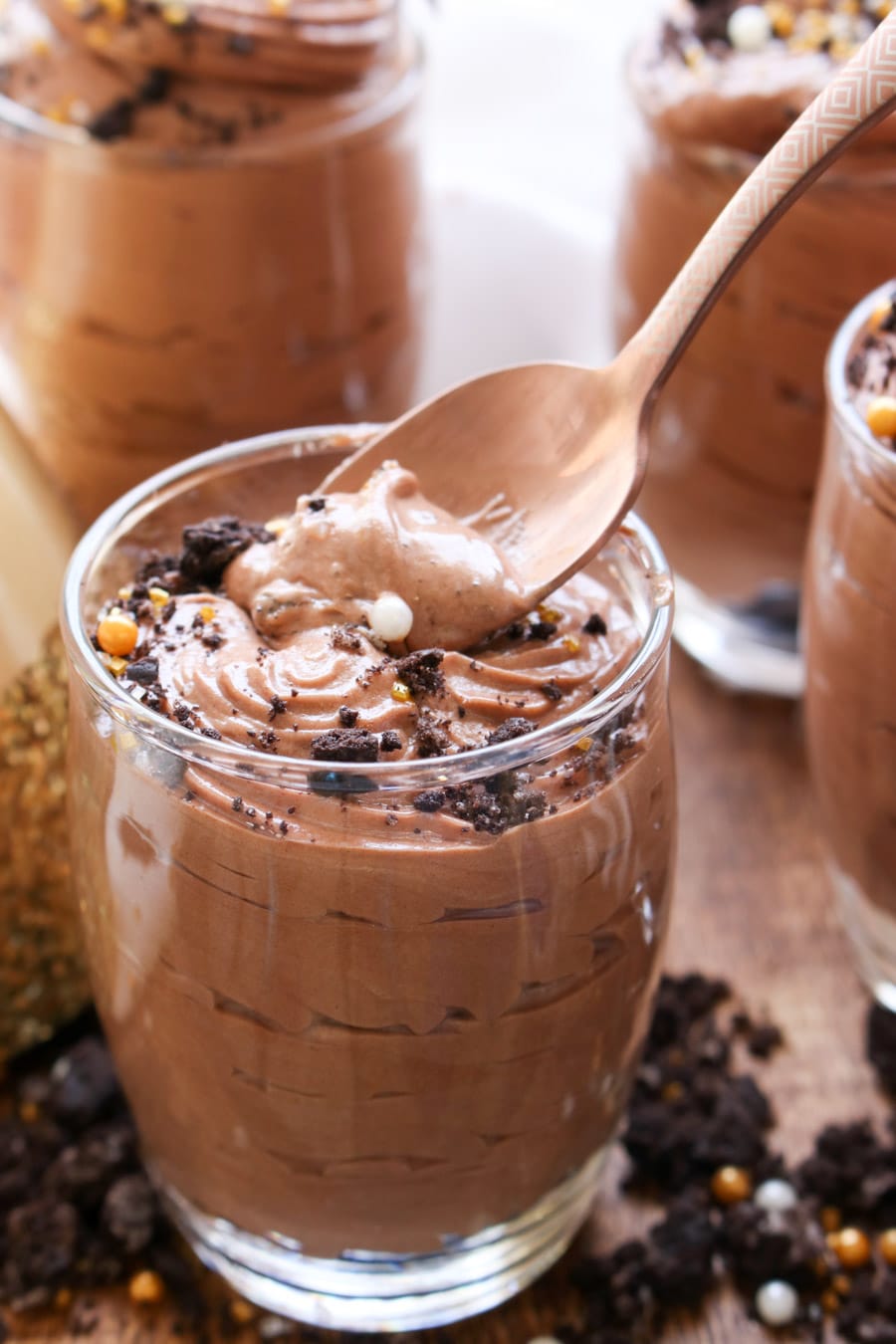 Sweetheart Brownies
Surprise your loved one with these sweet brownies by Kathryn's Kitchen Blog! They are perfect for any occasion and you can use any cookie cutter that you prefer. They are the sweetest treat!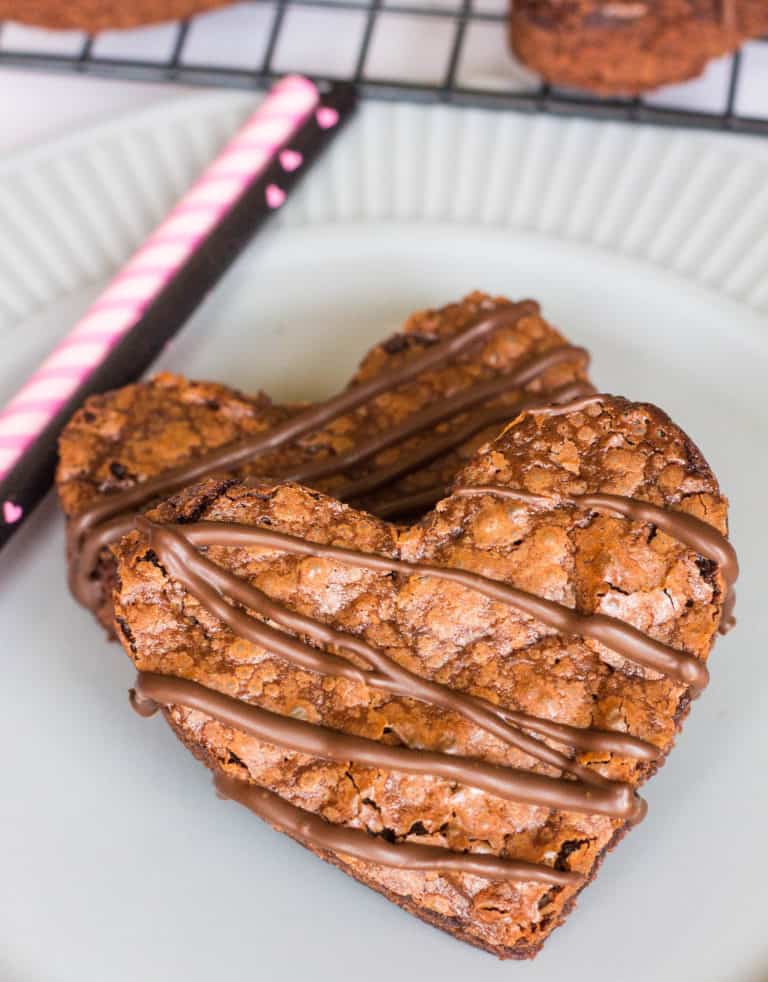 Macerated Strawberries
Macerated strawberries with cashew cream make a beautiful no-bake vegan, gluten-free dessert. These sweetened sliced strawberries are also delicious with whipped cream or lightly sweetened yogurt. By Flavour and Savour.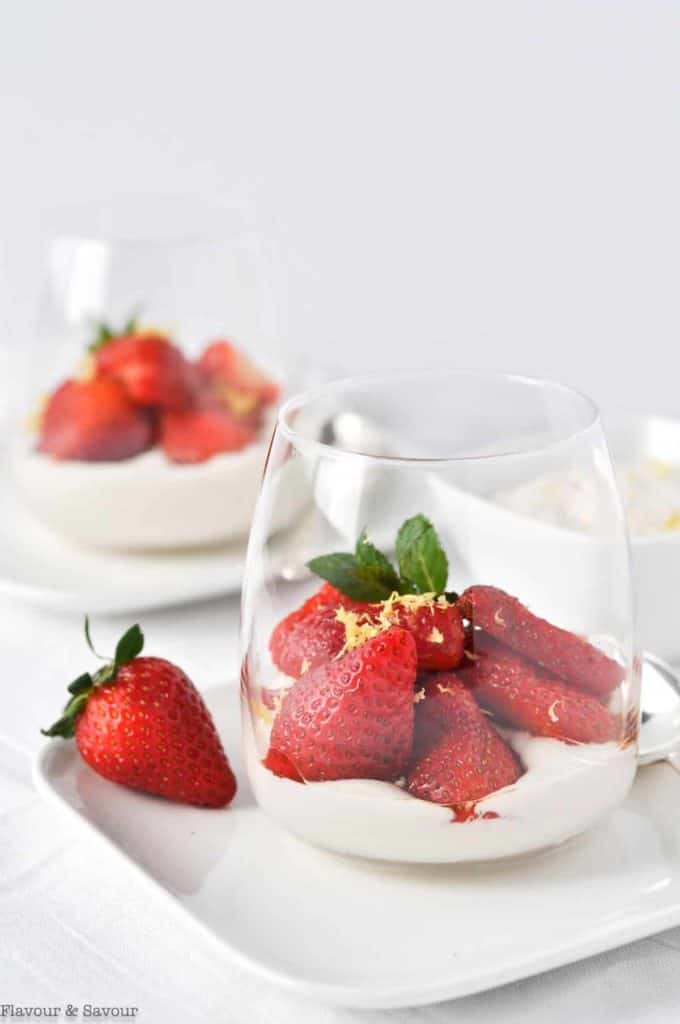 Dark Chocolate and Raspberry Brownie Tarts
These rich, dense fudgy brownies from Sidewalk Shoes are topped with tart sweet raspberries and baked into cute little tarts. They are bursting with decadent chocolate flavor.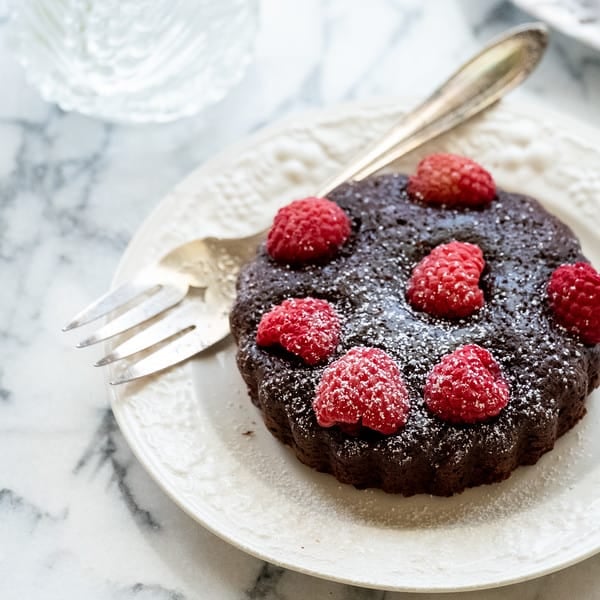 Baked Red Velvet Donuts
Baked Red Velvet Donuts by Bake and Bacon – These Red Velvet Donuts topped with cream cheese frosting are baked, not fried, and so easy to make!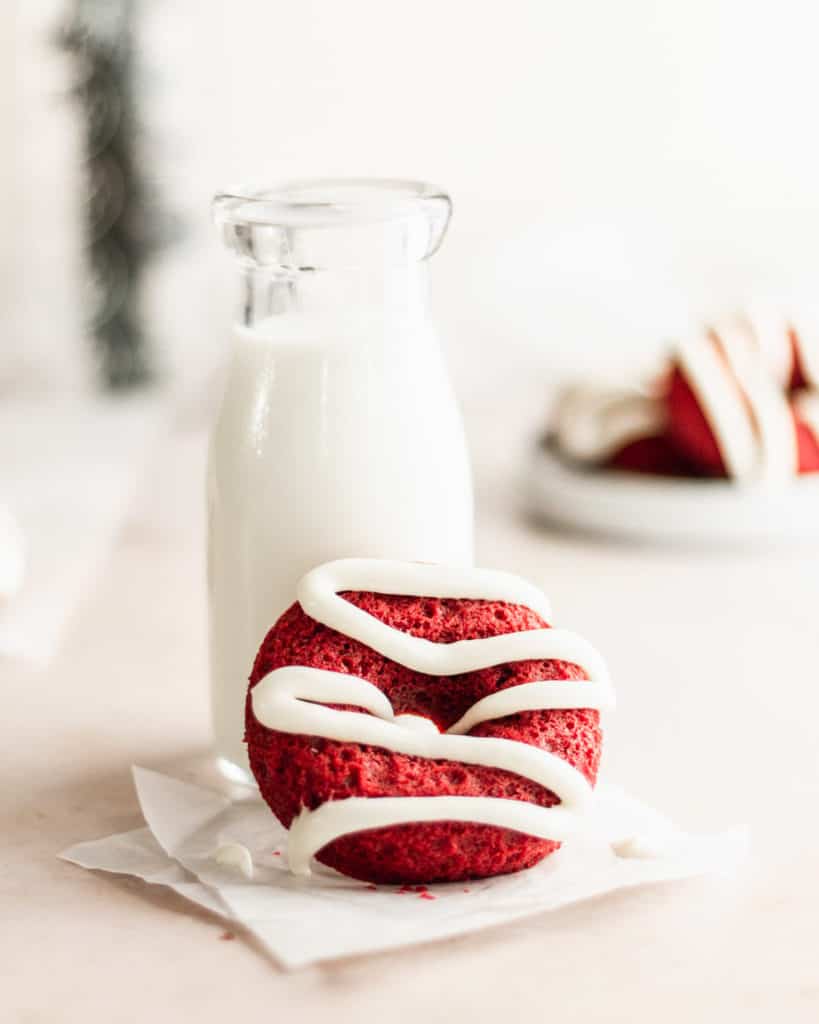 Bananas Foster
New Orleans-inspired Bananas Foster made with bananas and a rum caramel sauce, ignited, and topped with vanilla ice cream. This 10-minute bananas foster recipe is the secret weapon date night dessert! By The Kitchen Girl.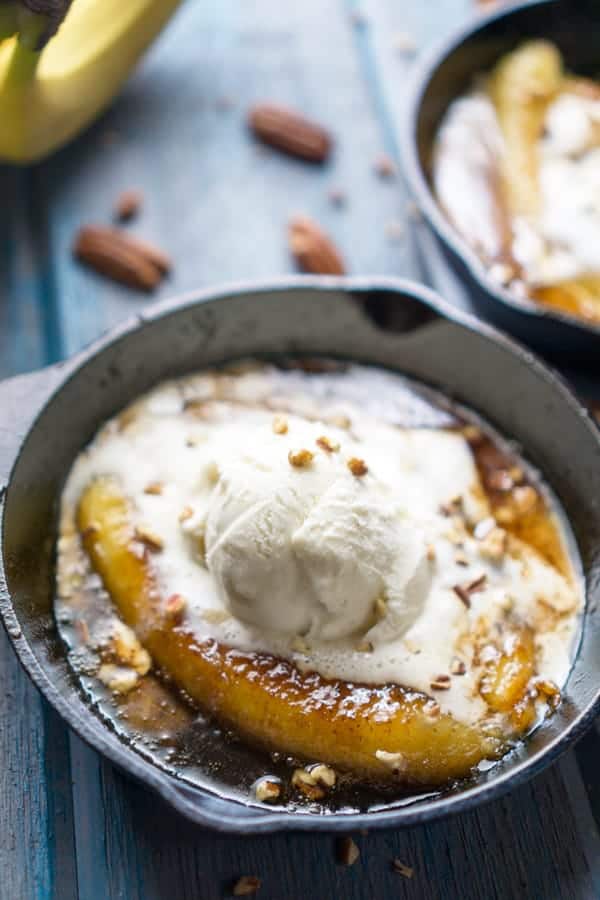 Vegan Chocolate Zucchini Cake
This chocolate zucchini cake by Veggies Don't Bite is hands down incredible. So rich and moist, you'd have no idea its vegan, gluten-free and filled with veggies!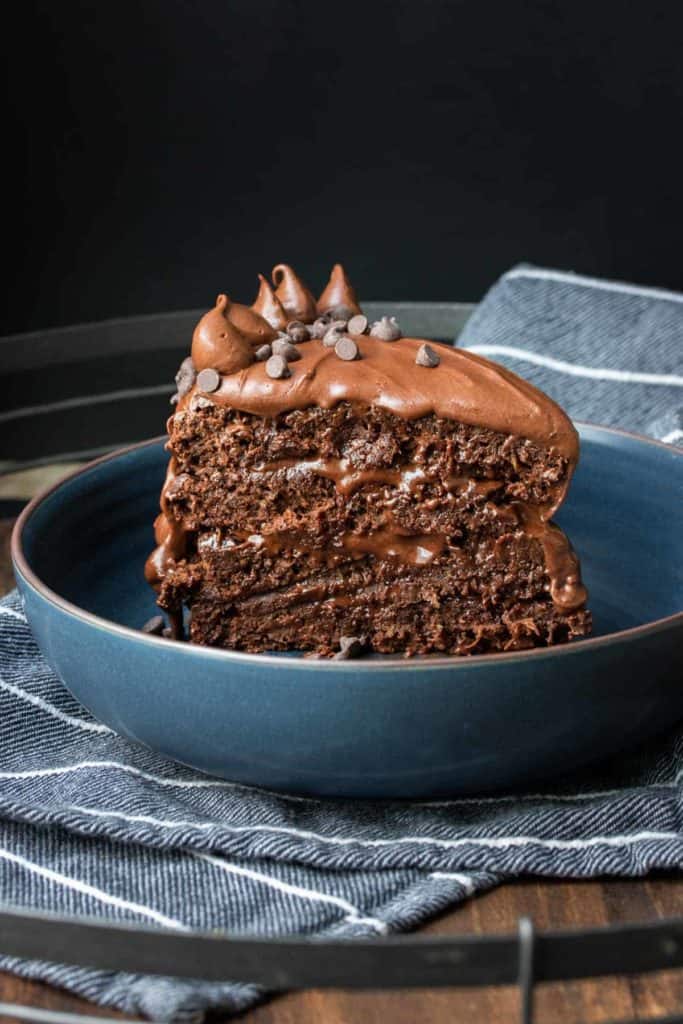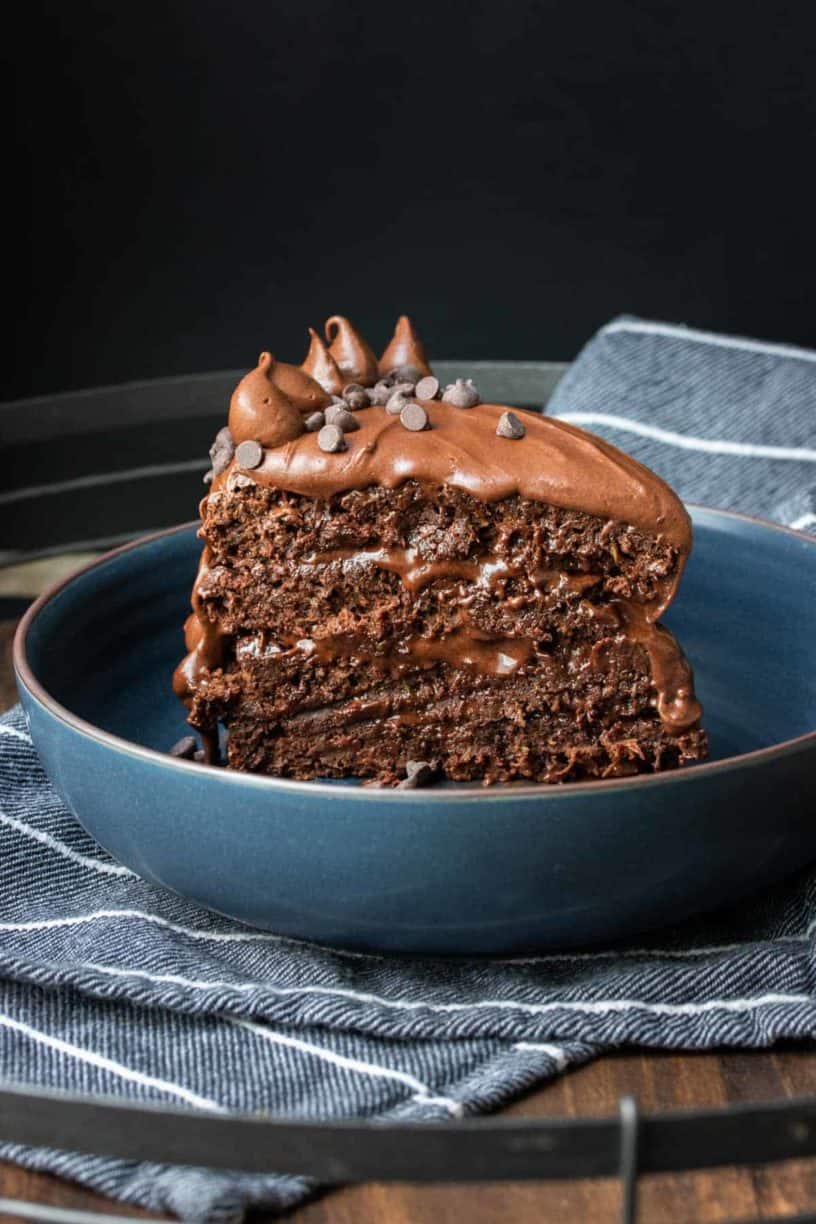 No Bake Raspberry Dairy Free Cheesecake Tarts
The perfect little tart to share with your sweetheart. These Raspberry Dairy Free No Bake Cheesecake Tarts from Veggie Inspired are gluten free and sugar free. Tart, yet sweet. Super easy.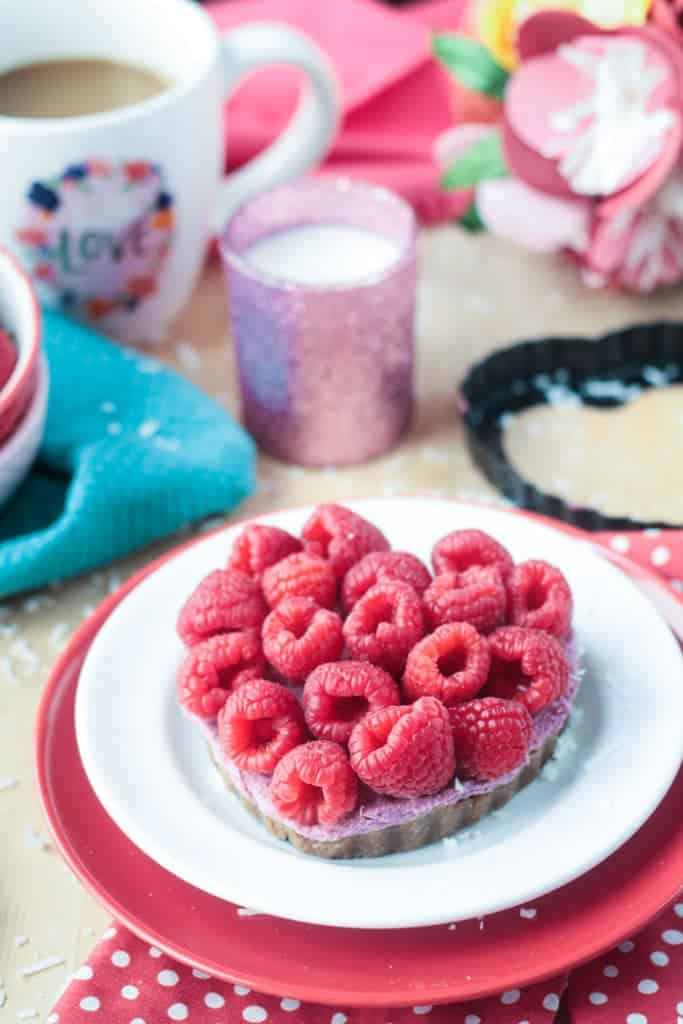 Superfood Strawberry Chocolate Brownies
Nothing says romance quite like chocolate! These Superfood Strawberry Chocolate Brownies by Jar of Lemons are a healthy, delicious, indulgent dessert!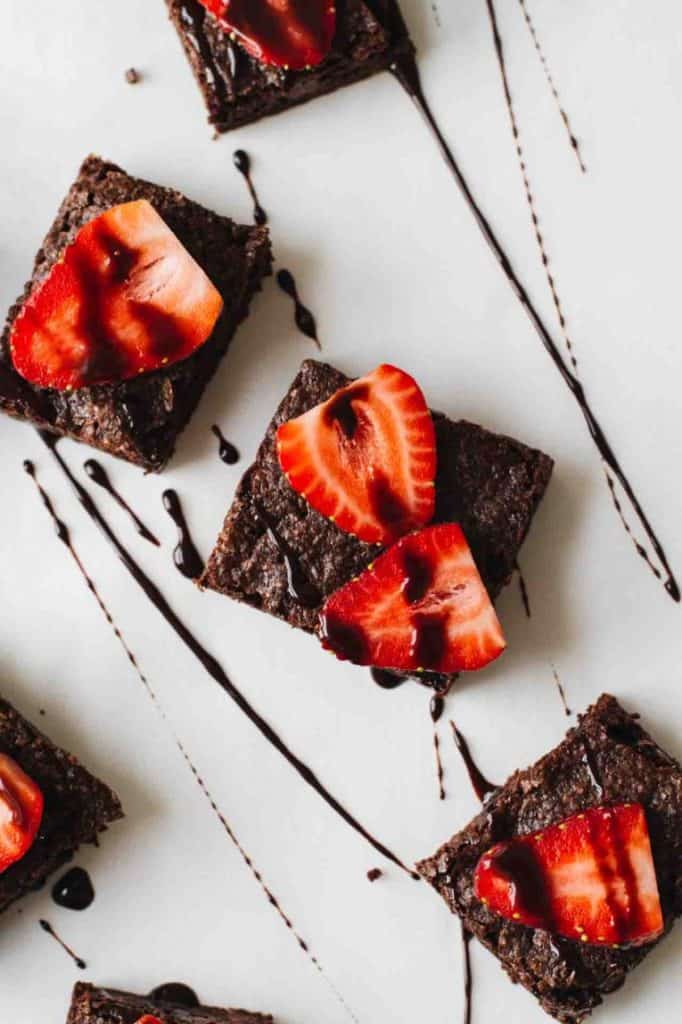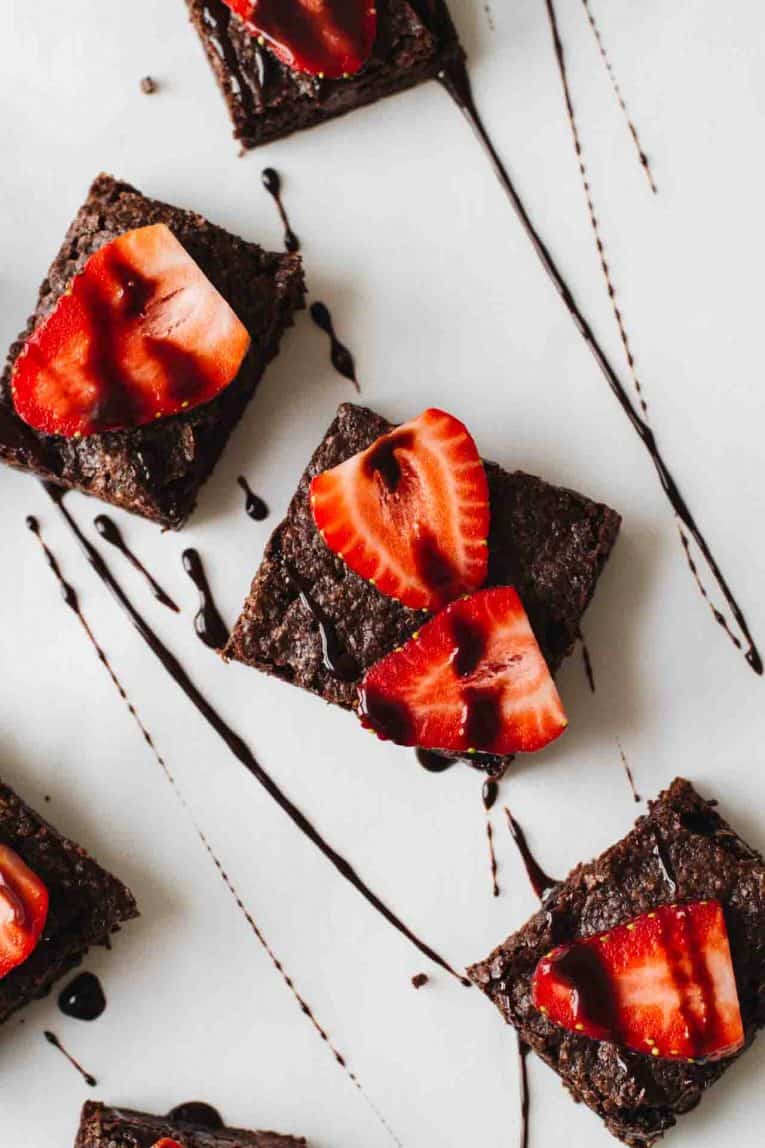 Vegan Nutella
A chocolate hazelnut spread, this vegan nutella recipe from The Picky Eater is creamy and decadent. Use it for your valentine's day celebration to dip your favorite fruit like fresh strawberries, pineapple, and banana slices! Or pair it with peanut butter and spread on toast for a chocolate peanut butter toast!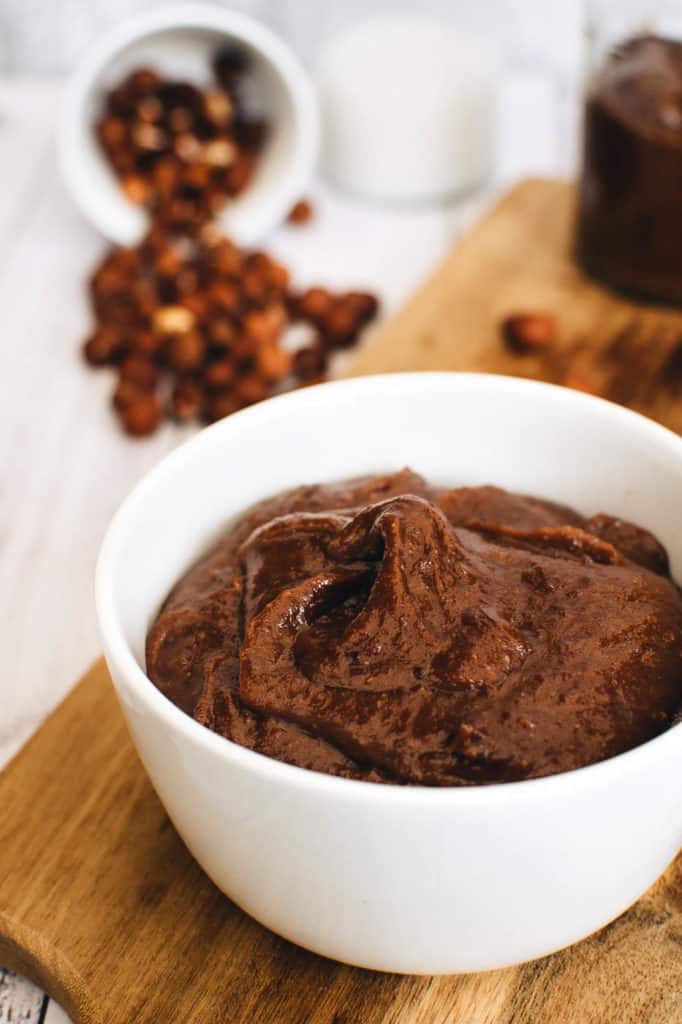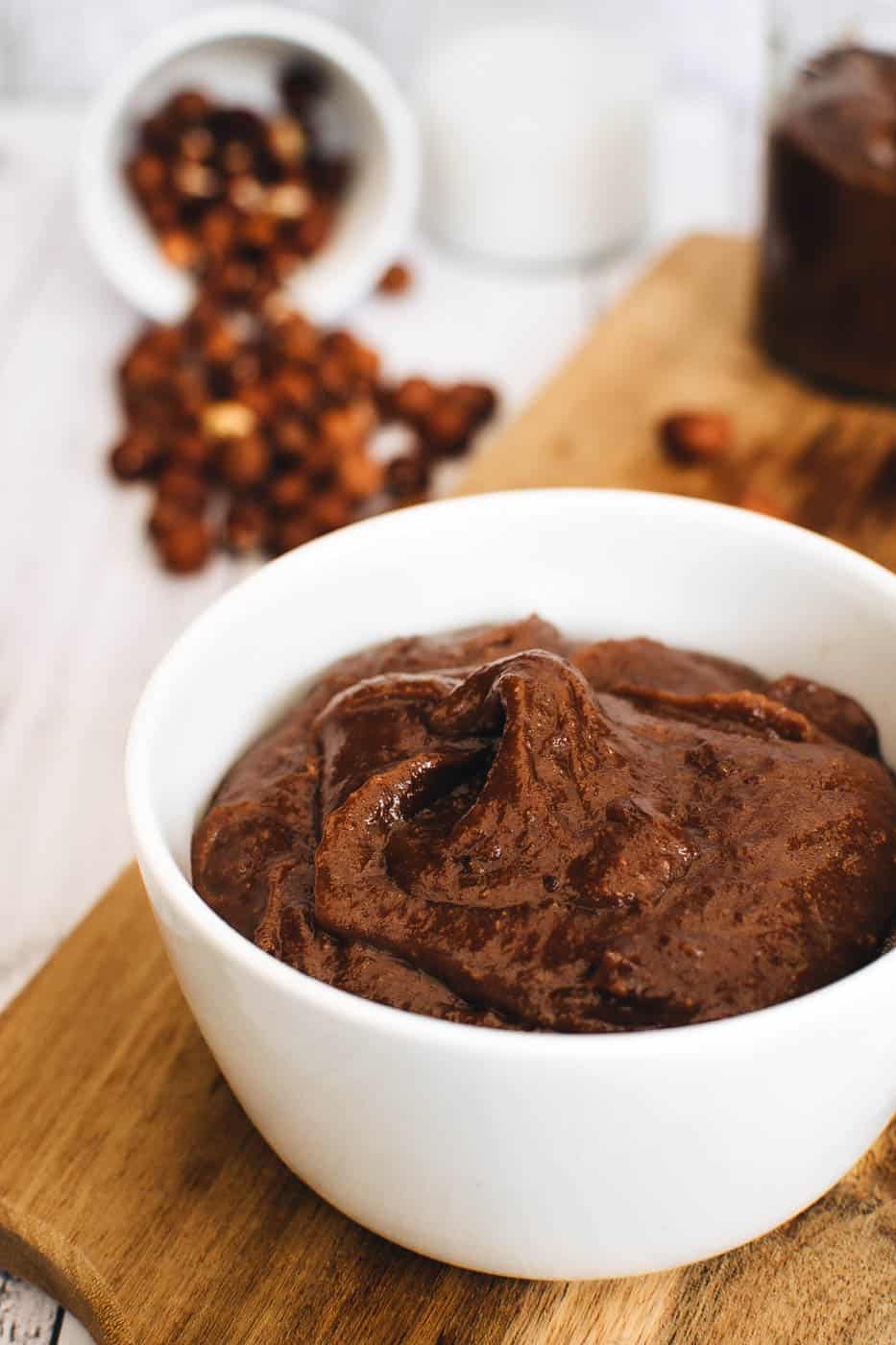 Japanese Strawberry Shortcake
This Japanese strawberry shortcake by Drive Me Hungry is a gorgeous dessert to make for your Valentines. Made with soft, fluffy sponge cake and fresh whipped cream!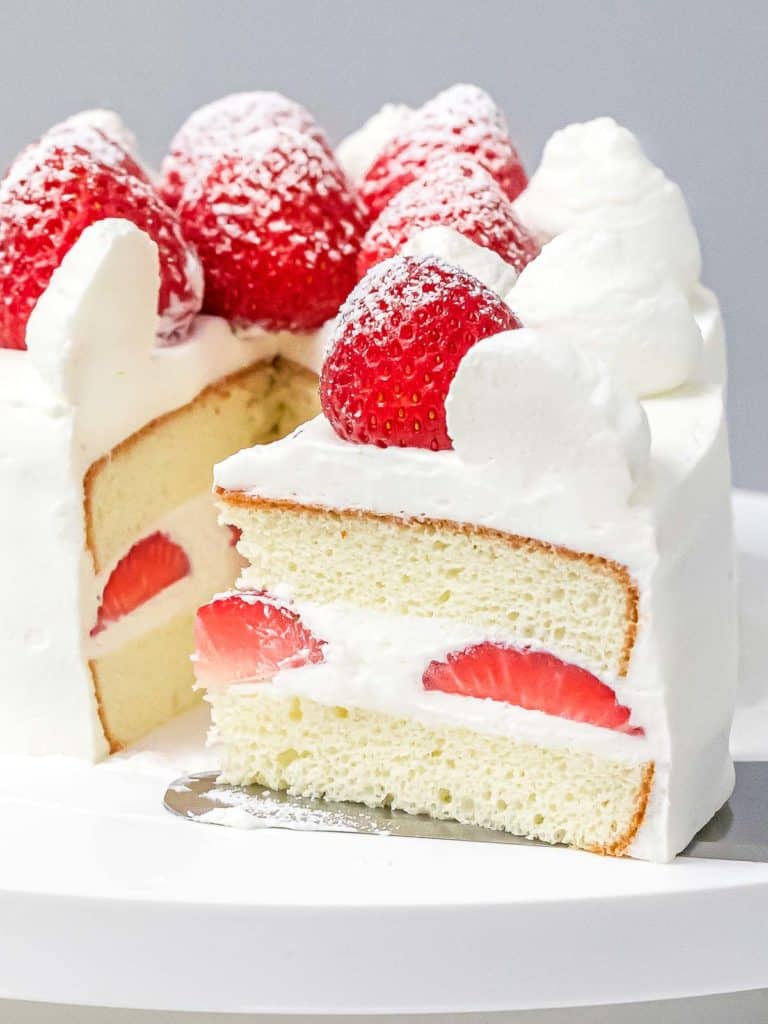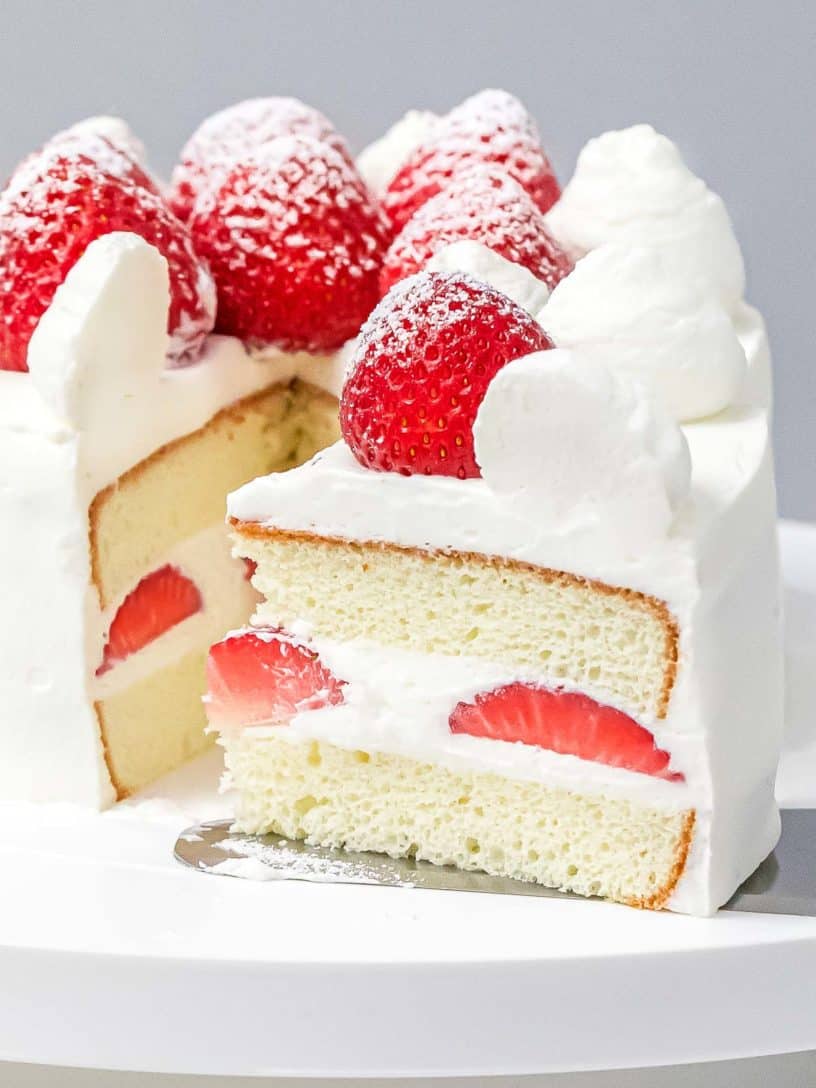 Cheesecake Bites
These bite sized cheesecakes from The Picky Eater are the perfect size to share with your Valentine. Top these mini cheesecakes with fresh fruit (like fresh berries) or shaved chocolate!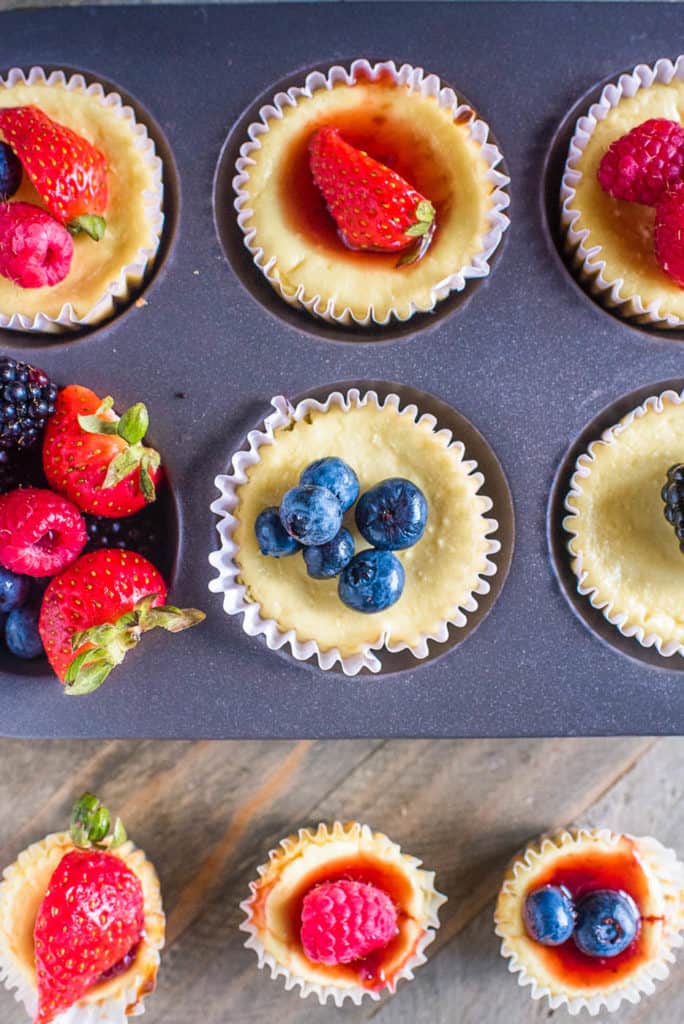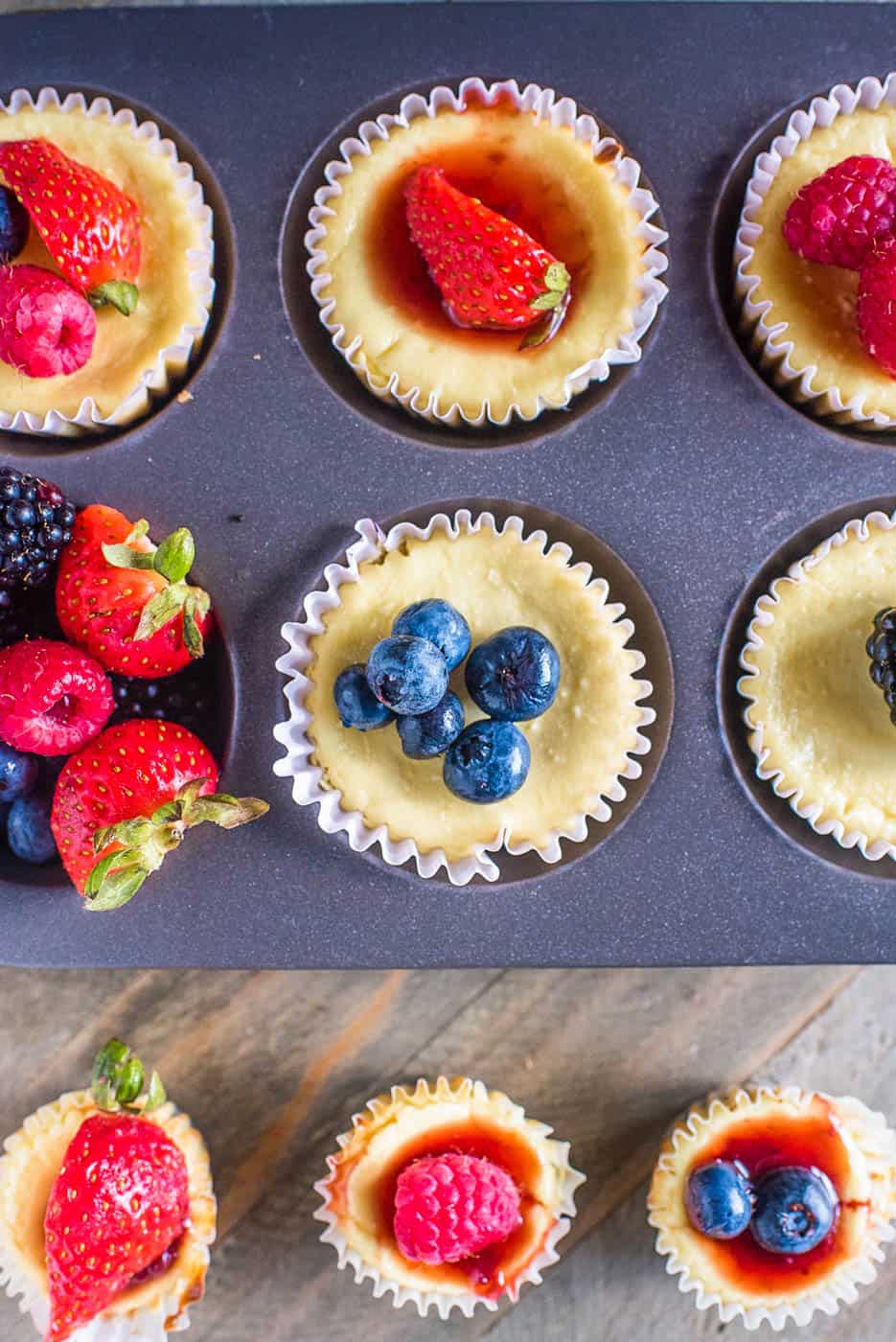 Chocolate Ganache Tart
This chocolate ganache tart from The Picky Eater is a romantic dessert to share with your Valentine. Dark chocolate, hints of coffee flavors, cocoa, and fresh whipping cream create an almost sinfully delicious ganache inside the incredible buttery crust, topped with fresh cherries.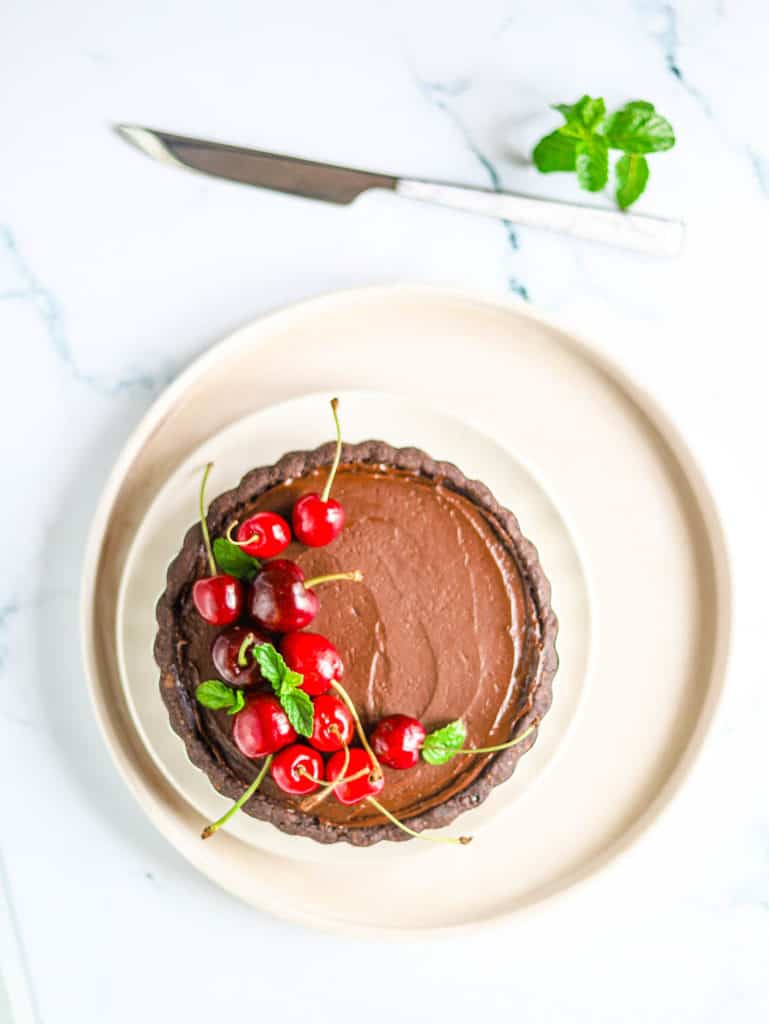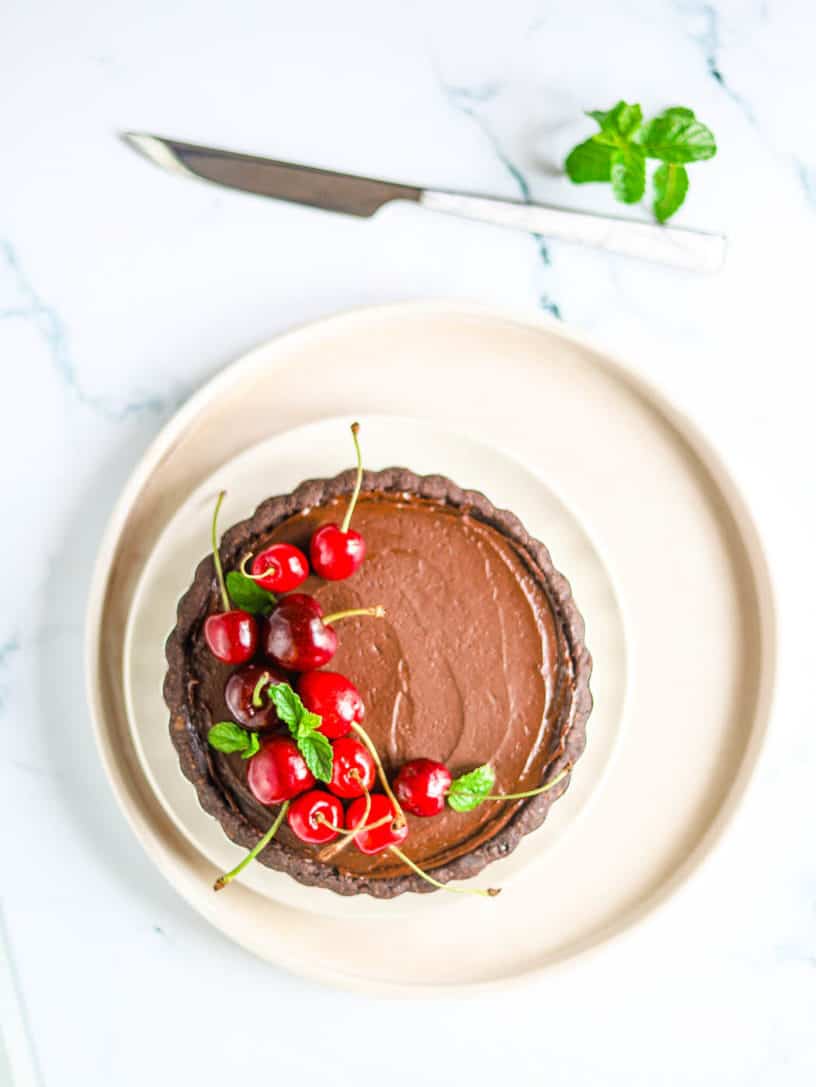 Raspberry Sorbet
This raspberry sorbet by Salt and Baker is bright red, creamy, and delicious! Its a great dessert option for your loved one this Valentine's Day.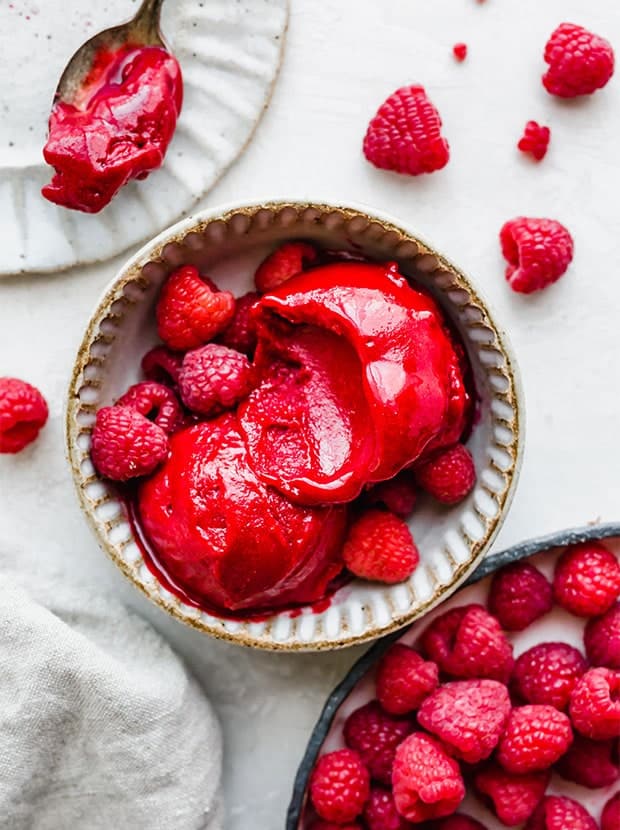 Chocolate Berry Cups
Easy to make, pretty and delicious, these sweet little chocolate berry cups by The Food Blog are the perfect ending to a romantic Valentines dinner with your sweetie.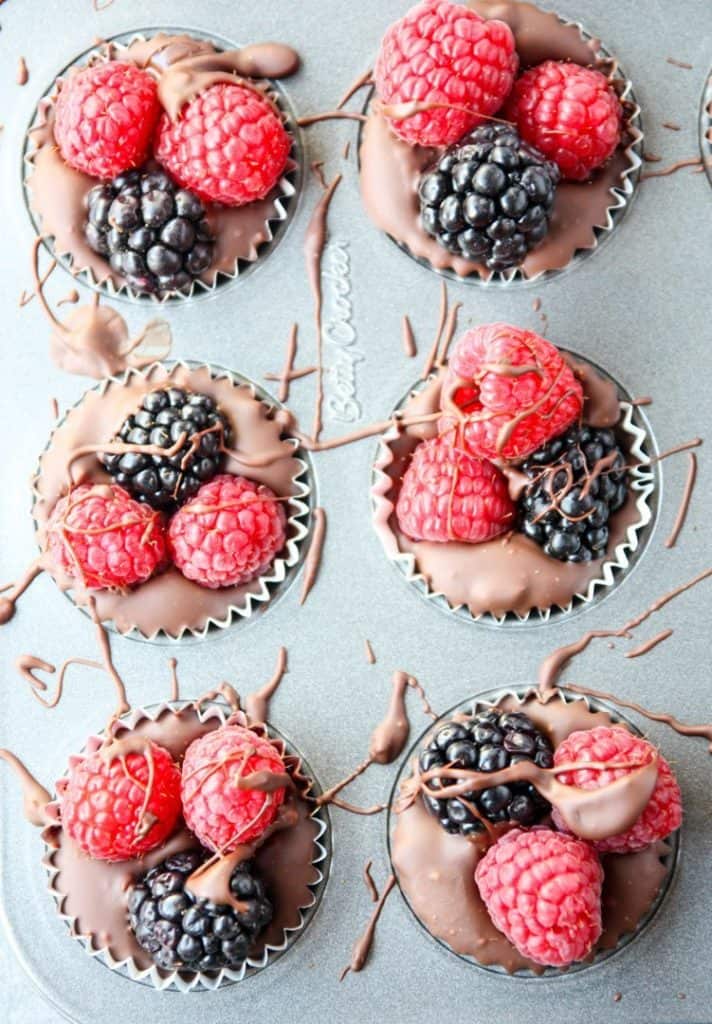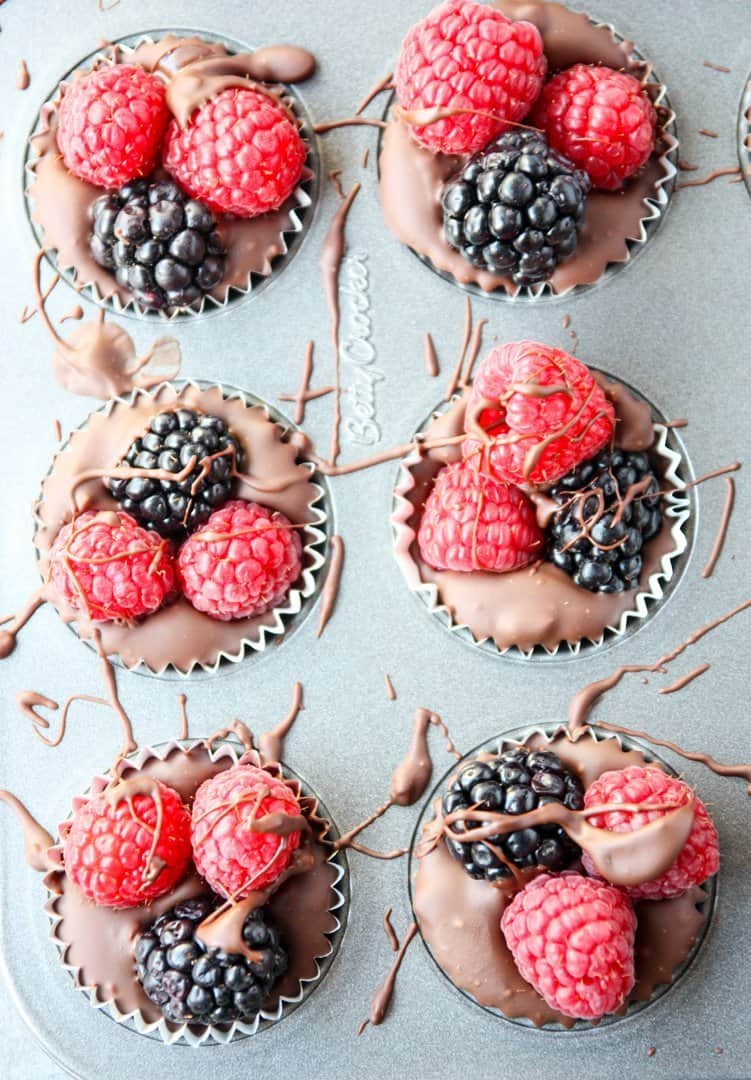 Mini Pavlovas
Mini pavlovas filled with chantilly cream and topped with strawberries are the perfect way to celebrate any occasion. By Sweet Tea and Thyme.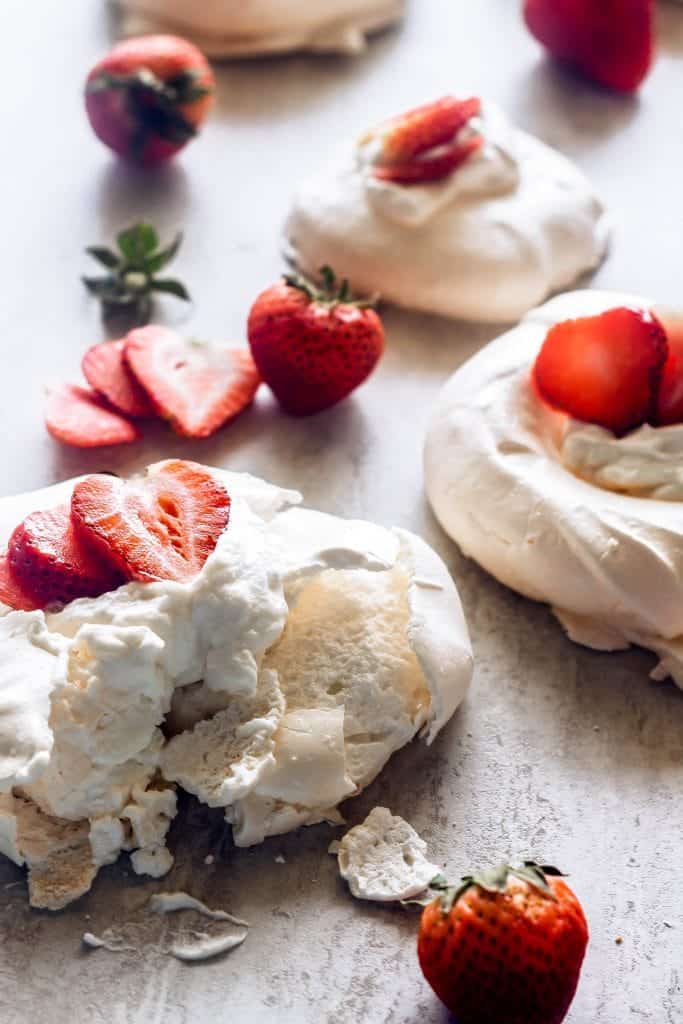 Vegan Chocolate Covered Strawberries
These easy vegan chocolate covered strawberries from Keeping the Peas covered in sprinkles are a simple treat to share with the one you love! Make it with dark or milk chocolate! This is also a great recipe to make with kids to celebrate Valentine's Day!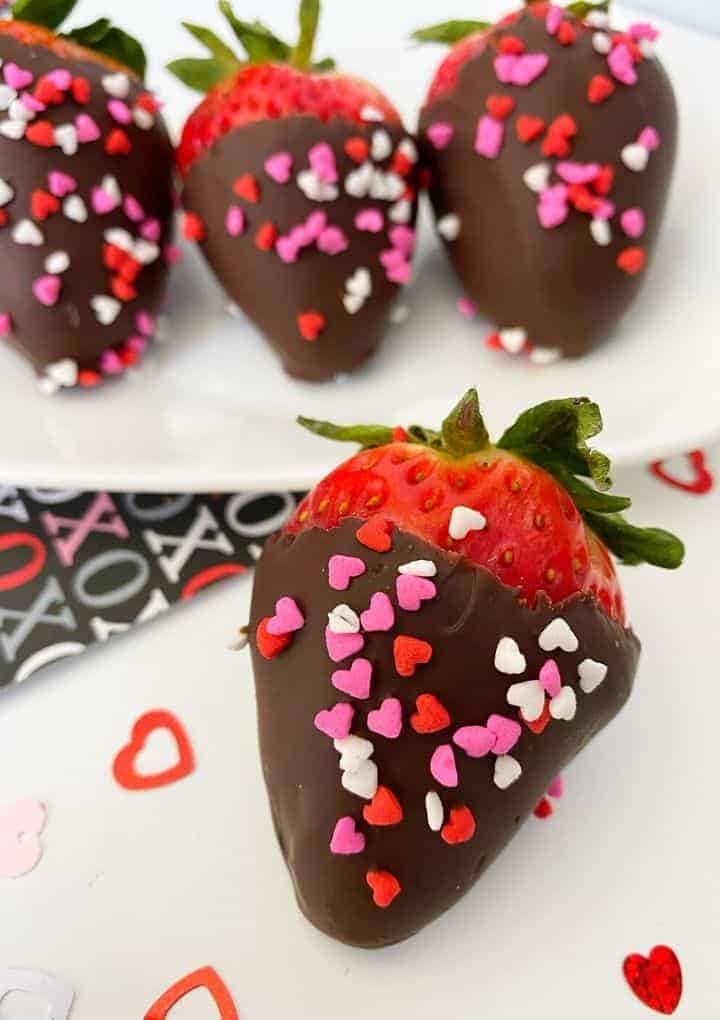 Molten Lava Cake
This small rich chocolate cake by Garnish and Glaze has a warm gooey center that makes you go weak at the the knees. It's one of my favorite romantic dessert ideas and is so easy to make — it comes together in less than 20 minutes!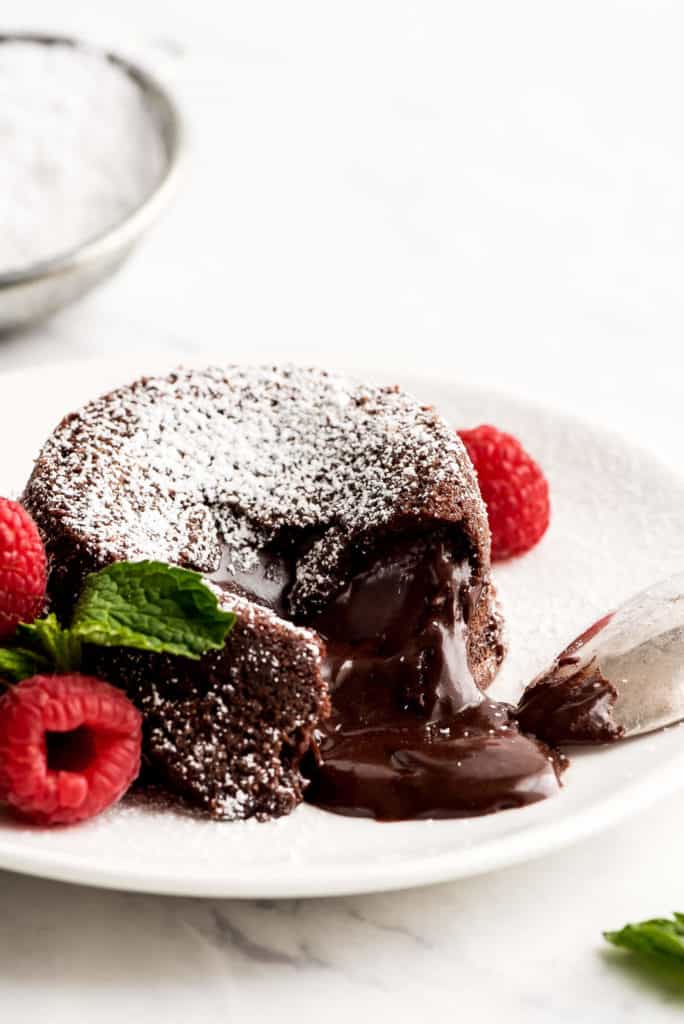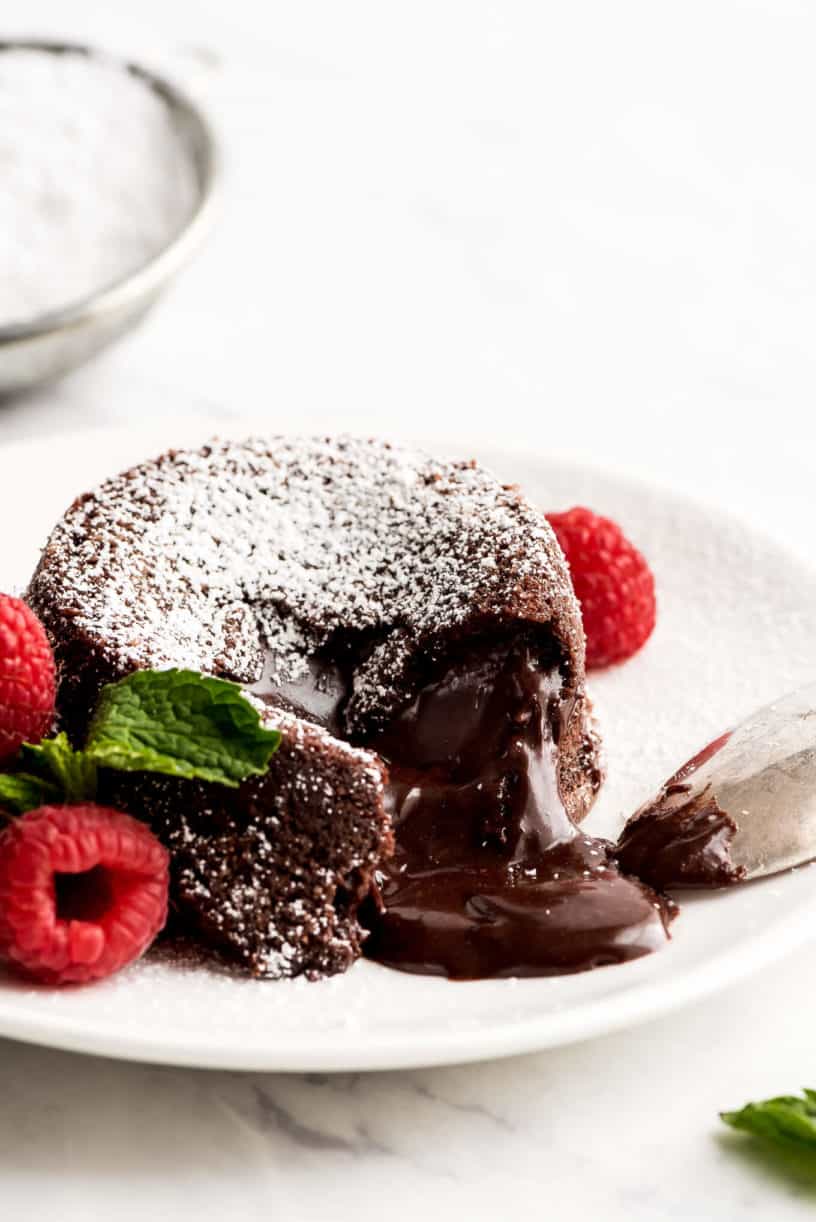 Strawberry Flan
This Strawberry Flan by Greedy Gourmet is easy to prepare and loved by all. It comprises a vanilla sponge, drowned in vanilla custard, topped with strawberries and drizzled white chocolate.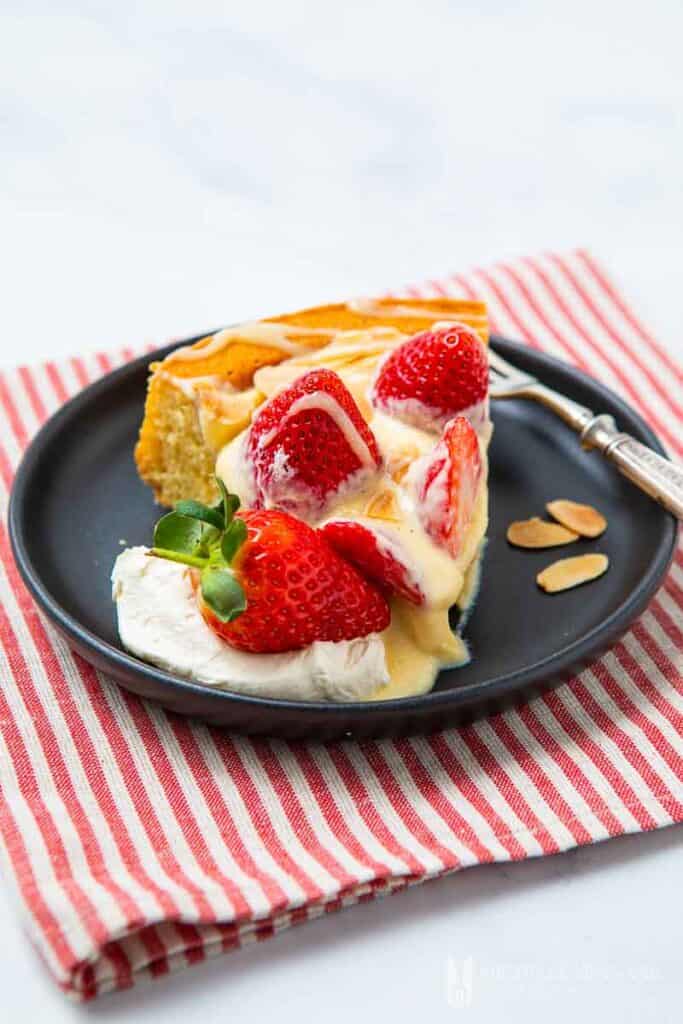 Apple Rose Puffs
Easy to make fancy dessert. Apple slices and puff pastry are rolled into a rose-shaped dessert. Presentation perfect. Pretty and elegant. By Homemade and Yummy.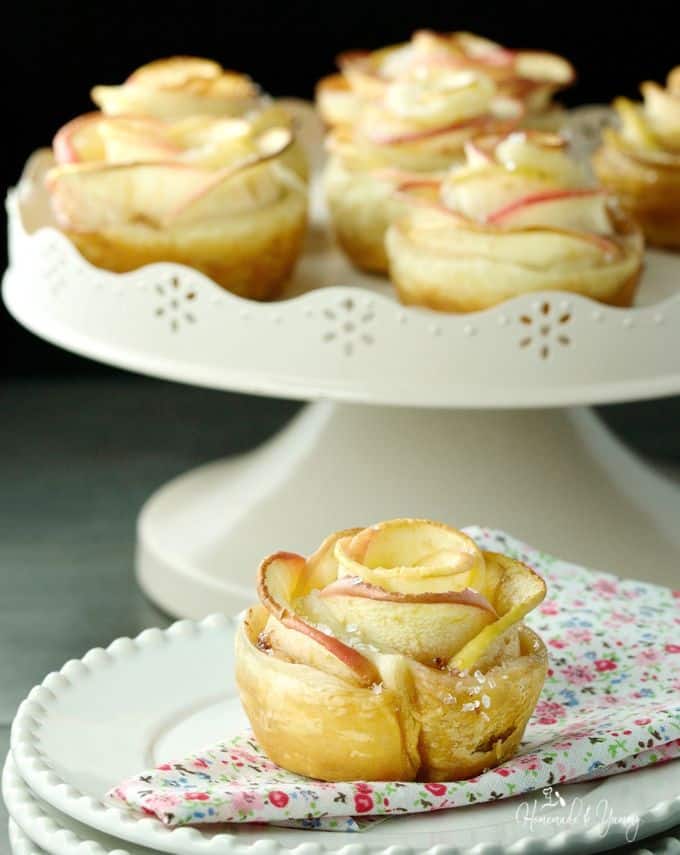 White Chocolate Strawberry Cheesecake Cupcakes
These strawberry cheesecake cupcakes by Blue Sky Eating are the ultimate sweet treat! Fluffy vanilla & strawberry sponge with a white chocolate cream cheese icing, these are truly a decadent dessert recipe.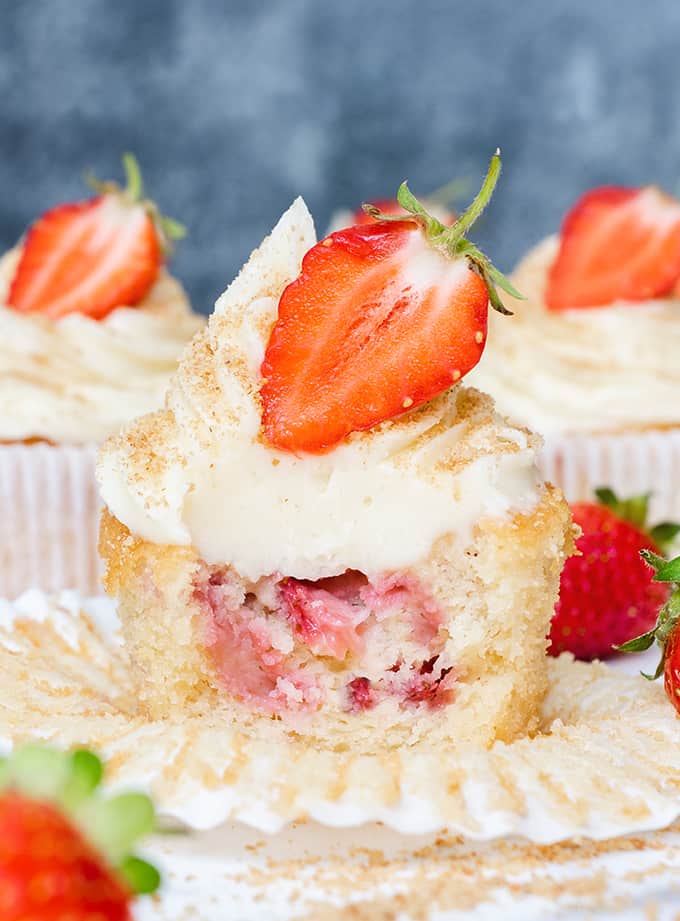 Easy Chocolate Raspberry Mousse
This easy chocolate raspberry mousse by Love In My Oven is light and fluffy, dairy-free and refined-sugar free! Your new favorite chocolate and raspberry dessert!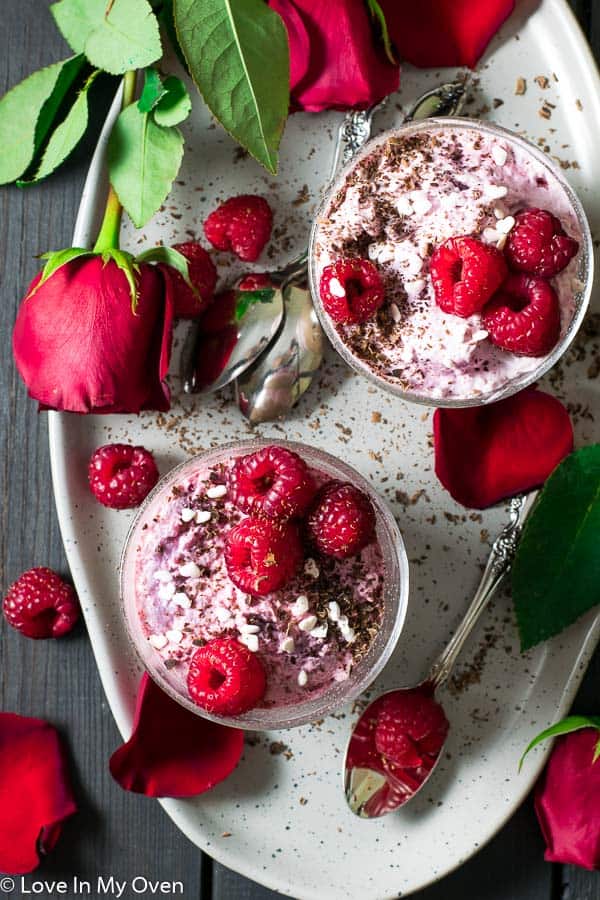 Strawberry Panna Cotta
This strawberry panna cotta by The Gay Globetrotter is the one of the most romantic dessert recipes. A simple vanilla bean panna cotta is topped with a sweet strawberry coulis and chilled to perfection, perfect for an after dinner treat!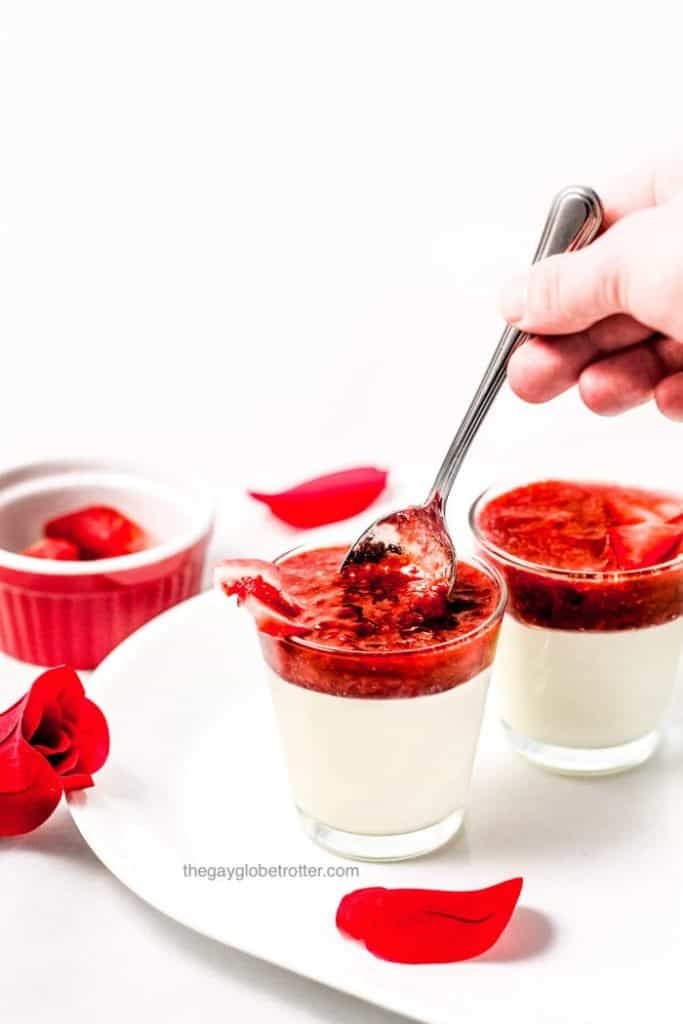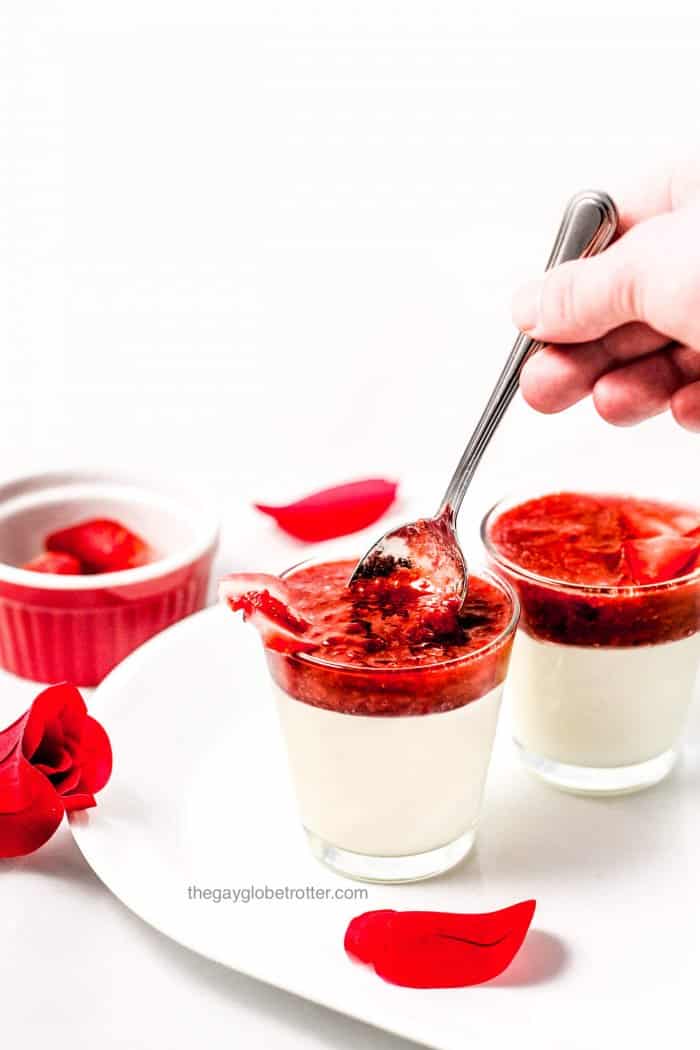 I hope you were able to find some inspiration to create a memorable and romantic evening for you and your Valentine!
How To Make Healthy Romantic Desserts
With a few healthy swaps, you can turn any dessert into a healthier version of the original that still tastes just as good! Here are my recommended healthy swaps for most classic desserts:
Replace half the butter with unsweetened applesauce
Reduce the sugar by half, or replace the sugar with monk fruit or stevia.
In some baked goods, you can use whole wheat flour or almond flour instead of all purpose for a higher fiber, lower glycemic option. Check each recipe card to determine what would work.
Additionally, you can substitute a flax egg for regular eggs in most cookies, brownies, and other baked goods. Flax eggs are lower in calories and fat compared to regular eggs.
How To Store Valentine Dessert Recipes For Two
Most baked goods: cookies, brownies, etc. can be stored in an airtight container at room temperature for up to 3 days, and in the fridge for up to 7-14 days!
However, other sweet desserts that have dairy in them – cakes, cheesecakes, vanilla or chocolate pudding, flan, creme brulee, etc must be stored in the fridge in an airtight container. They should all last up to 4-5 days in the fridge. Confirm proper storage instructions by checking the notes in each recipe card above.
If you'd like to serve any of these easy desserts warm, just heat them in the oven for about 5 minutes at 300-350 degrees F or until warmed through.
More Of The Best Date Night Desserts To Enjoy All Year Round!
If you have tried any of these romantic desserts or any other recipe on my blog, then please rate it and let me know how it turned out in the comments below! You can also FOLLOW ME on FACEBOOK, TWITTER, INSTAGRAM, and PINTEREST to see more delicious, healthy, family friendly food!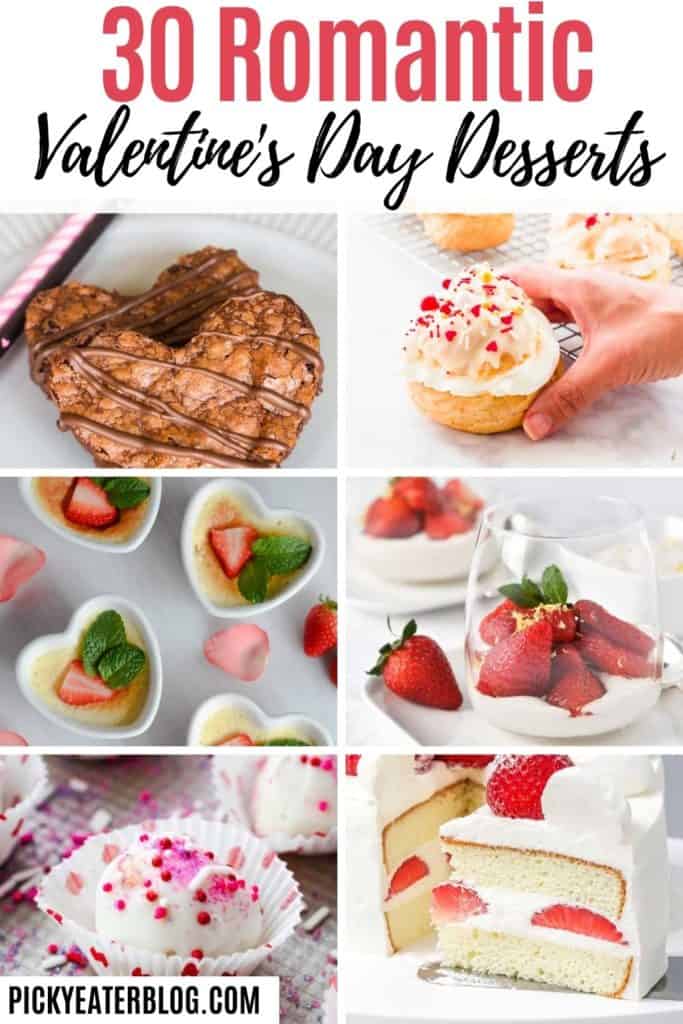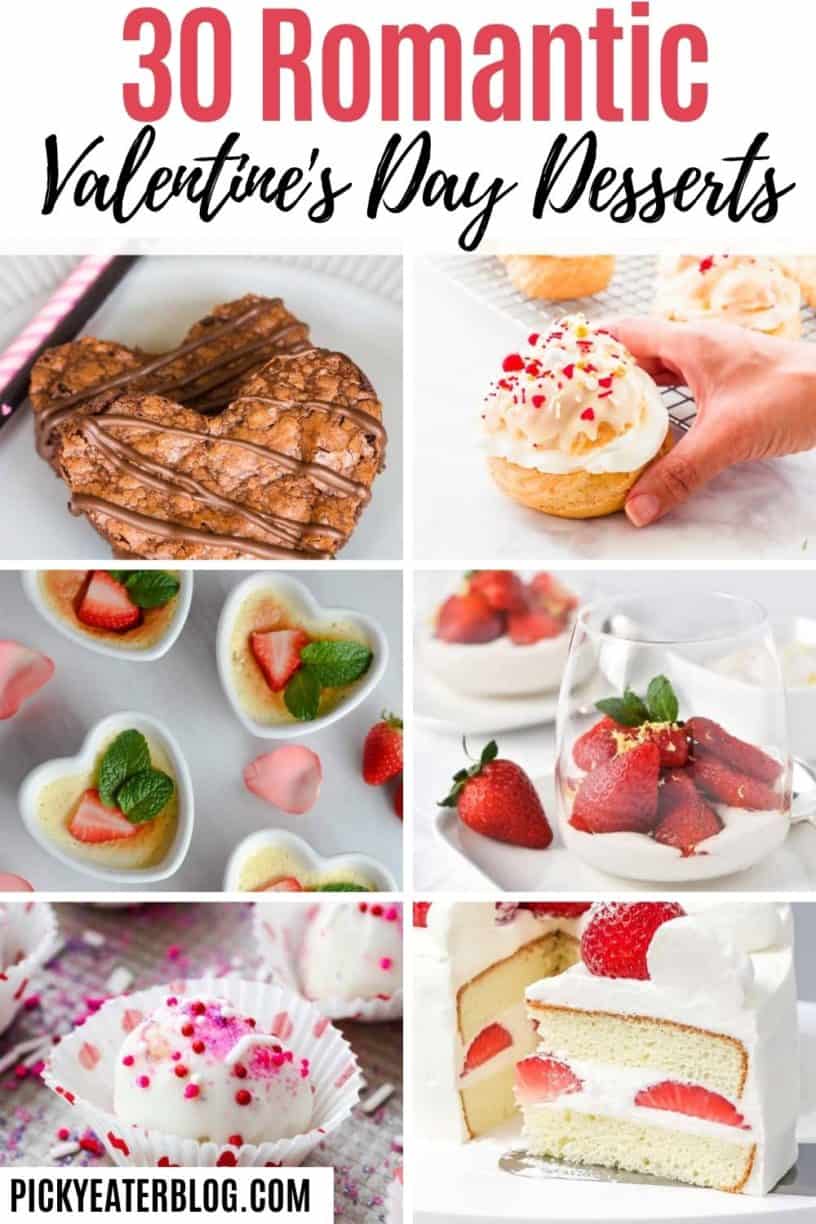 54 responses to "30 Romantic Desserts For Two (Best Dessert Recipes!)"