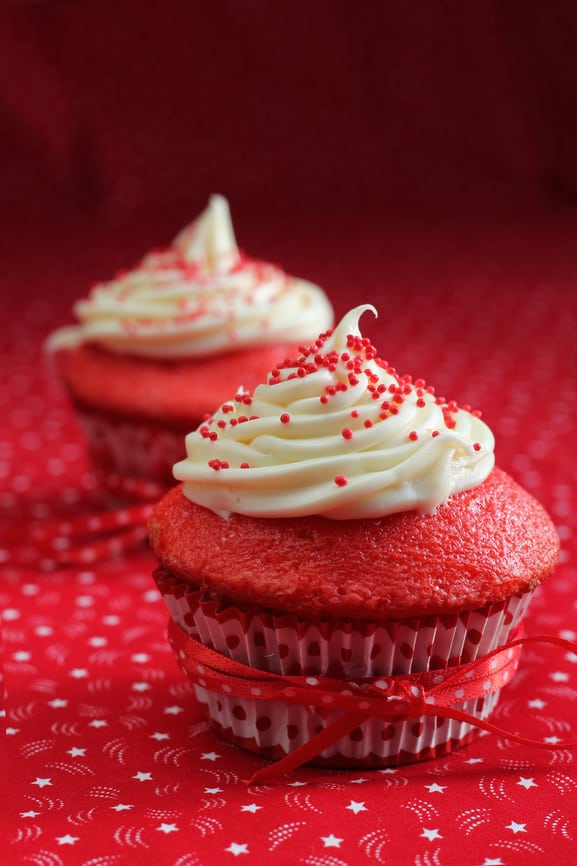 A few days ago (on Valentine's Day), the husband brought me home a red velvet cupcake. It was ginormous — even despite the fact that he had eaten half of it!
And it was delicious.
I just love cupcakes — there's something about that pre-portioned cute little personalized cake that gets me every time. And while regular bakery cupcakes are a wonderful indulgence, I wanted to create a version that was slimmed down and lower in calories — because why should cupcakes be just a once-in-a-while treat?
This version is under 200 calories for an entire cupcake, thanks to my secret healthy swaps (some whole wheat flour instead of regular, egg whites for half the eggs needed, applesauce for half the oil, low fat buttermilk and low fat cream cheese instead of full fat).
It's waistline-friendly, but also rich and tasty! It's a cupcake you can feel good about eating 🙂
Lightened Up Red Velvet Cupcakes
Nutritional Info Per Cupcake: 190 Calories, 9g Fat (1.8g Saturated), 25.2g Carbs, 14.5g Sugar, 145.1mg Sodium, 1.2g Fiber, 3.3g Protein
Ingredients
For the cupcakes

1 1/2 cups cake flour, sifted
1 cup whole-wheat pastry flour, sifted
2 Tbsp unsweetened Dutch-process cocoa powder
1 tsp salt
1 cup sugar
3/4 cup canola oil
3/4 cup unsweetened applesauce
1 large egg
2 large egg whites
1/2 tsp red gel-paste food coloring
1 tsp vanilla extract
1 cup low-fat buttermilk
1 1/2 tsp baking soda
2 tsp distilled white vinegar
For the frosting

8 oz low-fat cream cheese
1 cup powdered sugar
1 tsp vanilla extract
*Optional: red sprinkles
Instructions
Preheat oven to 350 degrees. Line cupcake tins with liners.
In a large bowl, whisk together flours, cocoa and salt.
In another large mixing bowl, beat sugar, applesauce and oil until combined. Add eggs and egg whites, one at a time, beating until each is incorporated, scraping down sides of bowl as needed. Mix in food coloring and vanilla.
Add flour mixture in three batches, alternating with two additions of buttermilk (a half a cup each time), and whisking well after each.
Stir together the baking soda and vinegar in a small bowl (it will foam); add mixture to the batter, and mix until combined, about 10 seconds.
Divide batter evenly among lined cups, filling each three-quarters full. Bake, rotating tins halfway through, until a toothpick inserted in centers comes out clean, about 20 minutes. Mix frosting ingredients together in a bowl (you can use a beater to speed it up).
Let cupcakes cool completely, then frost with low-fat cream cheese frosting.
Notes
https://pickyeaterblog.com/lightened-up-red-velvet-cupcakes/
Recipe by: The Picky Eater, pickyeaterblog.com
TAGS: christmas recipes, dessert, vegetarian
11 responses to "Lightened Up Red Velvet Cupcakes"