40 Healthy Game Day Recipes
This post may contain affiliate links. As an Amazon Associate, I earn from qualifying purchases. Please read my disclosure.
Looking for delicious, crave-worthy ideas for your game day menu? These incredibly tasty and healthy game day recipes are a lighter take on classic Super Bowl foods! These dips, snacks, bite-sized treats, and entrees for a crowd are sure to impress your friends and family!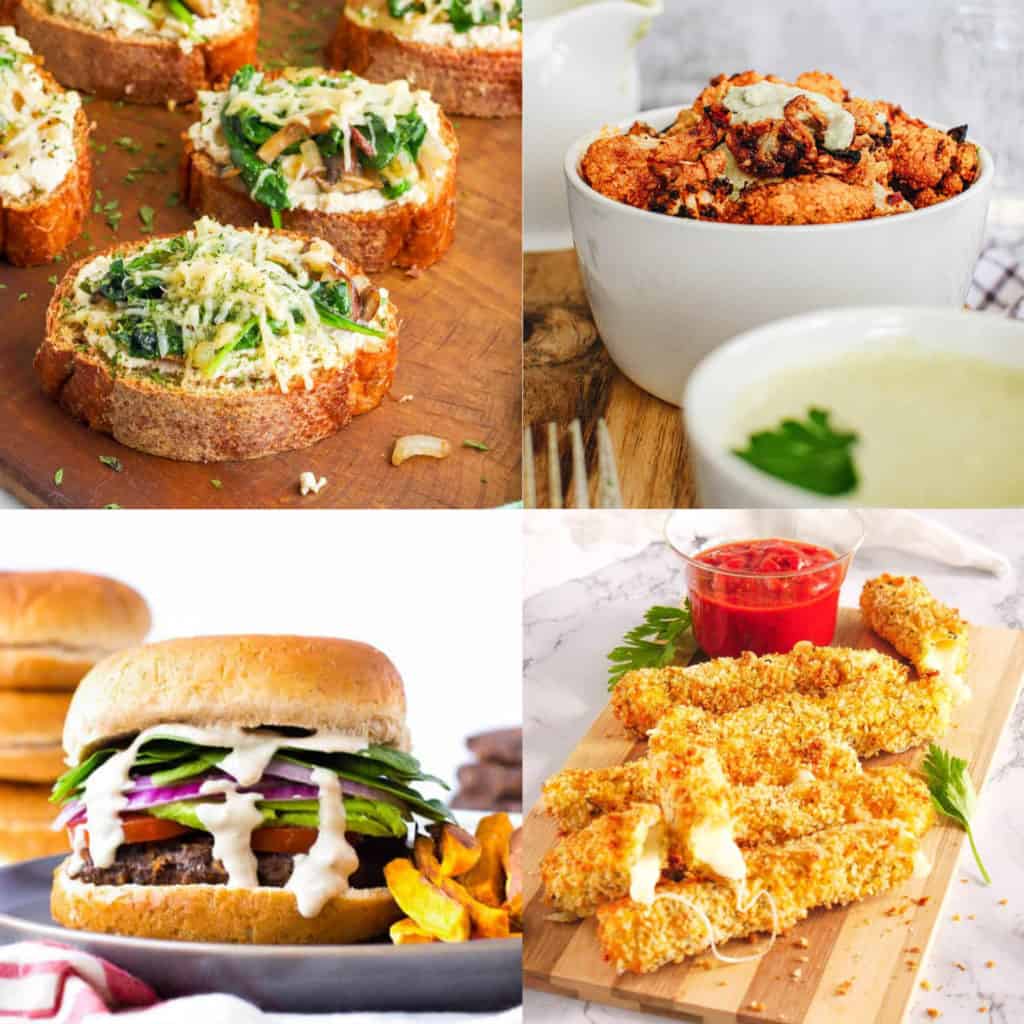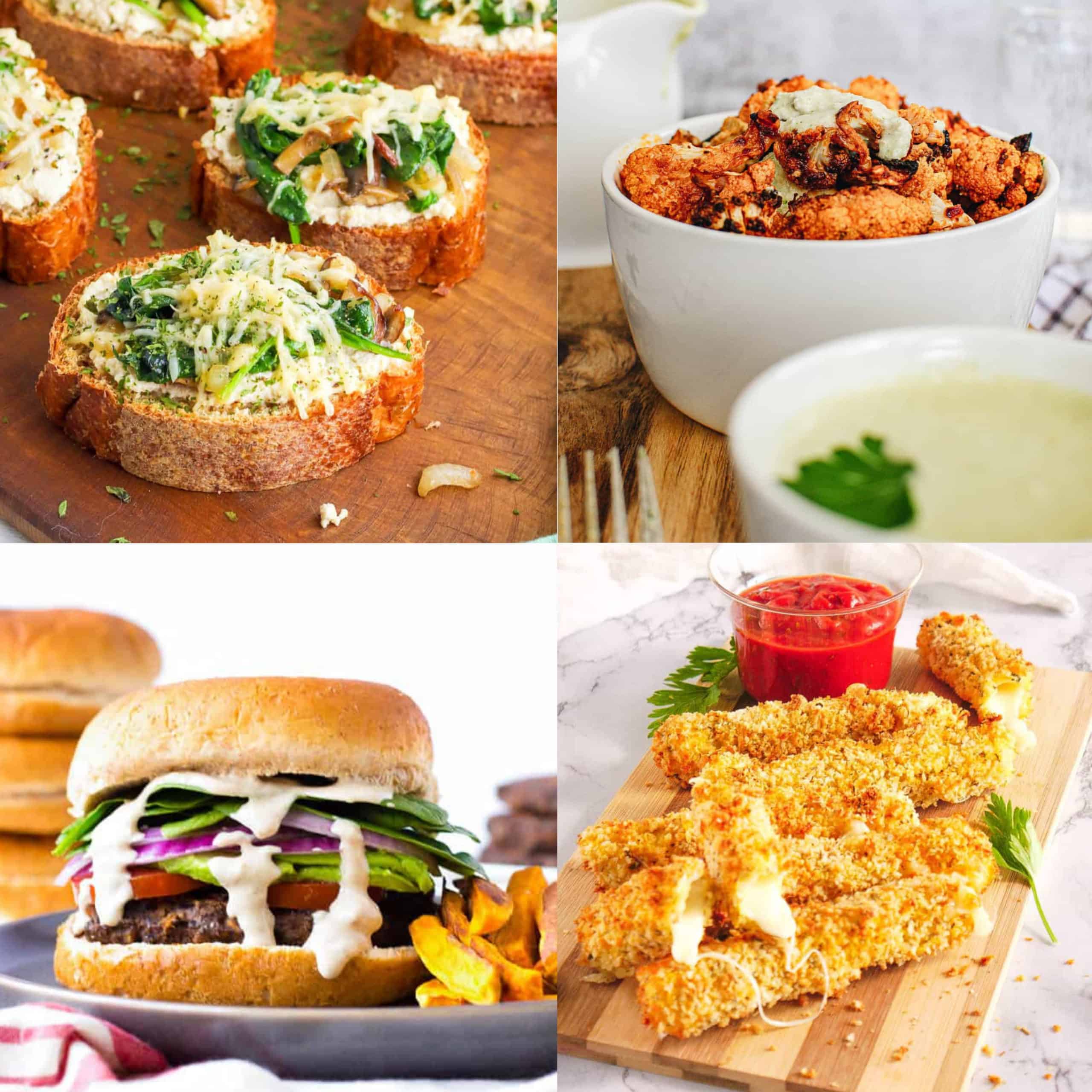 Super Bowl party menus can often be a land of temptation – who can resist mozzarella sticks, 7 layer dip and fries?
I'm all for those foods in moderation, but I also want to be able to enjoy all of my favorite game day treats, totally guilt-free.
This game day menu has all of your favorite Super Bowl dishes, but they are all completely made over to be much healthier than the original versions. They still taste amazing though, so you won't notice the difference!
How To Plan Your Game Day Menu
Food is one of the best things about Super Bowl Sunday! And this selection of amazing snacks, appetizers, and meals for a crowd are definitely going to be a hit with your family and friends. Here are my tips for planning out your game day menu, to make the day as easy and stress-free as possible!
Prep The Night Before: There is nothing worse than feeling like you're crunched for time the morning of a big party or gathering. I like doing as much as possible ahead of time so that on the day of, all I have to do is pop a few things in the oven and cook any hot items on the stove. But as far as prep goes — here is what I like to do the night before: chop all veggies for all items – salads, entrees, etc and store them in the fridge; bake all desserts; and pre-cook any items like pasta or pizza dough.
Plan for Lots of Finger Foods: Snacking throughout the super bowl is one of the best parts about game day! Finger foods are a win-win – they're super easy to prep, and also easy to serve. You can even forgo entrees for the most part and make the entire menu finger-food-friendly.
Plan Communal Meals: If you're doing to add some entrees, plan meals that can be served family style, so people can just take as much as they like without you having to do anything in the kitchen!
Get Organized! Depending on how many people you're serving, I like to get all of my plates/cups/drinks/silverware etc. ready and organized a day or two before game day.
How To Make Healthy Game Day Recipes
Making traditional Super Bowl Party recipes healthier is actually really easy to do with just a few simple swaps! No matter the recipe, here are my tips for lightening up those game day classics:
Use Less Butter and Oil: In most recipes, you can get away with cutting the amount of butter or oil in half and still getting great flavor. Cutting out the butter/oil reduces the total fat and calories in the dish.
Swap in Some Whole Grains: Replace any refined white grains with whole grains! Switch out white bread for whole wheat or sprouted wheat bread, white tortillas for corn or whole wheat, white rice for brown rice or quinoa, etc. This will increase the fiber and nutritional value of the dish!
Reduce the Sugar: In all baked goods, you can likely cut the amount of sugar down by 1/2 or 1/4 and still get a really sweet treat!
Add in Some Veggies: Certain veggies like baby spinach or cauliflower virtually melt into most dishes so that you can't taste them. Add them to stews, casseroles, tacos, or even dips!
Healthy Game Day Recipes: Appetizers and Dips
This selection of appetizers and dips are super easy to make, are rich in flavor, and perfect for feeding a crowd!
Easy Salads for Game Day
If you want a salad for your Super Bowl spread, try one of these refreshing recipes below. They're all served in a "chopped salad" style, so they're easy to serve and combine with a variety of other foods on your plate!
Healthy Super Bowl Recipes: Bite-Sized Snacks
It wouldn't be a super bowl party without a bunch of snacks! From air fryer sweet potato fries and chips, to healthier mozzarella sticks, and lightened up nachos – these recipes are decadent and drool-worthy bites that everyone will love!
Healthy Game Day Recipes: Delicious Entrees for Feeding A Crowd
What's a super bowl party without burgers, pizza, mac and cheese, and chili? We've also included some classic crowd favorites like lasagna, tacos and chilaquiles if you want to mix things up a bit! These healthy game day recipes will make you forget they're actually good for you!
Game Day Desserts
These healthy desserts are sweet heavenly confections. From brownies, to cookies to pies and more, we've got you covered! They're so good, you won't believe they're actually healthy too!
Can't Control The Game Day Menu?
Because all of us won't be hosting our own super bowl parties, you may not have control over what's available to eat at any game day gathering you attend! So while you're watching the game, keep these 5 tips in mind:
1. Eat Mindfully: Don't graze at the buffet table at every commercial break. Take one small plate of food and stick to it. Try to fill up 2/3 of it with healthier/nutritious options, leaving 1/3 for indulgences. If you want a bit of everything, take a small (golf ball-sized) portions of each item – think small bites. Also, sit as far away from the buffet as possible so you're not tempted after you're done with your plate!
2. Try to stay away from the fried stuff: And if you have to, just take one chicken wing or one mozzarella stick for an indulgent taste.
3. Remember that drinks have calories too! 1 glass of beer has 100 calories, as does 1 glass of wine. Mixed drinks have way more calories and sugar, so stick to beer and wine if you can!
4. Work out on game day: The players are working hard, why shouldn't you too? I like going for a run in the morning before I head out for the day – it energizes me and gives you a bit of wiggle room if you're trying to stick to a healthy diet.
5. Don't overdo the sweet treats: Again, if you want a bit of everything, take literally 1 bite of each dessert – about 1-2 Tbsp worth. Or, if you're feeling really healthy – go for some fruit salad instead!
Looking For More Healthy Game Day Recipes?
Try some of these fun and festive recipes!
Hope these tips are helpful to you, and if you're throwing your own super bowl party – try some of these recipes! You and your guests will love them!
26 responses to "40 Healthy Game Day Recipes"