Zucchini Flatbread with Fresh Corn (Healthy, Kid-Friendly)
This post may contain affiliate links. As an Amazon Associate, I earn from qualifying purchases. Please read my disclosure.
This zucchini flatbread with fresh corn tastes just like summer! Loaded with veggies, it's an easy, quick recipe that is a complete and healthy meal. Ready in under 30 minutes and kid friendly too!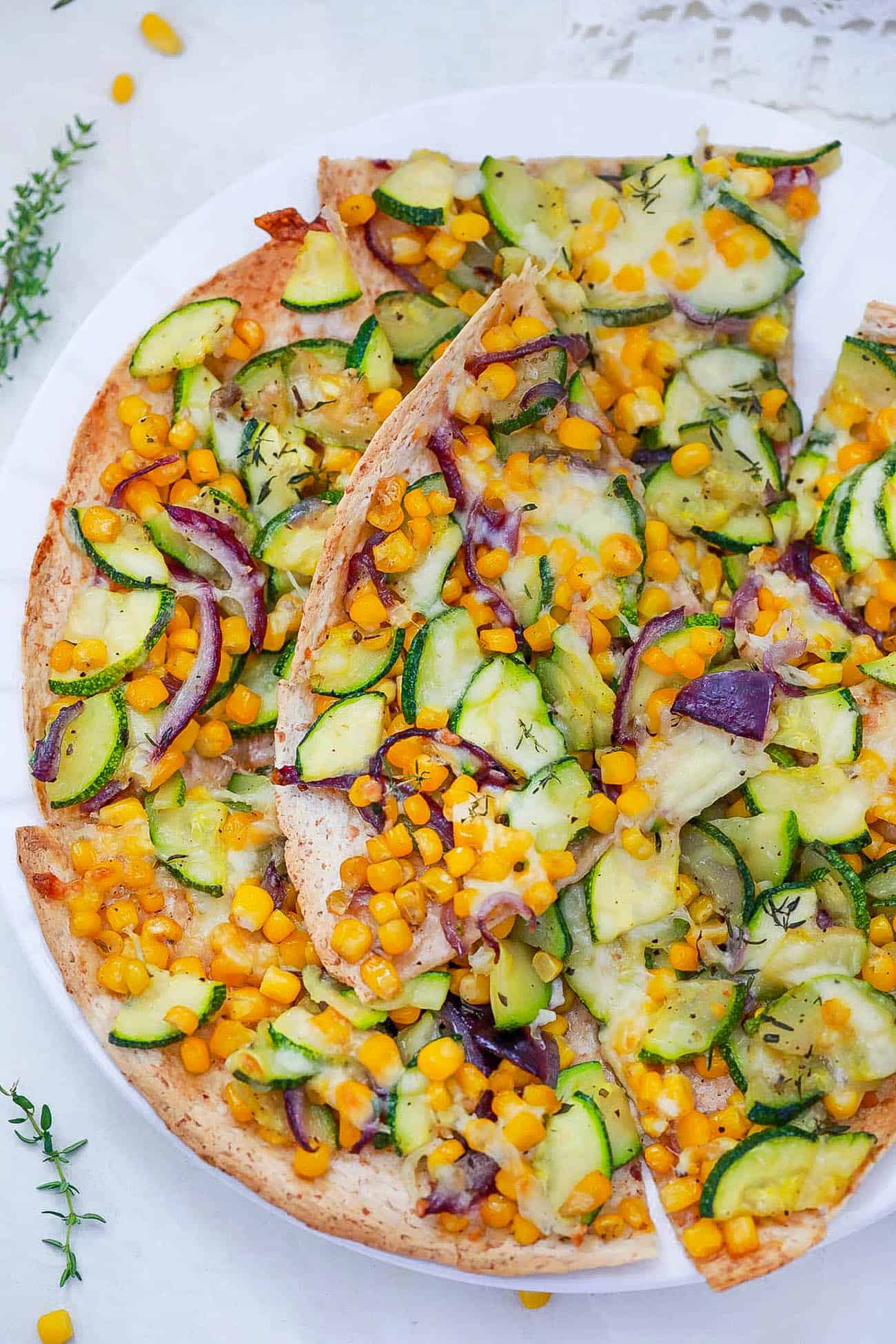 Summer vegetables are some of my favorite produce to cook with. Fresh corn, squashes and herbs: they are light and airy, with a nice texture and bite. I thought I'd create the typical easy-to-make weeknight flatbread for dinner with, you guessed it: zucchini squash and corn for the toppings. This zucchini flatbread a great way to get some extra veggies into your diet in the form of pizza! 🙂
Latest Recipe Video!
Whole wheat naan becomes the base for this flatbread – but if you don't have naan you can use whole wheat pita bread. For a super crispy Italian flatbread you could even use whole wheat tortillas (if you like a thinner base). Or, if you have more time, you can make a homemade pizza crust or flatbread dough from scratch!
This Zucchini Flatbread Is:
Cheesy
Vegetarian Friendly
Kid Friendly
Loaded with fresh veggies
Garlicky
Super Easy
Delicious!
Recipe Ingredients and Notes
You may already have most of these flatbread ingredients on hand, or you can easily find them at your local grocery store.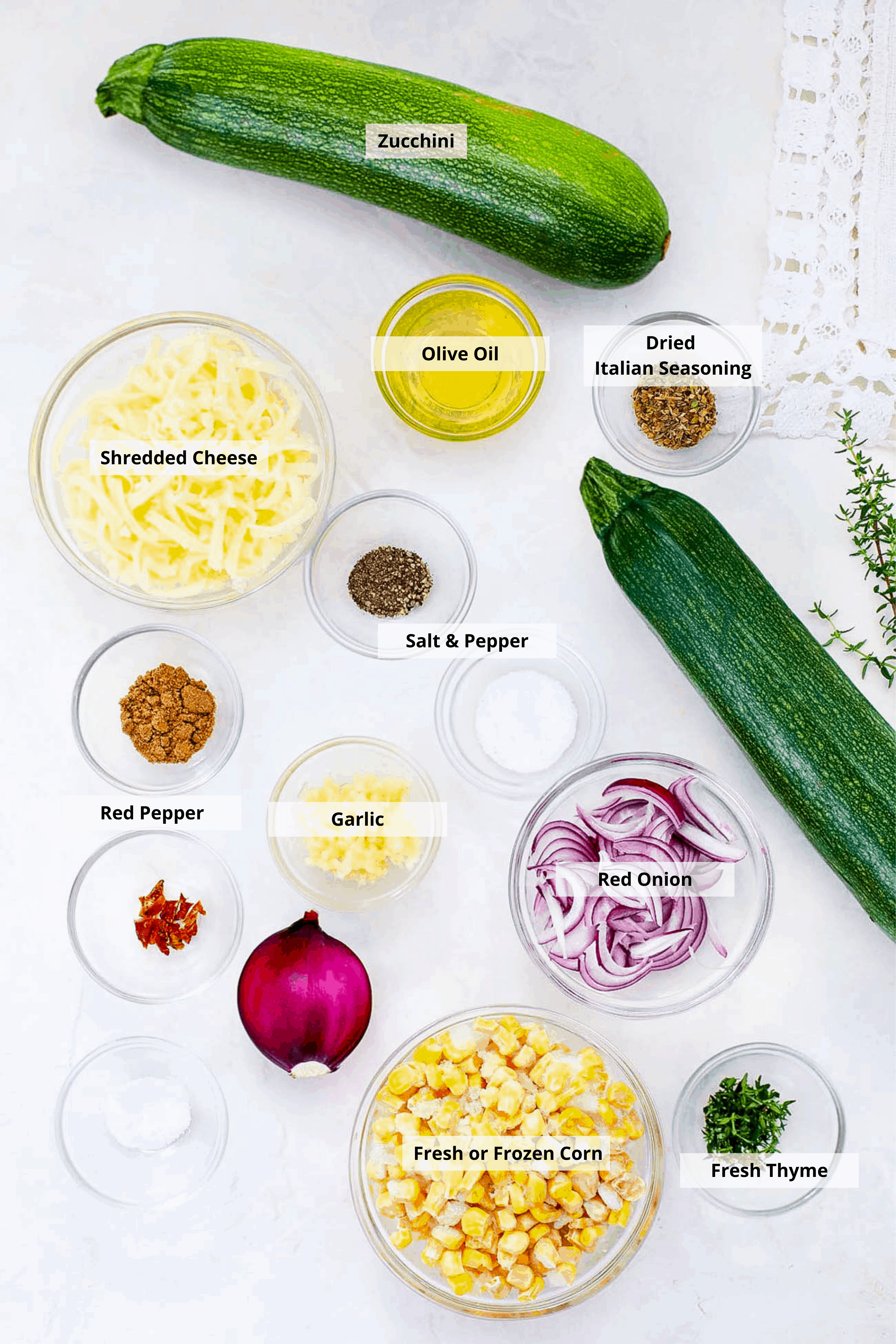 Whole Wheat Naan: I love using naan for this vegetarian flatbread recipe because it holds up really well in the oven as a base for all the veggies. Whole wheat pita bread works too! I recommend choosing whole wheat over white pita or naan for extra whole grains and fiber.
Corn: You can use frozen, fresh or canned for this recipe! In addition to corn, cherry tomatoes or any fresh tomatoes would be nice for a pop of color.
Red Onion: Sliced and cooked with the zucchini and corn.
Zucchini: When it's zucchini season,fresh zucchini taste so great in this recipe. You can also use summer squash or yellow squash if you don't have zucchini!
Extra Virgin Olive Oil: For brushing the flatbread crusts.
Spices: Garlic, fresh thyme, dried Italian seasoning, salt, black pepper and crushed red pepper flakes add a great depth of flavor to the veggie mixture that tops this flatbread. You can also change up the spices and try some fresh basil or even lemon zest for a finishing touch!
Cheese: We used mozzarella cheese because I love the way it melts, but you can use any cheese you like. A shredded Italian cheese blend or shredded Parmesan cheese would work, or you could even try ricotta cheese, goat cheese or feta for a different flavor!
Step by Step Instructions
Step 1: Heat a pan over medium heat. Saute the garlic, corn, sliced zucchinis, salt, pepper, onions, crushed red pepper in 1 tsp extra-virgin olive oil in a pan. Cook through for 5-10 minutes.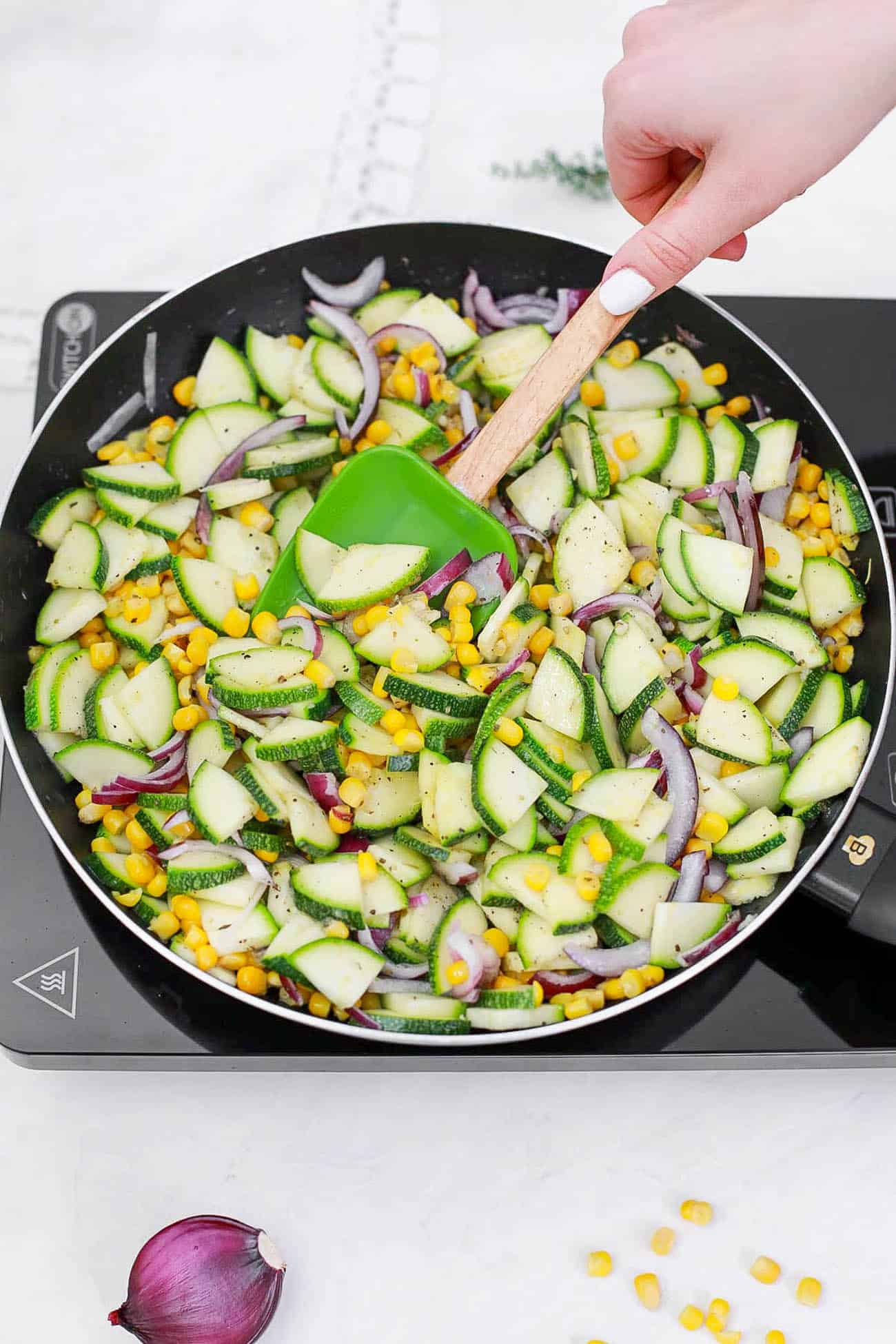 Step 2: Warm naan in the oven or the toaster oven. Brush with 1/4 tsp olive oil. Top with the zucchini mixture (about 1/2 cup per flatbread, but you can put as much of it on as you like). Top with 1/4 cup cheese and 1 tsp fresh thyme.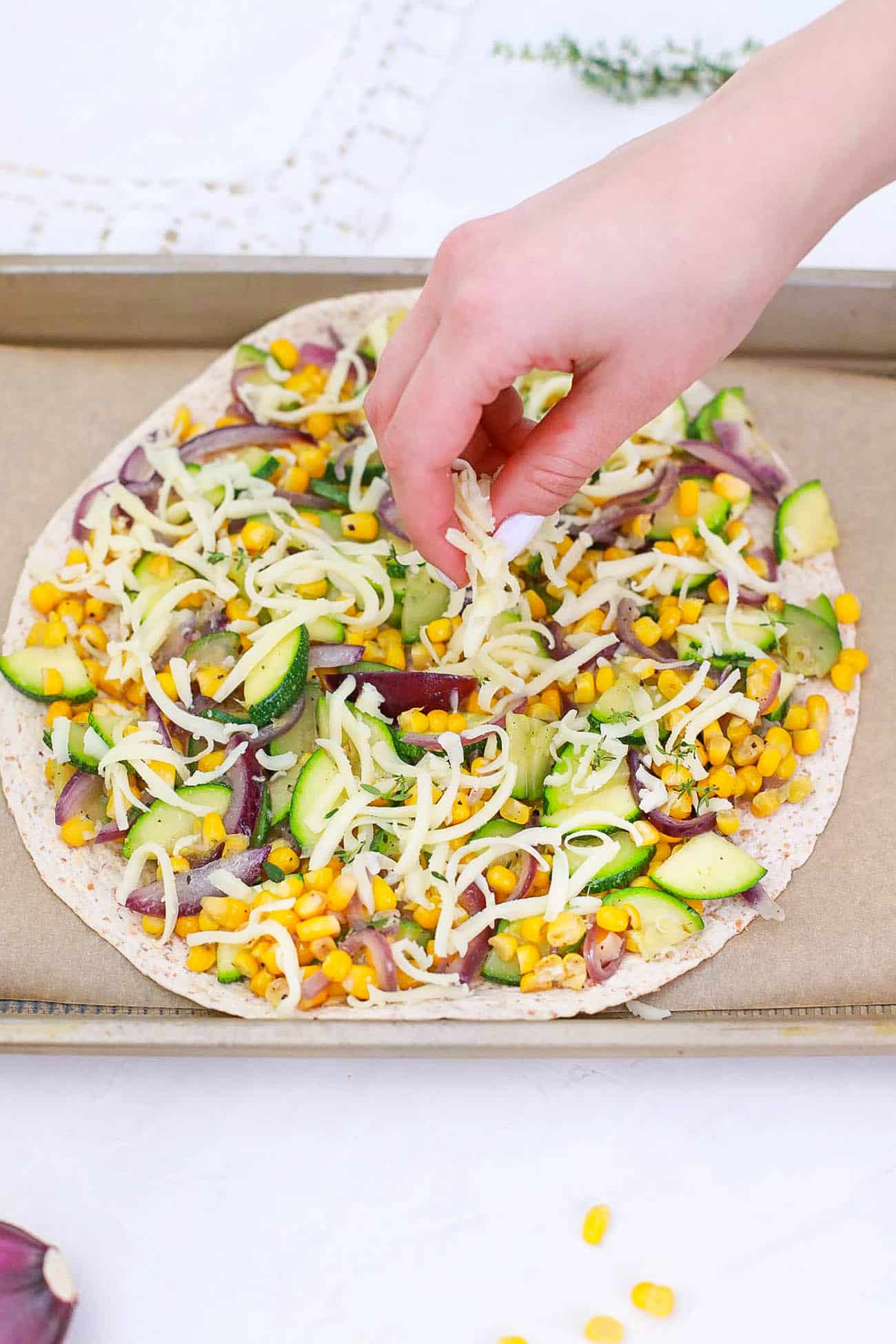 Step 3: Spray a rimmed baking sheet with cooking spray. Place the pizzas on the baking sheet andbake on the lower oven rack at 400 degrees for 8-10 minutes, until the cheese is melted and the flatbread is golden brown.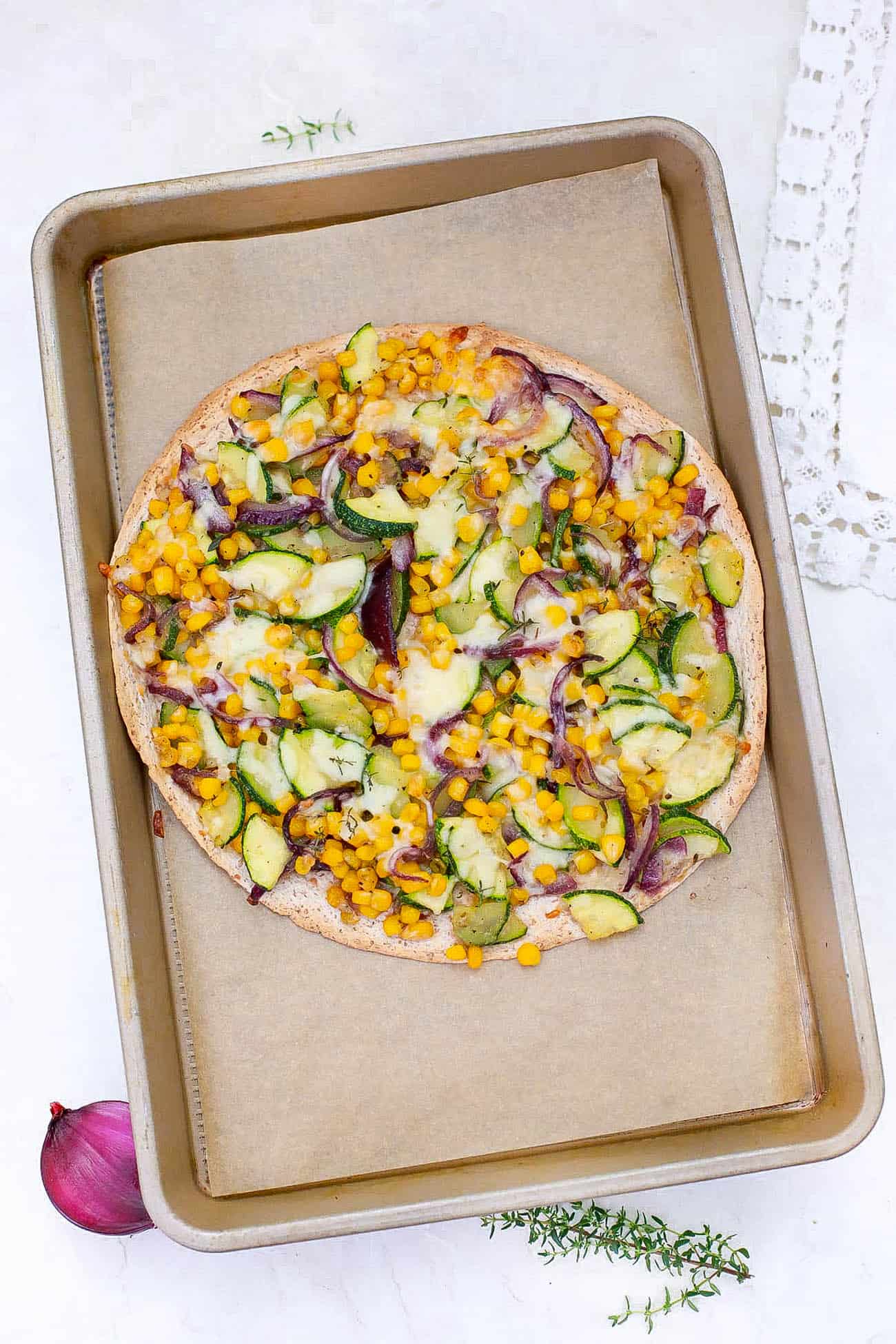 Step 4: Let stand for a couple of minutes. Cut into thin slices, serve warm or at room temperature!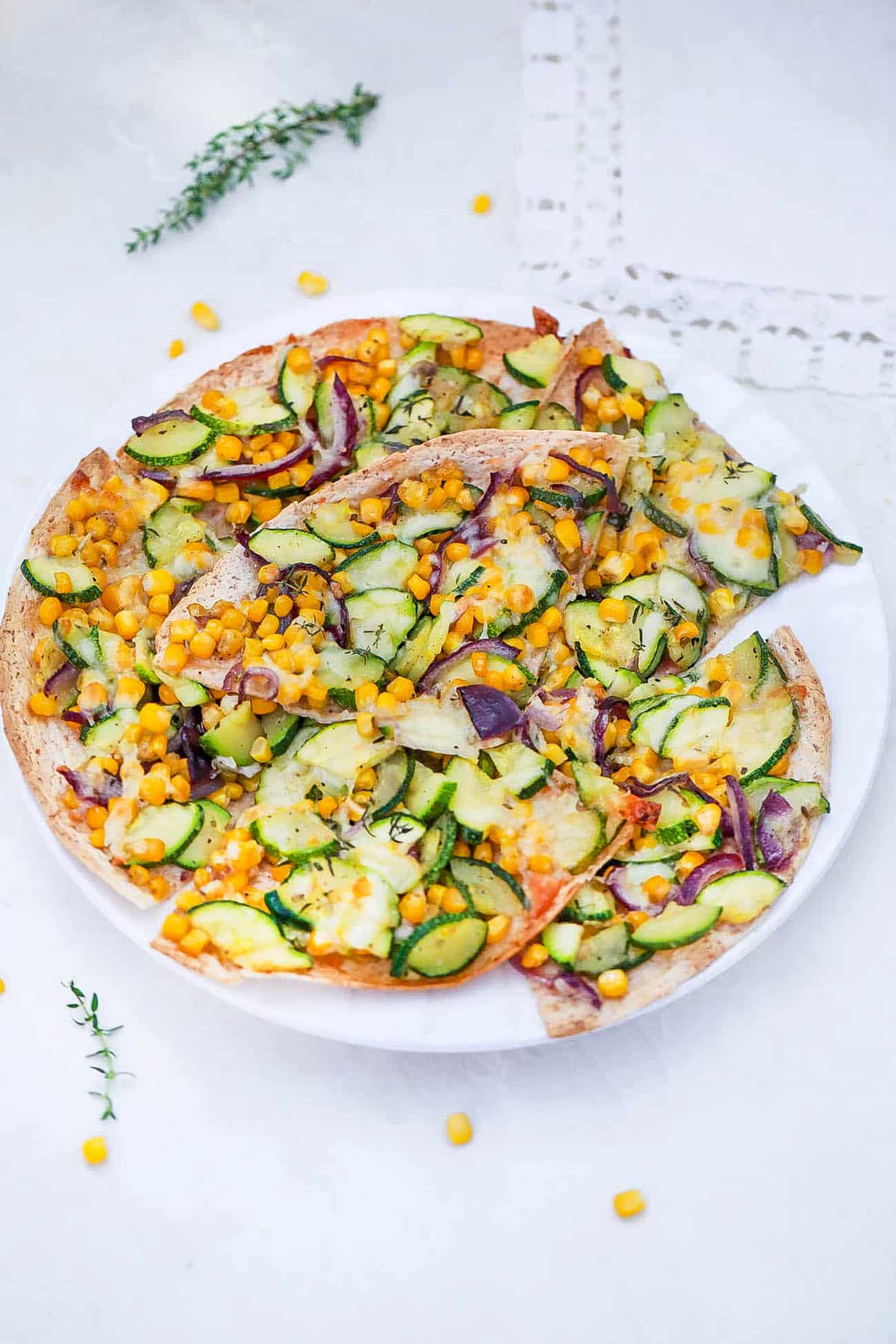 How to Make a Healthy Flatbread Recipe
With a few simple swaps you can create a healthy and delicious flatbread for under 500 calories that's a complete meal! To make a healthy flatbread:
Swap white grains for whole grains: don't use a white flour-based pizza dough. Instead, use a whole wheat naan, whole wheat or sprouted wheat tortilla, or a sprouted wheat pizza dough.
Load up on veggies! In addition to adding tons of flavor, fresh veggies will add fiber, vitamins and minerals to your meal
Go easy on the cheese – a little goes a long way! Each of these flatbreads had 1/4 cup of cheese – which adds 7 gram of protein per serving.
Serving Suggestions
There are so many ways to serve this zucchini flatbread! Here are some of our favorites:
With a dipping sauce: Try some low fat dips like marinara sauce, tabasco or sriracha (if you like things spicy), BBQ sauce or even an organic ranch dressing!
With a side of veggies: A side salad or roasted veggies pairs really well with this vegetarian flatbread.
With soup: Any of these soups and stews would be a hearty addition to this healthy flatbread.
For a crowd: If you're making this for a crowd – serve it as an easy appetizer cut into small slices before the meal.
How to Store and Keep
Once the flatbread has cooled, store it in an airtight container and place it in the fridge. It will keep for up to 3 days. Reheat in the toaster oven or regular oven at 350 degrees for 5 minutes. I don't recommend freezing this recipe, as the zucchini will change texture when it defrosts.
Top Tips For Making Corn and Zucchini Flatbread
Use a whole wheat naan, pita bread, or a sprouted wheat tortilla for additional fiber
Feel free to switch up the cheeses and pizza toppings to suit your family's tastes!
You don't need fresh corn for this recipe – canned or frozen would work just as well. If you use frozen corn, defrost it in the microwave or in the fridge before sautéing with the other veggies.
To switch things up, try turning this into a pesto flatbread by drizzling some fresh pesto on top of the veggie pizza.
This recipe is for 2 flatbreads, and depending on how big your zucchini are, you may end up with toppings for a little more than 2 flatbreads. Use the leftover toppings as a filling for tacos, quesadillas, or just make more flatbreads the next day! 🙂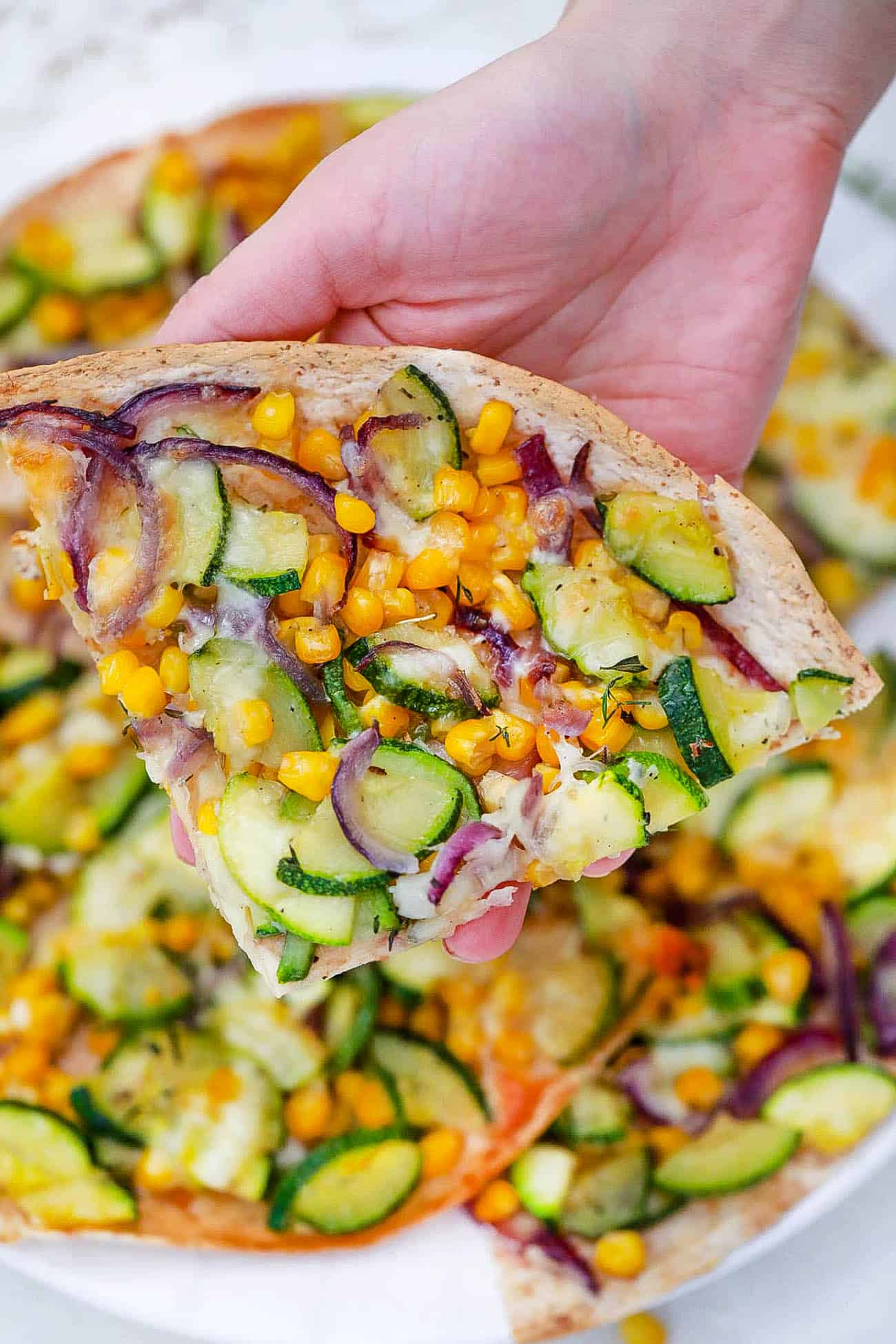 Check Out These Other Healthy Flatbread Recipes and Quick Meals!
🎥 Watch How to Make It
Vegetarian Flatbread with Zucchini and Fresh Corn
This corn and zucchini vegan flatbread is fresh, flavorful, and super easy to make! Whole wheat pita is crisped in the oven, then topped with sweet corn, crisp zucchini and Italian herbs and spices. It's a super family friendly meal that even picky kids will love!
Ingredients
Optional Homemade Flatbread Ingredients
Instructions
Heat a pan over medium heat. Saute the garlic, corn, squash, salt, pepper, onions, Italian seasoning and crushed red pepper in 2 tsp olive oil in a pan. Cook through for 5-10 minutes.

Warm pita bread in the oven or the toaster oven. Brush with 1/4 tsp olive oil.

Top each flatbread with the zucchini mixture (about ½ cup per flatbread, but you can put as much of it on as you like).

Then, add ¼ cup of vegan cheese and 1 tsp of fresh thyme to each flatbread.

Bake at 400 degrees for 8-10 minutes, until the cheese is melted and bubbly.
Optional Homemade Flatbread Instructions
Melt the vegan butter and almond milk over medium-high heat in a medium saucepan.

In a large bowl, whisk together the dry ingredients including the flour and salt. Add the melted butter and milk. Using a spatula fold together until the flour is absorbed.

Turn your dough out onto a floured surface. Knead the dough until it is smooth. This should only take a few minutes. For a less hands-on approach use your food processor to combine the ingredients and knead the dough for you.

Place the ball of dough in a large mixing bowl and cover with plastic wrap. Allow the ball of dough to rest for 30 minutes.

Dust your surface with a little bit of flour. Place the dough ball on the floured surface and cut it into 6 equal parts. Roll each part into a ball. Then roll them out flat using a rolling pin.

Heat a large pan over high heat. There's no need to add any oil. Place one of the flatbreads in the pan. Cook on each side for about 1 1/2 minutes. For best results, wait to flip the flatbread until it is golden brown puffs up. Continue with the rest of the flatbreads.
Notes
Top Tips For Making Vegan Flatbread
Use whole-wheat pita bread or a sprouted wheat tortilla for additional fiber.
Feel free to switch up the vegan cheese and toppings to suit your family's tastes!
You don't need fresh corn for this recipe – canned or frozen would work just as well. If you use frozen corn, defrost it in the microwave or in the fridge before sautéing it with the other veggies.
Don't overload on the vegan cheese, a little goes a long way!
This recipe is for 2 flatbreads and depending on how big your zucchinis are you may end up with toppings for a little more than 2 flatbreads. Use the leftover toppings as a filling for tacos, quesadillas, or just make more flatbreads the next day! 🙂
Nutrition
Serving:
1
flatbread
|
Calories:
413
kcal
|
Carbohydrates:
59
g
|
Protein:
17
g
|
Fat:
15
g
|
Saturated Fat:
5
g
|
Cholesterol:
22
mg
|
Sodium:
1181
mg
|
Potassium:
856
mg
|
Fiber:
10
g
|
Sugar:
9
g
52 responses to "Zucchini Flatbread with Fresh Corn (Healthy, Kid-Friendly)"