Vegan Aioli (2 Minute, Easy Recipe!)
This post may contain affiliate links. As an Amazon Associate, I earn from qualifying purchases. Please read my disclosure.
This creamy Vegan Aioli takes any vegan sandwich and makes it better! It's made with 5 basic ingredients and tastes just like garlic mayo. This is my go-to sauce for veggies, french fries, veggie burgers and more!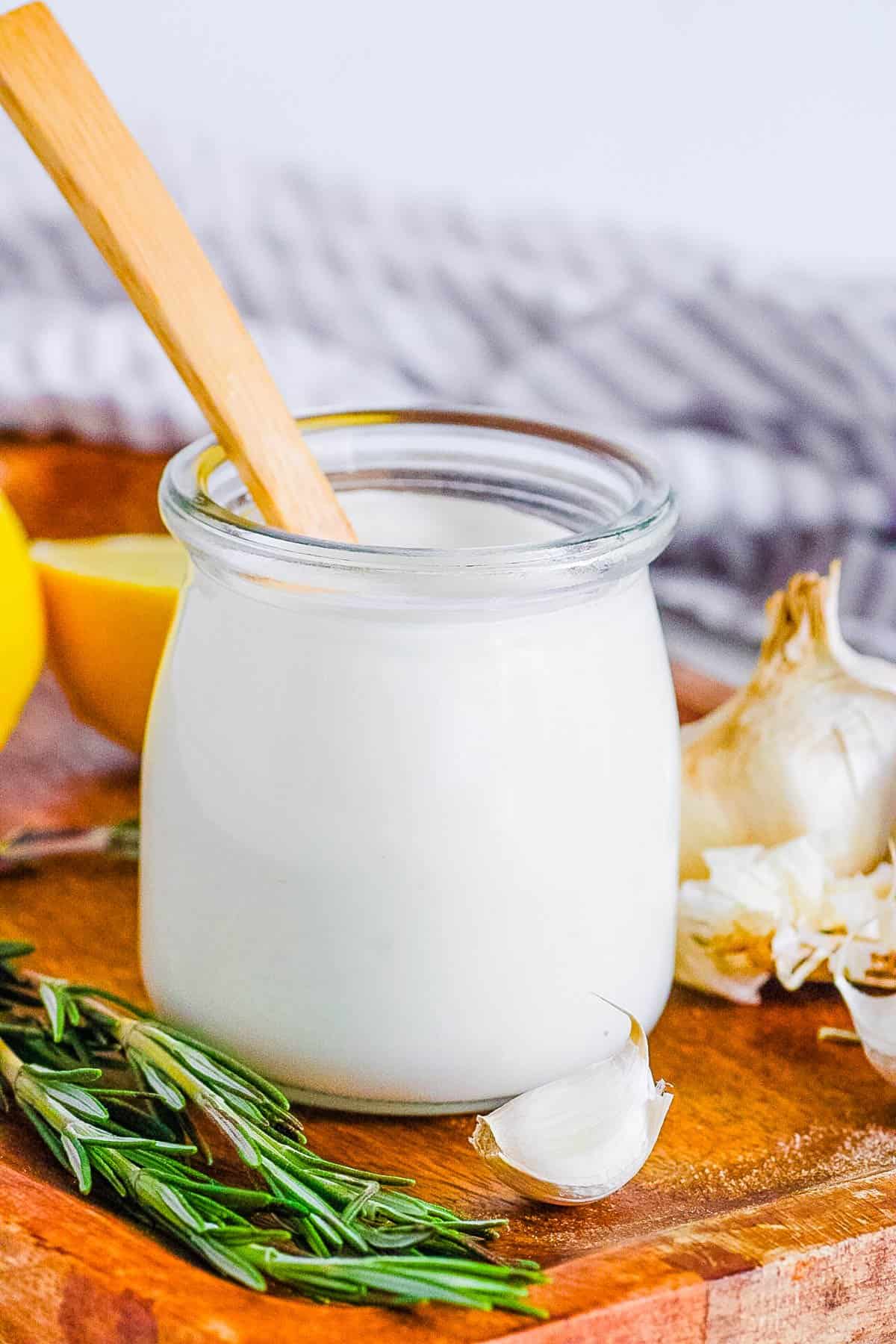 Aioli is a rich mayo-like sauce that's made from egg yolk and oil, then flavored with plenty of garlic. Olive oil is emulsified with the egg yolk to create a thick and creamy mixture.
In this easy vegan aioli recipe, I used aquafaba in place of eggs with impressive results. It's rich, creamy, and oh-so-dippable. When it comes to condiments, I'm certain this vegan garlic mayo will quickly become a new favorite.
Latest Recipe Video!
Dip your sweet potato fries in it, slather it on a vegan BLT sandwich, or drizzle it over roasted potatoes. I don't exaggerate when I say this vegan aioli sauce makes everything better.
Once you taste how creamy it is, you will crave this vegan aioli mayo just like I do!
👩‍🍳 Why This Recipe Works
Delicious condiment & dipping sauce
Tastes like the real thing
No animal products
Simple recipe with 5 ingredients
2 minute vegan garlic aioli
Egg-free & soy-free aioli (No silken tofu)
A great dip for starchy vegetables
The perfect spread for burgers & wraps
🥘 Ingredients
This delicious vegan aioli recipe requires simple ingredients found at your local grocery store! Find the full list of ingredients and nutritional information at the bottom of this post.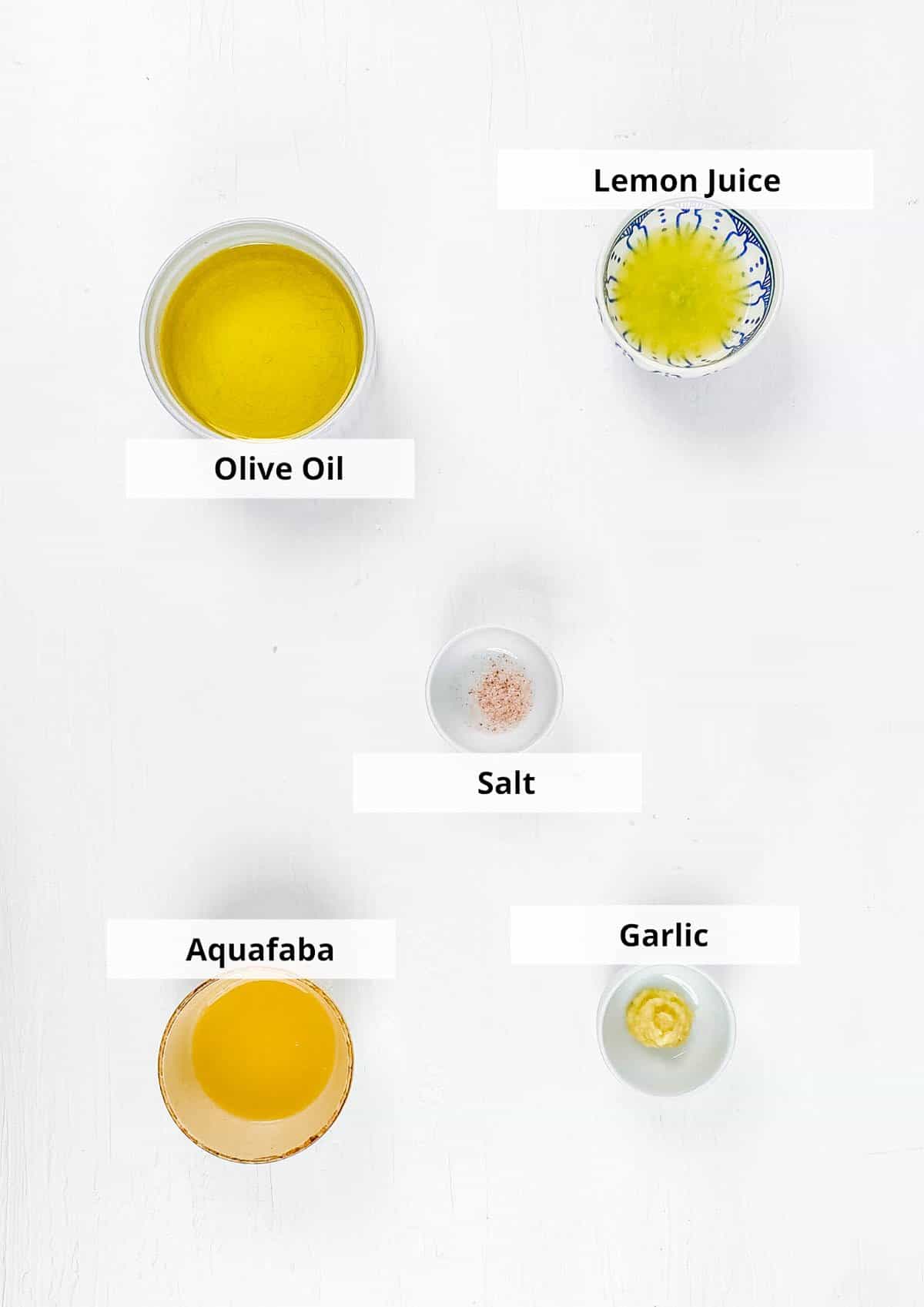 Aquafaba: Aquafaba sounds fancy, but it's really just the liquid found in a can of chickpeas. When it's whipped, it creates a thick foam similar to whipped egg whites. It's a versatile ingredient in vegan recipes! Next time you use a can of chickpeas, reserve the liquid and use it to make vegan mayonnaise.
Salt: A pinch of salt adds flavor, especially to creamy dips & smooth sauces!
Olive Oil: Olive oil imparts a nice flavor but any neutral flavored oil works. Traditional mayonnaise is typically made with vegetable or canola oil.
Garlic: Traditional aioli is made with lemon juice and plenty of fresh garlic. If you're not a garlic lover, reduce the amount of garlic to one clove instead of three. For a mild garlic flavor, swap garlic cloves for a little bit of garlic powder. For a sweeter, caramelized flavor, try roasted garlic!
Lemon Juice: Acid brightens up this creamy condiment and cuts through the heaviness. Fresh lemon juice is far better than the bottled kind. If you don't have lemon juice, apple cider vinegar works in a pinch.
📖 Variations
Spruce up aquafaba aioli any way you please! Try one of these delicious variations.
Fresh Herbs: Parsley, tarragon, chives, basil and dill are great options!
Vegan Chipotle Aioli: Add chipotle sauce in place of the garlic. Start with two teaspoons and then taste. If you like more heat, gradually add more.
Vegan Lemon Aioli: Lemon zest really kicks up the lemon flavor. Add a teaspoon of lemon zest when you add the lemon juice and garlic.
Vegan Sriracha Aioli: Substitute the lemon juice with lime juice and add a tablespoon of sriracha! Reduce the garlic to one clove instead of three. This is my favorite kind of aioli!
Avocado Aioli: Substitute the aquafaba for a ripe avocado and reduce the oil to 1/2 cup. This healthy vegan aioli is perfect for avocado lovers!
Cashew Aioli: Cashew based aioli uses soaked raw cashews instead of oil to achieve a creamy texture. Replace the aquafaba and olive oil with 1 1/2 cup of soaked cashews, 1 teaspoon of dijon mustard, and 1 tablespoon of nutritional yeast. Blitz everything in a blender until smooth. This oil-free vegan aioli is delicious too!
🔪 Instructions
My vegan aioli sauce recipe comes together in a snap! It's an easy recipe with only 3 steps.
Blend the Aquafaba: Add the aquafaba and the salt into a blender and blend until combined. An immersion blender, a regular blender, or a food processor all work well.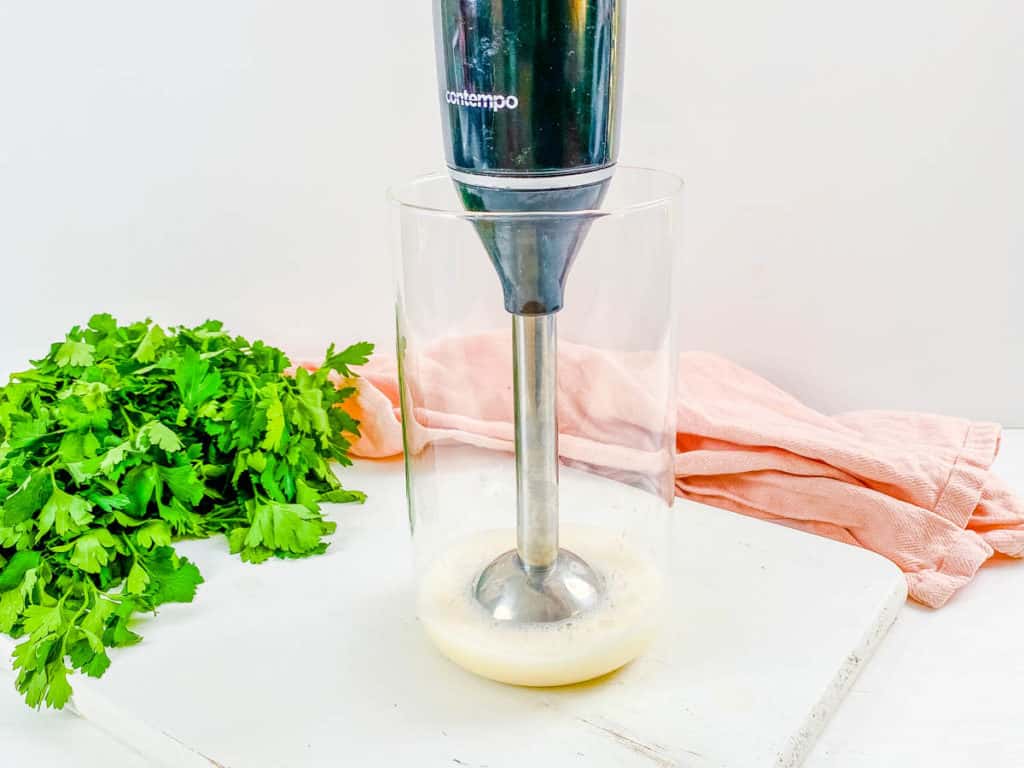 Drizzle In The Oil: Keep the blender running and slowly drizzle in a little olive oil at a time. Don't rush this process, or instead of emulsifying into a thick dip, it will turn liquidy. Slow and steady wins the race! If the oil pools a little on top, stop adding the oil and blend a minute before continuing.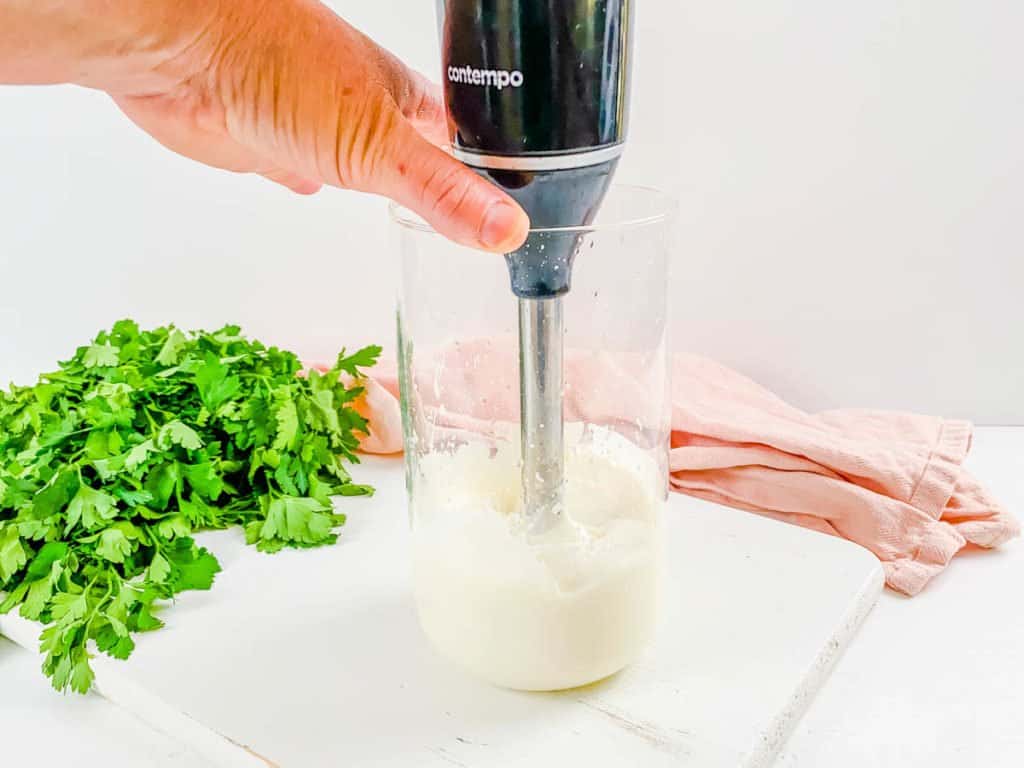 Add Lemon & Garlic: Once the oil is well incorporated, add the lemon juice and garlic. Mix thoroughly, then enjoy this easy vegan garlic aioli with all your favorite dishes! Serve it at room temperature or store in the refrigerator for up 3 days.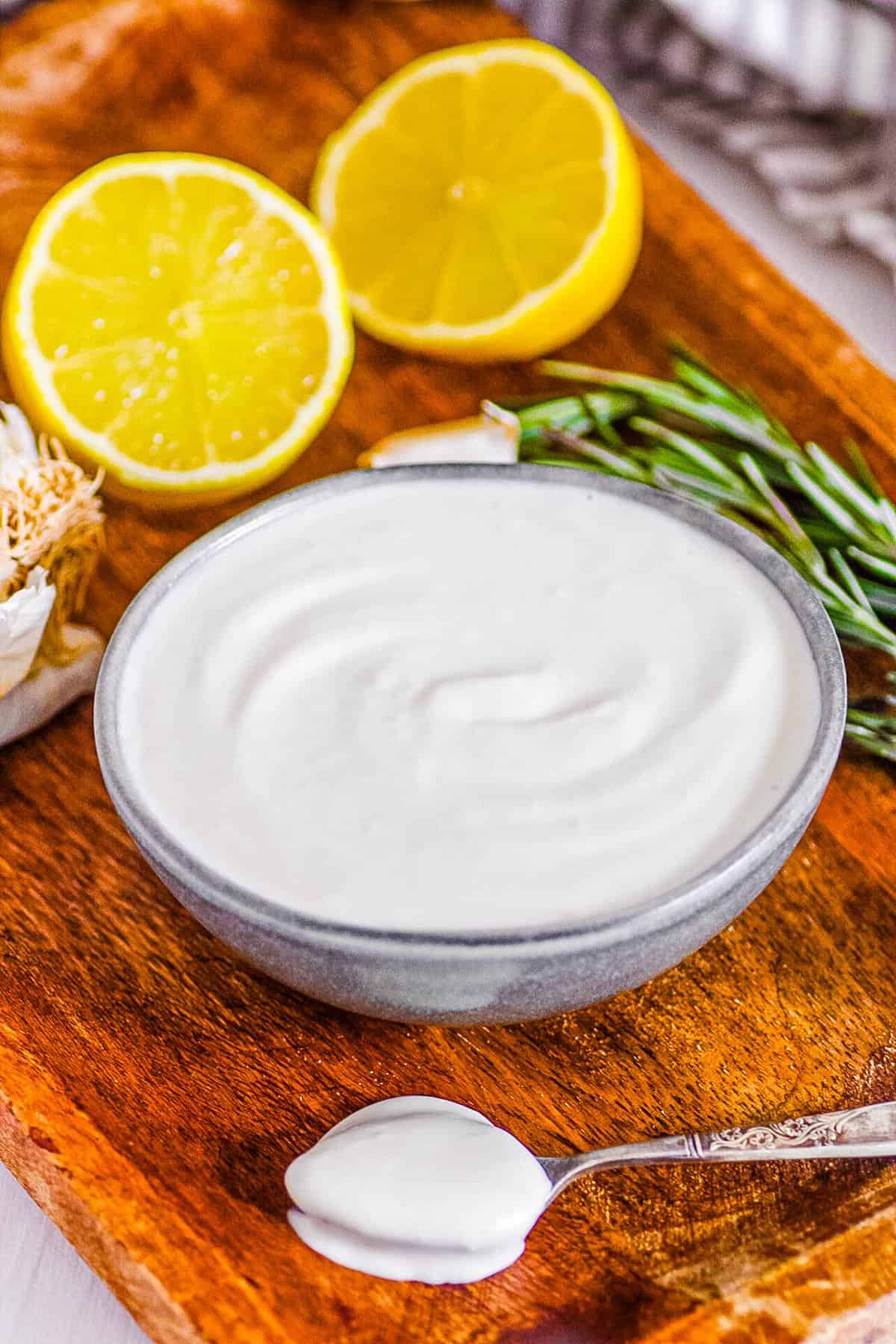 ❓Recipe FAQs
Does aioli contain eggs?
Most recipes for aioli do have eggs or egg yolks. However, this vegan garlic aioli recipe doesn't! Aquafaba is used in place of eggs with delicious results. When whipped it takes on the consistency and properties of eggs in vegan cooking.
What's the difference between aioli and mayo?
Traditionally, aioli didn't have eggs in it. It was simply an emulsified mixture of olive oil, garlic, salt, and sometimes lemon. More recently though, it's interchangeable with a flavored mayonnaise, typically with lemon and garlic.
What do I serve with vegan aioli?
Almost everything tastes good with this tasty dip! Drizzle it on top of roasted or raw veggies. Slather it on your next sandwich or wrap. Spread it on grilled fish or crab cakes. Dip french fries or potato chips in it. It's a delicious condiment for vegan steaks, veggie burgers, or black bean burgers. The opportunities are truly endless.
How should I store vegan garlic aioli?
Transfer any unused aioli to an airtight container or sealed jar, such as a mason jar with a tight lid. It will last around 3 days in the refrigerator. You will know the sauce is bad if it has a strange odor or any mold on it. Throw it out if you have any question if it's still good.
💭 Expert Tips
Don't try to mix the sauce by hand. It's far easier to use a high-speed blender or stick blender. This will give you the creamy, irresistible texture!
If you don't like the taste of olive oil, swap with a neutral oil like canola or vegetable oil.
Want it smoky? Add a little bit of sweet or smoked paprika.
In the mood for some heat? Make it a spicy aioli and add a pinch of cayenne pepper!
To roast garlic, peel the outer layers off of the garlic head. Cut a 1/2 inch from the top of the cloves. Drizzle the top with olive oil, then wrap in tin foil and roast at 400 degrees for 40 minutes.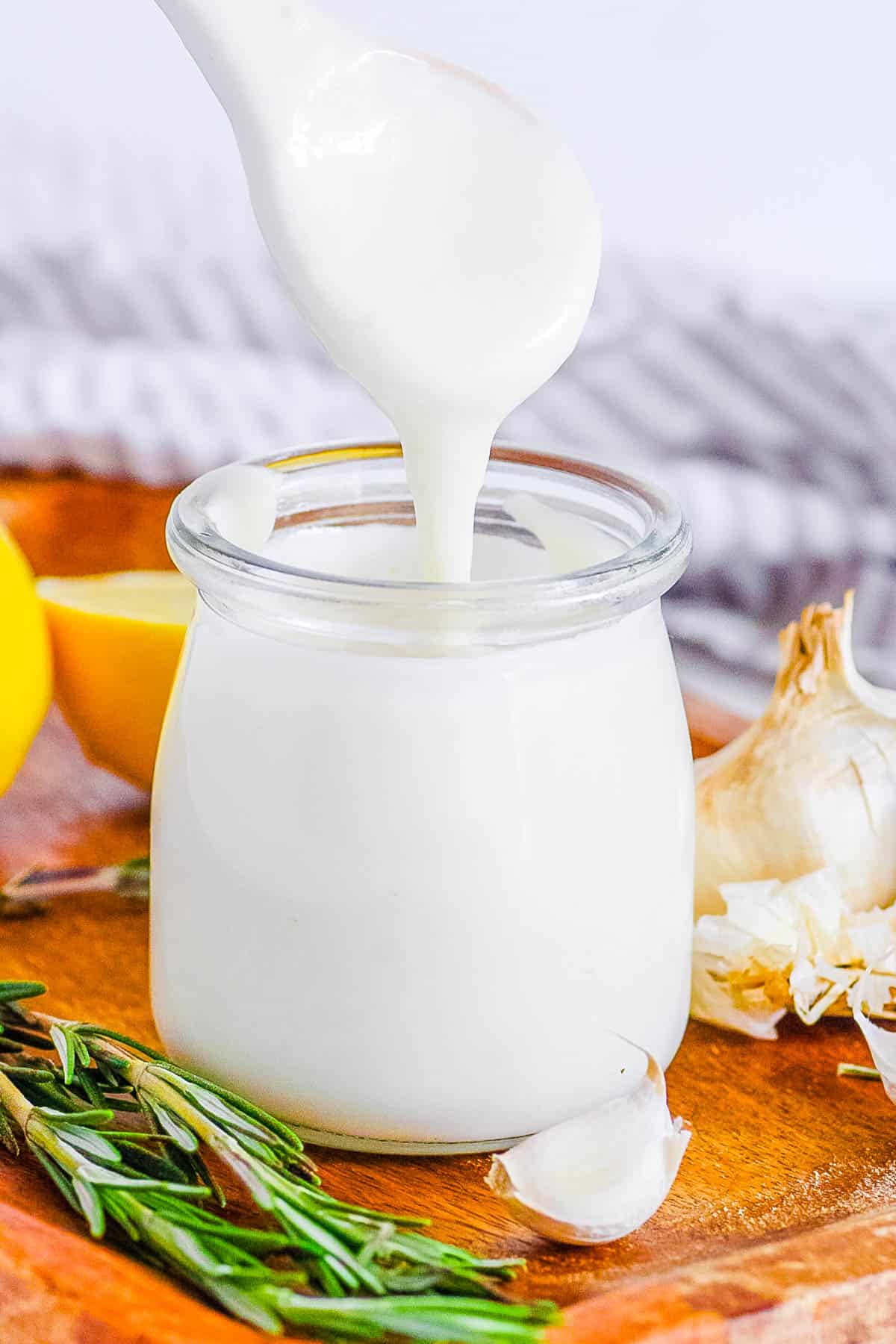 🍲 More Delicious Vegan Recipes!
LOVE THIS RECIPE? Please leave a 5-star rating 🌟 in the recipe card below and/or a review in the comments section further down the page!
You can also FOLLOW ME on FACEBOOK, TWITTER, INSTAGRAM, and PINTEREST to see more delicious, healthy, family-friendly food, and if you have any questions, I'm here to help!
📋 Recipe Card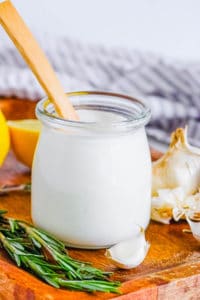 Print Recipe
Vegan Aioli
This creamy Vegan Aioli takes any vegan sandwich and makes it better! It's made with 5 basic ingredients and tastes just like garlic mayo. This is my go-to sauce for veggies, french fries, and roasted salmon.
Ingredients
3

tbsp

aquafaba

1

cup

olive oil

3

cloves

garlic, minced

(if you don't want a super garlic flavor, reduce the garlic, or use dried garlic instead of fresh which isn't as pungent).

2

tbsp

lemon juice

(start by adding 1/2 tbsp, taste the aioli, then add more lemon juice to taste as needed. I used 2 tbsp but you may want a less lemony-aioli!)
Instructions
Add the aquafaba and the salt into a blender (or immersion blender). Blend until everything is combined.

Keep the blender running constantly and VERY slowly drizzle in the oil, making sure it is fully combined as you go. If you add it too fast, the whole thing will turn liquidy and isn't redeemable. If you find you're getting a bit of oil on the top, stop adding the oil and just blend for a little while before continuing. The aioli will suddenly turn thick.

Once all the oil is combined and thoroughly mixed, add in the lemon juice and garlic and mix thoroughly.
Notes
Top Tips For Making Vegan Aioli 
Don't try to mix the aioli by hand. It's far better to use a regular blender. This will give you the creamy, irresistible texture you desire!
When making the aioli it's important to whip the aquafaba before adding the oil, this helps to emulsify the aioli, making it more stable when adding the oil.
When adding the oil, make sure it's a really slow drizzle, and that you're whisking the aioli constantly, otherwise the aioli will split. 
If your aioli is too thick, you can add a little more lemon juice. If it's too thin, let it sit in the fridge for about an hour which should solidify the oil, making the aioli a little firmer. 
Want it smoky? Add a little bit of sweet or smoked paprika. 
In the mood for some heat? Go ahead and add some cayenne pepper.
Nutrition
Calories:
161
kcal
|
Carbohydrates:
1
g
|
Protein:
1
g
|
Fat:
18
g
|
Saturated Fat:
2
g
|
Polyunsaturated Fat:
2
g
|
Monounsaturated Fat:
13
g
|
Sodium:
1
mg
|
Potassium:
6
mg
|
Fiber:
1
g
|
Sugar:
1
g
20 responses to "Vegan Aioli (2 Minute, Easy Recipe!)"