Super Easy Chana Masala Recipe!
This post may contain affiliate links. Please read my disclosure.
Channa Masala is one of my favorite Indian dishes ever. But it always takes a long time to make, and the recipe is usually quite involved. Also – I haven't been able to find a healthy version of the recipe that tastes as good as the restaurant style Chana Masala. But then I came across this product from Trader Joes, and with a few modifications, turned it into a really good version of Super Easy Channa Masala! The prep time is really minimal, and it just has to simmer for an hour and then you're done! Check it out below 🙂
Ingredients for Easy Chana Masala
– 1 box of Frozen Channa Masala from Trader Joes (looks like the picture below)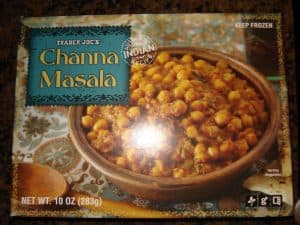 – 1 can garbanzo beans (15 oz), rinsed & drained
– 1/2 to 1 cup of water (depending on how thick you like your Channa Masala)
– 2 tomatoes, diced
– diced red onion to taste
– chopped cilantro to taste
– salt to taste
Directions
1. Heat the frozen Channa Masala box halfway (it says 4 min on the box, so heat in the microwave for 2 min)
2. Combine the defrosted Channa Masala box, the garbanzo beans and 1/2 cup water in a pot over high heat
3. Bring to a boil (add more water as needed depending on the consistency you want)
4. Once it has boiled for ~30 sec, lower heat and simmer for 1 hour
5. Mash some of the garbanzo beans to thicken the curry
6. Serve (top with diced onions, diced tomatoes, cilantro to taste)
I think the whole pot of Channa Masala has ~700 calories, 20% from fat, and >20g fiber! Which is pretty good considering this recipe makes at least 3 servings 🙂 Enjoy this Easy Chana Masala dish!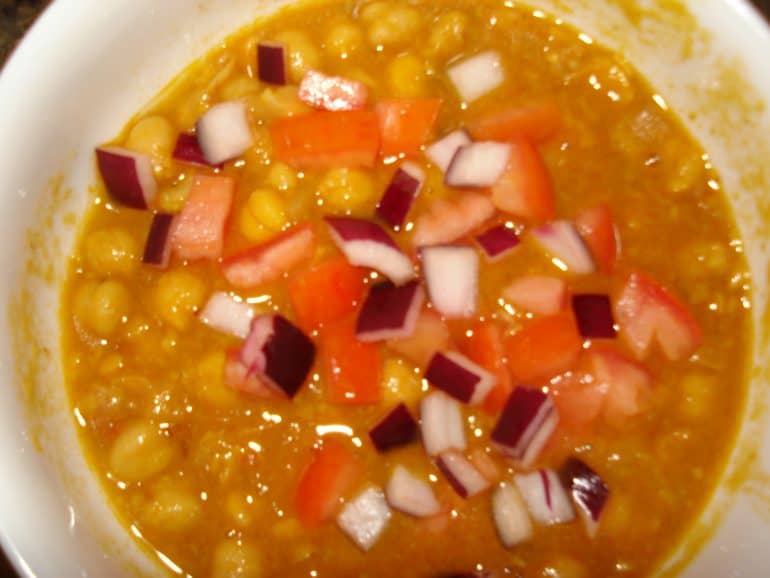 7 responses to "Super Easy Chana Masala Recipe!"