Parmesan Truffle Fries With Garlic
This post may contain affiliate links. As an Amazon Associate, I earn from qualifying purchases. Please read my disclosure.
Fresh Russet Potatoes, salty parmesan cheese, savory minced garlic, and earthy truffle oil combine to create these tasty, crispy parmesan truffle fries. These easy baked french fries are packed with intense flavor and are perfect for a delicious snack or side dish!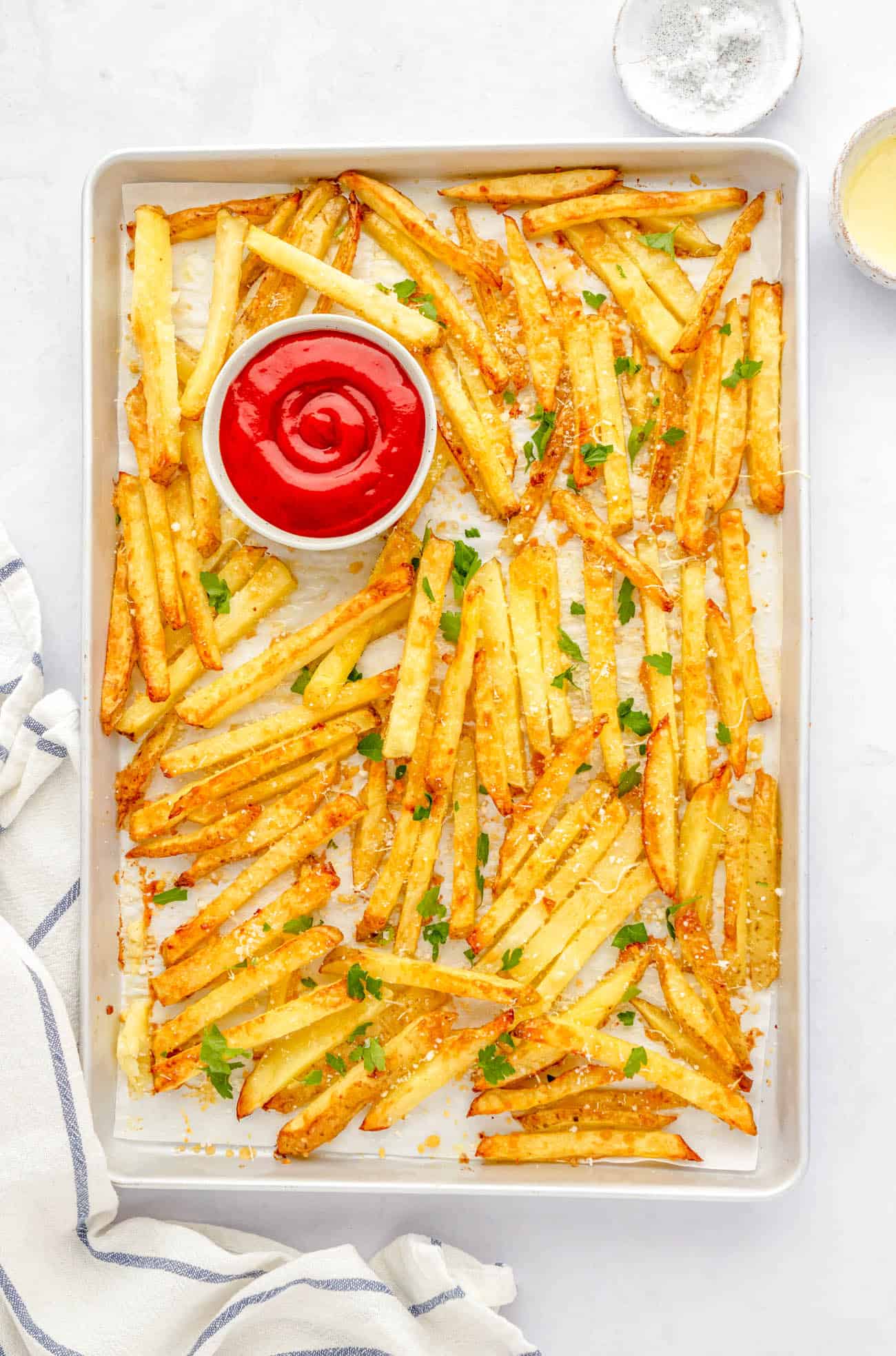 I'm a huge fan of french fries! Jicama fries, sweet potato fries, and even frozen fries are popular side dishes in my home. But when I want to switch things up, I love making these parmesan truffle fries!
Latest Recipe Video!
One bite of these garlic truffle fries and you'll think you've died and gone to french fry heaven. They are so much better than anything you will get at a fast food restaurant and healthier too – since they're lower in fat and are made with all natural ingredients!
And the best part is, they are delicious! The amazing flavor from the real truffle oil, parmesan cheese, and minced garlic perfectly combine to create a fry that's decadent and addictive. 
👩🏽‍🍳 Why This Recipe Works
Best way to use up leftover potatoes
An elegant twist on a classic side dish
An easy way to elevate the regular french fry
Naturally gluten free and vegetarian
Packed with natural truffle flavor
Best homemade truffle fries ever!
🥘 Ingredients
This recipe can easily be made with simple ingredients found at most grocery stores. If you're having trouble finding a bottle of truffle oil, food specialty stores will typically have that ingredient!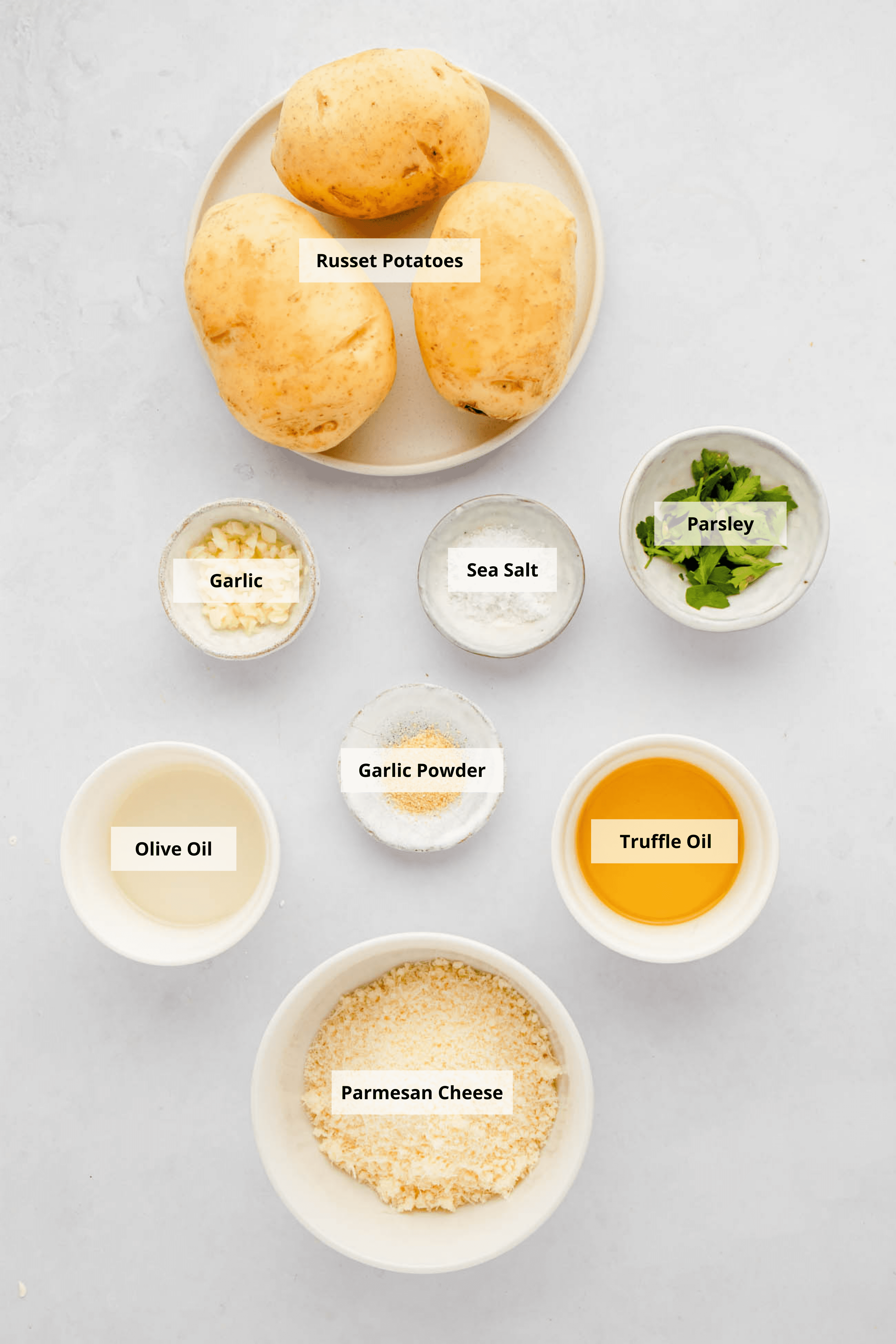 Idaho Russet Potatoes: These common baking potatoes make the best crispy french fries. You'll want medium russet potatoes as they'll be easy to slice into potato wedges.
Minced Garlic: This fresh aromatic spice gives these fries the best flavor.
Olive Oil: Used to coat your fresh cut fries before they go into the oven.
Good Truffle Oil: White or black truffle oil will work; black truffle oil is more earthy and robust whereas white truffle oil has a spicy, onion-like flavor. You just want to buy a natural truffle oil that is high quality — it's a great investment because all you need is one tablespoon truffle oil for this recipe – a little goes a long way!
Parmesan Cheese: The sharp, distinctive flavor of this cheese helps to round out the earthy umami flavors of the truffle oil and garlic. Just be sure to buy parmesan cheese made with vegetarian rennet to keep this recipe vegetarian.
Spices: A teaspoon of garlic powder, some flaky sea salt, and a generous pinch of fresh parsley are the perfect finishes for these truffle and parmesan fries.
🍽 Equipment
All you need to make this simple baked french fry recipe is a sturdy baking sheet, parchment paper, a large bowl, and a sharp chopping knife.
📖 Variations
Use A Deep Fryer: Looking to make a more traditional french fry? Try deep frying these parmesan truffle fries! To do this, fill a large pot about halfway full with a high-temperature cooking oil and heat. To your hot oil, slowly add your unseasoned fries a handful at a time and allow to cook for 5 minutes. Remove your golden fries from the oil, drip dry, then coat in minced garlic, truffle oil, parmesan cheese, salt, and fresh parsley. Serve and enjoy!
Make Greek Fries: Add some chopped cherry tomatoes, diced onions, and crumbled feta on top to turn these into Mediterranean inspired fries!
Different Spices: You can also easily switch up the flavor of these garlic truffle fries by getting creative with seasonings and garnishes! A splash of fresh lemon juice, a dash of ground pepper, or a sprinkle of truffle salt can take these fries to the next level!
🔪 Instructions
Prepare your potatoes by thoroughly washing them and chopping them into long strips, about 1/2 inch thick. Place fries in a large bowl. You don't have to peel potatoes before making fries, in fact, I like the texture that the potato skins provide!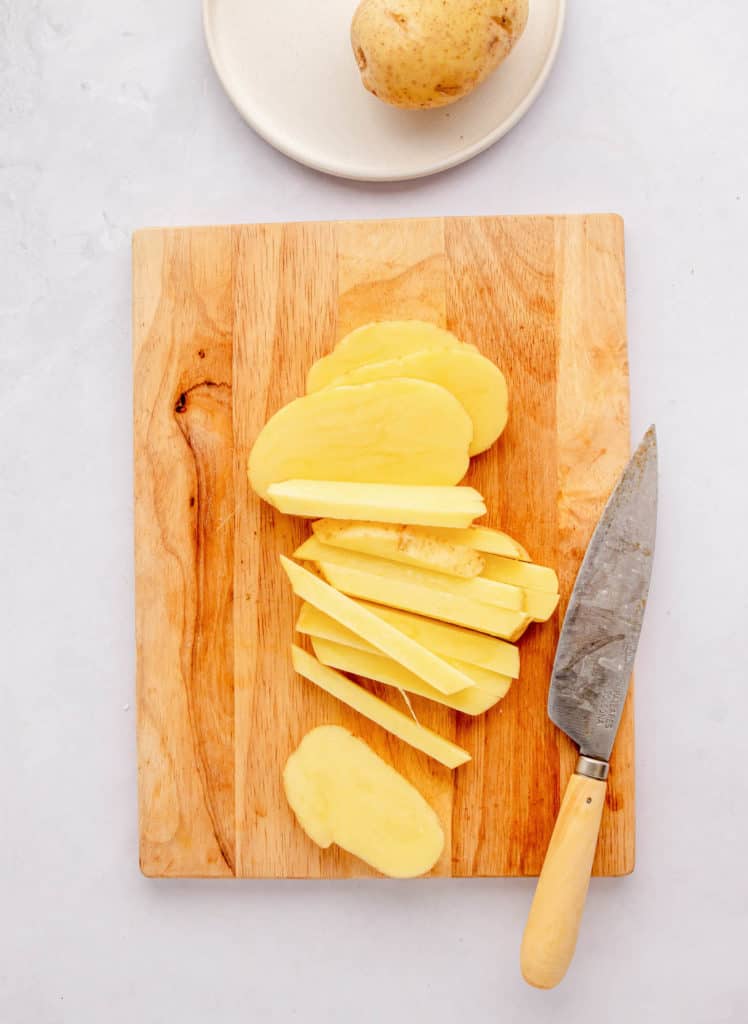 Coat your fries with a little drizzle of olive oil. Sprinkle with minced garlic, garlic powder, salt, and half of your parmesan cheese. Toss until each fry is thoroughly coated in your spice mixture.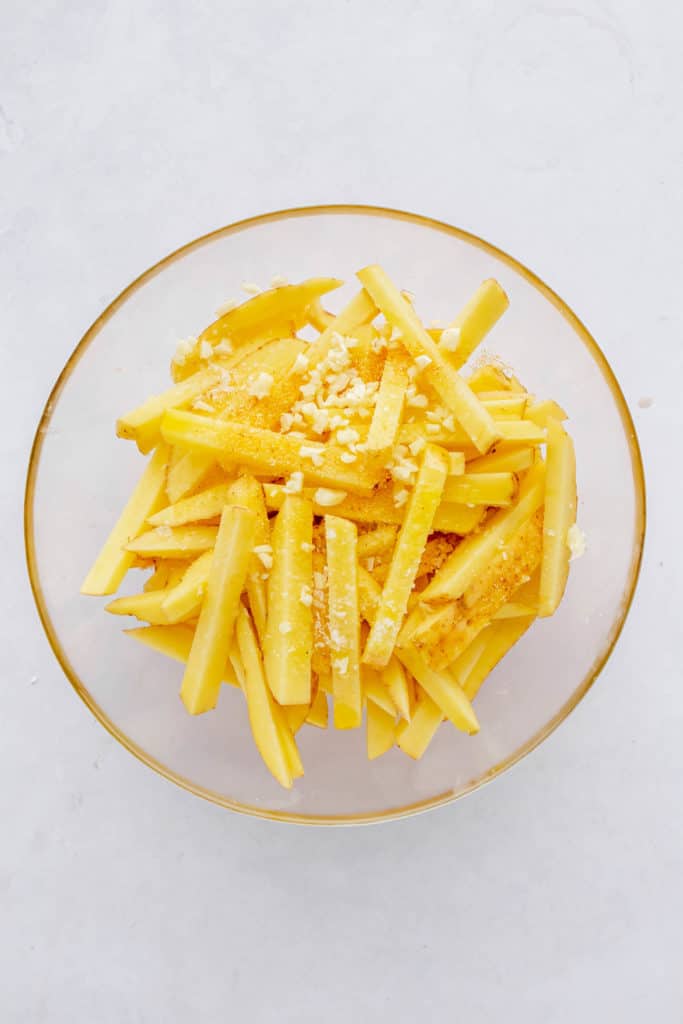 Transfer your seasoned fries to a baking sheet and spread into a single layer.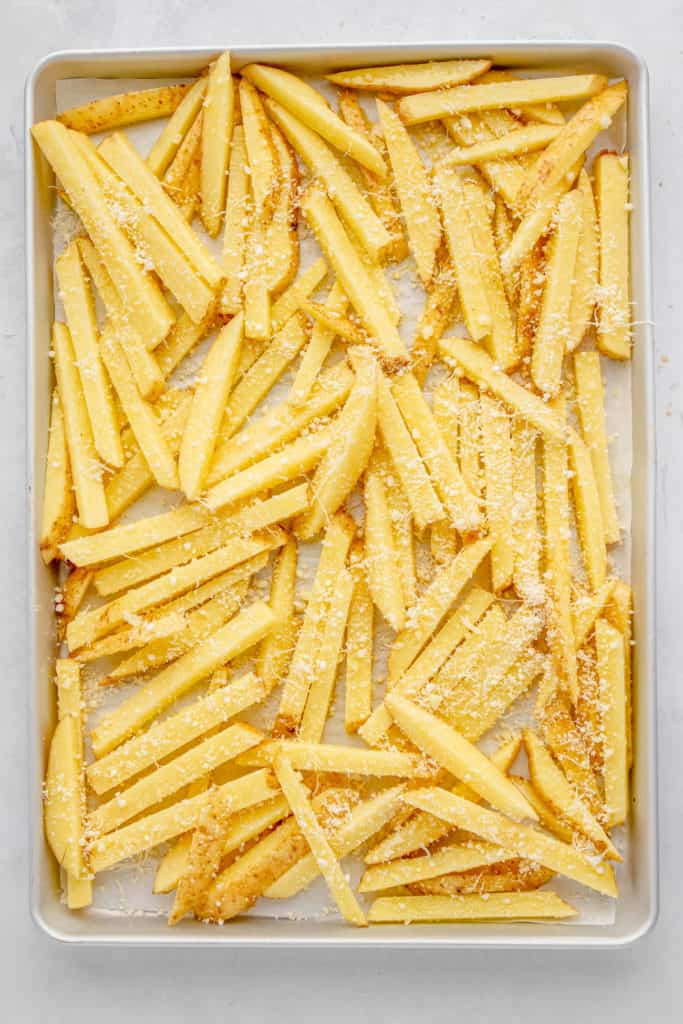 Bake your truffle parm fries in a 400°F / 200°C oven for 30-35 minutes or until golden brown. Garnish your homemade french fries with a drizzle of truffle oil, the remaining parmesan cheese, and a pinch of fresh parsley. Serve with your favorite sauce and enjoy!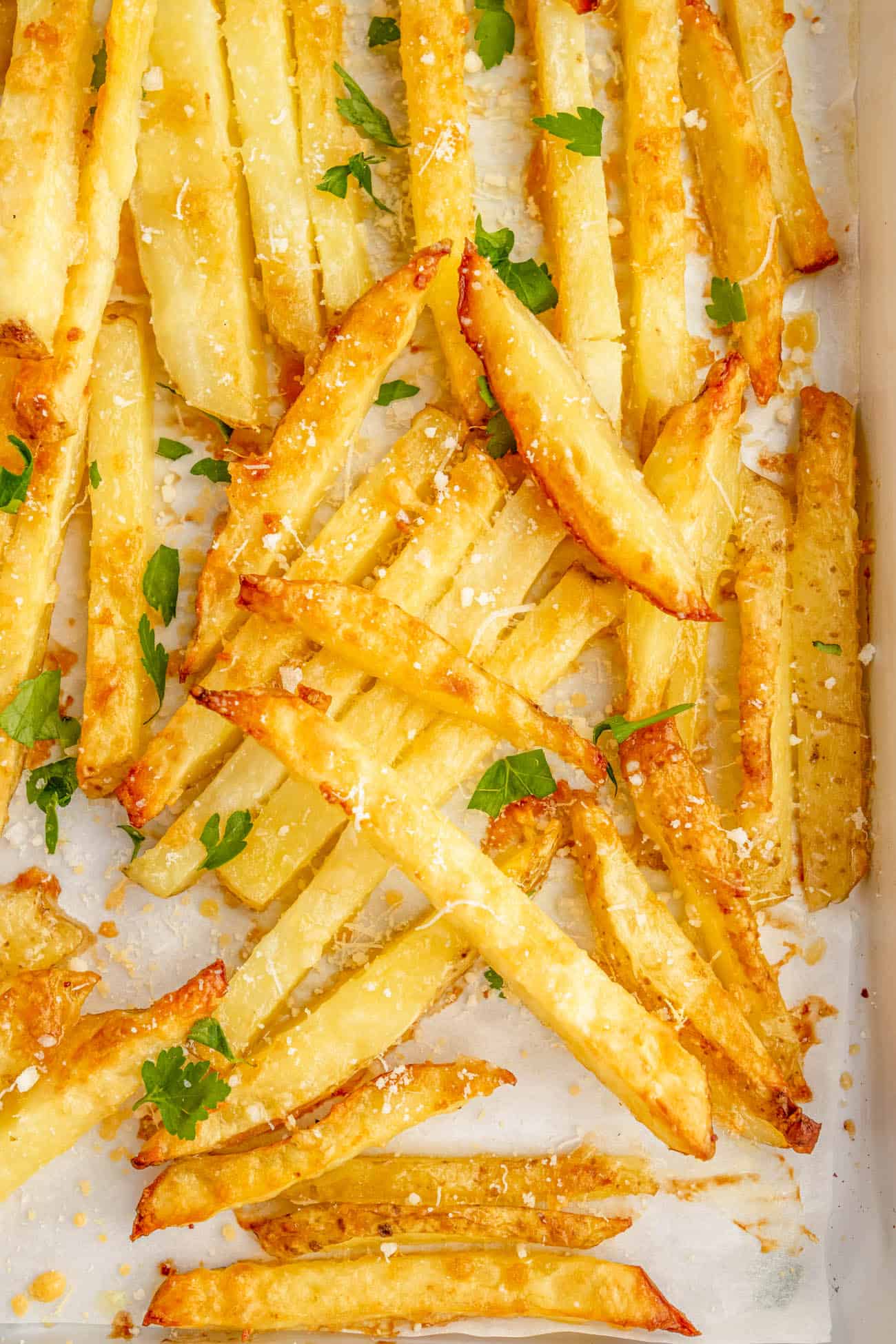 ❓Recipe FAQs
What are truffles?
Truffles are a rare type of mushroom found on tree roots. Real truffles come in two varieties – black truffles and white truffles. The former is known for being more potent and earthy tasting while the latter tends to be a bit milder and spicy. These edible fungi are considered a delicacy and are commonly added to dishes in the form of thin slices or a finishing oil.
How do you make truffle fries in the air fryer?
To make these crispy fries in the air fryer, prepare and season your potatoes as normal. Instead of placing the fries on a baking sheet, transfer them to the basket of an air fryer. Air fry your garlic parmesan truffle fries at 375°F for 13-15 minutes or until golden brown and crispy.
Are truffle fries gluten free?
Yes! This garlic truffle fries recipe is naturally gluten free, because potatoes and all of the seasonings are gluten free. In general, fries are gluten free as long as they have been prepared in an area where cross-contamination with gluten won't occur.
What do truffle parmesan fries taste like?
The taste of truffles is very distinct – they have an earthy, nutty, musky, meaty, savory flavor – all of which they bring to this easy recipe! Truffle fries take on this same earthy favor, but also have a crispy outside and creamy inside, and a sharp bite thanks to the added parmesan cheese!
🧊 How To Store
These baked truffle french fries taste the best when they're fresh out of the oven. If you have leftover fries you can store them in the fridge in an airtight container for up to 3 days but they won't taste as good reheated (even if you heat them in the oven).
The good news is, however, that you can prep these fries ahead of time, pop them in the freezer, and have them ready to bake any time you're craving hot homemade fries!
To do this, prepare and season your potatoes as normal. Allow your potatoes to dry slightly before placing in a ziplock bag and storing in the freezer for up to 6 months. Bake your frozen fries in 425°F/220°C oven for 25 minutes and garnish with the truffle oil, parmesan and parsley right before serving.
👪 How To Serve
These easy parmesan truffle fries make a fun appetizer or snack to share. You can serve these cheesy fries alongside a wide variety of entrees such as this Italian chickpea soup, air fryer pizza rolls, or garlic bread grilled cheese sandwiches.
💭 Expert Tips
This parmesan truffle fries recipe can easily be doubled to feed a crowd or large family.
There's no need to peel your potatoes before chopping; the skin will crisp up nicely in the oven.
To properly cut your potatoes, place each potato on its end and cut down lengthwise into thin slices. From here, cut each slice into fry shapes.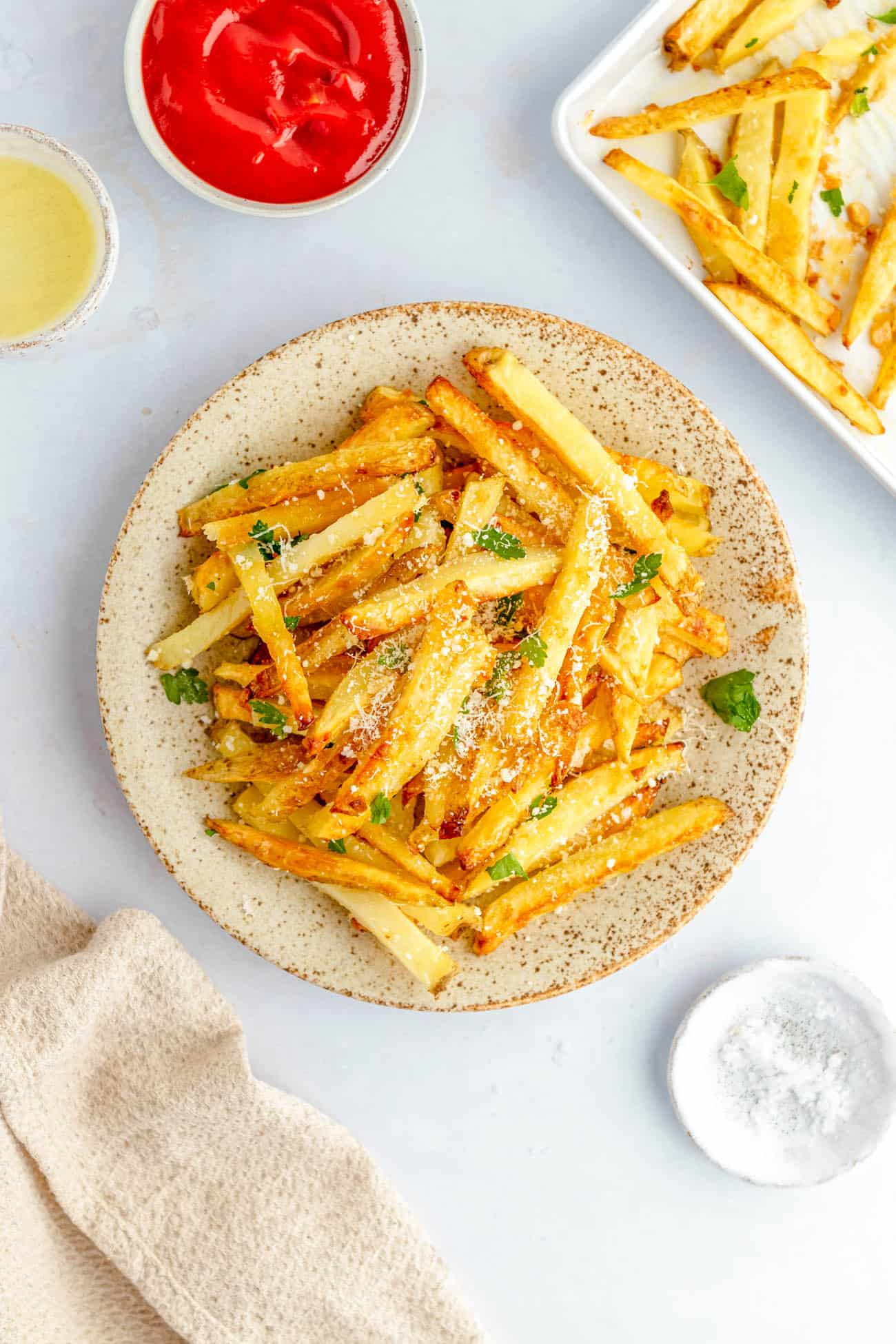 🍲 More Tasty Potato Recipes!
LOVE THIS RECIPE? Please leave a 5-star rating 🌟 in the recipe card below and/or a review in the comments section further down the page!
You can also FOLLOW ME on FACEBOOK, TWITTER, INSTAGRAM, and PINTEREST to see more delicious, healthy, family-friendly food, and if you have any questions, I'm here to help!
📋 Recipe Card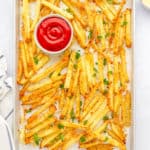 Print Recipe
Parmesan Truffle Fries Recipe
Fresh Russet Potatoes, salty parmesan cheese, savory minced garlic, and earthy truffle oil combine to create these spicy and salty parmesan truffle fries. These easy baked fries are packed with unique, satisfying, and elegant flavors. 
Ingredients
3

large

baking potatoes

(russet potatoes)

2

garlic cloves, minced

2

tbsp

olive oil

1

tbsp

truffle oil

⅓

cup

shredded parmesan cheese

1

tsp

sea salt

1

tsp

garlic powder

Fresh parsley and ketchup for serving

optional
Instructions
Preheat the oven to 400ºF / 200ºC and line the baking sheet with parchment paper.

Wash the potatoes and cut them into fries' shape.

Place the cut potatoes into a mixing bowl and drizzle with olive oil. Add the minced garlic, garlic powder, salt and half of the parmesan.

Mix until all potatoes are coated.

Transfer onto a baking sheet and spread into a single layer.

Bake for 30-35 minutes until golden brown on top. You can flip the fries halfway through baking.

Once the fries are baked, drizzled with truffle oil, rest of the parmesan cheese and fresh parsley.

Serve immediately with ketchup or any other sauce you like.
Notes
You can double the ingredients if you want a bigger portion!
Make sure to choose a vegetarian parmesan cheese (with vegetarian rennet) to keep this recipe veggie friendly.
To cut the potato into fries place the potato on side and cut side down into thin slices. Then cut slices into fries. (See video instructions)
Frying Instructions:
Use deep-fryer or pour a vegetable oil in deep sauces about half way full. Heat over high heat until the oil is hot and ready for frying.
Carefully add the plain fries and fry until golden brown, around 5 minutes.
Remove the fries with slotted spoon and place on paper towel to remove excessive oil.
Transfer to a bowl, add minced garlic, truffle oil, parmesan cheese, salt and fresh parsley.
Mix until fries are evenly covered and serve.
Nutrition
Calories:
141
kcal
|
Carbohydrates:
21
g
|
Protein:
4
g
|
Fat:
5
g
|
Saturated Fat:
1
g
|
Polyunsaturated Fat:
1
g
|
Monounsaturated Fat:
3
g
|
Cholesterol:
3
mg
|
Sodium:
289
mg
|
Potassium:
472
mg
|
Fiber:
1
g
|
Sugar:
1
g
10 responses to "Parmesan Truffle Fries With Garlic"