41 Vegan Soup Recipes
This post may contain affiliate links. As an Amazon Associate, I earn from qualifying purchases. Please read my disclosure.
Here is your new go-to list of 41 best vegan soup recipes. These vegan soups and stews will not only warm you up, but they will also fill you up! From surprisingly creamy soups to hearty stews, to those incorporating favorite fall flavors, you will leave the table satisfied and warmed from the inside-out.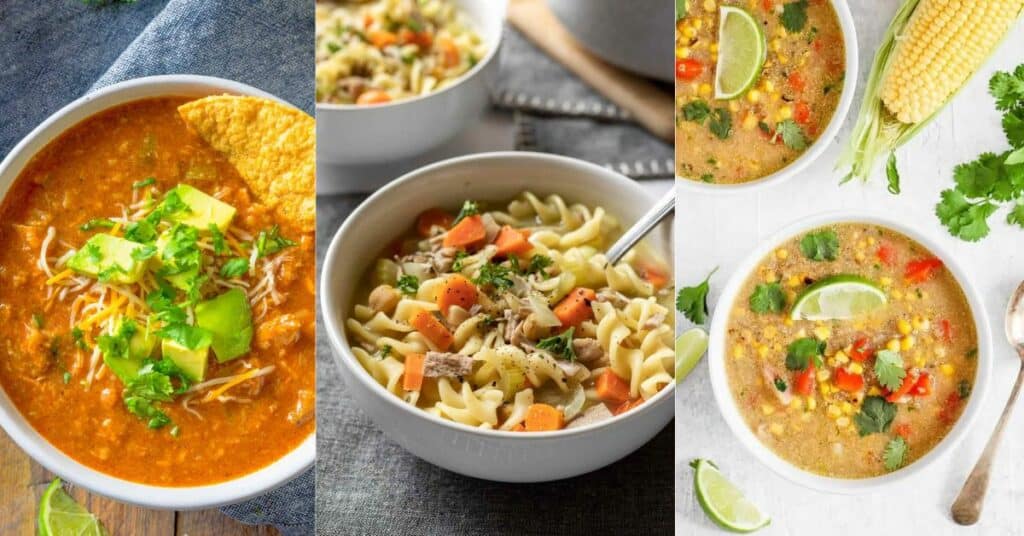 Just because you eat dairy-free, meatless, or vegan, doesn't mean you shouldn't cherish hearty soup recipes with inexpensive ingredients. Who says healthy soup can't be synonymous with mouth-watering flavorful food? This compilation of delicious vegan soup recipes is perfect for this cozy time of year.
Featured below are mostly easy vegan soup recipes with simple everyday ingredients, and a few recipes with exciting new ingredients you may have not used before. These meatless soup recipes use a variety of healthy veggies and nutritious vegan ingredients as a great way to de-thaw from a cold or dreary day.
Use these soups to meal prep for the week, to enjoy for weeknight dinners, or to 'wow' your partner on a special date. If you're looking to serve up a big bowl of comfort that doesn't always take up too much time, there are so many types of vegan soups to try. Celebrate soup season with an abundance of mouth-watering vegan soup ideas!
41 Best Vegan Soup Recipes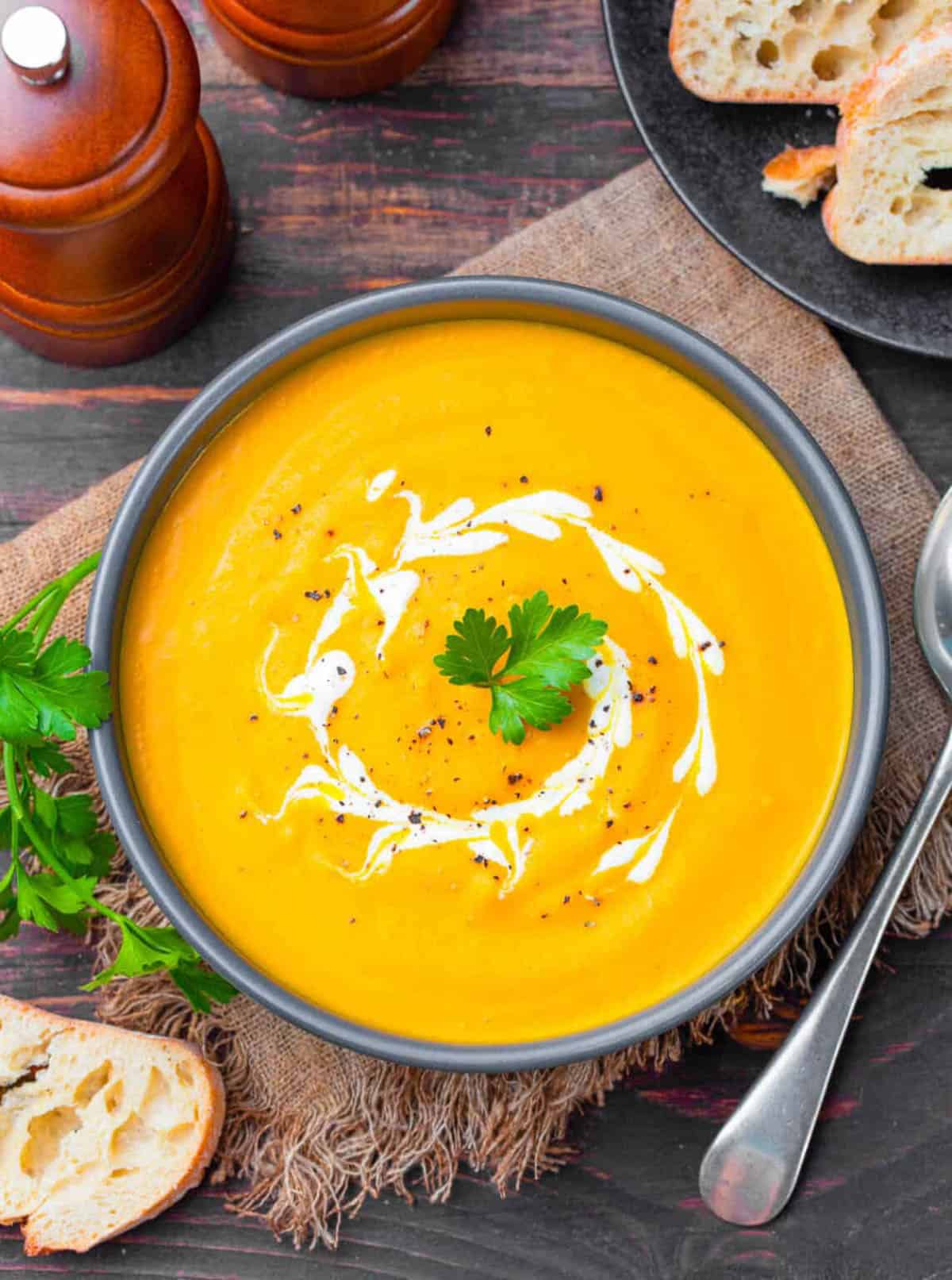 Calories: 155 – Fiber: 8.7g – Protein: 5.4g
This pumpkin and sweet potato soup is a breeze! It is an easy vegan soup recipe that uses classic fall vegetables to cultivate a massive palate of flavor.
If you like fall flavors then this soup is for you. The recipe uses classic autumn flavors for a savory delight, kids and adults alike will enjoy this soup!
This recipe is comforting, creamy, and so simple to make. You'll never miss the dairy. One scoop and you'll see why it's a season winner.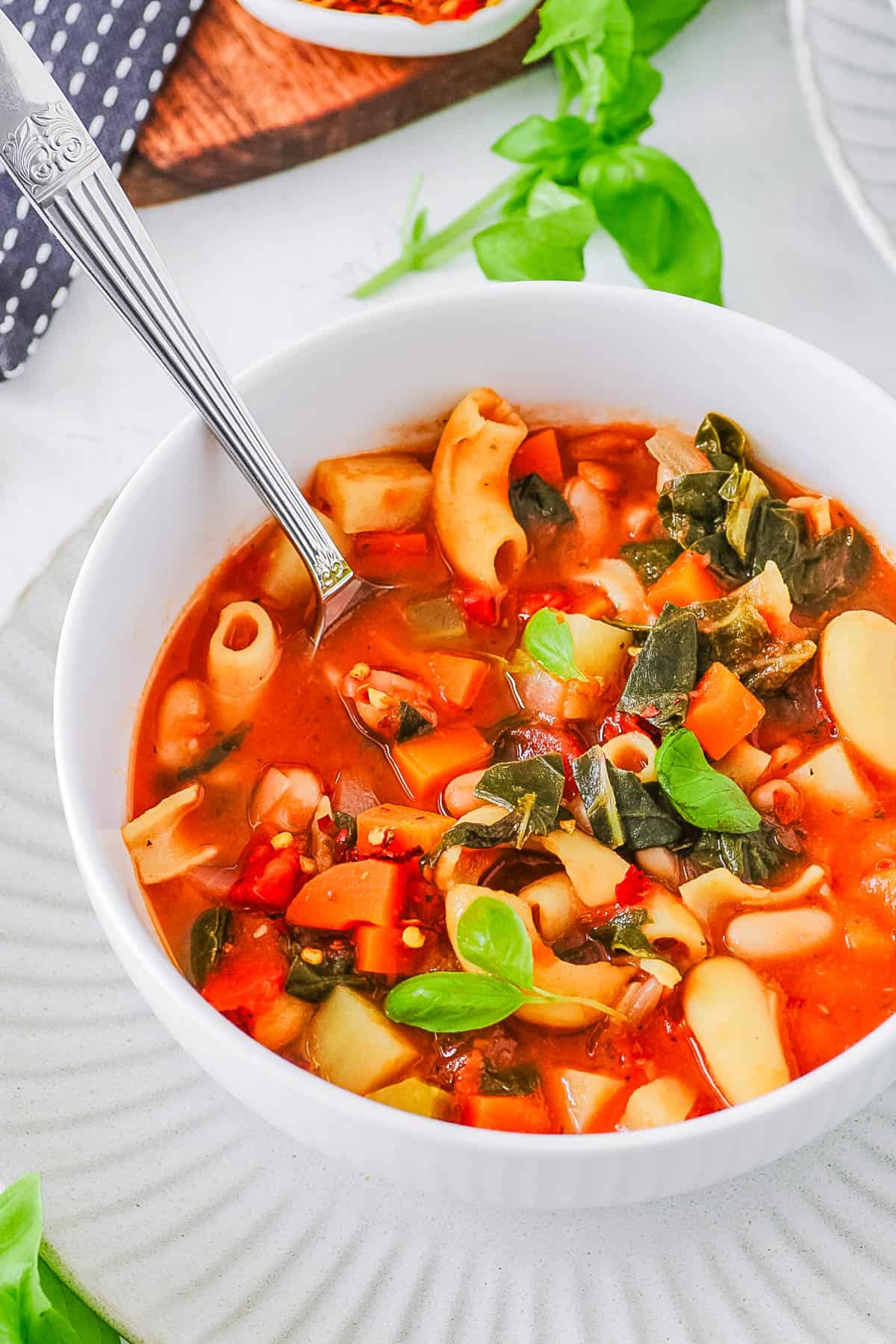 Calories: 178 – Fiber: 7g – Protein: 9g
This is one of the best vegan soups because it's straightforward and succulent. Its decadent flavor of Italian seasoning and fresh basil brings some mastery flavor.
The chopped veggies and pasta make it a fun meal to scoop for both the young and old! Plus, it can easily become gluten-free by using lentil pasta or chickpea pasta.
Minestrone is a classic comfort soup. This recipe's call for fresh herbs can elevate the evening's taste buds and warm you from the inside out.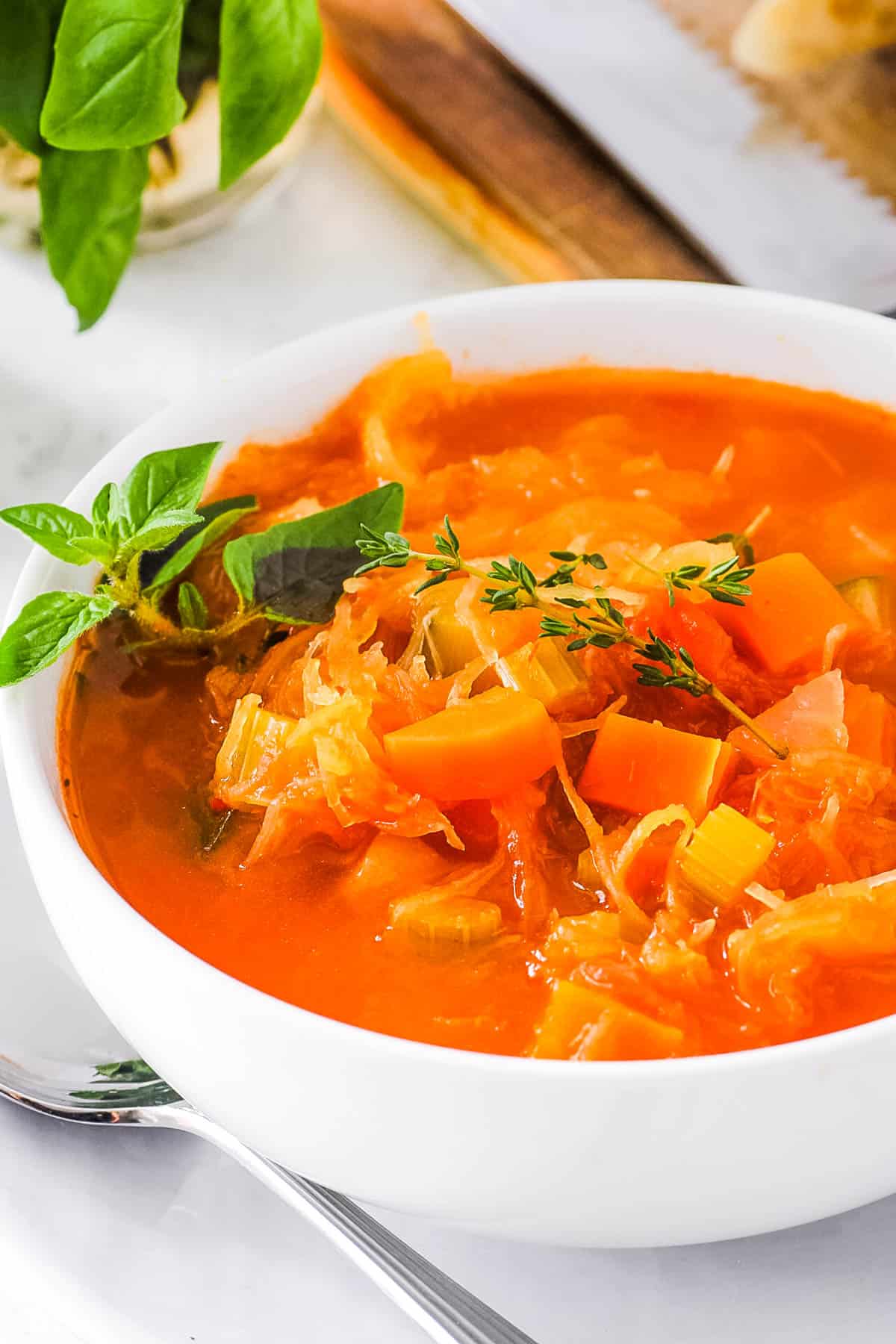 Calories: 89 – Fiber: 3g – Protein: 2g
This healthy vegan soup says hello, sweater weather! It's also a dear friend's favorite soup recipe because it can utilize her homemade vegetable stock with minimal chopping and no gluten!
The whole family will appreciate this versatile soup that will hug them whole! The naturally vegan and gluten-free recipe can accommodate the whole party.
Spaghetti squash is a healthy way to get a filling meal without a food coma afterward. It's delicious and nutritious and its tomato broth is so delicious and warming you'll make it again!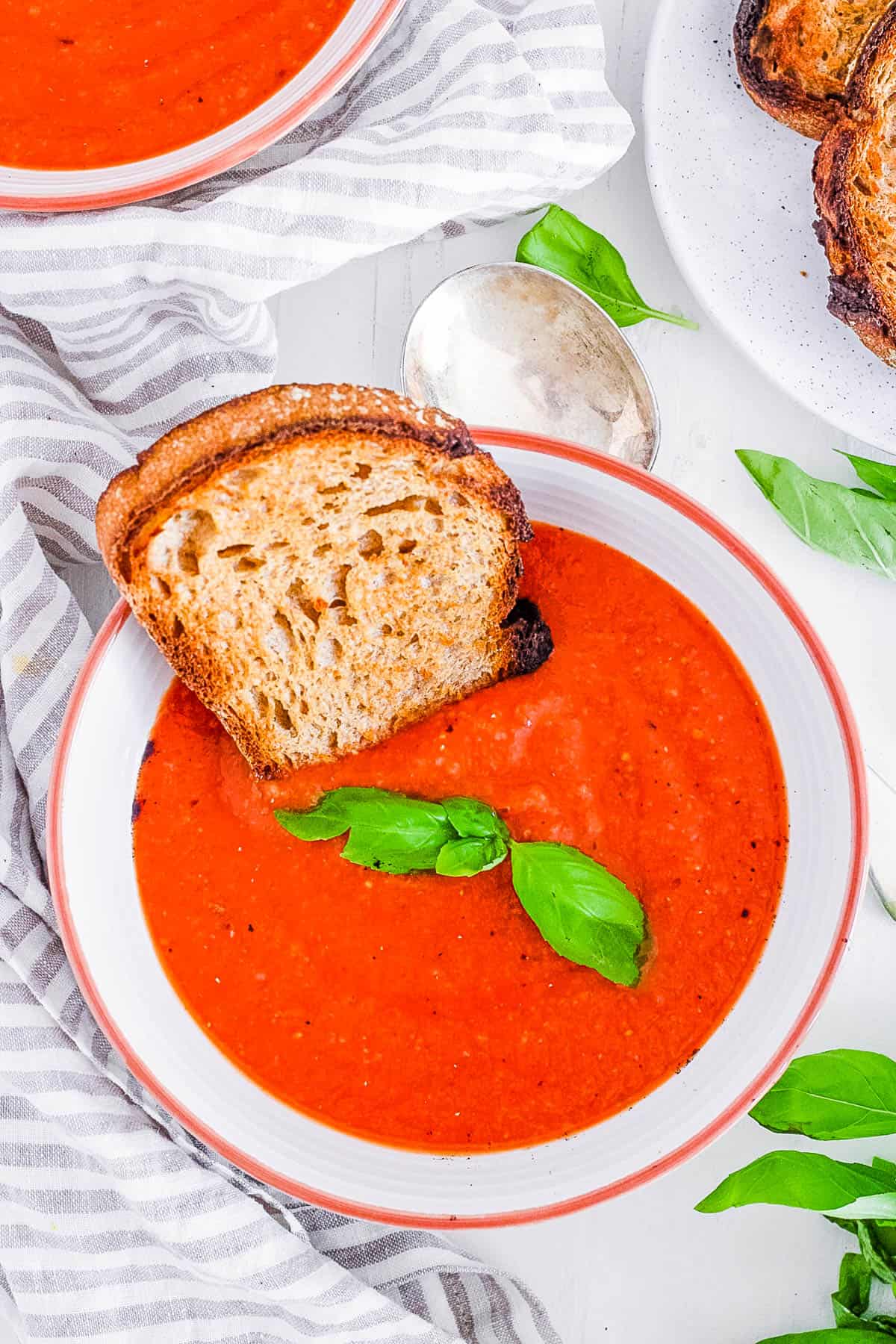 Calories: 96 – Fiber: 1.7g – Protein: 1.8g
This rich tomato broth is an easy vegan soup recipe that has become a staple in my home. It uses brown rice instead of heavy cream to thicken the soup but does not miss a beat in creaminess!
Kids and parents alike will love dipping their hot sandwiches into this tomato soup. Or they can simply enjoy it by the spoonful!
This quick tomato soup can be made last minute as it calls for less than 10 ingredients. The soup's light composition makes it a perfect side or appetizer.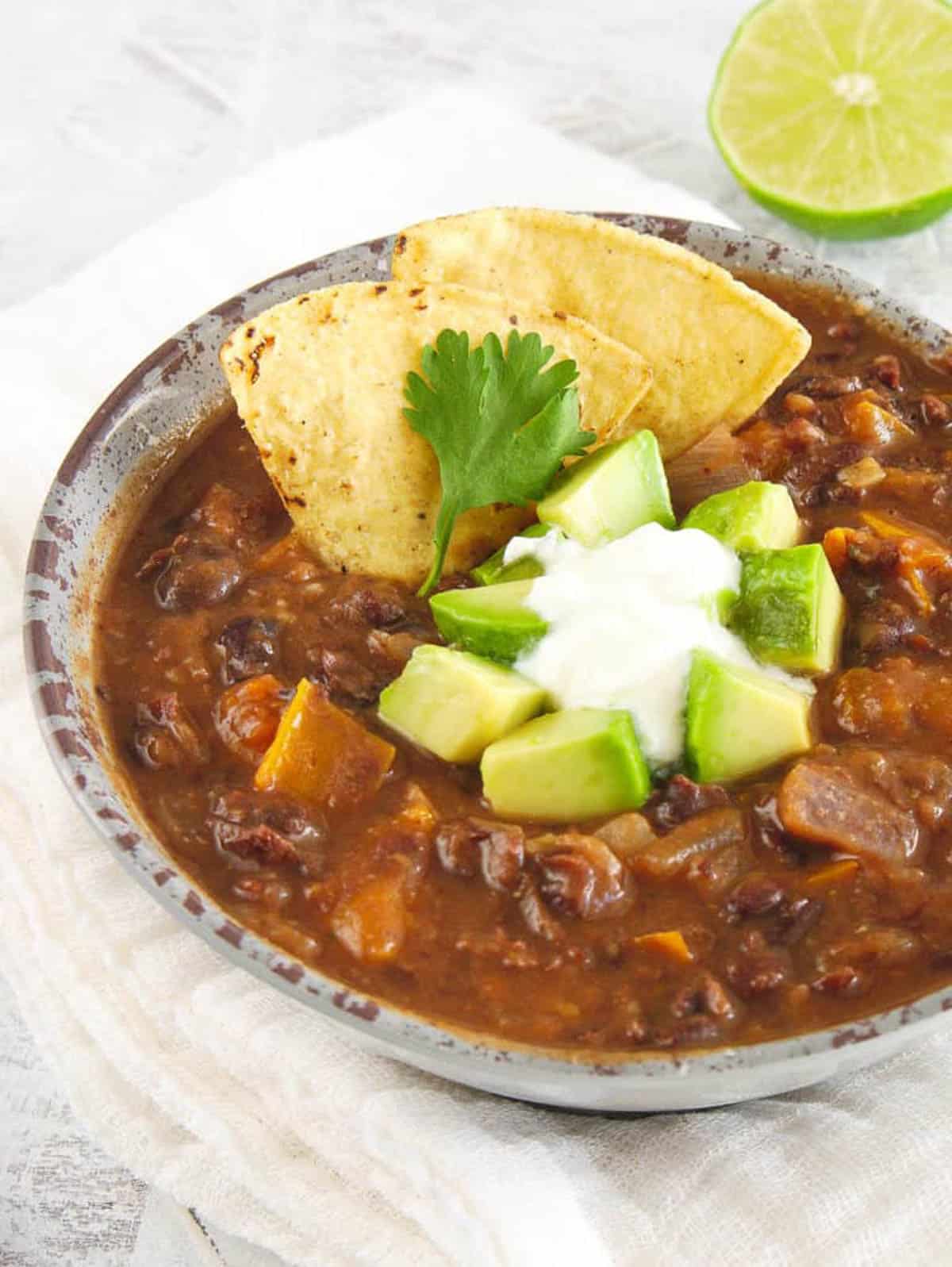 Calories: 250 – Fiber: 14.4g – Protein: 14.3g
With the most flavorful broth, this black bean soup has an appetizing and savory texture. What seems so simple and easy can taste elevated and exciting!
Whether your company is dairy-free or gluten-free, they'll be able to enjoy this hearty soup. It will also be a hit with kids who may be unsure about beans!
This delicious soup is ready in 30 minutes! It can easily become a weekly staple after a chilly day out.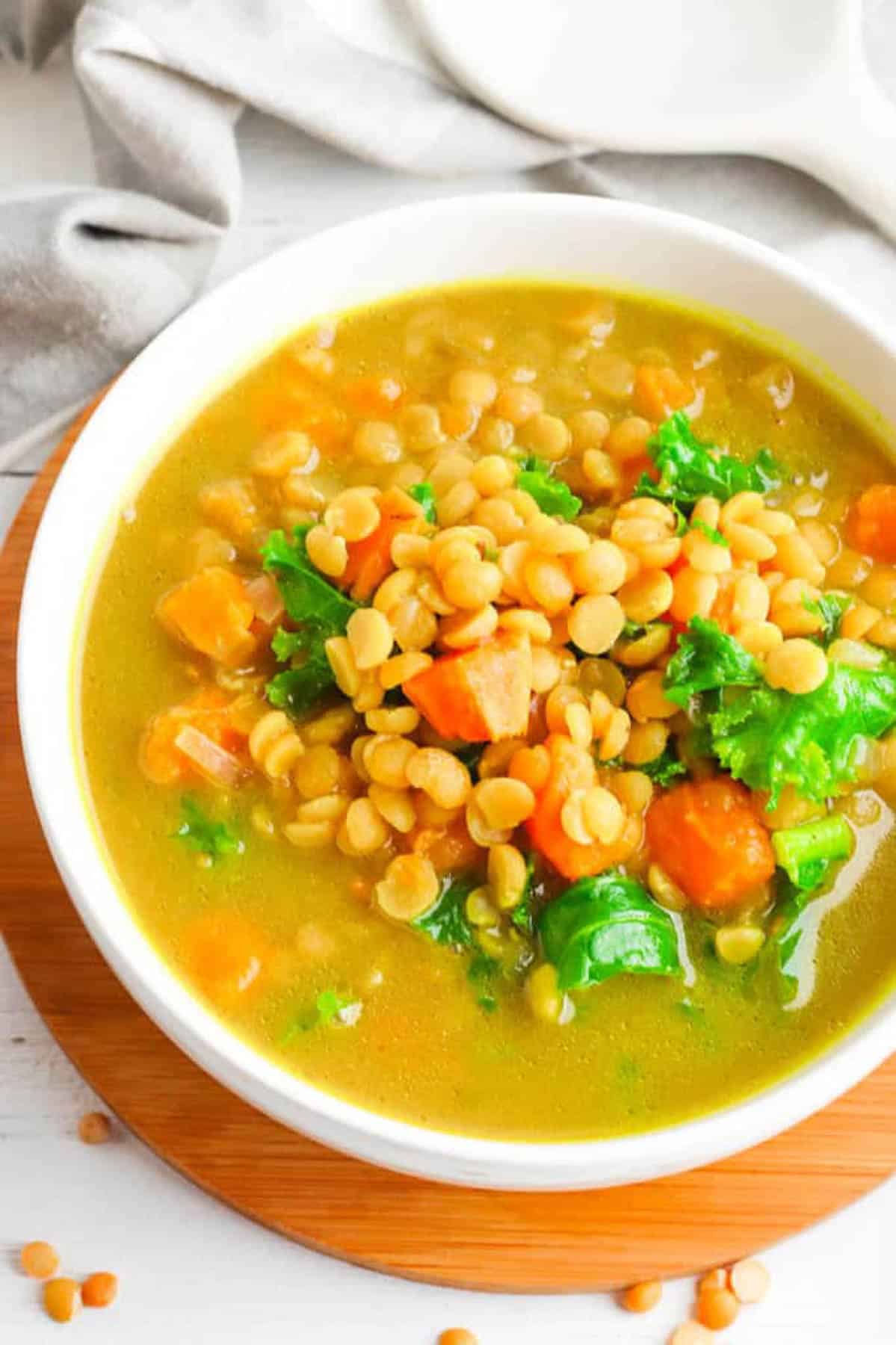 Calories: 311 – Fiber: 11.6g – Protein: 17.1g
If you're ready for an autumn twist on an Indian classic, this Sweet Potato Dahl will hit the spot. Play around with the spice level and enjoy a nice level of heat or some mild warmth.
The sweet potato's natural comfort and versatile spice make it a dependable meal for families. The bright kale and yellow split peas pair so well together that it's easy to enjoy by all ages.
This dahl is nutrient-rich and made with just one pot! An Indian dinner staple that never gets old and nurtures your soul.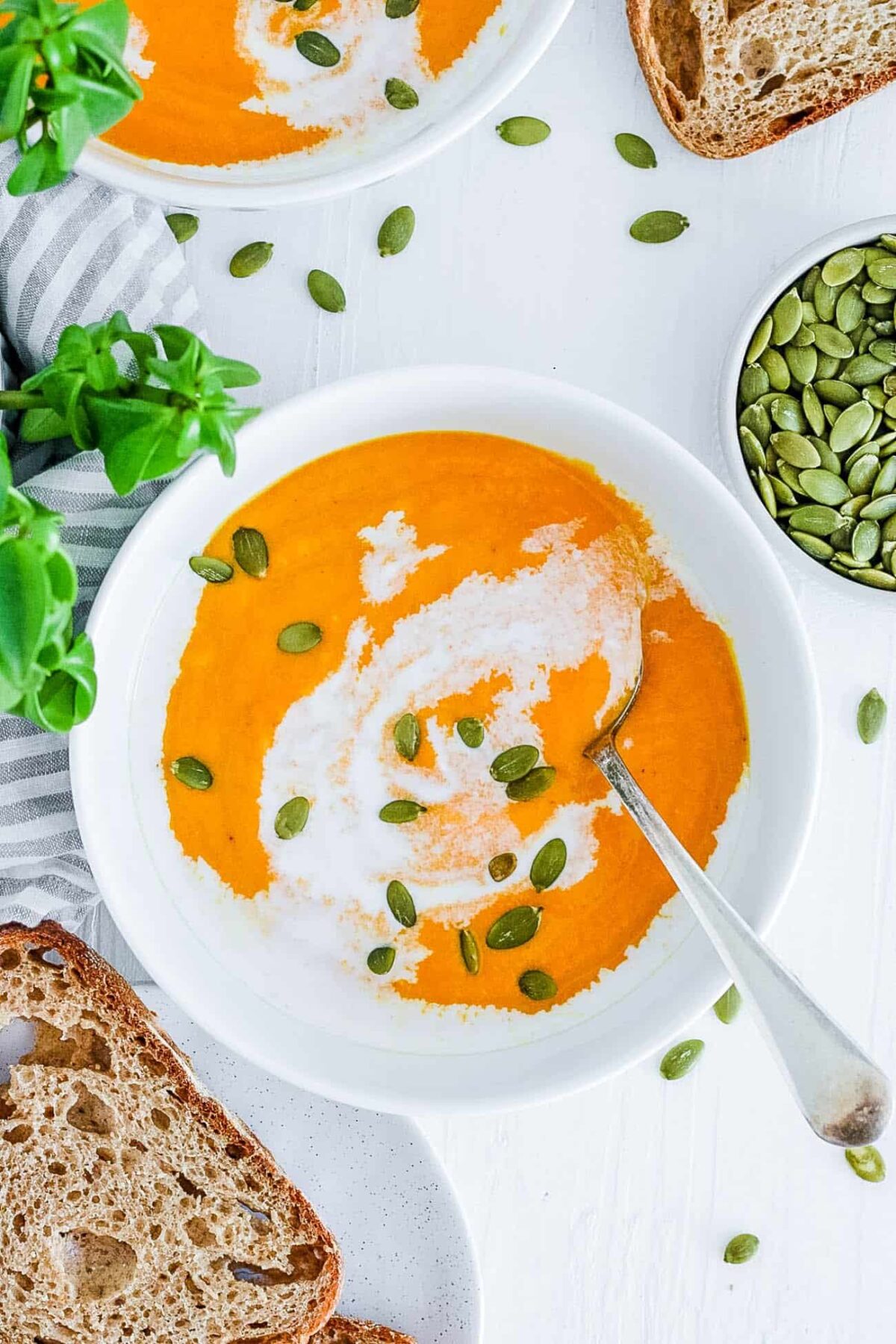 Calories: 172 – Fiber: 4.4g – Protein: 3.3g
This bright vegan soup is a burst of flavor, making it one of the most exciting and light soups. It's the perfect combination of sweet and spicy for a lovely evening or lunch with friends!
If your family is anything like mine, they eat with their eyes. This bright soup easily draws them to the table to enjoy a bowl or more!
The surprise ingredient of this dish is a banana! It brings natural sweetness and creaminess to the soup while creating complex and wonderful flavors.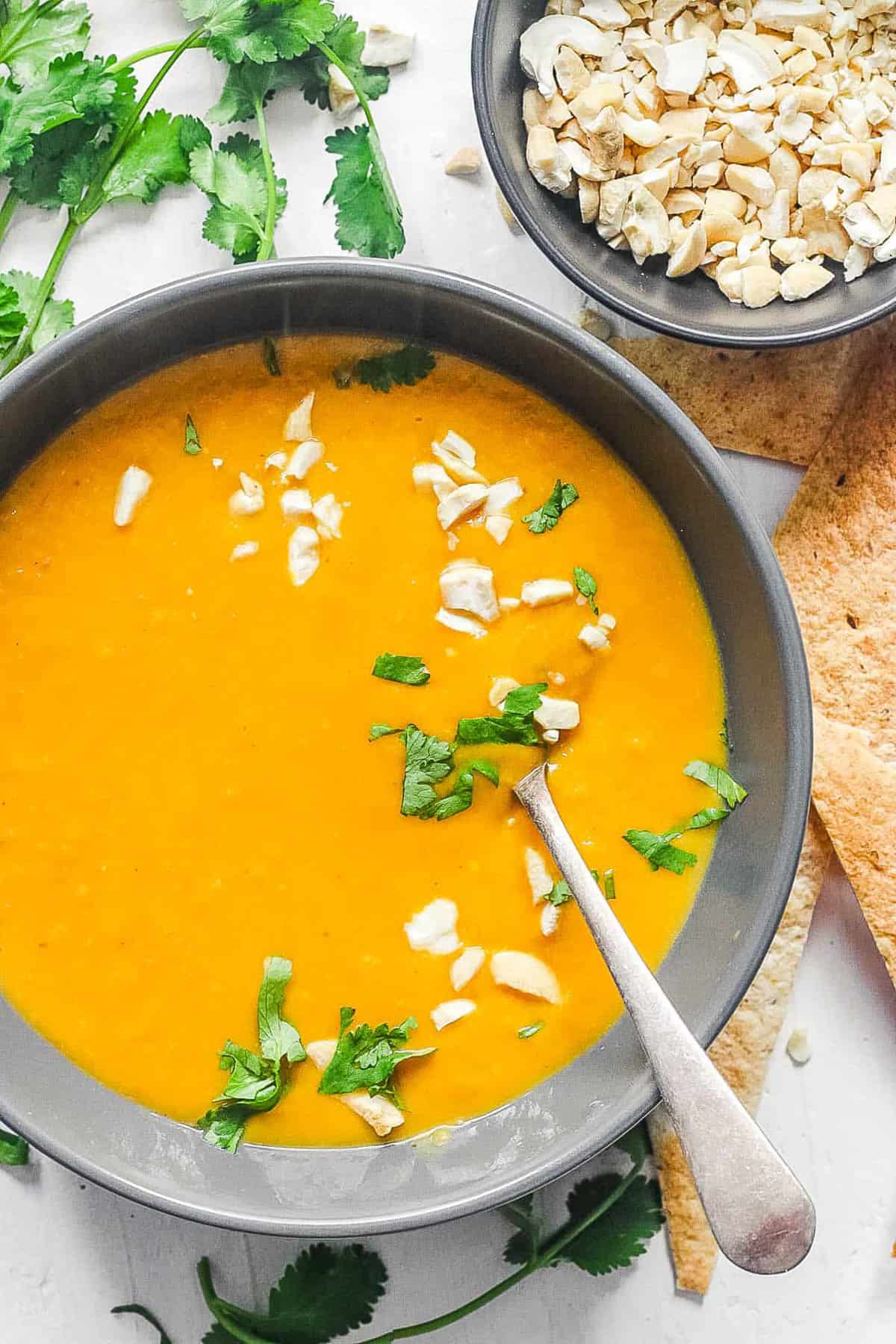 Calories: 260 – Fiber: 9g – Protein: 10g
Fully pureed with an immersion blender or food processor, this is the ultimate creamy vegetable soup. As one of our family's prized hearty vegan soup recipes, the creamy flavor that this butternut squash adds is unbeatable.
If you like the flavor of curry and the buttery goodness of butternut squash, this soup will hit the spot. This creamy delight cooks in just one pot, so this soup is perfect even for novice cooks!
This vegan winter soup recipe wins in brevity and makes a load of tastiness. While it only takes 30 minutes, the warmth of the ginger and curry powder creates a go-to fall dish.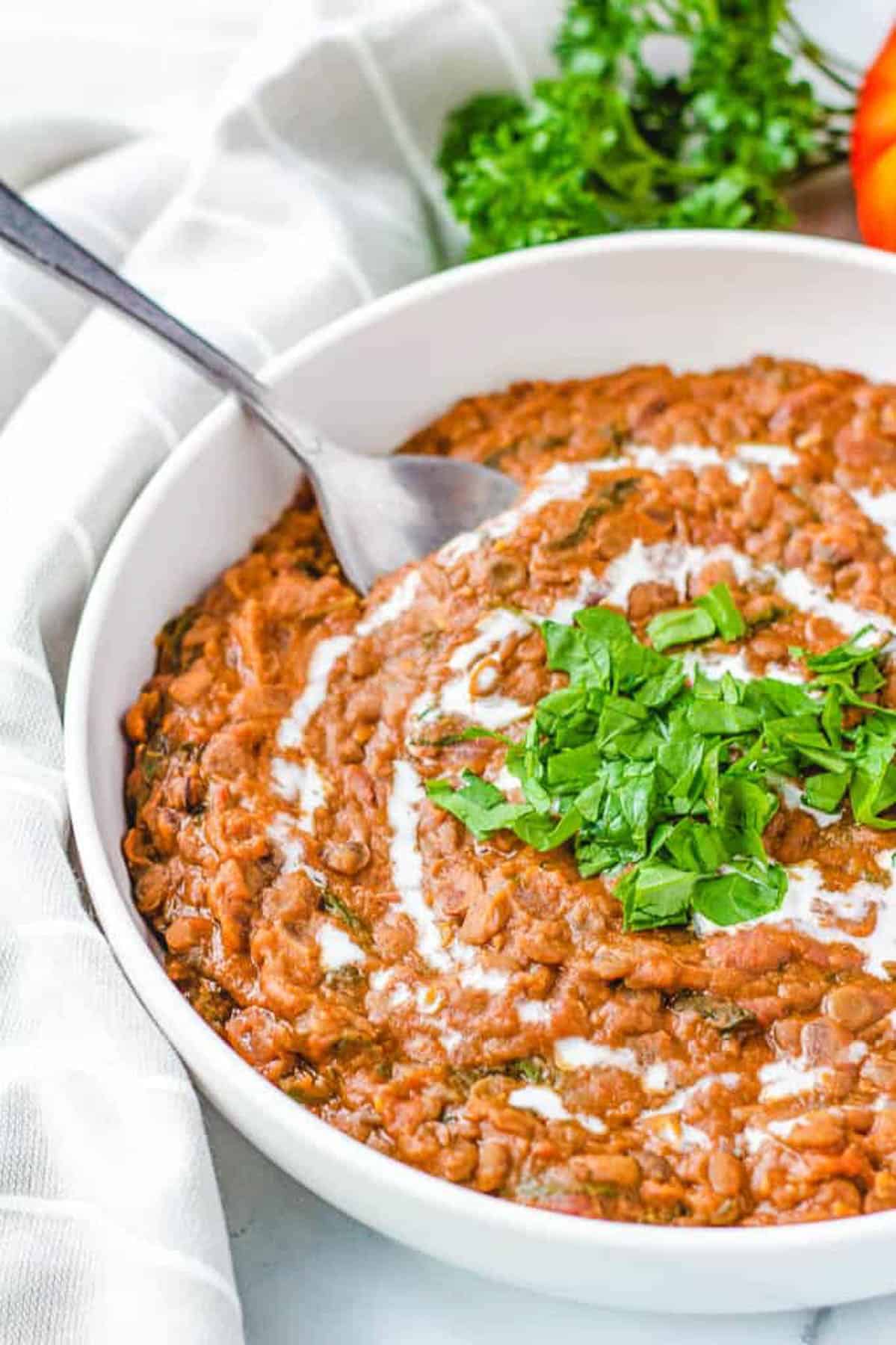 Calories: 201 – Fiber: 14.2g – Protein: 11.9g
Don't let the beauty of this dal makhani fool you. You can make this comforting and hearty meal in your own home!
This recipe takes all the beautiful parts of a traditional dal makhani and then makes it vegan-friendly and full of nutrition. The chopped spinach, kidney beans, and lentils load this meal with fiber and protein.
You won't miss out on any creaminess of a usual dal makhani because the creamy coconut milk in this recipe is just as satisfying. This pressure cooker recipe steeps the spices and herbs to a new level, leaving you with a flavor to relish. It's great for the winter months, but also delicious any time of year!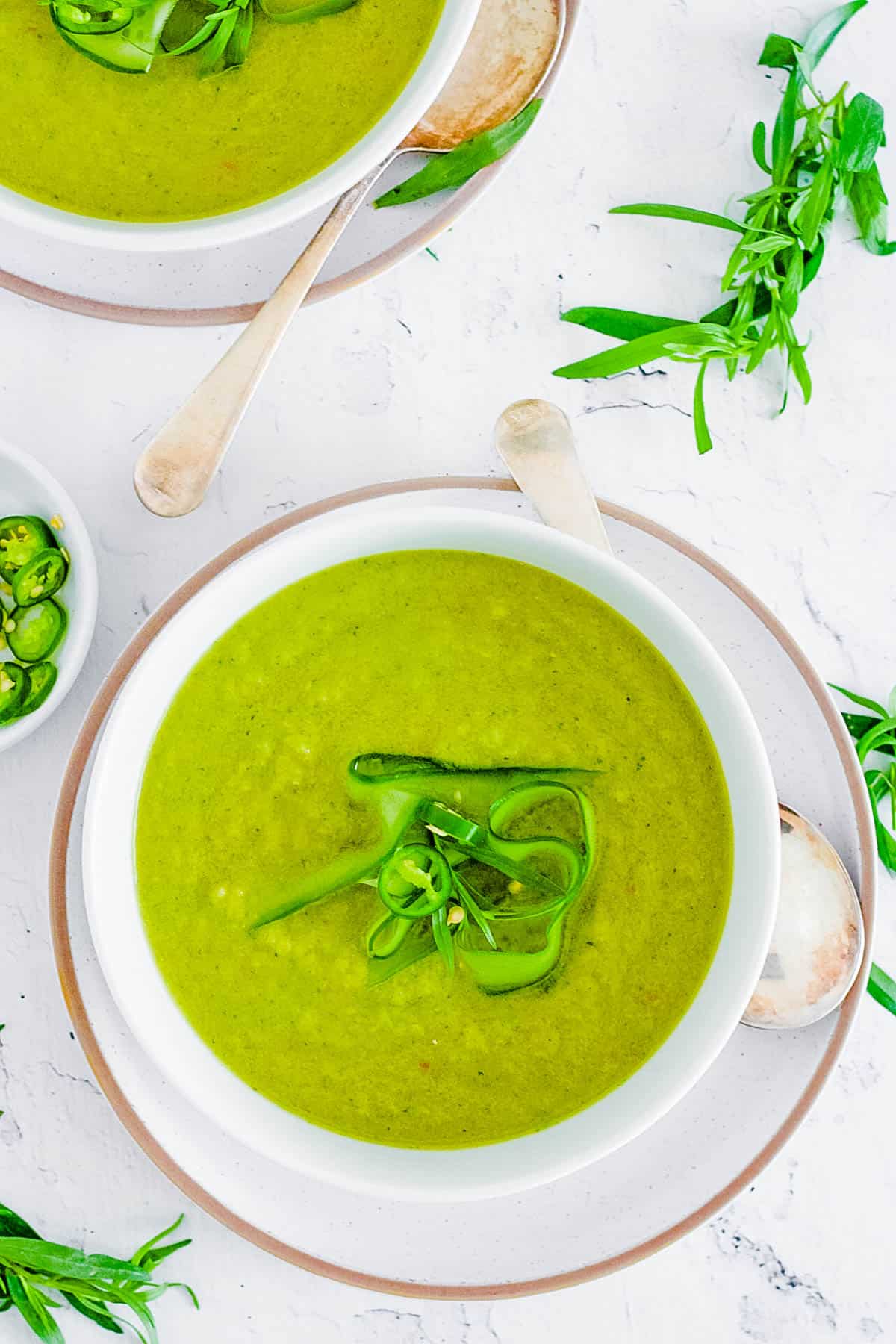 Calories: 91 – Fiber: 2.5g – Protein: 1.8g
This vegan pureed soup recipe is a vibrant addition to any table. Fresh veggies keep this soup bright and luscious. It's a favorite soup of mine because it's craveable in all seasons!
If you're in the midst of soup season and need a lighter soup to complement your days, this dish is a great pick. The cucumber and mint give the soup a cooling taste while the garlic and serrano keep the soup savory and zippy.
This easy meal can be served any time of the year and is ready in under 30 minutes. Its bright color and smooth composition elevate this cool soup for any potluck or family dinner.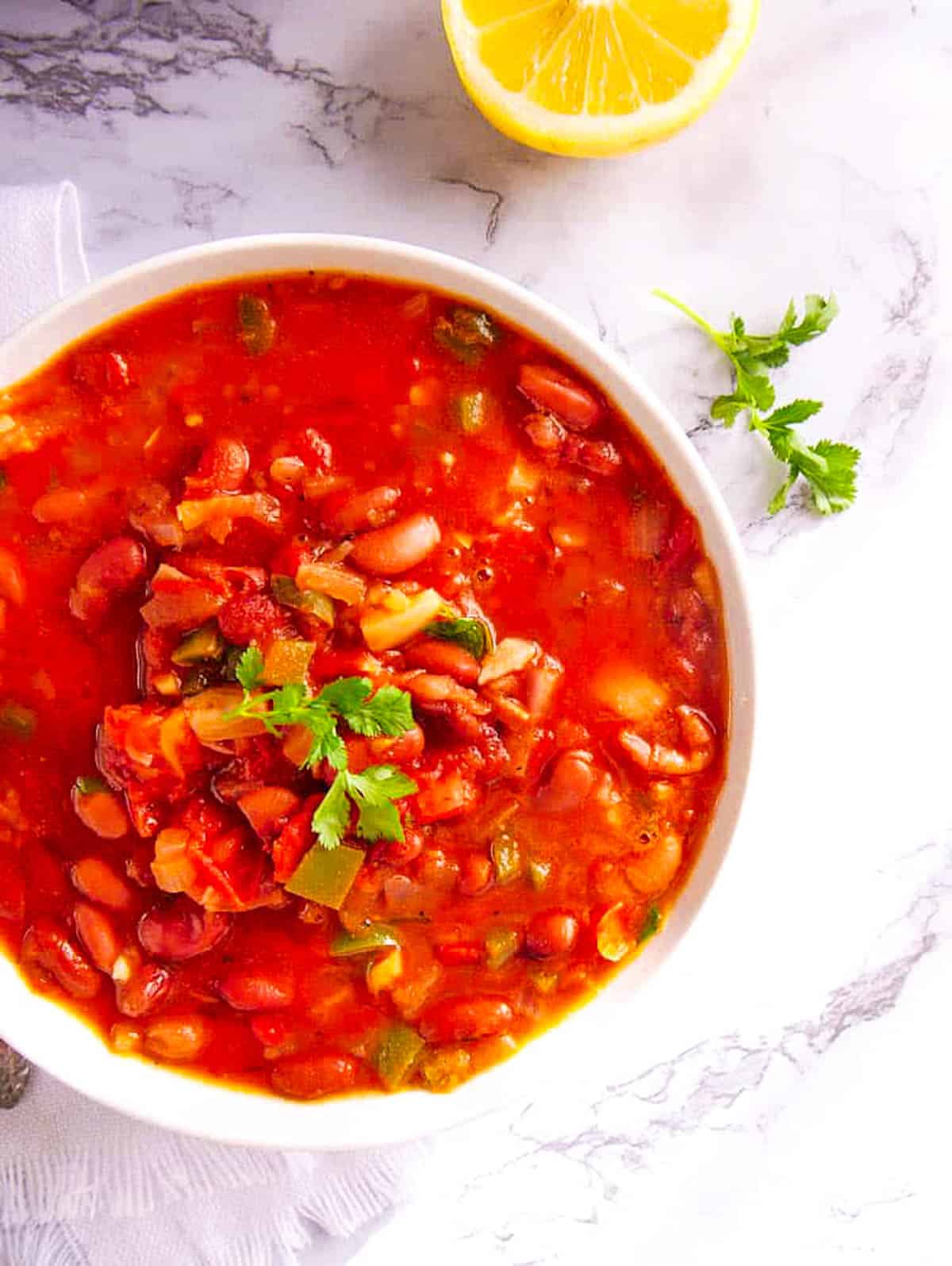 Calories: 258 – Fiber: 13g – Protein: 14g
Rajma masala is a vegan vegetable soup and a delightful kidney bean palooza. This dish can be the perfect comfort food after a long day.
This kidney bean soup is loaded with plant-based protein and its rich tomato broth is an easy score for the kids. This soup is both vegan and gluten-free, making it a great pick for visitors with food preferences.
Although it's already a one-pot stew, it can be made even simpler by following the Instant Pot instructions for extra busy evenings. This recipe uses all of the traditional flavors without the butter and cream.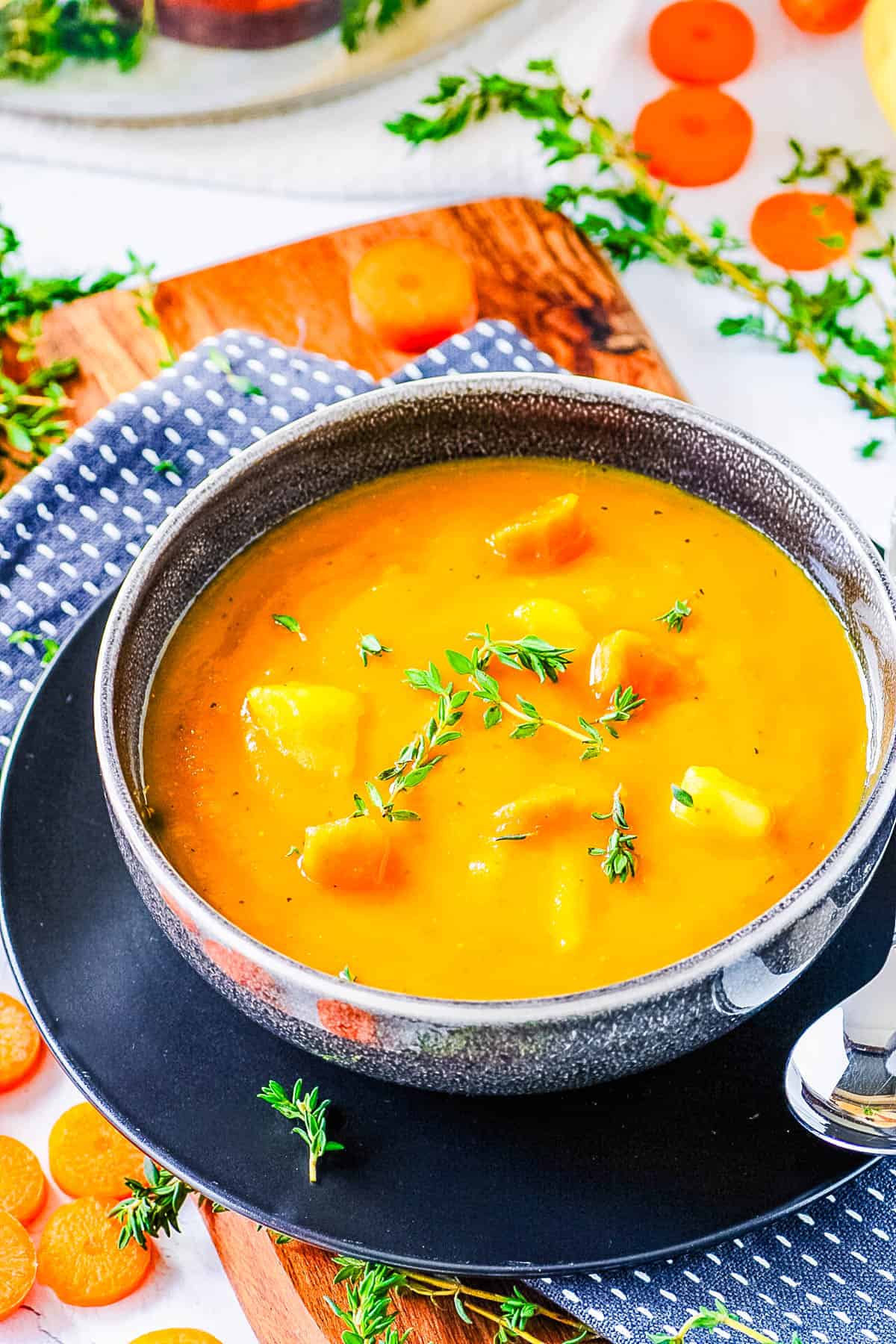 Calories: 139 – Fiber: 3g – Protein: 3g
Filled with hearty root vegetables and white beans, this vegan vegetable soup can be a quick go-to on a rushed evening. Its simple ingredients welcome all to the table!
Classics like carrots and potatoes make this soup palatable for the whole spectrum of eaters. Plus, this dish is also super versatile so you can leave out different toppings according to different needs.
The Italian seasoning makes this soup pair great as an appetizer or as a whole meal. There's no need to soak your potatoes before cooking, which decreases the overall cooking time for this savory meal.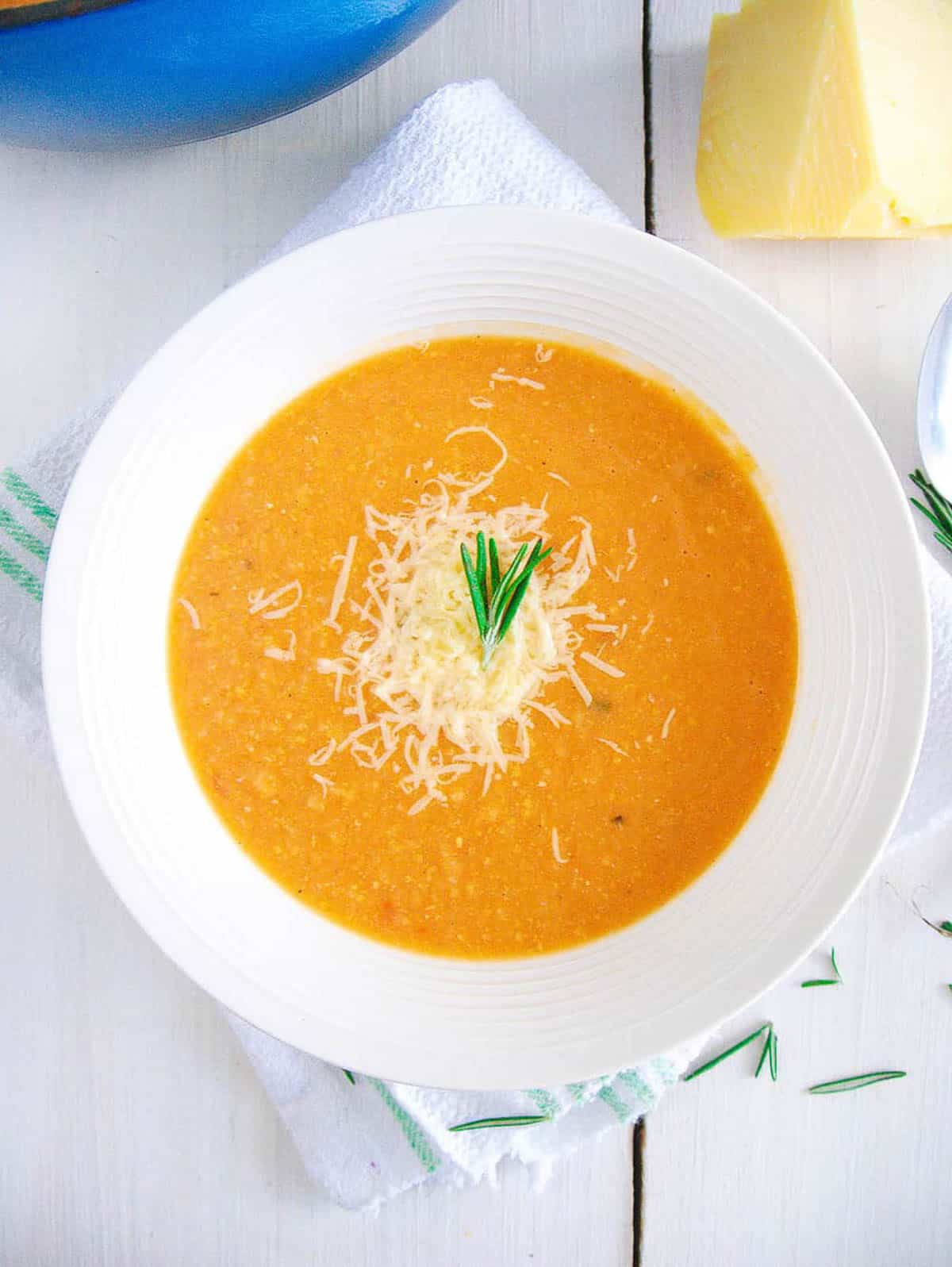 Calories: 286.5 – Fiber: 9.8g – Protein: 14g
This creamy plant based soup cooks up in the Dutch oven, making your kitchen smell incredible as you do! This plant-based soup recipe brings me back to soups that I enjoyed on a vacation in Tuscany and fills me with sweet memories and a nourished stomach.
A mild flavor and smooth consistency make this soup a beloved dish with my kids. Because it's also gluten-free, it's a safe bet for any party or new-friend dinner.
This simple soup can be served alongside toasted sourdough or with roasted veggies. Made with protein-rich beans and vegetables, it also makes it a fulfilling meal on its own.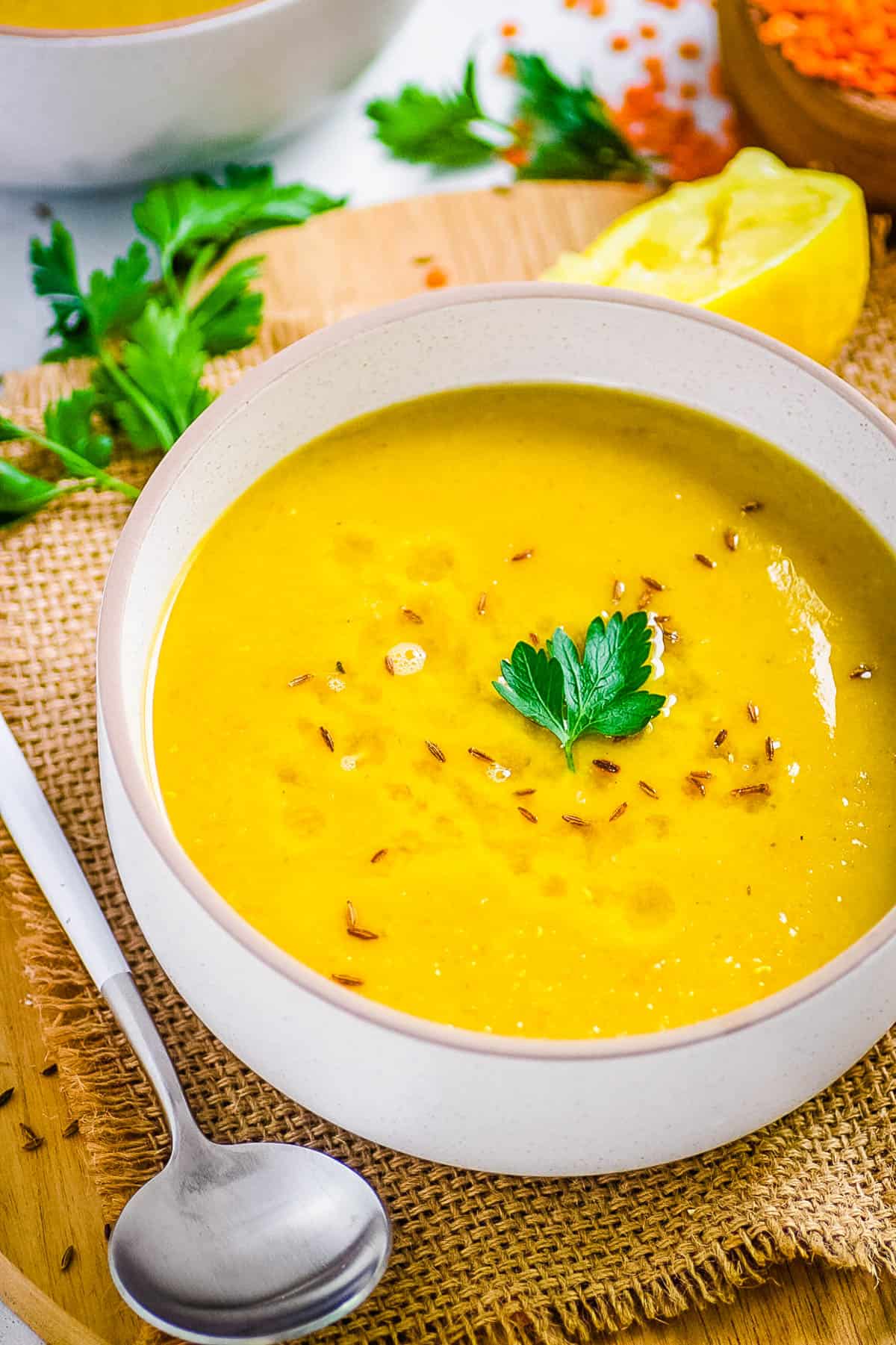 Calories: 284 – Fiber: 16g – Protein: 13g
This vegan & dairy free soup is packed with delicious filling flavor and fiber from red lentils! Its plant-based protein makes this a powerhouse soup.
This healthy meal is naturally gluten-free and packs a nutritional punch. It is great for meal prep, as the soup freezes well and can be ready to serve for the rest of the week.
This authentic Lebanese soup is ready in just 1 hour and uses only a few ingredients to create a breadth of flavor. The lemon juice gives a perfect acidic touch to brighten deep savory flavors.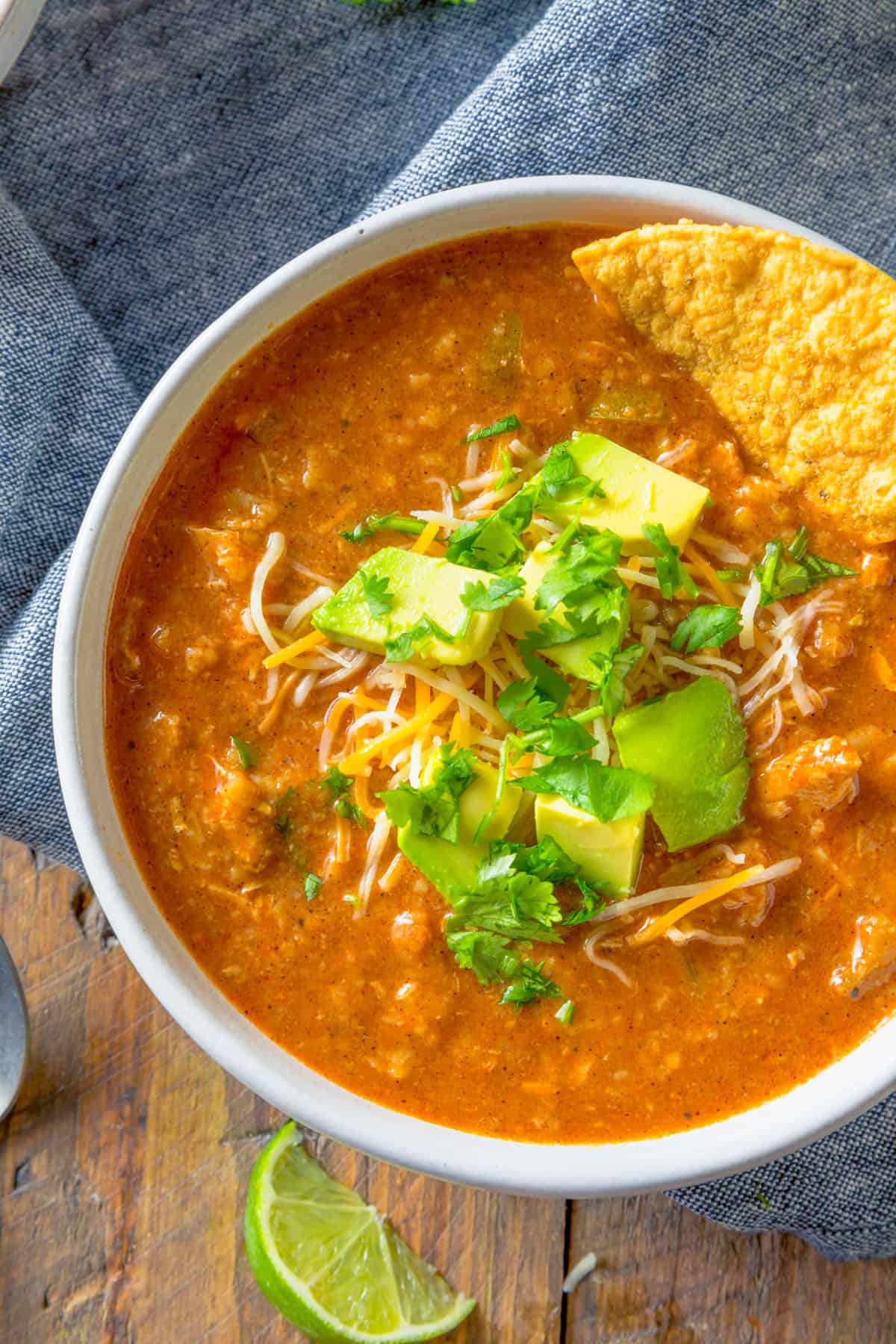 Calories: 248 – Fiber: 11.6g – Protein: 12.6g
When you're deep into soup season and you're craving some authentic Mexican flavors, this dish has your back. Best of all, this Mexican veggie soup uses ingredients you'll likely have in your pantry.
My sister-in-law got us hooked on this creamy, thick soup. The Mexican flavors are universally enjoyed by adults and kids alike. It's hard to go wrong with it!
This flavorful soup is a tasty way to add in any extra fresh veggies you may have in your fridge while providing loads of protein. Its fun toppings, like fresh cilantro or tortilla chips, allow everyone to craft their own specialized bowl.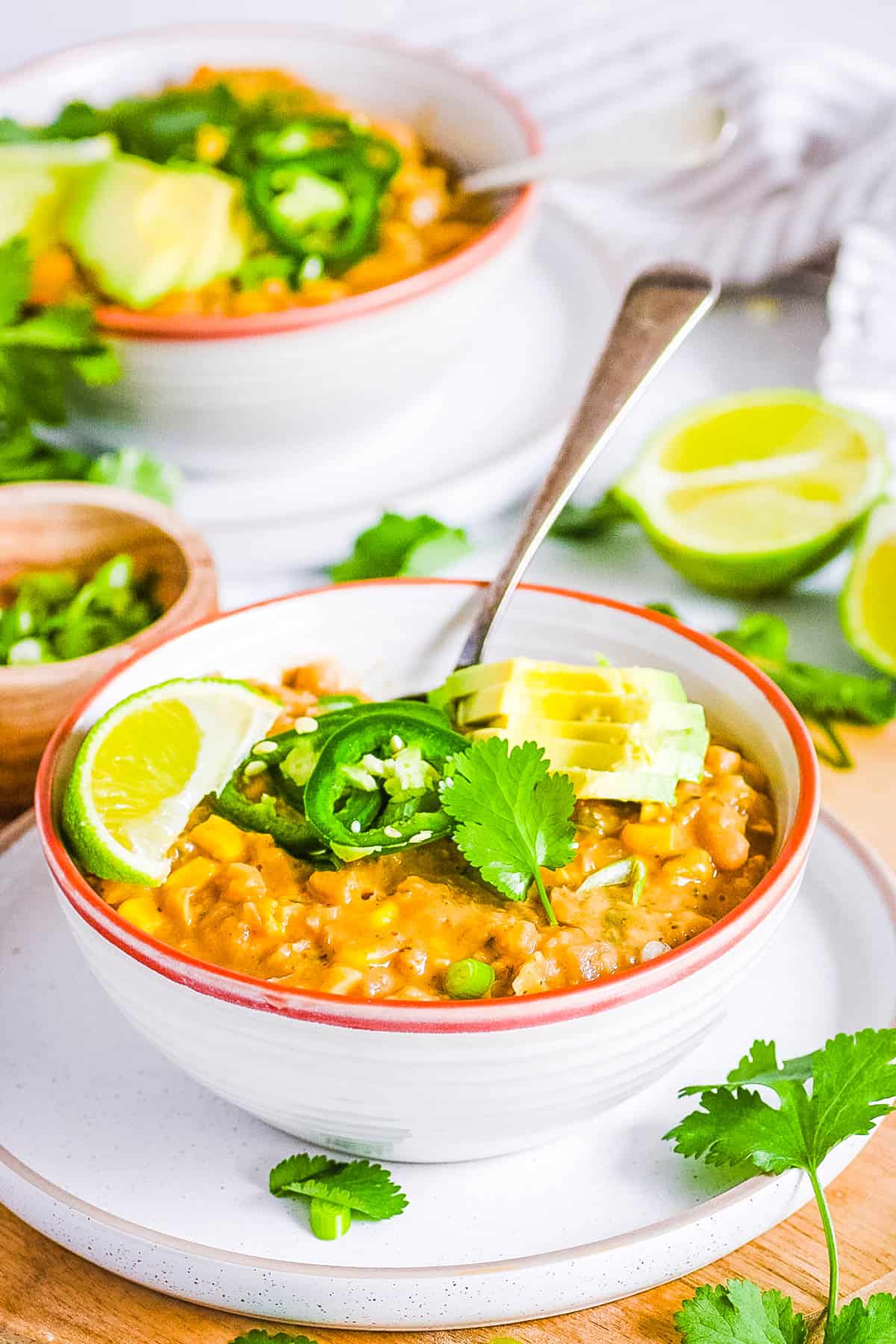 Calories: 273 – Fiber: 9g – Protein: 11g
This white bean soup can easily be cooked in a slow cooker with no fuss! It packs medium heat with an added jalapeno, making it the ultimate hearty and mildly spicy soup.
Vegan white bean chili is easy to make, freezes great, and is kid-friendly. It is a meatless chili that is great any time of year but really shines on cool autumn evenings.
This vegan & vegetarian soup recipe is ready in less than 40 minutes and tastes even better the day after! Its spices continue to combine and the soup is infused with flavor, making it fantastic for meal prep!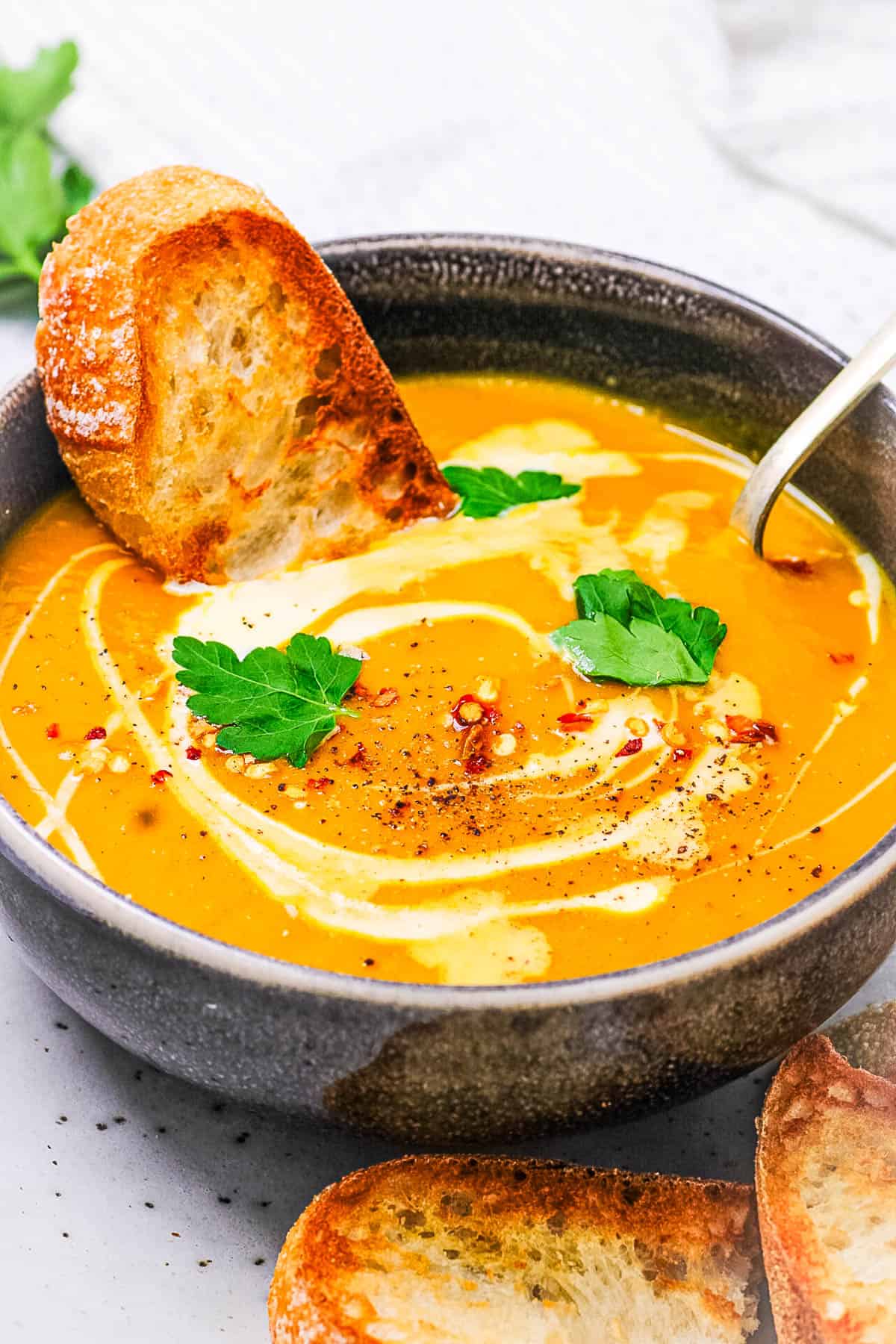 Calories: 120 – Fiber: 3g – Protein: 3g
No cream? No butter? You won't believe it when you taste this sumptuous soup. With just a yellow onion, sweet potatoes, and less than 7 other ingredients, you're on your way to flavor town!
If you're a fan of spice, then this soup is for you! You can easily omit the red pepper flakes, or you can double it, making it easy to adapt to your family's preferences.
Ready in 35 minutes, this healthy vegetarian Indian recipe will not disappoint. The heat will warm you up as you enjoy this gluten-free and low-carb soup.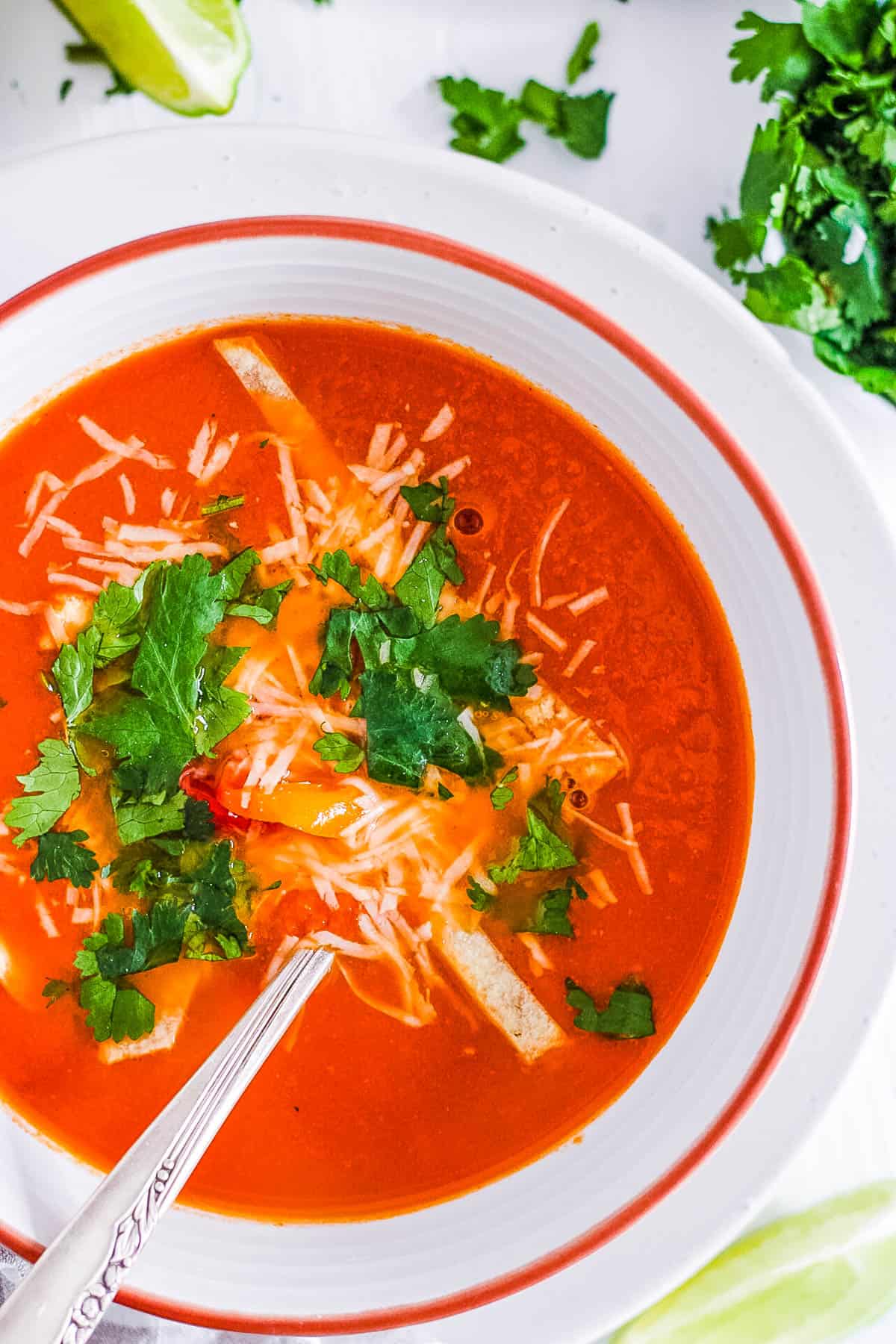 Calories: 219 – Fiber: 7g – Protein: 7g
This is one the best vegetarian soups, though it is also can easily become a vegan soup: simply omit the cotija cheese or substitute nutritional yeast for it!
This one-pot soup is also gluten-free and low in calories. Skip the cayenne to make this easy vegan soup recipe kid-friendly or increase the cayenne for a spicy soup adults will love!
This hearty soup can serve as a main dish with loads of optional toppings. Serve alongside another side dish or add some beans for a heftier soup.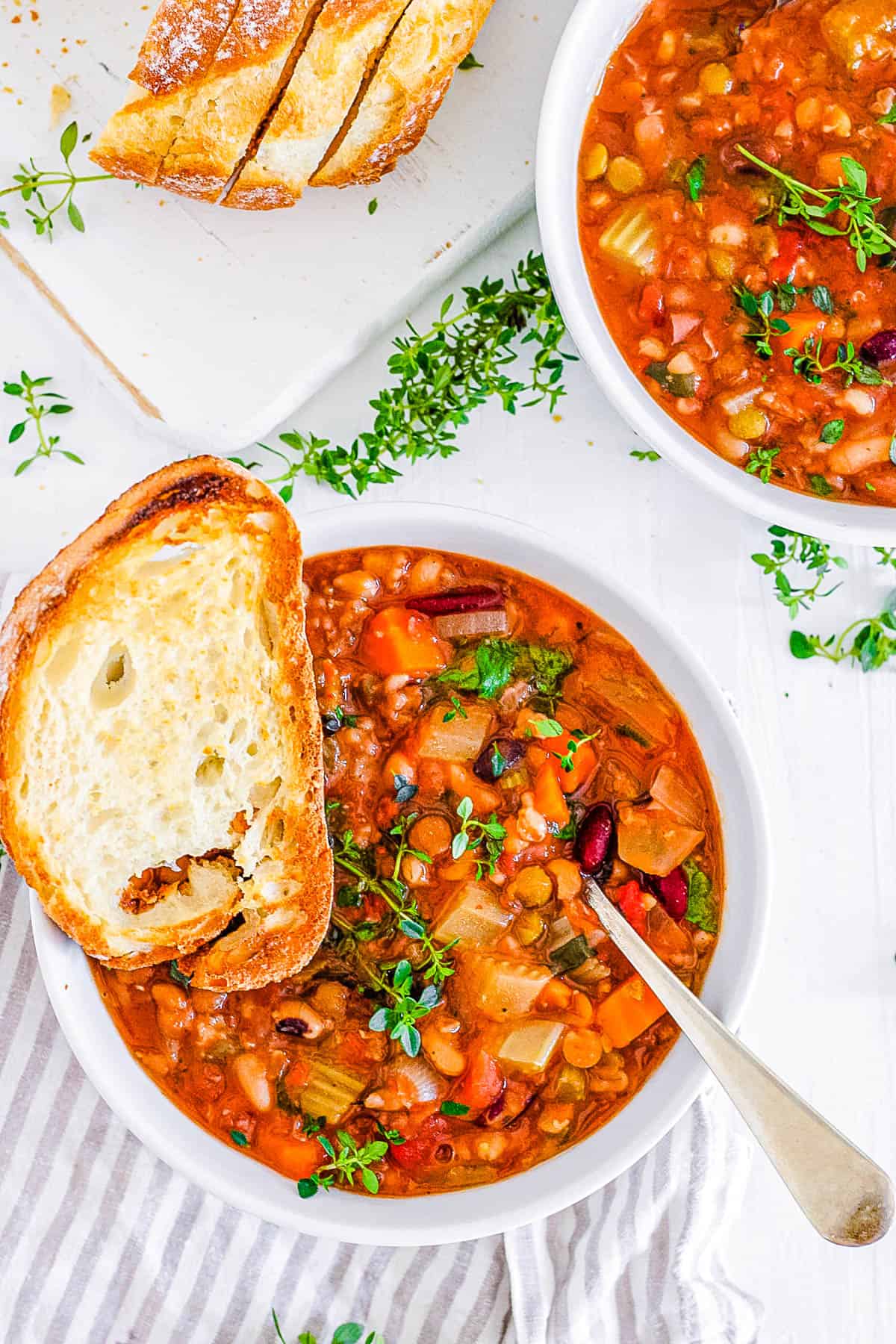 Calories: 273 – Fiber: 9g – Protein: 11g
15 Bean Soup in a Crock Pot is a simple vegan soup with savory flavors you do not want to miss out on. Fava beans, black beans, kidney beans, pinto beans, navy beans, all the beans!
This budget-friendly healthy soup does not skimp on any flavor or nutrients. It will fill you up with veggies and beans and leave you satisfied. Bean soup also reheats like a charm, making it great for meal prep!
This bean combo is one of our favorite vegan soup recipes for a reason; all the bean variety without all of the work. This crockpot recipe can help save some time and money!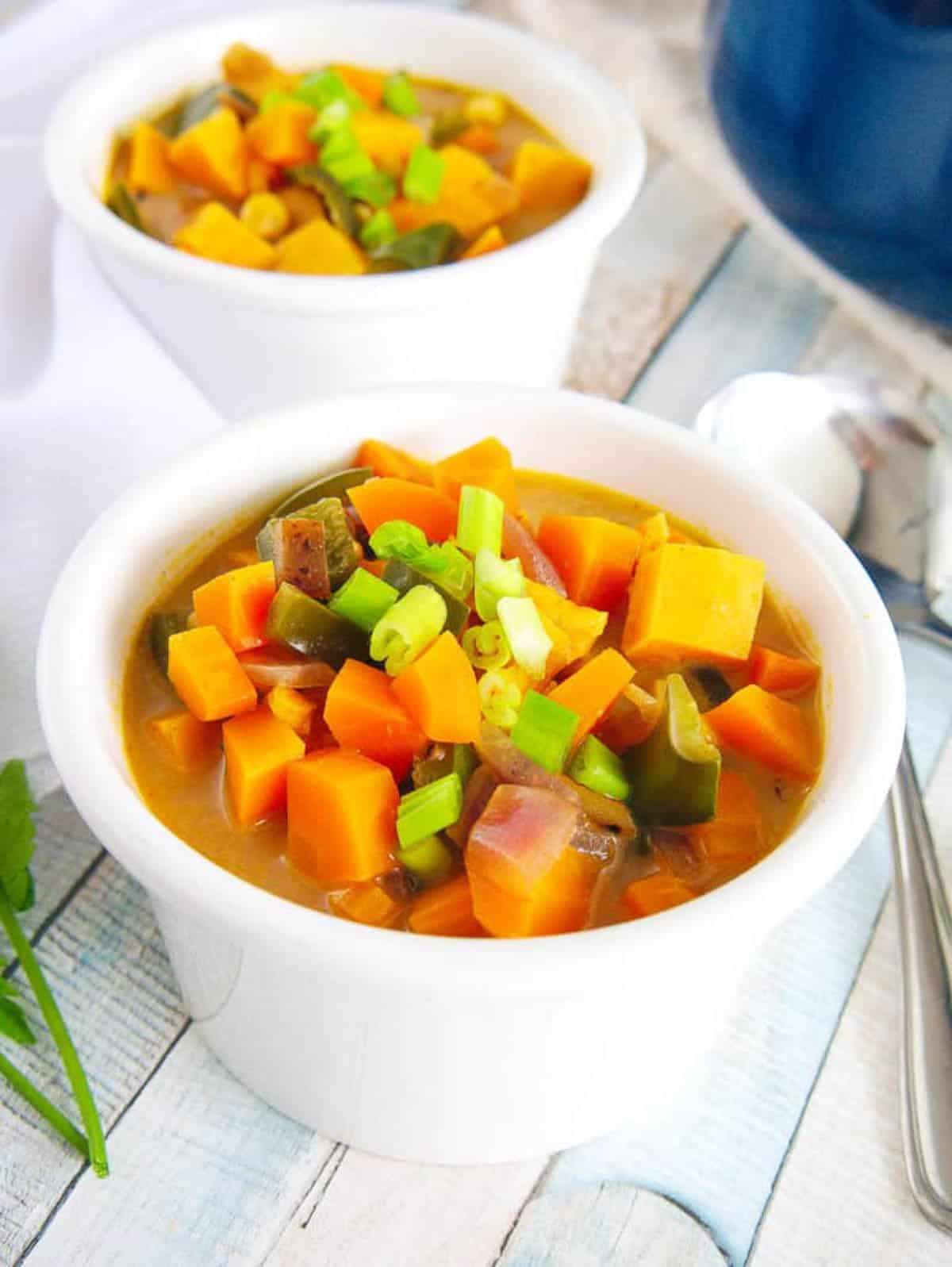 Calories: 207 – Fiber: 10.4g – Protein: 9.7g
Butternut squash chili is a velvety stew that utilizes a handful of delectable herbs and smoked paprika to give this cozy dairy-free soup a delightful edge.
This soup takes just over 1 hour and does not disappoint. My kids are obsessed with this soup, and I'm so glad because it's filled with plant protein and fiber.
This chili is also slow-cooker and Instant Pot-friendly and all of the ingredients can easily be found at your local grocery store. It's a must have on your list of vegan stews and soups to try!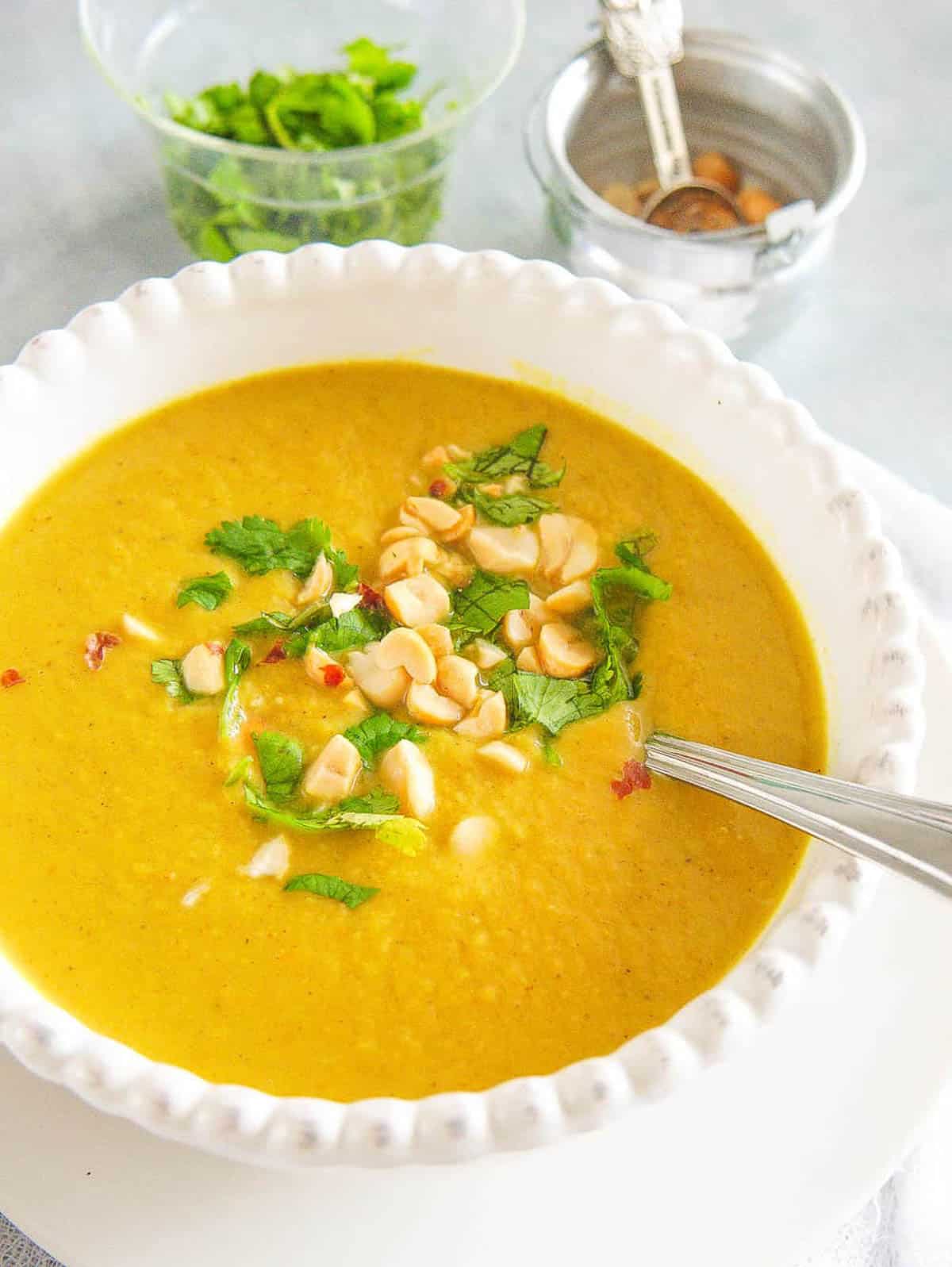 Calories: 58.1 – Fiber: 2.5g – Protein: 2.3g
This spicy cauliflower soup with curry is a smooth and creamy easy vegan soup soup that is brightened with fresh herbs. It has loads of flavor and utilizes a whole head of cauliflower!
Enjoy a dairy-free soup in just 30 minutes with only 58 calories per cup. Its spicy luscious flavor will keep you coming back for more!
The cauliflower adds scrumptious fiber and the coconut milk creates a thick and cozy broth to enjoy. For more protein, simply add a can of beans!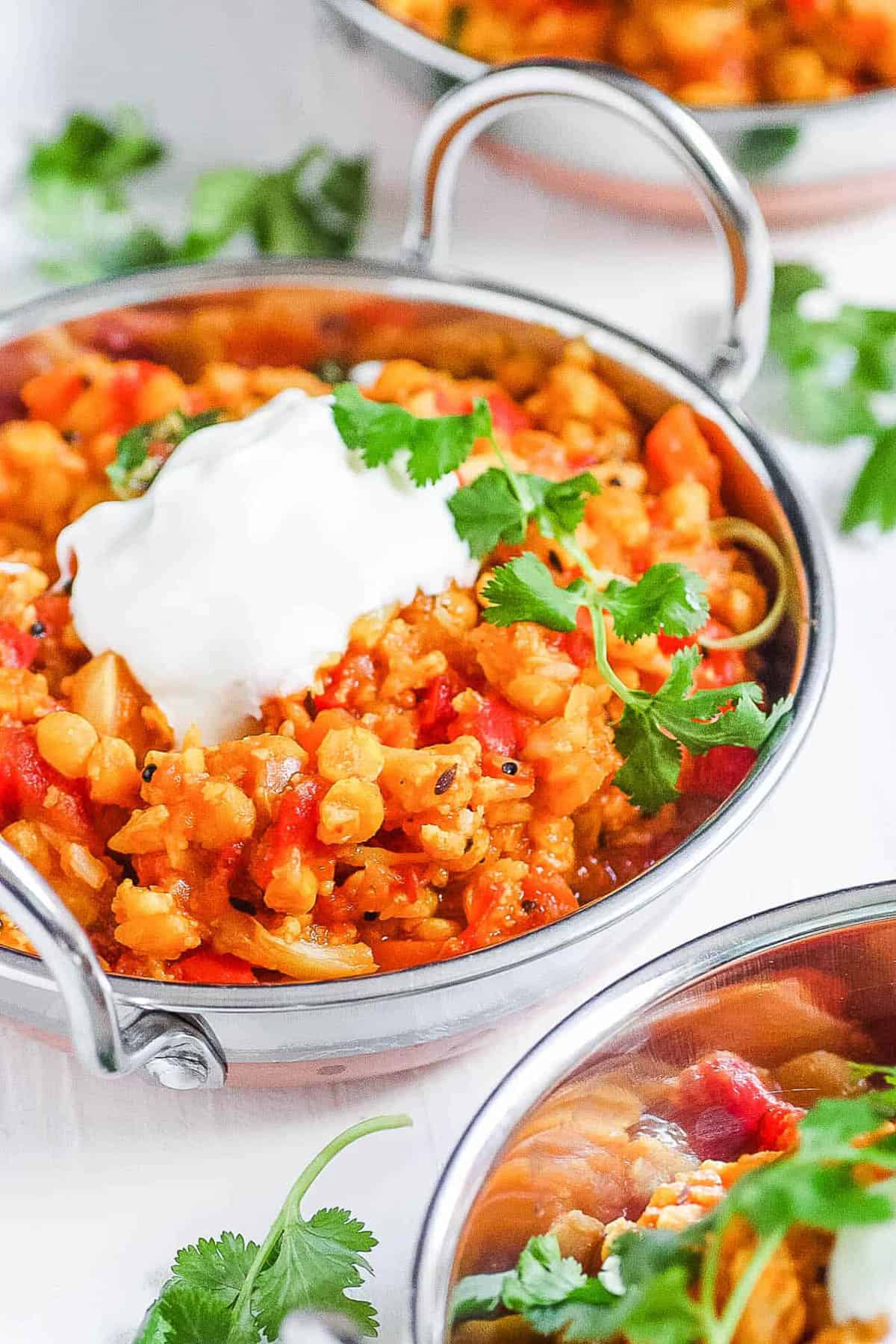 Calories: 135– Fiber: 6.5g – Protein: 7.8g
This Instant Pot Dal is ideal for batch making and meal prep, and you'll have certainty you're getting all of the right nutrients in. This will surely keep bellies full and satisfied.
Meat eaters won't miss a beat. This dal is packed with protein and veggies that add to a scrumptious texture.
It utilizes lentils and fresh veggies and is packed with flavors, which can all be plopped into an Instant Pot. Substitute the curry powder for an equivalent amount of red curry paste for an extra zing!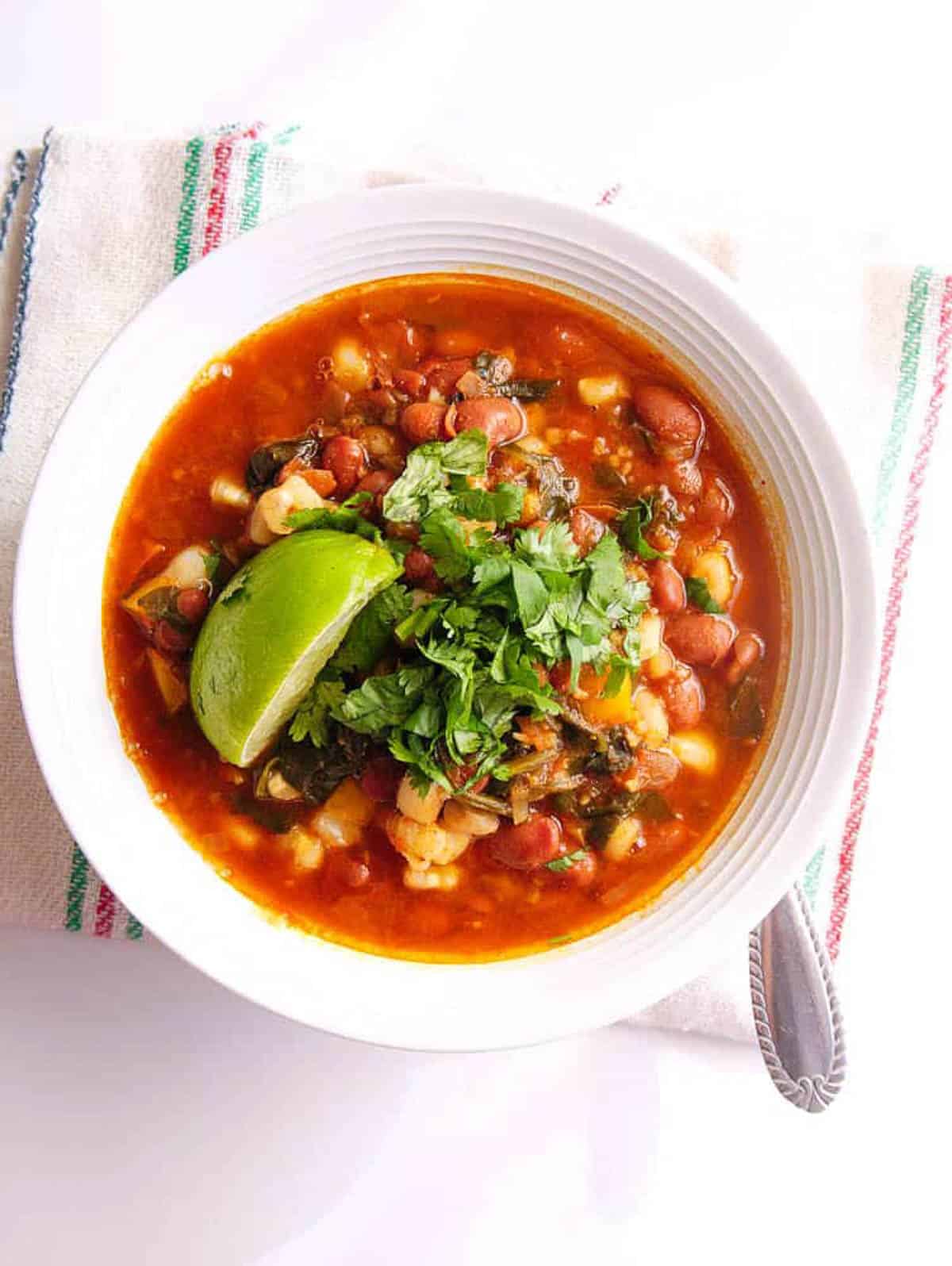 Calories: 207 – Fiber: 8g – Protein: 8g
Vegan pozole with pinto beans is a simple recipe that can quickly turn a handful of ingredients into a perfect bowl of soup to welcome the chilly breezes of fall. A true taste of home in just 30 minutes.
This pinto bean pozole omits the pork and keeps the warm feeling while you enjoy it! It can be easily customized and can be the perfect dish for the holiday season.
Save time and hassle by making this heart dish in the Instant Pot. Additionally, the veggies in this recipe are interchangeable so can utilize what you have in your fridge.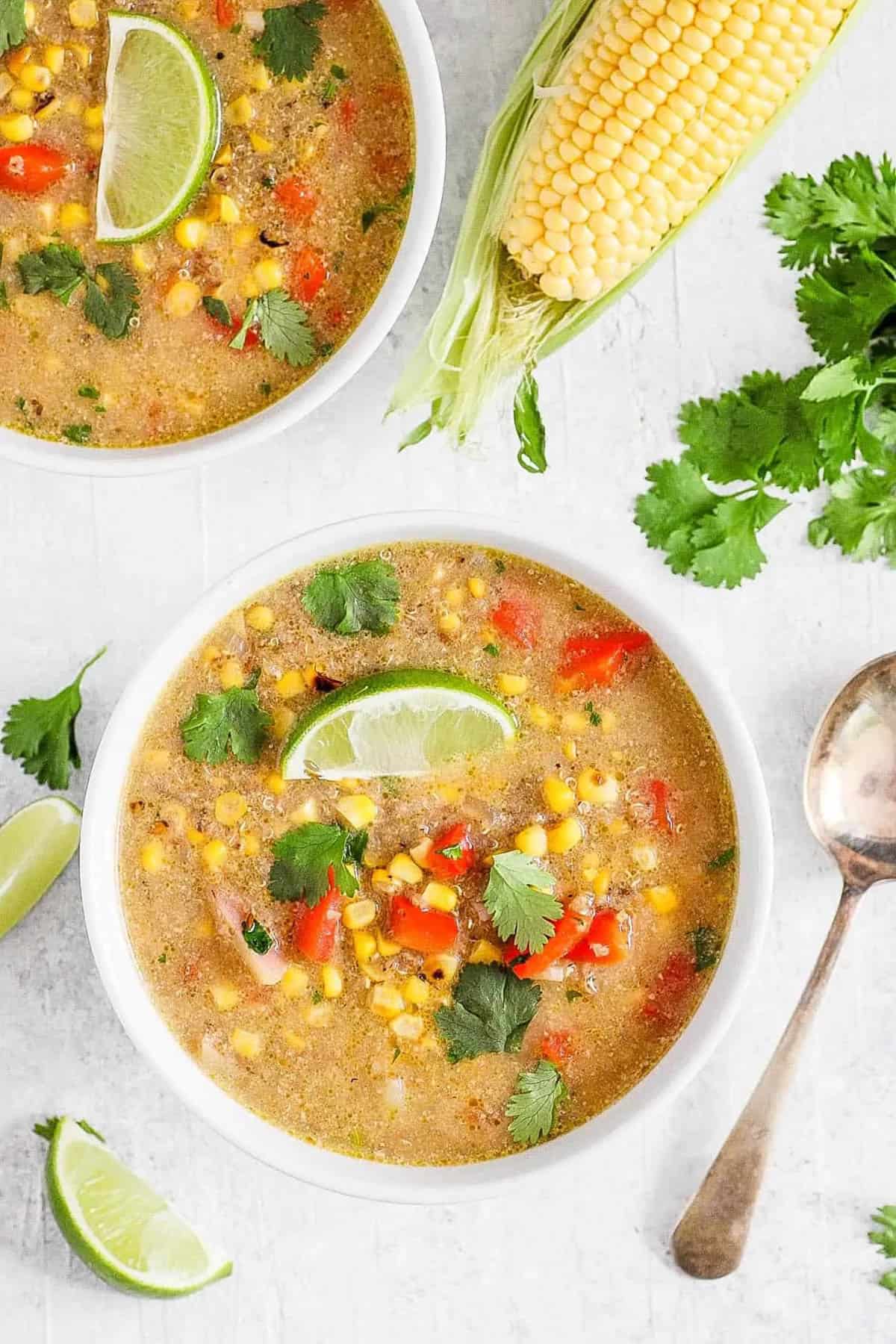 Calories: 253 – Fiber: 5g – Protein: 8g
Homemade chowder? Yes, please. This vegan corn chowder is surprisingly simple to make and will satiate everyone who partakes.
My family gobbles up bowls of this chowder because it is that good. Plus, this soup is so creamy and rich that no one will ever guess that it is dairy-free!
Friends claim it as one of the best vegan soup recipes and it takes only 30 minutes to make. This healthy chowder is a breeze to cook and is always a hit.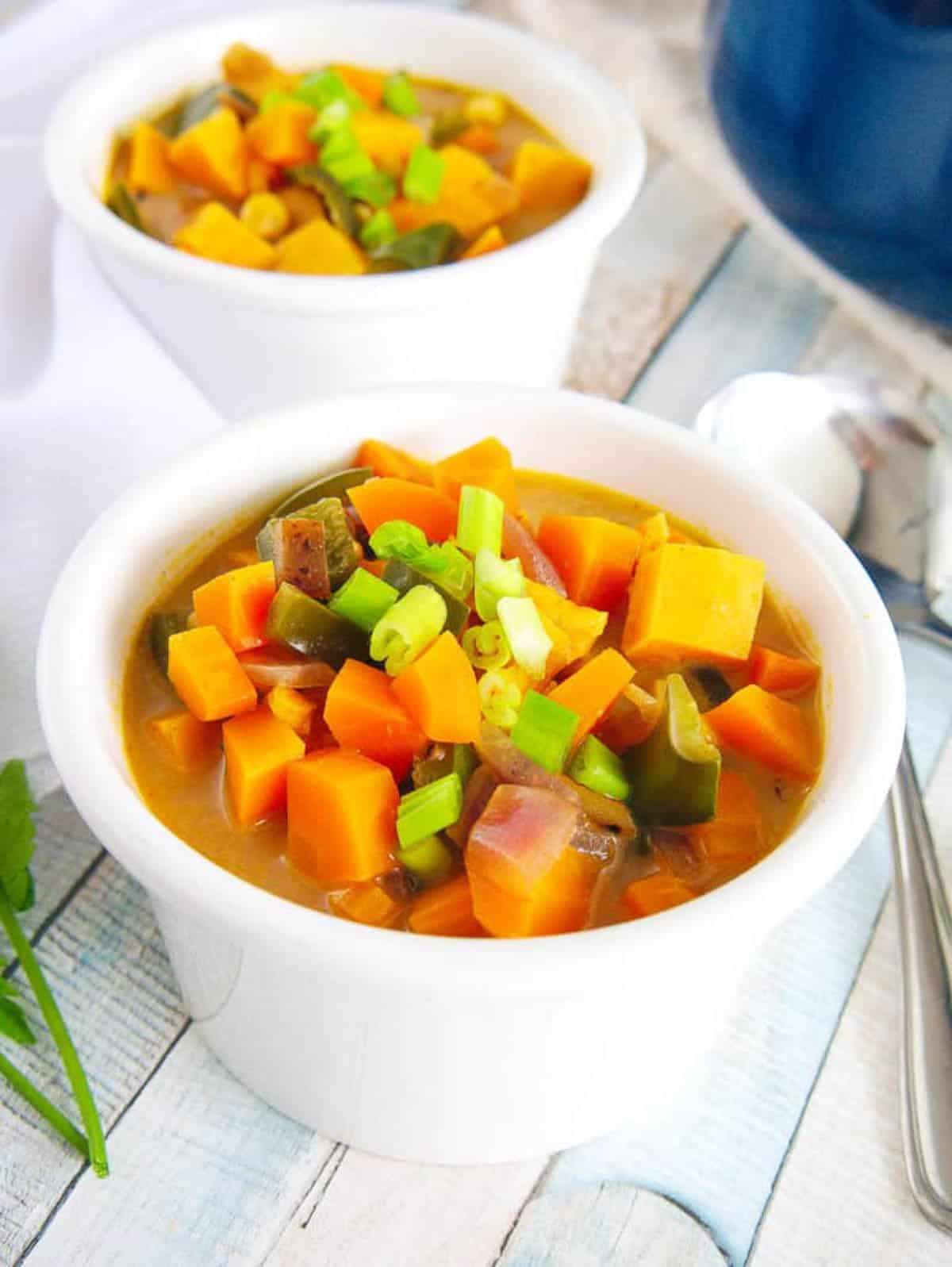 Calories: 100 – Fiber: 2g – Protein: 1.4g
With a poblano bang, this unorthodox pairing is a hit! This dish includes tofu to make it a filling meal or an impressive appetizer.
Using crushed red peppers for a scrumptious kick, the Thai and Mexican flavors develop into a colorful soup with delicious flavor. Beware of its spice but be ready to appreciate the exciting aromas.
If you're looking for a new flavor combination that can still bring you comfort, this will impress your taste buds. A tasty heart-healthy soup and worth the try!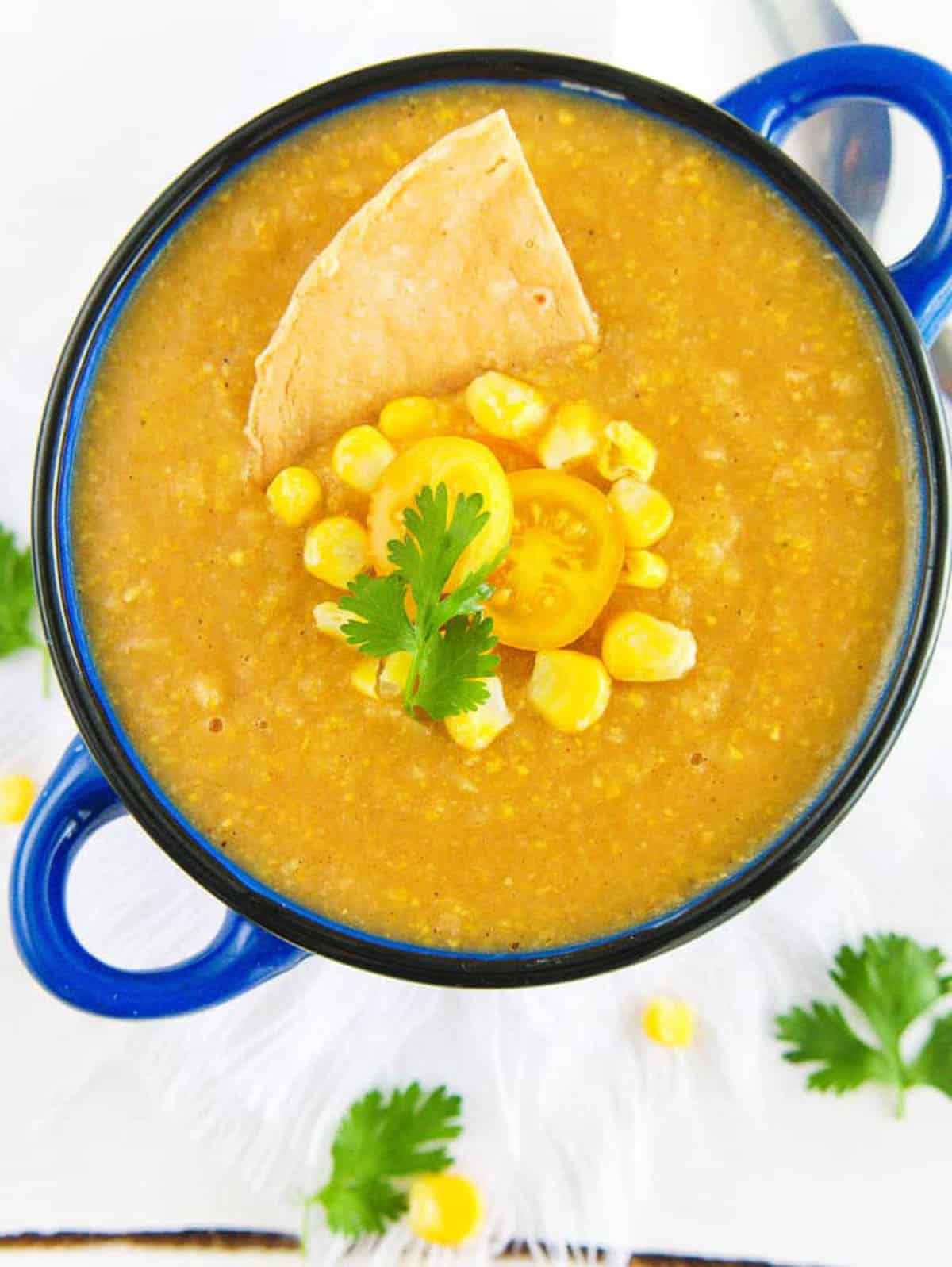 Calories: 128.7 – Fiber: 4.2g – Protein: 4.1g
Who knew you could get so much flavor in under 30 minutes? Utilize the fresh seasonal ingredients and have a flavor blast to enjoy with even the pickiest friends or family.
Let the kids enjoy the soup spice-free by adding the cayenne pepper and chili powder after scooping out a bowl or two for the kids. Its gluten-free ingredients welcome everyone to the table.
The creamy corn soup omits dairy and uses potatoes and vegetable broth to get all the creaminess without any heavy cream! It's a great spring vegan soup recipe, since you can make it when fresh corn is in season. Its warm herbs remind you of a traditional creamy corn soup but tastes even better!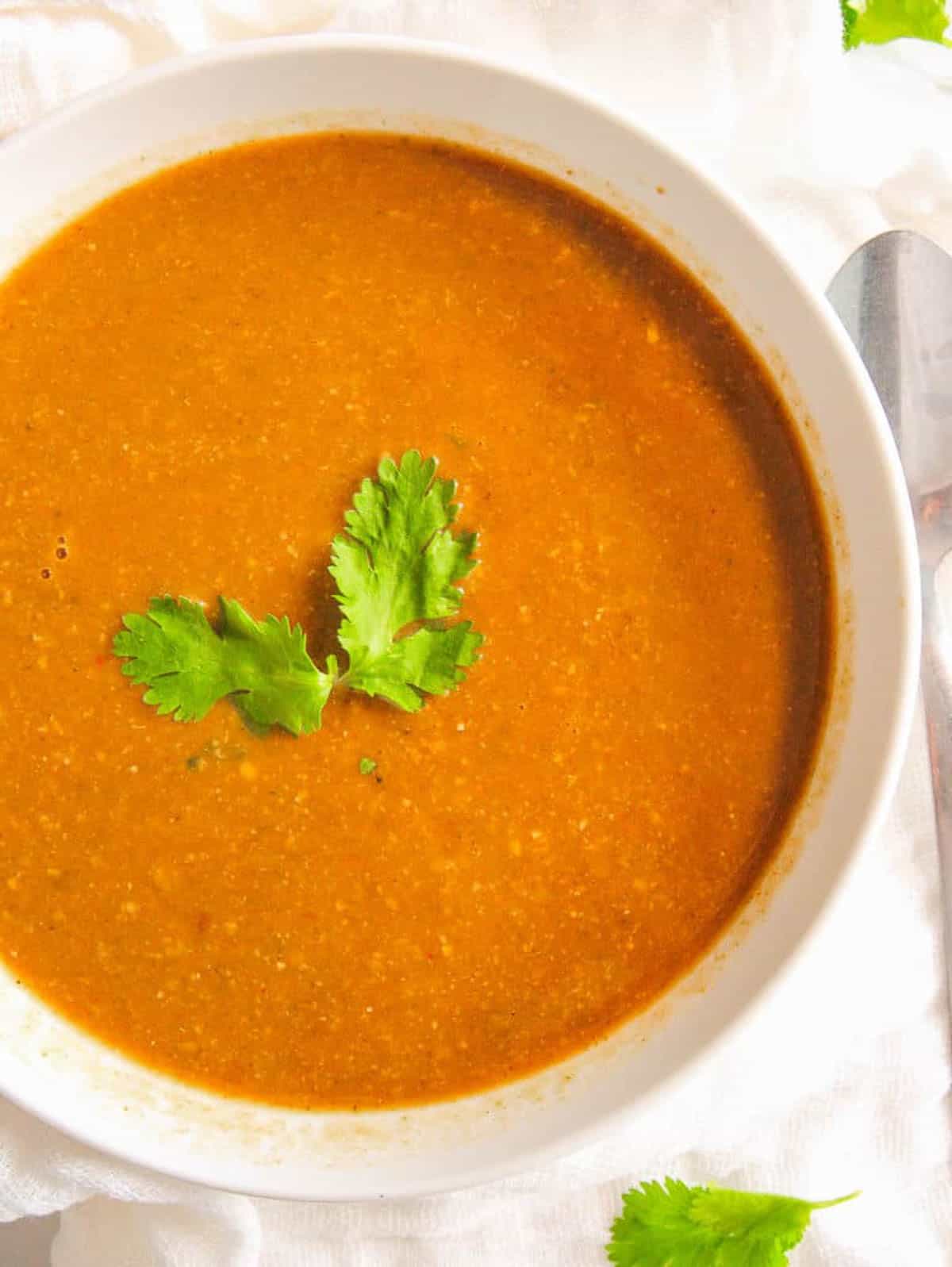 Calories: 300 – Fiber: 10.9g – Protein: 17.1g
Enjoy dimensional spices and complex and warming flavors in this deluxe Moroccan chickpea soup. This hearty meal is savory, zesty, and delicious.
Chickpeas are a great source of vitamin nutrients and will keep you feeling full for longer periods. The soup is also loaded with vegetables for plant-based protein.
An immersion blender helps create a smooth texture to taste all of the flavors in every bite. Its high fiber and satisfying ingredients make this vegan blended soup a nutritional win for our family.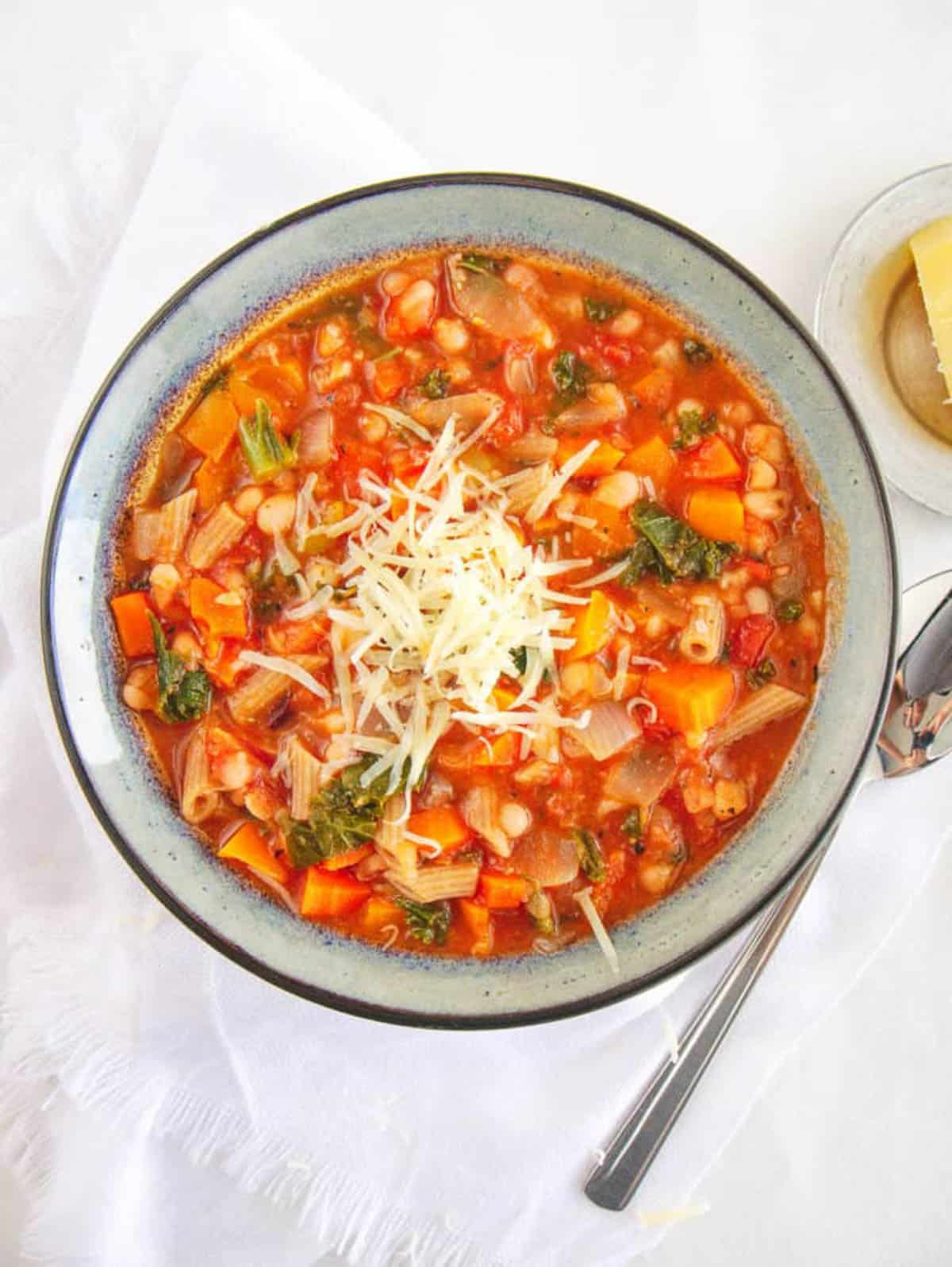 Calories: 288– Fiber: 15.1g – Protein: 15.1g
A soup with real gusto, you'll be wishing you had room for more! Make the recipe with the ingredients as listed or try out your own interpretation by using any veggies that you have on hand.
It's a real winner with kids, as the veggies are bite-sized so they barely seem to notice them. The different textures of pasta, veggies, and beans make this a fun and nutrient-filled stew.
It's quick to make and a crowd-pleaser for all ages. Simply leave out the parm to make vegan, or add vegan parmesan!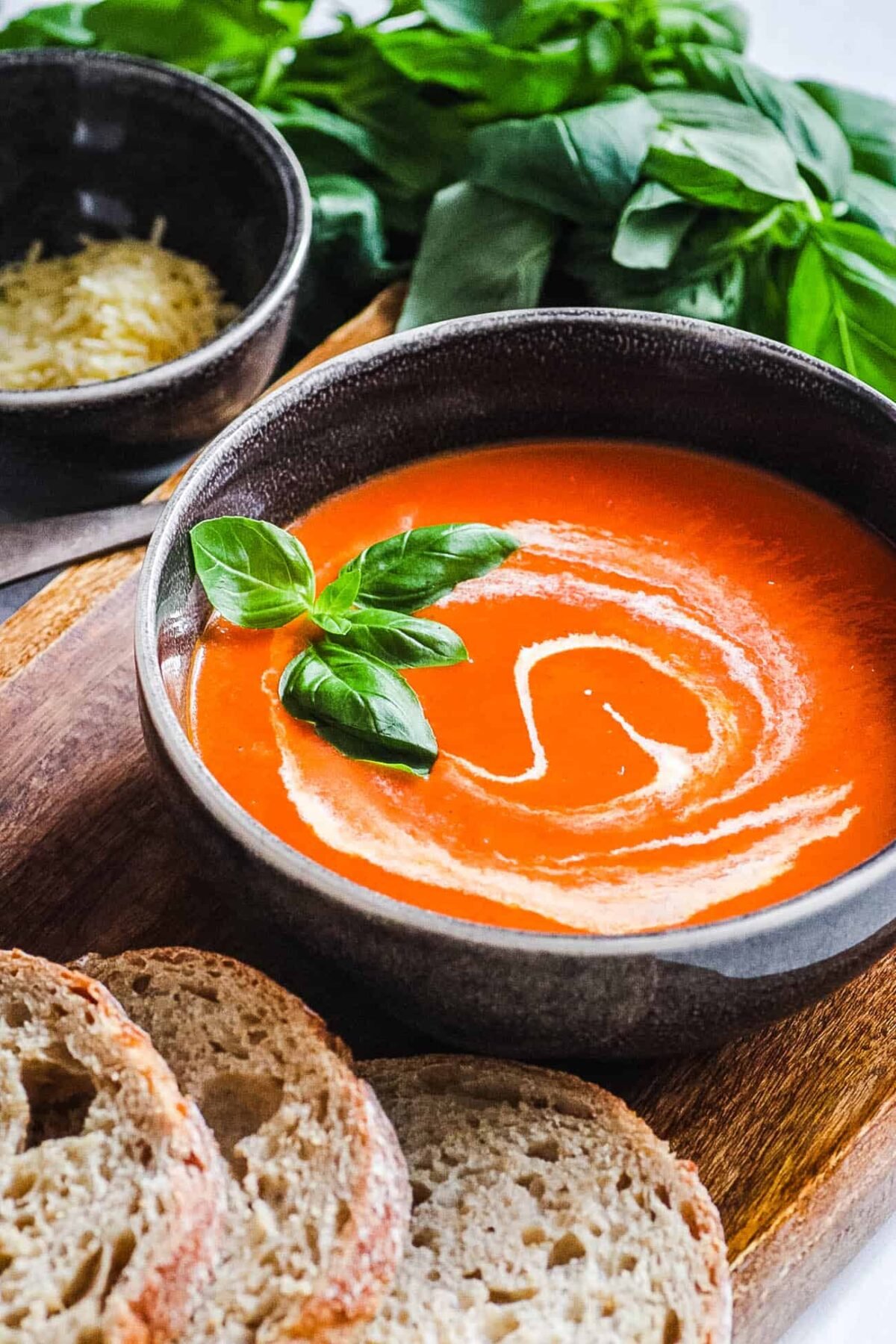 Calories: 163 – Fiber: 4g – Protein: 11g
Creamy Instant Pot tomato soup is everything you know and love about classic tomato soup but with a touch of zip!
Serve this soup for weekend lunches with sandwiches or your favorite salad or for fall or winter dinners after cool days. The flavors of this soup are dimensional and lightly spiced, but for eaters with milder palates, just omit the hot smoked paprika.
This is one of our most popular vegan soup recipes, because it's so easy, comforting, and delicious. Swap the cheese out for vegan cheese shreds and use full-fat coconut milk in place of heavy cream to achieve the same nutty and creamy flavor we all want in classic tomato soup!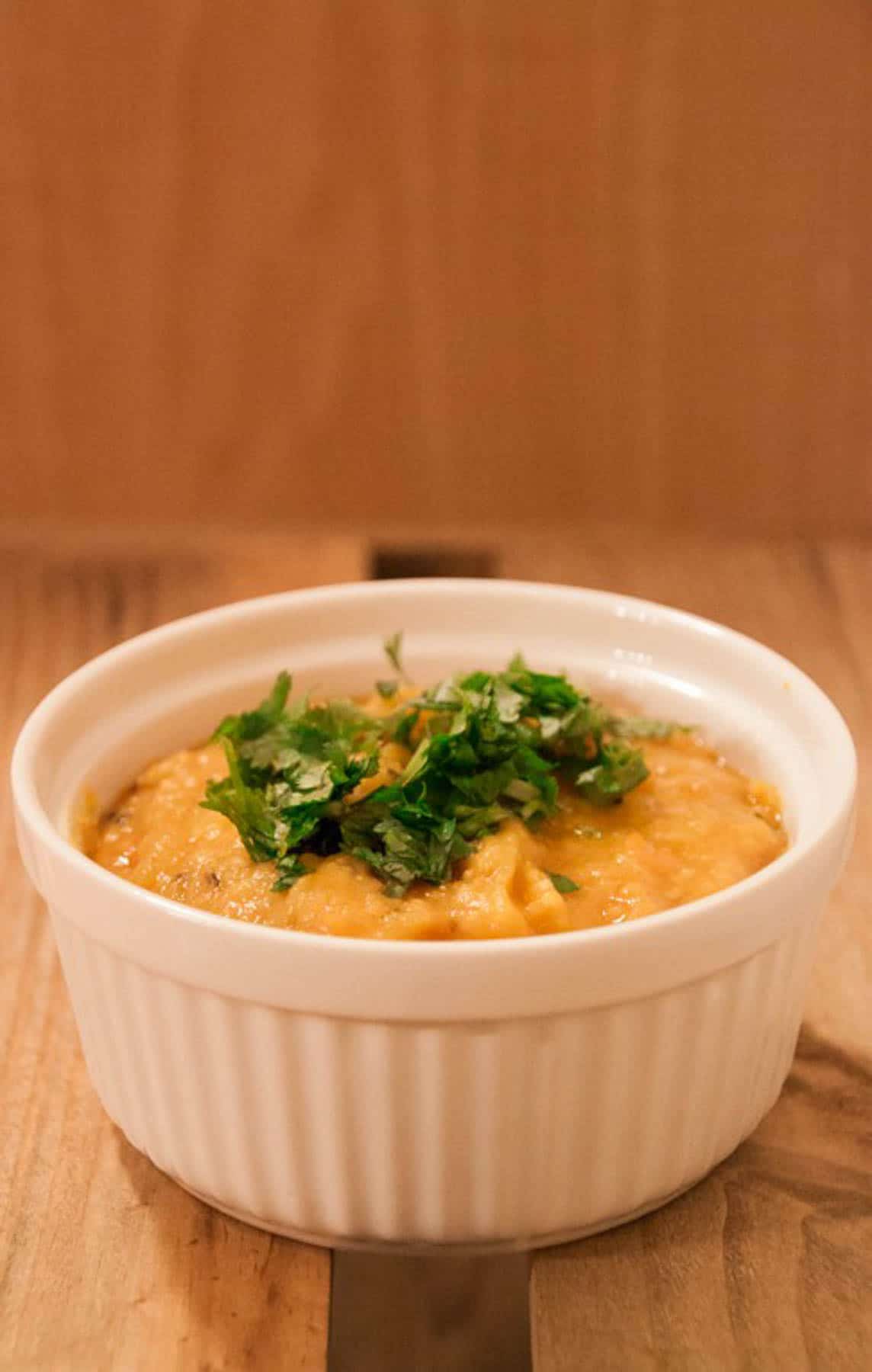 Calories: 210– Fiber: 13g – Protein: 13g
A house smelling of cloves, coriander, and turmeric is just the beginning of this tasty adventure. This dal brings the essence of fall into your home and onto your tastebuds. It's a win all around!
My kids seek after this staple in our house. Not only does my husband love it every time, but even our new visitors have no problem chowing down on a bowl or two.
As a slow-cooker meal it can be put aside all day, and when it's time to eat your family will be waiting with mouth-watering anticipation. Its dimensional flavor and smooth mouthfeel will make the dining experience delightful and the high protein and fiber content will keep everyone satiated.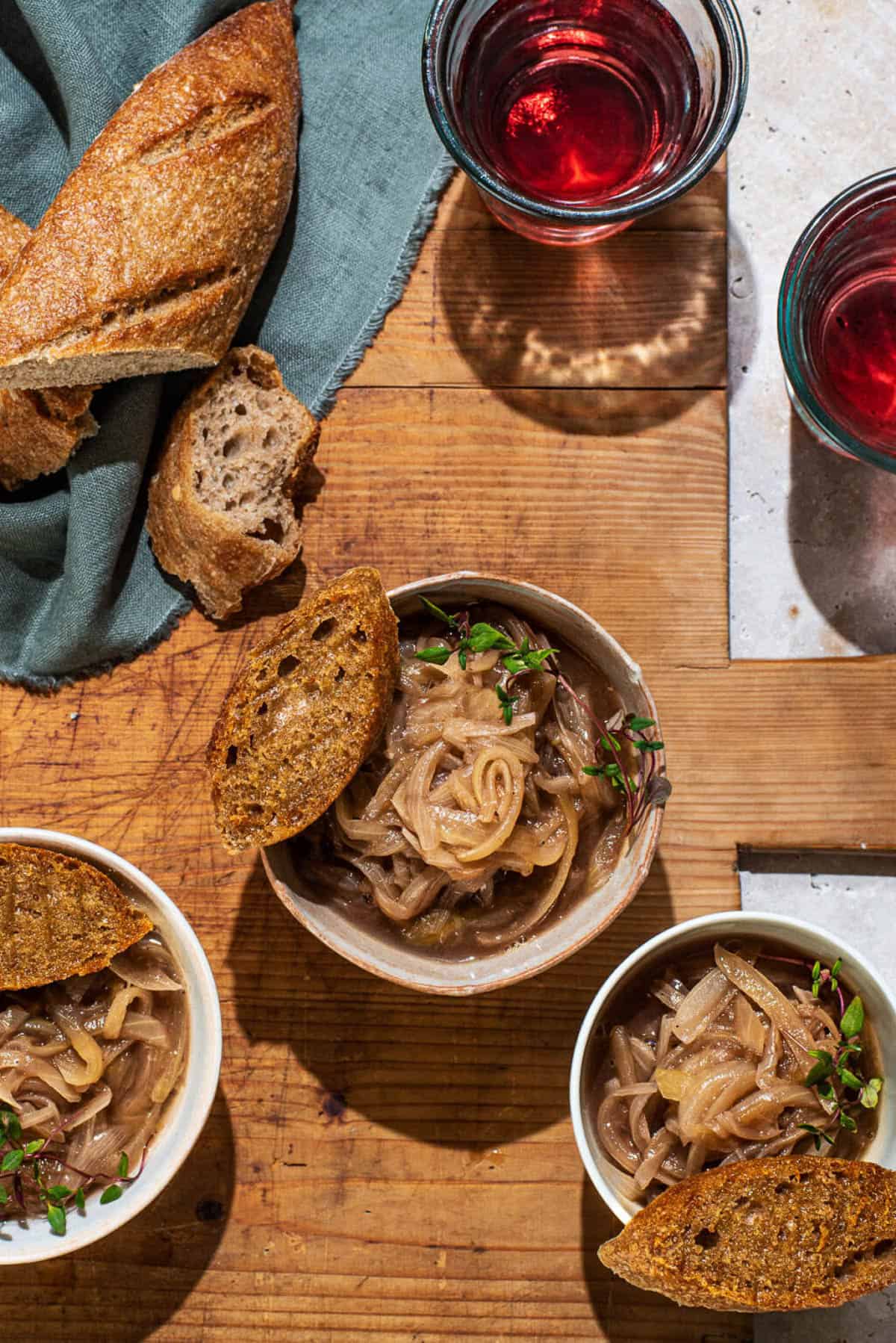 Calories: 155 – Fiber: 3g – Protein: 2g
A delicious old-school recipe features mushroom broth and loads of caramelized onions, all while being dairy-free and vegan! It's perfectly served with a side of vegan cheese toast.
Using inexpensive ingredients, this dish uses a longer cooking time to develop the carmelized onion flavors. Its versatility allows this recipe to be used for a casual weeknight or a dressed-up dinner party.
With only 10 ingredients to cultivate a decadent flavor profile, take just a little extra time and reap the rewards of this classic soup made vegan. Paired with a side of bread or air-fried veggies, folks will eat it up.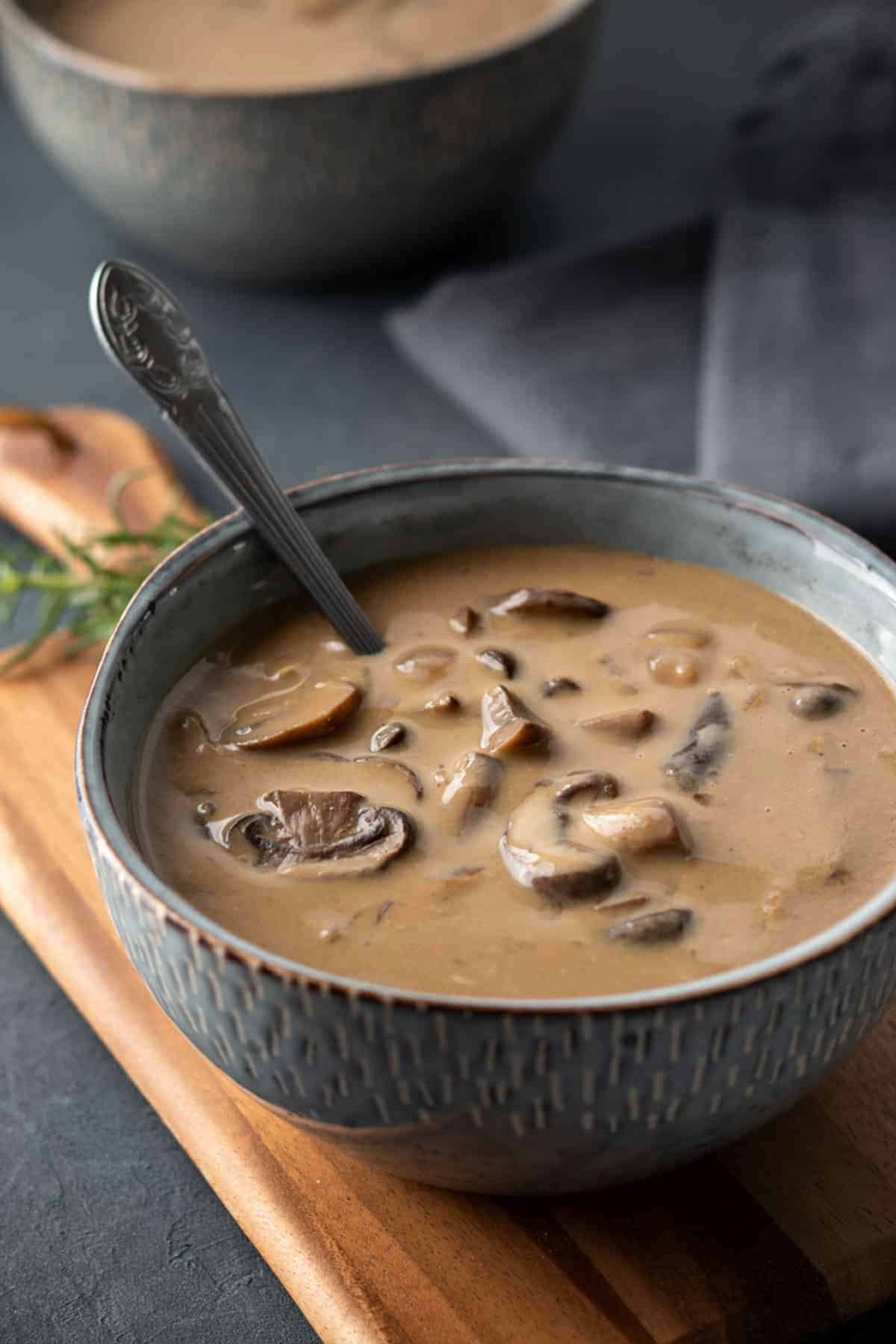 Calories: 121 – Fiber: 2g – Protein: 6g
This vegan and vegetarian winter soup is so velvety, savory, and delicious that you will never miss the cream! Both dehydrated and fresh mushrooms work together in this soup to create a tantalizing flavor.
Don't be intimidated if you've yet to work with fresh or dehydrated mushrooms. You can read through each step to debunk some cooking techniques that once seemed complicated.
The result is well worth it! With only 6 steps, you've got a creamy mushroom soup without butter or coconut milk.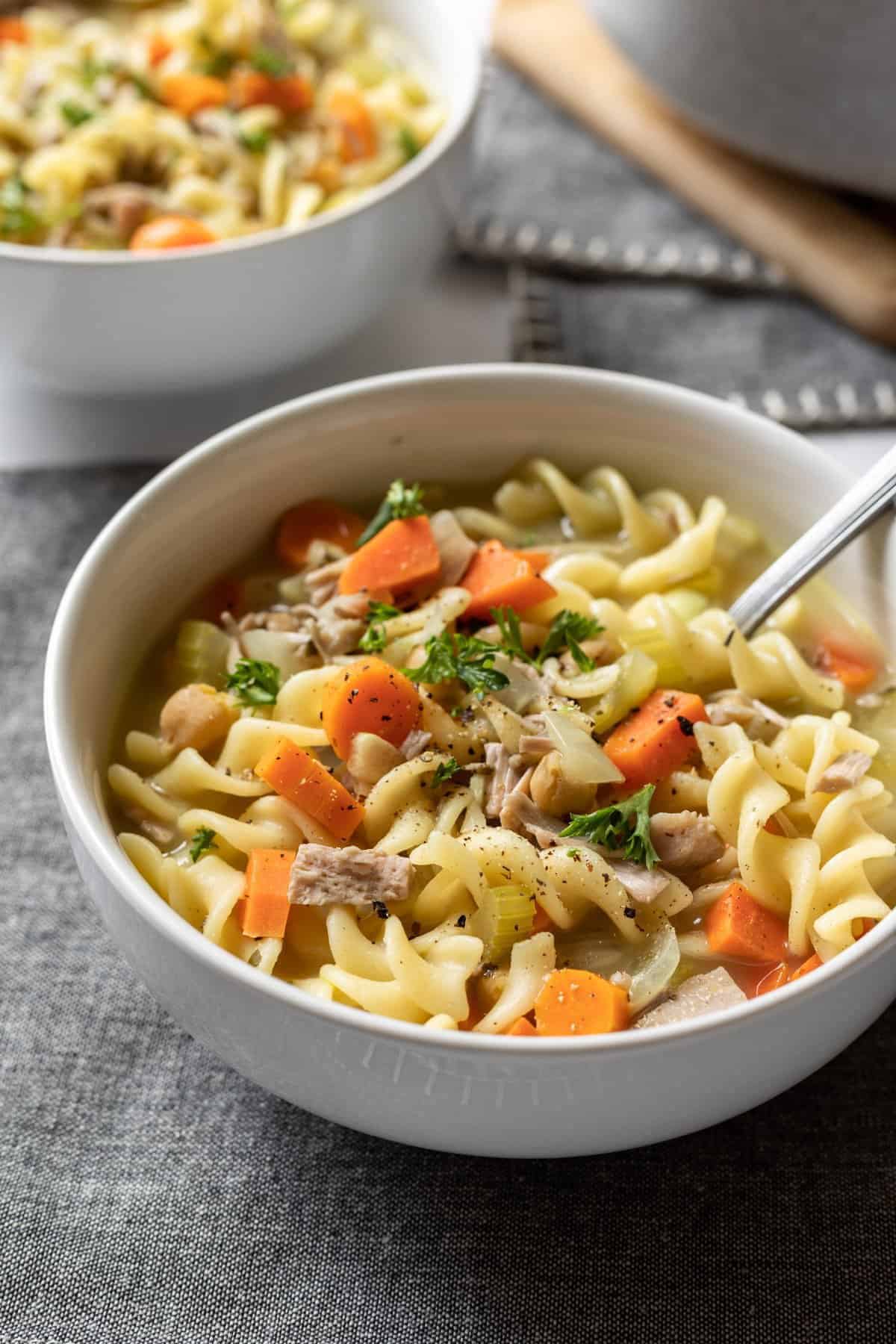 Calories: 250 – Fiber: 9g – Protein: 10g
If you haven't tried it yet, young jackfruit is a surprisingly great substitute for chicken. This recipe highlights homemade chicken-less broth for a creative way to add umami to your soups.
A vegan chicken noodle soup that is nut-free, and soy-free, and can easily be gluten-free by picking your favorite gluten-less pasta. As sweater weather settles and small colds come around, this soup is sure to help the healing process!
Customize this noodle soup with the recipe's listed variations and serve alongside dunkable sides or toppings. In just 40 minutes you will have a vegan classic loaded with fiber and protein.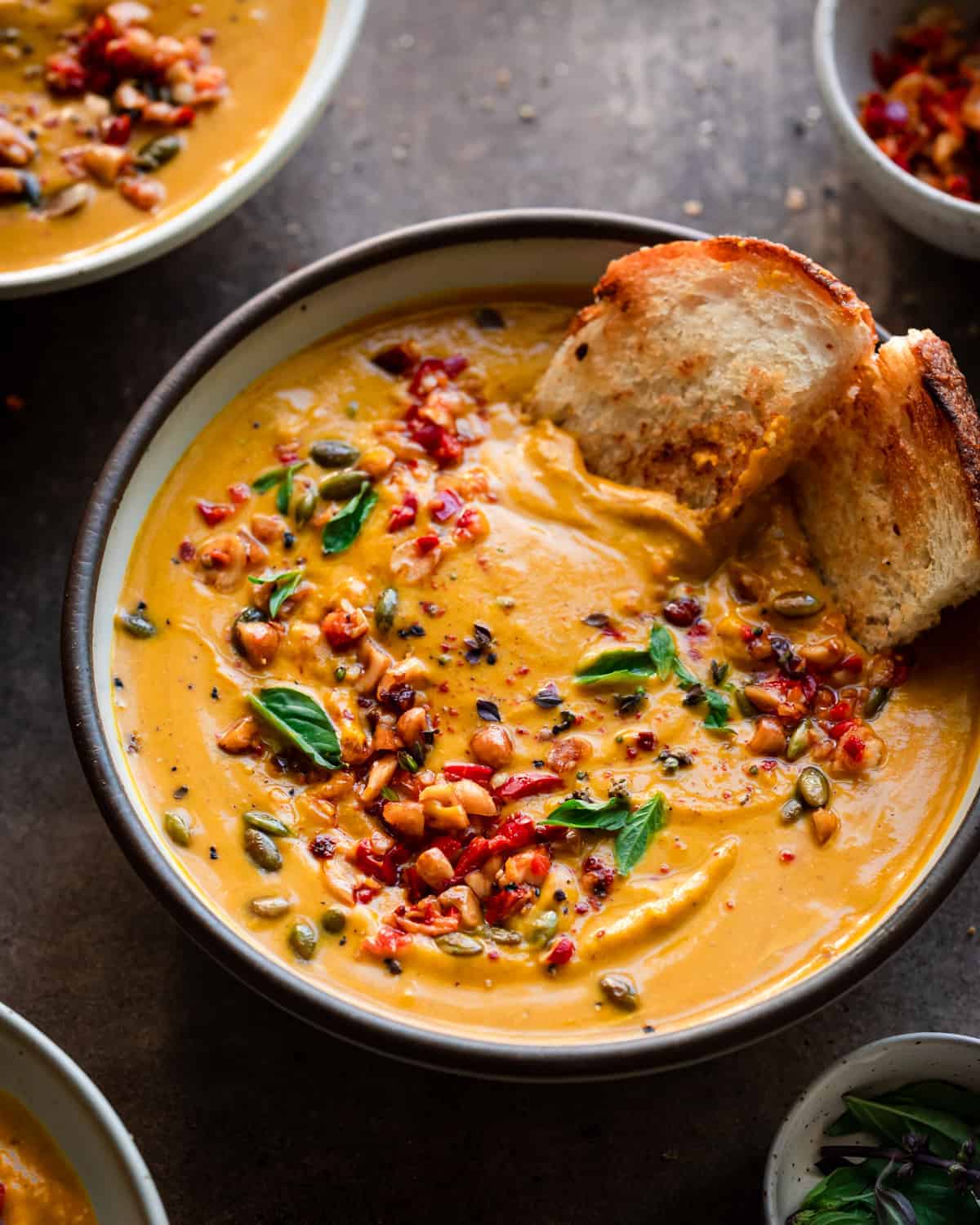 Calories: 399 – Fiber: 6g – Protein: 7g
Thai Pumpkin Soup gives you a gourmet Thai experience without any of the extra work. Use streamlined versions of roasting your pumpkin to save time.
Indulge in the handful of Thai spices and nutritious winter squash that this recipe calls for. Look for a number of these recipes at your local Asian grocery store.
It's creamy, easy to make, and layered with winter squash, warm and spicy aromatics, and bold spices and herbs. Quite possibly the most flavorful soup you'll ever try!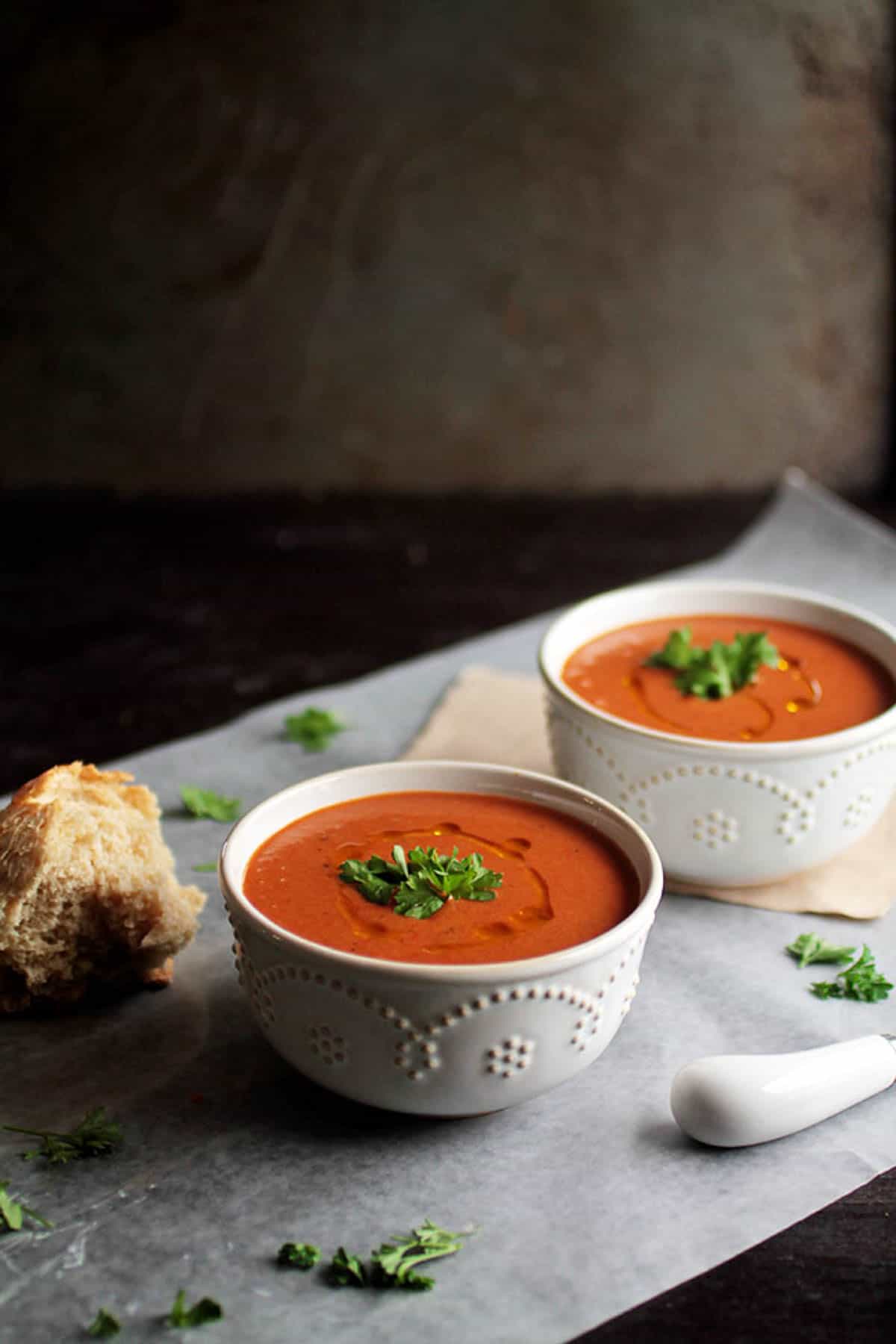 Calories: 171 – Fiber 3.3 g – Protein: 3.3g
The roasted red peppers in this recipe bring a satisfying degree of smoke and warmth to the soup. With 10 simple ingredients, this soup is a total catch.
It's an easy red pepper soup that is great to make in large batches for visitors or to have for a cozy weeknight. Don't let the red pepper title fool you, the mild flavor is enjoyed by all ages.
The smokey red peppers and almond milk add layers of flavor to this simple, yet delightful soup. Winter is the season of roasting and soups, so this dish makes the perfect combination.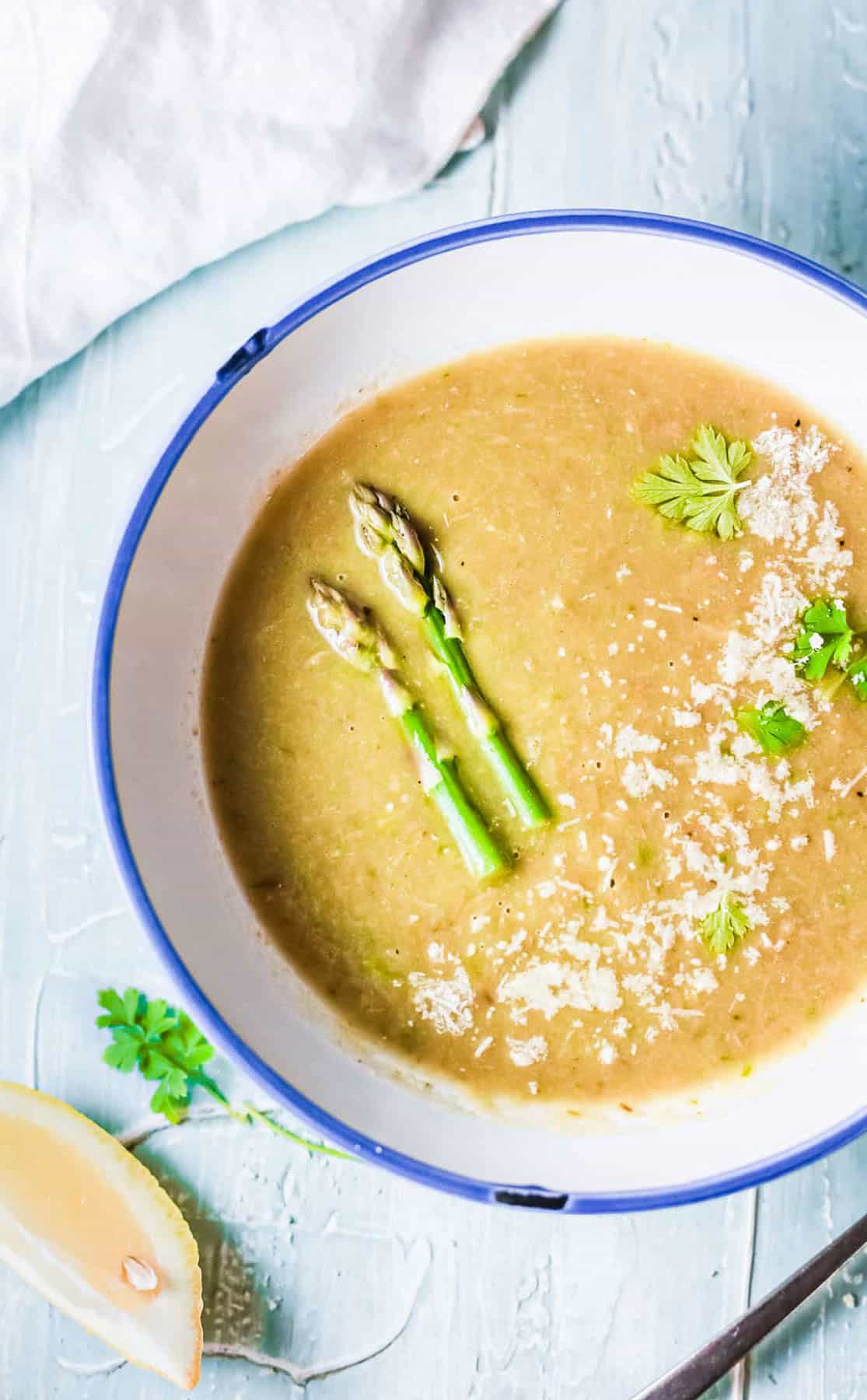 Calories: 79 – Fiber: 3g – Protein: 3g
This easy 30-minute soup gives you space to plan fall festivities while still producing a tasty meal for family and friends. It is gluten-free and even has alternatives to add leftover veggies you may have in the fridge.
Asparagus is a fan favorite in my household, so this soup is an easy addition to quick meals. It can be used for festive celebrations in the spring or for a last-minute meal at the end of a busy day.
You can easily double this recipe to feed the masses, as its current portions serve up to 6 people. Using less than 10 ingredients to make it a simple soup to whip up on short notice.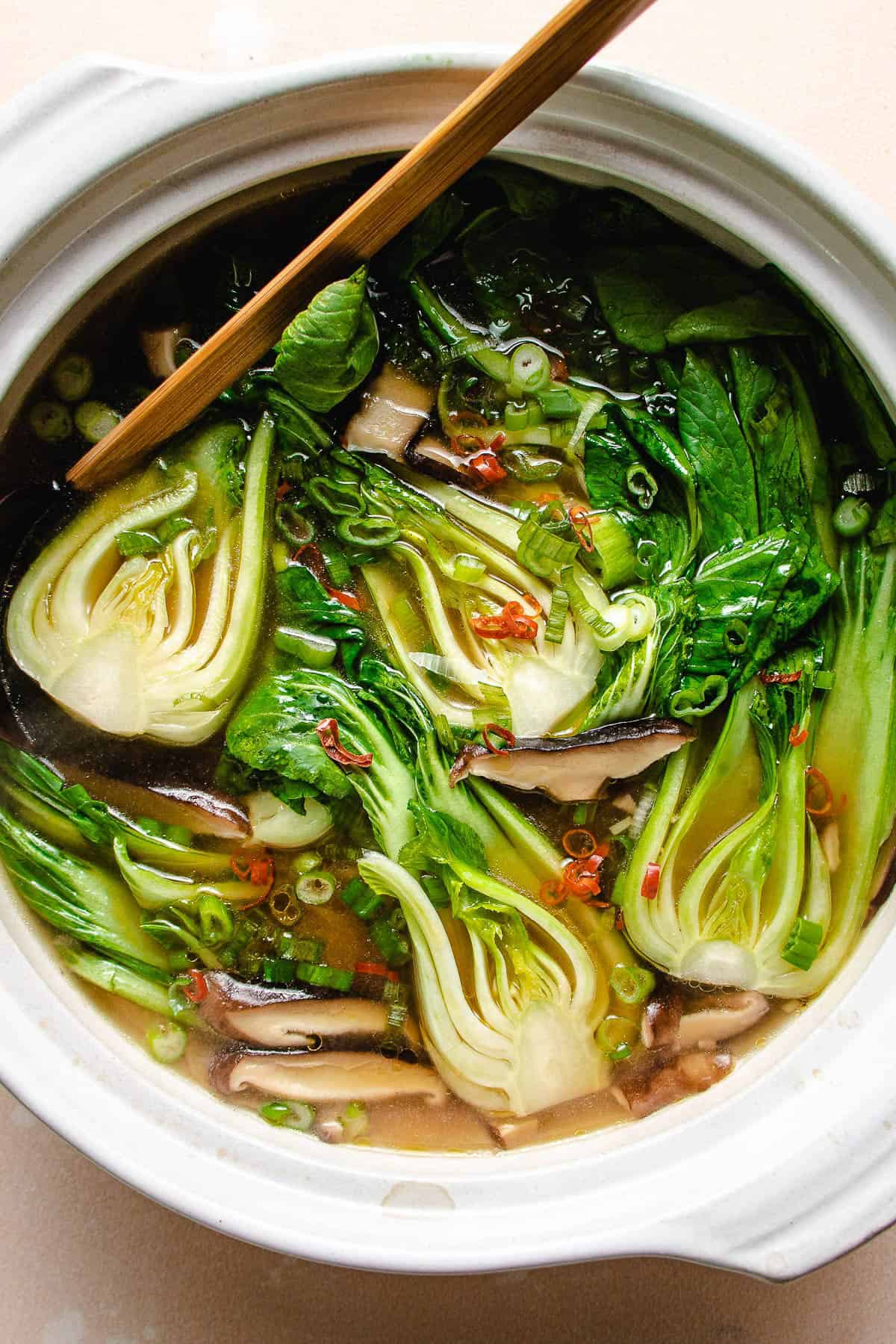 Calories: 223 – Fiber: 2g – Protein: 2g
A classic Asian veggie soup in only 8 simple steps! The shiitake mushrooms, toasted sesame oil, and ginger have me sold.
Everyone can make this delectable bok choy soup. With simple preparation and dimensional notes, it leaves out meat and dairy so it works as a light but satisfying meal.
Some broths take hours to develop, but this easy recipe only needs 20 minutes to warm your tastebuds. This recipe is umami at its easiest!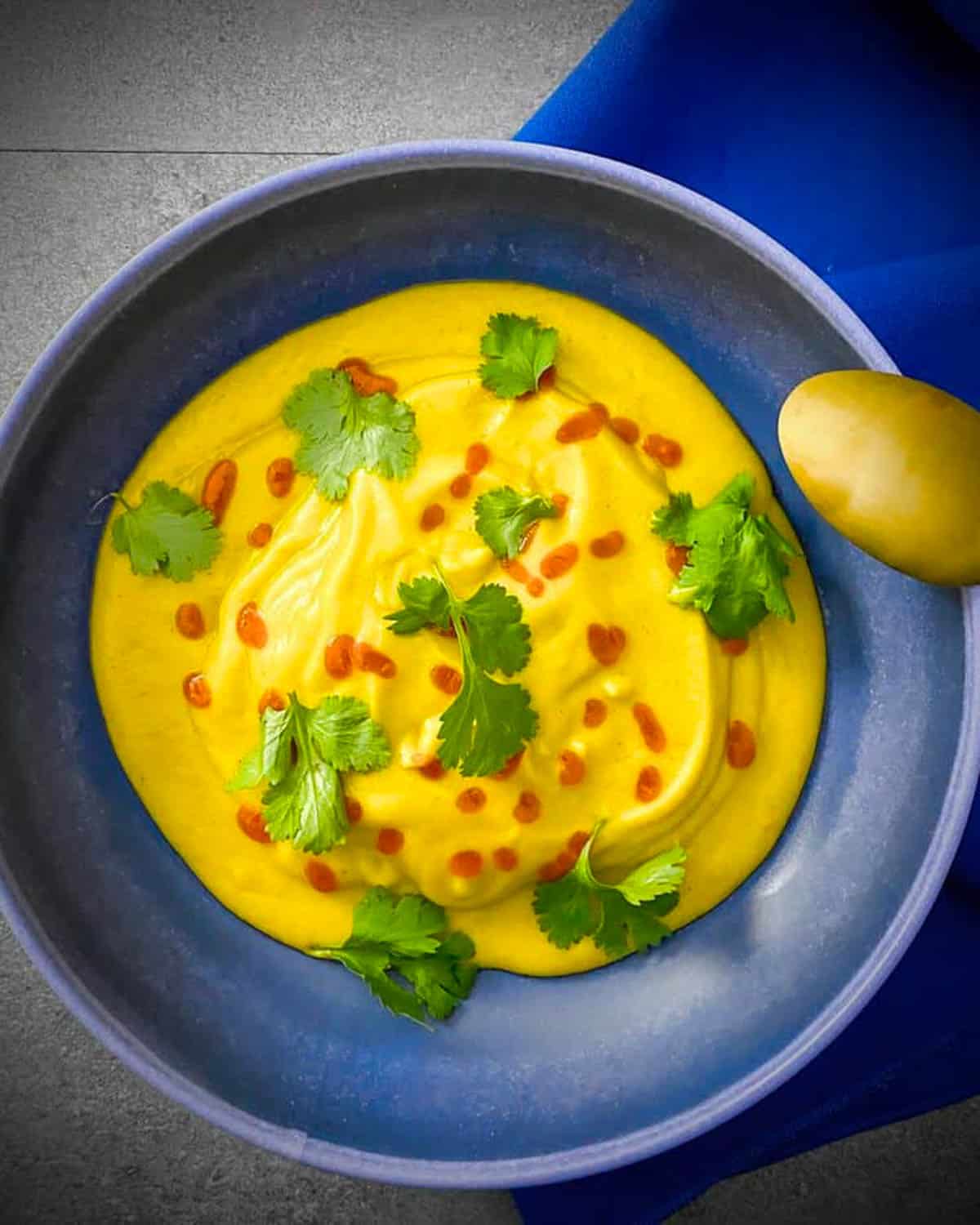 Calories: 280 – Fiber: 5g – Protein: 6g
One of the best soups to preview the autumn chill. Try this sweet and savory soup with a spicy kick!
Squash and apple soup has an addicting heat that you can adjust to your liking. Its uncomplicated 5 steps can empower you to conquer this sweater weather.
A Thai-inspired dish made with just one pan and a blender. Scoop up this gluten-free supper with toasted bread or crackers, or it can be a simmer sauce for your next curry.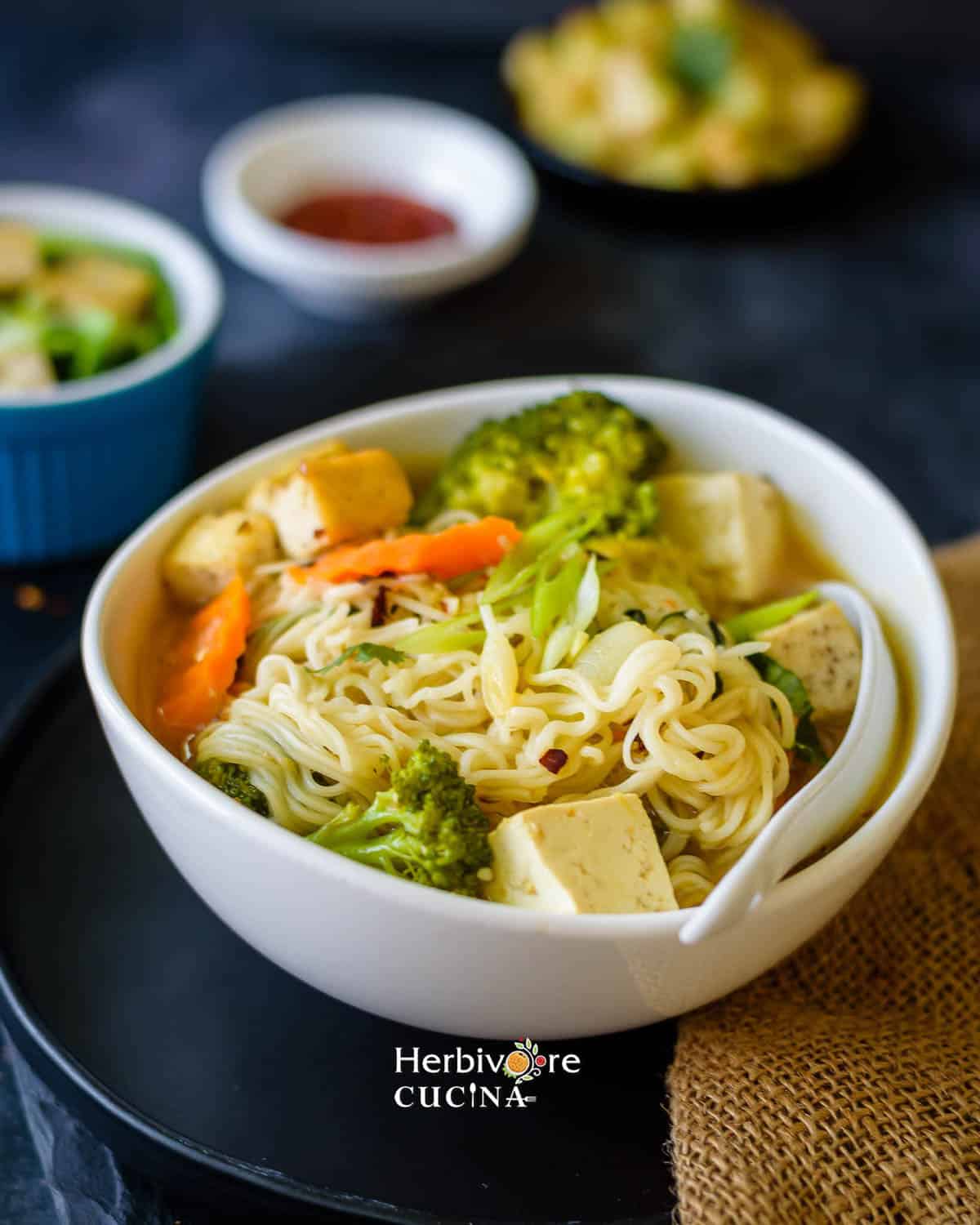 Calories: 687 – Fiber: 38g – Protein: 65g
Get the best of both worlds with this Instant Pot ramen! It's easy to make and quick but so much more flavorful than prepackaged ramen varieties that you find in the supermarket.
Filled with vegetable nutrition and tofu protein, this meal is fool-proof for both kids and adults. The ramen noodles and Miso broth convey immediate comfort and warmness.
A delicious broth of garlic, soy sauce, and ginger to create an easy 30-minute miso soup! Celebrate fall soups with delightful Japanese flavors and textures.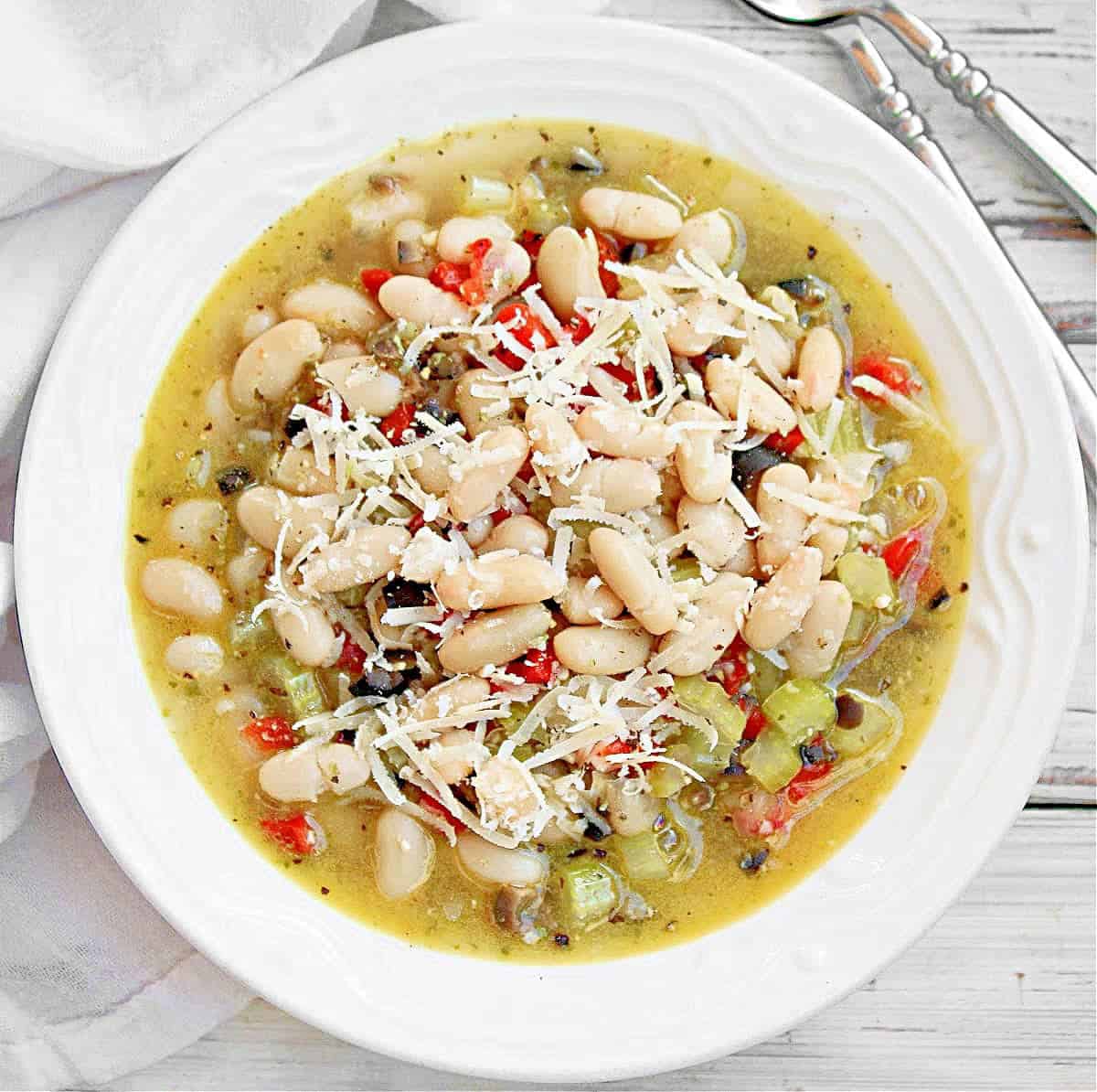 Calories: 128 – Fiber: 1g – Protein: 2g
Leftover pesto? Use it in this scrumptious bean soup.
This uncomplicated yet distinctive soup is tasty and versatile. Add different proteins or veggies to create your own pesto and bean bowl of delight!
Another quick and easy soup with a hunk of flavor. The pesto addition is a simple yet wonderful ingredient for a dish served in less than 20 minutes.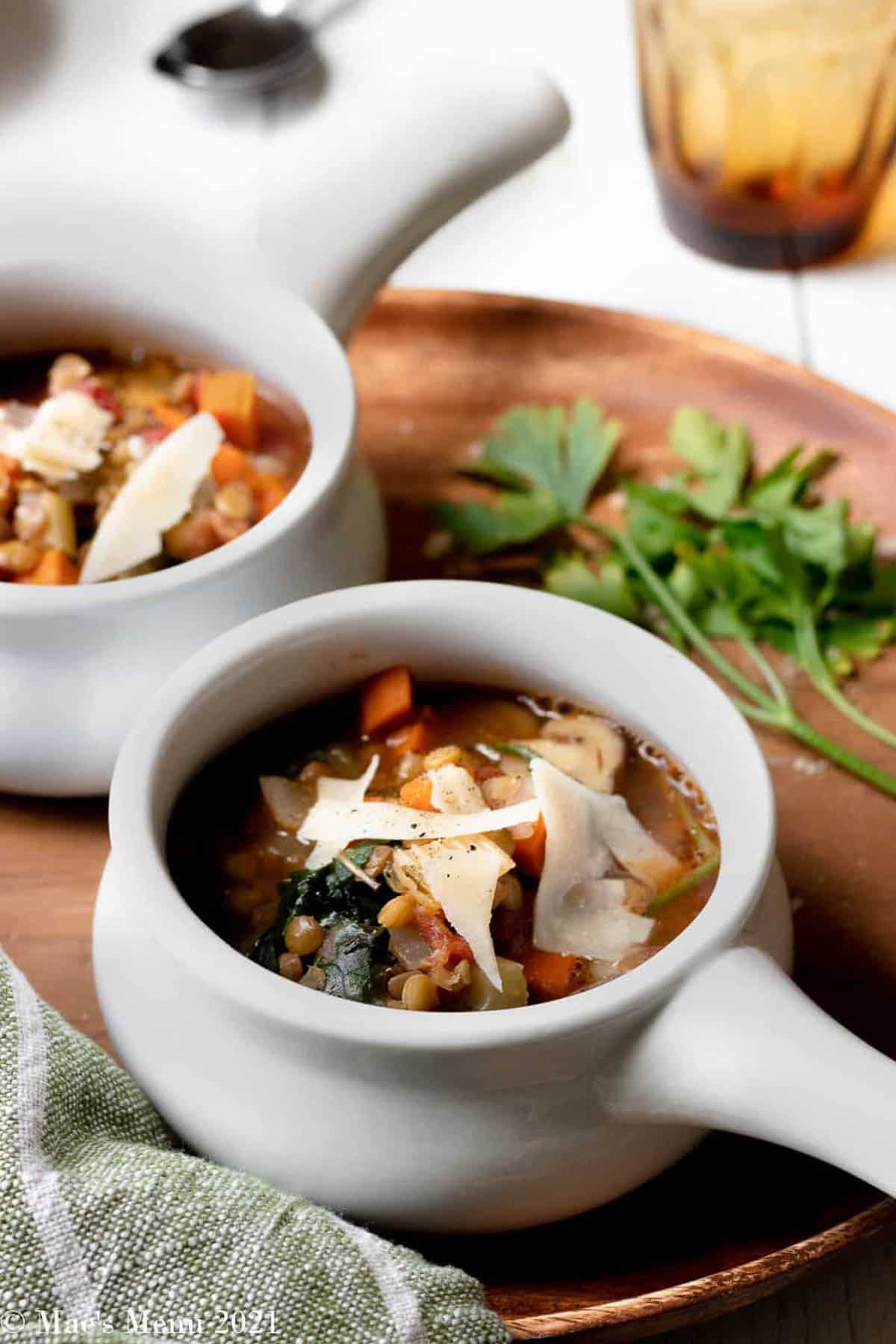 Calories: 253 — Fiber: 14g — Protein: 11g
Italian lentil soup is as easy to make as it is tasty, filling, and nutritious! Serve this cozy soup with large chunks of crusty bread and olive oil to dip!
Lentil soup is a great pick for busy weeknights and weekend lunches: it's fast, easy to make, and full of veggies that most little ones will even eat.
Top the soup with vegan parmesan and black pepper and serve with crackers or sourdough bread for a hearty dinner everyone will love.
What To Serve With Vegan Soup?
While you can never go wrong with a classic sourdough grilled cheese (made with vegan cheese and vegan butter, of course!), here's a list of more creative and enticing sides to compliment these savory soups and make the total package meal.
More Vegan Recipes!
Love these plant based soup recipes? Please leave a 5-star rating 🌟 in the recipe below and/or a review in the comment section further down the page!
You can also FOLLOW ME on FACEBOOK, TWITTER, INSTAGRAM, and PINTEREST to see more delicious, healthy, family-friendly food, and if you have any questions, I'm here to help!
Recipe Card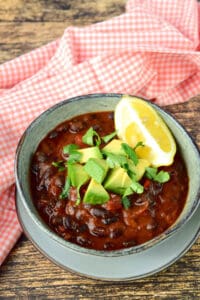 Print Recipe
Vegan Soup Recipes: Vegan Black Bean Chili
Vegan Black Bean Chili is an easy and delicious recipe that comforts you from the inside out. It's abounding in veggies, beans, and common seasonings, making it a tasty way to get your plant-based protein!  
Plus, check out 41 more delicious vegan soup recipes in the post above!
Ingredients
Optional Toppings
diced avocado or guacamole

vegan shredded cheese

vegan sour cream

sliced green chili
Instructions
Sauté the oil and onions in a Dutch oven or soup pot over medium heat until the onion is translucent.

Add the minced garlic to the onions and cook for 2 minutes.

Next, add the celery, zucchini, and diced bell peppers to the pot. Sauté for 3-4 minutes or until the vegetables are softened.

Add the corn, oregano, cayenne pepper, chili powder, cumin, diced tomatoes, and tomato paste to the pot. Turn the heat to high and bring to a boil. Reduce heat to medium-low and simmer covered for 15 minutes.

Add the kidney beans, black beans, salt, pepper, and vegetable broth to the pot and continue to cook, covered, for another 10 minutes.

Remove the lid and simmer the chili for 5 minutes, or until the sauce has thickened.

Serve immediately with your favorite toppings.
Notes
Storage Directions:
Refrigeration: Leftover chili can be stored in an airtight container in the fridge for up to 5 days.
Freezing: You can also freeze the chili in a freezer-safe container for up to 3 months. Defrost the chili in the refrigerator overnight, or until thawed through. 
Reheating: Warm the chili in the microwave on medium heat for 1-2 minute intervals, stirring between intervals, or until heated through. The chili can also be warmed in a saucepan on the stovetop over medium-low heat, stirring occasionally as it warms. 
Recipe Success Tips 
Serve the black bean chili with any of your favorite toppings.
Adjust the heat by adding more cayenne and chili powder or reduce the amount if you'd prefer a milder chili.
Dice all vegetables the same size to ensure even cooking.
Water can be substituted with vegetable or chicken broth to add some additional flavor.
If the sauce isn't as thick as you'd like when it has finished cooking you can gently mash some of the beans while stirring.
Nutrition
Calories:
210
kcal
|
Carbohydrates:
37
g
|
Protein:
11
g
|
Fat:
4
g
|
Saturated Fat:
1
g
|
Polyunsaturated Fat:
1
g
|
Monounsaturated Fat:
2
g
|
Sodium:
1071
mg
|
Potassium:
927
mg
|
Fiber:
12
g
|
Sugar:
9
g
10 responses to "41 Vegan Soup Recipes"