35 Vegan Sandwich Recipes
This post may contain affiliate links. As an Amazon Associate, I earn from qualifying purchases. Please read my disclosure.
These vegan sandwiches are quick and simple with minimal prep time because let's face it, life is busy! Whether you are looking for a healthy lunch recipe or something for dinner, these vegan sandwich ideas cover a variety of tastes and textures!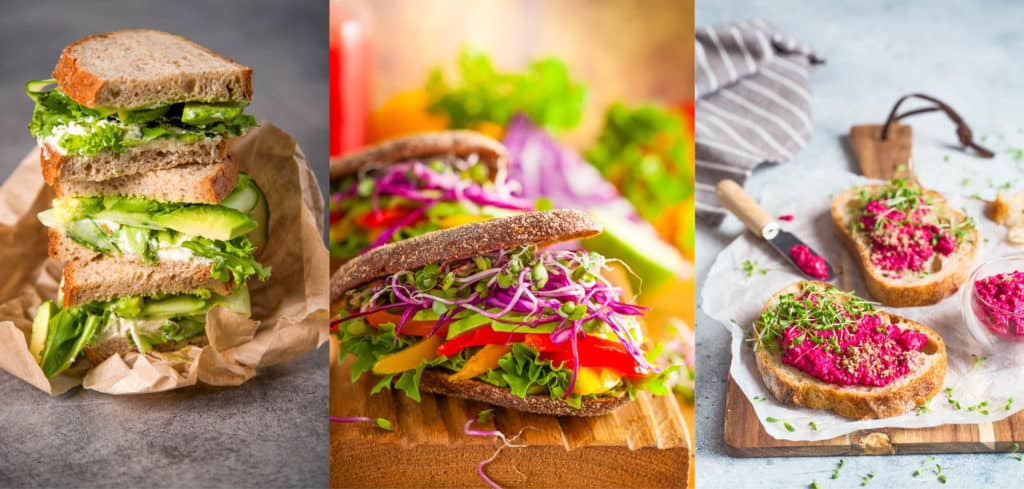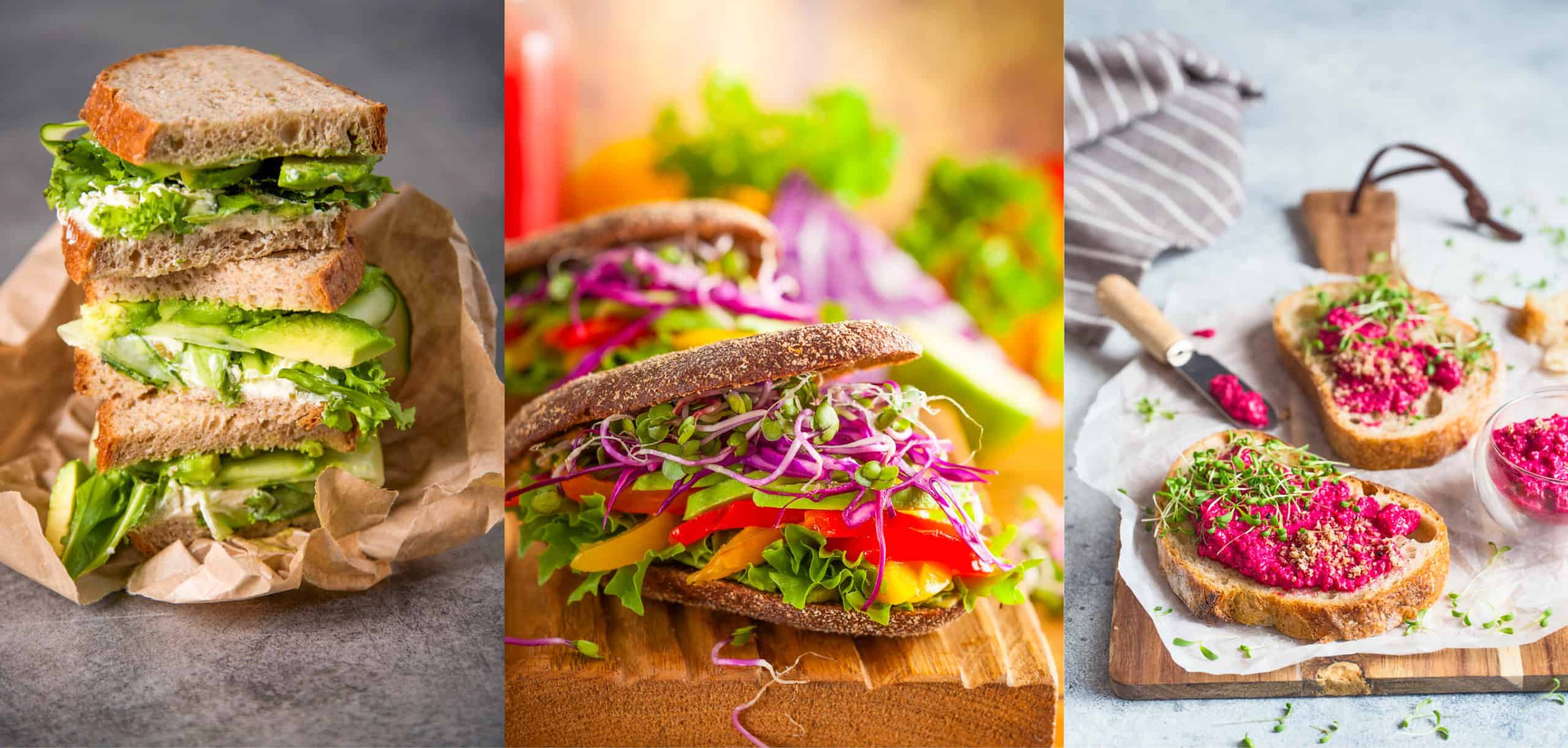 This list of healthy vegan sandwich recipes is proof you don't need meat or cheese for a killer sandwich! Marinated tofu, fresh veggies, crunchy chickpeas, pesto, and creamy avocado elevate these plant-based recipes into handheld nirvana.
From veggie burgers and sloppy joes to tuna salad, you won't want to miss out on these vegan sandwiches. Enjoy a vegan spin on your favorite classic sandwich whenever you crave a drool-worthy lunch.
How To Build The Best Vegan Sandwich
The best sandwiches are crafted with multiple flavors and textures. Follow these steps to upgrade your sandwich game!
Layer Accordingly: The best vegan sandwich is layered properly! The heavier items go on the bottom layer of the sandwich, with the more delicate items such as lettuce, tomatoes, etc. at the very top.
Include Textures: Include a variety of textures from crisp cucumbers, tomato slices, alfalfa sprouts, portobello mushrooms, crunchy bell peppers, pickles, red onions, vegan cheese, and more! Sundried tomatoes add a sweet and chewy texture!
Spread with Sauce: The best things in life are covered in sauce! Make creamy homemade hummus to spread on the bread slices or use vegan mayo or pesto. Creamy sauces are the best things for sandwiches! Dijon mustard, vegan cream cheese, or your favorite BBQ sauce are also great options.
Toast the Bread: If you want some extra crispiness and texture, then be sure to toast the bread, especially if you are using vegan cheese!
Quality Bread and Fresh Ingredients: A good sandwich always starts with quality ingredients. I like to use Dave's Killer Multigrain Bread or fresh sourdough, ciabatta, whole wheat, baguettes, or even gluten-free breads. Feel free to use your favorite bread, just be sure it's vegan!
What Is The Best Vegan Bread?
Ezekiel 4:9 Sprouted Whole Grain Bread is my favorite vegan friendly bread. It also happens to taste great and bea healthy for you too – win win! Other vegan bread brands I like are: Happy Camper's Gluten Free Bread, Silver Hills Bakery Breads, and Dave's Killer Bread (but watch out, some of their varieties do include honey)! This guide has even more healthy vegan bread brands that are available at most grocery stores!
Equipment You Will Need
Healthy Vegan Sandwich Recipes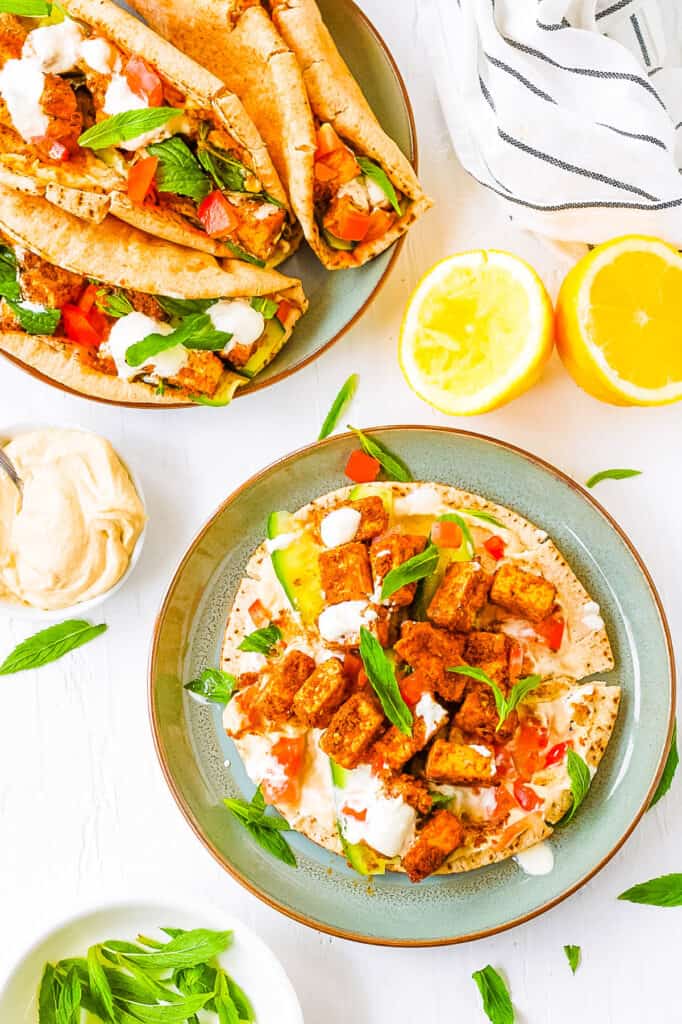 Tender marinated tofu is coated in warm spices like curry powder and paprika for a delicious take on veggie shawarma! This recipe comes with a creamy yogurt sauce made with tahini and garlic powder that's made vegan with dairy-free yogurt. Great for easy lunches, ready 20 minutes!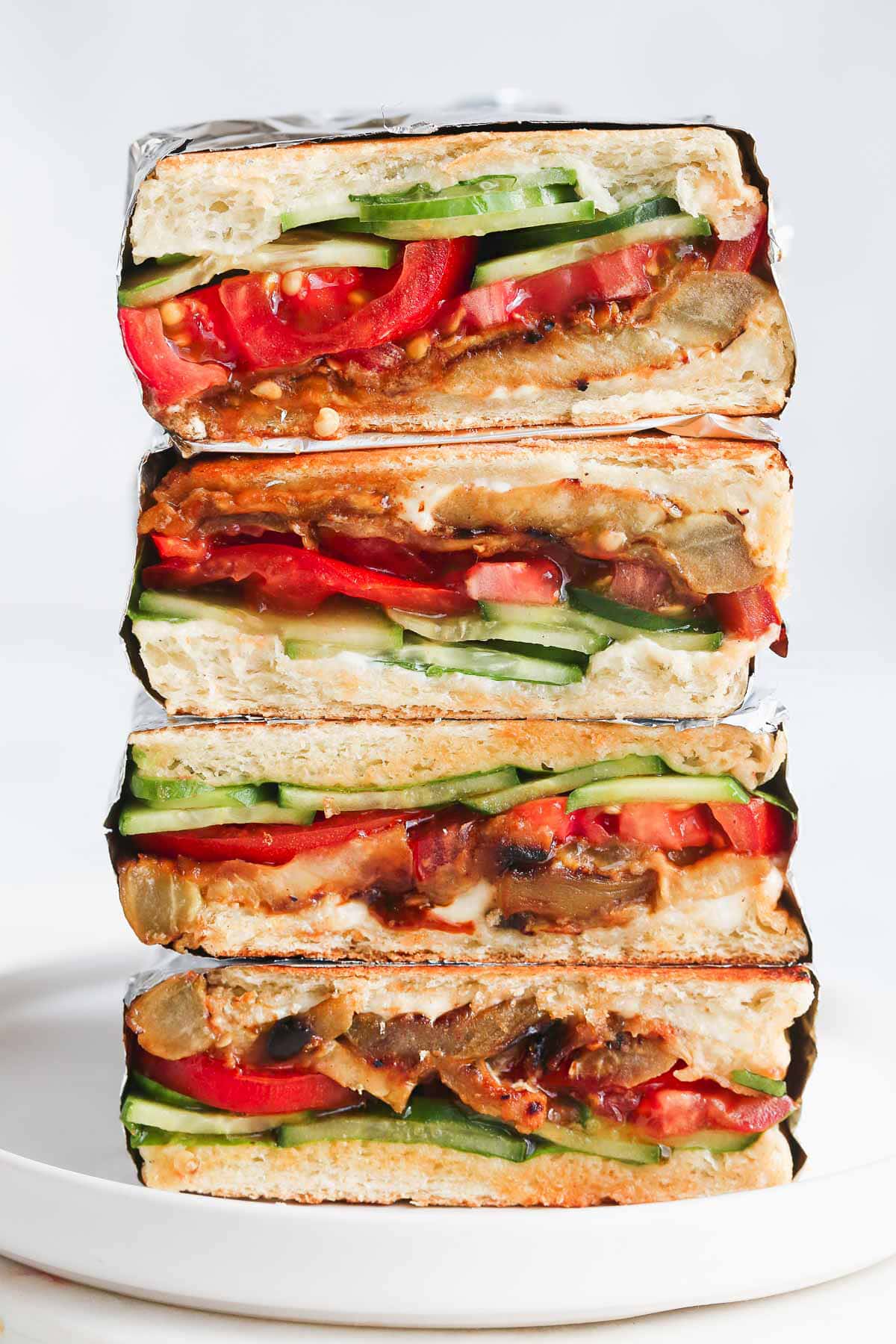 With perfectly toasted bread and tender layers of fresh eggplant, this eggplant sandwich is hearty, savory, and filled with flavor! The eggplant is marinated in maple syrup and soy sauce then baked. Once you take one bite of this simple sandwich you will be blown away.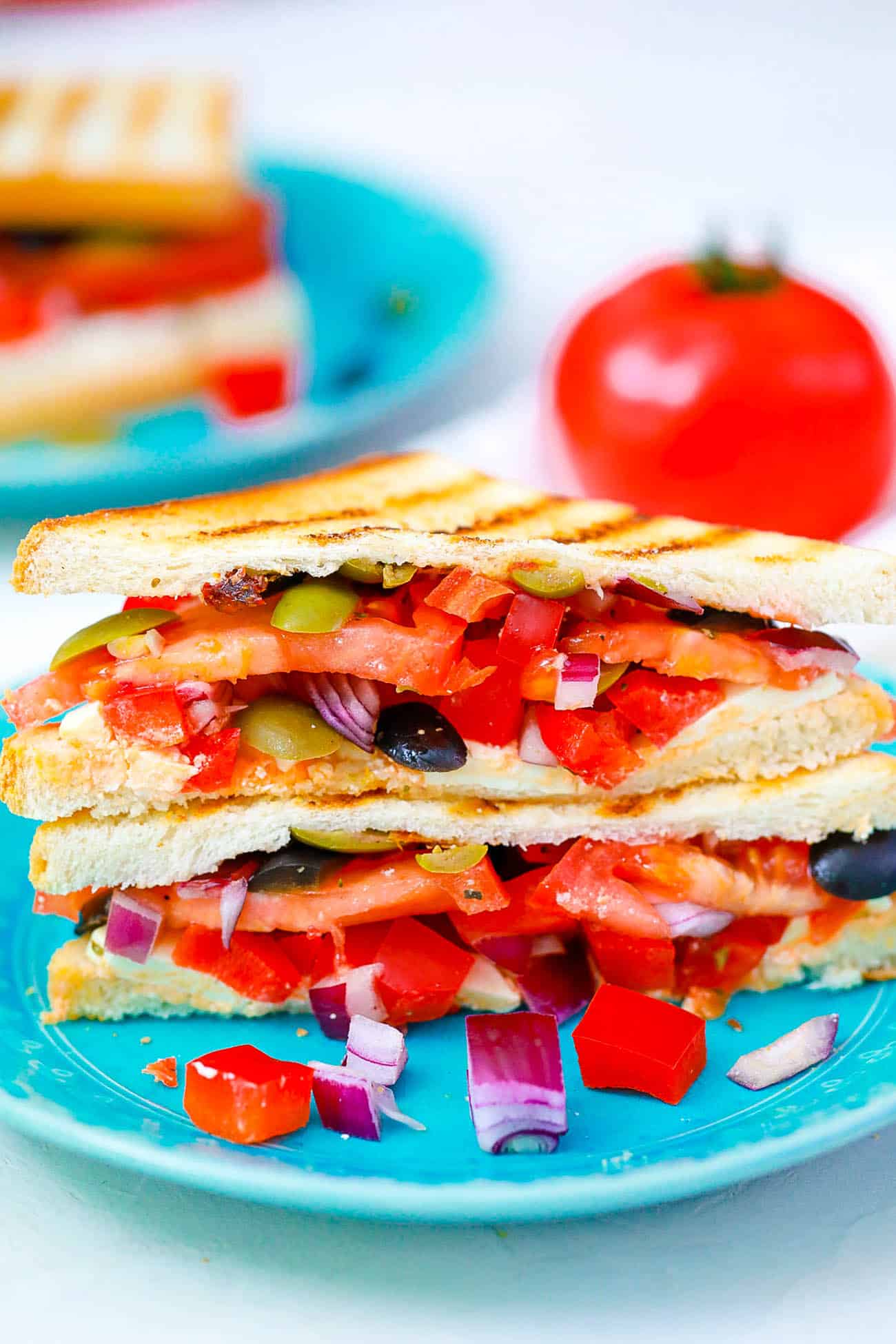 This crispy fresh Mediterranean sandwich is filled with fresh veggies that are crunchy and bright. The bread is perfectly crisp for the perfect texture! Leave the feta off or use vegan feta if you wish. This healthy sandwich boasts crunchy red peppers, sweet tomatoes, red onions, and salty olives!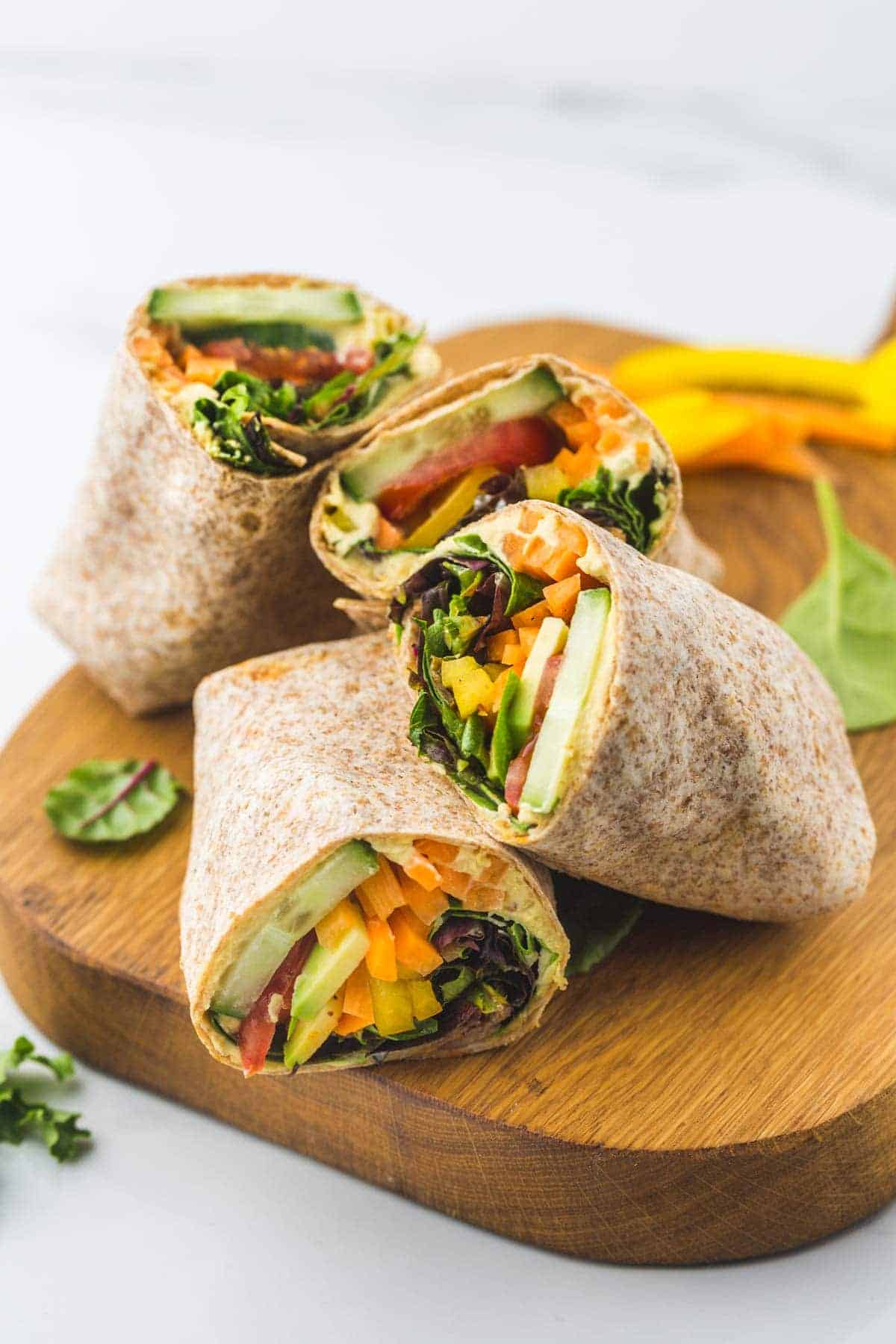 Made with only 7 ingredients, these hummus veggie wraps are easy to make and perfect for a quick lunch! Made with soft tortillas, fresh cucumber, crunchy bell peppers, and more, this colorful veggie wrap is the perfect way to enjoy simple but fresh flavors. To make this into a veggie hummus sandwich, use toasted bread in place of wraps!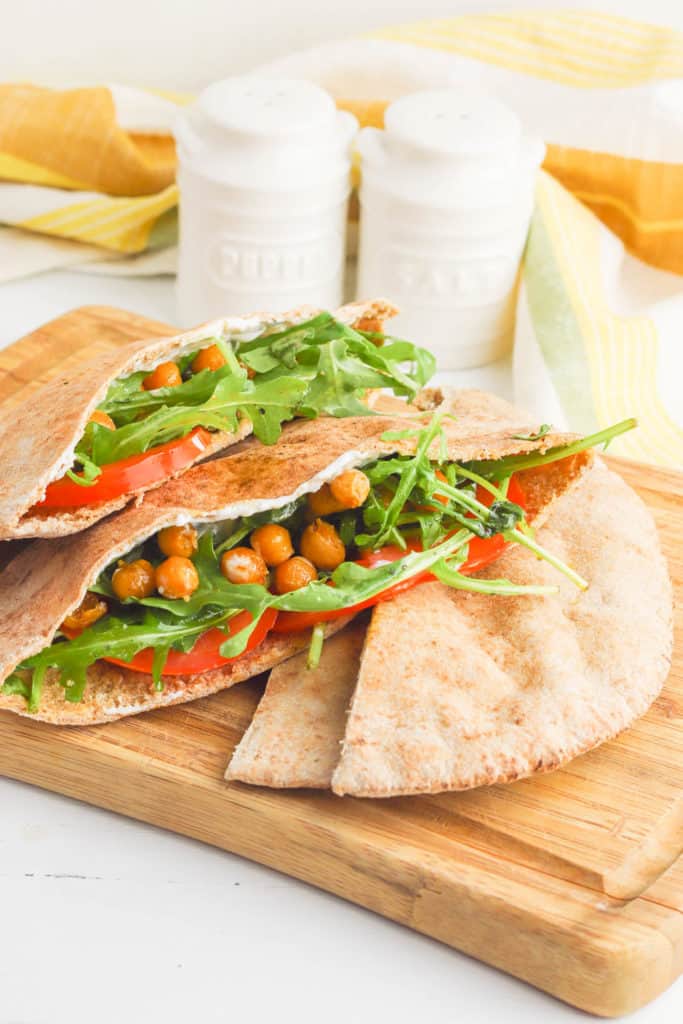 Packed with veggies and fiber-rich chickpeas, these Greek pita sandwiches make the ultimate veggie sandwich! Peppery arugula and thick tomato slices are packed into pitas with seasoned chickpeas for a vegetarian twist on the classic pita!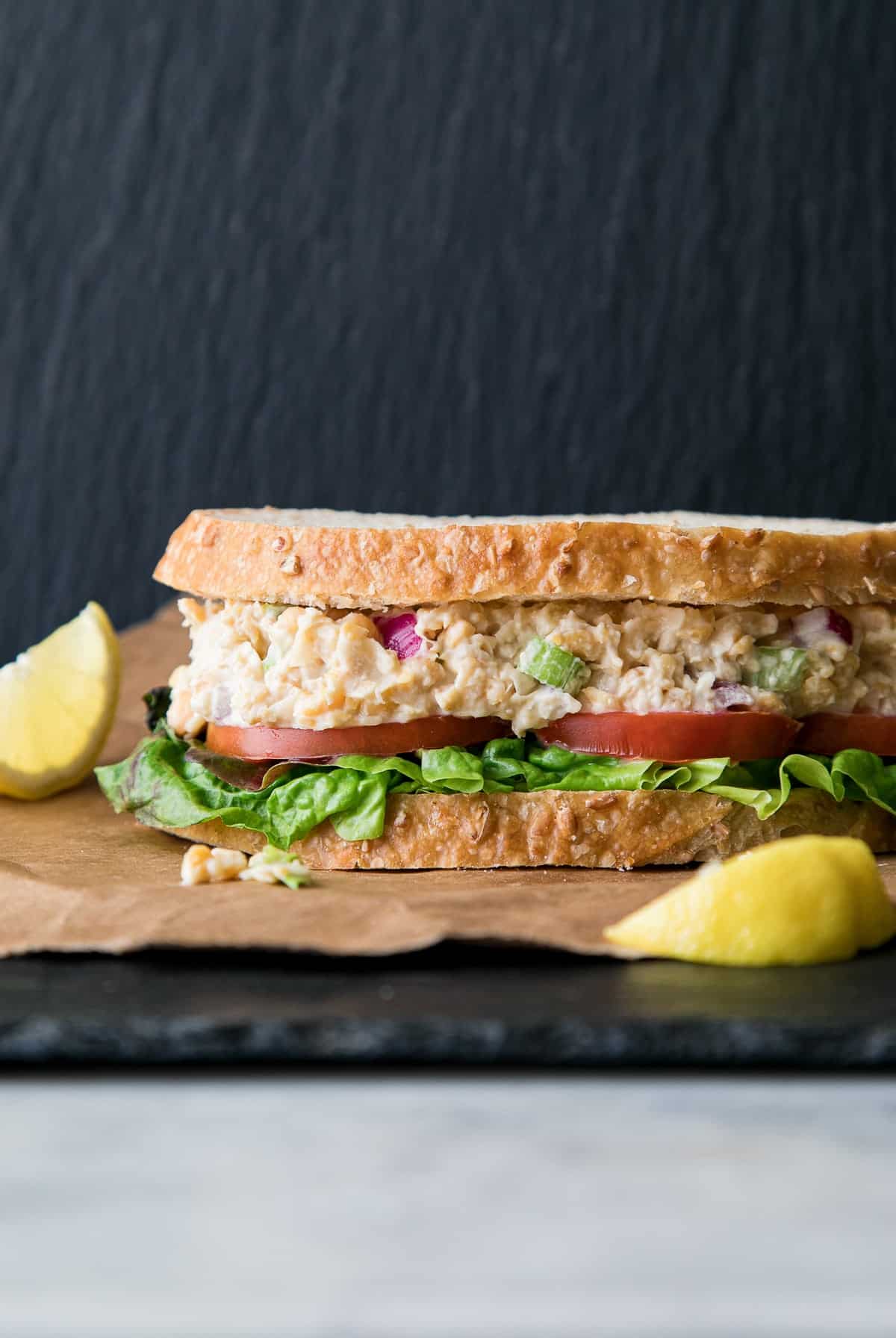 This creamy chickpea tuna salad is a plant-based twist on the classic tuna sandwich from childhood. This well-loved sandwich comes together in 10 minutes with only six ingredients!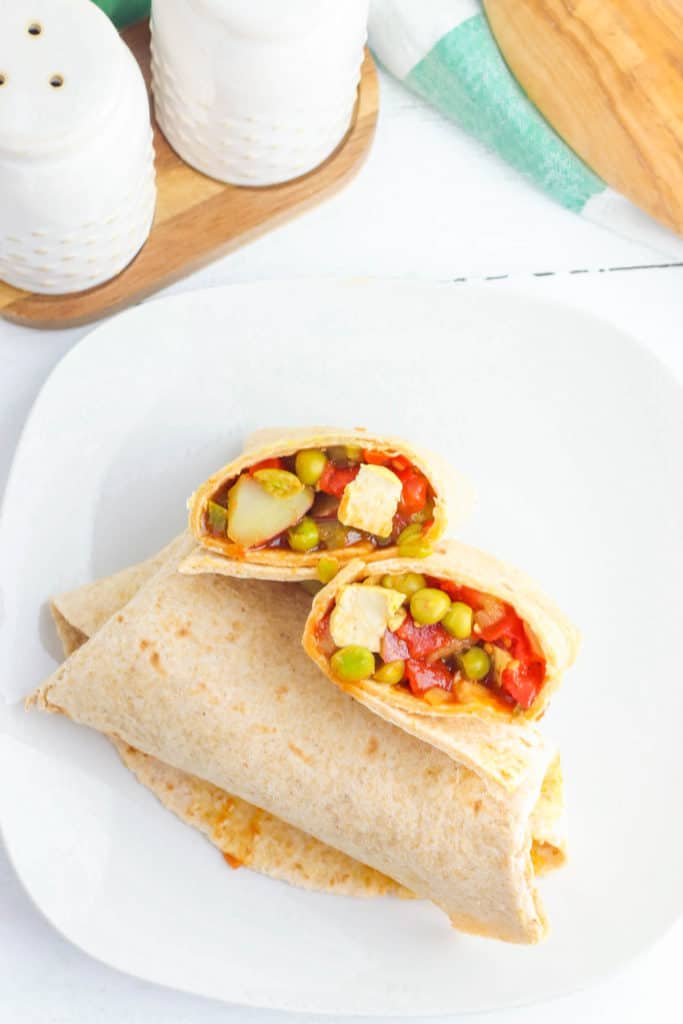 If you love Amy's Indian Samosa Wraps you will love this homemade version! Potatoes, tofu, and peas are spiced and wrapped in whole grain tortillas for a delicious lunch recipe. This is the perfect sandwich if you love Indian spices!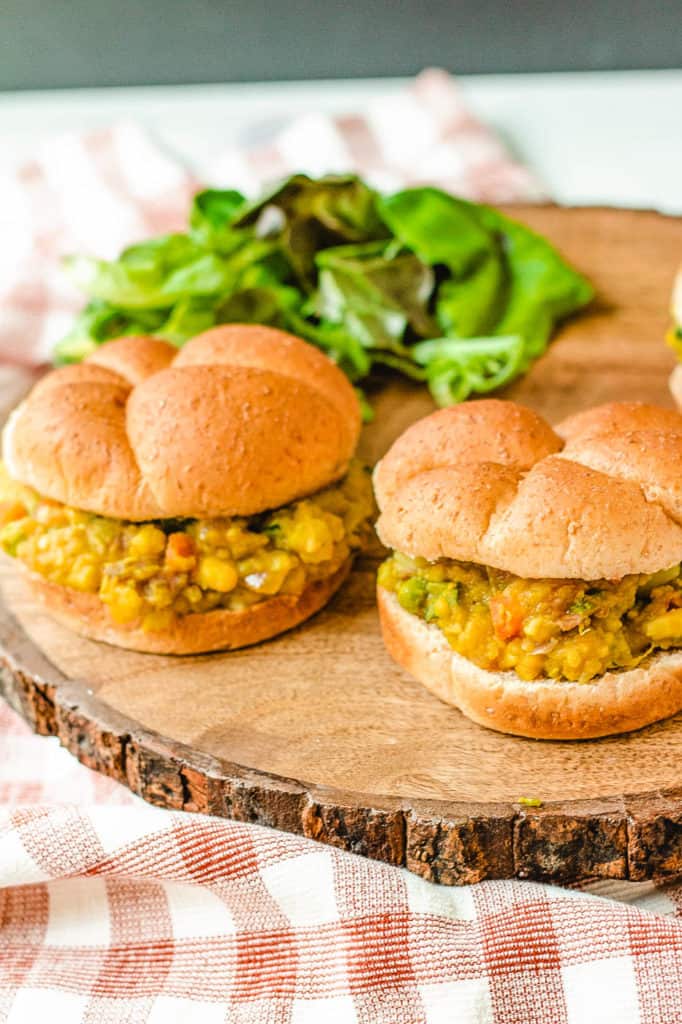 Vegetarian sloppy joes get an Indian makeover with aromatic spices such as masala, ginger, turmeric, and more. Mixed with veggies and lentils, this protein-rich sandwich is a must for lunch and dinner! This is one of my favorite vegan sandwich recipes, and I promise – meat eaters won't miss a thing! Make the filling ahead of time and the next day you're only 5 minutes away from a sloppy joe!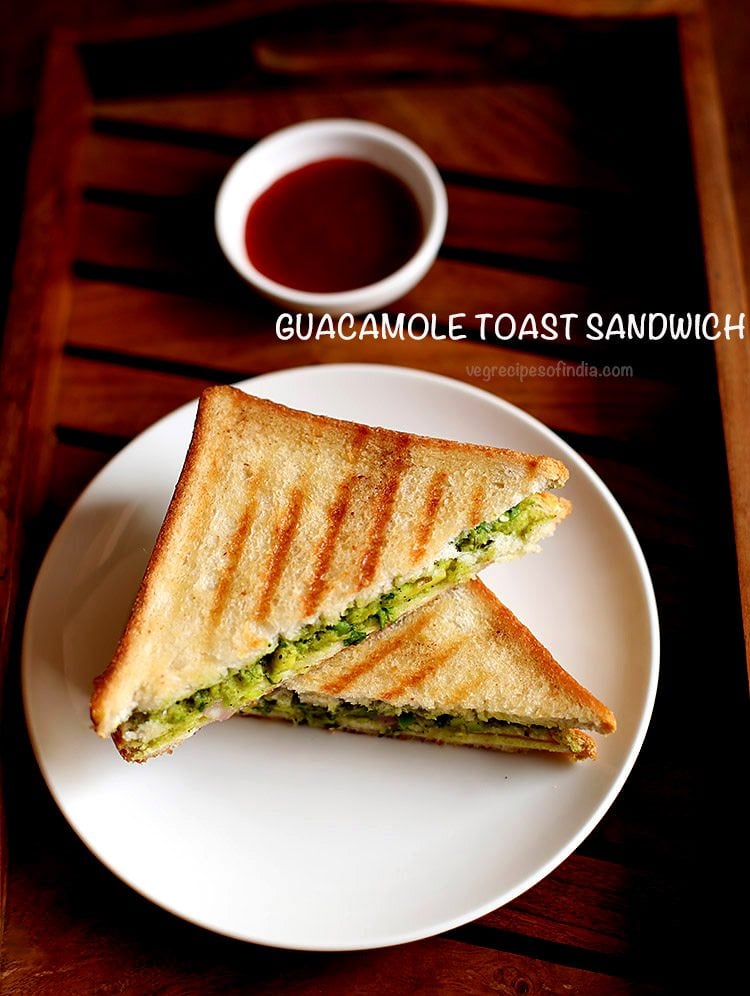 Creamy avocado is mixed with onion, green chiles, garlic, olive oil, and cilantro for a delicious guacamole that's sandwiched between two slices of bread. If you love avocado toast, you will love this easy avocado sandwich! Two of my favorite ways to change up this sandwich is to make avocado toast with honey, or avocado toast with tomato and egg!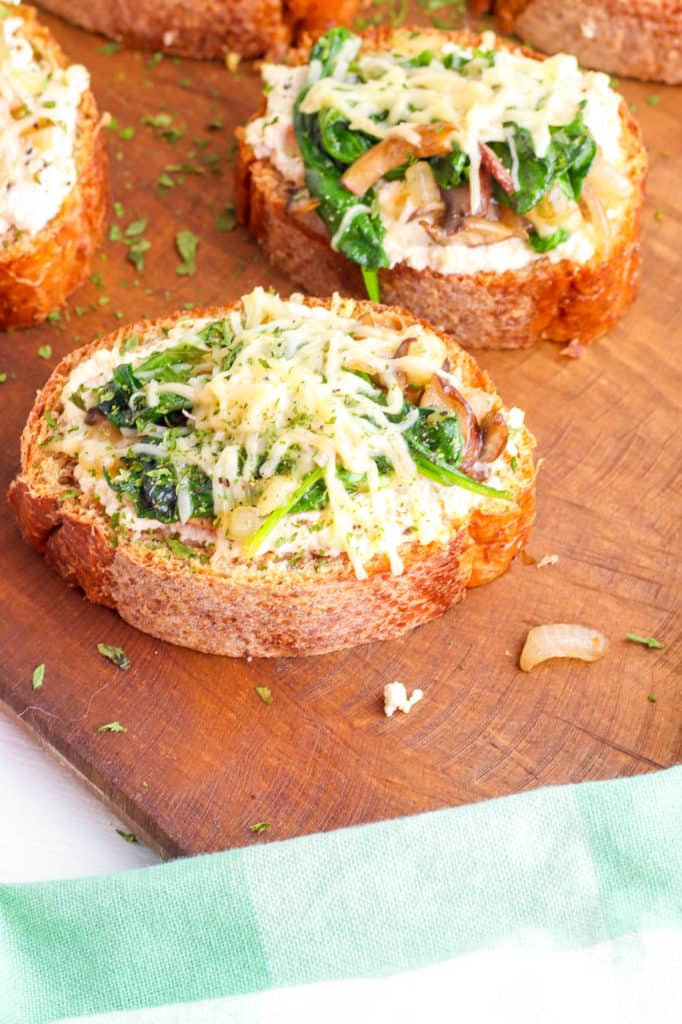 Use vegan parmesan to keep things dairy-free and vegan! Made with tofu, cremini mushrooms, garlic, and fresh spinach, these savory mushroom toasts are oh-so-good! They're healthy, cheesy, and packed with plant-based protein from the tofu!
These plant-based lobster rolls taste shockingly close to the real thing! Made with hearts of palm, scallions, and fresh lemon juice, this vegan twist is excellent for whenever you have a craving for "seafood".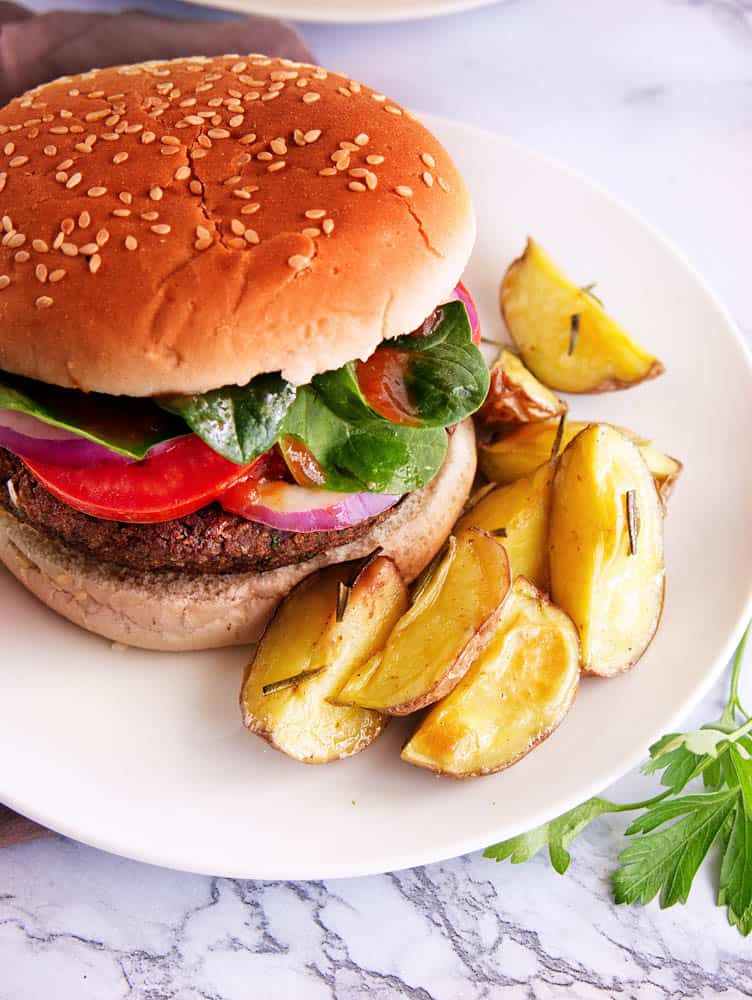 Black bean quinoa burgers are hearty and perfect for veggie burger nights! Pair them with homemade fries for a well-balanced but classic meal! Top with vegan cheese to make these life-changing black bean burgers even better!
Perfectly crispy on the outside and tender on the inside, this is the ultimate veggie sandwich! Fried eggplant is topped with vegan slaw and banana peppers for a punch of flavor. Vegan sandwiches shouldn't be boring and this one is far from it!
Made with roasted veggies like eggplant, zucchini, Portobello mushrooms, and peppers, this veggie sandwich is a great recipe for whenever you want to fill up on colorful vegetables! The dairy-free garlic cream cheese really ties this sandwich together!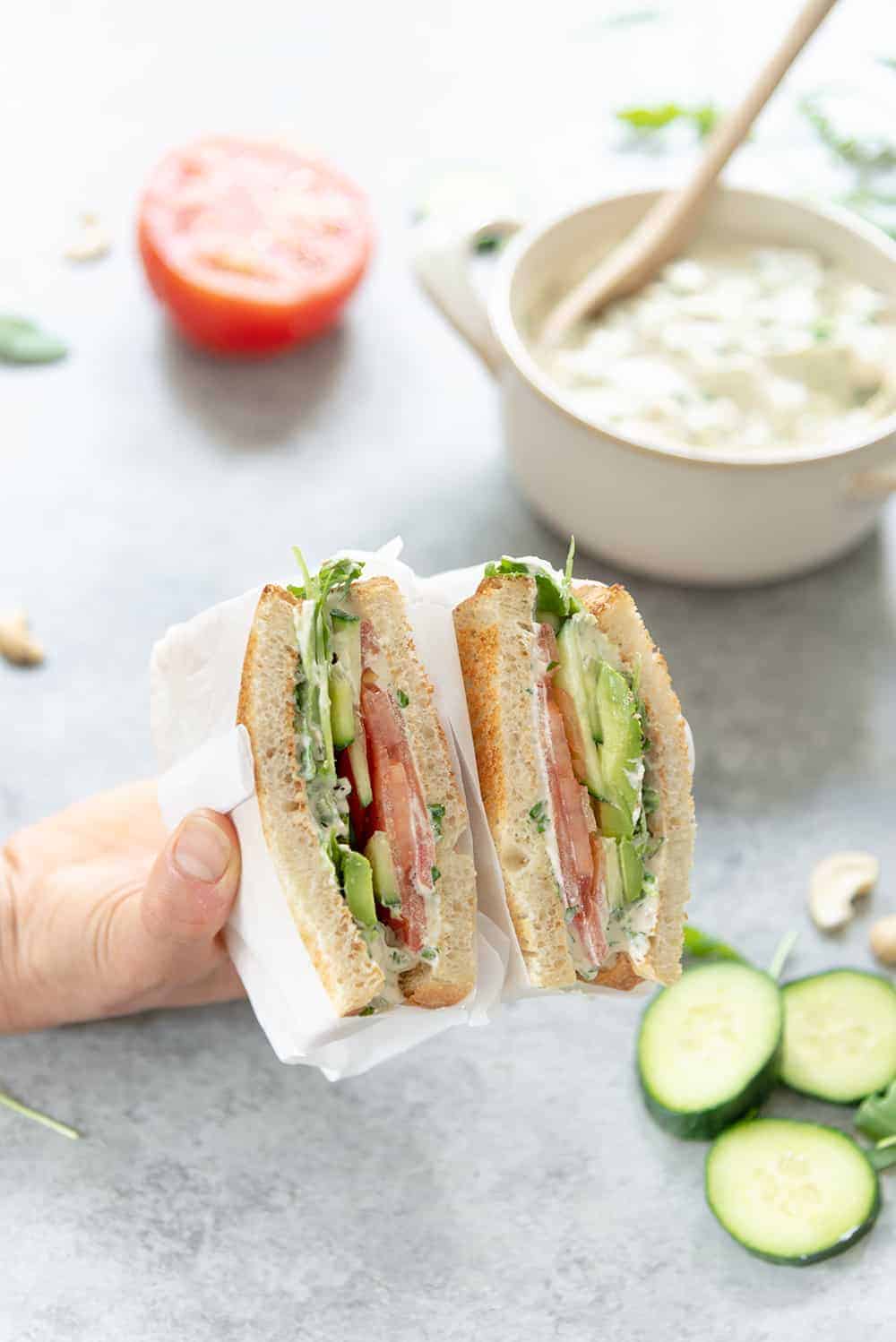 This crisp cucumber and tomato sandwich is made with cashew cheese, fresh tomatoes, crunchy cucumbers, and creamy avocado for a refreshing yet simple sandwich. This delicious sandwich makes a perfect on-the-go sandwich for busy weekdays!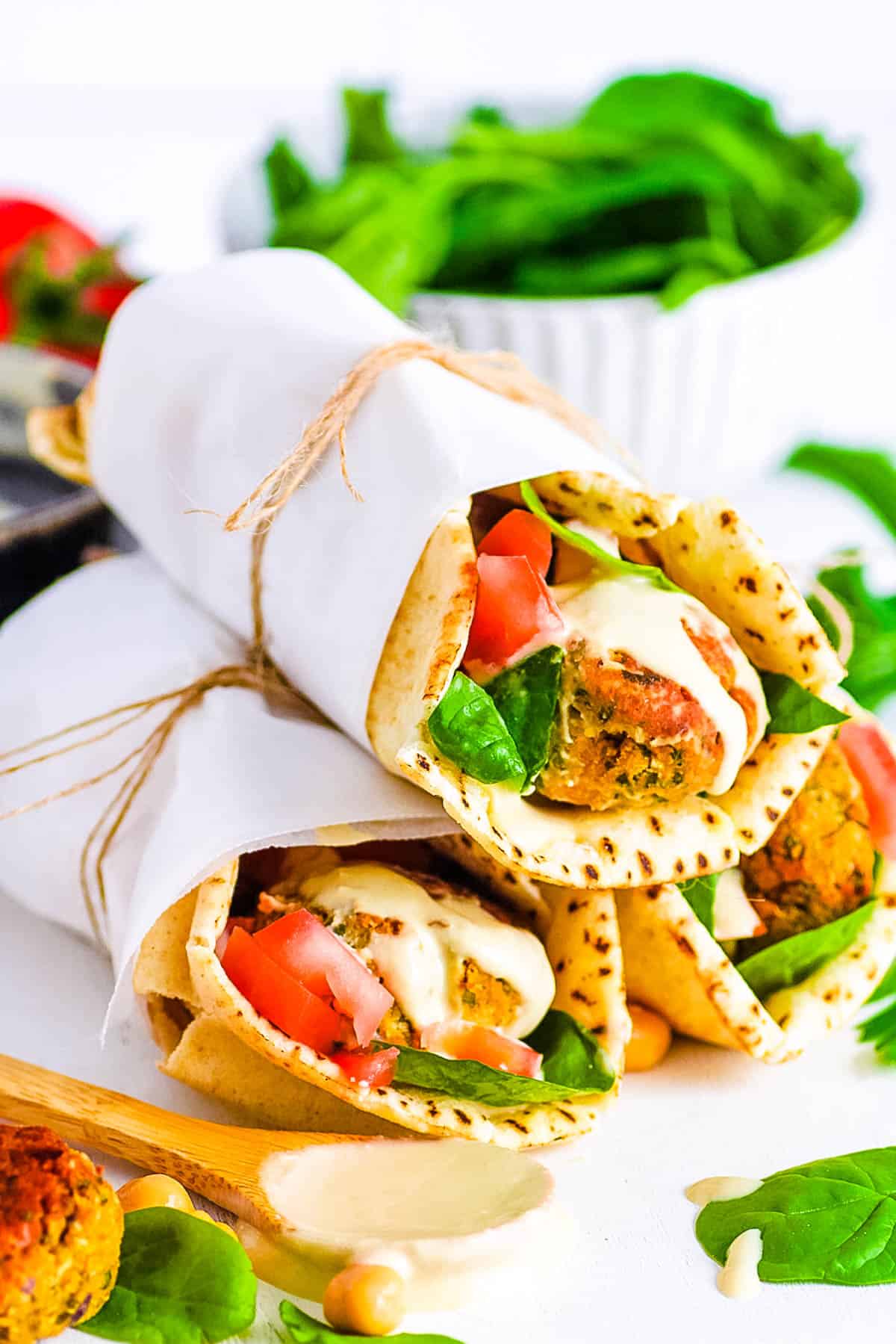 We all love falafel, don't we?! This falafel wrap is one of the best things we've ever tasted! Homemade falafel is made with chickpeas, garlic, cilantro, and parsley for the best falafel you'll ever eat. Pair this vegan sandwich with hummus, dolmas, pita bread, cucumbers, and more for a full spread!
These cute mini peanut butter and jelly sandwiches are made with waffles. They're perfect for any time of day! Great for toddlers, kids, and even adults, these quick snacks will satisfy any craving and make you dream about your favorite PB&J as a kid.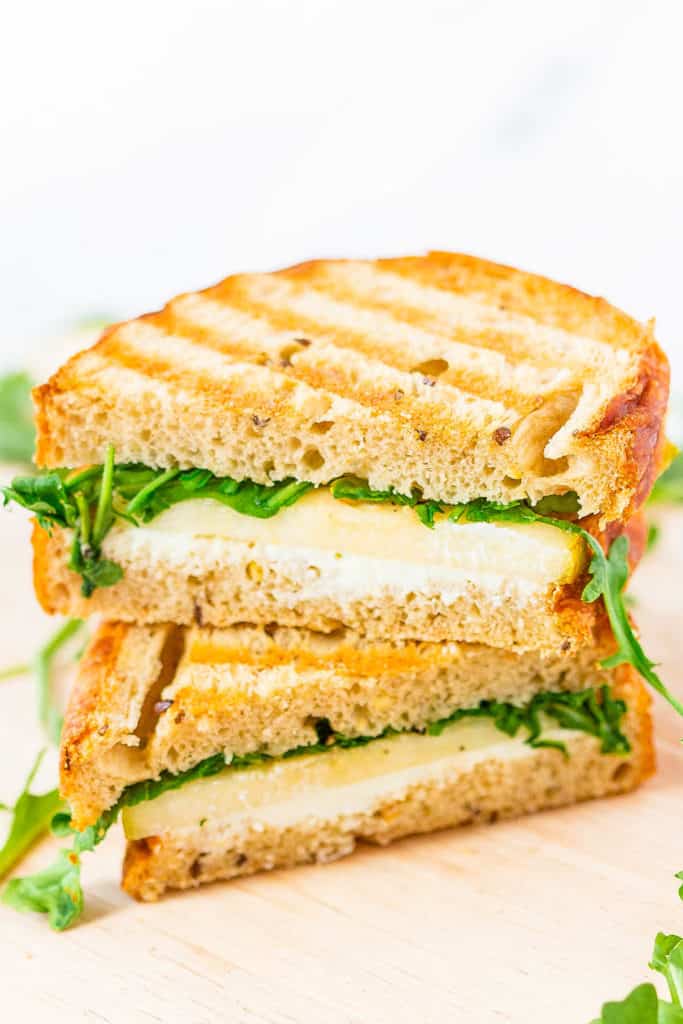 Fresh pears and peppery arugula create the ultimate combination of sweet and savory. Sub in vegan cream cheese and use my vegan honey recipe to keep this crispy sandwich vegan.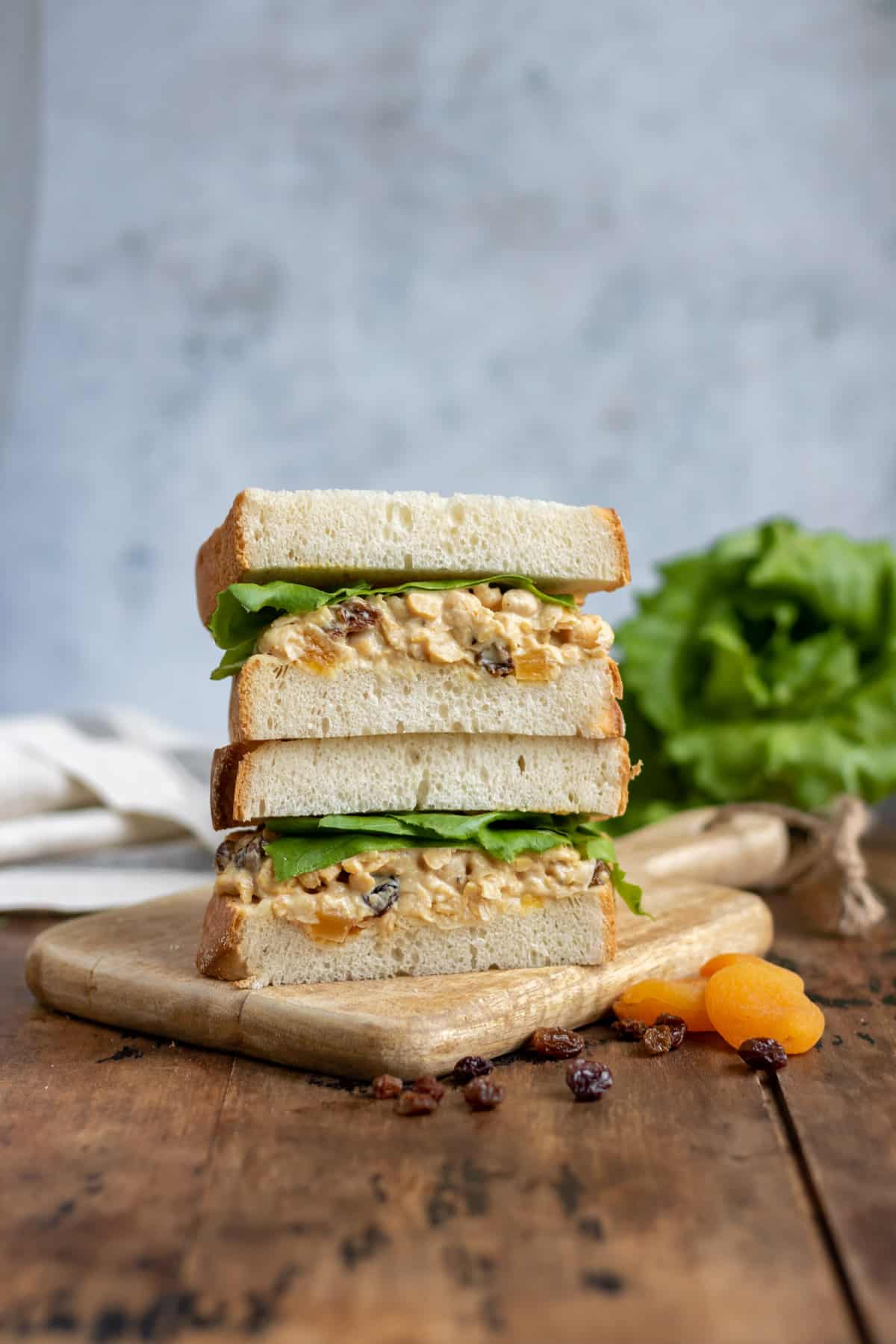 This delicious take on a vegan chicken salad sandwich is packed with flavor! Creamy and fiber-rich chickpea salad is sweet AND savory! Made with canned chickpeas, raisins, and mango chutney this recipe delivers bright flavors from the perfect blend of ingredients.
This green goddess wrap is loaded with fresh flavors! Made with a lima bean spread, broccoli, hearts of palm, nutritional yeast, and fresh lime juice, you will love these healthy wraps! Quick and healthy!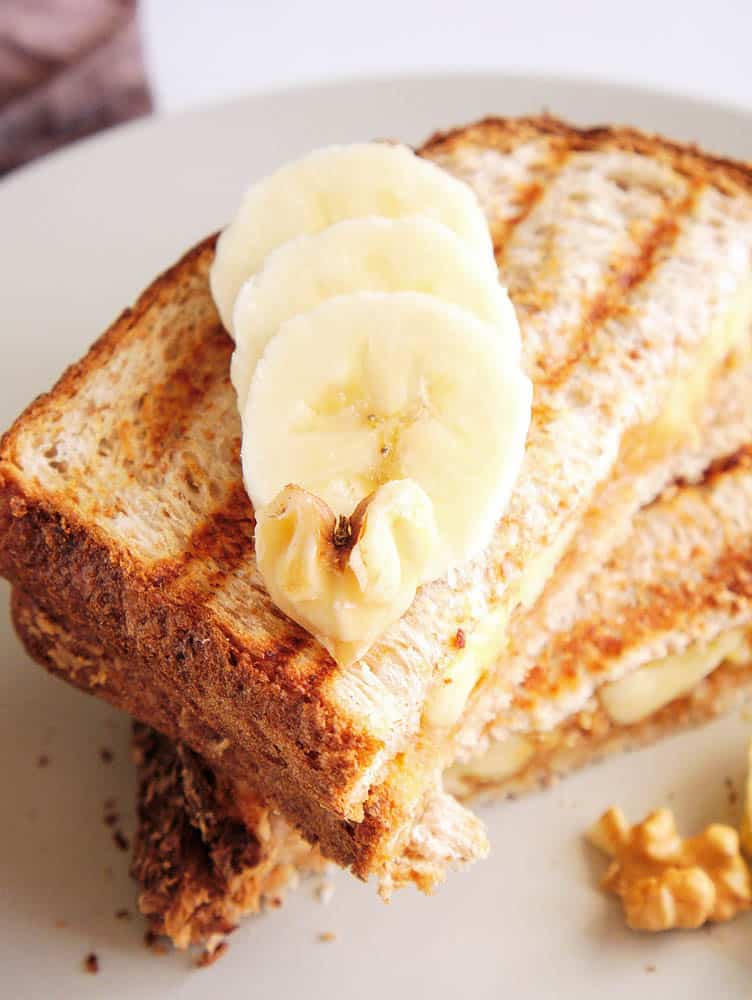 This classic creamy peanut butter and banana sandwich is one of the best vegan sandwich recipes ever! Great for breakfast, lunch, or just whenever you want some extra protein! Made with freshly chopped walnuts and sweet maple syrup, the whole family will love these sandwiches. Make them on whole wheat bread for even more feel-good nutrients!
Made with plenty of flavorful spices, fresh veggies, and quick pickled red onions, this Peruvian sandwich is out-of-this-world delicious! Serve the seasoned veggies on your favorite soft rolls or bread.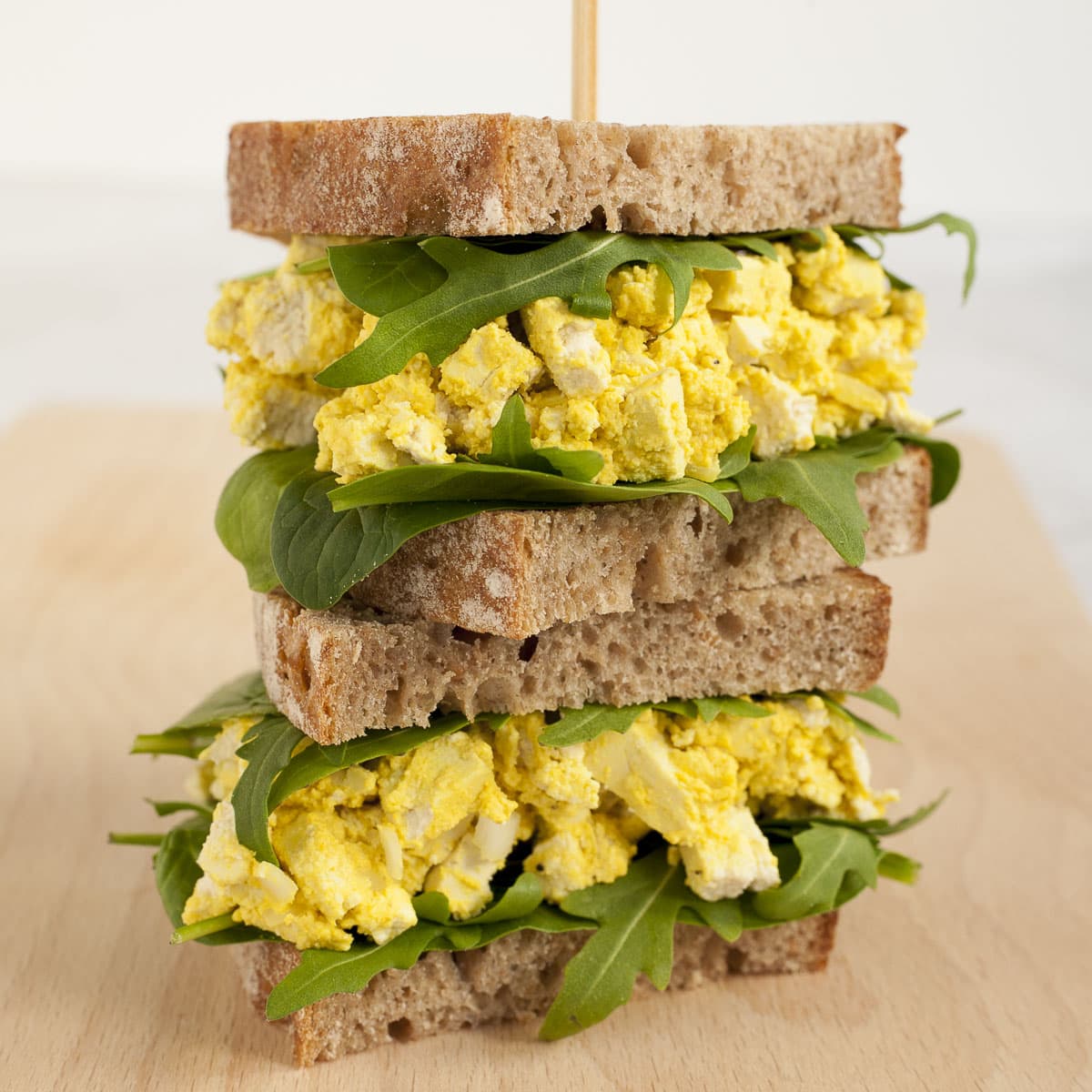 This tofu-based egg salad is vegan and egg-free, but tastes just like traditional egg salad! Made with cashews, garlic powder, lemon juice, and nutritional yeast, this vegan egg salad sandwich is creamy and delicious.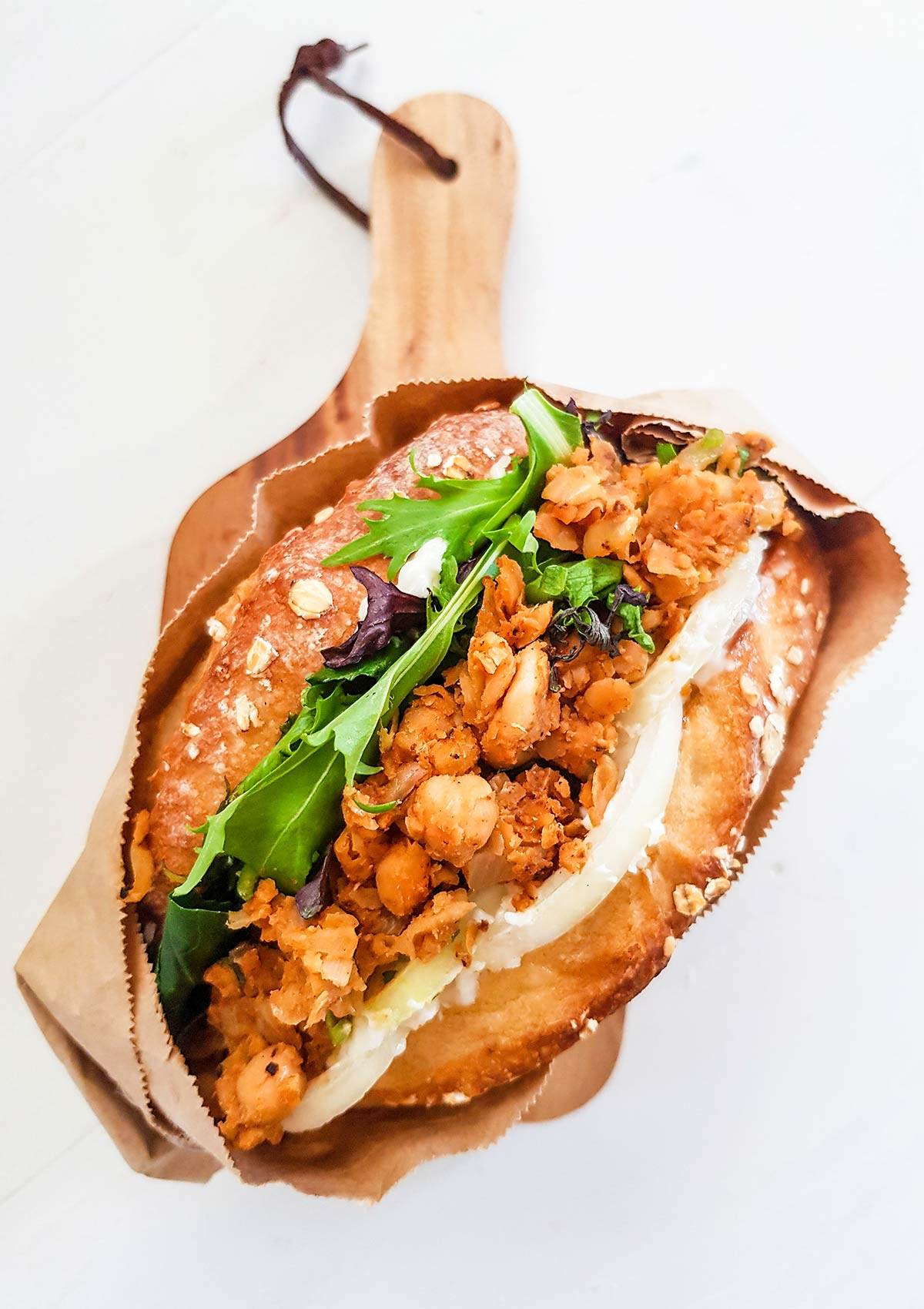 If you love buffalo cauliflower, you've got to try this buffalo chickpea sandwich! This sandwich is a little bit spicy from the tangy homemade buffalo filling. Layered with vegan yogurt, mixed greens, and garlic, this spicy sandwich is ideal whenever you have a craving for those classic buffalo flavors.
Colorful and anything but dull, this rainbow roast veggie sandwich is easy to make and perfect for a satisfying lunch! Made with homemade beetroot hummus and kale pesto, this bright sandwich has ALL the flavors you didn't know you wanted! Bell peppers, zucchini, and alfalfa sprouts make one nutrient-packed lunch.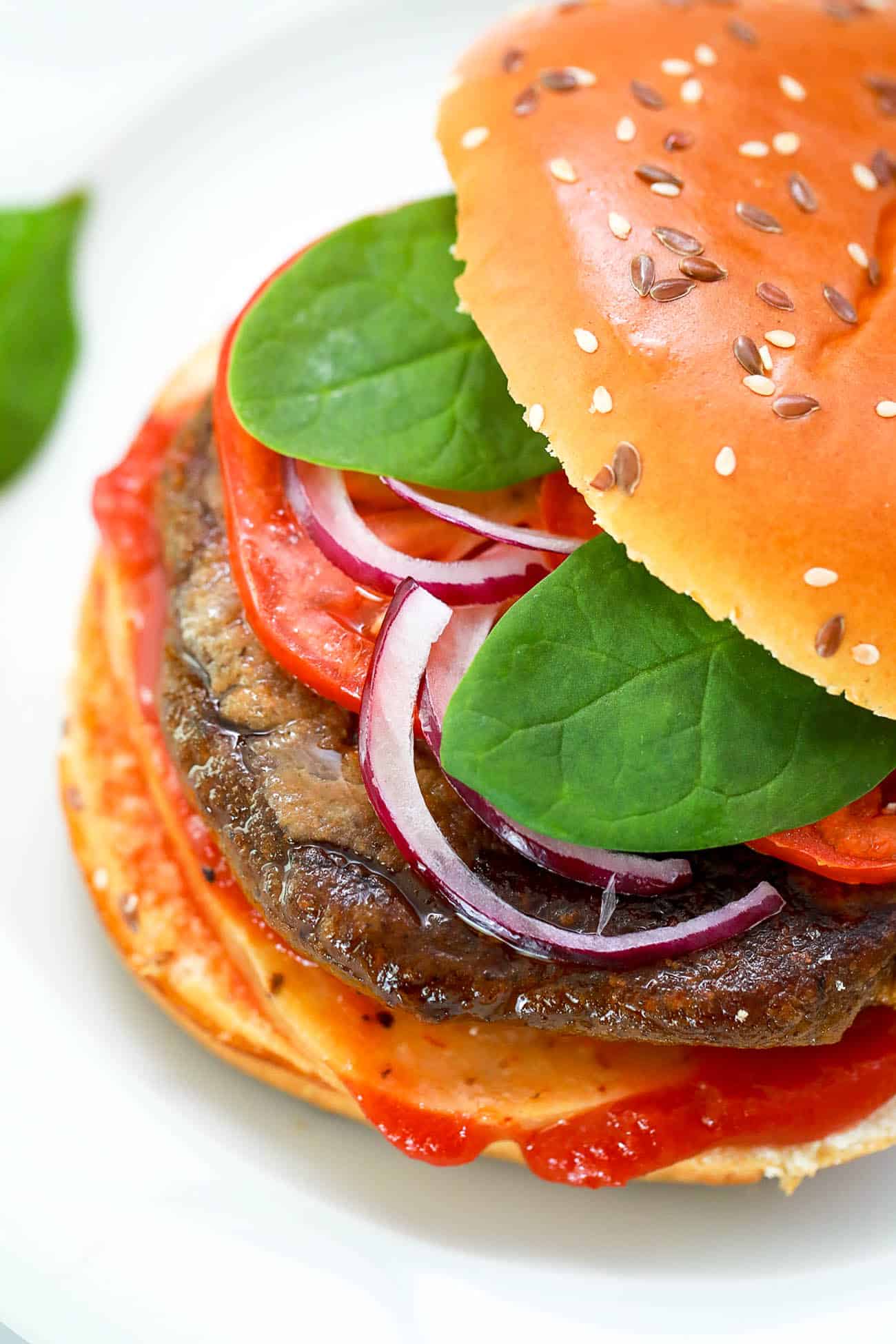 Pumpkin and black bean burgers are full of protein and another great option for burger night. Pair this veggie burger with homemade fries and a salad to complete the meal! The pumpkin and black bean patty is juicy and so flavorful you will defenitely want seconds! Add vegan cheddar cheese to make it a "cheeseburger".
Beefy and cheesy, this vegan Philly cheesesteak sandwich is comfort in a hoagie! Made with mushrooms, soy sauce, vegan Worcestershire sauce, and more, this sandwich tastes just like a real Philly cheesesteak.
The next time you get a craving for the classic Asian sandwich known as the banh mi, consider trying this veggie-based sandwich! This recipe tastes just like a banh mi and is loaded with fresh crunchy veggies that are filled with nutrients and bright flavors!
This vegan hummus and avocado sandwich is fresh and easy to make! Creamy avocado and crisp cucumbers complement each other perfectly. The microgreens and fresh tomatoes give this sandwich extra oomph!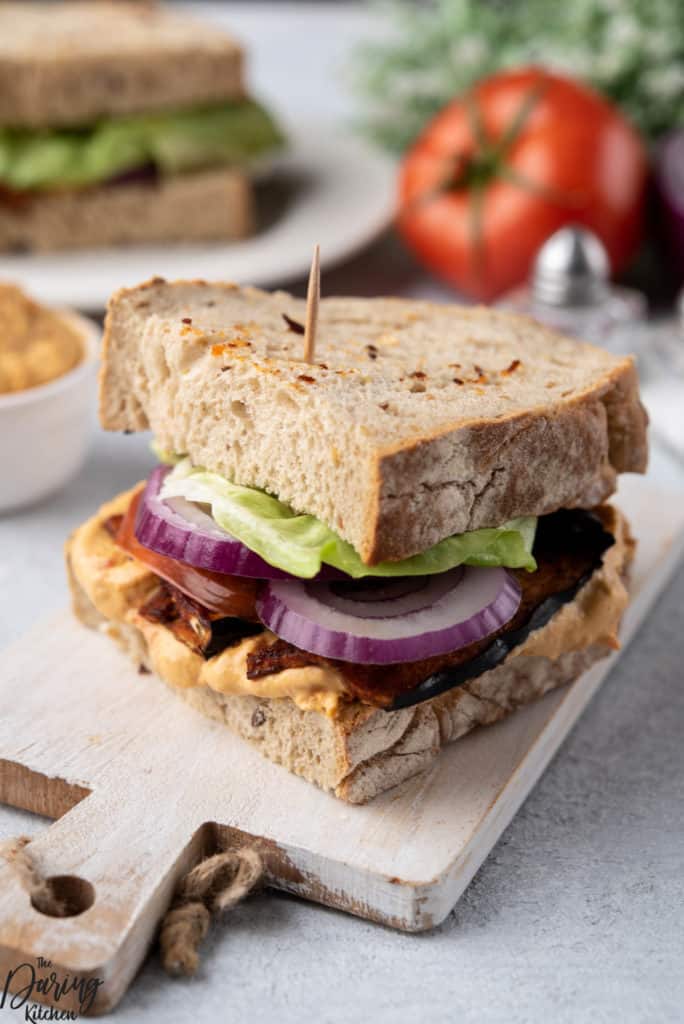 This vegan BLT sandwich has all the flavor and texture of a traditional BLT but without the meat. The vegan bacon is perfectly crunchy and is served with onion, lettuce, and tomato for a veg-friendly twist!
Eat all the colors of the rainbow with this veggie-packed sandwich! Made with crispy toasted bread and topped with fresh ingredients like peppers, mico greens, cucumbers, cabbage, and more! You will love with this simple and flavorful sandwich.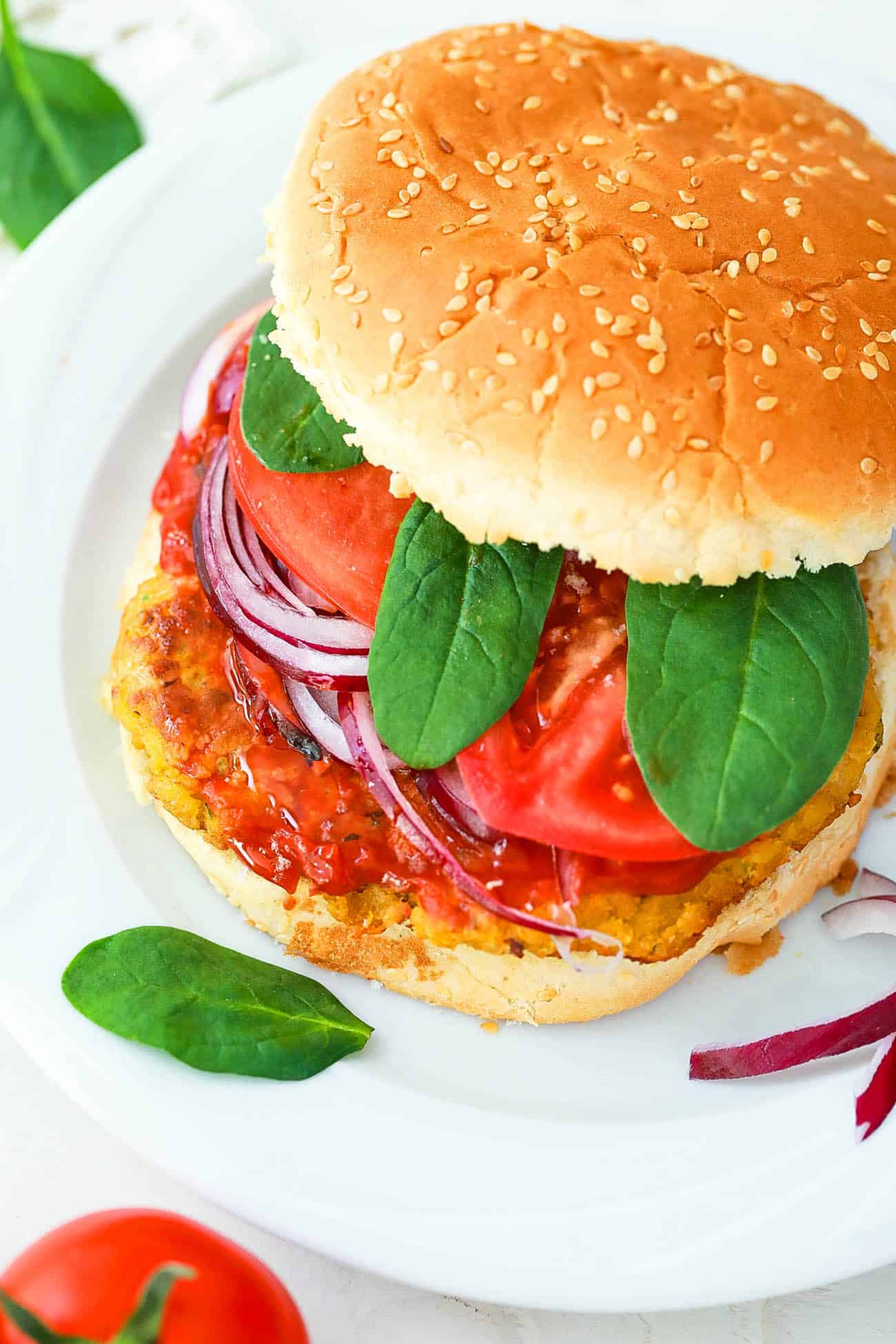 Sub in vegan sour cream and a chia egg to make these plant-based burgers vegan! Pinto beans are high in protein and a great source of plant-based nutrients! Enjoy with a side of French fries!
Mushrooms are cooked until crispy then paired with robust tomato sauce, garlic, and dairy-free dill cheese! This hearty sandwich makes a perfect weeknight dinner!
Pulled BBQ Jackfruit Sandwiches
The next time you get the craving for BBQ, try out this vegan pulled jackfruit sandwich. Simple to prepare and great for holidays or special occasions, this recipe is sweet and tangy!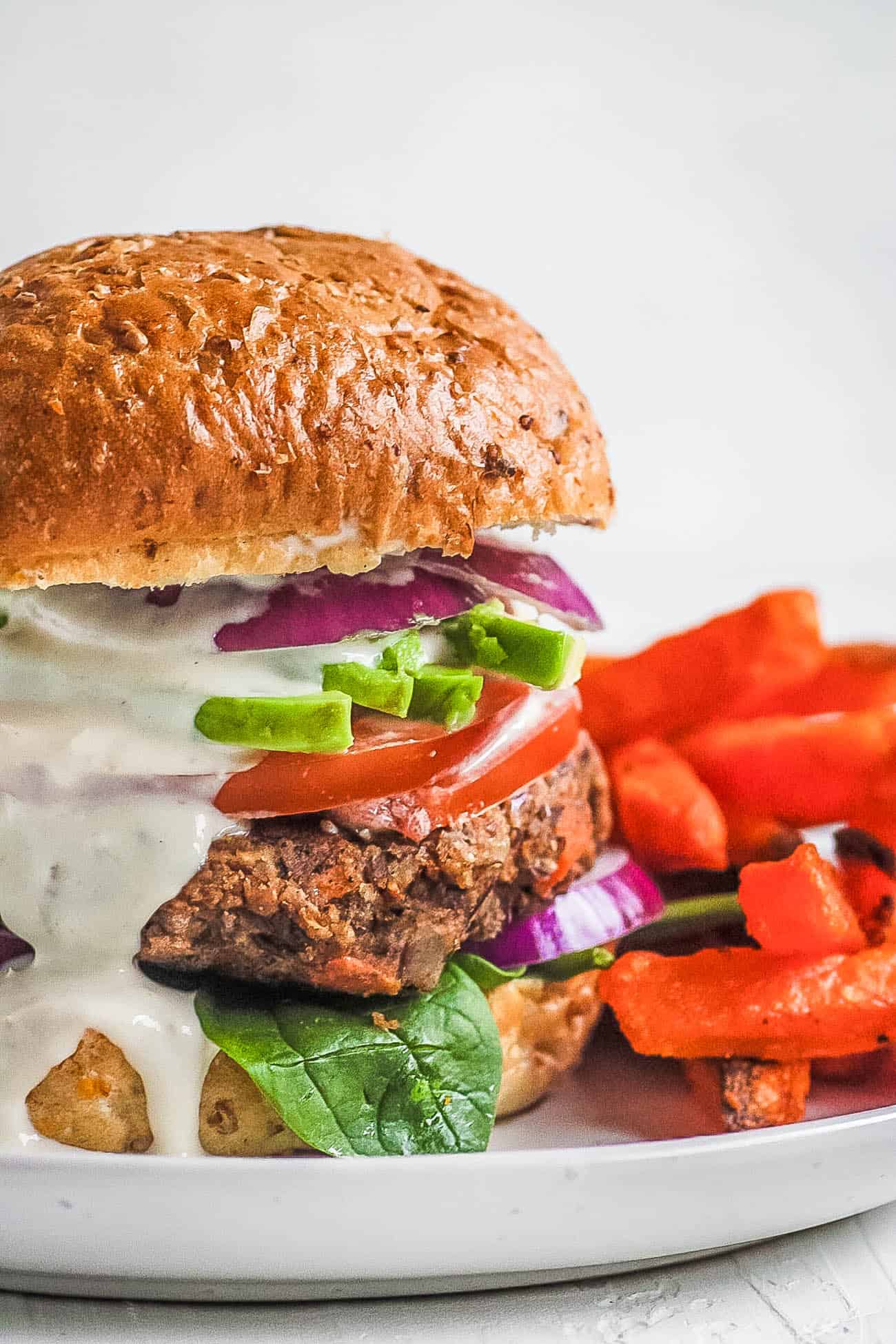 Chipotle black bean burgers are hearty and satisfying. These protein-packed chipotle black bean burgers are perfect for summer cookouts! Top with all the fixing's for sandwich nirvana.
Vegan Sandwich FAQs
What sandwiches can vegans eat?
Vegans can eat any classic sandwiches without animal products. It can be rather easy to make a regular sandwich into a vegan one. Swap out regular cheese for vegan cheese, leave off the meat, and pack on the veggies! Avocado, chickpeas, beans, mushrooms, tomatoes, red onion, tofu, hummus, mashed white beans, sweet potatoes, and plant-based meats are all great options! Be sure to check the ingredients of the bread you choose to make sure it's vegan as well!
Is bread vegan?
Many breads contain only four main ingredients – flour, water, salt, and yeast. This means many types of breads are naturally vegan, but always check labels. Some breads contain eggs, honey, butter, and other sneaky animal products.
What snacks are vegan?
Cashews, almonds, guacamole, banana chips, fruit, and smoothies are all vegan. Nowadays vegan snacks are easy to find and usually labeled as such! Many varieties of chips are also vegan.
Is peanut butter and jelly vegan?
As long as the peanut butter does not contain any honey, then yes, PB&Js are vegan!
Final Thoughts
If you're on the hunt for satisfying vegan sandwich ideas, save this list for future reference! Each one of these sandwiches is drool-worthy, packed with nutrients, and easy to make!
Many of these vegetarian sandwiches could easily be devoured for breakfast too. Just pick a few to try and customize to your tastes and preferences. My favorite vegan breakfast sandwich is hands-down the peanut butter and banana sandwich!
For more delicious ideas, check out the rest of my vegan recipes here!
8 responses to "35 Vegan Sandwich Recipes"