35 Vegan Mushroom Recipes
This post may contain affiliate links. As an Amazon Associate, I earn from qualifying purchases. Please read my disclosure.
These 35 vegan mushroom recipes bring abundant flavor, comfort, and nourishment on even the busiest of days. Mushrooms get elevated in these vegan recipes that span every type of meal – from warm soup, to creamy pasta, hearty burgers, and savory stir-fries. Get ready to take lunch and dinner to a whole new level, with these plant based mushroom recipes that will satisfy your taste buds. There is something for everyone in this helpful list of vegan mushroom ideas!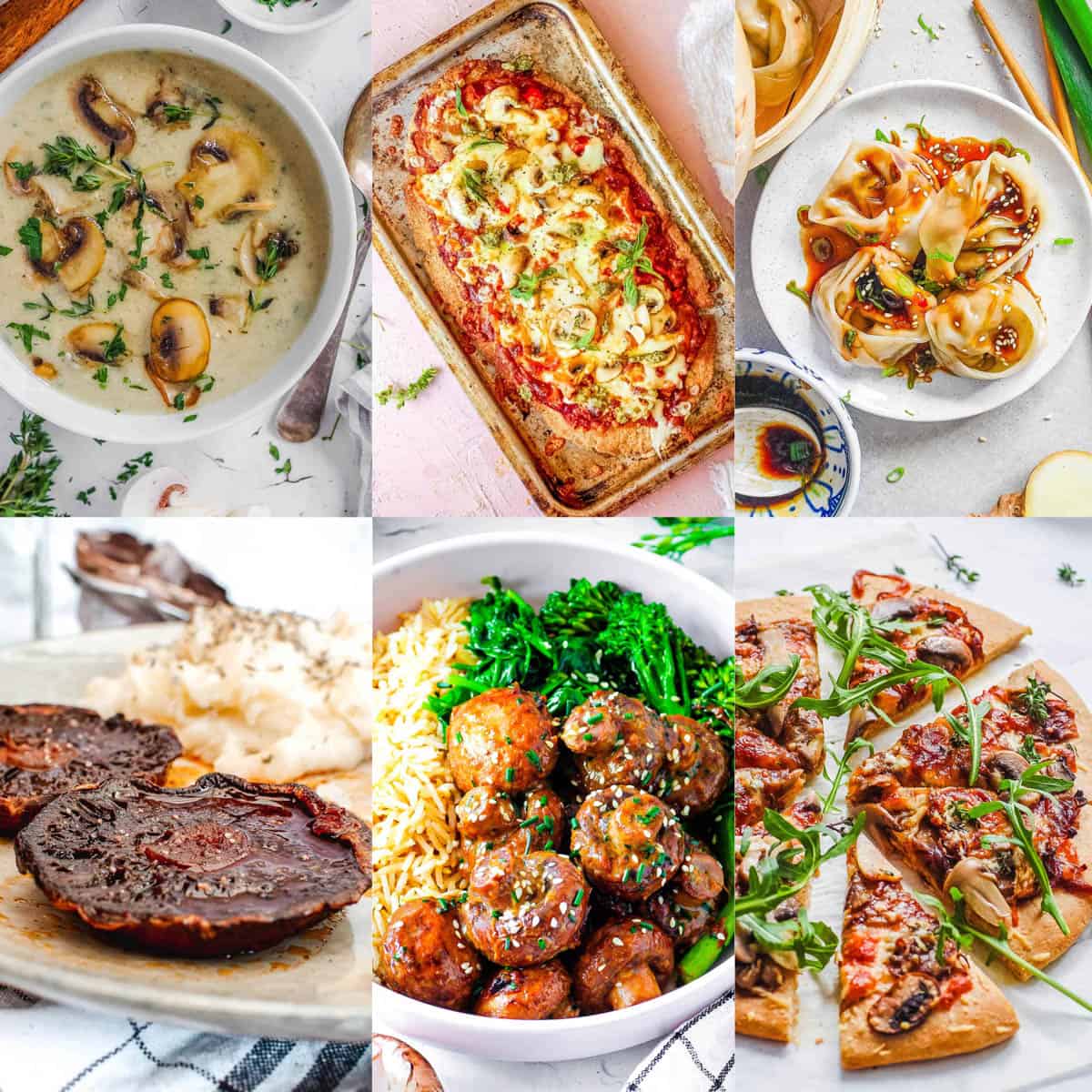 Healthy, dietary-friendly recipes do not have to be boring, and you will quickly find that to be true when scrolling through these enticing vegan dishes. While you'll be impressed with the bounty of options listed here, you can also check out these additional 80+ vegan dinner recipes to try tonight! Whatever direction you go, you are sure to be satisfied!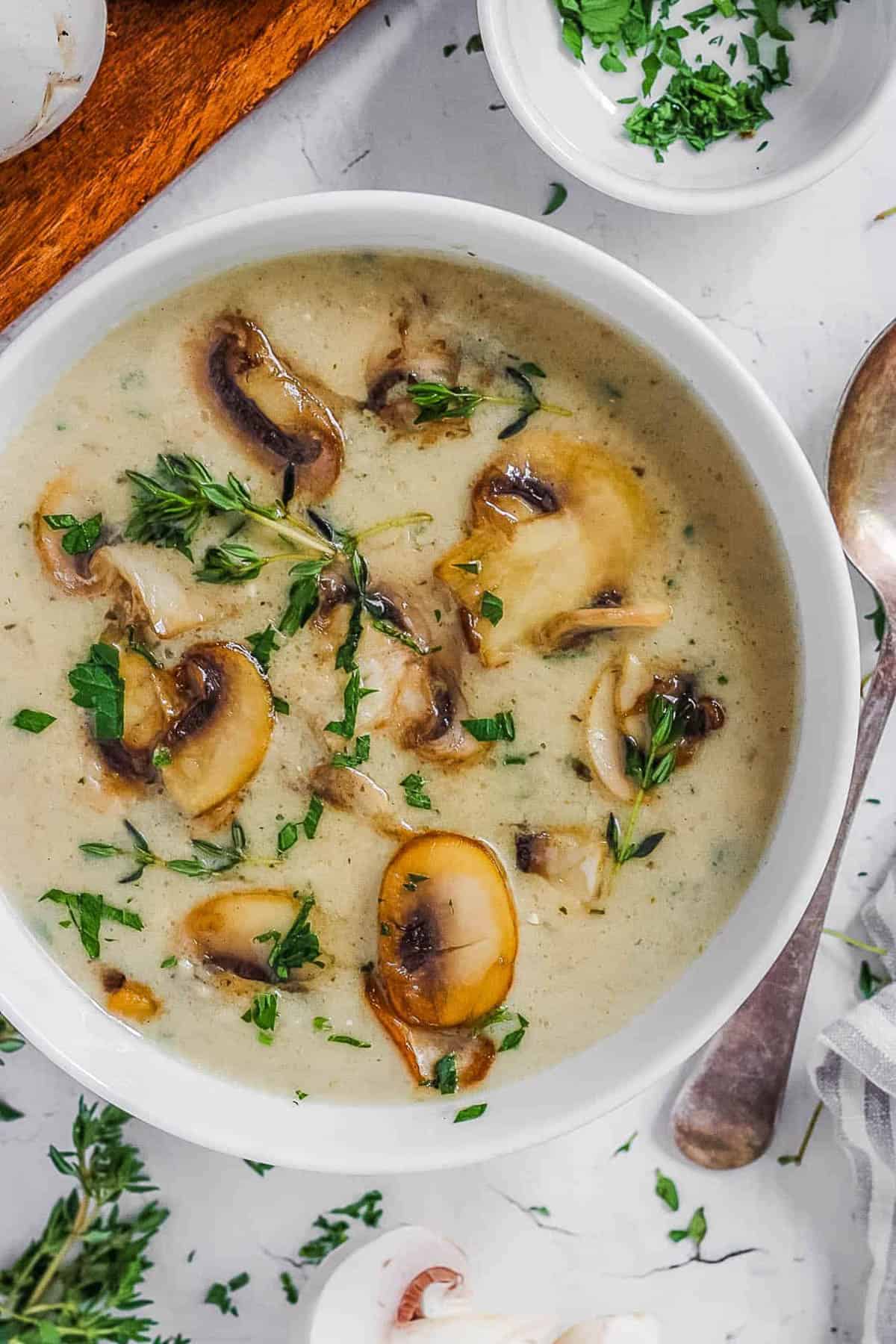 When looking for vegan recipes with mushrooms, why not try this rich mushroom stew without cream! Loaded with mushrooms, garlic, and fresh herbs, it's a comforting and hearty soup that wins over the taste buds.
This healthy dish accommodates a low-calorie diet, and can be easily made vegan by using coconut milk instead of regular milk.
You'll love this recipe with its comforting, warm broth and savory flavor. It only takes 10 minutes of prep time and serves 4, for an easy dinner the whole family can enjoy.
Calories: 143 — Fiber: 2 grams — Protein: 6 grams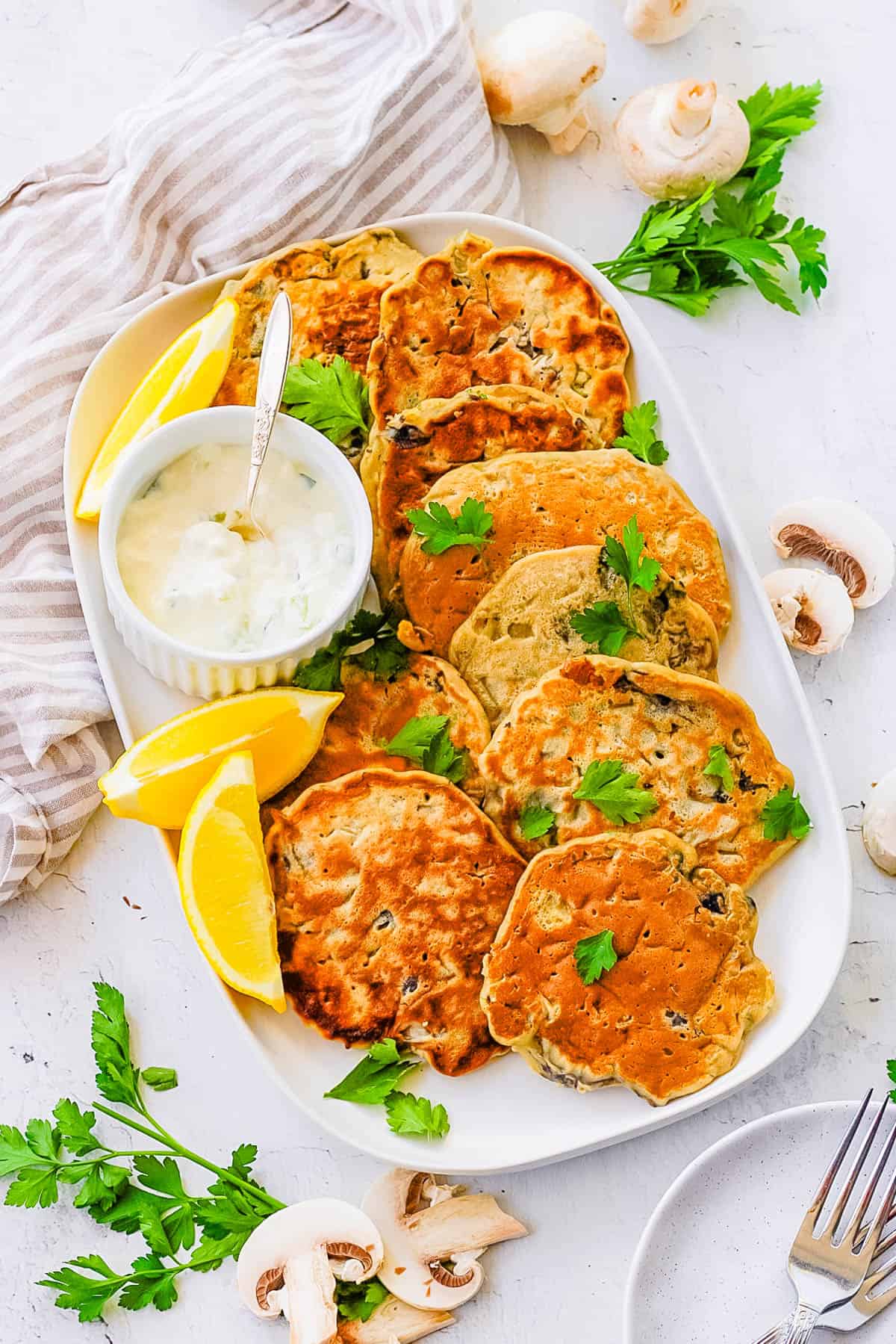 These mushroom fritters are the perfect side dish, easily paired with a variety of vegan dinner options. Ready in just 45 minutes!
This is one of the best vegan mushroom recipes around thanks to its perfect balance of crispy texture and earthy flavor.
Made with all-purpose flour, this is not a naturally gluten-free friendly recipe. But good news, it can easily be made both gluten free and vegan– swap for a gf flour, vegan eggs, and non-dairy milk.
Calories: 95 — Fiber: 1 grams — Protein: 4 grams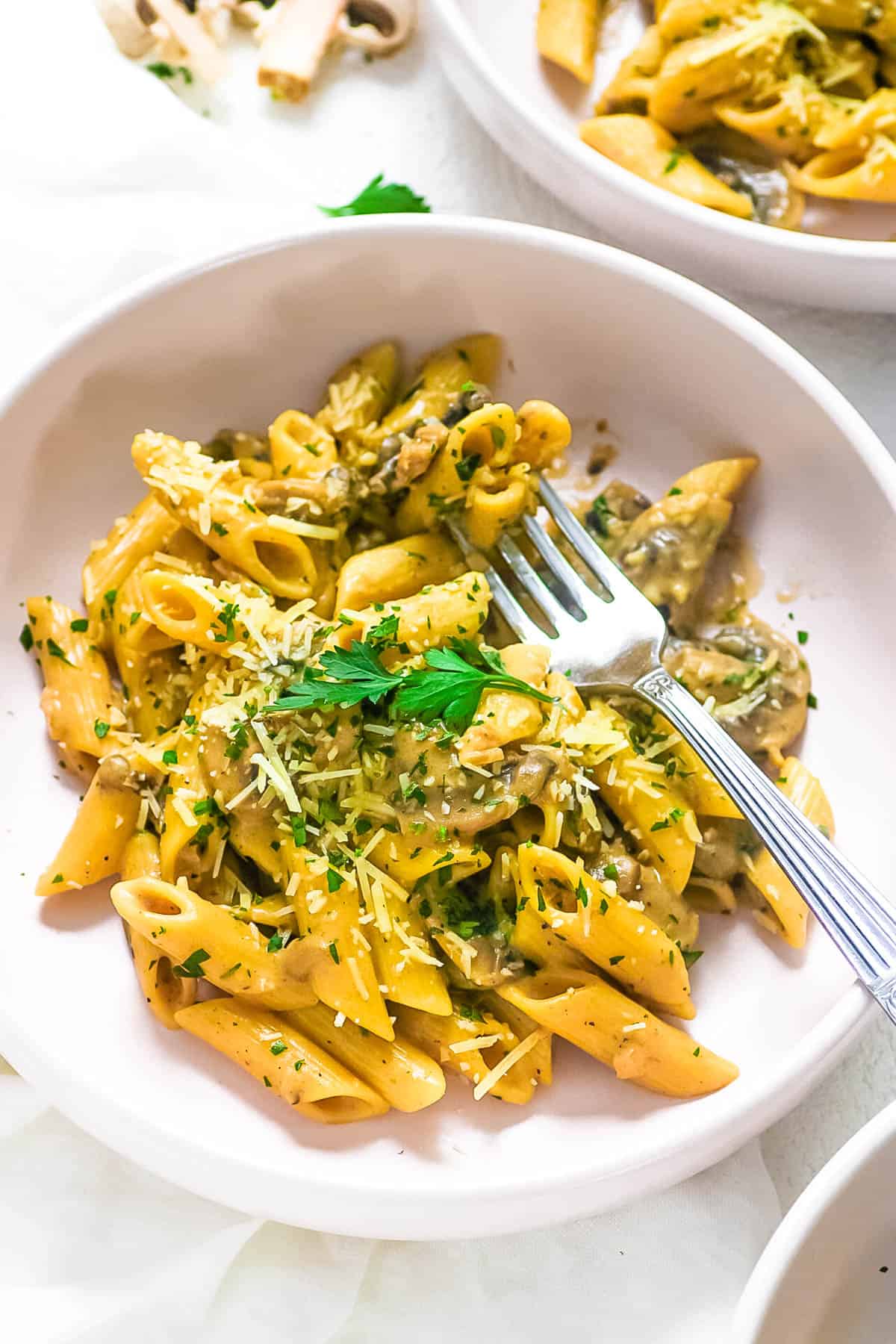 Comforting, creamy vegan mushroom pasta is hearty, warming, and so satisfying! It's a healthy, easy recipe that comes together in under 30 minutes with olive oil, vegan butter, fresh parsley, and vegan parmesan cheese.
This vegan mushroom stroganoff recipe is great for a plant-based diet, but meat eaters will love it too! Plus, it can be easily made gluten free to accommodate even more dietary needs.
Perfect for a weeknight dinner, or a meal to impress your non-vegan friends and your whole family! Many of my friends love this even more than traditional beef stroganoff!
Calories: 318 — Fiber: 3 grams — Protein: 10 grams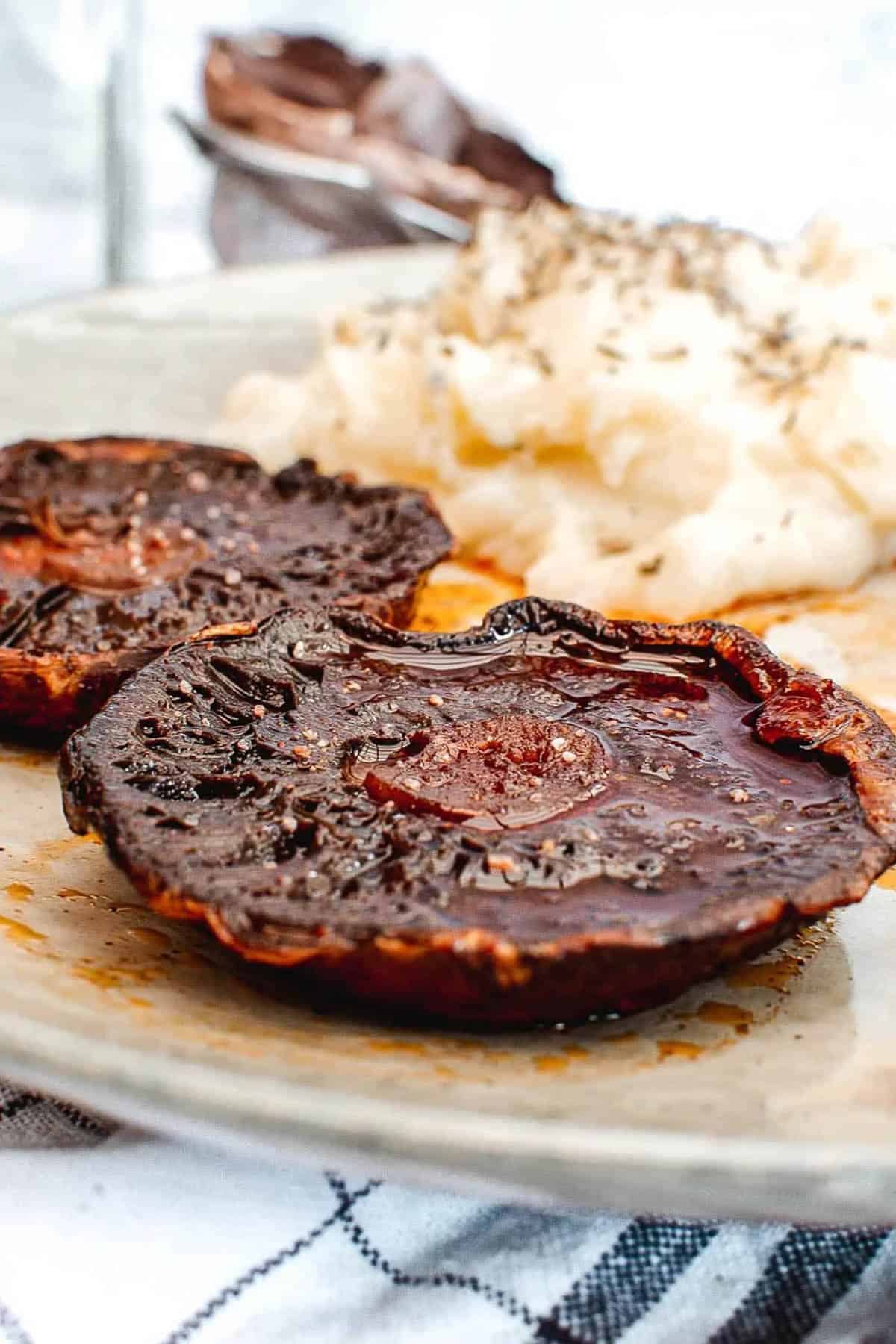 Juicy portobello mushrooms are transformed into steaks and paired with mashed potatoes and asparagus. This is a complete vegan meal that is hearty, simple, and totally mouth-watering. Vegan portobello mushroom recipes do not get much easier (or tastier)!
This is a great option for those who are plant-based, gluten-free, or looking for a low-calorie dinner.
This hearty, delicious dish is just what you need if you're looking for a special meal to share with the whole family! In just 40 minutes, you'll have a nourishing meal that can be made even on busy weeknights.
Calories: 185 — Fiber: 3.3 grams — Protein: 5 grams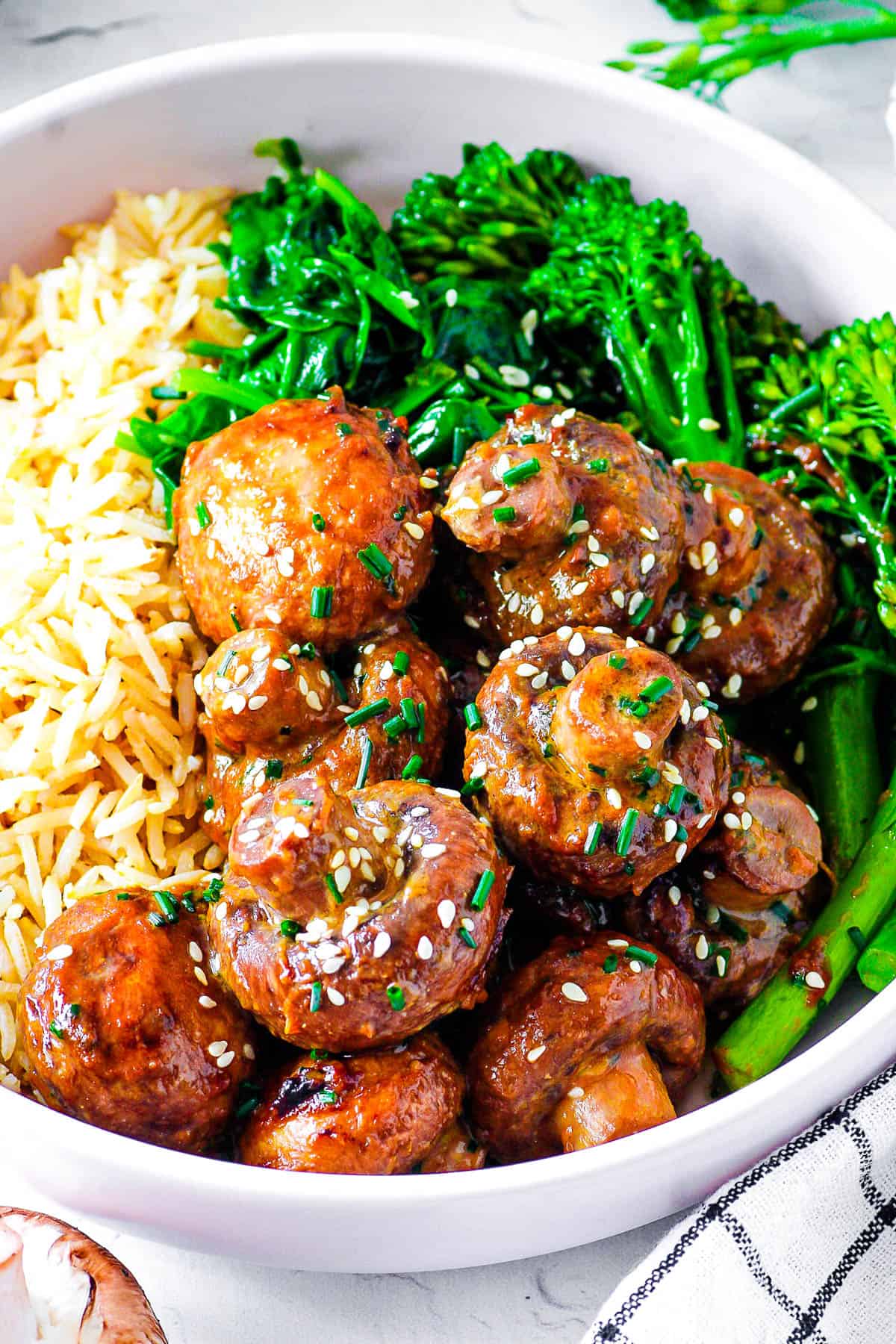 Miso mushrooms are one of the most delicious, comforting, super easy vegan mushroom recipes you can make! In just 25 minutes, you'll have the best mushrooms packed with irresistible umami flavor.
This is a healthy gluten-free and vegan side dish – just use vegan butter!
I love this vegan mushroom dish because of its versatility – it can be served in a lot of different ways! Plus, it's high in protein and fiber.
Calories: 253 — Fiber: 3 grams — Protein: 10 grams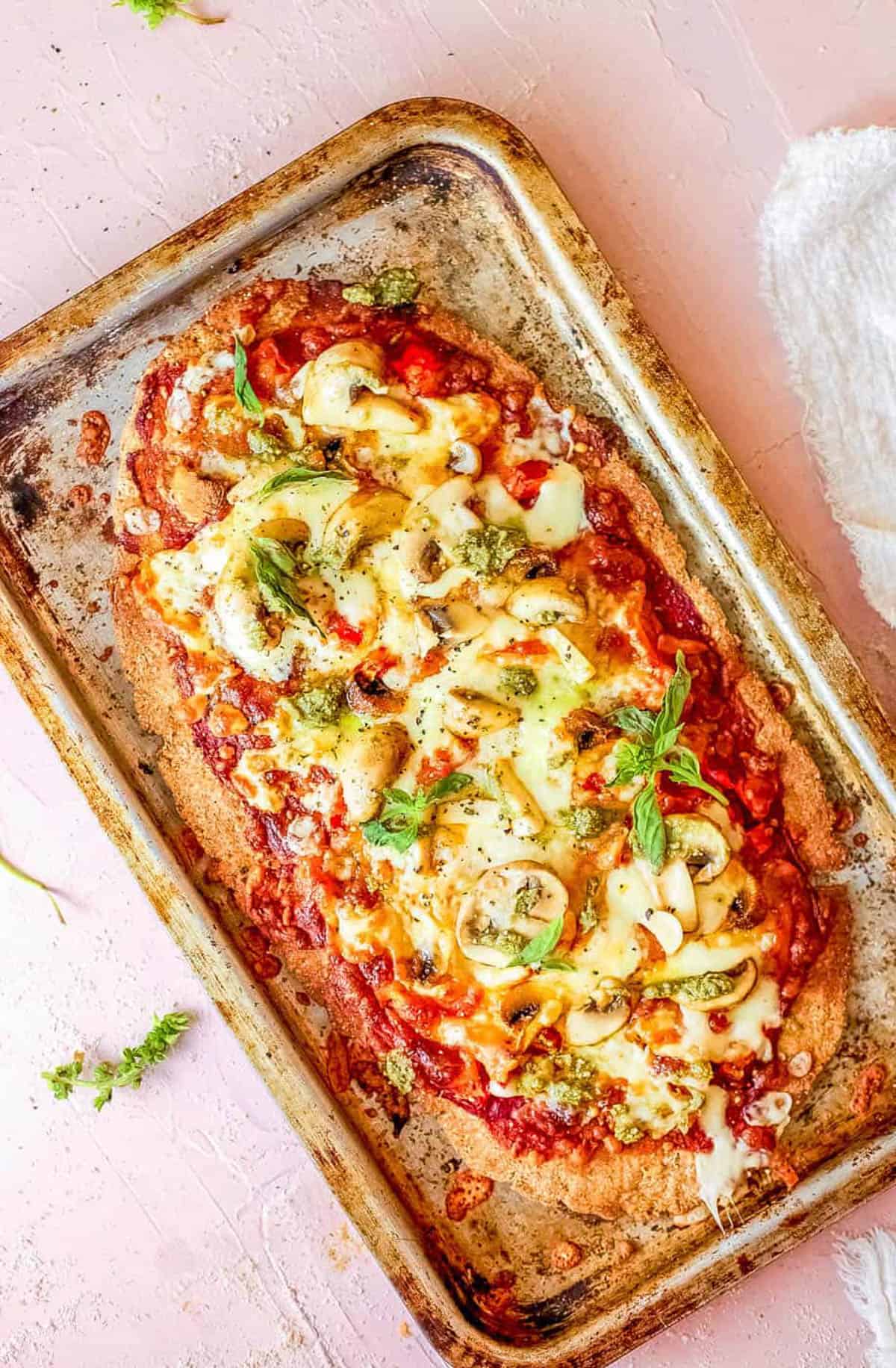 A crispy whole wheat crust is topped with melty mozzarella and fresh pesto to create this mushroom flatbread pizza that makes for a family friendly meal any day of the week! It's a truly authentic artisan flatbread pizza, that rivals anything you'd order in a restaurant!
To accommodate a vegan diet, substitute the cheese for a vegan mozzarella and use vegan pesto. This is a great choice for anyone looking for a high-protein dinner.
When it comes to family friendly Italian meals, homemade baked flatbread can't be beat! You can find all of the ingredients at any of your local grocery stores.
Calories: 347 — Fiber: 6.9 grams — Protein: 16.4 grams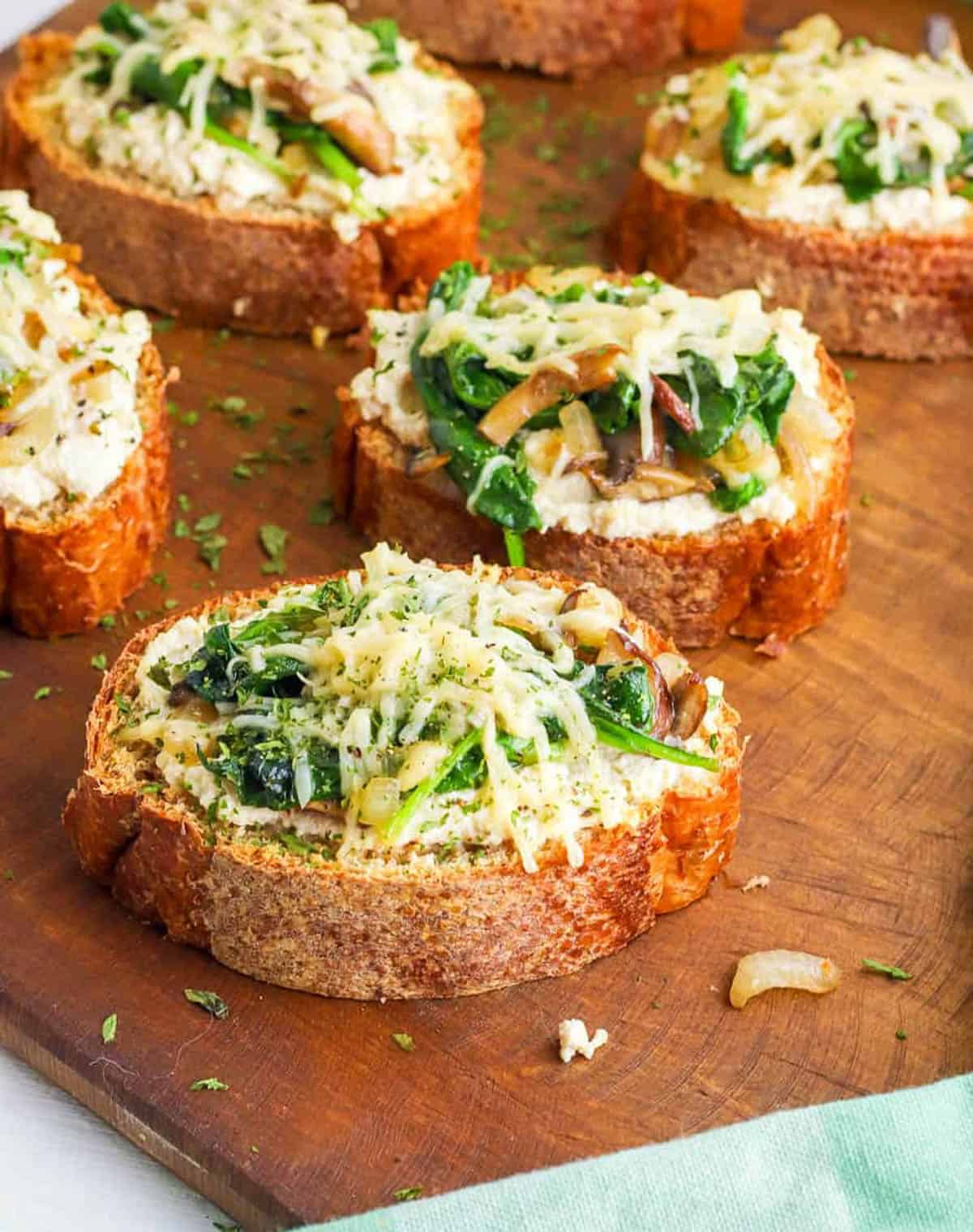 When you sink your teeth into this mushroom toast, you'll know you've found your next favorite lunch, breakfast, or snack combination!
If you're trying to get more whole grains in your diet, then this mushroom toast is a delicious way to add some extra fiber! Simply omit the cheese or use vegan parmesan to keep this vegan.
One thing I love about this mushroom toast recipe is the roasted garlic spread. Plus, the rich flavor of the roasted garlic is seriously going to make you drool.
Calories: 140 — Fiber: 2.7 grams — Protein: 7.5 grams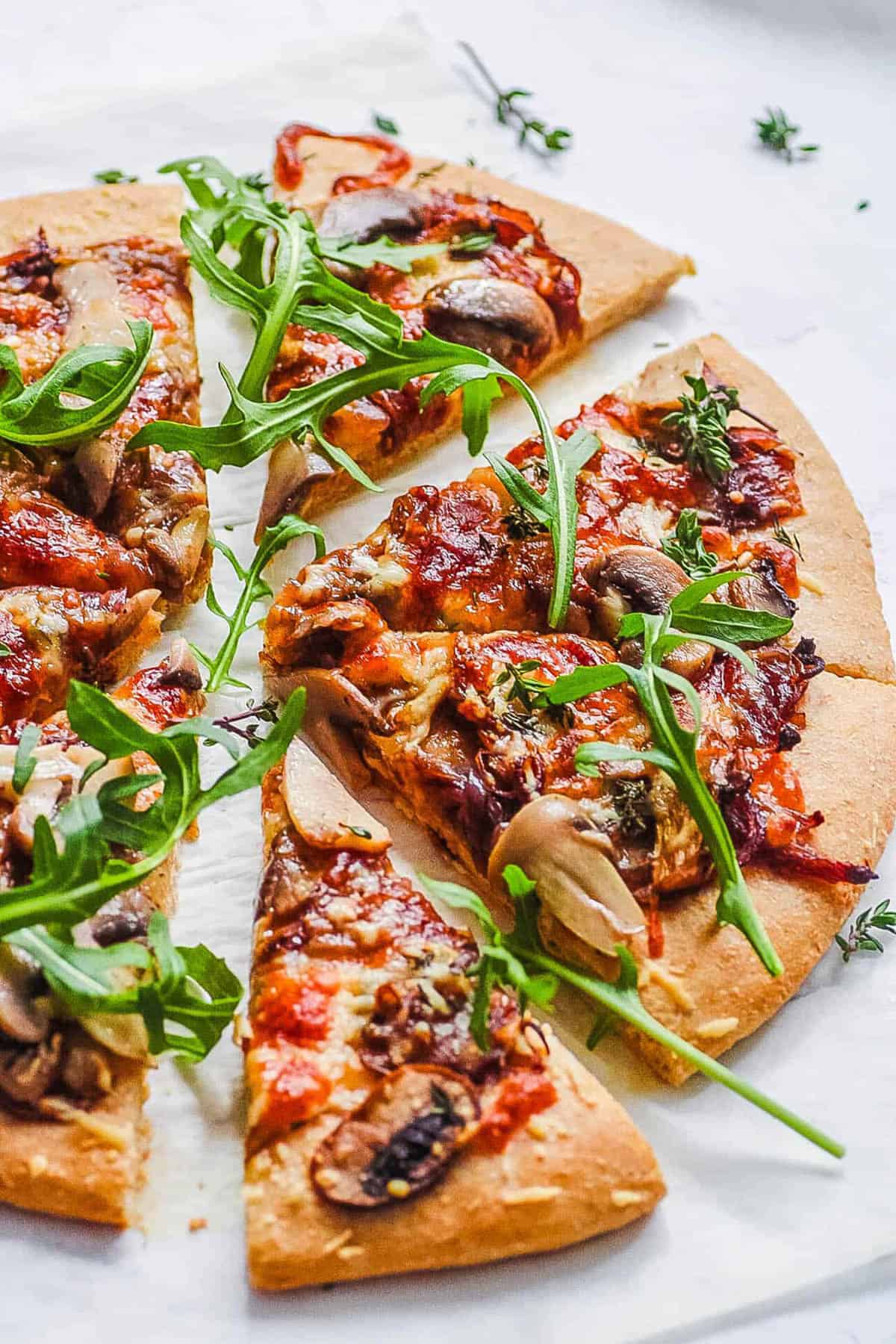 This rustic mushroom and garlic pizza is ready to eat in less than 30 minutes. A whole-wheat crust is the perfect base for meaty mushrooms, red onions, and nutty garlic.
Use vegan cheese for a vegan-friendly, dairy-free lunch or dinner. Whether you are plant-based or not, this pizza recipe will be loved by all.
If you're looking to upgrade pizza night, this garlic pizza is the answer. Omit what you don't like and add what you do for one of the best vegetarian mushroom recipes!
Calories: 350 — Fiber: 7 grams — Protein: 17 grams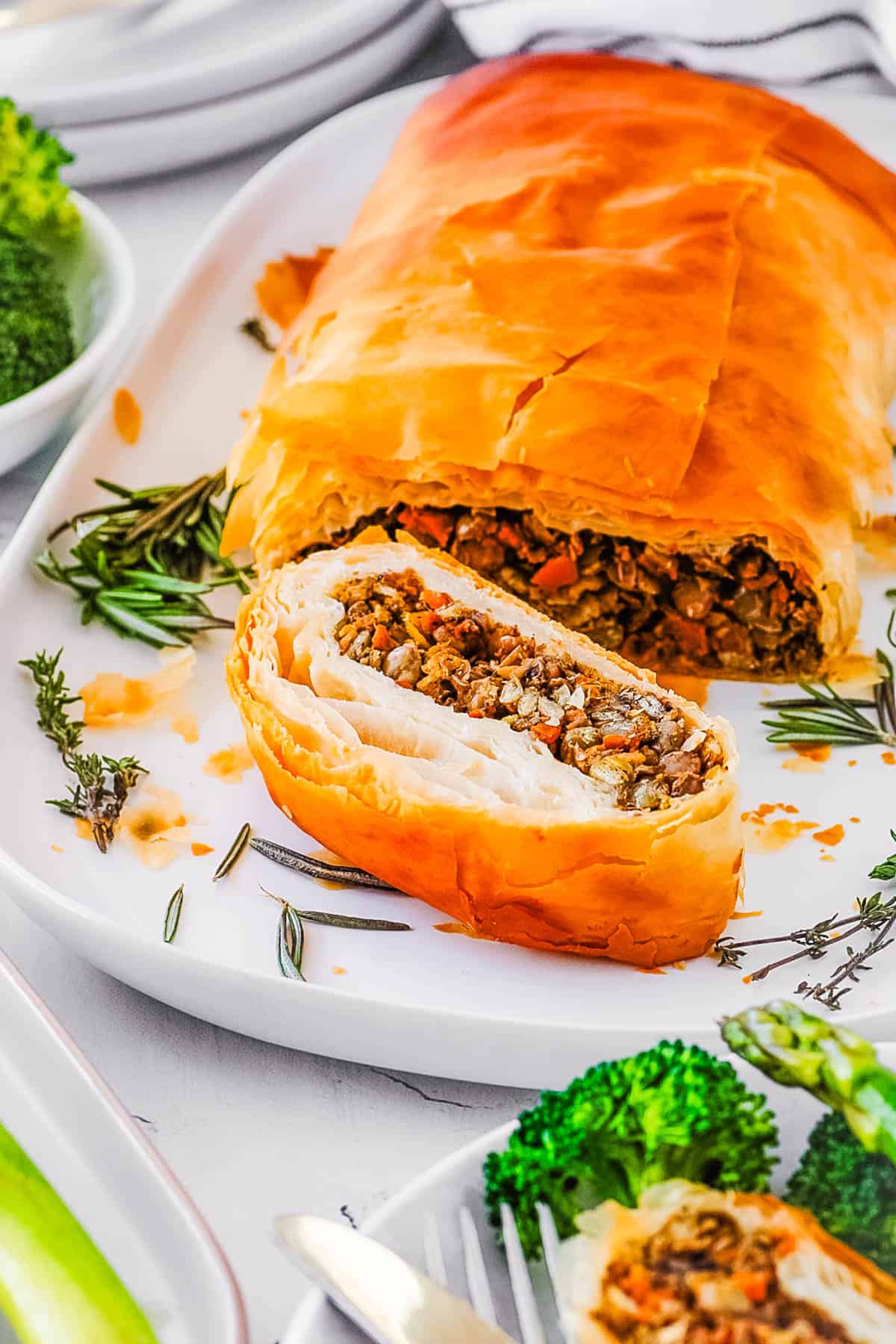 This comforting, super satisfying vegan mushroom wellington is filled with lentils, onions, carrots, tomatoes, and garlic, loaded up inside a flaky pastry. The meaty texture of mushrooms paired with the hearty lentils, make this a fan favorite amongst plant based mushroom recipes.
If you love classic comfort food, then you're going to be drooling over this meaty, hearty vegan Wellington recipe! It is nut-free, too!
While this healthy Wellington recipe is perfect exactly as it is, you can totally customize it with various veggies and flavors! It is great for special occasions, and the perfect addition to a Thanksgiving or Christmas dinner table.
Calories: 363 — Fiber: 10 grams — Protein: 11 grams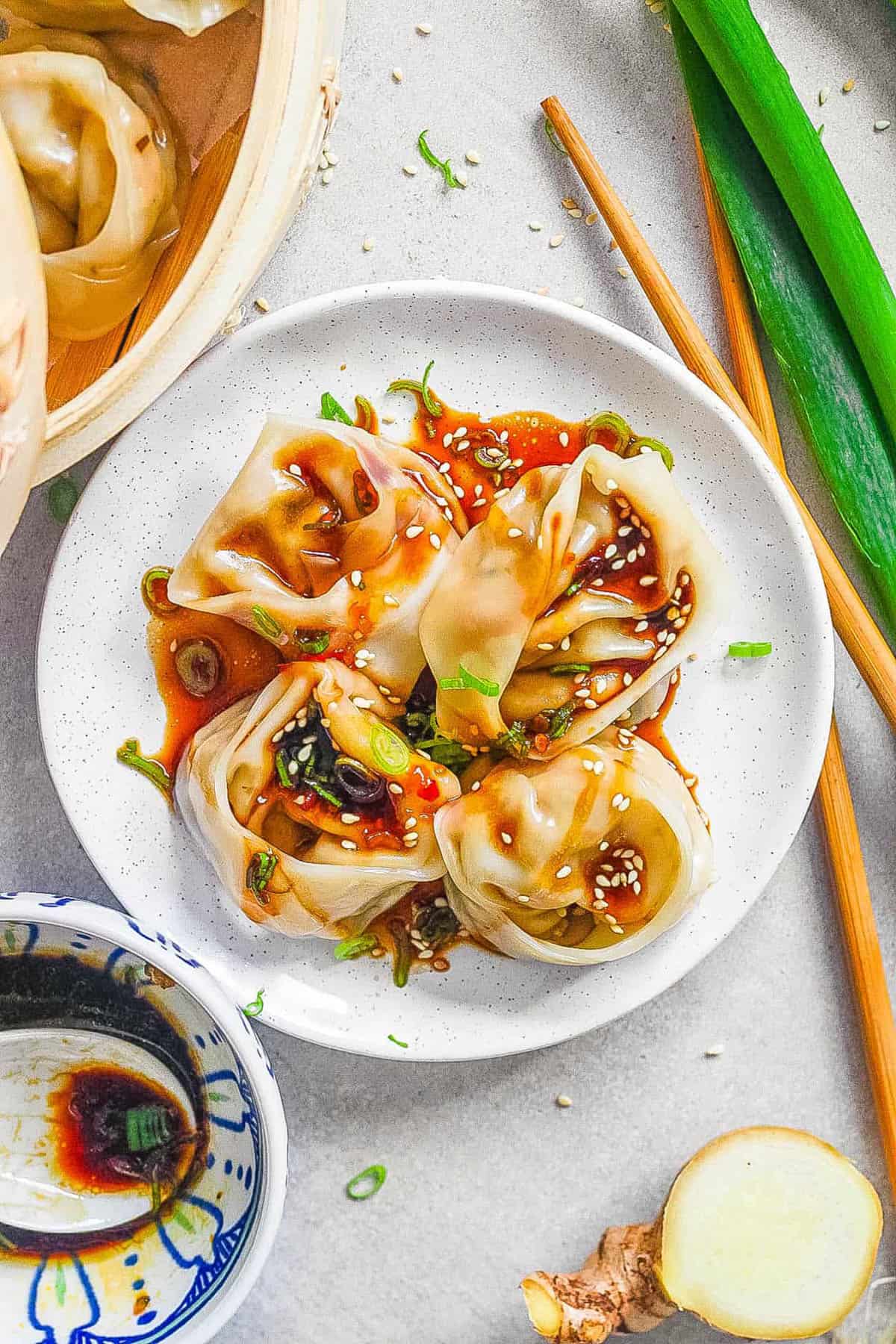 Who doesn't love Chinese food?! This vegan wonton recipe is fun to make with kids and easy to pull together on a weeknight. When served with a sweet chili soy sauce, it'll level up to one of the best veggie mushroom dishes ever.
If you are looking for quick vegetarian cooking, these wontons are for you! They accommodate a vegan, gluten-free diet, and are ideal for those with a busy schedule.
Wrapping wontons is easier than you think, and you'll be ready to serve this simple appetizer or light dinner in just 30 minutes!
Calories: 108 — Fiber: 1 grams — Protein: 5 grams
This vegan mushroom risotto is a creamy blend of arborio rice, herbs, white wine, onion, and earthy mushrooms. It makes for the perfect fancy side dish or meatless main course, with nourishing qualities.
Anyone who is looking for the ultimate comfort food will love this great recipe! If you are vegan or gluten-free you can enjoy this healthy side dish, free of worries.
I know you'll love how easy this risotto is to whip together, ready in just 30 minutes. Plus, it stores well in an airtight container so you can make this for meal prep.
Calories: 332 — Protein: 8.2 grams
A fan favorite amongst mushroom lovers, this mushroom stew only requires one-pot! Within under one hour you'll have a plant-based comfort dish perfect for the fall and winter seasons.
This is one of those healthy vegan mushroom recipes you'll want on your list for the next time you crave a hearty stew. It is vegan-friendly, low-calorie, and can be made gluten-free.
I love that this one pot recipe offers a good source of fiber and protein. Plus, it is so versatile and can be paired with a variety of yummy sides like crusty bread or mashed potatoes.
Calories: 171 — Fiber: 5 grams — Protein: 9 grams
Biscuits and gravy are a match made in heaven, and now vegans can enjoy this tasty dish too! In just 30 minutes you'll have the best mushroom gravy, loaded with flavor and simple ingredients.
If you are in the mood for something warm and hearty, this one's for you! It accommodates a vegetarian and vegan diet so everyone can have a bite.
The best part? You'll love the kick of garlic and finely minced fresh rosemary in this vegan mushroom gravy.
For the best vegan mushroom stroganoff recipes, look no further! Gluten free noodles are mixed with a creamy sauce containing cremini mushrooms, vegan beef broth, cashew butter, and lemon juice.
This is a great recipe for anyone short on time, as this only takes 50 minutes total. Those following a vegan and gluten-free diet can enjoy this easy vegan mushroom stroganoff!
I love making a casserole dish for a simple weeknight dinner or holiday dinner. It is rich, hearty, and sure to receive an abundance of compliments!
Made in minutes with just 4 ingredients, this mushroom bacon is a true winner! Simply coat the bottom of the pan with oil, add mushroom slices, sprinkle with salt, and let them sizzle over medium heat. Pro tip: lay on a paper towel to soak up excess moisture.
Any vegetarian or vegan who is missing that meaty texture can cook this up and feel satisfied. It fries up crispy, and is delicious paired with eggs, placed in sandwiches, or anywhere you would normally use bacon.
This plant-based bacon will be loved by all, with a smoky flavor and versatile usage. Be sure to add this one to your list of vegan mushroom recipes.
Calories: 102 — Fiber: 1 gram — Protein: 1 gram
What is not to love about this vegan burger made with juicy mushrooms, cashew cheese, and dijon mustard?!
These healthy portobello mushroom burgers are vegan, dairy free, and gluten free. They assemble easily whenever you crave a plant-based style burger.
Vegan mushroom burger recipes like this are full of savory taste and wholesome fresh veggies. I know a good thing when I see it and this is the absolute BEST thing!
Vegan stuffed mushroom recipes, move on over – this one is the best of the best! Cremini mushrooms are stuffed with red wine sauteed veggies and nuts and baked until golden brown.
If you have been looking for new recipes to bring to a party or serve as a healthy appetizer, these stuffed mushrooms are right for you! They are vegan and grain-free so many diets can enjoy their delicious flavor.
If you're not convinced yet, might I also add they only require 15 minutes of prep time?!
These mushroom tacos sell themselves, coming together in under 30 minutes with simple, healthy ingredients. They are a total crowd-pleaser full of savory flavor.
Whether you follow a vegan diet or simply want to consume a little less meat, this plant-based taco is a great choice. They are low in calories and can be modified for a gluten-free variation.
If you love fast and easy lunches and dinners, then this is sure to become one of your favorite vegan mushroom recipes.
Calories: 150 — Fiber: 3 grams — Protein: 11 grams
Whether you're making delicious subs or vegan mushroom pasta recipes, these plant-based meatballs will hold their own. They are tender with subtle spice thanks to red pepper flakes.
Vegan, gluten-free, soy-free, and low-calorie, this is a winning recipe that can be enjoyed by all! I think they are especially great for someone transitioning into a vegan diet, craving that meaty texture.
Grab a large skillet and whip these meatballs up in just 40 minutes total. They can even be cooked in the air fryer!
Calories: 74 — Fiber: 1.7 grams — Protein: 2.9 grams
Crab cakes made of lion's mane mushrooms?! You have to give this delicious, easy recipe a try!
If you are looking for a healthy appetizer to please both vegans and non-vegans, you are in the right place. This is a low-calorie, low-carb option that will intrigue the taste buds with every bite.
These crab cakes have so much texture and flavor – just swap the egg for a flax egg and use vegan mayo. Additionally, I love that this recipe adds a hint of heat with sriracha! You will not be disappointed with good food like this.
Calories: 95 — Fiber: 2 grams — Protein: 3 grams
Make this vegan mushroom bourguignon in under 30 minutes! Delicious recipes like this will warm you up and tantalize your taste buds.
Add this to your list of vegan mushroom dinner ideas if you're in need of something dairy-free, gluten-free, and soy-free.
When paired with mashed potatoes, this hearty, chunky vegan mushroom sauce really hits the spot. You will absolutely love how easy it is to make, and your family will love all the flavor.
When you think of vegan recipes with portobello mushrooms you might not instantly think of a sandwich, but let me tell you, this is absolutely delicious! Mushroom lovers can indulge in a protein-rich meal that energizes and satisfies.
Vegans don't have to miss out on "meaty" sandwiches! Simply swap the burger sauce for a vegan option to keep things fully plant-based and dairy free.
This recipe comes together quickly with only a few simple and classic sandwich ingredients. You'll love it!
Calories: 395 — Fiber: 4 grams — Protein: 10 grams
It was a no-brainer that this simple soup had to make it on my list of vegan recipes with mushrooms! Toss all of the healthy ingredients into your instant pot for the easiest meal ever, ready in under an hour.
If you love meals that can be thrown together quickly and then cook while you sit back and relax, this is for you! Not only is it super easy, it's vegan, gluten-free and filled with hearty grains and veggies.
White mushrooms, onions, celery, carrots, barley, and herbs come together in a savory vegetable broth that is sure to be a crowd-pleaser.
A warm comforting soup with umami flavor… yes please! This instant pot recipe is so convenient for busy weeknights or cold weather days.
Wild rice soup with mushrooms is not only vegan, it is gluten-free, oil-free, and nut-free, too! This makes it an excellent choice for accommodating many dietary needs.
Be sure to add this to your list of vegan mushroom soup recipes! While it may be low-calorie, it feels super indulgent and satisfying.
Calories: 183 — Fiber: 5 grams — Protein: 8 grams
Good quality vegan oyster mushroom recipes are hard to come by, but you genuinely won't need to look any further!
When you want a healthier alternative to take-out, pull up this recipe card and get cooking! You'll have a kid-friendly, vegan, and gluten-free meal ready in just 25 minutes.
You won't miss the meat at all in this Asian-inspired noodle stir-fry! The hearty mushrooms give the perfect bite of chewiness.
Calories: 341 — Fiber: 6 grams — Protein: 11 grams
Fried oyster mushrooms are the perfect side dish or appetizer to whip up for a party or game day! When paired with your favorite dipping sauce, you'll be in flavor heaven.
The batter uses plant-based milk for a vegan friendly option. And while these are not gluten-free, you can make a simple swap using almond flour or oat flour.
If you love classic American dishes like wings, fries, and chicken nuggets, you'll love these vegan fried mushrooms!
All you need is a high-speed blend and gluten-free vegan pie crust to make this delicious quiche. It comes together in just 45 minutes total for a savory appetizer, breakfast, or brunch.
Everyone can enjoy this yummy meal as it is oil-free, gluten-free, refined sugar-free, and vegan of course!
I love healthy recipes that require minimal effort and wholesome ingredients, and that is exactly what you'll find here. This is a satisfying choice, high in protein and fiber.
Inspired by the traditional Hungarian recipe, this soup remains super flavorful and creamy but with a vegan twist. The soy milk and cashew cream broth is wholesome and hearty thanks to the garlic, onion, thyme, paprika, and lemon juice.
Even non-vegans will find this soup to be delectable. Whether you are gluten-free, vegetarian, dairy-free, or simply crave a comforting meal, this is the perfect dish.
I love that this cremini mushroom recipe whips up in 40 minutes. It can even be frozen for a delicious meal prep option! Top with vegan sour cream for an extra rich soup.
Calories: 259 — Fiber: 4.5 grams — Protein: 9.25 grams
Cremini mushrooms, walnuts, San Marzano tomatoes, and vegetables combine for a rich and meaty sauce everyone will love.
The mushrooms and walnuts take the place of meat, to keep this vegan and vegetarian friendly. While it would be super tasty with wide egg noodles, you can also use gluten free pasta.
This is a versatile recipe that can be paired in many ways – with yummy pasta, eggplant marinara, or polenta.
Calories: 193 — Fiber: 4 grams — Protein: 6 grams
This one pot curry is ready in under 30 minutes, allowing for the easiest weeknight dinner! It is comforting, hearty, and wholesome wrapped up into one delicious bowl.
Loaded with flavor, you'd never believe this curry recipe is vegan, gluten-free, refined-sugar free, and can be made oil-free and nut-free.
You will love this dish anytime you crave something cozy and warm. The chestnut mushrooms add the best texture, and it goes so well with roti, naan, or rice.
Calories: 449 — Fiber: 3 grams — Protein: 13 grams
A savory, flavorful mushroom lentil loaf like this absolutely had to be included on this list! It is made with a healthy combination of mushrooms, lentils, sunflower seeds, walnuts, and fresh herbs.
Whether you need vegan or gluten-free options for an upcoming gathering, or simply want a protein-rich, freezer friendly meal to have on hand, this is for you!
Not only is this an aesthetically beautiful loaf, it is also full of fiber and protein. While it might seem a bit daunting to make, it is totally worth it and everyone will love this meal.
Calories: 423 — Fiber: 33 grams — Protein: 16 grams
This vegan chili stands out amongst the rest, with its meaty texture thanks to shredded king oyster mushrooms.
High in protein, fiber, and other nutrients, this vegetarian, vegan, and gluten-free dish is perfect for anyone.
Whether you make this chili on the stove, in the slow cooker, or in an instant pot, it is bound to turn out so delicious! Vegan or not, everyone will find this chili recipe to be drool-worthy.
Calories: 288 — Fiber: 17 grams — Protein: 16 grams
Creamy vegan mushroom lasagna is the best casserole dish, serving 8 and storing well for 4 days. This is a family favorite for vegan mushroom dinner recipes.
This meatless lasagna will win the hearts of both vegans and non-vegans. It is free of meat, eggs, and dairy. Plus, you could make this oil-free, soy-free, and gluten-free!
Whether you make this chili on the stove, in the slow cooker, or in an instant pot, it is bound to turn out so delicious! Vegan or not, everyone will find this chili recipe to be drool-worthy.
Calories: 276 — Fiber: 4.3 grams — Protein: 10.5 grams
If you are looking for a one-pot recipe with minimal ingredients, this Potatoes With Mushrooms dish is a dream! You get a splash of flavor with white wine, coconut milk, and onion to make your taste buds fall in love.
Whether you are vegetarian, vegan, gluten-free, or nut-free, anyone can enjoy this as a side dish or main meal.
I love how easy this dish is to prepare, with only a few steps and minimal ingredients. You'll have a hearty, wholesome meal ready in under one hour.
Calories: 307 — Fiber: 7 grams — Protein: 9 grams
This simple, flavorful, and customizable meal is the perfect family-friendly mushroom recipe. Mixed mushrooms combine with crispy tofu, scallions, ginger, and savory sauce for a nourishing and quick lunch or dinner.
If you are craving a dairy-free, meatless dish with Asian flare, this is one of the best vegan meals with mushrooms to try out. It is naturally vegan and can be made gluten-free by swapping the soy sauce out for coconut aminos.
I love the comfort that comes with every bite of this delectable meal. No matter who you serve this to, they are sure to love it.
More Vegan Friendly Recipes!
10 responses to "35 Vegan Mushroom Recipes"