60 Silken Tofu Recipes
This post may contain affiliate links. As an Amazon Associate, I earn from qualifying purchases. Please read my disclosure.
Enjoy this list of 60 silken tofu recipes to try out, whether you are looking for healthy breakfasts, lunches, dinners, desserts, or snacks! Silken tofu is one of the most versatile ingredients, making the perfect egg replacer or meat substitute. When blended into a creamy texture you can transform it into a decadent dessert, too! Keep reading to see some of the best silken tofu recipes to help inspire your next culinary creation!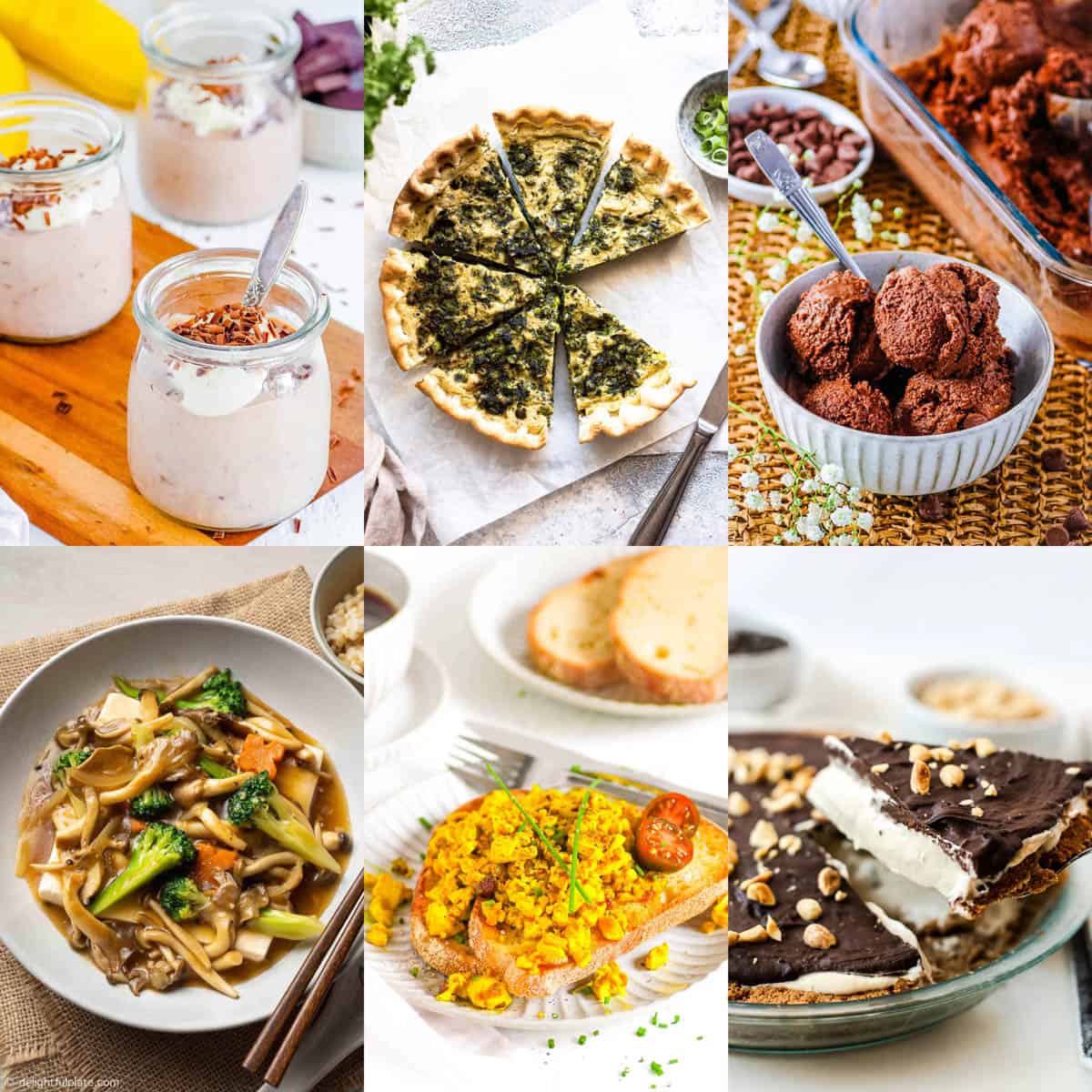 What Is Silken Tofu?
A block of silken tofu is coagulated without curdling the soy milk and is unpressed so it maintains a high water content. With its melt-in-your-mouth silky texture you can get really creative with silken tofu dishes. This japanese-style tofu is popular for dishes such as miso soup, but its uses have expanded into more adventurous zones. It is a fun option for both non-vegan and vegan diets! This protein-rich ingredient can be found at most local stores or any asian grocery stores in the refrigerated section.
Is Silken Tofu Good For You?
Is silken tofu healthy? Good news! It sure is! Silken tofu provides a good source of vitamins and minerals, such as vitamin C, an array of B vitamins, calcium, and manganese. It is cholesterol-free and low in calories and fat, making it a good choice for low-calorie diets or those on weight loss journeys. Additionally, silken tofu is rich in isoflavones, which have anti-inflammatory properties!
What Are The Different Types Of Tofu?
Tofu can be broken down into silken tofu and regular tofu. Within the category of regular tofu, there are various levels of firmness to choose from: super firm, extra firm, firm, medium, and soft. For silken tofu, you can also find soft silken tofu, firm silken tofu, and extra-firm silken tofu.
What's The Difference Between Silken Tofu Vs Firm Tofu
Silken tofu is known as Japanese-style tofu, with its soft silky texture. It is best for creamy sauces, vegan dessert recipes, popular Japanese cuisine, soups, and soft scrambles. Regular firm tofu is better known as a Chinese-style tofu, with a firm, chewy texture. Extra firm and firm tofu are the most popular for cooking with, as they absorb flavor well while still maintaining form and structure. It is best in recipes for stir fry, curries, and meat alternatives. Silken tofu has the highest water content, and should not be pressed as it will crumble. On the other hand, firm tofu can be pressed to absorb excess water before cooking.
60 Silken Tofu Recipes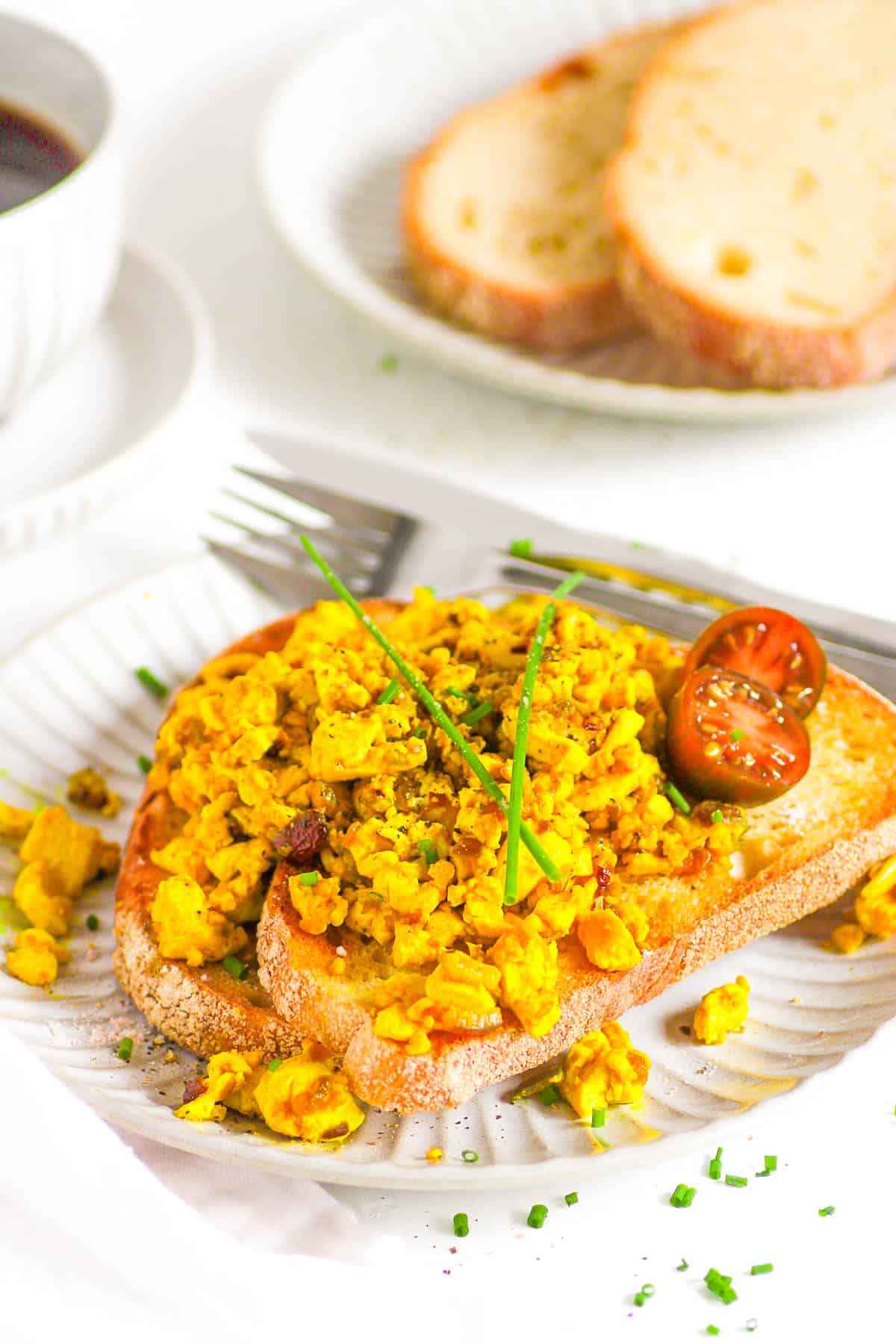 This vegan scramble is soft and fluffy, just like real scrambled eggs! It's a plant-based, nutritious breakfast that makes the most delicious scrambled egg alternative.
It makes a quick and easy vegan breakfast or brunch, plus you can dress it up with veggies or vegan cheese.
The best part? It's ready in less than 20 minutes. You definitely want to add this to your list of silken tofu breakfast recipes to try!
Calories: 341 — Fiber: 2 grams — Protein: 13 grams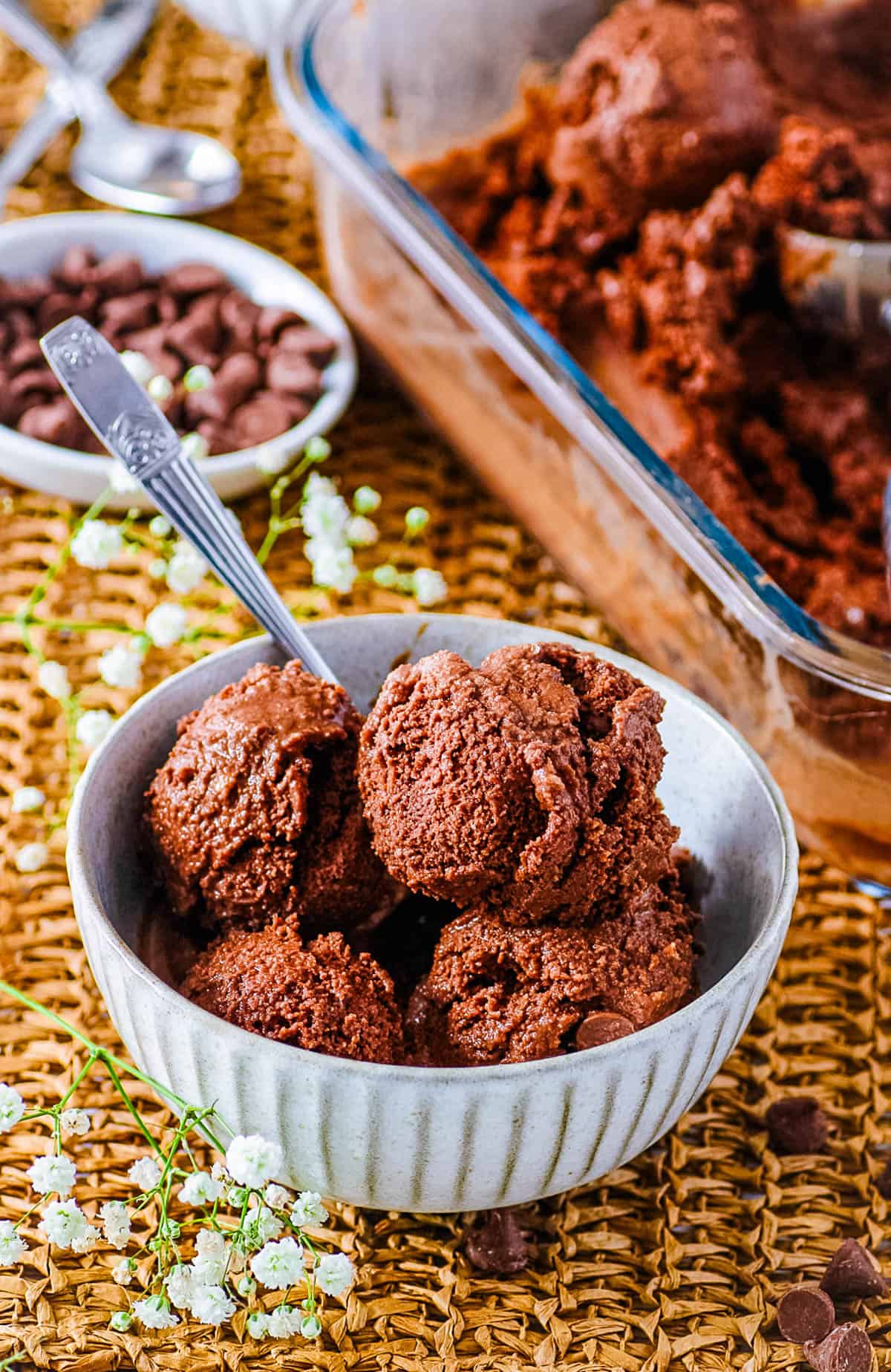 Silken tofu ice cream is a delicious, vegan, and dairy-free frozen treat! Made with just a few simple ingredients like silken tofu, plant-based milk, and your favorite mix-ins, this is a nutritious dessert that's super easy to make.
You'll only need 8 basic ingredients to make this tasty treat that you likely already have on hand. And with 7 different flavor options, there is something for everyone with this easy silken tofu recipe!
Calories: 129 — Fiber: 1 gram — Protein: 3 grams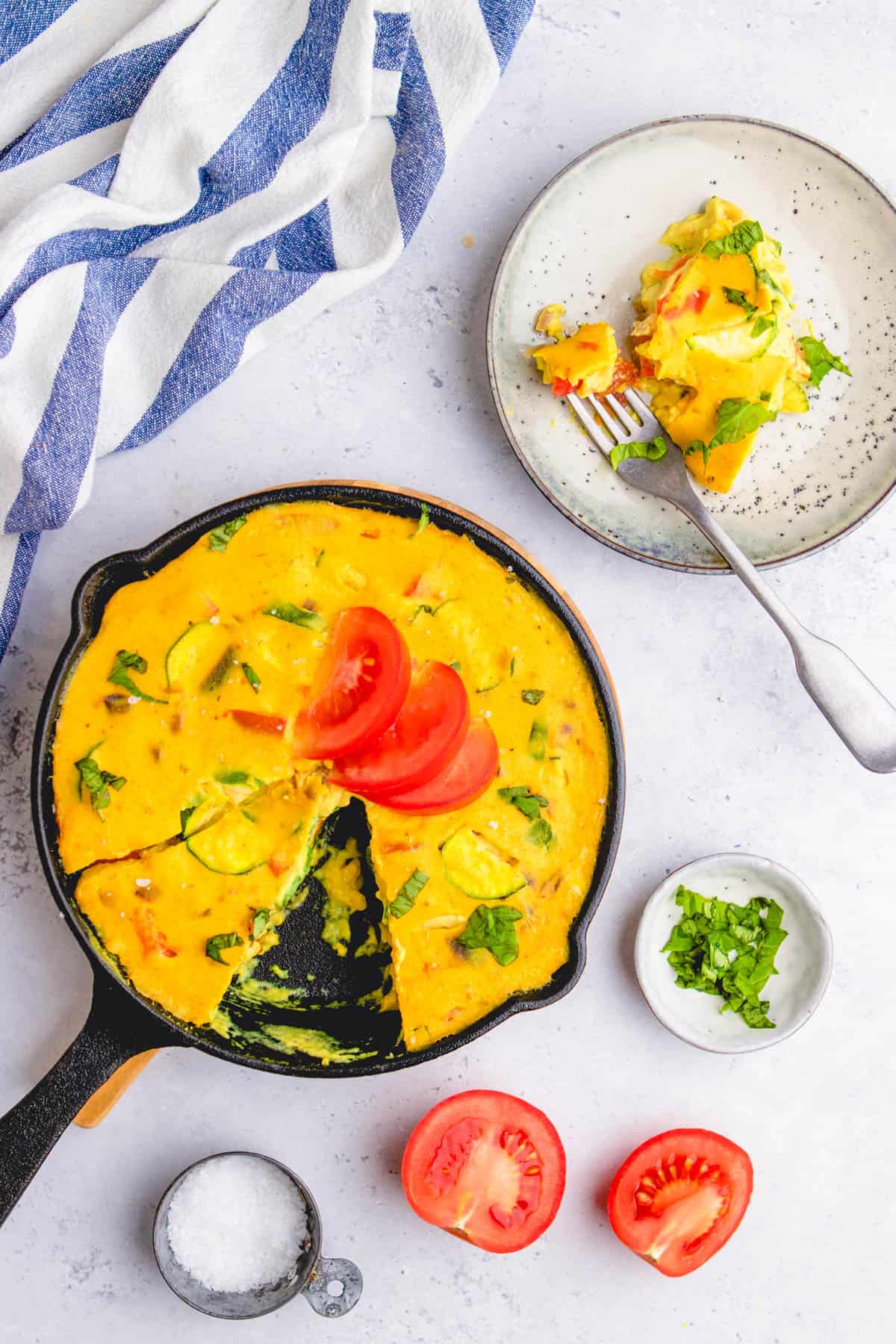 This easy vegan frittata without eggs is crispy on the outside, tender and moist on the inside, and tastes just as good as a regular egg frittata!
It's great for meal prep, and works as a healthy breakfast, lunch, or light dinner. It's also a great base recipe that you can change up in so many different ways.
This recipe also requires only 15 min of prep time and is a great ​recipe for anyone with dietary allergies! You definitely will not miss the eggs in silken tofu vegan recipes like this!
Calories: 147 — Fiber: 4 grams — Protein: 8 grams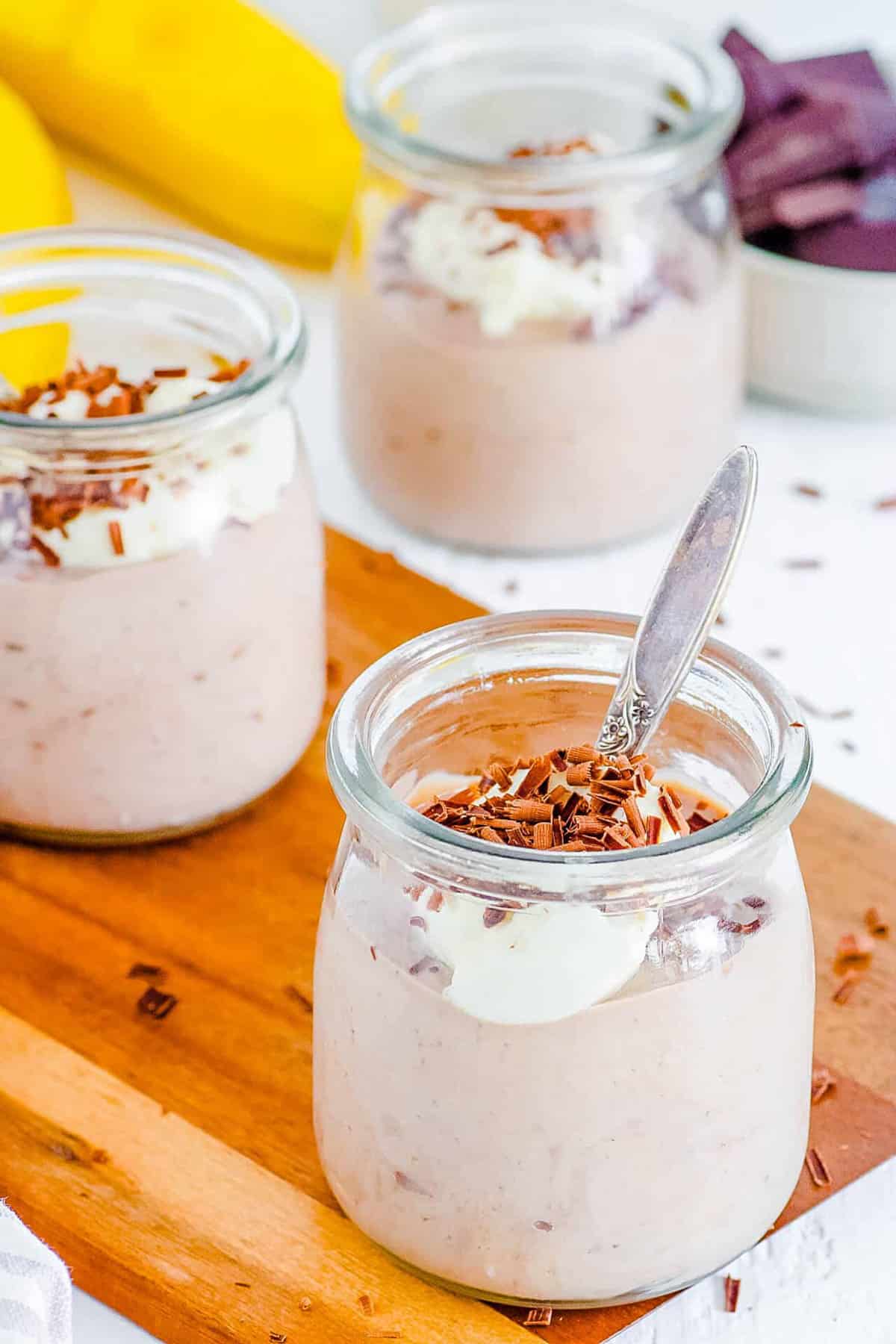 This rich, decadent, silken tofu chocolate mousse is the perfect dessert or indulgent breakfast. Made with silken tofu, bananas, tahini, cocoa powder, and maple syrup, it's healthy, chocolatey, and so easy to make!
The tofu makes for the creamiest chocolate mousse ever, with no dairy products or refined sugar. While it's hard to pick, this is easily one of my favorite silken tofu dessert recipes!
Calories: 115 — Fiber: 1.8 grams — Protein: 4 grams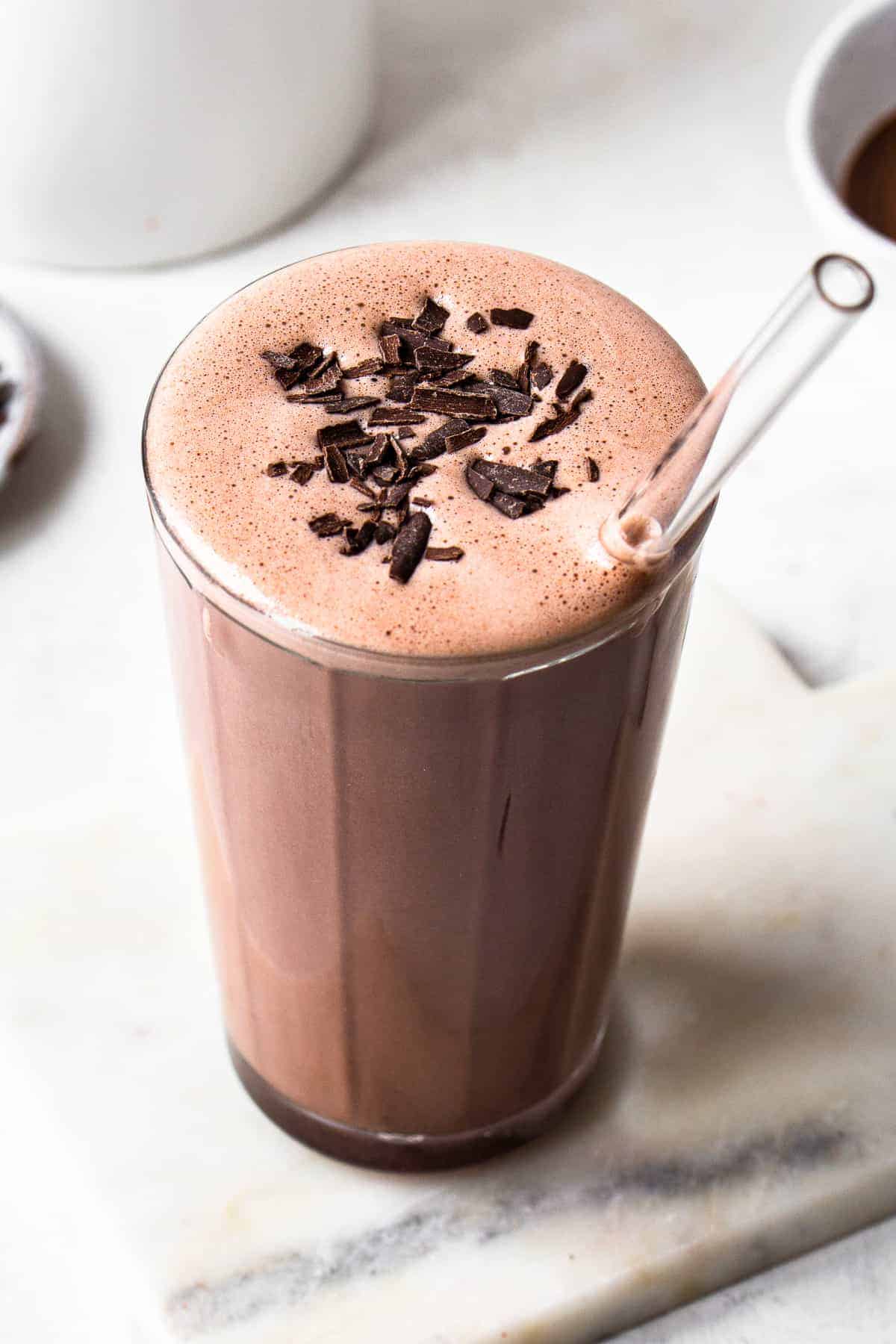 Want the flavor of iced hot chocolate wrapped up into a healthy, nutritious smoothie?! With this recipe you have just that!
It is loaded with 22 grams of protein, and has a rich, creamy texture, without any added protein powder. Try out this quick and easy chocolate smoothie for an easy post-workout snack, wholesome breakfast, or afternoon pick-me-up!
Calories: 376 — Fiber: 8 grams — Protein: 22 grams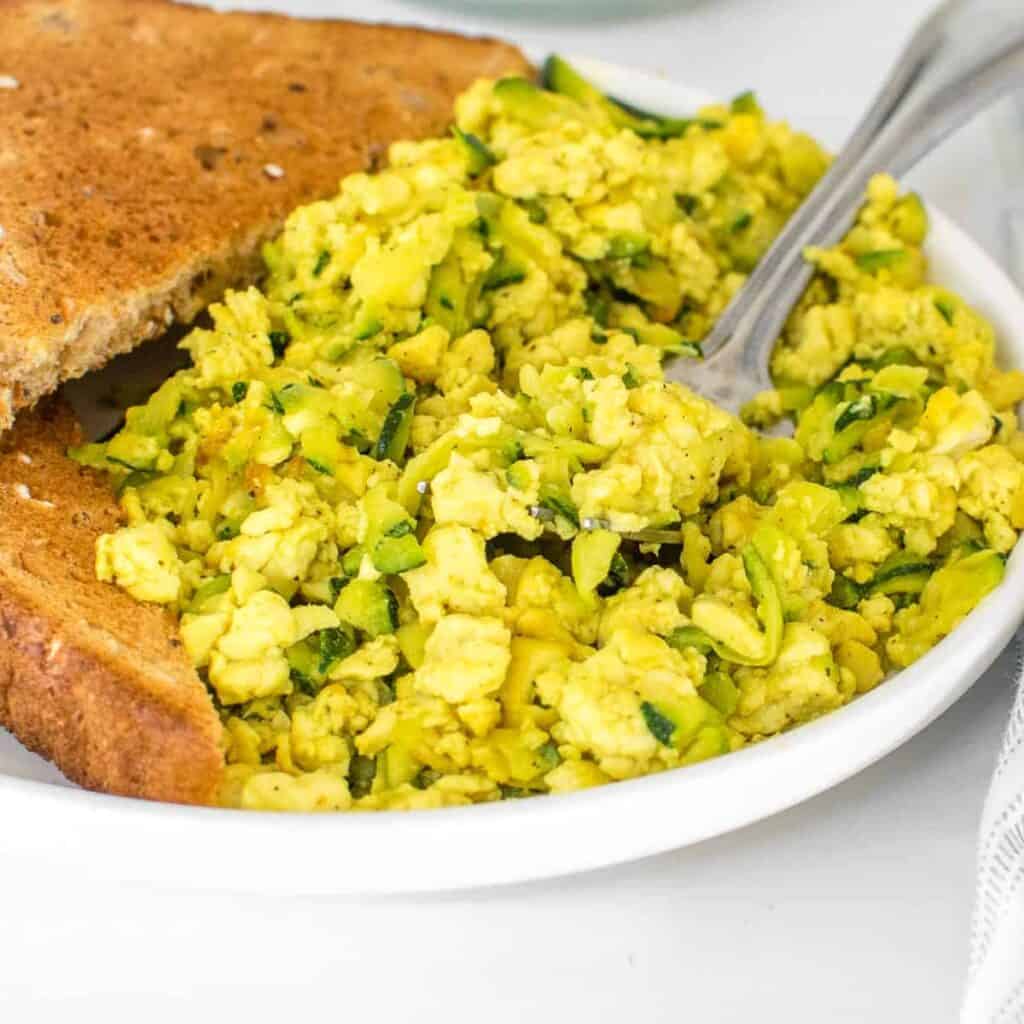 For a healthy and tasty twist on traditional scrambled eggs, give this zucchini tofu scramble a try! It is seriously such an easy recipe – just saute silky soft tofu, zucchini, nutritional yeast, turmeric, pepper, and garlic in olive oil and your breakfast is ready in minutes.
It's an excellent source of protein to start your day, with silky texture and egg-like flavor. If you've been wanting new breakfast recipes with silken tofu, this one's for you!
Calories: 102 — Fiber: 1 gram — Protein: 11 grams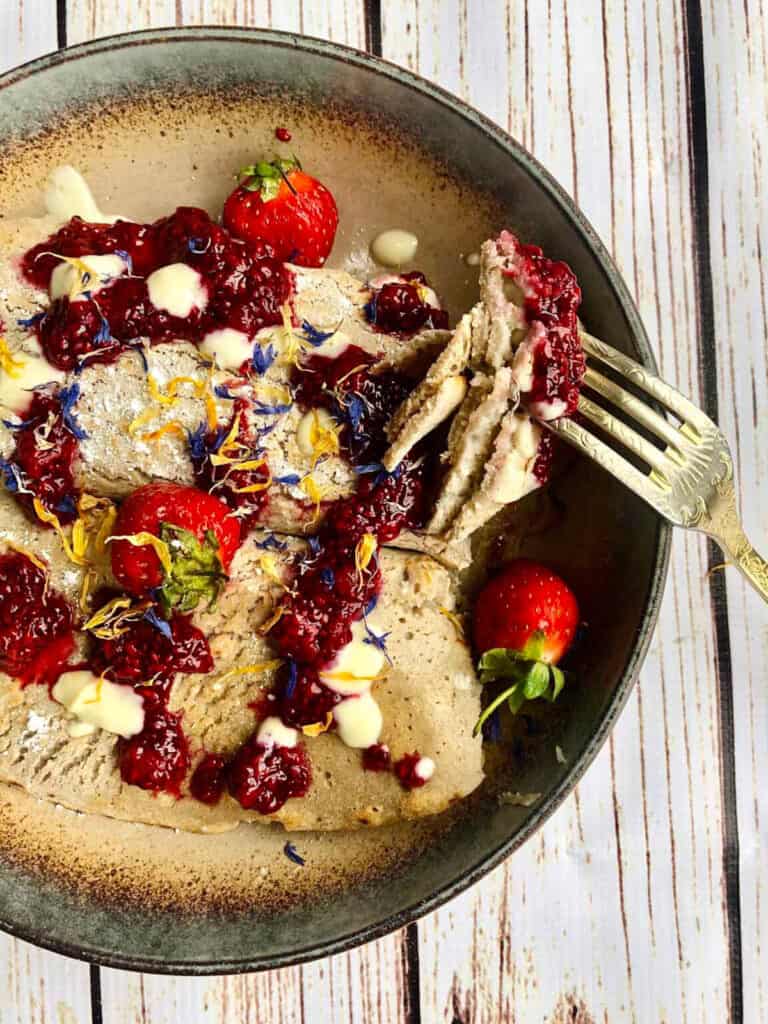 Stuffed vegan crepes are a dreamy brunch recipe everyone will enjoy!
These vegan crepes are an amazing way to level up any breakfast or brunch spread. They are stuffed with vegan cream cheese and topped with a sweet raspberry chia seed compote.
The tofu cream cheese filling has the perfect flavor and consistency, with lemon juice, ACV, vanilla, sugar, and vegan butter. It's so rich and dreamy you won't even be able to tell that its made with silken tofu!
Calories: 229 — Fiber: 6 grams — Protein: 9 grams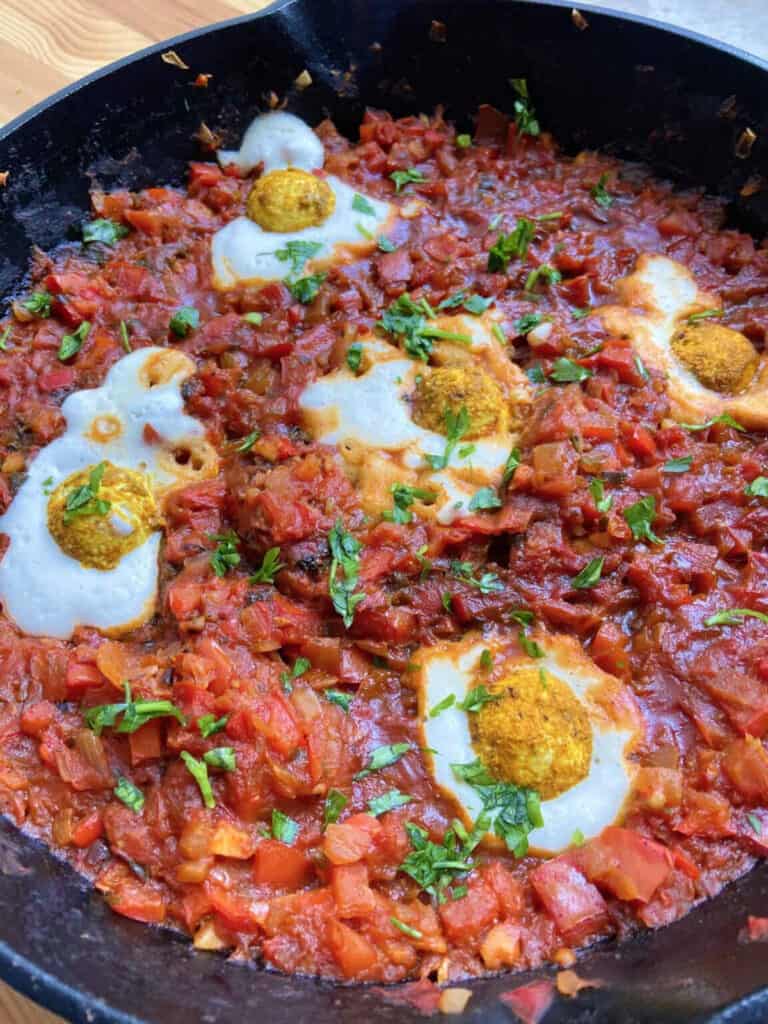 Shakshuka is easily made into a plant based breakfast option with classic flavors with this soft tofu recipe.
This versatile recipe is great any time of day – breakfast, lunch, or dinner! It is a low carb, nut free, and a naturally gluten free option made with tofu eggs and bold flavors. Vegetarian silken tofu recipes like this will have your taste buds dancing!
Calories: 165 — Fiber: 4 grams — Protein: 6 grams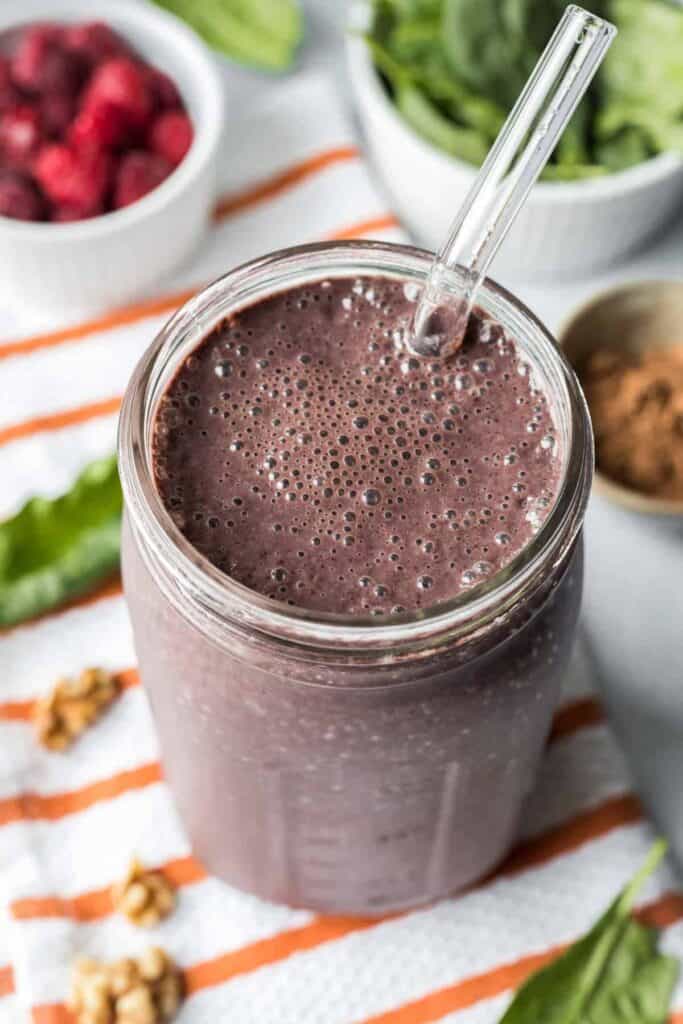 High in fiber and protein, you will start your day off the right way with this antioxidant rich smoothie! If you're not quite ready to cook with silken tofu, adding it to a smoothie is a great option. This smoothie is loaded with whole foods and can be customized in all your favorite ways.
Not only is this drink packed with protein and nourishing ingredients, but it's also super easy to whip up on busy mornings or anytime you crave a healthy snack!
Calories: 410 — Fiber: 15 grams — Protein: 20 grams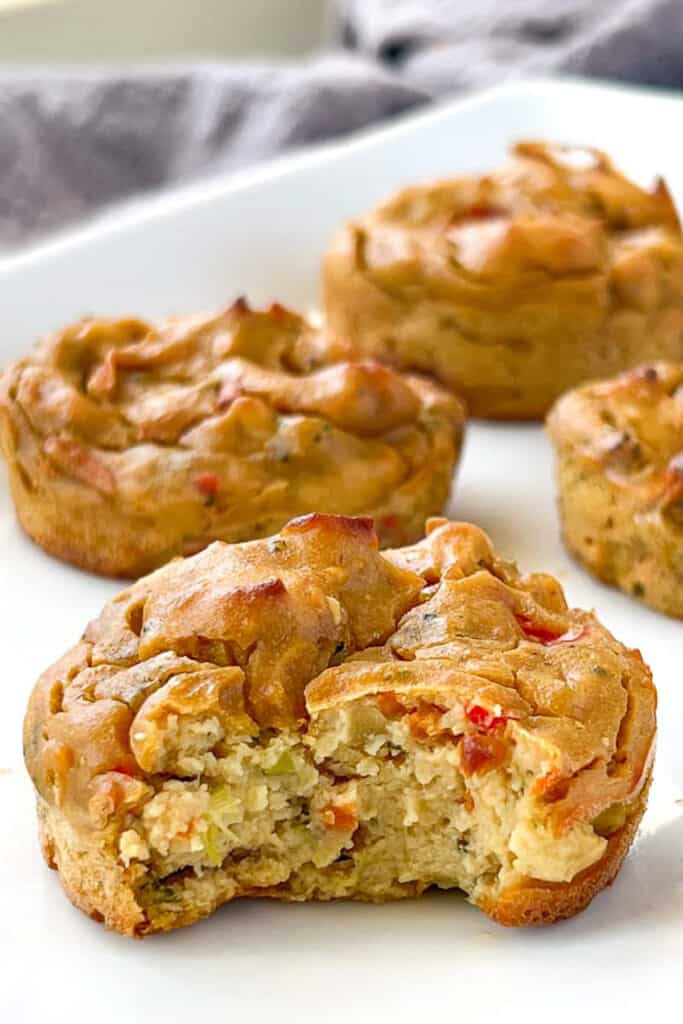 For a twist on the classic egg cups, give these vegan savory muffins a try! They are packed with a flavorful "eggless" mixture and loads of veggies, making them a good option for breakfast or the best snack for busy days.
Packed with nourishing vegetables and a protein "egg" alternative, this is guaranteed to keep you full and satisfied for hours.
Feel free to meal prep these for the week so you can grab a few on the go! Vegan silken tofu recipes like this are an absolute delight!
Calories: 46 — Fiber: 1 grams — Protein: 3 grams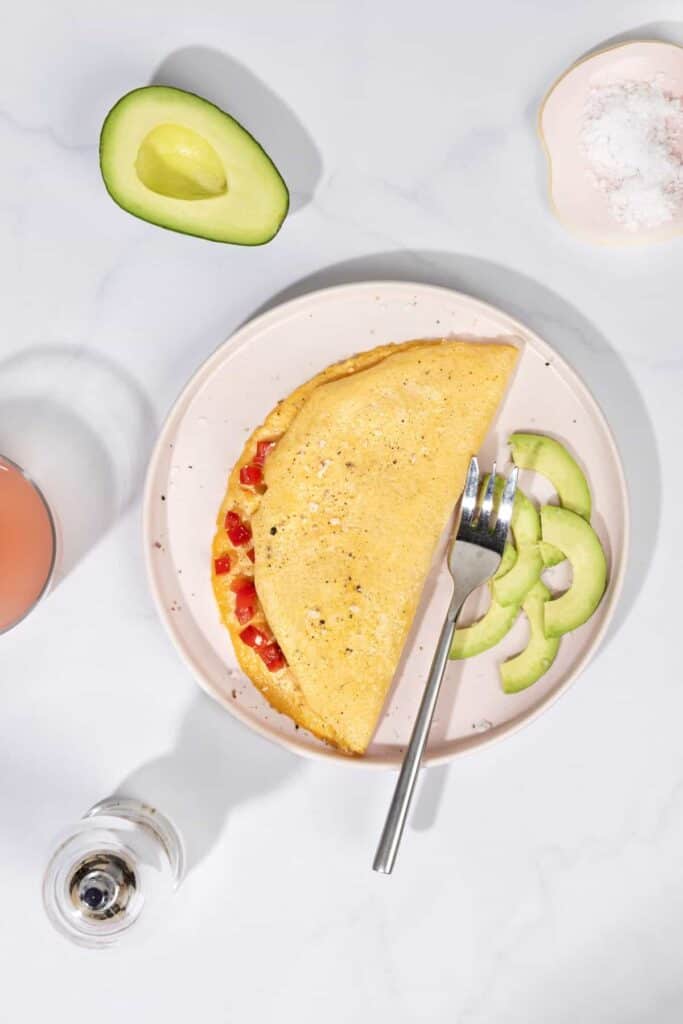 Get the best of both worlds with the silken tofu egg combination! This low calorie omelette makes for one of the easiest breakfast options. With 22 minutes total, you'll have a hearty, healthy meal at your table!
Calories: 257 — Fiber: 4 grams — Protein: 15 grams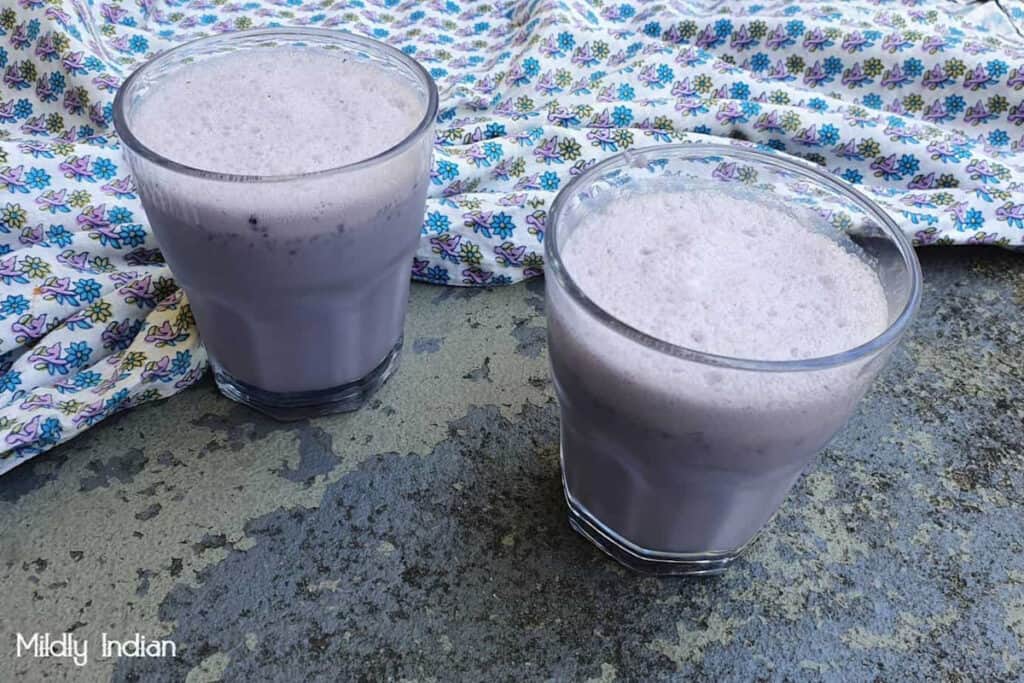 Made with just 4 simple ingredients, this smoothie is a great way to get a boost of protein and antioxidants in the morning.
This 5 minute breakfast recipe also is a kid-friendly option, thanks to its pretty purple color! I have a feeling this will become one of your new favorite recipes with soft tofu.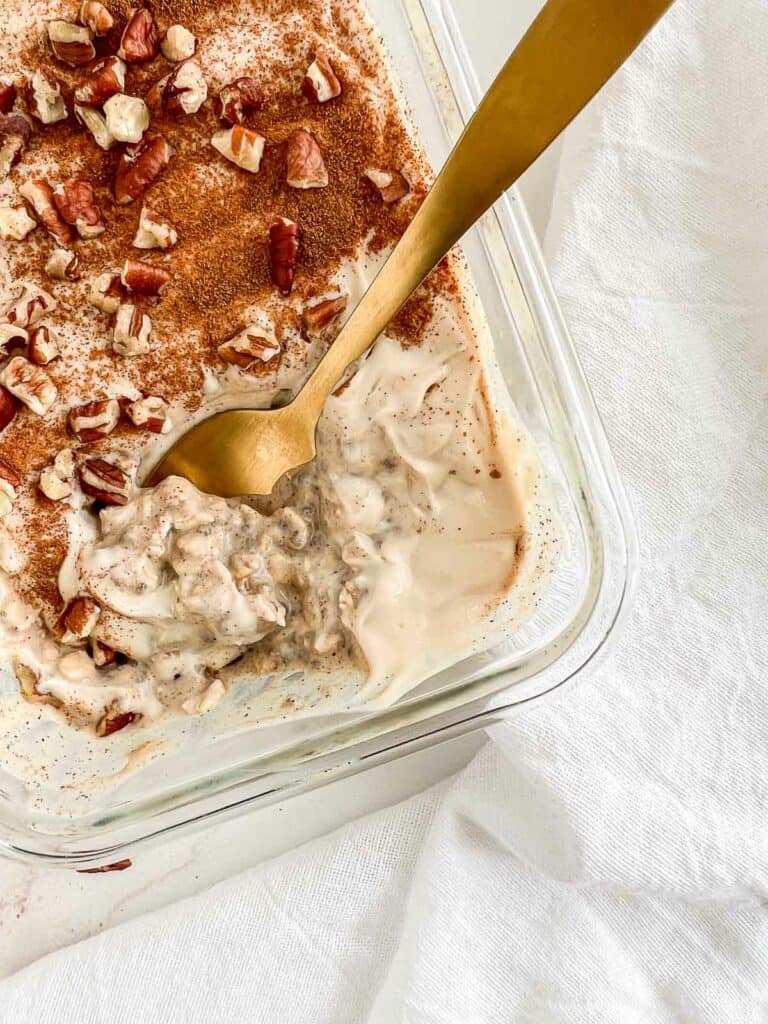 Full of healthy ingredients and all that cinnamon roll goodness, this recipe is the best breakfast ever!
With an amazing 51 grams of protein, this truly is the most filling and satiating breakfast. Start your day feeling full of energy!
The real winner here is the silken tofu icing. While it may be optional, I highly recommend it. For easy silken tofu recipes high in protein, give this a try!
Calories: 493 — Fiber: 12 grams — Protein: 51 grams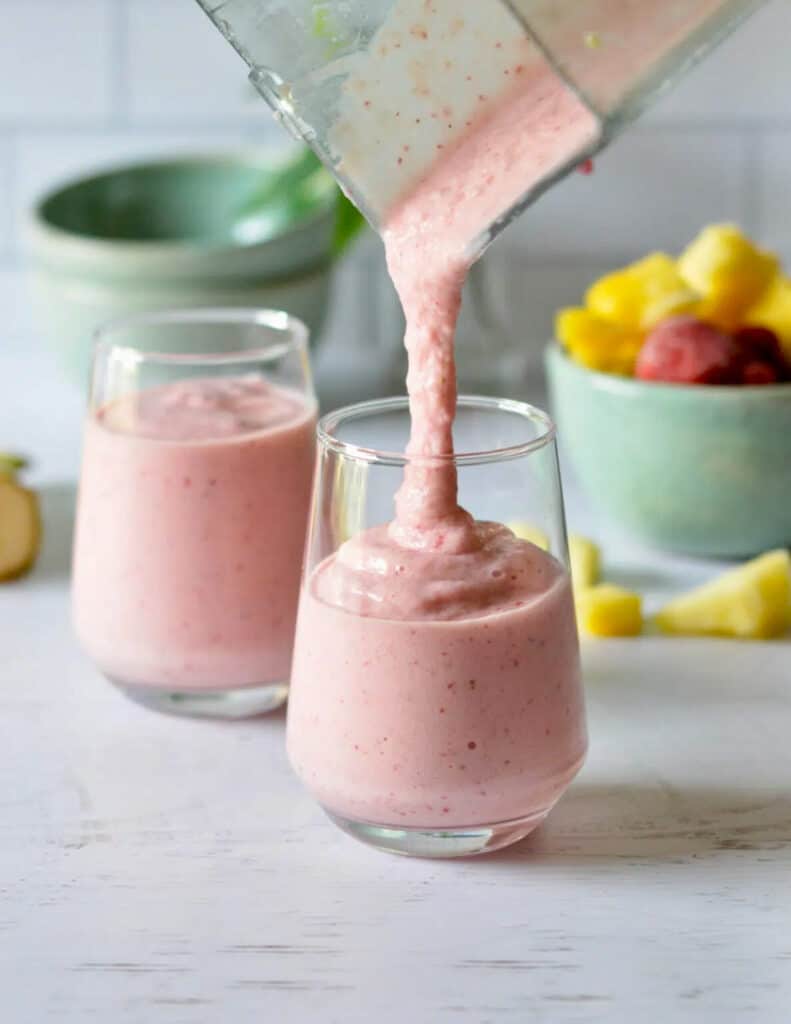 Sweet strawberries and tangy pineapple combine in this creamy silken tofu smoothie! This is easy to make for a quick breakfast or on-the-go snack, without compromising on health.
It's also super kid-friendly and made with wholesome, healthy ingredients that you are likely to have on hand. Not only that, you'll get a nice boost of protein to start your day, thanks to the silken tofu!
Calories: 188 — Fiber: 4 grams — Protein: 7 grams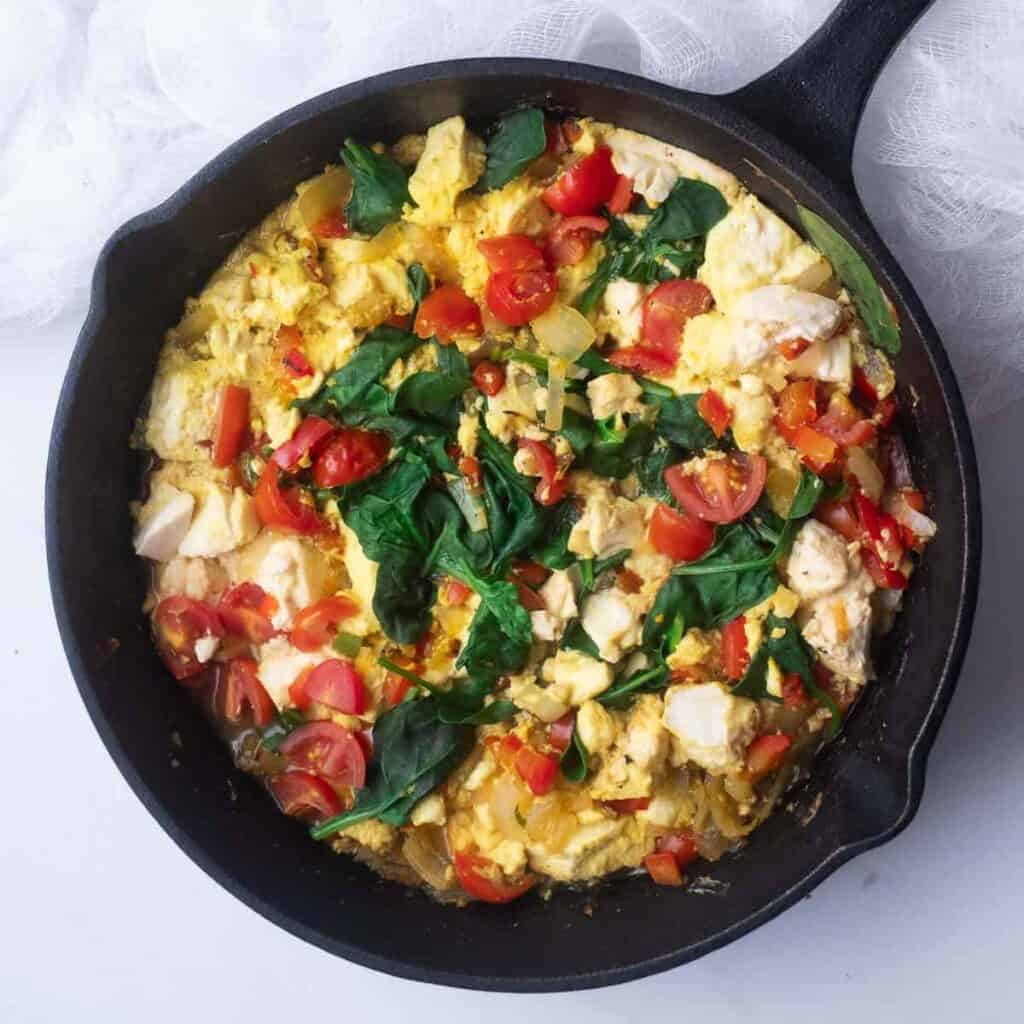 For an easy, protein-filled breakfast try this silken tofu scramble with mixed vegetables! It is savory, vegan, low calorie, and gluten-free.
Plus, this healthy breakfast recipe is super versatile – pair it with toast, add it to a breakfast burrito, or try it with different spices!
Calories: 73 — Fiber: 1 gram — Protein: 5 grams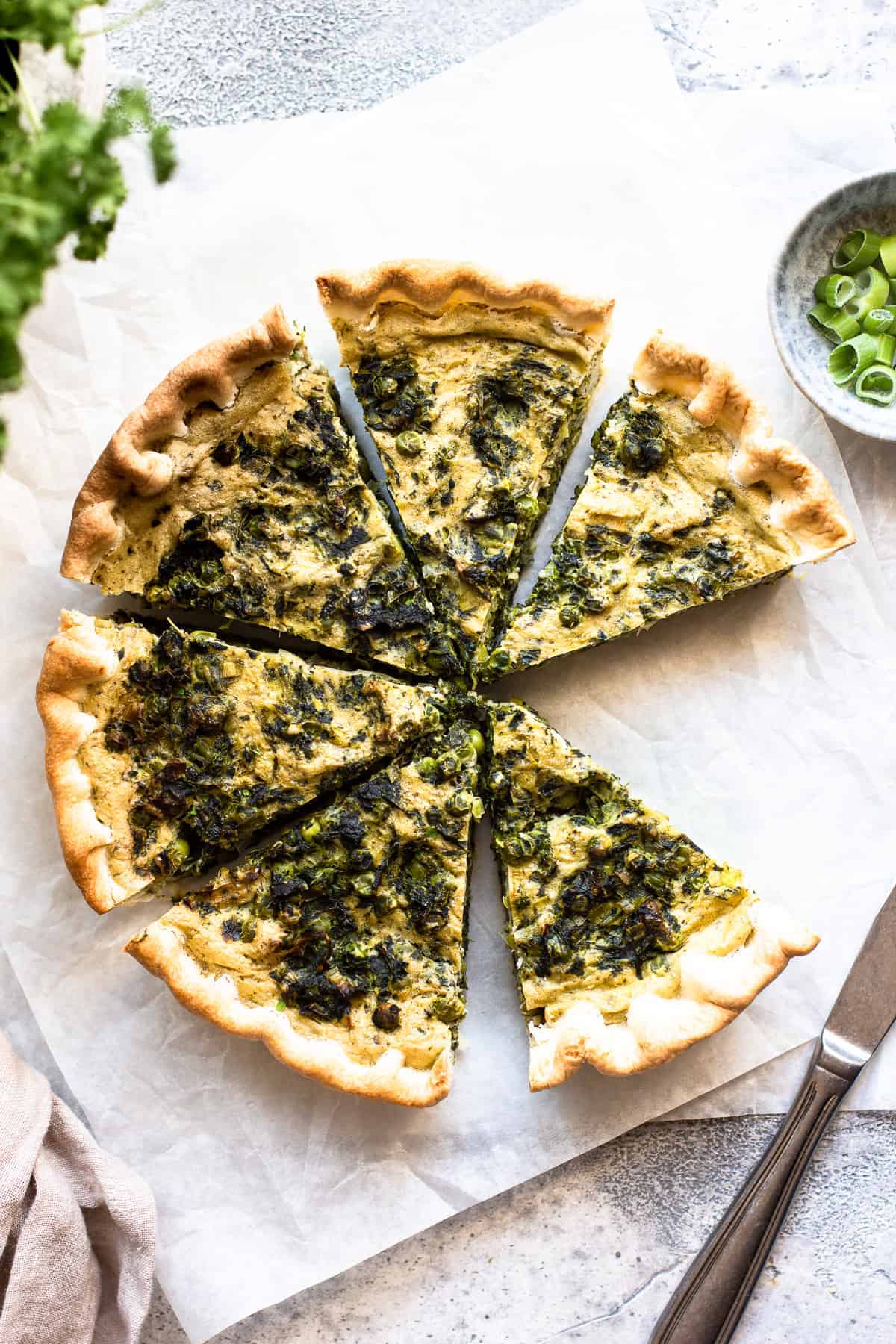 If you are looking for soft tofu dishes for breakfast, this easy vegan quiche is a great option! Not only is it perfect for breakfast, it's a great option for meal prep too.
It has leeks, spinach, and peas for plenty of fiber and nutrients. Equally delicious for breakfast, brunch, lunch, or dinner!
Calories: 371 — Fiber: 7 grams — Protein: 16 grams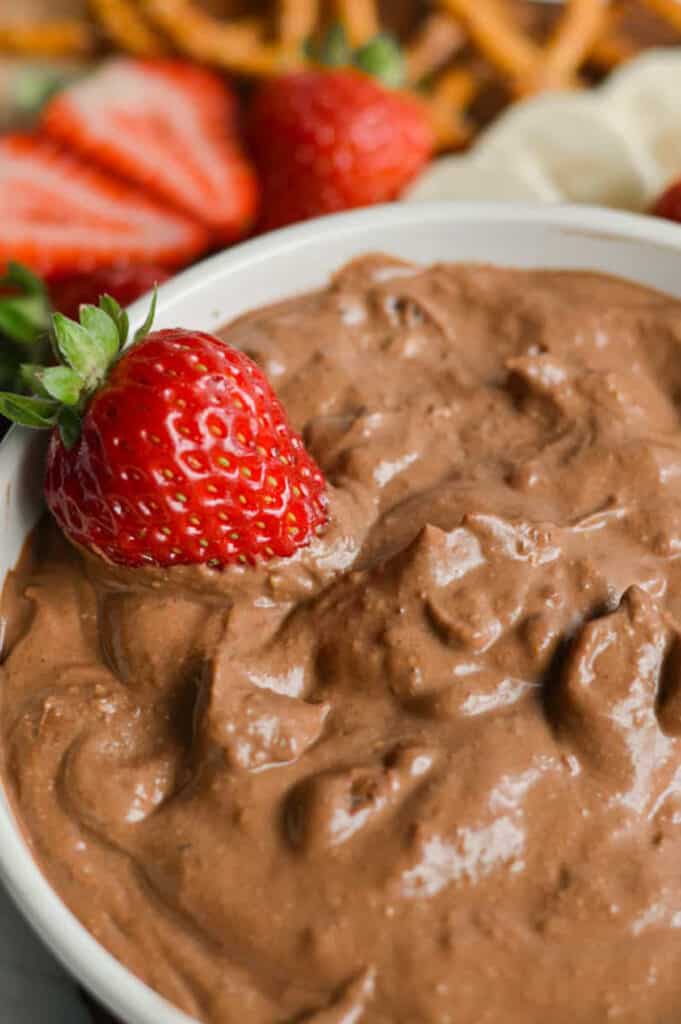 This creamy dip is made with just a handful of ingredients like medjool dates, silken tofu, cocoa powder, and peanut butter.
It blends together into a perfect smooth consistency for a tasty vegan appetizer, snack, or even healthy dessert! It's a good idea to make a double batch of this soft tofu recipe because it is so delicious.
Calories: 195 — Fiber: 4 grams — Protein: 6 grams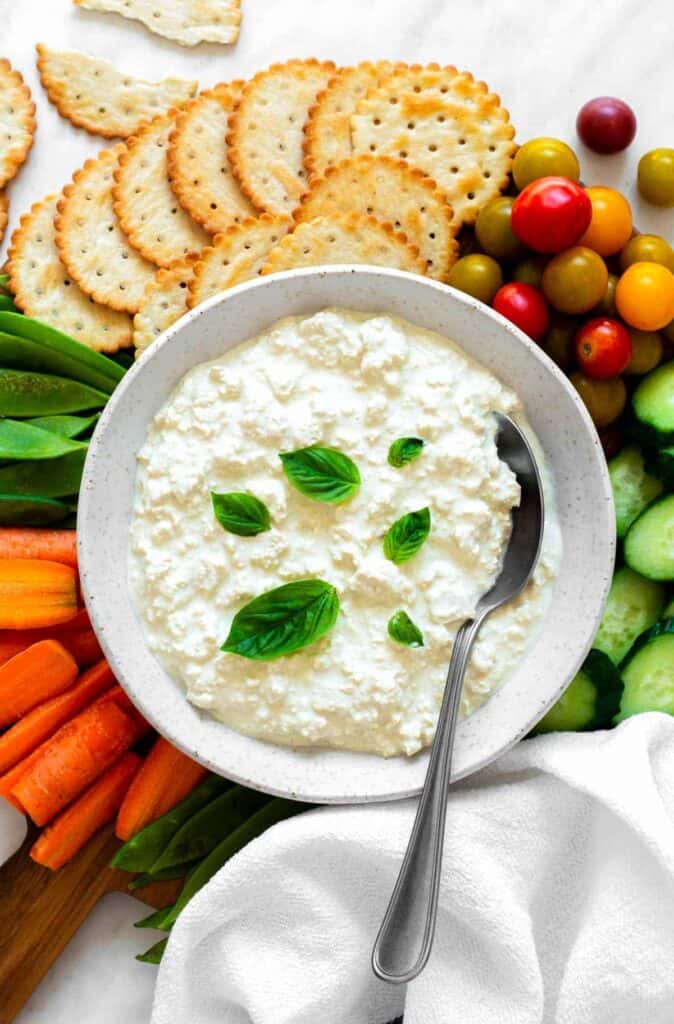 You don't have to miss out on the cottage cheese hype if you're vegan! This tofu cottage cheese is equally delicious, fluffy, creamy, and tangy.
The creaminess alone will lure you in, and the 17 grams of protein will keep you feeling full and satiated. Soft tofu recipes like this are irresistible!
The best part? You only need 5 minutes to make this yummy snack or appetizer.
Calories: 51 — Fiber: 0.3 grams — Protein: 5 grams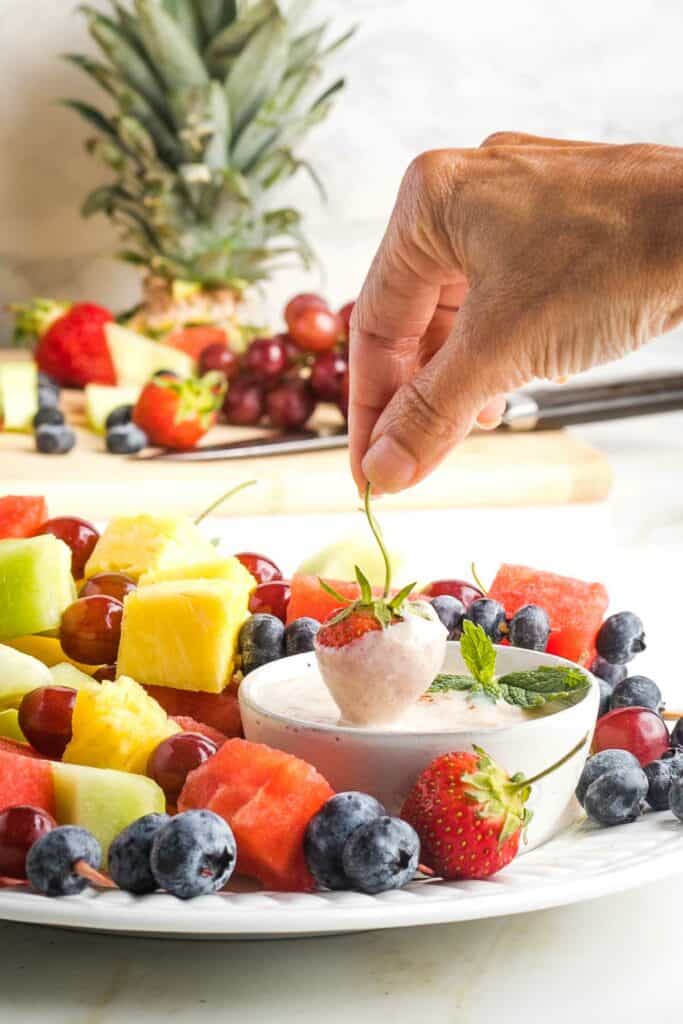 This vegan fruit dip is creamy and delicious! It is made with 5 simple ingredients, perfect for a healthy snack or appetizer.
All you need is a food processor or blender to make this easy, yummy dip! It comes together in only 5 minutes, so it is perfect when you're short on time or need a last minute dish to bring to a party. Plus, it's low calorie and healthy too!
Calories: 60 — Fiber: 0.1 grams — Protein: 3 grams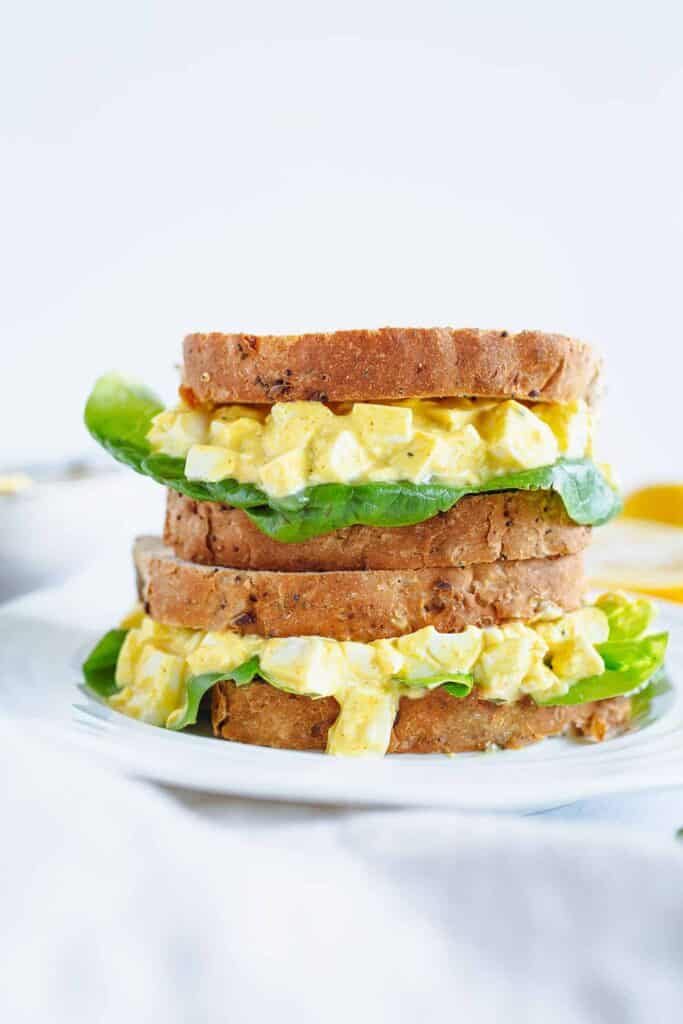 Enjoy this creamy vegan egg salad as a delicious, plant-based take on the beloved egg salad. A flavorful vegan mayo-based dressing combines with soft silken tofu for a quick and easy appetizer or side dish.
This egg salad tastes like the real thing thanks to a special ingredient: black salt! Pairs well with breakfast or lunch dishes, or can be enjoyed on its own!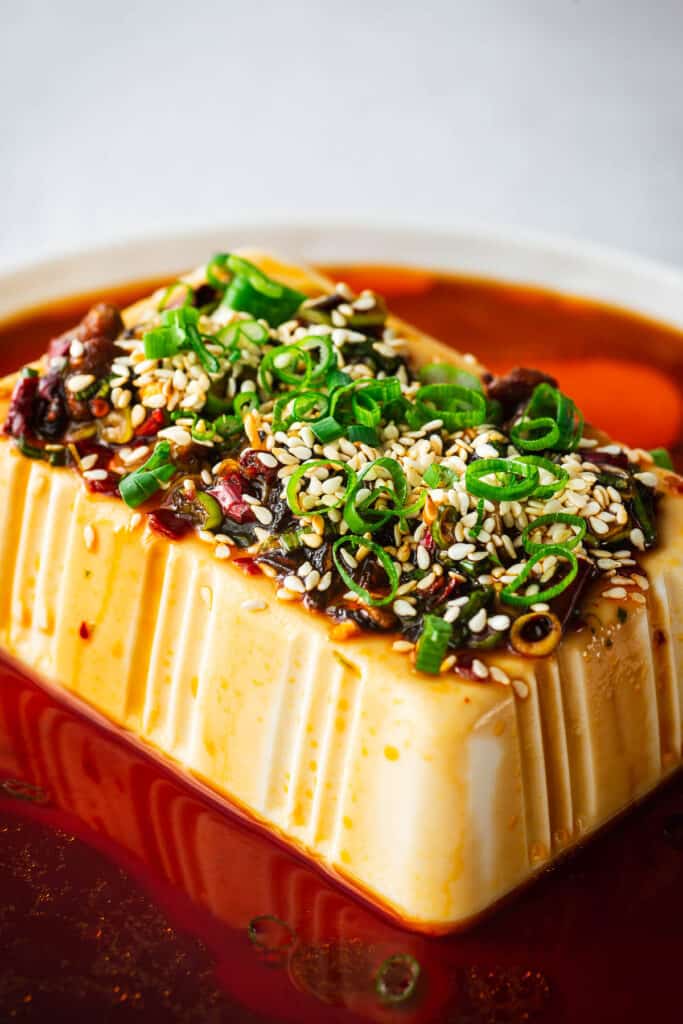 Soft silken tofu recipes like this are as easy as it gets! A spicy soy dressing made of light soy sauce, sesame oil, maple syrup, rice vinegar, chili crisp, and sesame seeds is poured on top of cold silken tofu.
This is an easy 5 minute recipe inspired by the classic Japanese hiyayakko! It's a no-cook spicy cold tofu recipe that comes together quickly for a delicious side dish. Enhance the heat with chili oil and customize it however you like!
Calories: 148 — Fiber: 0.3 grams — Protein: 7 grams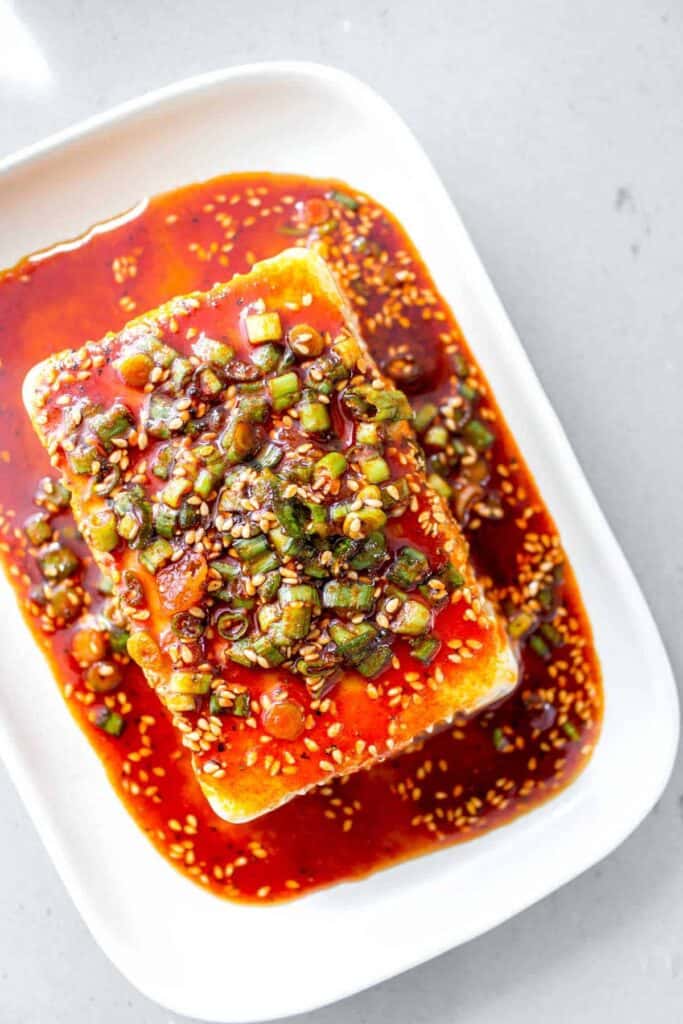 If you are looking for easy recipes with silken tofu, give this a try! With a savory soy garlic sauce, your taste buds will be absolutely amazed.
This 5 minute side dish or appetizer has a refreshing flavor that is perfect for a warmer weather day. The melt in your mouth texture paired with never ending flavor makes this dish a must-try!
Calories: 182 — Fiber: 1 grams — Protein: 9 grams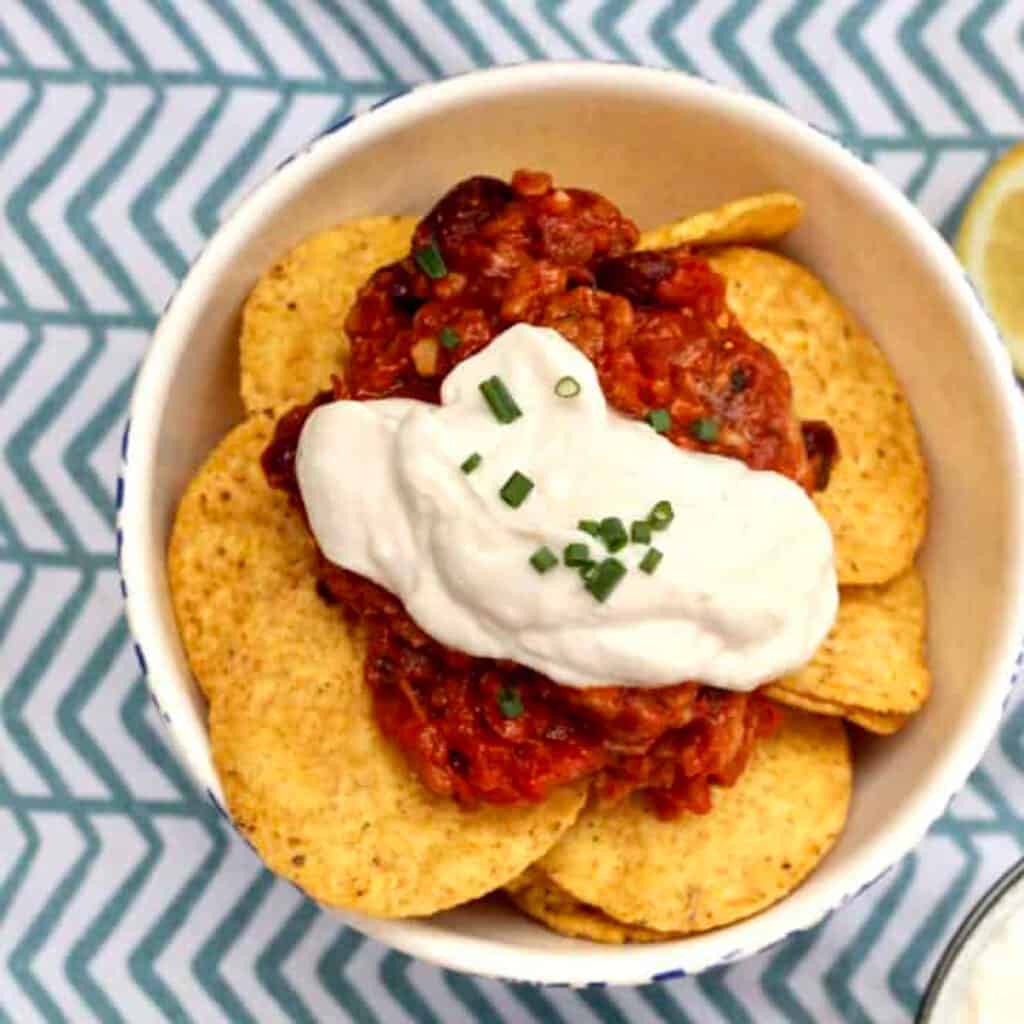 The easiest dip or topping for your savory dishes! You'll need silken tofu, apple cider vinegar, garlic powder, salt, and an optional addition of chives for garnish.
It really is the easiest vegan sour cream option with a perfect texture, and also happens to be a great dairy free alternative for nachos, tacos, baked potatoes and more!
Calories: 20 — Fiber: 0 grams — Protein: 2 grams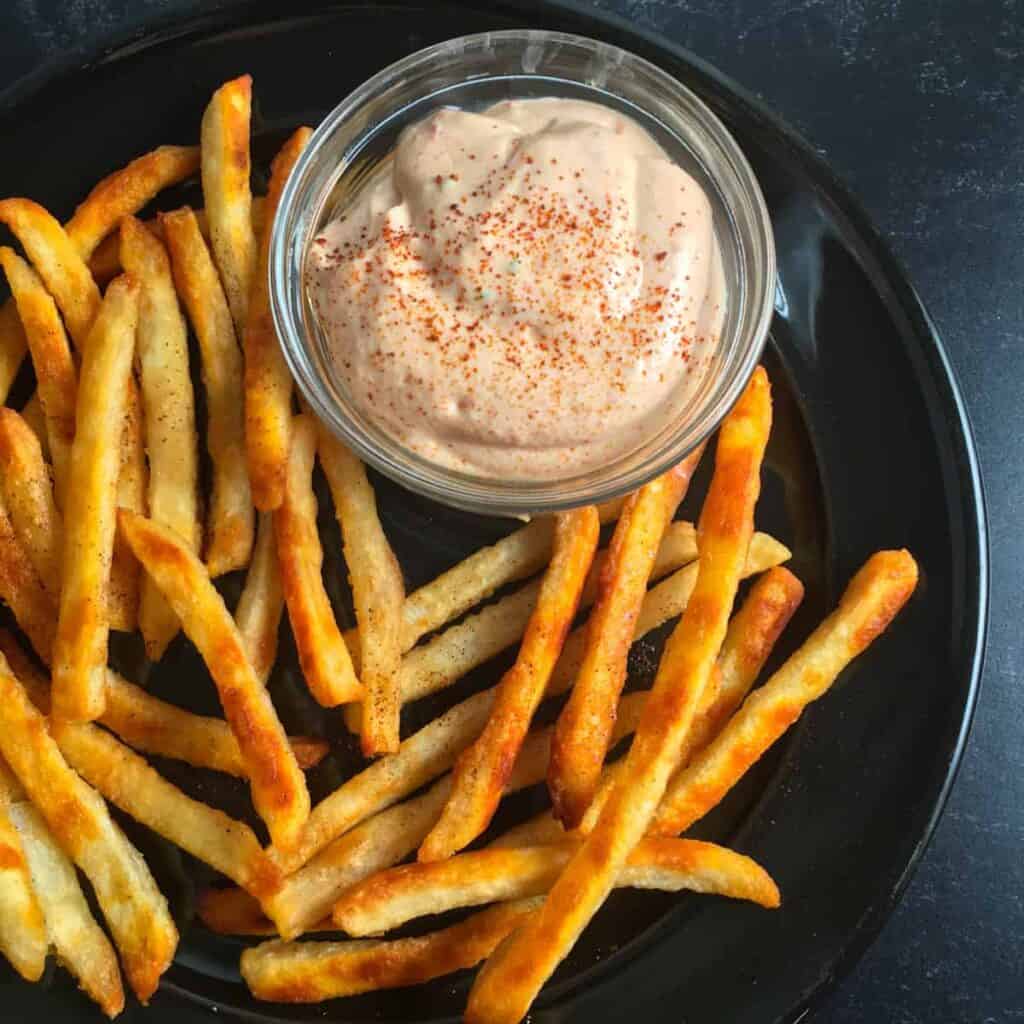 This thick and creamy mayonnaise is protein-packed, keto, gluten-free, low-calorie, and low carb! With just 5 minutes of your time, this yummy spread, sauce, or dip will be ready to go.
Among the vegan silken tofu recipes, this is one of the easiest and most versatile! Use it as a dip for french fries or flavorful spread on your sandwich or burger. Yum!
Calories: 26 — Fiber: 0.2 grams — Protein: 2.7 grams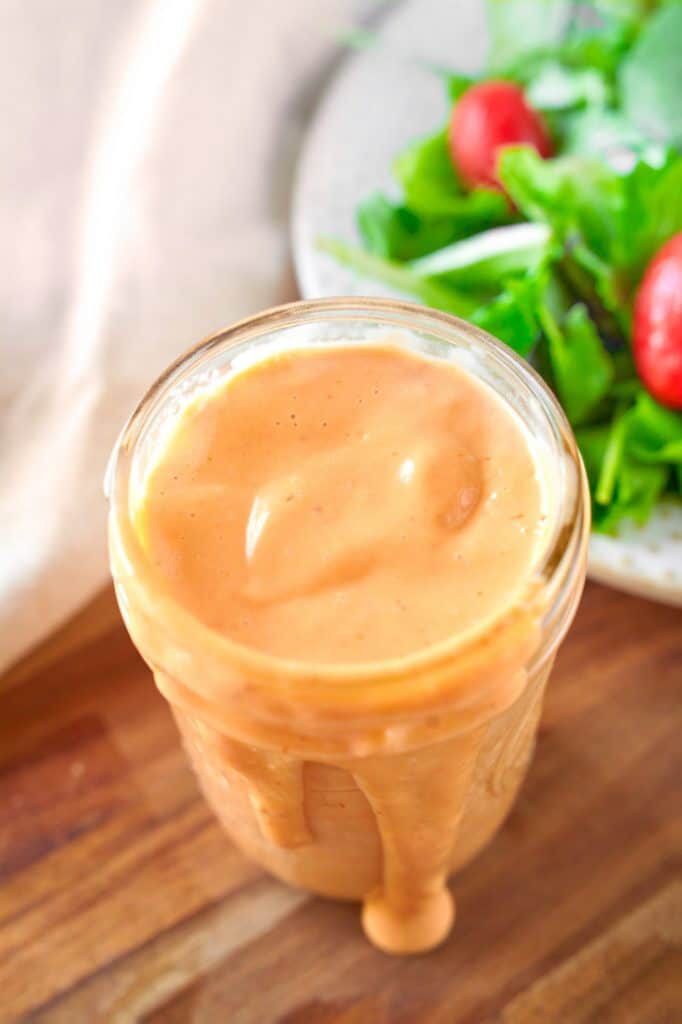 This vegan take on a classic and popular dressing takes only 3 minutes to whip up! While you can use regular tofu in this recipe, the silken variety will make it extra delicious.
It's easy go-to dressing for all your favorite recipes, it's quick and requires minimal effort. Toss with leafy greens for a salad or add to a small bowl for a wonderful dipping sauce!
Store in an airtight container and enjoy all week long with your favorites, like burgers and fries. If you love creamy sauces, you are sure to love this!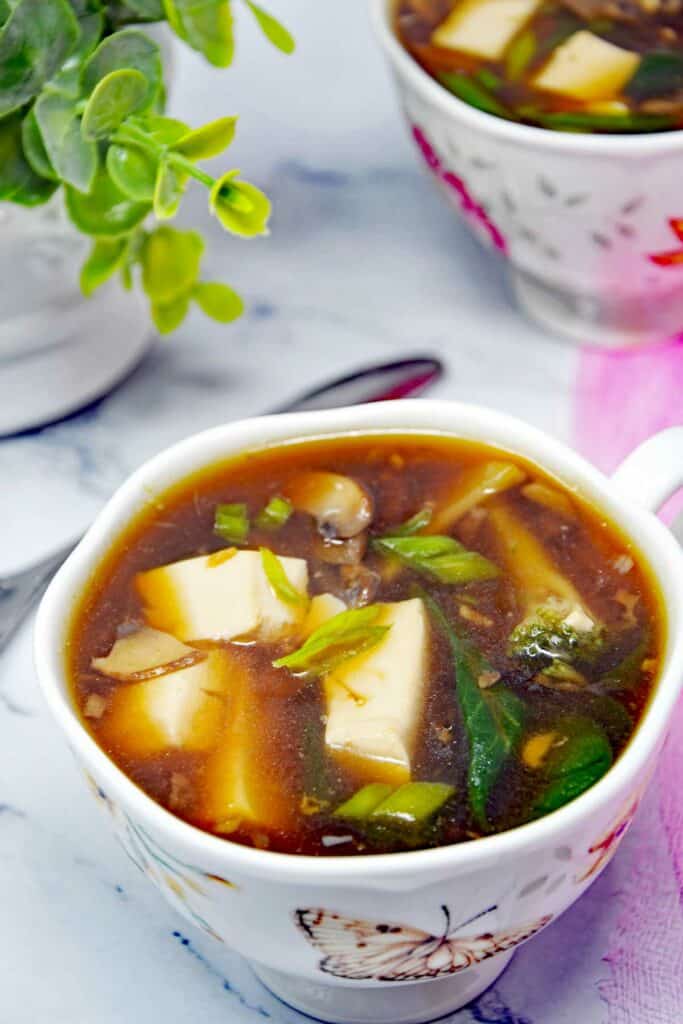 This vegetable tofu soup is lovely on its own or paired with other Asian dishes for a hearty lunch or dinner. It has the best flavors thanks to green onions, dark soy sauce, and toasted sesame oil.
You'll get soft silken tofu pieces with every bite of this comforting soup. I already know this will be one of your favorite silken tofu recipes! It is low calorie, vegan, and good for the soul.
Calories: 95 — Fiber: 1 gram — Protein: 5 grams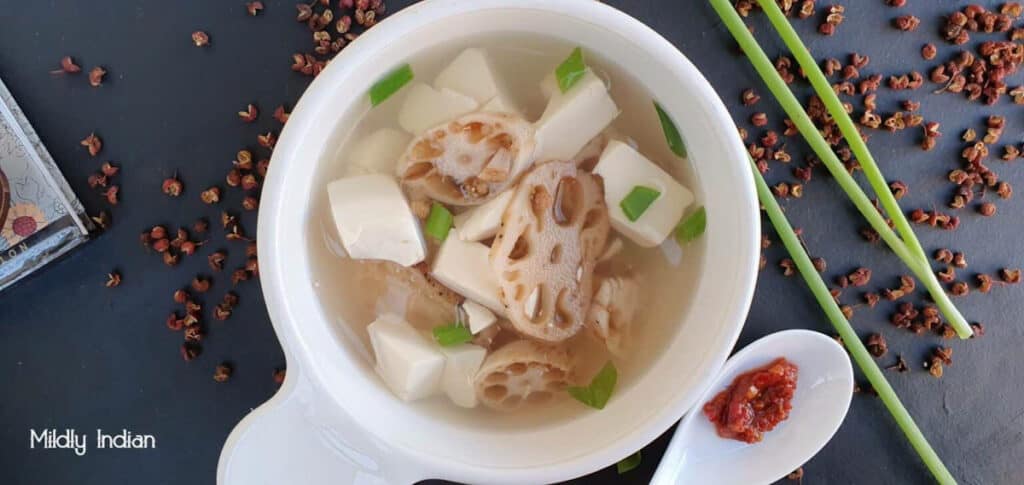 You'll get unique and fresh flavors in this soothing soup! If you have been on the hunt for silken tofu soup recipes, look no further. This comforting recipe combines lemongrass, ginger, and spring onions with the creamy sensation of silken tofu.
This soup is vegan, gluten-free, diabetic friendly, and comes together easily in one pot! Vegan cooking has never been easier (or tastier)!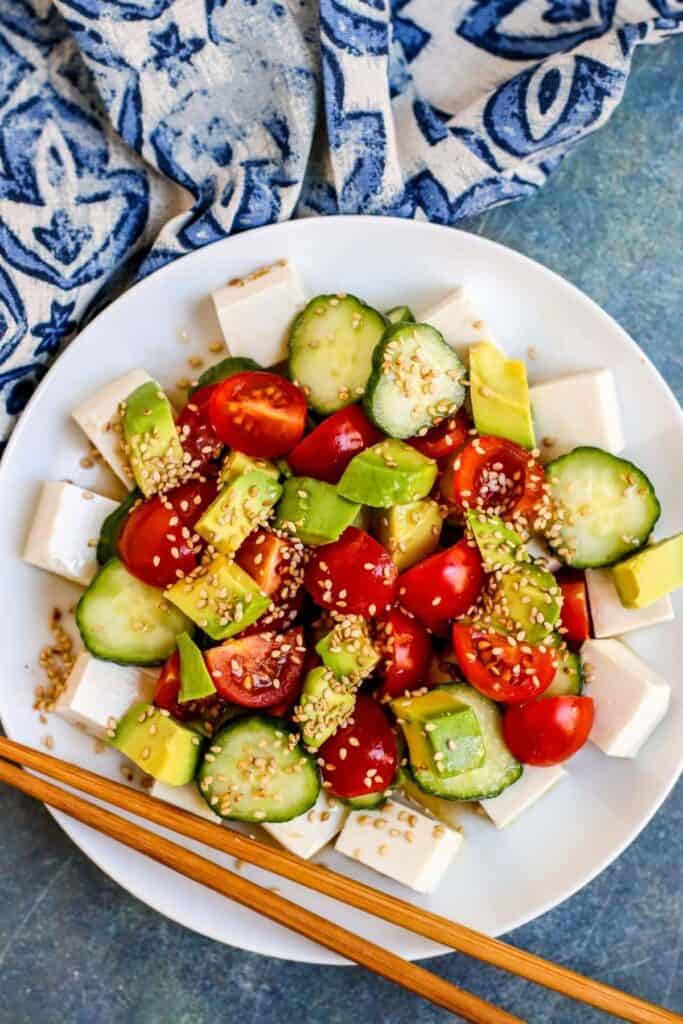 Among all the silken tofu uses, you might not instantly think of salads! However, it is one of the best ways to incorporate creamy tofu into your meals!
This yummy salad combines tofu, tomatoes, cucumber, and avocado with a flavorful dressing. It's ready to eat in just 15 minutes, and makes for a perfect side dish, appetizer, or light lunch. You'll love this light and refreshing meal that requires no cooking!
Calories: 283 — Fiber: 6 grams — Protein: 3 grams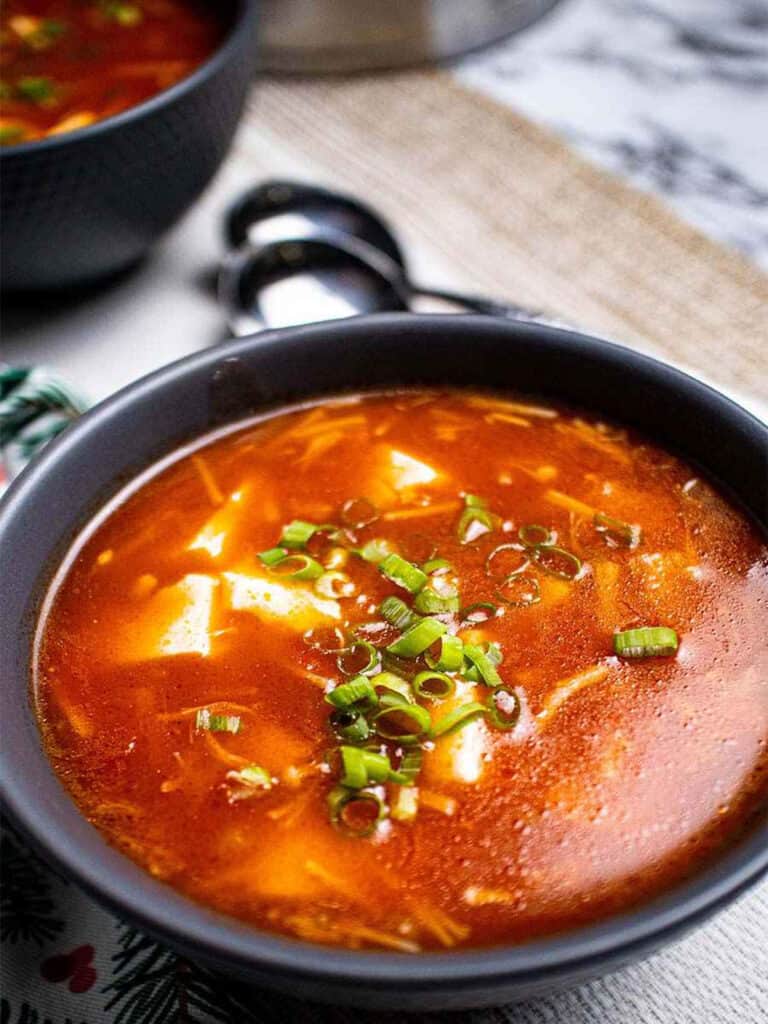 This comforting soup is wonderful for the fall and winter season. It is gluten-free, vegan, and packed with nutrients to keep you feeling your best.
Chinese silken tofu recipes like this provide the perfect combination of flavor and texture. You'll get a savory, umami taste with a bite of smooth tofu and chewy soft mushroom.
Not only that, this healthy soup recipe will be completely ready within just 25 minutes!
Calories: 222 — Fiber: 2 grams — Protein: 7 grams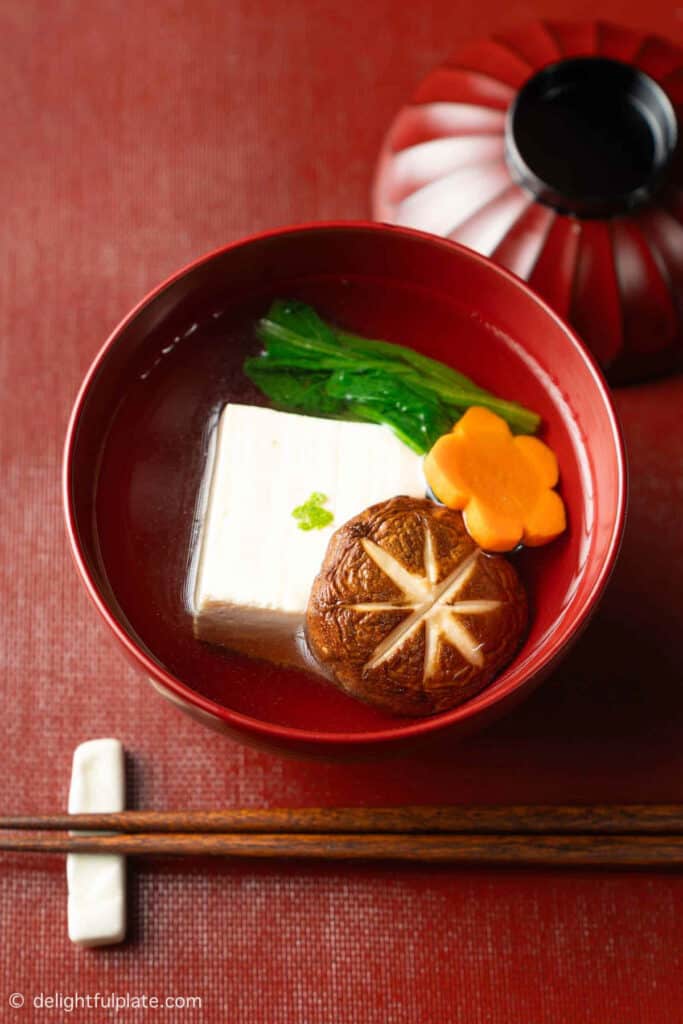 Bring the Japanese flavors and vibes to your home with this tasty, delicate clear broth soup. This easy, low-calorie recipe comes together in just 30 minutes!
The easiest and prettiest soup to enjoy for lunch, dinner, or even as an appetizer! It is the perfect comfort food for busy days when you are short on time.
Calories: 51 — Fiber: 2 grams — Protein: 5 grams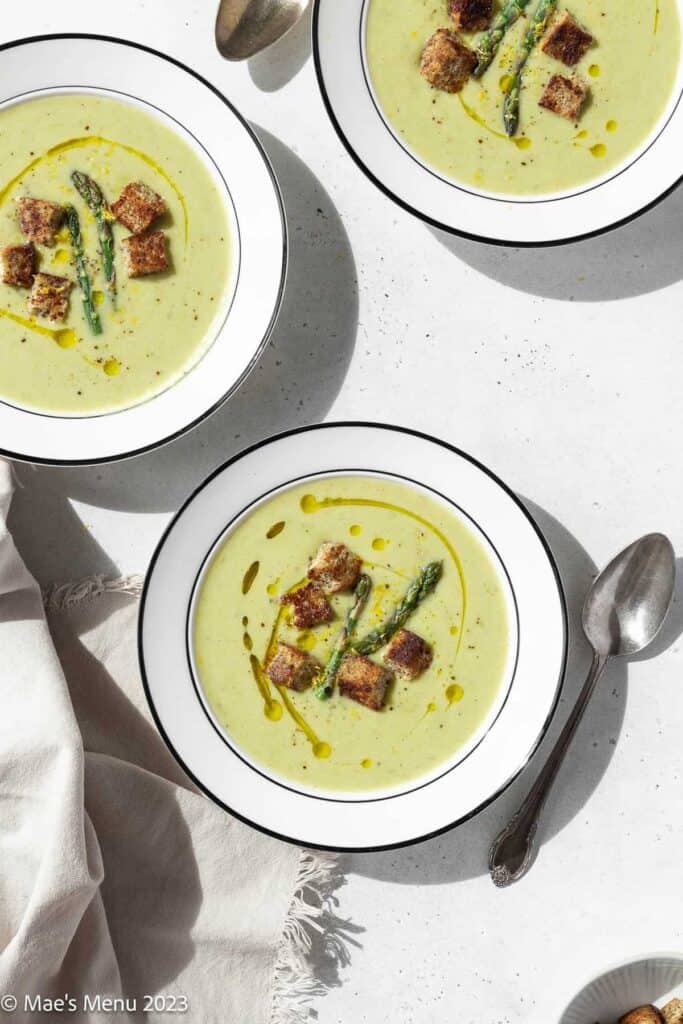 The whole family will adore this creamy asparagus soup recipe! It is so easy to make and naturally vegan and gluten-free. You'd never guess there was no cream here, thanks to the addition of silken tofu.
Full of flavor and creamy texture, this soup is the definition of comfort!
Calories: 166 — Fiber: 7 grams — Protein: 9 grams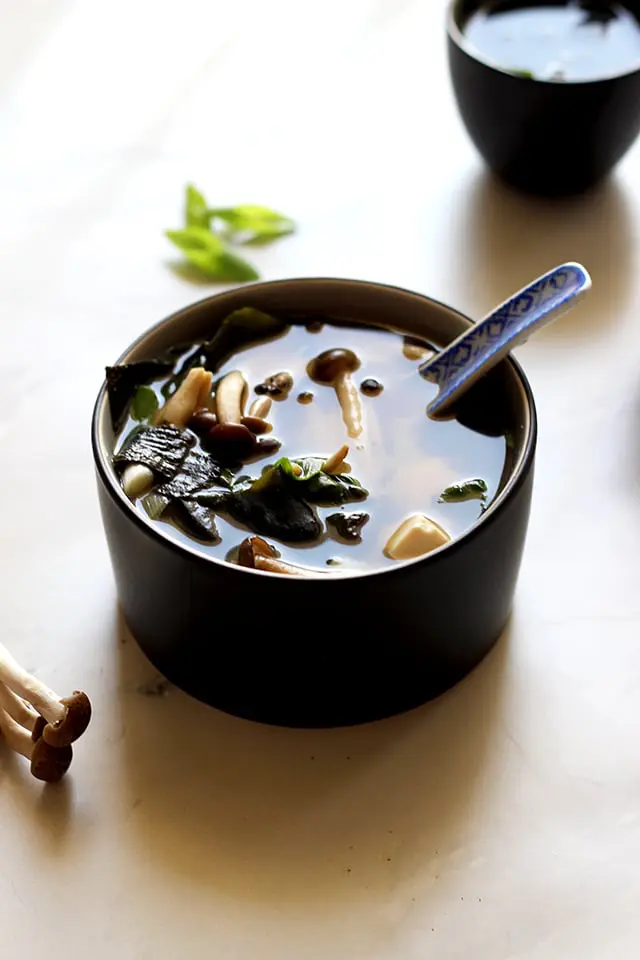 Packed with umami flavor, this easy Japanese miso soup will nourish and comfort you! It's a healthy option for lunch, dinner, or served as an appetizer.
This soup is delicious all year long, but is especially cozy for the Fall and Winter time! It's low-calorie, healthy, and wholesome.
The best part? It is ready in just 15 minutes! Less stress for those busy days. It really is a winner amongst silken soft tofu recipes.
Calories: 64 — Fiber: 2 grams — Protein: 4 grams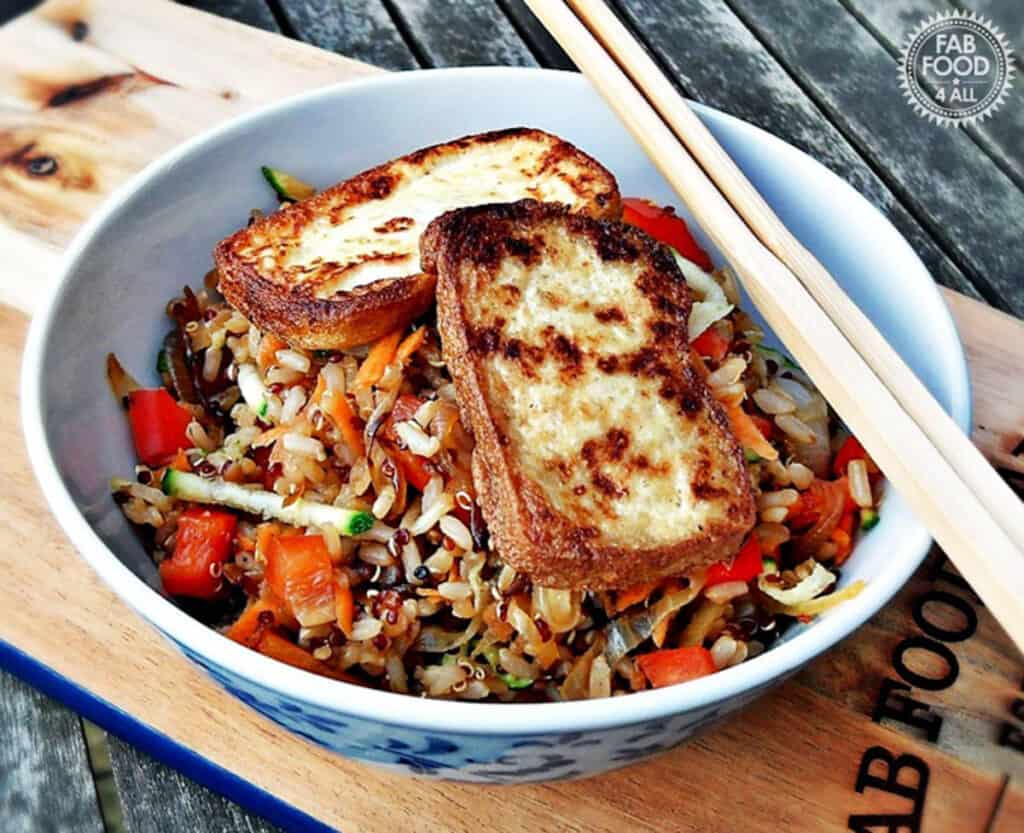 Enjoy a healthy and delicious grain salad that is complemented by crispy fried tofu. A warm, cozy quinoa salad with Japanese flavors and tofu that is crispy on the outside and soft on the inside!
This recipe calls for firm silken tofu, which is still soft and requires care, but can tolerate a pan fry! If you've been wanting to try Japanese silken tofu recipes, this is a great one!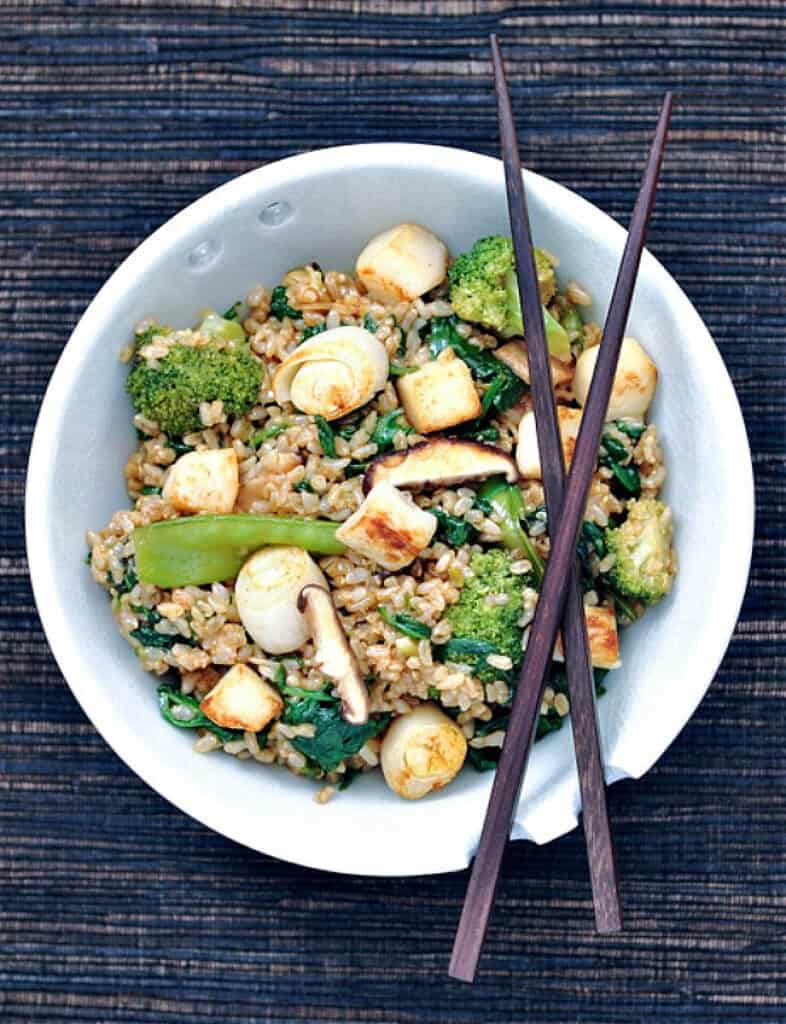 This fried rice really hits the spot! It takes traditional fried rice to a whole new level, with shiitake mushrooms, heart of palm, sweet onion, and brown rice.
Heart of palm is sauteed in arame to infuse a savory, umami sea flavor that mimics that of scallops. When paired with silken tofu, this dish is well-balanced in both nutrients and taste! Cooking soft tofu is easy and fun in this delicious recipe!
Calories: 334 — Fiber: 8 grams — Protein: 9 grams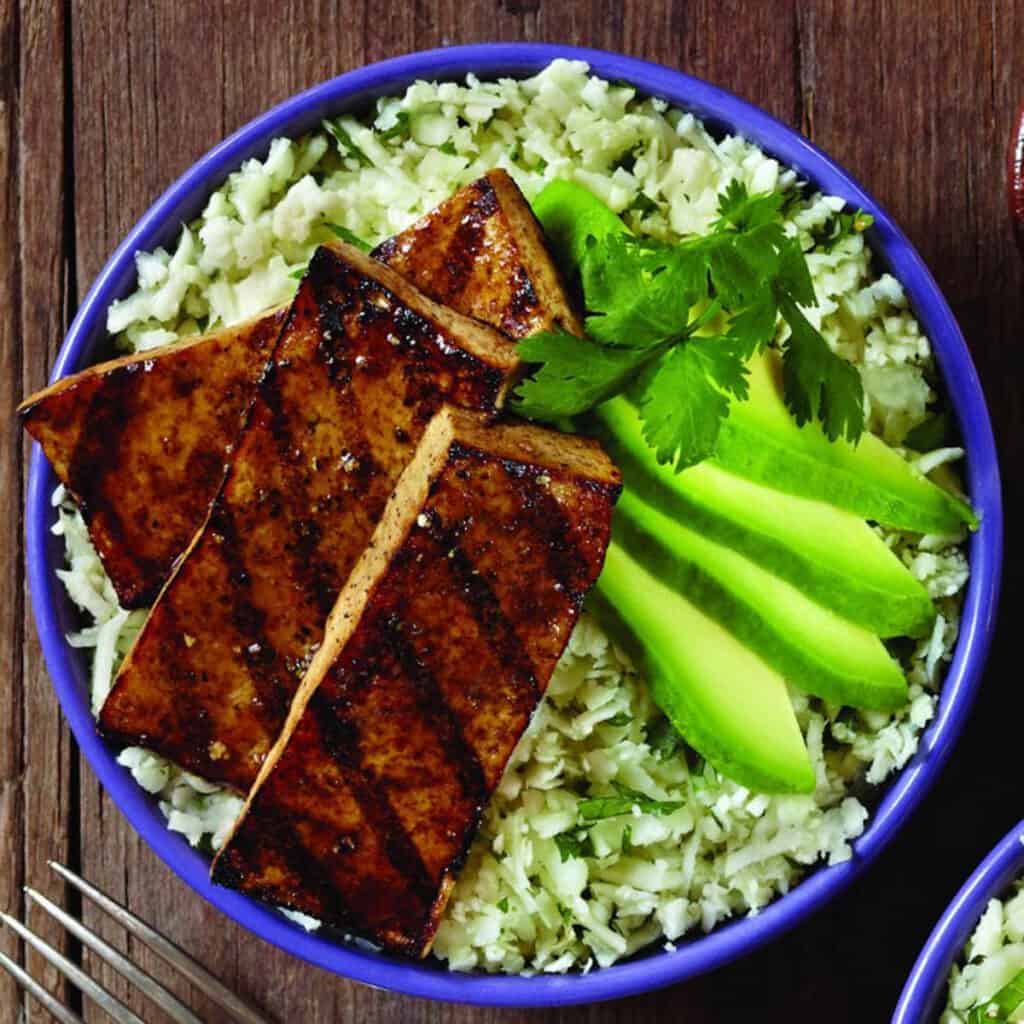 Get ready for the ultimate flavor combination with savory balsamic tofu and refreshing cilantro rice.
While this recipe calls for extra firm tofu, you can make it with silken tofu for a softer, richer meal. You will want to remove excess water with a paper towel to help it maintain structure and soak up more flavor.
Do this in a much gentler way than traditional pressing methods, to avoid crumbling the soft tofu!
Calories: 234 — Fiber: 7 grams — Protein: 6 grams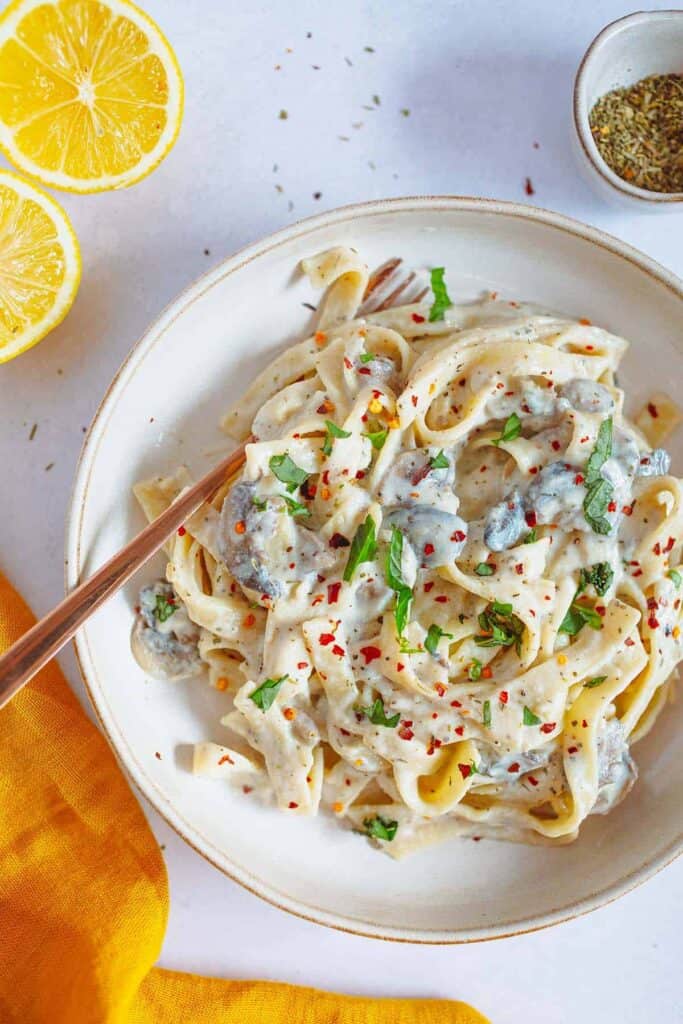 This rich and delicious vegan pasta is a great lunch or dinner for those busy days. This cozy dish is super easy to make, coming together in 30 minutes!
Pasta sauces with tofu have extra protein and creaminess, making for an ultra comforting meal. Give this easy silken tofu recipe a try!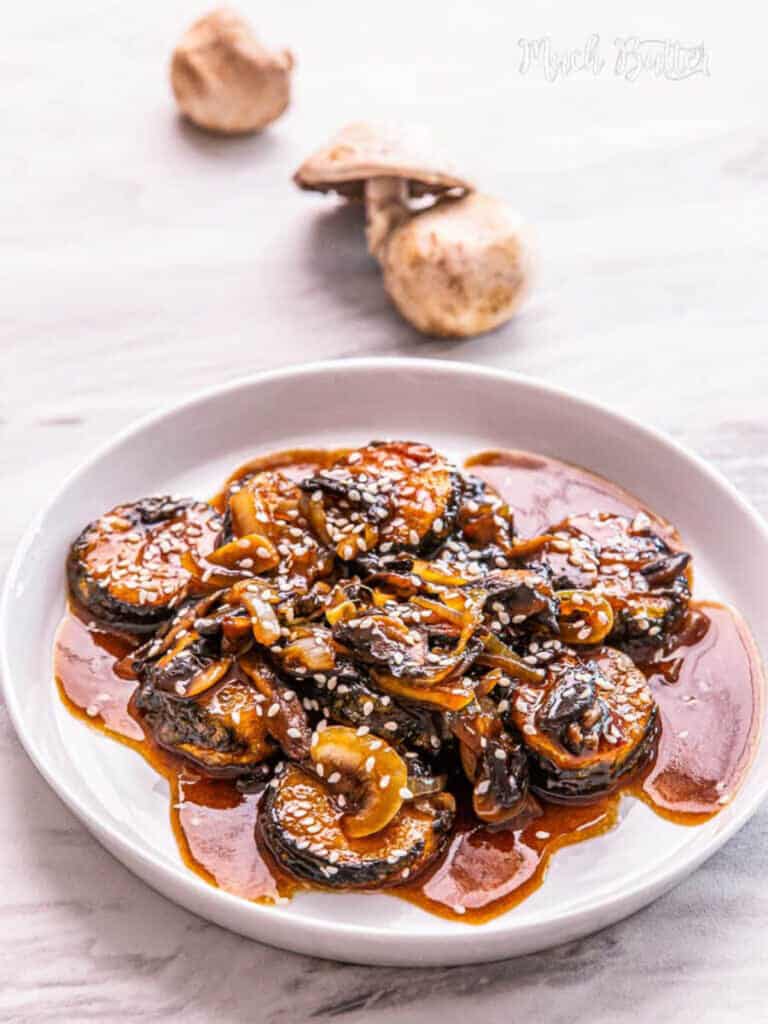 This vegan, gluten-free tofu nori is loaded with all the flavor! Combining crispy seaweed with soft tofu creates a match made in heaven. This dish levels up with the sweet soy sauce mixture – just leave out the oyster sauce to keep things vegan-friendly.
With just 10 minutes of prep, you'll be sitting down to a comforting, flavorful meal in under an hour!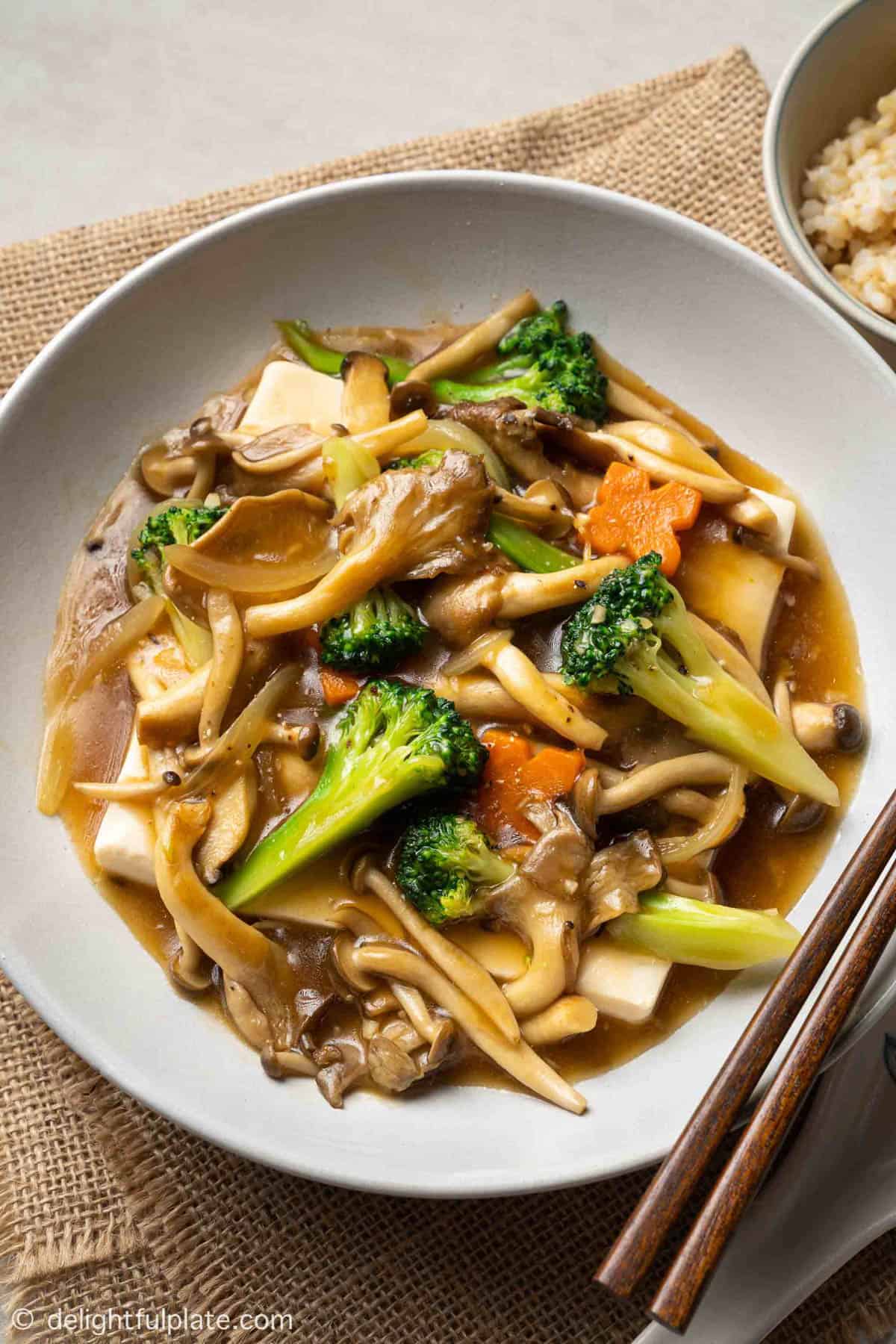 Savory oyster sauce coats creamy tofu, meaty mushrooms, and crisp-tender veggies. This healthy, savory tofu recipe is packed with wholesome ingredients and is super easy to make, ready in 25 minutes.
The whole family will love this umami dish, and it's a good source of protein too!
Calories: 171 — Fiber: 5 grams — Protein: 11 grams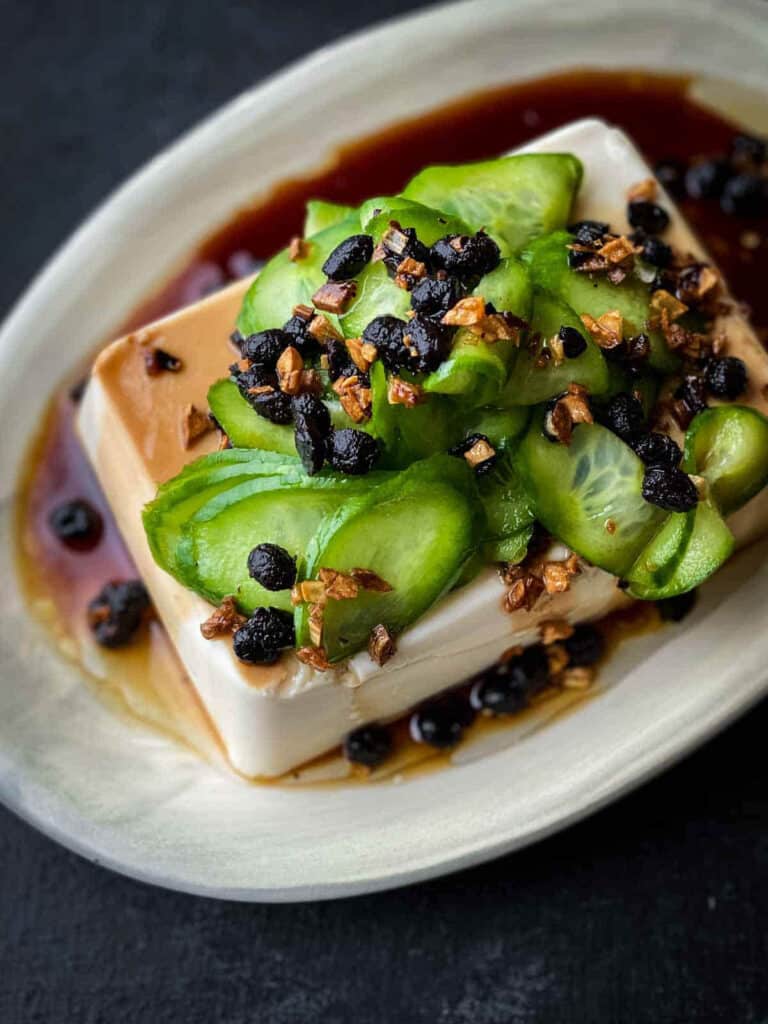 If you are craving Chinese cuisine for lunch or dinner, this simple recipe is the best thing ever! Fermented black beans bring a bold, pleasant pop of flavor while you get a tangy kick from pickled cucumber.
Ready in 15 minutes, this is a healthy gluten-free and vegan recipe with gut healthy ingredients. Low-calorie, too!
Calories: 86 — Fiber: 1 gram — Protein: 2 grams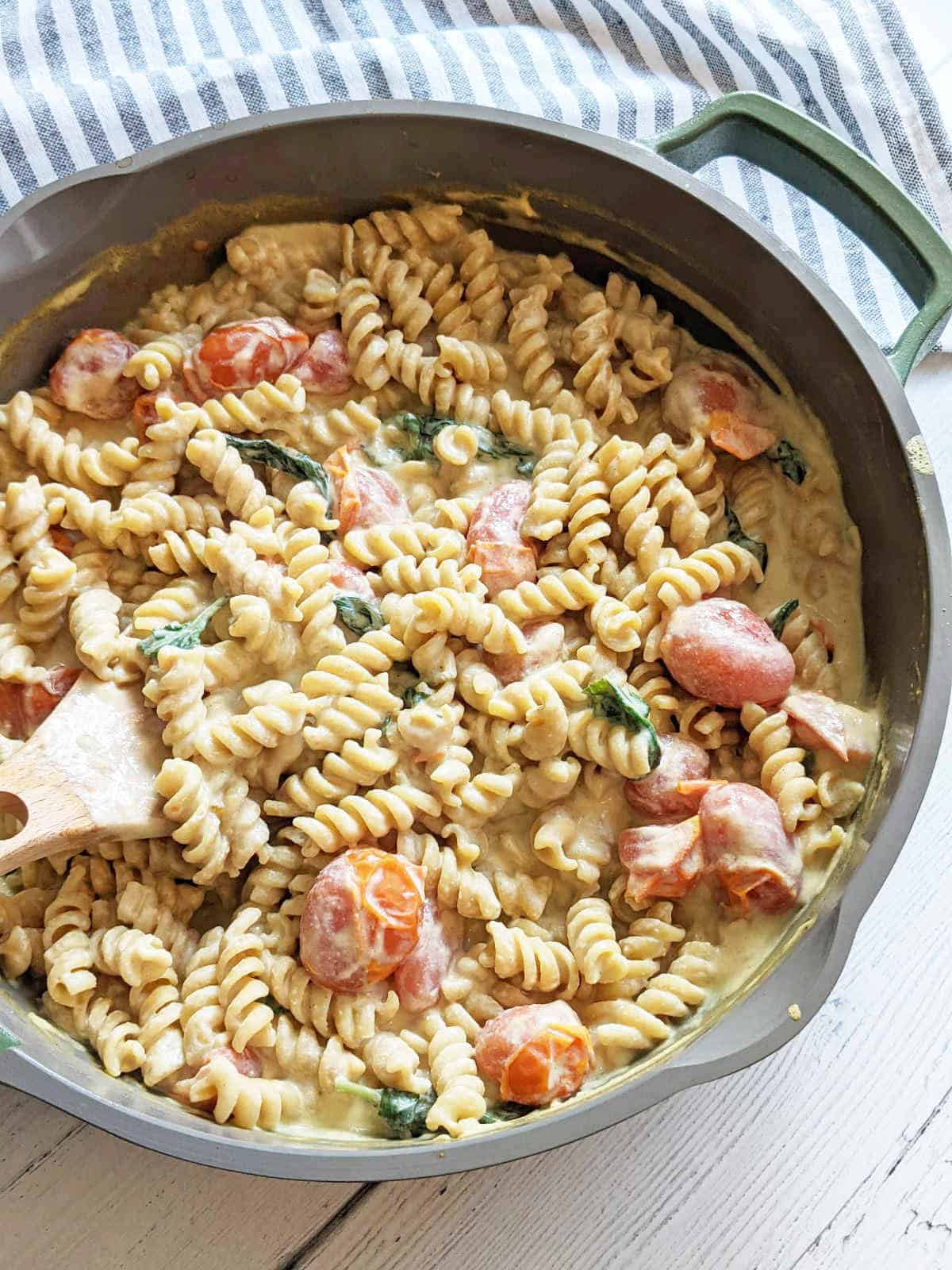 Soft tofu recipes like this are irresistible! The creaminess alone will lure you in, and the 17 grams of protein will keep you feeling full and satiated.
Save time with this delicious one-pot recipe! You'll have a quick prep time and easy clean up with this vegan, oil-free meal. It is super creamy, thanks to the vegan feta that's made from silken tofu, nutritional yeast, and aromatic Italian spices.
Calories: 306 — Fiber: 3 grams — Protein: 17 grams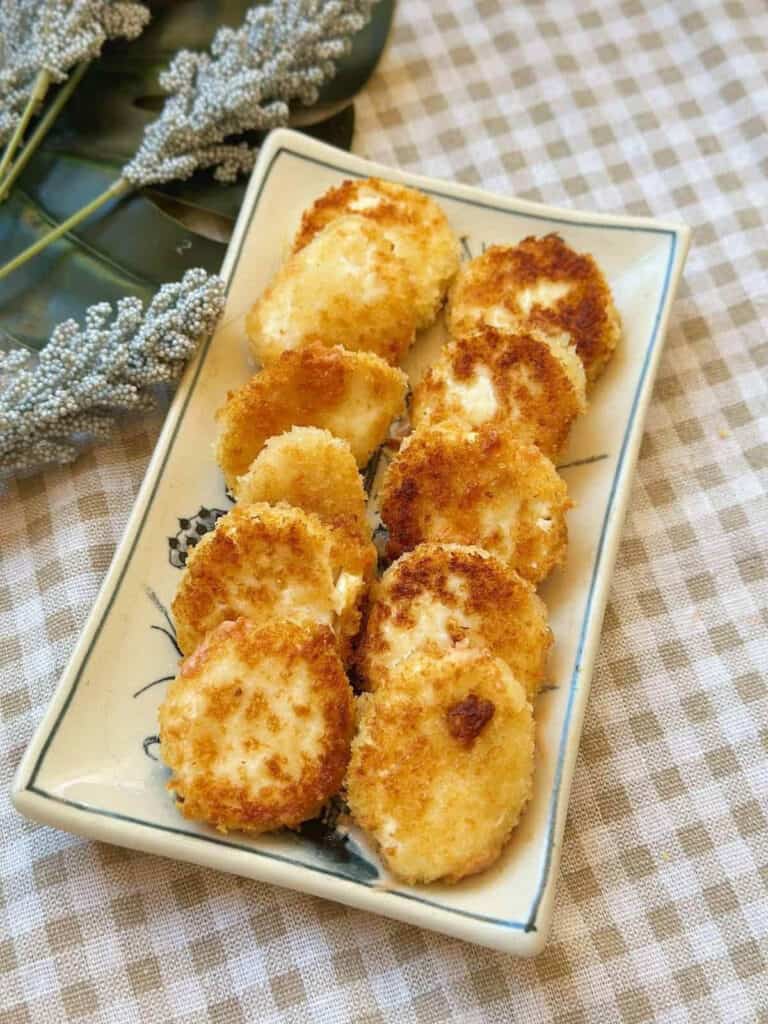 This delicious side dish has all the flavor with the perfect combination of crispy and soft texture in every bite.
A crispy panko outer shell encapsulates a soft, silky tofu center in this easy appetizer or side dish. You only need a few simple ingredients and 15 minutes of time to make this yummy recipe! This is a great option to pair with so many other vegan recipes.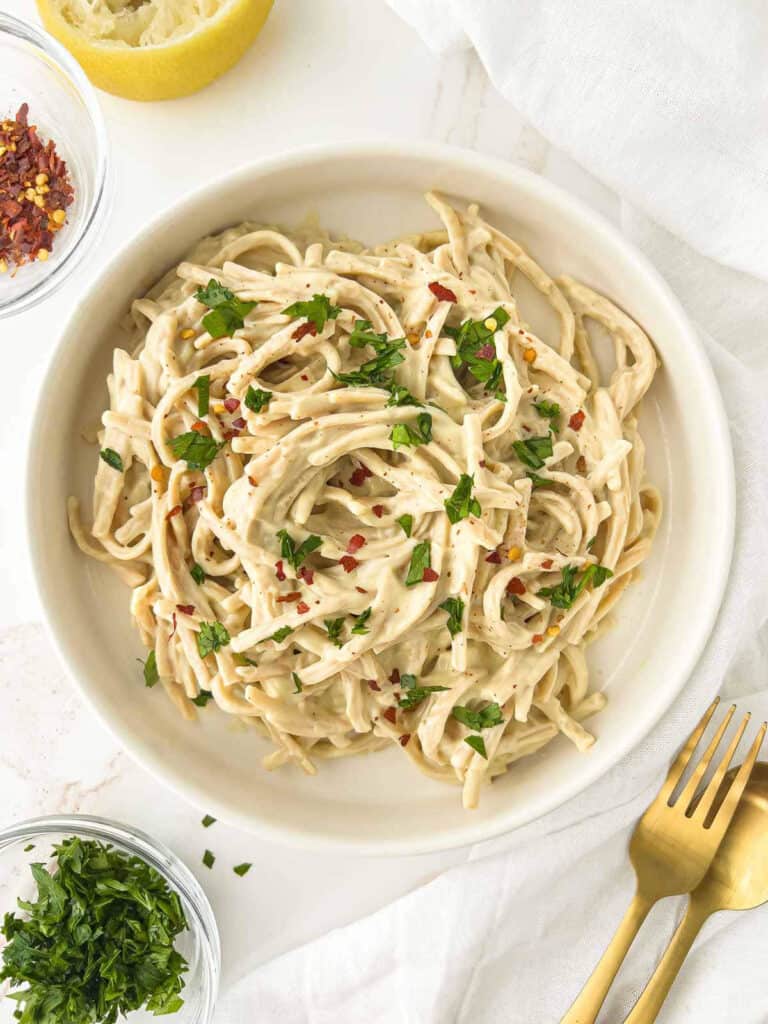 This creamy pasta sauce is the best vegan alternative to alfredo sauce. It is just as rich and flavorful, while loaded with plant-based protein!
The white sauce blends together so easily, with only a few sauce ingredients.
This 10 minute sauce is the perfect choice for a weeknight dinner. It's comforting and healthier than traditional alfredo. Throw some pasta onto a large plate and enjoy this cozy yet healthy food!
Calories: 161 — Fiber: 1 gram — Protein: 9 grams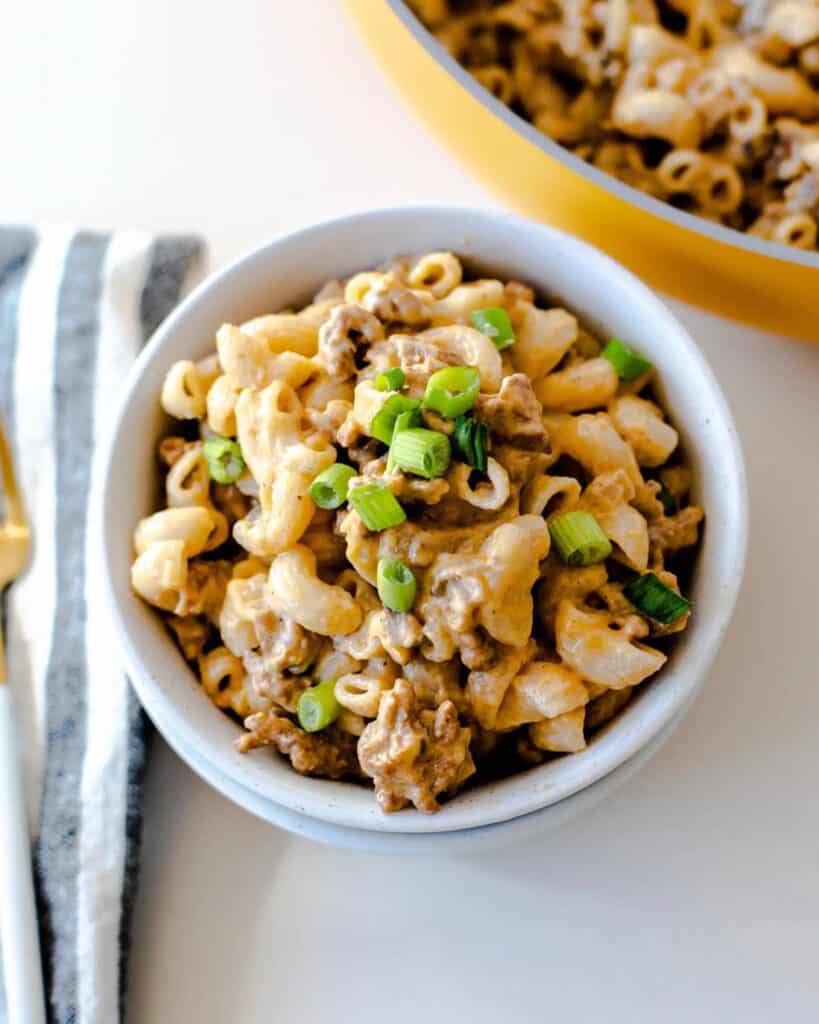 A classic dish gets elevated with chorizo sausage (or vegan chorizo to keep this silken tofu recipe for dinner vegan friendly), and sauteed veggies.
Loaded with protein and simple ingredients, this flavorful macaroni and cheese is the ultimate comfort meal that everyone will love! The best part? The easy, creamy, cheesy silken tofu blender sauce comes together easily in minutes!
Calories: 496 — Fiber: 2 grams — Protein: 25 grams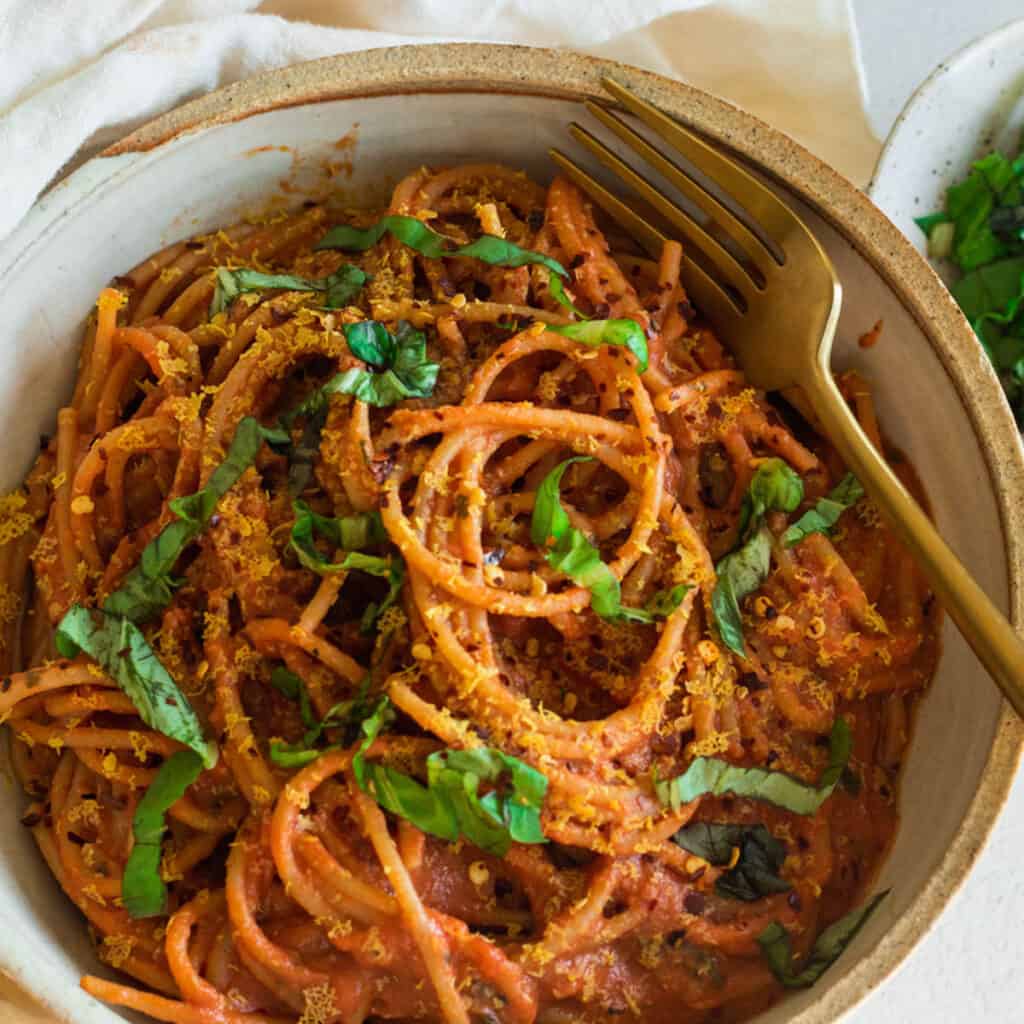 This creamy tomato pasta sauce will tantalize your taste buds! It is full of aromatic spices like basil, oregano, and red pepper flakes. With the addition of tofu, it becomes rich and filling!
High in protein and fiber, and made in under 30 minutes! Plant-based, dairy free, nut free, and offers a gluten-free option.
Silken tofu sauce recipes do not get much better than this!
Calories: 169 — Fiber: 8 grams — Protein: 7 grams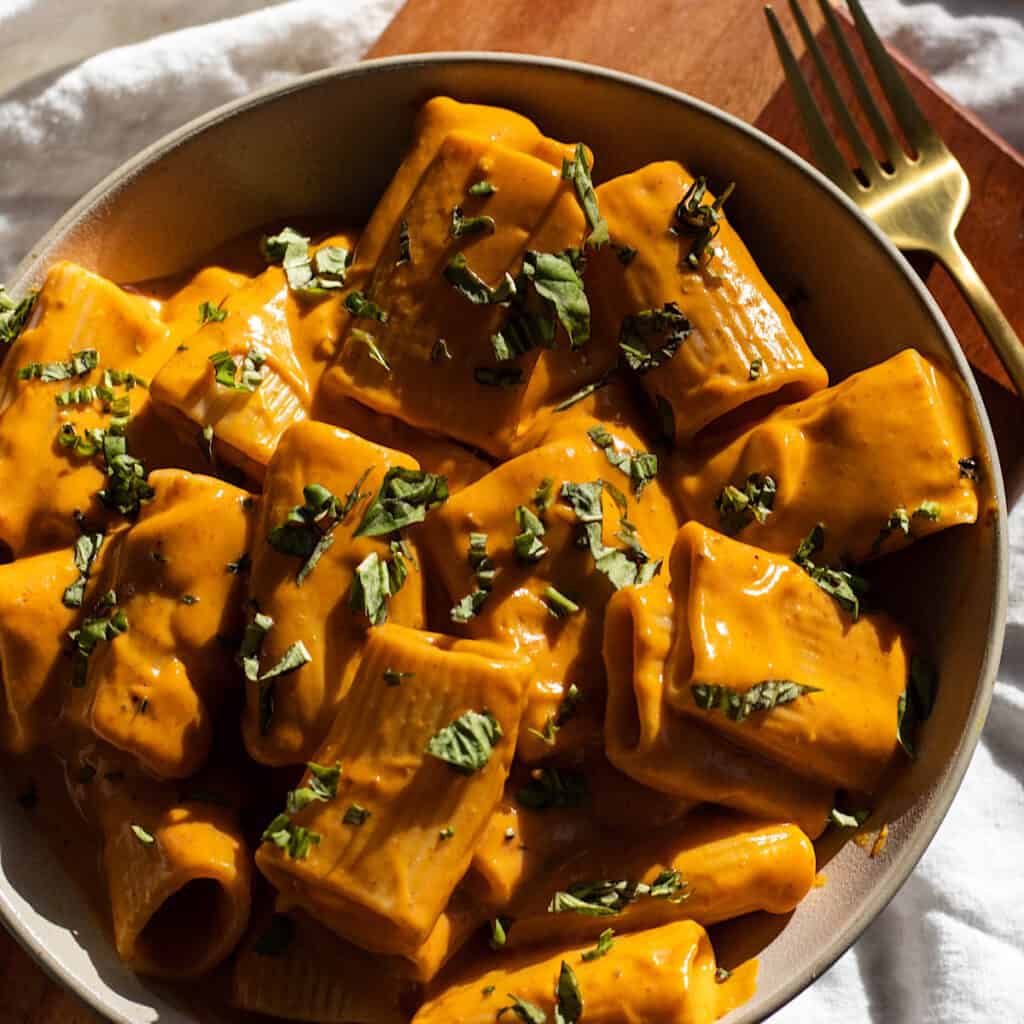 Switch things up from classic marinara with this creamy vegan pasta sauce! Adding tofu not only thickens the sauce, but also boosts protein content. The combination of spice and creaminess gives this sauce an indulgent feel!
This easy sauce recipe is something everyone will love and can be modified to reduce spice levels for kids so it's super family friendly too!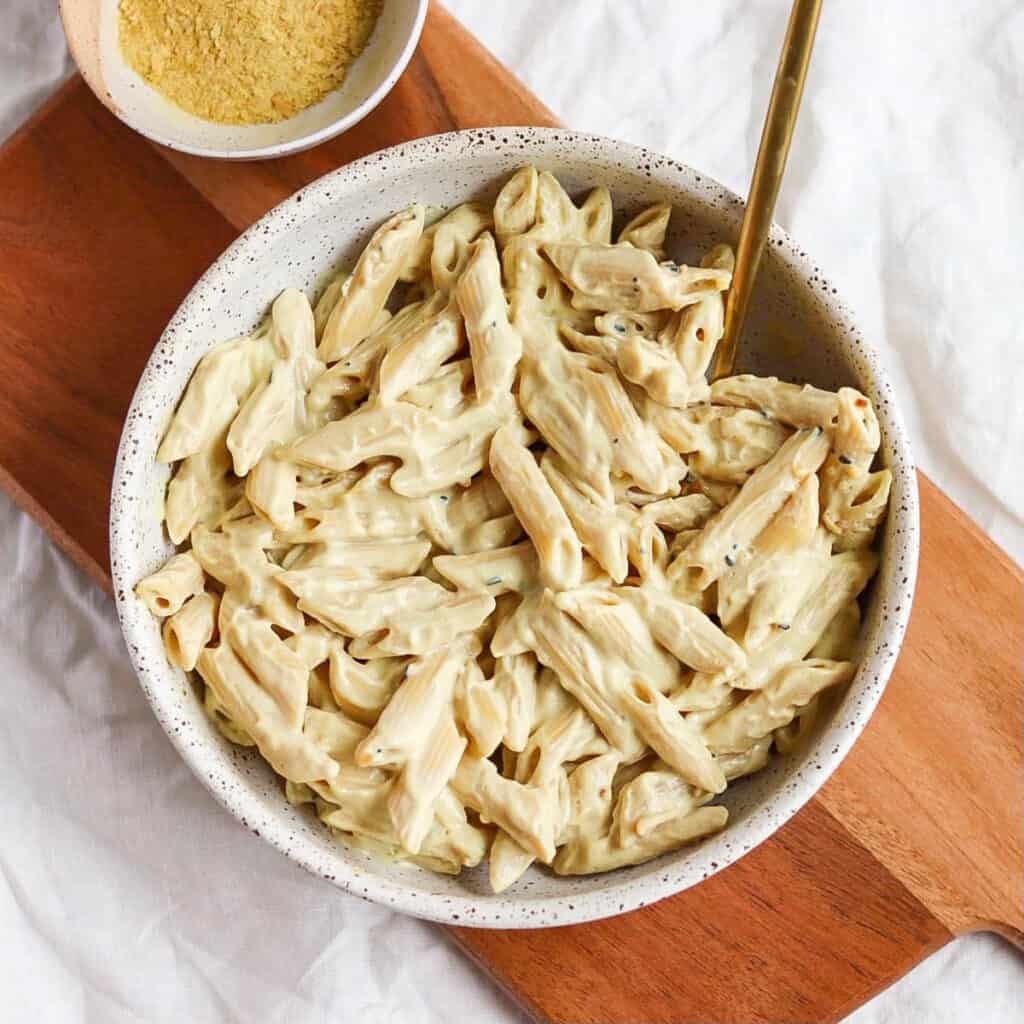 Vegan mac and cheese made with silken tofu just makes sense! With only 10 minutes of prep time, you will blend together 9 ingredients, toss with pasta, and enjoy. It really is that easy!
This dish is creamy, comforting, and super easy to make. Plus, most of these ingredients are pantry staples, especially for vegans!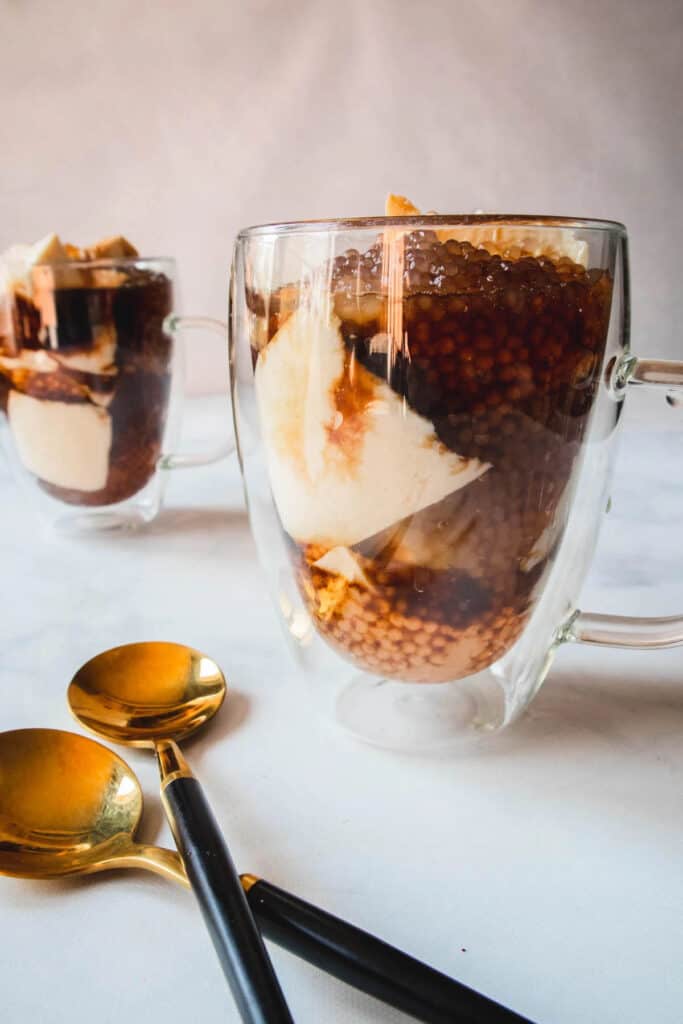 Very similar to brown sugar boba tea, Taho is a deliciously warm dessert where chewy mini tapioca pearls and silken tofu combine in sweet brown sugar syrup. It is an easy, unique treat to share with friends and family.
If you love boba tea, you will enjoy this fun dessert! It's sweet, creamy, and chewy all at once!
Calories: 159 — Fiber: .01 grams — Protein: .1 grams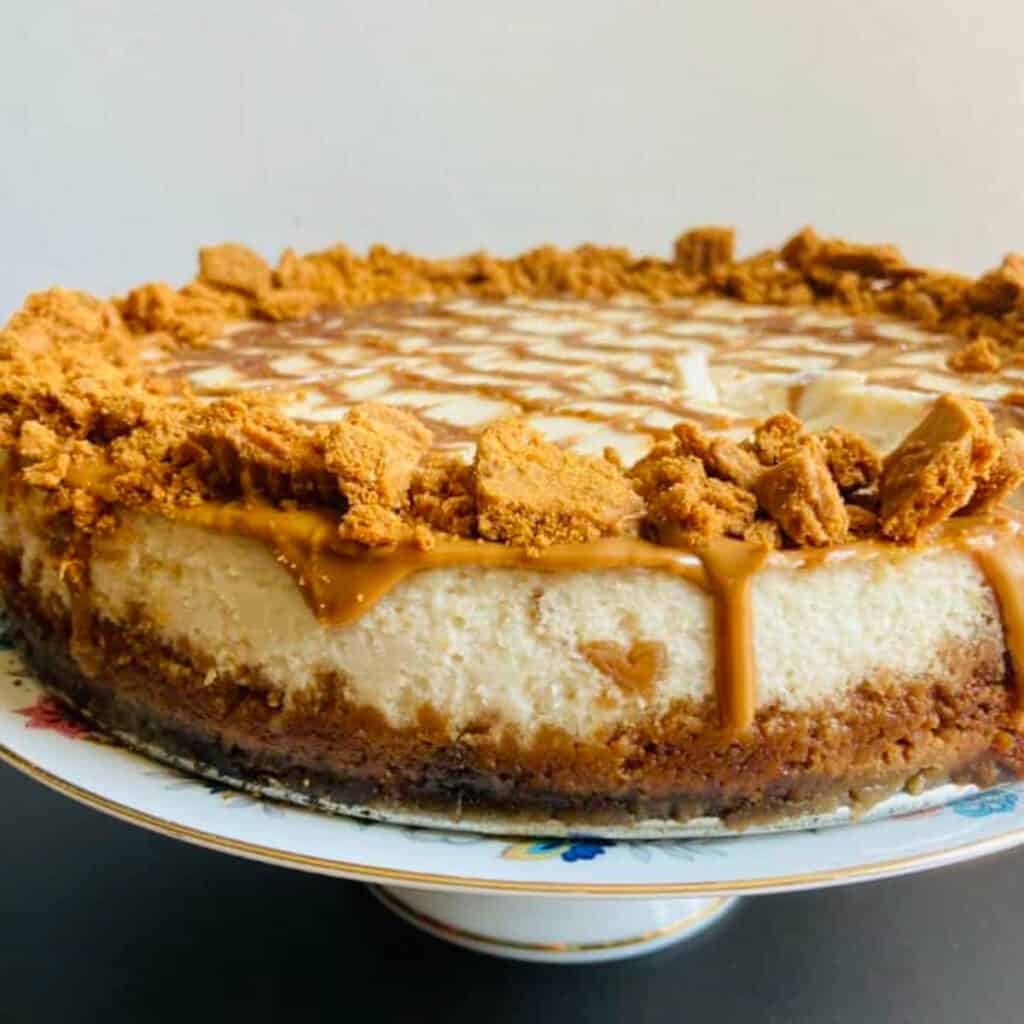 This is one of those firm silken tofu recipes that everyone will be asking you about! Made with a blend of cashews, coconut milk, vegan cream cheese, and Biscoff cookies, this is a winner.
It's an easy, elevated vegan recipe with silken tofu that will impress vegans and non-vegans alike! Next time you're hosting a party, be sure to make this Biscoff cheesecake!
Calories: 417 — Fiber: 1 gram — Protein: 6 grams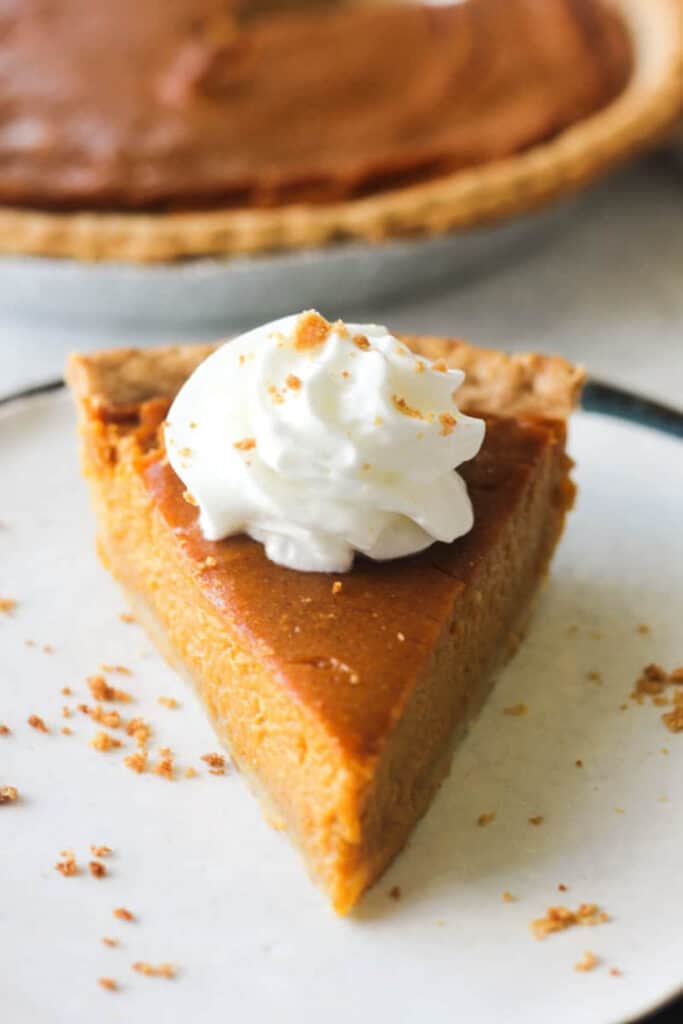 This rich and creamy pumpkin pie is one of the best fall desserts with silken tofu! With a decadent smooth texture, this dessert will be the star of the show.
This dish with soft tofu is perfect for the fall and holiday season, but delicious enough to enjoy year round.
It is quickly made in the blender, so you only have to set aside 5 minutes of your time to prepare this pie!
Calories: 165 — Fiber: 2 grams — Protein: 4 grams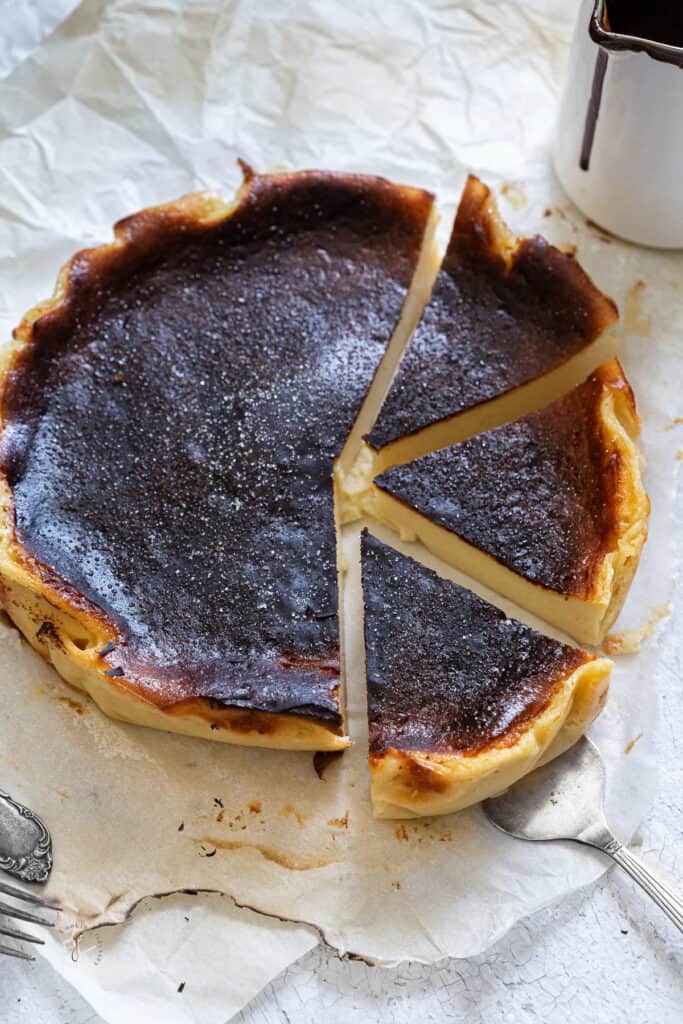 This creamy and silky cheesecake has the most perfect gooey center complemented by bursts of fresh orange and sweet vanilla flavor. It is made without dairy, eggs, or nuts.
Simply blend the batter in a blender, pour into a cake pan, and bake it in the air fryer for the best gluten-free dessert! This cheesecake recipe is so easy and a total crowd pleaser too.
Calories: 345 — Fiber: 4 grams — Protein: 7 grams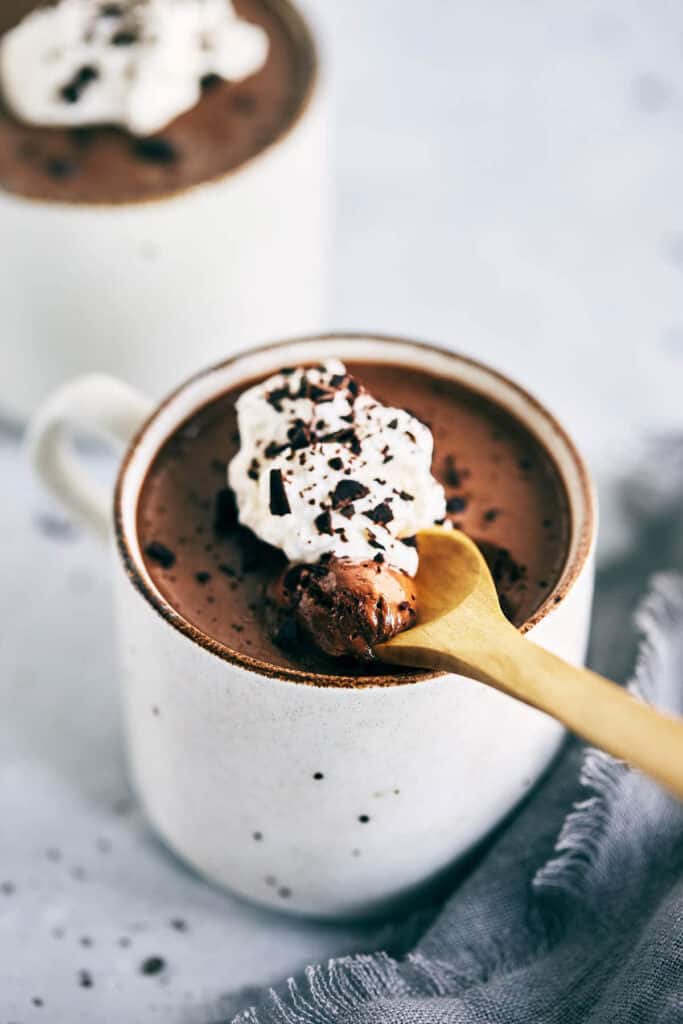 Enjoy a rich dessert without any eggs or dairy products! This chocolate-y french custard is a simple, no-bake treat with warm chai spices to elevate the flavor profile.
When it comes to recipes with silken tofu for dessert, this comforting dish will win your heart (and your taste buds). Creamy, chocolate-y goodness in every bite! Need I say more?!
Calories: 273 — Fiber: 3 grams — Protein: 4 grams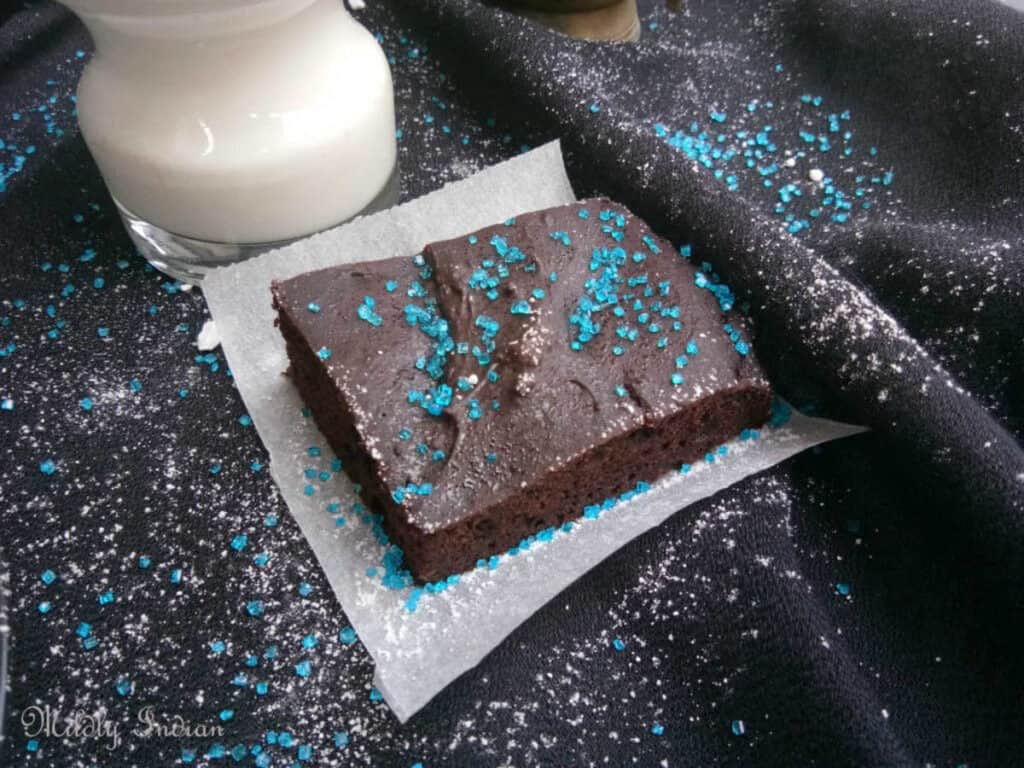 This chocolate-y brownie recipe will amaze you! It is so simple and made with wholesome ingredients like whole wheat flour, vanilla extract, and walnuts. The silken tofu provides a moist and chewy brownie that the whole family will love. No dairy or eggs here!
This is one of the most delicious recipes, with only 10 minutes of prep time and 30 minutes of cooking time. Who doesn't love fudgy brownies?!
Calories: 206 — Fiber: 3 grams — Protein: 5 grams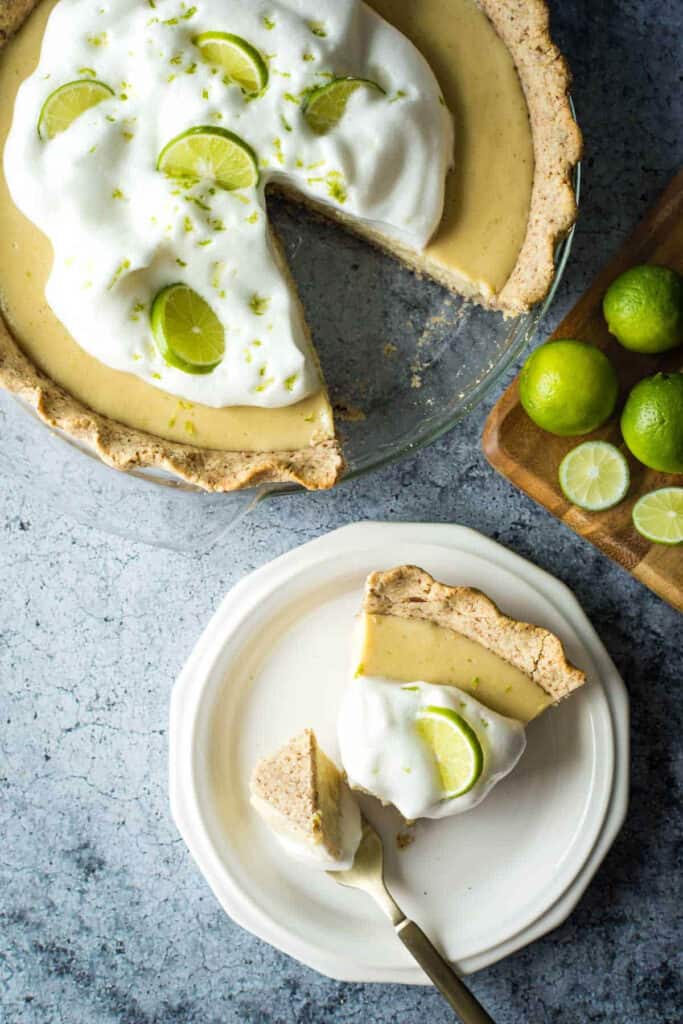 This key lime pie is a dream come true, with fresh citrusy flavor and creamy texture. Plus, it's a gluten-free recipe so most people can enjoy it!
This pie will make a great addition to any gathering, birthday party, or picnic. Sweet silken tofu recipes like this will be the hit of the event!
Calories: 285 — Fiber: 2 grams — Protein: 8 grams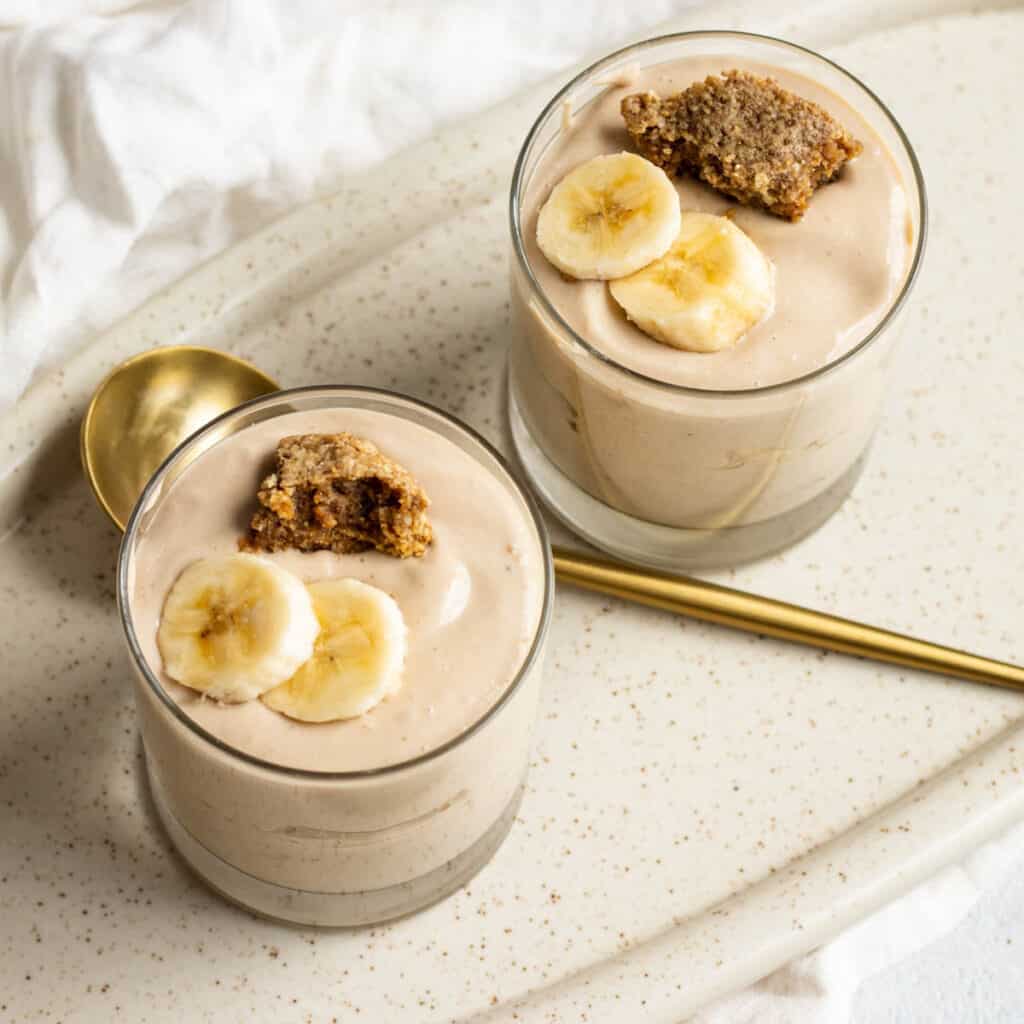 There is a simple joy to pudding that takes you back to childhood. Even as a vegan, you can enjoy this charming and delicious banana pudding. It is made without any refined sugar or dairy, so you can feel good about eating this for a snack or dessert.
It's super easy to make, high in protein, and healthier than most desserts!
Calories: 169 — Fiber: 8 grams — Protein: 7 grams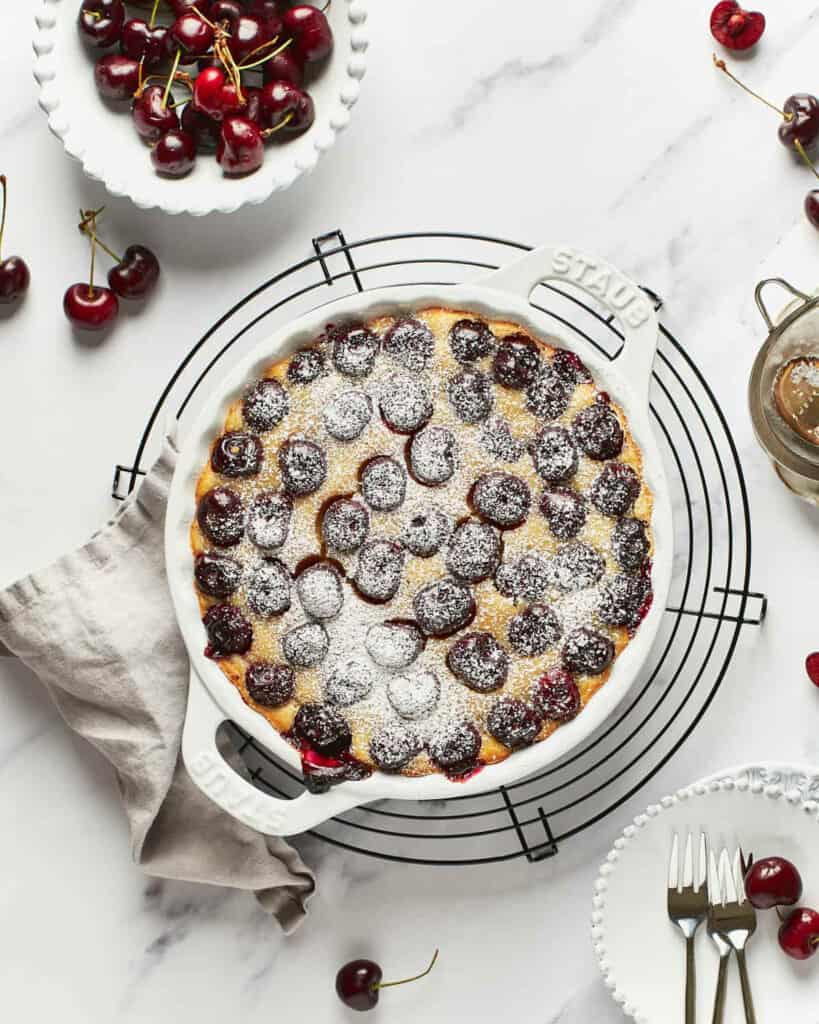 Clafoutis, is a baked fruit dessert that originated in France. Traditionally cherries are used, paired with a creamy base or thick custard. The creamy base paired with sweet, juicy cherries makes for an absolutely delicious and captivating treat.
This classic French dessert will impress all of your friends and family. Enjoy a layer of sweet cherries perfectly enveloped in a vegan custard with this elegant dessert. It's gluten-free, refreshing, and unique!
Calories: 327.9 — Fiber: 2.7 grams — Protein: 6.8 grams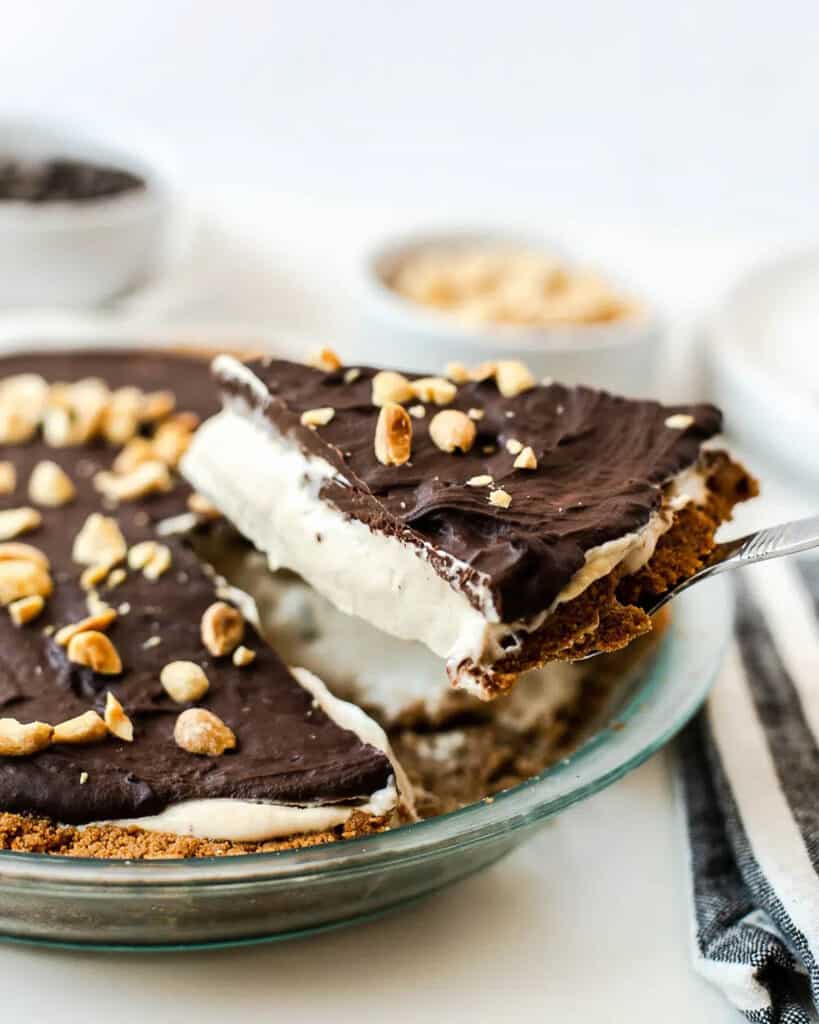 Chocolate and peanut butter are a match made in heaven! This peanut butter mousse pie is dairy-free, gluten-free, with only 8 ingredients needed.
Creamy salted peanut butter whips together with coconut cream, and is topped with delicious dark chocolate.
It is fluffy and light, while equally rich and indulgent. Truly, it is the best balance for a delicious dessert!
Calories: 326 — Fiber: 1 gram — Protein: 8 grams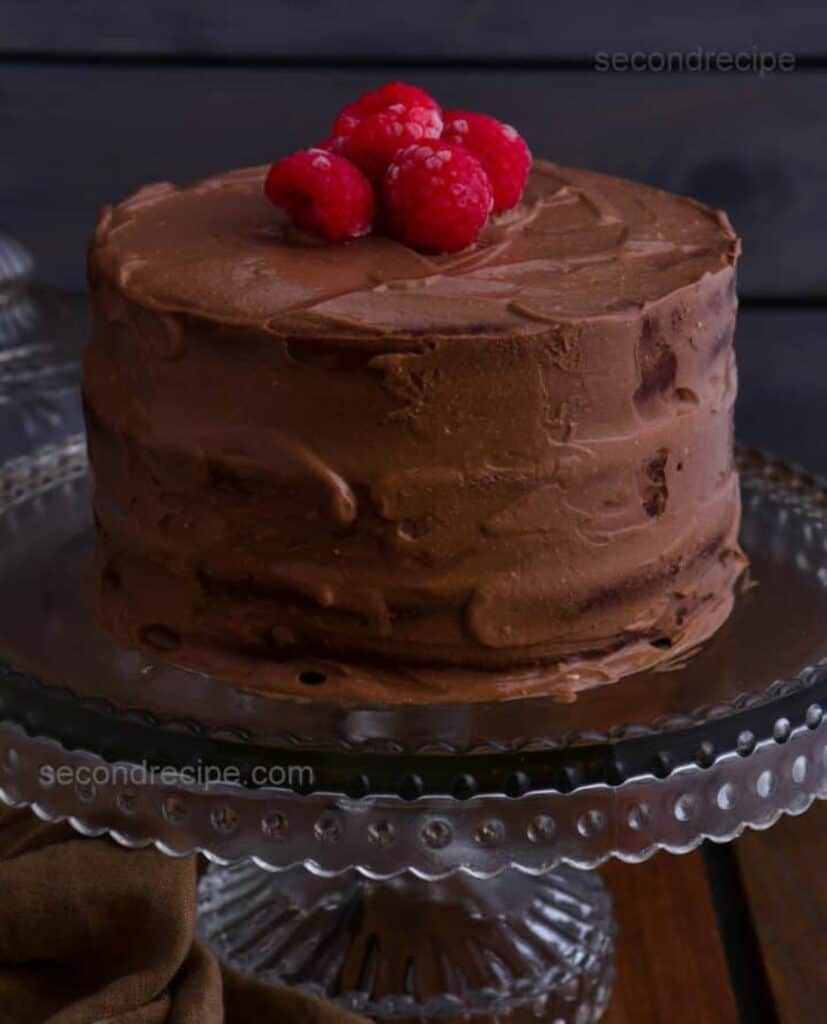 When thinking of recipes using silken tofu, chocolate cake might not be your first thought. That's what makes this recipe even more enticing and exciting!
Silken tofu is blended into the most delicious chocolate frosting and spread across a vegan chocolate cake base.
It's absolutely delicious, with clean, wholesome ingredients and is the best dessert for any occasion. This is a moist, indulgent vegan chocolate cake you are sure to enjoy!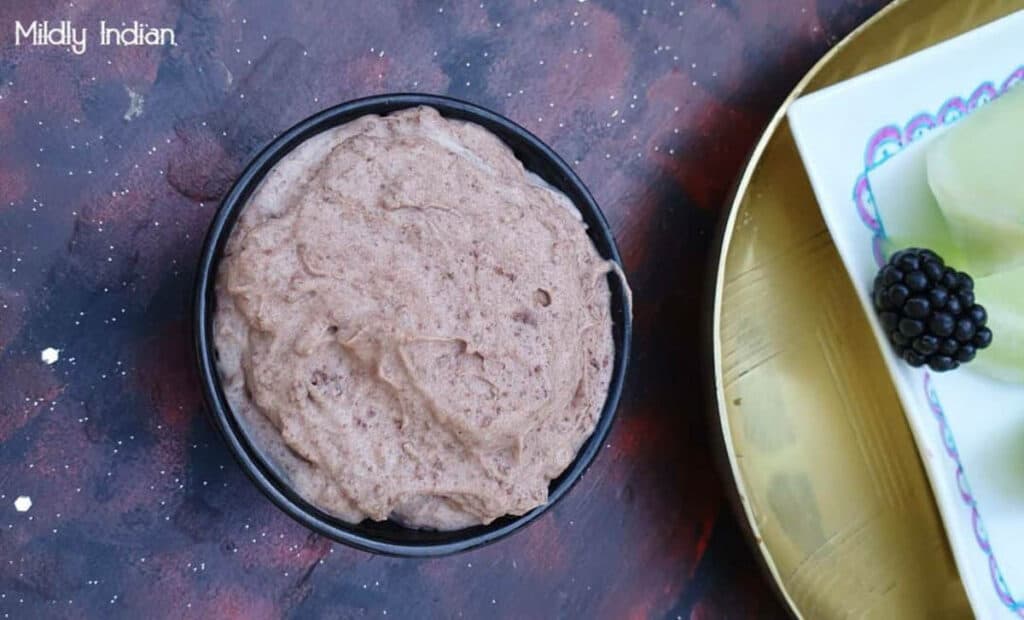 Silken firm tofu recipes like this are such a dream! This silken tofu whip is a delicious and creamy dip requiring only a few ingredients. You blend the tofu with unsweetened cacao and maple syrup, for the easiest sweet dessert ever!
It is light, fluffy, and most importantly, chocolate-y! Dip fresh fruit like strawberries and bananas for a great treat any night of the week.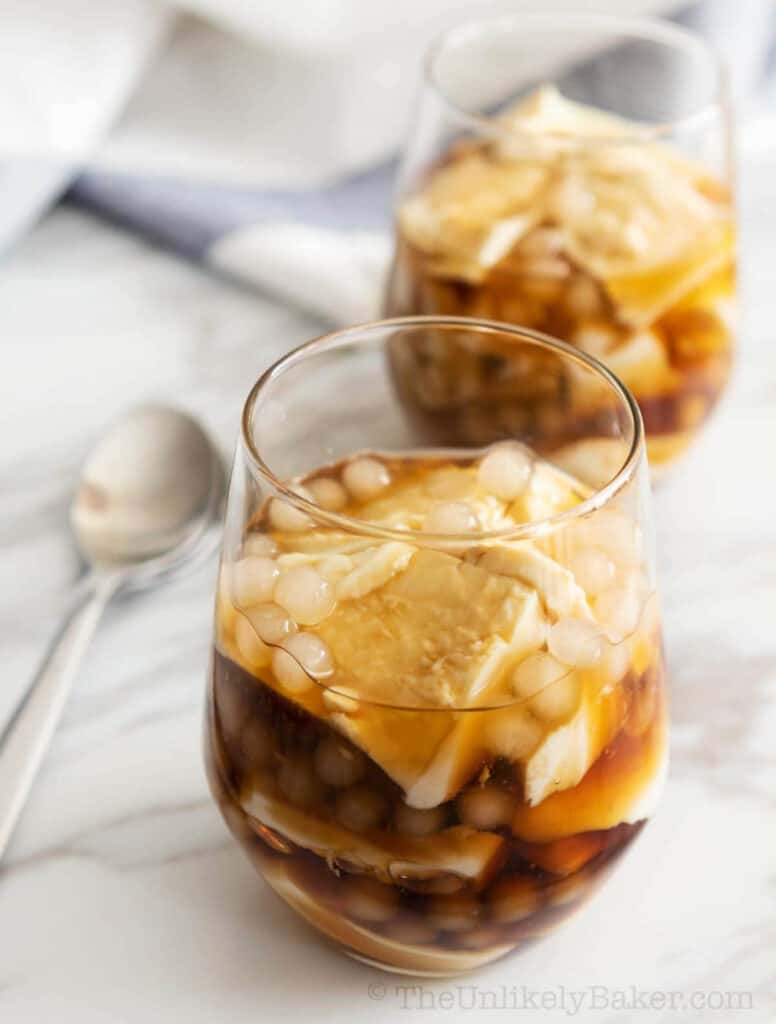 Another yummy option for a Filipino taho recipe! Similar to pudding, this sweet treat has a soft and creamy texture you won't be able to get enough of. It is fun and easy to assemble! I already know you'll love this.
Enjoy this Filipino sweet breakfast in the morning, or for dessert too!
Calories: 274 — Fiber: 1 grams — Protein: 0.1 grams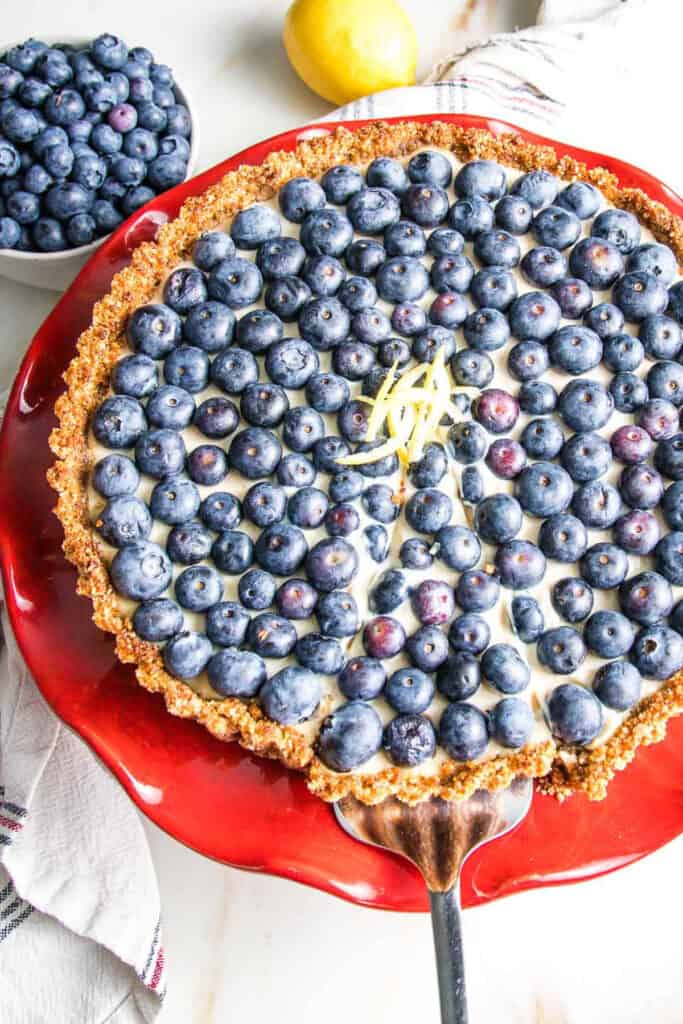 This beautiful blueberry tart is dairy-free, vegan, and gluten-free! It's super easy thanks to the no bake filling, which complements the yummy gluten-free crust.
This eye-pleasing dessert is perfect for special occasions, or any time you crave something sweet! When topped with fresh berries you get the best balance of fresh flavors!
Calories: 202 — Fiber: 4 grams — Protein: 6 grams
More Delicious Recipes!
8 responses to "60 Silken Tofu Recipes"