Cheap Vegetarian Recipes for $10 or Less!
This post may contain affiliate links. As an Amazon Associate, I earn from qualifying purchases. Please read my disclosure.
Finding healthy cheap vegetarian recipes for a family of four can be challenging! But with a bit of smart-shopping and deal-hunting, just about anyone can make healthy, budget-friendly meals for $10 or less. These quick, simple, and family-friendly meals are delicious and cheap! It doesn't get better than that!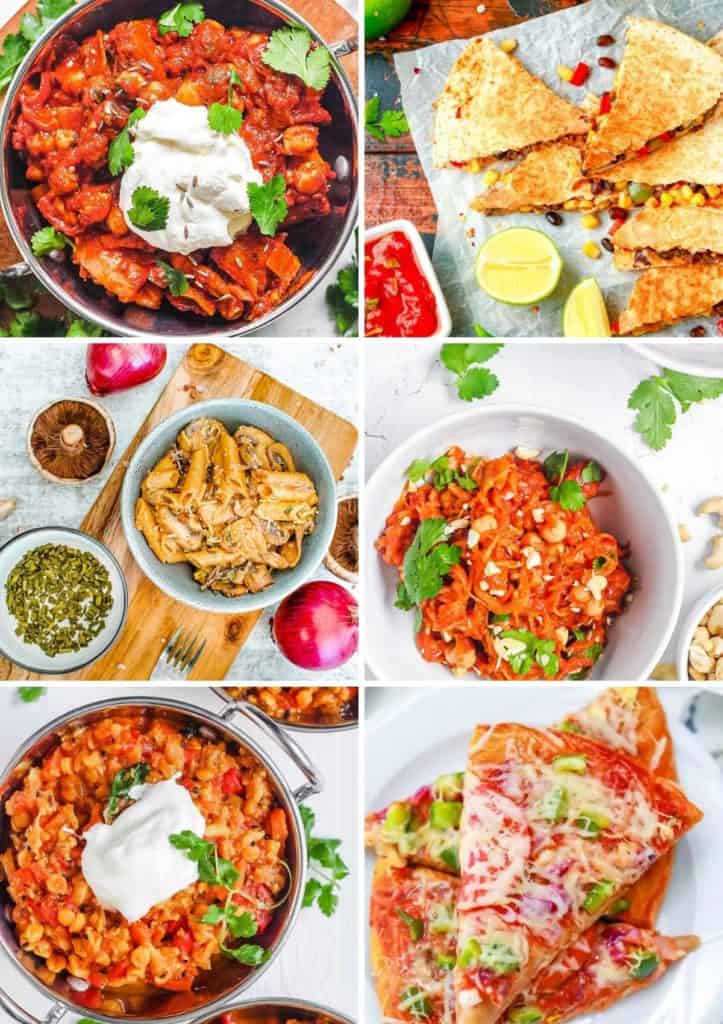 When it comes to vegetarian cooking, it is actually much less expensive than a typical meat-eater diet. Animal protein comes at a pretty high cost, whereas vegetarian sources of protein such as beans, lentils, and tofu, are quite inexpensive. Just switching to a vegetarian diet or eating less meat and sprinkling vegetarian meals into your meal planning throughout the week will save you BIG on your weekly grocery bill!
When you cook at home, you're also saving tons of money. Every time you reach for the take-out menu, you can expect to pay at least 4 times the amount it would cost for you to make a meal at home. Plus, cooking at home is healthier, and you avoid added oil, added sugar, large portions, and processed ingredients.
But if you have a picky family to feed, you may be running out of cheap vegetarian recipes that the whole family will enjoy! That's why I went through my archives to find 12 Cheap Vegetarian Recipes that are family friendly, totally delicious, quick and easy, and $10 or less to feed a family of 4! That's just $2.50 per serving!
Tips for Saving Money on Weekly Groceries
Grow a Vegetable Garden: What better way to save on your weekly grocery bill, than to get your produce straight from your own garden!
Grow an Herb Garden: If you're not quite ready for a garden, try a small herb garden at first. This will give you fresh herbs to add to your meals that will really enhance the flavor. Fresh basil, fresh thyme, cilantro, parsley, and rosemary are herbs that are easy to grow and add tons of flavor to all kinds of budget-friendly vegetarian recipes!
Join a CSA: A great way to try new seasonal vegetables is to join a CSA. Each week you get a box of fresh seasonal produce at a very affordable price!
Meal Plan: Use my free meal plan template to help! All of the recipes below can double as vegetarian meal prep ideas — you can do most of the work ahead of time or cook in bulk and then eat throughout the week!
Cook with Whole Grains: They are more filling, and nutritious, and don't cost anymore than refined grains. You can get whole grains at bulk food stores for an even
Buy Local Produce: Visit your local farmer's market to buy seasonal produce straight from the source.
Tips for Grocery Shopping on a Budget
Shop the Sales: Grocery stores always have weekly sales. Look for the Weekly Specials, the Everyday Deal labels on foods, and the sales throughout the store.
Buy in-season: In-season produce is always cheaper.
Cut coupons: You can find some great deals when you use coupons for ingredients such as canned beans, canned tomatoes, rice, and other dried goods.
Buy Generic: The generic grocery store brand of food items is often super affordable and cheaper than most of the other brands in the store! Plus the quality is usually just as good, and it is perfect for saving big.
Buy Frozen: Frozen produce is just as good as fresh produce, and it works perfectly if you're looking to spend a little less, especially on out-of-season items. It's the best way to get cheap, organic produce too!
Buy Bulk: Use Costco or other big box stores to stock up on everyday items. Some food items I suggest include nut butters, spices, oils, honey, maple syrup, grains (like oatmeal and quinoa), pasta, beans, cereals, and dried fruits! You save a ton because you don't pay for the "packaging" at all, and these bulk items last forever which makes them great for adding tons of flavor to cheap recipes while staying under budget!
Know Your Resources: Grocery stores have all kinds of saving tips and budget-friendly recipes sprinkled throughout the store – they come in little flyers that you can take with you and use for meal planning.
10 Cheap Vegetarian Recipes for $10 or Less
These simple, budget friendly vegetarian recipes use fresh ingredients, can be used for lunch or easy dinners, are super quick to make on a busy weeknight, and are total comfort food!
Easy Vegetarian Chili
This is the BEST Vegetarian Chili ever! It's smoky and hearty, rich and spicy. It is family-friendly, ready in 30 minutes, and will satisfy both meat-eaters and vegetarians alike. If you use vegan cheese / sour cream as your toppings, this can also easily be made into a vegan chili.
This simple recipe can be made in the instant pot, slow cooker, or on the stovetop. Made with 3 types of beans (kidney beans, black and pinto beans) instead of traditional ground beef used in most chili recipes, packed with veggies, and under 300 calories per serving!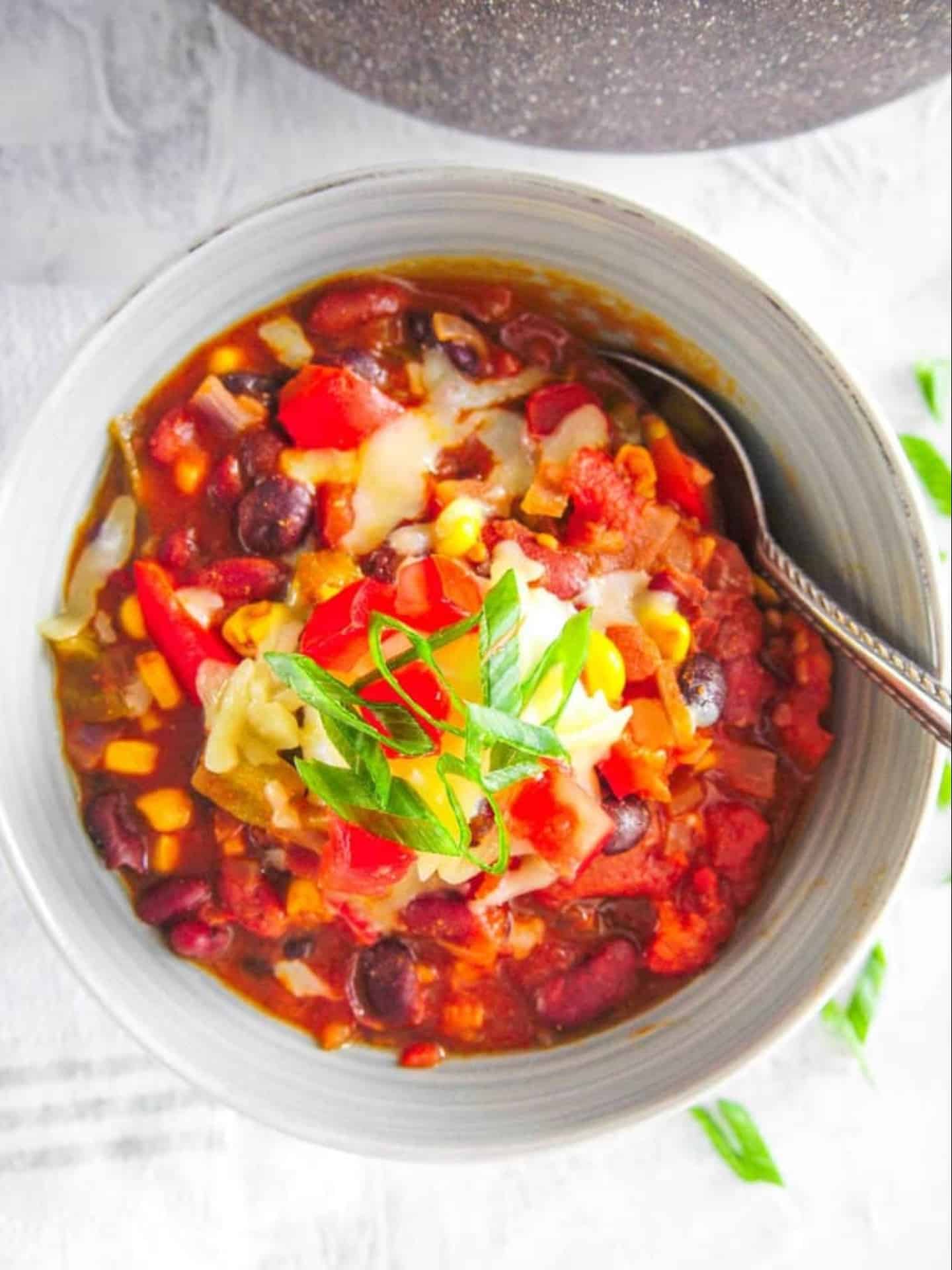 This recipe calls for mostly canned and frozen ingredients, making it one of our favorite cheap vegetarian meals. Canned beans are a super filling, nutritious and affordable ingredient – only about $.99 a can. Frozen sweet corn costs about $1.20 a bag. Bell peppers cost about $.80-$.99 each, onions can run as low as $0.30 per onion, and canned tomatoes cost about $.79 each. Using spices you have in your pantry, you should have a meal for 8 people for almost exactly $10! This is great for feeding large families, or for making a double batch for a family of four!
Curry Spaghetti Squash with Chickpeas
This Curry Spaghetti Squash is one of those affordable recipes that also happens to be wonderfully spicy, delicious, and filling! It's the best low carb pasta substitute topped with fire roasted tomatoes, and chickpeas for added protein! It makes a healthy and satisfying dinner for the whole family!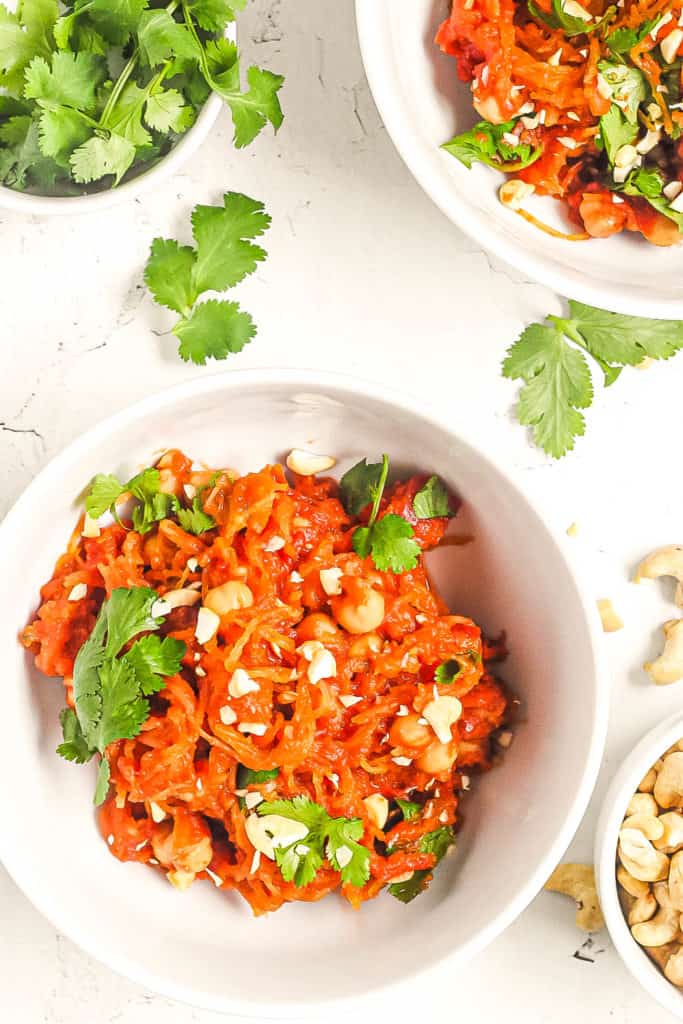 Spaghetti squash is an affordable squash. Depending on the size it costs $2-3, especially when making in season. The added chickpeas, and fire roasted tomatoes are only about $.99 a can. You can even get organic! Using dried spices you should have in your pantry, plus some fresh cilantro at $.79, you have a meal for 4 for just about $7!
Instant Pot Dal (Indian Dal Fry Recipe)
A simple instant pot dal is an easy, healthy and delicious weeknight dinner! Made with cauliflower, diced tomatoes, carrots, bell pepper, moong dal, and Indian spices, its a nutritious dish with only 25 minutes of hands on time. Family-friendly and a one pot meal!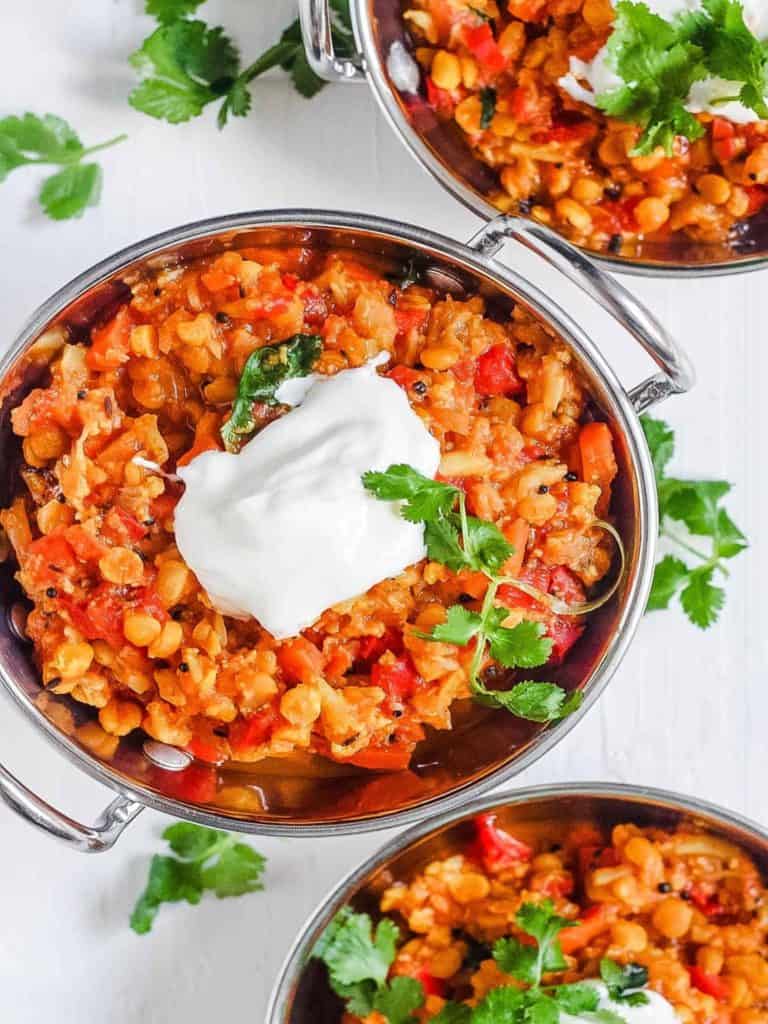 Lentils are high in protein and how in cost! One cup of lentils is less than a $1. The added diced tomatoes are only about $.99 a can, a bag of frozen cauliflower is about $2, a bag of baby carrots are about $2, if you can find it on sale you can a red bell pepper for $.99. With some spices and dried herbs you should have in your pantry, and added water, the total cost for this meal that serves 8 is $7!
Veggie Quesadilla
This easy, healthy veggie quesadilla recipe is packed with gooey cheese, black beans, and crunchy veggies. Done in less than 30 minutes they make a great weeknight meal!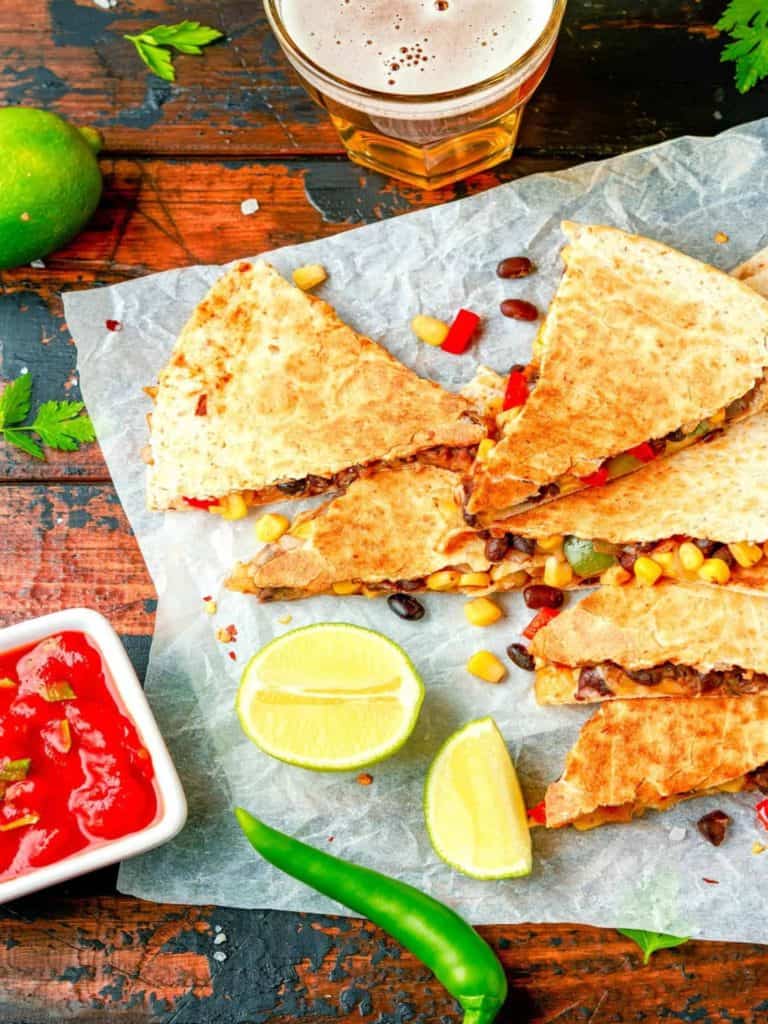 Whole sprout tortillas are a bit more expensive than white flour tortillas, but still very affordable at about $2.50. You only need a 1/4 cup of shredded cheese which is $.25, a can of refried beans are $.99, the combination of tomatoes, frozen corn, half an onion, and the bell pepper round out $4.50 for a total of $8.25!
Budget Friendly Black Bean Burgers
These vegetarian black bean quinoa burgers are easy and quick to make, so they are perfect for a healthy and affordable weeknight meal. Tasty, hearty, and can easily be made vegan too!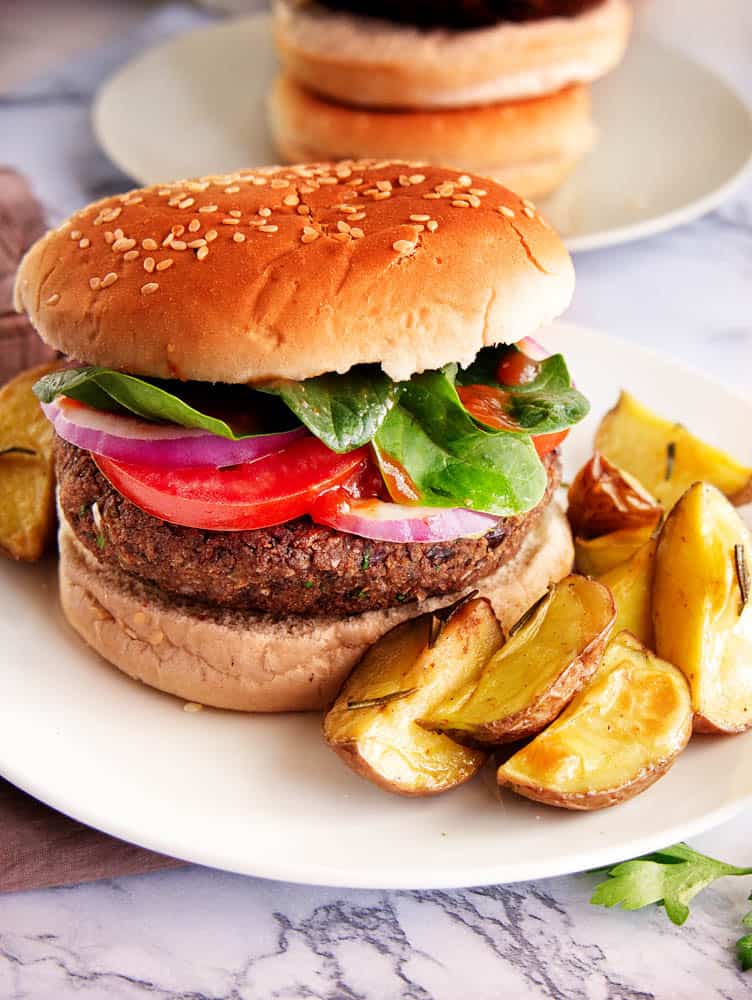 This budget-friendly vegan recipe comes in at just under $10 total, depending on whether you use flax eggs to make it vegan, or regular eggs to keep it vegetarian (but not vegan). The canned black beans (at around $0.99 per can) keep this easy recipe affordable, and the easy instructions make it super doable for even the novice chef! Load up these burgers with lots of veggies and you have a super well rounded meal!
Vegan Mushroom Stroganoff
This creamy vegan mushroom stroganoff is packed with fresh flavors. It's a warm, hearty, healthy and comforting recipe that comes together in less than 40 minutes. Perfect for a weeknight dinner, or a meal to impress your non-vegan friends and family.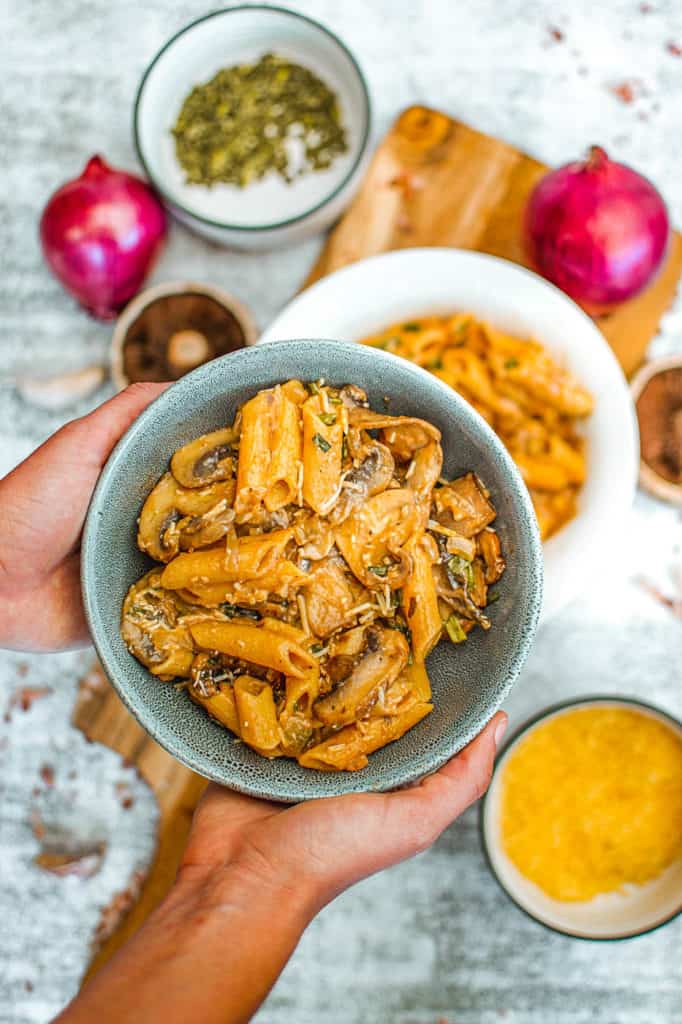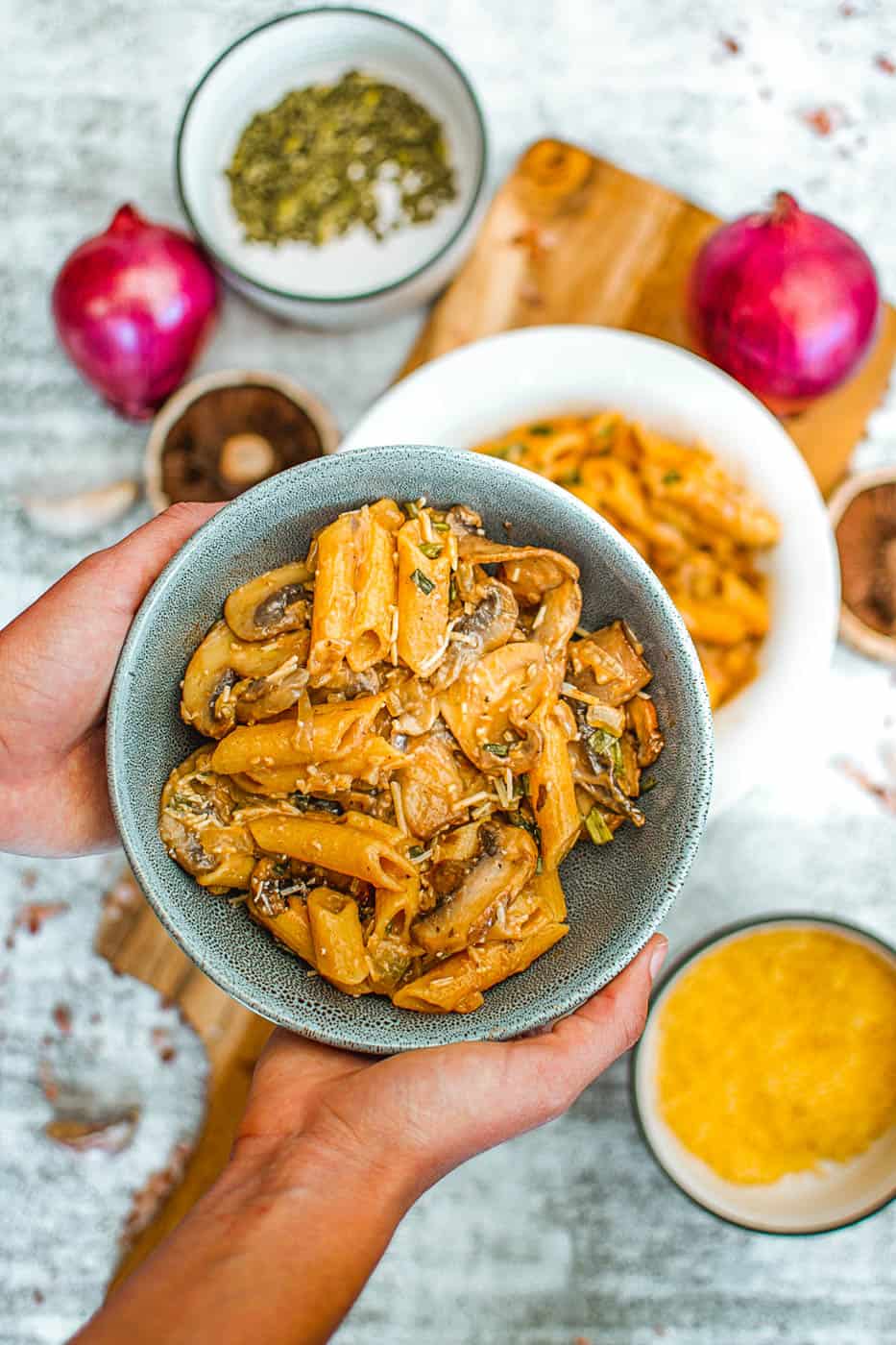 The total cost of this dish comes in at about $9.50. A box of whole wheat penne pasta is $2, savory mushrooms come in at about $3, a cup of almond milk is about $.50. Onion and garlic is around $3. Two cups of vegetable broth is $1. The other ingredients should be spices you have in your pantry!
Easy Veggie Pizza Recipe
This veggie pizza recipe is both enticing and healthy! Made with melted gooey cheese and tender fresh vegetables such as red onion and green bell pepper, this savory and yummy pizza is perfect when you're looking for something tasty, satisfying, and ready in 30 minutes! Great for even the pickiest eaters, a delicious appetizer for a crowd, or an easy main meal!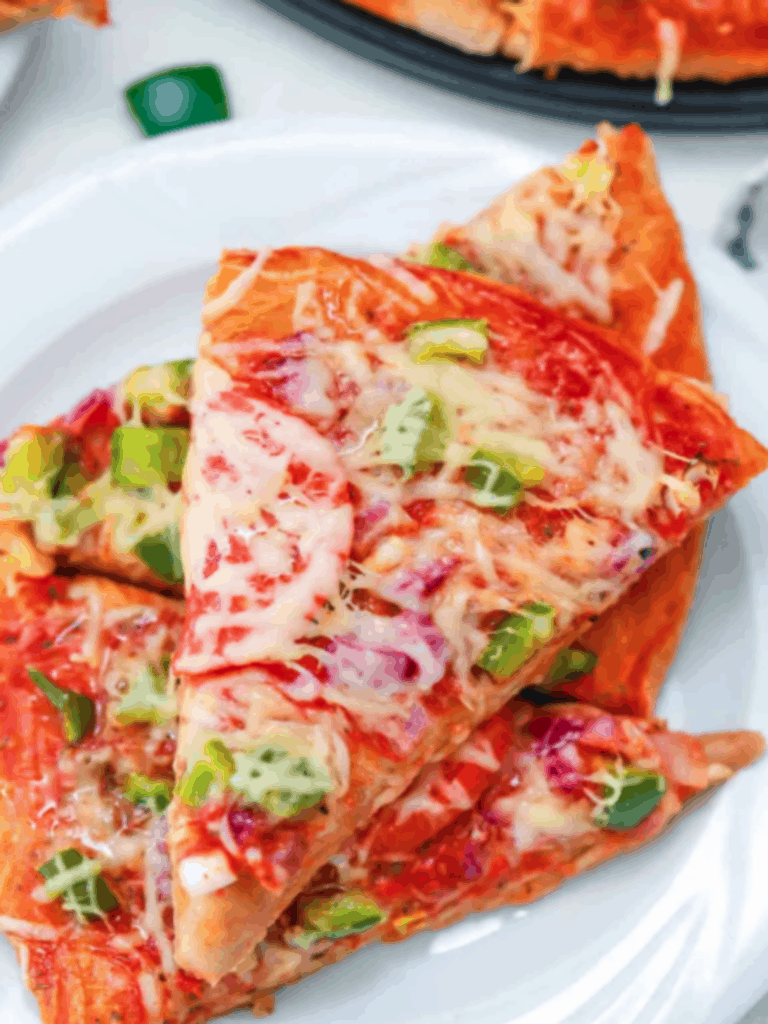 Making a homemade pizza is healthier and WAY less expensive the delivery! A Green pepper is around $1, an onion is about $1, a roma tomato is around $.75, the grated parmesan is the most expensive ingredient at $3, a package of whole wheat pizza dough is $2, plus some herbs from your pantry, makes the total cost of this homemade pizza $7.75. You can mix up the cheeses and stay within the same budget too – mozzarella, feta cheese, or even creamy goat cheese would all taste great!
Low Calorie Omelette with Veggies
This low calorie omelette recipe has everything you love about this brunch staple; light and fluffy eggs and plenty of fresh vegetables, but with fewer calories and fat! It's healthy, delicious and perfectly spiced!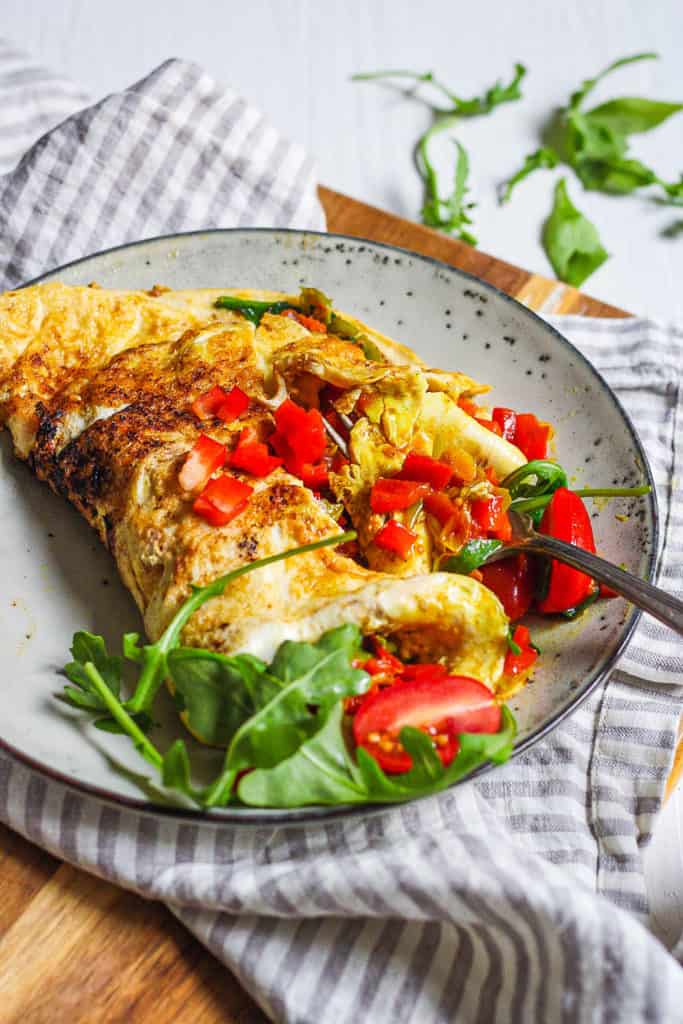 A great way to pack in lots of nutrition into a very inexpensive meal is to make a healthy omelette! All you need are 3 egg whites, a tablespoon of milk, some pantry spices, and your favorite vegetables. You can get a dozen organic cage-free eggs for $4, so three eggs are just about $1!
Loaded Vegetarian Nachos
These cheesy, loaded, vegetarian nachos are super satisfying and ready in under 30 minutes! And the best part: they taste just like the traditional recipe but can be enjoyed completely guilt-free! Great for late nights, picnics, game day, get-togethers, or a perfect appetizer or quick dinner for the whole family!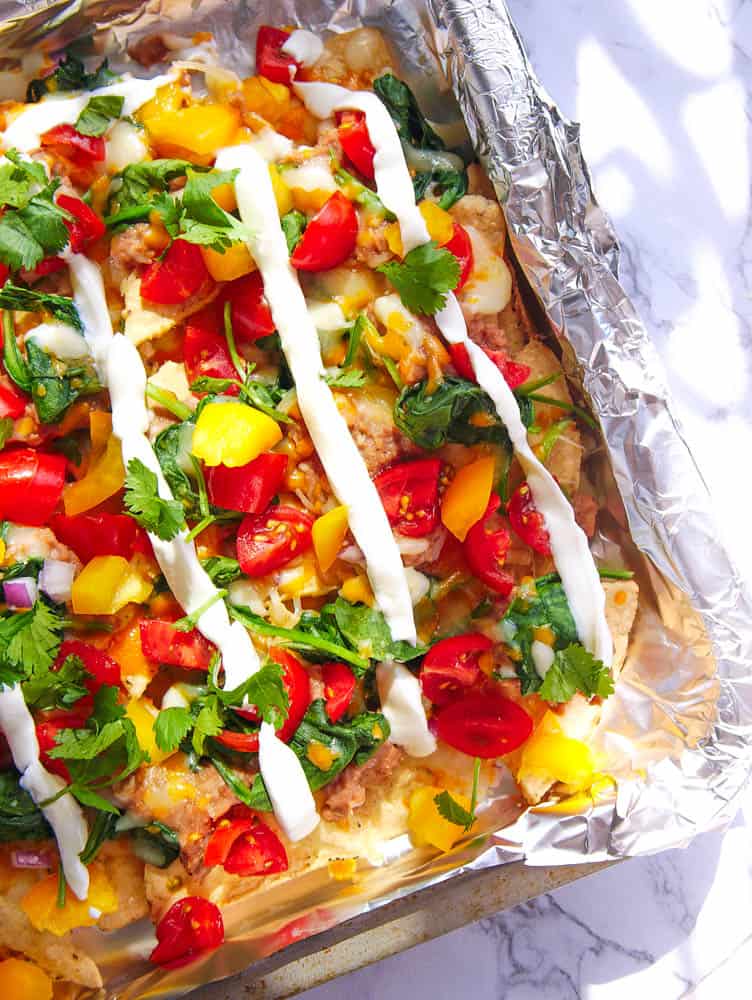 Tortilla chips are inexpensive, add some shredded cheese, a can of refried beans, and any veggies you have on hand, and you've got a meal for 2 for $5, or a meal for 4 for $10.
Vegan Pasta Primavera
Delicious Vegan Pasta Primavera will knock your socks off with its incredible flavors. Tender penne is combined with loads of hearty vegetables, tossed in a rich pasta sauce, and is seasoned to perfection. The best part: you can whip up this family-friendly meal in just 25 minutes!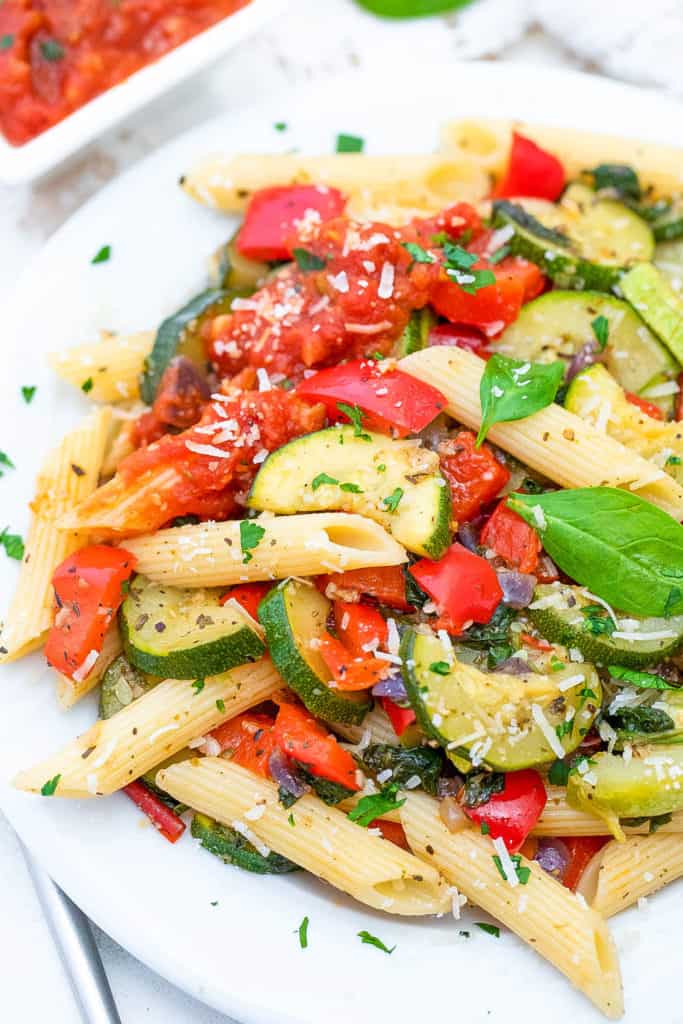 This is one of those pasta dishes you can feel great about eating and won't break your budget! Whole wheat penne pasta, onion, red bell peppers, summer squash, baby spinach, garlic, and marinara, plus spices from your pantry, and the total cost of this meal for 4 is $8!
Healthy Black Bean Tostadas
These healthy Black Bean Tostadas are made with zucchini and corn and are oh, so delicious. Crispy tortillas are topped with flavorful black beans and fresh vegetables for a nutritious and flavorful Mexican meal. Out-of-this-world good, these vegetarian tostadas are perfect for Meatless Monday and are better than take out!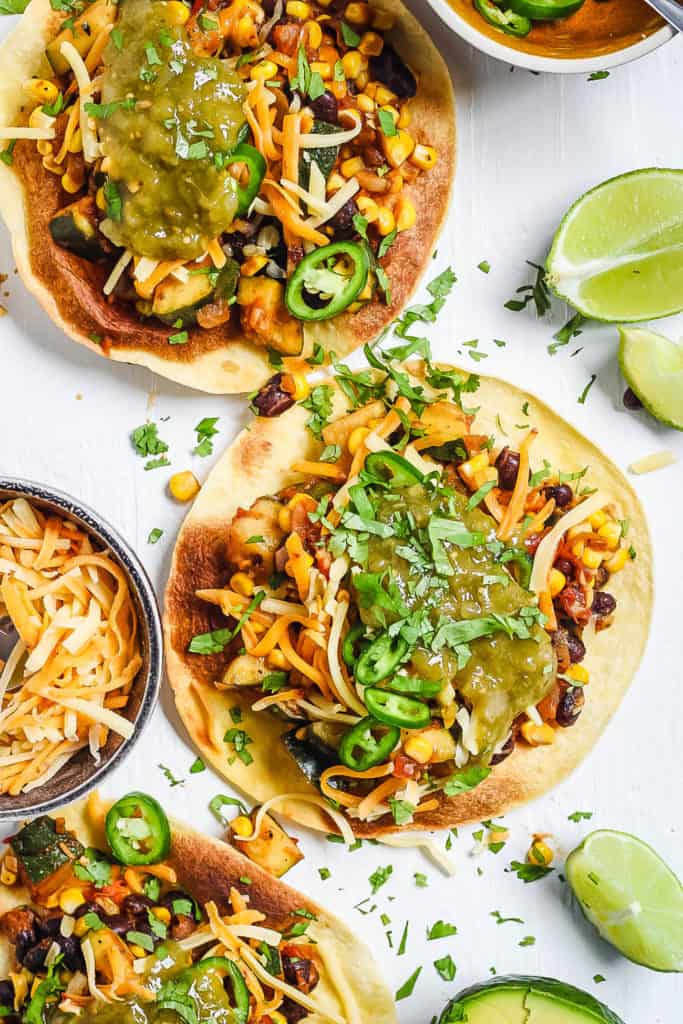 You'll need fresh or frozen corn, red onion, garlic, 4 tomatoes, 3 zucchini, black beans, corn tortillas, salsa, and a bit of cheese to top each one! The total cost comes in at around $10!
Chana Masala
This flavorful authentic Chana Masala recipe is an easy, Indian chickpea curry, with the perfect amount of spice and veggies! Served with creamy yogurt and cilantro, it's healthy, naturally gluten-free and easily made vegan too!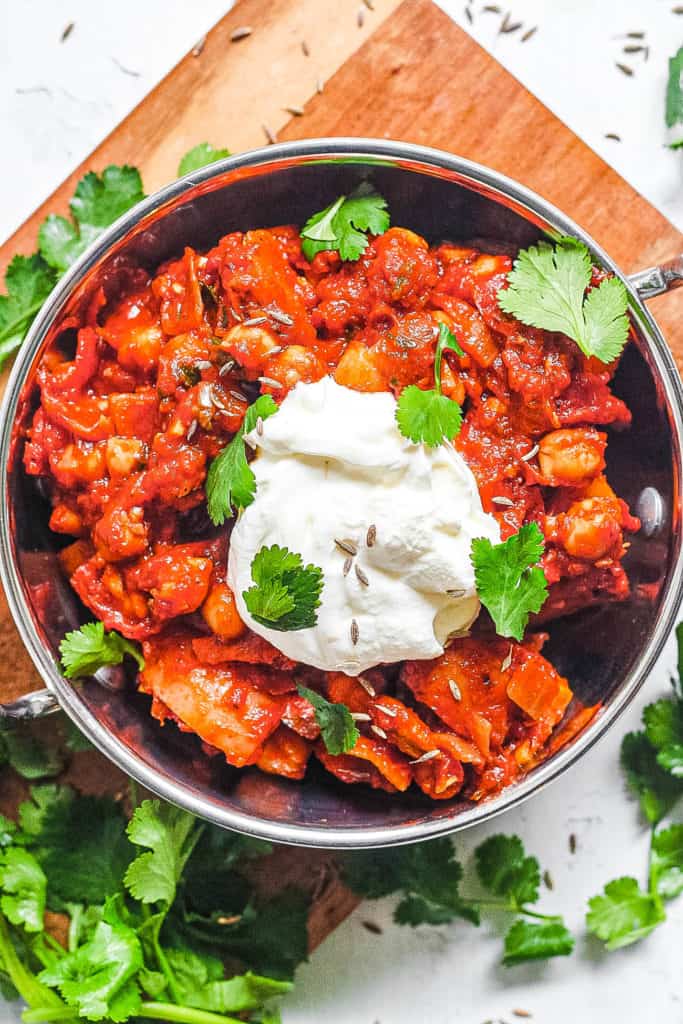 Homemade chana masala is not only healthier, it's so much less expensive than getting carry-out! This authentic recipe uses chickpeas and spices to create a hearty and delicious meal for 6 for about $10!
More Healthy Vegetarian Recipe Round-Ups!
If you have tried any of these cheap vegetarian recipes, or any other recipe on my blog, then please rate it and let me know how it turned out in the comments below! You can also FOLLOW ME on FACEBOOK, TWITTER, INSTAGRAM and PINTEREST to see more delicious, healthy, family friendly food!
443 responses to "Cheap Vegetarian Recipes for $10 or Less!"