One Week of Healthy Meals on a $100 Budget, and a Whole Foods Giveaway!
This post may contain affiliate links. Please read my disclosure.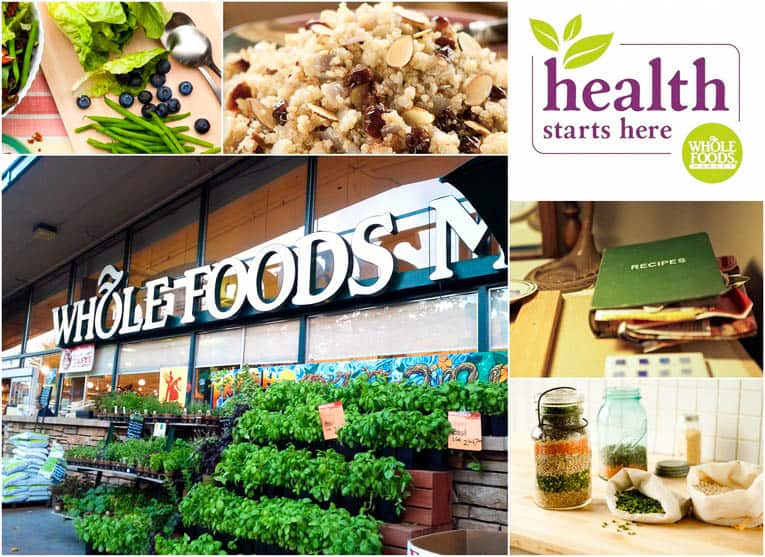 Healthy eating for a family of four can be challenging, especially when you have a limited budget to stick to. But I've always thought that with a bit of smart-shopping and deal-hunting, just about anyone can make healthy, budget-friendly meals.
So when Whole Foods approached me and asked me if I was willing to create 7 days of Breakfasts and Dinners for a family of four, using only Whole Foods ingredients and sticking to a budget of $100, I was excited to take on the challenge!
I know what you're thinking: a week's worth of groceries at Whole Foods couldn't possibly cost less than $100.
But trust me, it can be done! My grocery bill for this challenge ended up being $99.83. Not bad right?
So how did I do it? And what did I make?
The Picky Eater's tips for budget-friendly shopping at Whole Foods
Shop the Sales: Whole Foods has all kinds of sales going on at any given point in time. Look for the Weekly Specials, the Everyday Deal labels on foods, and the sales throughout the store.
Buy in-season: In-season produce is always cheaper. That's why for this menu I used squashes, greens, and starchy root veggies.
Cut coupons: The Whole Deal magazine has coupons and monthly specials. (Whole Foods keeps hard copies outside of its stores, and you can use as many coupons from multiple copies of the magazine to shop with, as well as print them out online)
Buy 365 Everyday Value: 365 is Whole Foods' house brand, and is often super affordable and cheaper than most of the other brands in the store! The quality is great, and it is perfect for saving big.
Buy Frozen: Frozen produce is just as good as fresh produce, and it works perfectly if you're looking to spend a little less, especially on out-of-season items.
Buy Bulk: The bulk section at Whole Foods is expansive and should be your best friend. You can get everything there: spices, nut butters, oils, honey, maple syrup, grains (like oatmeal and quinoa), pasta, beans, cereals, dried fruits, the list goes on! And you save a ton because you don't pay for the "packaging" at all.
Know your resources: Whole Foods has all kinds of saving tips and budget-friendly recipes sprinkled throughout the store – they come in little flyers that you can take with you and use for meal planning. They also have money-saving shopping tips online and budget-friendly recipes!
Look at all the budget-friendly signs throughout the store! It's like clues leading you to a healthy, inexpensive meal.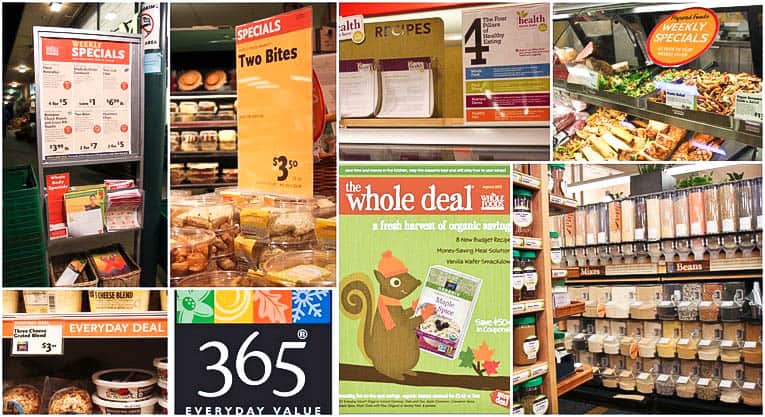 So after I did my shopping, what did I end up making? Here it is…
The Picky Eater's Guide to 7 Days of Budget-Friendly Meals (under $100!)
Note: I assumed that everyone has cooking oil, honey (or some sort of sweetener), salt, pepper, and milk in their fridge. Also – if since this meal plan includes breakfasts and dinners only, you could spend about $15 extra and buy whole grain bread, nut butters, jam and fruit for balanced lunches throughout the week!
Day 1 Breakfast: Oatmeal with Frozen Berries
Day 1 Dinner:
Homemade margherita pizza
 (substitute the green peppers/onions for tomatoes and a handful of spinach; and use mozzarella for the parmesan)
Day 2 Breakfast: Omelette with frozen spinach and a side of sliced apples (for the omelette you need: 8 eggs, 1/2 cup spinach, salt, pepper and cooking spray)
Day 3 Breakfast: 
Pumpkin Pie Oatmeal
 (use cinnamon and nutmeg instead of pumpkin pie spice, omit the blueberries)
Day 4 Breakfast: Banana and Almond Milk Smoothies (you need: 2 bananas, 2 cups of almond milk, a dash of nutmeg and sugar, and a bit of ice/ice water. Blend and enjoy!)
Day 4 Dinner: 
Veggie Chili
 (sub out the veggies in this recipe with sweet potato and corn)
Day 7 Dinner: Chili Wraps (take the leftover chili from Day 4, put it in a whole wheat wrap with some lettuce and salsa and cheese, and enjoy!)
For anyone who wants to make these meals at home, here is your downloadable Grocery List.
And now, you have the opportunity to…
**Win a $100 Whole Foods Gift Card for your own healthy shopping needs**
To Enter: You can enter in one of five ways (each option below counts as a separate entry):
Then post a comment here for each option above that you chose.
This giveaway will be open until Friday, November 16th at 11:59pm PST. I'll be selecting one lucky winner at random (via random.org) and will contact them via email. I'll be announcing the winner in the comments of this post on Saturday, November 17th. 
Happy, healthy shopping everyone!
433 responses to "One Week of Healthy Meals on a $100 Budget, and a Whole Foods Giveaway!"