20 Healthy Vegetarian Stew Recipes
This post may contain affiliate links. As an Amazon Associate, I earn from qualifying purchases. Please read my disclosure.
When you're in the mood for something warm, hearty, and healthy, there's nothing like a good vegetarian stew! Chunky, thick, and flavorful, these 30 stews will keep you full and satisfied!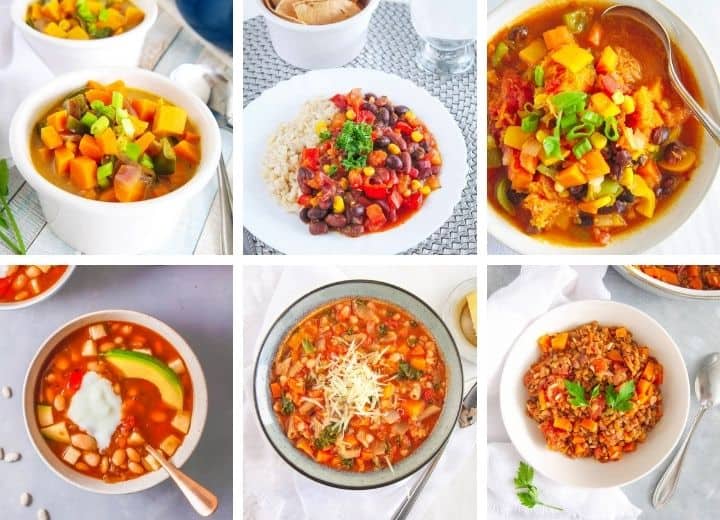 When winter arrives I could make a hearty stew every single night! There's just something so comforting about the warm, thick, chunky texture of a good stew.
It just warms you from the inside out!
Chunks of seasonal vegetables, like carrots, and potatoes, paired with barley, pasta, or even beans, in a thick roux is what gives stews their characteristic flavor and texture.
Stews take a bit more time to make than a soup, since they simmer on the stovetop at a low temperature for a longer period of time.
During that process the liquid in the soup reduces to a gravy like consistency.
Stews often have added wine, or even beer to cook down the vegetables. In order to create that gravy like consistency, some stews also have added flour which create a roux.
There are so many different ways you can enjoy a good vegetarian stew! Be sure to scroll down to the bottom of this post to check out 20 super flavorful, simple, hearty, and healthy stews to keep you warm and cozy all year long!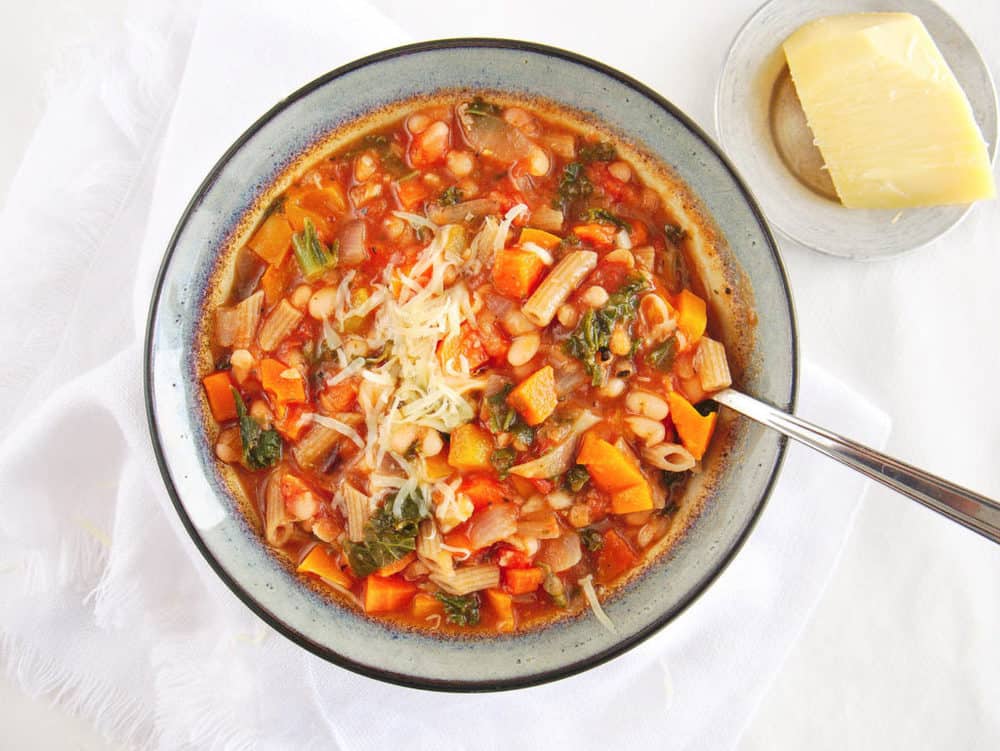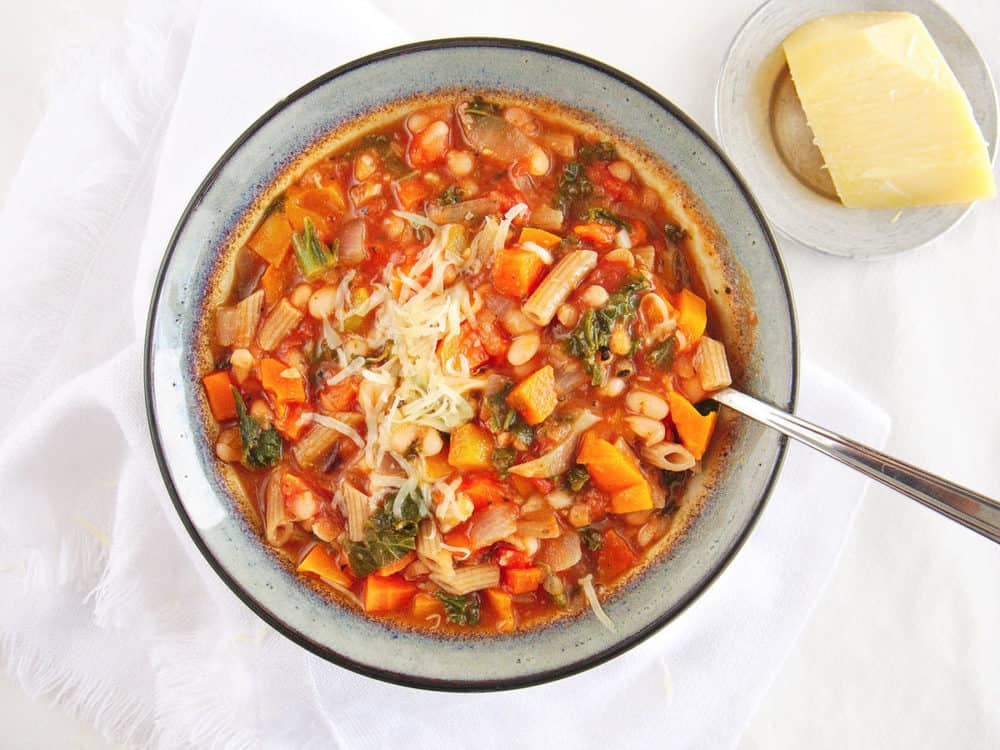 Why Is Stew A Healthy Dinner Option?
High in Vitamins and Minerals: Vegetarian stews are chock full of hearty vegetables. It's a great way to enjoy a filling meal while packing in lots of veggies. Potatoes are high in vitamin C and B6. Carrots are high in vitamin A and biotin. And numerous other vegetables carry other vitamins and nutrients.
Low in Fat and Calories: Vegetarian soups don't have added meat which greatly cuts back on the fat and calories that are found in more traditional beef stews. Simply adding more vegetables, beans, and a high fiber grain brings the overall fat and calories down, while still keeping you full and satisfied.
High in Fiber: Vegetarian stews are a great source of fiber with the added vegetables and whole grains. Fiber helps you stay fuller longer, and helps with digestion.
High in Plant Protein: Depending on the stew you are making, you can make it a protein power house! Great high protein additions for your stews include kidney beans, black beans, white beans, quinoa, tempeh, tofu, and seitan.
How Long Does It Take To Cook Vegetarian Stew?
With vegetarian stew recipes, you do not need to consider the time necessary to break down and cook the meat that's in traditional stew recipes.
However, to develop the depth of flavors, you will still want to give it time to simmer. I recommend a minimum of an hour, whereas if you're making a meat stew you need at least two hours.
What Does It Mean To Deglaze The Pan When You're Making A Stew Recipe?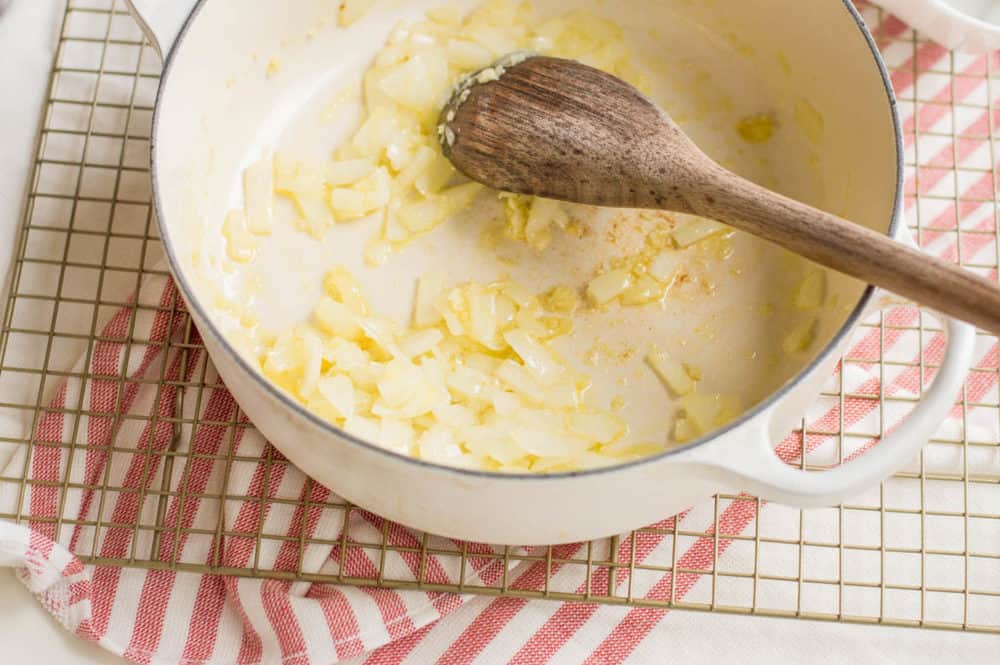 When you sauté the onions, or other vegetables, you create some browning on the vegetables which sticks to the bottom of the pan. Adding water or broth, and then scraping those brown bits off the pan, creates mega flavor for your stew recipes!
How Can I Make My Stew Flavorful?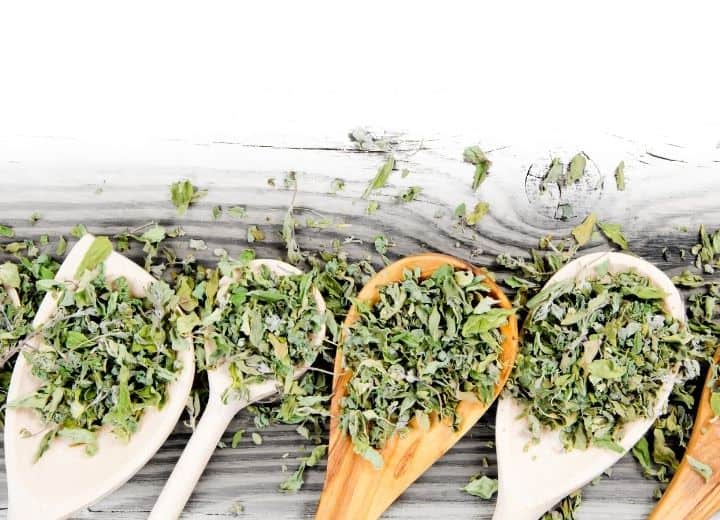 Add dried herbs and spices at the beginning of the cooking process. Choose your favorite herbs and spices that most compliment the recipe you're making. Think about whether you're going for Italian, Asian, or even Indian flavor when creating your stew. Some of my favorites include:
Oregano
Thyme
Basil
Rosemary
Sage
Dill
Fennel
Marjoram
Cardamom
Cumin
Coriander
Turmeric
Cinnamon
Be sure to add these dried spices at the beginning of the cooking process. This allows the spices to create a richer depth of flavor.
Once you've added your dried spices at the beginning, don't forget to add some fresh herbs at the end! Unlike dried spices, fresh herbs lose their flavor as they cook. That's why you want to add them at the very end before you serve your stew.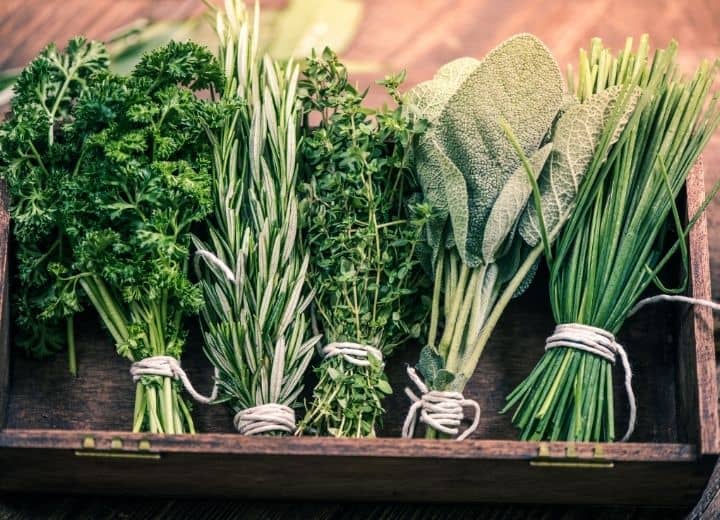 Fresh herbs boost the flavor, and bring a crisp element to the dish. Some of my favorite fresh herbs to add as a garnish, or stir into my stew at the end include:
Parsley
Cilantro
Dill
Taragon
Rosemary
What Are The Best Vegetables To Add To A Stew?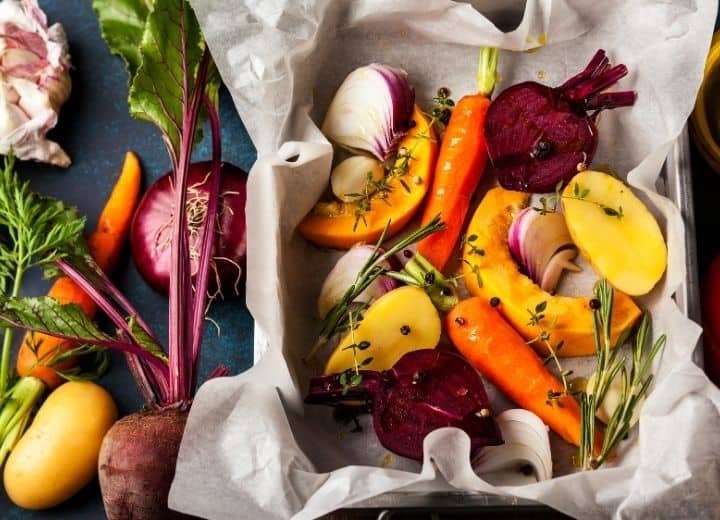 So many stews start with something called a mirepoix. This is a combination of chopped carrots, onions, and celery. These vegetables are a delicious basis for a good stew, but don't feel limited by these ingredients.
Be sure to add chunky potatoes, sweet potatoes, mushrooms, or whatever you have in your fridge!
How Long Does Vegetarian Stew Last?
When kept in an air tight container it can last for 3-5 days in the refrigerator.
You can also choose to freeze your stew. Be sure to allow it to cool completely before transferring it to a freezer safe container. Let all of the air out of the container so that you don't get any freezer burn.
Store in the freezer for up to 3 months.
When ready to serve, transfer to a large pot, cover, and heat on low until the stew defrosts, warms, and is ready to eat!
How to Make Your Own Vegetarian Stew – Step by Step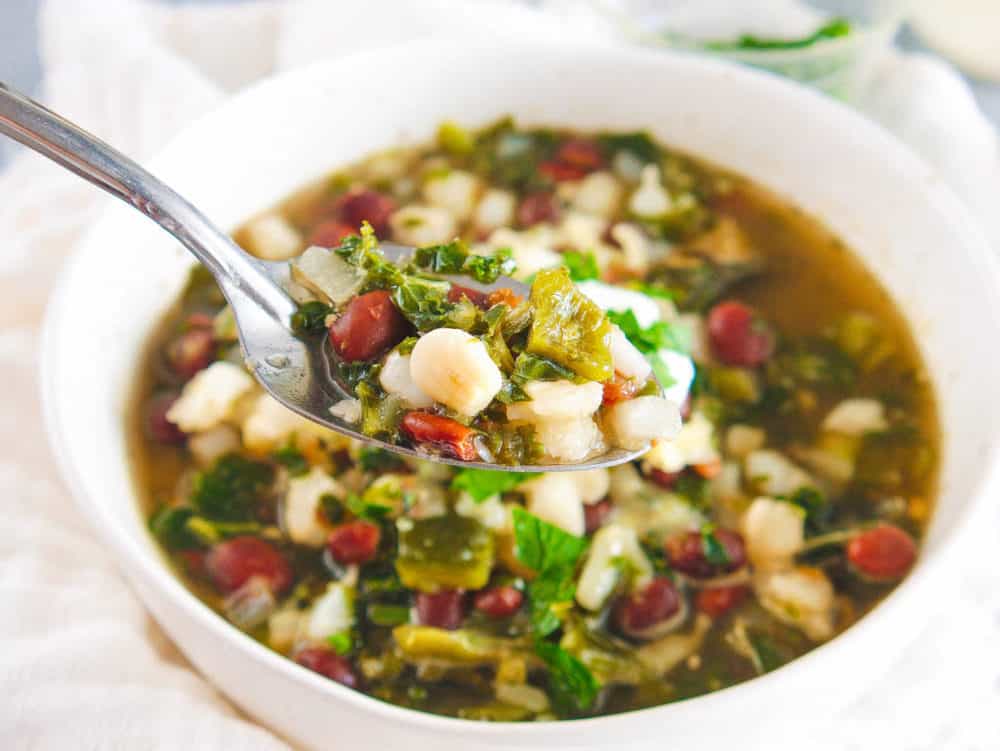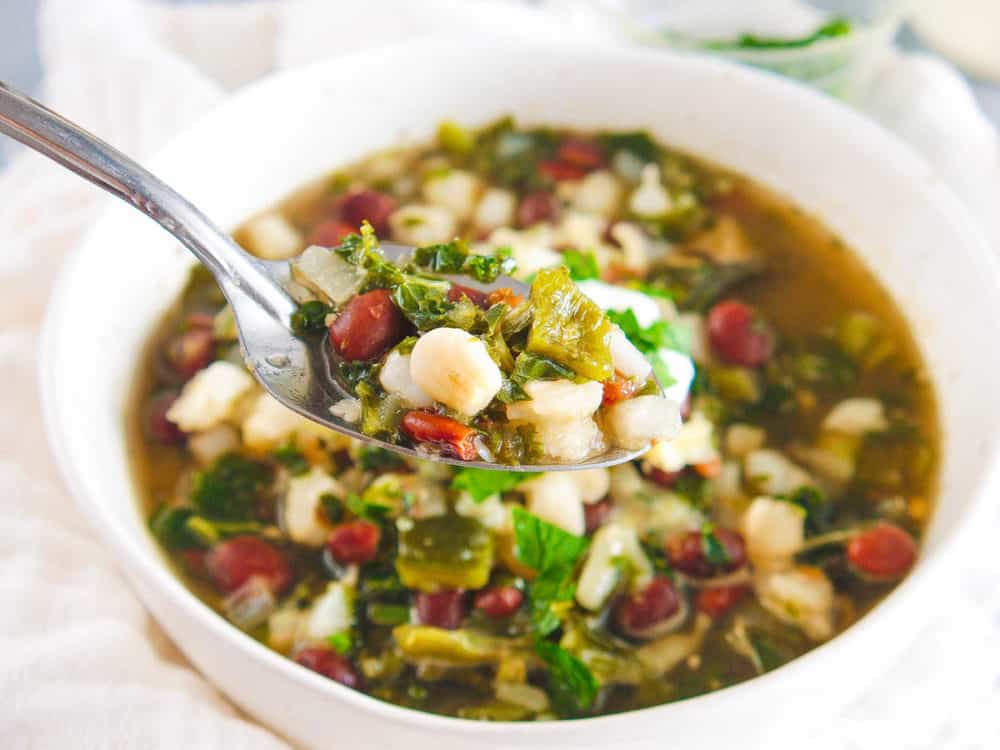 Step 1: Start with your vegetables; Heat olive oil in a large pot. Add your traditional mirepoix mix of onions, carrots, and celery. Allow it to cook until onions are translucent and carrots and celery soften.
Step 2: Add your dried herbs. This is the time to add your favorite dried herbs, as well as some salt and pepper. Stir to combine, and cook for an additional 2-3 minutes.
Step 3: Stir in the flour (if using). Then add your broth, or wine (if using). Add the liquid slowly, consistently stirring so you don't end up with clumps of flour.
Step 4: Add your additional vegetables, such as potatoes, sweet potatoes, green beans, mushrooms, or whatever else you like. This is also a good time to add any beans/proteins, barley, or pasta to your stew if you like.
Step 5: Allow the stew to simmer on low for about 30 more minutes.
Step 6: Choose your favorite way to serve your stew, and top with fresh herbs of your choice.
Best Ways to Serve Stew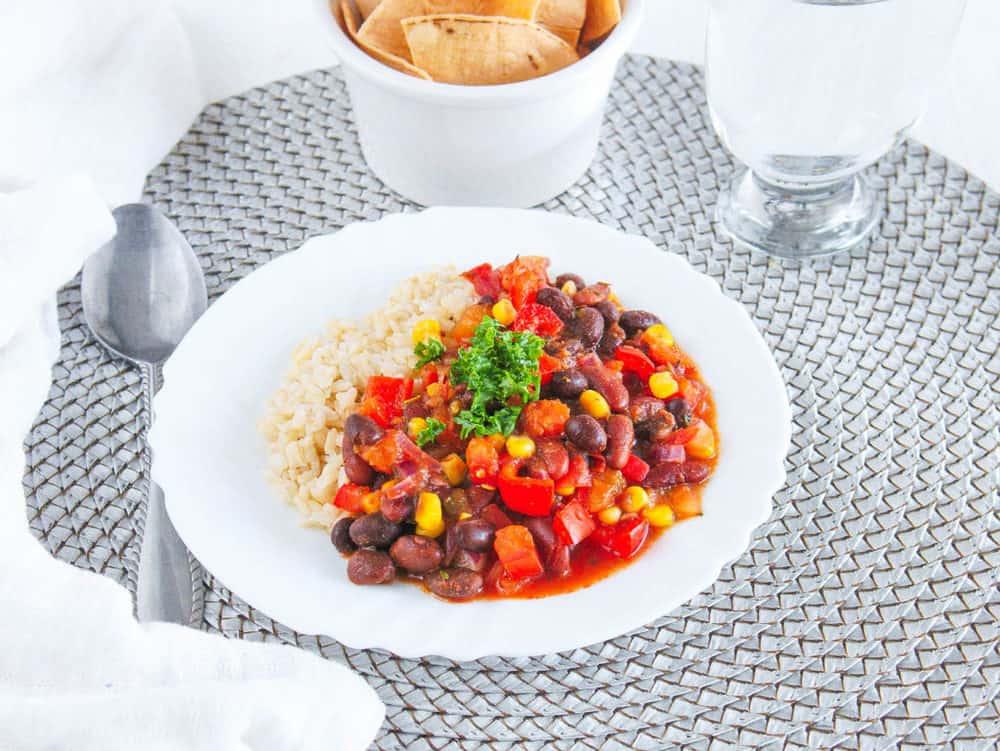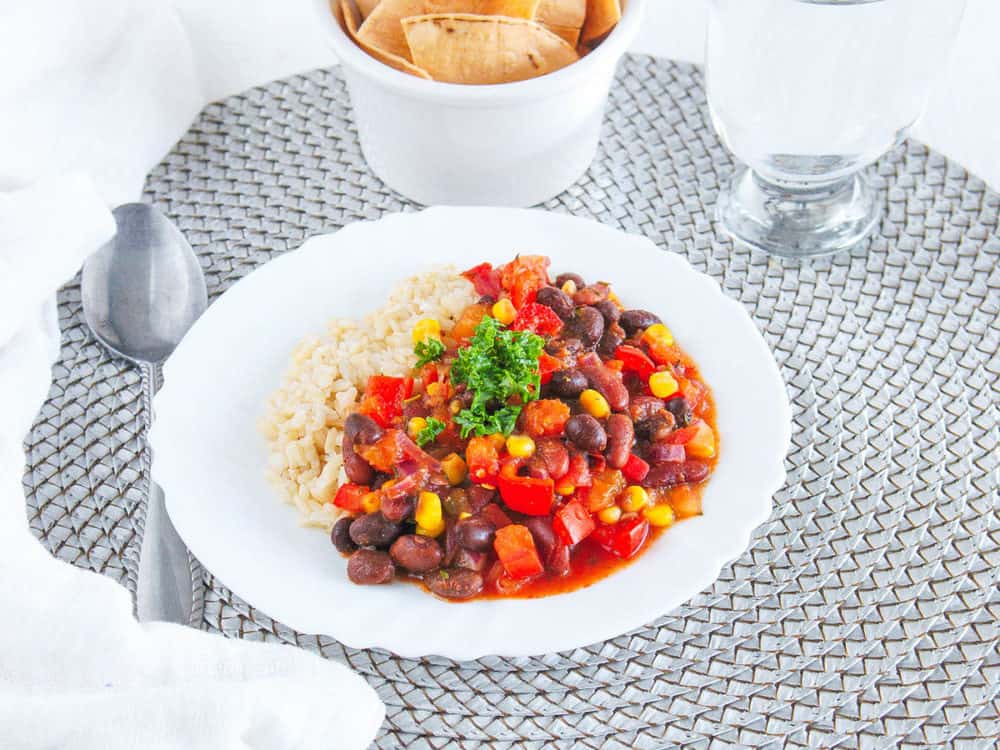 Whole Wheat Baguette: Perhaps my favorite way to serve stew is with a whole wheat baguette! I love scooping and dipping crusty bread, into the warm thick broth, and picking up bits of chunky veggies!
Healthy Mashed Potatoes: A delicious way to enjoy your stew is over healthy piping hot mashed potatoes! If you're stew already has added potatoes, you may not want to opt for this way to serve your stew! But if you have a veggie filled stew, this is a nice compliment
Rice: A gluten free option is to serve your stew over brown rice. It adds some fiber and soaks up the flavors nicely.
Quinoa: Another gluten-free option with added protein, stew compliments the nuttiness of quinoa nicely.
Noodles: A fun and traditional way to serve your favorite stew is over egg noodles! These thick noodles compliment the gravy of the stew in a rustic way.
Vegetable Polenta: Think outside the box, and give creamy polenta a try with your stew.
How Do You Thicken Stew?
There are several methods you can use to thicken your stew.
Roux: Perhaps the most common way to thicken a stew is to add flour. You use equal parts butter and flour. Melt the butter in a pot on the stove, when butter is melted, add the flour and whisk together until golden brown. Then add the stock or liquid for your stew, and whisk together until combined into a thick liquid texture.
Add Flour: If you want to skip making a roux, you can simply add flour to the stock. You will need 1-2 tablespoons of flour for every one cup of liquid in your stew.
Other Options: If you're going for a gluten-free stew, and don't want to add flour, you can opt for corn starch, or arrowroot flour to thicken your stew. You can also just let your stew simmer, uncovered, for a few hours and it will naturally thicken on its own as the broth evaporates.
Is Vegetarian Stew Gluten-Free?
Not all vegetarian stews are gluten-free. As mentioned above it is possible that flour was added to stew to create a thicker texture.
It is not necessary to add flour, and you can also use gluten-free alternatives.
20 Healthy Vegetarian Stew Recipes
These chunky stews and soups are just what you need to warm you up on cold winter days. These stews are full of a variety of vegetables, beans, grains, herbs and spices.
Stews don't have to just be about meat and potatoes! You'll also find recipes inspired by world cuisine such as Asian flavors, Indian inspired stews, Mexican bean soups, and even warm Moroccan spices.
Check Out These Other Healthy Vegetarian Soup Recipes!
If you have tried any of these vegetarian stew recipes, or any other recipe on my blog, then please rate it and let me know how it turned out in the comments below! You can also FOLLOW ME on FACEBOOK, TWITTER, INSTAGRAM and PINTEREST to see more delicious, healthy, family friendly food!
10 responses to "20 Healthy Vegetarian Stew Recipes"