Meal Planning Template (Printable): Meal Plan Like a Pro
This post may contain affiliate links. As an Amazon Associate, I earn from qualifying purchases. Please read my disclosure.
Use this simple printable meal planning template and get my six steps to meal plan like a pro! Before you know it, meal planning will become your favorite routine of the week!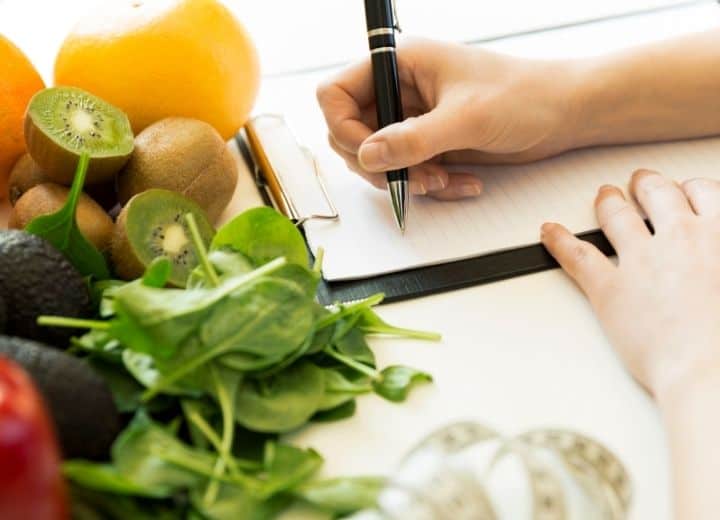 Meal planning is one of those things you'd probably rather not do, but makes all the difference when you take the time to do it!
For the longest time, I used to wing it when it came to meal planning. I'd go to the grocery store without a list, but a general idea of what I needed to stock up on.
Then I'd walk through the aisles, and put the things in my cart that struck my fancy on that particular day.
As a result, I would come home with a bunch of groceries, only to find I didn't have the ingredients I needed to pull off a week's worth of meals.
Instead, I'd have a random collection of ingredients. By Wednesday I was ready to call for take-out because we had gone through most of the food, and I lacked the creativity to come up with meals based on the collection of random ingredients I had.
Finally, I broke down, and realized that meal planning was necessary!
Once I got into the routine, it became one of the most enjoyable tasks of the week!
I'm certain that with these tips, and my easy-to-complete meal planning template, you will be so happy you've started this routine!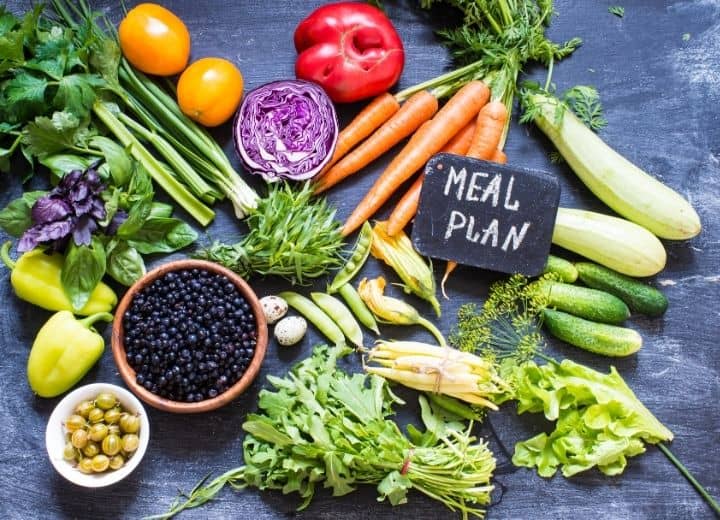 Why Meal Plan?
It may seem like a time consuming task with little reward, but there are also quite a few meal planning health benefits.
Eat Healthier: By planning your meals, you will be eating foods that are minimally processed, with fewer calories and fat than what you would eat if you rely on take-out.
Save Money: When you plan out your meals for the week and only buy the groceries on your list, you'll notice your grocery bill will begin to drop! Instead of impulse buying, or purchasing expensive pre-made meals, you'll have the ingredients you need to make healthy meals, without the waste! Also, you'll avoid the mid-week call for take-out!
Save Time: I know it's hard to believe, but taking about 30 minutes each week to meal plan will actually save you time in the long run! You'll spend less time in the grocery store walking through the aisles wondering what to buy. In addition, you'll save time wondering what to make each night. Rather than staring at your pantry and fridge, trying to come up with a creative meal, you'll already have a plan!
No Food Waste: We've all done it! Gone to the store, and stocked up on a bunch of fresh vegetables and fruit with great intentions of creating healthy meals, only to forget about those very ingredients, and have them go bad! By meal planning, you'll only buy the produce you need, and nothing will go to waste!
Eat Healthier: When you have a plan of healthy meals to prepare, you'll eat healthier too! You'll end up snacking less because you will have filling meals to look forward to, and leftovers too you can enjoy for lunch!
Reduce Stress: Dinner time no longer has to be a stressful experience. When you know what recipe you are preparing, how long it will take to prepare, and the ingredients you need, you'll be prepared. Instead of the mad dash to get something on the table when your family is already famished, you can actually enjoy preparing the meal!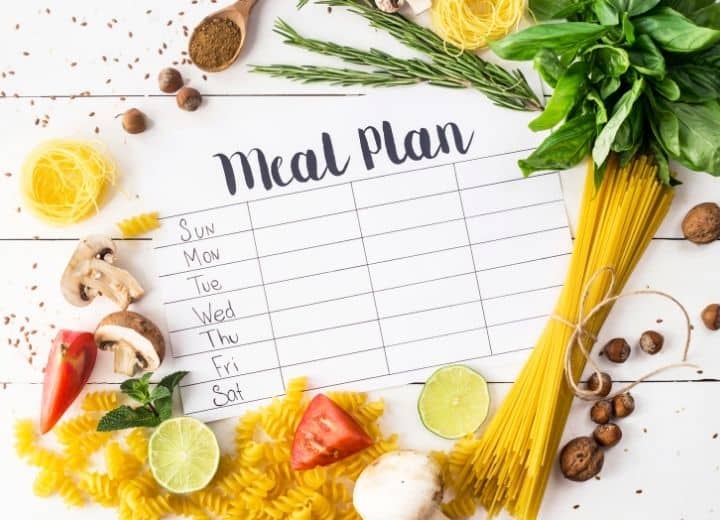 How to Meal Plan – Step by Step
Step 1: Look At Your Weekly Schedule
The first step to meal planning, is reviewing your schedule for the week. Do you have nights when you need to take the kids to practice? Are there evening work meetings or events? Do you have a social outing with friends?
Taking note of the evenings when you will not be home to prepare a meal, or have plans to eat out, will help you save time and energy!
For example, if you know your son has a late practice, and you have time to prepare a crock-pot meal or stop for take-out on the way home, you'll relieve the scramble of figuring out what to do for dinner at 8 PM.
Step 2: Take Note of What You Already Have in Your Pantry, Fridge, and Freezer
Once you know your schedule for the week, do a quick run through of what you already have in your pantry, fridge, and freezer. For example, if you have canned beans and diced tomatoes, maybe you can make a chili this week, and supplement at the store with some fresh vegetables to include.
If you have a frozen stir-fry mix, maybe you can prepare a vegetable stir-fry with tofu and rice. All you'll need to buy is the tofu, if you already have rice in the pantry.
If you have some zucchini, peppers, and asparagus in the fridge that need to be eaten soon, you can plan a meal around your fresh vegetables.
This will help you save money at the store, and ensure you don't have food waste.
Step 3: Pick Your Recipes for the Week
This is the fun part! Choose your recipes for the week. Consider 30 minute meals for the evenings you know are busy. If you like, pick a more extensive recipe for the weekend when you might have more time.
While this part is the most fun, it can also take the longest amount of time, especially if you are prone to getting distracted! Don't waste time looking at cookie recipes when you're meal planning!
Use your favorite cookbooks, search online, use Pinterest, or even ask friends for their favorite recipes! If you find that you enjoy the recipes from a particular food blogger, bookmark their site, so that you can go back for more inspiration rather than starting from scratch each time.
Top Tips for Choosing Recipes:
Pick meals that you know will be popular with your family. Mid-week meals is not the time to experiment!
Don't choose meals that are complicated, time consuming, or involve a lot of obscure ingredients.
Consult your family! Make them part of the process. You could have your kids choose one meal for the week, and your partner too. Maybe you could even encourage them to prepare the meal they choose to help alleviate some of the pressure off of you!
Step 4: Plug the Meals into Your Meal Planning Template
Now it's time to use your meal planning template! Write the meals you're going to prepare into the template. Not too complicated! Just plug-in the meal into the day you plan to prepare it!
Remember to consider your schedule, as well as the ingredients you already have that you need to use. For example, if you have veggies that are going to go bad soon, make that recipe at the beginning of the week.
If you know your child has a late practice, maybe consider that to be leftover night, or your crock-pot or instant pot meal.
You don't have to stick to your meal planning template like it's set in stone. It's more to help you be sure you have enough meals to prepare for the week.
I like to post my meal plan on the fridge for all to see. That way everyone knows what's for dinner! Also, it's a great way to elicit help from the rest of the family.
For example, if you have a late work meeting on Thursday, ask your partner to prepare their meal of choice on that day. Mark it on your template so that they know they're responsible for preparing dinner on Thursday.
Step 5: Write Your Grocery List
Now it's time to go through the recipes and write down what you need to buy at the store. Remember to consider the ingredients you already have.
When I prepare my grocery list, I like to divide it into sections. For example, Produce, Dairy, Frozen, Canned, Dry Goods, etc. This helps me save time in the store.
When I'm in the produce section I collect all the ingredients I need, without having to scan through my list to be sure I've grabbed all the produce only to find that I need an avocado when I'm in the pasta aisle!
Step 6: Shop for Your Groceries
This seems like a simple and obvious last step!
There are many ways you can shop. Now, you can have your groceries delivered using Instacart, Shipt, or other shopping services.
This will certainly save you time! But if you like to go to the store yourself, that's okay too!
The challenge with shopping for your groceries is when you end up needing to go to more than one store to collect the ingredients you need.
I recommend choosing a grocery store that has everything you need in one place. I love specialty grocery stores, but when it comes to meal planning, it's all about saving time.
Just getting started and need some inspiration?
Check out these Picky Eater Meal Plans!
Check Out These Other Helpful Meal Tips!