Mochi Donuts (Pon De Ring Donut Recipe!)
This post may contain affiliate links. As an Amazon Associate, I earn from qualifying purchases. Please read my disclosure.
With crisp edges and chewy centers, mochi donuts are brightly colored ring-shaped treats covered in icing. They're easy to make, easy to customize, and hard to resist. They also happen to be vegan & gluten-free!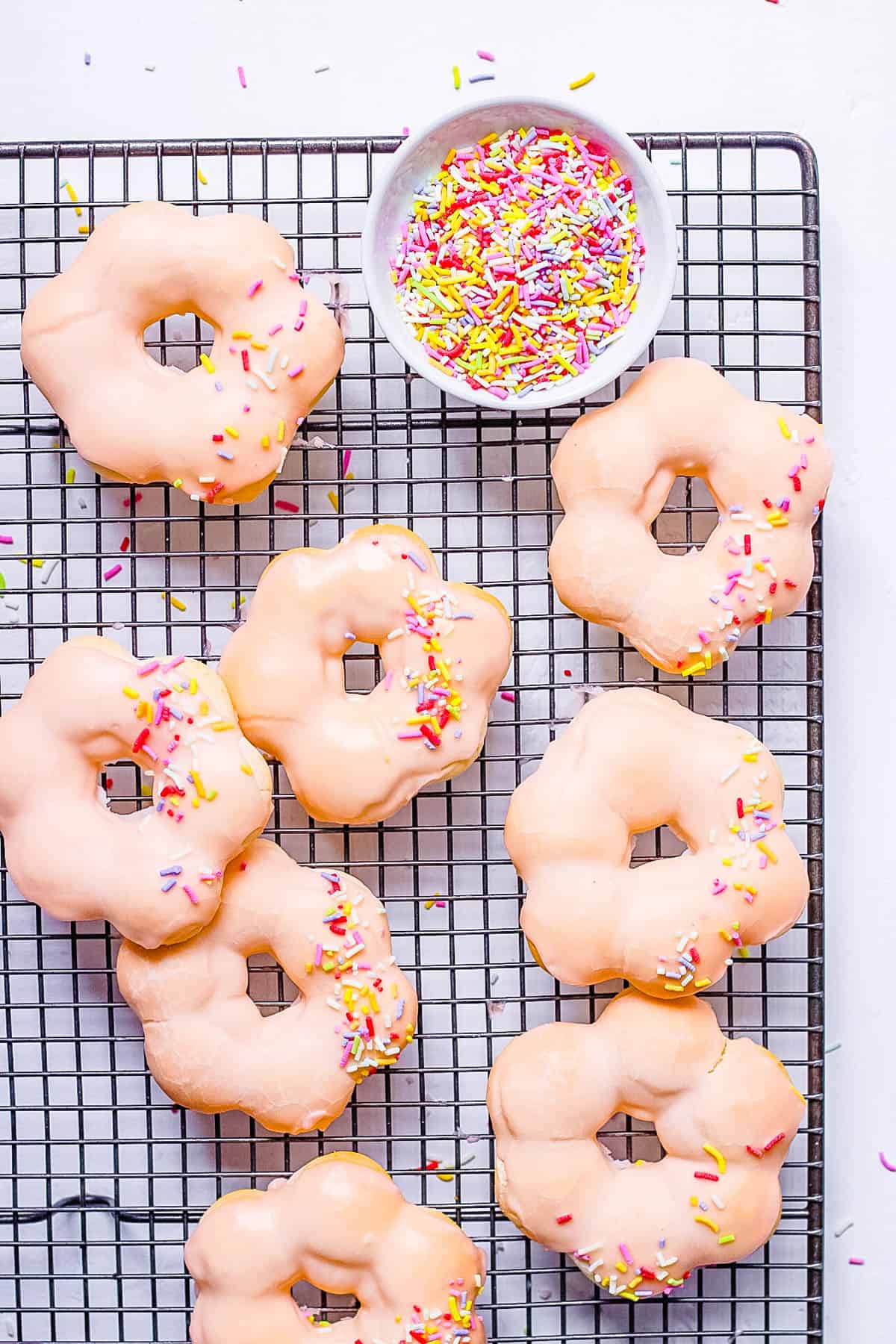 There's so much to love about baked mochi doughnuts! A mochi ring donut (a.k.a pon de ring donut) is like a cake donut meets soft, chewy mochi. The outside is golden brown and crispy and the inside is chewy but light. These snackable treats are addictively delicious. It's nearly impossible to stop at just one.
What Is Mochi?
Mochi is actually a Japanese rice cake – made of short-grain glutinous rice. Once the rice is cooked, it's broken down into a paste and then molded into a variety of shapes. Sometimes other ingredients are added to the cakes like water, sugar and cornstarch. If you eat mochi in Japan, you may be able to watch it being made in a ceremony called mochitsuki.
Latest Recipe Video!
Just like any donut, they come in a variety of flavors and colors. These gluten free mochi donuts are vanilla-flavored, which makes them easy to customize. Simply add matcha, cocoa powder, strawberry jam, or ube extract to the glaze! The opportunities are endless.
Traditionally, mochi donuts are fried, but deep frying is messy, time-consuming, and less healthy too. I find baking them to be easier and just as tasty! These vegan mochi donuts are ready in less than 30 minutes. Enjoy one with a cup of coffee or tea!
👩‍🍳 Why This Recipe Works
Mochi-like texture
Quick & easy
Healthier alternative to normal donuts
Top with your favorite glazes
Baked instead of fried
Ready in just 25 minutes
Kids love them!
Best mochi donuts ever!
🥘 Ingredients
This easy mochi donut recipe requires simple ingredients found at most grocery stores!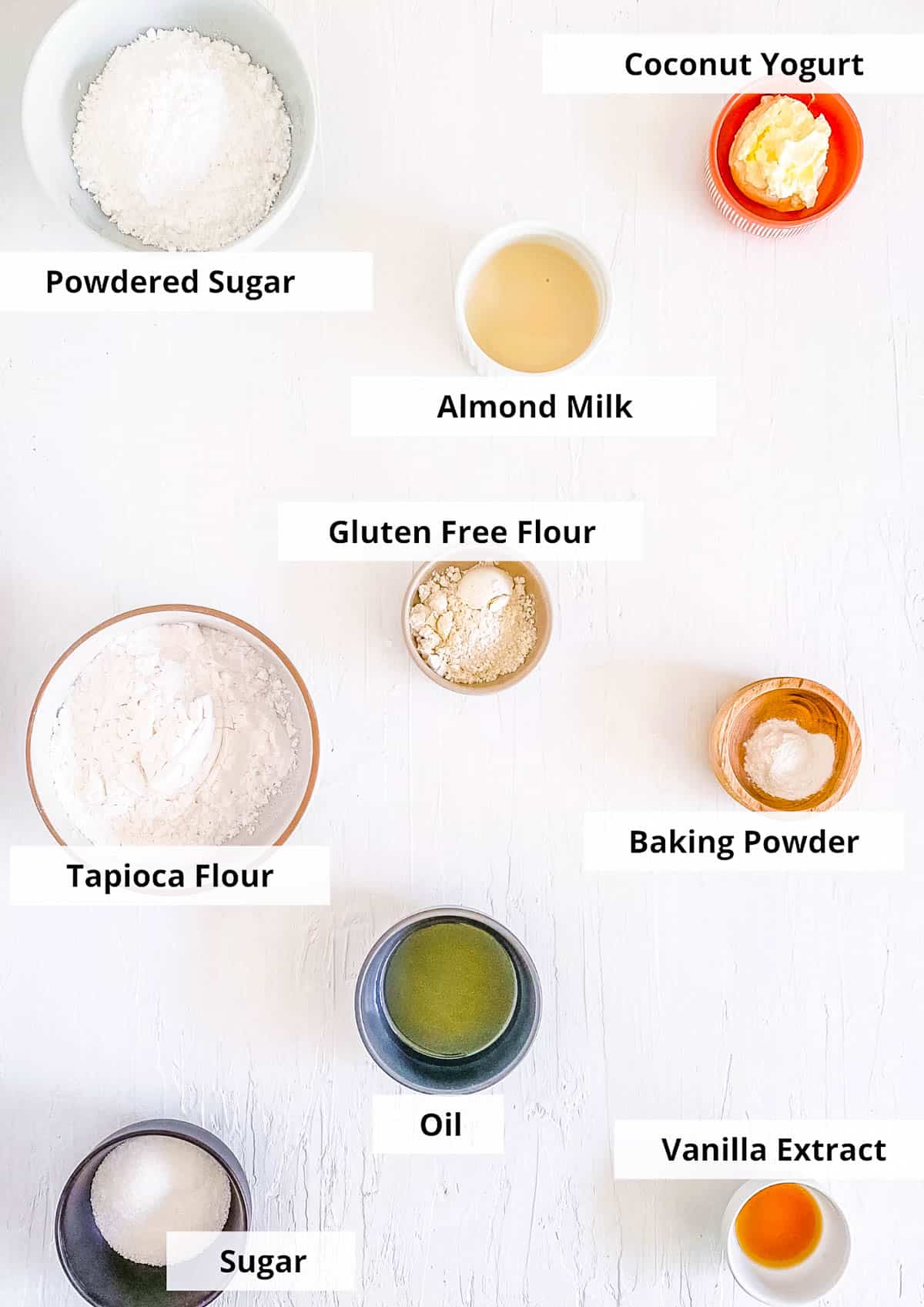 Tapioca Flour: If we're splitting hairs, technically mochi doughnuts are made with short grain glutinous rice flour (or mochiko flour), and chewy pon de ring donuts are made with tapioca flour. However, the names have become interchangeable in the United States. Both types of flour have a high starch content, which produces the bouncy chew. You can use either flour in this recipe. Mister donut, the largest donut chain in Japan, uses tapioca flour because it produces a lighter texture.
Gluten-Free Flour: Gluten-free flour prevents the chewy donuts from getting too dense. For best results, use a gluten-free all-purpose flour that contains xanthan gum. My favorite brand is Bob's Red Mill's 1:1 Baking Flour. If you're not gluten intolerant, use all-purpose flour.
Baking Powder: Baking powder creates carbon dioxide bubbles which causes the dough to rise in the oven.
Sugar & Vanilla Extract: To sweeten the donuts! You can use cane sugar, but coconut sugar or brown sugar also work. Vanilla extract enhances the sweetness of the donuts too.
Coconut Yogurt: Yogurt moistens the starchy flour without adding too much liquid.
Almond Milk: To moisten the dough and the glaze! If you aren't vegan, whole milk works too.
Oil: Any neutral flavored oil works great. I used vegetable oil.
Powdered Sugar: To make the simple sugar glaze. Icing sugar dissolves into a smooth glaze when you add liquid to it. You don't need much liquid though. Just stir it really well.
Food Coloring: Add whatever color you like! I like to get natural food coloring that doesn't have any dyes added to it.
📖 Variations
Pon de ring donuts are easy to customize! Just switch up the glaze and toppings. Here are a few simple ideas.
Toppings: Top the glaze with black sesame seeds, crushed freeze-dried strawberries, melted white chocolate, chocolate sprinkles, crushed nuts, fruity pebbles, or rainbow sprinkles.
Matcha Glaze: Add one tablespoon of matcha powder to the classic glaze recipe.
Strawberry Glaze: Add strawberry jam or strawberry sauce to the classic glaze.
Chocolate Glaze: Melt two tablespoons of butter in a small saucepan, then add 1/4 cup of dark cocoa powder and two tablespoons of almond milk. Stir in 1.5 cups of powdered sugar until smooth. If the icing is too thick, add more almond milk.
Make Donut Holes: Instead of connecting the dough balls on the baking sheet, leave the dough balls separate and bake as individual, bite sized doughnut holes!
White Chocolate: Drizzle the tops of the doughnuts with melted white chocolate.
🔪 Instructions
This mochi doughnut recipe is quick and simple! Just follow these step-by-step instructions.
Preheat Oven & Combine Dry Ingredients: Preheat the oven to 338 degrees F (340 degrees will work too) or 170 degrees C. Line a baking tray with parchment paper, set aside. Combine both flours, baking powder, and sugar in a large bowl.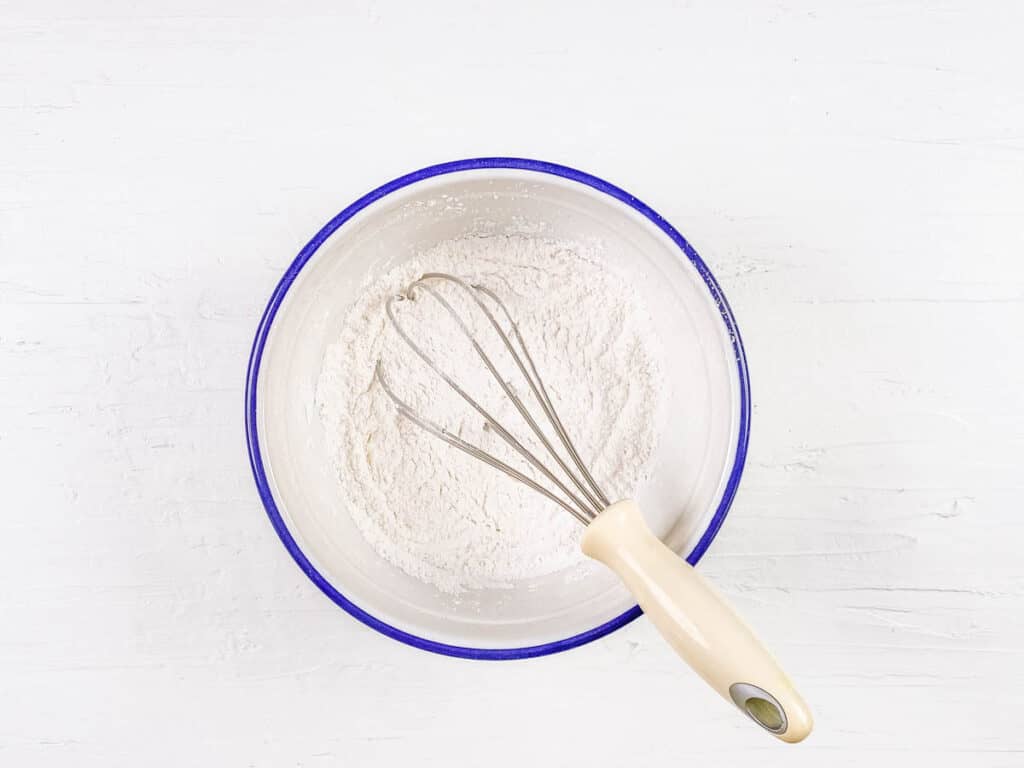 Combine Wet Ingredients: In a separate bowl, combine the coconut yogurt, almond milk, vanilla, and oil.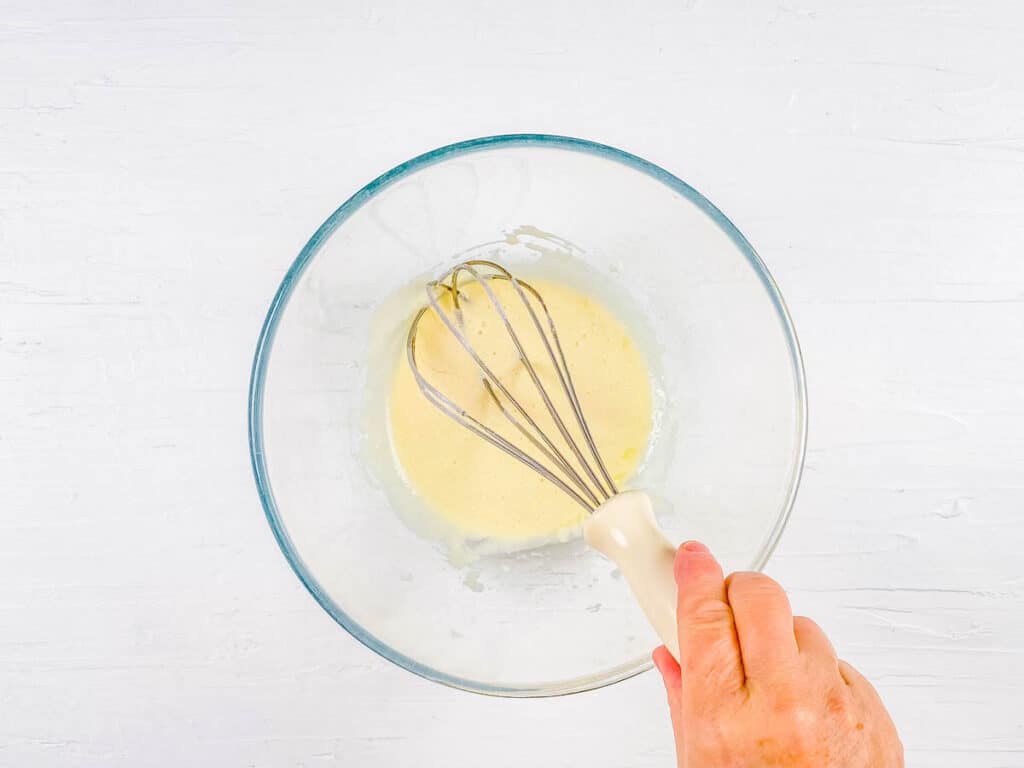 Mix Together: Stir the wet ingredients into the dry until well combined. If the mixture is too dry, add a little bit more almond milk. You should be able to roll a tablespoon of the sticky dough into a ball, and have it keep its shape.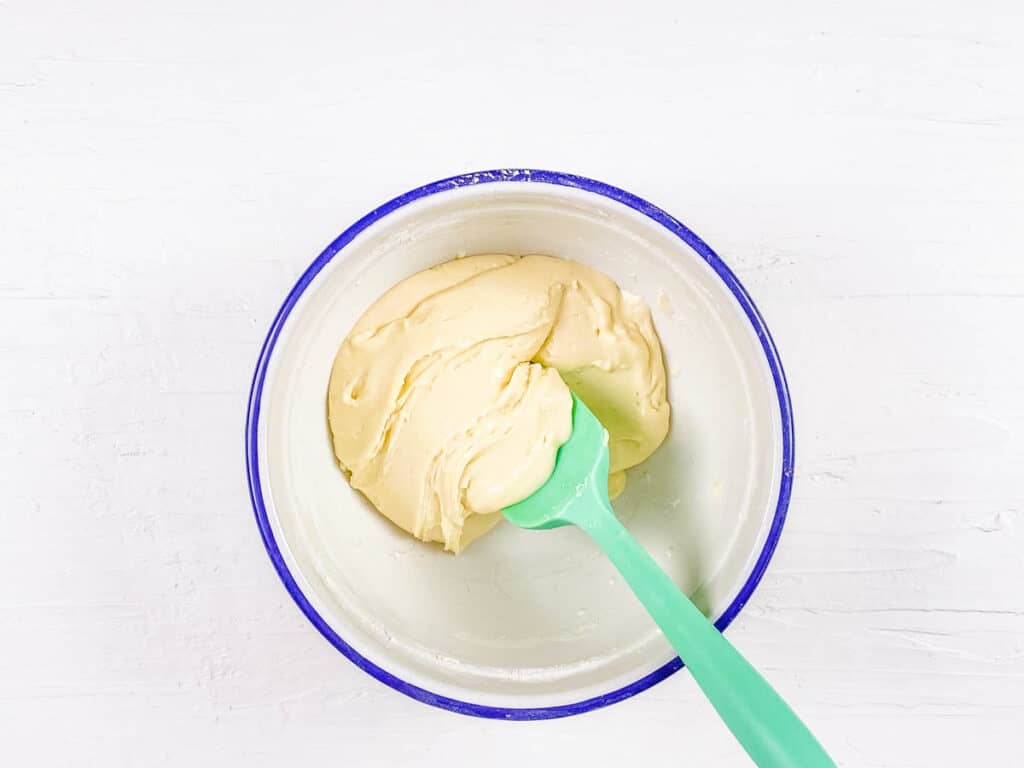 Roll Dough & Shape Donuts: Scoop out about ½ teaspoon of the donut dough and roll into a small ball. Repeat with remaining dough. Place six of the dough balls into a circle shape on the sheet pan. Repeat until you have eight donuts. This will give you that signature cute shape.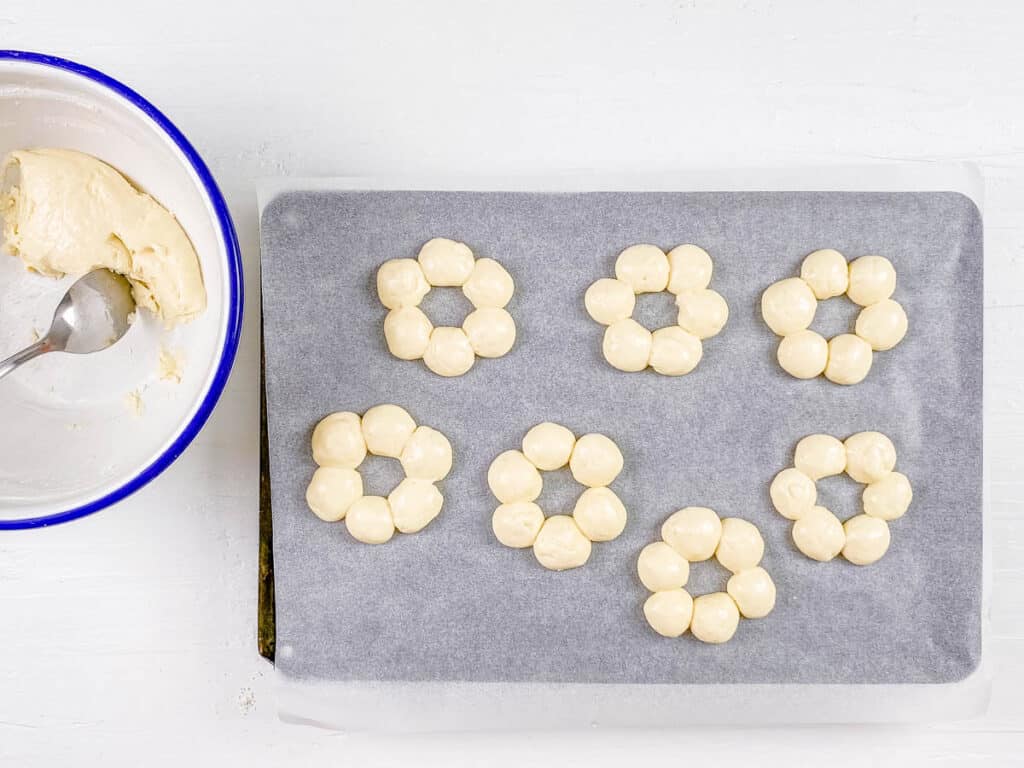 Bake Donuts: Place the sheet pan in the oven and bake for 10 to 15 minutes until the donuts are lightly golden.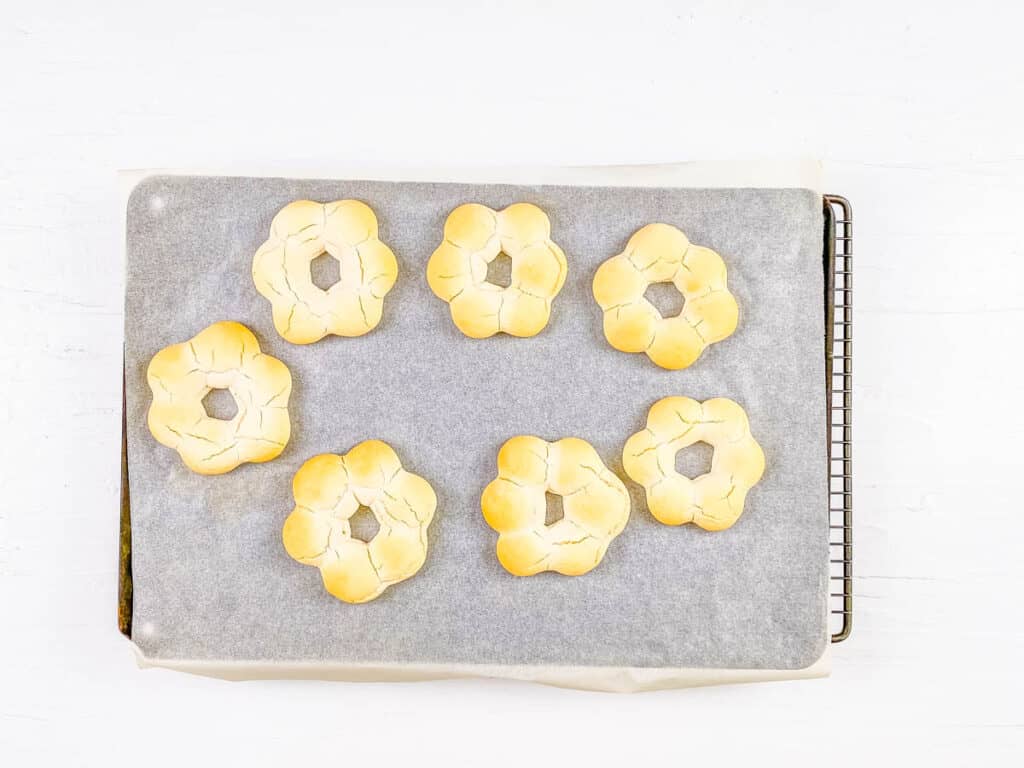 Let Donuts Cool & Make Icing: Let the hot donuts cool to room temperature on a wire rack before icing. Mix the powdered sugar with two tablespoons of almond milk. Add food coloring if desired.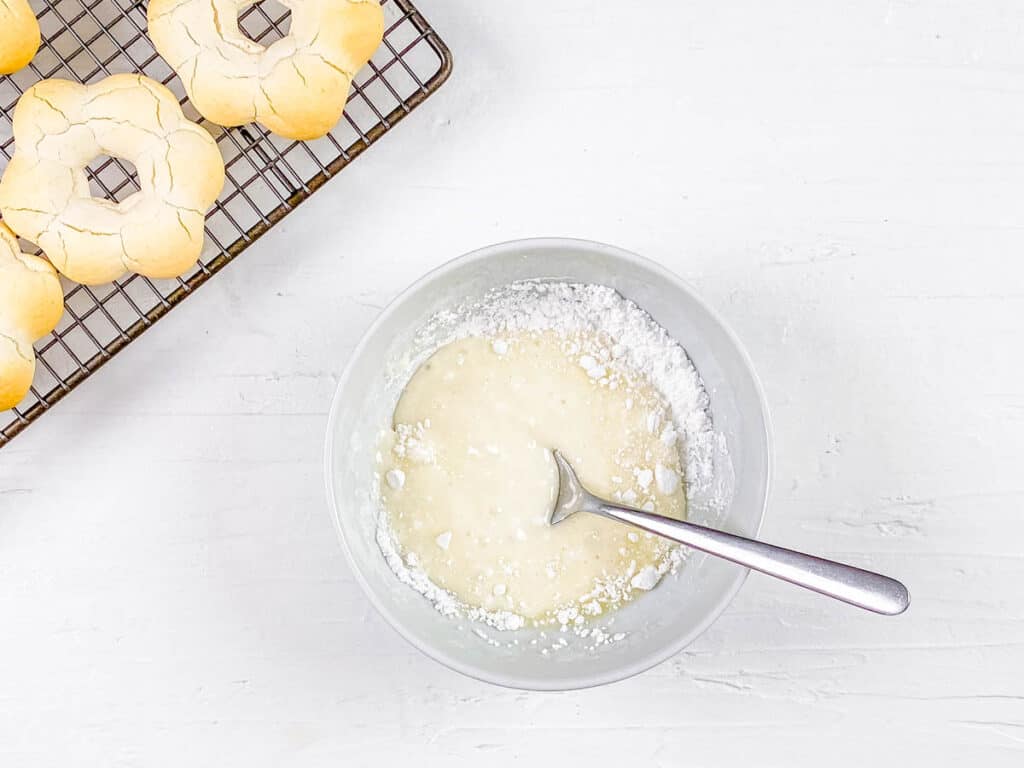 Serve: Ice your fresh mochi donuts then enjoy your tasty treats immediately.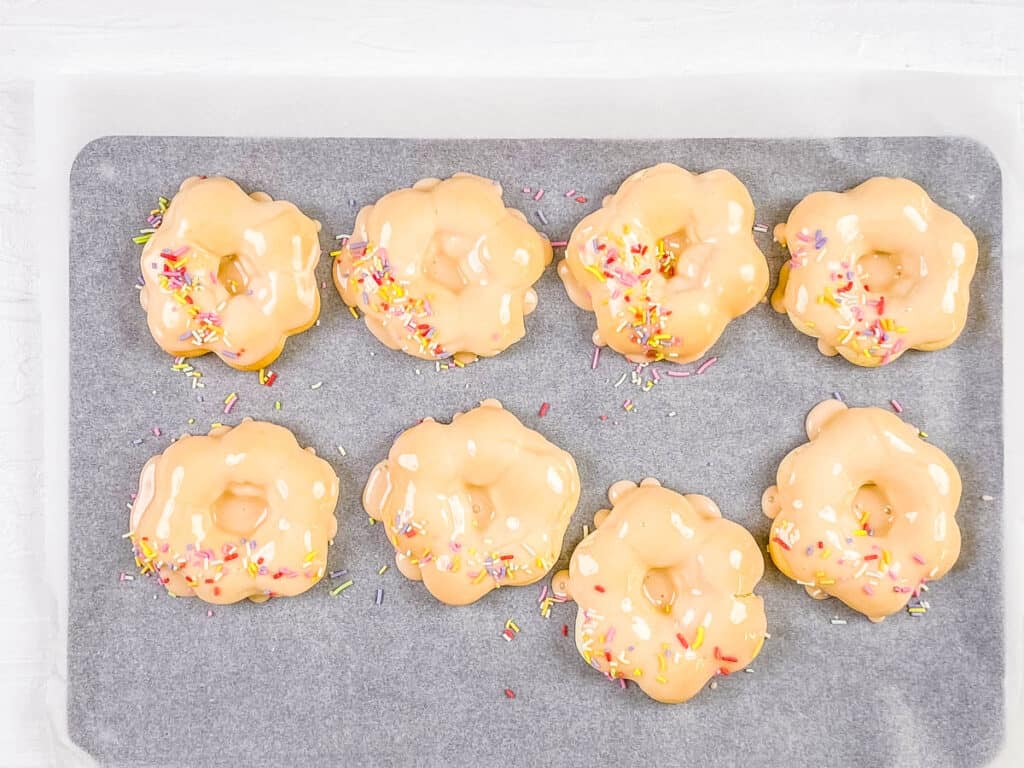 ❓ Recipe FAQs
Are mochi donuts healthier than regular donuts?
Mochi donuts are smaller than traditional donuts, which means they contain less fat and calories. They are still donuts, however and should be enjoyed in moderation!

This mochi donuts recipe is healthier than a regular donut because it's lower in calories, dairy-free, gluten-free, and baked instead of fried. (but it's still a sugary treat so keep that in mind!)
What does a mochi donut taste like?
Japanese mochi donuts have a mildly sweet taste with a chewy texture that's not too dense or sticky. They are typically iced in a light glaze that comes in different flavors.
How should I store mochi donuts?
Mochi donuts are best enjoyed fresh. They tend to stiffen up the longer they sit, and don't taste as good. If you have leftover donuts, store them in an airtight container in the refrigerator for up to 4 days. Reheat in the microwave for just a few seconds to soften them up.
How many calories in a mochi donut?
One of these Japanese doughnuts has about 200 calories. Regular donuts range from 300 to 500 calories depending on the flavor and type.
💭 Expert Tips
The donut balls will rise when cooking so be sure not to make them too big.
If you don't want to roll individual balls of dough and connect them, you can just form a traditional donut ring shape with the dough – it'll still work!
If you decide to use glutinous rice flour for this recipe, make sure to buy short grain and not long grain glutinous rice – long grain glutinous rice flour won't work as well.
Mochi donuts dry out quickly. It's best to enjoy them the same day you make them!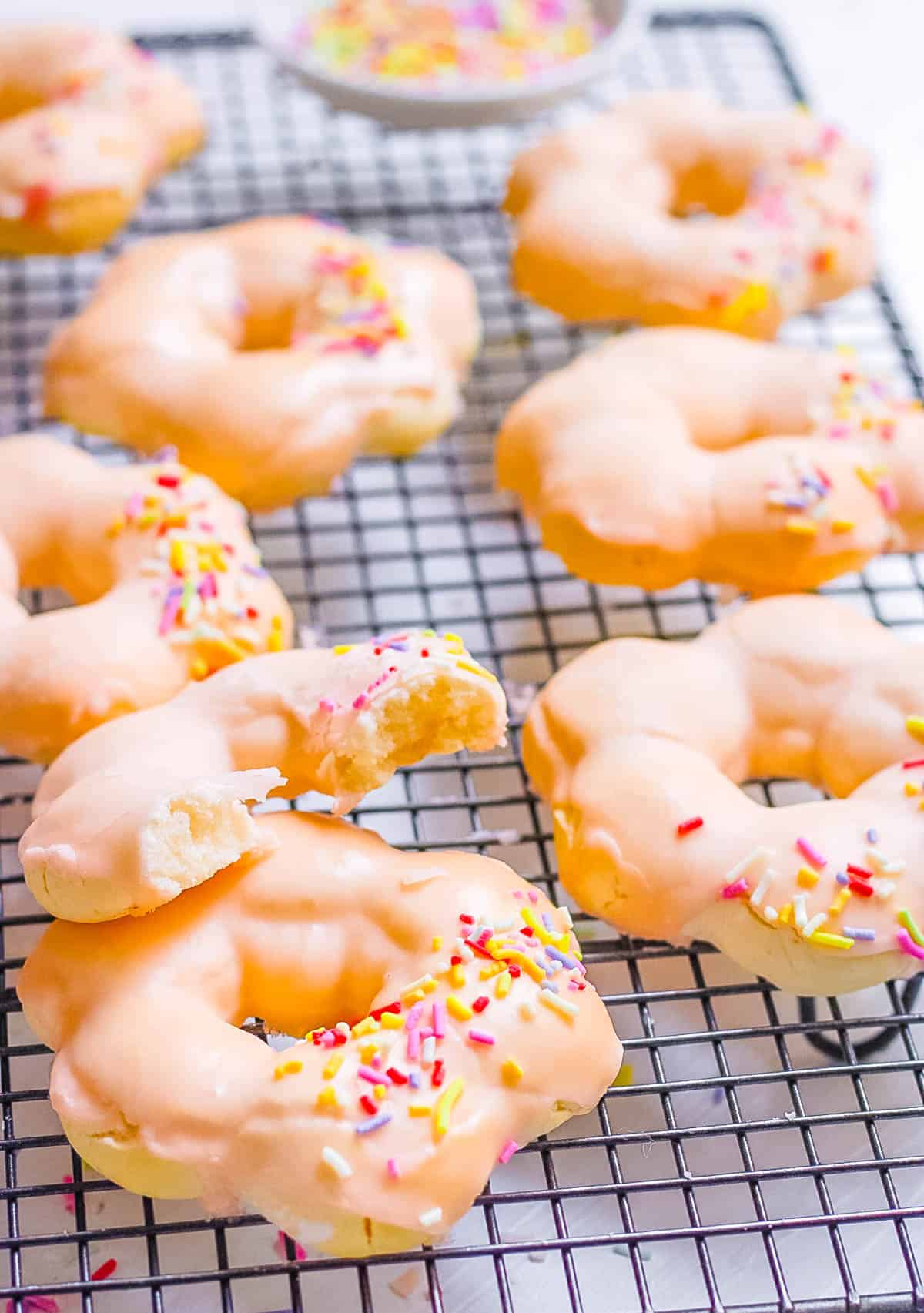 🍩 More Donut & Fun Dessert Recipes!
LOVE THIS RECIPE? Please leave a 5-star rating 🌟 in the recipe card below and/or a review in the comments section further down the page!
You can also FOLLOW ME on FACEBOOK, TWITTER, INSTAGRAM, and PINTEREST to see more delicious, healthy, family-friendly food, and if you have any questions, I'm here to help!
📋 Recipe Card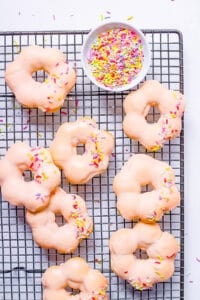 Print Recipe
Mochi Donuts
With crisp edges and chewy centers, mochi donuts (or pon de ring donuts) are brightly colored ring-shaped treats covered in icing. They're easy to make, easy to customize, and hard to resist. Vegan & gluten-free!
Instructions
Preheat the oven to 338-340 degrees F / 170 C. Line a baking tray with parchment paper, set aside.

Whisk both of the flours, baking powder and sugar together in a mixing bowl.

In a separate bowl whisk together the yogurt, ¼ cup almond milk, vanilla and oil.

Stir the wet ingredients through the dry ingredients until well combined. Depending on the moisture content of the yogurt you may need to add additional almond milk. Start with 1 tbsp at a time until the dough is workable but not too sticky. You should be able to roll the dough into a ball and keep it's shape.

Scoop out about ½ tsp of the donut dough and roll into a small ball. Repeat with remaining dough.

Place 6 of the balls into a circle shape. Repeat and form a total of 8 circles/donuts.

Place the baking tray with the donuts into the oven and bake for 10-15 minutes or until lightly golden and cooked through.

Remove from the oven and allow to completely cool on a cooling rack before icing.

To prepare the icing: Mix the powdered sugar and with 2 tbsp almond milk until smooth. Adjust thickness by adding additional almond milk if needed. Color with food coloring if desired.

Store in an airtight container in the fridge for up to 4 days.
Notes
The donut "balls" will rise when cooking so be sure not to make them too big.
Coconut sugar can be used instead of white sugar. 
The icing recipe makes more icing than you will likely need. Nutrition information is calculated based on using half the amount of icing the recipe makes. 
Any plant based milk will work in this recipe.
Any light flavored oil can be used.
Nutrition
Serving:
1
donut
|
Calories:
202
kcal
|
Carbohydrates:
41
g
|
Protein:
1
g
|
Fat:
5
g
|
Saturated Fat:
0.3
g
|
Polyunsaturated Fat:
1
g
|
Monounsaturated Fat:
3
g
|
Trans Fat:
0.02
g
|
Sodium:
22
mg
|
Potassium:
106
mg
|
Fiber:
0.4
g
|
Sugar:
21
g
10 responses to "Mochi Donuts (Pon De Ring Donut Recipe!)"