Oreo Donuts
This post may contain affiliate links. As an Amazon Associate, I earn from qualifying purchases. Please read my disclosure.
If you've never made homemade donuts before, brace yourself for some excitement! These Oreo donuts are next-level deliciousness, and they're so amazingly easy to make. The cake donut itself has a ridiculously rich chocolate flavor, with crunchy Oreo crumbs folded into the batter that give you sweet surprises in every bite!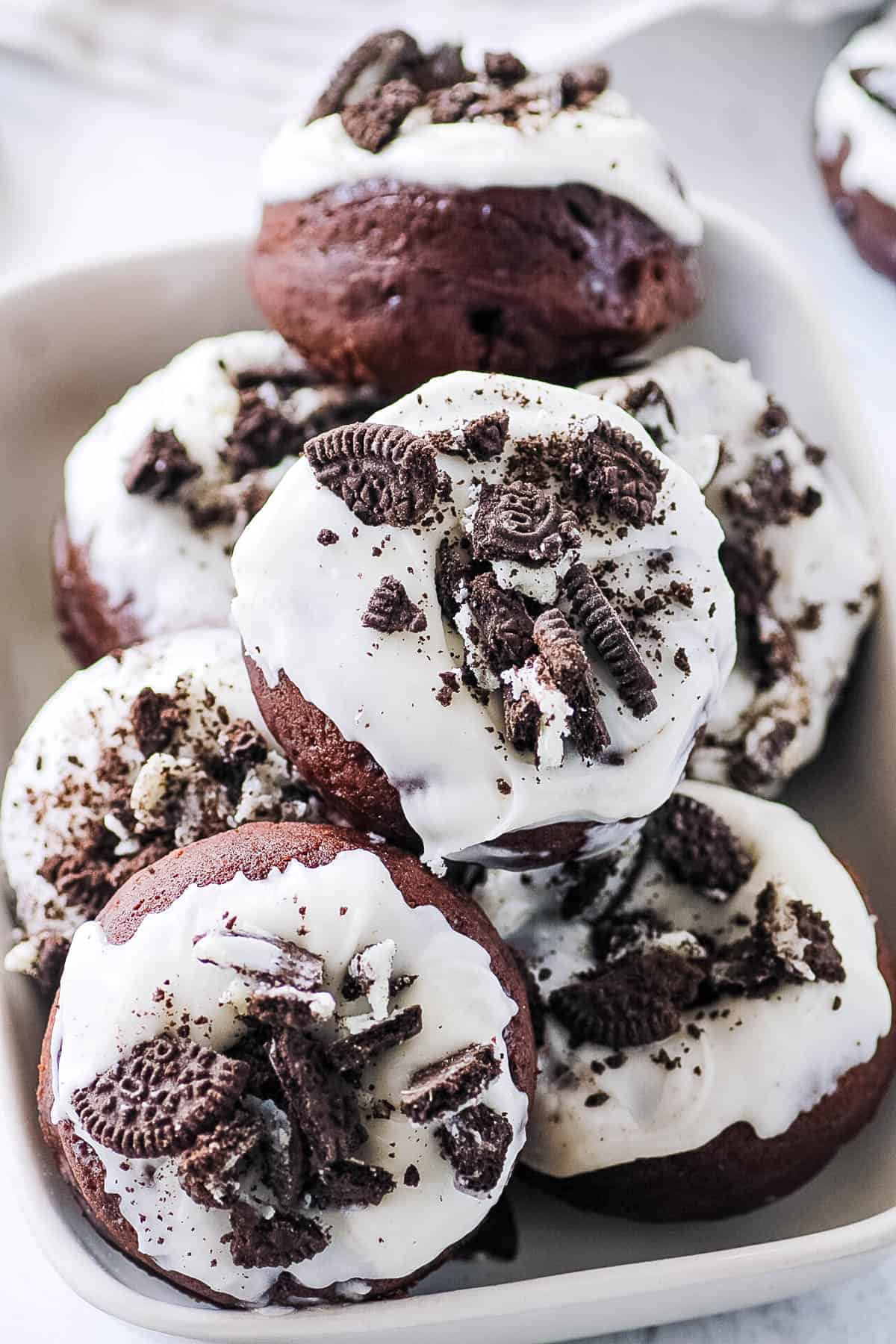 Oreos go well in so many different indulgent desserts. We've had Oreo cheesecakes, an Oreo tart, and now – the best Oreo donuts!
Once these treats are baked, they're dipped in the most delectable cream cheese glaze infused with fragrant vanilla. Finally, you will top the donut with a sweet and crispy Oreo crumble. The best part? They take less than 30 minutes to make!
Whether you're looking to impress guests or just satisfy your sweet tooth, these Oreo doughnuts are on-point. You'll be hard-pressed to find someone who doesn't want to dig into these donuts immediately.
And if you have dietary concerns? That's covered. You can make this dairy-free and lower in carbs, too.
I don't know about you, but sometimes I just need a little bit (or maybe a lot) of sweet indulgence. These incredible donuts definitely do the trick!
You won't believe that these are baked donuts either, they taste just like your favorite bakery's donuts!
👩🏽‍🍳 Why You'll Love Oreo Donuts
Easy: Who knew it could be this simple to make donuts at home? They only require 10 minutes of prep time and 15 minutes of cooking time. No need for a deep fryer or hot oil accidents here!
Versatile: These mouthwatering donuts are great for weekend breakfasts, but they also make for fun and simple snacks or an unexpected dessert at a party.
Unique: When was the last time you saw these at a brunch or a cookout? You'll be the trend-setter with these delicious donuts that are packed with Oreo flavor.
Latest Recipe Video!
🥘 Ingredients
All it takes are some simple ingredients to whip up some drool-worthy chocolate Oreo donuts.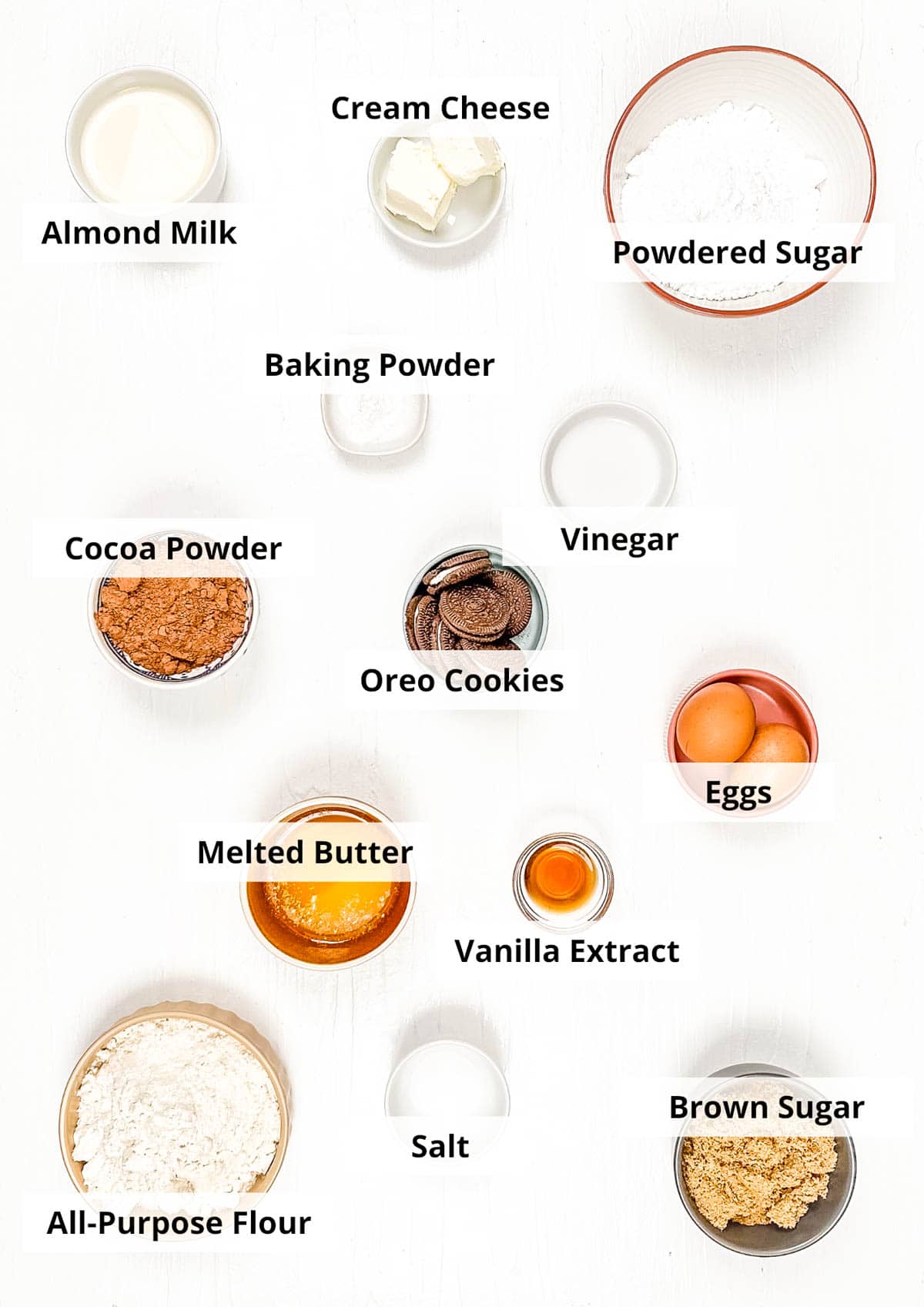 For The Donuts
All-Purpose Flour: Flour provides the necessary structure and texture for these black and white donuts.
Unsweetened Cocoa Powder: Cocoa gives the donuts rich, chocolatey flavor that complements the chocolate creme-filled cookie.
Brown Sugar: Brown sugar not only adds sweetness, but moisture, too. Use light brown sugar to avoid overpowering the other flavors.
Baking Powder: This leavening agent helps the donuts rise and become light and fluffy.
Salt: Salt is a flavor enhancer that brings out the sweetness of other ingredients.
Eggs: Acting as a binding agent, eggs provide structure and add moisture.
Butter: Unsalted butter adds rich flavor and additional moisture to the donuts.
Almond Milk: This dairy alternative adds subtle nuttiness and helps to bring the batter together.
Vanilla Extract: This extract brings out the flavor of the other donut ingredients.
Vinegar: This acidic ingredient reacts with the baking powder, creating a chemical reaction that helps the donuts rise and form their soft texture.
Crushed Oreo Cookies: These iconic cookies add signature flavor and crunchy texture to these Oreo cake donuts!
For The Topping
Cream Cheese: Cream cheese helps is the base of our creamy vanilla frosting, lending its signature creaminess and tang.
Powdered Sugar: Confectioner's sugar creates a silky smoothness as well as sweet flavor for your cream cheese icing.
Vanilla Extract: Vanilla balances the sweet glaze and adds more flavor that mimics the vanilla creme of an Oreo.
Almond Milk: This slightly nutty non-dairy milk gives the glaze its signature consistency.
Crushed Oreo Cookies: Oreo cookie crumbs is what makes these donuts a showstopper – don't skimp on this!
🍲 Ingredient Substitutions
Extract: Substitute some, or all, of the vanilla extract for an almond extract if you prefer a nutty taste in your baked donut recipe.
Milk: Use coconut milk, oat milk, soy milk, or whole milk instead.
Sugar: Replace the brown sugar with your favorite brown sugar alternative like coconut sugar or regular cane sugar.
Egg: Instead of eggs, feel free to use chia eggs or flax eggs.
Chocolate: Add more chocolate by folding dark, milk, or semi-sweet chocolate chips into the batter. You can use white chocolate, too.
🔪 How To Make Baked Oreo Donuts
Here's how to make this easy Oreo donuts recipe. For more detailed instructions and nutrition facts, see the recipe card below.
Combine Dry Ingredients: Sift the flour, cocoa powder, brown sugar, baking powder, and salt into a medium mixing bowl or whisk together.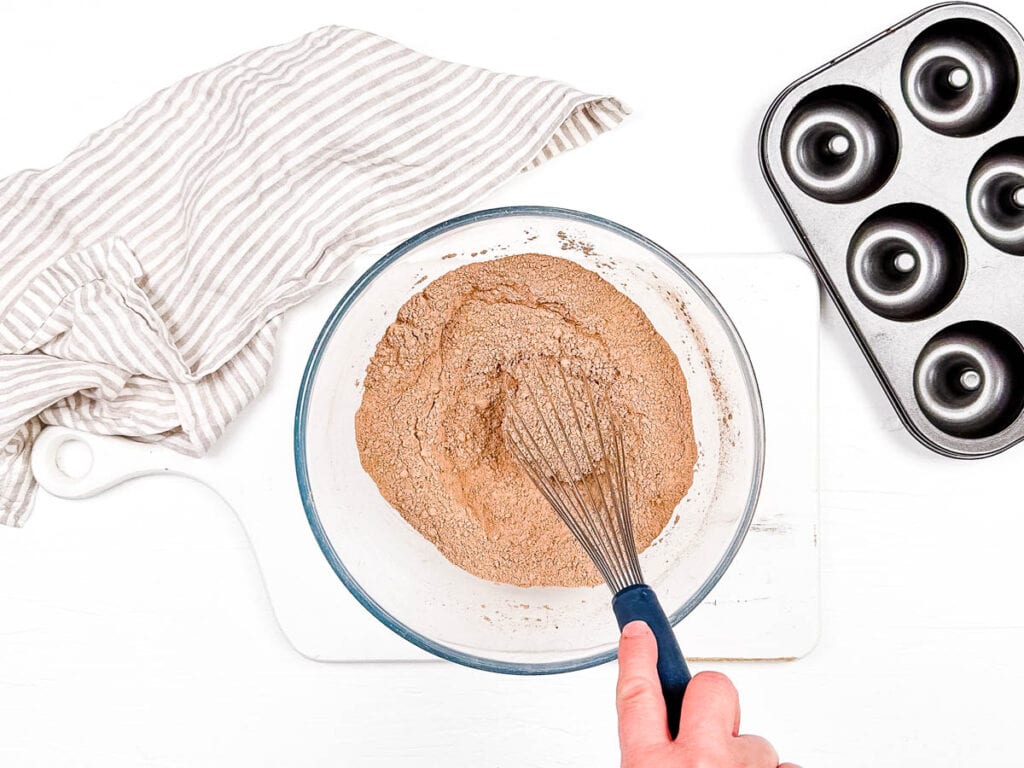 Combine Wet Ingredients: Add the eggs, melted butter, almond milk, vanilla extract, and vinegar to a separate bowl and whisk until completely combined.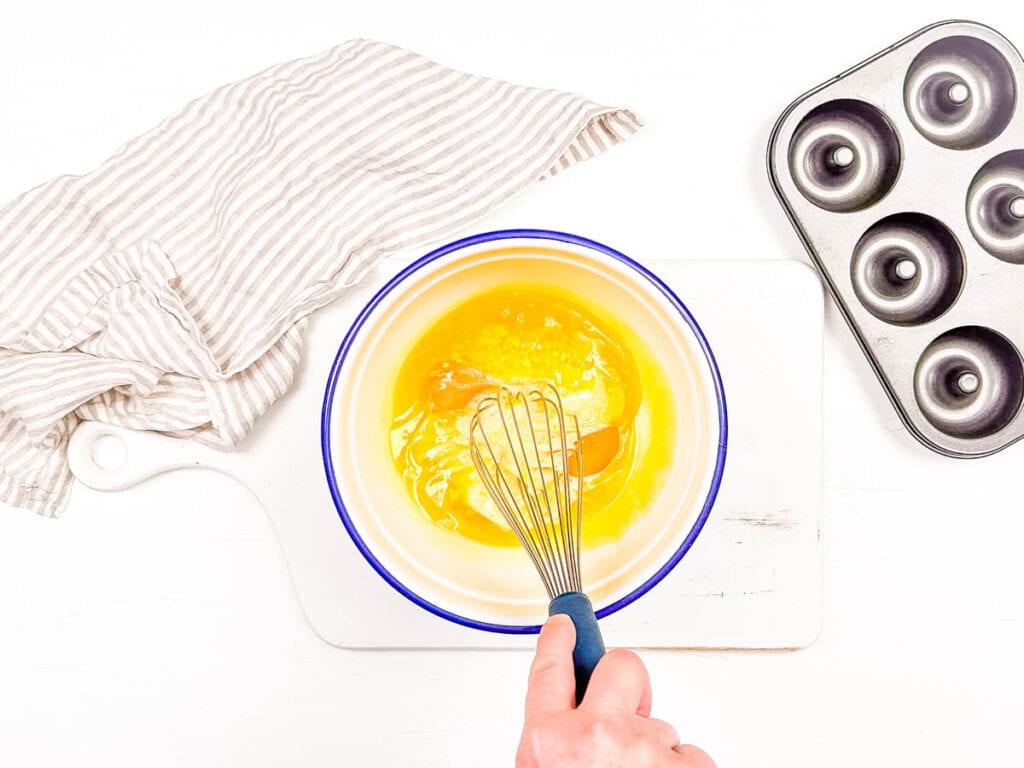 Add Wet To Dry: Pour the wet ingredients into the dry ingredients and mix together until all dry ingredients are moistened. You can do this by hand with a spoon or hand mixer. Alternatively, use an electric mixer or a stand mixer with a paddle attachment.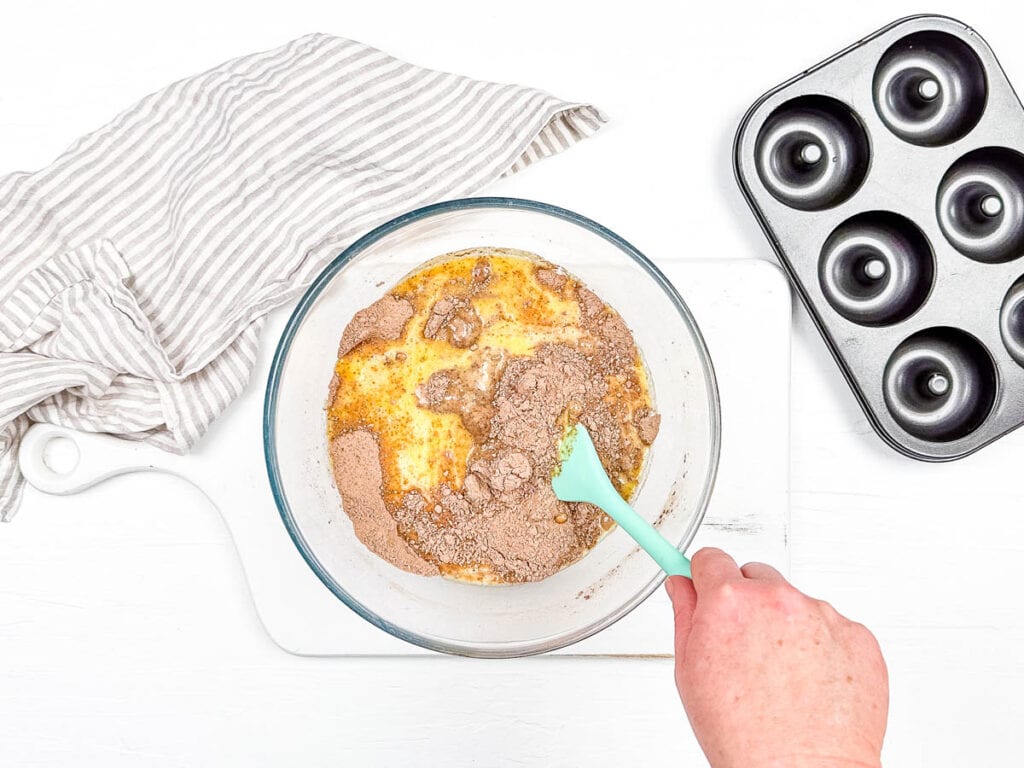 Add Oreos: Using a rubber spatula, fold the crushed cookies into the batter.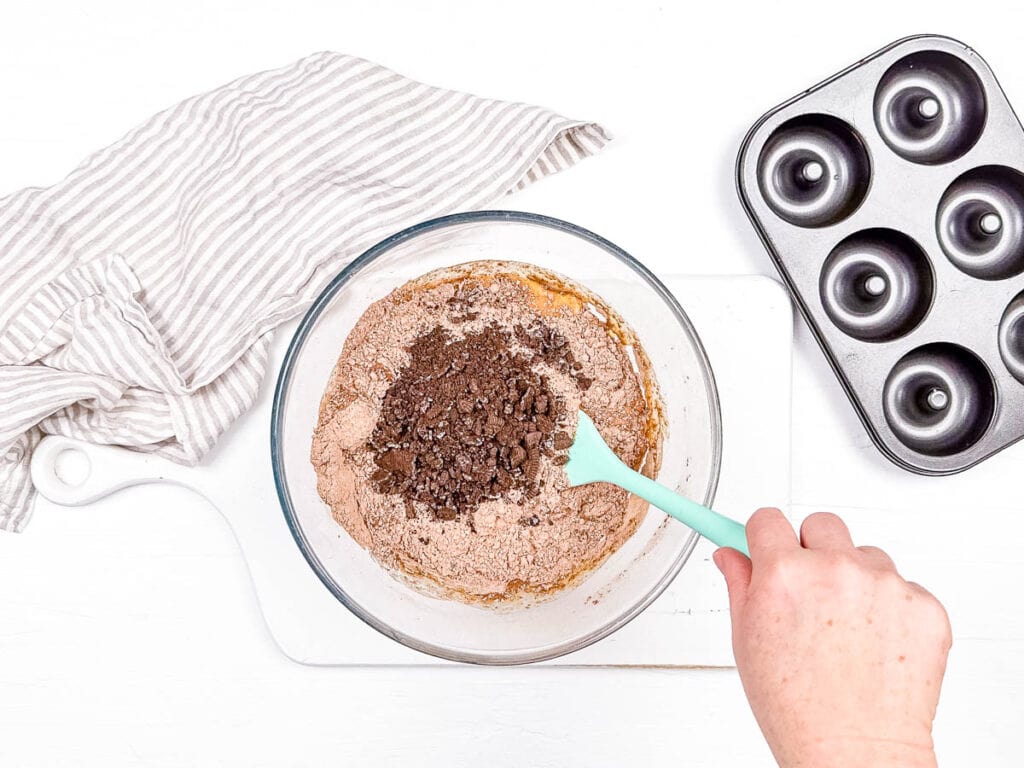 Prep For Baking: Use a pastry bag or spoon to place the donut batter into the prepared donut pan sprayed with nonstick cooking spray.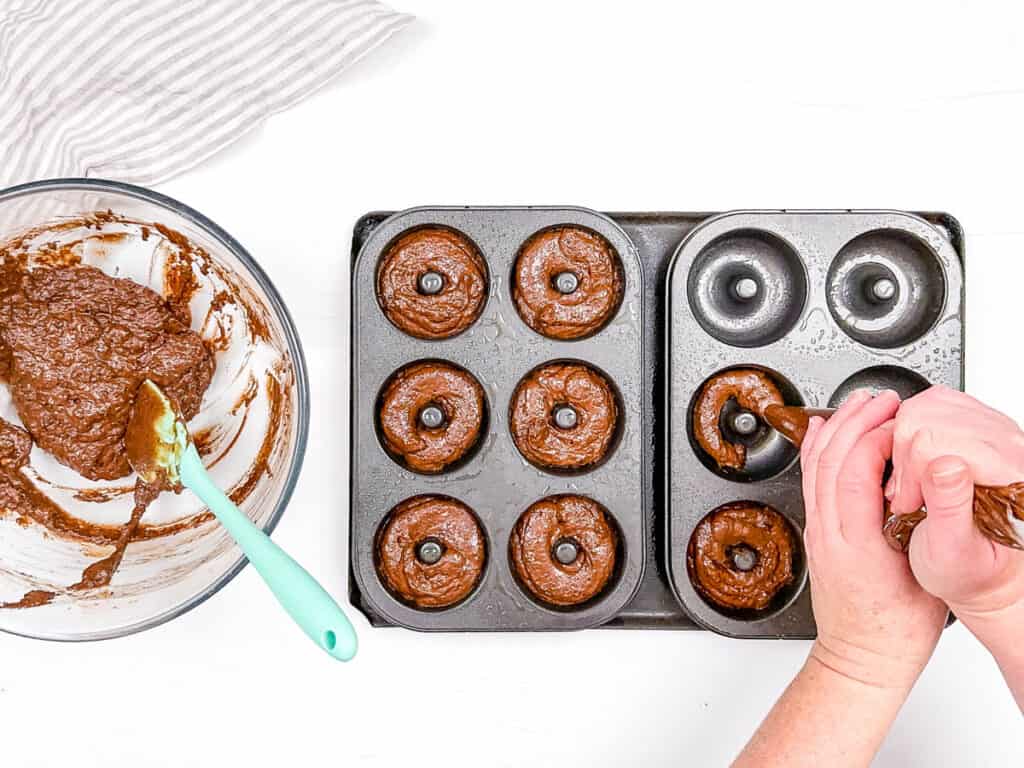 Bake: Place the baking sheet in the preheated oven and bake until the donuts pass the toothpick test and are golden brown.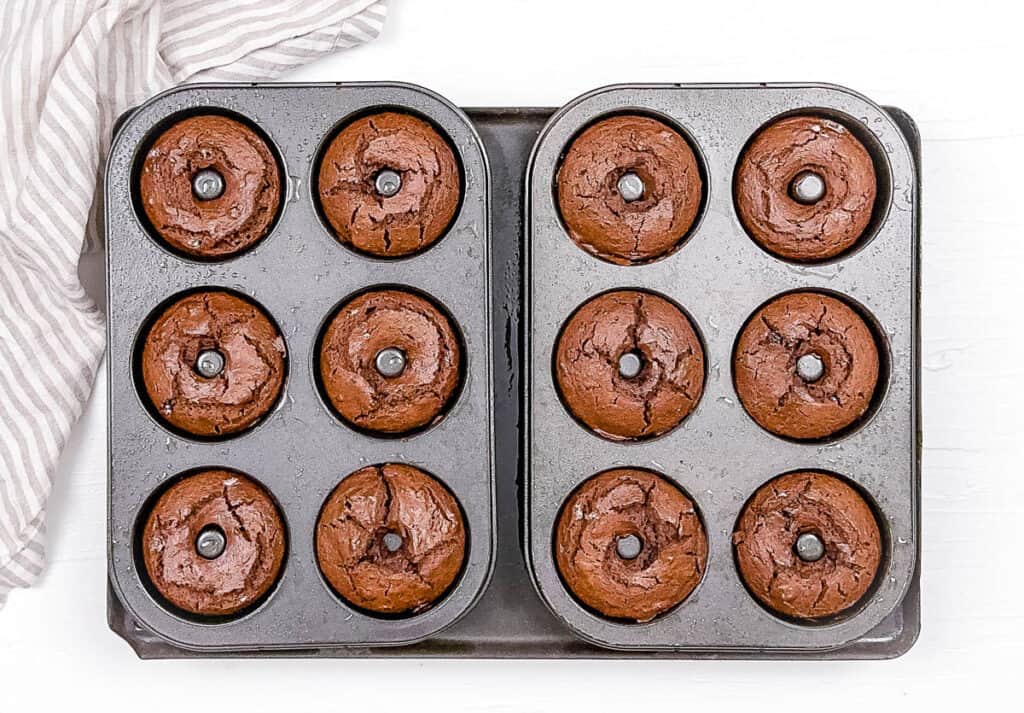 Cooling: Allow the chocolate donuts to cool briefly before inverting onto a wire rack (cooling rack).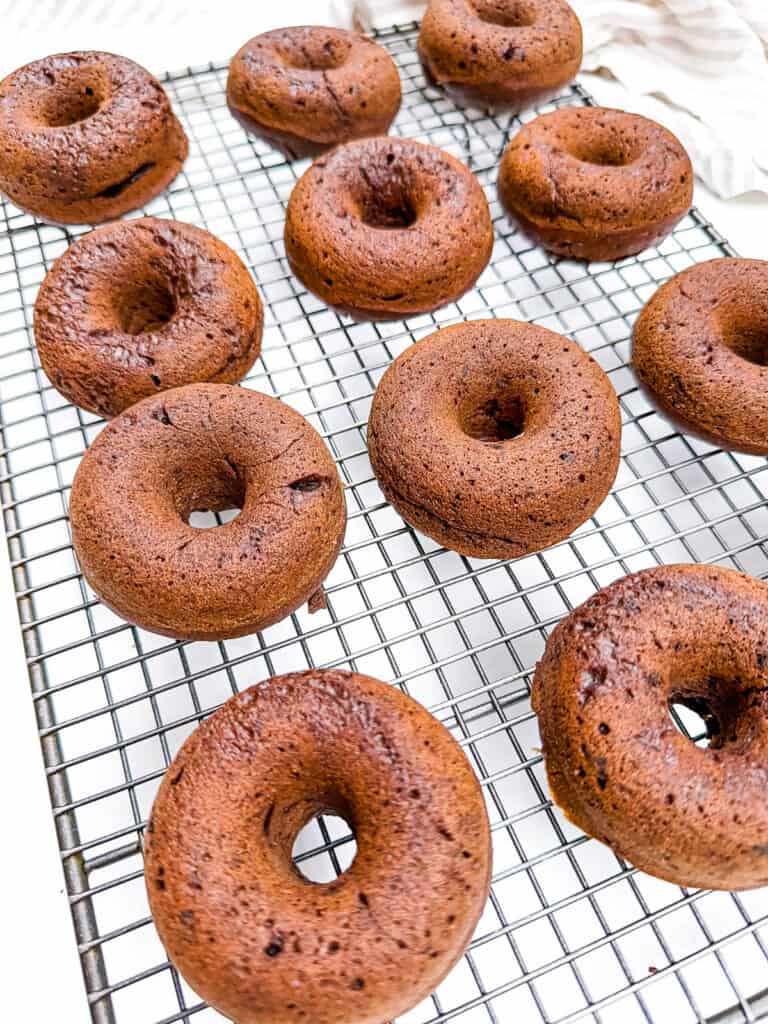 Frosting: While the donuts come to room temperature, make the vanilla glaze. Add cream cheese, powdered sugar, and vanilla to the large mixing bowl of a stand mixer with a paddle attachment and beat until silky smooth. Add milk as needed. Dip cooled donuts into the frosting and sprinkle crushed Oreos over the top of the donuts.
Serve: Serve immediately or store.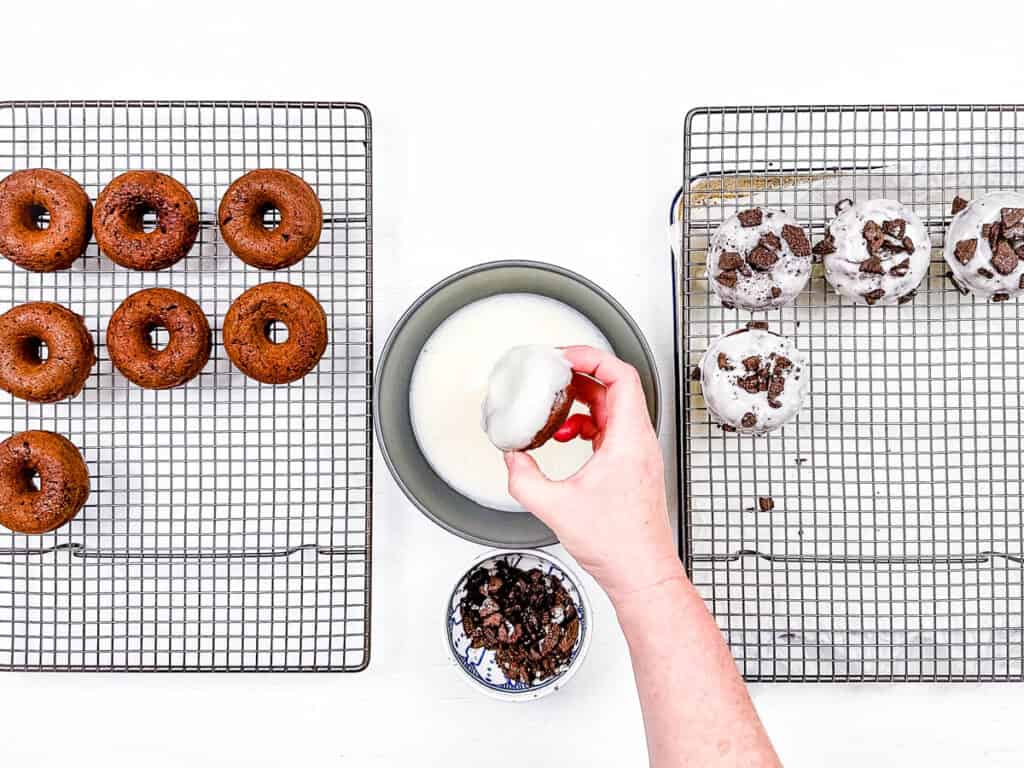 💭 Expert Tips
Cooking Spray: Remember to spray the donut molds with a light coating of nonstick spray. This is the easiest way to prevent the donuts from sticking.
Avoid Overmixing: Only mix enough to moisten the batter. Overmixing will change the texture of the Oreo donuts – we want fluffy Oreo donuts!
Keep Things Clean: Use a piping bag or spoon the batter into the trays for even and clean distribution of Oreo donut batter.
Crushing The Cookies: Crush the cookies into small pieces before folding into the batter. Large cookie pieces will make it difficult to pipe.
Temperature: For best results, it's crucial to make sure all ingredients are room temperature to ease the prep process.
Piping Bag: Don't have a pastry bag? No worries! Take a ziplock bag, snip the tip off, and use it to pipe batter or frosting.
📖 Variations
These donuts are fabulous just as they are, but you can make them uniquely yours with a few easy changes.
Oreo Cupcakes: While these are the best baked donuts, you might not be a donut fan. Make the batter in muffin tins to make a cupcake-style version.
Oreo Cake: Pour the batter into a bundt pan before baking to make a giant donut. 
Different Cookies: You can make this recipe with any of your favorite cookies! Try it with lemon filled cookies, chococolate chip cookies, or even vanilla wafters for more of a chocolate and vanilla donut feel!
Different Icing: Instead of the vanilla icing, make a simple chocolate icing by mixing unsweetened cocoa powder into the cream cheese frosting ingredients! You can even use peanut butter to make a peanut butter vanilla icing, or a peanut butter chocolate frosting for the tops of the donuts!
🍽 Serving Suggestions
With decadent oreo glazed donuts like these, you hardly need any additions! However, if you want to spruce up your morning routine, enhance your snack game, or enjoy the most indulgent dessert, here are a few ideas:
Enjoy With Coffee: What goes better with donuts than coffee, right? Pair these donuts with this biscoff latte or mocha latte.
Dunk The Donuts: Just as you'd dunk Oreos into milk, these donuts can be dunked too! Dunk these donuts into whipped cream or dollop it on top. They are also great dipped into a gooey vegan nutella.
Ice Cream: Serve these Oreo encrusted donuts with a side of ice cream for the most indulgent dessert. I personally love it with this tofu ice cream which offers a cookies & cream or double chocolate option!
🙌 Dietary Adaptations
Lower Carb: Replace the flour in this Oreo donut recipe with an alternative flour like almond flour, coconut flour, or other gluten-free flour options for a low-carb alternative. Just keep in mind, the texture of the donuts will change.
Gluten Free: Use a 1:1 gluten free baking flour with xanthan gum added, instead of the all purpose flour. Just like with lower carb flours, this will change the texture of your donut but it will still taste good!
Dairy-Free: Replace the cream cheese with a dairy-free substitute and swap the butter for a vegan alternative. Chocolate cake donuts will be equally delicious and moist with or without dairy!
🫙 Storage Directions
Here is how to store and keep this Oreo cookie donut recipe:
Store On Countertop: Store these Oreo baked donuts at room temperature for up to 2 days in an airtight container.
For Freezing: Freeze these cookies and cream donuts by wrapping them tightly in plastic wrap. They will keep for up to 3 months. To keep from sticking, place pieces of parchment paper in between.
❓Recipe FAQs
WHAT IS AN OREO DONUT?
This cookies and cream donut recipe incorporates crushed Oreo pieces into the batter. Then, the donuts are topped with Oreo crumbles for a decadent donut full of classic Oreo flavors. It doesn't get any more delicious and indulgent!
WHAT IS THE WHITE STUFF IN AN OREO CALLED?
The white filling of an Oreo cookie is called creme. It's a creamy vanilla-flavored filling that is made of several ingredients, including vanillin, soy lecithin, and hydrogenated vegetable oil.
WHAT WERE OREOS ORIGINALLY CALLED?
Oreos were initially called an Oreo Biscuit. They've changed names multiple times before finally becoming the Oreo cookies we know them as today. You'll now see this beloved cookie featured in so many recipes and desserts, including this baked Oreo doughnuts recipe!
WHAT IS THE OREO FILLED DONUT AT DUNKIN DONUTS?
Dunkin Donuts has had a variety of Oreo donuts throughout the years from a mint Oreo donut to a Halloween Oreo donut. For their 100th birthday they celebrated with two Oreo donuts. One was filled with vanilla buttercream and topped with iced frosting and Oreo cookie crumbles. The other had the same topping with no buttercream filling. Their donuts rotate, so keep your eyes out for their latest flavors! Maybe another Oreo donut flavor will pop up soon! In the meantime, this is the best ​​Oreo Dunkin Donuts copycat recipe you'll find!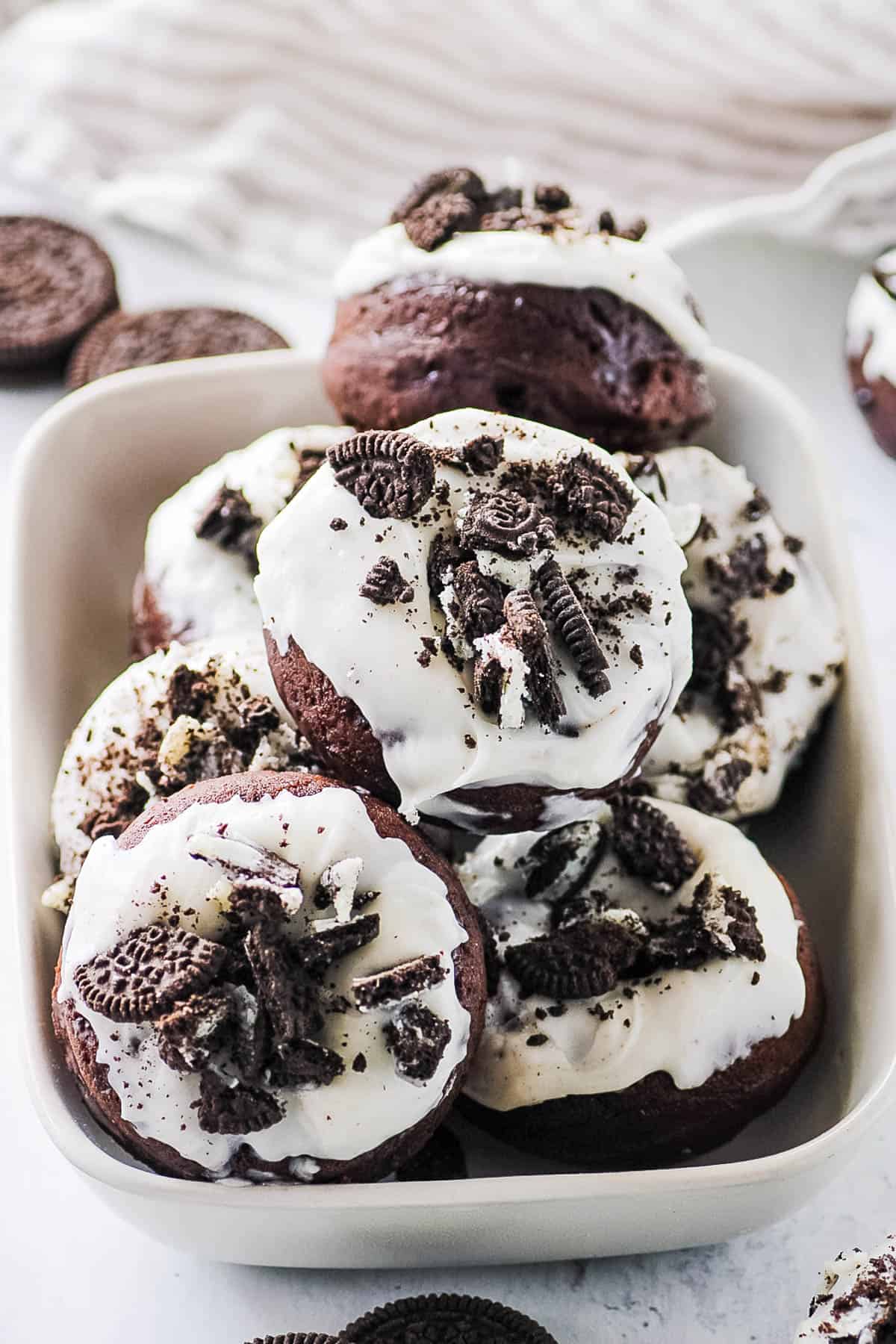 🍩 More Sweet Recipes!
Love this plant based breakfast recipe? Please leave a 5-star rating 🌟 in the recipe below and/or a review in the comments section further down the page!
You can also FOLLOW ME on FACEBOOK, TWITTER, INSTAGRAM, and PINTEREST to see more delicious, healthy, family-friendly food, and if you have any questions, I'm here to help!
📋 Recipe Card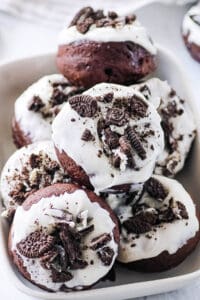 Print Recipe
Oreo Donuts
If you've never made homemade donuts before, brace yourself for some excitement! These Oreo donuts are next-level deliciousness, and they're so amazingly easy to make. The cake donut itself has a ridiculously rich chocolate flavor, with crunchy Oreo crumbs folded into the batter that give you sweet surprises in every bite!
Instructions
Preheat the oven to 350 degrees F / 180 C. Lightly spray a donut tin with spray oil.

Whisk together the flour, cocoa powder, brown sugar, baking powder and salt in a medium mixing bowl.

In a separate bowl whisk together the eggs, melted butter, almond milk, vanilla extract and vinegar until smooth.

Pour the wet ingredients into the dry and mix to form a batter.

Add the crushed oreo cookies and gently fold through.

Either spoon or pipe the batter into the donut tray.

Bake for 10-15 minutes or until an inserted skewer comes out clean.

Cool in the tray for 3 minutes before turning out on a wire rack to cool completely.

Prepare the frosting by adding the cream cheese, powdered sugar and vanilla to the bowl of a stand mixer and beat until smooth, adding small amounts of milk as needed until desired thickness.

Dip each donut into the frosting and top with crumbled cookies.

Serve and enjoy.
Notes
Lightly spray donut tray with spray oil to prevent the donuts from sticking.

Do not over mix the donut batter.

Use a piping bag or spoon the batter into the trays.

Ensure the cookies are crushed quite small when folding into the batter. Large chunks of cookies will make it difficult to pipe.

Make sure all ingredients are at room temperature before making the donuts.
Nutrition
Serving:
1
donut
|
Calories:
326
kcal
|
Carbohydrates:
53
g
|
Protein:
5
g
|
Fat:
12
g
|
Saturated Fat:
7
g
|
Polyunsaturated Fat:
1
g
|
Monounsaturated Fat:
4
g
|
Trans Fat:
0.3
g
|
Cholesterol:
50
mg
|
Sodium:
201
mg
|
Potassium:
184
mg
|
Fiber:
3
g
|
Sugar:
32
g
8 responses to "Oreo Donuts"