Healthy Low Calorie Biscuits
This post may contain affiliate links. As an Amazon Associate, I earn from qualifying purchases. Please read my disclosure.
This recipe for low calorie biscuits is super simple to make, packed with wholesome ingredients, and ready in just 20 minutes! Each biscuit has almost zero fat and only about 140 calories, which makes it the perfect addition to a healthy or low fat diet!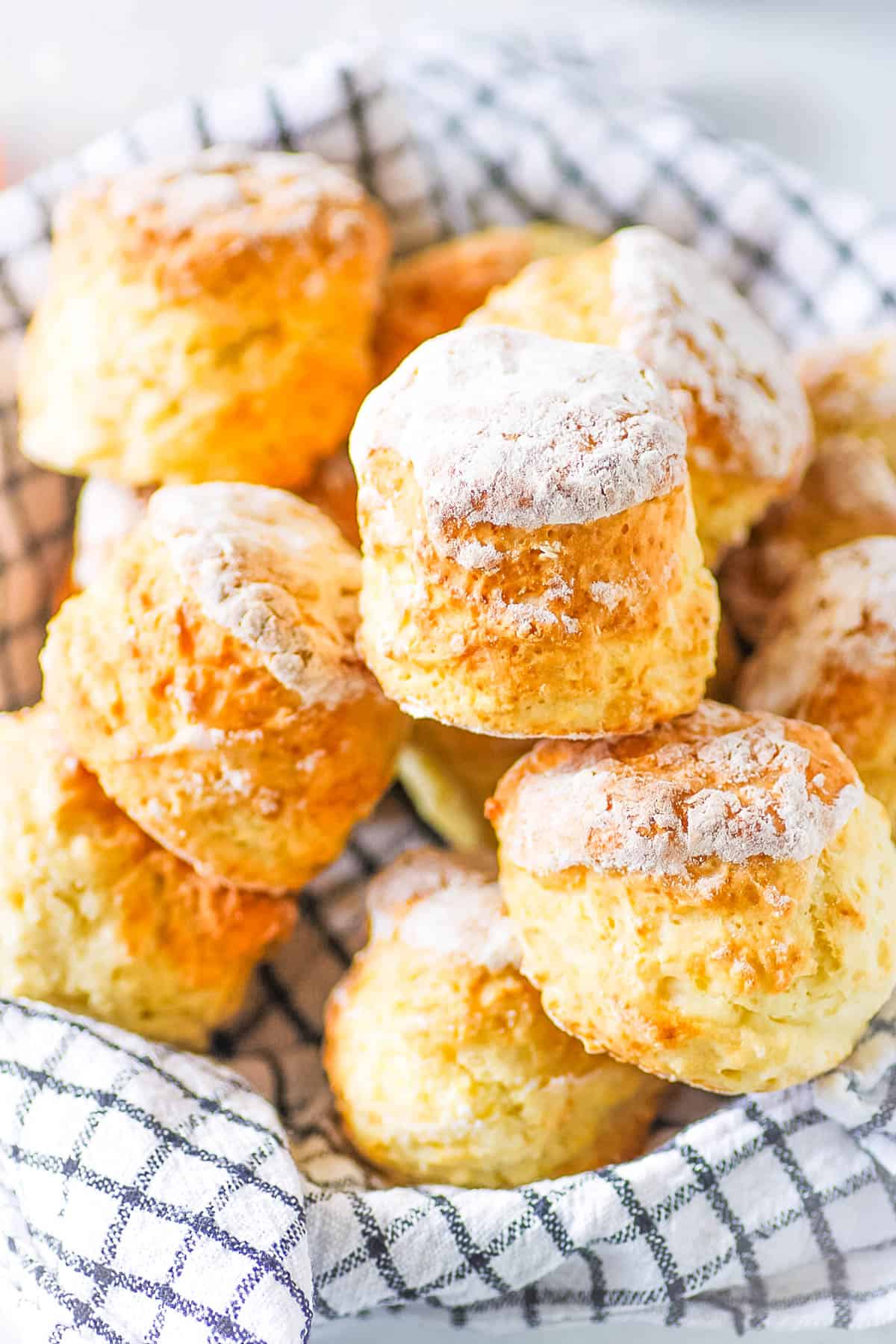 This incredible healthy biscuits recipe makes the perfect breakfast addition or side dish. Every bite of these insanely good low calorie biscuits is flaky, fluffy, slightly sweet, and very similar to traditional biscuits!
These fluffy biscuits use secret ingredients to keep them light and layered with that buttery biscuit flavor, but with fewer calories and almost no fat.
Whether you love your biscuits but want a lighter alternative or you need low calorie biscuits for weight loss, these golden-brown delights won't disappoint.
The best part is that you can serve these healthy biscuits in so many ways! From sweet options like jam or fresh fruit to classic savory options like gravy and vegetables, the possibilities are endless. (See our serving suggestions below for all of the ways to serve this low fat biscuits recipe).
This easy recipe requires just a handful of pantry staples, and guarantees you'll end up with a healthier biscuit recipe that turns out perfectly every time.
These are going to be your favorite biscuits before long. They are low in calories, full of healthy ingredients, and ready in just 20 minutes. These are the BEST biscuits!
👩🏽‍🍳 Why This Recipe Works
Low-Calorie Treat: Each of these biscuits is only about 140 calories! That is amazing, considering traditional buttermilk biscuits are loaded with calories and fat. You can enjoy this special treat without any guilt, especially because it tastes just like the real thing!
Fluffy and Flaky Biscuits: The combination of all-purpose flour, baking powder, and baking soda creates fluffy perfection. These are great healthy biscuits for kids too, since you know they'll love the texture while still eating something good for them!
Healthy Alternatives: Natural low-fat Greek yogurt adds a creamy tang while keeping the fat content in check (this recipe has less than 1 g fat and no saturated fat per biscuit!). This is the best healthy biscuit recipe for anyone striving to maintain a healthy lifestyle.
Versatile Snack: You can use these flaky low cal biscuits as a versatile base and serve them with whatever you like! They're perfect for healthy snacks!
Latest Recipe Video!
🥘 Ingredients
This healthy low calorie biscuit recipe yields 14 fluffy and delicious biscuits and they're really easy to whip up! You can find all of these simple ingredients at any grocery store. Here's what you need: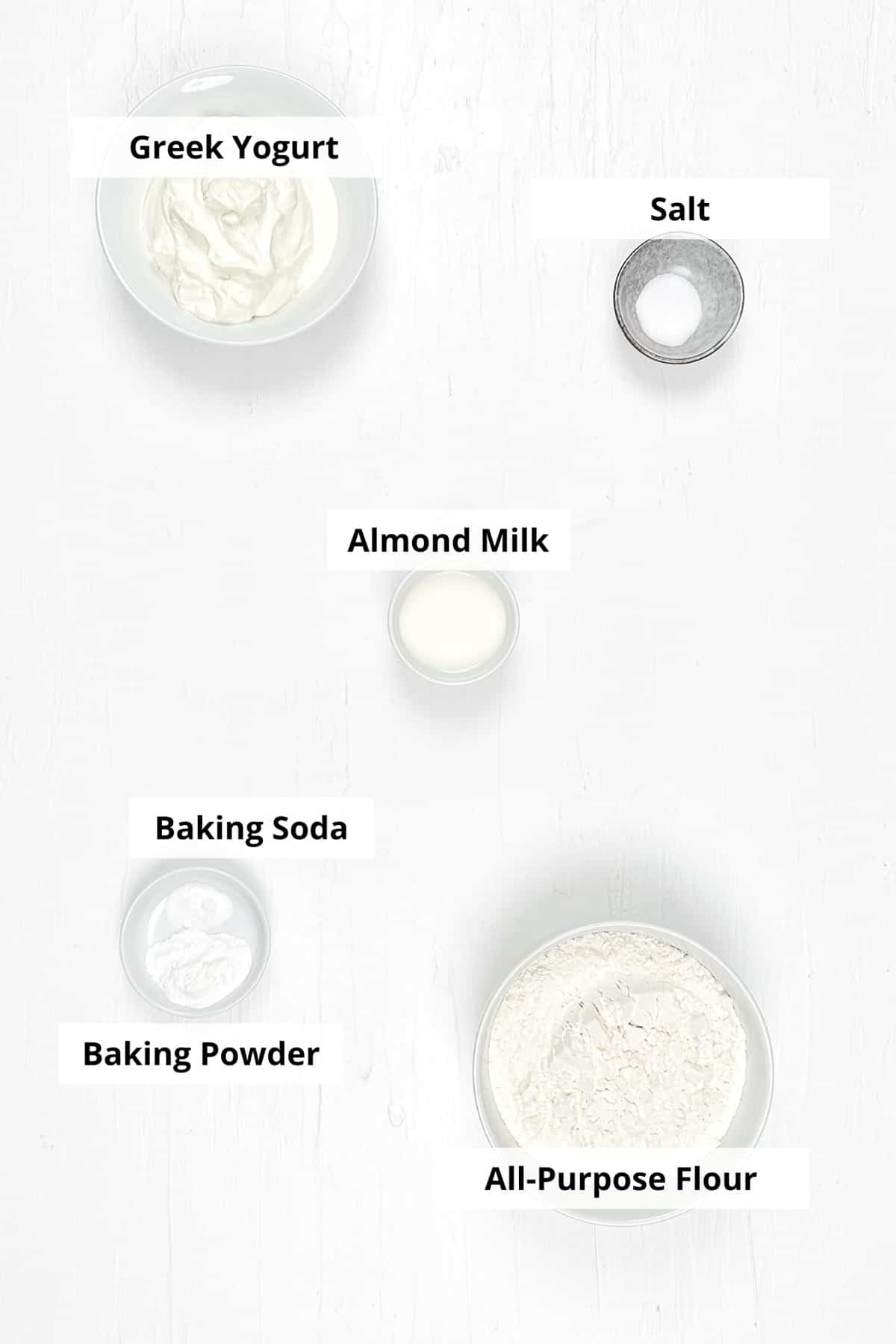 All-Purpose Flour: Flour forms the backbone of these healthy biscuits, providing structure and texture that result in a satisfying bite and perfect crumb.
Baking Powder & Baking Soda: Baking powder is a vital leavening agent that works its magic by causing the biscuits to rise, creating a light and airy texture that is simply irresistible. Baking soda works alongside the baking powder and contributes to the biscuits' rise and overall texture, ensuring a tender and delightful bite.
Salt: You only need a small amount of salt but it's an essential ingredient for these biscuits. It adds depth of flavor, enhancing the overall taste of the biscuits and bringing out their natural savory notes. Without salt, the biscuits would be very bland and flavorless.
Natural Low-Fat Greek Yogurt: Greek yogurt replaces cold butter in this healthier version of regular biscuits – it adds moisture, tanginess, and a touch of richness to the biscuits while keeping the fat content low. It makes these biscuits moist and tender.
Almond Milk: Almond milk is used to bring the dough together, providing the necessary liquid to achieve a moist and tender consistency in this almost fat free biscuits recipe. It also adds a subtle and mild nutty flavor to the biscuits.
🍲 Substitutions
Self-Rising Flour: You can experiment with self-rising flour as a substitution for all-purpose flour. It already contains leavening agents, such as baking powder and salt, which can help if you don't have them on hand. Keep in mind that the texture and rise of the biscuits will vary slightly. While whole wheat flour, whole wheat pastry flour, or oat flour could theoretically work, I haven't tried this recipe with either of those two flours so I'd imagine you'd end up with a denser biscuit if you used wheat or oat flour.
Baking Powder: If you find yourself without baking powder, don't worry! You can create a homemade substitute by combining 1/4 teaspoon of baking soda with 1/2 teaspoon of cream of tartar. This mixture will help your low fat diet biscuits achieve a light and flaky texture.
Greek Yogurt and Vegan Alternatives: Use a dairy-free, fat free Greek yogurt alternative like your favorite unsweetened vegan yogurt or coconut yogurt to maintain moisture and tanginess. You'll have fluffy vegan biscuits without compromising on taste or texture!
Almond Milk: Substitute the unsweetened almond milk with any plant milk or any dairy milk you have available.
🔪 How To Make Healthy Biscuits
With just 10 minutes of prep, you'll have these healthier biscuits in the oven in no time! Here's how to make this low calorie biscuits recipe:
Mix Dry Ingredients: In a large mixing bowl, whisk together the all-purpose flour, baking powder, baking soda, and salt until well combined.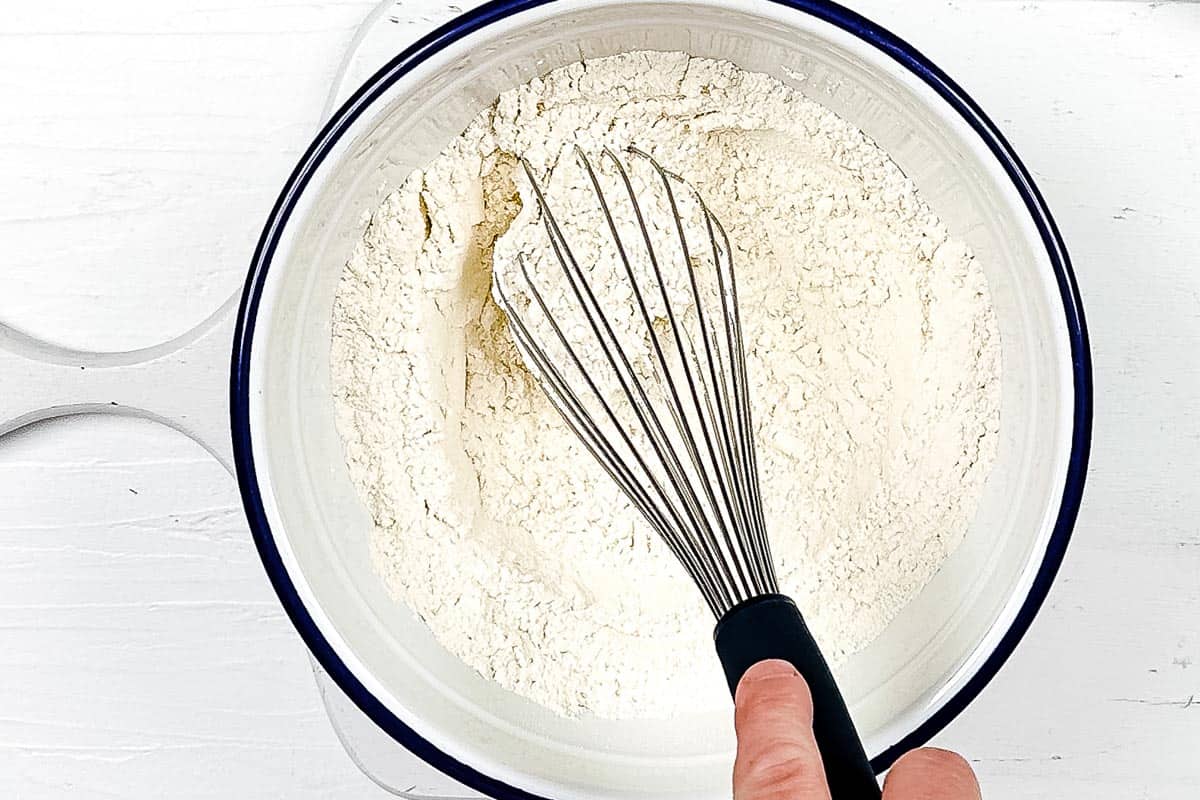 Add Wet Ingredients: Add the natural low-fat Greek yogurt and ½ tbsp of almond milk to the dry ingredients. Mix gently until a ball of dough forms. If the dough appears dry, add an additional ½ tbsp of almond milk.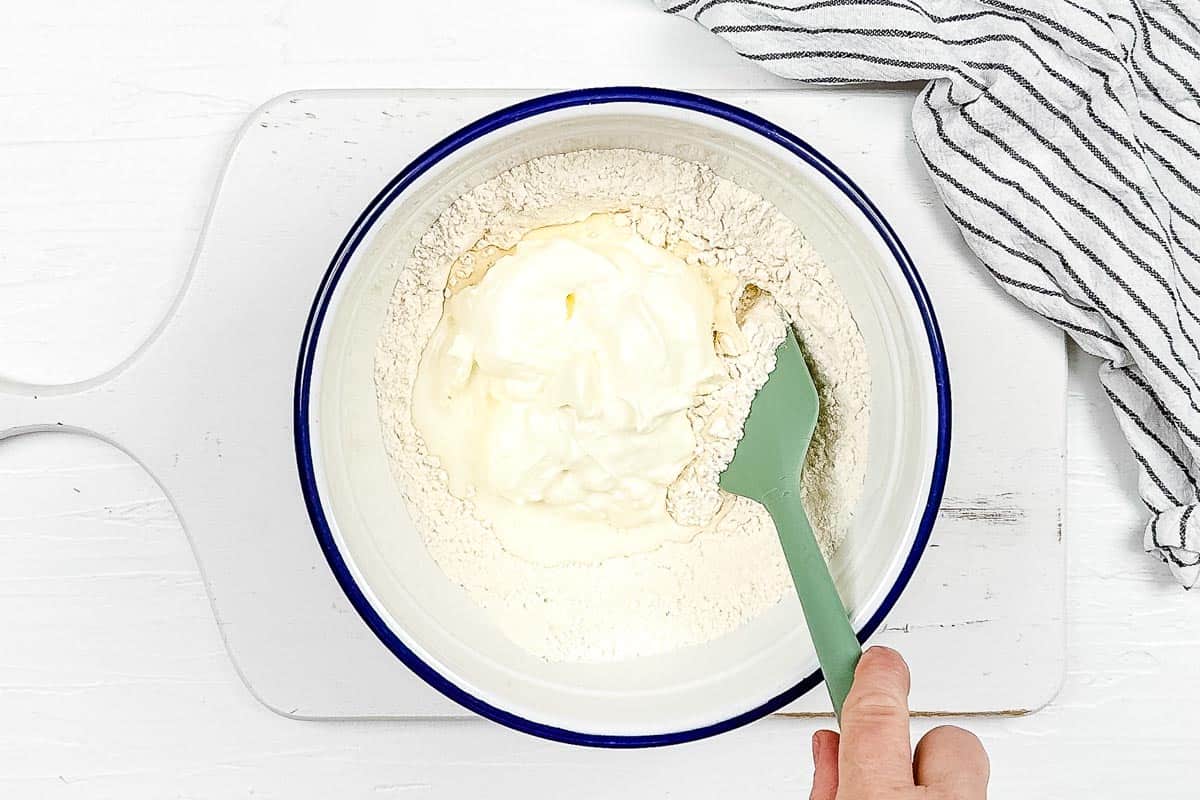 Knead Dough: Turn the flour mixture out onto a lightly floured surface and knead it gently, being careful not to overwork it. Pat or roll dough into a disc shape approximately 1 inch thick.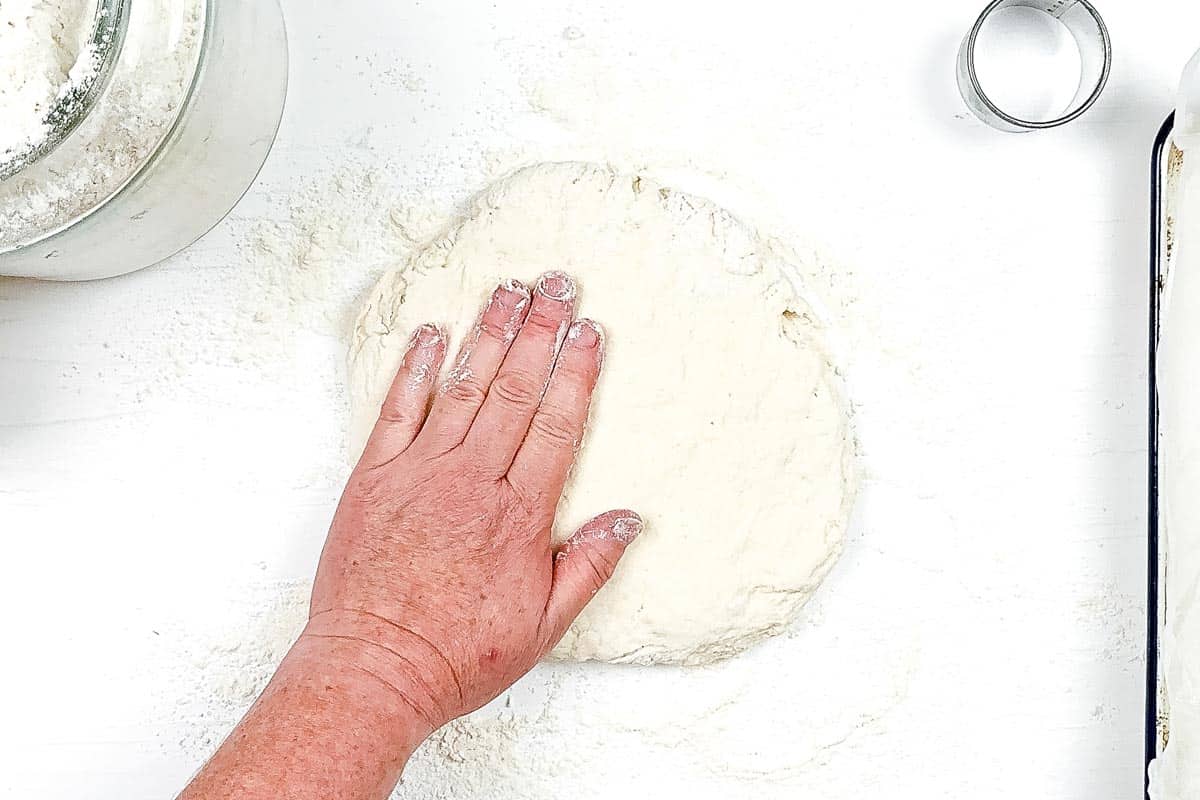 Cut Out Biscuits: Using a 2-inch round biscuit cutter, cut out 14 rounds from the biscuit dough on the flat surface.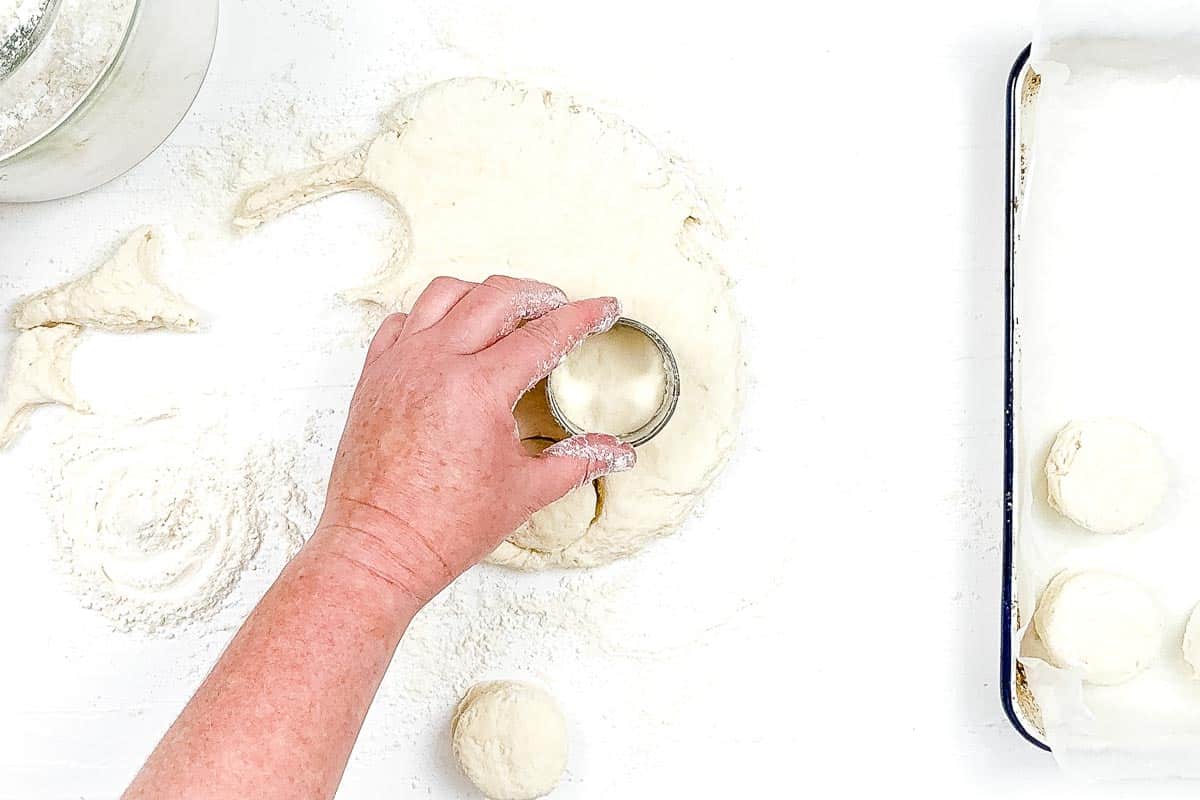 Place On Baking Sheet: Place biscuits onto the prepared baking sheet lined with parchment paper, leaving some space between each biscuit.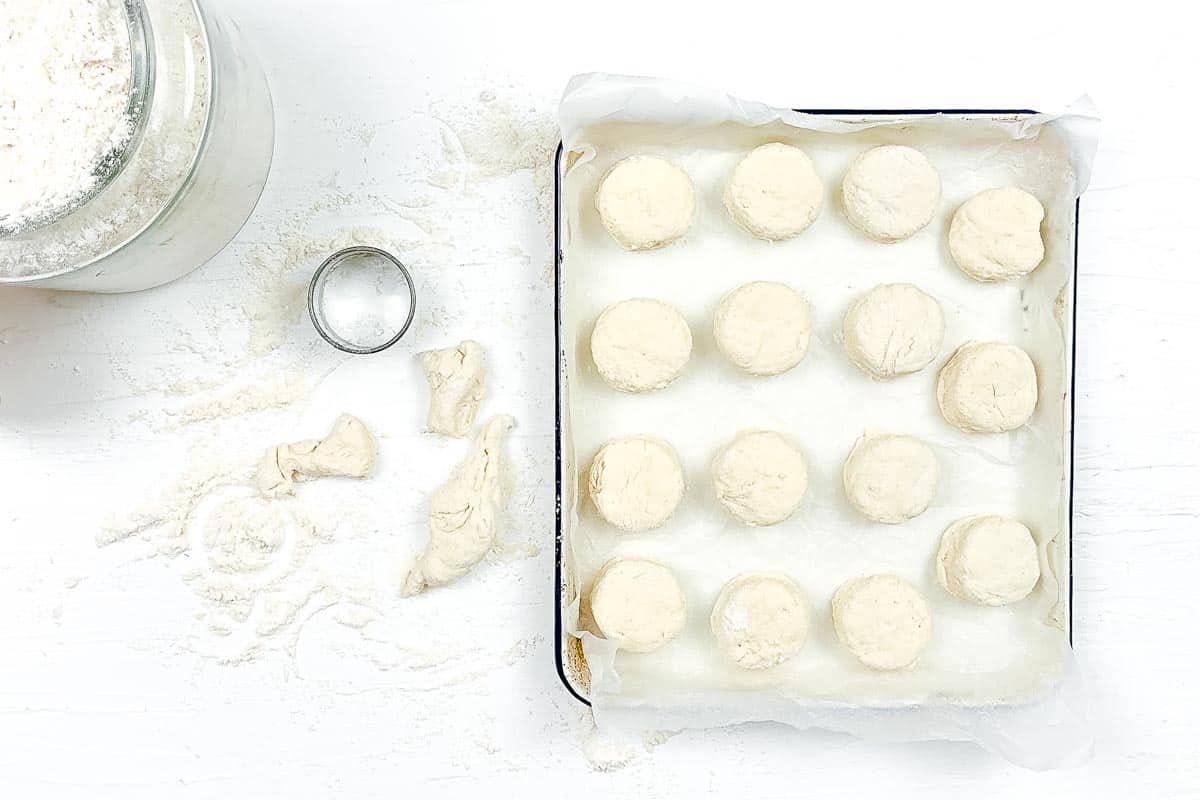 Bake & Cool: Bake the biscuits in the preheated oven for 10 minutes or until they turn golden brown. Remove the biscuits from the oven and allow them to cool slightly on a wire rack before serving. Enjoy!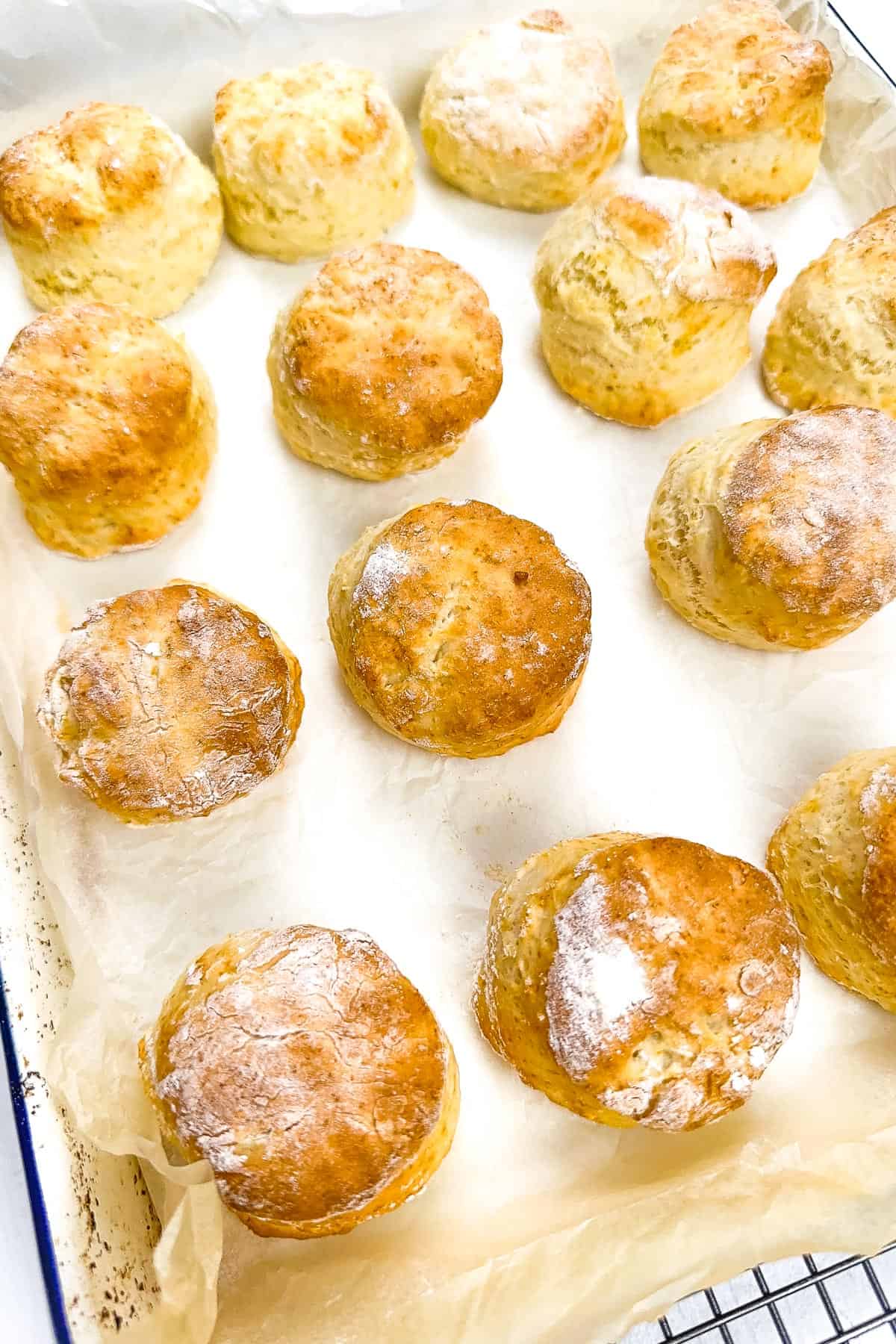 💭 Expert Tips
Don't Twist Cookie Cutter: For best results, don't twist your biscuit cutter when cutting your drop biscuits – flour the cutter and push it straight through the dough, and then lift it out. This will help your biscuits to bake evenly and form flaky layers.
Don't Overwork Dough: Over-mixing the dough can result in tough biscuits, so be careful not to overwork it. If you do the biscuits will be very dense and not as flavorful. Similarly, make sure not to over-bake your biscuits either!
Double Batch: If you're baking for a larger gathering or simply want more biscuits on hand, you can easily double or triple this low-fat biscuit recipe.
Sift Dry Ingredients: Use a sift to mix your dry ingredients, and be sure to spoon and level your flour while measuring it out (vs. sticking the measuring cup directly into the flour and scooping it out).
Line Your Baking Sheet: Don't skip this step! Lining your baking sheet with parchment paper or a silicone mat will prevent your biscuits from sticking to the baking sheet.
📖 Variations
Make Gluten Free Biscuits: Use a gluten-free flour with xanthan gum, make sure to get an all purpose flour blend that's meant for making quick breads and biscuits – for example – I would not recommend almond flour for this recipe as it's too dense!
Savory Herb Biscuits: Try a combination of fresh herbs like basil, rosemary, sage, chives, dill, parsley, garlic powder, onion powder, or thyme along with pitted olives or even sliced green onions. These will all add flavor while keeping your sugar intake low.
Cheese And Jalapeno Biscuits: Add shredded cheese (parmesan, cheddar, jack or havarti would all work well) and diced jalapenos to the batter (start with less, you can always add more in a different batch!)
Sweet Combos: Make lemon blueberry biscuits by adding lemon zest to the dry ingredients before making the batter, and gently fold in about 1/2 cup fresh blueberries into the dough before cutting out the biscuits.
Add Mix-Ins: Change up these healthy homemade biscuits with baking soda by adding in other fun mix-ins! Chopped nuts, dried fruits (like dried raisins, cranberries and more), chocolate chips, sunflower seeds or pumpkin seeds, mashed sweet potato or pumpkin, or spices like cinnamon, nutmeg, or pumpkin pie spice. You can also try adding small amounts of other ingredients like flaxseed, oats, or fresh fruit for added nutrition and variety.
👨‍👩‍👧 How To Serve
Here are some exciting ways you can customize your healthy low-calorie biscuits and pack them with flavor!
🫙 Storage Directions
Refrigerator: Keep these almost fat free biscuits in an airtight container in the refrigerator for optimal freshness. They will keep in the fridge for up to 4 days. Let them come to room temperature before serving (or warm them in the microwave).
To Freeze: Let these skinny biscuits cool completely. Then wrap each of the biscuits in plastic wrap or foil. Transfer them to an airtight freezer safe container or large freezer bag, and place in the freezer. They will last for 2-3 months in the freezer.
Reheating: If heating from frozen, thaw the biscuits overnight in the fridge. If you want to serve them warm, heat them in the microwave for 15-20 seconds until hot.
❓Recipe FAQs
Are homemade biscuits healthy?
Homemade biscuits can be a healthier option compared to store-bought varieties since you have control over the ingredients used. By choosing wholesome ingredients, reducing added sugars and fats, and incorporating healthier substitutions, homemade biscuits can be a part of a balanced diet. However, moderation is key, and portion sizes should be considered.

This low calorie biscuits recipe is a healthy choice because it has less calories than a regular biscuit, has almost zero grams of fat, and is made with healthy whole food based ingredients!
What is the secret ingredient in low calorie biscuits?
Low fat Greek yogurt is the secret ingredient that keeps this batter flaky and moist, without adding fat or a ton of calories to these nearly zero fat biscuits!
How many calories are in a biscuit?
In the United States, a biscuit is similar to a scone – a leavened, soft and flaky bread that is often served as a side dish with meals or as a snack. These plain or buttermilk biscuits often have about 250-300 calories.

In other parts of the world however, a "biscuit" is actually a sweet biscuit or sometimes called digestive biscuits – similar to what Americans would call a "cookie." Biscuits in these countries are typically crispy, hard, and unleavened, and come in various shapes, flavors, and textures, ranging from plain and buttery to chocolate-filled or fruit-flavored. These "digestive biscuits" are usually about 50-100 calories per treat, and are much smaller than US style biscuits.

Our low fat biscuit recipe has only about 140 calories per biscuit, making it a healthy buttermilk biscuits option compared to traditional biscuits!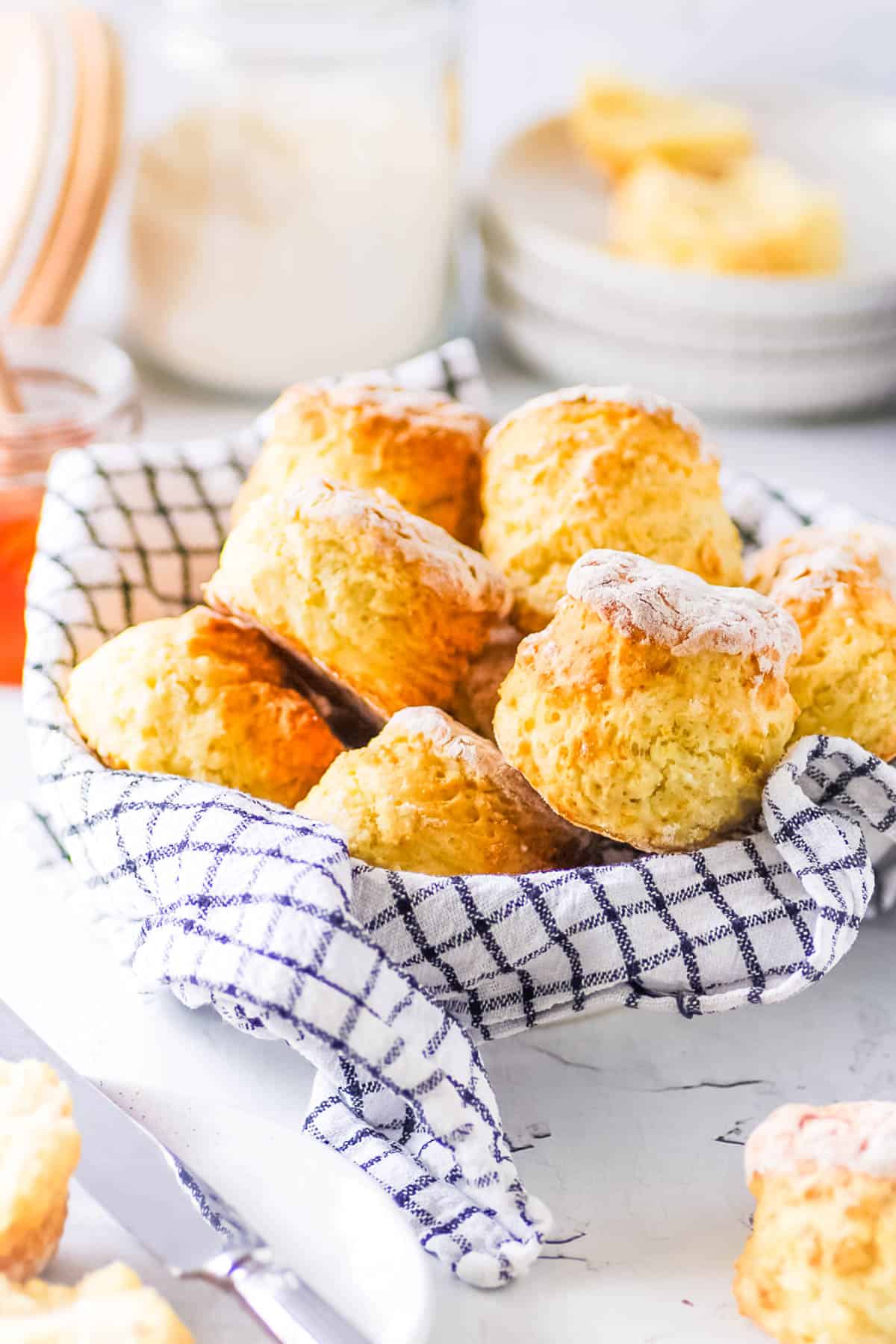 🥣 More Tasty Biscuit And Breakfast Recipes!
Love this vegetarian side dish recipe? Please leave a 5-star rating 🌟 in the recipe below and/or a review in the comments section further down the page!
You can also FOLLOW ME on FACEBOOK, TWITTER, INSTAGRAM, and PINTEREST to see more delicious, healthy, family-friendly food, and if you have any questions, I'm here to help!
📋 Recipe Card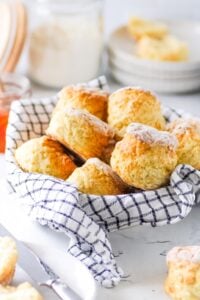 Print Recipe
Healthy Low Calorie Biscuits
This recipe for low calorie biscuits is super simple to make, packed with wholesome ingredients, and ready in just 20 minutes! Each biscuit has almost zero fat and only about 140 calories, which makes it the perfect addition to a healthy or low fat diet!
Instructions
Preheat the oven top 400°F / 200°C. Line a baking sheet with parchment paper and set aside.

Whisk together the flour, baking powder, baking soda and salt until well combined.

Next, add the yogurt and ½ tbsp milk and mix to form a dough. Add an additional ½ tbsp of milk if the dough is a little dry.

Turn the dough out onto a lightly floured surface and gently knead but be sure not to over mix.

Pat into a disc shape approximately 1 inch thick.

Using a 2-inch round cookie cutter, cut into 14 rounds.

Place biscuits onto the prepared baking tray and bake for 10 minutes.

Remove and cool slightly before serving.
Notes
Store in a sealed container in the fridge for up to 1 week.
Healthy biscuits can be frozen for up to 2 months.
Coconut yogurt can be used to make this recipe vegan friendly.
Any plant-based or dairy milk can be used.
Be sure not to turn the cookie cutter when cutting the dough as this will prevent the biscuits from rising.
Over-mixing the dough will result in tough, hard biscuits.
The recipe can be easily doubled.
Nutrition
Serving:
1
biscuit
|
Calories:
141.2
kcal
|
Carbohydrates:
30.6
g
|
Protein:
4
g
|
Fat:
0.6
g
|
Sodium:
139
mg
|
Fiber:
3.6
g
|
Sugar:
7.9
g
28 responses to "Healthy Low Calorie Biscuits"