Banana Bread Without Butter
This post may contain affiliate links. As an Amazon Associate, I earn from qualifying purchases. Please read my disclosure.
This is the easiest and best banana bread without butter ever! It's super moist, flavorful, and fluffy – and tastes just like traditional banana bread. With only 10 minutes of prep time, you can have this plant based banana bread ready to enjoy with minimal effort!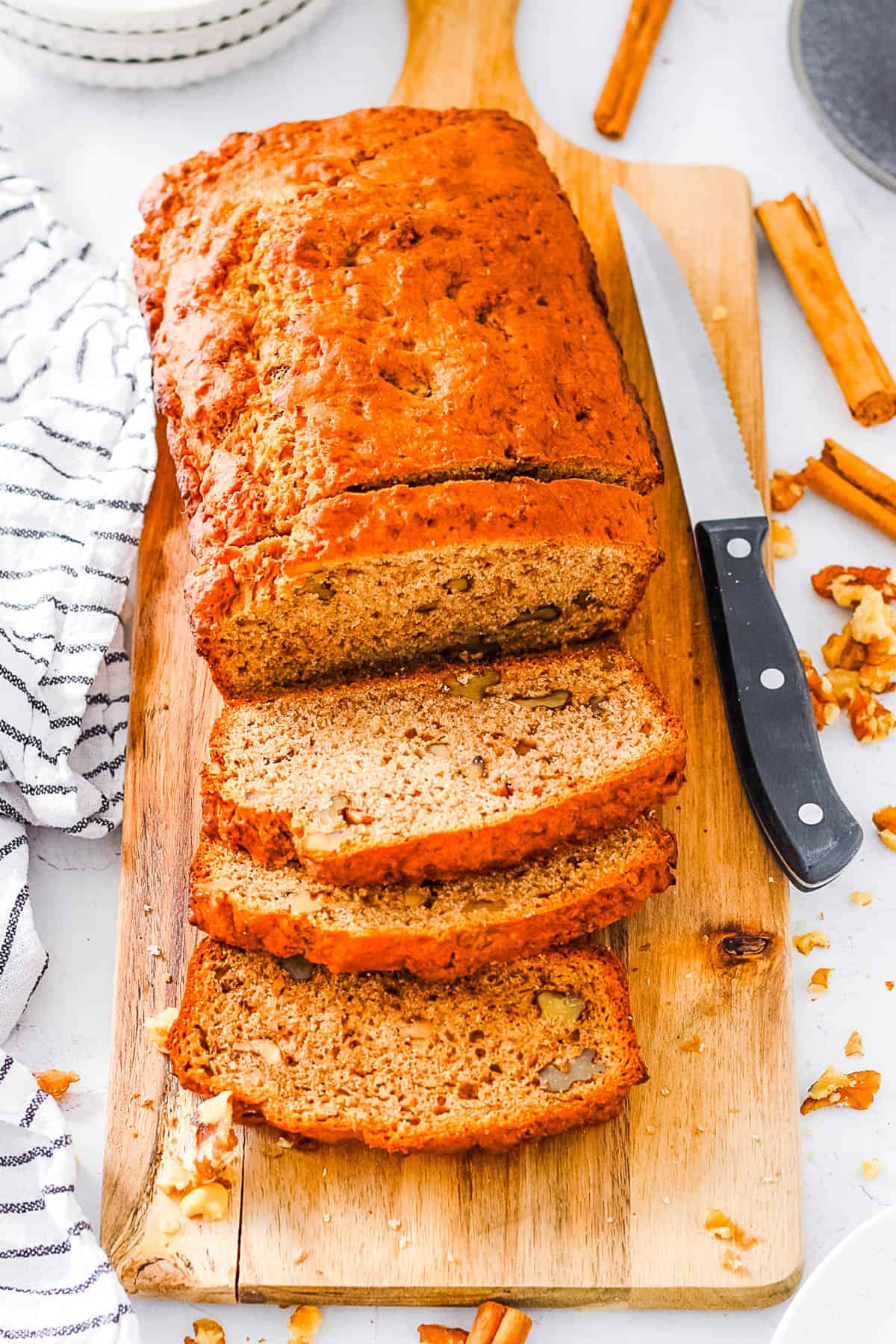 Want to make banana bread, but don't have butter? Or maybe you need a vegan friendly, dairy free banana bread recipe? Then you've come to the right place! You don't need butter to make perfect banana bread – and this recipe for banana bread without butter proves it.
When I bake banana bread at home, I prefer to lighten things with a lower sugar option so I can enjoy a generous slice! I used coconut oil as our banana bread butter substitute in this recipe, which helps keep this quick bread rich and moist. It also happens to be low calorie, healthy, and low sugar – but you won't be able to tell at all! It tastes just like the full-fat sugary version we all know and love, and will become a family favorite the first time you try it!
Since this easy banana bread recipe with oil is mostly based on healthier ingredients like ripe bananas, chopped walnuts, and whole wheat flour, it also packs a nutritious punch.
This recipe is the perfect addition to a cup of coffee as a breakfast, your afternoon tea, or just for a healthy snack or end-of-the-day treat! Plus, this banana bread recipe without butter is a great snack for kids. It has all the flavor and decadent texture of regular banana bread but is much healthier!
👩🏽‍🍳 Why You'll Love This Banana Bread Without Butter
Easy To Make: Since this banana loaf without butter only requires 10 minutes of your time, you can easily make it any day of the week!
Healthier Option: Instead of refined white sugar, this recipe uses coconut sugar and the natural sweetness of banana.
Family-Friendly: Although this banana bread with oil is much healthier, no one will be able to tell the difference! This is a great breakfast or snack that kids will love.
Can Be Sugar Free: You may choose to skip the sugar altogether in this recipe. This banana cake with oil will still taste delicious, with just a slight variation in texture.
Latest Recipe Video!
🥘 Ingredients
This easy banana bread without butter calls for basic ingredients, many of which are pantry staples. See the recipe card at the bottom of this post for nutritional information and detailed instructions.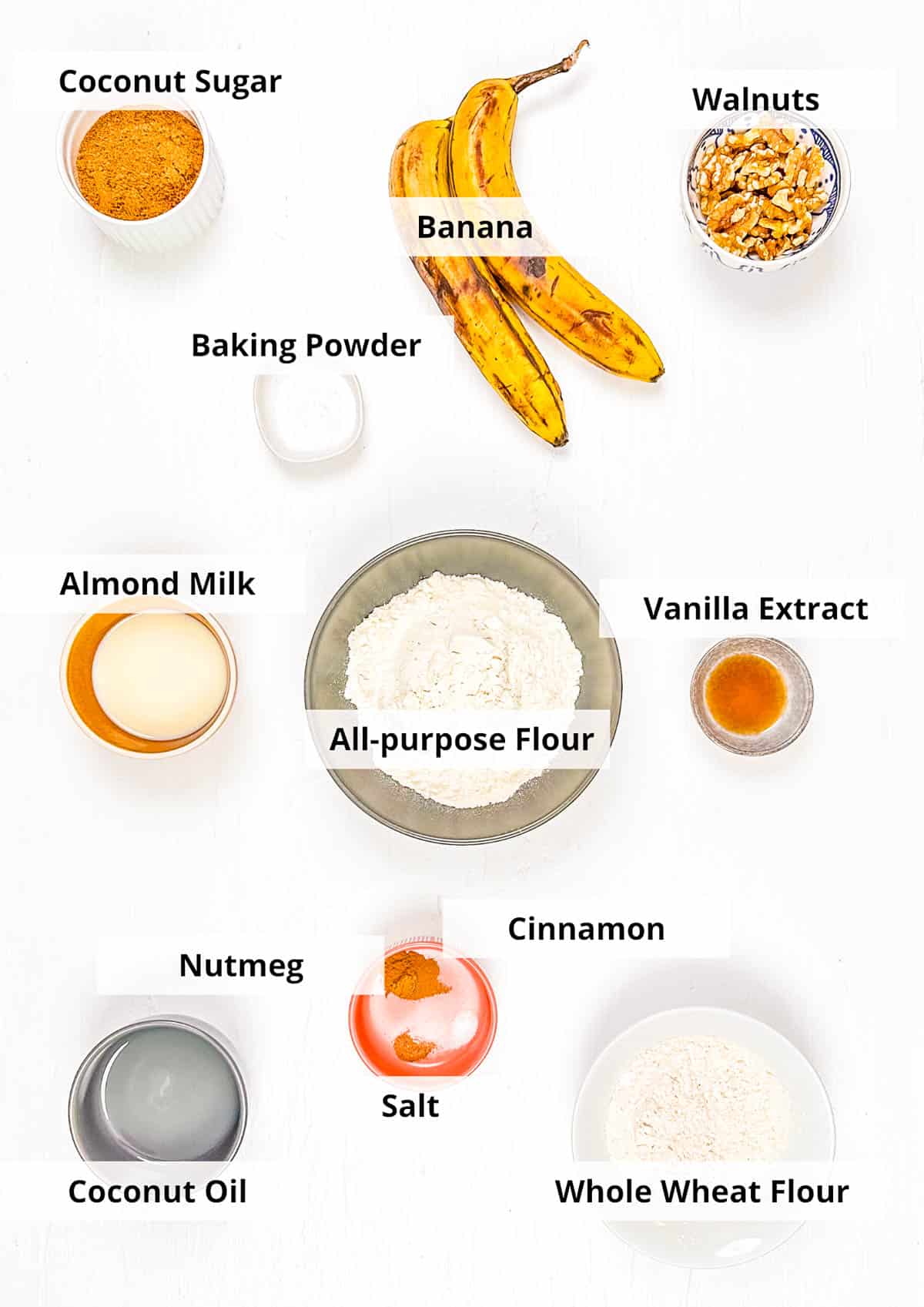 Flour: You will use a combination of all-purpose flour and whole wheat flour for this banana bread no butter recipe. Using whole wheat is a great way to add extra fiber, protein, vitamins, and minerals to the recipe. You could also go for a whole wheat pastry flour.
Baking Powder & Baking Soda: Standard leavening agents in baked goods, both baking powder and baking soda will help this bread rise and fluff to perfection!
Coconut Sugar: The perfect level of sweetness is achieved in this banana bread recipe with no butter thanks to coconut sugar.
Cinnamon & Nutmeg: Any banana bread is not complete without the complimentary flavors of classic spices. Half a teaspoon of cinnamon and a pinch nutmeg is all you need to make the most comforting bread.
Salt: Every sweet treat still needs salt to enhance the taste! I prefer to use sea salt or Himalayan pink salt in this recipe.
Bananas: Mashed bananas are the star of the show here! Using overripe bananas will enhance the sweetness naturally and give a stronger banana flavor. This is the best way to use up spotty bananas or even brown bananas.
Vanilla Extract: No baked good is complete without the addition of vanilla extract, so definitely don't skip this ingredient!
Coconut Oil: Coconut oil goes really well with any baked good and this banana bread without butter is no exception! You will use ¼ cup of oil in place of melted butter found in most original recipes.
Almond Milk: Be sure to use unsweetened almond milk so that you have full control over the amount of sugar in this easy banana bread recipe without butter.
Walnuts: Adding walnuts can be optional, but they give this no butter banana cake great texture and the added benefit of healthy fats and antioxidants.
🍲 Ingredient Substitutions
Flour: You can use white whole wheat flour instead of regular whole wheat flour in this no butter banana bread recipe. If you are gluten free, you can try an all purpose gluten free flour, oat flour, or almond flour. Keep in mind, the texture will change if you use 100% oat or almond flour!
Sugar: If you do not have coconut sugar on hand, using brown sugar is another great option!
Spices: Instead of cinnamon and nutmeg, you could also just use pumpkin pie spice which includes cinnamon, nutmeg, cloves, and ginger.
Oil: Instead of coconut oil, you can make olive oil banana bread for a more robust flavor, or use avocado oil for a more neutral taste! Vegetable oil or canola oil also work well, but are not as healthy of options.
Milk: This easy banana bread with no butter calls for almond milk, but soy milk or even oat milk are a great substitute in this recipe.
🔪 How To Make Banana Bread Without Butter
This moist banana bread recipe is surprisingly easy and only requires a few simple steps! Check the recipe notes for baking tips and ideas. Here is how to make this healthy banana bread without butter:
Preheat & Prep Pan: Preheat the oven to 350 degrees F / 180 C. Line a 9" x 5" loaf tin with parchment paper or cooking spray.
Mix Dry Ingredients: Whisk both of the flours, baking powder, baking soda, coconut sugar, cinnamon, nutmeg and salt in a large mixing bowl until well combined. Set aside. (A simple whisk will do – no hand mixer is necessary.)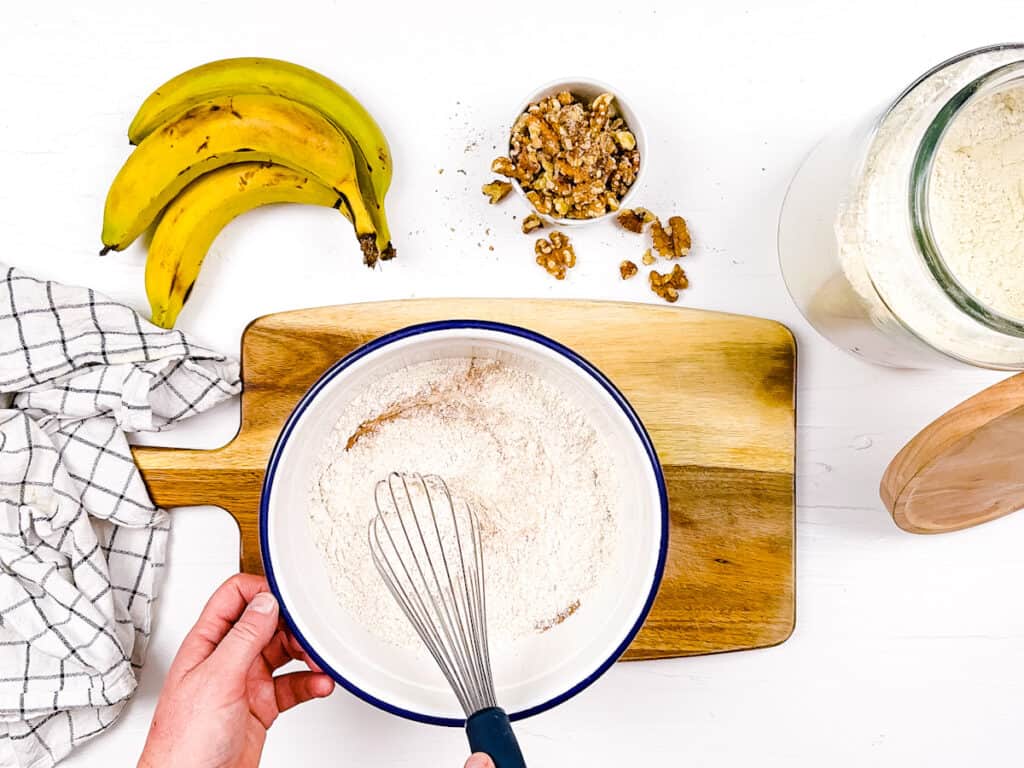 Mix Wet Ingredients: In a separate large bowl, mash bananas and mix all remaining ingredients except the walnuts, until combined.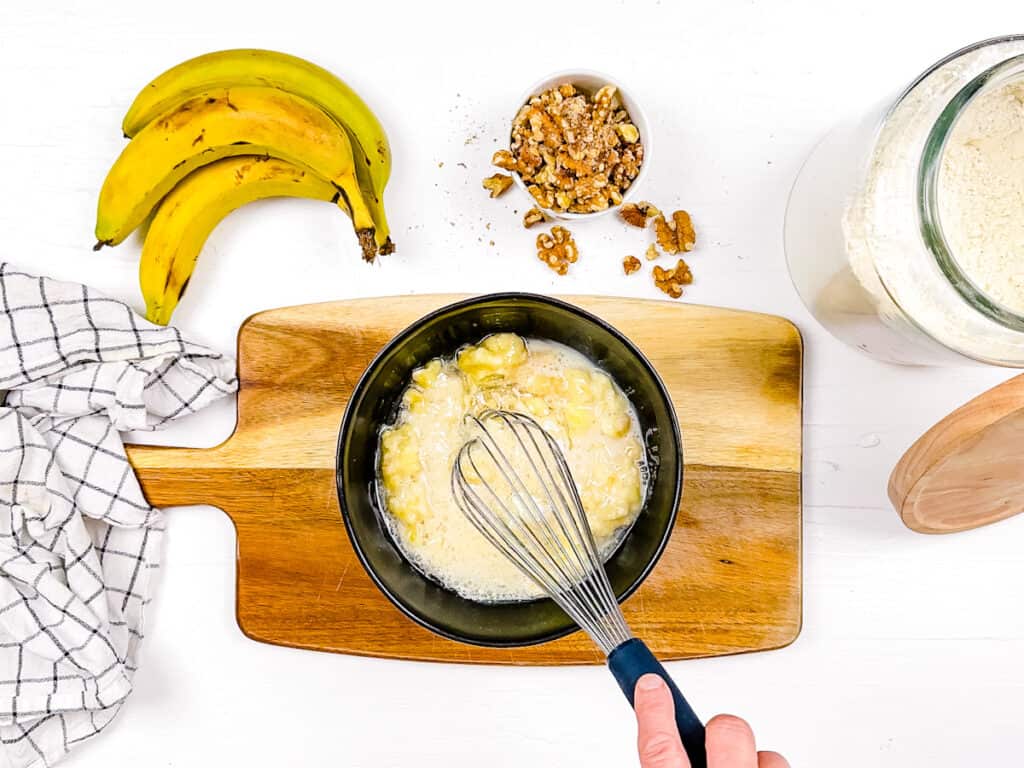 Combine Wet & Dry Ingredients: Add the chopped walnuts and wet ingredients to the bowl with the flour mixture. Gently fold together until just combined. Do not over mix the batter.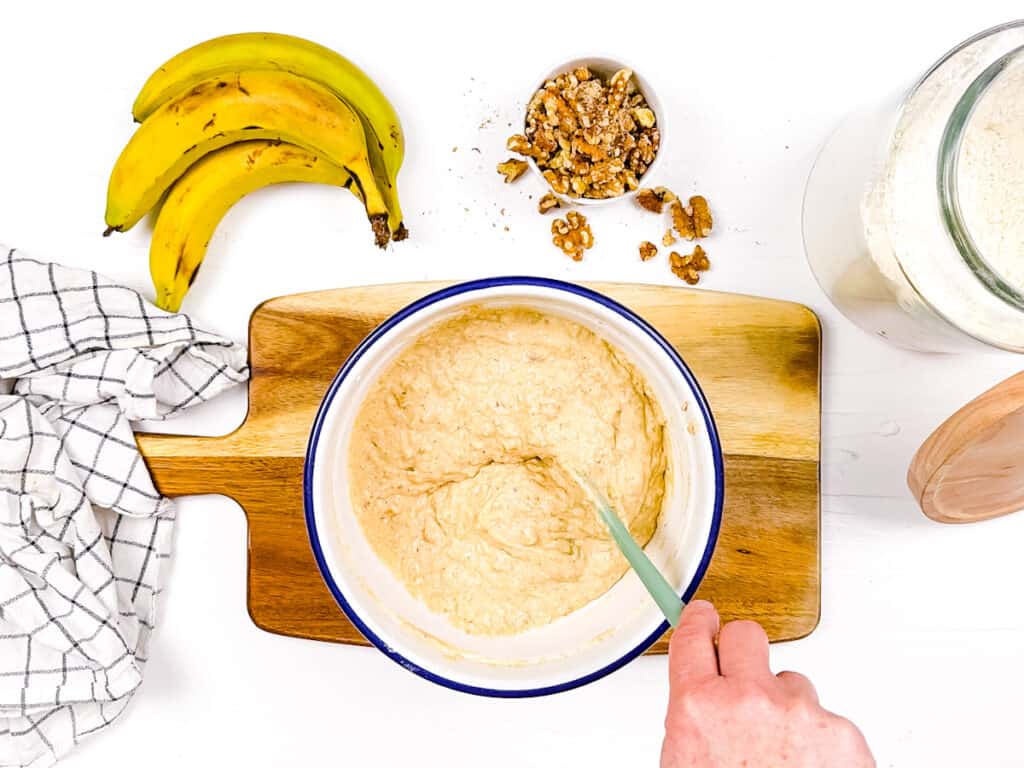 Bake: Pour the butter less banana bread batter into the greased loaf pan and bake for 50 minutes.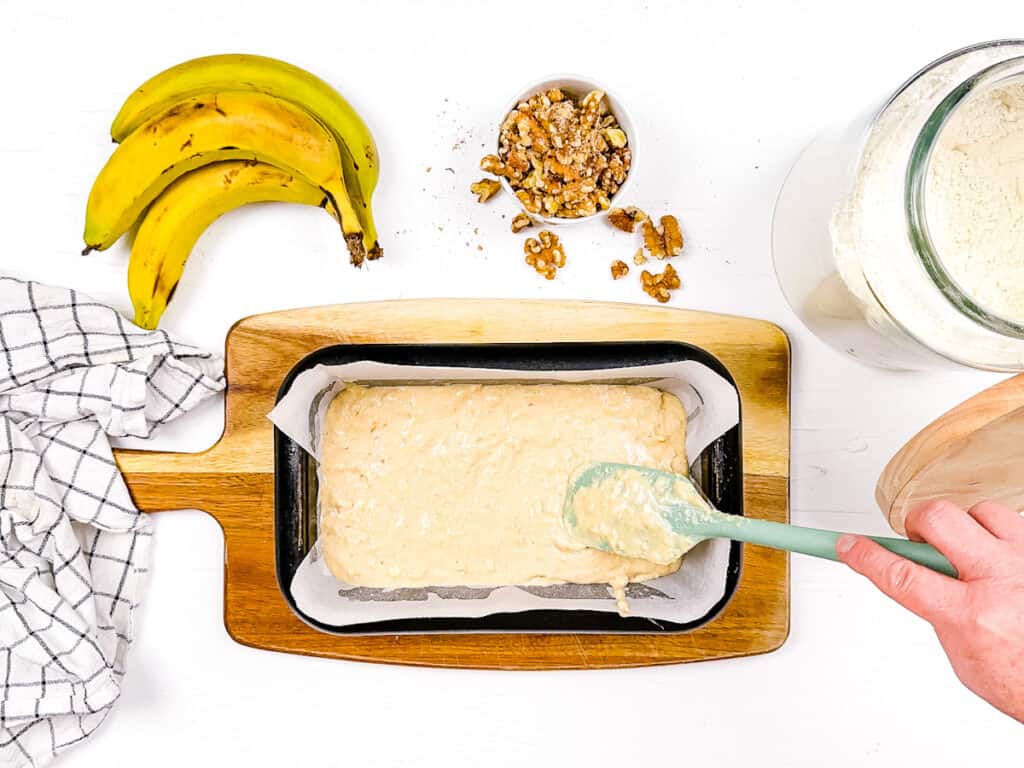 Finish: Do a toothpick test to ensure the bread is done baking in the middle. You will know it is ready when the skewer comes out clean.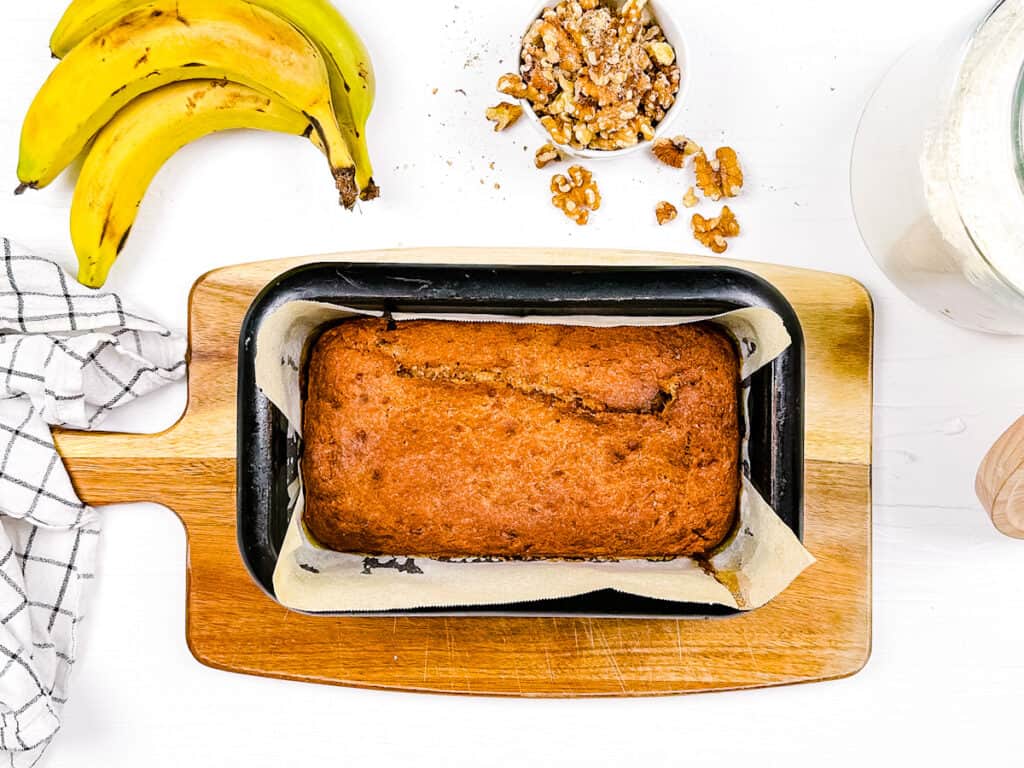 Let Cool: For best results, allow this banana bread using oil to cool in the bread pan for 5 minutes before turning out onto a wire rack to cool completely before slicing and serving.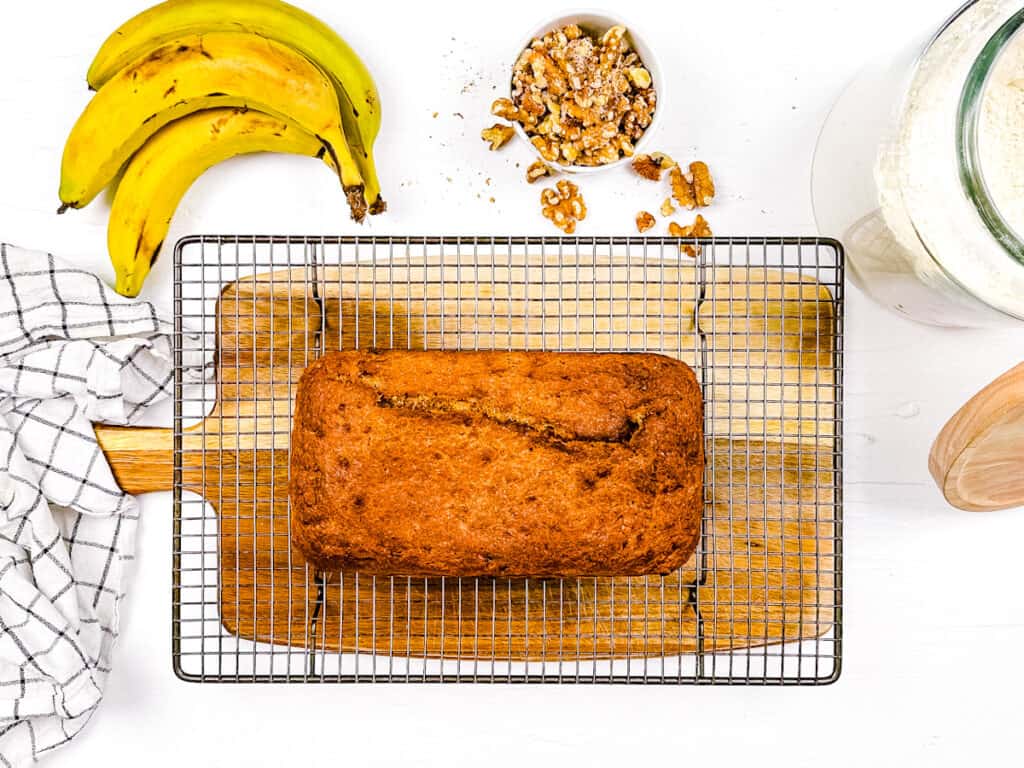 ✔️ How To Turn Banana Bread Into Muffins
You can easily turn this into no butter banana muffins instead of loaves of bread. You will need to follow the same directions, but instead of greasing the loaf pan, you will need muffin tins instead. This eggless banana bread loaf calls for 50 minutes of baking time, but banana muffins won't take nearly that long. You should set the timer for 20 minutes and check them. If they aren't done, you will need to keep baking for a few more minutes.
A lot of vegan banana bread recipes don't offer great rise in a muffin tin, but this recipe performs pretty well. It might not rise quite as much as regular banana bread, but it will still get the characteristic muffin-dome and browned top you're looking for. Try it out next time and see what you think!
💭 Expert Tips
Cover With Foil: If your banana loaf recipe with oil begins to brown too quickly, cover it with foil after cooking for 30 minutes.
Make Sure To Grease Your Loaf Pan: If you don't either grease your pan or line it with parchment paper, your loaf will stick to the pan when you try to remove it!
Avoid Over-Mixing, Don't Overbake: Do not over mix the batter, and don't overbake, as this will result in a dense, chewy cake.
Level The Flour: When measuring your flour, make sure you "spoon and level" it (spoon it into the measuring cup and level it with the back of a knife) versus scooping the flour out with a measuring cup. That will ensure you don't add too much flour to the recipe.
Bake Fully: Make sure your banana bread with coconut oil is fully baked before cooling and slicing. Here is what to look for to determine if your bread is done:

Look at the loaf. The texture of the bread should appear to be set up and not jiggle when you shake the pan. Dairy-free banana bread without eggs won't always brown as much as other breads, but it should still be slightly browned at the top.
Lightly touch the top of the bread with your finger. Bread that is done will bounce right back up, and if it needs to bake longer, you will have left a small indent where your finger touched.
Look to see if the bread has started to pull away from the sides of the pan slightly. This is a great indicator that it's done or almost done baking.
Lastly, try the toothpick method. Simply stick a toothpick (or cake tester) in the center of the loaf and pull it out. If the toothpick is clean and there aren't any bread particles or liquid on it, then it's done. Otherwise, you may need to bake a few minutes longer. Just make sure you're testing the thickest part of the loaf (or the biggest muffin) or you may not get accurate results.
📖 Variations
Chocolate Chip Banana Bread: Add dark chocolate chips into the batter before baking for a more indulgent treat. As a chocolate lover, I am partial to believing that the very best banana bread recipe includes some chocolate chips or chunks!
Try Different Toppings Or Mix-Ins: Enhance the presentation of your butter free banana bread by using an extra banana to slice on top of the bread. You can also try other nuts like pecans, hazelnuts, or almonds, chopped dates, or pumpkin seeds. You can even top this vegan recipe with vegan cream cheese frosting for added decadence!
🍽 Serving Suggestions
I love to pair this easy banana bread recipe with my morning tea or coffee. If you are looking for an extra indulgent snack, this Biscoff latte perfectly compliments the flavors in this moist banana bread made with oil. As a healthy snack, try adding nut butter on top to boost protein and reduce blood sugar spikes. For a more filling and complete meal, try it out with a peanut butter yogurt bowl or matcha overnight oats!
🙌 Dietary Adaptations
This delicious banana bread recipe with baking powder and oil is naturally dairy-free and vegan. Here are ways you can modify this recipe for other dietary needs:
Gluten Free: If you are gluten-free, you can try out other flour options to meet your dietary needs. I recommend using a 1:1 all purpose gluten free baking flour that includes xanthan gum for best results.
Nut Free: If you have a nut allergy, you can skip the walnuts altogether or add seeds for an equally tasty crunch.
🫙 Storage Directions
You can store this healthy banana bread recipe using oil in either the fridge or freezer for fresh and tasty leftovers! Here's how to store and keep this banana bread:
To Store in the Fridge: After the banana bread without butter has cooled completely, place it inside of an airtight container. The bread will keep for 5 days in the fridge. It's important to make sure this bread is as airtight as possible to keep it moist. Since most of the moisture in this easy vegan banana bread recipe comes from bananas it can dry out more easily than regular breads.
To Freeze: Let your no butter banana loaf cool, then slice it. Wrap each piece in aluminum foil or plastic wrap. Then put the slices inside of a freezer bag or airtight container. It will last up to 2 months in the freezer.
To Reheat: Let the bread thaw in the fridge before eating and warm in the microwave for about 20 seconds or in the toaster oven for a few minutes.
❓Recipe FAQs
WHAT IS A GOOD SUBSTITUTE FOR BUTTER IN BANANA BREAD?
Many banana bread recipes call for around ½ cup of butter (one full stick). While butter banana bread recipes are delicious, you don't need it to make good banana breads. The best butter substitute for banana bread is coconut oil which still has saturated fat like butter, but also includes lauric acid, which can help raise "good" cholesterol levels and potentially lower the risk of heart disease. If you don't have coconut oil, avocado oil, canola oil, vegetable oil or olive oil will all work.
WHAT CAN I USE INSTEAD OF BUTTER IN BAKING?
As mentioned above, coconut oil is a great choice. However, there are many awesome alternatives that you can use instead of butter in baking. Applesauce, Greek yogurt, nut butter, olive oil, or pumpkin puree are all lovely options for baked goods. Consider what flavor and texture you are going for and pick the best one to achieve that taste!
IS BANANA BREAD HEALTHY?
A classic banana bread recipe is not the healthiest, as it's high in fat, calories, refined grains, and sugar. Typical banana bread is more like a banana cake!

But this easy recipe is lighter and wholesome. It's lower in calories and low in added sugar. Most of the sweetness comes from the bananas, and just a touch of coconut sugar. If you want an even healthier version of this recipe, or less sugar, you can reduce the amount of sugar or omit it entirely. You may also be surprised to know that bananas and walnuts have a fantastic amount of vitamin B6. In addition, bananas are high in Vitamin B12, Potassium, and Magnesium. The addition of the whole wheat flour adds fiber for better digestion, too.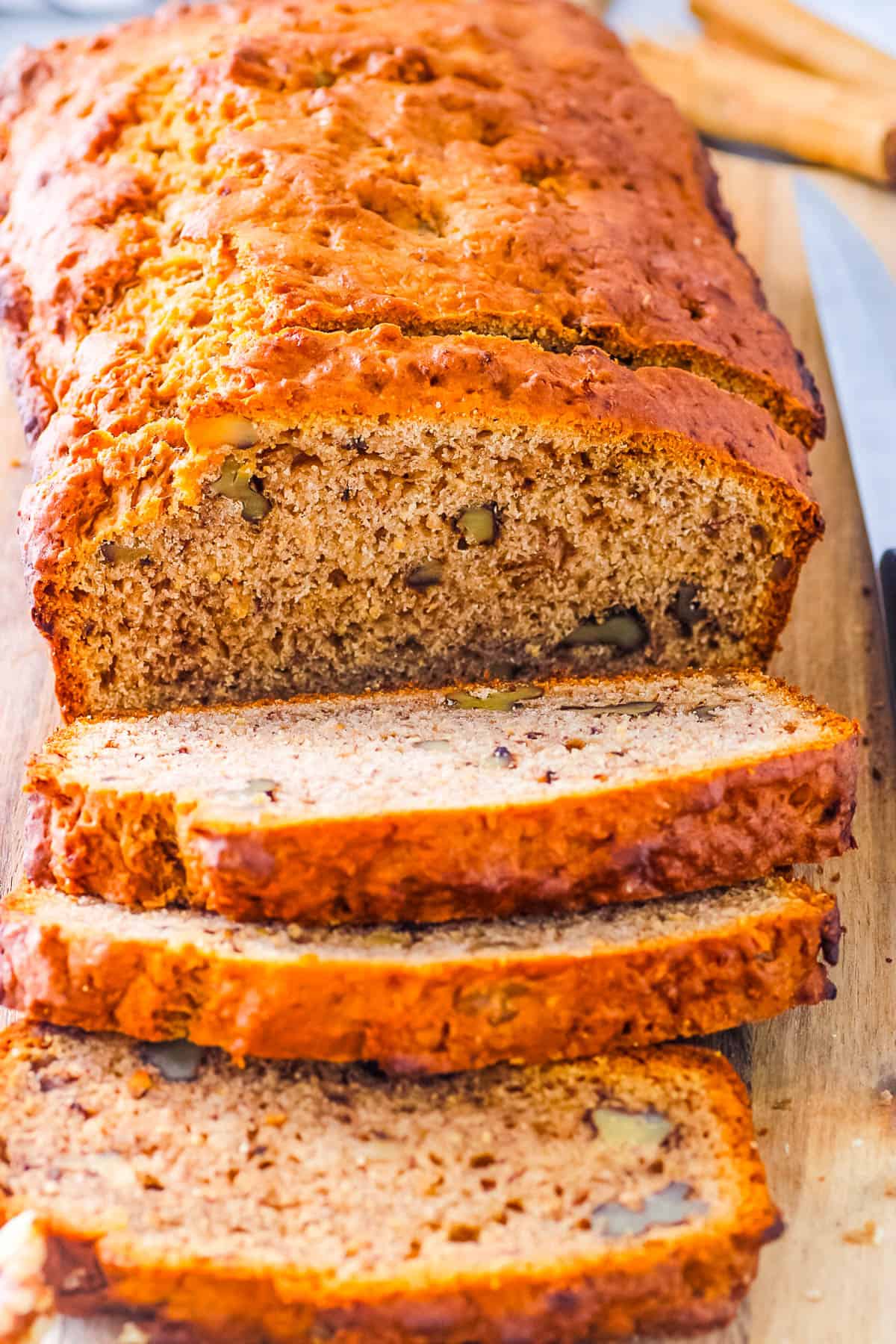 🍞 More Healthy Recipes For Baked Goods!
Love this plant based breakfast recipe? Please leave a 5-star rating 🌟 in the recipe below and/or a review in the comments section further down the page!
You can also FOLLOW ME on FACEBOOK, TWITTER, INSTAGRAM, and PINTEREST to see more delicious, healthy, family-friendly food, and if you have any questions, I'm here to help!
📋 Recipe Card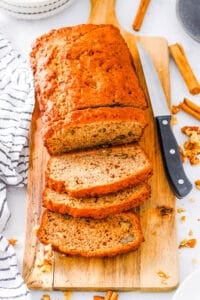 Print Recipe
Banana Bread Without Butter
This is the easiest and best banana bread without butter ever! It's super moist, flavorful, and fluffy – and tastes just like traditional banana bread. With only 10 minutes of prep time, you can have this plant based banana bread ready to enjoy with minimal effort!
Instructions
Preheat the oven to 350 degrees F / 180 C. Line a 9" x 5" loaf pan with parchment paper.

Whisk both of the flours, baking powder, baking soda, coconut sugar, cinnamon, nutmeg and salt in a bowl until well combined, set aside.

In a separate bowl mix all remaining ingredients, except the walnuts until combined.

Add the chopped walnuts and wet ingredients to the bowl with the dry ingredients.

Gently fold together until just combined. Do not over mix the batter.

Pour the cake batter into the prepared loaf tin and bake for 50 minutes.

The cake is ready when an inserted skewer comes out clean.

Allow the cake to cool in the tin for 5 minutes before turning out onto a cooling rack to cool completely before slicing and serving.

Store in an airtight container in the fridge for up to 5 days.
Notes
Cover the banana bread with foil after cooking for 30 minutes if it's beginning to brown too quickly.
Banana loaf can be sliced and frozen for up to 2 months.
Optional add-ins: chopped dates, chocolate chips or slivered almonds.
Any plant based milk can be used in this recipe.
Coconut oil can be substituted with neutral flavored oil or melted vegan butter.
Be sure to use ripe bananas as they are much sweeter and mash easily.
Coconut sugar can be substituted with brown sugar.
Do not over mix the batter as this will result in a dense, chewy cake.
Nutrition
Serving:
1
slice
|
Calories:
126
kcal
|
Carbohydrates:
19
g
|
Protein:
2
g
|
Fat:
5
g
|
Saturated Fat:
3
g
|
Polyunsaturated Fat:
1
g
|
Monounsaturated Fat:
0.5
g
|
Sodium:
49
mg
|
Potassium:
153
mg
|
Fiber:
1
g
|
Sugar:
5
g
42 responses to "Banana Bread Without Butter"