Thistle Meal Delivery Review
This post may contain affiliate links. As an Amazon Associate, I earn from qualifying purchases. Please read my disclosure.
In this Thistle meal delivery review you can learn all about the types of meals provided, pros and cons to Thistle, how the process works, and where they deliver to! This comprehensive Thistle review will help you decide if their meal delivery service is right for you. Keep on reading to learn everything you need to know about Thistle, read comparisons to similar food delivery services, see customer reviews, and more!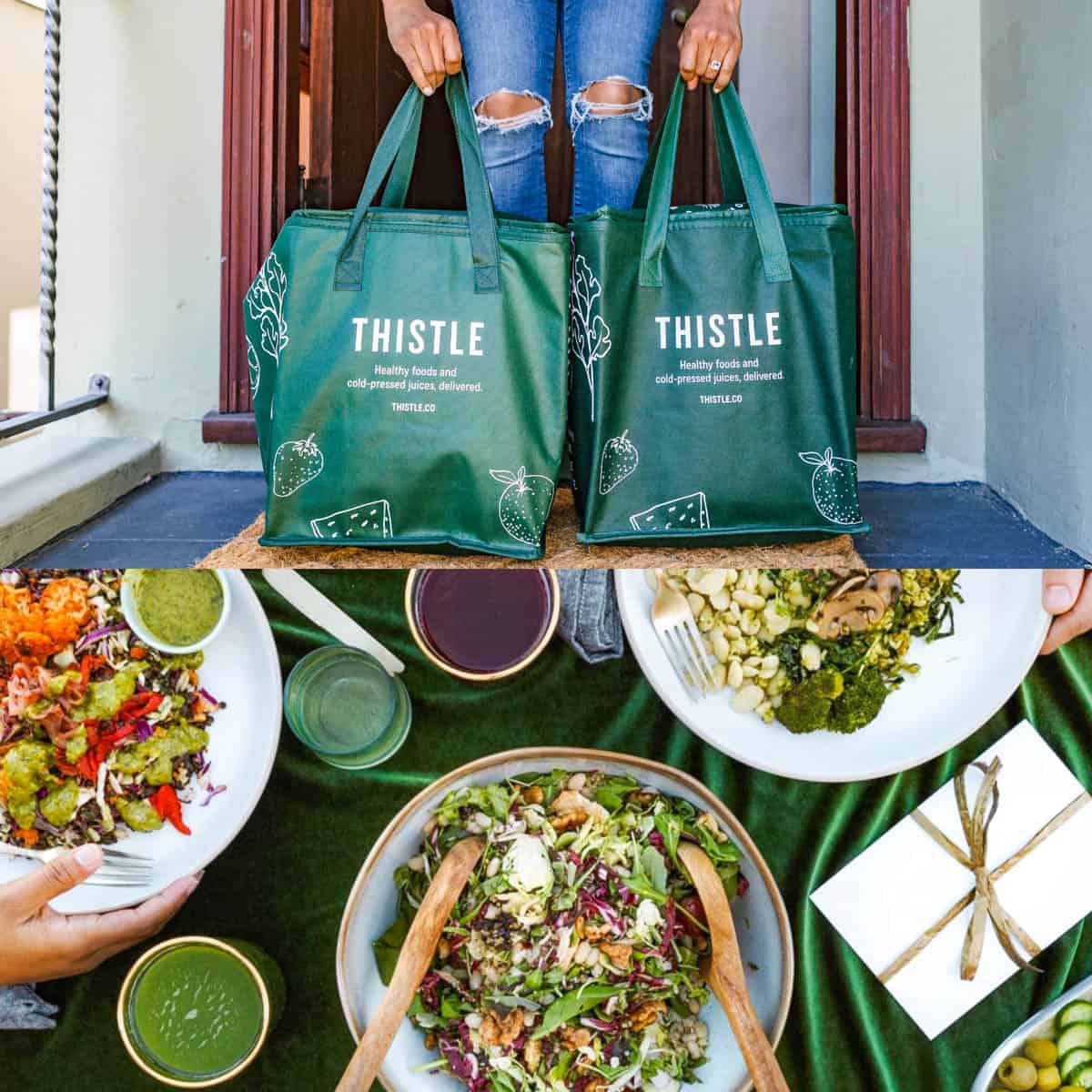 In 2013, founders Ashwin Cheriyan and Shiri Avnery decided to start up a meal delivery company, Thistle!
The goal with Thistle is to provide access to real whole foods that improve health, while also reducing environmental footprint. Unlike many other meal delivery services, Thistle focuses on a plant-forward, gluten-free, and dairy-free menu, using organic ingredients as much as possible. They wish to provide healthy meals that boost energy and increase focus throughout the day.
Thistle stands out for their community approach, as they desire to have a positive impact on people and the planet. They take time to build relationships with local organizations and find ways to give back to the community.
Just one example of how they give back is by donating the by-product of their cold-pressed juices and meals to local farmers to be used for composting. Keep scrolling through this Thistle food delivery review to learn more!
What Types Of Meals Does Thistle Provide?
First thing for this Thistle review I want to share about the various meals they have to offer! Thistle provides a variety of food options with a West Coast menu and East Coast menu.
Their meal services offer ready to eat meals for breakfast, lunch, and dinner, plus a snack for Monday-Saturday of every week. They also offer juices, soups, and jarred salads as add-ons. Given that they are focused on plants, they aim to have nutritious meals containing 90-100% plant ingredients, with 10% or less being meat-based. You can opt for the plant-based meals or meat-included meals with your subscription.
Thistle Breakfast Options
According to Thistle's website, their breakfast averages 250-400 calories per meal, with about 10g of plant-based protein and 10g of fiber. They also include 0.5-1 oz of nutrient-dense booster foods such as spirulina, dandelion root, turmeric, chia, ashwagandha, or reishi. Examples include peaches and cream oatmeal or tofu chilaquiles.
Thistle Lunch And Dinner Meals
Lunch and dinner options contain an average of 450-650 calories per meal. They have 20g+ of plant protein, 15g of fiber, and 0.5-1 oz nutrient-dense booster foods. You can keep this as a vegan lunch and dinner, or choose from their meat protein options as an add-on. Examples include the ​​pineapple pachadi curry bowl (one of my favorite things on the Thistle Co menu) or the green grain taco salad.
Thistle Snacks And Dessert
The Thistle meal plan comes with a snack or dessert depending on the day, which ranges in calories, but on average is around 300-500 calories give or take. For example, their Tiramisu Mousse Cup is 550 calories, while their PB&J Snack Plate is 270 calories.
Featured Partner Offer
Try Thistle Meal Delivery!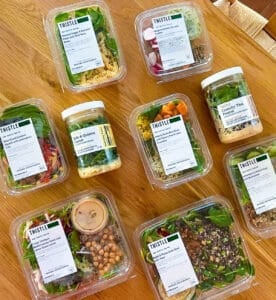 Ready to eat, healthy, organic, plant based meals for breakfast, lunch, dinner, snacks and dessert!
Easy to customize
Sustainable packaging
No cooking needed!
Get up to 9 meals free with $100 off for your first 4 weeks!
Thistle Meal Delivery Pros
No Thistle meals review can be complete without a helpful pros and cons breakdown! Here are a few of the pros to trying a Thistle subscription:
Customizable: Thistle is very customizable – if you live in a local delivery zone you can pick the number of meals you want per week, change your subscription plan any time, and easily add, remove, or swap items.
Convenient: These prepared meals are delivered ready to eat, with meal prep done for you! The last thing we often want to do on busy days is worry about cooking and cleaning up.
Very Accommodating: You can easily set up dietary preferences upon signing up, selecting from plant-based, meat only, or a mix. You can mark if you have any food allergies at this time too. The ingredient restrictions that Thistle can accommodate are: soy, tree nuts, coconut, peanuts, fish, shellfish, and pork. They will either replace that ingredient in your meal or give you another meal entirely. Thistle accommodates all major allergies and religious-based dietary restrictions.
Anti-Inflammatory: Thistle meals are anti-inflammatory which serves to boost energy and make you feel your best. Inflammation is a growing issue in today's world so an anti-inflammatory diet is a great choice.
Nutritiously Diverse: You will get a wide variety of nutrients with a diverse range of fruits, veggies, 40+ superfoods, whole grains, legumes, and meat.
Gluten & Dairy Free: All meals are already gluten free, dairy free, and egg free making them accessible to many customers! You will find vegan options like housemade coconut cream and nut cheeses in these meals.
No Refined Sugars/Artificial Ingredients: Thistle uses high-quality ingredients and does not include any refined white sugars, artificial sweeteners, ​​artificial preservatives, additives, or dyes.
Money Saving Options: The more meals you select in your plan, the more money you save!
Reusable & Recyclable Packaging: Thistle provides the option of taking back and reusing bags and ice packs for future deliveries — you can leave them wherever your delivery is made and their drivers will pick them up. Additionally, all of their packaging is 100% recyclable, including the thermal cooler bags that the meals come in.
Organic Ingredients Are Not Guaranteed: Thistle uses organic foods when possible, but not always. Some of Thistle's meals may be organic, while others may not be. Some ingredients within each meal may be organic but the meal as a whole may include conventional ingredients, too.
Can Get Pricey: While Thistle pricing does decrease per meal with the more meals you select, it can still add up – especially with add-ons like meat, juices, and sides. Going to the grocery store and buying your own ingredients may prove to be more affordable, but it really depends on if you prefer the convenience of having healthy, pre-made meals delivered to your door.
Not Available Everywhere: Thistle is currently limited on where they ship and deliver to, available in the West Coast and East Coast only.
Only Customizable In Local Zones: If you live outside of the local delivery area you cannot customize your plan with different meal options. The different options are available for local customers only. For shipping customers, you will have a preset plan of 6 meals a week.
How Does Thistle Work?
One of the first questions you might have is how does this process even work?! Next in this Thistle Co review, we will break things down to better understand their meal services!
Thistle offers breakfast, lunch, dinner, snacks, juices, and wellness shots through a customized plan created by you.
Choose from meat options or vegan options for a plant-based diet. Before your first order, you can choose how many days per week you want them, typically between 3 days and 6 days.
Plans are subscription based, but can be adjusted, paused or canceled at any time before your next delivery.
When ordering you can see the options for the current and following week on the Thistle menu. These options will vary based on your zip code, whether you are on the east or west coast.
Once you have set up your Thistle subscription, you can expect fresh, ready-to-eat food to arrive on your doorstep each week! Your Thistle order will be delivered either locally with ice packs, or shipped in a refrigerated shipping box.
I found their meal delivery service to be really easy to navigate, with tons of food options to choose from every week – I was never bored with any of the meal options and always had seamless delivery!
Where Does Thistle Deliver?
Thistle ships across California and parts of Arizona, Idaho, Nevada, Oregon, Utah, and Washington. They deliver locally to Manhattan, metropolitan Philadelphia, the San Francisco Bay Area, North Bay, Sacramento, Davis, Los Angeles, San Diego + Orange County, and Las Vegas.
Thistle delivers locally in the morning on Mondays and Thursdays or in the evening on Sundays and Wednesdays. For shipments, Thistle's meals will arrive on Monday or Thursday by 8pm.
How Much Does Thistle Cost?
You may be curious and wondering, "how much does Thistle cost per week?" Thistle meals start as low as $42/week or $11.50/meal. For 3 days worth of meals and snacks, the total would come out to around $134 for 12 items per week including a $4.95 delivery fee. Adding meat will increase the cost by $2.99/meal. Shipping prices may vary for those not in local delivery zones.
While they do not offer a free trial at this time, Thistle does have a deal for $100 off over your first 4 weeks! Thistle also has special offers for healthcare workers, education providers, military, first responders, and students.
Thistle Customer Service
If you are unhappy with your Thistle meal service or need assistance, you can reach out to them by submitting a request on their Contact Us page. You can also find a wide range of information through their Help Center to easily guide you through questions or concerns with things such as how to sign up, billing & invoices, and nutrition.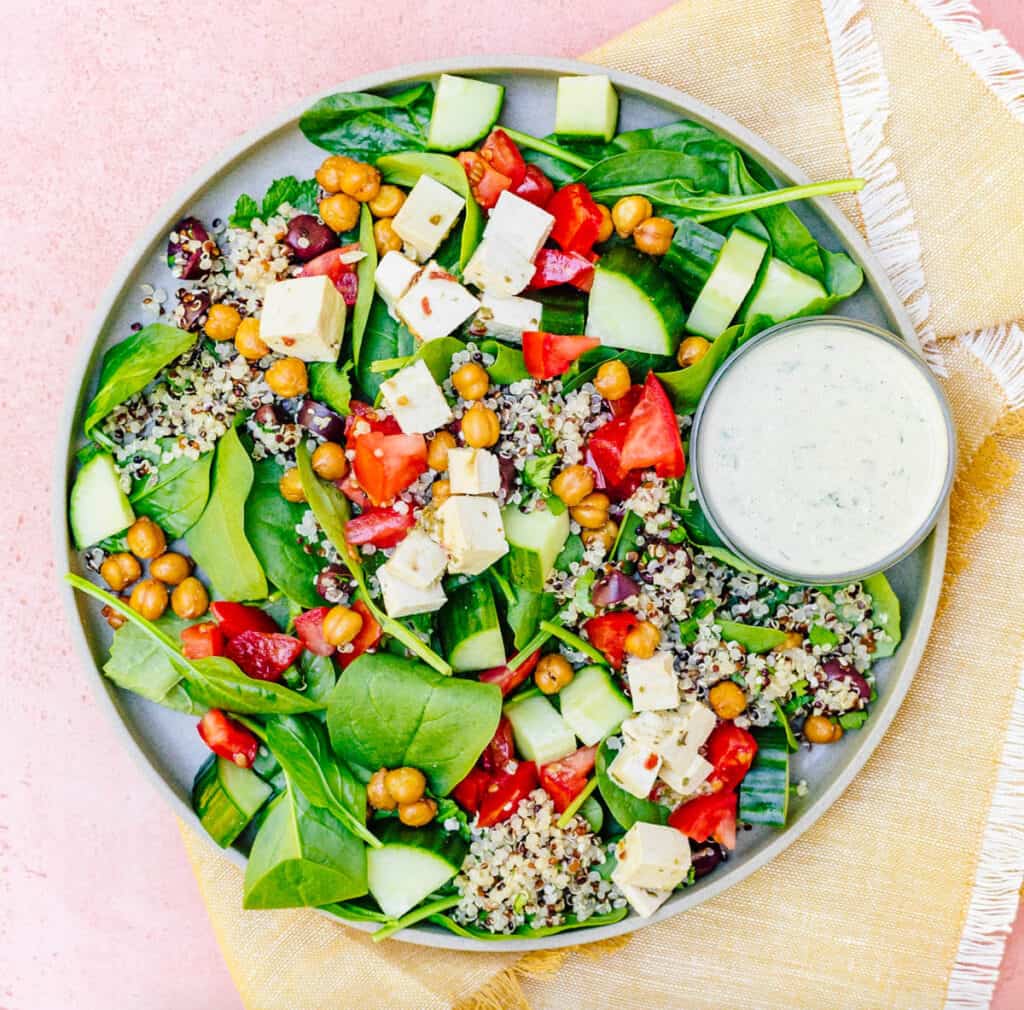 How Does Thistle Compare To Other Food Delivery Programs?
Being able to compare similar services is key in deciding what is best fit for you! So in this Thistle review, I wanted to share a quick comparison between Thistle and 5 other popular food delivery programs:
Thistle vs. Sunbasket
Similarities: Both are subscription based and offer ready-to-eat meal options. Thistle and Sunbasket both have gluten-free options, although Sunbasket does have the chance of cross contamination. Both have vegan meal options, but Thistle has more to choose from.
Differences: Thistle offers more meals and includes more superfoods than Sunbasket. Thistle also has cold-pressed juices and wellness shots, while Sunbasket does not.
Quality: Sunbasket sources certified organic produce, responsibly-raised meats, and sustainably sourced seafood. Thistle focuses on sustainable, locally sourced foods that are organic when possible, refined sugar free, and preservative free. Overall, both are high quality and good options for healthy meals.
Convenience: Sunbasket offers both meal kits and Fresh & Ready prepared meals that are ready in 4 minutes. All of Thistle's meals are prepared and ready to go, with a quick heat up in a pan or microwave. Both provide convenient meal options, but the Thistle food delivery service wins this category as it offers more prepared meal options that are ready in minutes.
Cost: Sunbasket currently has meals starting at $4.28 / serving for their Fresh & Ready meals. Thistle food delivery costs start at $11.50 / serving. Even with their typical $9.99 per meal, Sunbasket takes the win in the cost category.
Thistle vs. Splendid Spoon
Similarities: Both Thistle and Splendid Spoon offer plant-based, dairy-free, gluten-free meal options in a subscription based format. Both offer smoothies and juices.
Differences: Splendid Spoon is solely plant-based, while Thistle includes some meat options too. Splendid Spoon offers a wide variety of meals and smoothies, but their menu is static, while Thistle has a weekly rotating menu with a variety of seasonal meals.
Quality: Splendid Spoon is 100% Non-GMO, with 95% of their smoothies and wellness shots being organic. Both companies try to source organic when possible, especially for the "Dirty Dozen" foods. Overall, both are similar in quality and tie.
Convenience: Both Splendid Spoon and Thistle offer premade, ready-to-go meals and tie in the category of convenience!
Cost: Splendid Spoon meals start at $9.99 so they are a bit more affordable versus Thistle, depending on your finalized subscription plan.
Thistle vs. Sakara Life
Similarities: Both companies offer ready-to-eat meals with minimal prep on a subscription based delivery that can be paused or canceled at any time. Both Sakara Life and Thistle are gluten-free and dairy-free.
Differences: Thistle does offer meat options, while Sakara is 100% plant-based.Thistle provides the option to customize meal plans for the week, while Sakara offers a set menu.
Quality: Both Thistle and Sakara offer high-quality, healthy meals made with superfoods and packed with nutrients. Sakara uses all organic foods, but source from some farms that are not certified organic (due to the high costs of certification). Both are a great option for a healthy diet.
Convenience: This is a toss up, as both offer premade and ready to eat meals delivered to your door!
Cost: Thistle plant based meals start at $11.50/meal, while Sakara is more expensive with a 3 day meal subscription plan costing $239/week which breaks down to around $26 per meal. The cost of Thistle is definitely more affordable and manageable.
Thistle vs. Daily Harvest
Similarities: Both Thistle and Daily Harvest offer gluten-free, dairy-free meals delivered on a subscription base. In addition to meals, they both have smoothies, juices, snacks, and sides. You can choose your meals each week with either company.
Differences: Thistle focuses on fresh foods, while Daily Harvest delivers frozen meals.
Quality: Both Thistle and Daily Harvest prioritize sourcing organic ingredients that are free of additives, preservatives, and fillers. While both are healthy options, it really comes down to whether you prefer fresh or frozen meals.
Convenience: Thistle and Daily Harvest meals are both delivered to your door with the convenience of skipping, pausing, or canceling your service at any time. Daily Harvest requires some additional prep with adding water, blending, or heating meals, while Thistle only requires some heating. For that reason, the convenient Thistle meal prep wins overall!
Cost: Daily Harvest has a variety of price options ranging from $6.99-$7.75 per cup and $65- $120 a month. Harvest bowls are $9.79 each and Harvest bakes are $11.99 each. All in all, it really depends on what you order but if you focus on smoothies Daily Harvest is the cheaper option.
Thistle Customer Reviews
This Thistle meal delivery review cannot be complete without some direct statements from past and current customers! Personally, I had an amazing experience using Thistle. I found their meals to be super flavorful, unique, well balanced, and packed with healthy fats, fiber and plant protein. They were easy to heat and eat, easy to store, and delivery was great. It made healthy eating so much easier for a busy family like ours!
Here are a few more constructive and positive customer reviews of Thistle, sourced from Trustpilot, with an overall 4.1 star rating for 984 reviews:
Nutrition and Convenience
"I've done a few meal plans. EveryPlate. Freshly (before they went out of business). Hello Fresh. Of all the meal plans, this is my favorite. One – it genuinely seems the healthiest. Two – it's surprisingly tasty! I was pretty skeptical of some of the dish names, but I haven't had one I haven't liked yet! It's a bit pricey, but if you want nutrition and convenience- you definitely have to give it a shot. Extra bonus for the thistle zipper bags compared to the bulky cardboard boxes that were always such a pain! Least amount of waste I've seen in a meal plan so far!"
– Amanda H.
You Got Me!
"All of the convenience aside, Thistle's menu is fresh and delicious! I am an absolute fan of their smoothies, their salads are creative and tasty, and their dinners are hearty and scrumptious. Top that with extremely healthy, reasonably priced, and you have a winner :)"
– Zurn P.
Team Thistle Rocks
Most importantly – healthy delicious food delivered to your home. Team Thistle provides adequate food selections each week while making sure your favorites are repeated periodically. The website is easy to navigate and customer support is extremely responsive. There have been a few glitches with the delivery though: wrong or no deliveries. Plus, there's no rewards program for members. With such a clever and talented team this should be an easy task. Bottom line – Thistle is a great option for those of us who have busy lives but want nutritious delicious meals.
-Erick T.
All in all, the Thistle food reviews that I read were very positive with many customers saying that Thistle offers the best home delivery meal plans they've tried! If you want to see other reviews of Thistle meal delivery, easily perform a quick Google search to check them out!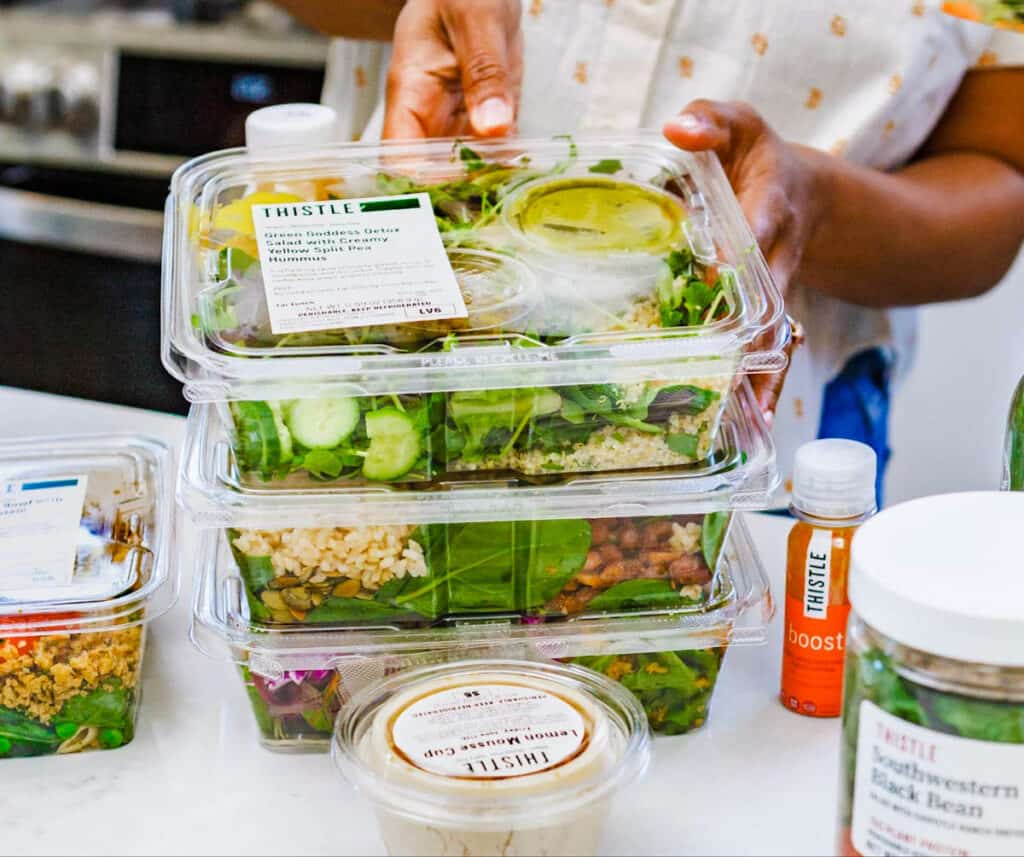 Thistle Meal Delivery FAQs
CAN YOU FREEZE THISTLE MEALS?
Good news! You can definitely freeze your thistle meals to enjoy later. Thistle recommends freezing soups for up to 2-3 weeks, dinners for 3-4 weeks, and baked goods for 4-6 weeks. To reheat, let food thaw in the fridge for a few hours.
HOW LONG DO THISTLE MEALS LAST IN THE FRIDGE?
Thistle foods are intended to be eaten fresh, and are best consumed within 2-3 days. Thistle meals come with a suggested date of when to enjoy them, but you can switch them around in your week! They each will have an expiration date to ensure the highest quality, and many meals will keep for longer.
HOW MANY PEOPLE DO THEIR MEALS FEED?
Each Thistle meal is one serving, intended to feed one individual. You can add meals to your subscription plan for other family members.
ARE THISTLE MEALS ORGANIC?
While Thistle aims to use organic ingredients when possible, not everything in Thistle meals will be organic. However, they make efforts to source the "Dirty Dozen" produce from certified organic farms. They source their food with intention, aiming to utilize local and sustainable products. All organic ingredients are marked with an asterisk* on their ingredient list.
ARE THISTLE MEALS HEALTHY?
Is Thistle healthy? Yes, Thistle food delivery offers healthy options for well-balanced meals! Their fresh, plant-based foods make clean eating easy. Their meals contain healthy fats, fiber, and protein that can aid in weight loss and support balanced blood sugar levels.

With Thistle, you eliminate inflammatory foods such processed dairy and gluten, along with refined sugars and unhealthy artificial sweeteners for their breakfasts, lunches, dinners and snacks. Just keep in mind that their desserts are real desserts (they have sugar added and are high in calories) – so they are to be enjoyed in moderation!
HOW DO I PREPARE THISTLE MEALS?
Thistle meal kits are prepared ahead of time and designed to be as convenient as possible for you! Snacks and smoothies are ready-to-eat, while other meals may need just a few minutes of your time. Simply unpack your meals and heat as needed for a healthy meal that is ready to enjoy in under 5 minutes. Plus, you will have very minimal clean up!
Final Thoughts: Is Thistle Worth It?
After going through this Thistle food review, hopefully you are better able to decide if a Thistle meal delivery is worth it to you! Thistle's plant-forward meals contribute to a healthy lifestyle that will very likely please your taste buds. If you have been interested in eating healthier but are limited on time or don't enjoy cooking, then a plant-based meal delivery service like Thistle may be a perfect choice! Since they offer the option to end services at any time, there is no risk to try Thistle and see how you like it!
More Helpful Review Guides!