Ritual Prenatal Vitamins Review
This post may contain affiliate links. As an Amazon Associate, I earn from qualifying purchases. Please read my disclosure.
We all know how important it is for mother and baby to get all of the nutrients needed during pregnancy. A quality prenatal vitamin with folate helps your baby's growth and development. But you don't want a prenatal supplement with a bunch of added synthetic ingredients or fillers. In this honest Ritual Prenatal Vitamins Review, I go over the benefits of using this unique vitamin during your pregnancy.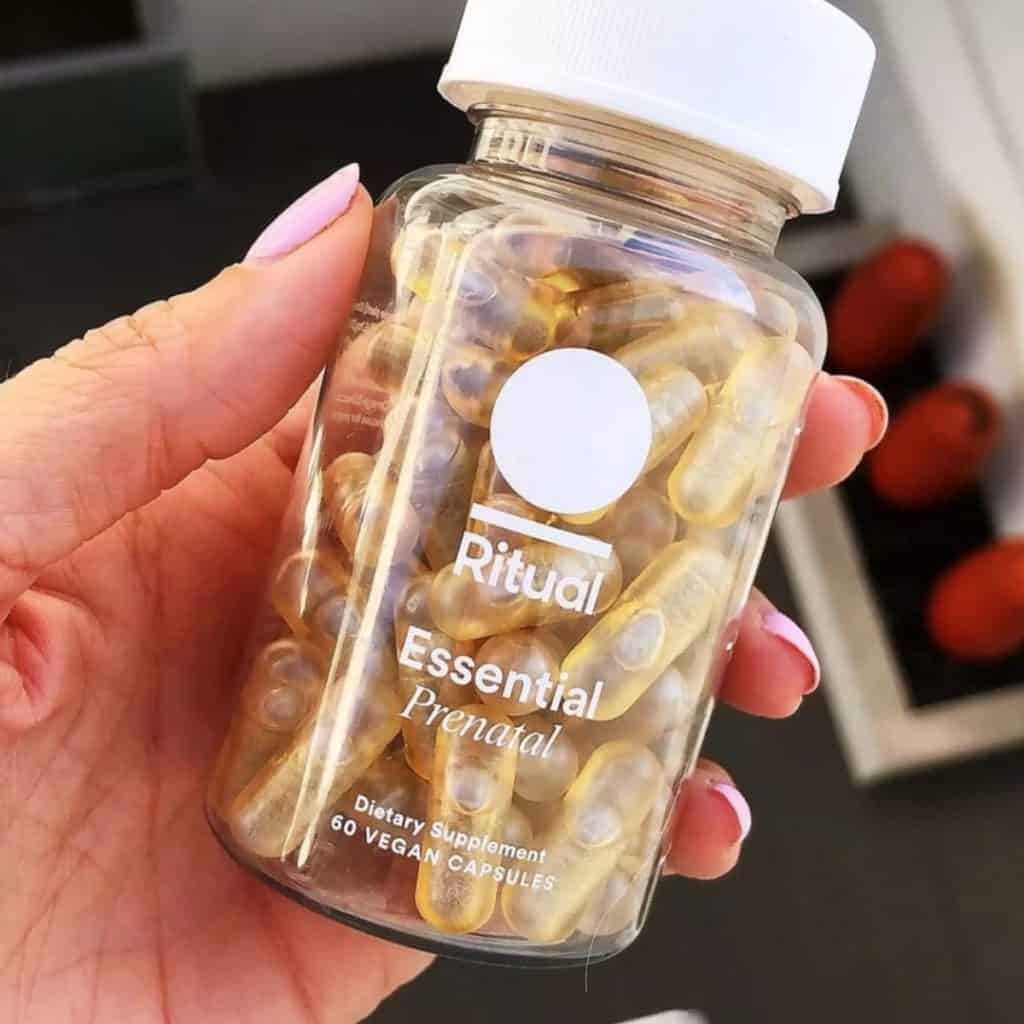 There are so many prenatal supplements on the market today, it can be hard to figure out which one might be the best prenatal vitamin for you during your pregnancy! So many vitamins out there have questionable ingredients, and may not provide the most absorbable forms of vitamins for a healthy mom & baby.
Ritual Vitamins were created with the idea that we should get the bulk of vitamins and essential nutrients from the foods healthy we eat, and that the vitamins we take should fill in any dietary gaps.
They are all about creating a foundation of health and wellness, and providing their consumers with the necessary nutrients to support a healthy diet. The founder, Katerina Schneider, started Ritual with a mission to create supplements that have clean, traceable ingredients – all of the good stuff and none of the bad! They are committed to changing the way we think about vitamins, and how we use them to support our health.
Ritual started with just a few dietary supplements but have expanded their line to include vitamins for men, women, teens, and kids. In this post I'll be taking an in-depth look at their prenatal vitamins, and sharing the research I've done, so that you can decide if it is the right prenatal vitamin for you.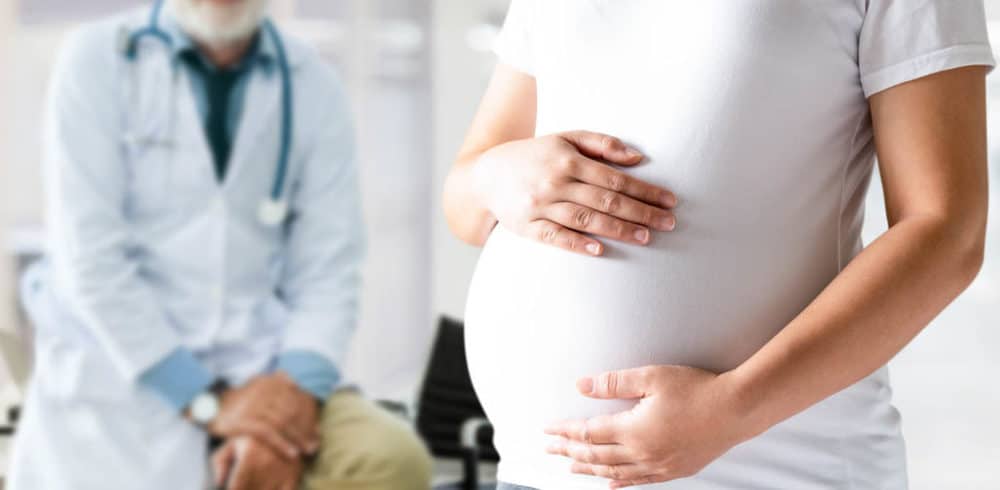 What Are Prenatal Vitamins? Why Do You Need Them?
Prenatal vitamins are for women who are pregnant or trying to get pregnant. They play an important role in providing folic acid (folate) which is important for fetal growth and development.
Folic acid is a B vitamin. The cells in your body need it to grow and develop. When you are pregnant and growing a fetus, folic acid reduces the risk of your baby developing brain or spine defects (e.g. spina bifida) known as neural tube defects (NTDs).
In addition to folic acid, prenatal vitamins also include other essential vitamins for mother and baby.
If you are pregnant and are taking a regular multivitamin (not a prenatal), you will want to take a look at the ingredients, as some concentrations of vitamins such as vitamin A, and vitamin E, in large dosages can have a negative impact on your baby's growth and development.
High concentrations of vitamin A have been linked to congenital birth defects, and high concentrations of vitamin E have been linked to an increased risk of premature rupture of the amniotic sac.
When you take a prenatal vitamin, made specifically for pregnant women, you will not get more than you need of vitamins A and E and the vitamin will be formulated to support a healthy mom and baby!
When Should You Start Taking Prenatal Vitamins?
If you know you want to get pregnant, it's a great to start prenatal vitamins at least a month before you get pregnant, but up to 3 months before. The first 12 weeks of pregnancy are extremely important as that is the time when your baby's development is most critical.
If you haven't started prenatal vitamins in advance of getting pregnant, then don't worry. Just start them as soon as possible.
What Makes Ritual Prenatal Vitamins Different?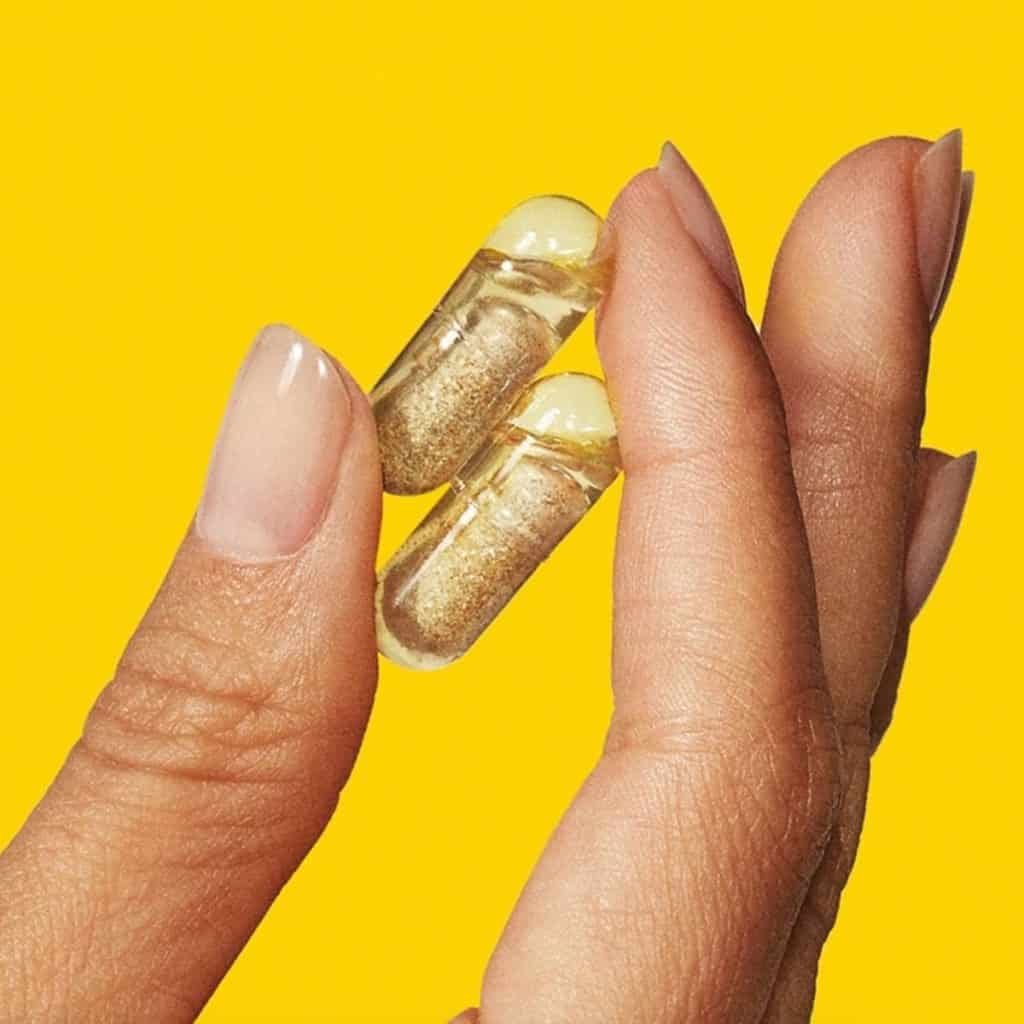 Fills in Dietary Gaps
Instead of adding a bunch of ingredients to their prenatal vitamins, Ritual has done extensive research to understand which vitamins are needed most. They believe that you should get most of your nutrition from a healthy diet. Prenatal vitamins are not meant to be a substitute for eating healthy nutrient rich foods.
Uses High Quality Traceable Ingredients
Ritual uses only the highest quality ingredients. They have searched the globe to find ingredients that meet their standards of quality. They also inform their consumers of the types of nutrient forms they use, the dosages, and their suppliers.
Vegan and Gluten-Free
Unlike many vitamins out there Ritual Vitamins are vegan, gluten-free, and free of the nine major allergens making them suitable for most special diets. They use vegan Algal Oil, not fish oil, which originates from the fermentation of microalgae. Using Algal Oil for omega-3 fatty acids, has minimal environmental contamination.
Environmentally Friendly
In addition to using clean ingredients, this company is also working to help the environment. The vitamin bottles are made with recycled materials, and they are boxed and shipped in recycled newsprint boxes.
What Is In Their Prenatal Vitamins?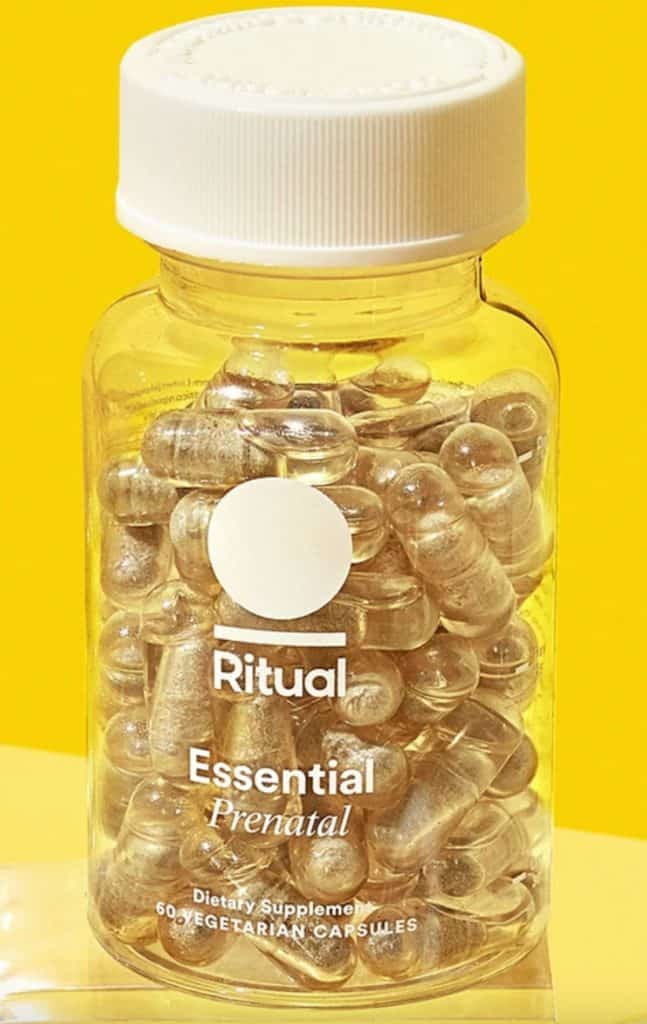 Folate (Folic Acid)
1000 MCG
167% DV
Supplier Gnosis in Pisticci, Italy
Use Methylated Folate (MTHF)
MTHF is more easily absorbed by the body
Supports the development of the neural type for spine and brain function
Reduces risk of your baby developing neural tube defects (NTD)
Helps with the development of your baby's heart and circulatory system.
According to the American College of Obstetricians and Gynecologists, pregnant women require at least 600 mcg. Ritual vitamins provide 1,000 mcg, which is greater than recommended amount.
Omega 3 DHA
350 MG
Source schizochytrium spp. (whole microalgae)
Supplier, Algarithm Ingredients Inc. in Saskatoon, Canada
Vegan Certified form of Omega-3 DHA
Support the development of baby's eyes, brain, and nervous system
Potentially lowers the risk of going into preterm labor
Pregnant women are advised to have at least 200 milligrams of Omega-3 DHA per day, so Ritual goes above at 350 milligrams.
Vitamin B12
8 MCG
286% Daily Value
Supplire, AnMar International in Bridgeport, Connecticut
Sourced from the form of methylcobalamin
Supports normal DNA development
Good for vegans because plant-based foods do not contain B12
Ritual uses methylcobalamin, a more biologically compatible form of B12. Lack of B12 in a pregnant woman's diet has been linked to neural tube closure defects, intrauterine growth restriction, gestational diabetes, pre-eclampsia, and even early miscarriage.
Choline
55 MG
10% of Daily Value
Supplier, Balchem, Verona, Missouri.
Provided in the form of L-tartaric acid
Promotes the liver and brain development
Reduces the risk of neural tube defects, cleft lip, and cleft palate
Iodine
150 MG
67% Daily Value
Supplier, Nutrasol in Ogden, Utah
Comes in the form of high potency potassium iodide
Helps with the function of mom's thyroid
Helps with the development of the thyroid for baby
Important for healthy brain development in baby
Maintaining thyroid health is essential. It regulates the hormones that control many of your body's functions, such as heart rate, metabolism, and even your body temperature.
Biotin
300 MCG
857% Daily Value
Supplier, AnMar in Bridgeport, Connecticut
Form, Synthesized Biotin
Helps with liver, skin, and nervous system health
Vitamin D
50 MCG (2000 IU)
333% Daily Value
Supplier, HT Companies in Nottingham, UK
Form, derived from sustainably-harvested lichen plants
Vegan-certified
Helps to lower the risk of pre-eclampsia, gestational diabetes mellitus, preterm birth, and low birth weight
Iron
18 MG
67% Daily Value
Supplier, Balchem in Ogden, Utah.
Form, chelated that's gentle on the stomach
helps the body to make more blood
Iron is used to make hemoglobin that brings oxygen to the body
Pregnant women need double the amount of iron while pregnant
Magnesium
32 MG
8% Daily Value
Supplier, Balchem in Ogden, Utah.
Form, chelated that is easier to absorb
helps muscles to relax in pregnancy, which helps with muscle cramps
Boron
.7 MG
A trace element. You don't need a lot.
Supplier, Futureceuticals in Momence, Illinois
Form, as calcium fructoborate, that has good absorption.
Helps the body use calcium effectively, which helps with osteoporosis later in life.
Vitamin E
7 MG
37% Daily Value
Supplier, AOM/Nutralliance in Buenos Aires, Argentina
Form, Brassica napus (seed). Soy-free mixed tocopherols.
An antioxidant
Helps with healthy skin, eyes, and red blood cells.
Strengthens the immune system
Shouldn't be taken in excessive amounts during pregnancy which is why Ritual provides 37%.
Vitamin K2
90 MCG
Supplier, Kappa Biosciences in Oslo, Norway
Pure form of K2, from a soy-free source
Improves bone health
Helps with bone pain associated with pregnancy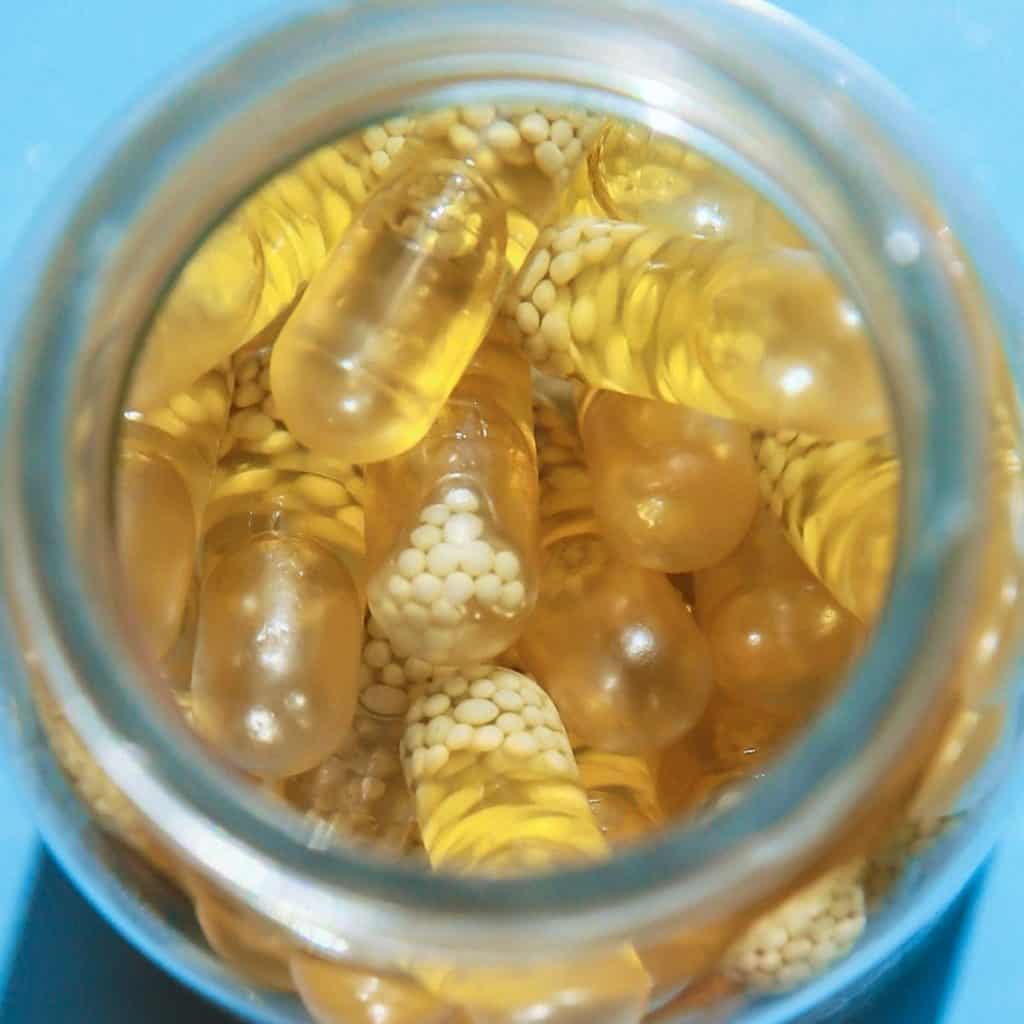 What Do You Get In A Bottle?
30 Day Supply of Vitamins
60 Capsules (2 a day)
Cost: $39 per bottle
Pros of Ritual Prenatal Vitamins
Vegan
Gluten-Free
Allergen Free
Made with 12 Key Nutrients
Neural Tube Support (folate and choline)
Supports Brain Health (Omega-3 DHA, choline, folate)
Blood Building (Iron, Folate, and Vitamin B12 contributes to red blood cell formation)
Provides Bone Support (D3, K2, Magnesium, and Boron help maintain bone health)
100% Traceable Ingredients and fully transparent supply chain
Non-GMO
No Artificial Colors
No Synthetic Ingredients
Delayed Release Capsule (easy to digest, no nausea!)
Take with or without food
Lemon Flavor (making them easier to swallow)
Free Shipping
30 Day Money Back Guarantee
Subscription comes to your door once a month (you'll never run out by accident!)
Cons of Ritual Prenatal Vitamins
More expensive than some other prenatal brands out there. Ritual costs $35 for a one month supply. Other brands are less expensive, but be sure to your research before buying another vitamin just because of cost. Make sure it is a quality brand.
Subscription service. This means they automatically come to your door each month when you need a refill, but if you need to cancel for any reason, you need to remember to do so.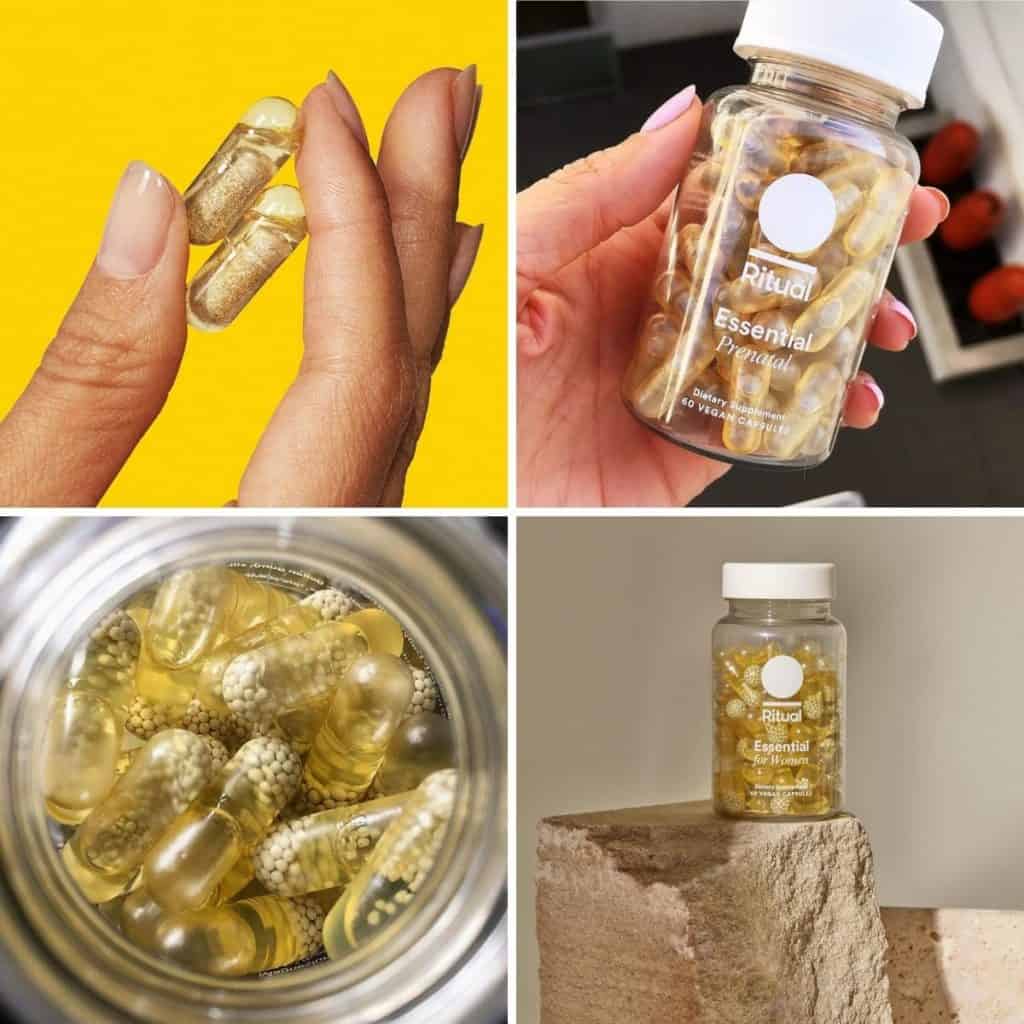 Are Ritual Prenatal Vitamins Right For Me?
Before purchasing a prenatal vitamin, or any other supplement, be sure to consult with your doctor.
Ritual Vitamins are a great option for anyone looking for a vegan, gluten-free vitamin that has everything you need for a healthy pregnancy. If taking a vitamin with clean traceable ingredients, with no added fillers or artificial colors is important to you, then this is the best vitamin to get!
Lastly, you may also want to consider Ritual's Prenatal Vitamins if you have difficulty swallowing pills, as the lemon flavor and delayed release make it easy to swallow and take on an empty stomach.
Bottom Line: Ritual's Prenatal Vitamins is one of the best prenatal vitamins I've found on the market today and will support a healthy pregnancy!
Check Out These Other Vitamin Guides!
I hope I have thoroughly answered all of your questions in this Ritual Prenatal Vitamins review. If you have any further questions, please leave a comment below – I respond to every question I get!
Note: I am not a doctor, and am recommending Ritual based on my own personal experience. Please consult with your doctor before starting any supplement program.