Made In Cookware Review
This post may contain affiliate links. As an Amazon Associate, I earn from qualifying purchases. Please read my disclosure.
In this Made In Cookware Review you will learn what makes Made In stand out from other brands. We will cover a detailed view of their cookware product lines, with pros and cons and customer reviews for each. You'll be able to see a breakdown with competitors and get all the information you need before purchasing your new pots and pans!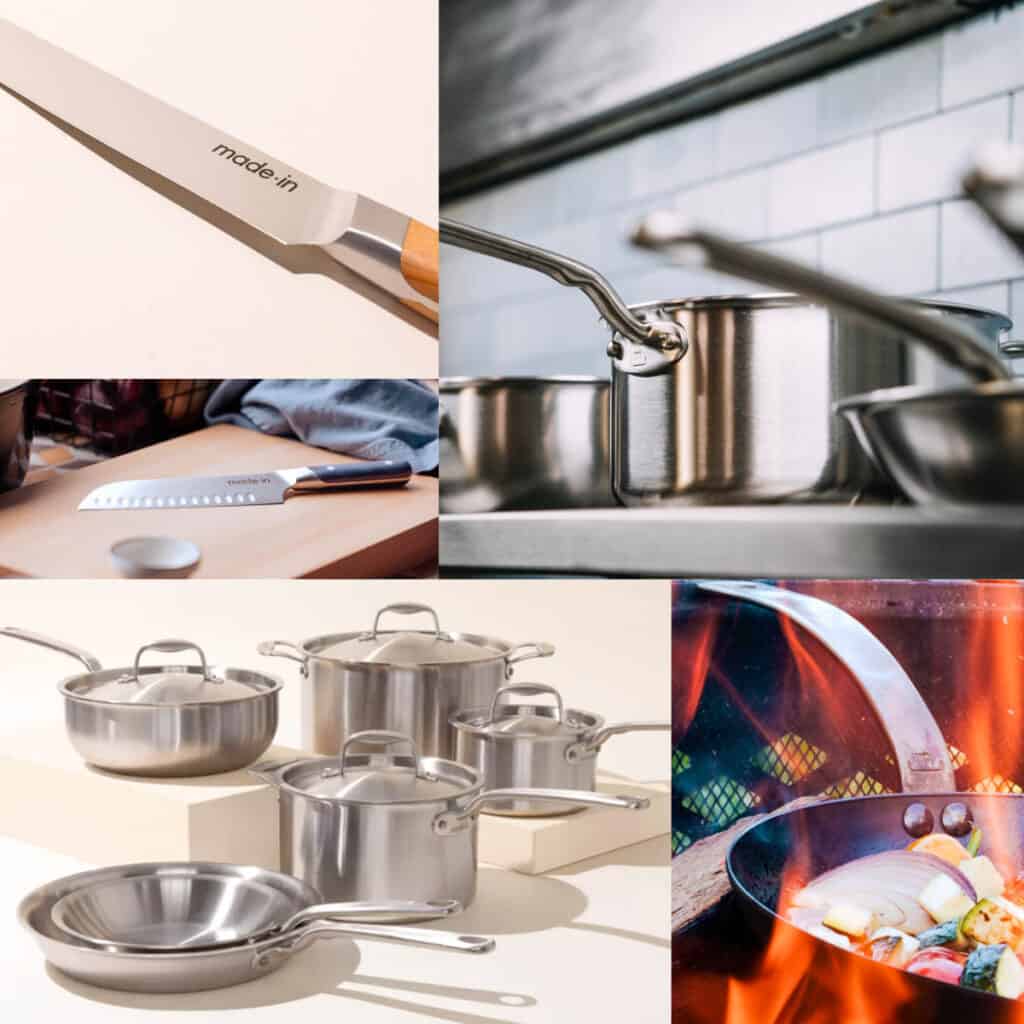 Made In Cookware: Quick Overview
Made In's Story: Founded in 2017, but born of a 4th-generation, family-owned kitchen supply business, Made In creates best-in-class cookware developed in partnership with the world's finest chefs and foremost craftsmen. They have a unique perspective on the industry and are able to combine the artistry of traditional craftsmanship with the expertise of professional chefs. With this, they are able to supply not only the top chefs and restaurants with premium cookware, but also bring these products into at home kitchens. Everyone can feel like a professional with their carefully crafted tools. They follow a direct-to-consumer model to keep their prices more affordable than many other premium brands in the industry.
Before we dive deeper into the Made In brand review, here is a brief overview of the cookware products offered:
Cookware Products Overview
Fry Pans and Saute Pans: Pans are offered in sets or individual pieces, with sets ranging from 3-piece to 13-piece. You can find Made In frying pans and saute pans in stainless clad, non-stick, carbon steel, and enameled cast iron. One of the most popular is their blue carbon steel frying pan.
Saucepans and Sauciers: You can find saucepans in a variety of sizes ranging from ¾ qt to 5.2 qt depending on the material: stainless clad, copper, and non-stick. Shop them individually or within Made In pot sets.
Woks: Made In has a beautiful 12" Carbon Steel Wok, made in France and naturally non-stick. This piece alone could have its own Made In cookware wok review to share about all its qualities and construction.
Dutch Ovens, Braisers, & Stock Pots: Whether you are looking for an enameled cast iron dutch oven, non-stick rondeau, or stainless clad stock pot, Made In has the perfect selection!
Grill Pans, Griddles, & Roasting Pan: Made In offers a selection of carbon steel griddles and grill frying pans to make all your grill dreams come true. Made in Sweden and France.
Cookware Features Overview
Design & Construction: Each of the Made In products is designed strategically to provide the best heat distribution and retention. Their most popular pots and pans are made with a 5-ply construction of stainless steel, aluminum, and high grade ferritic 430 for a durable final product that can handle high heat and various cooking methods.
Packaging: When you receive a package from Made In you can expect high quality from the very beginning. Products are expertly packaged to avoid damage, and are shipped in an efficient time frame.
Price Point: Most of their pots and pans fall into a $69 – $1199 price point, with the higher pricing mainly being for sets. Compared to some of the other higher end competitors, their price tag is lower due to Made In's direct sales- they avoid retailers and cut out the middle man for a more affordable price.
Who These Pans Work Best For: Made In pots and pans can be used by anyone, ranging from professional chefs to families at home. Some materials require more maintenance and have more of a learning curve, so the most universal pan would be the non-stick option.
What Makes Made In Cookware Different From Other Brands?
In this section of the Made In Pots and Pans Review I want to highlight a few key points that make the brand stand out from others in the industry. Check them out:
Used In Michelin-Starred Restaurants: Made In stands out amongst other brands from its presence in restaurants around the world. Many of these restaurants are Michelin-starred with top chefs!
Collaborated With Professional Chefs: Made In has collaborated directly with leaders in the industry like Chef Grant Achatz, Chef Mashama Bailey, and Chef Matt Horn. By doing so, they are able to fine tune each product to make it perfect for restaurants and home kitchens! Additionally, they have partnered with a few chefs including Nancy Silverton and Tom Colicchio, to invent brand new products.
Began As A Small, Family-Run Business: While this is a relatively new brand,they have roots in kitchen supply that date back 100 years of supplying chefs with high-quality cookware. This gave them direct insight into what chefs were looking for as well as what was missing in the industry.
45 Day Return Policy: If you do not love your products, Made In offers a 45 day no questions-asked return policy. This allows you to have a worry free trial period to make sure the cookware is right for you.
Lifetime Warranty: Made In offers a lifetime-warranty on almost all of their products for any manufacturer defects. This is a company that trusts their products and back the quality!
Partner With World's Finest Artisans: Made In partners with artisans in the U.S. and Western Europe and manufacturers with centuries of experience to produce professional-quality kitchen tools. These artisans have been perfecting their technique over generations and only use the best raw materials. You will find high-performing, long-lasting pieces across their many collections.
Made In Cookware Construction Details
5-Ply Stainless Clad: The 5-ply construction consists of 5 layers- 18/10 stainless steel, 2 layers of pure aluminum, aluminum alloy, and high grade ferritic 430. This is used for both their stainless steel pots and pans, as well as their non-stick options.
Carbon Steel: Made In's Carbon Steel is composed of 99% iron and 1% carbon.
Enameled Cast Iron: Cast iron is an iron and steel alloy. Made In adds an enamel coating to the cast iron for a smooth cooking surface protected from rust.
Copper: Made In's copper cookware is constructed with a stainless steel interior to last indefinitely and withstand high temperatures.
Made In Cookware Cooking (Pots & Pans) Product Lines: Detailed View
In this section of the Made In Cookware review, we will break down the different product lines which include their stainless clad, non stick, carbon steel, enameled cast iron, and copper lines. Within each of these lines you can shop as a Made In cookware set or as single products ranging from frying and saute pans, saucepans and sauciers, woks, dutch ovens and braisers, stock pots, grill pans and griddles, and other specialties. Every product line features high-quality pieces, and most customer reviews rave about the quality of the products (the Made In cookware complaints I found stemmed primarily from improper care of the pots/pans by the customer, or shipping delays.)
Overall Pros Of This Brand: What I Like About Made In Cookware
Great variety of cookware products
Induction and Gas Stovetop safe
Oven safe
High quality & durable
Free of toxins like lead and cadmium
Made without PFOAs
Prop 65 compliant and FDA certified nonstick coating
Offers warranty
Can return and exchange
Overall Cons: Other Things To Consider
Might be out of your price range
Some cookware requires extra care and maintenance
Warranty varies from product to product
Made In Cookware vs. The Competition
There are many Made In Cookware reviews out there that compare the brand to other competitors in the market. Most of these reviews only compare Made In to one other brand, so here I wanted to share a quick comparison between 4 popular brands:
Made In vs. All Clad
Heat Distribution: Both have really great options for fast and even heat distribution and it really boils down to very minimal difference. All Clad offers a 3-ply pan with a single layer of aluminum which speeds up the heat distribution a bit quicker. However, Made In has carbon steel options which are right in line with the heat distribution of the 3-ply pan.
Heat Retention: Made In and All Clad both have good options for heat retention with their 5-ply pans.
Price: All-Clad price points are generally higher than Made In due selling through retailers. Made In avoids middlemen and retail markups to provide a great price for very good quality pieces.
Cooking Performance: Both brands are high quality and offer great cooking performance.
Durability: In terms of stainless steel, both brands are very durable and well-made to last a long time. Made In offers other materials such as cast iron and carbon steel, giving them a bit of an edge. However, All-Clad has been around longer and has proven durability in the cookware industry.
Construction: All-Clad offers 2-ply, 3-ply, 4-ply, and 5-ply construction with various core materials, while Made In only offers a 5-ply construction with an aluminum core. Both of their non-stick pans are PFOA-free.
Made In vs. Misen
Heat Distribution: The heat distribution for both brands is fairly even, giving them a tie in this category.
Heat Retention: Made In and Misen both retain heat very well, with Made In being reported to perform slightly better.
Price: Made In has more affordable prices than a lot of brands on the market, but more expensive overall when compared to Misen.
Cooking Performance: Both brands will provide a good cooking performance, but Made In offers more variety of options to perfect the performance of specialty foods.
Durability: Both are new-ish brands compared to others with similar products, but both are made well with strong, durable materials.
Construction: Made In and Misen tie in their construction, with both offering a 5-ply stainless steel cladding. Both are well made and designed for excellent heat control.
Made In vs. Calphalon
Heat Distribution: Overall, Made In distributes heat more evenly than Calphalon.
Heat Retention: Made In has a better heat retention versus Calphalon thanks to it's 5-ply construction. In comparison, the Calphalon stainless steel pan is only 3-ply.
Price: Made In and Calphalon both have similar price points, with Calphalon offering a wider range in prices. Therefore, Calphalon does have some cheaper options vs Made In that may be more budget friendly.
Cooking Performance: Made In comes out on top for cooking performance due to the even heat distribution and better retention.
Durability: Calphalon's best seller is their nonstick frying pan, which is inevitably less durable when compared to Made In's best seller stainless clad pan – designed to be very durable. However, with a direct comparison of both brand's non-stick options Calphalon may win. ​​The brand has a MineralShield nonstick technology that's 5x more durable than previous versions of their pan.
Construction: Overall, Made In is constructed with more detail and quality. Calphalon has a 3 layer metal construction in their stainless steel pots and pans, whereas Made In has it's award winning 5-ply construction.
Made In vs. Green Pan
Heat Distribution: GreenPan uses a patented Thermolon™ coating that distributes heat more effectively than traditional coatings. The designs of both brands allows for great heat distribution.
Heat Retention: Green Pan's retention is good, but Made In pans retain heat for longer.
Price: Green Pan, overall, is cheaper in comparison to Made In.
Cooking Performance: Both will provide a good performance, but if you are looking to cook a wider range of foods Made In might be a better fit to perfect those specialty recipes.
Durability: GreenPan is best know for their non-stick pans with majority of their cookware having that coating. Made In offers a variety of pots and pans, allowing for more options when it comes to durability. Regular stainless steel and carbon steel from Made In will be more durable than non-stick.
Construction: Both Made In and Green Pan offer a 5-ply stainless steel construction. Made In consists of 2 layers of aluminum while Green Pan has 3 layers. Both are full clad stainless steel.
Where Can I Buy Made In Cookware?
You can easily purchase Made In's cookware online from their website, madeincookware.com, or at their Made In cookware store located in Austin, Texas. You can also shop the Made In store on Amazon with free shipping for Prime members.
Made In Cookware Other Products
In addition to pots and pan, Made In offers a variety of products for your kitchen space. Check out a brief overview of them in this next section of our Made In review:
Dinnerware: The dinnerware is offered in a sleek white design, with different colored rim options including red, black, or navy. You can get dinner plates, appetizer plates, bread and butter plates, and side bowls. These stain resistant pieces are made in England with a 1-Year No-Chip Guarantee.
Glassware: Made In offers 3 types of glassware: red wine glasses, drinking glasses, and a decanter. These beautiful glasses are made in Italy and are strong enough to withstand over 4,000 industrial washes.
Mugs: The Made In mugs feature the same aesthetic of the dinnerware, with a sleek white option or a colored-rim option. They are made in England, have a 1-Year No-Chip Guarantee, are stain resistant, oven safe to 580F, and microwave and dishwasher safe.
Flatware: Made In's high quality flatware is made in Italy and includes 4 settings with 20 pieces total. They have a beautiful stainless steel construction and stain-resistant finish.
Service Pieces: Matching the rest of the dinnerware collection are the serving plates and serving bowls. They are made in England and have a 1-Year No-Chip Guarantee. Additionally, they are stain resistant, oven safe to 580F, and microwave and dishwasher safe.
Knives: Made In offers a variety of well-crafted knives from France, ranging from a classic chef's knife or bread knife to a santoku knife, nakiri, saber, steak knife, and paring knife. They each have a rockwell hardness of 58+ and are crafted from a single rod of stainless steel resulting in sharper, perfectly balanced blades.
Oyster Shucker: Enhance your kitchen with specialty items like the Made In oyster shucker. It is an american-made product and features a crosshatched walnut wood handle for a steady, no slip grip.
Bakeware: Made In offers a variety of bakeware with the majority being made in France. You can get baking slabs, 9×13" baking dishes, 8×8" baking dishes, pie dishes, and gratin dishes in porcelain or high-fired ceramic clay. These are all thermal-shock resistant and naturally non-stick.
Sheet Pan: Bake to perfection with a standard or non-stick sheet pan. Made in the USA and oven safe up to 450F. The sheet pan rack fits the Half Sheet pan and is oven safe up to 450F.
Mise en Place Set: This set of 4 nesting bowls is perfect for prepping spices, herbs, and other ingredients ahead of cooking. Made in England with a 1-Year No-Chip Guarantee and oven safe up to 580F.
Knife Block & Organizer: Both the Made In knife block and knife organizer are made of Italian Beechwood and features a space-saving design. They both include a non-slip rubber base.
Griddle Accessories: The griddle lid and detachable griddle stand is available as a set or sold separately. These pieces are made in Sweden with a Food-Safe 430 Stainless Steel. They are specially made for rust and corrosion resistance.
Universal Lids: The silicone universal lids have a stainless steel interior and are oven safe up to 400F. They can serve as an all-in-one solution to limit clutter and maximize storage space.
Grill Press: The stainless grill press is made in Sweden and features a sleek leather handle cover. It is safe up to 800F.
Wooden Spoon: The carefully crafted wooden spoon is made in Hungary with 100% beechwood.
Seasoning Wax: Made In offers carbon steel seasoning wax which mixes two high-smoke point oils—canola and grapeseed—with beeswax.
Cleaners: Make cleaning easier with the Made In glassware cleaner, ceramic cleaner, and stainless steel cleaner, all made in the USA.
Made In Cookware Warranty Details
All Made In products are covered for any manufacturer's defects but not for wear and tear from usage. They state that "damage occurring from improper use or storage, prolonged use of high or excessive heat, thermal shock, accidental damage, or otherwise a result of a failure to follow care instructions described in product care inserts and care guides are not covered under warranty."
Made In's Carbon Steel has a lifetime warranty, excluding normal wear and tear and rust. Stainless Clad is covered for manufacturing details, but not for warping or excessive heat damage. Non Stick cookware comes with a 1-year limited warranty. Bottom line, Made In wants to provide a smooth customer experience and provide their customers with peace of mind.
Is Made In Cookware Right For Me? Is It Worth Buying It?
Made In makes something for everyone, with their wide range of products and materials! It is a great choice for anyone looking to add healthy cookware into their home! If you love cooking, prioritize health and wellness, and appreciate high quality cookware, then Made In cookware is a perfect option for you. While the price point might be considered high to some, they are within comparable, if not lower, range to similar non-toxic products on the market. If you are still not quite sure if they are worth buying it is worth it to note that the Made In Cookware ratings speak volumes, with over 100,000 5 star reviews online!
FAQs
WHAT COUNTRY IS MADE IN COOKWARE MADE IN?
Made In Cookware products are made in the United States, Italy, and France. They worked with the best artisans in the USA and Europe to craft everything to their exact specifications, resulting in a pan worthy of Michelin starred restaurants, but perfect for home cooks too.
IS MADE IN COOKWARE OVEN SAFE?
Yes, Made In Cookware is oven safe! Their stainless clad, cast iron, non-stick, and carbon steel pans and pots are all oven safe. Note that not all nonstick cookware is oven safe, but Made In uses a non-toxic coating that will not cause chemicals to leach into the food. It is oven safe up to 500 F. Their top choice for oven cooking is their carbon steel which is light weight, easy to maneuver in the oven, and safe up to 1200F.
IS MADE IN COOKWARE INDUCTION-COMPATIBLE?
Yes! Their Stainless Clad, Carbon Steel, Cast Iron, and Non Stick pots and pans are all completely compatible and safe to use with induction stovetops.
IS MADE IN COOKWARE DISHWASHER SAFE?
Most of the Made In Cookware is not dishwasher safe. While some stainless steel cookware is safe for dishwashers, stainless clad is generally not dishwasher safe. There are a few conflicting statements on their website but I'd say it is best to avoid the dishwasher. Find the best ways to wash this material here. Additionally, their non-stick pots and sauce pans are also not dishwasher safe. These pots and pans are still stainless clad that has simply been coated with a non-toxic base. Carbon steel has a more unique cleaning method, where it is not advised to use a dishwasher or even soap and water. 
WHAT UTENSILS ARE BEST TO USE WHEN COOKING WITH MADE IN COOKWARE?
Depending on the material of the cookware, you can use various types of utensils. For stainless clad or carbon steel, you can use virtually any utensil. These materials are very durable and can hold up to scraping and stirring from harder utensils. For non-stick cookware you do have to be more mindful and use softer materials such as wood, silicone, or nylon. The most easy going utensil is going to be the silicone, as it is very durable, can tolerate higher heat, and are dishwasher safe.
WHAT IS MADE IN'S RETURN AND EXCHANGE POLICY?
According to the Made In website, their policy is as follows: 

"For orders placed in the Contiguous U.S, we will accept returns within 45 days of the original delivery date. We offer free exchanges or store credit. For all purchases made on or after February 1st, 2023, we will retain $11.99 on all refunds to cover the handling fee associated with the return. If you placed an order before February 1st, 2023 and are returning within the 45 day window of the delivery date, please reach out to us at returns@madeincookware.com for help with processing. For International orders placed, please note cross border returns include a USD $25 flat fee.

Some return exclusions apply including: Consumable items (including wax, cleaner, meal kits, or perishables), engraved or customized items, limited edition releases, and items denoted as final sale are not eligible to be returned."
WHAT'S THE BEST COOKWARE FOR GAS STOVES?
There are many cookware options for gas stoves! The easiest to use would be a non-toxic non-stick pan, while carbon steel would provide the best heat retention. Stainless steel and cast iron are also perfect options. They are versatile and can even be used in the oven! These two require a little more care but result in a delicious stovetop meal!
WHAT'S THE BEST COOKWARE MATERIAL?
The best cookware material will vary based on personal preference and foods being used. It is always best to look for something non-toxic, without any harmful PFOA "forever" chemicals. Some of the healthier cookware materials include stainless steel, cast iron, carbon steel, and copper. Made In offers pots and pans in each of these materials!
More Healthy Food Guides & Products!
Final Thoughts
I hope that this Made In Cookware review has been helpful in determining what pots and pans are best for you! If you are still wondering, "are Made In pans good?," let's do a brief recap. Made In Cookware truly has something for everyone to enhance your at home meals and overall cooking experience. With the attention to detail, versatility in usage, and durability you really can't go wrong! Cooking healthier with a higher quality final product is made easy with Made In Cookware.