12 Best Air Fryer Microwave Combos (2023 Guide)
This post may contain affiliate links. As an Amazon Associate, I earn from qualifying purchases. Please read my disclosure.
This detailed guide will help you find the best air fryer microwave combos for your kitchen! You'll learn all about this helpful appliance, what to consider when looking for one, and the pros and cons of the top 12 air fryer microwaves available on the market today!
In modern day cooking, we all have our favorite appliances. There are microwave ovens, microwave toasters, and convection ovens, but what about a microwave air fryer? If you haven't heard of this amazing kitchen tool yet, don't worry. Air fryer microwave combos just recently hit the culinary market and are already taking it by storm.
So, are countertop air fryer microwave combos worth it? In this helpful guide, I'm covering everything you need to know about these trendy convection microwave ovens. Of course, I'll also let you know how to get your hands on the best air fryer microwave combo around.
What Is An Air Fryer? How Do They Work?
If you're not already on the air fryer bandwagon, allow me to be the first to welcome you. Trust me, you're going to love it here. Over the last decade, air fryers have gained tremendous popularity for essentially being chic countertop convection ovens.
The air fryer technology is made to simulate a deep fryer, although it doesn't deep fry foods (hello, less oil and healthier food). Instead, air fryers rapidly circulate hot air, which crisps up your food in less time than it would take to deep fry it.
Types Of Air Fryers
Now when you go to buy an air fryer, you're going to have to choose between three different kinds of air fryers with different features.
The first is a paddle-type air fryer, which gets its name from a paddle that is rotated inside the machine's basket. The paddle helps to circulate the air, so you don't have to manually flip your food.
Then, we have the basket-type air fryer. This one got its name because it cooks food in —you guessed it— a basket. The basket is punctuated with holes so air can circulate easily, but you still have to manually flip your food. Basket-type air fryers are great for cooking foods like chicken wings and pizza bagels, but I would stay away from anything soupy or saucy.
The third kind of air fryer is a countertop convection oven with an air fryer function. Essentially, they use convection technology that is super similar to air frying. In general, convection toaster ovens boast a large capacity and lots of unique features that allow for variety when cooking meals.
What Is The Difference Between An Air Fryer And A Microwave?
The major difference between the two is that microwaves heat and reheat food, while air fryers alter the way it is cooked.
Air fryers use a heating coil to produce heat, then hot air is circulated within the basket or chamber. Microwaves, on the other hand, have internal heating elements that create microwaves (aka microwave radiation) that are zapped at your food to warm it through.
Air fryers are typically safer than microwaves (electromagnetic radiation can put your food at risk) and produce a much more desirable flavor and texture than microwaves. However, air fryers have longer cooking times and microwaves are the best option for heating large portions of food.
I recommend using air fryers to cook anything raw that you want transformed into crispy, delicious perfection.
However, microwave ovens may be the better choice for reheating cold food and leftovers. That being said, determining which is the better kitchen appliance will depend on your specific cooking needs at any given time.
What Are Air Fryer Microwaves?
An air fryer microwave or microwave air fryer is a small kitchen appliance that combines air fryers and microwaves into a single machine. The best way to describe it is as an appliance that has both a microwave setting and an air fryer setting, so you're able to reap the benefits of both appliances.
What does that mean? Basically, microwaves are used to either cook or reheat food. Air fryers are used to cook food but also to get great texture, to brown foods, and fry foods without needing oil.
The best microwave air fryer combos will save you time and money and are able to cook food without using oil. A compact microwave air fryer combo is also easier to clean than a traditional oven, and it takes up minimal counter space.
On the flip side, a lot of folks don't want to sacrifice additional counter space for their microwave air fryers. Furthermore, even though the overall cooking process is shorter than in a conventional oven, food can sometimes still take longer to cook in a microwave air fryer than in a regular microwave.
Benefits Of Air Fryer Microwaves
Space-Saving: Combining two appliances into one (and sometimes more than two appliances, if you also get an microwave air fryer that has a convection feature) saves kitchen counter space! Some of these appliances can also be built into a cabinet or over the stove.
Convenience: Having both an air fryer and a microwave in one appliance allows for quick and easy meal preparation.
Versatility: The combination of cooking methods provides a variety of options for cooking and reheating food. There are also lots of different sizes to accommodate different kitchens and space needs.
Energy Efficient: Using one appliance instead of two reduces overall energy consumption.
Downfalls Of Microwave Air Fryer Combos
Price: These appliances tend to be more expensive than separate air fryers or microwaves.
Limited Capacity: The size of the air fryer and microwave may be smaller than separate appliances, making it difficult to cook larger items.
Complexity: The added features and functions of the combination appliance may make it more difficult to use, especially for those who are not familiar with air fryers or microwave ovens. But in my opinion, the learning curve is worth it!
What To Look For When Buying An Air Fryer Microwave
If you're in the market for a top-rated microwave air fryer combo, there are a few key items to consider.
First and foremost, are you looking to cook big family meals? If so, you will need to select a combo microwave air fryer that is large enough to accommodate the whole crew.
On the other hand, if you have a smaller kitchen (with lower power levels), you're going to be looking at a smaller appliance.
You should also consider a microwave air fryer's features. If you're looking to do more than simply roast chickens and cook fries, then you want to find an appliance with lots of cooking options and settings.
Of course, you should also consider the price you're willing to pay, as everyone has different budgets. With microwave air fryers, you are paying for quality, so keep in mind that splurging initially might be worth it later on.
Criteria For Choosing The Best Air Fryer Microwave Combo Appliance
There are so many different air fryer microwave appliance combos out there, we had to be pretty scrutinizing when developing our list of the top 12. Here is the criteria we used to evaluate the best air fryer microwave appliances:
Features: If you're buying a combo appliance, you're likely looking for it to cover as much functionality as possible. We prioritized microwave air fryers that had more features than most – such as multiple cooking settings, automatic shut-off, durability, adjustable power settings, even and efficient heating for both air frying and microwave cooking, etc.
Ease Of Use: The appliance should be easy to use, with simple controls and clear instructions. It should also be easy to clean and maintain!
Price: We prioritized air fryer microwave combo appliances that had the right balance of features and price.
Reliability: We looked at both brand reputation and reviews to determine this. And while a warranty wasn't a strict criteria, we did consider it a bonus!
Customer Reviews: People's experiences with these microwave air fryer combos matter! We took this into account.
Size: We prioritized appliances that were large enough to cook efficiently, but not so large that they took up all the space someone in an average kitchen might have!
List Of 12 Best Air Fryer Microwave Combos
Ready to take the plunge? I've rounded up some of the best air fryer microwave combos on the market for you to choose from. Check out these air fryer microwave combo reviews to choose the one that makes the most sense for your home.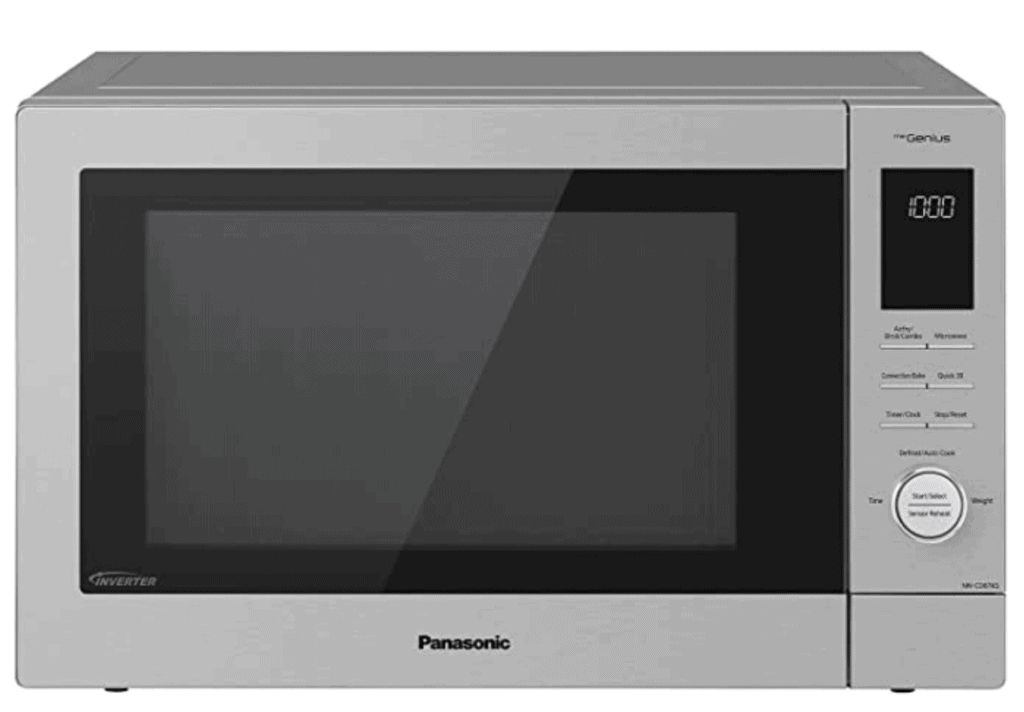 Looking for an all-in-one appliance to cook your whole meal? Allow me to introduce you to the Panasonic HomeChef. Yes, this thing really can do it all: microwave, broil, air fry, and convection bake. Seriously, this microwave air fryer is perfect for everything from quick weeknight dinners to crave-worthy desserts.
Features: Partners with recipe apps Drop and SideChef to give you fun meal ideas; steel interior; child safety lock.
Size: 1.2 cubic feet capacity and 14.97 x 15.36 x 9 inches
Price: $529.95 USD
Pros: It is both a microwave and a toaster oven combo, looks sleek, and has cooking times comparable to regular microwaves.
Cons: Microwave buttons can be hard to see and there's no online tutorial.
What it's known for: This 4-in-1 unit is terrific because it reduces oil/fat, has preset options, and includes safety features (a cooling fan).
Why to consider it: You can replace your microwave with this product and add three additional functions for the same amount of space.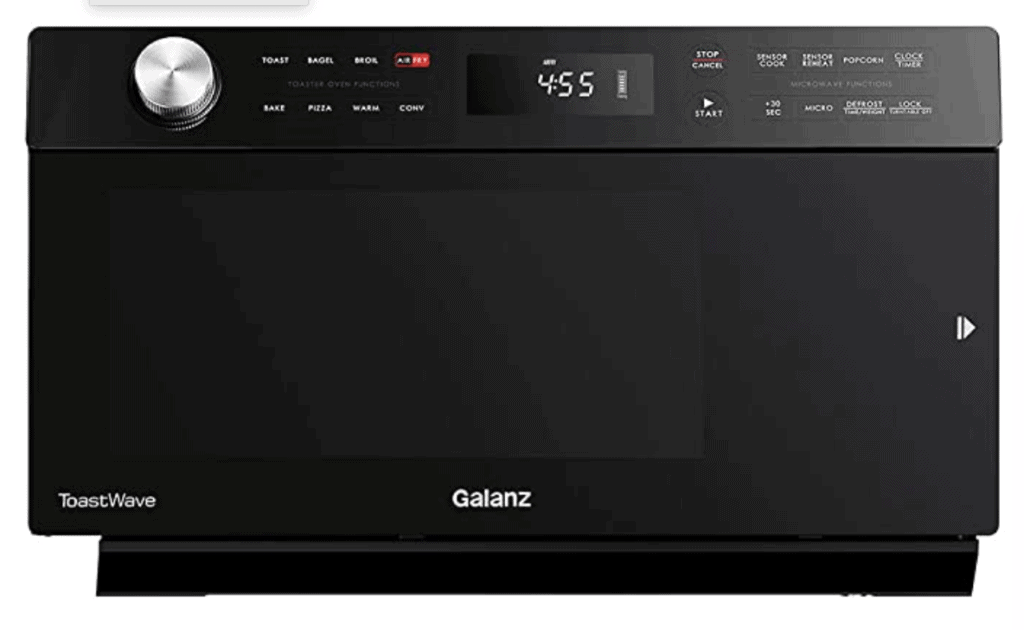 This top-of-the-line appliance lands at the top of our list with TotalFry 360, a convection feature, a microwave, and an air fryer. Basically, it's got everything you need to cook perfect meals every time for any occasion.
Features: Stainless steel exterior; built-in humidity sensor (ensuring your food is never over or undercooked); a nonstick turntable.
Size: 21.25 x 22.25 x 12.56 inches and 40.2 pounds
Price: $533.12 USD
Pros: Easy to use; great for beginners; offers a wide variety of functions.
Cons: Takes up a lot of counter space; hot to the touch when in use.
What it's known for: It has an express cooking knob that replaces the need for cooking time conversions.
Why to consider it: It is high-quality and well worth the price, given that you're able to do almost anything with this appliance.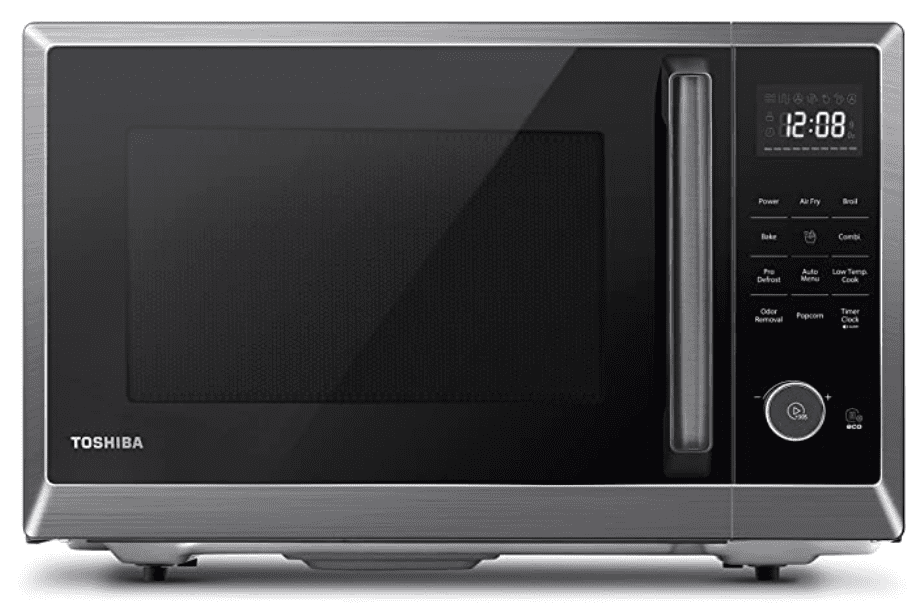 My runner-up for the best air fryer microwave is the definition of multifunctional. (Think: air fry mode, microwave function, convection cooking, and grill/combi). This air fryer microwave is the best way to cook a ton of different foods.
Features: Healthy air fryer helps you avoid added fats; easy-to-clean stainless steel interior; electronic controls.
Size: 1 cubic foot capacity (can fit a whole roasted chicken and a 12-inch pizza)
Price: $226.72 USD
Pros: Saves countertop space; user-friendly with instruction guide; easy-to-use interface.
Cons: Must preheat air fryer mode; no keypad.
What it's known for: Eco mode reduces the power usage of the device by 50 percent.
Why to consider it: This appliance is incredibly user-friendly, making it ideal for first-timers.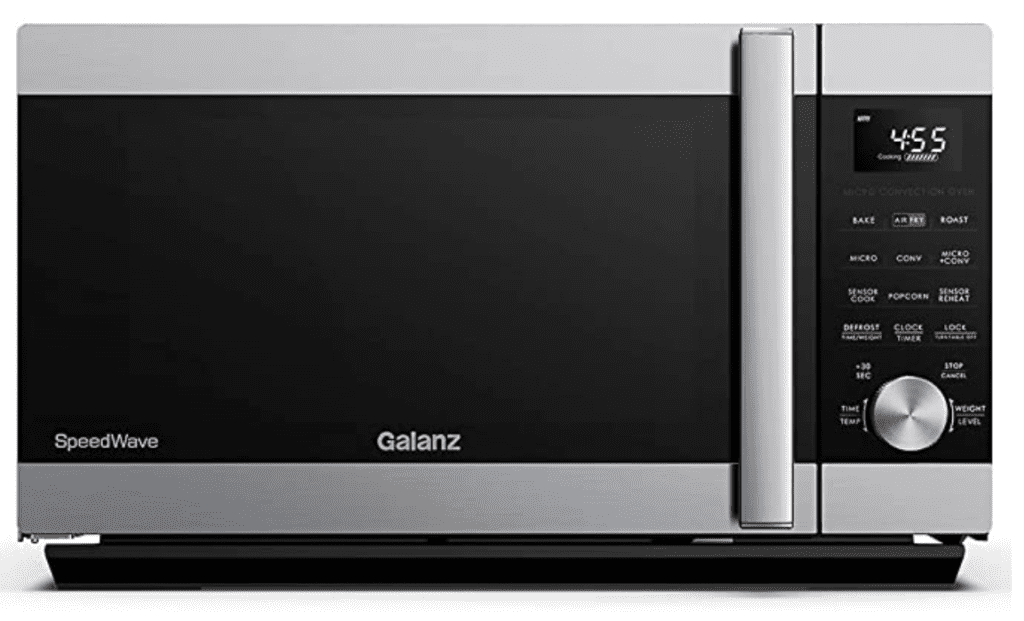 This is the best 3-in-1 microwave air fryer convection oven because it has a multitude of uses. It doesn't matter if you're looking to quickly reheat something, put together a complex meal, or fry up a quick snack, this appliance can handle it.
Features: Touch-sensitive control panel; 10 cooking programs; heavy-duty ergonomic handle.
Size: 1.2 cubic feet capacity and 21.19 x 22 x 12.19 inches
Price: $286.20 USD
Pros: It is super versatile and incredibly quiet.
Cons: The glass door is too dark to see what's going on inside.
What it's known for: This unit comes with 10 cooking programs: Bake, Air Fry, Roast, Microwave, Convection, Micro+Convection, Sensor Reheat, Sensor Cook, Popcorn, Defrost.
Why to consider it: If you're looking for an ultra-versatile microwave air fryer that doesn't make a lot of noise, this is the one for you.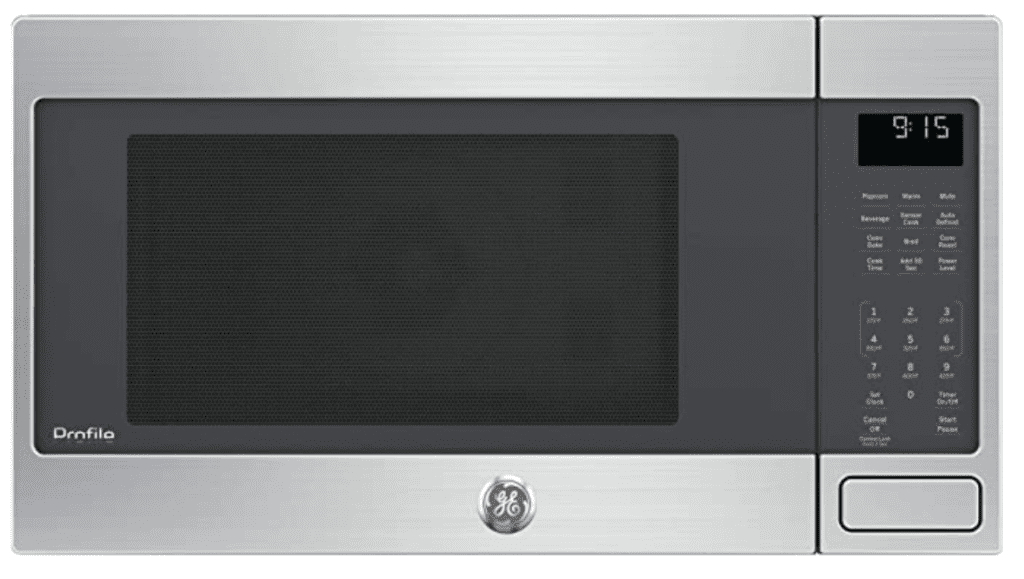 This GE microwave air fryer combo is equipped with cooking controls and carved oven racks that ensure your food cooks to perfection every time. Its large size allows users to cook more at once than many other models, making it great for families.
Features: Convection and microwave radiation; sensor cooking controls that automatically adjust the cooking time.
Size: 20 x 21.1 x 12.1 inches and 1.5 cubic feet capacity
Price: $889.99 USD
Pros: It has 10 convection cooking options.
Cons: It uses 1500 watts of energy, which is more than competitors.
What it's known for: This unit has an extra-large capacity of 1.5 cubic feet, making it ideal for cooking multiple dishes at once.
Why to consider it: This unit is ideal for anyone who needs an easy-to-use microwave air fryer that can accommodate multiple dishes at once. (AKA busy moms who are feeding an army.)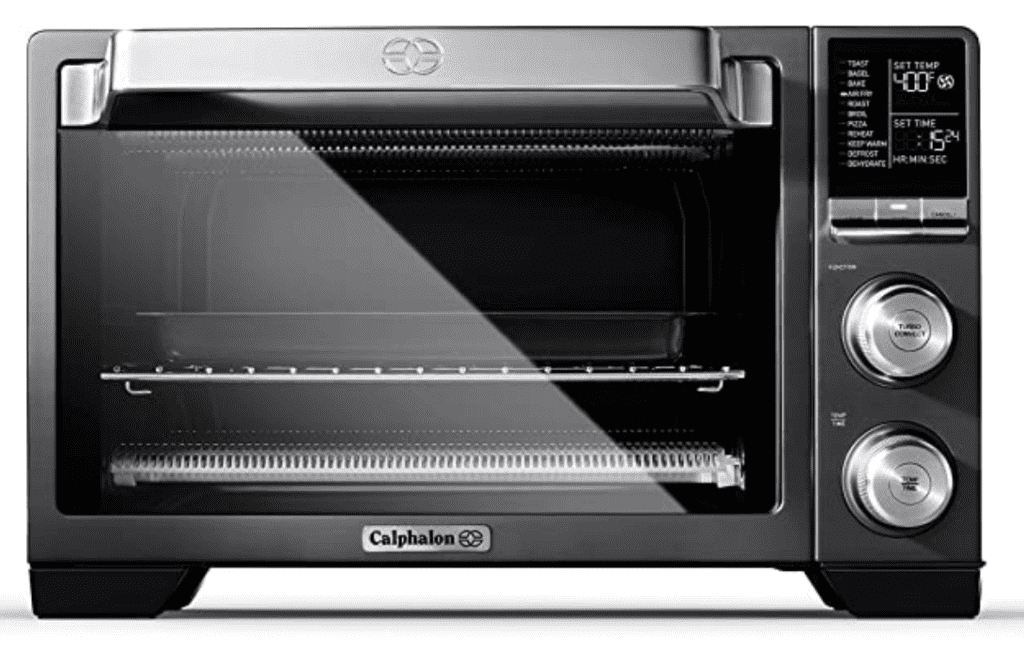 Calphalon microwave air fryer reviews boast that this unit is one of the best air fryer microwave combinations available online, with a 4.5/5-star rating from over 2,500 reviews. With 11 precision cooking functions and turbo convection, this unit really can do it all.
Features: 11 precision cooking functions; turbo convection; LCD screen; built-in-light.
Size: Large capacity that can fit a 12" pizza and 18.7 x 15.8 x 11.6 inches
Price: $242.99 USD
Pros: Easy-to-clean interior; removable crumb tray; stainless steel exterior.
Cons: It uses 1400 watts of energy, which is a bit more than its competition.
What it's known for: It uses quartz technology that delivers 40 percent more even heat, which generates the best results in the crispy food department.
Why to consider it: This unit is more affordable than its competition yet can do just as much. I find this appliance is a great idea if you're looking to get a good bang for your buck.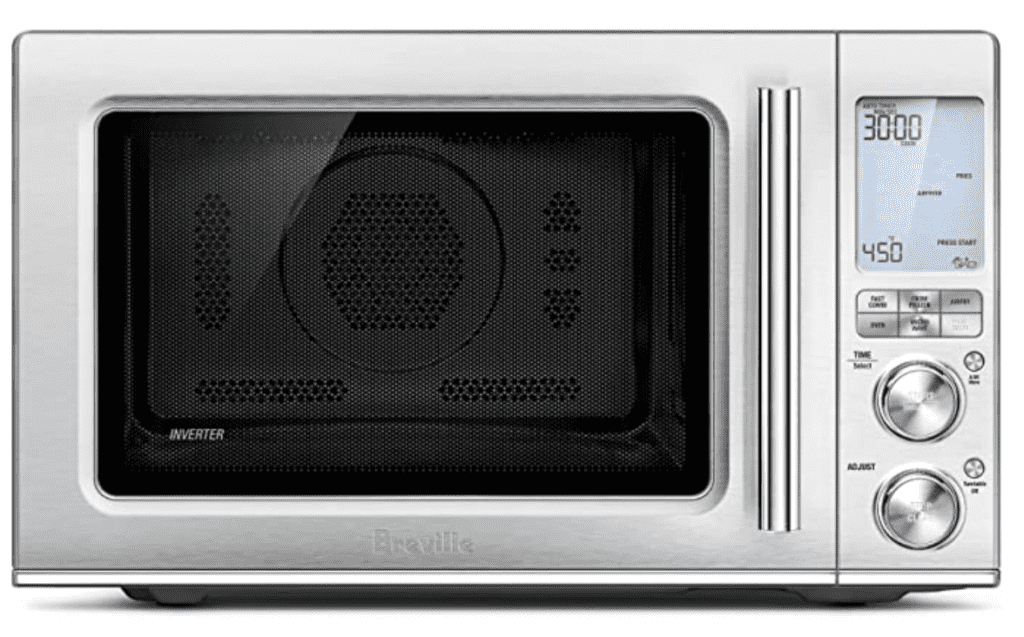 This Breville 3-in-1 appliance is one of the best microwave air fryers. It combines the speed of a microwave, the precision of a convection oven, and the efficiency of an air fryer for delicious, no-fuss meals in no time.
Features: Easy-to-use preset buttons; illustrated instructions on monitoring panel; automatic settings to suit lots of different foods.
Size: 21 x 20.4 x 21 inches and 1.1 cubic feet capacity
Price: $449.95 USD
Pros: It has a sleek glass door that allows you to watch your food cook.
Cons: It's a bit more expensive than some other air fryer microwave models.
What it's known for: This appliance has smart cook, smart reheat, and smart defrost options that are available through smart algorithms that steer power.
Why to consider it: This unit is designed to cook your meals faster than other conventional ovens, making it a wonderful solution for busy moms and easy meal prep.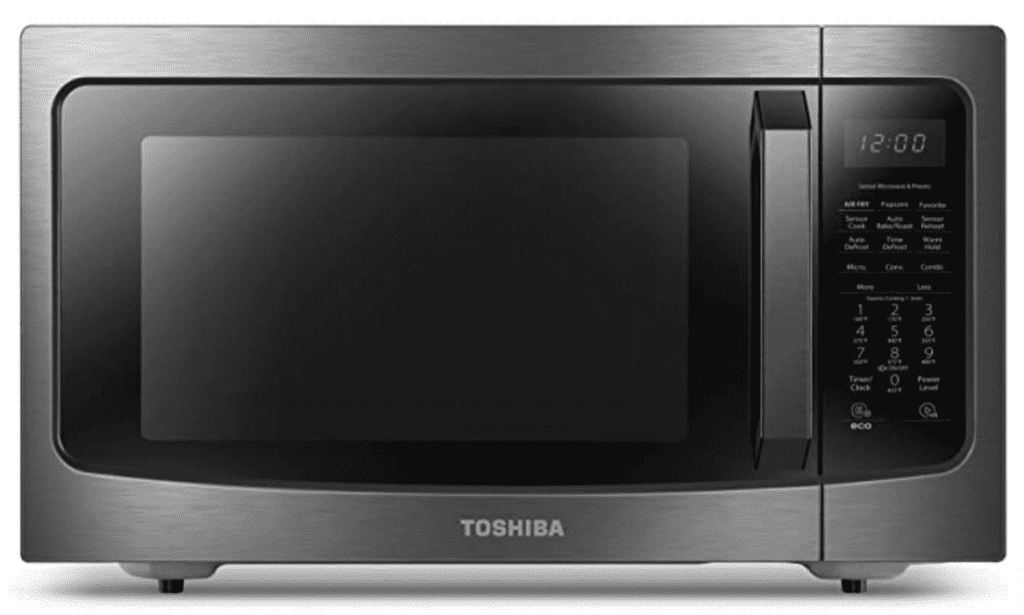 The Toshiba ML-EC42P(BS) was one of the best microwave air fryer combos of 2021 for several reasons. Not only is it high-quality and adaptable, but this microwave air fryer is probably the most user-friendly of the bunch.
Features: Pre-programmed settings to help with cooking; LED lighting; eco mode; child safety lock.
Size: 1.5 cubic feet capacity
Price: $254.99 USD
Pros: It is equipped with a smart sensor that has a pre-programmed menu for popular foods —like potatoes, for example— ensuring optimal cooking results every time.
Cons: The lightbulb is somewhat mediocre and might not last very long.
What it's known for: This unit has an extra-large capacity, making it great for cooking large meals or multiple dishes.
Why to consider it: The Toshiba is incredibly user-friendly and is equipped with tons of convenience features (including multi-stage cooking, a child safety lock, clock and kitchen timer, a mute button, and more).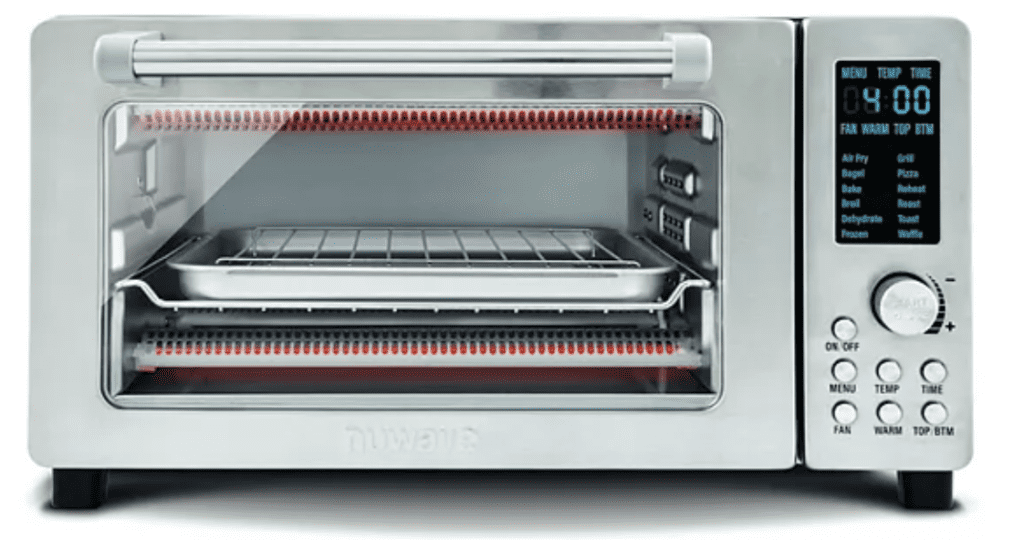 Talk about the holy grail of the best microwave convection oven air fryer combos. Believe it or not, this NuWave appliance boasts 10 functions in a single machine, making it the ultimate gadget for anyone looking to cook like a professional. If you can only afford one cooking appliance, why not make it one that functions as 10 appliances?
Features: Temperature control; 30-quart capacity; 40 easy-to-follow recipes included.
Size: 30 quarts capacity
Price: $189.99 USD
Pros: It offers a bigger cooking surface than standard air fryers and is less expensive than most without sacrificing quality. Keep in mind also, that there are two versions of this air fryer microwave – one with a keypad and one with a knob – so make sure to buy the version that works best for you!
Cons: The instructions aren't super clear and the manual can be hard to follow.
What it's known for: This unit cooks food in a wide range of temperatures and works within five cooking stages.
Why to consider it: This microwave air fryer is designed to be much safer and more efficient than a regular oven. Not to mention, you're getting a ton of clever touches for an affordable price.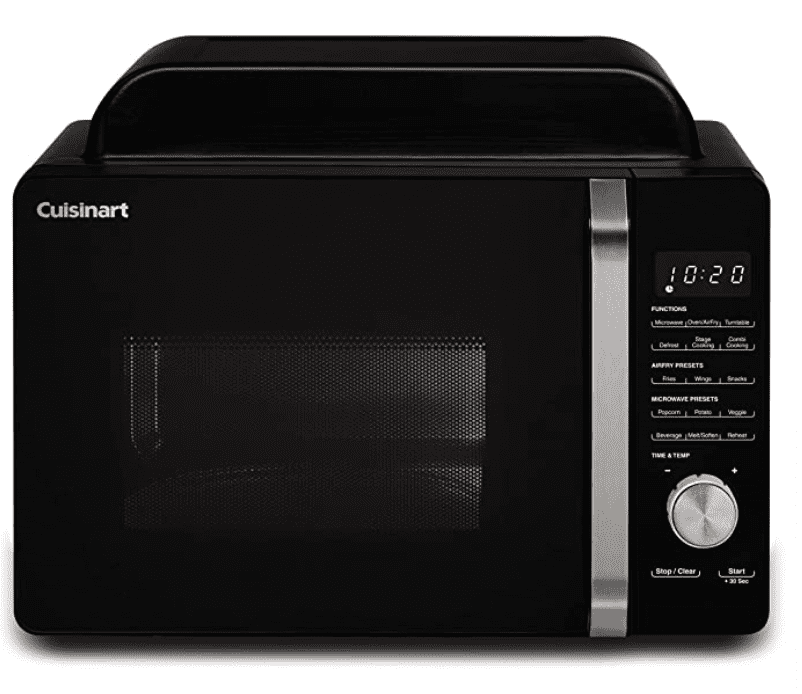 This Cuisinart air fryer takes all the benefits of a microwave air fryer combo and compacts it into the smallest amount of surface area. It's perfect for college dorms and smaller kitchens!
Features: 11 power levels; touchpad controls; LED display; easy to use and clean.
Size: 0.6 cubic feet capacity and 14.4 x 17.9 x 13.8 inches
Price: $249.95 USD
Pros: It takes up less counter space than the competition.
Cons: This model isn't able to hold larger meals or multiple dishes at once.
What it's known for: This unit offers all the same terrific benefits of an air fryer microwave combo without taking up your entire countertop.
Why to consider it: If you have a smaller kitchen — or less available counter space — this unit is the one for you! It was made for folks who want to fit an air fryer microwave in those harder-to-reach places.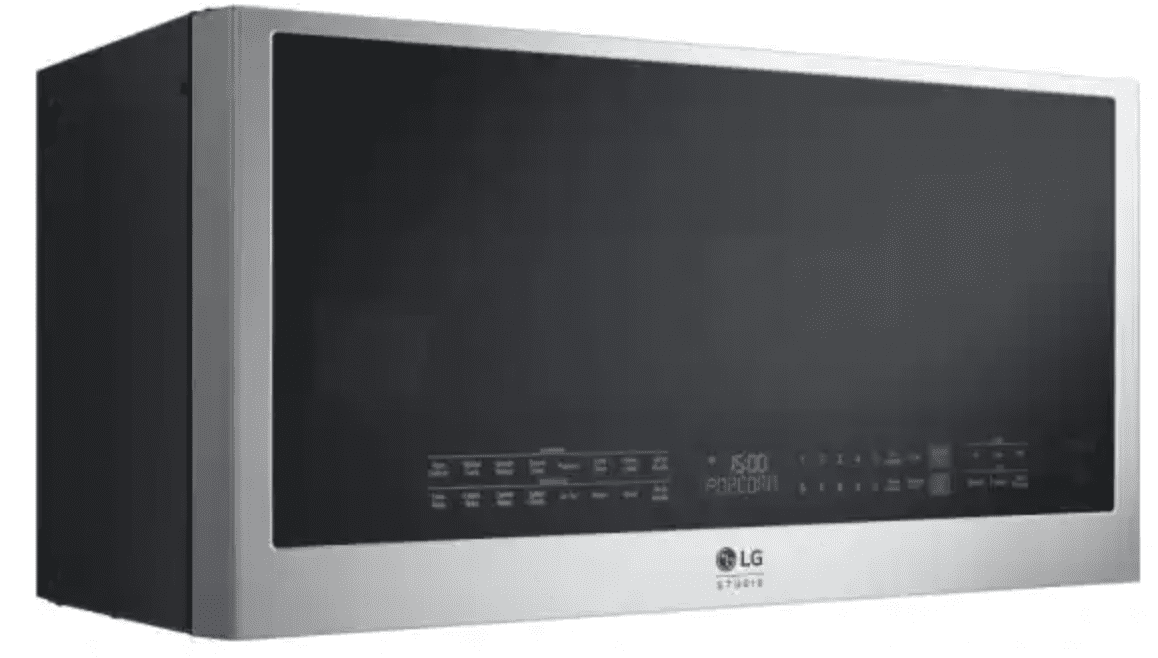 This LG Studio Air Fryer Over-the-Range Convection Microwave allows you to bake, roast, air fry – all without giving up any counter space! With no preheat needed, you can air fry your favorite recipes easily and quickly!
Features: Convection & humidity sensing technology ensures perfectly cooked food every time. 8 one-touch settings, 5 power levels, LED display. Uses 950 watts of energy.
Size: 1.7 cubic feet capacity and 29 x 16.9 x 16.4 inches
Price: $899 USD, 2 year limited warranty
Pros: Saves you a ton of counter space by allowing you to install this above your range!
Cons: It is on the pricier side, and requires installation (you can't just set it on your countertop and start using it)
What it's known for: You can literally do everything with this appliance! It functions as a second oven, that also happens to be an air fryer. It also has a huge capacity of 1.7 cubic feet, making it easy to cook large quantities at once.
Why to consider it: Great for anyone who wants to save counter space, and wants an all-in-one appliance.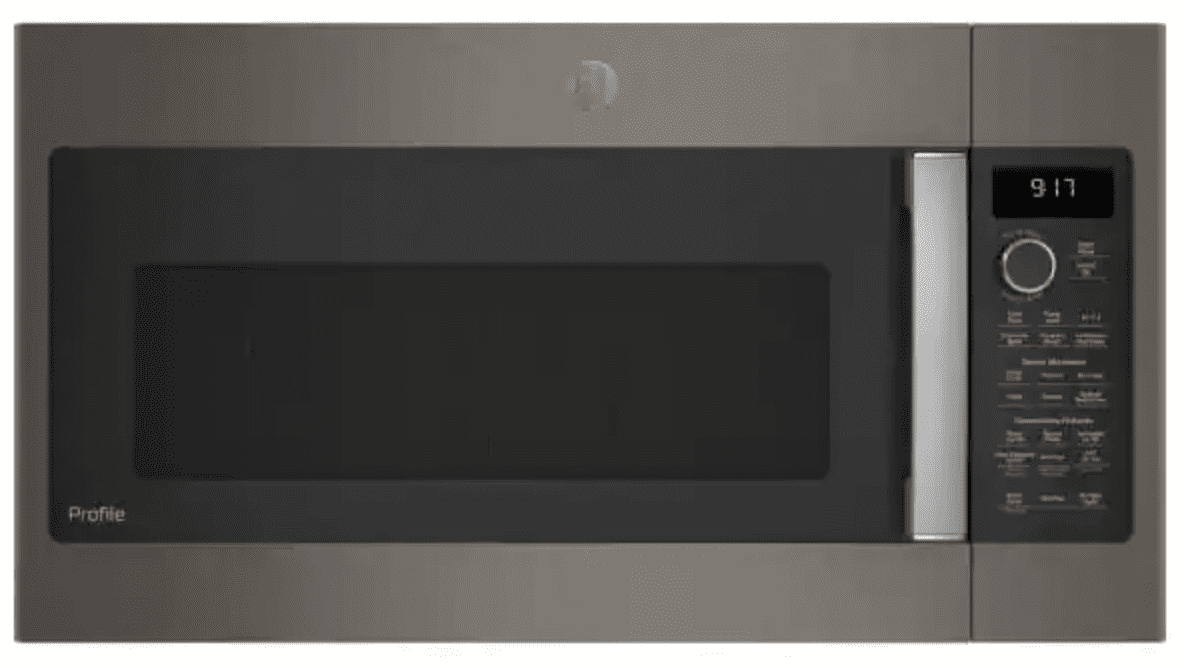 This is my more budget-friendly pick for an over-the-range air fryer microwave. With smart home technology, and convection cooking – it has all of the key features you'd want with a slightly smaller price tag!
Features: Convection Oven, Microwave Rack, Removable Filter, Interior Light, sensor cooking controls, LED display.
Size: 1.7 cubic feet capacity and 29.9 x 16.3 x 17.3 inches
Price: $759 USD, 1 year warranty
Pros: 10 power levels and 14 one touch settings (more than the LG version)
Cons: It doesn't have as sleek of a design as the LG version, and some users report the convection technology is uneven.
What it's known for: It's large capacity (1.7 cubic feet) and the ability to tightly control how you're cooking your food due to the large number of settings.
Why to consider it: If you want to save counter space and save some money on buying an over-the-range air fryer microwave!
Air Fryer Recipes To Try!
Now that you've gotten your hands on one of the best microwaves with an air fryer, it's time to put it to use! From wings and fries to bread and baked goods, there are tons of incredible ways to use an air fryer. Here are some of the best air fryer recipes to try:
Air Fryer FAQs
Here are the answers to some of the most frequently asked questions about air fryers:
Can I replace my microwave with an air fryer?
While air fryers can technically warm foods, they're more likely to crisp up your food than a regular microwave oven. If you're looking to replace your old microwave, I recommend opting for one of the best microwave and air fryer combos instead.
What cannot be cooked in an air fryer?
You shouldn't cook battered, saucy, or soupy foods in your air fryer, as they won't be very fun to clean up. I also don't recommend cooking large, whole chickens inside your air fryer, as you risk cooking them unevenly.
Can you put raw meat in an air fryer?
Yes! You can safely put raw meat and even frozen raw meat into your air fryer. If you forget to thaw your meat in advance, don't worry—just pop it into the air fryer and add some extra time (exact time depends on weight) to the clock to compensate.
Final Thoughts
So, is an air fryer microwave combination worth it? After reading about the best microwave convection air fryer combos, I hope you've figured out your answer! Both air fryers and microwaves are amazing kitchen gadgets to have at home, but a combination of the two is a terrific way to save counter space and maximize your cooking abilities.
If you're considering a new microwave air fryer, I hope this guide to air fryers provided the gentle push that you might have needed. Have fun shopping for your new favorite appliance and feel free to browse my air fryer recipe list for some tasty ways to get started. Happy frying!
22 responses to "12 Best Air Fryer Microwave Combos (2023 Guide)"