Best Oil to Season Cast Iron: The Top 10 Oils To Use
This post may contain affiliate links. As an Amazon Associate, I earn from qualifying purchases. Please read my disclosure.
Finding the best oil to season cast iron skillets and other cast-iron cookware is so important! Make your cast iron cookware last for generations by using these top 10 oils!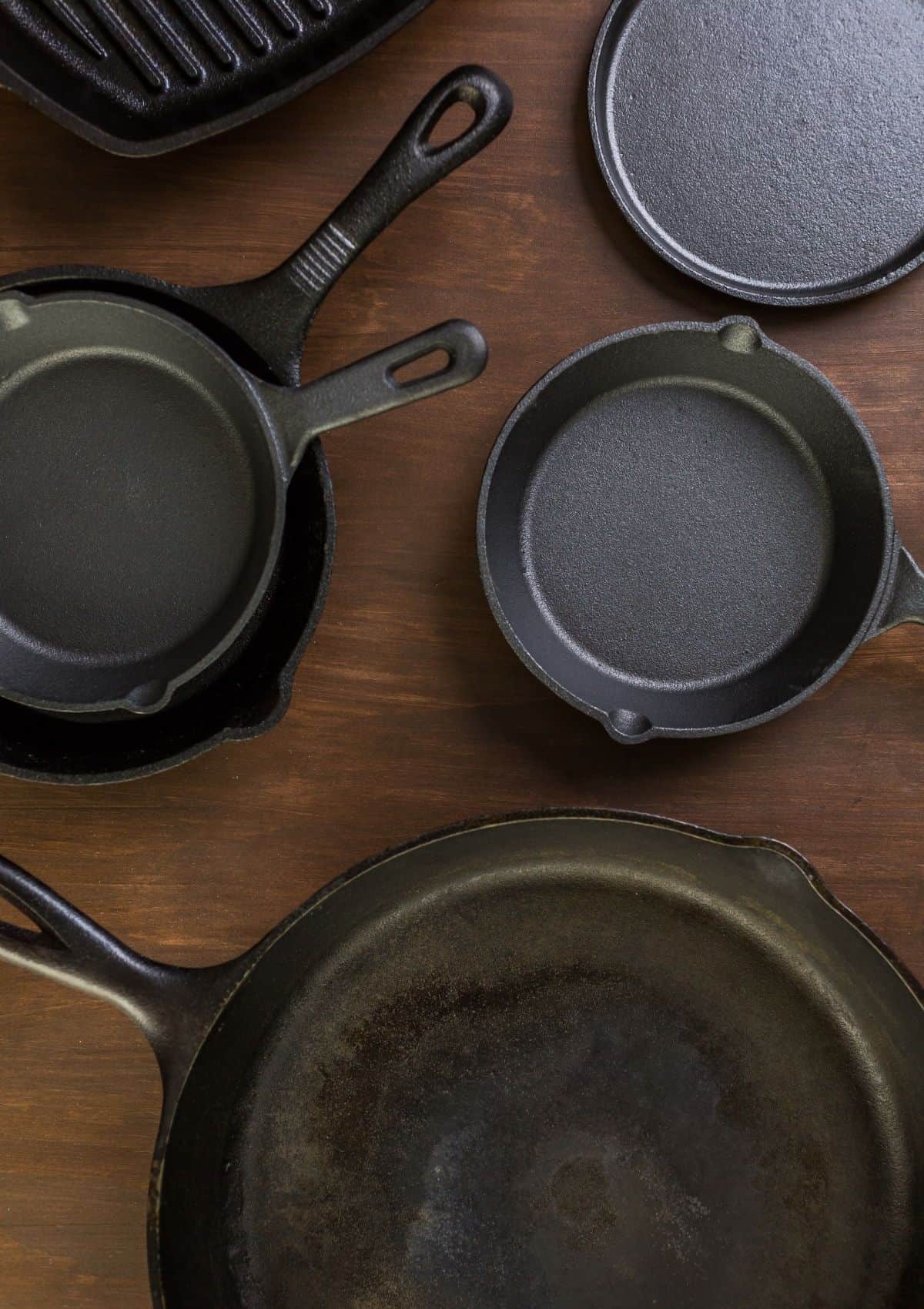 One of the wonderful things about cast iron is its ability to endure. With the right care and attention, many cast iron cooking tools have lasted decades, being passed down from generation to generation.
Considering how incredibly important these skillets can be to people, it's important to make sure you're using the best oil to season your skillet so that it will continue to endure for generations!
But why do you need to "season" cast iron? And what is the best cast iron seasoning oil?
This helpful guide will walk you through everything you need to know to season your new cast iron.
What Does Season Cast Iron Mean?
When you hear the term "seasoning," you probably think of spices and herbs. But seasoning cast iron has nothing to do with spices! For a new cast iron skillet, seasoning describes a protective layer that's formed on the pan by heating fat (typically oil) over and over until it creates a hard "skin" that protects the metal of the pan.
Below are the top ten oils to season and cook with using a cast iron skillet.
What Is The Best Oil To Season Cast Iron Cookware?
Honestly, just about any oil or fat could be considered the correct oil. You just have to make sure that you heat your pan below the smoke point of the oil. What oil you use to season cast iron depends on your cooking needs, the flavors you want to impart on your new cast iron pan, and your desired seasoning process.
In general though, vegetable oils with a higher smoke point like grapeseed oil, coconut oil, or avocado oil are a great option.
Additionally, you want to look for any type of oil that is high in polyunsaturated fats. This is because polyunsaturated fats are the fats that most efficiently turn into seasoning when heated, due to a chemical reaction called polymerization. While any oil put under enough heat will eventually polymerize, unsaturated fats work better because they're more "efficient" at oxidizing and therefore, polymerizing. So when you're looking for the best oil to season cast iron, look for an oil that is high in polyunsaturated fats (and a high ratio of polyunsaturated to monounsaturated fat).
Below is a list of oils to help you find the best oil based on availability, health benefits, and effectiveness in your cooking method.
Grapeseed Oil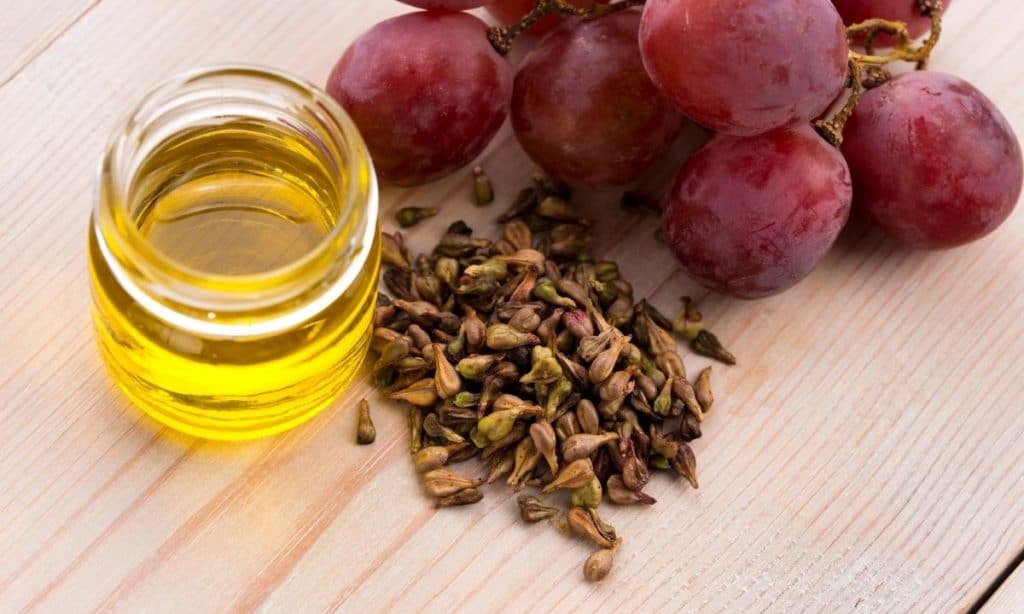 For those who prefer to cook at a higher heat, grapeseed oil can be a great choice for cast iron seasoning. Many culinary professionals use grapeseed oil for seasoning and in their cooking.
Grapeseed oil is a good choice becasue it has a pretty neutral flavor – it isn't overpowering in its flavor. With its high smoke point of 420 degrees F, and ability to blend perfectly with other flavors, this healthy oil is adaptable to any dish!
We love La Tourangelle's Expeller Pressed 100% Grapeseed Oil, as it is made with imported grapes from France, is high quality, affordable and is full of fatty acids and Vitamin E.
Peanut Oil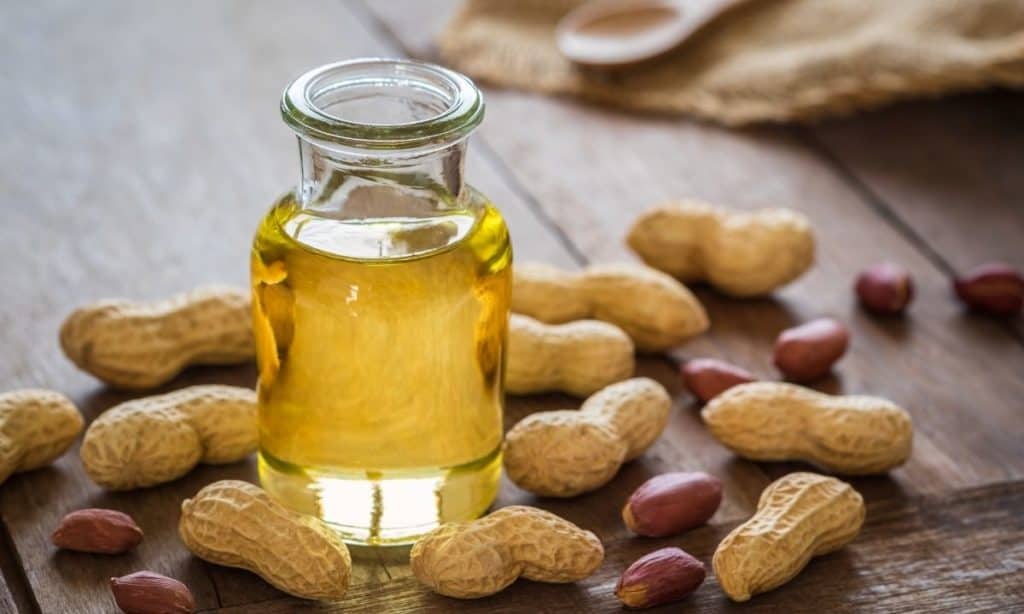 Peanut oil is ideally suited for those who prefer a middle-of-the-road seasoning oil. With its fair price and mid/high smoke point of 450F, this is probably the best oil to use when preparing Asian cuisine or deep frying.
Due to its unique flavor, peanut oil may not be the best choice if you do not desire a peanut flavor in your dish. Also, if you ever plan to cook for someone with a peanut allergy, this would not be a good choice of cast iron seasoning oil!
For quality and long-lasting peanut oil to stock your shelves with, we recommend La Tourangelle's Peanut Oil – it is perfect for your culinary needs!
Avocado Oil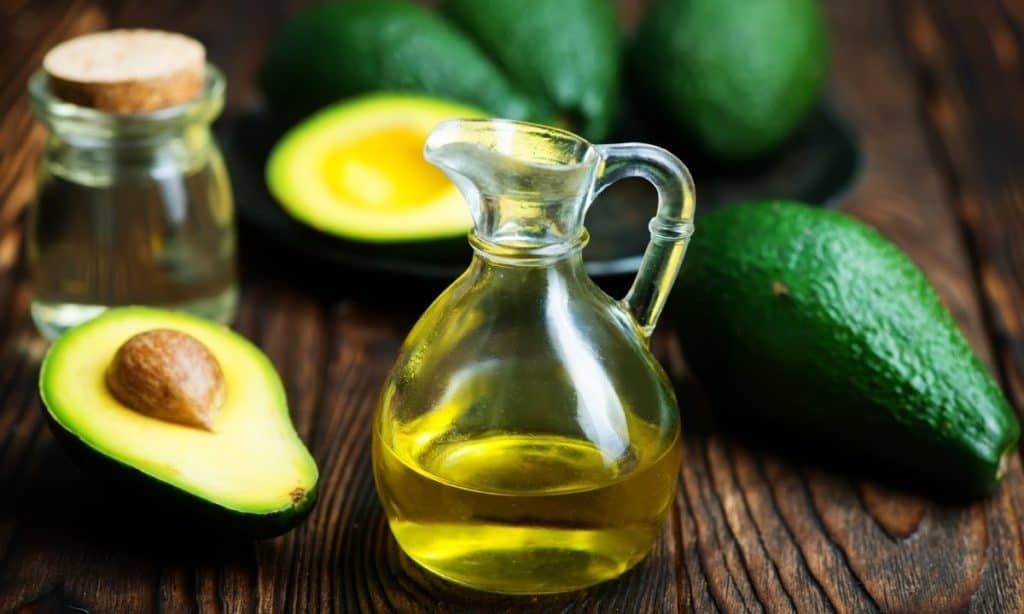 Avocado oil has an extremely high smoke point of 520F. This is great because it'll never burn, but can be hazardous as you will have to handle a very hot pan while going through the seasoning and heating process.
Why should you consider avocado oil, and is it the best oil to suit your cooking needs?
Here are just a few of the benefits of avocado oil for seasoning cast iron:
The high smoke point means longer lasting seasoning;
It's full of oils that are good for your heart;
It contains vitamin E;
It has a neutral-flavor!
While it may be a little more expensive than other oils, avocado oil complements a professional kitchen with a subtlety that doesn't overpower a dish. We recommend Nutiva Organic Avocado Oil!
Canola Oil and Vegetable Oil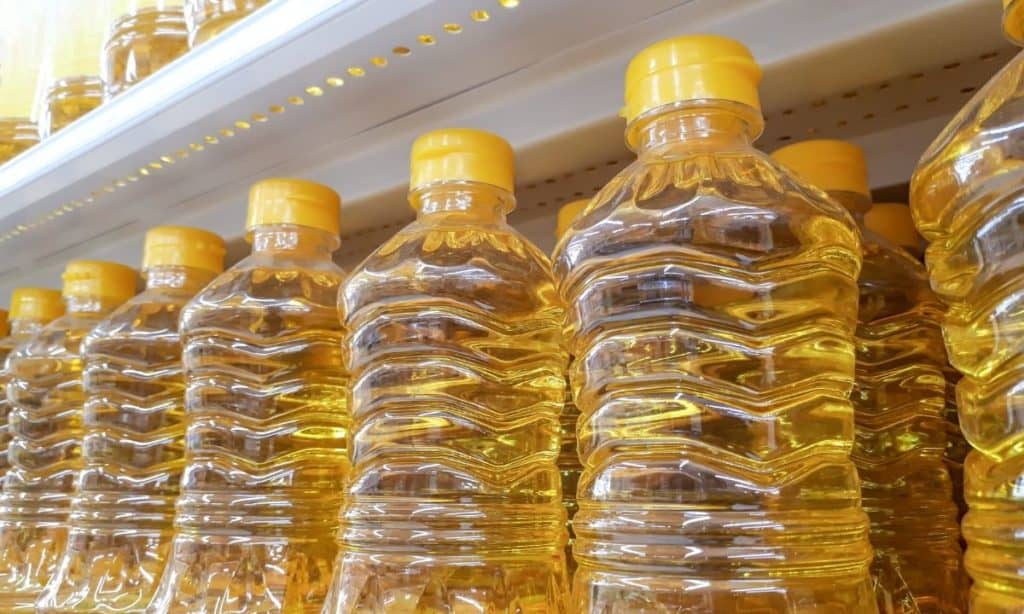 Due to their availability and ability to handle very high heat, oils such as soybean oil, sunflower oil, corn oil, canola and vegetable oils are some of the most popular cooking oils on the market.
But just because they're popular, does it necessarily mean that they're the best?
Not really. Canola and vegetable oils are heavily refined. In other words, they're the least healthy oil options for cooking with. Although it's not a healthy option, these types of oil are cost-effective and are some of the most common oil to season cast iron with. In fact, the Lodge Cast Iron Company, who is one of the top makers of durable cast iron pans, recommends canola oil as the best option to season your cookware with.
La Tourangelle makes an organic Canola oil that is also cold pressed, so it's probably one of the highest quality canola oils you can find.
If you do season cast iron with this vegetable oil option, I recommend cooking with a healthier oil that is rich in omega-3 fatty acids, and has a high smoke point.
Coconut Oil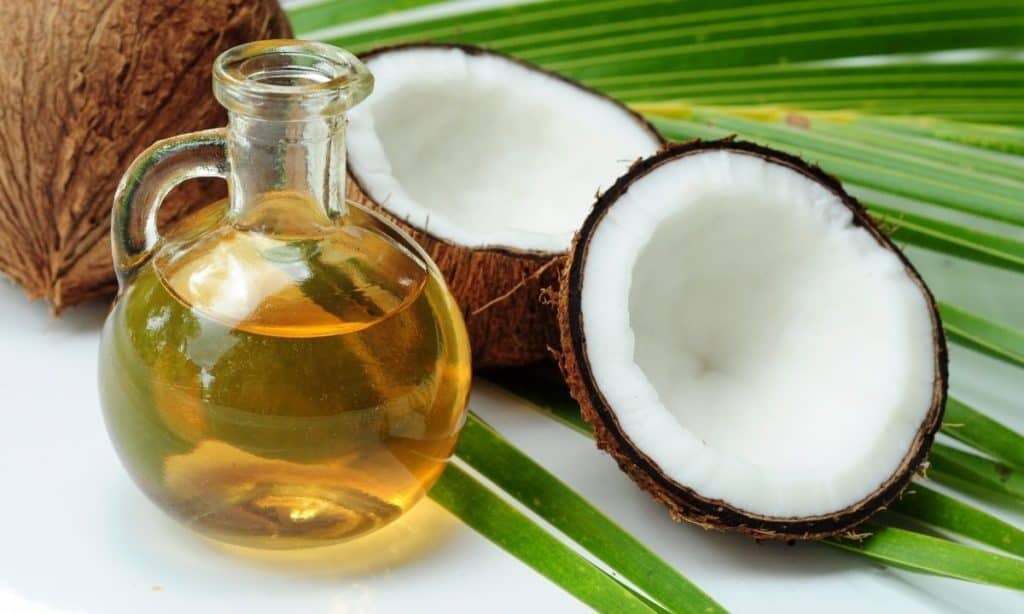 Coconut oil has become a popular choice over the years as the healthier alternative to some of the more traditional oils. A much sought-after oil for cooking, coconut oil works best for those who don't cook at particularly high temperatures.
But can you use coconut oil to season cast iron?
Yes! It's important to warm your pan before adding the coconut oil; 350 F ideally. If you're careful to make sure that your pan is seasoned well, this oil is also perfect for daily cast iron cooking. The key when using cast iron seasoned with coconut oil is to not cook at a heat that is higher than coconut oil's smoke point, otherwise you run the risk of breaking down the seasoning bond.
One of my favorite brands is Nutiva Virgin Coconut Oil. It is ideal for use in vegetarian, paleo, vegan, and gluten-free diets.
Flaxseed Oil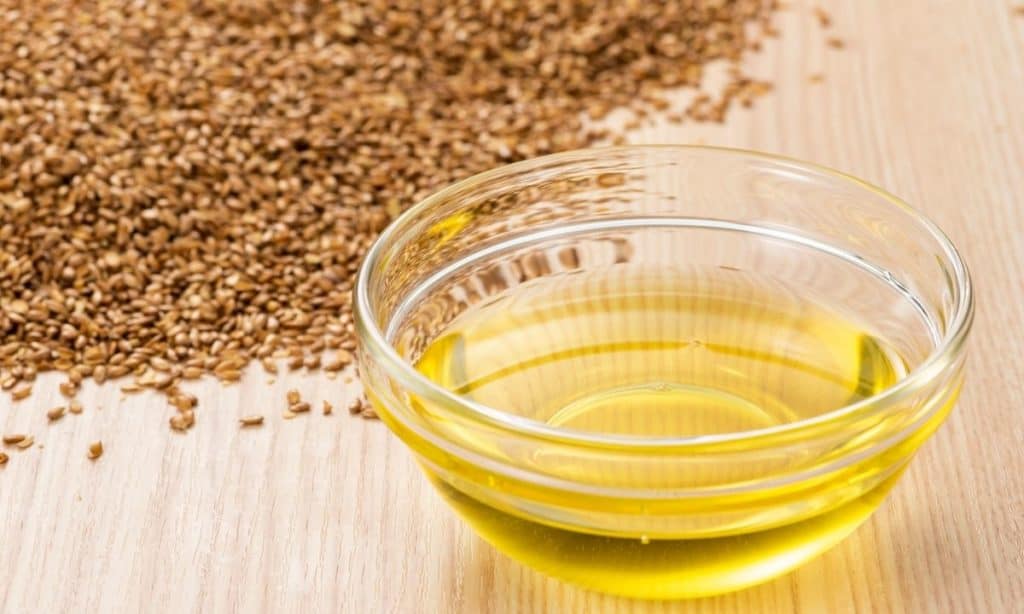 Depending on the dish, flaxseed oil is something of a benchmark. While it could be considered a bit of a luxury oil based on its price, it's a powerful aide as a seasoning oil.
With its hefty price tag, be sure to fully understand whether this particular item is the best oil to suit your needs. It has a lot of benefits including healthy fats, and it dries quickly. Because it has a low percentage of saturated fat, it should be able to create a strong bond to your cast iron.
On the other hand, flaxseed oil has a very low smoke point in comparison to other oils, so you would have to season your pan at least 6 times on a low heat (200-225 F) before first use.
We love using Puritan's Pride Organic Flaxseed Oil or Barlean's Fresh Flaxseed Oil — these are award-winning organic oils that will provide all the flaxseed seasoning oil benefits you're looking for. Note: Flaxseed oil tends to go rancid so this will only work to season your pan if you plan to use your pan frequently with a variety of cooking fats.
Extra Virgin Olive Oil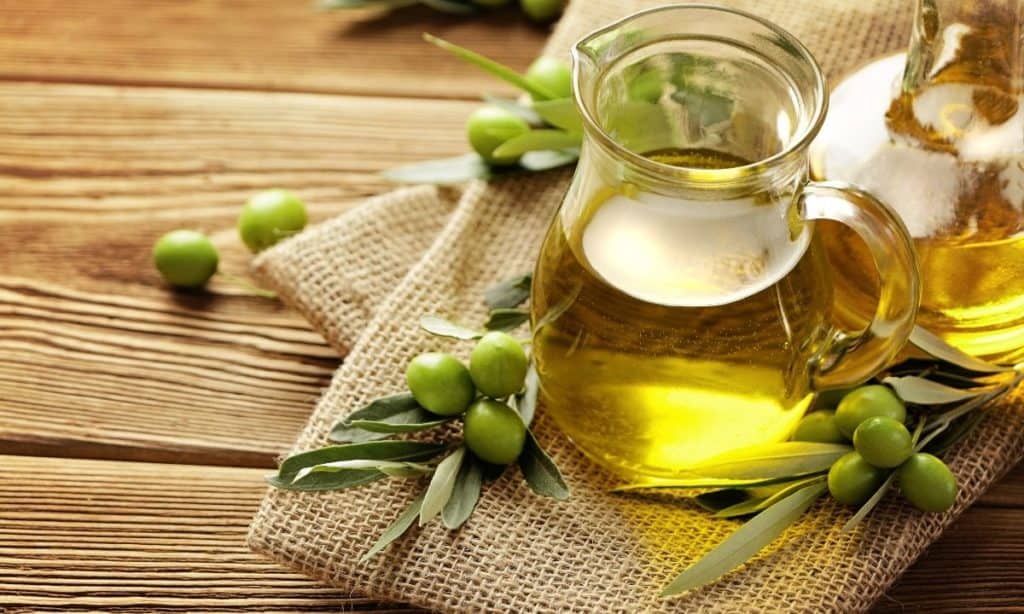 As possibly the most recognized oil to use on your skillet, this adaptable and inexpensive oil can be found on the shelf of any supermarket. While olive oil is more accessible than other cooking oils, it requires a little more attention to detail to ensure the oil itself bonds with your pan.
Low temperatures in between pauses to keep it from overheating is a time-consuming but necessary process. Remember, rushing and overheating with readily available oils like this will prevent the oil from bonding with the pan.
So, if you're looking for a widely used oil that's cost-effective but may need a more attentive approach to seasoning your cast iron, extra virgin olive oils like Pompeian Organic Extra Virgin Olive Oil is a great choice!
Animal Fats To Season Cast Iron
If you are not vegan (or vegetarian), you may consider using an animal fat for seasoning cast iron. Here are three to consider.
Lard: This is one of the most traditional ways to season cast iron. However it can be very finicky, can turn rancid if the pan is not used frequently, and can start to smell if stored incorrectly. It is also high in saturated fats, so it won't polymerize as efficiently as other oils. It also isn't vegetarian friendly, so if you are cooking for vegetarians you wouldn't be able to use your pan for that meal.
Bacon Grease: Similar to melted shortening – bacon grease acts in the same way as lard does for seasoning.
Ghee: A good option with a smoke point at a higher temperature (around 450-475 degrees F). It may not give you as even of a seasoning for your cast iron pan because it is high in saturated fat, but it will work over time if it's all you have.
Can You Season Cast Iron With Butter?
We don't recommend seasoning cast iron with butter. This is because butter has a lower smoke point, which means it will likely burn if you try to use it in the initial seasoning process. You can cook with butter in your cast iron though, as long as you're cooking on low heat!
How To Season Your Cast Iron Skillet – Step By Step
While there are different methods you can use to season your cast-iron pan, I have found this simple method to be the best way to achieve a layer of seasoning that will protect your pan!
Wash the entire pan by hand using a small amount of dish soap and hot water.
Quickly dry with a lint-free cloth.
Add a thin layer of oil to the inside of the clean pan. Rub it all over so that it doesn't look greasy.
Place aluminum foil on the bottom of your oven to catch any drips of oil.
Preheat your oven to 450-500 degrees Fahrenheit.
Place the pan upside down in the oven in the center rack, with a piece of foil, a baking sheet, or piece of parchment paper underneath to catch any excess oil.
Bake for 1 hour.
Allow to cool in the oven to room temperature before removing.
Wipe off any excess oil with a lint free rag.
How Often To Season A New Pan?
For best results, experts recommend doing the initial seasoning of a new pan 3-4 times. So essentially you'll repeat the 9 steps above 3-4 times until you have achieved a nice hard layer of seasoning and a natural non stick surface. But if you don't have time to do that, seasoning it once will still work, as it will get "re-seasoned" with regular use! Note: if you don't like the way your food tastes after cooking with your cast iron, it may be a good idea to re-season or switch oils used for seasoning.
Do I Need To Re-Season My Cast Iron?
No, not for a while! Once you have completed the initial seasoning process, you actually don't need to do anything else! If you cook fattier foods in your skillet, and you don't use soap when cleaning, the seasoning could last for a year or more. Otherwise, you might want to reseason every 6 months.
How To Clean Cast Iron?
It's important that you wash your pans with hot soapy water or warm water only, and rinse well to remove all residue. Don't soak them ever, and even when you're using soap – use it only when it's absolutely necessary (e.g. you've cooked meat or dairy in the pan, the dish was particularly aromatic or delicate, etc). Never clean your cast iron cookware with steel wool!
How Do I Clean Rust Off My Cast Iron?
If you have a cast iron skillet, pan or dutch oven, and moisture ends up accumulating in your cookware, it will rust. To get rid of rust, scrub your cast iron with steel wool until all the rust and prior seasoning has come off. Wash the pan with warm soapy water, then dry it completely. Then follow the steps for seasoning above (choose an oil with a high smoke point!)
Top Tips For Using Your Cast Iron Cookware
Never use paper towel to wipe your cast iron cookware clean. It will leave little pieces of unwanted lint that will stick to the surface. As time goes by this can cause a problem when cooking. Instead, use a lint free old rag to wipe your cast iron clean. Make sure to always dry your cast iron completely.
To get your cast iron truly dry after use, feel free to heat your clean pan on the stove until all of the extra water has evaporated.
For the first few uses, I recommend cooking fattier foods – this will help to reseason your pan while you're cooking with it.
When it comes to acidic foods such as tomatoes and lemons, wait until you have used your pan at least 10 times before cooking them. Also, cook acidic foods for only a short time. Your cast-iron skillet is great to sauté tomatoes, but you don't want to cook acidic sauces like tomato sauce that take a long period of time to simmer.
Store your pan in a cool dry place with the lids off to avoid moisture collecting and rust build up.
Overall, you may not need the most expensive oils, or the best oils. But it's important to find the most suitable oil for your specific needs. With a lot of research and a little patience, you'll soon discover the perfect oil to season your cast iron pan.
More Helpful Cooking Tips!
For more healthy recipes and helpful cooking tips FOLLOW ME on FACEBOOK, TWITTER, INSTAGRAM, and PINTEREST to see more delicious, healthy, family friendly food!