Vegetarian Grocery List: A Complete Guide to Healthy Eating
This post may contain affiliate links. As an Amazon Associate, I earn from qualifying purchases. Please read my disclosure.
Heading to the store with this vegetarian grocery list will help you stock up on healthy whole foods. The items on this list cover everything you need to create delicious and flavorful meals in no time at all!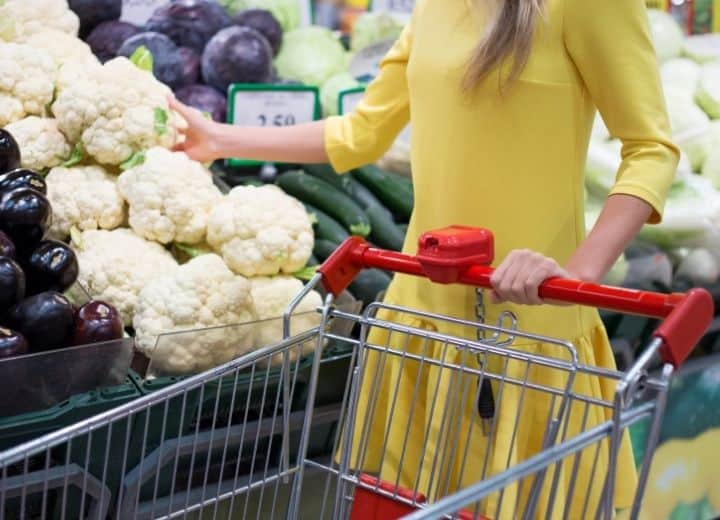 One of the most common questions I get asked is what to buy at the grocery store. I've found that having a vegetarian grocery list is SUPER important when shopping, because it helps me to stay focused and not be tempted by all of the unhealthy treats in the store!
I've also found that one of the biggest challenges to healthy cooking is not having the right ingredients on hand. By the time you're ready to cook, you're already hungry, you realize that your fridge is empty, and the last thing you want to do at that time is grocery shop.
But with a little bit of planning, and my simple vegetarian grocery list – you can just get what's on the list and that's it! Eliminate the dairy items, and you'll have a simple list of vegan foods.
Then you'll have all of the ingredients you need to make any of my tasty, good-for-you recipes, and you won't waste time wandering the grocery store aisles either.
Stocking up on balanced, healthy foods is key to not being tempted to get takeout when those dinner-time-hunger-pangs come calling. Since I use a lot of the same ingredients for most of my recipes, you won't have as much food waste.
What Do You Eat On A Vegetarian Diet?
When you follow a vegetarian diet you eat a combination of fruits, vegetables, grains, legumes, dairy, and eggs.
There are however different types of vegetarians. Some vegetarians exclude eggs from their diet but do consume dairy. Others don't eat dairy, but do consume eggs.
In general, a vegetarian diet includes everything with the exception of meat, poultry, fish, or any foods that use animal derived ingredients.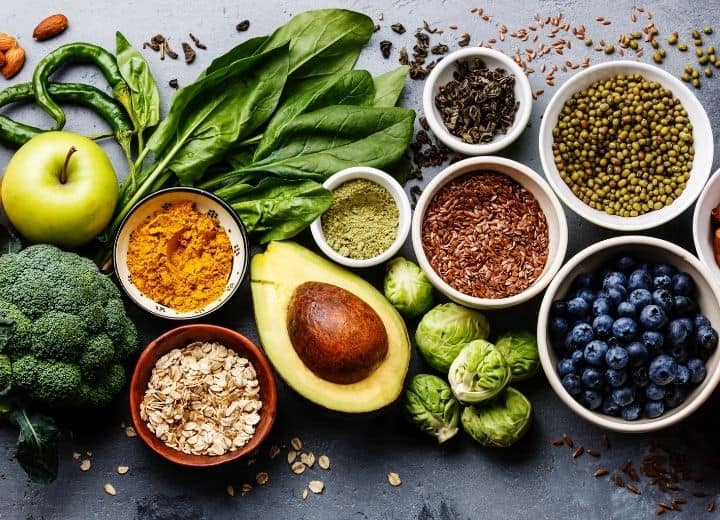 Top Tips For Healthy Grocery Shopping
Bring A List: When you set off for the grocery store, make sure you are prepared! Bring a list! That's where this vegetarian grocery list will come in handy. When you go to the grocery store without a list you end up buying foods that aren't as healthy, or may not make a complete meal. Make a plan, and go to the store prepared!
Don't Shop When Hungry: Whenever I go to the grocery store hungry I end up buying way more than I intended. I fill my cart with whatever looks good. If you go on a full stomach you'll be in a better frame of mind to get the foods you need to create healthy meals, not just snacks to appease your appetite!
Buy Whole Foods: Stick to the outer edge of the grocery store. The aisles are mostly filled with processed foods. Buy fresh produce, dairy, cheese, whole grain breads, beans, and lentils. Stay away from packaged products that have a long list of ingredients and preservatives.
Buy In Season Produce: When you buy produce that is in season you not only save money, but you also get the best tasting product! Seasonal produce costs less because it doesn't need to be shipped from another country. It also tastes better because it is at the peak of freshness.
Prep Vegetables ASAP: To help you get started on your meal planning, prep your vegetables when you get home after you unpack your groceries. Wash your produce. Chop your vegetables, and store them in the refrigerator so they will be ready to go when it's time to prepare your meals. You'll find it will save you tons of time!
What Should You Include On Your Vegetarian Grocery List?
This vegetarian grocery list is broken down into sections including organic produce, whole grains, dairy, canned goods, protein, dairy, nuts and nut butters, frozen foods, sauces, spices, and snacks or sweets.
This grocery list has you completely covered to create well balanced meals that include vegetables, whole grains, protein, and dairy.
Organic Produce
When it comes to shopping for produce opt for seasonal fruits and vegetables. I opt for organic produce most of the time, and use the EWGs Clean 15 and Dirty Dozen list to help guide me. For more information about organic fruits and vegetables read my article: Is Organic Food Really Better?
I have a list of my preferred fruits and vegetables that I typically stock up on every week. This is because you can use them in a variety of recipes!
Organic Vegetables:
Red Peppers
Red Onions
Garlic
Zucchini
Spinach
Carrots
Tomatoes
Asparagus
Broccoli
Kale
Fresh Herbs
Leafy Greens
Sweet Potatoes
Organic Fresh Fruit:
Apples
Bananas
Oranges
Pears
Blueberries
Strawberries
Whole Grains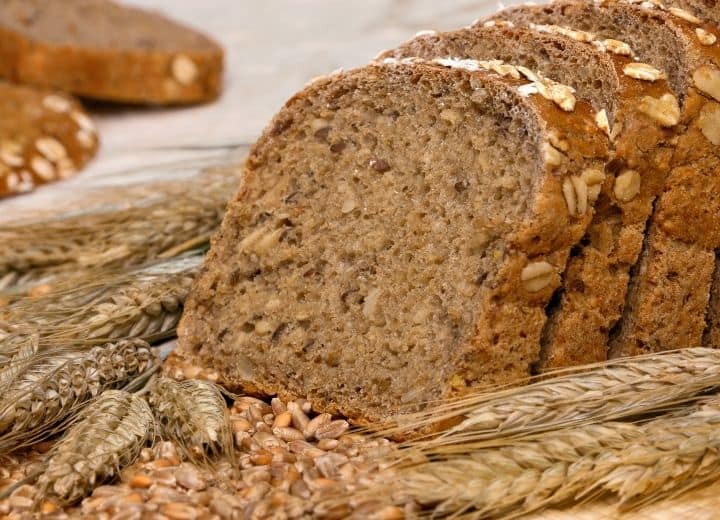 Whole grains include breads, tortillas, pita, pasta, rice, and oats to name a few. Always buy the whole grain version of these carbohydrates. Instead of white bread, opt for whole-grain bread. Instead of flour tortillas, opt for whole wheat or corn tortillas. Instead of white pasta, opt for whole wheat, lentil, or chickpea pasta. Below is a list of the whole grains I stock up on when I'm at the store. Make grain bowls, pastas, sandwiches, tacos, and more!
Whole Grains/Bread:
Whole Grain Bread (learn more about healthiest bread to eat)
Whole Wheat or Sprouted Wheat Tortillas
Corn Tortillas
Whole Wheat Pizza Dough
Whole Wheat Pita Bread
Quinoa
Rolled Oats
Brown Rice
Whole Wheat, Lentil or Chickpea Pasta
Dairy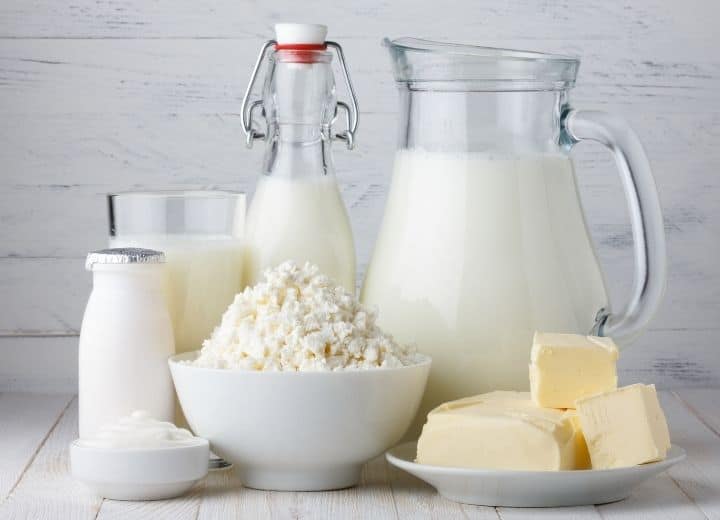 When buying dairy make sure that you get high quality organic milk, yogurts, and cheeses. Organic milks and dairy products don't have added hormones or antibiotics, making them a healthier choice for your family.
The other thing to consider when buying to dairy is to stick to dairy that has no added sugar. That means stay away from fruit flavored yogurts, and instead opt for plain Green yogurt that is high in protein, and has no added sugar.
Organic Dairy:
0-2% organic Greek yogurt
1-2% organic milk
Shredded Organic Cheese
Sliced Organic Cheese
Free Range Organic Eggs
If you follow a vegan diet, then you do not consume any animal products including milk, eggs, and other dairy products. Add these dairy alternatives to your vegan grocery list.
Dairy-Free Alternatives:
Non-Dairy Milk: Soy Milk, Almond Milk, Coconut Milk, Oat Milk, etc.
Vegan Cheeses
Vegan Sugar-Free Yogurt
Canned Foods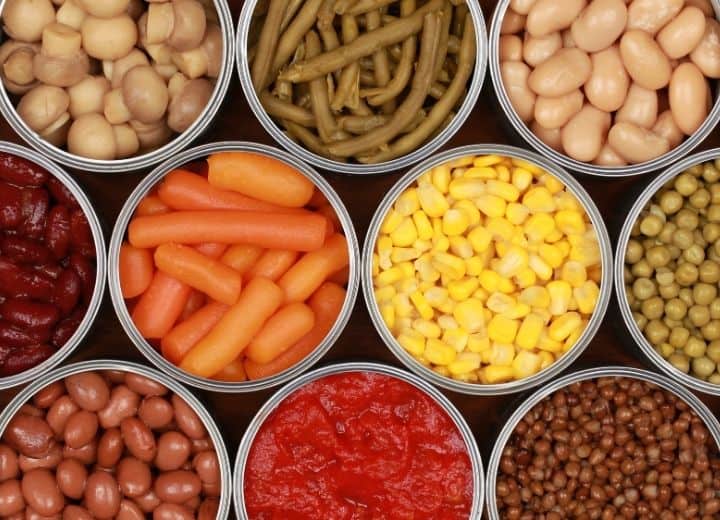 When it comes to canned foods, I typically choose canned beans and canned tomatoes. These pantry staples are used to make chilis, tacos, buddha bowls, burritos, pastas, sauces, and so much more!
When buying canned products be sure that it is in BPA free material, and that you get low-sodium beans, or no salt added beans. When using canned beans, drain and rinse thoroughly.
Canned Items:
Refried Black Beans
Whole Black Beans or Pinto Beans
Kidney Beans
Cannellini Beans
Garbanzo/Chickpeas
Diced Tomatoes
Fire Roasted Tomatoes
Nuts/Nut Butters and Seeds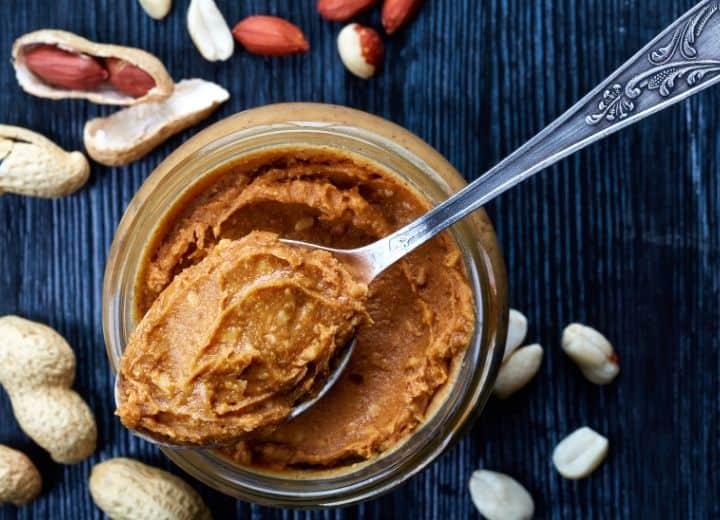 Adding nuts, nut butters, and seeds to your diet add needed protein. When buying nuts, choose raw whenever possible. Salted, and roasted nuts have added oil and salt that you don't need in your diet.
When getting nut butters make sure that you buy ones that don't have added sugar or palm oil. Opt for organic nut butters that contain only 1-2 ingredients (e.g. just "peanuts" or "peanuts, salt"). Nuts have health benefits such as healthy fats, protein, and minerals such as magnesium, zinc, plant iron, calcium, copper, selenium, phosphorus, and potassium.
Nuts/Nut Butters and Seeds:
Organic Peanut Butter
Organic Almond Butter
Organic Cashew Butter
Sunflower Butter
Raw Walnuts
Raw Cashews
Peanuts
Pumpkin Seeds
Sunflower Seeds
Chia Seeds
Flax Seeds
Frozen Foods
Frozen vegetables are frozen at the height of freshness, so they are an excellent way to introduce seasonal vegetables to your diet throughout the year. They're also super convenient to create numerous recipes.
In addition, using frozen fruits on hand are perfect for making smoothies, oatmeals, compotes, and more!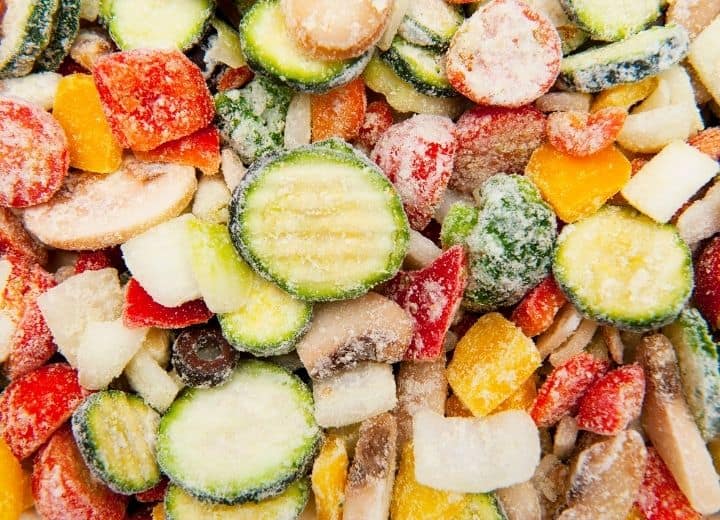 Frozen Vegetables:
Chopped Spinach
Corn
Peas
Carrots
Vegetable Medley
Broccoli
Cauliflower
Butternut Squash
Frozen Fruit:
Wild Blueberries
Strawberries
Mango
Peaches
Mixed Berries
Vegetarian Protein
Stock up on dried beans and lentils. They are a great addition to any pantry. These are inexpensive and are excellent sources of protein. You can buy them in the bulk section of your grocery store. Store in a cool dry place. Tofu and tempeh are also good sources of soy.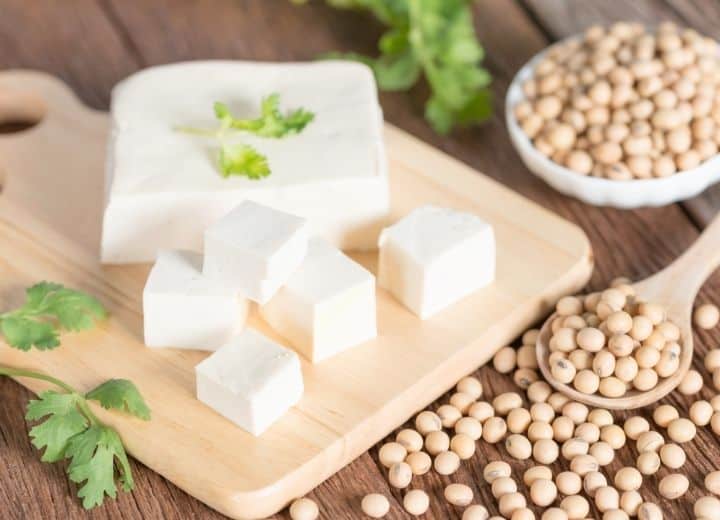 Examples of Vegetarian Protein:
Dried Black Beans
Dried Pinto Beans
Dried White Beans
Lentils
Tofu
Tempeh
Sauces, Spices, and Oil
These sauces and spices bring flavor to your recipes. Simple sauces like marinara, guacamole, or even salsa add a ton of flavor without adding a lot of calories or sugar.
Sauces That I Love Include:
Guacamole
Salsa
Pizza Sauce
Marinara Sauce
Ketchup (choose a variety that has only 2 grams of sugar per serving)
Salad Dressing
Oils That I Use In Cooking:
Extra Virgin Olive Oil
Coconut Oil
Avocado Oil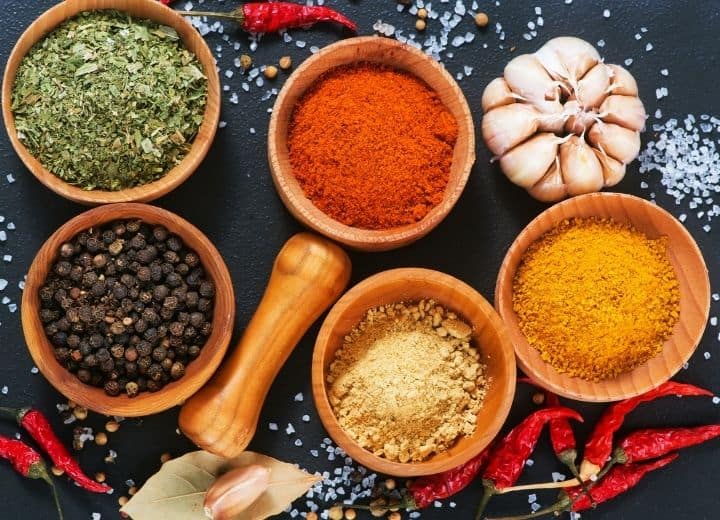 Dried Spices:
Ground Cumin
Ground Turmeric
Ground Coriander
Cayenne Pepper
Onion Powder
Garlic Powder
Curry Powder
Garam Masala
Dried Italian Seasoning
Salt, Black Pepper, Crushed Red Pepper
And that is everything that I recommend buying when you're stocking up at the grocery store!
This vegetarian grocery list is: convenient, simple, quick, cost-effective, balanced, healthy and accessible to anyone (almost all of the ingredients can be bought at any local grocery store!)
I promise it will make cooking at home truly hassle-free. . Take a look at my vegetarian grocery list below, or head to the store with this printer-friendly version (it has everything you need!) Click here to download it. Happy grocery shopping everyone!
Check Out These Other Helpful Vegetarian Grocery Guides!
For more healthy recipes and helpful healthy living tips FOLLOW ME on FACEBOOK, TWITTER, INSTAGRAM, and PINTEREST to see more delicious, healthy, family friendly food!
6 responses to "Vegetarian Grocery List: A Complete Guide to Healthy Eating"