Beli Vitamins Review
This post may contain affiliate links. As an Amazon Associate, I earn from qualifying purchases. Please read my disclosure.
In this comprehensive Beli prenatal vitamins review, I'll dive deep into these fertility supplements to help you learn the good, the bad, and everything in between about this popular brand's prenatal supplement and fertility supplement for both men and women. Read on to learn more about Beli vitamins and whether they might be the right choice for you!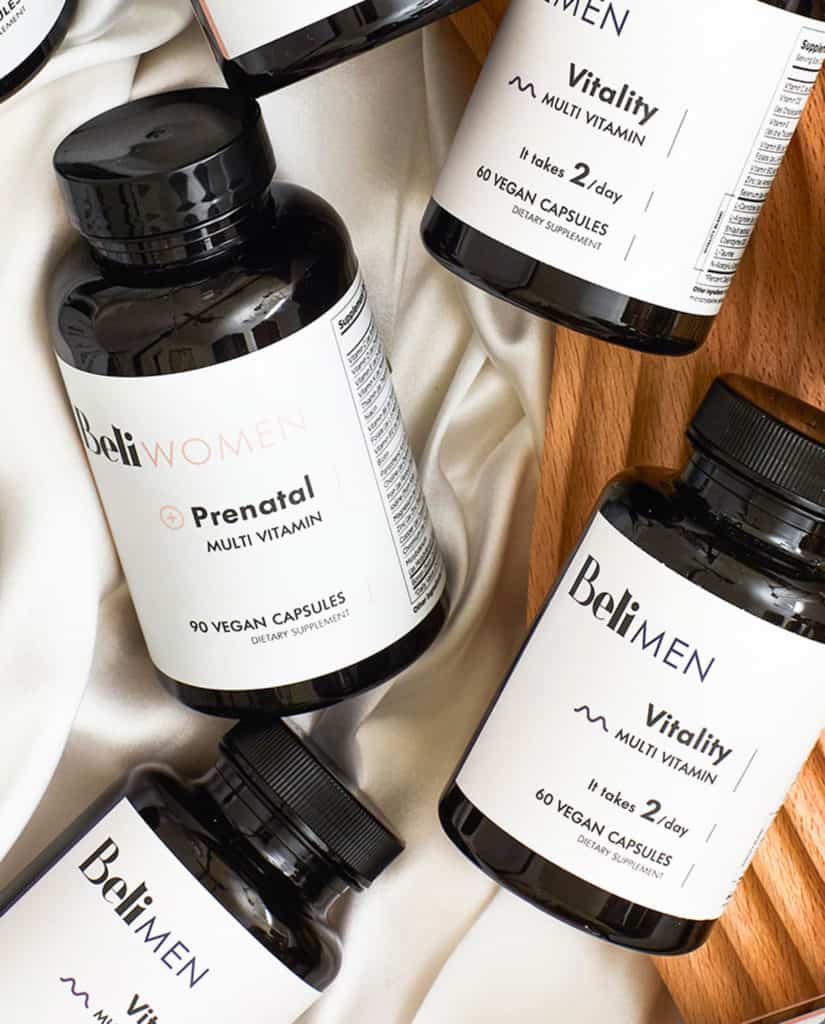 Whether you're on the hunt for the best male fertility supplements on the market or in search of the ideal fertility boost / prenatal vitamins to fill your nutritional gaps, the process of finding the right vitamins can be daunting. Lucky for you, there are actually lots of options on the market today, some of which have pretty good results!
Beli vitamins have received rave reviews from both men and women as some of the highest quality supplements available. If you're preparing to welcome a new member to your family, and you're looking for a high quality supplement to support you and your partner in your journey to conceive, this post is for you!
Overview: What Are Beli Vitamins?
Beli vitamins were created by tech veteran and CEO Joni Hanson Davis. They are the first prenatal vitamin system that is designed to help both men and women reach their fullest potential throughout the journey to conceive as well as all stages of pregnancy.
These prenatal supplements use the highest quality, most bioavailable forms of vitamins including methylated folate (not folic acid) to provide complete nutrition from conception to pregnancy and beyond.
Beli reviews boast that these nutritional supplements improve both sperm quality and egg quality, achieve higher rates of conception, and protect the baby's spinal and brain development and growth. If you're hoping for a healthy pregnancy, Beli has got you covered!
What Makes These Vitamins Different From Other Prenatal Vitamins?
There are a ton of prenatal multivitamins available on the market. So, what makes Beli vitamins different from other fertility vitamins? Well, for starters, Beli might be the one natural supplement where you can genuinely feel the effects of overall wellness and boosted energy.
Not only that, but the Beli Vitality Blend™ is the first vitamin to list all-natural Shilajit as a key ingredient for supporting healthy sperm and overall health fertility of men. Shilajit is a known adaptogen that has been used for centuries to safely restore energetic balance and enhance vitality. Beli took it one step further by using it to improve sperm quantity.
Beli Prenatal Vitamin For Women Review
Beli vitamins for women help to prepare female bodies for healthy pregnancies. They nourish a woman's body before conceiving and once pregnant, they boost health, energy, and comfort throughout each trimester. These prenatal products are bursting with bio-available ingredients to keep women feeling healthy throughout pregnancy.
Notably, Beli vitamins include optimal levels of methyl folate for healthy development and B vitamins for energy. They also include the recommended daily amount of choline, which aids in healthy neural tube development and helps to prevent birth defects (which is something that other prenatal formulas may overlook).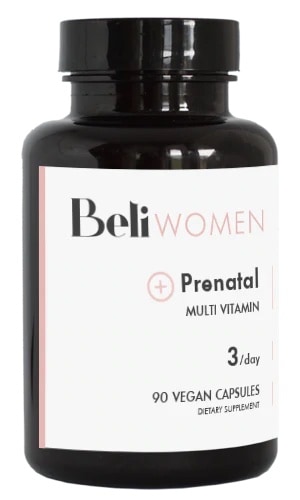 Interested in trying out the Beli fertility vitamin for women? Here is what you should know.
Pros: Beli is formulated with high-quality iron and TRAACS™ minerals that are easy to absorb and gentler on the stomach, which helps reduce the effects of morning sickness and other pregnancy side effects. They also have a slight minty taste which can ease nausea too. They are made with all natural ingredients, no artificial processed stuff here!
Cons: Beli vitamins aren't third-party tested (yet – they are working on it!), and the only way to access them is through a subscription service. There also isn't any DHA (or omega-3) included in the ingredients. 
Cost: You can purchase Beli vitamins via a subscription model for $50/month, which includes free shipping within the United States. However, if you decide that you aren't a fan, you can cancel your subscription at any time. (Use the code Pickyeater15 for 15% off your order!)
Additional Details: Beli vitamins are free from gluten, dairy, and common allergens. They are vegan, are made in an FDA registered facility, and follow the Good Manufacturing Process Guidelines (CGMP).
Beli Prenatal Vitamin For Men Review
Beli Vitality For Men provides men with the right nutrients optimized for sperm and reproductive health, alongside the benefits of boosted energy, balance, and overall wellness. Some of the most common causes of sperm deficiencies are nutritional deficiencies, so Beli seeks to correct the problem.
Beli for men is full of the right nutrients to increase a low sperm count, protect sperm while they grow, improve sperm quality, improve egg penetration, balance acid-alkaline in the body to help sperm work properly, and improve cellular health. Specifically, these nutrients include Vitamin C, Vitamin D, Vitamin E, Coenzyme Q10, and more.
One of the cool things about Beli vitamins is that they are customized for both women and men. Below is everything you should know about Beli for men.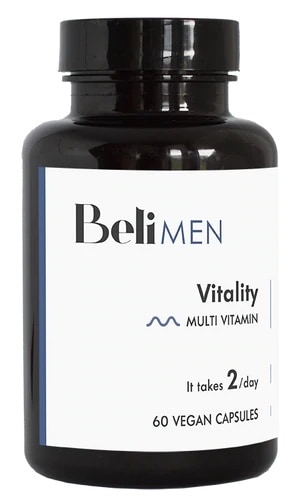 Pros: It is a holistic multivitamin blend of carefully sourced, quality ingredients that are targeted for men's fertility support. It is also one of the only prenatal vitamins to include shilajit. 
Cons: The product may take 2 to 6 months for it to take full effect, and shipping is not available worldwide. Not only that but Beli vitamins aren't sold through retailers. 
Cost: Just like Beli for women, Beli for men is sold on a subscription basis for $50/month. (Use the code Pickyeater15 for 15% off your order!)
Additional Details: All Beli vitamins have a full refund policy, so your purchase is safe. Additionally, they are backed by clinically proven ingredients without any artificial enhancers.
Are Beli Vitamins Right For Me? Who Should Take Beli?
Beli vitamins are made for couples who desire a healthy conception and pregnancy. No matter what phase of pregnancy you are in – from trying for a successful conception to breastfeeding – Beli vitamins may be right for you. For optimal results, both male and female partners should begin taking them 3 to 6 months before trying to conceive.
How Does The Subscription Service Work?
The Beli subscription model is fairly straightforward. For $50 a month, you will receive a 30-day supply of Beli vitamins delivered right to your doorstep. Note that it is $50 per bottle, so if you were to order both Beli for men and women, it would cost $100/month, but if you use the code Pickyeater15 at checkout, you'll get 15% off your order!
While the subscription service is the only way to purchase Beli, the plan is incredibly forgiving. Free shipping is included, you can cancel anytime, and if you don't like the product – Beli will refund you in full. Basically, you can't really go wrong.
How Should You Use These Vitamins?
Beli recommends that women take 3 vitamins per day when they are thinking of conceiving, actively trying to conceive, pregnant, or breastfeeding. For men, Beli recommends taking 2 vitamins per day, every day, for at least 6 months before trying to conceive.
Where Can I Buy Beli Vitamins?
If you're wondering where to buy Beli vitamins, you're in luck. While you can't make a one-time purchase of Beli vitamins, you can purchase them via Beli's subscription service (which can be found on their official website). The subscription costs $50 per month, which includes free shipping within the United States and an easy cancellation option.
More Beli Vitamins FAQs
Here are the answers to some of the most frequently asked questions about Beli vitamins for men and women.
Do Beli vitamins work? How long does it take for Beli to work?
Yes, Beli vitamins are the real deal. While searching for information about the company, I was only able to find positive reviews. Muscle and Brawn reviewed Beli in August 2021, saying that "we highly recommend that all couples looking to conceive within the next year use Beli Fertility for a safe and healthy pregnancy." 

While Beli recommends that women take vitamins throughout all stages of pregnancy, men are advised to begin taking Beli vitamins at least six months before conception. This is because they take approximately 2-6 months to take full effect. 
Is Beli FDA approved?
While supplements are not regulated by the Food and Drug Administration (FDA), independent companies test supplements for safety, accuracy, and quality. Beli vitamins boast that they are non-GMO, gluten and allergen-free, vegan-friendly, manufactured in an FDA-registered facility, and certified GMP.
What supplements help with female fertility?
There are lots of different vitamins that can be taken to support female fertility (Coenzyme Q10, Vitamin D, DHEA, or "prohormone," to name a few). Therefore, you are going to want to look for a vitality blend of those. Lucky for us, Beli vitamins are loaded with Vitamin B12, Vitamin D, Choline, and many more.
How do vitamins improve female fertility?
Curious as to how essential vitamins can improve female fertility? (Let's be honest, what mom-to-be isn't?) Well, taking the right vitamins plays a critical role in things like regulating one's menstrual cycle, immune system, thyroid function, reproductive system, and more. In a nutshell, vitamins are an essential part of a healthy pregnancy.
What supplements help with male fertility?
Clinical investigations have found that certain vitamins can boost male infertility and counteract fertility issues. Specifically, D-aspartic acid supplements boost testosterone levels (which supports male fertility), and Vitamins C, E, and antioxidants help fight oxidative stress in the body (which also has positive effects on fertility).
How do vitamins improve male fertility?
Vitamin C is one of the most abundant antioxidants that is found in the semen of fertile men. It contributes to healthy sperm by protecting the sperm cell's DNA from free radical damage. Therefore, getting adequate vitamins is a way of supporting sperm motility and overall health.
Is it okay for a man to take prenatal vitamins?
Yes! Not only is it okay for men to take Beli fertility vitamins, but it is encouraged! The best male fertility supplements support sperm motility, quantity, and quality. Contrary to what some believe, prenatal vitamins do not contain hormones or prohormones, so men do not need to worry about negatively impacting their hormone levels.
Can I take Beli vitamins while undergoing IVF?
Beli claims that many studies have demonstrated that the ingredients in their formula boost the chances of a successful IVF cycle. Of course, you should always check with your doctor before starting a new supplement regime.
What's the best time of day to take vitamins?
Generally, the best time to take multivitamins is in the morning. However, since Beli advises women to take their vitamins three times a day, I recommend taking them with breakfast, lunch, and dinner. Ideally, you should always try to avoid taking vitamins on an empty stomach to avoid any potential side effects.
Can I order just one bottle of vitamins?
Beli does not allow for one-time purchases, but you can purchase via their subscription service. If this sounds daunting to you, don't worry. Beli has a happiness guarantee, which means that they will refund your order in full if their vitamins aren't for you.
How do I cancel my subscription?
If you need to cancel your Beli subscription, you can do so right from the account page on their website. It's important to note that this will cancel all future orders, but it will not cancel orders that have already been processed. Don't bother returning your vitamins, as Beli does not resell any product that has previously been shipped.
Final Thoughts
Overall, Beli is a great option for any couple looking to improve their chances of conceiving, want to improve both sperm health and egg quality, and just want some more support throughout their journey to having a baby! As with any supplement, please talk to your doctor before starting a new supplement or vitamin regimen.
I hope I have thoroughly answered all of your questions in this Beli Vitamins review! If you're looking for more information on vitamins for women, this post is a great resource. And if you have any further questions, please leave a comment below – I personally respond to every question I get! You can also FOLLOW ME on FACEBOOK, TWITTER, INSTAGRAM and PINTEREST to see more delicious, healthy, family friendly food!
2 responses to "Beli Vitamins Review"