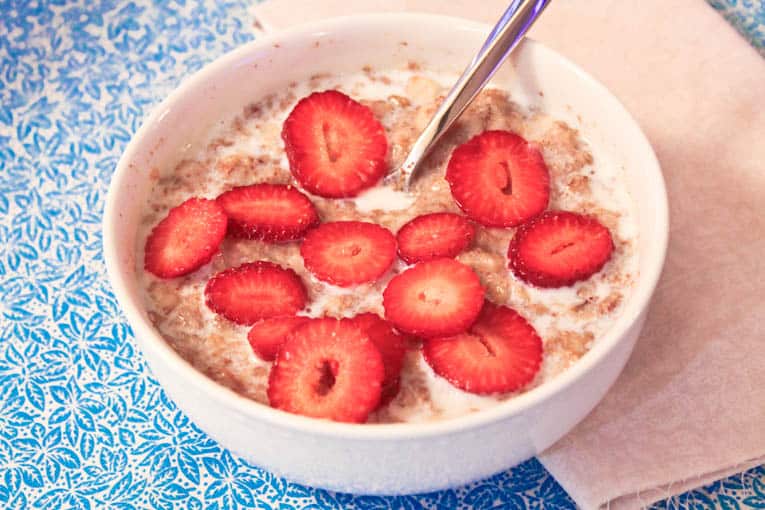 I love turning dessert into breakfast.
More importantly, I love turning a healthy breakfast into something that tastes like dessert, but is actually good for you!
Oatmeal is one of my favorite bases for these dessert-inspired-breakfasts, because it's simple, easy to make, full of fiber and whole grains, and can be virtually transformed into anything like…
or, Banana Bread
… but still be amazingly healthy for you and guilt-free.
A few days ago, a huge tray of strawberries was sitting out in the cafe where I eat lunch. That same day, I had a wonderful bite of dessert: strawberries and cream with angel food cake. I was inspired.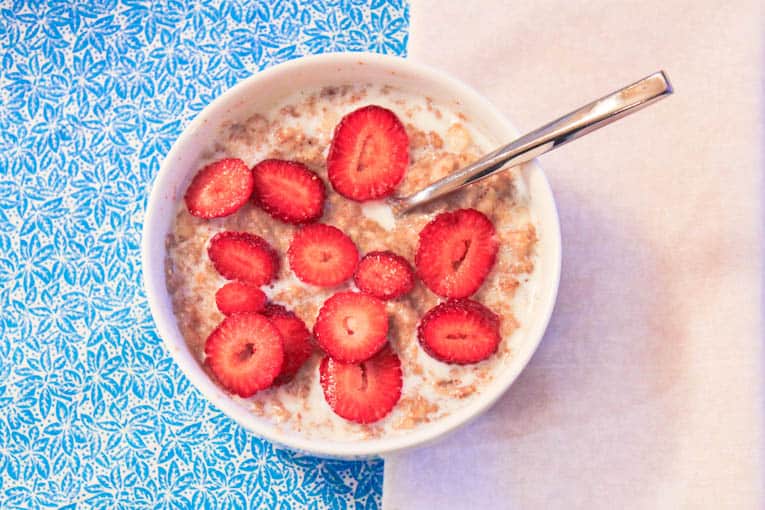 And with all of those wonderful strawberry experiences I was totally craving strawberry shortcake the next day.
So I thought I'd experiment with transforming my normal breakfast bowl of oatmeal into a delicious treat to start my day!
It was a success.
The nuttiness of the oats, the creaminess of the milk, and the sweetness of the strawberries made me reminiscent of early summer afternoons, sitting out on green lawns, under shady trees with the sun shining through.
This recipe only has about 250-300 calories, 5-7g fiber, 1-2g sugar, and 7-8g protein. Not bad for a breakfast that tastes as good as dessert!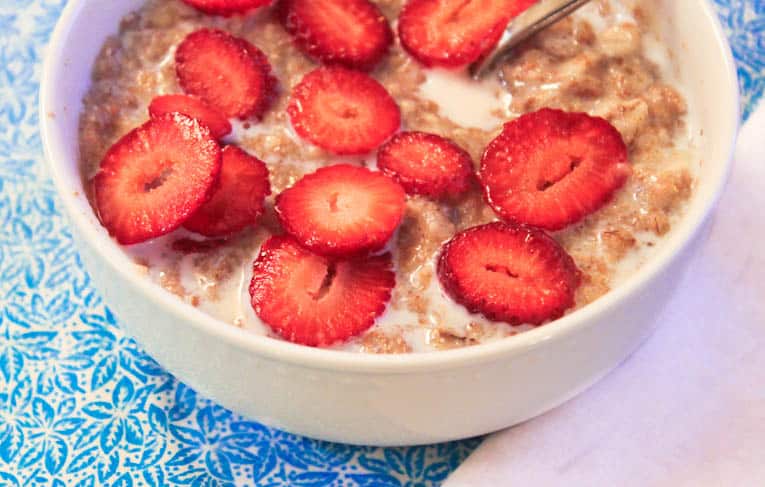 Strawberry Shortcake Oatmeal
Nutritional Info Per Serving: 250-300 Calories, 27g Carbs, 5-7g Fiber, 4g Sugar, 7-8g Protein
Servings:
1
bowl of oatmeal
Ingredients
1/2

cup

rolled oats cooked with 1.5 cups of water

2-3

tsp

ground flax seeds

1/8-1/4

tsp

ground cinnamon

1/2

cup

1% organic milk

Sliced strawberries — as many as you like! I used about 6.

1

tsp

sugar

honey or agave
Instructions
Cook the oats with 1.5 cups of water until the oats are fluffy and all the water has disappeared (I do this by cooking it for 2 minutes in the microwave, stirring, and cooking it for 2 more minutes.)

Add the ground flax seed and cinnamon to the cooked oats while they are still hot. Stir to combine.

Add the milk (you can add as much milk as you like – I use about 1/2 a cup to give the oats a nice creamy consistency) and the sugar/honey/agave. Stir to combine.

Stir in the sliced strawberries, allowing them to melt in the hot oatmeal. Top with a few additional strawberry slices and serve.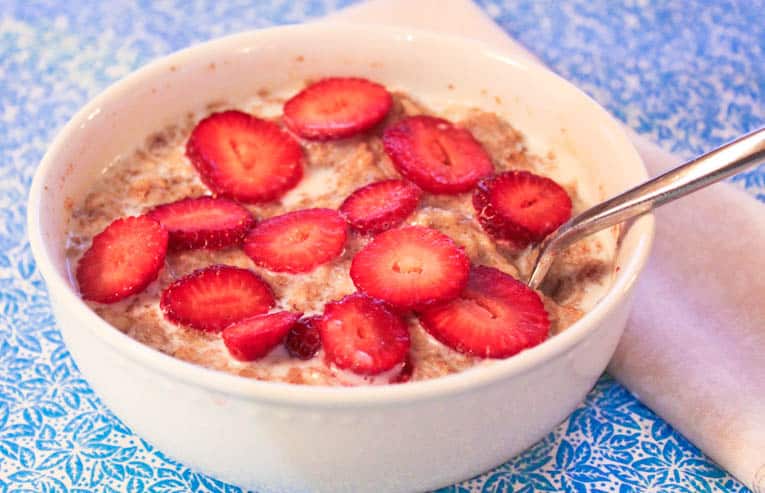 TAGS: breakfast, gluten-free, kid friendly recipes, oatmeal, quick meals, vegetarian
15 responses to "Strawberry Shortcake Oatmeal"