Crock Pot French Toast Casserole
This post may contain affiliate links. As an Amazon Associate, I earn from qualifying purchases. Please read my disclosure.
Crock Pot French Toast Casserole is a delicious, easy breakfast idea that's perfect for lazy weekend mornings. Made with simple ingredients you already have on hand, this hearty breakfast will keep you full and satisfied. Just let the bread soak overnight, toss the ingredients into your Crock Pot the next morning, and let it do all the work while you go back to bed for a few more Zzzs!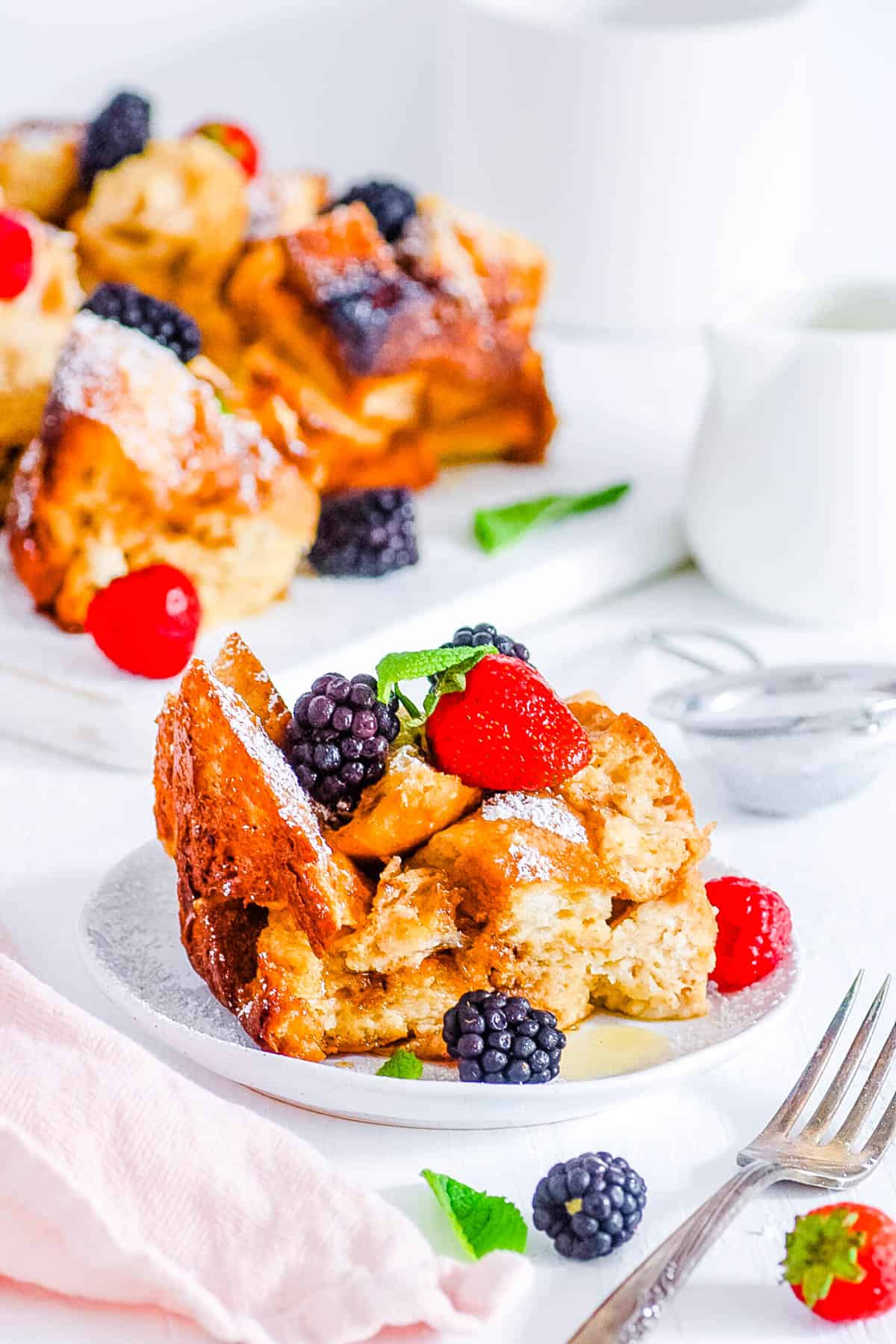 While we love individual slices of delicious vegan french toast, sometimes you want a simple breakfast that doesn't involve standing over the stovetop. We get it! That's where this super easy crockpot cinnamon french toast casserole comes in. It'll make your daily breakfasts and brunches so much simpler. Enjoy time with your family while the casserole cooks. Let the crock pot do the work!
It's a great dish for Christmas morning or any big family gathering, but you don't need a holiday to make this French toast bake in the crock pot. It's also perfect for sleeping in on the weekends thanks to the minimal prep time! Just quickly wake up, add the soaked bread to the slow cooker, and go back to sleep for a couple of hours. Bliss!
Latest Recipe Video!
Raid your fridge and pantry, because you probably have everything you need for this french toast crock pot recipe already, except for perhaps the crusty bread. And if you've just bought your bread, give it a day or two to let it get stale before trying this recipe.
The whole family will love this delicious breakfast, which is my personal favorite for busy mornings. Serve with your favorite fresh fruit or breakfast fruit salad or alongside a bigger spread with eggs, breakfast toast, vegan coconut flour pancakes and more!
👩🏽‍🍳 Why This Recipe Works
Easy make-ahead (or prep-ahead) vegetarian crockpot recipe
Versatile recipe you can adapt with your own favorite flavors and toppings
Terrific way to use up stale bread
Perfect brunch recipe for Christmas morning and other holidays
Includes a gluten free and vegan option
Great recipe that's simpler than making classic french toast
Kid-friendly and family-approved
Best crock pot french toast casserole ever!
🥘 Ingredients
This french toast crock pot bake is the perfect breakfast for weekend mornings. Best of all, it uses simple ingredients you probably have on hand already. Here's a quick overview of what you need to make this scrumptious breakfast. See the recipe card below for the full ingredient list, measurements, and nutritional information.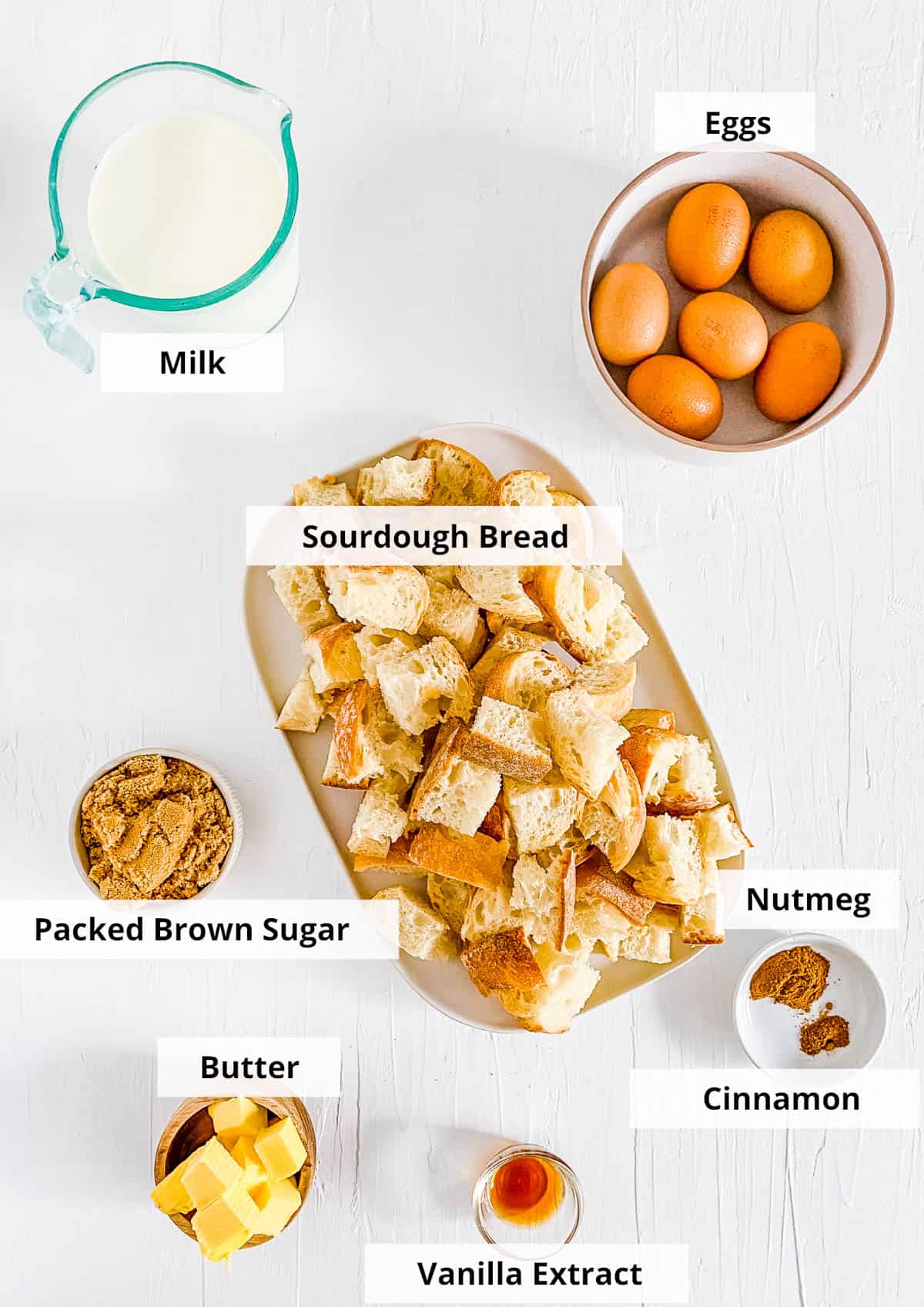 Sourdough Bread: Hearty sourdough bread is practically made for French toast! You can use any kind of bread you'd like, though. Whole wheat, whole grain, a french baguette, brioche bread, white sandwich bread, or gluten-free breads can take the place of the sourdough. Just make sure it's at least one to two days old to better absorb the custard. Take a look at this list of the best breads for French toast for more tips.
Eggs: We use whole eggs for this crockpot breakfast french toast casserole. If you want to lighten it up a little, substitute two egg whites for every whole egg you omit. We recommend at least keeping a few whole eggs for richness, though.
Milk: Regular milk or dairy free milk works for this crockpot recipe. For dairy free options, try almond milk, cashew milk, oat milk, or soy milk. Whole milk will result in a richer-tasting casserole.
Vanilla Extract: Pure vanilla extract lends vanilla flavor and enhances the flavors of the other ingredients in this French toast recipe.
Spices: You need cinnamon and nutmeg to get that classic flavor. Cinnamon is used in both the bread pudding and the brown sugar topping.
Brown Sugar & Butter: The brown sugar and cinnamon topping adds so much flavor and sweetness to this recipe. You can use either light brown sugar or dark brown sugar — whatever your preference is. Butter helps bind the brown sugar and cinnamon together to make the topping mixture you crumble over the soaked bread.
📖 Variations
Make this overnight crockpot french toast casserole your own with a few of these tasty variations, mix-ins, and toppings:
Make It Gluten Free: Use a gluten-free loaf of bread.
Vegan Friendly: Use non-dairy milk, vegan butter, and substitute flax eggs for the real ones.
Holiday Version: Try eggnog instead of milk to get that yummy, rich flavor from your favorite holiday drink. You can also add pumpkin pie spice along with the cinnamon for even more holiday flavor!
Fun Mix-Ins: Try adding some fun mix-ins to the crock pot while the bread cooks in the custard. Some yummy ideas to try are walnuts, pecans, raisins, chocolate chips, caramel chips, or dried cranberries.
Crockpot Blueberry French Toast: Toss in some blueberries into the bread mixture before you cook it in your slow cooker! You can also try other berries like blackberries or raspberries (I don't recommend strawberries because they'll get too mushy).
Healthier Version: Want to make a lighter healthy french toast bake? Use low-fat, skim, or plant-based milk in place of regular milk. Use whole wheat or sprouted bread instead of sourdough. Sub a few of the eggs for egg whites – you'll need two egg whites per every whole egg you eliminate. For the sugar content – you can either cut the amount of sugar in the recipe by half, or you can swap out the brown sugar for a natural brown sugar alternative like Stevia or Monk Fruit.
Decadent Version: Pull out all the stops for this easy slow cooker breakfast recipe. Instead of warm maple syrup, drizzle your French toast with your favorite toppings! Try caramel sauce (or salted caramel for that sweet/salty combo), chocolate sauce, or a bit of freshly whipped cream on top or on the side.
🔪 Instructions
Prep the Bread: Grab a large bowl and, with a whisk, combine eggs, milk, vanilla, and spices.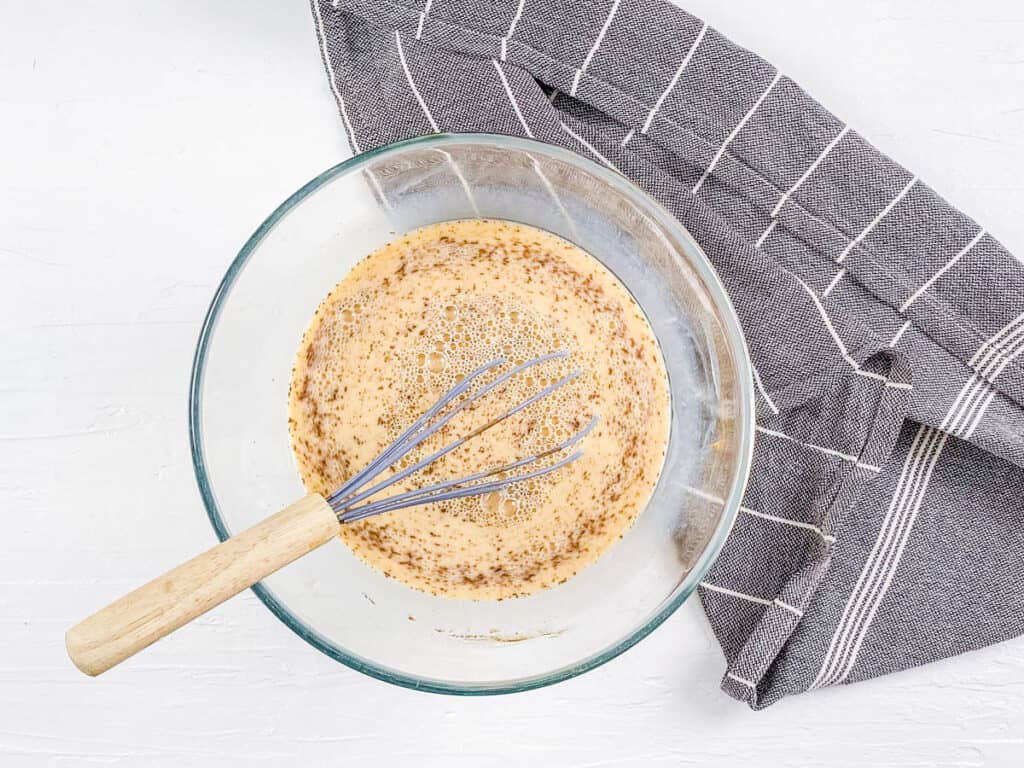 Soak In The Custard Mixture: Add the diced bread, tossing it in the milk mixture to make sure all the pieces are evenly coated. Cover the bowl and refrigerate the french toast in the crock pot overnight, or for at least 4 hours.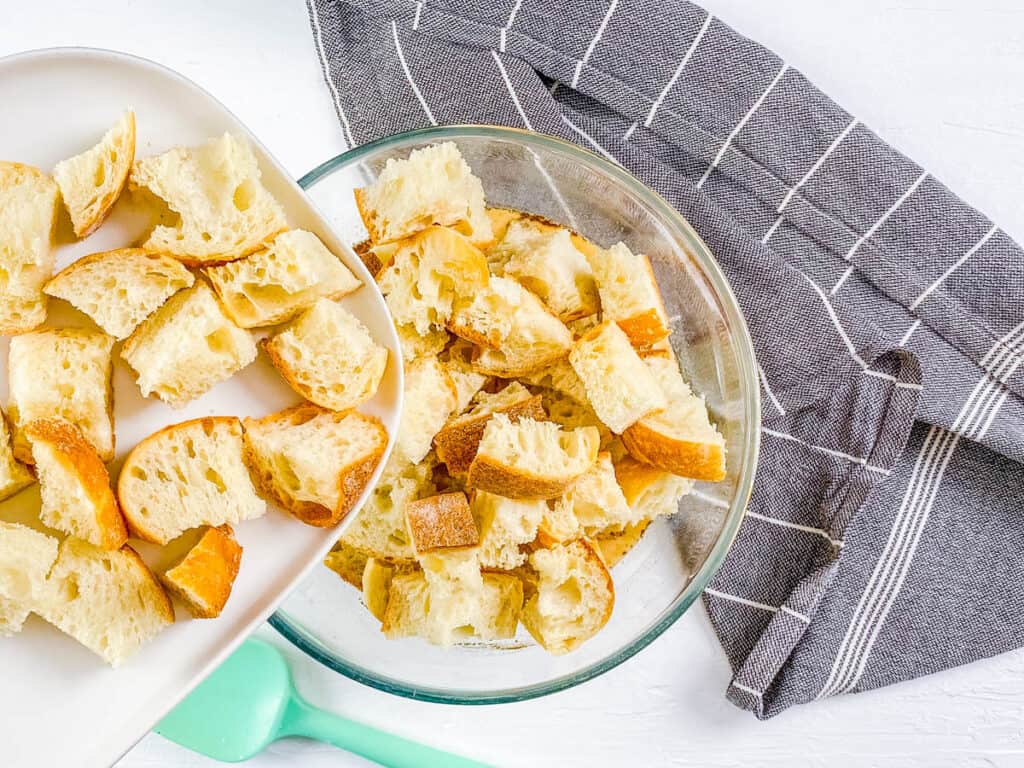 Make the Topping: Mix the topping ingredients together in a small bowl.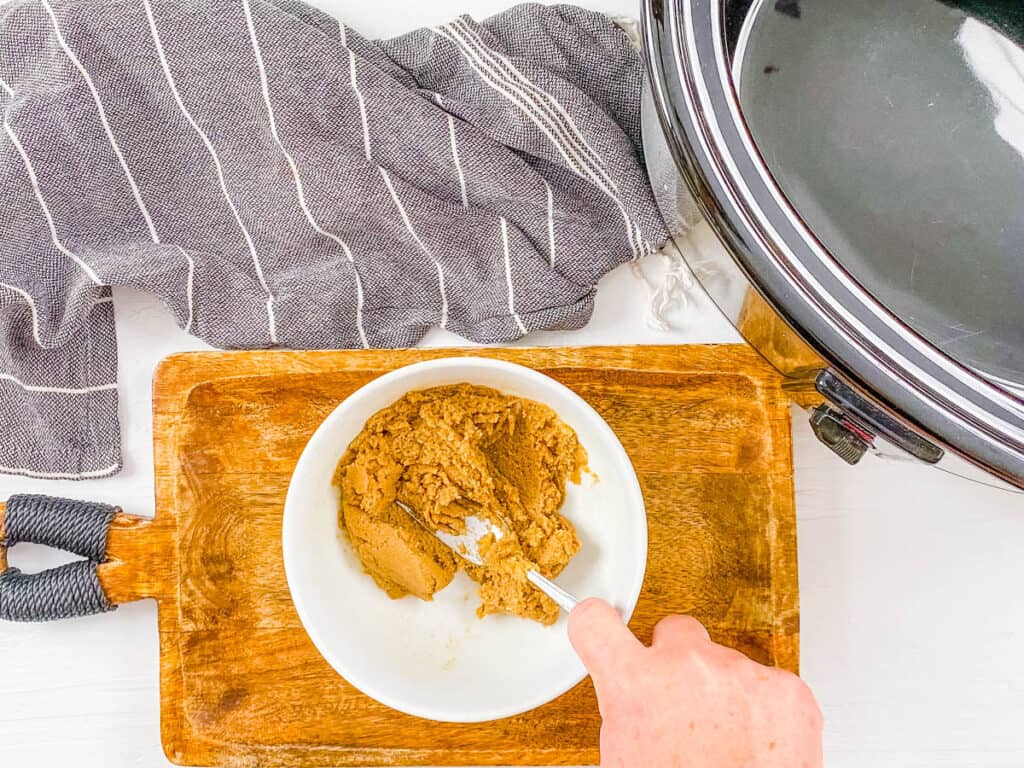 Dump the Ingredients: Spray the Crock Pot with oil, and add the soaked bread. Crumble the brown sugar mixture evenly over the top.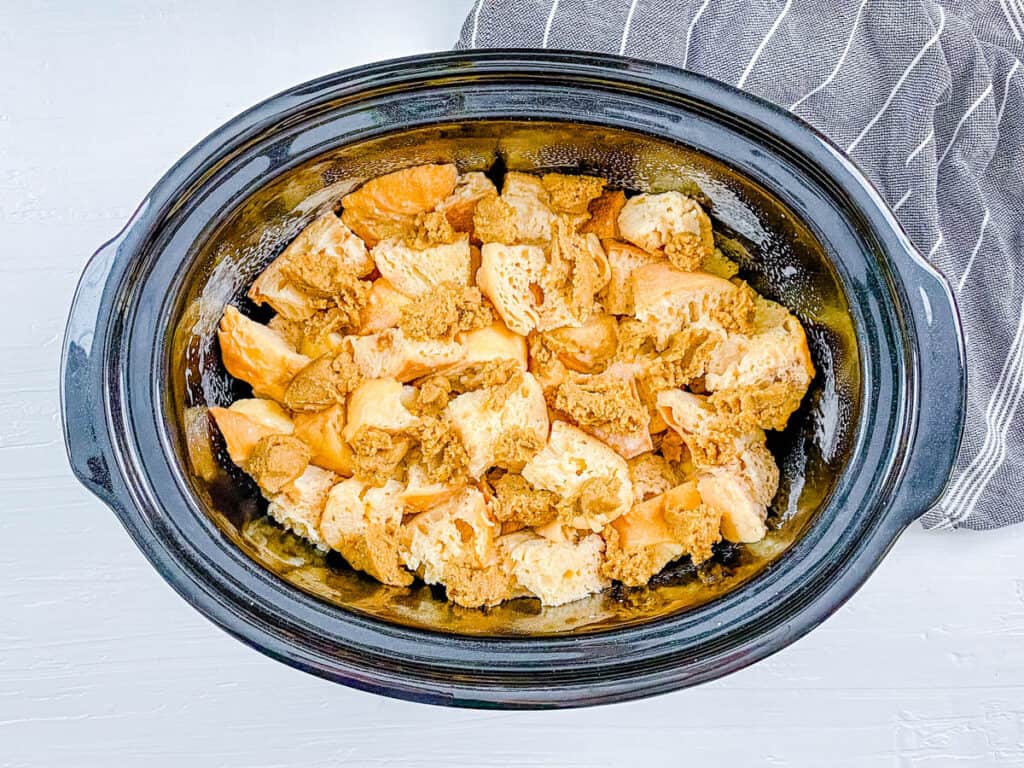 Cover, Cook and Let It Sit: Cover the slow cooker with the lid and cook for 4 hours on low or, if you're in a hurry, for 2 hours on high. Once the crock pot French toast casserole is cooked, allow it to sit for 20 minutes before cutting into it.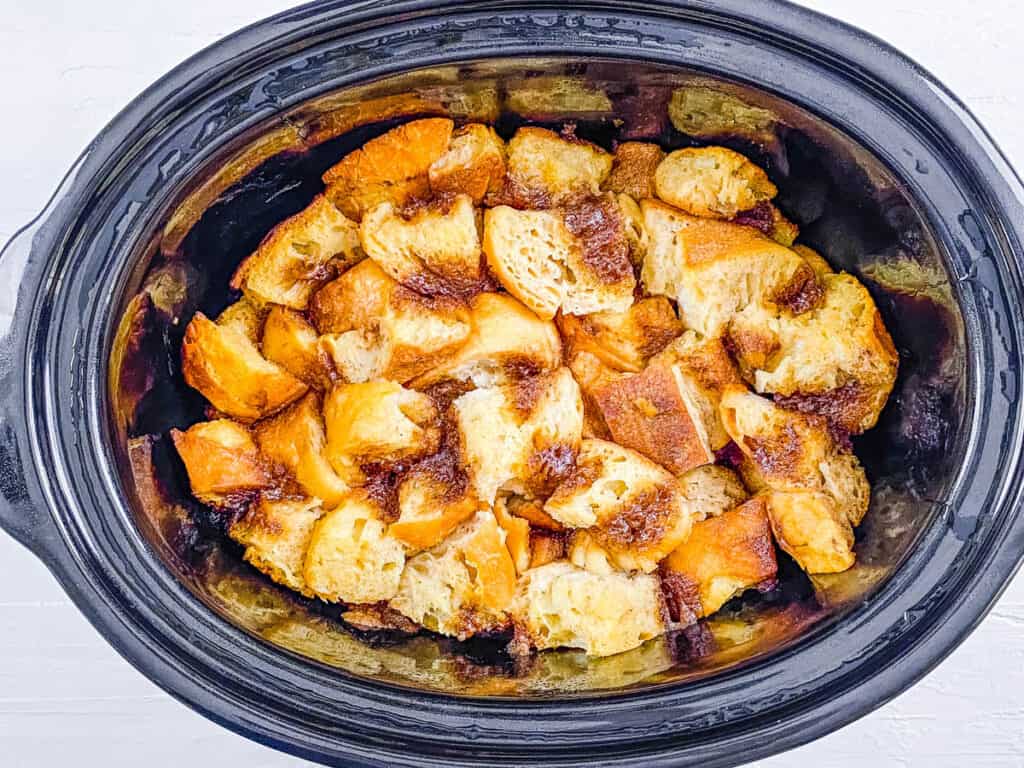 Serve: Drizzle some maple syrup and add a sprinkle of powdered sugar on top. Add fresh berries, too, if you'd like.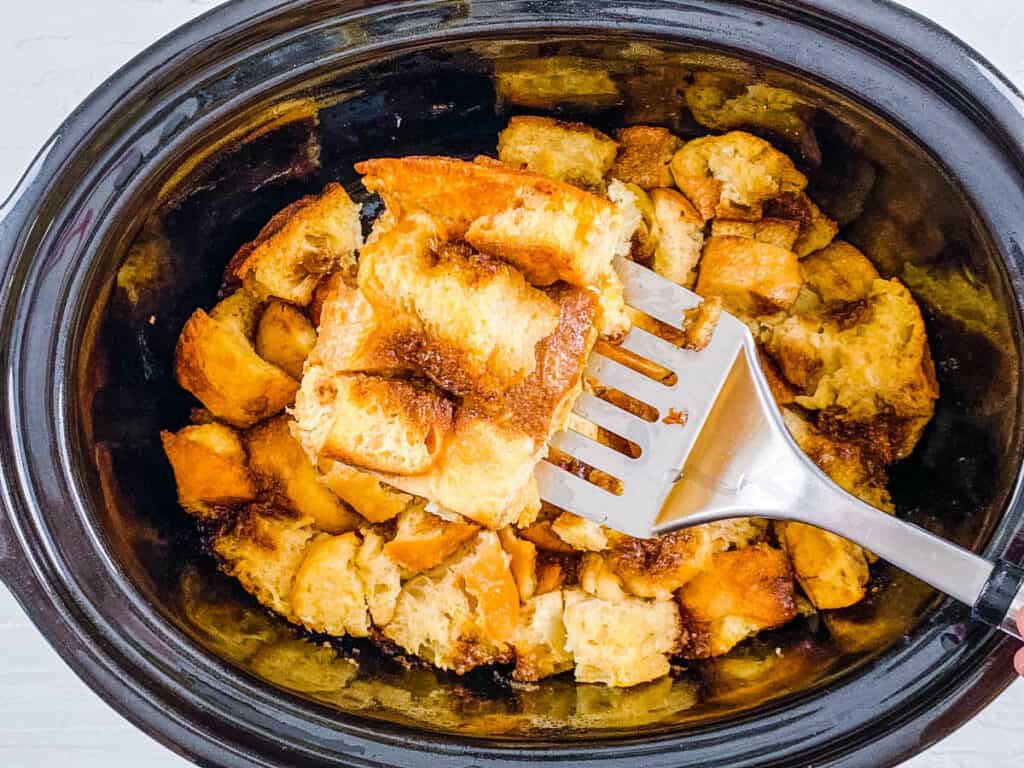 ❓Recipe FAQs
Why Is My French Toast Casserole Soggy?
A soggy french toast casserole in the crock pot is a result of either too much egg mixture, the wrong type of bread, or fresh bread. It's important to use stale bread for French toast because it better soaks up the egg mixture. Having a hearty bread is important, too. Use loaves of bakery bread rather than sliced sandwich bread.
How to Store Slow Cooker French Toast Casserole?
Store leftover casserole slices in an airtight container or covered in plastic wrap in the fridge for up to three days.
Does Overnight French Toast Casserole Reheat Well?
Yes, leftovers reheat well.

If using the microwave, reheat individual casserole slices for about 45-60 seconds, until warmed through. You can drizzle a little maple syrup over the top before reheating if you're worried about the microwave drying it out.

To reheat in the oven, place in an oven-safe dish, cover with foil, and reheat until warm, about 20-30 minutes.
Can You Freeze Crockpot Overnight French Toast?
Yes, you can freeze this easy crockpot french toast recipe, but don't do it in the pot from your Crock Pot. Instead, layer the soaked bread and topping in a freezer-safe baking dish, cover with plastic wrap, and then cover with aluminum foil. It'll keep in the freezer for 3-6 months.
💭 Expert Tips
For the best slow cooker french toast recipe, use bread that's at least 1-2 days old. Stale, dry bread absorbs the custard better and prevents sogginess.
Make your bread cubes about 1-inch. This size is perfect for soaking up all that yummy custard and fits better in the slow cooker.
Remember to spray your crock pot with cooking spray. It's very important to prevent sticking! A slow cooker insert could also be helpful.
Any kind of hearty bread works for this french toast in a crock pot, as long as it's day-old bread. French bread, challah bread, multigrain bread, gluten-free bread are all great options!
Make a vegan-friendly version by subbing the eggs for flax eggs instead. Use almond milk or another plant based milk.
Cooking times vary depending on the type of crock pot used. If yours runs on the hotter side, cut the cooking time a little. If you know yours takes longer, add 15-30 minutes to the time you see in the recipe card below.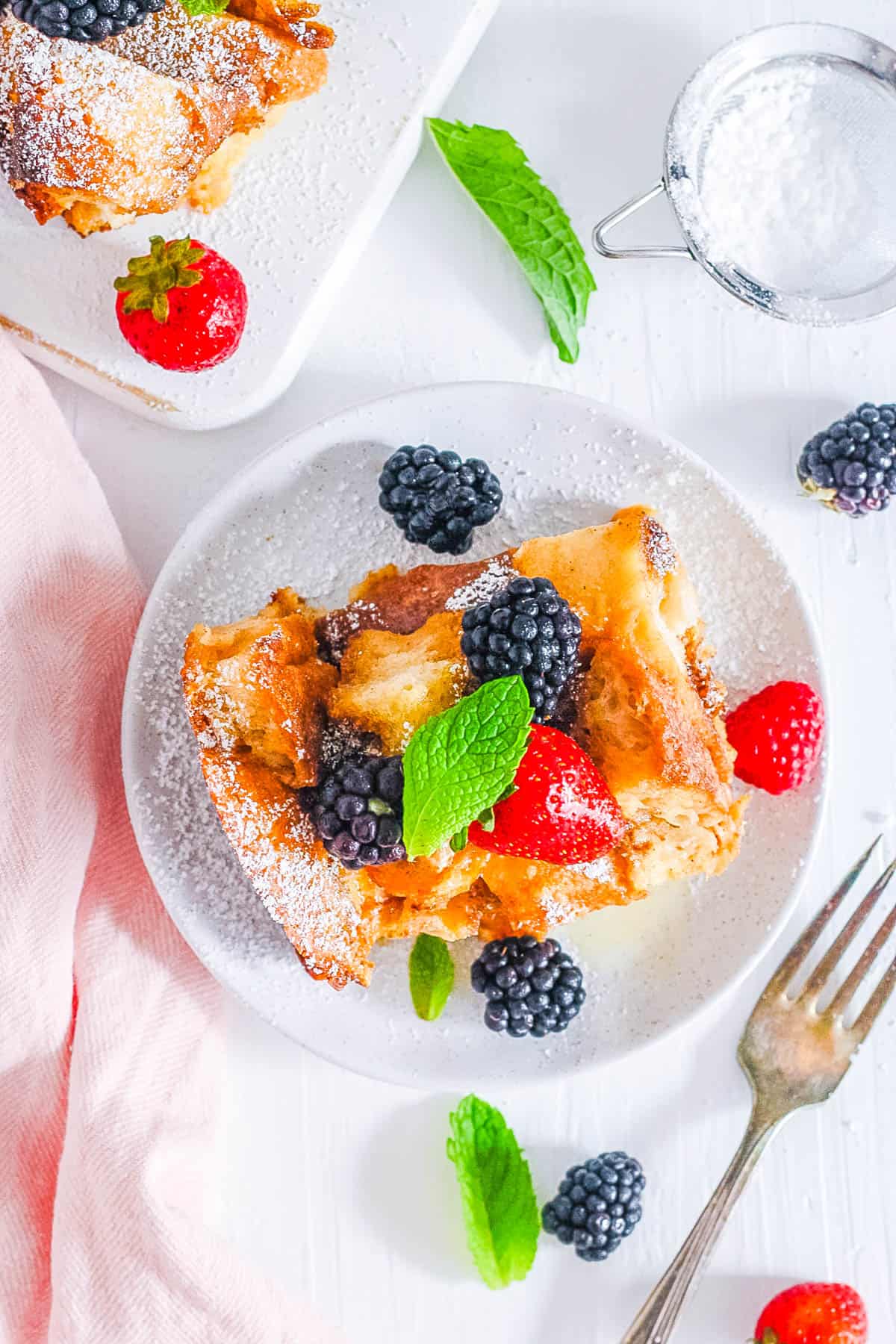 🍳 More Delicious Breakfast Recipes!
LOVE THIS RECIPE? Please leave a 5-star rating 🌟 in the recipe card below and/or a review in the comments section further down the page!
You can also FOLLOW ME on FACEBOOK, TWITTER, INSTAGRAM, and PINTEREST to see more delicious, healthy, family-friendly food, and if you have any questions, I'm here to help!
📋 Recipe Card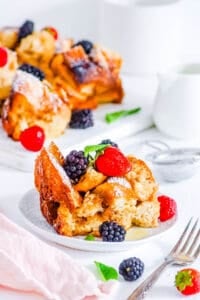 Print Recipe
Crock Pot French Toast Casserole
Crock Pot French Toast Casserole is the perfect breakfast for a lazy morning in. Soak the bread the night before, dump your ingredients into the Crock Pot the next morning, and go back to bed for a little extra sleep while it cooks. Adapt this recipe with your own favorite French toast toppings like a drizzle of maple syrup, a sprinkle of powdered sugar, and some fresh fruit!
Instructions
In a large mixing bowl whisk together the eggs, milk, vanilla extract, cinnamon and nutmeg. Toss through the diced bread, making sure to completely coat all pieces of bread. Cover and place in the fridge for 4 hours or overnight.

In a small mixing bowl, mix the topping ingredients together.

Lightly spray the crock pot with oil. Pour the soaked bread into the crock pot, evenly crumble the topping mixture over the bread.

Cover with the lid and cook on low for 4 hours or high for 2 hours.

Allow to sit for 20 minutes before cutting and serving.

Serve topped with maple syrup and a sprinkle of powdered sugar.
Notes
To make the best french toast casserole make sure the bread is at least 2 days old before using. Stale bread absorbs the custard much better, yielding a better end result. 
To make this recipe dairy free, substitute the milk for any plant based milk.
To make this gluten free, you can substitute the sourdough with gluten free bread.
To make this vegan friendly: Substitute the eggs for flax eggs and the milk with plant based milk.
This dish can be served either warm or cold.
Cooking time may vary depending on the type of crock pot used.
Nutrition
Serving:
1
piece
|
Calories:
332
kcal
|
Carbohydrates:
46
g
|
Protein:
12
g
|
Fat:
11
g
|
Saturated Fat:
5
g
|
Polyunsaturated Fat:
1
g
|
Monounsaturated Fat:
3
g
|
Trans Fat:
1
g
|
Cholesterol:
141
mg
|
Sodium:
460
mg
|
Potassium:
228
mg
|
Fiber:
1
g
|
Sugar:
19
g
8 responses to "Crock Pot French Toast Casserole"